Whether you have a small backyard, a terrace or an urban rooftop, you will want to use most of the space by transforming it into a patio that is a practical and stylish place for gatherings, dining or just for relaxing.
Such open space gives the opportunity to add the feeling for an airy ambiance by blending it with your home. In fact, the patio is an additional room not only in summer but also during the transitional seasons.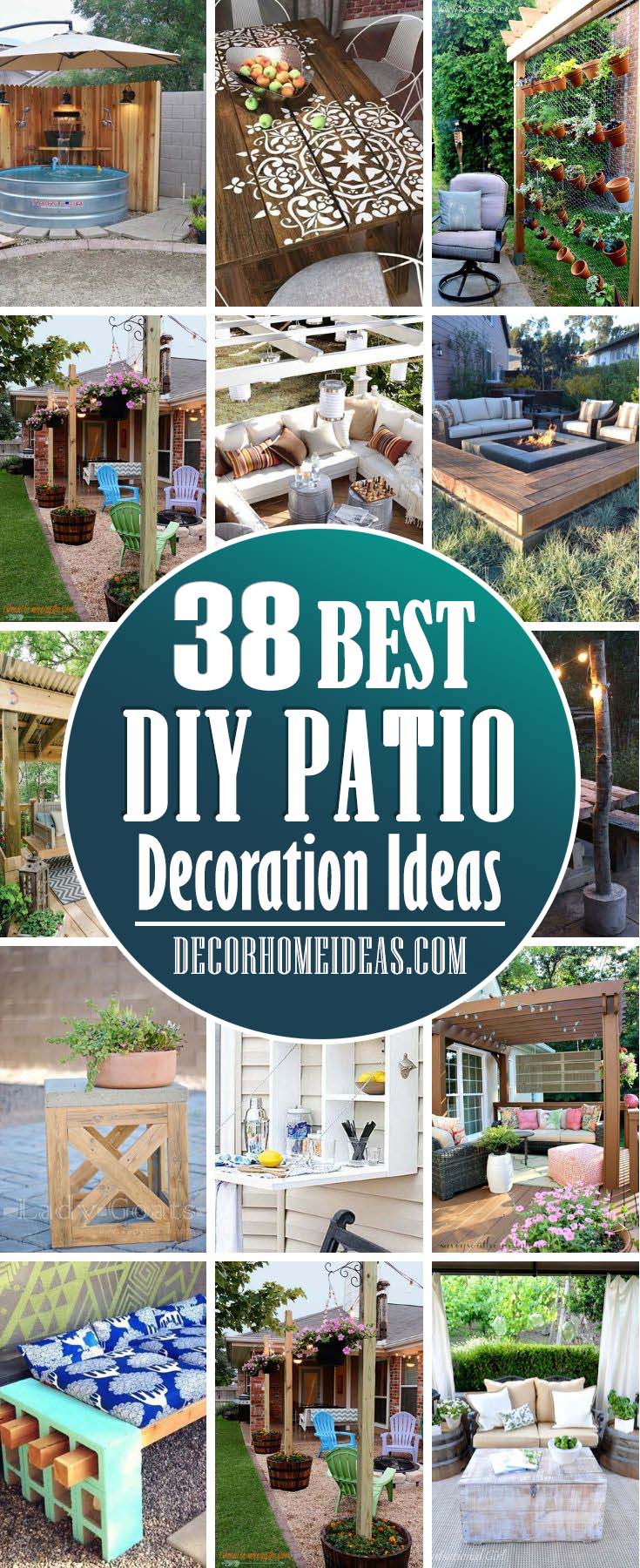 This is why we need to add the same amount of attention and work to it and turn it into a comfortable and enjoyable outer part of our home.
Check out what are the most trendy and affordable décor ideas that will make the patio the perfect outdoor retreat.
1. All Wood Patio Deck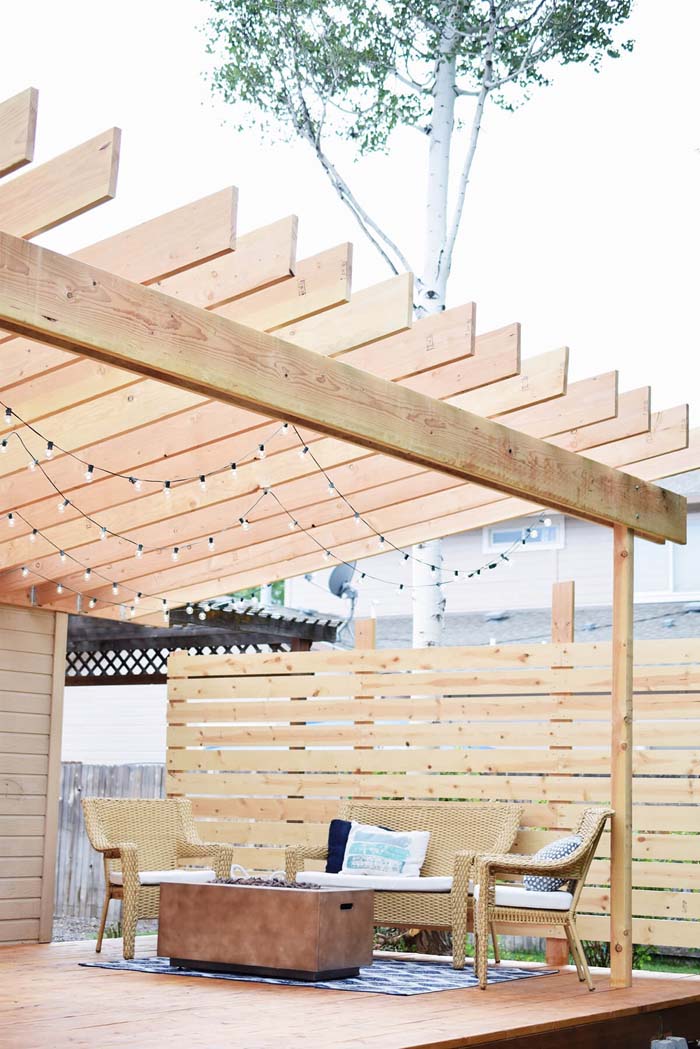 Build a covered patio using entirely wood. The amphitheater pergola and the wooden screen divide the space from the outer world. The lifted decking connects it with the house.
Wood is the preferred material for patio build as it will last for many years and will look amazing all time along.
2. Cinder Block Cushioned Bench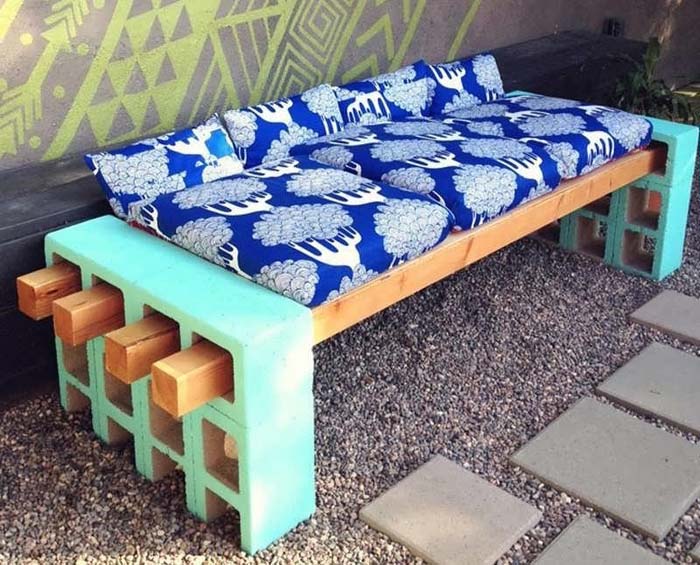 The patio is the preferred dining and party area during summer. If the seating set doesn't allow the gathering of many people, you should think of auxiliary furniture to accommodate comfortably your friends.
A bench made of cinder blocks and wood posts is the quickest and easiest solution.
3. DIY Covered Patio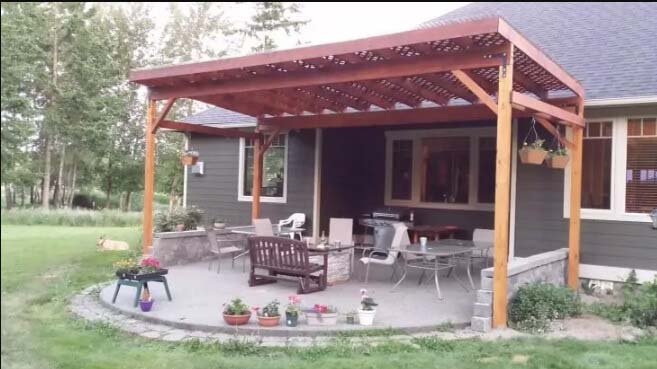 If the roof of your house doesn't cover the patio area, you must think of a structure that will give the right amount of shade and will suit your house exterior.
The link below provides detailed instructions and a material list of how to build such cover yourself.
via Kenarry
4. DIY Outdoor Farmhouse Patio Table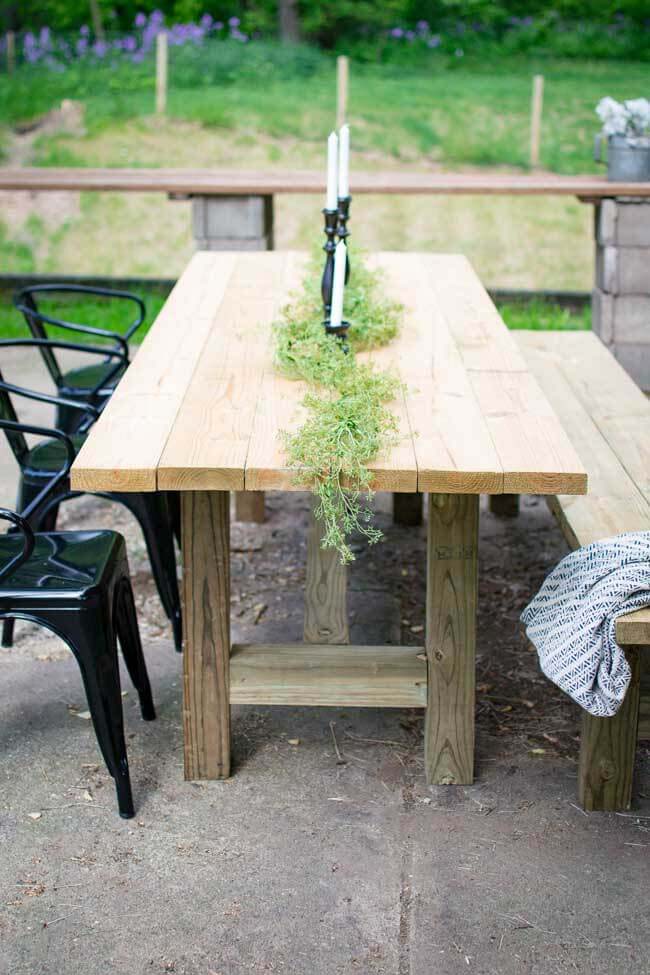 When summer reminds you of the days spent in the countryside, you would like to recreate the farmhouse ambiance at your home.
The patio is the perfect place to use symbols and aged furniture as it suits mostly the open spaces.
5. DIY Patio Area with Texas Lamp Posts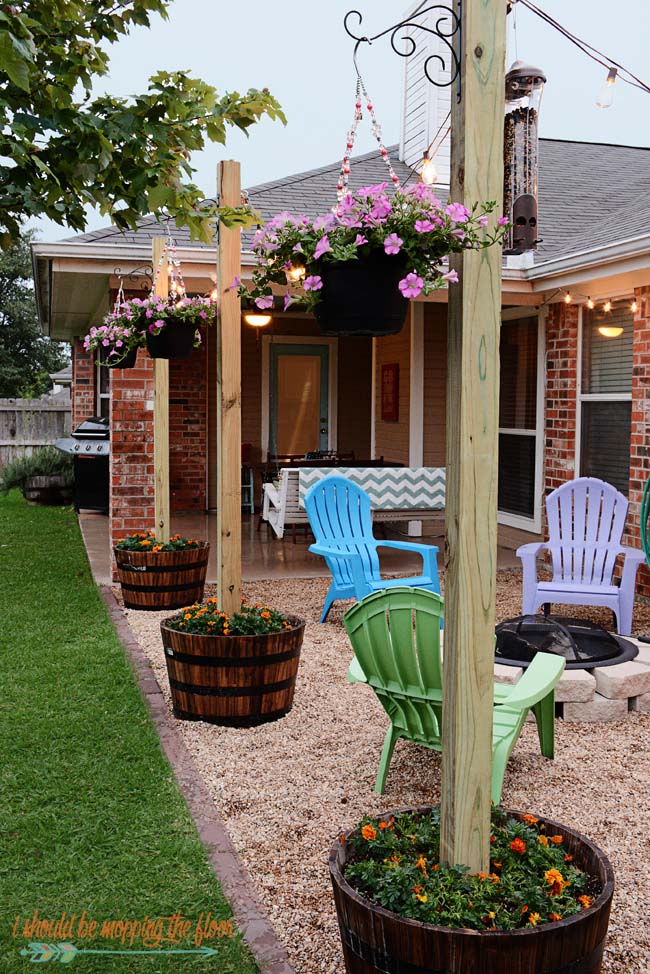 Decorate your patio depending on the season. Use flower pots, hanging planters, wreaths etc. to blend it with the rest of your backyard and nature.
Wood posts with hanging blooming flower pots are the perfect summer edging for the patio.
via I Should Be Mopping the Floor
6. DIY Patio Decoration Ideas With Hats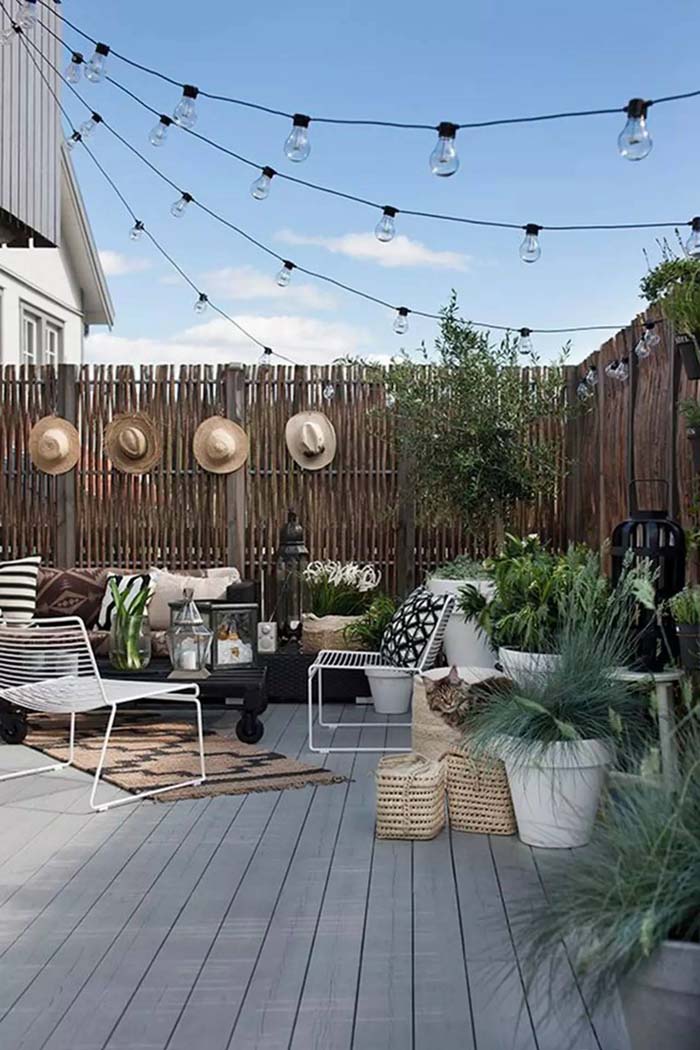 Repurpose objects to turn them into seasonal decorations. Straw hats are perfect to add a nautical and fun element to your patio décor.
7. DIY Patio Furniture From Pallets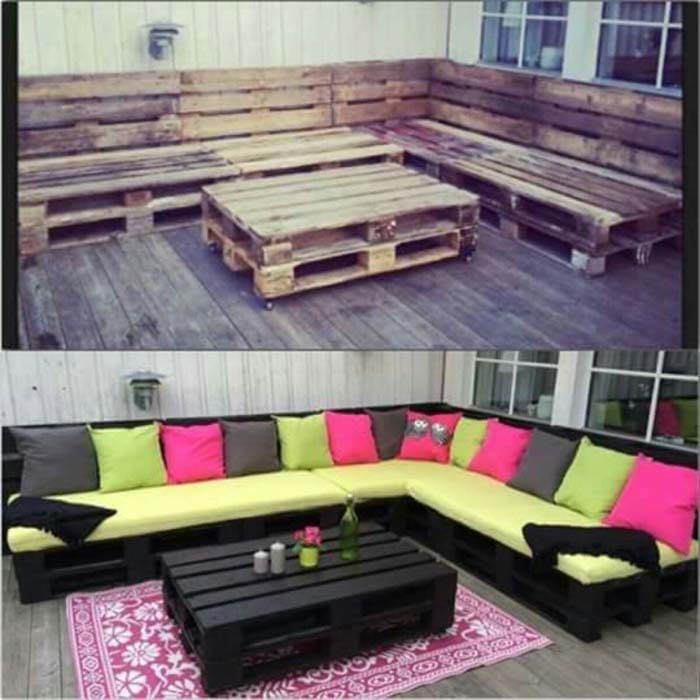 Pallet furniture is the preferred seating area when it comes to open spaces.
Making it doesn't require any special abilities or tools. You can customize it according to your patio size and color preferences.
8. DIY Privacy Screen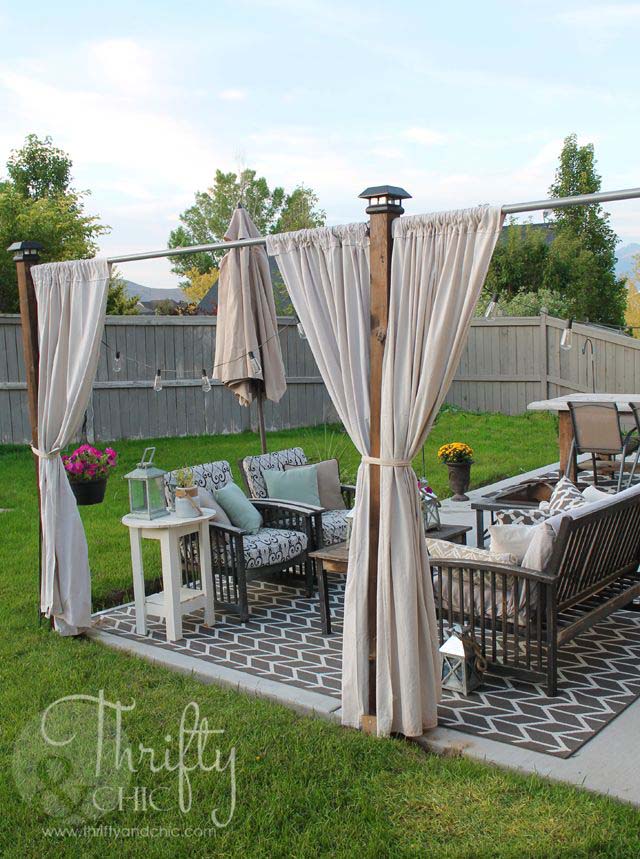 When your home is surrounded by neighbors, you need to think of a way to increase the privacy level of your patio. Insert vertical wood posts along the external edge.
Add curtain rods and hang curtains you like.
via Thrifty and Chic
9. DIY Privacy Screen and Planter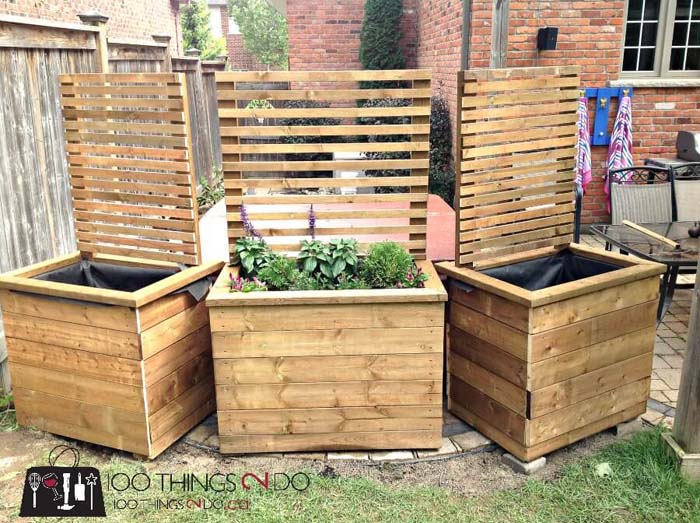 Privacy screens can be multifunctional. Build several flower planters and add vertical screens to their rear side.
If you wish, you can turn the screen part into a live wall by planting vines into the flower pot.
via 100 Things 2 Do
10. DIY Vertical Garden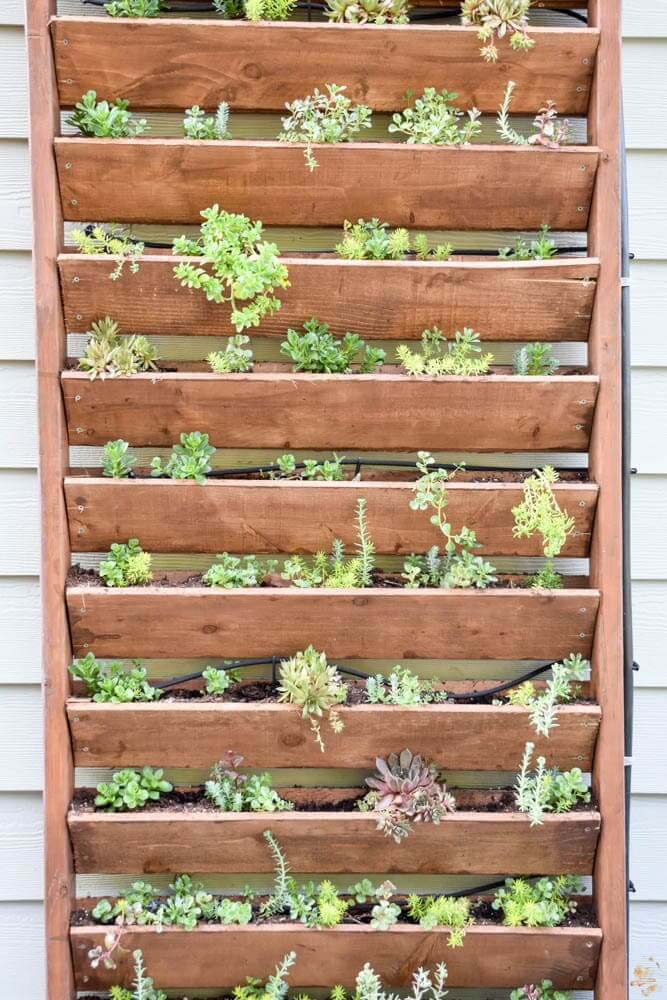 The patio needs the same amount of decoration as any internal room. Since it is an open space, use the ambiance and grow beautiful flowers.
Vertical planters with succulents or blooming are perfect to add life to the patio structure.
11. DIY Vertical Garden Wall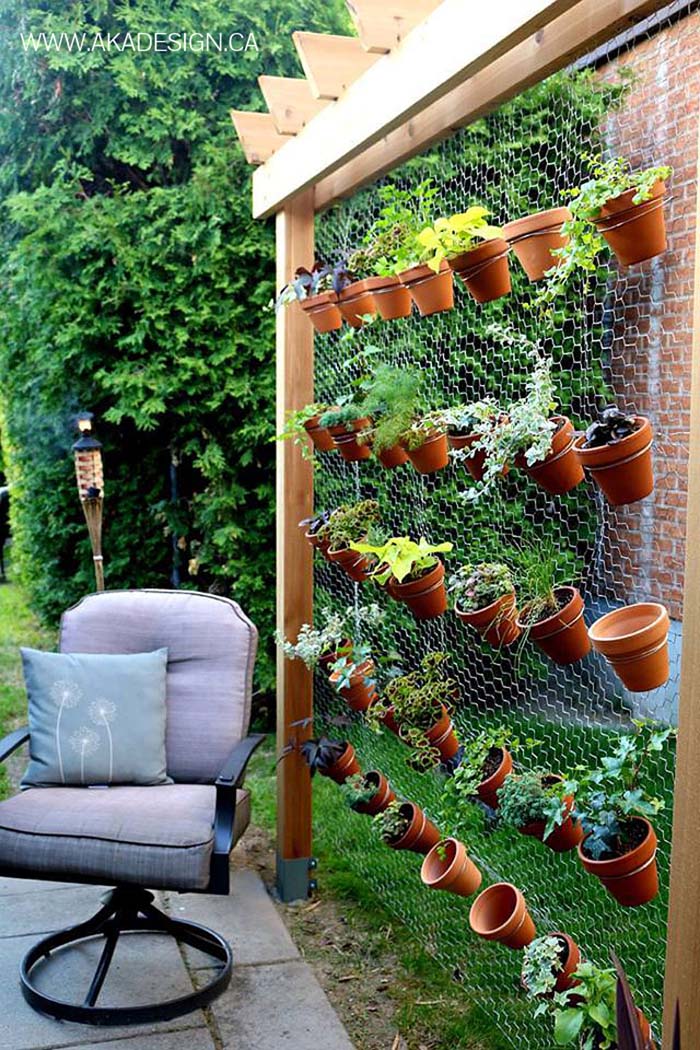 Make a wall out of wooden posts and wire mesh to divide the patio from the rest of the backyard. Add the same size of pots to the wire and plant various flowers.
In time, the flowers will grow and turn the wire wall into alive paint from greenery and flowers.
via Home Made Lovely
12. DIY X-Stool or Table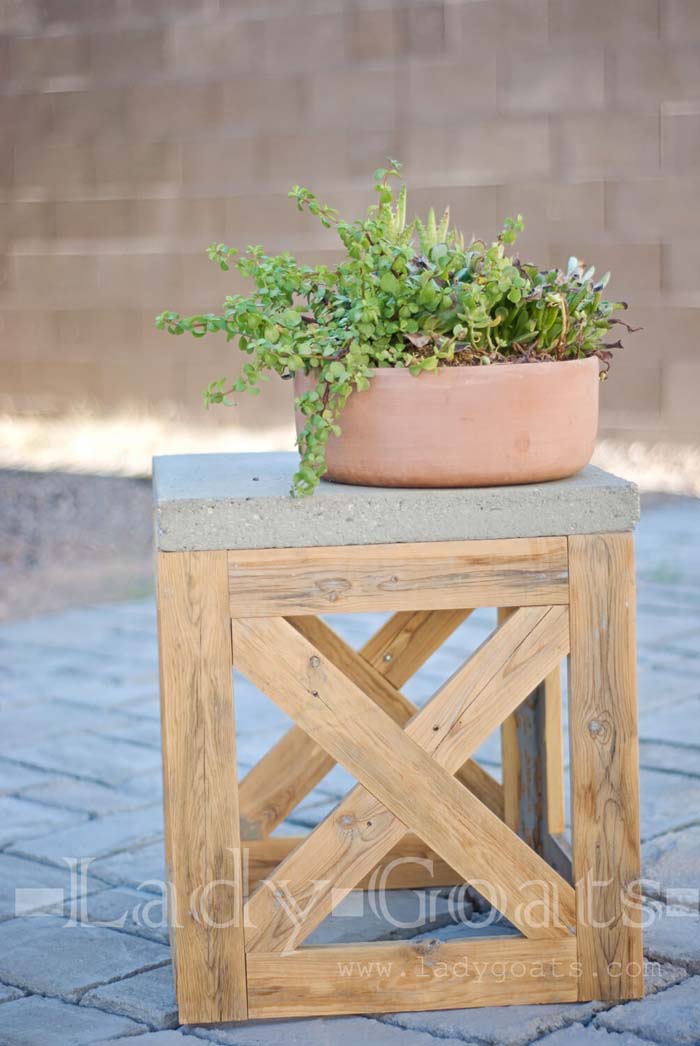 Concrete furniture looks very stylish and is the perfect addition to the patio's existing seating area as concrete is very resistant to outdoor conditions.
Make yourself an X-base stool that can be also used as a flower stand or a side table.
via Lady Goats
13. Easy Cedar Planter Boxes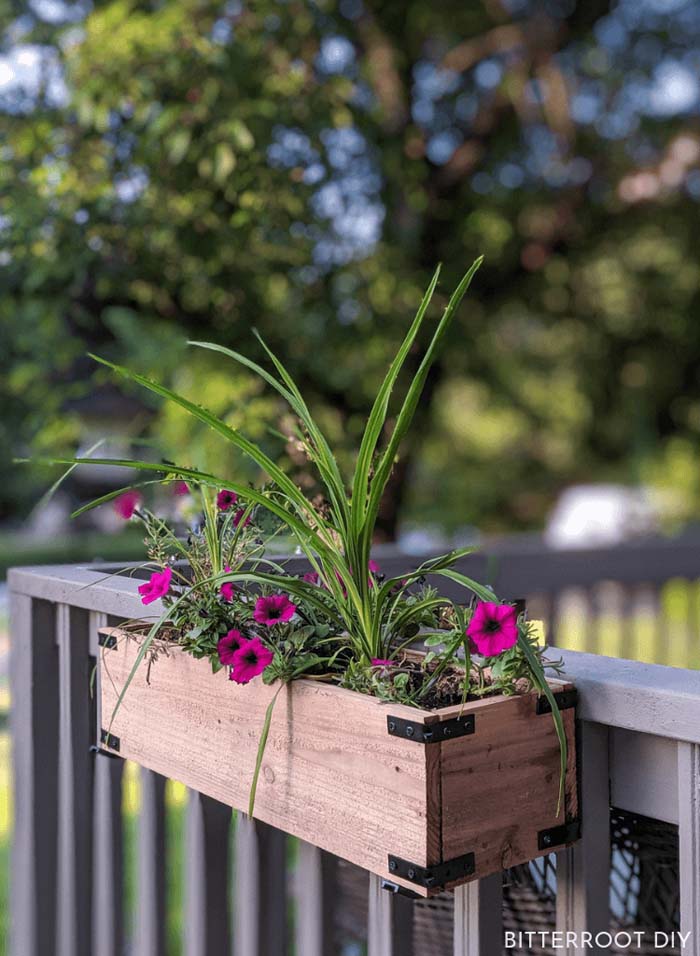 Add some aroma to your patio with these easy-to-make cedar planter boxes.
In case there is a railing, add them to the internal or external side of it.
via Bitterroot DIY
14. Easy Cinder Block Bench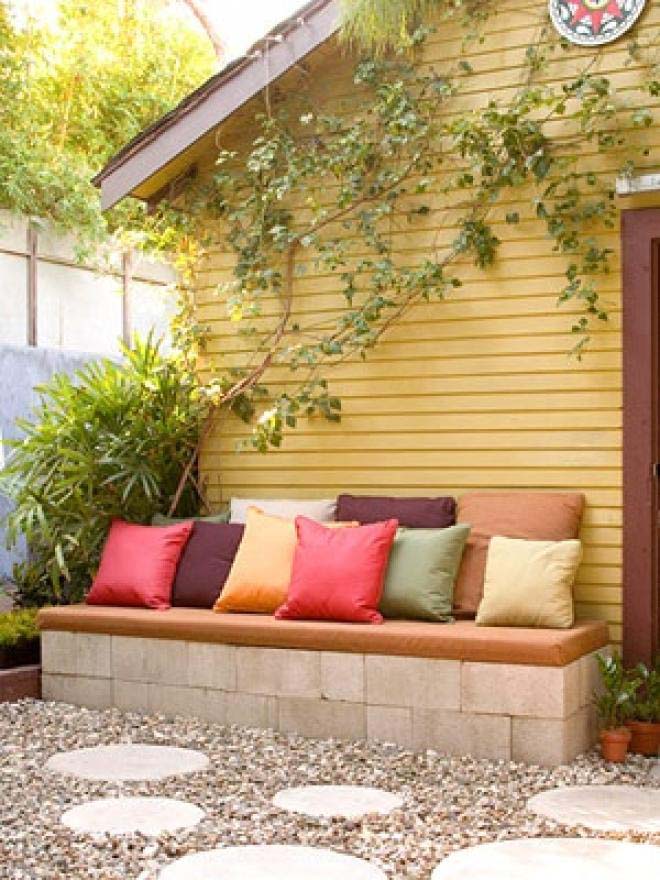 Another idea for increasing the number of sitting places is to make yourself a cinder block sofa.
Check the link below for more cinder block crafts that will inspire you for your next weekend project.
via Decor Home Ideas
15. Fairy Light Fence and Cinder Block Benches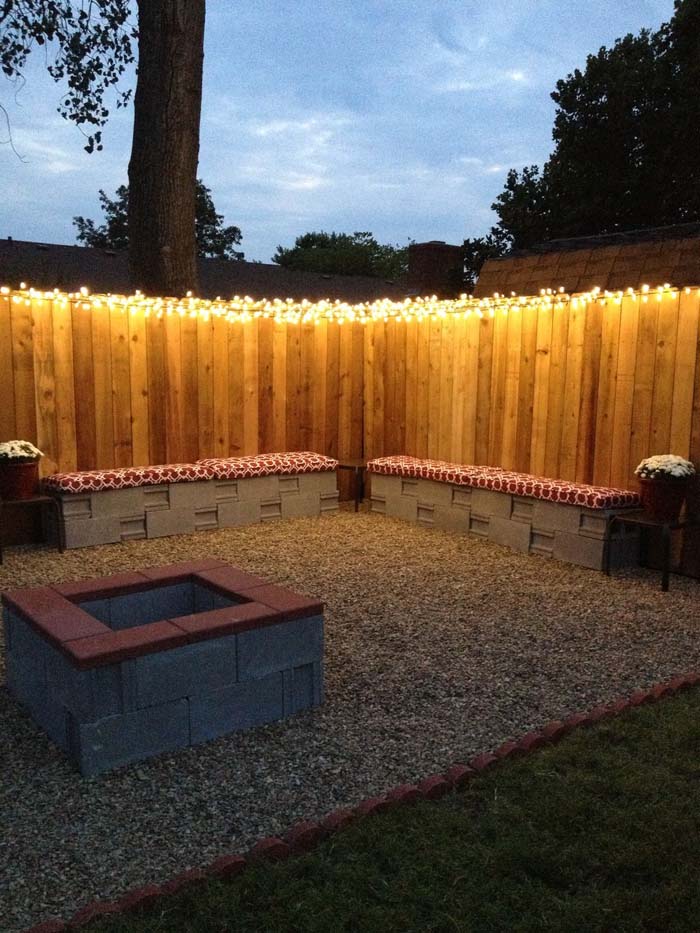 If you would like the patio to be comfortably furnished and yet not too crowded, make yourself cinder benches that are aligned next to the fence.
Add thick cushions to smoothen the cement surface and fairy lights over the top edge of the fence.
16. Fairy Lights and Lounge Chairs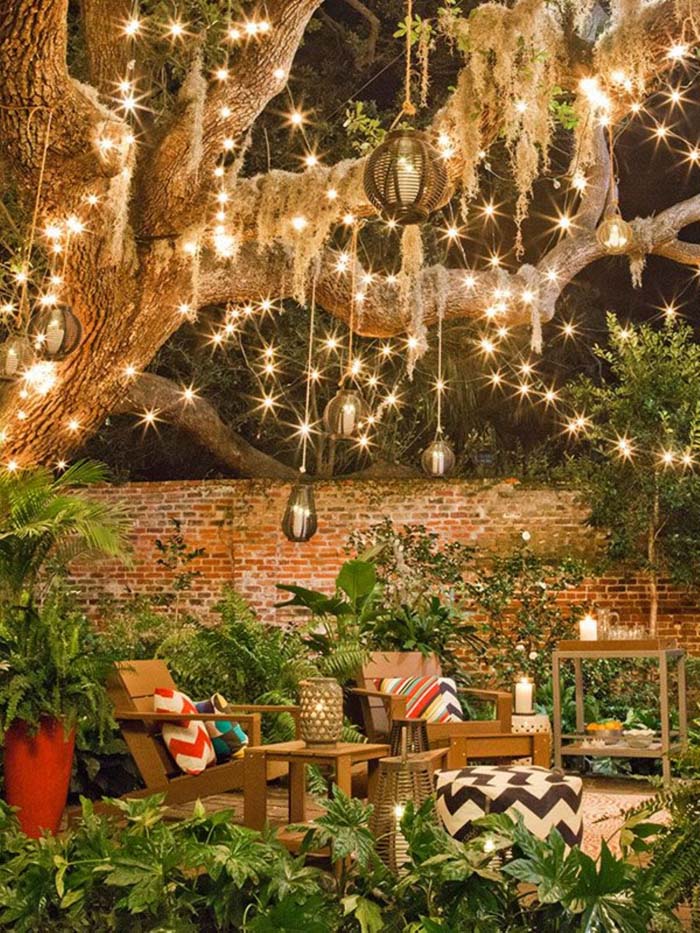 When the patio is the romantic nook from the house, two lounges are just enough furniture. Weave fairy lights over the pergola or hang them to the tree branches above the patio.
Hang lanterns, candle holders and enjoy the cozy atmosphere.
via Olivia D
17. Fire Pit With Sofa and Matching Armchairs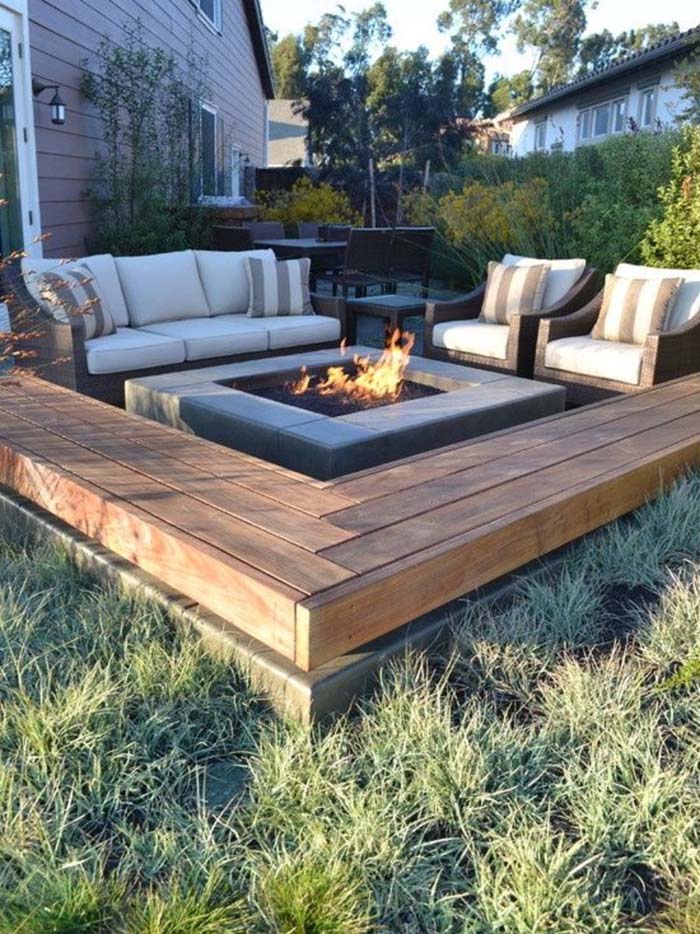 If you use the patio area during spring and autumn nights, consider getting or building yourself a firepit.
It will warm you up on colder nights and will give mist light to the seating area around.
Put a cover over the firepit during the days to use as a table.
18. Fire Pit With Wooden Bench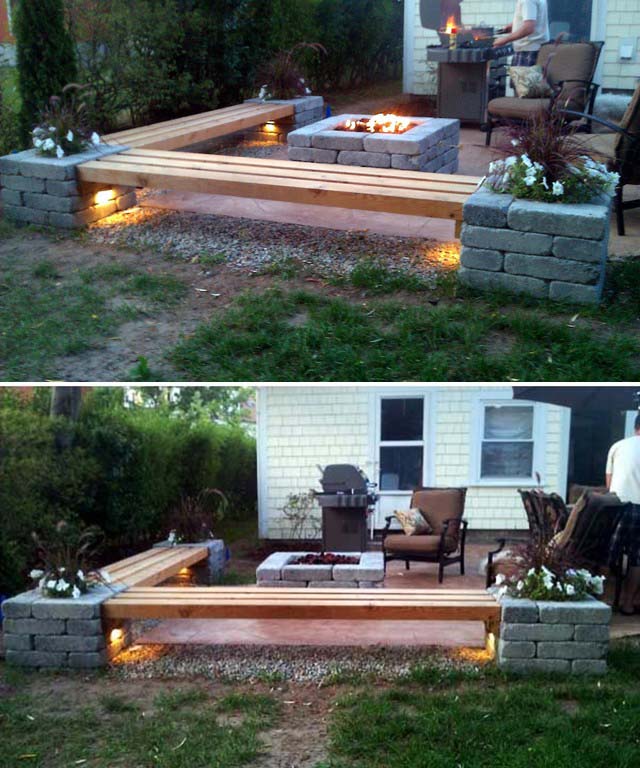 The first firepit suggestion was surrounded by a sofa and matching chairs. As an alternative, you can make benches that will provide more sitting places.
It will look very stylish if the bench supports match the firepit design.
19. Gazebo With Simple Seating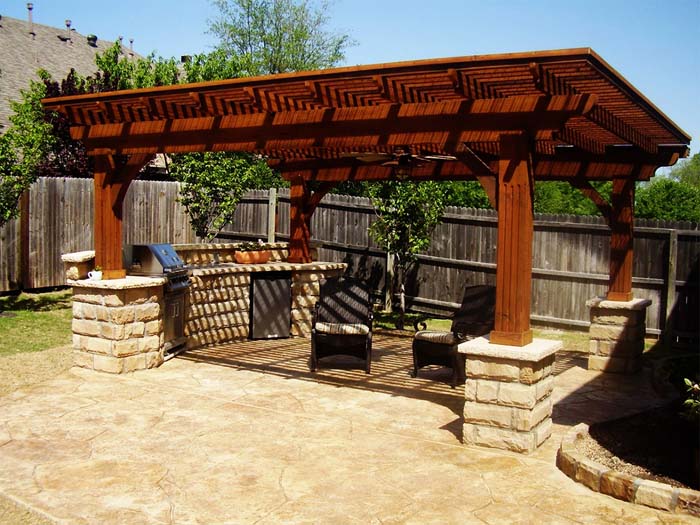 Use natural materials to differentiate the patio structure.
Wood and stone build a stable and beautiful pergola that will shade the seating and cooking area beneath.
20. Hanging Antique Lantern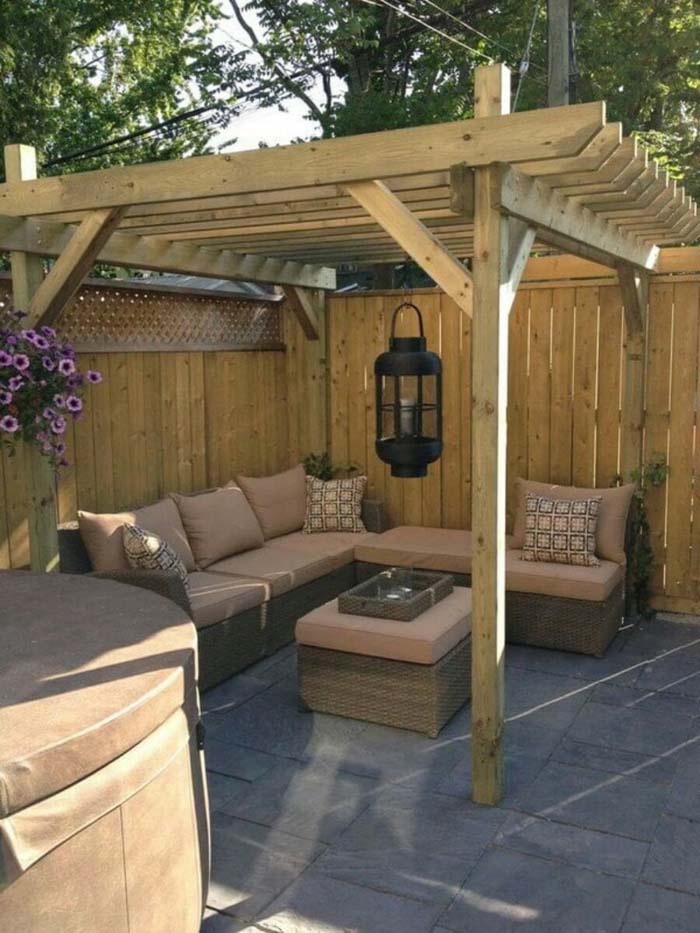 Any type of decorative light source will provide smooth and gentle illumination to the patio area.
Large lanterns and candle holders are among the preferred options as they look like great decorations during the daytime.
21. Hanging Baskets With Flowers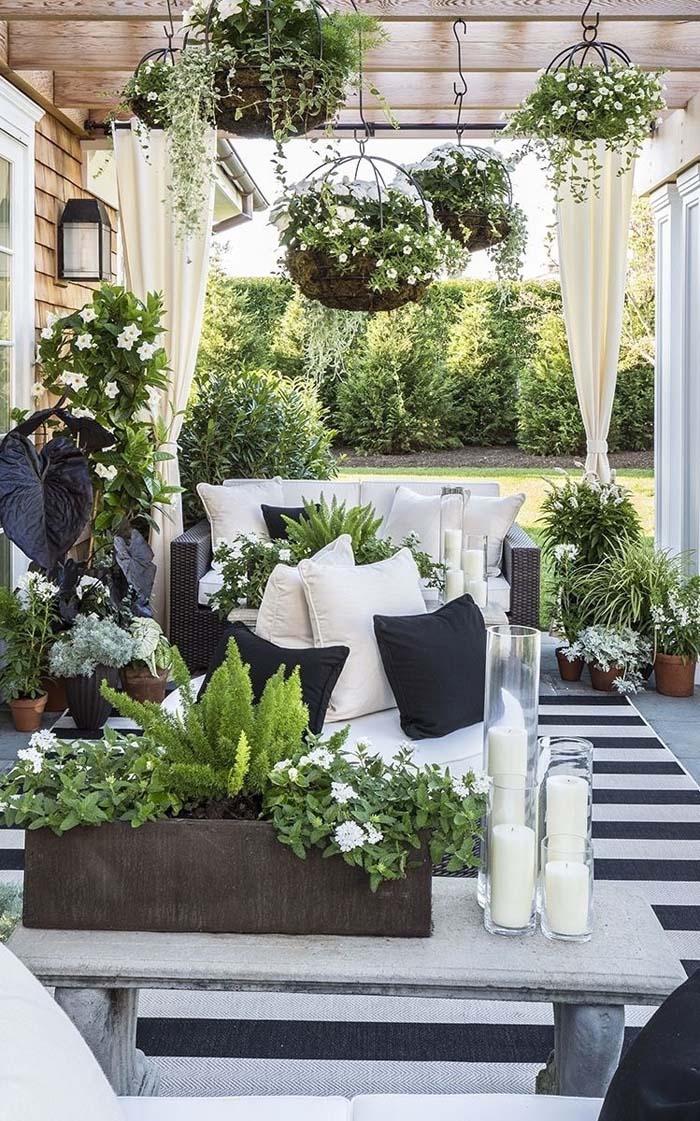 The roof of the pergola is underestimated and most of the time left undecorated.
Use the wood structure to nail hooks and hang beautiful flower baskets that will add beauty and aroma to the patio space.
via KM Wewnetzru
22. Love Seat and Washtub Tables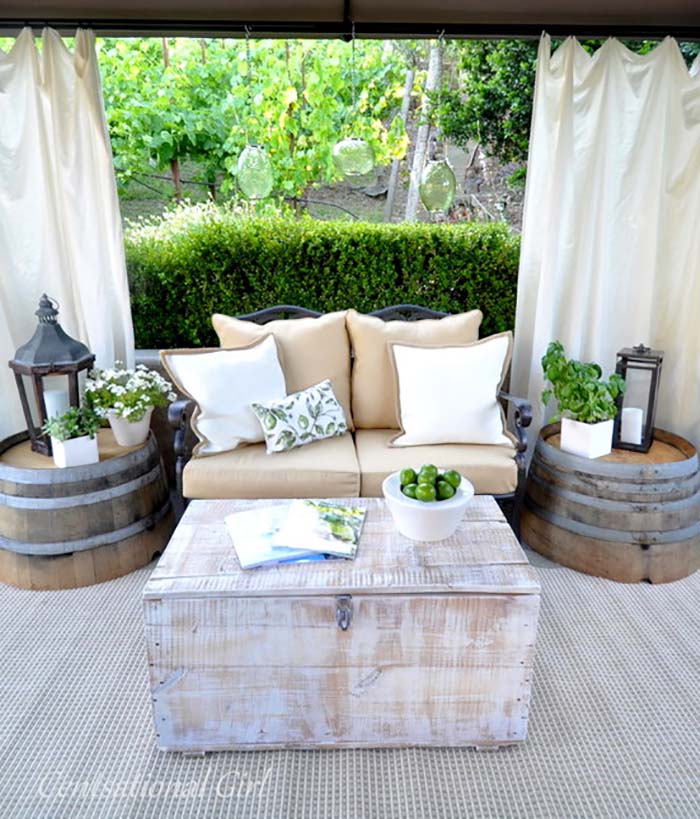 Turn the patio into a private romantic space by placing furniture for two only. Add a small sofa and a washtub as a table. The internal space of the chest can store the sofa's cushions when it rains.
Recreate the intimacy of the bedroom by placing two keg halves next to each side of the sofa and put lanterns and candles.
23. Make A Quikrete Walkmaker Patio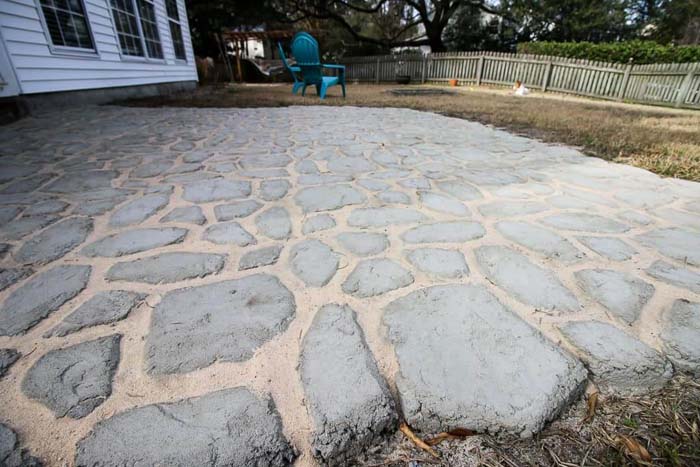 When the surface of the patio needs an overhaul, consider layering a Quikrete Walkmaker.
Use a mold to form the stepping stone shapes. It is up to you what the clearance between the stones will be.
24. Nautical Candle DIY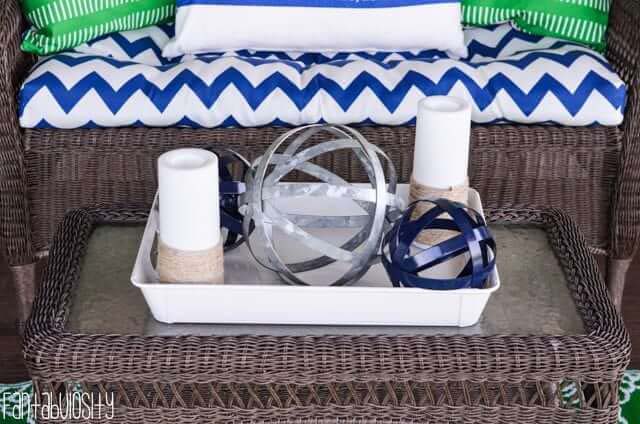 If you want a piece from the beach on your patio, make yourself a candle that will remind you of the ocean.
The supplies are from the dollar store and making it requires less than an hour.
via Fantabulosity
25. No-Sew Patio Curtains From Drop Cloths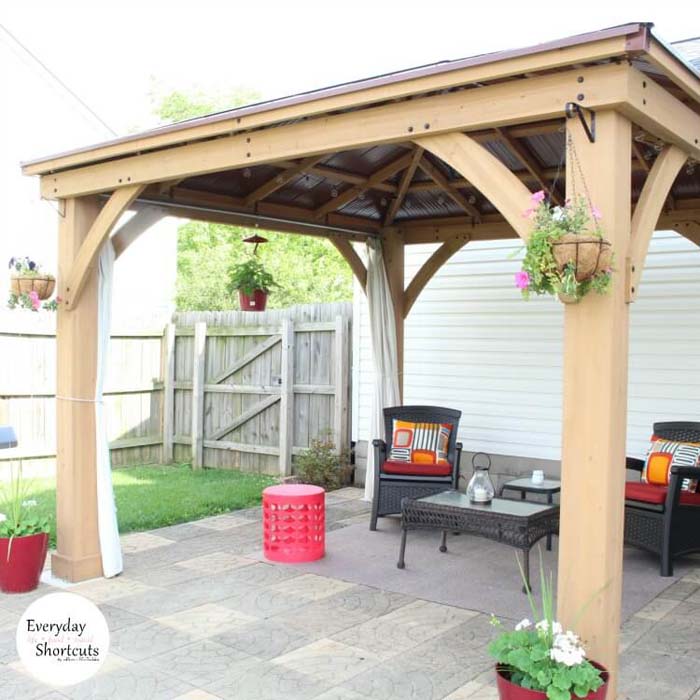 Curtains are the easiest and low-budget solution to add privacy to your patio.
Check below how you can easily install dropcloths to the pergola roof and block the curious eyes of the neighbors.
26. Outdoor Serving Station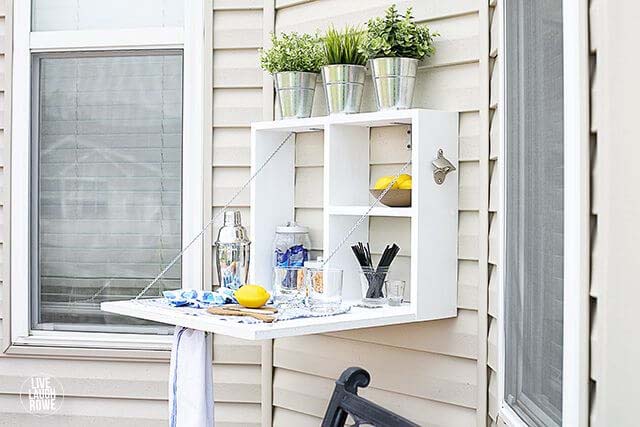 Add a cute cabinet to the wall of your house. When opened, use as a serving table.
When closed use the top surface as a flower stand.
via Live Laugh Rowe
27. Picnic Table and Hanging Lights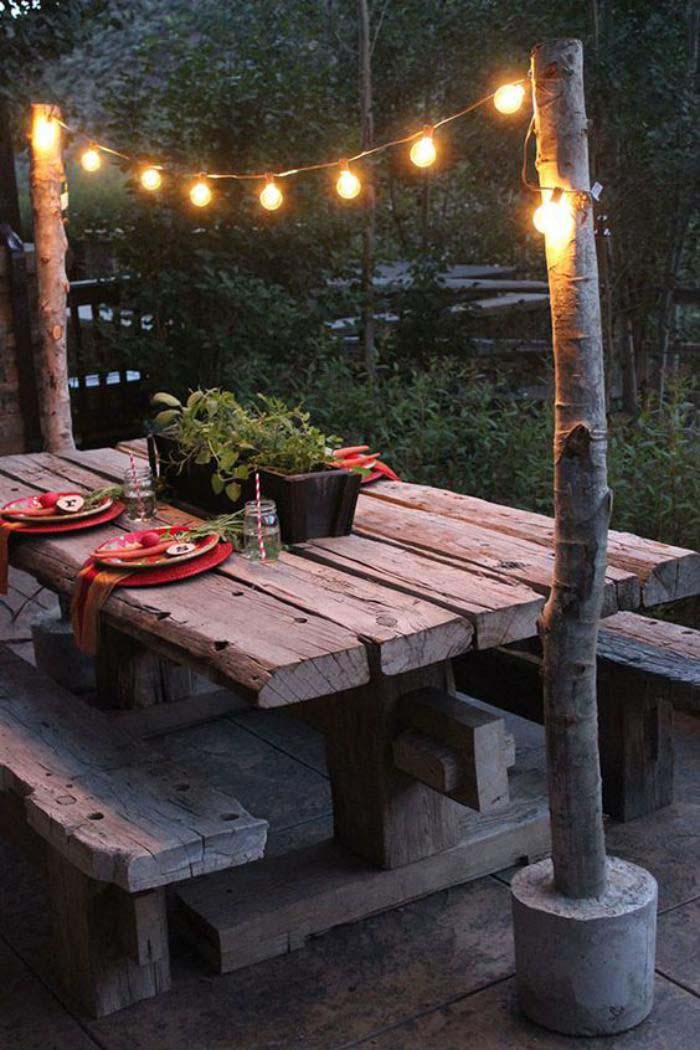 Bring the calmness of the picnic in the countryside into your patio by building yourself a cozy dining nook with hanging lights.
The shabby chic touch is very appealing and will make you spend most of your free time outside.
via Archzine
28. Planter Pots and Tikki Torch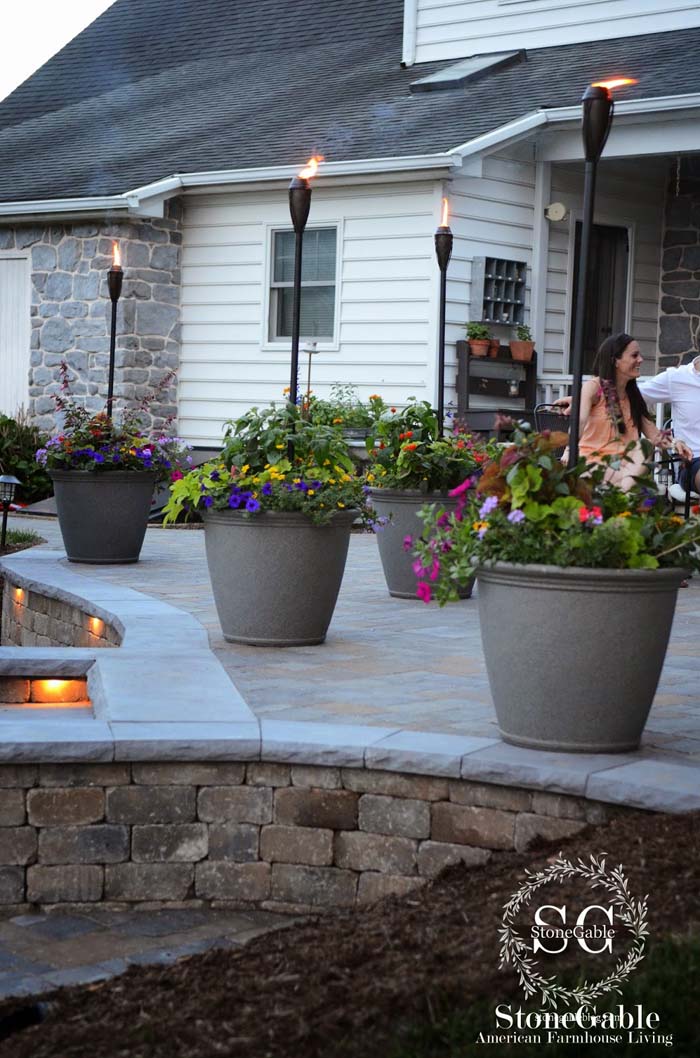 If you usually decorate your patio with flower pots during summer, insert solar torches in each of them.
When the flame of the torches is not lit, their solar-activated top glows like a faux flame.
via Stone Gable
29. Recycled DIY Patio Décor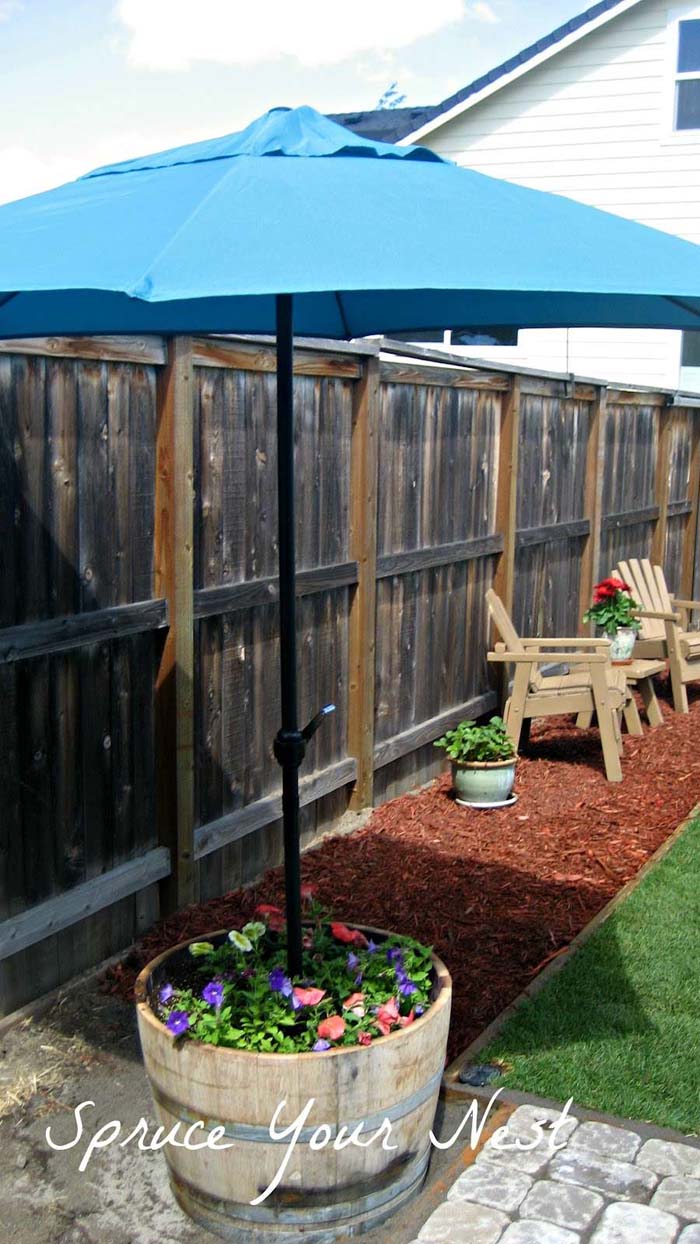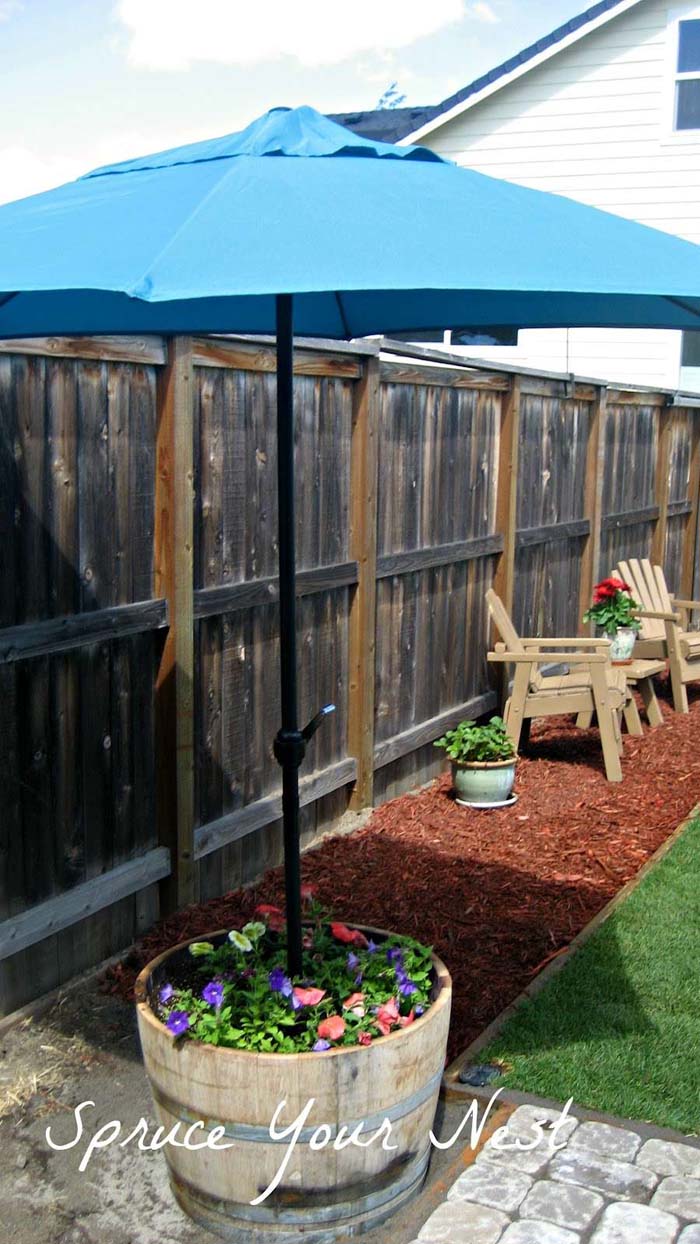 Turn a whiskey barrel into a multifunctional utility for your patio.
Insert your umbrella into it, fill it with stones and rocks and place a thick layer of soil to plant beautiful flowers.
30. Shaded Gazebo With Swing Bed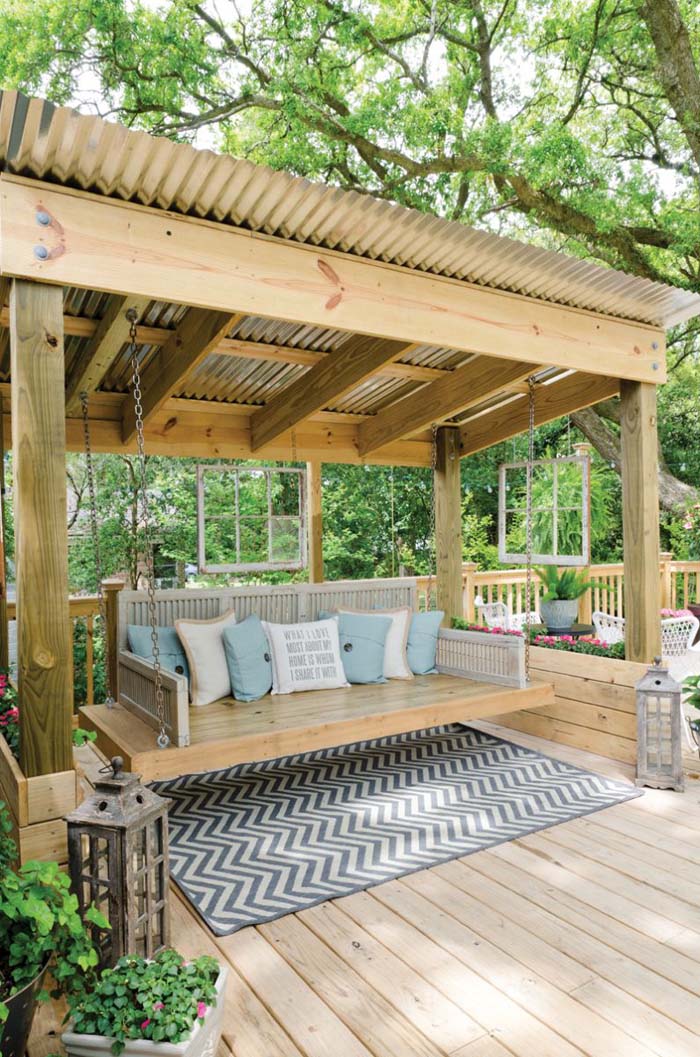 The swing at the patio is a dream come true for each of us. In addition to the calming swinging moments, it provides an auxiliary sitting area for your guests.
via Mobile Bay Mag
31. Slide-On Wire-Hung Canopy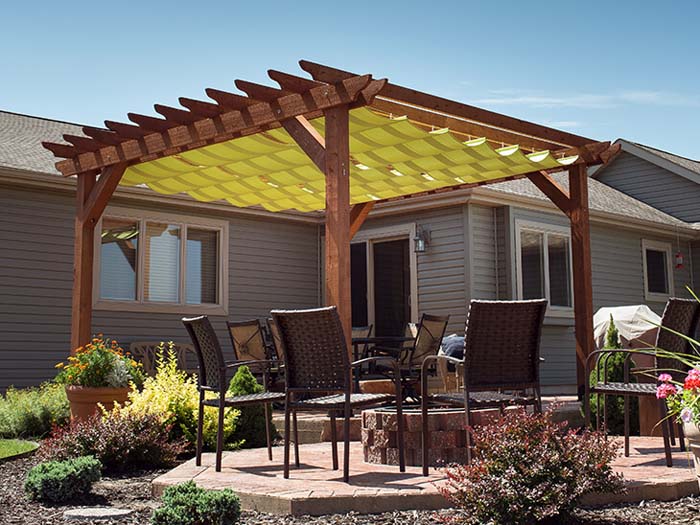 Add extra shade and style to your sitting area at the patio by making yourself a wire-hung canopy system.
Take advantage of the design and the detailed instructions below.
via Sailrite
32. Square Sectional with Keg Tables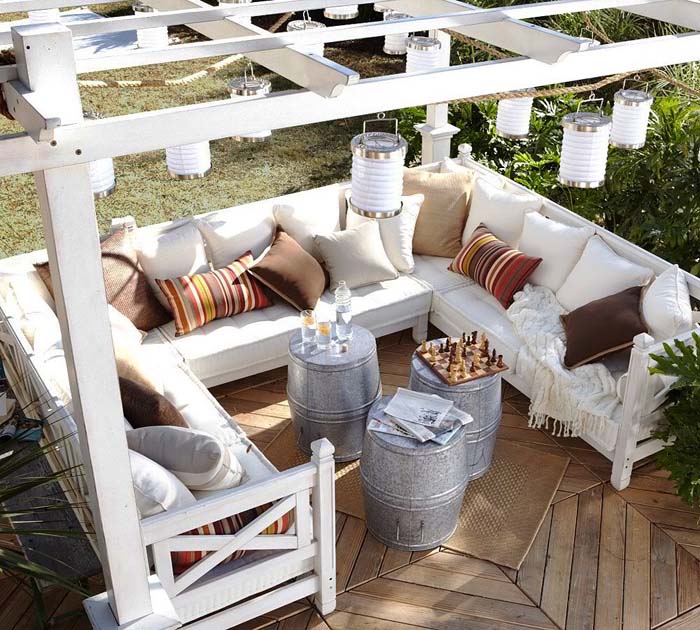 Think out of the box and make your patio party-friendly by using beer kegs as tables.
Serve drinks, play games or store the daily press.
via Pottery Barn
33. Stenciled Wooden Table and Wire Chairs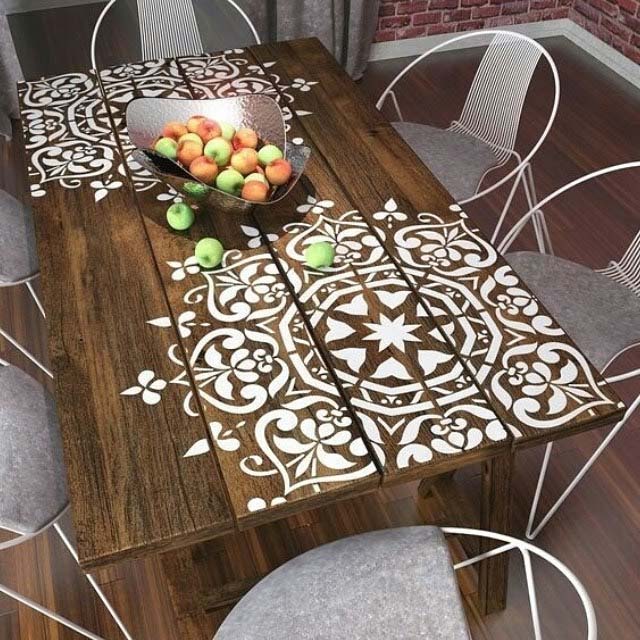 If you want to refresh the existing patio furniture, there are easy and affordable ways to do it.
Paint and a stencil are just enough to turn a plain wooden table into an art piece.
via Stencils LAB
34. Sunny Outdoor Patio Table Makeover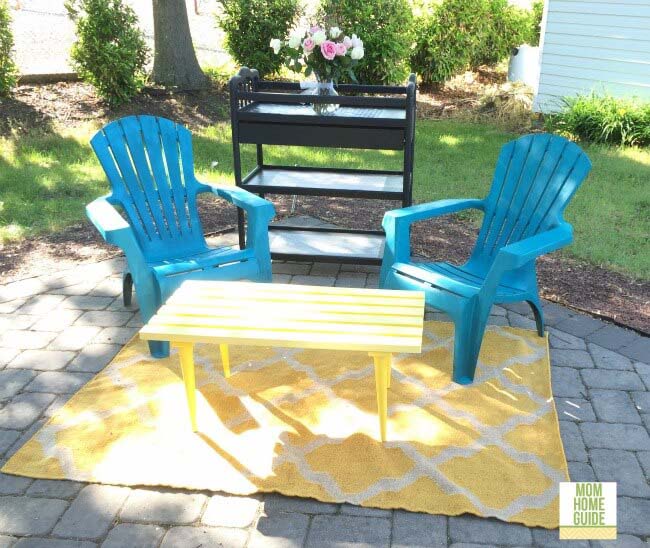 Sometimes simple things like a rug can make a great patio transformation.
Choose a bright color that matches your outdoor furniture.
via Mom Home Guide
35. Upcycled Painted Pallet Table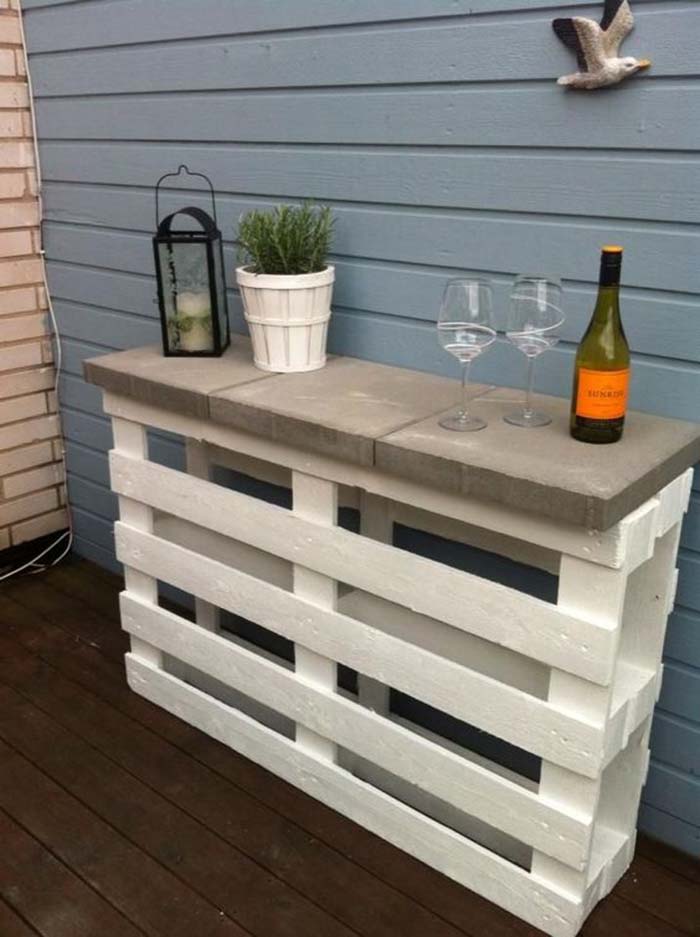 If you don't want to invest a fortune in patio furniture, make yourself all you need with pallets.
Attach vertically a pallet to the wall, add pavers on its top and use it as a side table, outdoor shelf or flower stand.
via The Whoot
36. Weekend DIY Pergola Project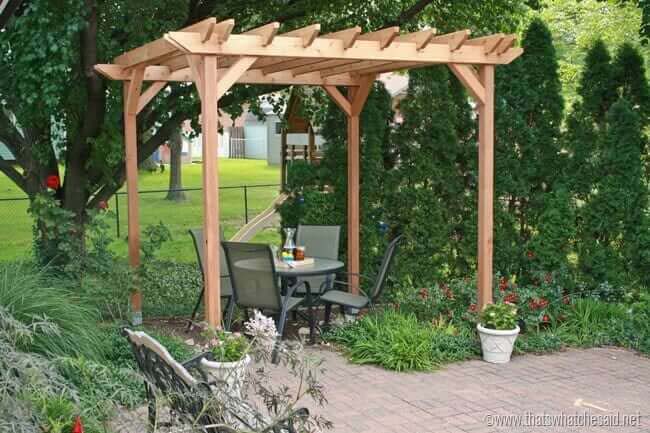 Pergolas are great but quite expensive. If you want such a shade solution for your patio, there is a cheaper way.
This DIY pergola will save you lots of money and can be done in a weekend's time.
37. Wicker Seating Set and Fairy Lights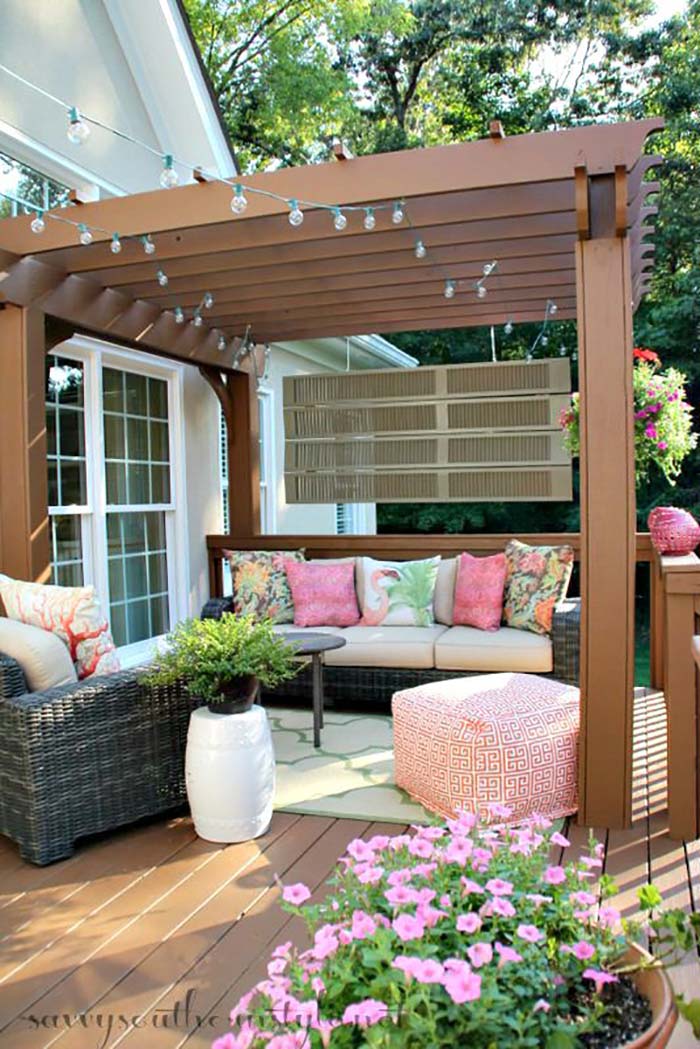 The wicker furniture is the best furniture when it comes to outdoor exposure. It is comfortable and very beautiful.
You can choose between various designs and sizes.
38. Wood Pallet Plant Shelf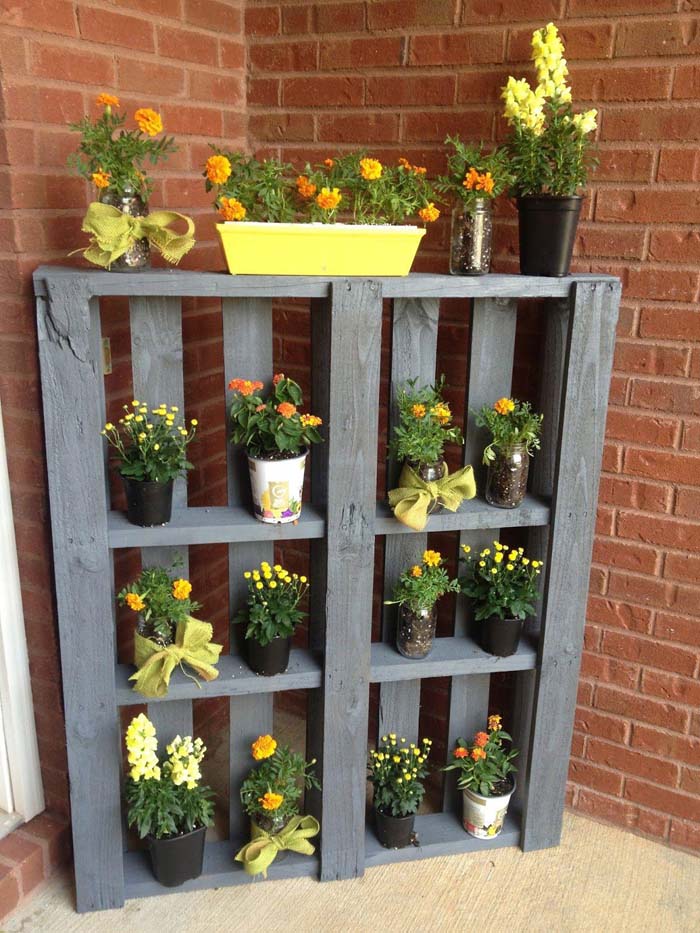 Use a plain pallet as a gorgeous vertical plant holder.
Paint in a color that suits your patio decoration and use the bottom side of it to hold your favorite summer flowers.
39. Wooden Hanging Flower Garden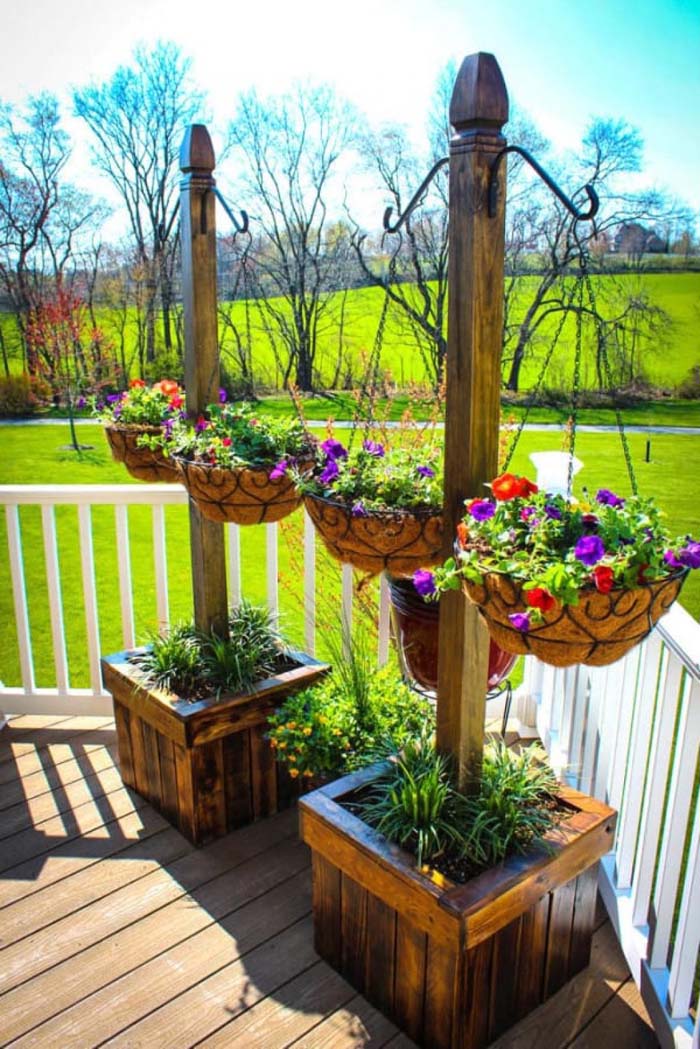 These gorgeous vertical and horizontal flower stands will add style, color and beautiful smell to the patio. You will be surprised that they are made out of pallets.
via Les Maisons
40. Your Own Private Pool on a Budget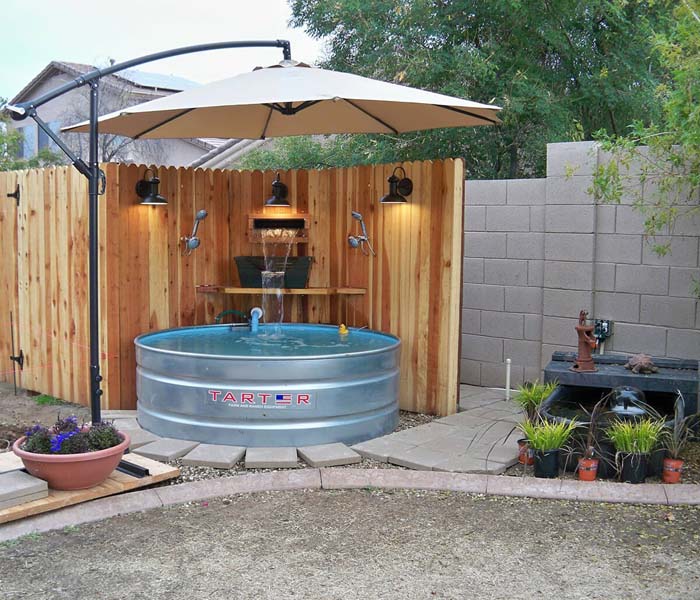 Provide yourself with the ultimate relaxing experience at the patio during the hot summer days and nights with a pool on a budget.
The agricultural stock tanks are perfect for that as they don't cost a fortune and will last for many years.