People who love do-it-yourself upcycling projects have found highly creative ways in recent years to build stunning furniture out of reclaimed pallet wood commonly used by retailers, shippers and warehouses to transport and store various products.
Although you can buy wood pallets and remnants from pallet manufacturers, you can also find old, free pallets for your projects at different companies.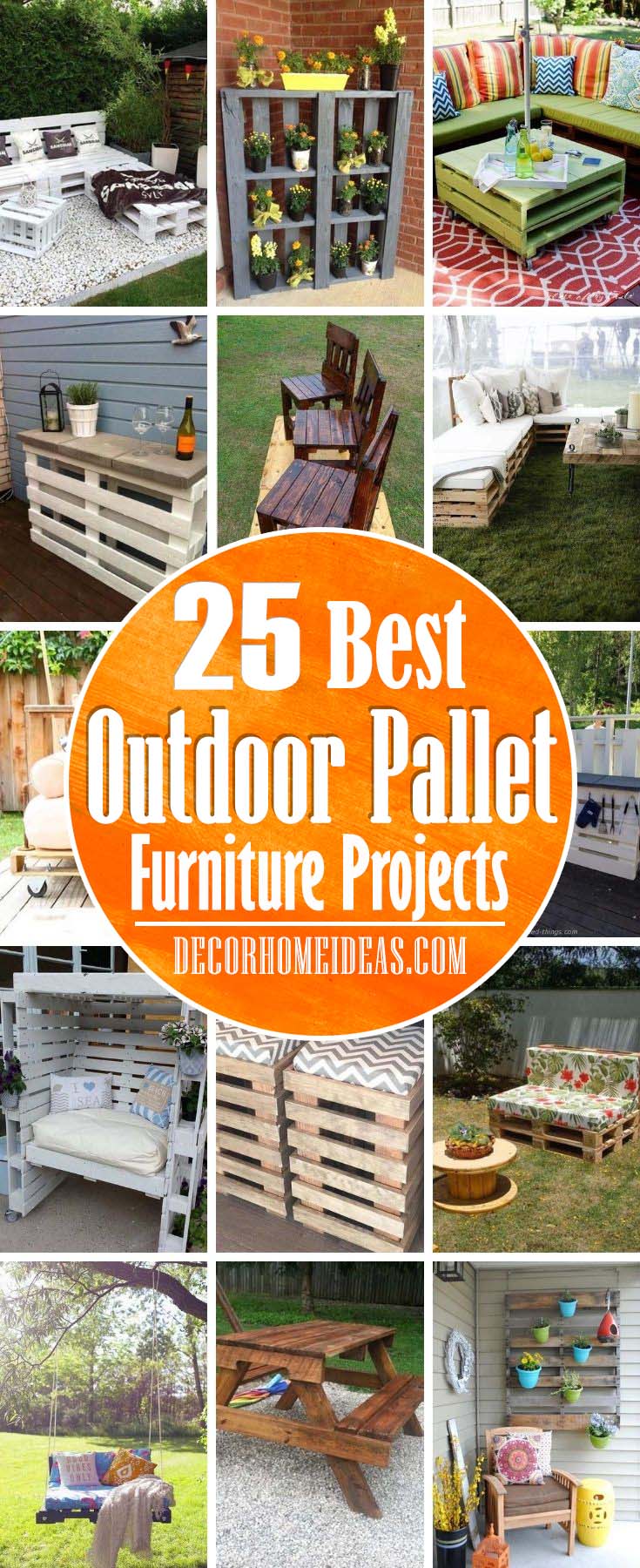 Always pick untreated wood that hasn't been used to ship or store toxic materials or foodstuffs. For the best summer days outdoors, you'll also need some amazing DIY furniture design ideas:
1. An Adjustable Recliner Made for Two

Pallet boards, a dowel rod, hinges and fastening hardware are for the most part all you need to create this adjustable wide recliner.
Flatten the backboard to sunbathe or recline it while sharing cuddles, drinks or a sunset with a loved one.
2. A White Bench Created From Two Pallets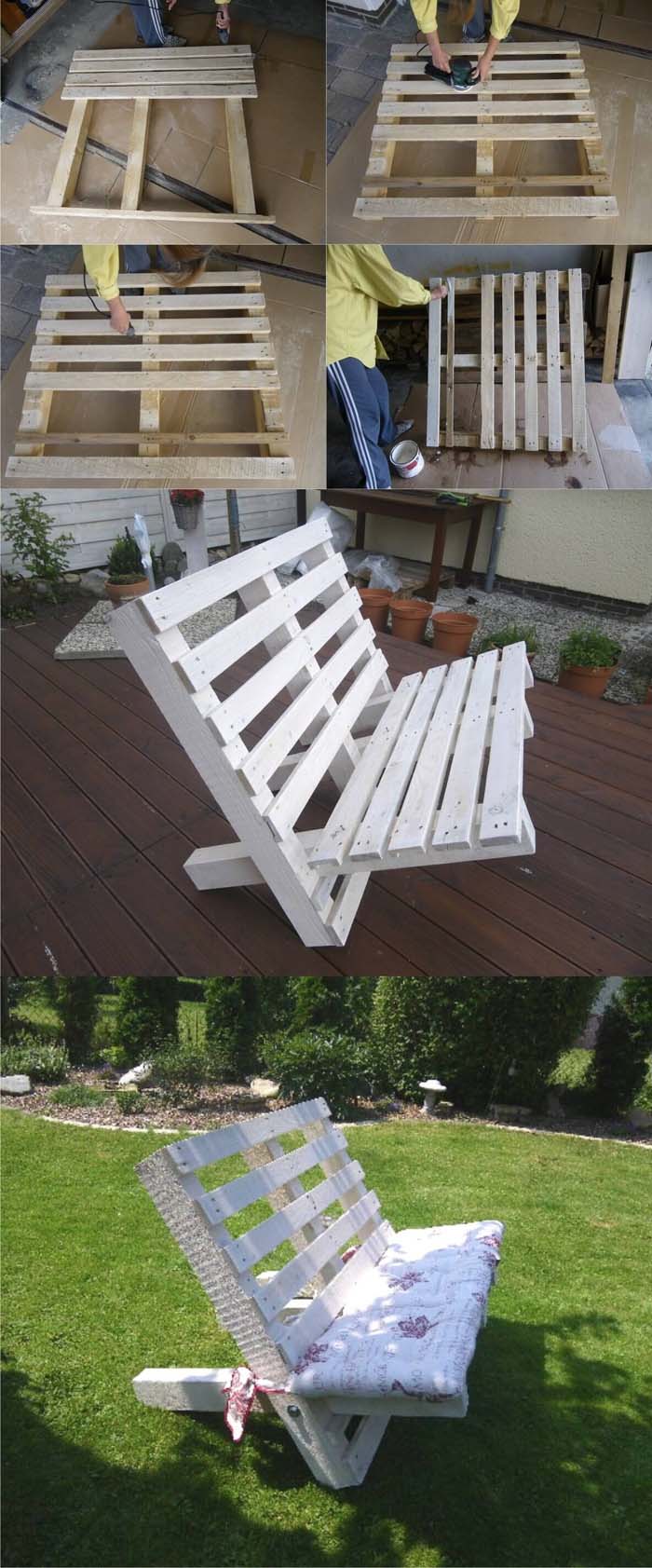 Transform a mere two pallets into a comfortable bench with a few hand tools, hardware, paint and cushions.
This project shouldn't even take you a day to complete.
via Muy Ingenioso
3. Build a Pallet Daybed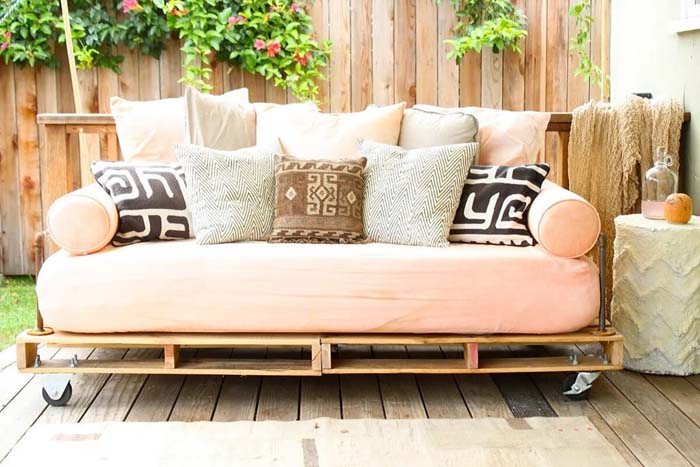 Do you desire a daybed for your deck?
With a pallet-crafted frame, pipe fixtures, casters and a twin bed and pillows, you can lounge in the sun while reading a book or relax while hanging out with company.
via Pretty Prudent
4. DIY Kids Picnic Table From Pallet Wood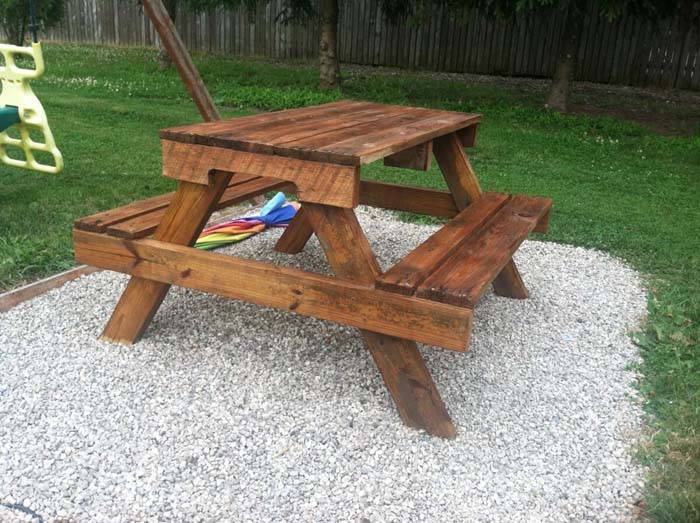 Plastic kids' tables eventually release harmful chemicals and crack and warp when exposed to direct sunlight.
Create a safer, durable outdoor meal area that can last beyond summer with a single pallet and two pressure-treated boards.
5. L-Shaped Bench with Planter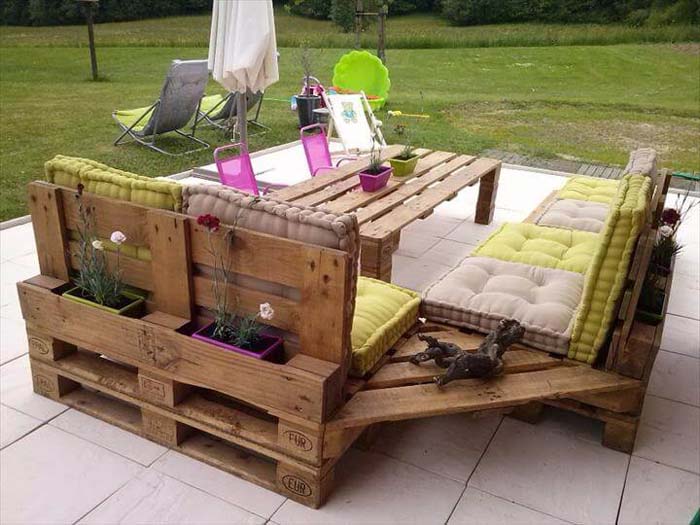 This L-shaped design features two beautiful benches suitable for up to four people, backboard flower planters and a connecting triangular shelf for drinks and decorative items.
A matching low table rounds out a perfect patio furniture set.
6. L-Shaped Countertop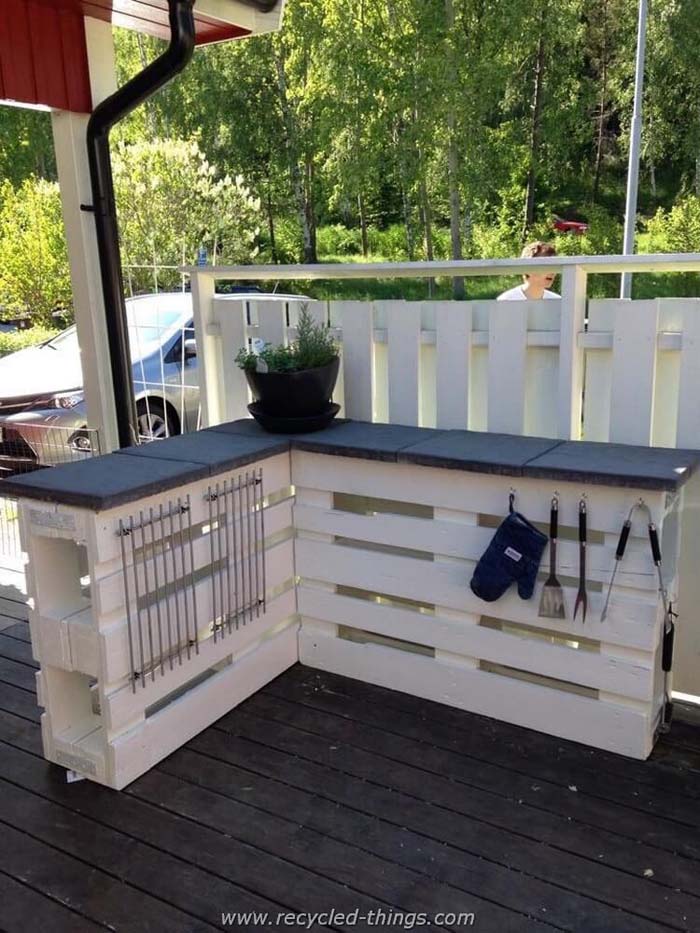 The basic style of this L-shaped countertop works well in any outdoor kitchen, including a farmhouse, cape cod, rustic and modern.
You only need to choose a counter material and paint that match your kitchen's theme.
7. Outdoor Kitchen Made From Repurposed Pallets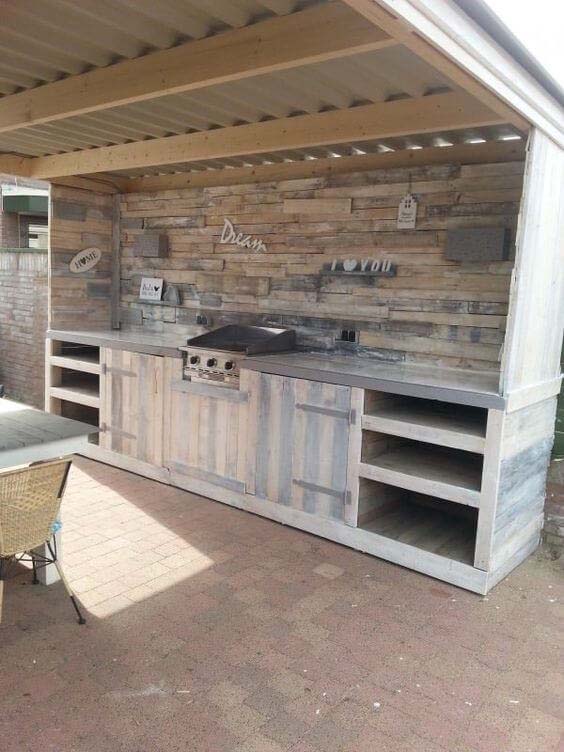 Pallet wood can be used to make more than furniture.
Build an entire kitchen that features multiple food prep zones, storage spaces and a grilling area with enough room for several cooks to have a hand in making the meal.
via Recyclart
8. Outdoor Pallet Bar With Sun Shade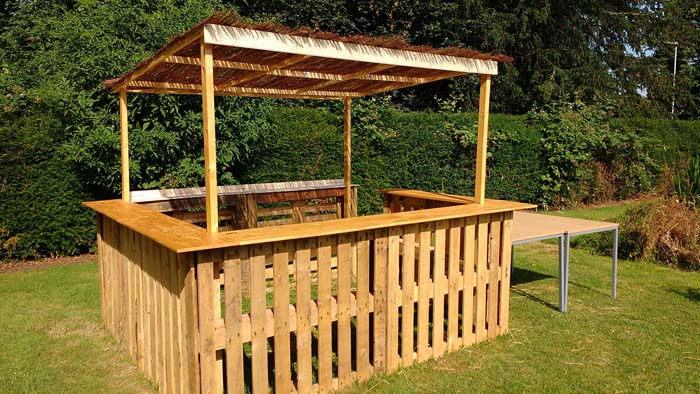 You don't need to be a professional carpenter to build an outdoor bar for treating neighbors and guests to refreshing drinks.
Also, you can re-purpose this design during any season as a school homecoming booth or community bake sale stall.
9. DIY Outdoor Pallet Swing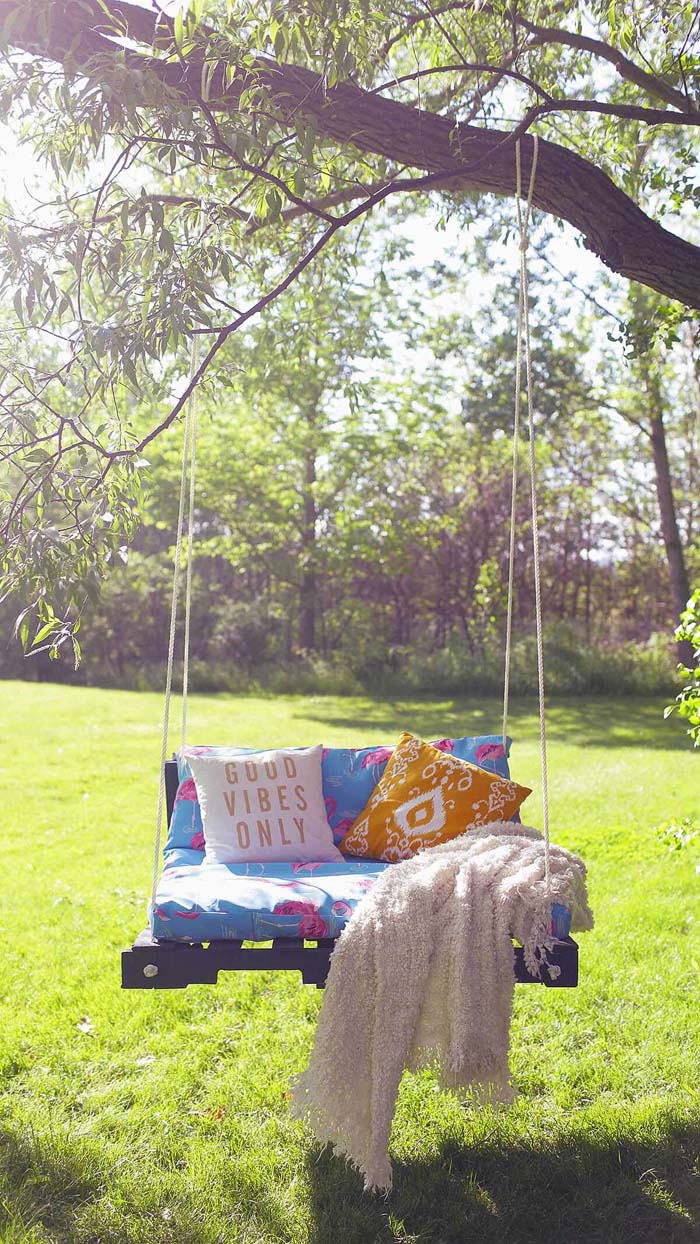 Children aren't the only ones who enjoy swinging from a sturdy tree limb.
Swing alone or with a loved one on this simple-yet-elegant, wide swing made primarily with two pallets, nylon rope and cushions.
via The Sorry Girls
10. Pallet Bar Stools With Chevron Pattern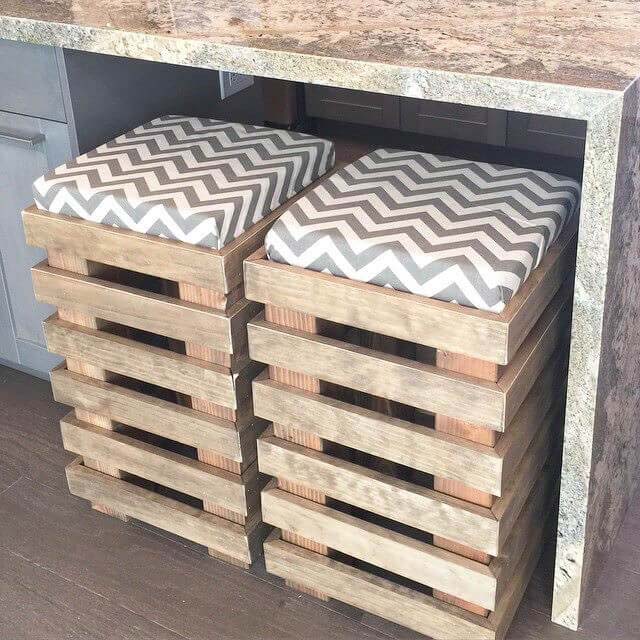 Are you struggling to find stools for your existing outdoor bar or breakfast nook? Solve the problem with these bar stools.
A bit of pallet wood effortlessly becomes sturdy, tall boxes topped off with foam cushions covered in chevron-patterned fabric.
11. Pallet End Table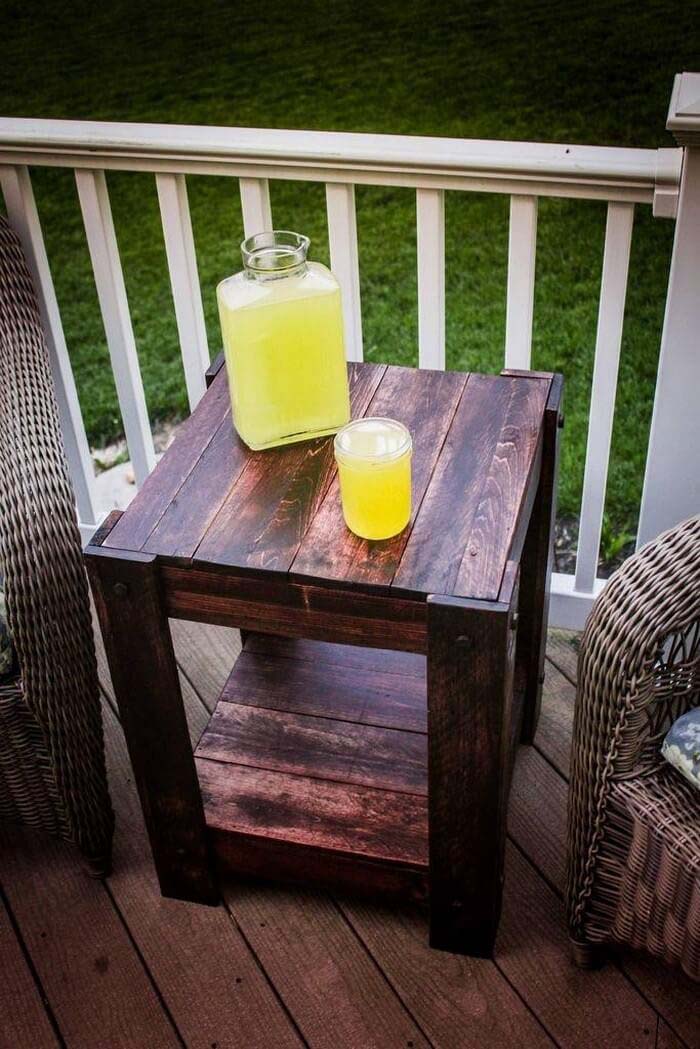 Look no further for a furniture idea that adds a touch of rustic beauty to any patio or porch.
This walnut-stained pallet end table looks great with pallet, wicker (shown) and other furniture.
via Instructables
12. Pallet Furniture Ideas for Your Lawn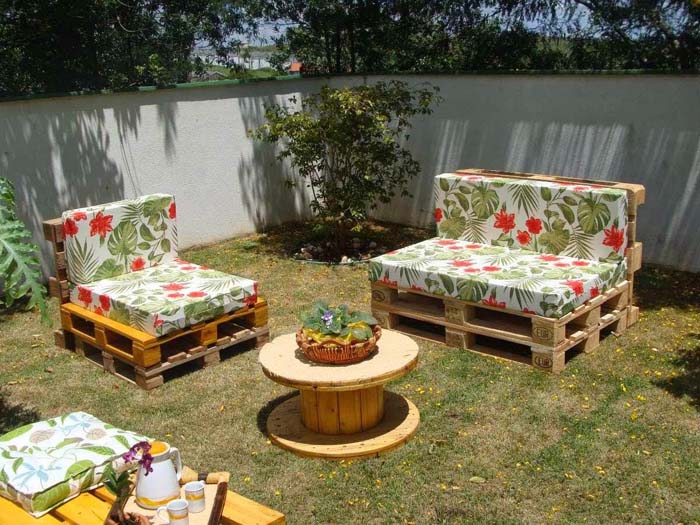 Retro, boxy pallet furniture designs are trending once again!
To recreate this lawn scene, stack together and connect pallets, add some cushions wrapped in fabric with a vintage summertime pattern and locate an old, wooden cable spool.
13. Pallet Furniture Ideas with Plush Pillows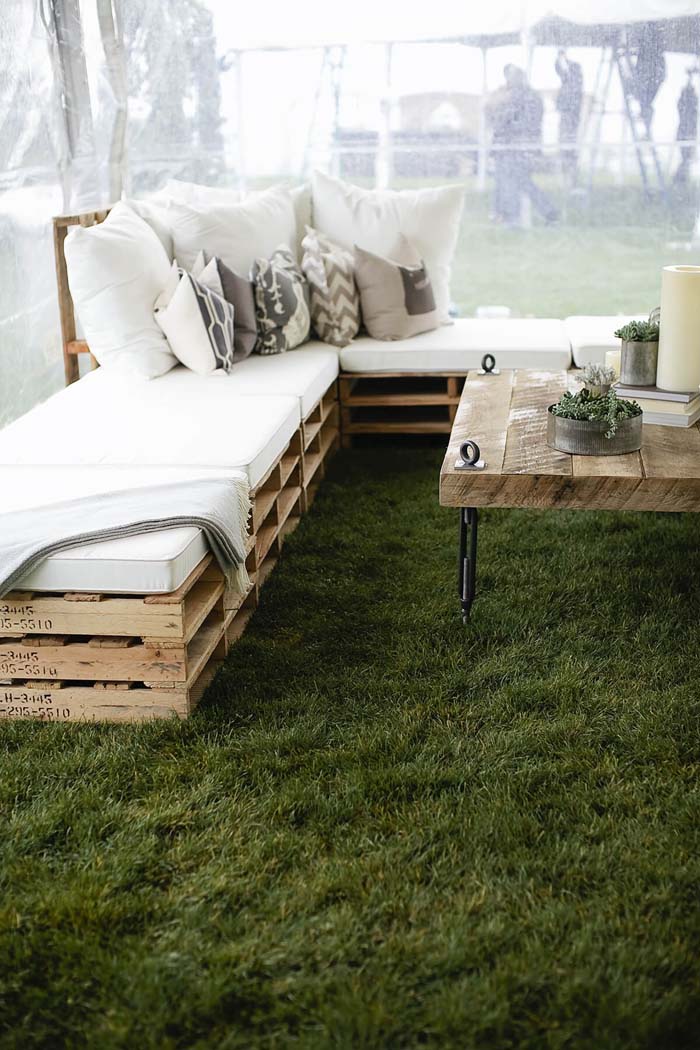 Here's another simple idea that merely requires connecting pallets together in layers and adding cushions on top.
Choose clean, modern-colored plush pillows and linens or add contrast to the green lawn with vibrant, colorful fabrics.
via Style Me Pretty
14. Pallet Furniture Ideas with Wheels for Moving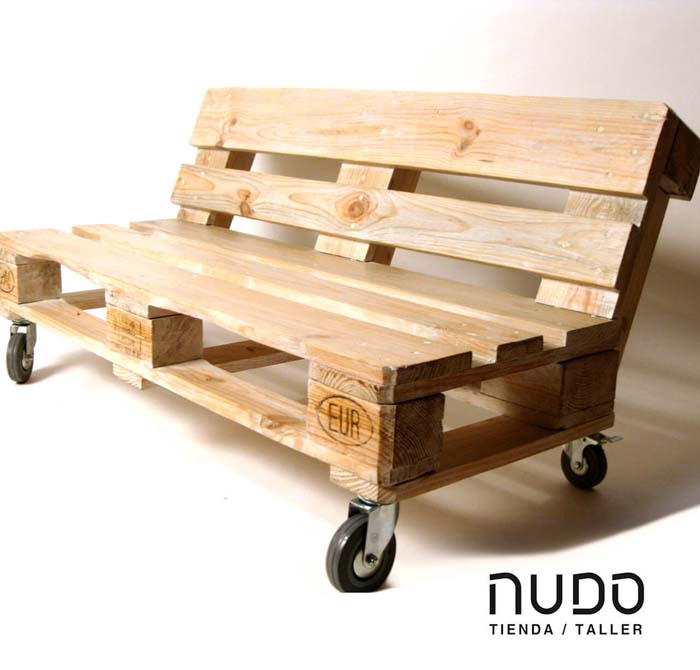 Do you need an easy-to-build, impressive movable seat?
The answer is this design is made from a single pallet, hardware and caster wheels.
15. Pallet Garden Set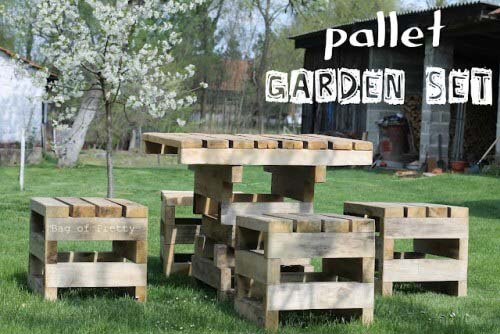 This set provides another great example of how much furniture you can build from a few wooden pallets without a lot of effort.
The modern design also makes it look like you spent a ton of money on your garden furniture.
16. Pallet Kitchen Counter Chairs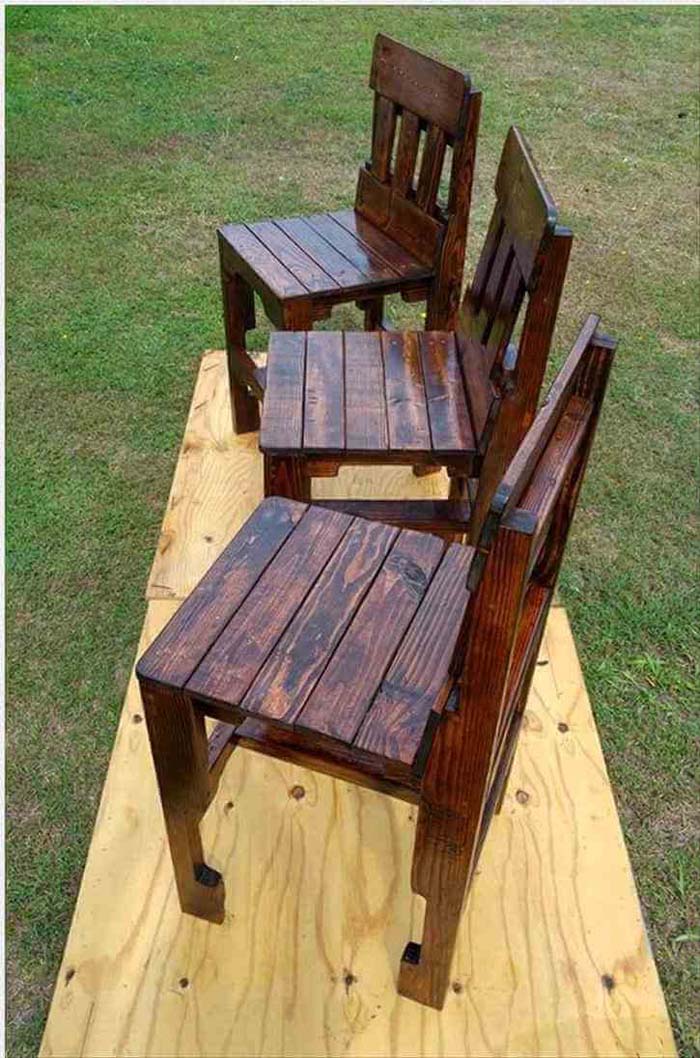 Walnut stain and polyurethane can give any pallet furniture project rustic elegance.
These counter chairs have an antique appearance that blends in beautifully with rustic outdoor counters and furniture.
via 99 Pallets
17. Pallet Wood Sofa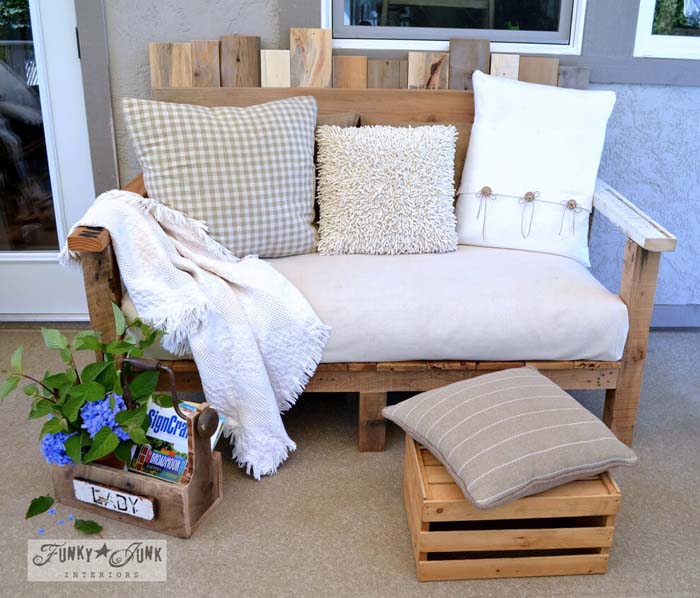 If you want a sofa that doesn't take up a lot of space, this funky pallet one creates a simple two-seat solution.
A box-style footrest made out of pallet wood completes the look.
18. Pallets Garden Party Lounge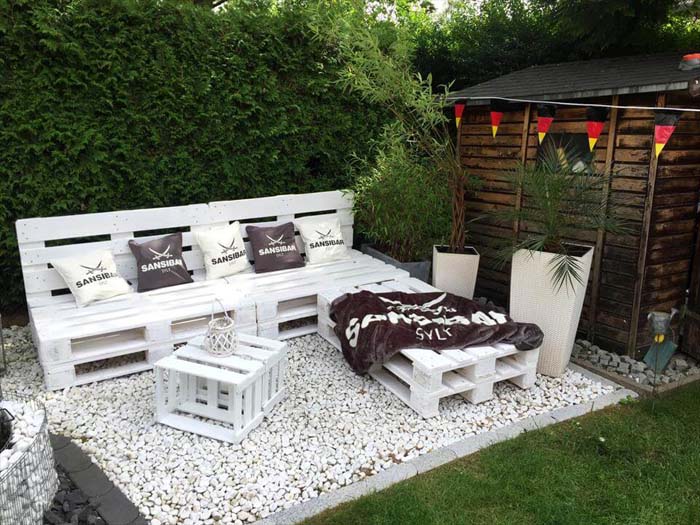 With a few pallets, paint, throw pillows and a comfy blanket, you can make a lounge set that draws every eye at a garden party.
This furniture creates a wonderful spot to entertain guests and relax near a fire pit on a cool evening.
19. Private Seating Area with Cushions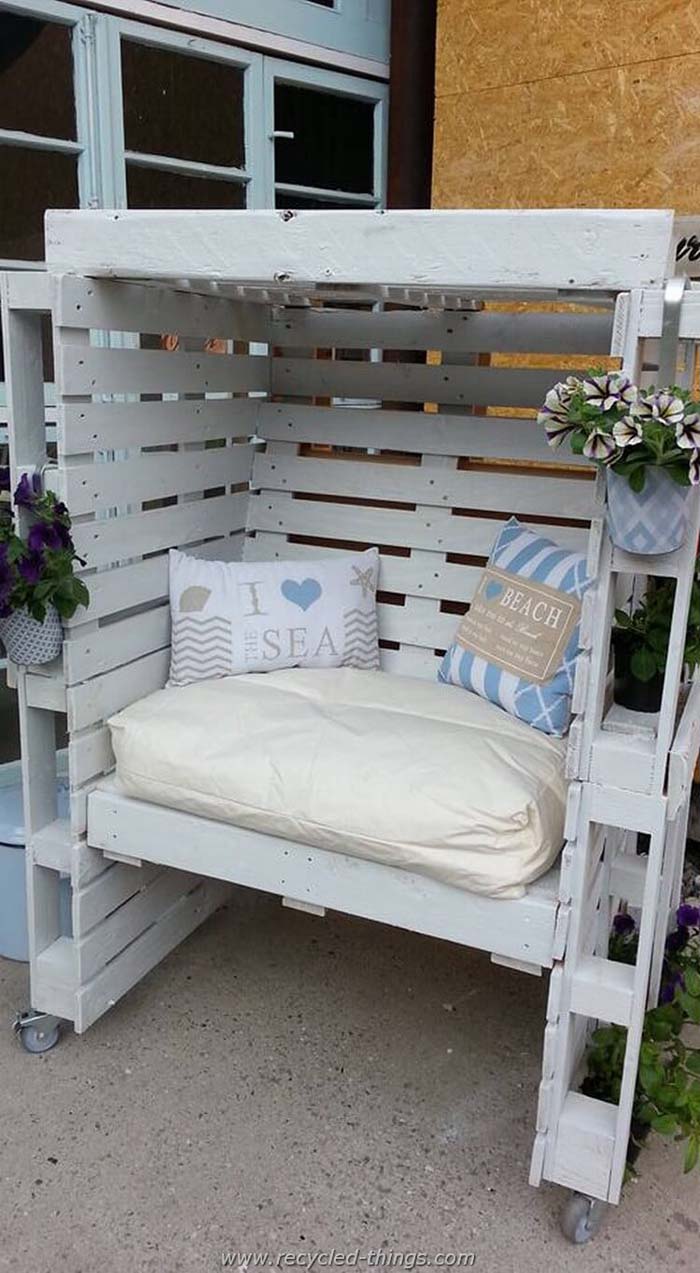 You don't need a mansion to have a garden seat where you can spend time reading a good book or just enjoying nature.
Place potted plants on attached shelves around this portable seating area and then disappear into your private garden anywhere.
20. Reclining Seats for Your Patio or Deck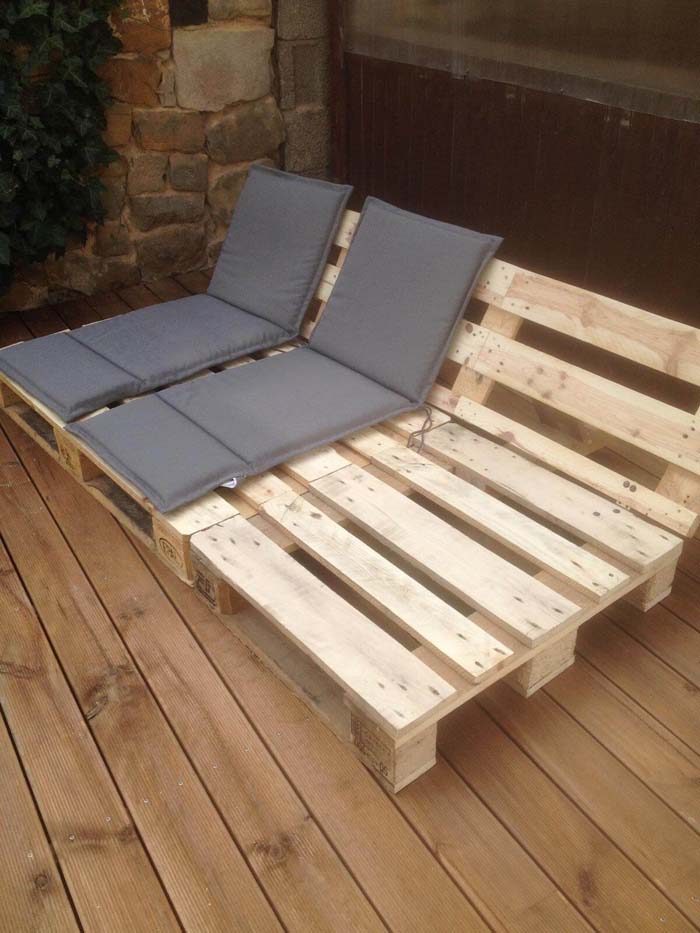 These pallet recliners expand upon the ones pictured earlier by adding an additional two seats.
Hang out with a group of friends or sunbathe without shouting across your patio or deck during conversations.
via Wohn Blogger
21. DIY Pallet Coffee Table

Who says pallet furniture can't be luxurious?
This portable coffee table is made of rough, stacked pallets with a smooth top in a design that would impress any high-end decorator.
Although the image features rustic metal accessories, it's just as easy to imagine brass, copper or even gold or silver ones in their place.
22. Summer Outdoor Living Space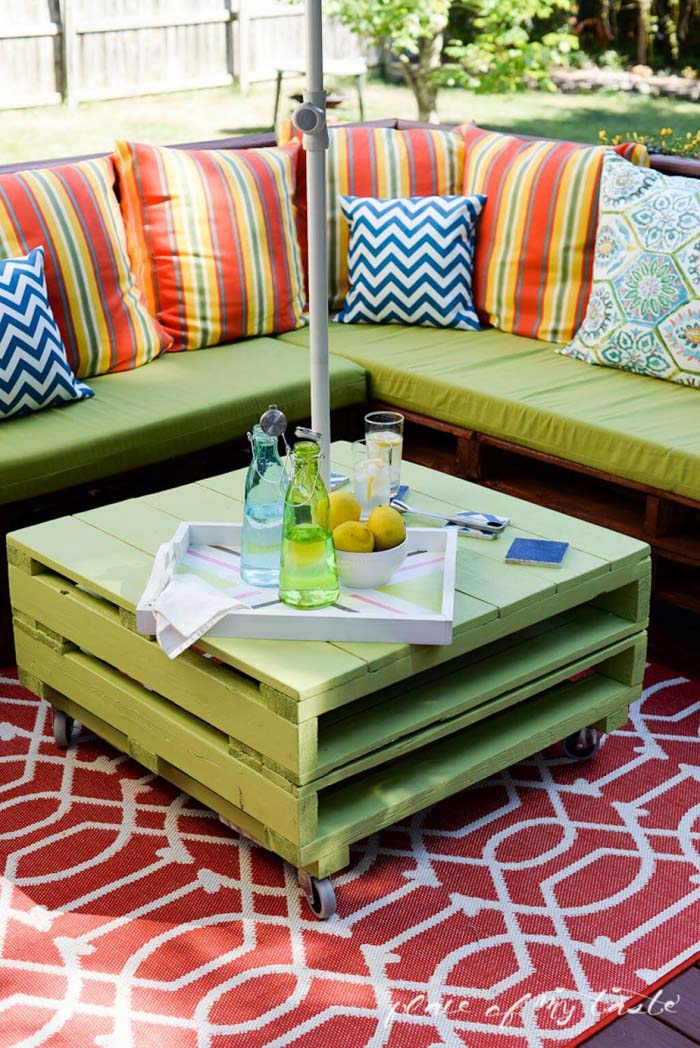 An outdoor living space should be flexible enough for any event.
This stationary, L-shaped bench arrangement with colorful cushions and pillows features a convenient, portable table with a removable umbrella stand.
23. Vertical Flower Planter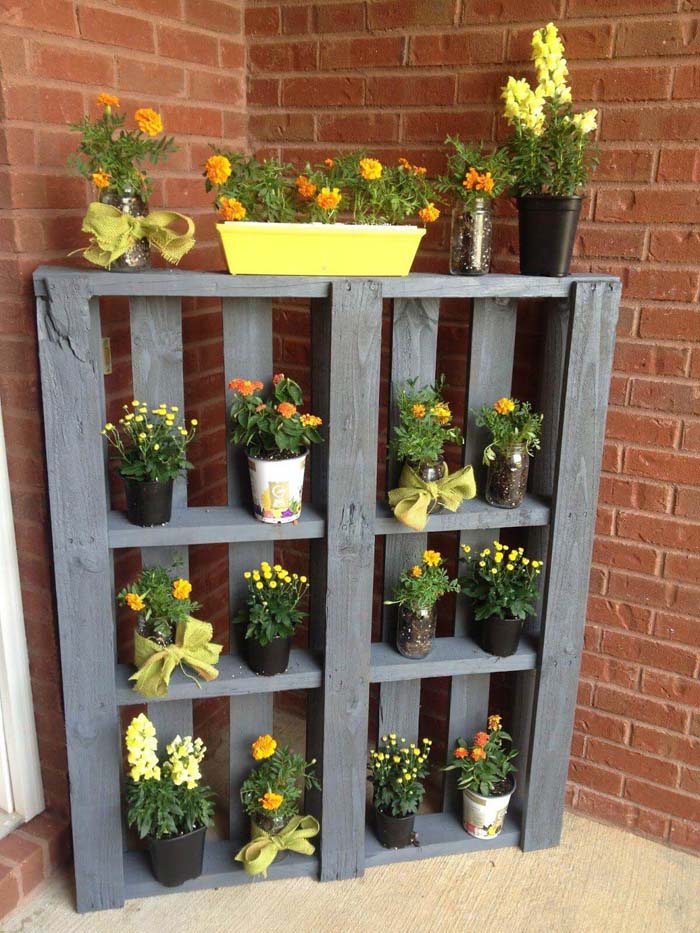 It is possible to build an uncomplicated piece of pallet furniture in only a few steps.
Make this amazing vertical planter with a single pallet, a saw, a hammer, nails and some paint.
24. DIY Vertical Pallet Garden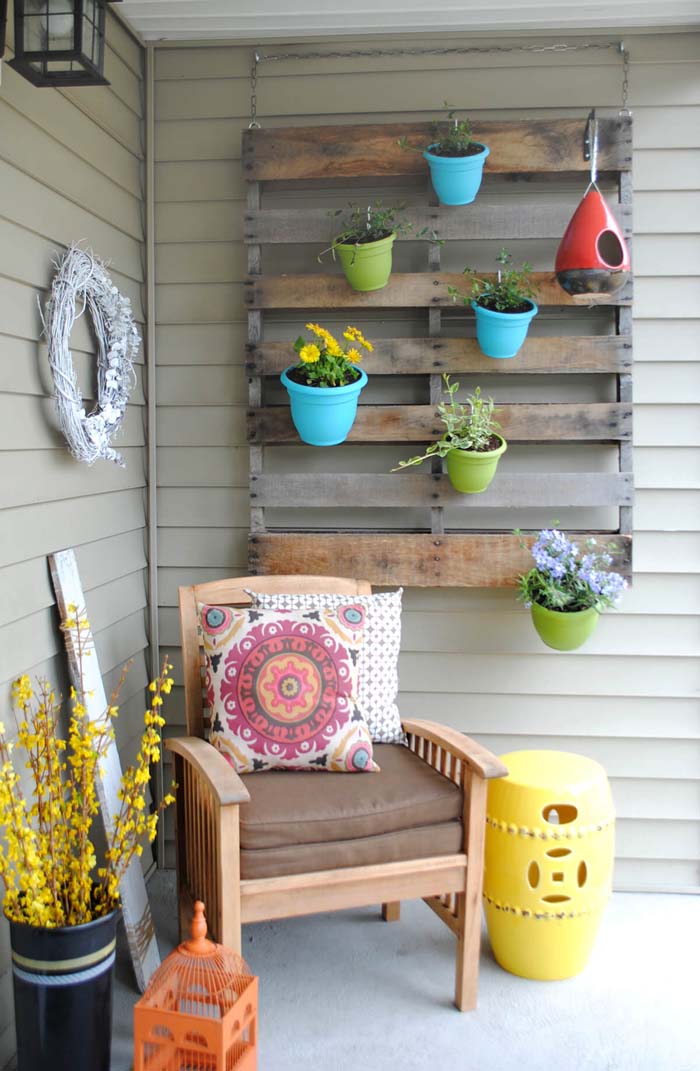 Did you know that you can make a vertical pallet garden in under an hour?
All you need is one pallet, two eyelet screws, a length of chain, hanging plant hooks and some potted plants.
via Jenna Burger
25. Wooden Counter with Cement Surface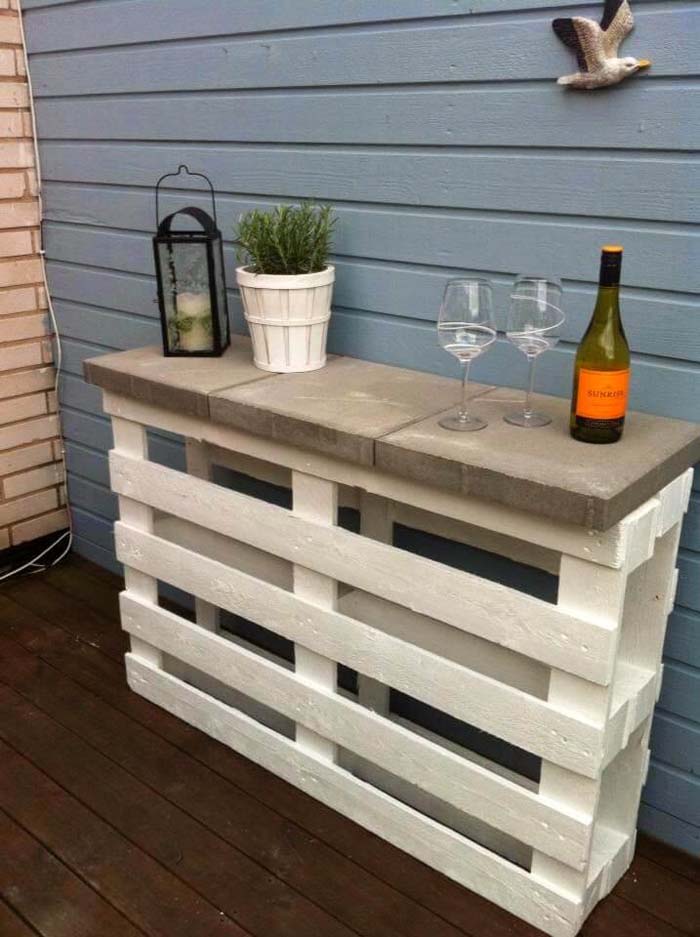 Lastly, pallet wood is often made from hardwoods that can handle a lot of weight, which makes it a great choice for outdoor counter projects.
As seen here, it can hold the weight of even heavy concrete elements.