Are you looking for outdoor furniture? Clearly, the ready products on the market are numerous but we have all heard that involving our own efforts and time eventually brings valuable satisfaction and pride from the results.
Plus the DIY outdoor furniture projects allow adjusting the project to the individual taste and size preferences. You need to check these 50 super cool, fresh, functional and creative furniture ideas that will lift the outdoor experience to another level.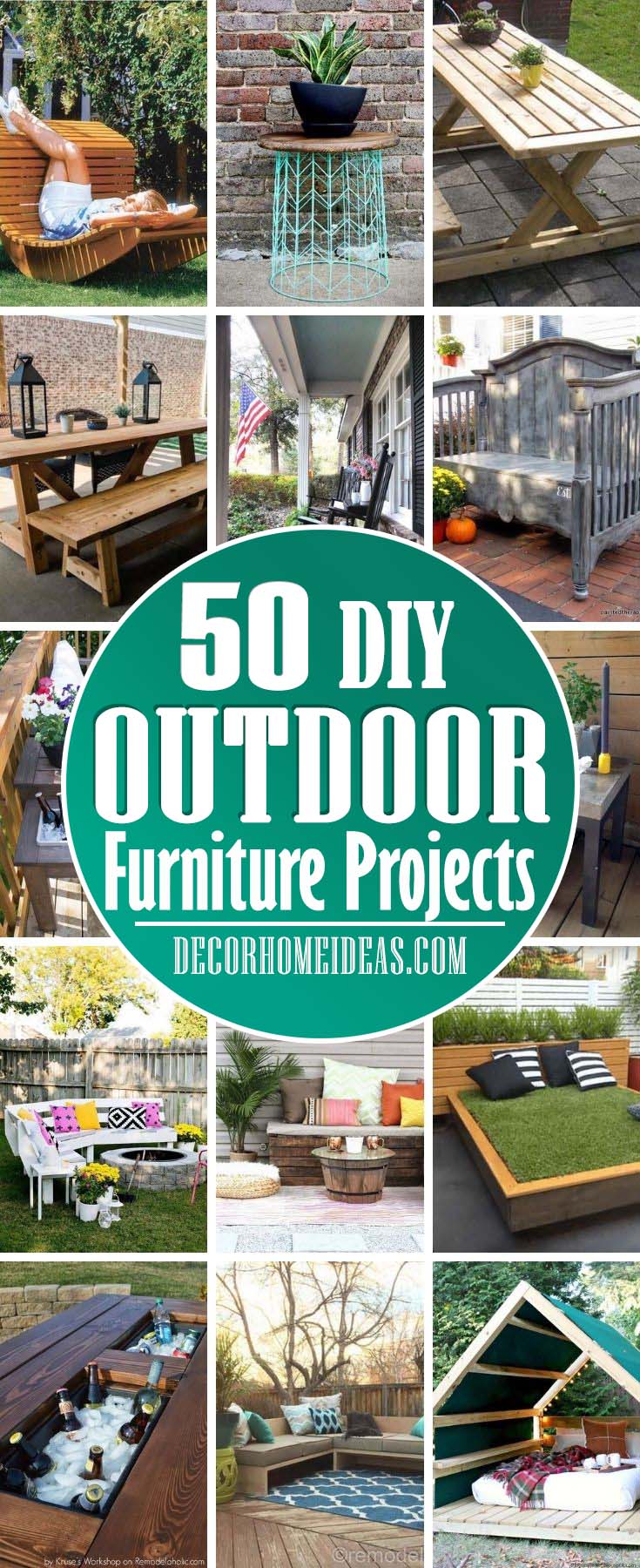 Are you ready to make your unique outdoor furniture? The most affordable, easy to do and creative projects follow!
1. Transform Your Outdoor Space with a Stylish Vintage Bench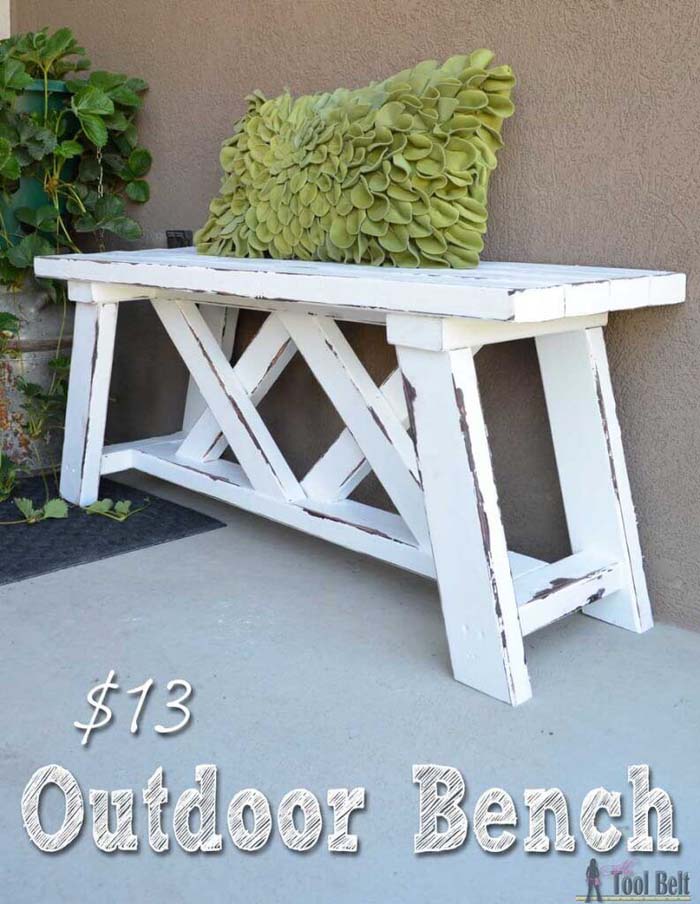 Benches are the preferred piece of furniture when it comes to increasing the number of seating places without capturing too much from the outdoor space.
Make yourself a vintage and artistic porch or patio bench only for $13.
via The Idea Room
2. Build Rustic DIY Outdoor Furniture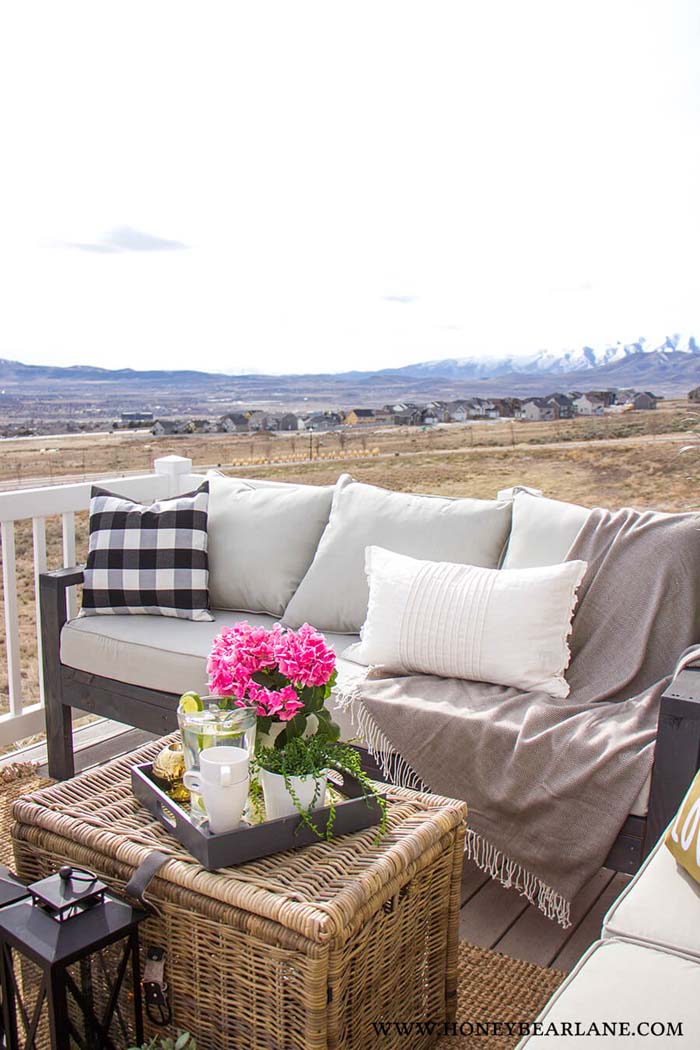 Couches are very suitable for the gathering of more people outside.
The bench structure is additionally improved by adding thick cushions that will ensure comfort and stylish look.
via Honeybear Lane
3. Transform Aged Indoor Furniture into Rustic Outdoor Furniture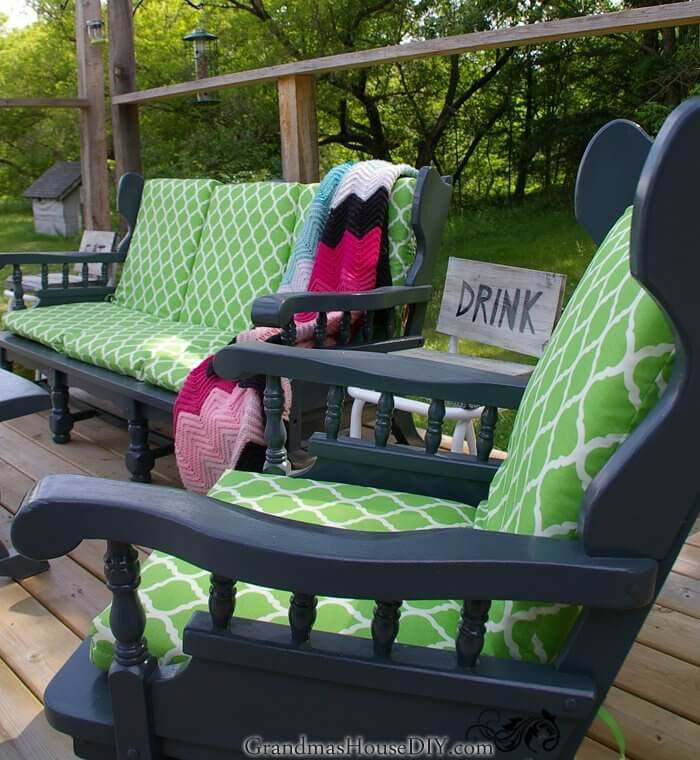 Turn the old and aged indoor furniture into fantastic vintage outdoor furniture in two steps.
Paint the wood and dress the cushions with fabric in a contemporary pattern.
4. Make a Statement with an Outdoor Concrete Side Table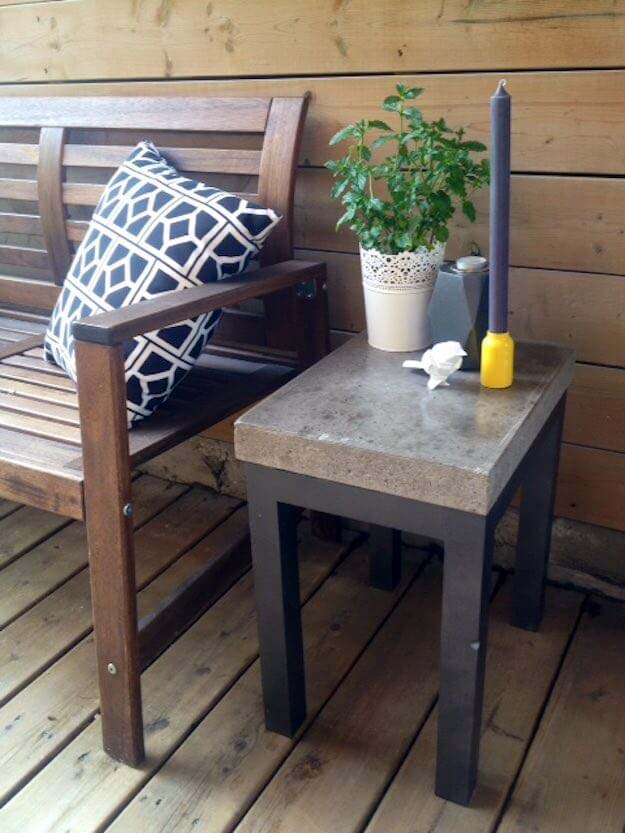 Side tables are a small but very important piece of furniture. What makes them very practical is that they help put the mess in order.
Sometimes they can even be used as the main table for coffee or cold drinks. A side table with a concrete countertop will add contemporary appeal to the outdoor furniture.
via Storefront Life
5. Maximize Curb Appeal with Corner Benches with Built-in Tables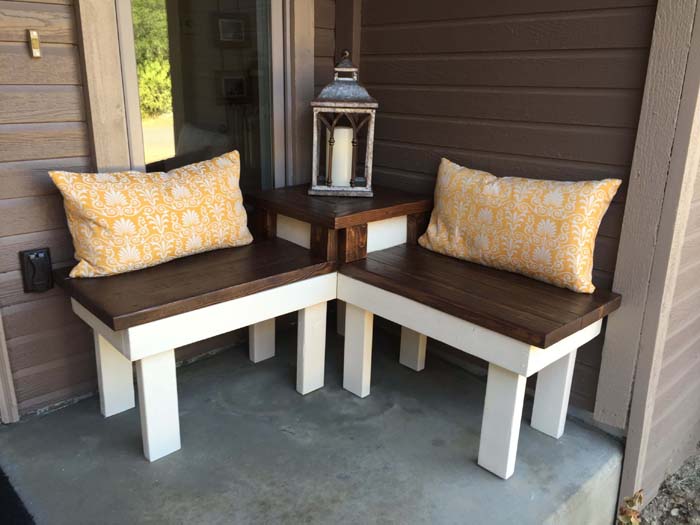 Utilizing corner spaces is a difficult task, especially when it comes to combining features like comfort, decorative efficiency and footprint.
These corner benches with a built-in table incorporate all of these and will contribute to the maximum curb appeal of your outdoor space.
via Remodelaholic
6. Handcrafted Wooden Table With Pallet Plank Countertop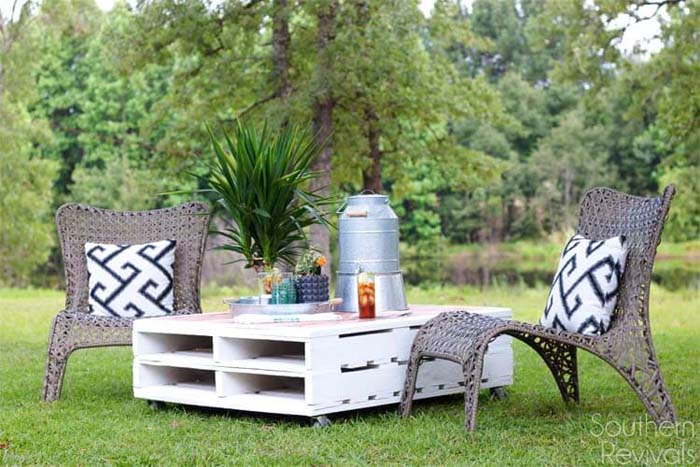 This table is so skillfully made that it is difficult to recognize the basic materials used.
Made of pallets, it has openings left to accommodate accessories or decorations and is planked with a wood countertop for a smooth serving surface.
7. Build a Durable Pallet Sofa with a Thrift Shop Futon Mattress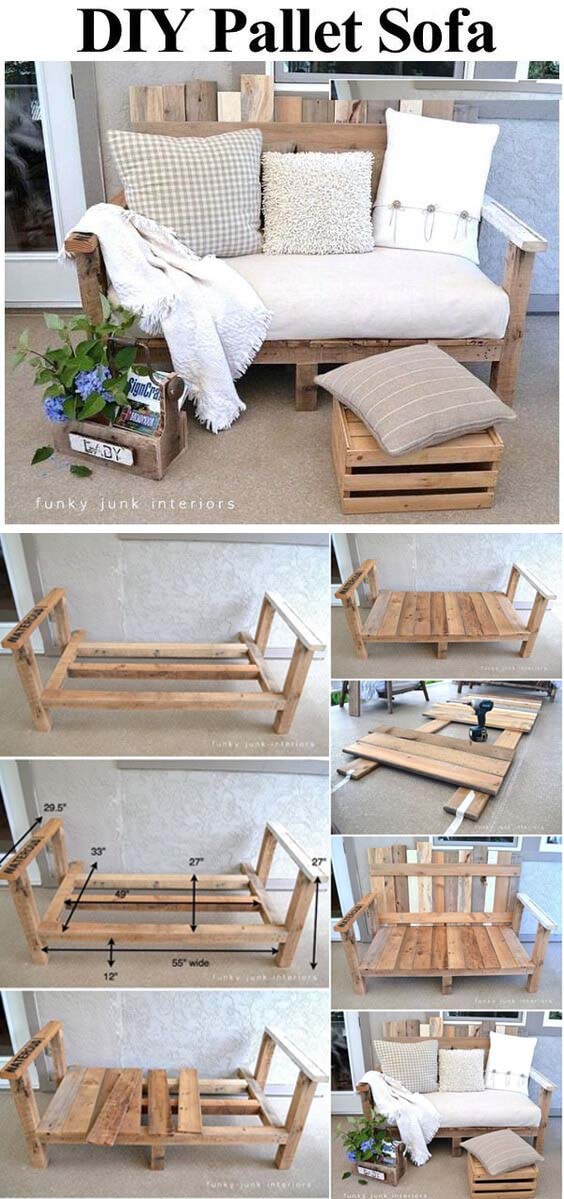 Made of scrap pallet wood, this sofa is the most comfortable ever thanks to the cushion.
Taken from a thrift shop, it is a multi-layered mattress from a futon-type sofa that will last for years. If you have such a mattress, it is time to build your own pallet sofa for it.
8. Create Extra Seating with a Repurposed Wood Crate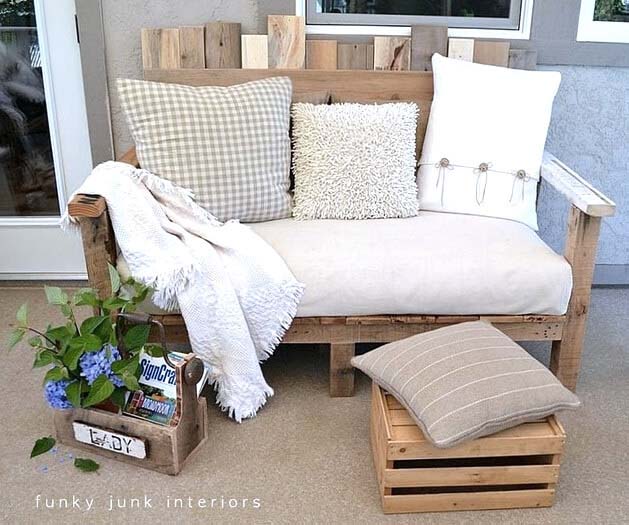 Use a wood crate as an auxiliary chair when seats are not enough.
Re-align the wood slats at one of the wider sides if needed to make sure that the sitting area is strong and secured. Add a cushion and voila!
9. Repurpose an Old Crib into a Rustic Garden Bench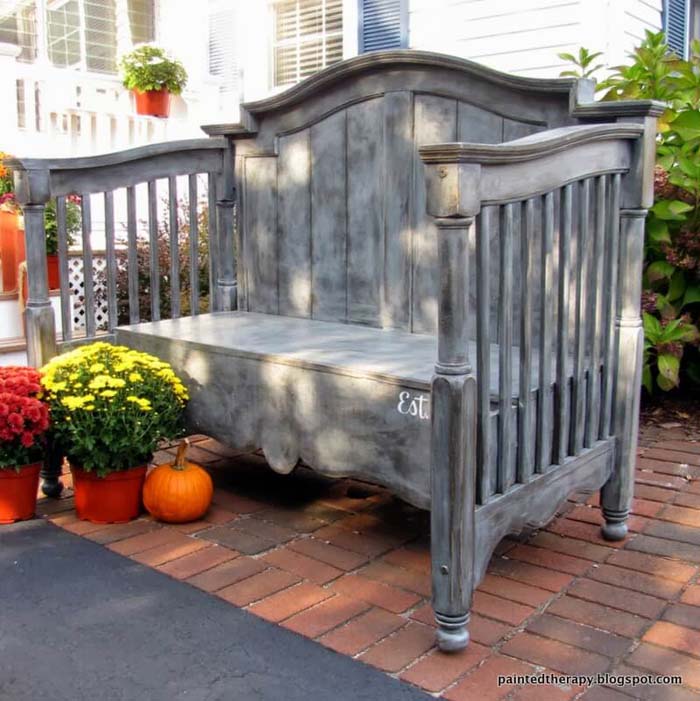 This creative project repurposes an old baby crib into a garden decorative bench.
The loving memories remain alive and charge the ambiance with charm and cuteness.
via Painted Therapy
10. Build a Chaise Lounge with DIY Outdoor Furniture Projects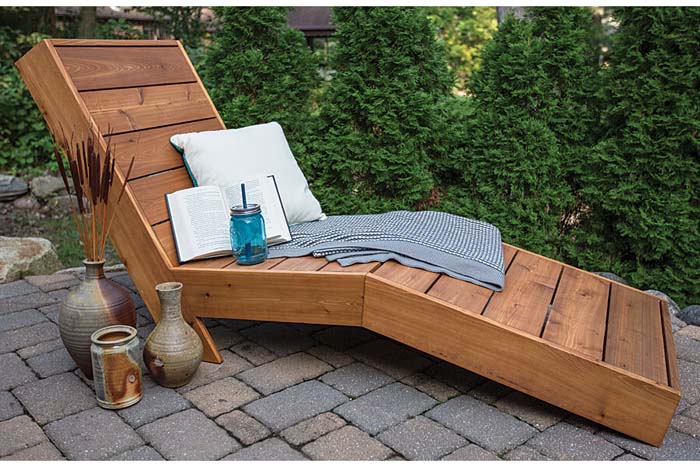 An exhaustive tutorial explains how to build yourself a chaise out of wooden boards and hardware.
The shape follows the body's curves and lying in it guarantees comfort and ultimate relaxation.
via Build Something
11. Enjoy Entertainment with a Table with Built-in Ice Bucket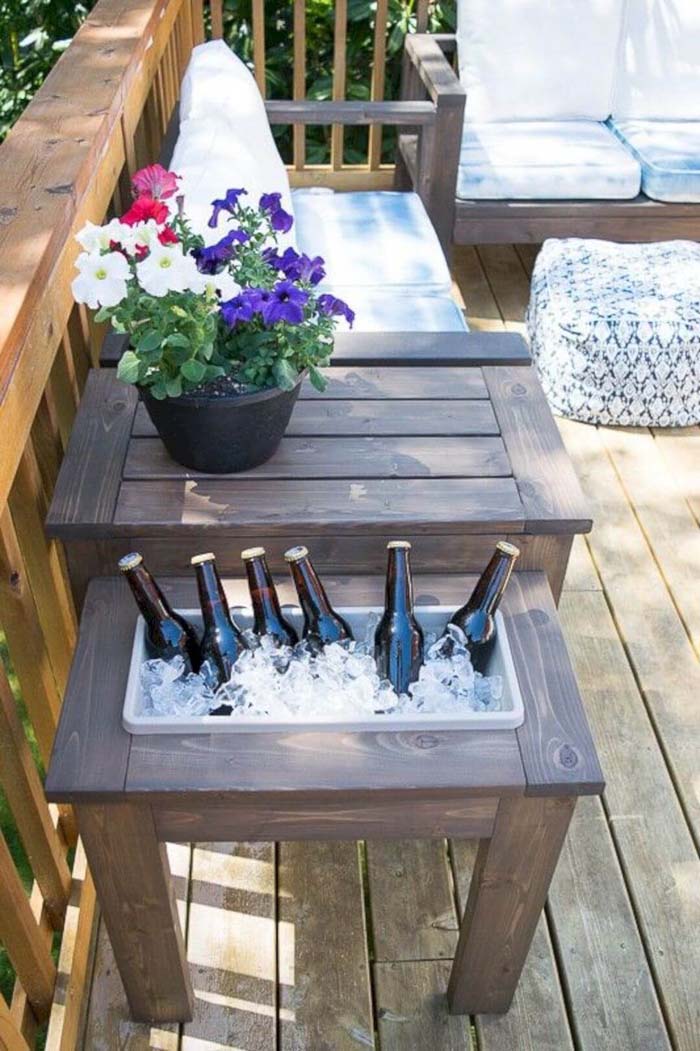 Having a table with a built-in ice bucket is the cherry of the ultimate outdoor entertainment.
The side table can easily change its function from party to decorative by replacing the ice bucket with a flower pot.
12. Cherish Swinging Moments on Your Porch with a DIY Swing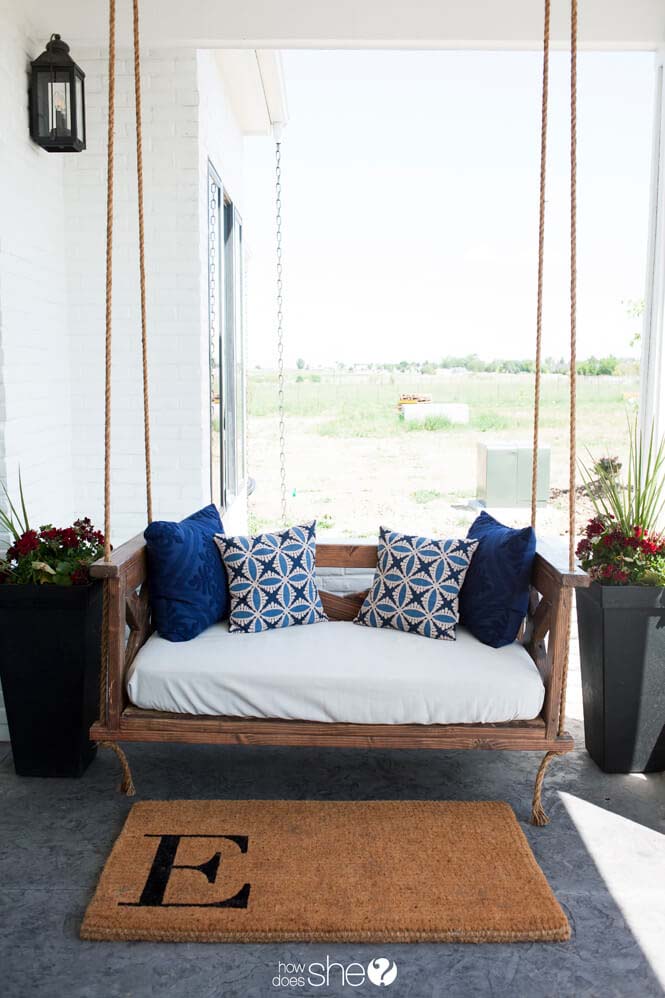 Treat yourself with light and comfortable swinging moments at the porch with a DIY swing.
Inspired by the farmhouse living, it will become the favorite furniture of kids and adults.
via How Does She
13. Make a Hammock Stand for a Peaceful Reading Experience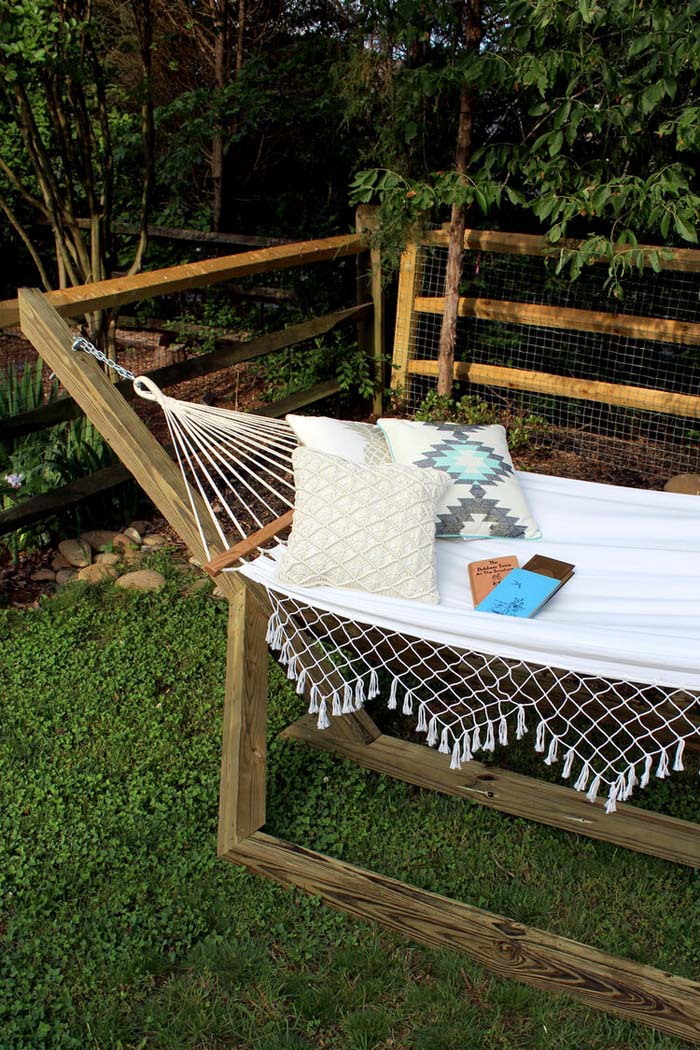 The perfect place to read a book quietly and at complete privacy is the hammock.
If you don't have a large tree to hang it on, then you need a stand. Since stands are quite expensive, there is a successful idea of how to make it yourself.
via Hunker
14. Add Elegance to Your Porch with Rocking Chairs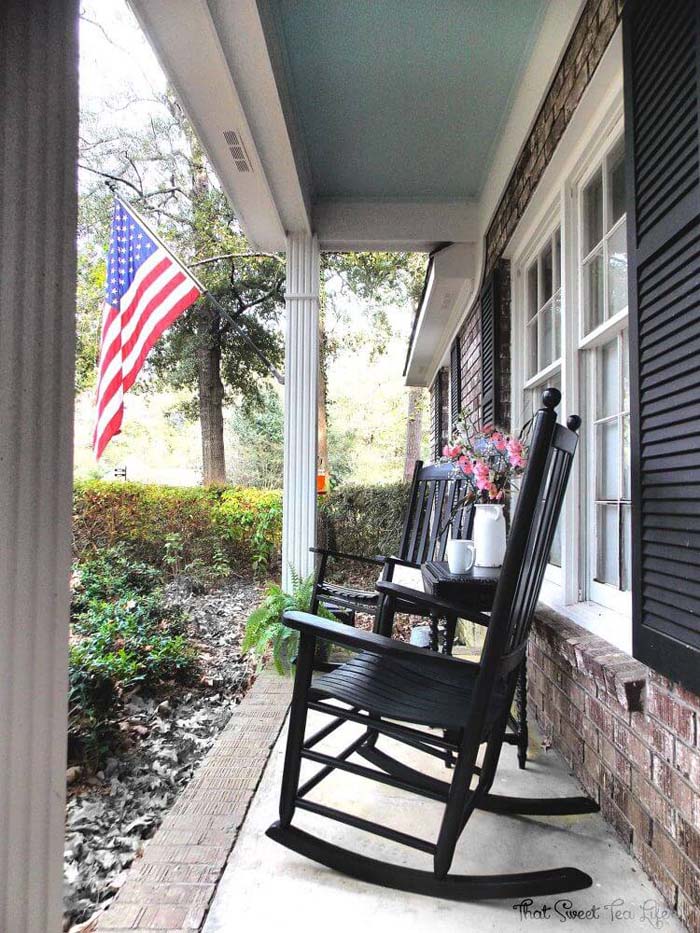 Add style and a touch of romance to your porch with rocking chairs.
Their natural capability to calm makes them irreplaceable outdoor furniture.
15. Build an Unconventional Nature-Inspired Outdoor Bed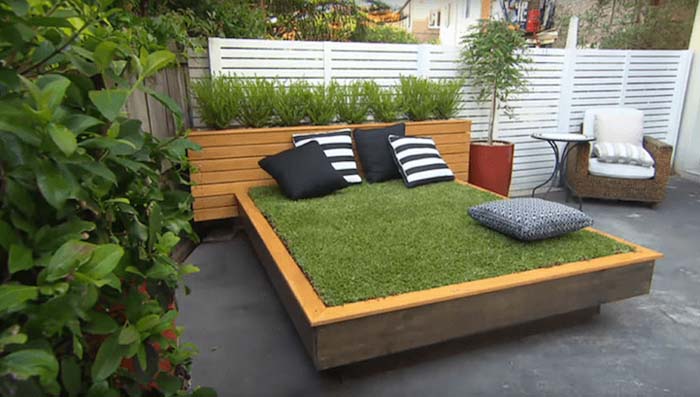 This untraditional bed is an extraordinary outdoor decoration and a piece of furniture in one.
Inspired by the sunbathing in the parks, it brings nature closer and imperceptibly invites you to lie cuddled by the soft grass.
via My Modern Met
16. A Budget-Friendly Alternative to Store-Bought Stands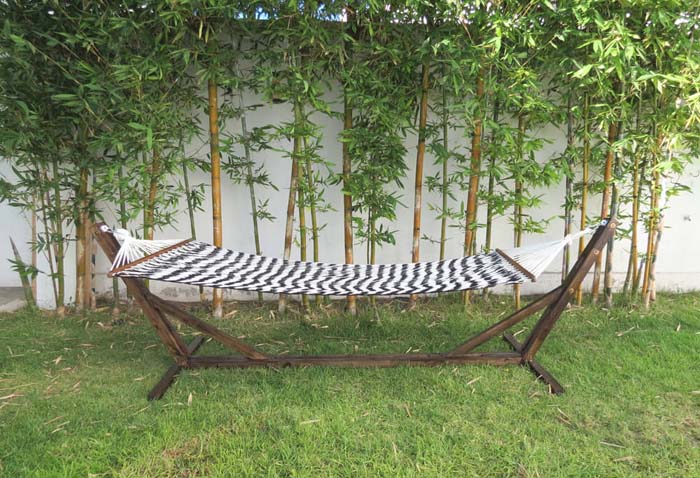 When you have nowhere to hang your hammock, there is an alternative – make yourself a hammock stand.
This project is easy and very affordable compared to a stand from the garden furniture store.
via Oh Oh Deco
17. Transformative Multi-Purpose Table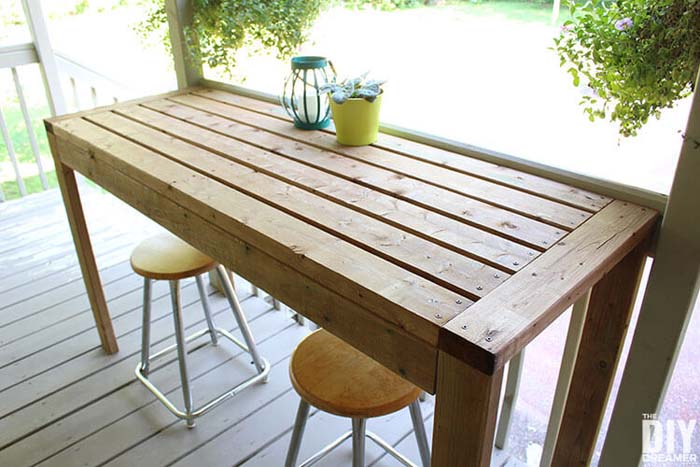 At first sight, this is just another wooden table. Well, that's not the case.
This table is special because it is versatile. It can be used as a dining table, bar table and workstation. Its universal application is due to the increased height and wide enough top.
via The DIY Dreamer
18. Enjoy the Shade of a Large Tree with a Cozy Seating Area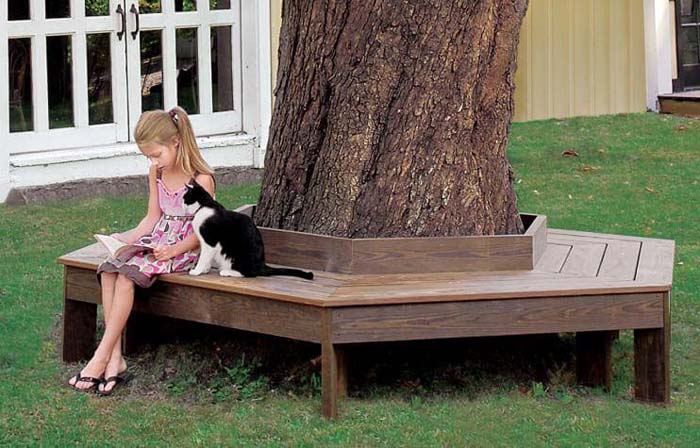 If you have a large tree on your property, you must take advantage of the natural shade it creates.
Build a bench around its trunk which will become the most favorite outdoor spot for all family members.
via This Old House
19. Build a Practical, Mobile Outdoor Side Table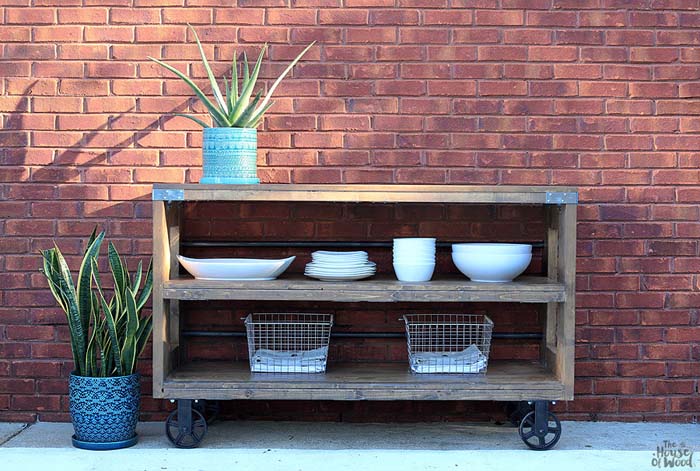 Make yourself a multifunctional and mobile side table that will accommodate all of the outdoor utensils.
It is inspired by the design of the practical restaurant consoles.
via Jen Woodhouse
20. Enjoy Meals Outdoors in the Summer with an Outdoor Kitchen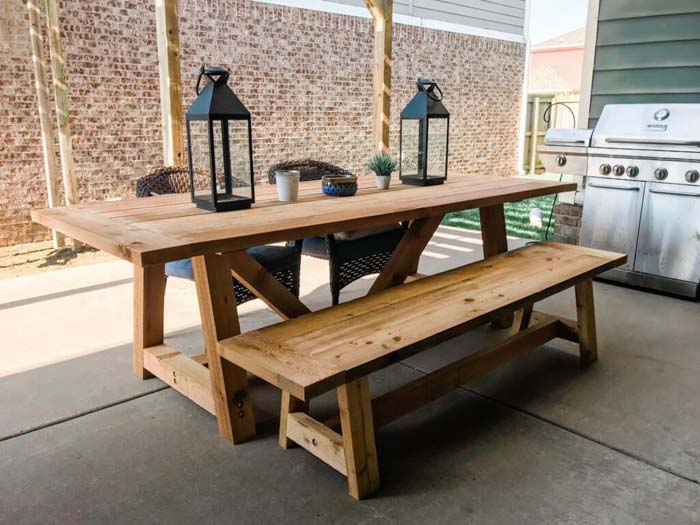 When you have an outside kitchen, then you must prefer dining outside in summer.
If you haven't found your piece of outdoor furniture that will be comfortable and big enough to accommodate the whole family, check this project for a bench and table. You can always change the dimensions to fit your space.
21. Maximize Your Outdoor Space with DIY Furniture and Ladders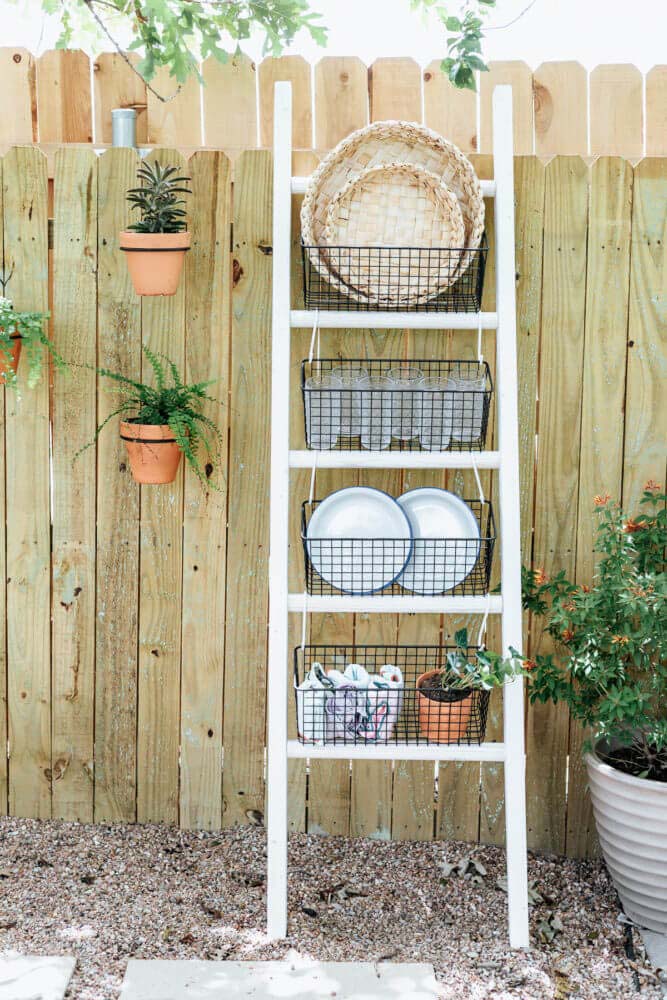 When making your own outdoor furniture, don't forget to consider its decorative impact on the outdoor ambiance.
Ladders are both decorative and functional and can quickly and easily be transformed into a household utility.
22. Give Your Metal Lawn Chair a Makeover with Macrame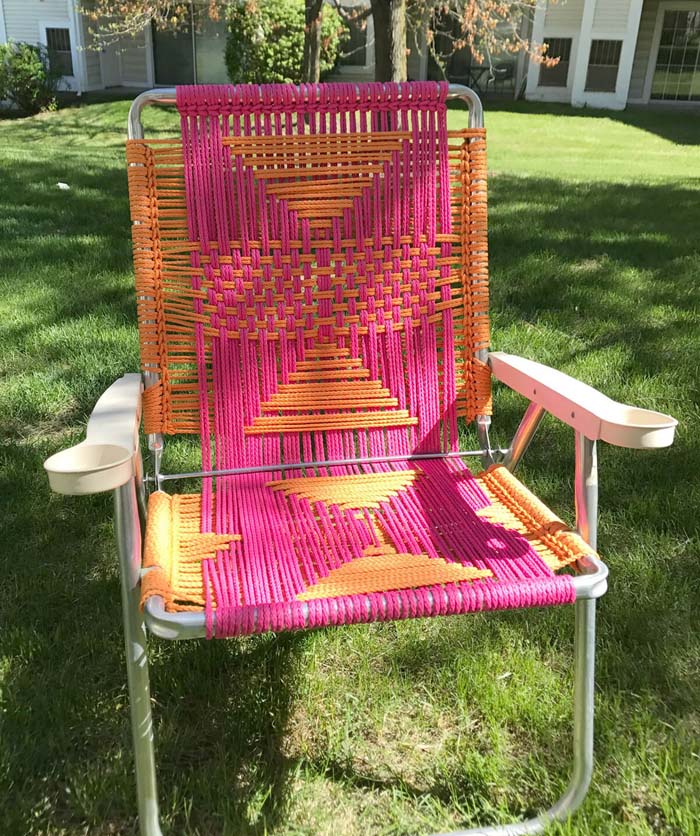 I bet you have a couple or three of the old-fashioned metal lawn chairs at the garage.
Well, it is time to revive them by changing the boring and worn-out seat with a bright macrame make-over.
via My French Twist
23. Create a Chic Outdoor Bench from Two Pallets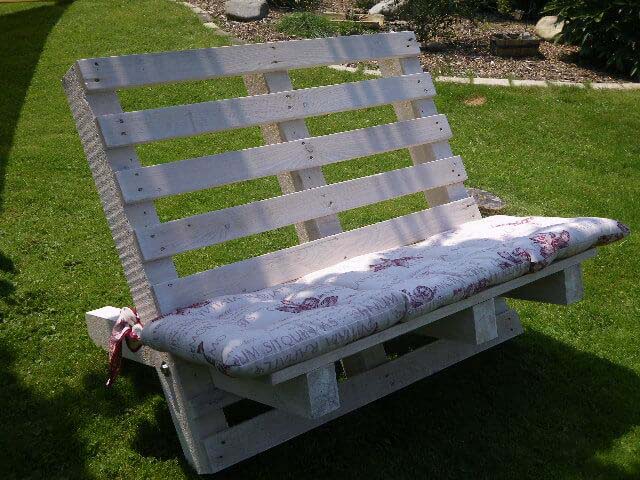 You need two pallets to make this chic bench with an extended back. Add old chair cushions at the seat and enjoy the fresh air.
via Filine Blogg
24. Relaxing Oasis in Your Backyard with a Cabana Lounge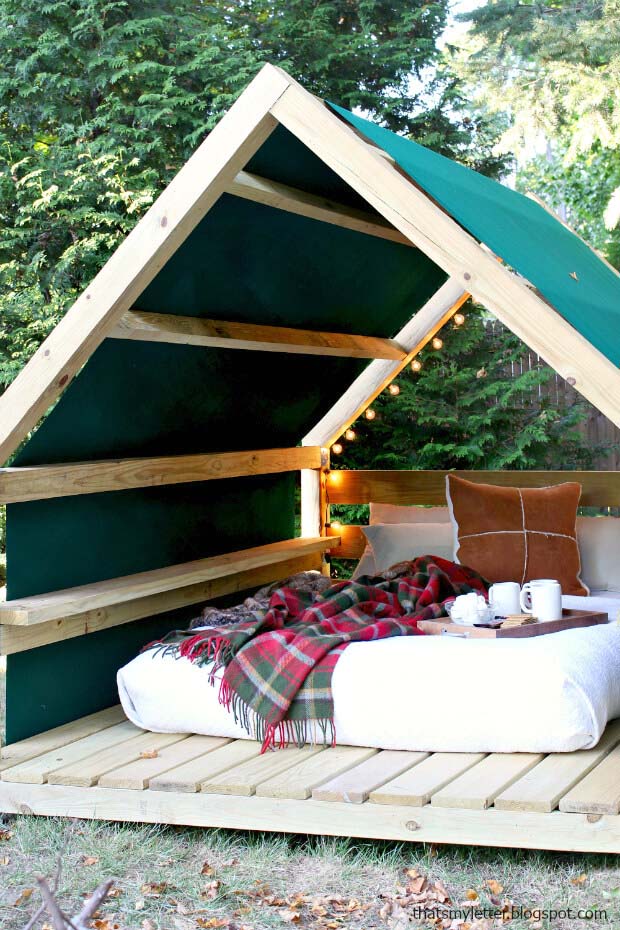 Make your backyard feel like a vacation spot with a bohemian outdoor cabana lounge.
This outdoor covered nook ensures privacy, comfort and fresh air to a maximum extent.
via Jaime Costiglio
25. Add Style to Your Outdoors with a Contemporary Coffee Table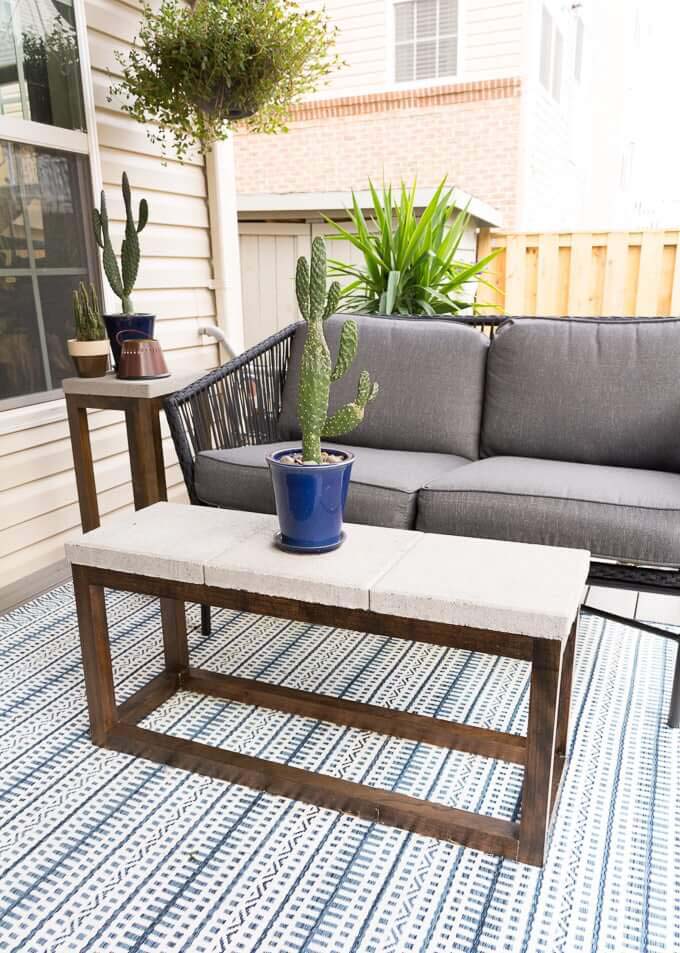 This cute table will become a valuable addition to the existing outdoor furniture because of its stylish and contemporary design and its outdoor exposure suitability.
via Britanny Goldwyn
26. Make Your Outdoor Sofa Seats Comfy with Cheap Cushions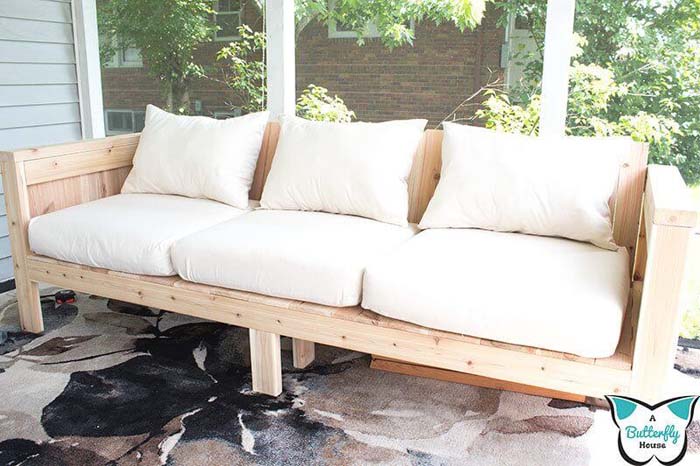 If you have already made your outdoor sofa, you must be looking for a way to make the seats softer and more comfortable.
The tutorial on the link below reveals how to make cheap and thick cushions of the desired size.
27. Make Your Yard More Fun for Kids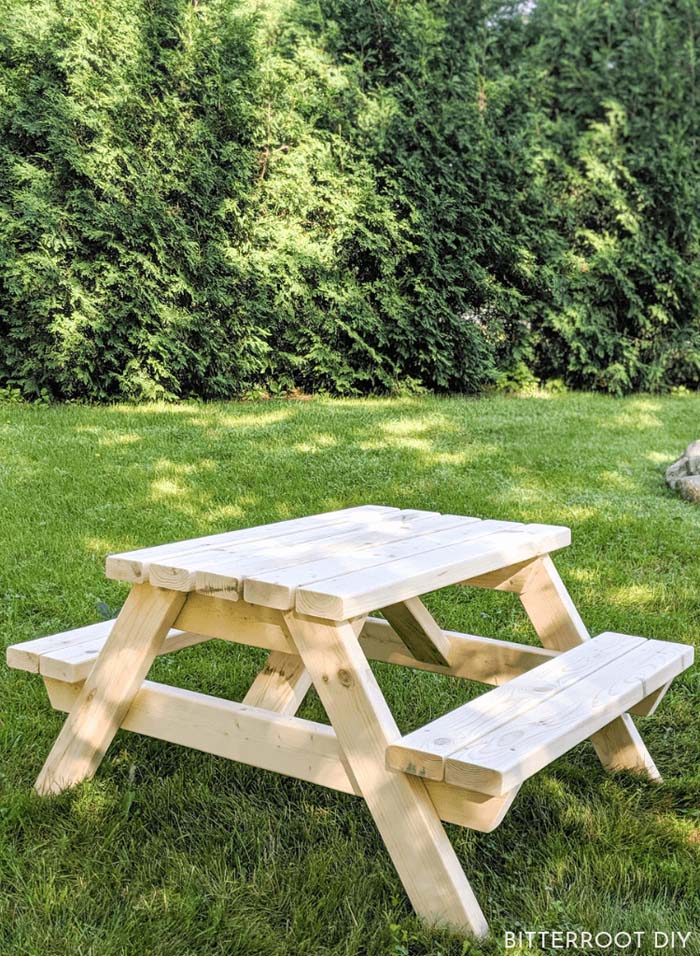 When you want to improve the quality and the duration of the time spent outdoors by your kids, you need to make your yard as more attractive as possible.
A small table with benches, made especially for them, will become their favorite place for eating and playing.
via Bitter Root DIY
28. Re-shapeable Plywood Outdoor Seating Furniture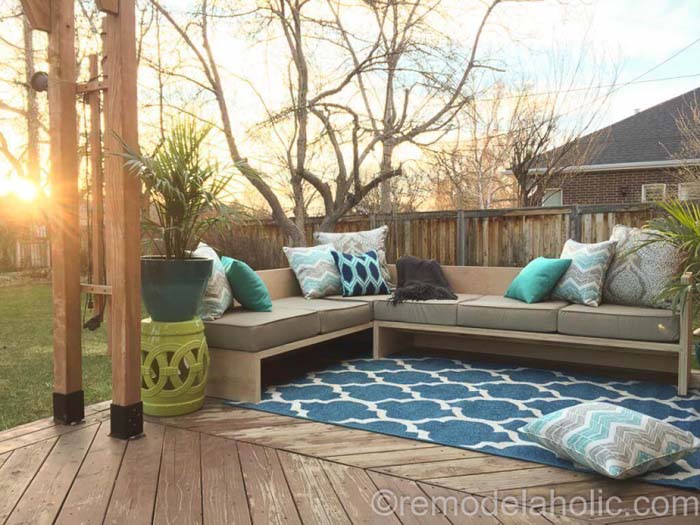 This outdoor seating furniture is made of two sections so you can easily change its shape from L to two separate sofas at any time.
Since it is built from plywood, you need to protect it when it rains.
via Remodelaholic
29. Rugged Outdoor Dining Table for Indoor and Outdoor Use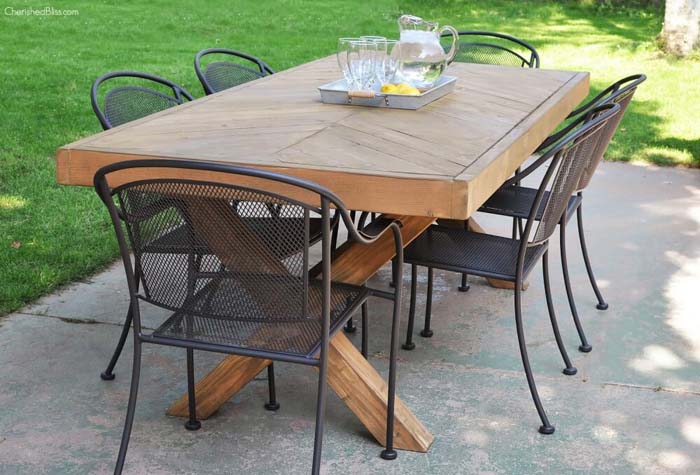 This table can be successfully used as a dining table both indoors and outdoors.
What makes it universal is its sturdiness, size and masterly workmanship.
via Cherished Bliss
30. Refresh Your Outdoor Furniture with a New Coat of Paint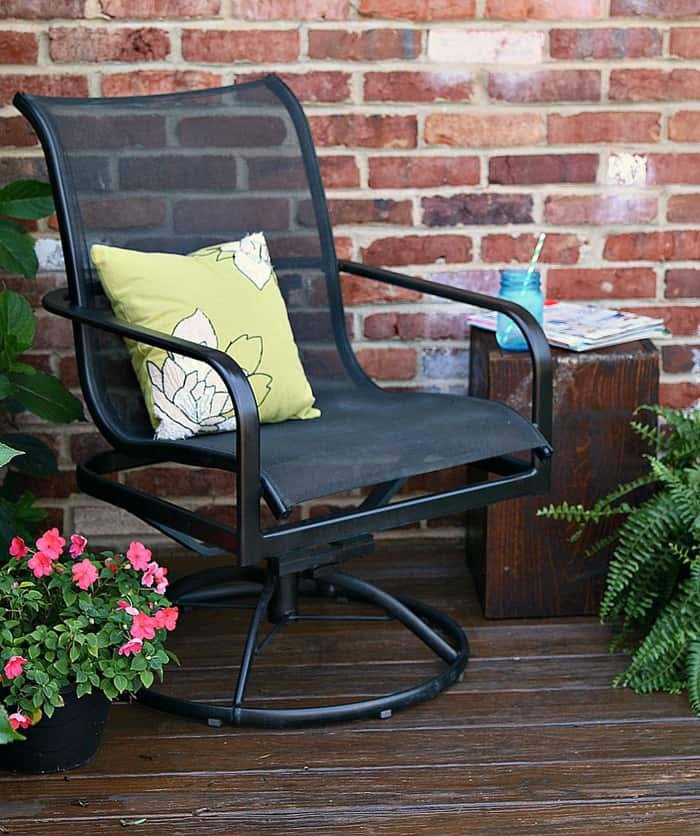 If you are happy with your outdoor furniture but you want to give it a new look, try painting it.
There is suitable outdoor paint for all kinds of materials, even for mesh metal.
31. Bring Timeless Comfort to Your Home with Adirondack Chairs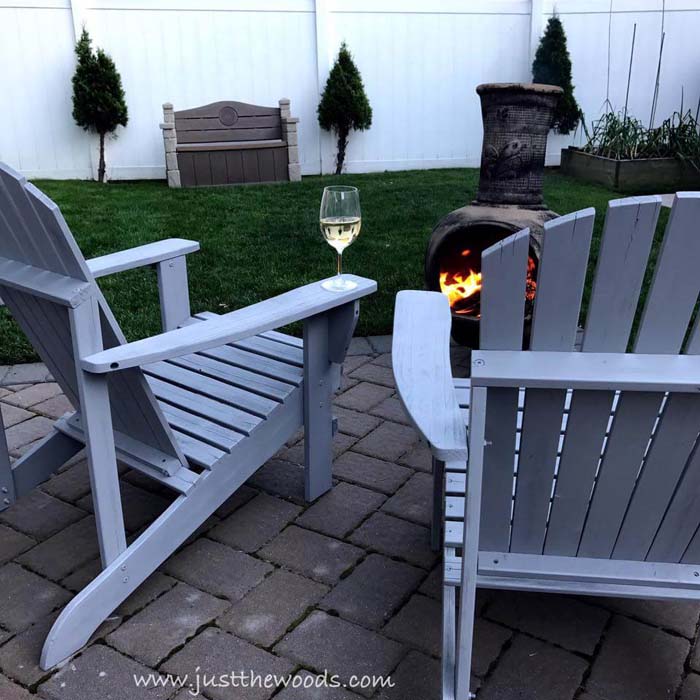 Adirondack chairs will never go out of style because they are the most comfortable ever.
If you are lucky to have your own, don't replace them with anything more contemporary. Just re-paint them for a cleaner and brighter look.
via Just The Woods
32. Extend the Fun of Firepit Evenings with a DIY Wooden Bench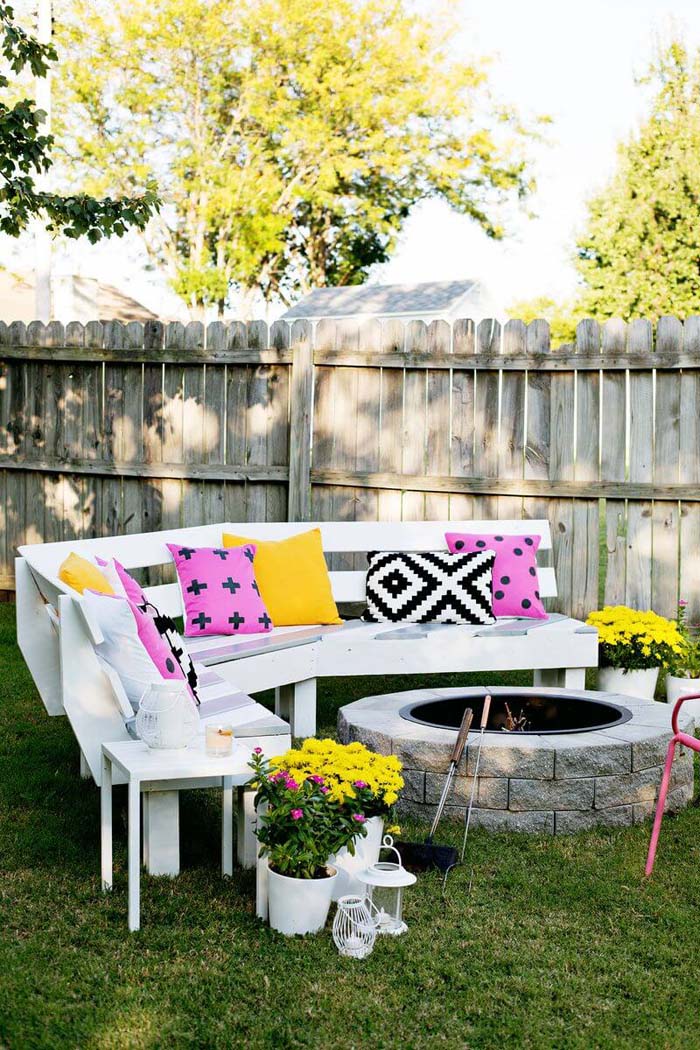 Make the cool nights around the firepit longer with a handmade wooden bench. Paint in white and add colorful cushions for comfort and decoration.
33. Bring Life to Old Adirondack Chairs with Restoration Tips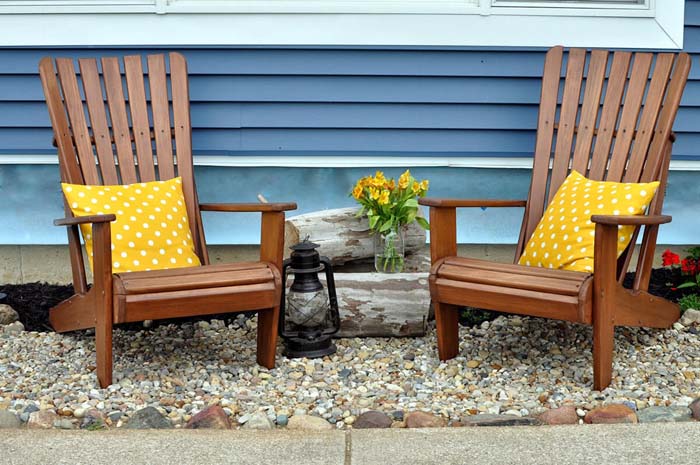 Adirondack chairs are very expensive for understandable reasons. Along with their ergonomic design, they are fabricated from rare woods.
So next time you see them sold at any thrift shop or at an estate sale, get them! There is an easy way to make them shiny and functional again.
34. Create a Stylish Outdoor Seating with a DIY Pallet Sectional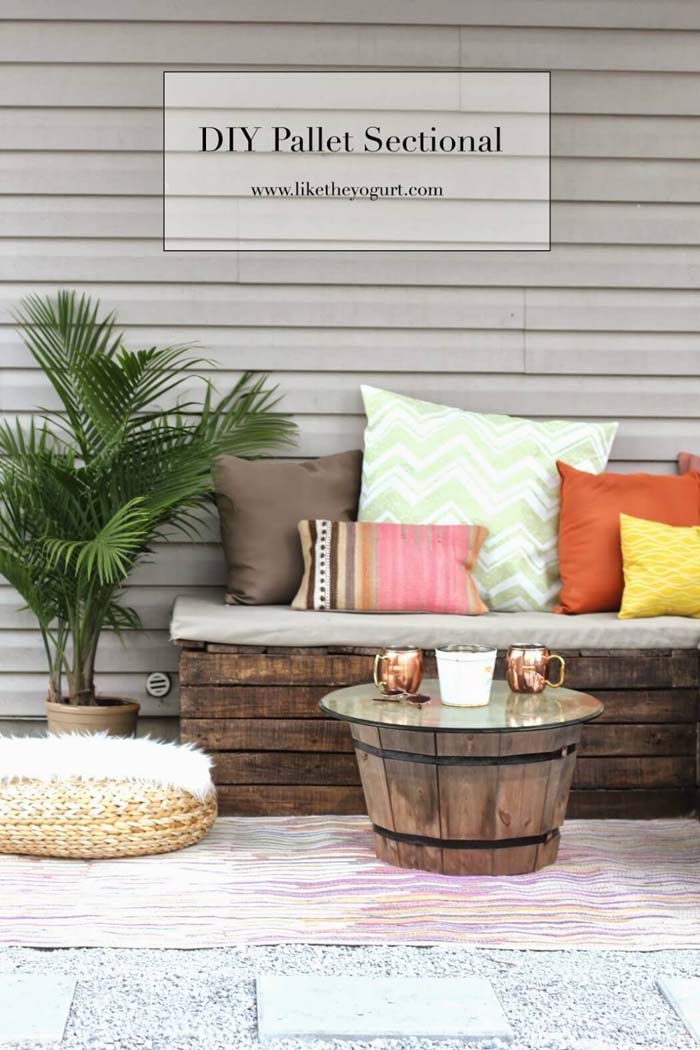 Some farmhouse vibes are never too much when it comes to outdoor furniture design.
This DIY sectional is made of pallet slats stained in dark for greater impact. Each sectional has storage space for cushions and other stuff.
via Like The Yogurt
35. Enjoy Summer with an Outdoor Table with Built-in Ice Boxes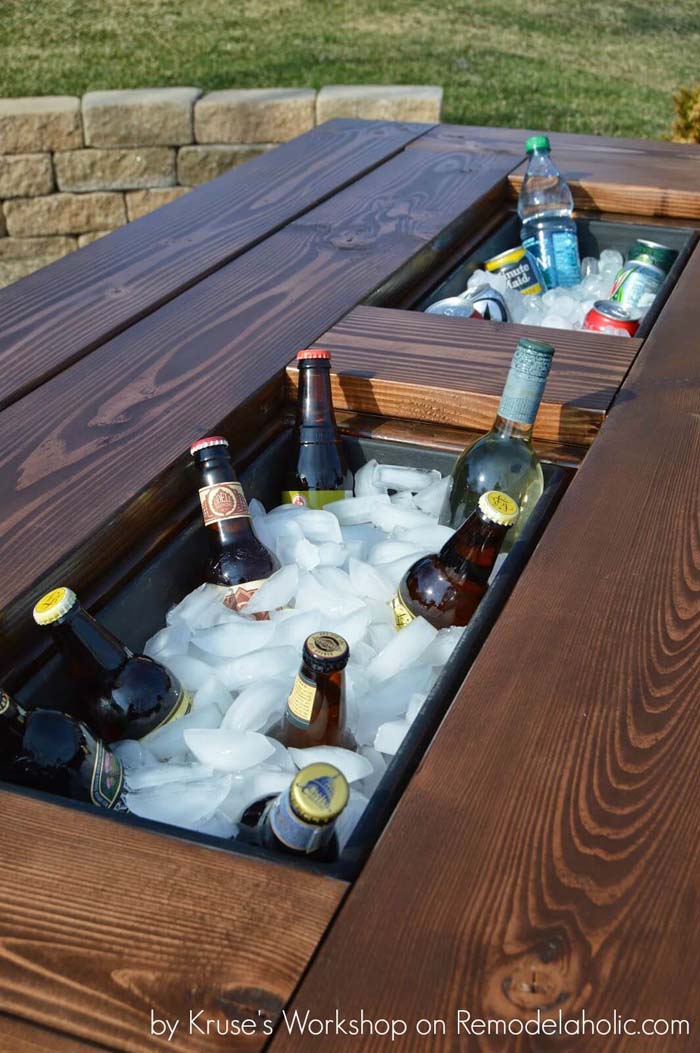 Since outdoor furniture is used mostly during summer, it is good to predict and make all possible extras.
This wooden table would have been just a wide and sturdy table if there weren't the hidden built-in ice boxes.
via Remodelaholic
36. Craft a Comfortable Patio Bench Swing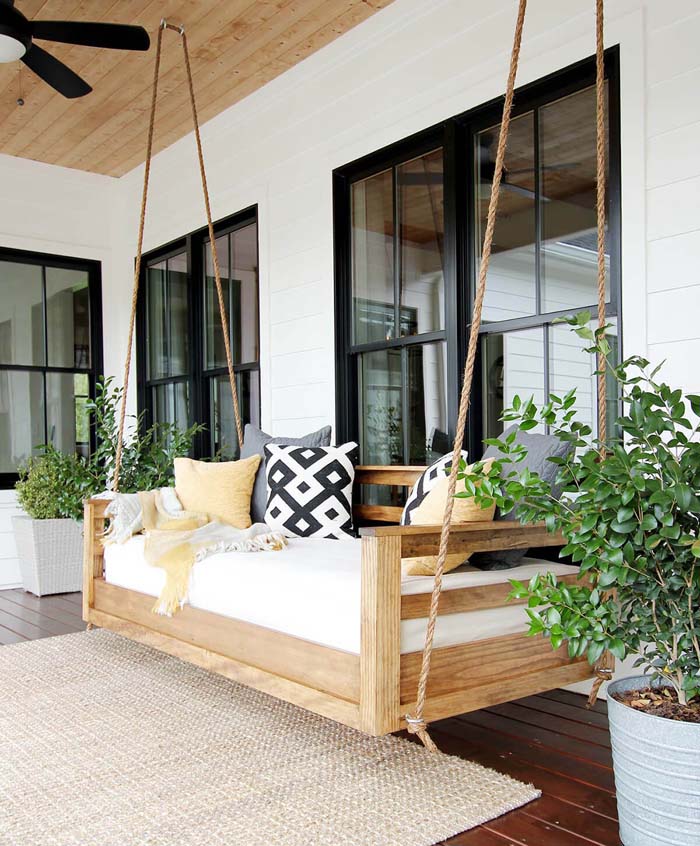 Building a patio bench swing isn't a difficult task anymore.
The step-by-step tutorial facilitates the design and building process and guarantees a beautiful and comfortable piece of furniture for napping and swinging.
37. Revive Trash Treasures with a Fresh Coat of Paint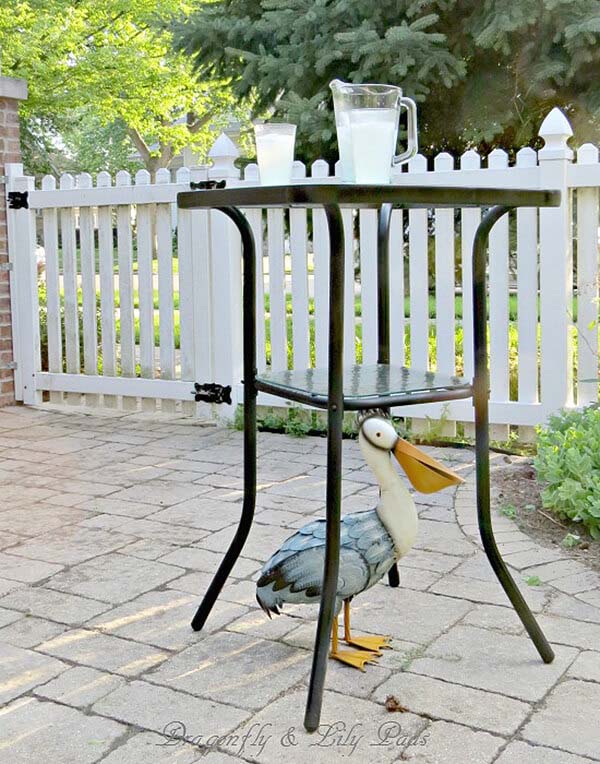 This project tells how to give new life to trash treasures with the help of a couple of paint coats.
A small but tall table like this one can become an important piece of furniture when it comes to drinking parties.
38. Enjoy Cool Summers and Autumn Nights with a Firepit Table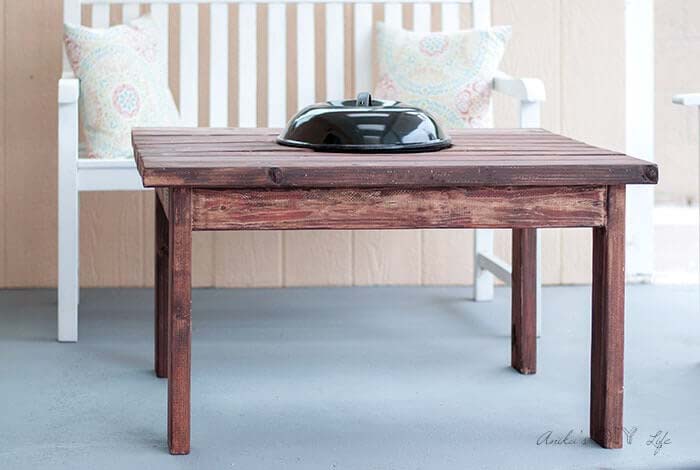 A table with a built-in firepit will invite all family members to gather together outside at the patio during the cooler summer and autumn nights.
Although small, the fire pit can be used for making your own smores.
via Anikas DIY Life
39. Save Money and Enhance Aesthetics with a DIY Picnic Table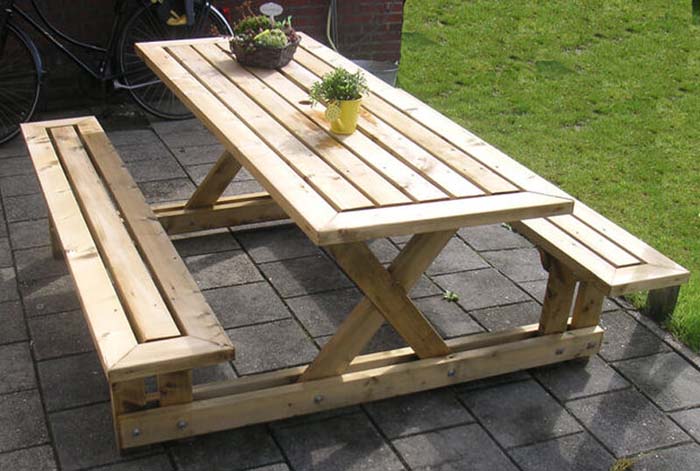 This picnic table will cost you only a third of the price of one bought from the stores and will look far better when it comes to aesthetics.
40. Simple Yet Sturdy Wooden Porch Swing for Your Home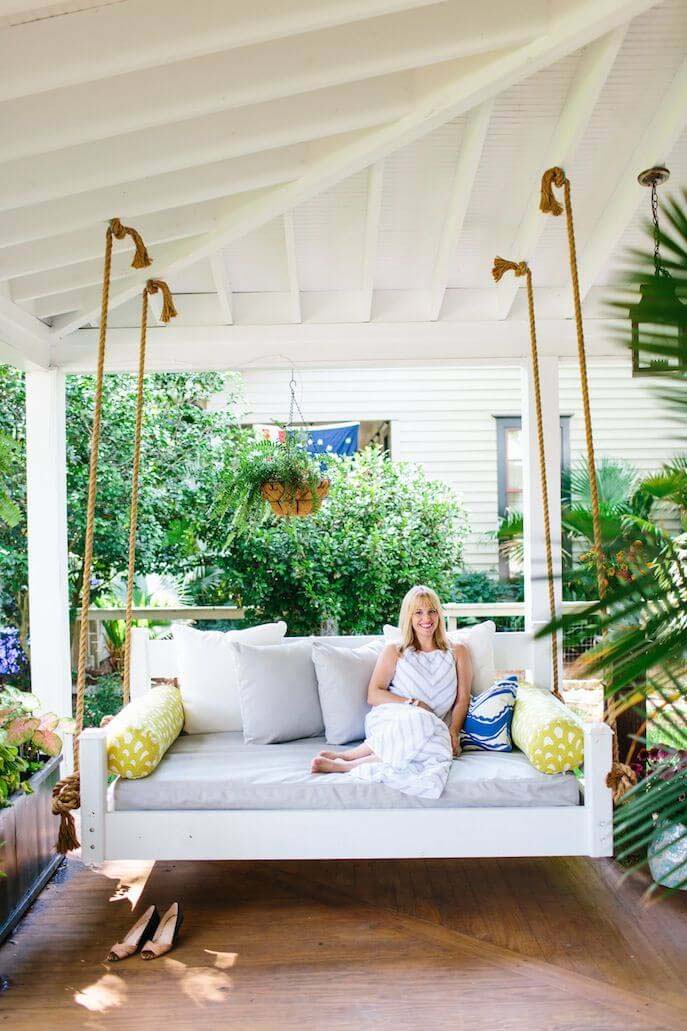 Use this project as an inspiration for your own porch swing. Made entirely from solid wood, it is quite large, very sturdy and very stylish.
The swing incorporates nautical and contemporary design features which let it easily blend with the rest of the interior.
via Look Linger Love
41. Enjoy Relaxing Moments with a Kids-Inspired Sailor Swing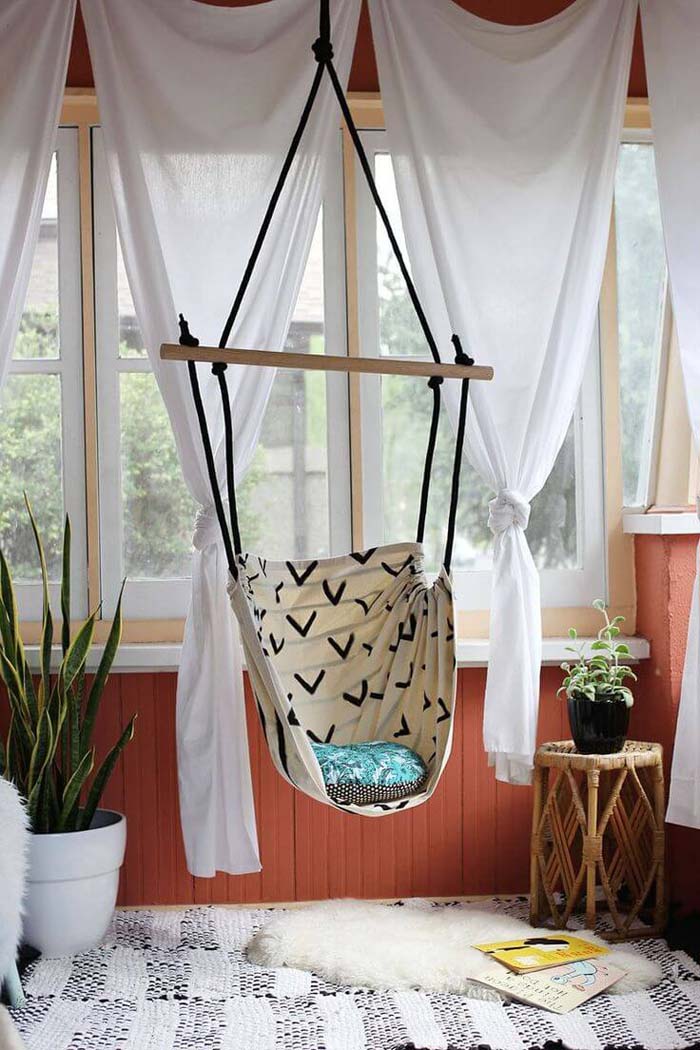 This cute and super comfortable sailor swing has been inspired by and made for kids.
The good news is that adults can also use it if you strictly keep the given dimensions.
via A Beautiful Mess
42. Build a Wooden Sofa with DIY Outdoor Furniture Projects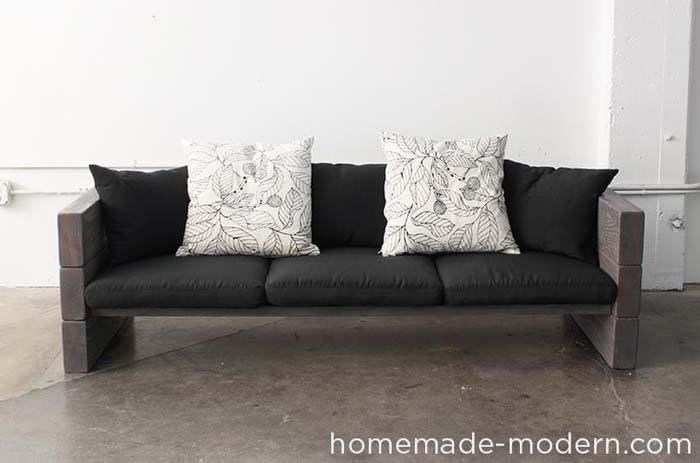 This gorgeous sofa is built entirely of wood although the grey stain makes the support look like made of stone.
Its sophisticated design will mislead you and make you think that it is a complicated project. Don't worry, the authors promise that it is ridiculously simple and easy to make.
via DIY and Crafts
43. Elegant Look with Chevron Patterned Wooden Screens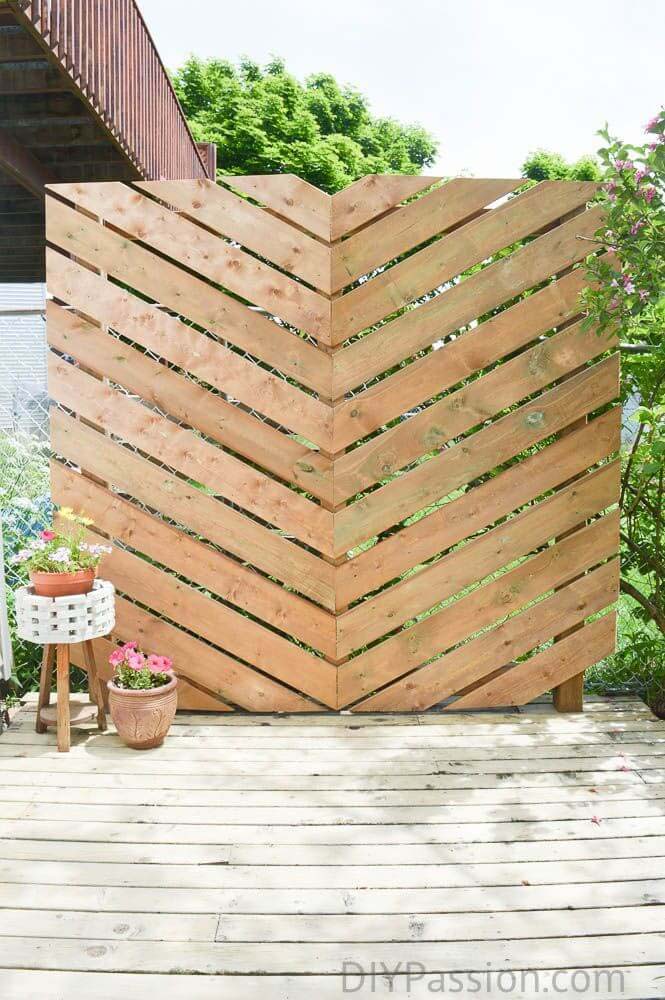 The chevron pattern is gorgeous and makes any feature look impressive and remarkable.
A wooden screen in that pattern will contribute not only to privacy but will also improve the decorative value of the space it is installed in.
via DIY Passion
44. Increase Outdoor Seating Area with DIY Painted Chairs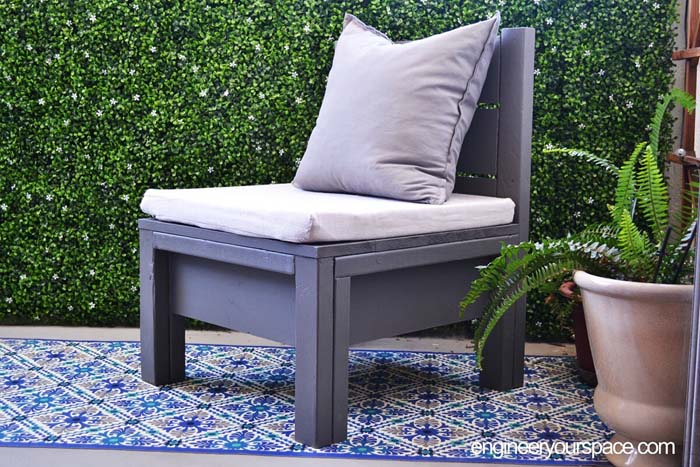 If you have been in the situation to take chairs out from your living room to welcome guests to your patio, then you need to think about how to increase the outdoor seating area.
It will be easiest and most budget-friendly to make chairs like this one. Paint in a color that will match the existing furniture and enjoy it.
45. Make a Custom Canvas and Metal Ring Suspension Decor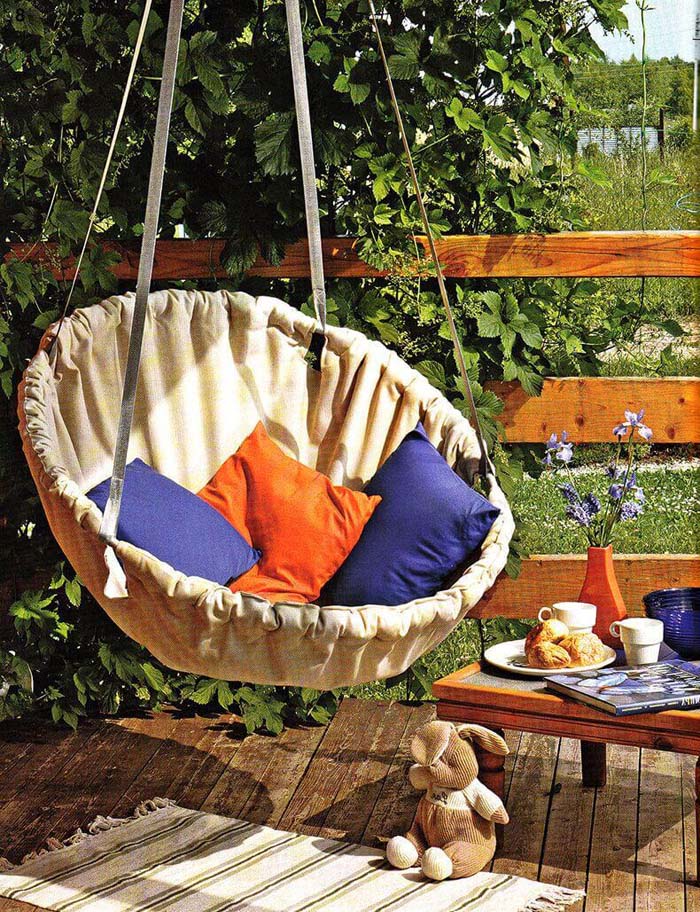 This is a simple DIY project which requires basic building and sewing skills. Cover a metal ring with canvas and suspend with rope, belts or chains.
46. Enjoy Summer by the Sea with a Pallet Furniture Set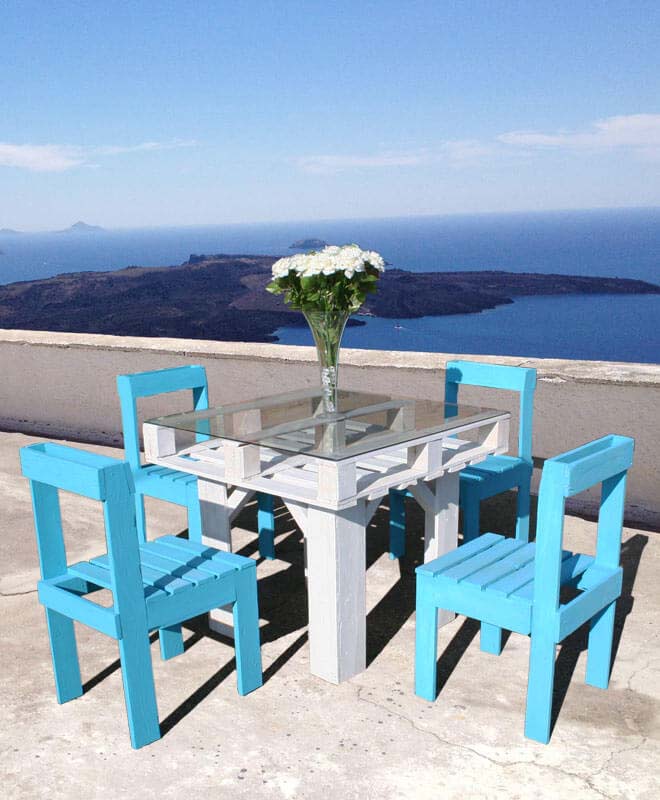 This set is inspired by the summer holidays at the seaside. If you want to bring the ocean closer to you, this is the best furniture project for you.
Made entirely of pallets, the paint combo quickly carries us away to our favorite place.
via Bridgman
47. Repurpose Your Old Wooden Bed into an Outdoor Bench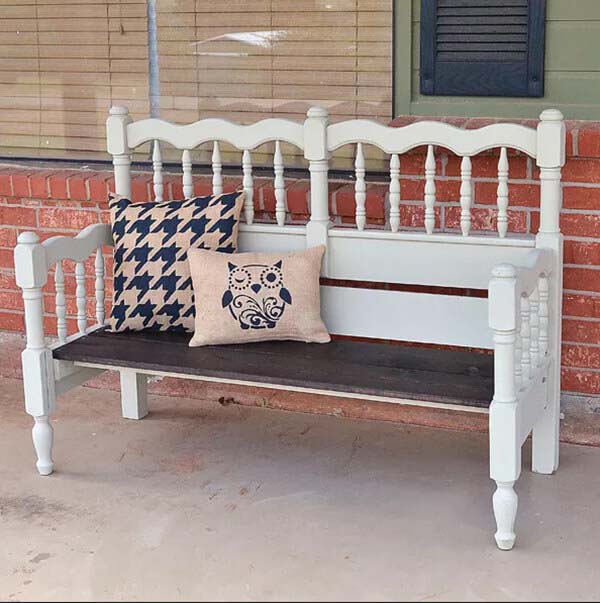 The ornaments are what make wooden beds beautiful. So next time you change your bed, don't throw the headboard away.
Instead, use it to build the structure of a rustic outdoor bench.
48. Get an Affordable and Stylish Wire Table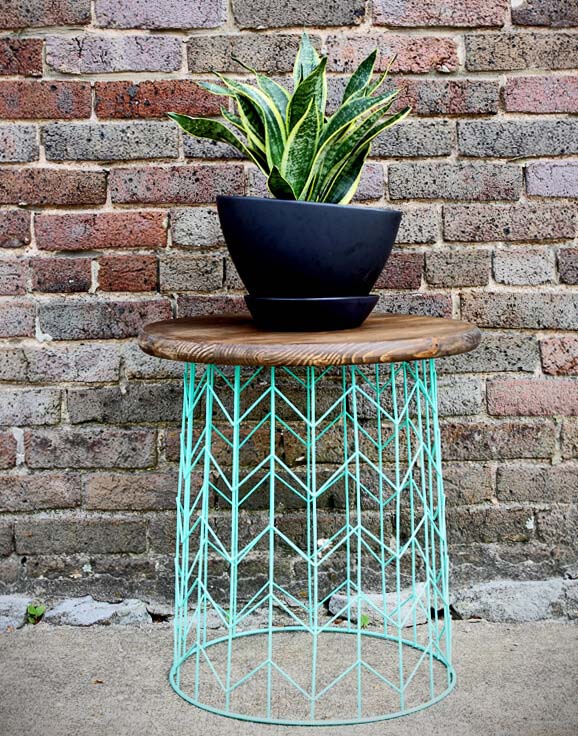 You know how expensive these wire tables are, don't you?
Well, this one will cost you not more than $3 dollars and will look just as well.
49. Make a Two-Person Rocking Chair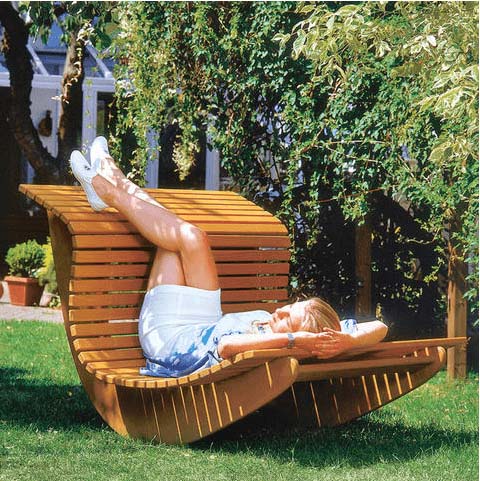 This rocking chair is a masterpiece in DIY carpentry as it is stable and wide enough to take up two adults.
If you have the appropriate tools and advanced skills, you won't find it difficult to make one for your backyard.
via Perchica
50. Multifunctional X-Piece Furniture for Compact Spaces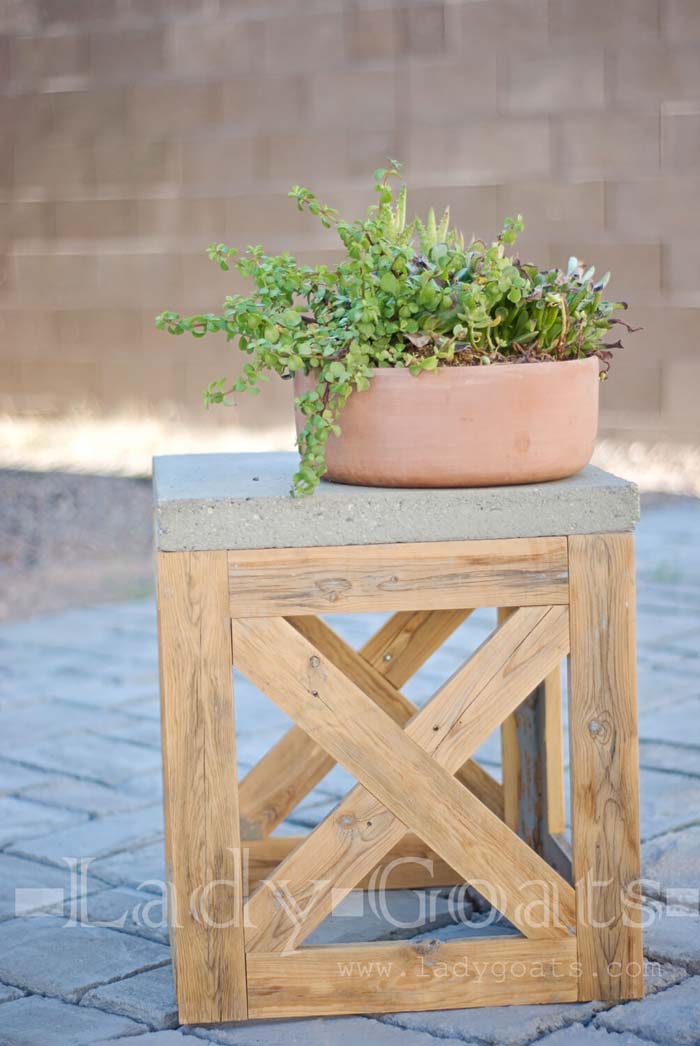 This X-piece of furniture is multifunctional as it can be used as a flower stand, a side table or a stool.
Its small footprint scores another point for that project as the stool can easily be hidden beneath the sofa when not used in any way.
via Lady Goats