Summer is the favorite season of all kids. Nevertheless, some of them prefer standing in front of the TV or the computer and somehow neglect going out.
If you live in a house and you have a backyard or a porch, it is the best time to take up the initiative to make yourself an outdoor nook for your kids that will fire their enthusiasm for more games played outdoors in the fresh air.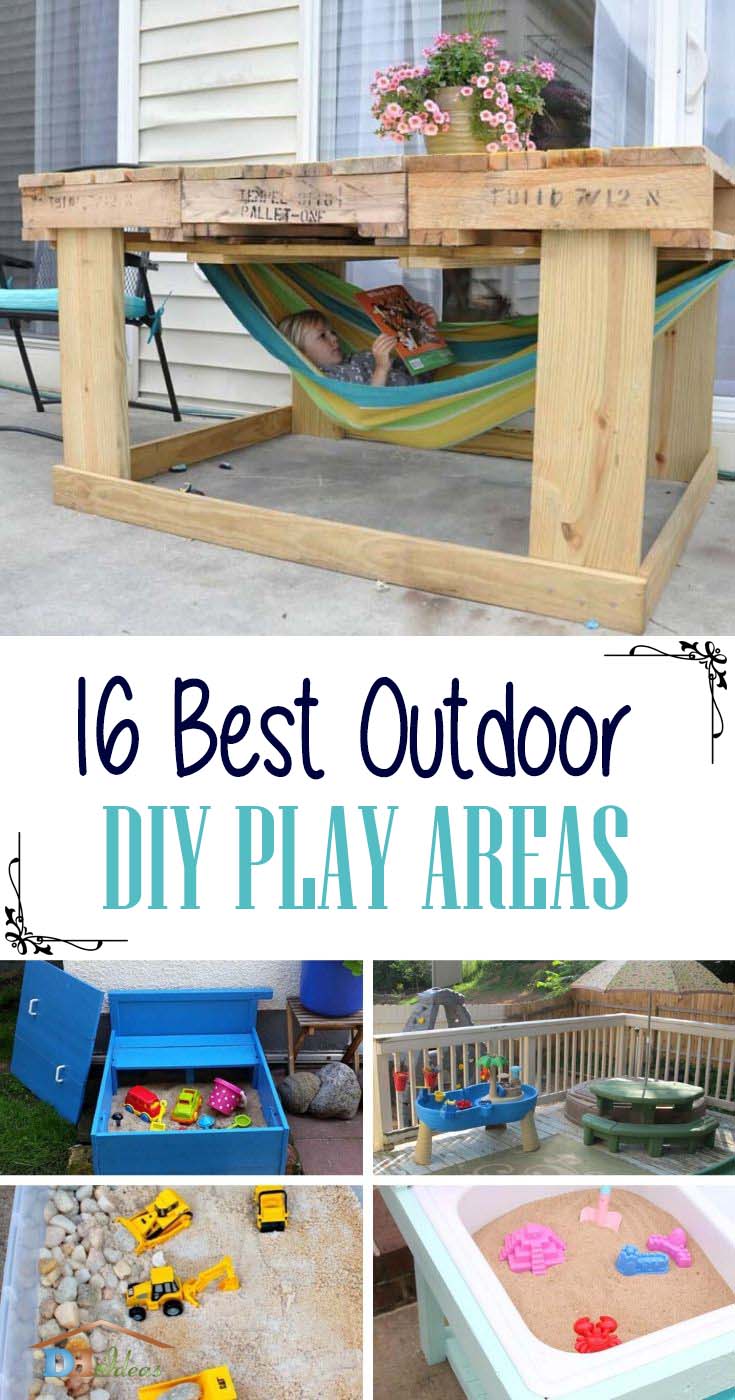 All of the play areas we have collected for you are easy DIYs and require standard materials and tools.
Your kids will be thankful for the special care and attention you have given. In addition to that, the creative ambiance will contribute to their development, focus and creative abilities, and will relieve the stress.
1. Make a DIY Play Area with an Elevated Stone Stage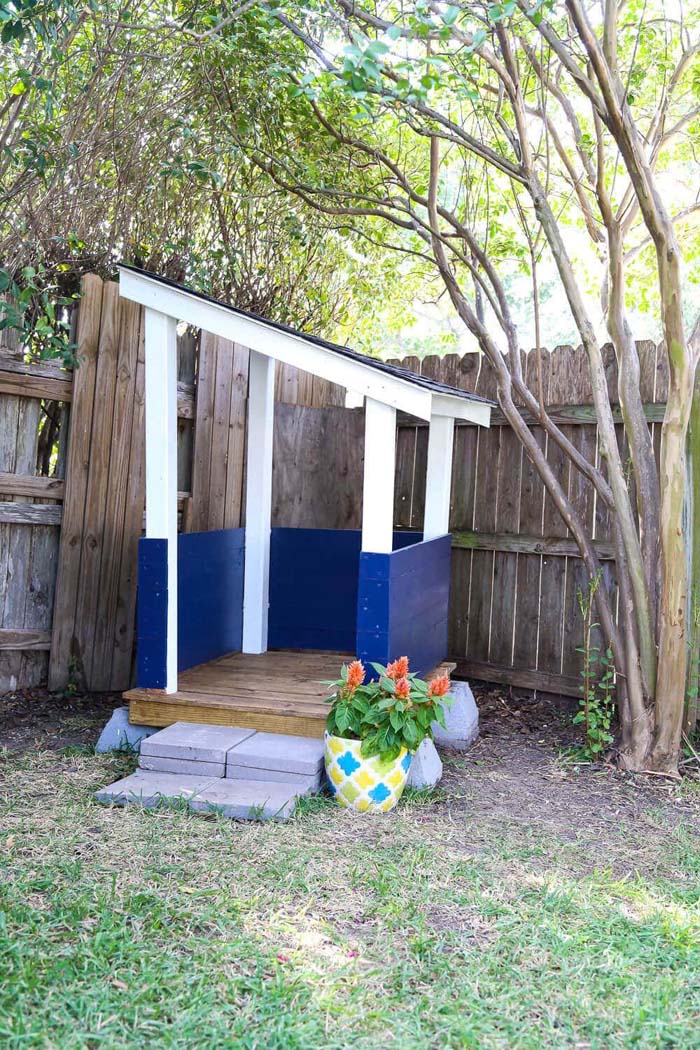 Let their imagination run wild in this DIY outdoor play area. A simple wooden stage is given low-rising blue walls and a slanted roof.
Leading up to this would-be fort or backyard children's theater is a set of concrete square steps.
The stage is elevated with stone blocks. The area may be left as a blank canvas for the children's ideas or gussied up with potted plants.
2. Create an Outdoor Play Zone with a DIY Construction Site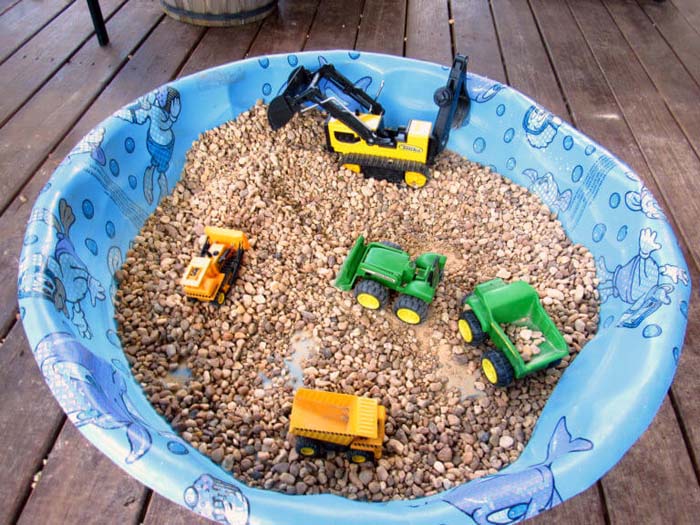 Ready the young, future builders in the family for an outdoor adventure with this DIY play zone.
A small and shallow kiddie pool is filled with large grain sand to simulate a real-life construction site.
Small construction toys are added to help the youngsters on the job. This typically orange hard hat environment may be made kid-friendly by adopting a character-themed pool.
3. Build a Safe Patio Play Space for Kids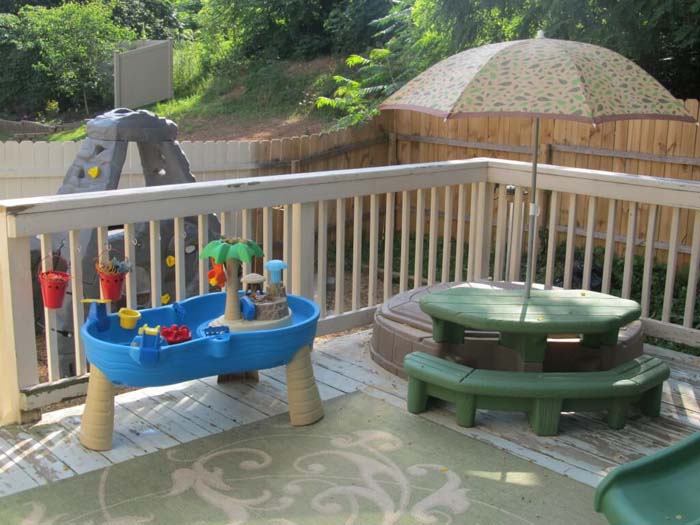 Let your young children venture outside safely with this patio DIY play space.
A patio is lined with a narrow railing and filled with large kid-friendly toys to create the perfect outdoor play area.
Allow children to enjoy summer mornings without fear of them running off. The soft cushioned outdoor kids' furniture, like the green patio table and umbrella, gives them a fun place to hang out.
4. Make a Beach-Inspired Backyard with DIY Sandbox Station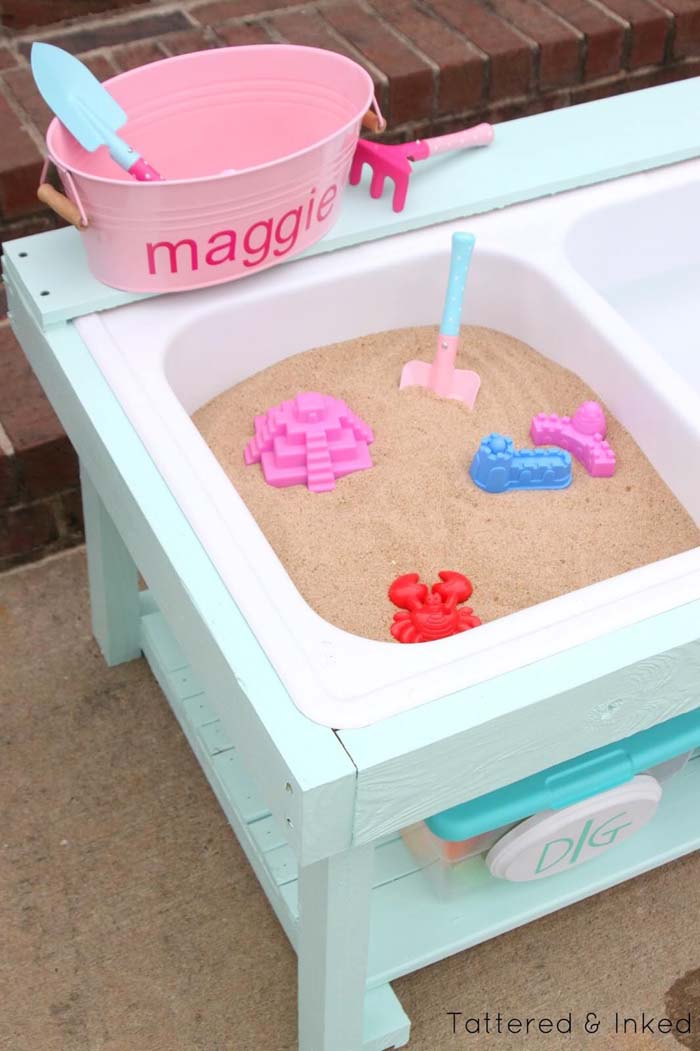 Bring some of the beach ambiances to your children in this adorable DIY backyard station.
A small sandbox is set up on a mint green wooden table at children's height. The table has two tiers to allow for easy storage of outdoor toys.
The sandbox may be filled with all their favorite beach toys, including a pale and shovel.
via Stacks and Flats
5. Make a Fun Mud Kitchen Den for Kids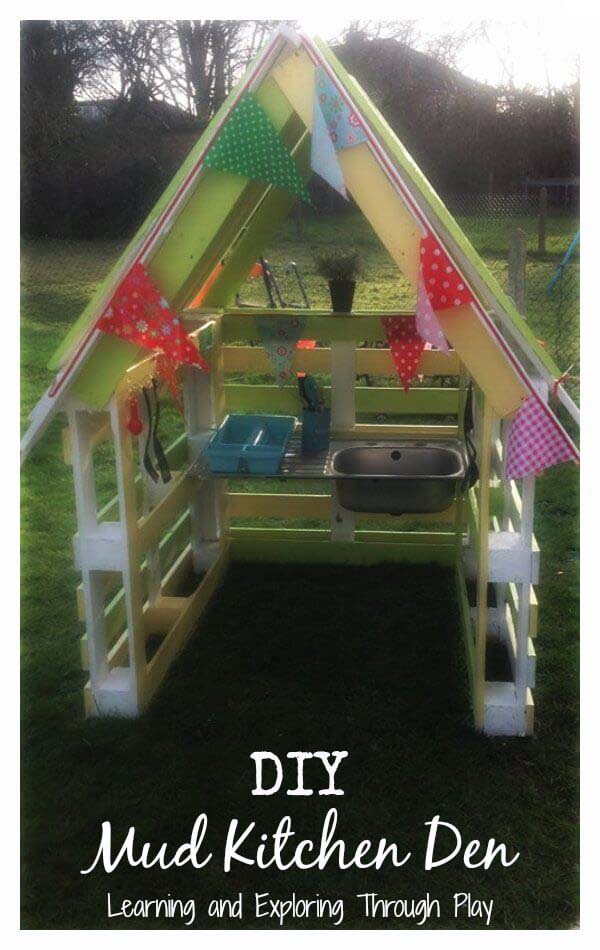 Give your children a fun immersive play area with this DIY design.
A mini green and yellow mud kitchen den are made from five recycled wooden pallets.
It includes a sine and area to store dishes. The base of the den is mud, rather than a wooden floor. The mini den may be decorated with fun fabric flags.
via Learning and Exploring Through Play
6. Create a Fun Outdoor Play Space for the Kids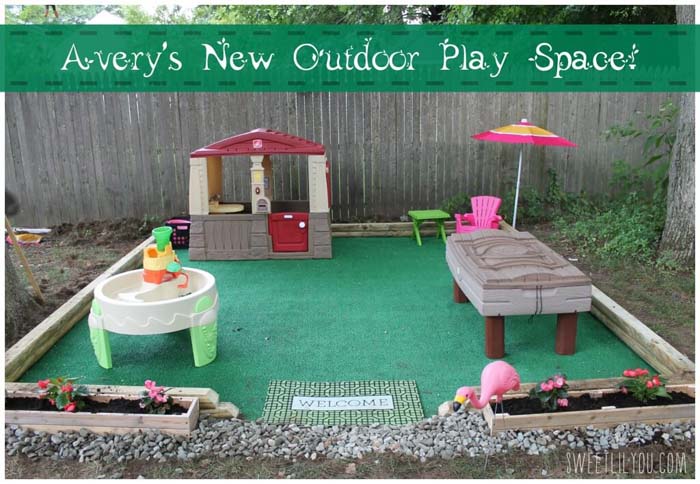 Get ready for your little ones to spend their entire summer vacation in this unique DIY outdoor place space.
A large square area of the backyard is sectioned with green matting and border by wooden beams. Inside are a variety of large toys for your little ones to enjoy all day long.
Guests are welcomed with two rows of panters and a fun mat.
via Sweet Lil You
7. Make a Park-Themed Outdoor Play Area in Your Backyard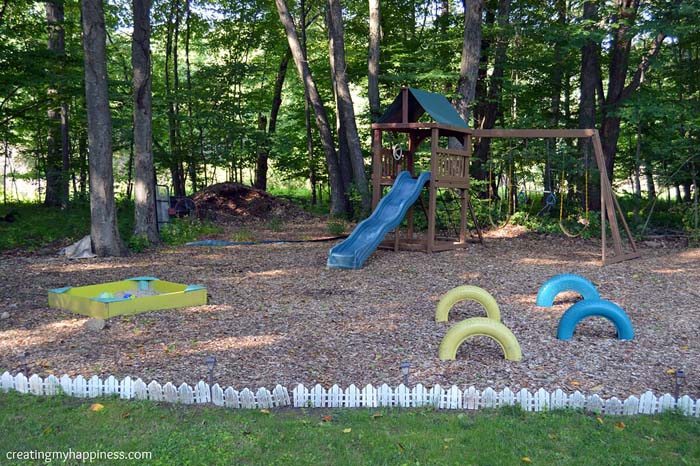 Bring the park to your backyard with this totally immersive DIY playscape.
A large area of the backyard is covered in large gravel, bordered by a tiny white wooden fence.
A large slide and swingset lay center stage, surrounded by tunneling yellow ad blue tires and a cute sandbox. Put this setup in a shaded part of the backyard to prevent overexposure.
8. Build DIY Outdoor Beach Hideaway for Kids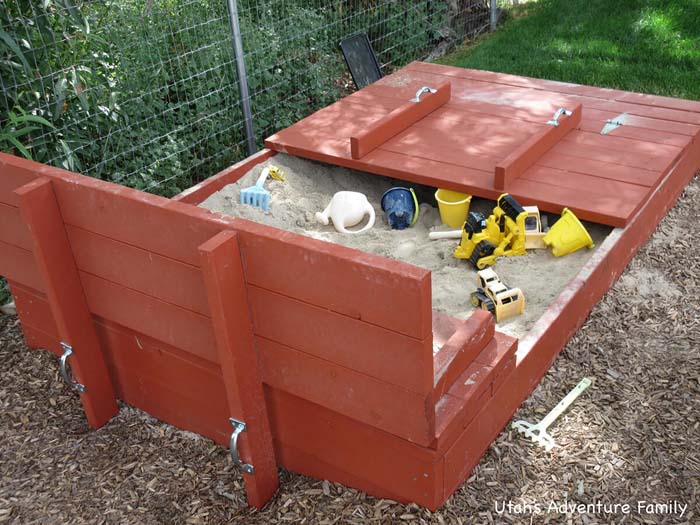 Create your own hideaway beach for your kids with this DIY outdoor design.
A folding wooden box opens up to reveal a sandbox filled with all their favorite beach toys. When open, the roof of the wooden box turns into a comfortable bench for little ones to rest in.
9. Enjoy Outdoor Fun with a Tire Swing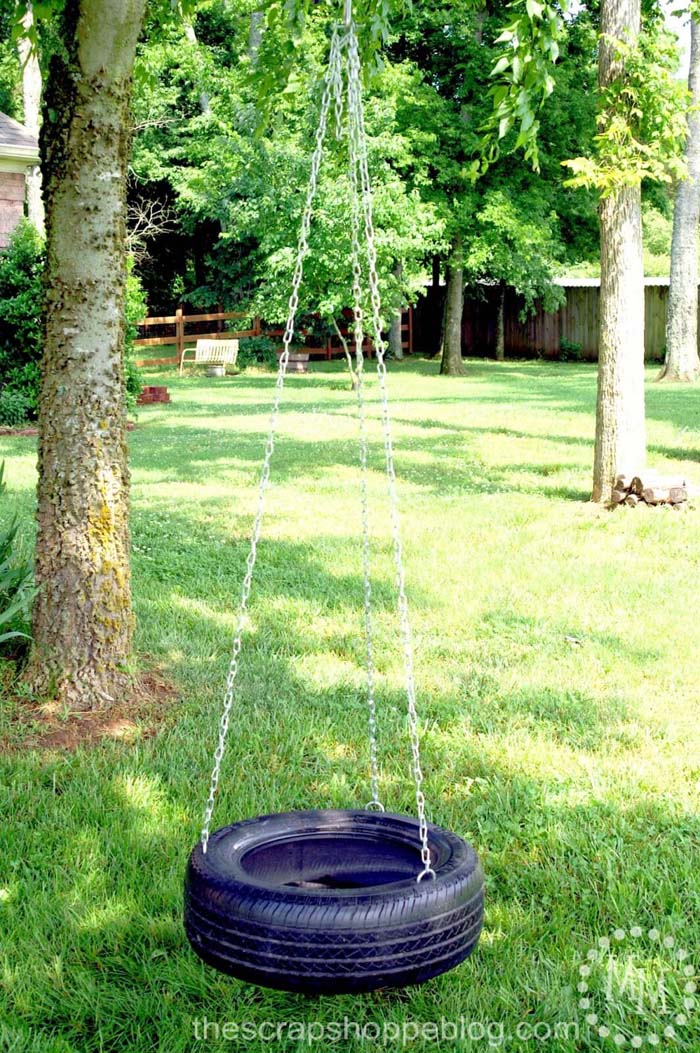 Get ready for endless playtime fun with your children and family with this outdoor design.
A tire hangs low over the lawn supported by three chains and a secure tree branch. It is placed just a foot or so above the ground, giving children easier access and making the actually swinging that much safer.
The chains are held to a tree branch by hook meaning the tire swing is easy to unassemble so that one can mow the lawn.
10. Slide Down a Hill in Your Backyard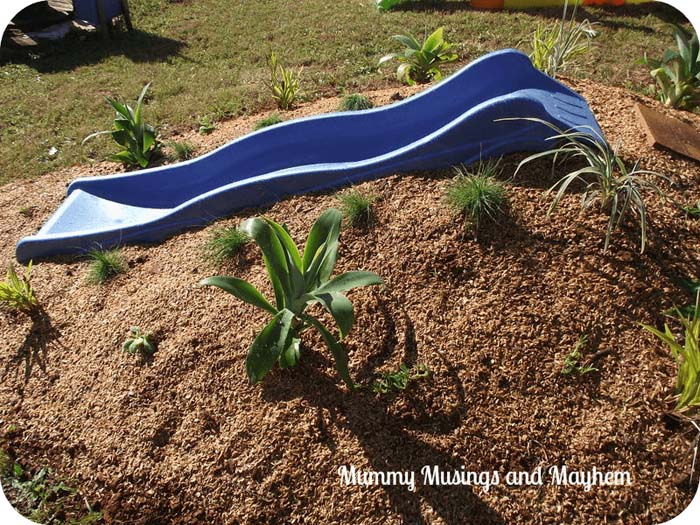 Prepare to slide into backyard fun with this outdoor DIY idea. Simple to setup plastic blue slide rests atop a soft-landing mound of dirt.
Wooden steps lead to the top of the slide, while fun green plants decorate the hill that supports it. Youngsters and adults will love feeling the rush of wind in their hair.
11. Organized Play Area with DIY Cedar Deck Sandbox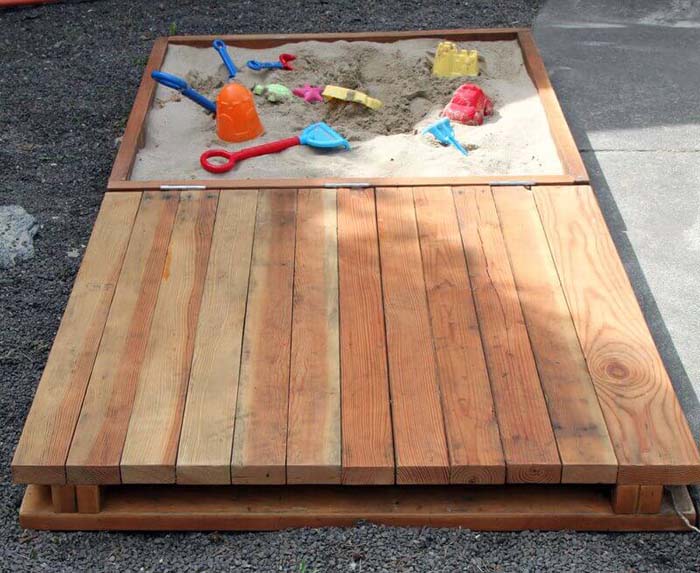 Add a touch of adorable and organized playtime to your kid's outdoor activities with this DIY idea.
A wooden cedar deck folds out to reveal a sectioned-off sandbox.
This fun dual-purpose area may be set up anywhere in the backyard, though it's best to opt for somewhere in the shade and near the walkway.
via Small Friendly
12. Create a Fun Construction Play Area for Your Little Ones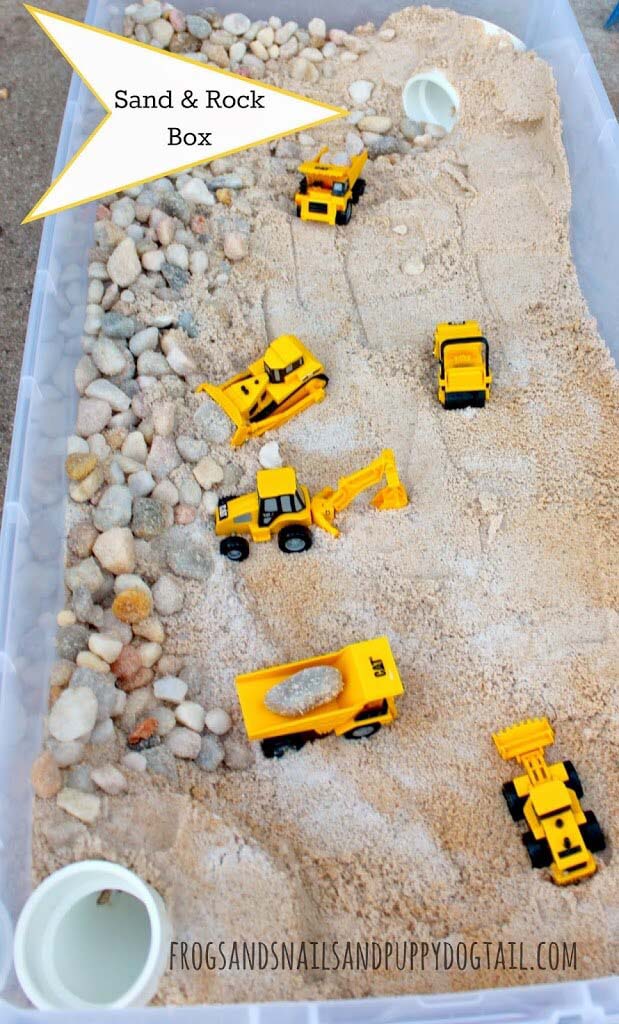 Create a cute construction play area for your little ones with this DIY outdoor activity.
A simple, but study plastic box is filled with fine-grained sand and smooth rocks to make a mini construction yard. Inside yellow construction-themed toys are filled to help your hard-hat-wearing kiddos finish the job.
This sensory kit is portable and easily customized with their favorite toys.
via Frogs Snails and Puppy Tails
13. Relaxing Backyard Play Area with a DIY Hammock Table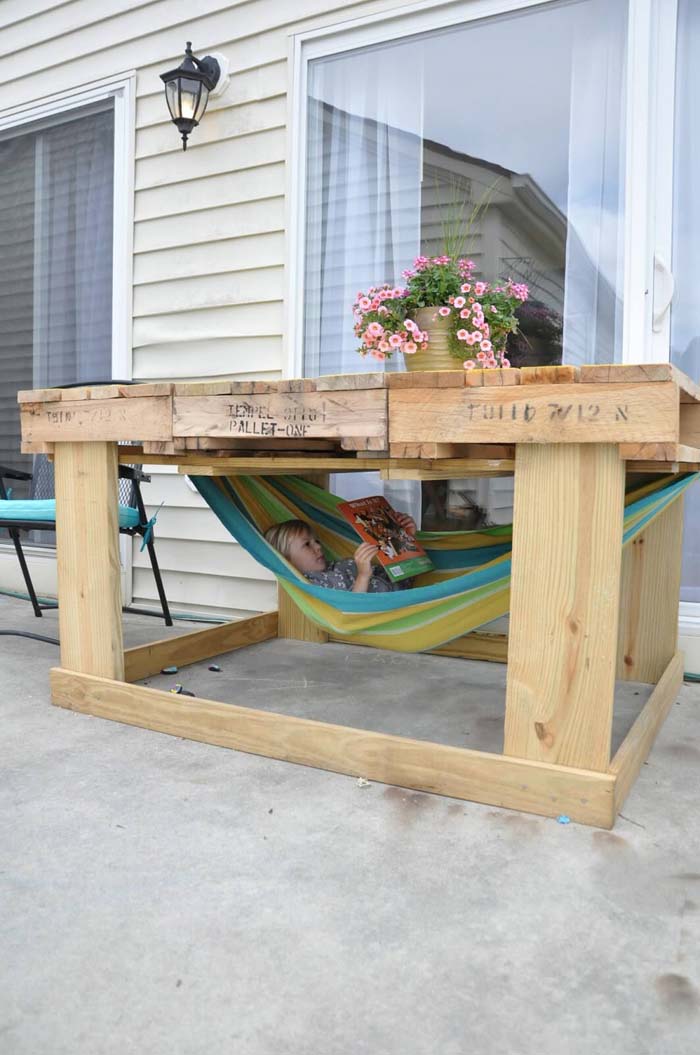 Give your kid their own backyard nook with this convenient outdoor DIY play area.
A multicolored hammock rests underneath a tall wooden table, providing the perfect shaded area to read Dr. Seuss.
Moreover, the table is completely functional, even while the hammock is in use. Add a potted flower to decorate this dual-action design meant for lazing kids and restful adults alike.
via Little Bit Funky
14. Build an Adventure Fort with a Raised Platform and Slide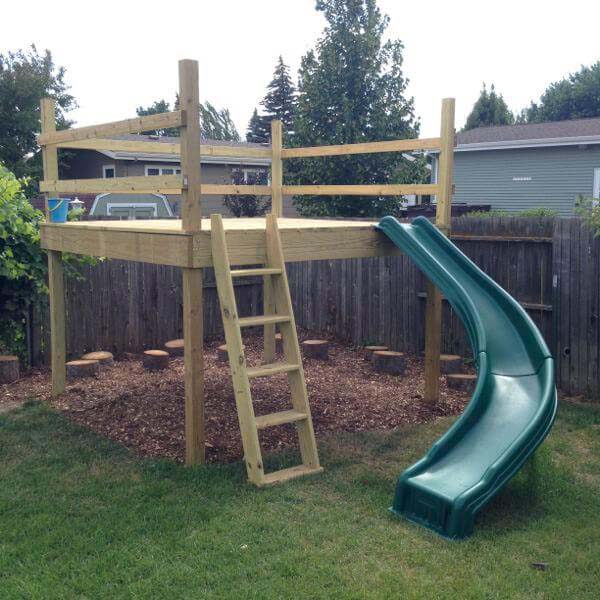 Let your youngsters live out their adventurous nature in this elevated DIY play area.
A wooden platform is raised to the second story, giving a roofless treehouse vibe. With a simple leaning ladder to climb, kids will have all the tools ready to create their very own adventure fort.
An exciting bluish-green slide gives them the perfect exit for setting out on their quest.
15. DIY Tire and Slide Climbing Design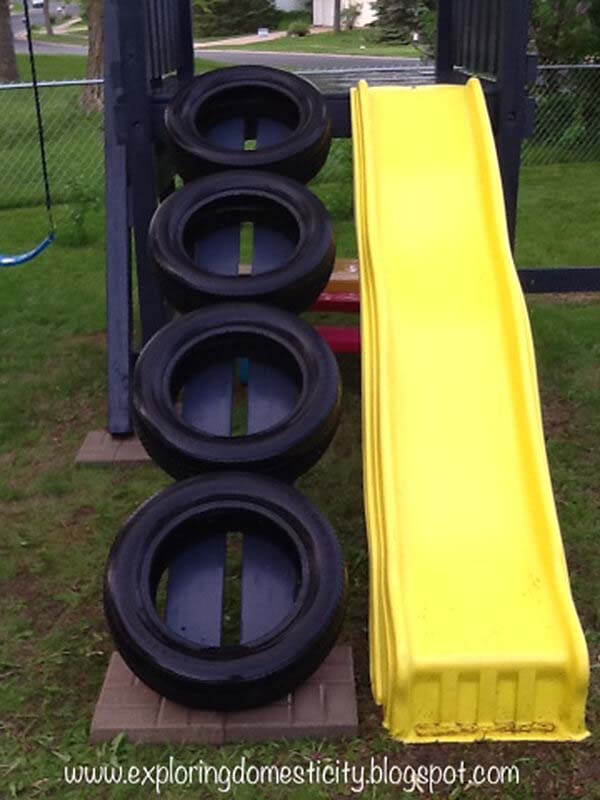 Give your youngsters a chance to burn off some of their rambunctious summer energy with this playful DIY design.
A set of four tires may be climbed up to reach a small wooden platform, where kids can then go down a fun yellow slide.
Reminiscent of larger playground equipment, this safe and small tire and slide climbing design gives kids hours of fun.
16. Create a Beach Oasis with DIY Outdoor Sandbox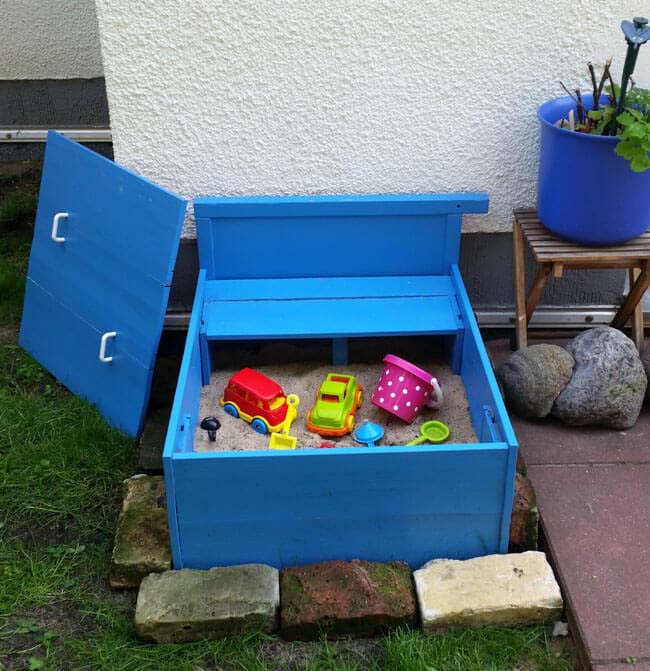 Let your kids have a day at the beach in your backyard with this convenient DIY outdoor idea.
A blue wooden lid is easily removed to reveal a miniature sandbox, complete with adorable toys. The design features a small wooden bench seat, where little ones may rest.
This sandbox may be placed near the back porch.