Are you prepared for summer? Okay, your thoughts and mood are already adjusted for the longer and hotter days when the entertainment level naturally raises up.
Another thing that's certain is that the backyard would be the quickest and most affordable summer "getaway". So it is time to think about how to improve it so that it provides maximum comfort and appeal for guaranteed relaxation.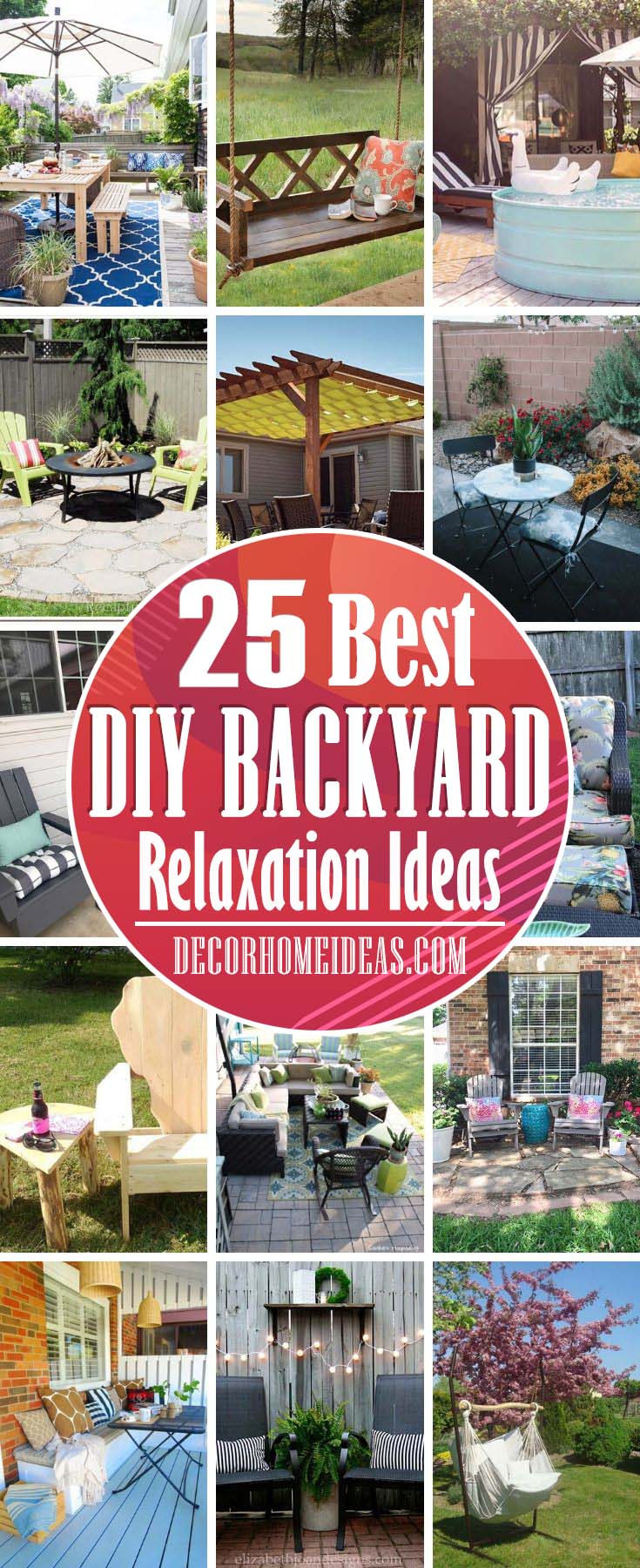 We have gathered for you the best 25 DIY backyard relaxation ideas that are easy to be re-created and that will contribute to making your backyard a summer oasis. Are you ready?
1. Refresh Your Backyard with String Lights and Plants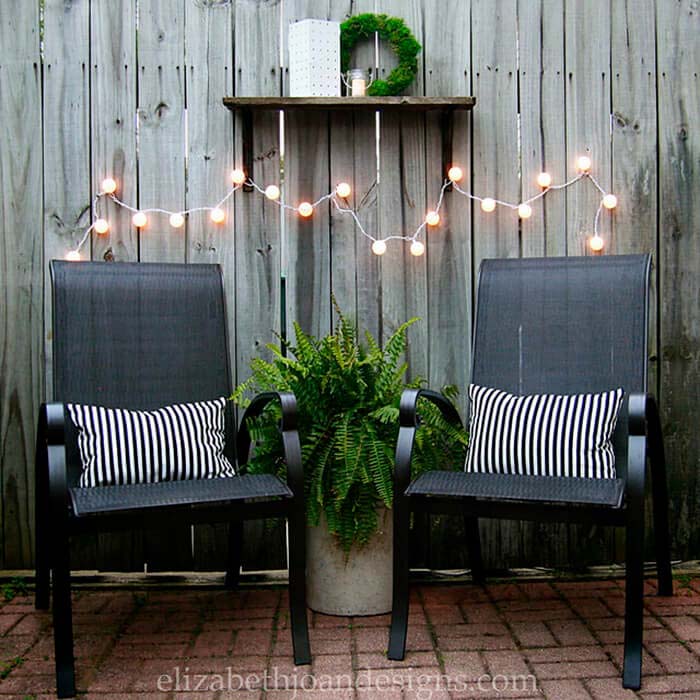 Add a unique and relaxing ambiance with decorative accent pieces.
Round string lights and focal green plants give the backyard a refreshing and modern up-do.
Placement is key for these pieces. Consider hanging the lights low, rather than overhead.
2. Upgrade Your Backyard with a Stylish Patio Umbrella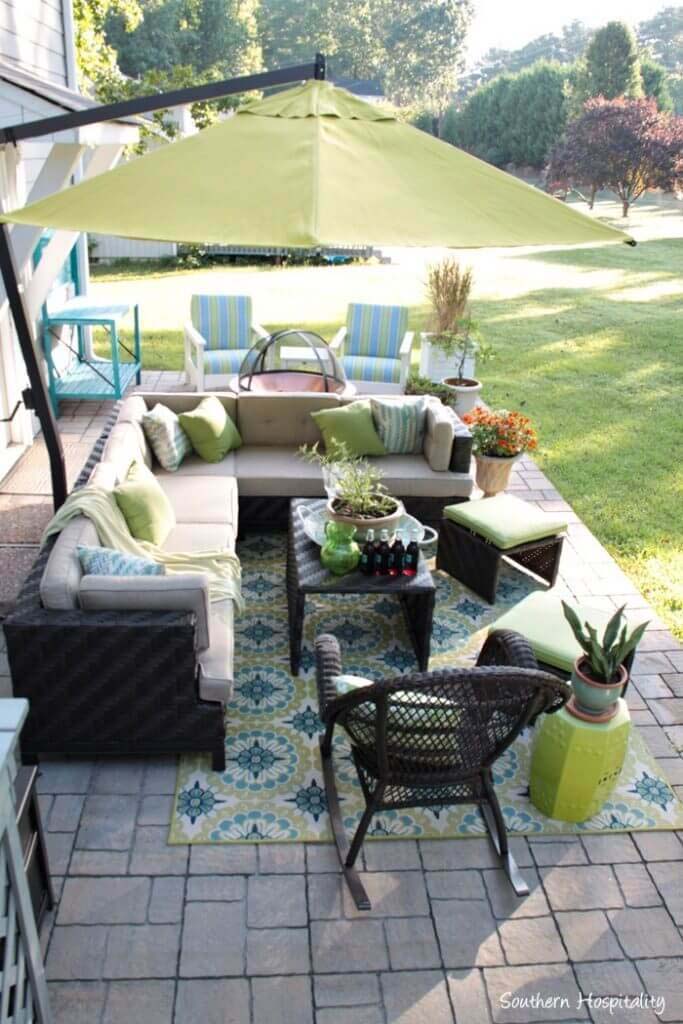 Give your backyard area a chic upgrade with a decorative umbrella.
Not only can it provide shade and rain protection, but it also ties the color scheme together.
Choose a large enough umbrella to cover all the furniture and accent pieces.
3. Enjoy Outdoor Dining with a French Cafe Patio Set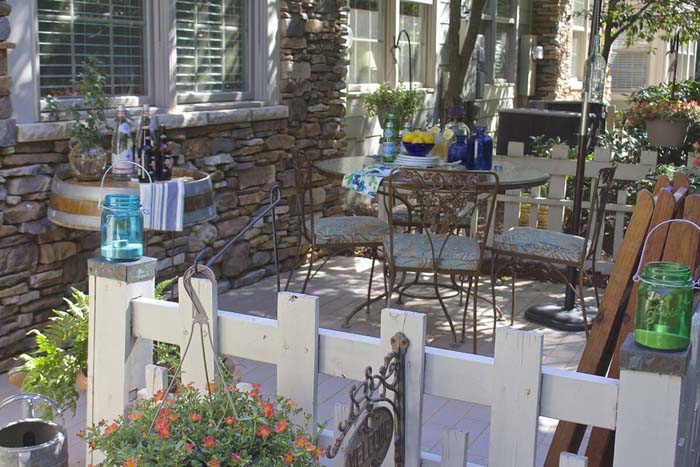 Set up your very own French cafe patio table with this elegant design.
Delicate wire-framed patio chairs assemble around a small round glass table to provide the perfect sun-bathing ambiance.
The look is complete with fun accent jars, plants, and fruit.
via 2 Bees In a Pod
4. Backyard Patio Design with Bold Blue Accents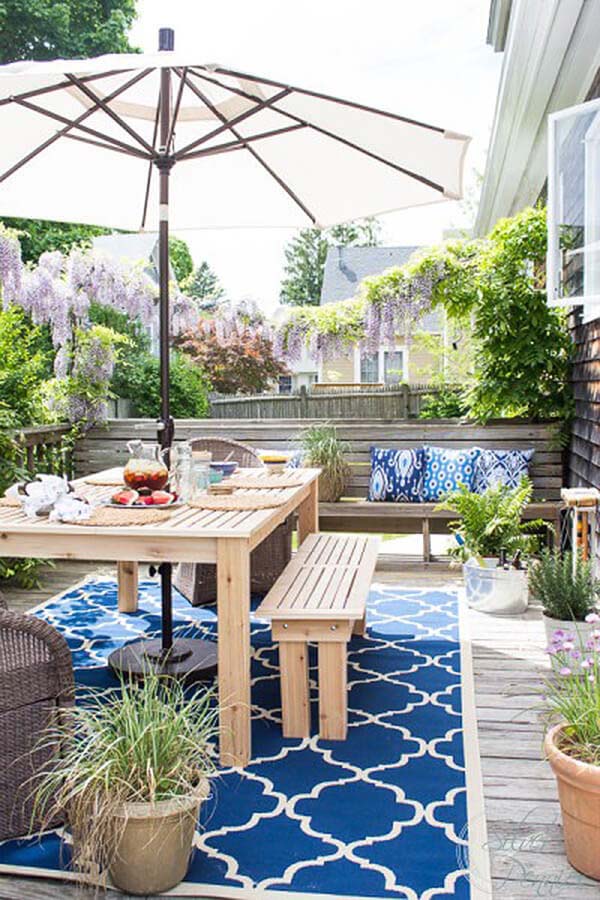 Strike a balance between bold pops of color and a natural feel with this backyard patio design.
A naturally-finished wooden table with benches as seats rests atop a bold blue rug with a geometric pattern.
The patio is accented with brown wicker furniture, green ferns, and blue pillows. To further the natural vibe, consider adding woven plate charges in a neutral tone.
5. Cozy Porch with Adirondack Chairs and Teal Pillows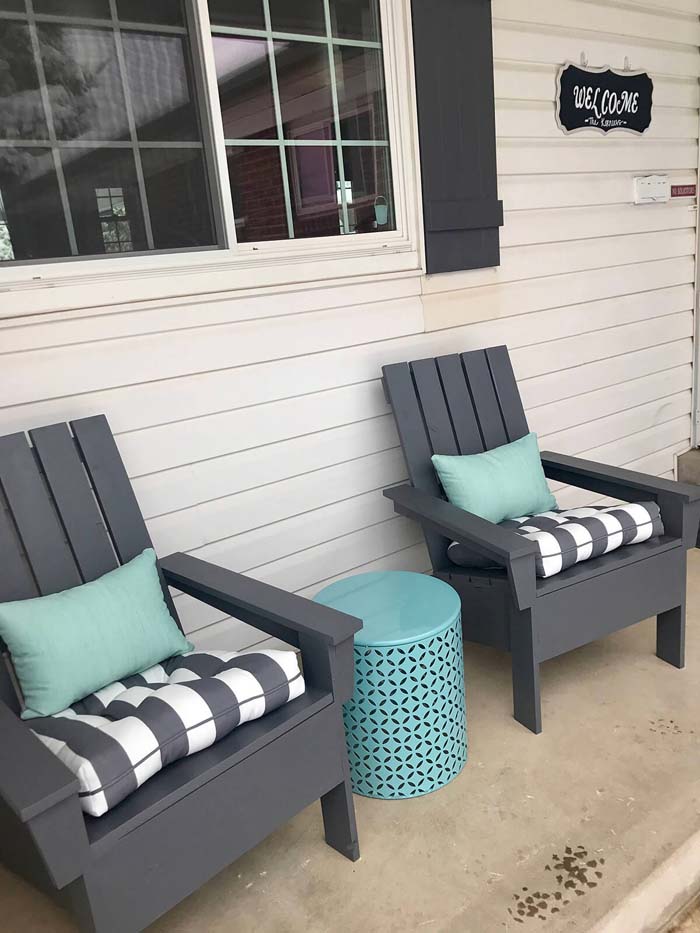 Make your front porch the summer and year-round place to be with this simple furniture idea.
A pair of smooth, gray Adirondack chairs rest under similarly colored shutters. The natural tones are off-set well with teal blue pillows and a metal side table.

6. Relaxing Reading Nook with a Cushioned Hammock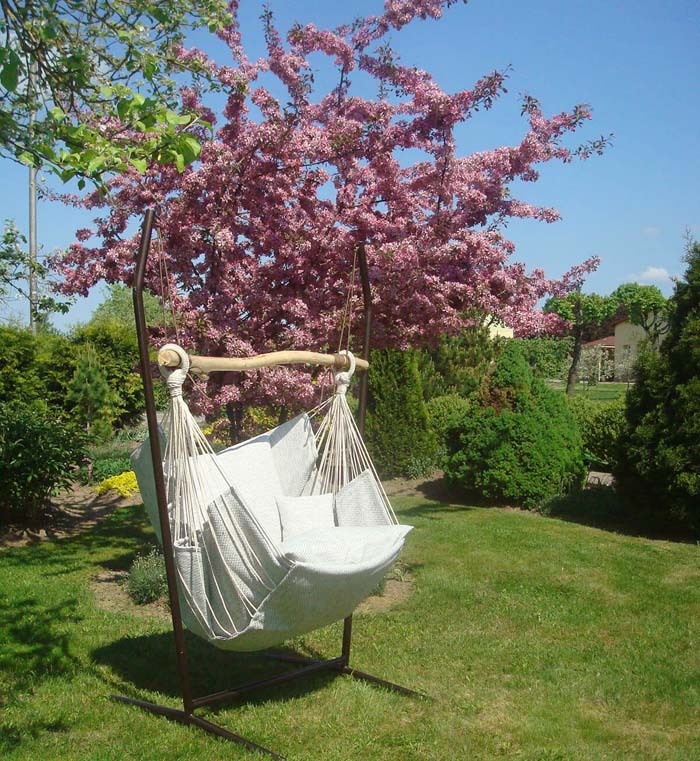 Create your own reading and sleeping nook in the backyard.
A free-standing hammock is made extra comfortable with a white canvas body and throw pillows.
Set this up near your favorite tree to complete the relaxing vibe.

7. Create a Blooming Garden Patio Oasis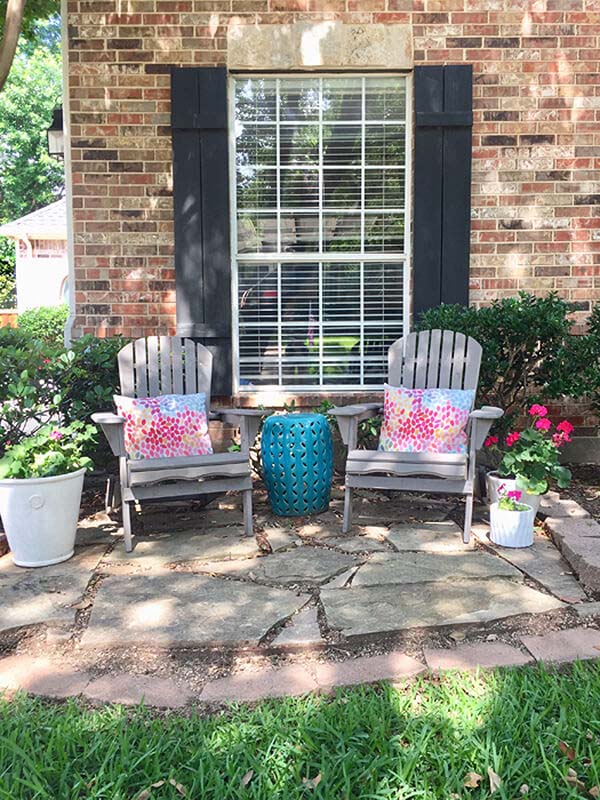 Design an adorable seating area on your backyard patio to watch your garden bloom into life.
Two gray chairs are accented with a metallic blue side table and pop of pink from pillows and nearby roses.
Use potted plants to craft your own garden escape.
via Stacy's Savings
8. Relax in Style with Leafy Green Arm-Free Chairs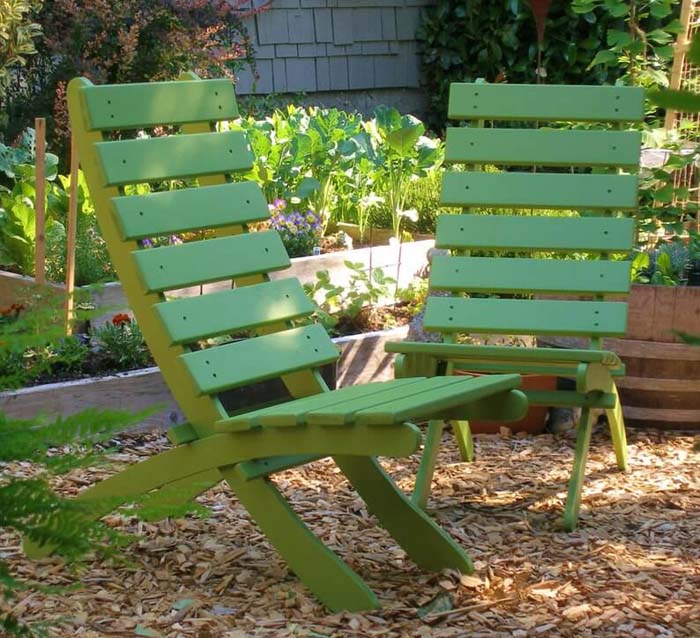 Add a fun touch to your backyard with this simple design element.
Leafy green, arm-free chairs give an interesting look to the patio with their curved bottoms.

9. Upgrade Your Wicker Furniture with Colorful Cushions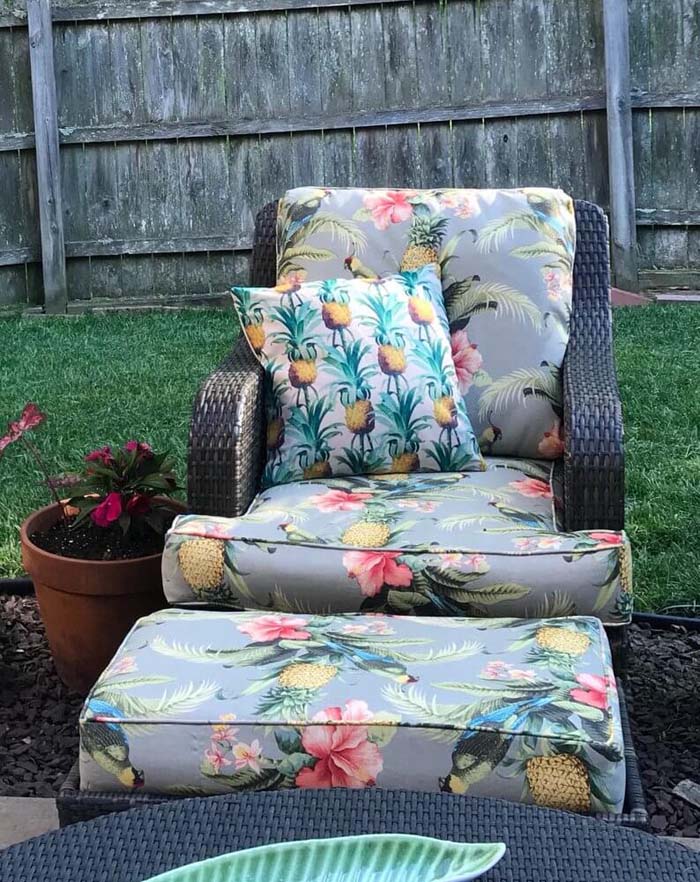 Upgrade your outdoor wicker chairs with custom printed cushions.
A tropical design ties the floral chair and ottoman with its pineapple throw pillow. The intricate print design is back-dropped by a cloudy gray tone.

10. Enhance Your Backyard with Textural Elements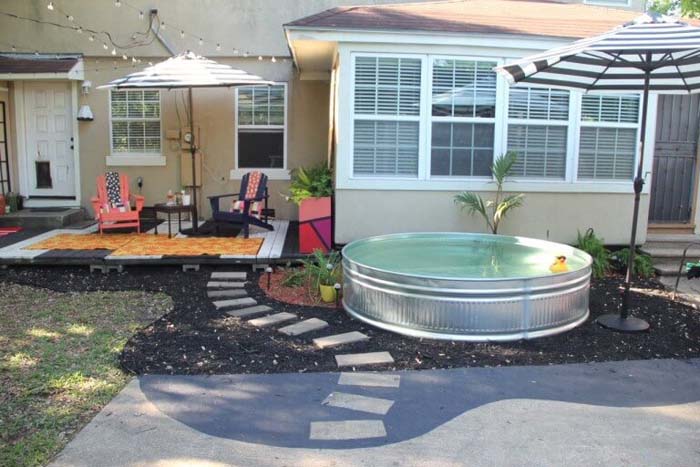 Use paint and creativity to add textural elements to your backyard scene.
A concrete section of the backyard is turned into a canvas to extend the walkway and mulch, allowing for a more open atmosphere.
via Dana Plus David
11. Enjoy S'mores Around a Backyard Bonfire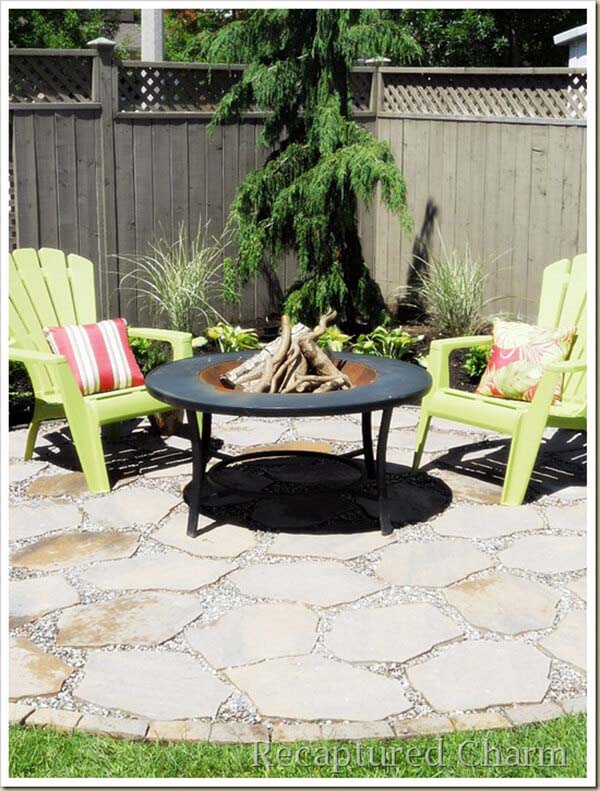 Ready yourself for midnight bonfires and smores with this backyard idea.
Two bright green chairs sit around an elevated firepit made from black metal.
Throw pillows of red, green, and neutral tones are used to tie the color scheme together.
via Recaptured Charm
12. Make a Summertime DIY Hammock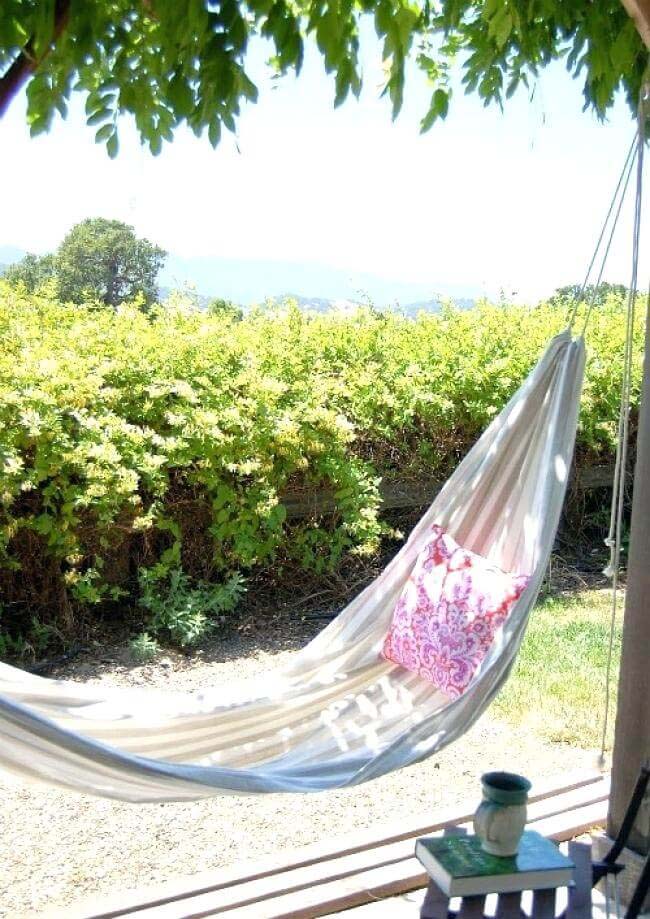 Rest easy in this simple-looking and simple-to-set-up backyard design idea.
A white canvas hammock hangs across the patio with just enough sun and shade to soak up some rays without being too hot.
A nearby side table lends space for your coffee and book of choice.
via Bonnie Christine
13. Luxurious Outdoor Free-Standing Swing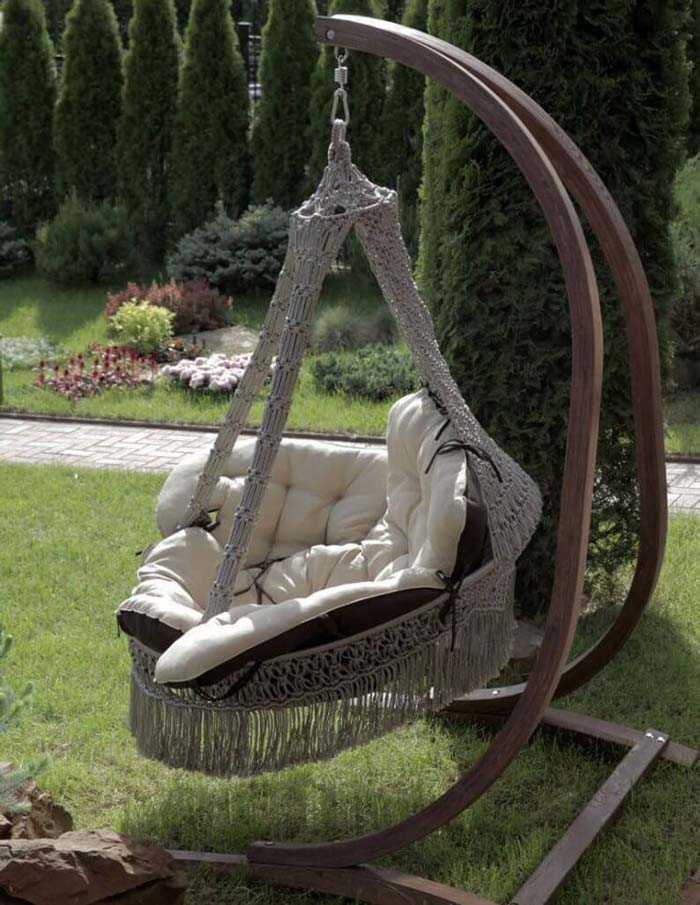 Add a sense of playfulness and luxury with this backyard piece.
An opulent outdoor free-standing swing provides comfort and relaxation all year.
With soft cushions in creme and a woven tassel design, this piece looks more like a chandelier than a chair.

14. Transform Your Backyard into a Home Theater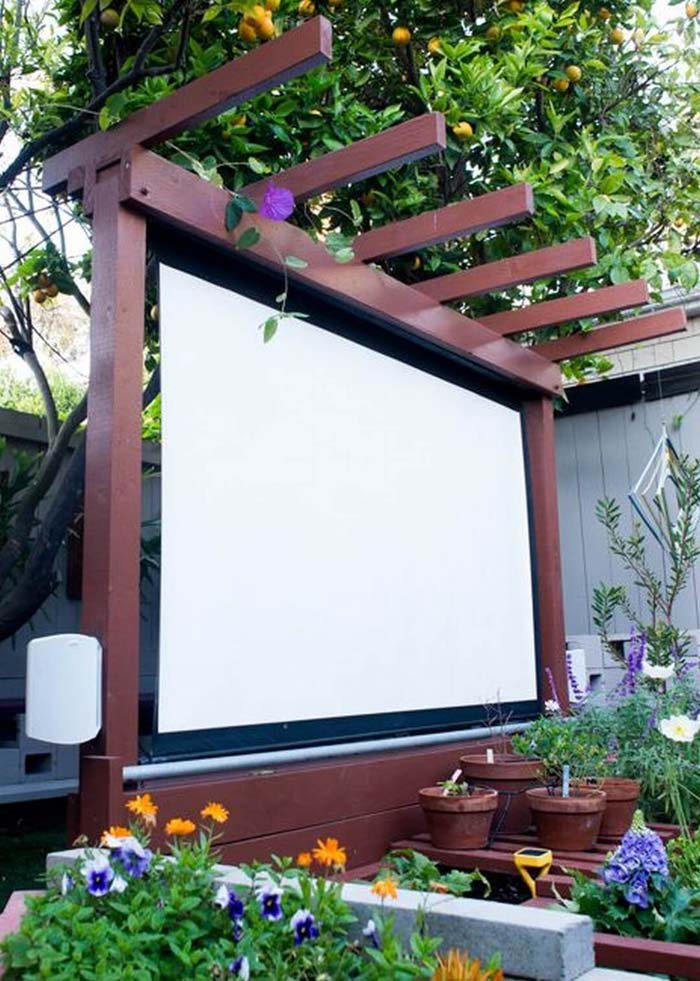 Bring the entertainment to your backyard with this outdoor movie screen.
A simple and clean wooden frame holds taut a movie screen. Complete the outdoor experience with potted plants of differing heights and colors.
via The Horti Cult
15. Bohemian Outdoor Reading Nook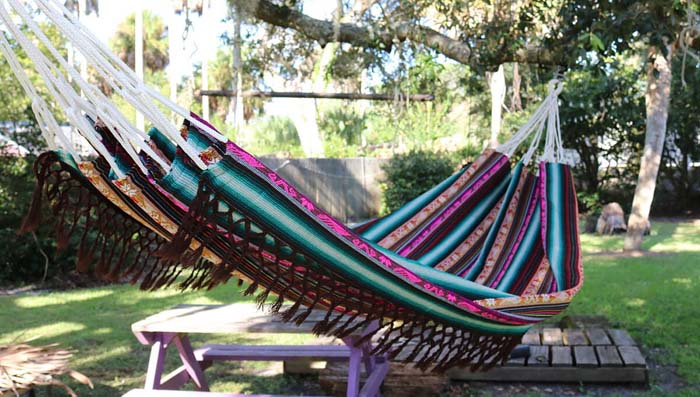 Give your backyard reading nook a bohemian look with this outdoor design.
A pink and blue striped canvas hammock nestles itself neatly across a tree branch.
With braided brown tassels, the relaxing ambiance is given a subtle note of the chic boho look.

16. Enhance Your Backyard with Pea Gravel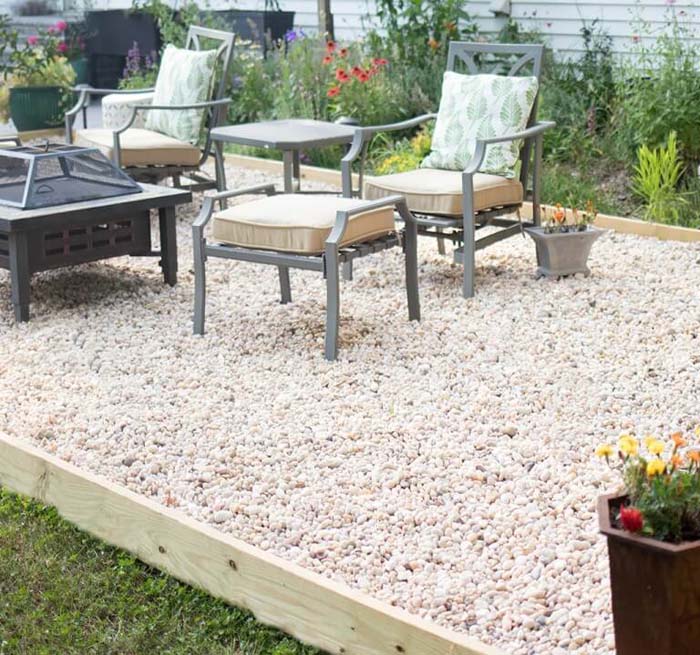 Add a playful tone to your backyard area with this design. An outdoor patio set is placed in a raised bed of pea-sized gravel.
Neutral toned stones are used to bring out the look of the patio set itself. Add nearby planters to give fun color accents.
via Gina Michelle
17. Add Cozy Touches to Your Front Porch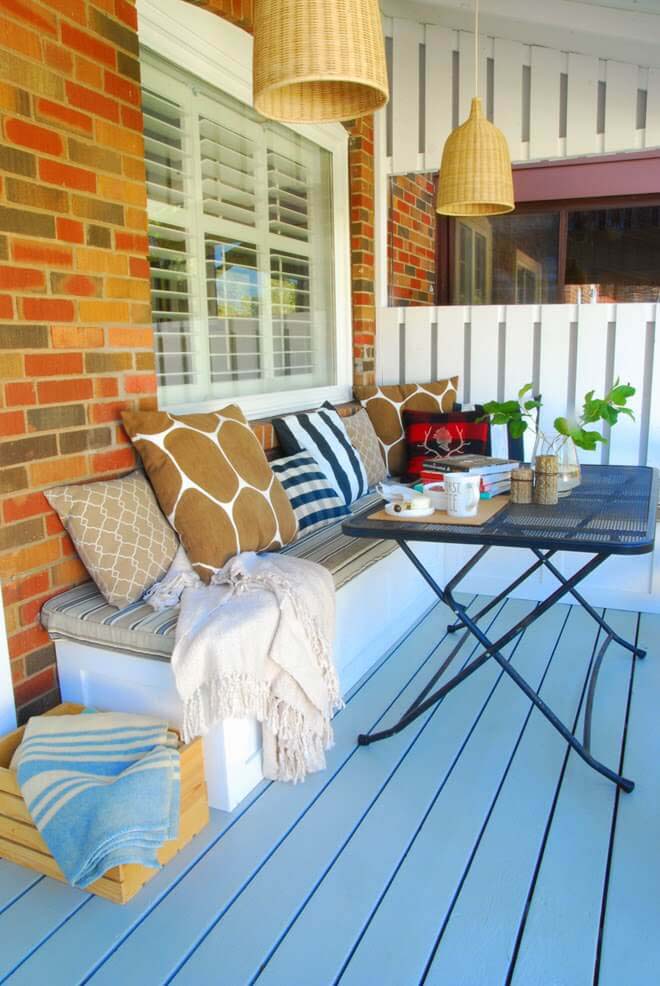 Add some cute upgrades to your front porch with intentional design elements.
Let natural tones bring out the many patterns of throw pillows along a bench, accented with white woven blankets.
Consider adding a metal folding table to hold breakfast or snack goodies.
18. Protect Your Backyard with a Retractable Garden Canopy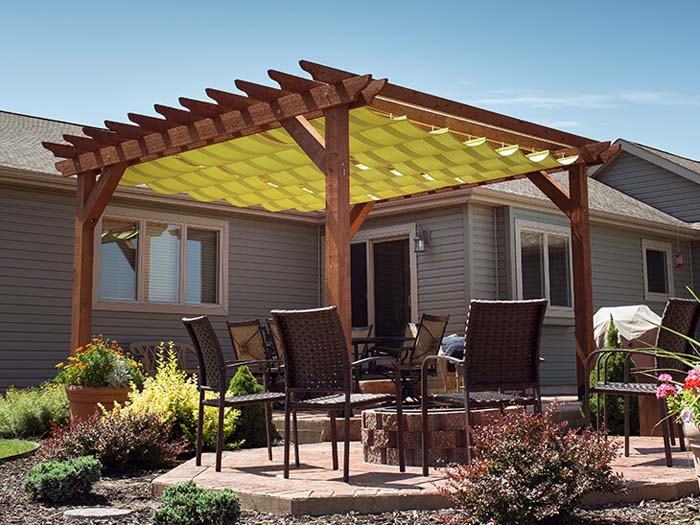 Ready your backyard brunch with this garden canopy.
A large yellow canvas roof hangs over the patio table, protecting the guests below from excessive sun.
Moreover, its beautiful wooden frame allows for a retractable canvas.
via Sailrite
19. Patio with an Elegant Pergola and Floral Accents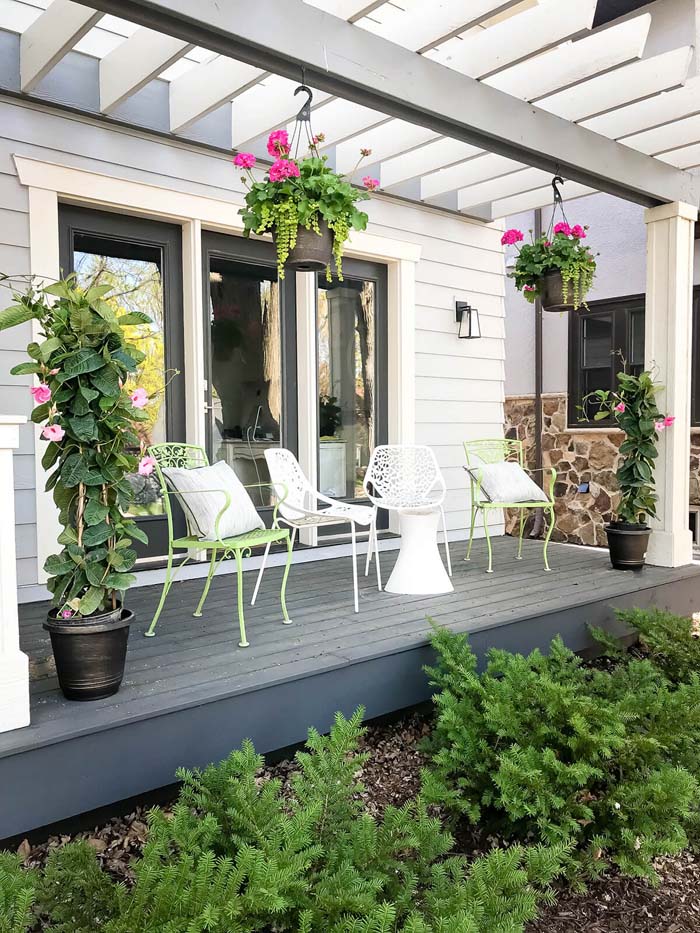 Give your backyard patio some focal construction pieces as seen in this design.
A matte gray pergola runs across two classically shaped columns to give an artistic and opulent vibe.
It provides the perfect setting for hanging floral arrangements.
20. Create the Perfect Retreat with a Simple Adirondack Set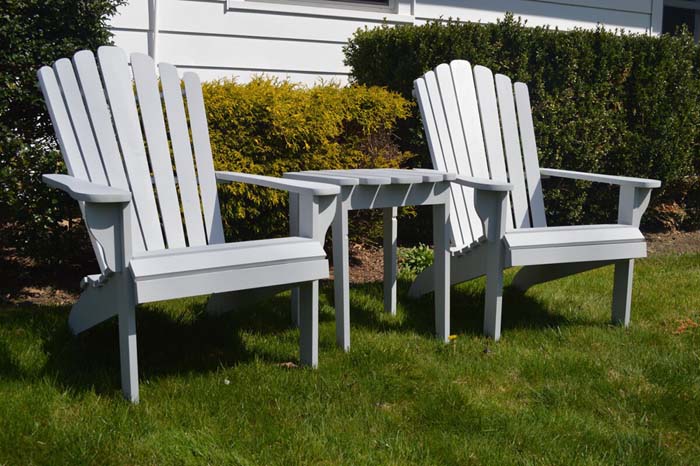 Set up the ultimate relaxing area in your backyard with this idea.
A pair of grayish-white Adirondack chairs rest on either side of a matching side table. Simple and sleek this look goes with any outdoor scheme.

21. Beat the Heat with a Cool Pool Oasis in Your Backyard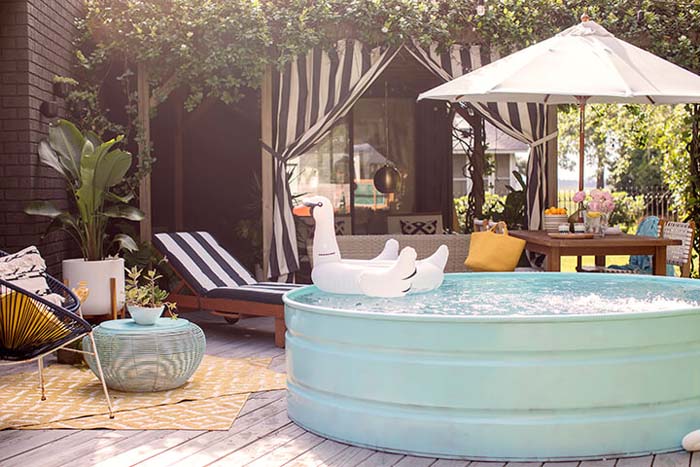 Beat the summer heat with this splashing backyard idea. As simple blue, the small pool sits on the backyard deck near reclining patio chairs. If you're looking for lumbar support pillows for your recliner, there's a good resource here.
Elevate this look with modern patterns on nearby furniture and a swan floatie.
via Sun Woven
22. Upgrade a Patio with a Minimalist Outdoor Dining Setup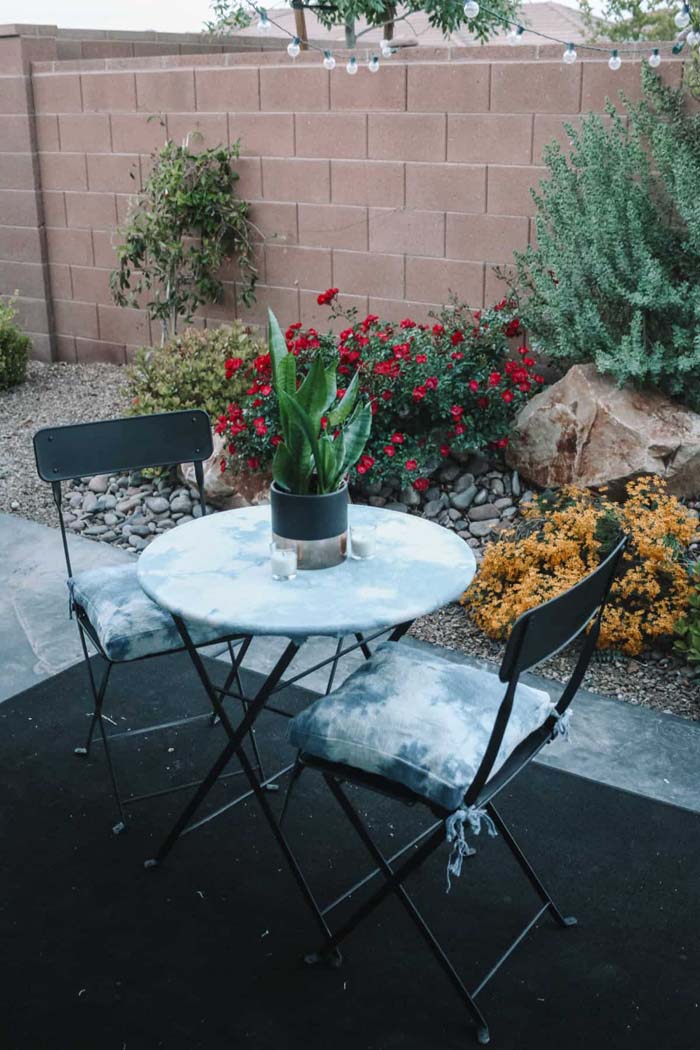 Set up a minimalist outdoor eating area with this backyard design.
In cloudy vibes, a pair of metal chairs sit on either side of a small round table.
Use an aloe vera plant or green fern to add a touch of the natural element.
23. Create a Relaxing Patio Retreat with a Wooden Swing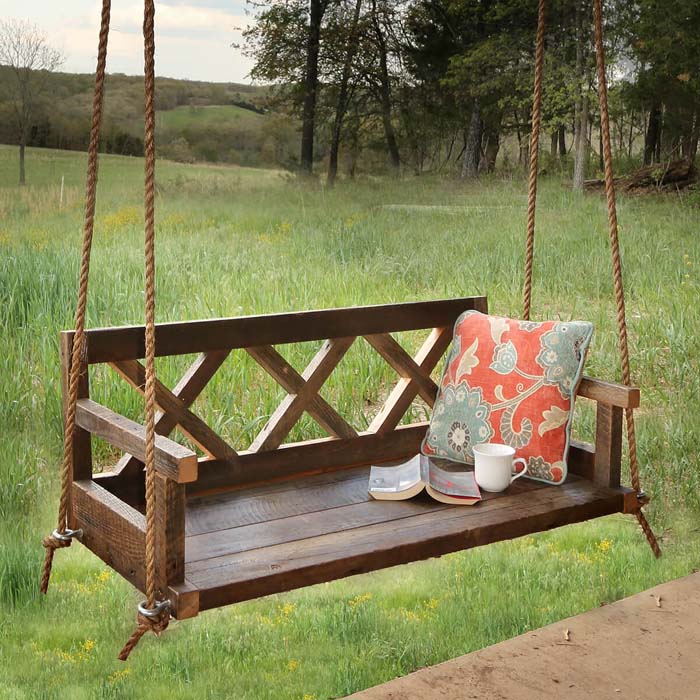 Give your family and guests the perfect outdoor retreat with this design piece.
An elegant wooden swing hangs over the backyard patio to bring a sense of romanticism and a place to read. Complete the look with a fun floral print.

24. Show Off Wisconsin Pride with Adirondack Chair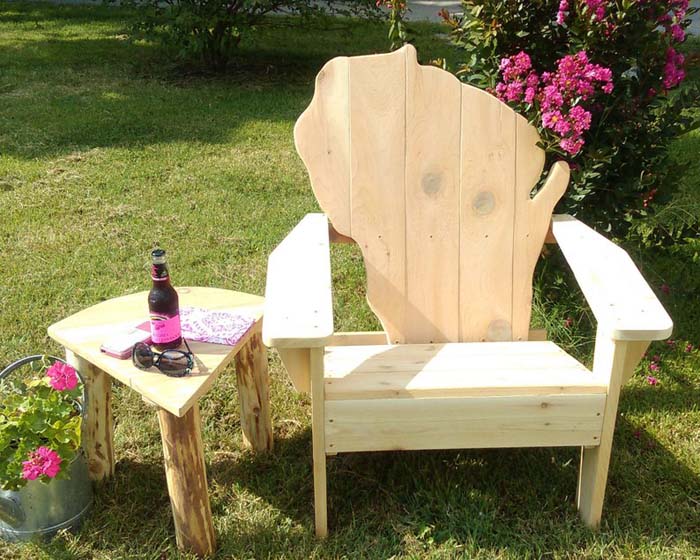 Add a touch of your state pride with this backyard design element.
A wooden Adirondack chair nestles alongside a custom wooden side table and a metal planter.
The back of the chair is made unique by being constructed in Wisconsin's chillout.