Modern people are in a never-ending race with the clock. Sometimes it's hard to find time to read a few pages of the favorite book or magazine while enjoying a glass of wine even it can be very relaxing after a long day at work.
However, finding the perfect reading space might not be an easy task. Imagine reading on the living room's sofa after a smashing day at the office while your partner's talking on the phone, your kid's watch a TV and your dog's barking around.

Doesn't sound relaxing, huh? That's why the reading nooks are getting more and more popular nowadays.
If you're asking yourself what exactly is a reading nook – let me give you some hints! It's usually taking up little space but represents your personal style at the same time. Plus, creating the perfect reading spot at home doesn't necessarily requires lots of cash – sometimes all you need is lots of pillows in your own tiny corner of the world.
To help you get started, I've rounded up 33 fresh ideas for a cozy reading nook that would win every reading lover's heart.
1. Reading Bay Window Seat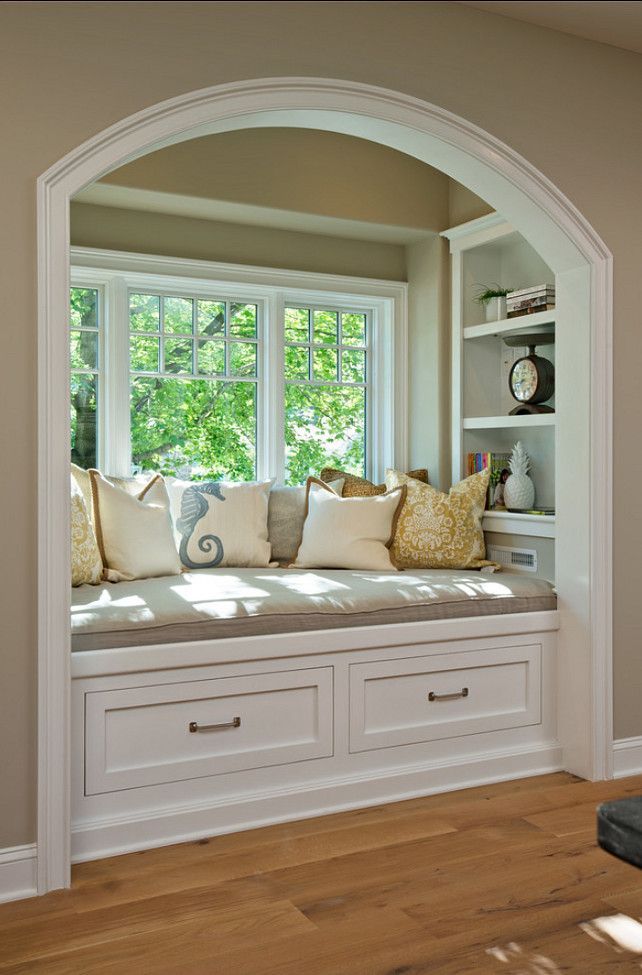 Photo: Credit
It's not a surprise why the window seats are usually the most loved element in a home. They offer comfort and outdoor view. It's a great spot to craft a reading nook as it offers lots of natural sunlight. Buy a bunch of stylish pillows and voila – you have yourself a great old-time reading space!
 2. Cozy bed/nook by the window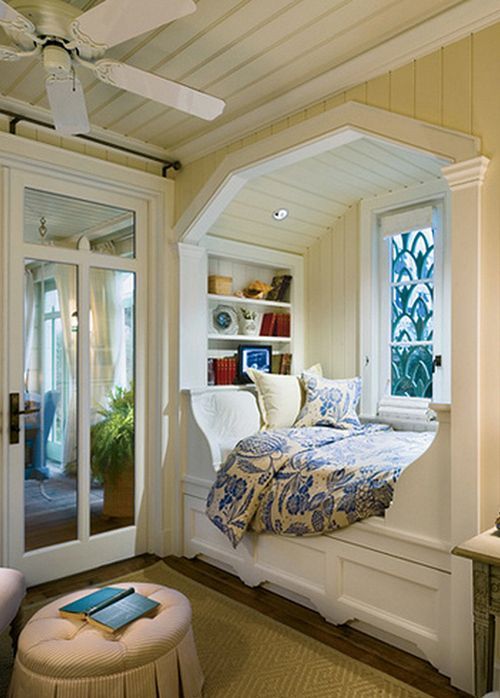 Photo: Credit
This is a great choice for a small bedroom or a studio flat with limited space. It is a bed and a reading spot in one with enough natural sunlight to read while enjoying your free time.
3. Attic turned into a snug reading nook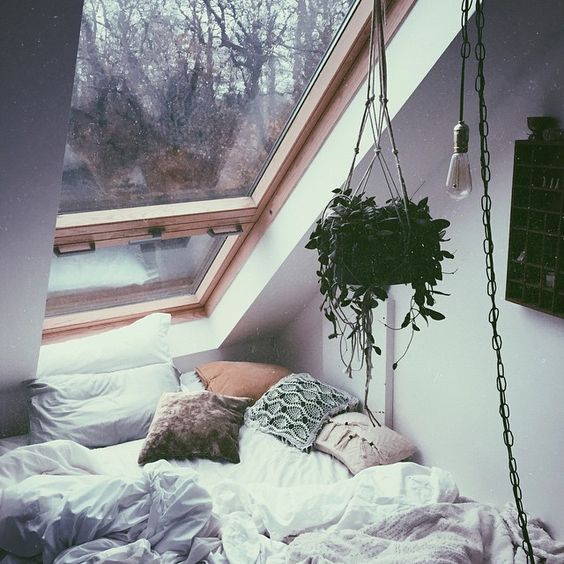 Photo: Credit
It's a true space-saver to create a cozy reading nook if there is a room with knee walls and a sloped ceiling in the house. Adding some vintage industrial lighting and simple pure color pillows can transform the attic into the ultimate reading corner.
4. Reading chair by the window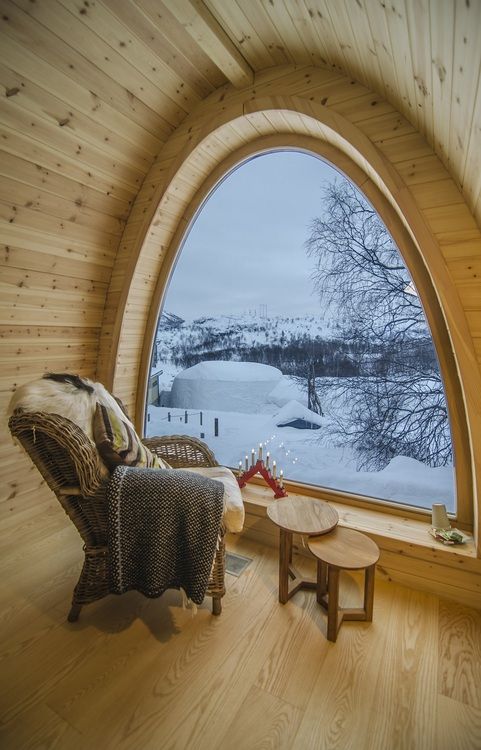 Photo: Credit
A comfy reading chair next to the window accompanied by a stylish coffee table and some candles can be your new most-liked corner in the house.
Is there anything better than reading the latest issue of your favorite magazine while enjoying the view outside? I don't think so!
5. Bookshelf with reading nook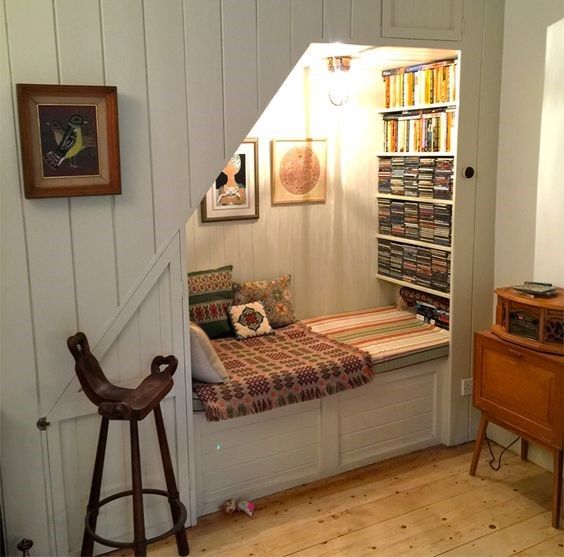 Photo:Credit
This is a smart way to use the unused space at home – from one hand to store your books, from another one – to enjoy your privacy and free time. Lighting is an essential aspect to consider especially when there's no window around.
6. Wooden built-in reading bench by the window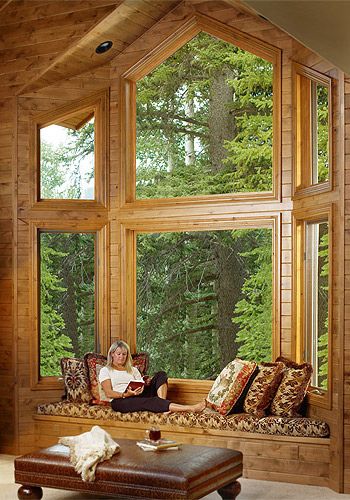 Photo:Credit
This is another great idea for a DIY reading nook for adults especially when the whole interior is wooden. It would be a crime to not use the space around these broad windows!
7. Part of the patio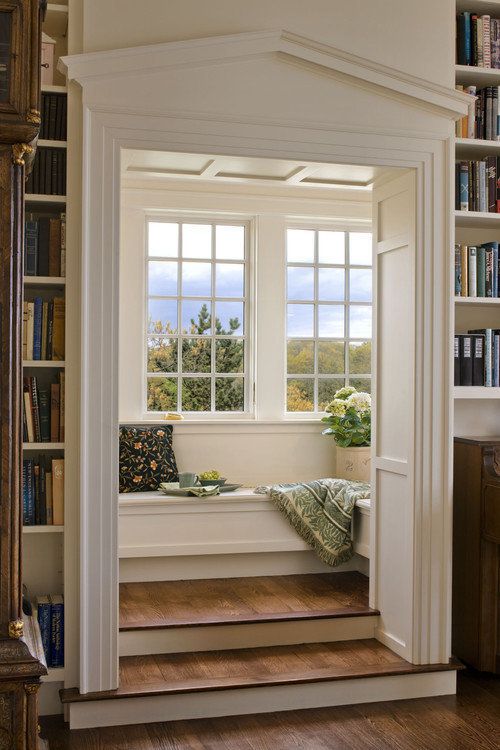 Photo:Credit
If there is not enough space to create your own reading spot at home, it doesn't mean you can't make one from scratch. Just choose a bit of the patio or porch, place your resting necessities nearby and try to make it cozy.
8. Outdoor reading nook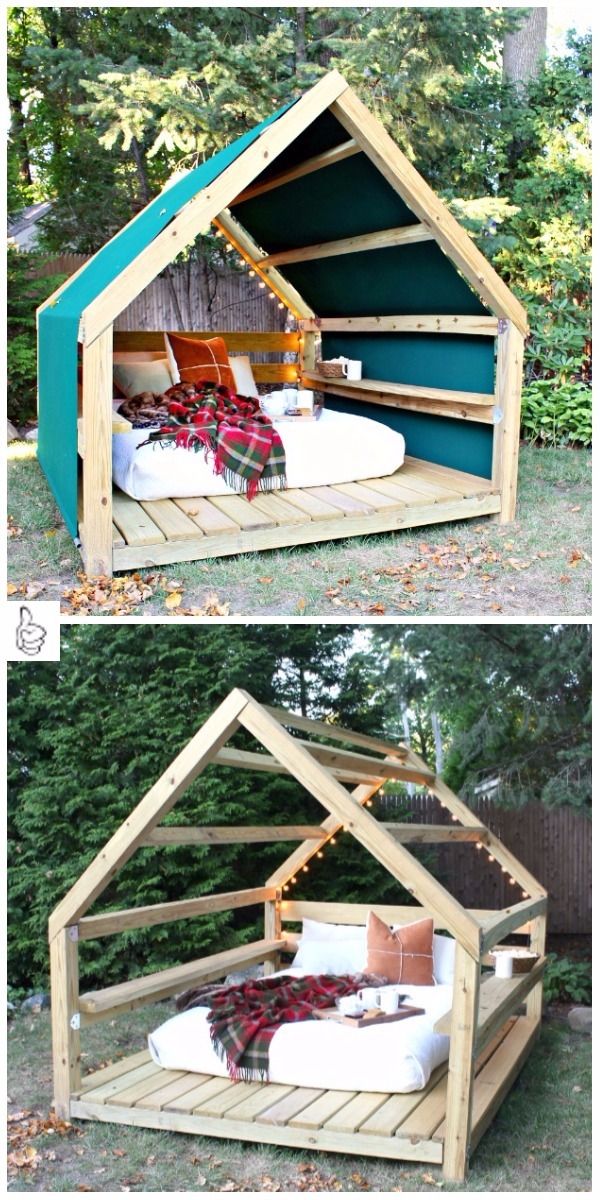 Photo:Credit
This is an incredible DIY reading nook for the warm seasons. It can be also used as an outdoor office or even as a summer bed. No doubt it's the perfect spot to make you feel you're on vacation even staying in your own garden.
As shown, it can be roughly roofed over with a blanket to keep you safe from sunburn.
9. Kidkraft bookcase with reading nook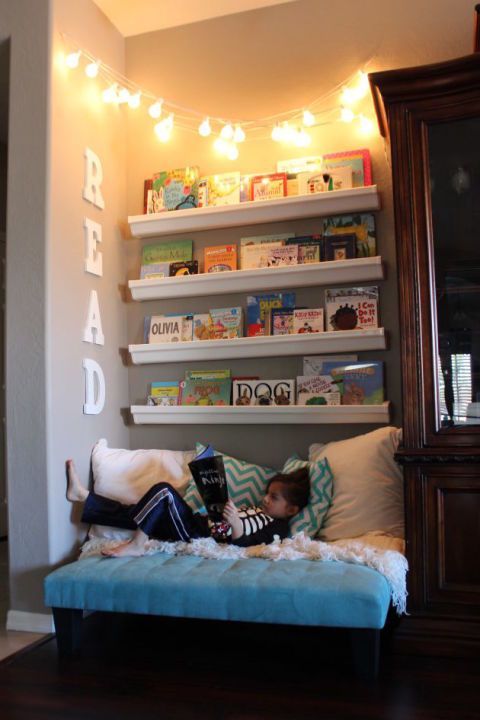 Photo:Credit
Here is one genius way to help your kids fall in love with reading. To make sure they will like it – ask them about their own opinion and choose each of the elements together.
10. Stylish corner reading spot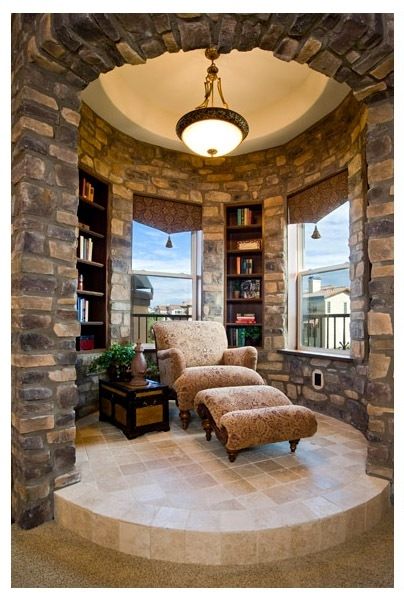 Photo:Credit
This is a great example of an elegant stylish library in the corner of the living room featuring tall windows and bookcases. In this case, you would be able to enjoy the sunlight and the outdoor view.
11. Contemporary window seating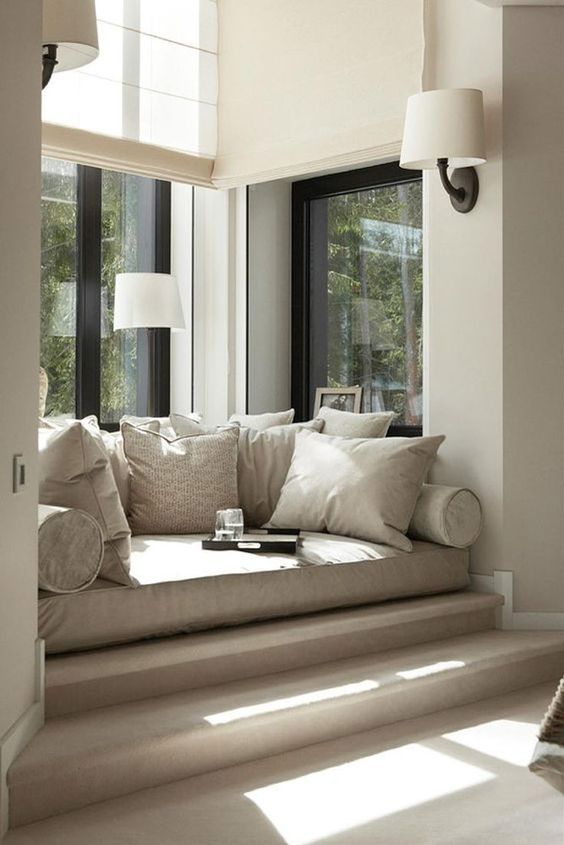 Photo:Credit
Here is a great example of a stylish contemporary decision of a reading nook in simple pure colors.
12. A dreamy DIY canopy reading nook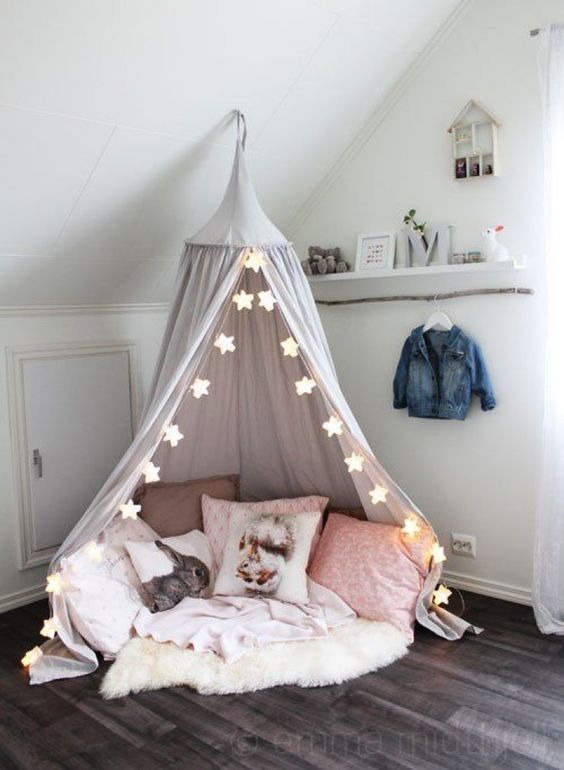 Photo:Credit
If you want to make your kids a pleasant surprise, you should maybe consider this idea! This dreamy canopy could be made for less than 15 minutes and requires 3 items – cheap curtains, a spool of ribbon and 1 big embroidery hoop. In the end, you can add some soft cushions and fairy lights.
13. The small details make a difference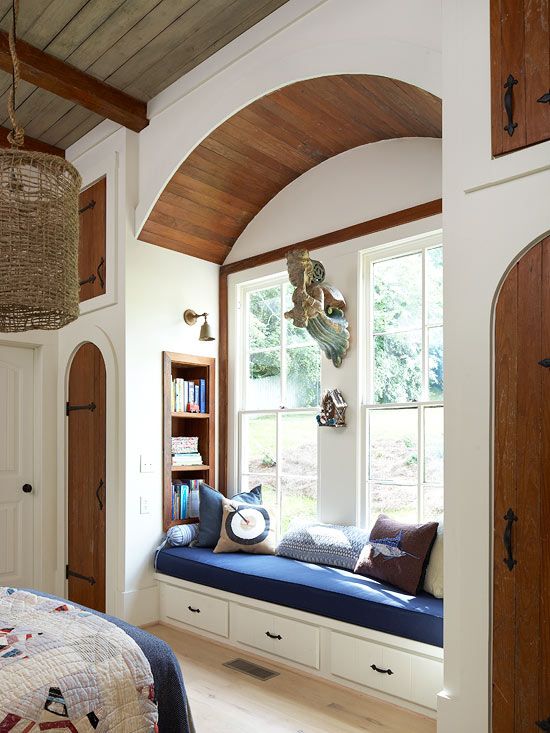 Photo:Credit
This is a good example of how the small details could make a simple window seat the most remarkable space not just in the bedroom, but in the whole house!
14. Convert the covered patio into a bright reading nook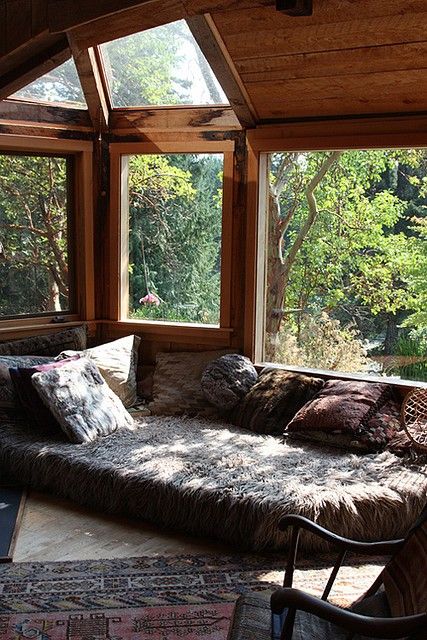 Photo:Credit
If you think of an affordable way to refresh your home, consider converting the unused covered patio into a cozy bright reading spot (as shown above). It doesn't require lots of money but it's a great way to escape the reality…at least for a while.
15. Under stairs reading nook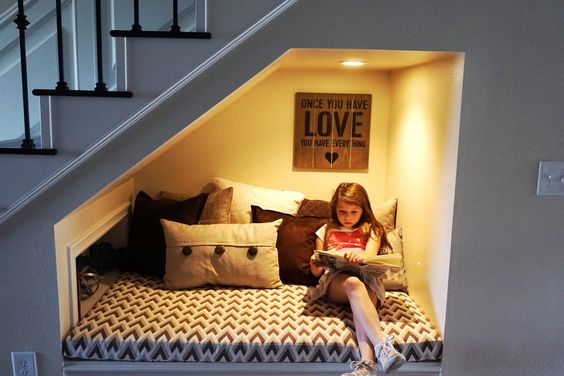 Photo:Credit
Here is how you can create the ultimate entertainment and relaxing den under the stairs with a simple bench, a couple of cushions and some shelving.
16. The attic book nook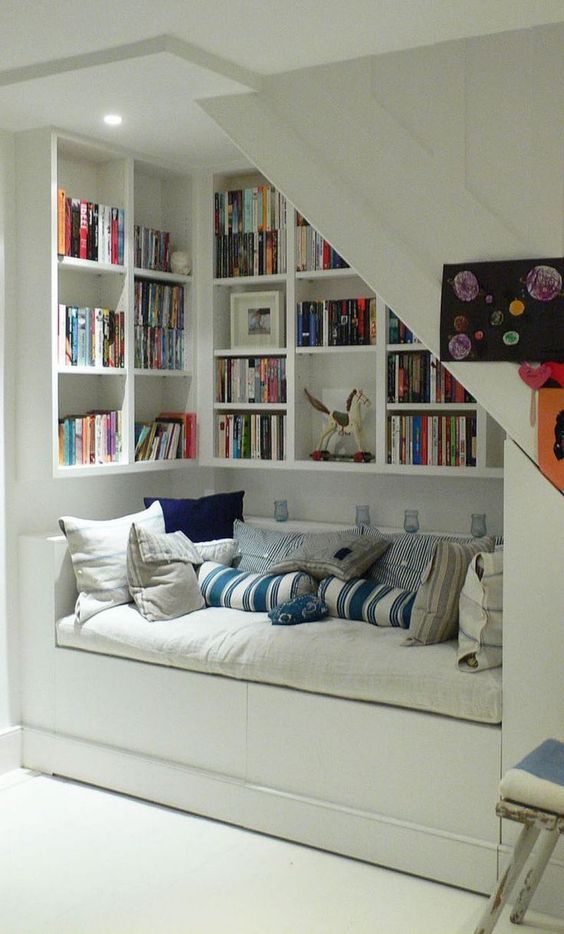 Photo:Credit
This is definitely the perfect hidey-hole after an exhausting day in the office. Light a candle and treat yourself with a glass of Chardonnay and your most-loved book!
17. Simple home office space by the window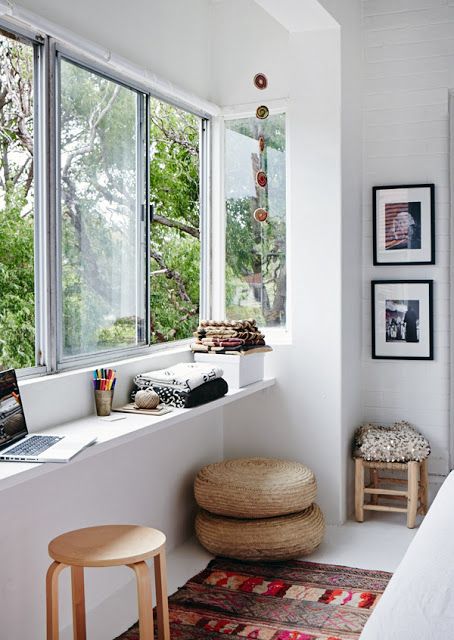 Photo:Credit
Here is one simple but stylish idea how to differentiate your own space to work or enjoy a book by the window. It doesn't take lots of space and you can use the daylight.
18. Wooden reading nook/bench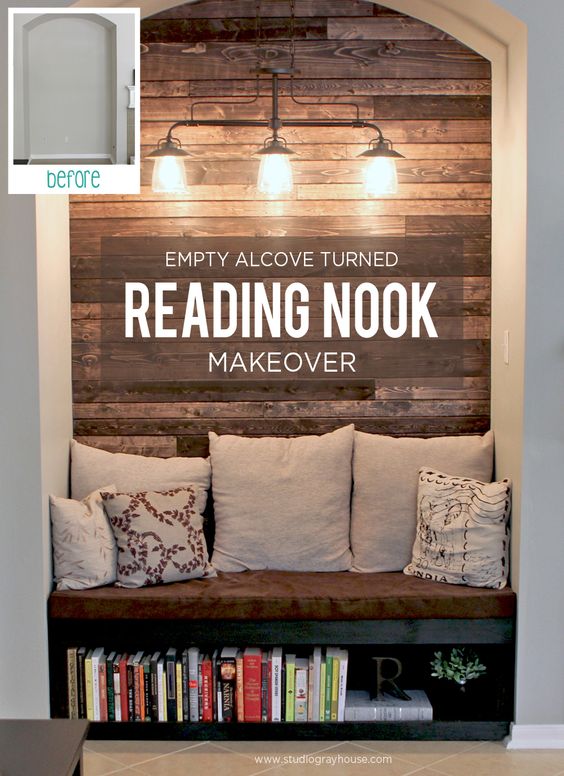 Photo:Credit
If you find yourself with an empty alcove at home, you can easily transform it into a wooden reading nook bench. Find out what color goes with the wood and add some cushions and blankets to make it cozier.
19. Minimalistic all white reading corner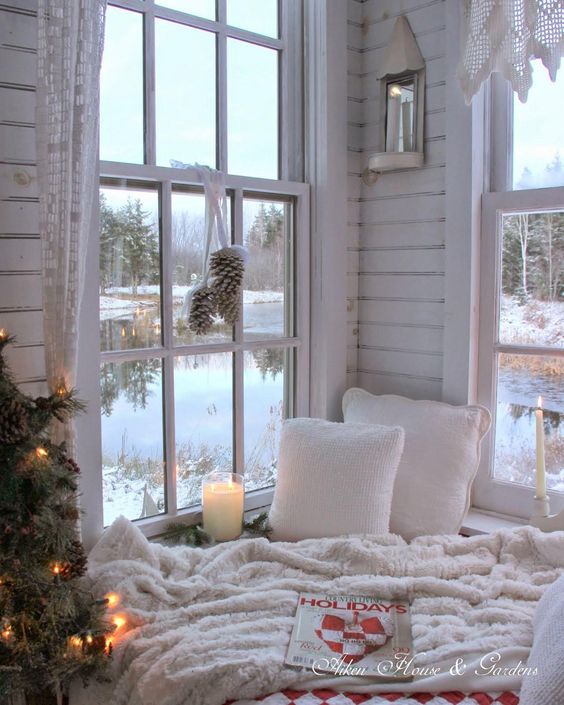 Photo:Credit
As white is the most reflective color, the white objects reflect the natural light and that will make your reading corner more bright and welcoming.
20. Make the wood look old and weathered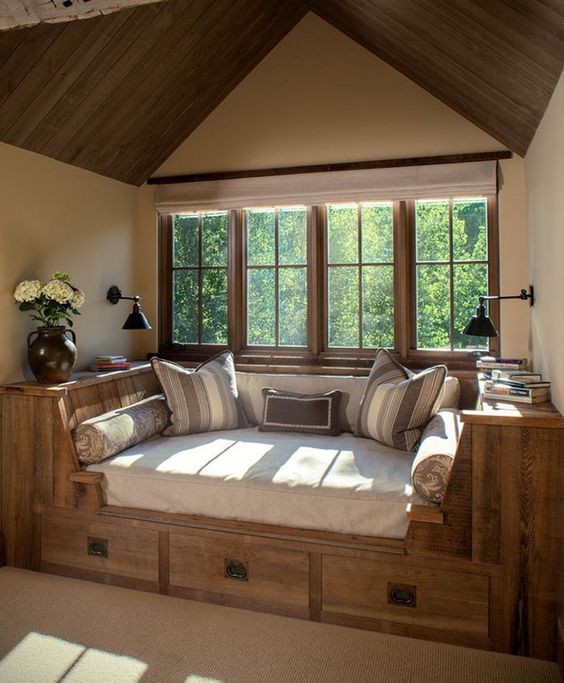 Photo:Credit
There are thousands of smart DIY tricks how to make the wood look old and weathered. That will refresh your attic reading corner without necessarily breaking the bank!
21. Classic under stairs nook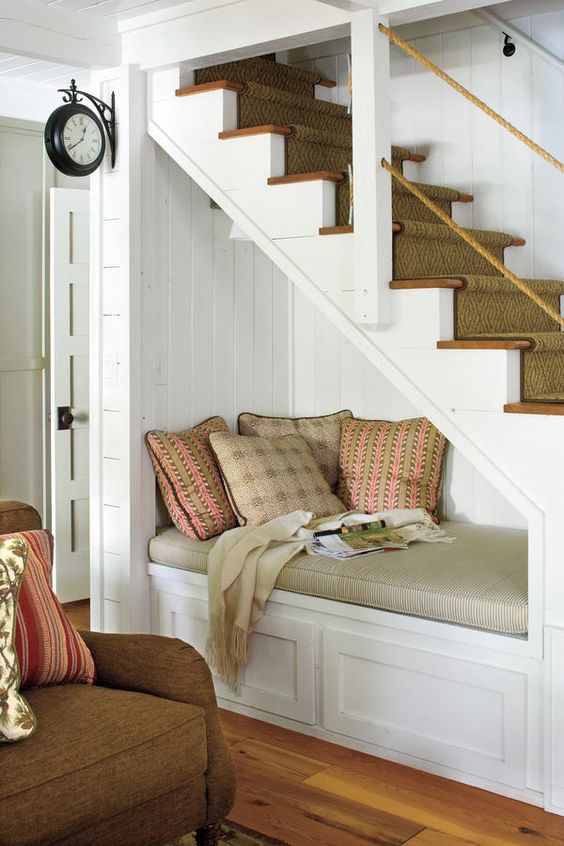 Photo:Credit
Here is another smart idea how to utilize that awkward tiny space under the stairs. However, there won't be enough space for a bookshelf, candles, and cushions so you should use the space wisely.
22. Mixing rustic and contemporary design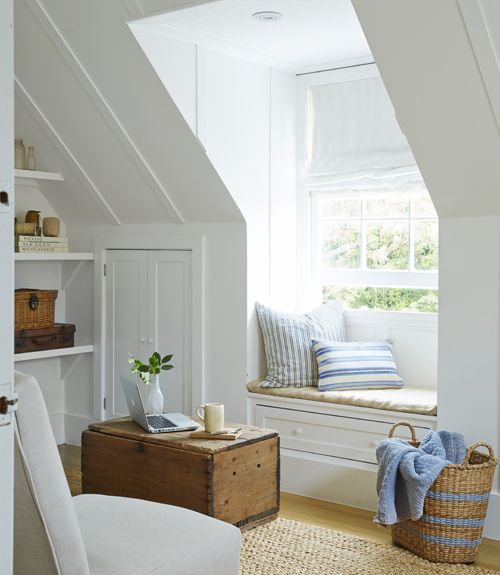 Photo:Credit
Having more than one style present in your home makes the interior looks more interesting and ends up sharing the story of each person who lives there.
Here is a great idea how to use an old rustic wooden box as a coffee table in a contemporary home.
23. The reading nook pillows are a game-changer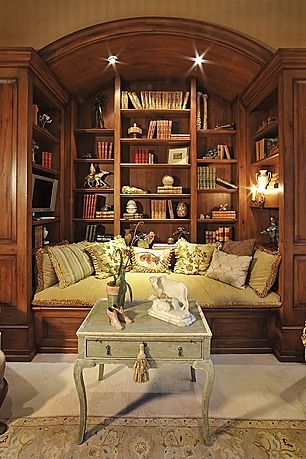 Photo:Credit
…and this picture proves it! You can easily refresh the old-fashioned reading corner just by adding some colorful pillows and a stylish vintage coffee table.
24. Using contrasting colors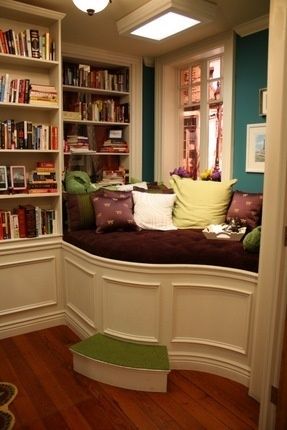 Photo:Credit
Decorating the reading nook with contrasting colors  (also well-known as complementary) cannot be a bad idea! They reinforce one another when used together.
25. Flowers brighten up any atmosphere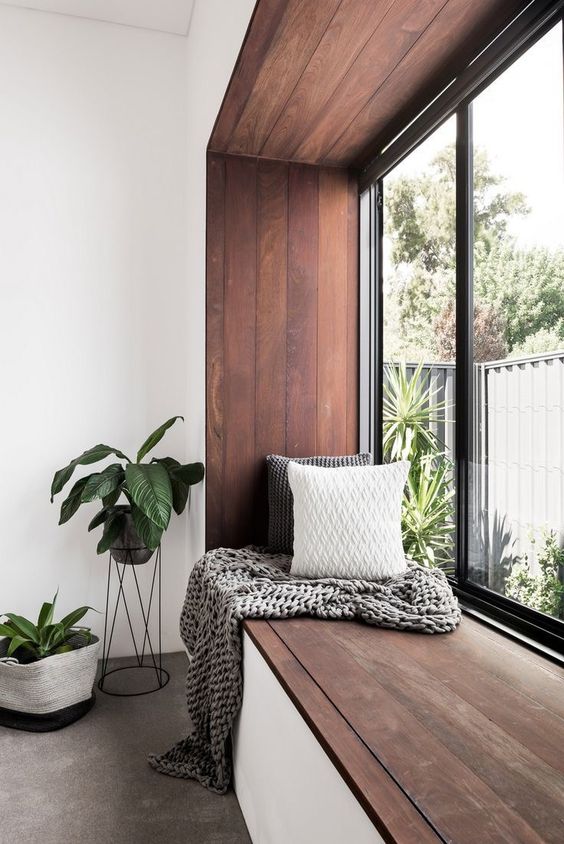 Photo:Credit
Flowers have the potential to bring life and joy to every room. So consider the option to refresh the space around your reading / relaxing nook with some plants.
26. Use the under window space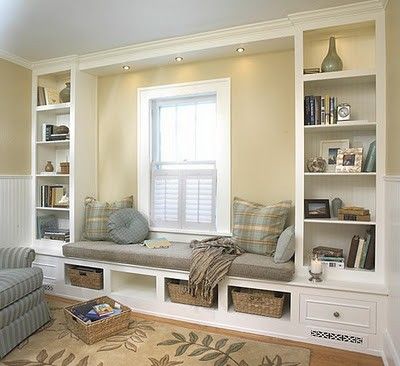 Photo:Credit
Once you turn the window space into a lovely reading nook, think how to use the odd size space wisely. Here is one good idea to start.
27. Cozy reading nook by the fireplace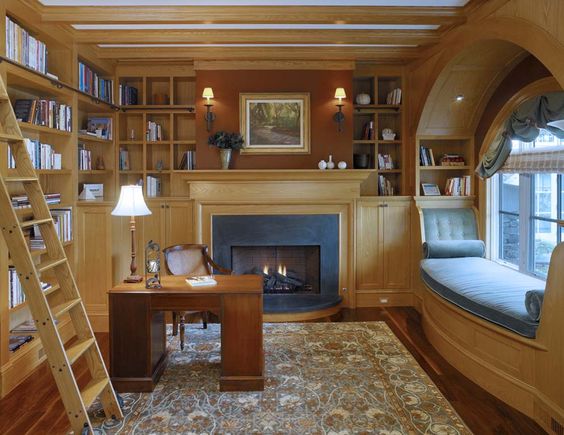 Photo:Credit
The fireplace symbolizes safety and security. It's also a symbol of the family, as it is the place where the family gathers for comfort. Where else to enjoy your favorite book then?
28. Oriental touch to the decor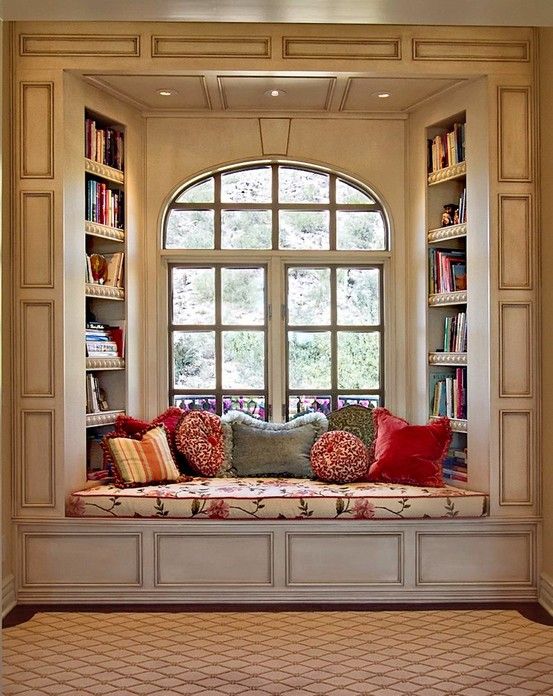 Photo:Credit
Adding an oriental touch to the decor (authentic carpet, vivid colors etc.) would never be a wrong decision!
29. Indoor elevated playroom reading nook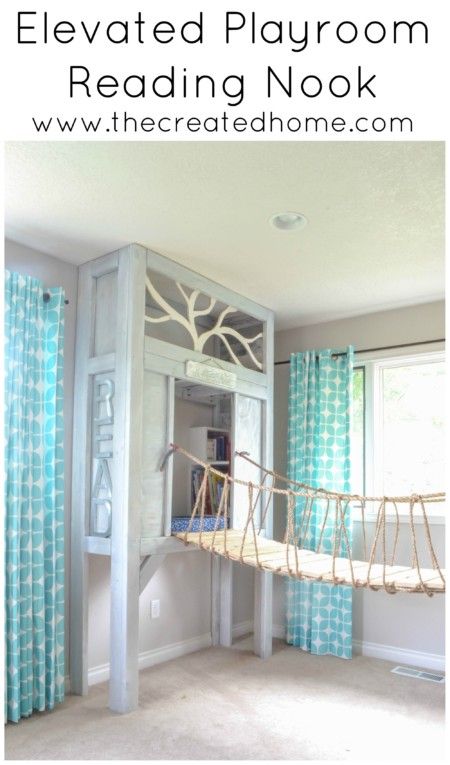 Photo:Credit
It does remind you of the backyard's treehouse from your childhood, right? It's actually a smart way to help your kids enjoy reading.
30. Wooden rustic reading nook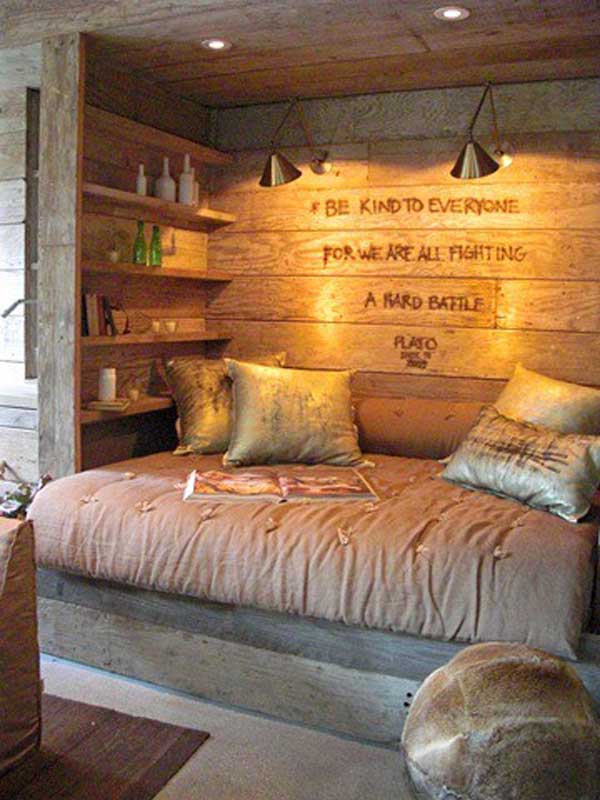 Photo:Credit
This is a great option for a farmhouse or a rustically styled townhouse. The wooden furniture pairs with industrial lighting, pale colored sheets and empty glass bottles of wine or beer (as shown above).
31. Reading nook bench in between two bookshelves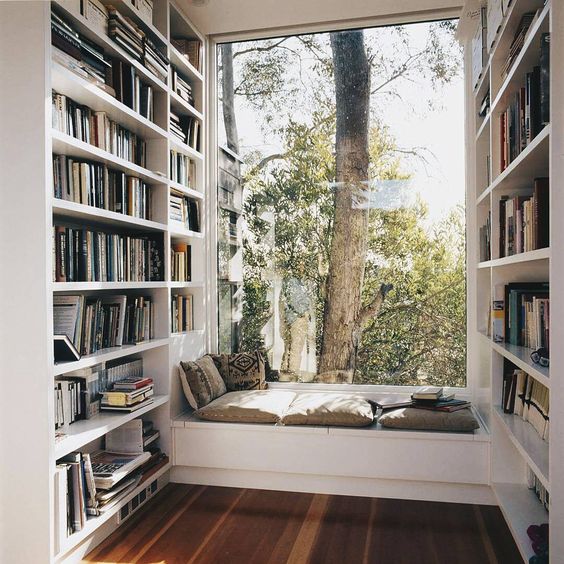 Photo:Credit
It does look like a cute mini home library that every bookworm would love!
32. Cozy reading nook with curtains and built-in storage sections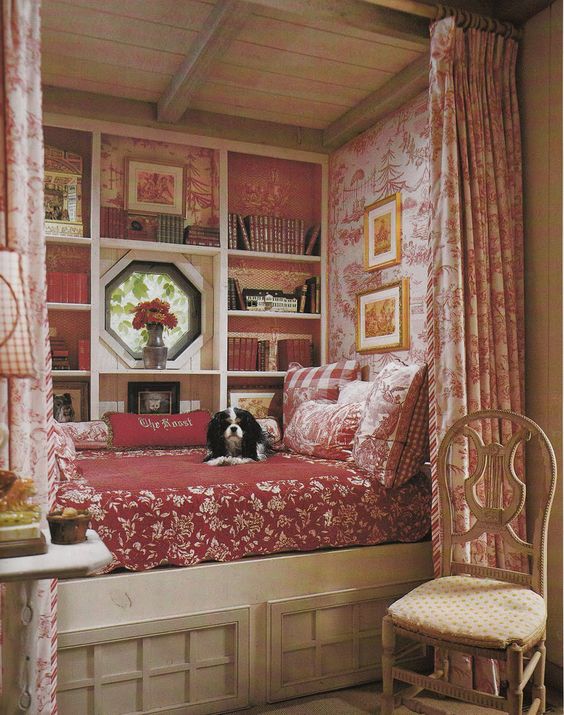 Photo:Credit
This old-times romantic space in vivid colors doesn't only give you the well-deserved privacy but also offers enough storage space.
33. Bring a Japanese simplicity into your interior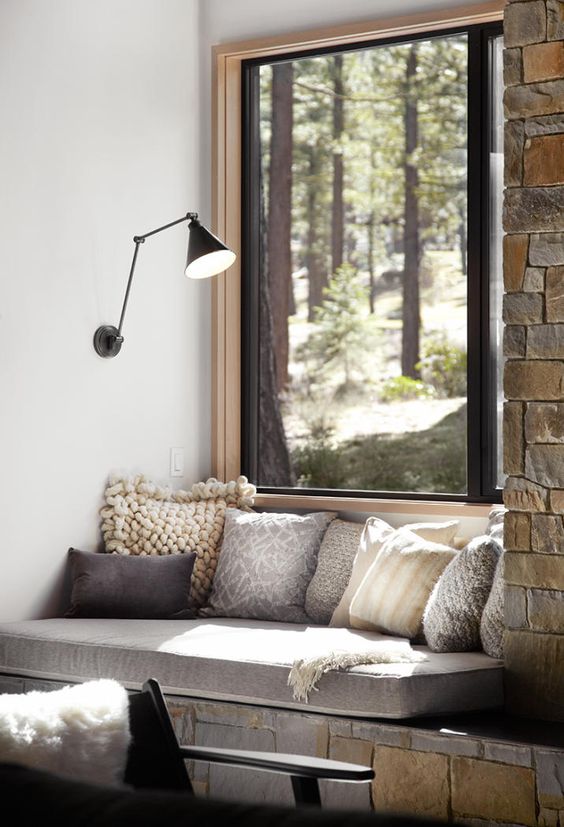 Photo:Credit
Here is another great option to convert the unused space between the walls in a simple but stylish stoned DIY reading nook just by adding some cushions and appropriate lighting. Easy, huh?
If you liked the reading nook selection, you'll love our 10 Incredible DIY Pallet Ideas With Low Budget