What can instantly transform your outdoor living space into a garden oasis where you can relax all day long?
I guess you already know the answer, but anyway – it's an outdoor patio. The best part?
Patio coverings can be the solution to a lot of problems like an overhead sun that scorches the tiles or cement. It can keep the wildlife out of your potato salad.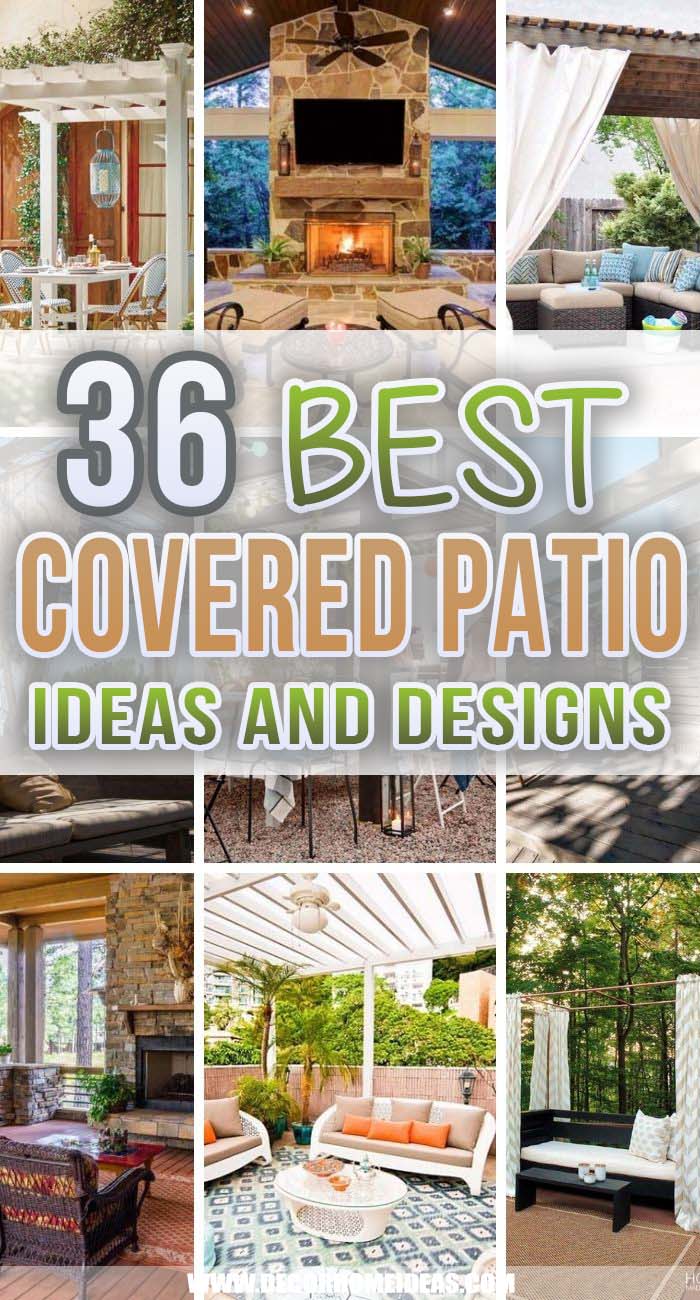 They can be as simple as webbing or as complex as an extension of your home. There are patio cover ideas here for every style of home and for every budget.
Whether you prefer an enclosed patio design or a simple backyard patio we've got them all.
1. Set Up a Cedar Pergola Kit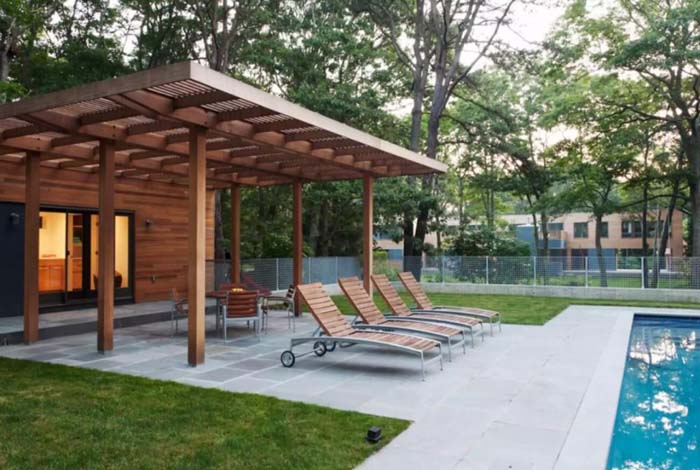 Classic cedar pergolas can be bought as kits. They can be freestanding or wall-mounted structures.
You can choose the post height and options such as coverings and electrical lighting and outlets.
2. Stylish Seating With Copper Pipes and Curtains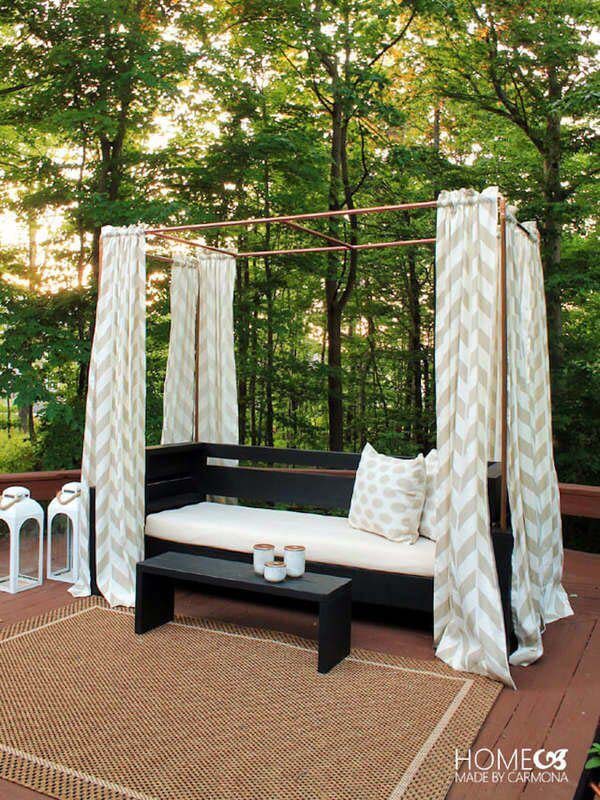 Create a cabana like this using lightweight copper pipes. Add dowels in the center to strengthen the structure. Long, water-resistant curtains were used here.
If you need more shade, drape burlap over the top and no one would know the difference between burlap and linen.
It's a do-it-yourself project that would be a nice addition to a small patio.
3. Add Cloth Covering Over Your Pergola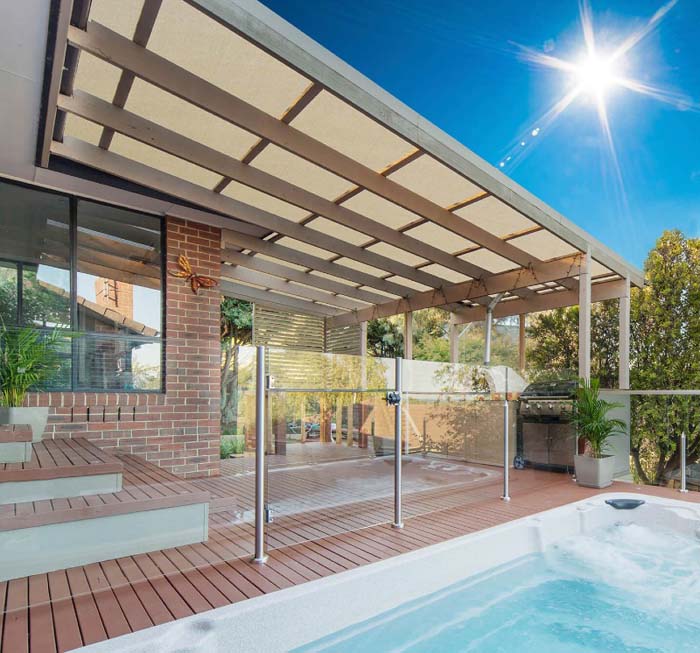 A patio area like this one with a grill is often used as the primary entertainment area. These zones need more shade than other areas.
Cloth coverings are available in many textures and colors that will work with different landscapes.
4. Clear UV Protective Cover Keeps It Light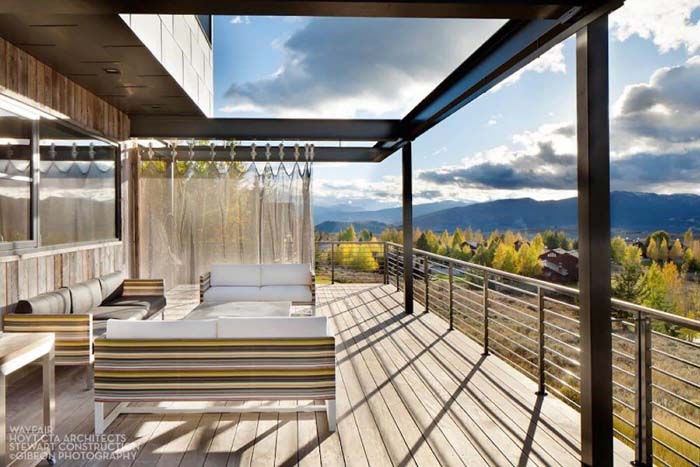 A clear patio covering is ideal when you want to bring in the sunlight but don't want to be exposed to damaging ultraviolet rays.
Sheer curtains can be moved to take advantage of the views.
5. Add Lighting, Fans With a Full Roof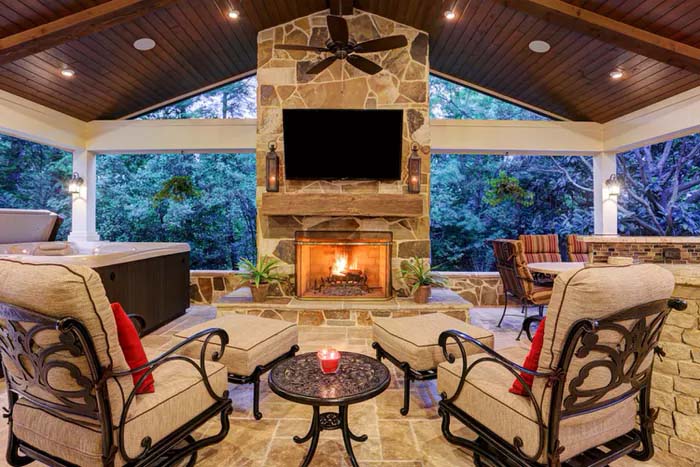 The patio of this home near Houston was in such bad shape, the owners renovated the entire yard. Travertine tiles work with the stone facing of the fireplace. Adding a ceiling fan will help air circulation on hotter days.
They also contrast with the dark tongue-and-groove pine roof.
6. Pavilion Matches Your Home's Style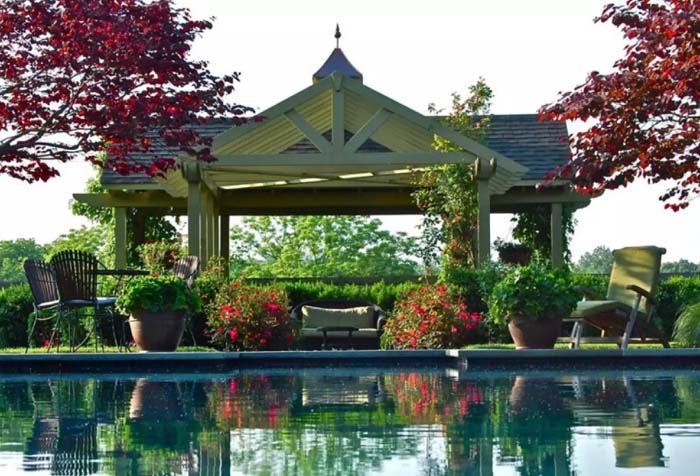 Consider a large pavilion for entertaining near the pool. They can be built away from the home, allowing guests to spread out and enjoy your entire yard.
Choose a design that works with the scale of your pool, outdoor space, and home architecture.
7. Louvered Canopy is a Flexible Pergola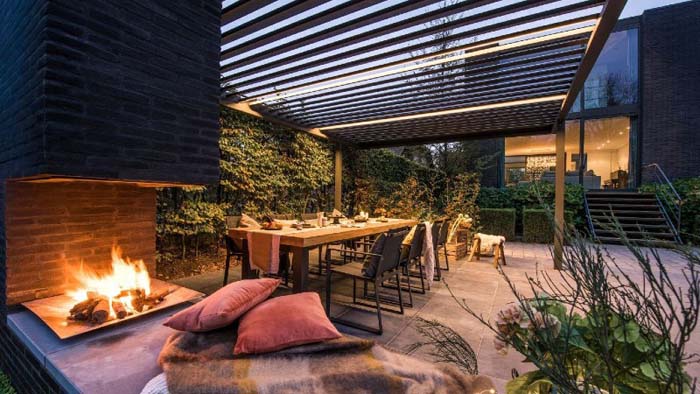 Louvered patio coverings can be as high-tech as your budget allows. They're adjustable to allow sunlight in or keep rain from disrupting your dinner plans.
They can also come equipped with built-in lighting and gas or electric heating systems. A fire pit would be a nice addition to every patio space.
8. Try Mediterranean Reed Grass and Tie-backs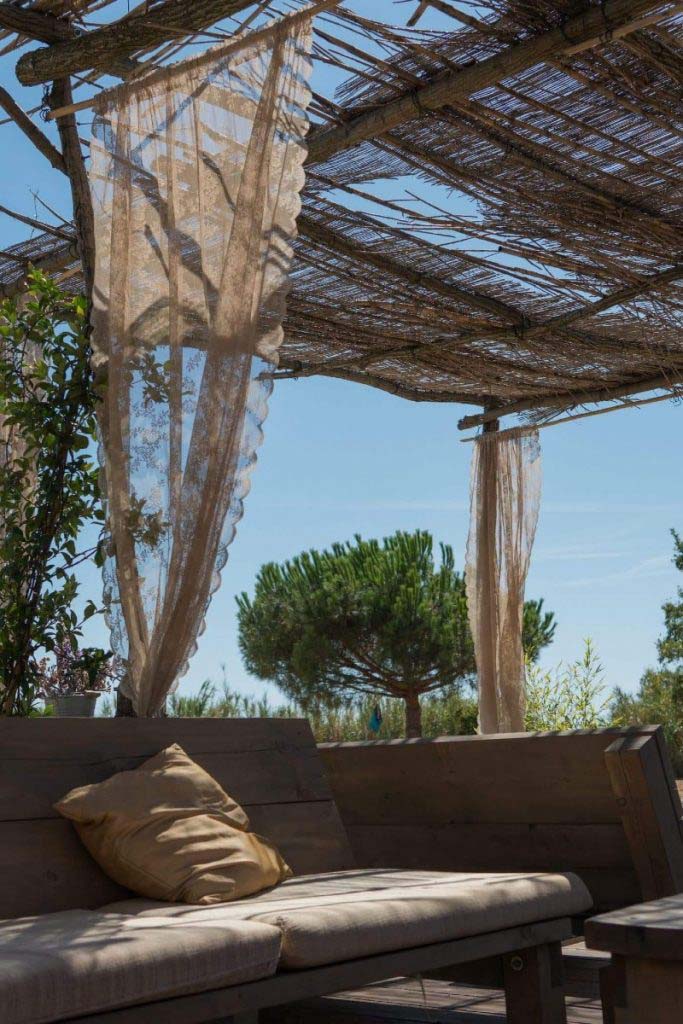 Reed grass coverings are commonly used in the Mediterranean.
While you could run around, collecting dried grass yourself, you can save yourself time by using reed fencing found at most home improvement stores.
9. Corrugated Plastic Cover Adds to Modern Industrial Feel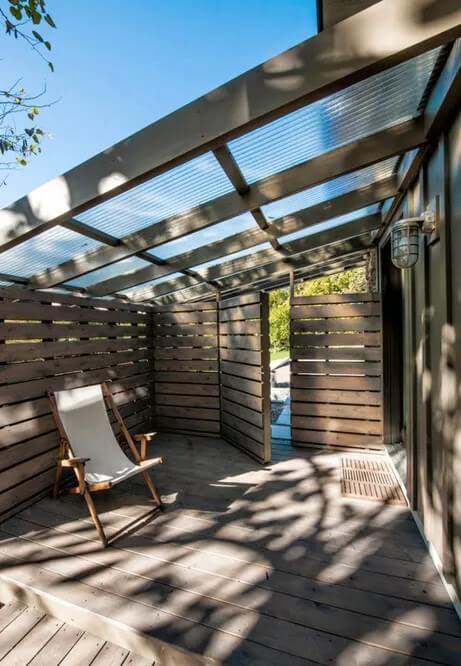 Corrugated plastic is a common element in industrial design.
Used here with the metal awning, it allows sunlight in to brighten the area and warm the patio enclosure during cooler months.
10. Palapa Roof Is the Ultimate Tropical Covering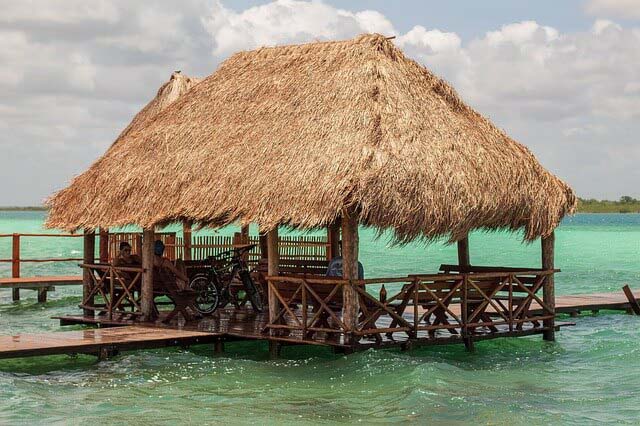 A palapa is a wood structure with a thatched roof.
If you want your patio to feel like it's in a tropical paradise, this decorative element can be added to any pergola or gazebo.
You can also build a custom structure using bamboo.
11. Cover Your Patio With Strings of Lights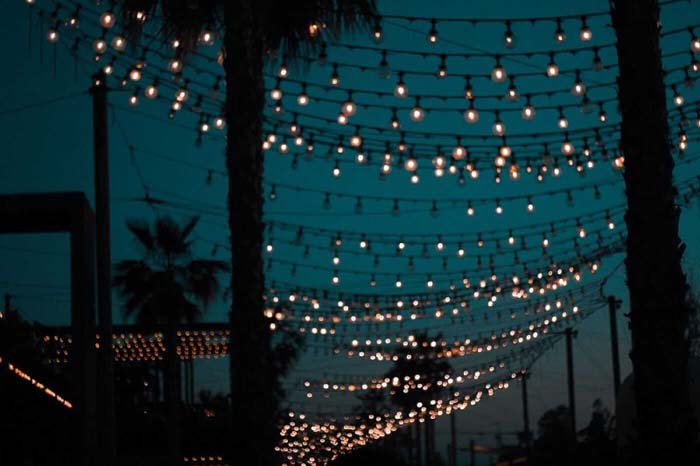 Strands of lights are used to create an inviting cover for a patio. It's an elegant solution when adding beams isn't a realistic option.
The advantage is that you can set your posts where it's convenient as they won't be considered load-bearing structures.
12. Wooden Roof Brings the Outdoors Inside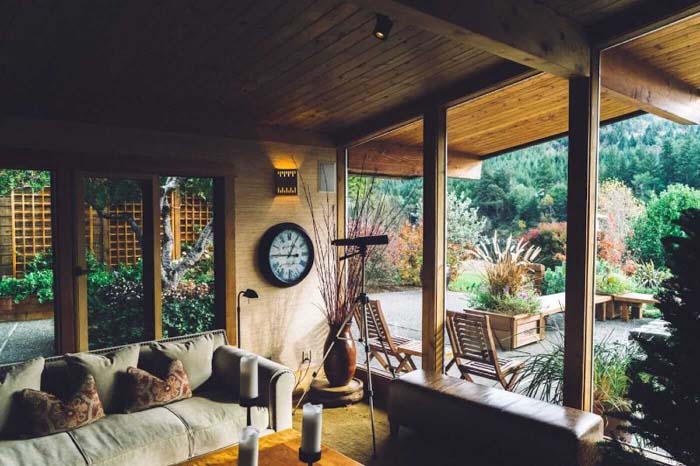 It's becoming more common these days to add a more permanent solution to an outdoor space. This patio was transformed into a three-season room by extending the roof's overhang and adding full-length windows that slide open.
A budget-friendly alternative would be to build a simple screened porch underneath an overhang.
13. Fill the Gaps in Your Pergola With Lush Vines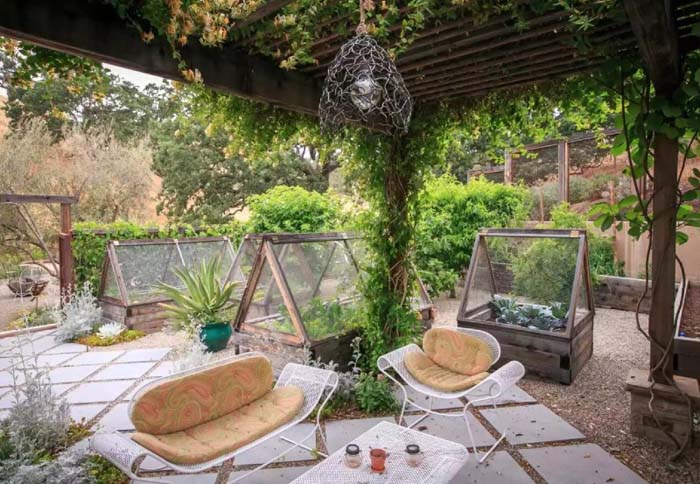 This redwood pergola is a great example of how lush a porch covering can be when the vines fill in.
The A-frames and raised vegetable boxes are also made of redwood.
14. Add Classic Asian Architecture With Pagoda Motif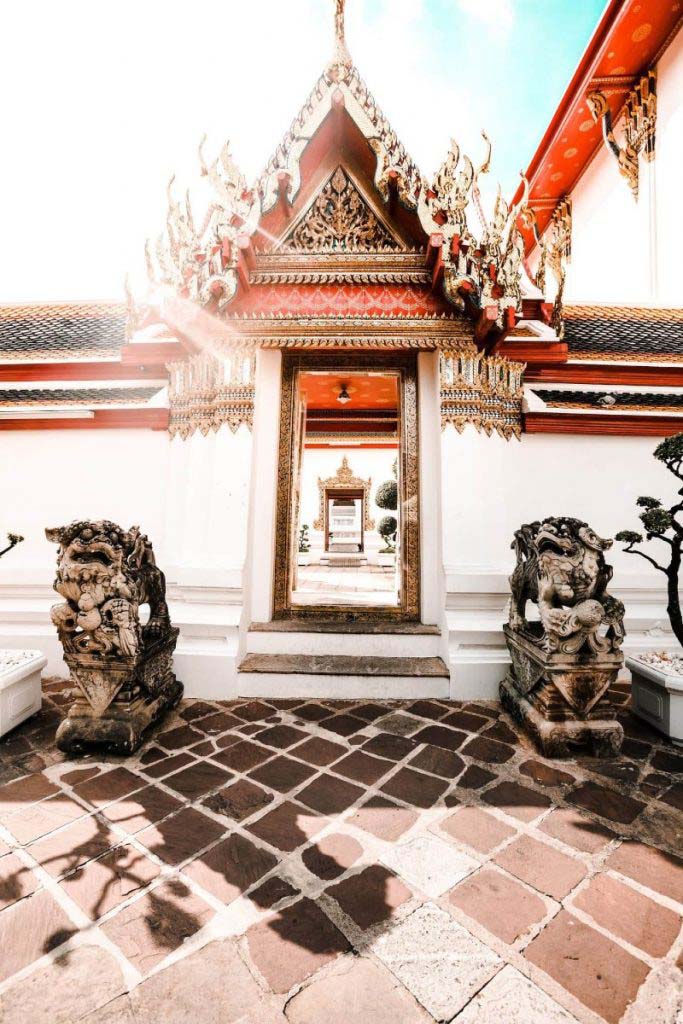 A pagoda style roof is a beautiful way to create continuity with the decor of your home.
It also offers more protection from the elements than a pergola.
15. Easy Garden Net Project Keeps out Pests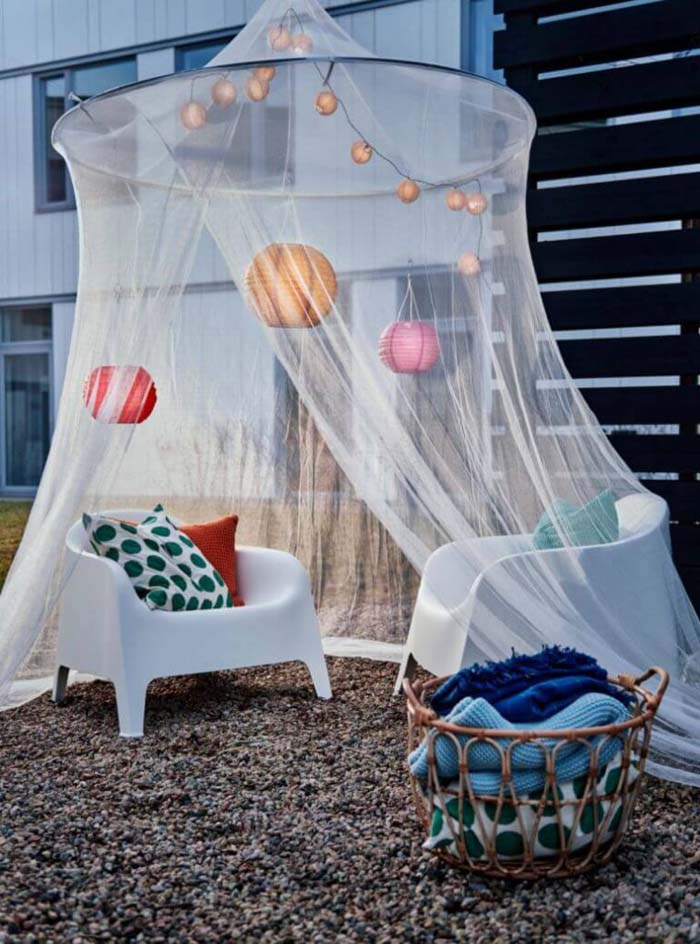 Mosquito netting is a welcome addition to any outdoor area. It's a simple patio idea that would only take an afternoon to complete.
Take advantage of the net by adding lights to the same canopy.
16. A Patio Umbrella on the Balcony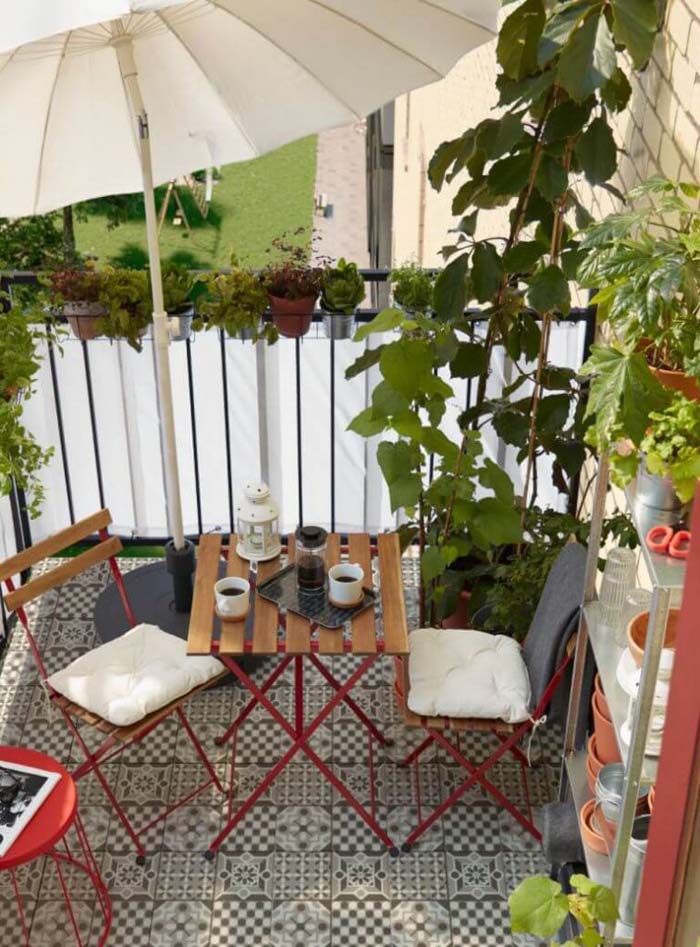 Add an adjustable patio umbrella to any space. You can secure it to a sturdy railing with a PVC pipe that fits snugly around the umbrella. Drill a hole at the base through both the umbrella and pipe.
Add a bolt through the hole and secure it with a wingnut. Secure the pipe to the railing with zip ties, ensuring the ties stop at the cross rail.
Doing this removes the need for the heavy base, giving you more floor space on your patio or balcony. Using a wingnut allows you to take down the umbrella quickly when necessary.
17. Turn Your Walkway Into a Hallway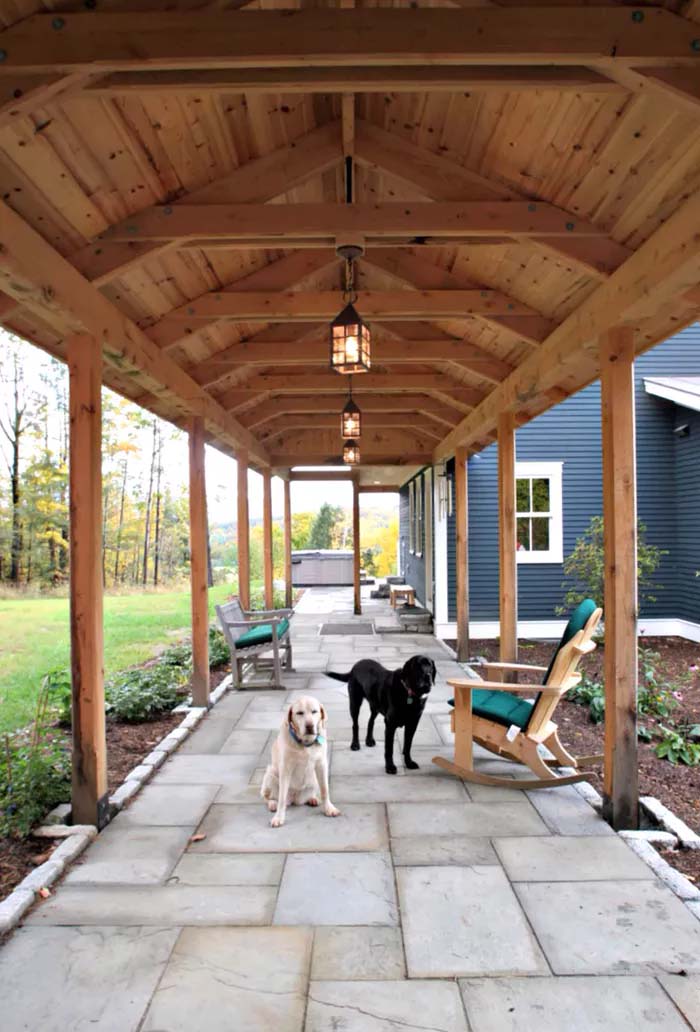 Adding a pitched roof with exposed rafters to a narrow patio design brings cohesiveness to the space without distracting the view.
via Birdseye
18. Add a Vaulted Roof to Your Patio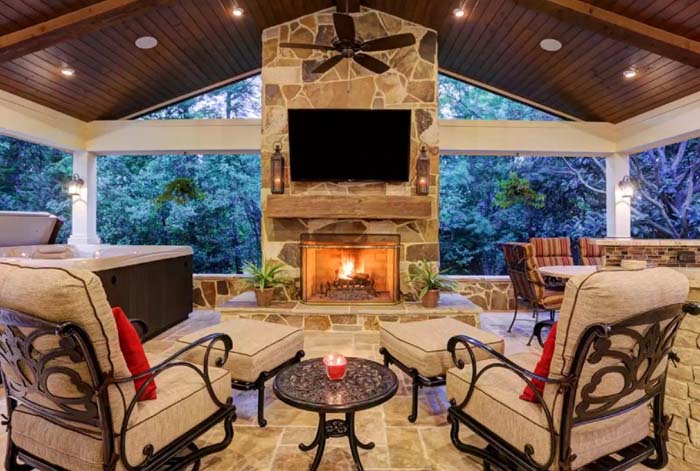 The designer completely transformed a simple patio into a spectacular living space in the Bayou Forest suburb of Houston, Texas. A gable vaulted roof was extended from the home's existing roofline.
19. Change up the Colors of Your Patio Cover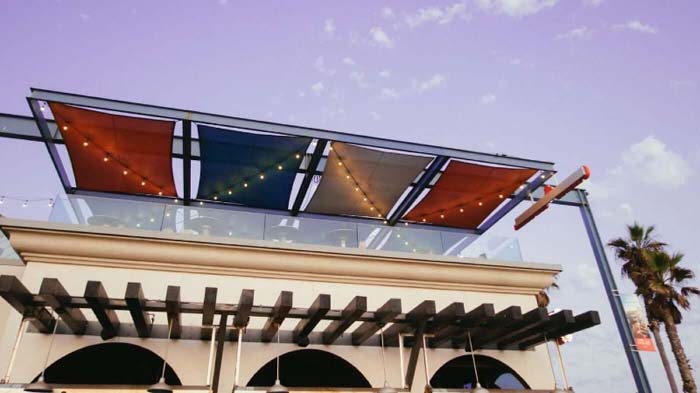 Get creative with your coverings.
A simple overhang that supports pendant lamps got a boost of color with a fabric overhang and more lighting added to a second tier.
20. Add Wire Cage Fencing to Your Pergola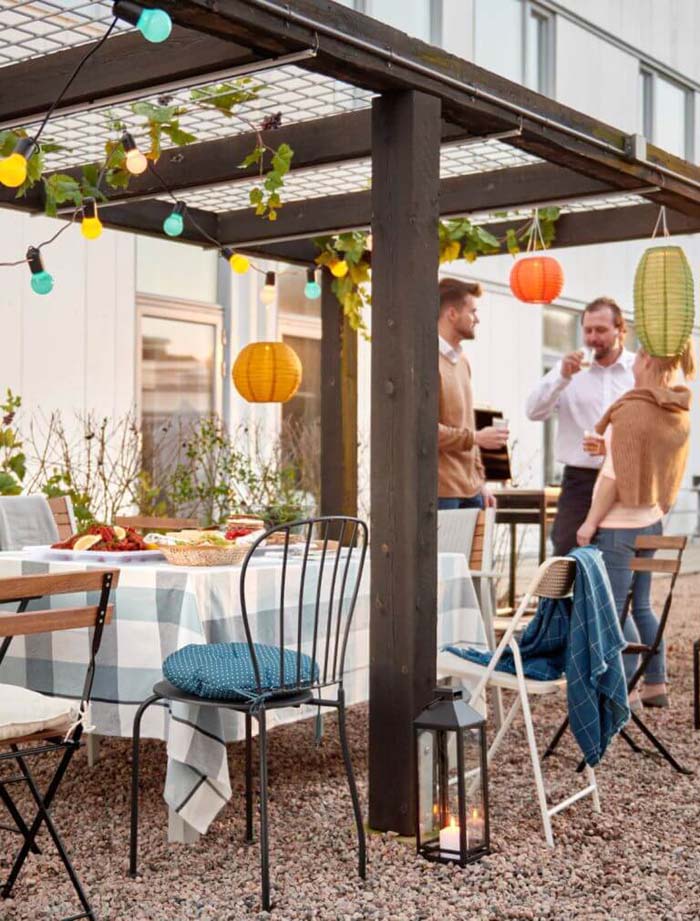 Their simple crossbeam construction makes pergolas easy to add around a patio.
You can keep them simple or add on coverings that allow for hanging lighting. The perfect outdoor dining area.
21. Add Hanging Plants to Your Pergola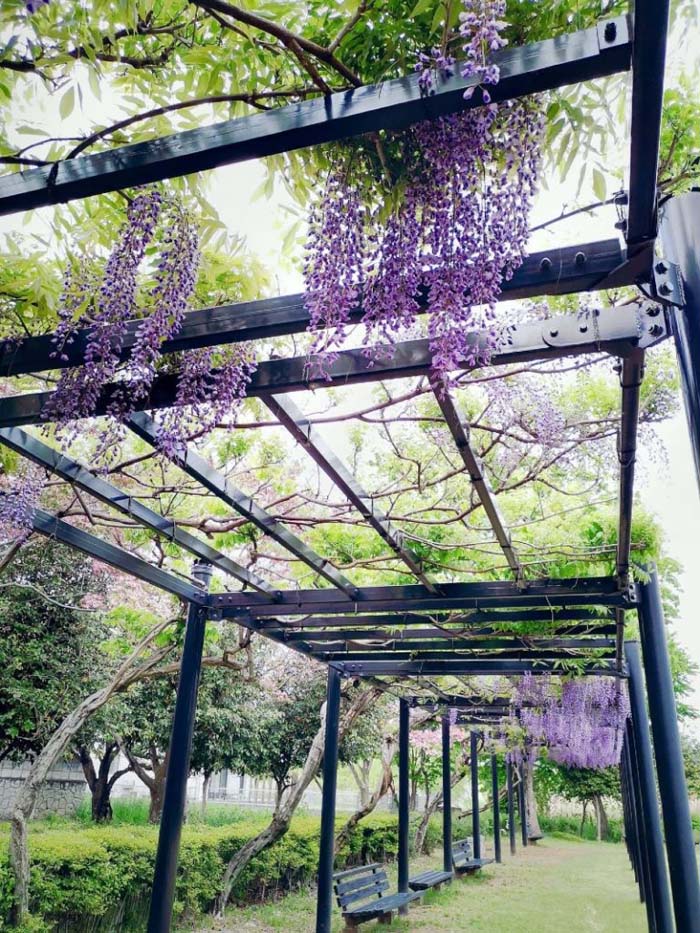 You can create a thick covering over your pergola by adding hanging vines like Wisteria.
22. Full Length Windows Extend Seasonal Pavilion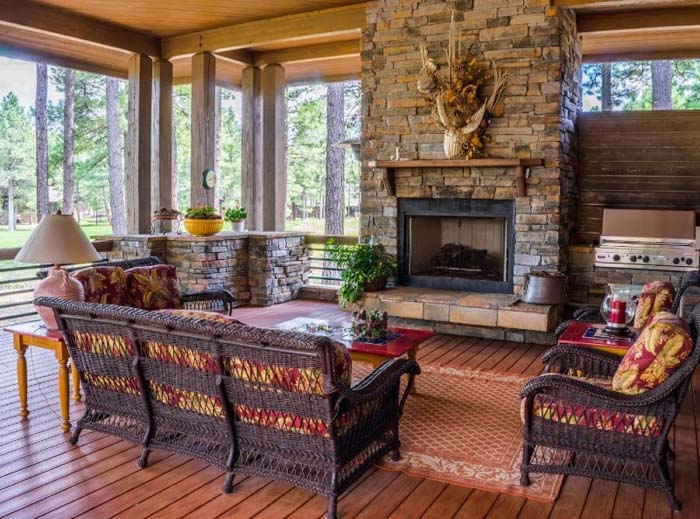 The Tuscan style works well for creating a dual indoor-outdoor entertaining area by adding a fireplace with a stone facing and a brick hearth.
They also painted the deck in a terra cotta color.
23. Pool and Patio Transition Area Gets a Gazebo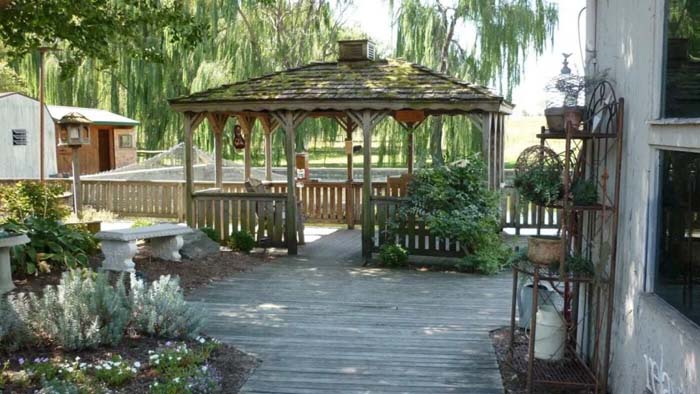 Using a gazebo in place of a patio table and umbrella adds a larger seating area and more shade to your patio without having to design a structure from scratch.
24. Vaulted Porch Looks Like Extension of Home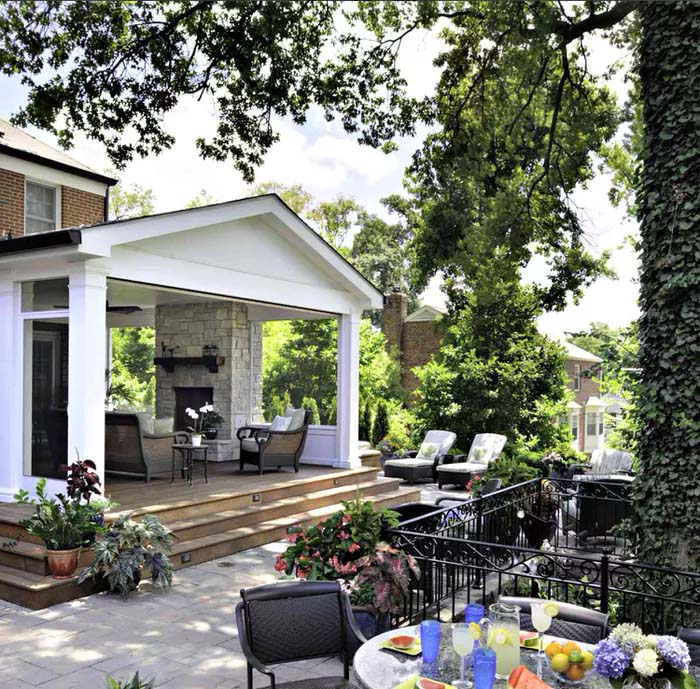 Vaulted porches like this one outside St. Louis, Missouri, are built to look like they were originally part of the interior space.
They have a full roof and columns that cover a tiled floor.
via JCR Design Group
25. Pergola Gets Curtains, Wooden Cross Slats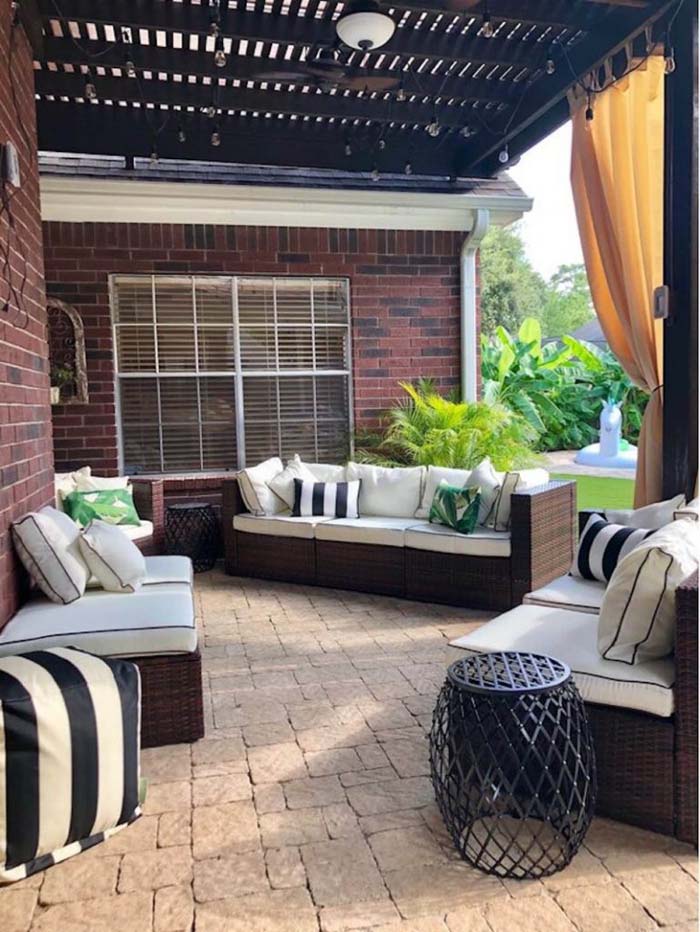 A lattice cover is a good solution when you want a pergola but also want to block more sunlight.
You get ventilation and a cooler patio without sacrificing brightness. This stone patio could give you a fresh retreat on hot days.
26. Patio Becomes Home's Transitional Living Area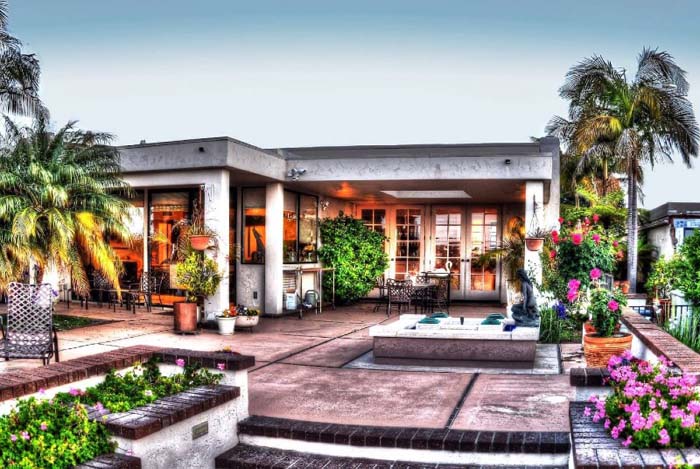 This patio is more like an extension of the house. It's an outdoor oasis with a full roof.
There's an outdoor food preparation area, a soaking tub, and other zones for relaxing.
27. Pergola With Retractable Cover Controls Sunlight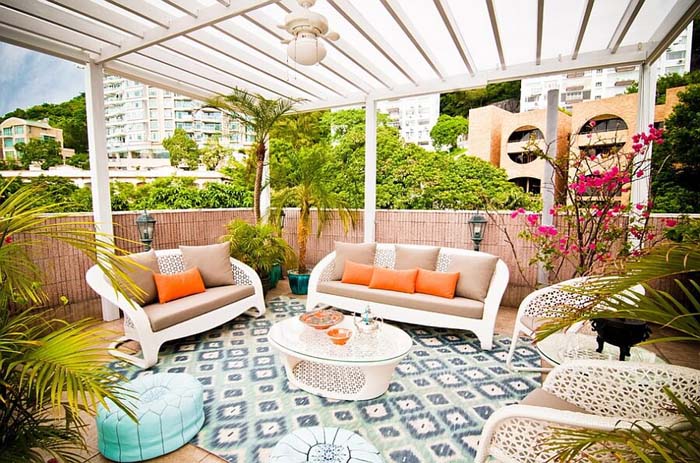 Covered pergolas or awnings don't have to be permanent. Retractable covers are available for every situation.
This patio area in Hong Kong has a unique feel with its Moroccan outdoor rug.
28. Patio Protected With Cement Wall and Cross Beams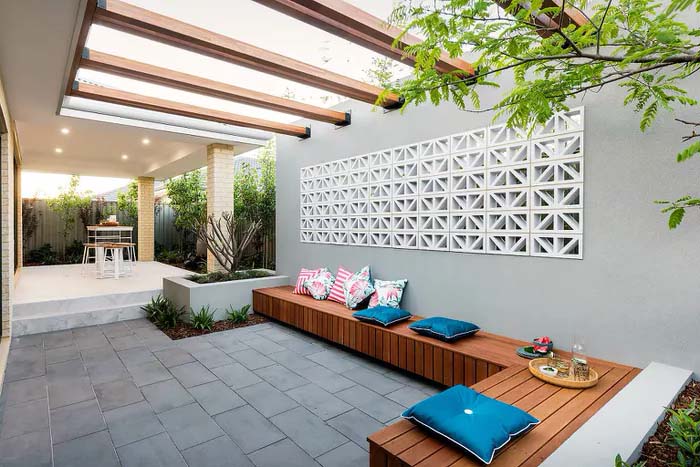 A pergola was created by adding beams between the home and a wall that protects this patio in Australia.
It allows sunlight in while maintaining privacy.
via Dale Alcock
29. Extend the Ceiling Into Your Pergola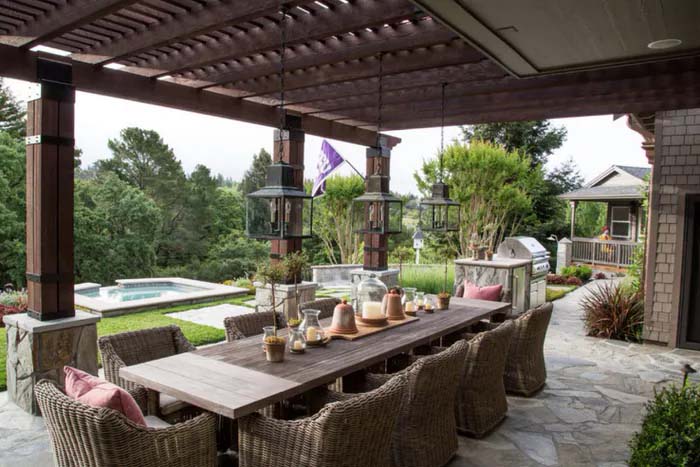 A partial ceiling was added to this wood pergola. This created opportunities for adding lighting to the dining area that sits on slate tile.
Rattan chairs are the perfect outdoor furniture as they can withstand the weather conditions.
30. Rough Logs Create Rustic Wood Awning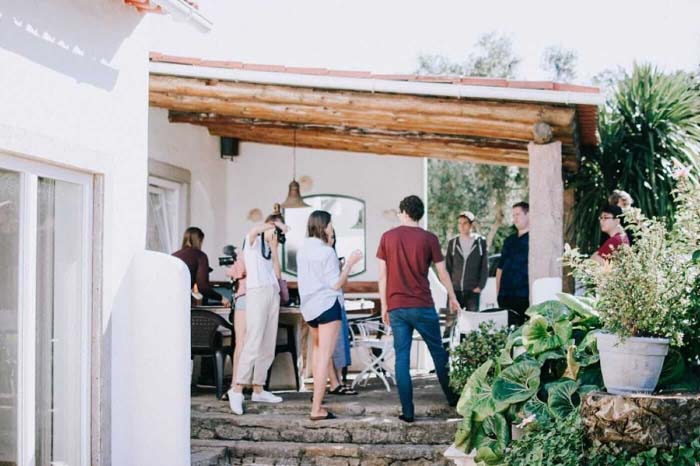 Wood awnings are great for covering small areas of a patio. The timbers used here add a rustic touch.
31. Pin Long Curtains Directly to Pergola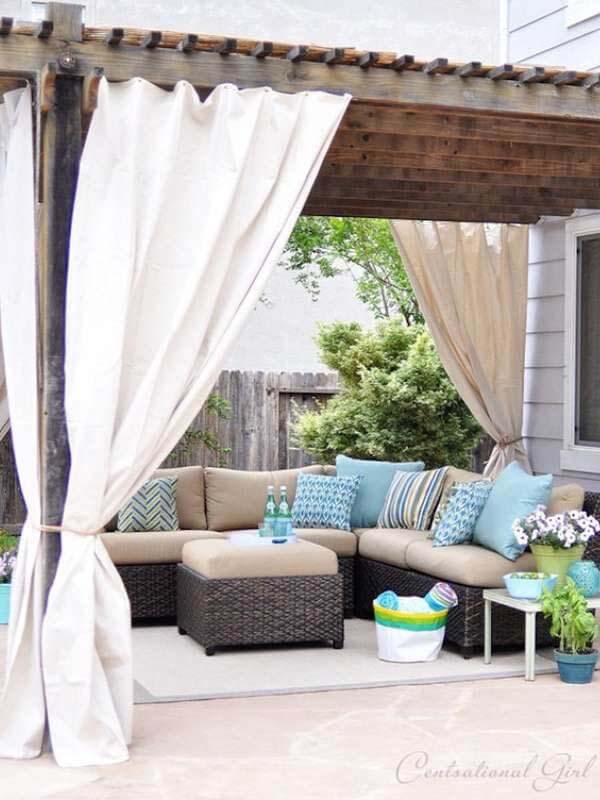 Rustic posts and beams give a rustic look to this cottage-style home.
Adding curtains adds a soft, breezy feel to the patio.
32. Cover Freestanding Pergola With Lush Greenery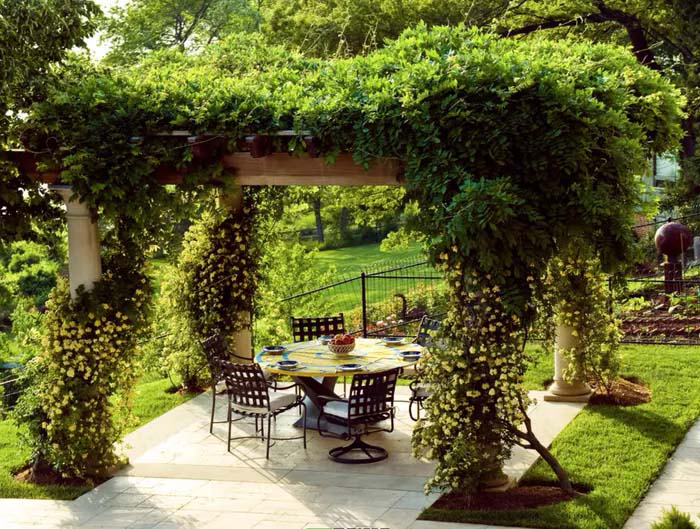 A beautiful example of a freestanding pergola with its beams and posts completely filled with flowers and vines.
via Walnut Hill
33. Classic Post Caps Added to White Pergola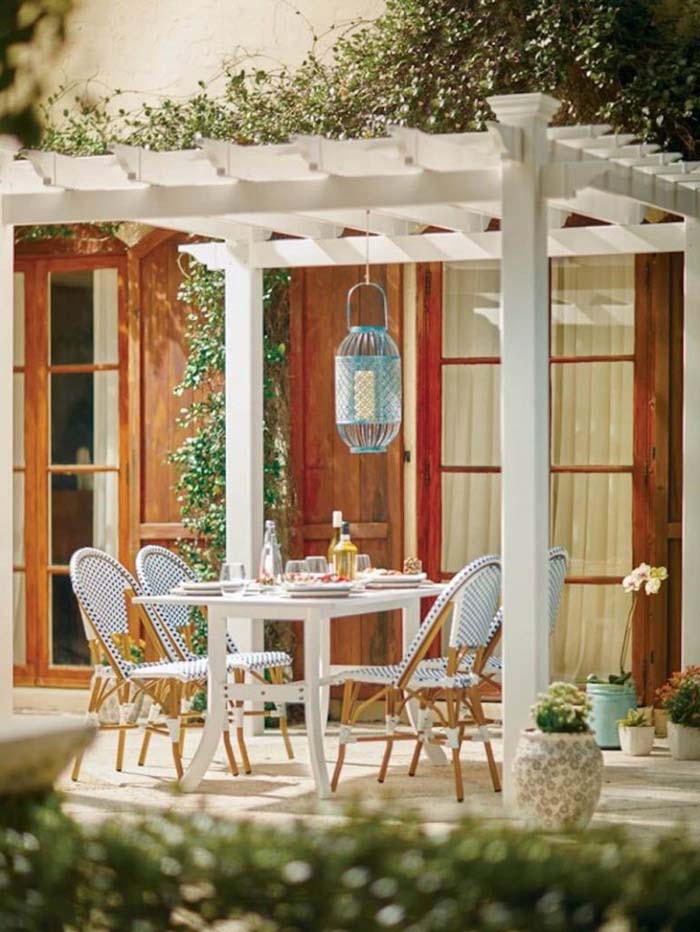 A simple, unadorned pergola has a clean look. Paint it white to match any farmhouse or cottage-style décor.
34. Canopy Tent Adds Seasonal Seating Area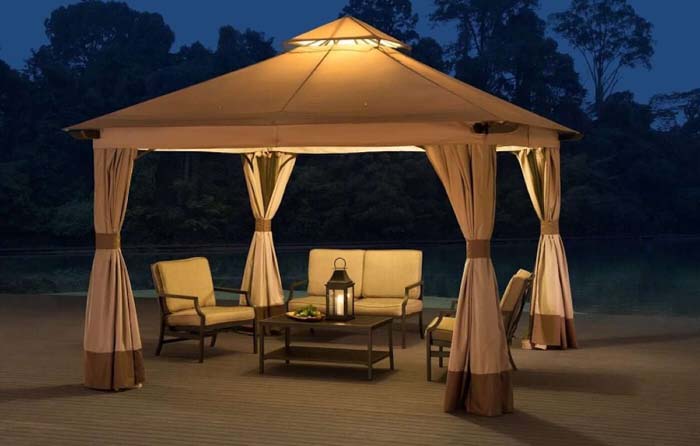 If you're renting a home or just don't want a permanent structure in your backyard, try a pop-up canopy tent.
You can anchor them for a season or a weekend event. Many have tie-back curtains that can be dropped to protect against annoying breezes.
35. Partially Covered Patio Is Exercise in Minimalism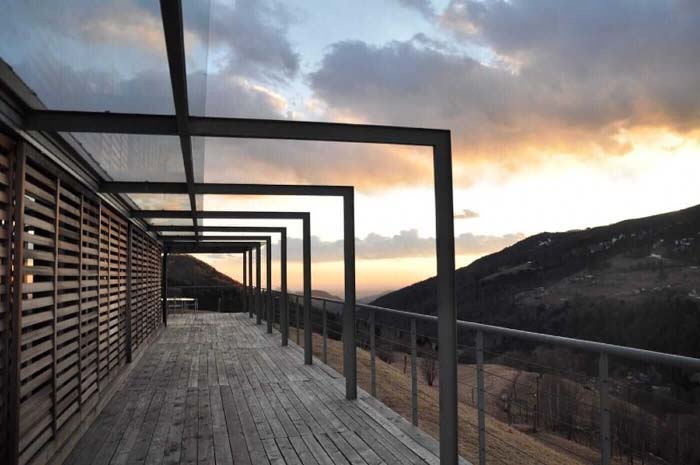 A minimalist structure supports a clear partial covering.
This is a successful way to prevent harmful ultraviolet light from entering the home without obstructing the view.
36. Stand-Alone Gazebos Are Available in Every Style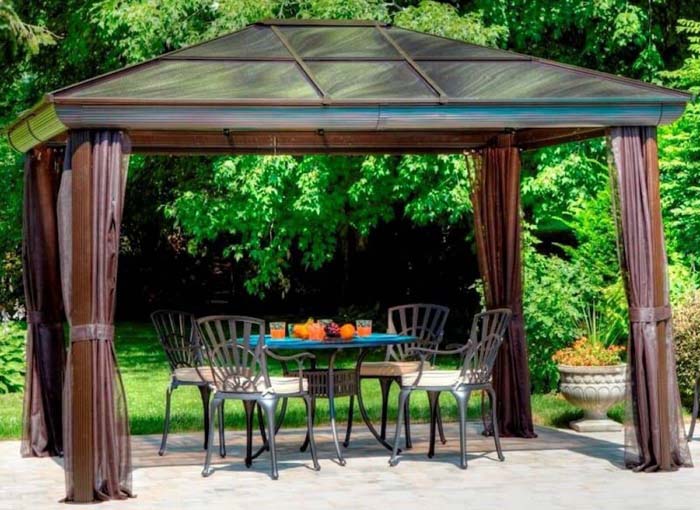 Stronger aluminum gazebos can be anchored in your patio using bolts. It can remain up all year long, but may need to be secured for high winds.
37. Cozy Patio In The Garden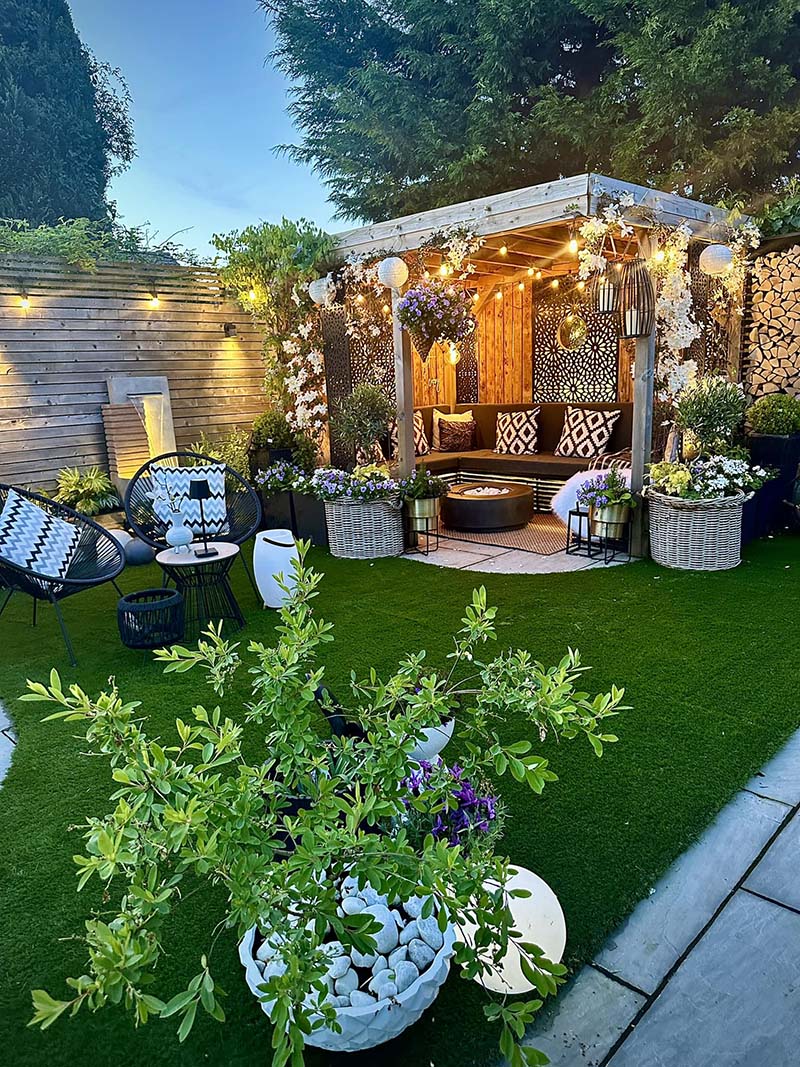 via Janice Bristow