Summertime is our favorite time of the year because it gives us the opportunity to spend more time outside.
However, the sun rays during the day can be too strong so we have to think about ways to protect ourselves when we enjoy the nice weather in our backyard or at the patio.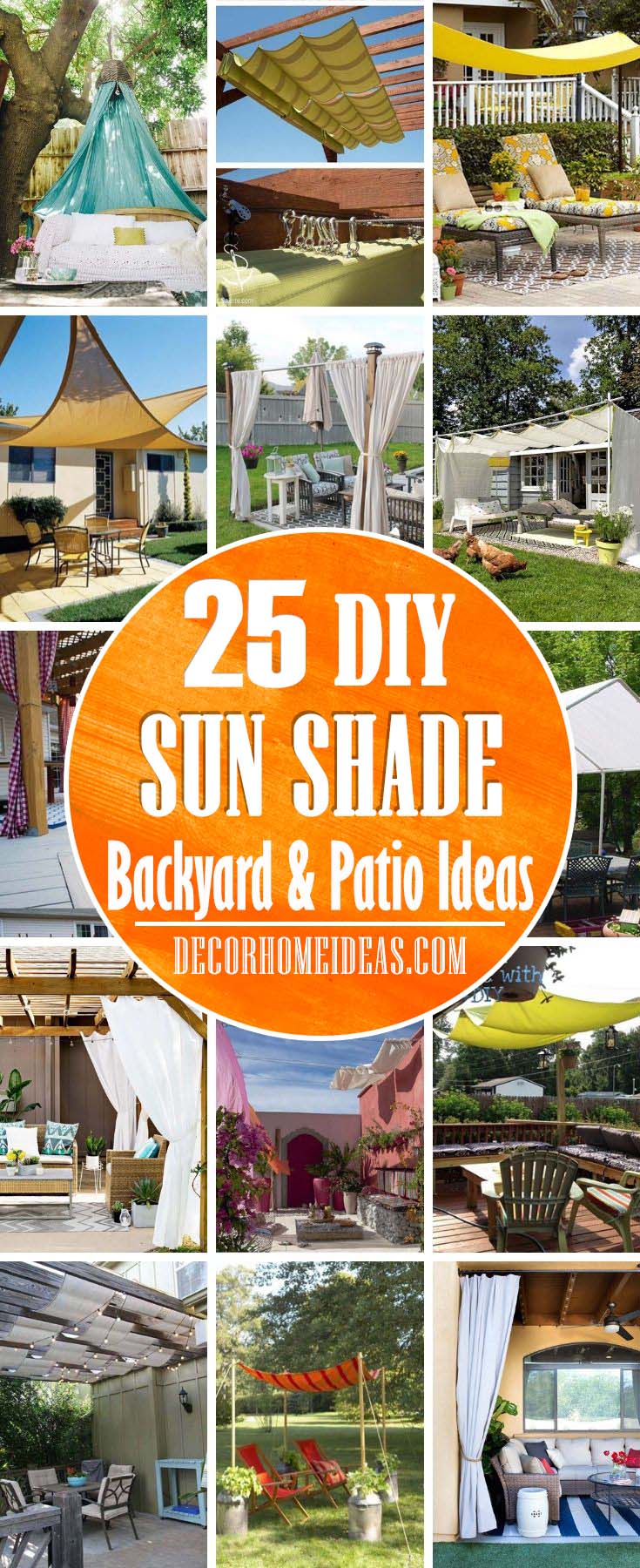 Luckily, there are many ways to shade our sitting areas outdoors and thus reduce to the minimum the unfriendly UV-light- pergolas, curtains, screens, tents.
Along with that they will give a certain charm to the outdoor space and will make it more unique.
Since buying such shading features sometimes is quite expensive, we have made a research on which are the best and most cost-friendly ideas for DIY sun shades.
Thus everyone would be able to enjoy the forthcoming hot days without any worries.
1. Private Patio Retreat with DIY Pergola Privacy Screen

If you live in a crowded neighborhood, you must be looking for a way to make your patio a more private space.
This one-day project requires only posts, curtain rods and drop clothes to make a pergola-like privacy screen.
via Thrifty and Chic
2. Construct a Tent Using PVC and Tarp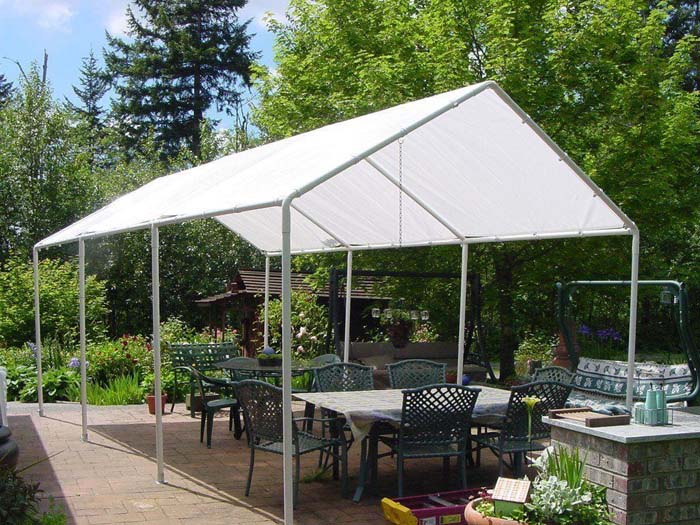 If you would like to make yourself a tent, the simplest structure is as from the photo above. Use PVC tubes and elbows to build the support.
The roof is made of tart which you can purchase at the desired size.
via Ebay
3. Robust Pergola for Long-Lasting Shade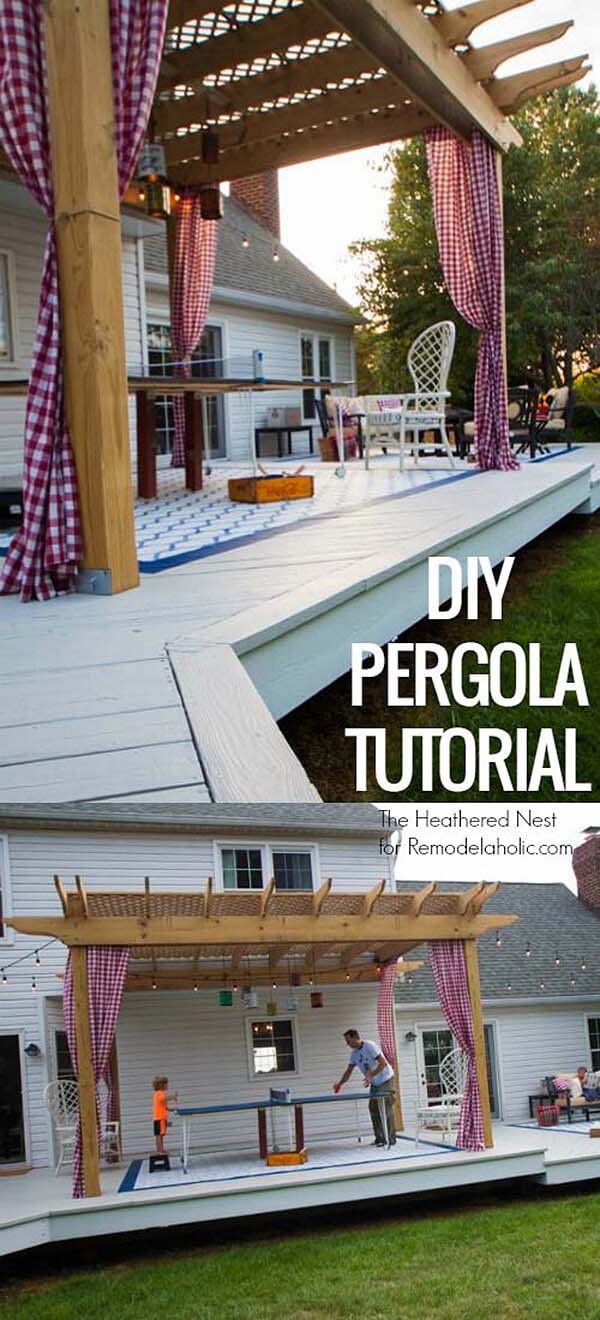 Looking for a permanent shade feature that will last for years?
This stable pergola is one of the most robust ones as it uses quite thick lumber, anchors and screens.
via Remodelaholic
4. Construct an Affordable Privacy Screen and Canopy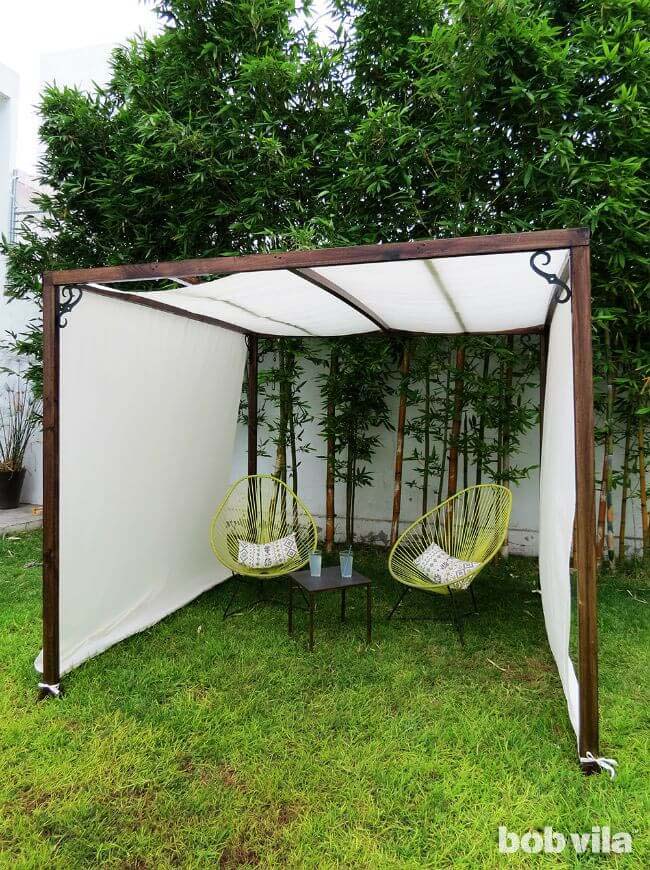 This privacy screen and canopy is a solution for those of you who can't afford to build a solid fence to divide your outdoor space.
Make sure to read the instructions below as they are very exhaustive and will facilitate the process of building the same outdoor shelter.
via Bob Vila
5. Add Shade and Privacy to Your Patio with Curtains

Sometimes making your patio more shady and private requires only one simple addition – and that is curtains.
Fix pipes to the patio ceiling to serve as curtain rods and add fabric you like.
6. Enjoy Extended Shade with Sails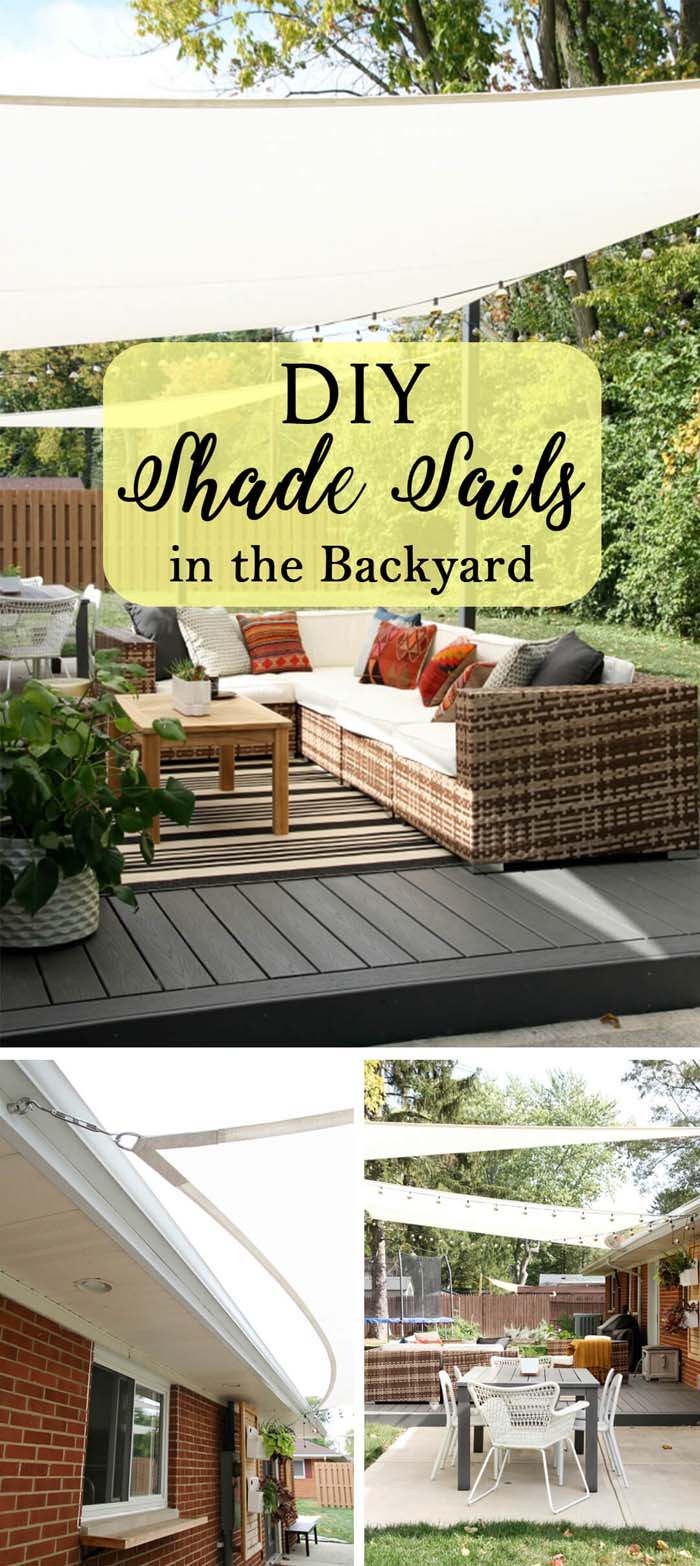 If you need a more extended shade feature, then the sails are the perfect solution for you. They can cover as much outdoor space as you may like to.
Sails look great in the outdoor space because of their nautical origin and the coziness they create.
via House Tweaking
7. DIY Tent for a Day of Outdoor Fun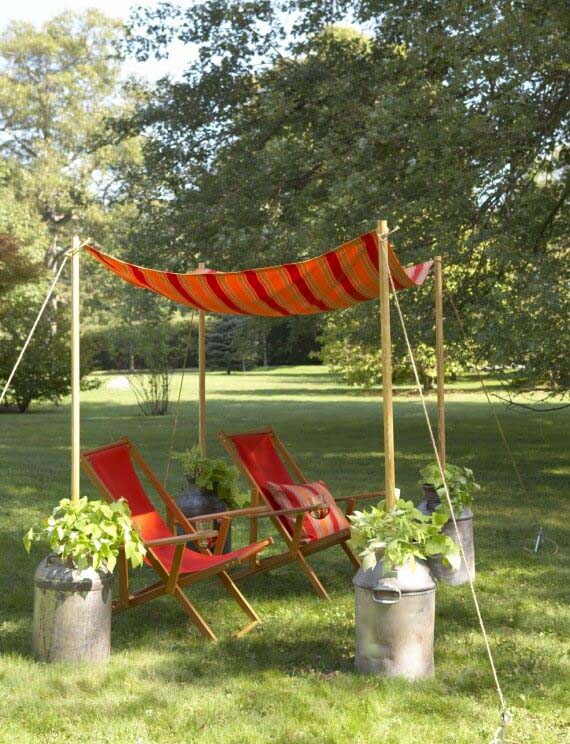 Looking for a one-day pergola or tent?
This very quick DIY tent can be built in a couple of hours and will provide all you need on a sunny day – shade, privacy, coziness.
via Laura Trevey
8. Enjoy Summer Days Under a DIY Pergola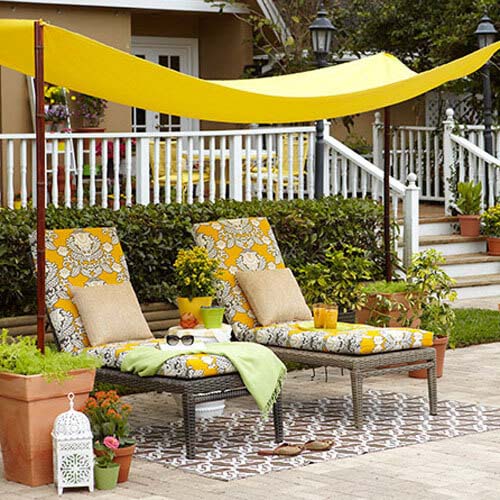 Resting next to the pool is an unmeasurable pleasure. Enjoy the water blinks while protected by a DIY pergola.
Making it is easy and it looks very stylish as the textile design of the lounges matches the color of the shed.
via Southern Living
9. Adorn Your Outdoor Area with a Low-Maintenance Canopy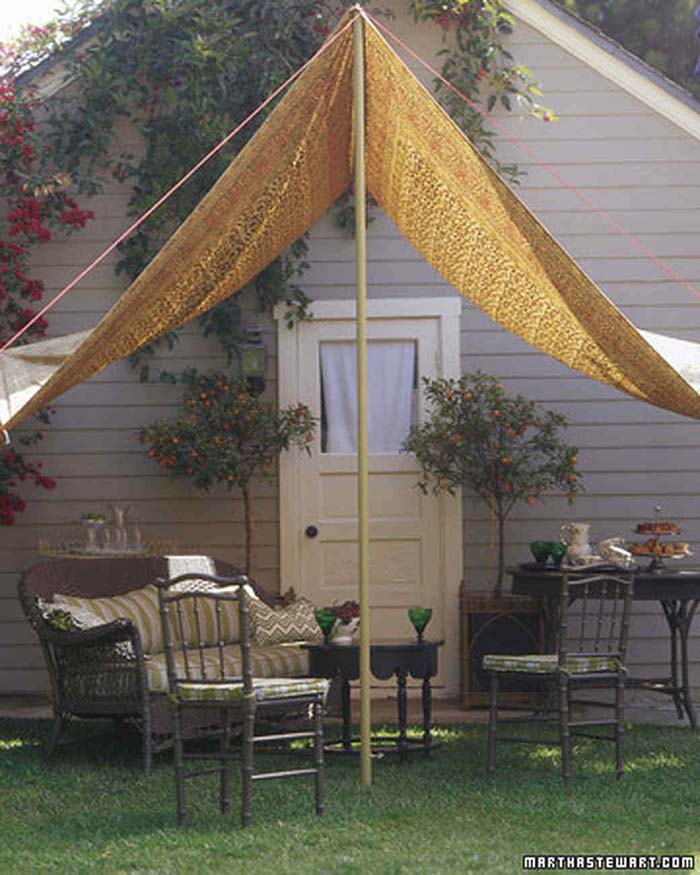 The canopy must be the cheapest way to shade an outdoor area and is very easy to be maintained. Once the season ends, you just take it down.
While more massive and fixed structures will require more care throughout the whole year.
via Martha Stewart
10. Use a Weave Cloth to Revamp Your Pergola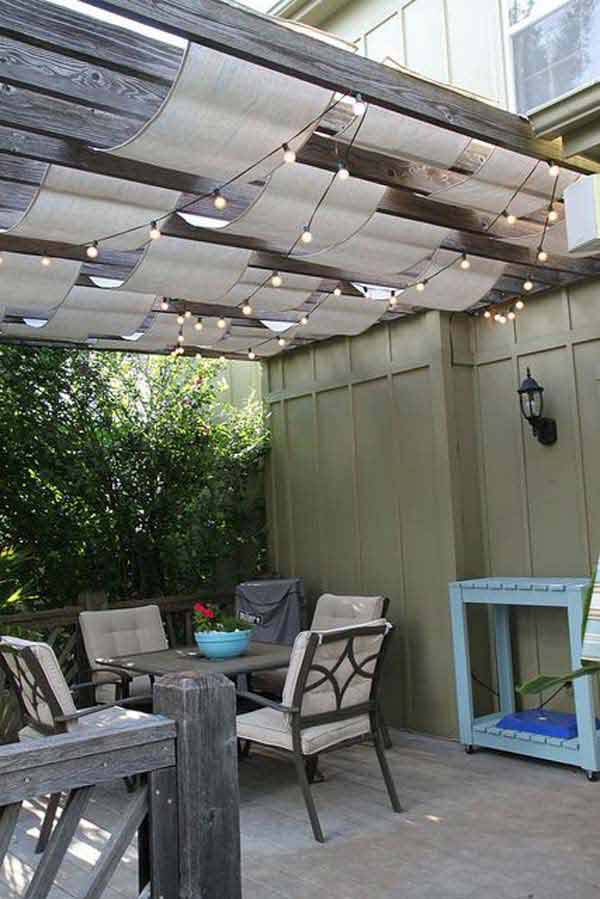 If you already have a pergola installed at your patio but are looking for a way to renovate it and at the same time keep its shading properties, you can make yourself a sail-like layer of shed by weaving drop cloths through the slats of the pergola.
via Anything Pretty
11. Upgrade Your Backyard with a Handmade Sun Shed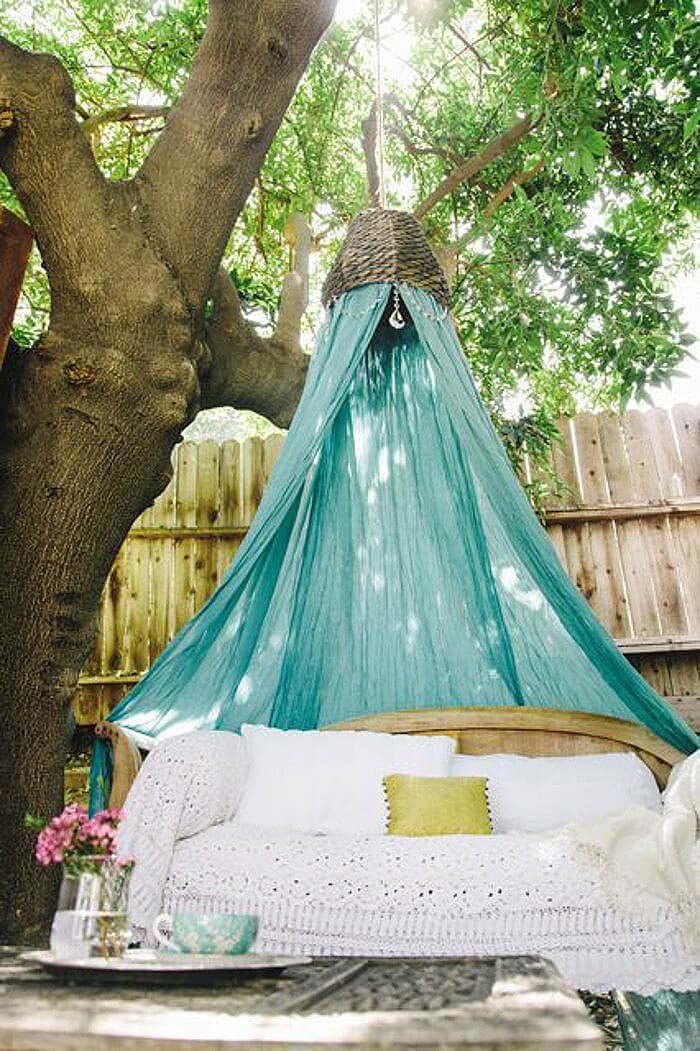 If you love bohemian style for decoration and furniture and you would like to incorporate it in the outdoor space of your backyard, this handmade sun shed is your thing.
It is detachable and movable so you can adjust it according to the sun position.
via Refinery 29
12. Customize Outdoor Shade With PVC Conduit and Canopy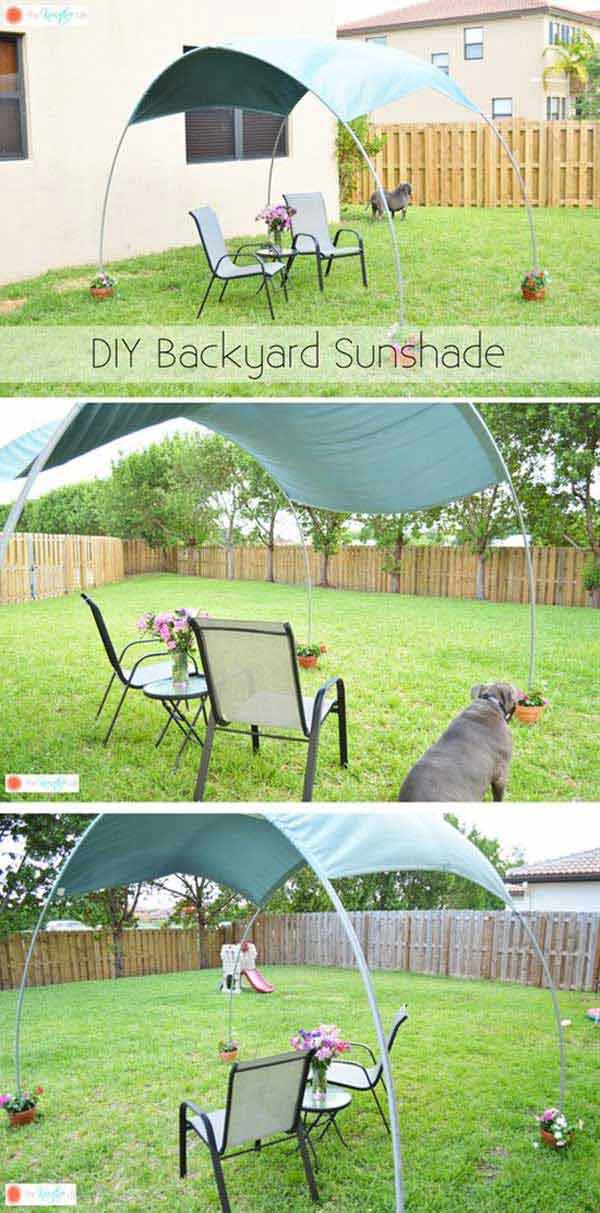 This backyard sun shade is made of PVC conduit and canopy.
The conduit is the perfect material for this purpose as it is very flexible, doesn't limit you in height or width and is strong enough to stretch a canopy.
13. Utilize Sheer Curtains for Multifunctional Features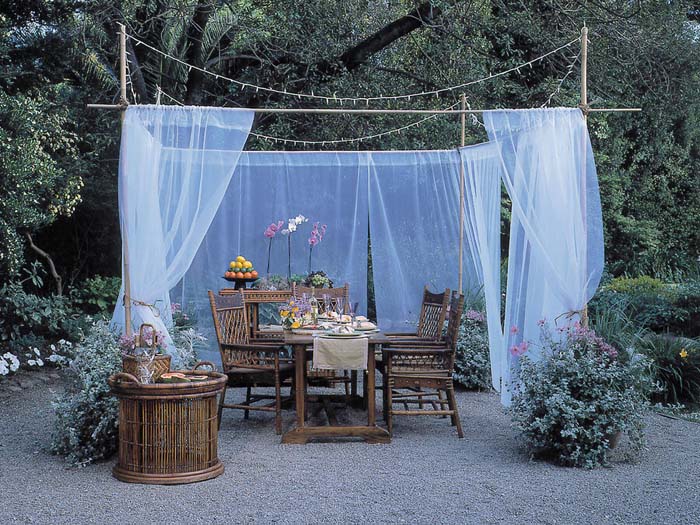 Looking for a more romantic sun shade? Well, there is an idea for you, too.
Make yourself a multifunctional shade feature that will divide the space, protect you from the sun rays and even from mosquitos.
via Sunset
14. Make DIY Triangular Canopy Pieces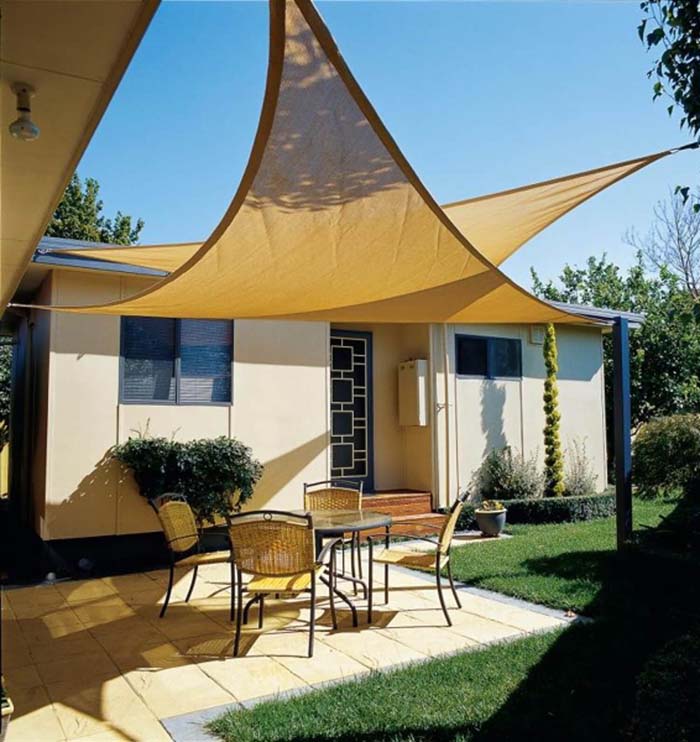 If you have sewing skills, you may try to make yourself two triangle canopy pieces.
They can be as big as you want to. All you need to do is attach each corner to a fixed point so that they are stretched enough.
15. Canopy for Small Spaces with Cords and Drop Cloths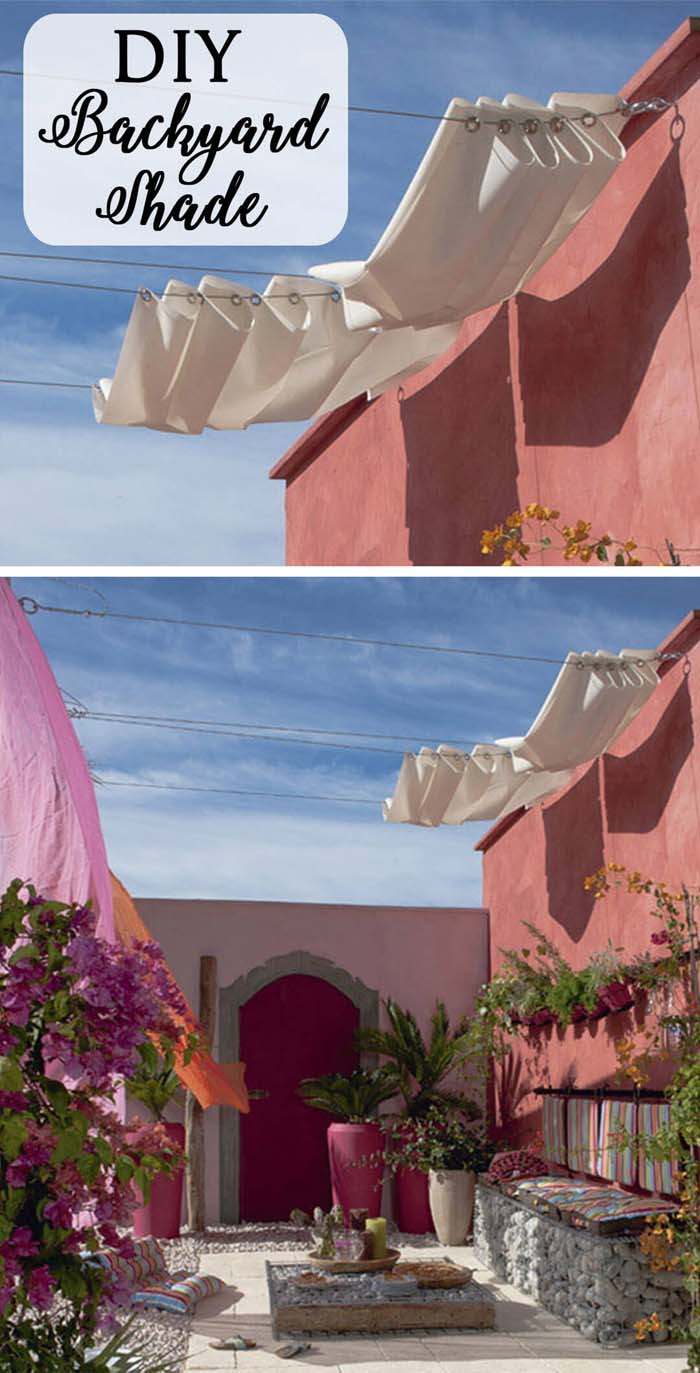 This type of shade is very appropriate for smaller backyards where installing a pergola would take up too much space.
Run cords from each end of the roof and attach canopy or drop cloths onto it the same way you are weaving a curtain on a rod.
via Awininglux
16. Install Pergola Curtains for a Rustic Ambience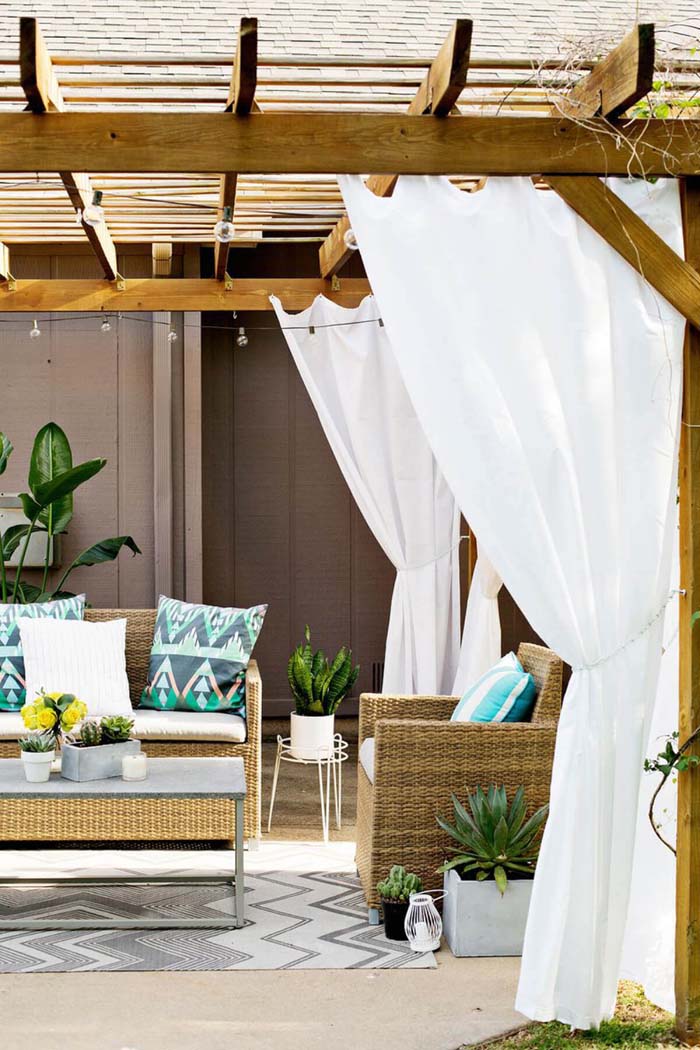 These pergola curtains are aligned on the sides and will make the outdoor space more private.
An easy way to attach the curtains on the pergola posts is to fix hooks onto the inside face of each post.
via A Beautiful Mess
17. Sail-Shade Canopy for Pergola Comfort 

This canopy shade on the top of the pergola is very comfortable to be built as you don't have to weave the cloths through each slat.
Instead, there are wires and a pulley system that ensure the movement of the fabric. The sail-like look and the fixing to the wires are done through hooks.
via Sailrite
18. Create a Rustic Style Sunshade with Textile Design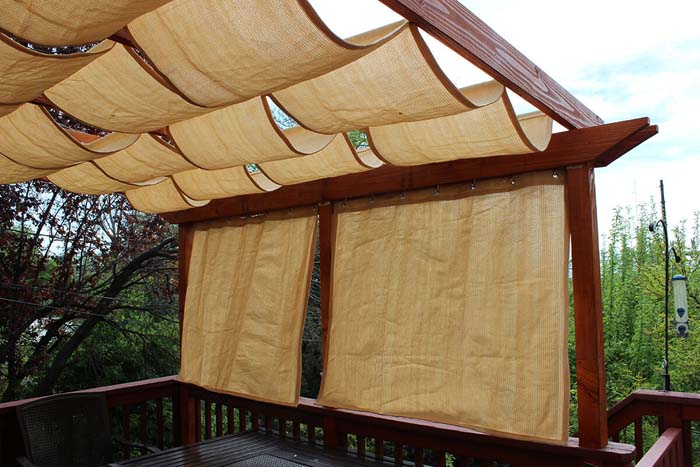 The designs of the textile are various and they can help you build a sunshade in the desired style.
If you are keen on the rustic style, you can use a similar curtain texture.
via Jandbmarvin
19. Construct a DIY Sunshade Canopy using Pipes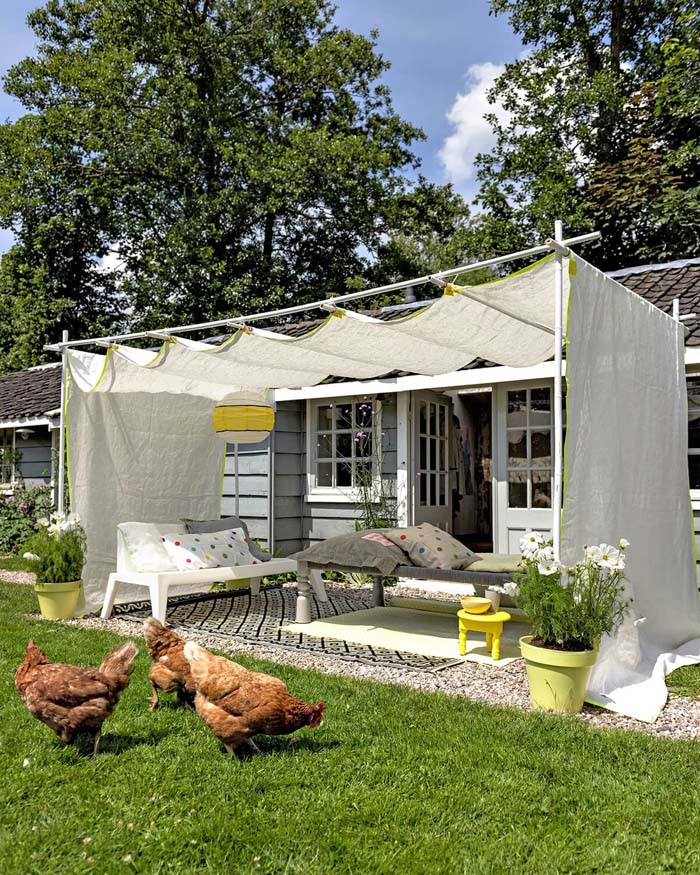 You can quickly make a great sunshade canopy of the desired size by building a pipe structure.
The sail shape of the top layer is achieved by passing the canvas through the transverse pipes.
via Vtwonen
20. Construct a Customized Sun Shade for Your Patio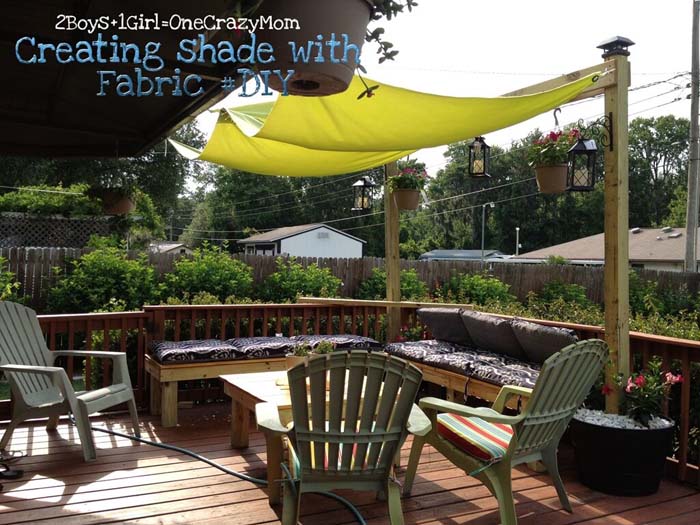 This is a simple fabric sun shade that can be done in few hours only.
With the help of suitable fabric, wood posts and fixing accessories, you can make the perfect customized shade for your patio.
via 2 Boys + 1 girl = One Crazy Mom
21. Upcycle a Sail into a Sun Shade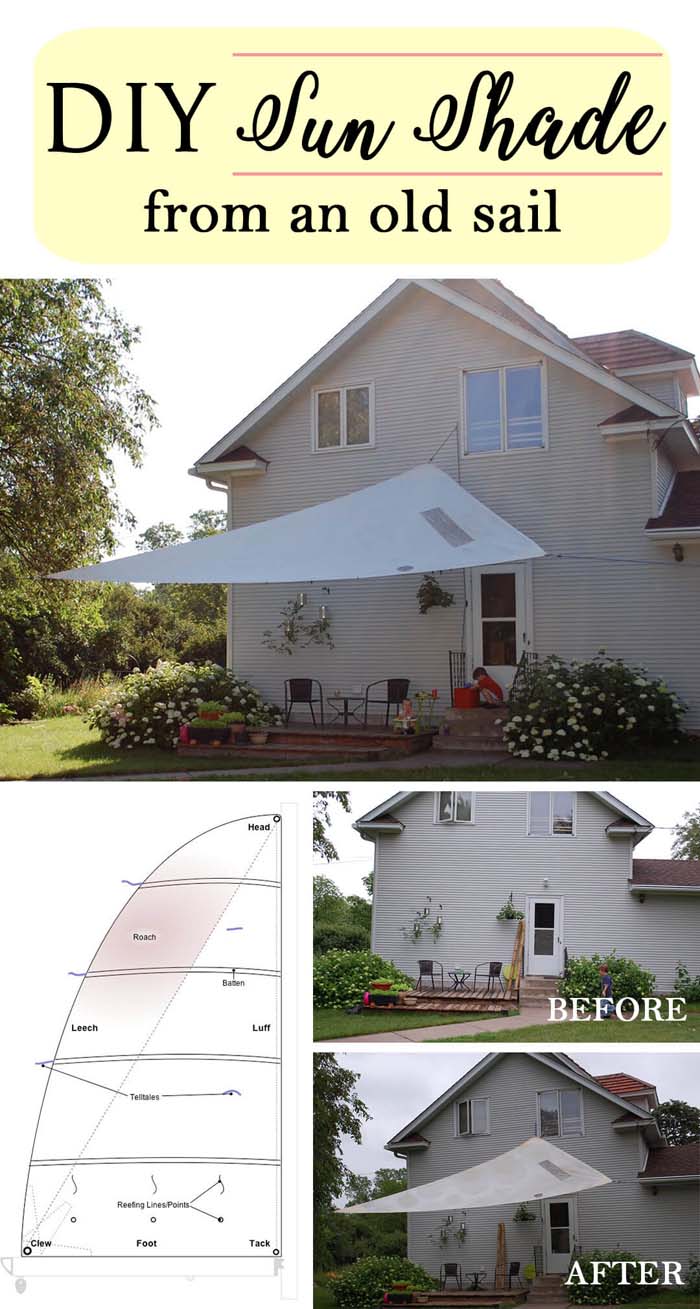 Upcycling a useless sail may do a great sun shade as its size is big and the fabric is hard-wearing.
Stretch the sail at all three sides and adjust the angle.
22. Make a Shade on a Patio with Cup Hooks and S Hooks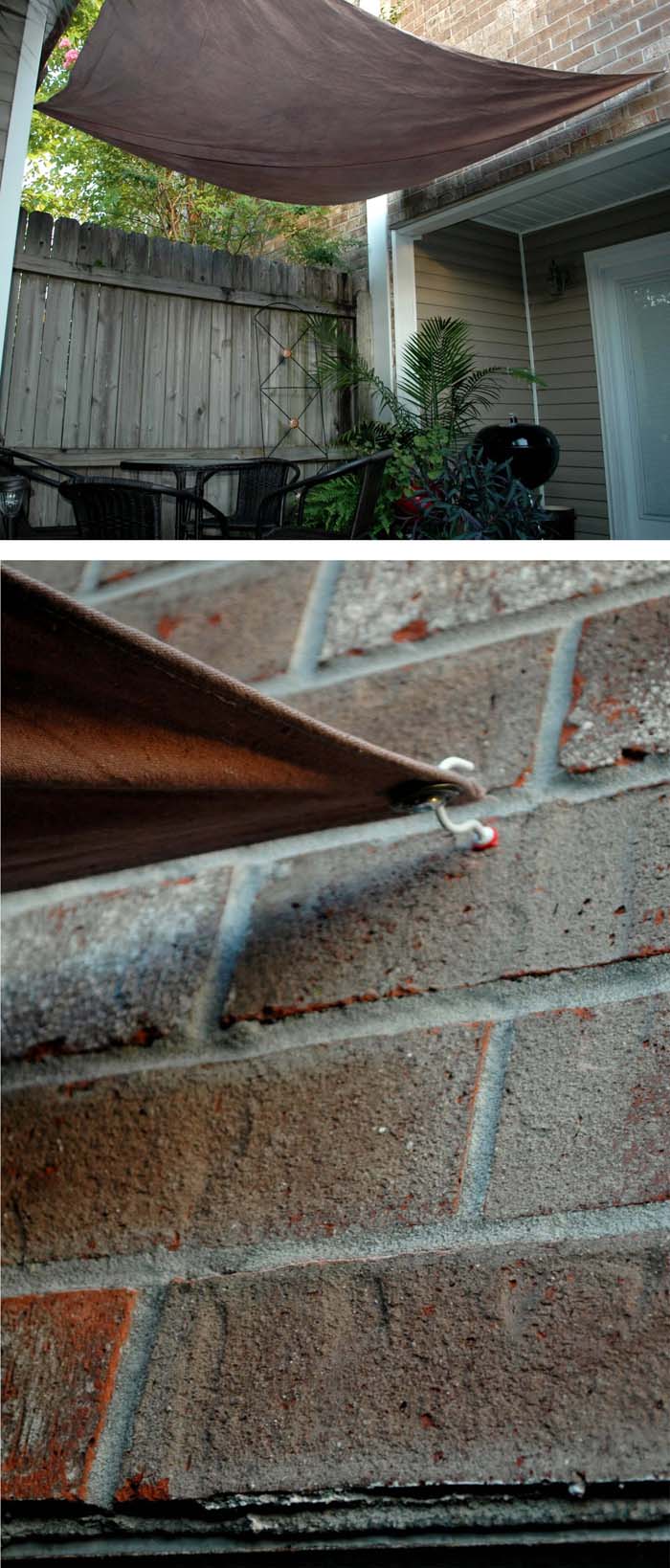 With the help of cup hooks anchored to the walls and S hooks to stretch the canopy, even the smallest patio can become a more pleasant and shady place.
via Zodirowe