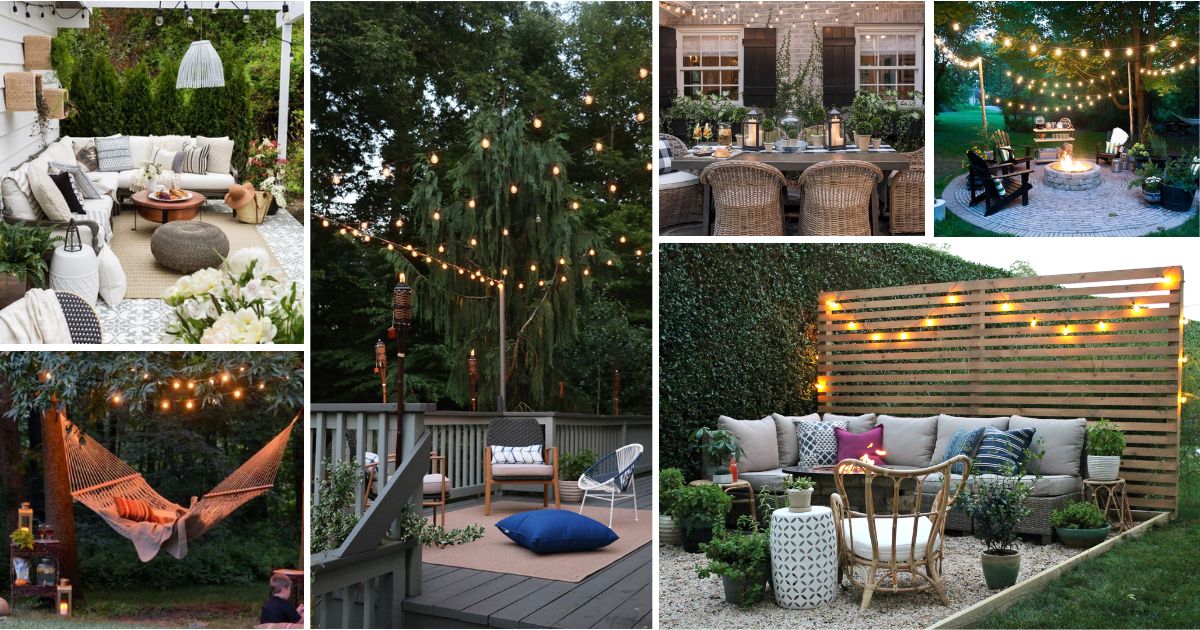 Strings of lights are an inexpensive way to illuminate an outdoor area. That may be the porch, the patio, the hammock nook or a garden sitting nook.
With a few sets of fairy lights, these outdoor features can become more welcoming, romantic and appealing. Probably, you are wondering how to hang them. Well, we have got you covered with 21 Incredible Patio String Light Ideas For Your Backyard Garden.
1. String Lights Stretched On A Pallet Wall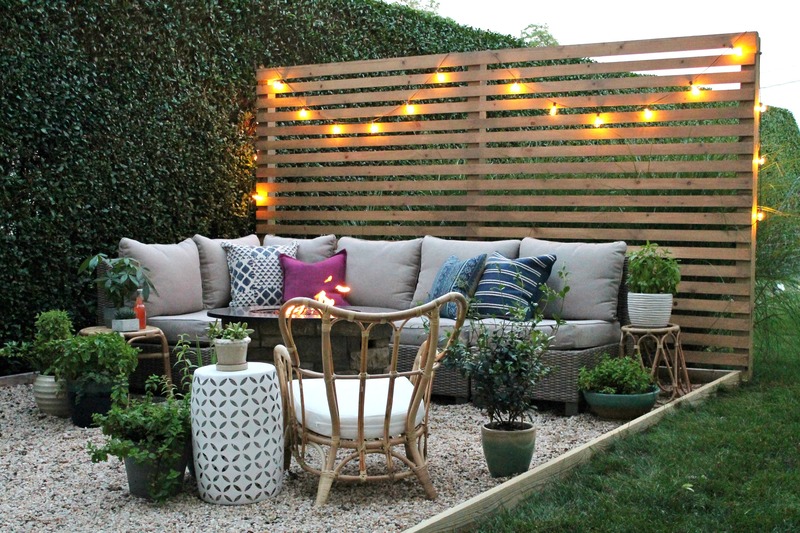 Make the outdoor sitting nook a private space by equipping it with a partition wall made from pallets. The slats will let air go through and at the same time keep the curious eyes away.
A string of Edison bulb lights suits the modern boho style perfectly to enlighten the nights.
2. A Ceiling From String Light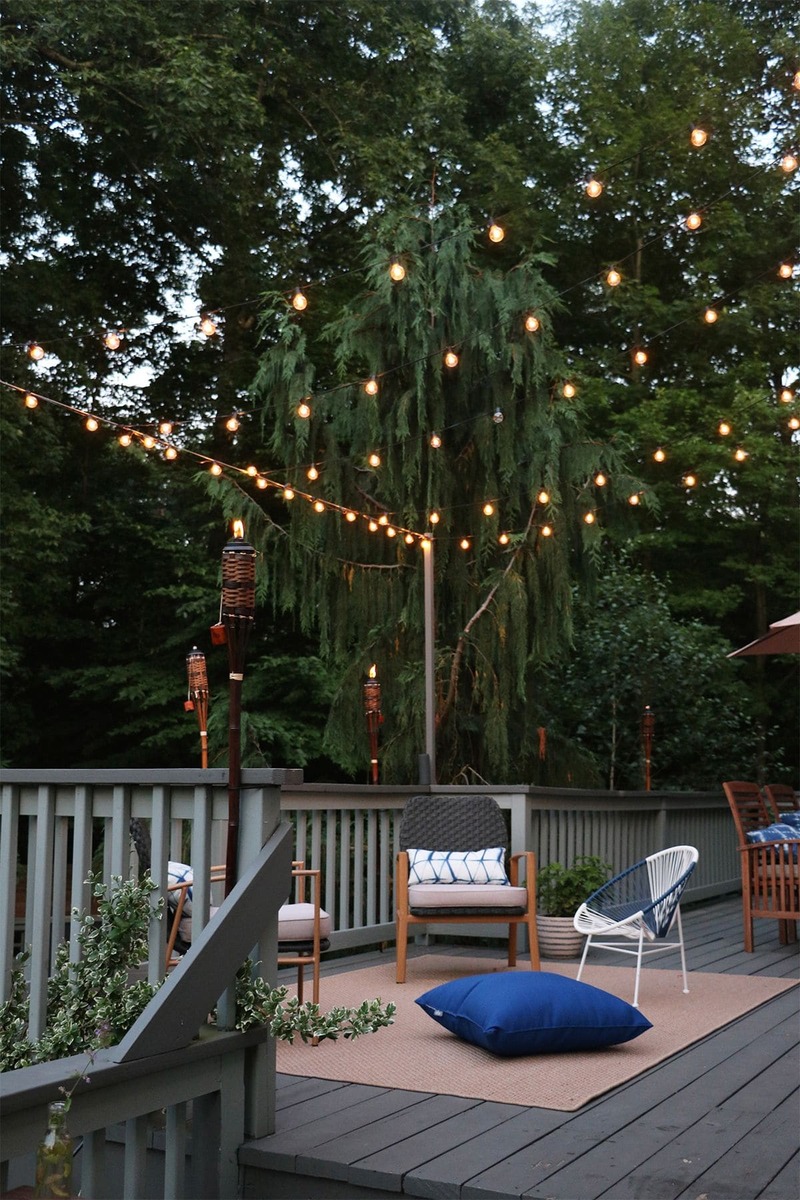 If you want the night lights to enlighten the patio better, you can go for this cute idea. Instead of one string of lights stretched to the posts, you can make a ceiling from a few sets of lights.
Make sure that you have supports to weave and stretch the strings to.
3. Jars And Strings Of Light Hanging From A Tree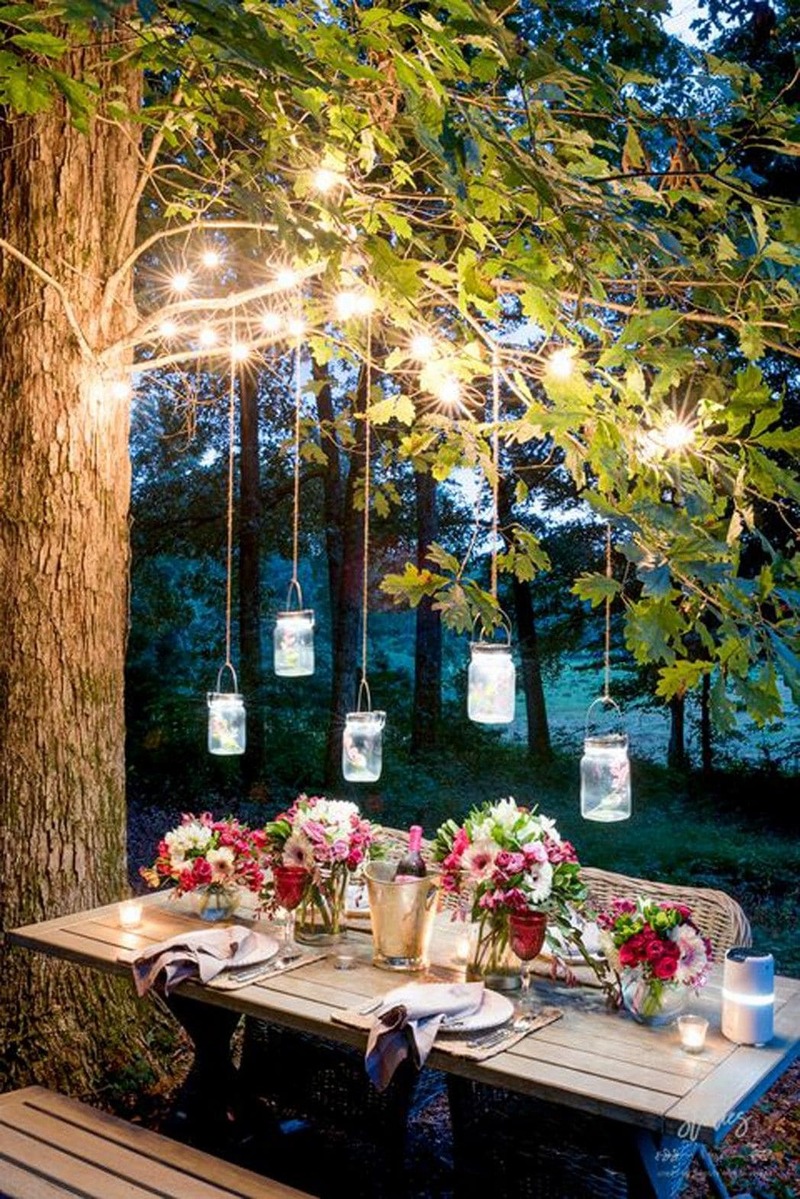 This romantic setting welcomes you to spend time outdoors under the cool shade of the tree crown. When night comes, a string of lights with Edison bulbs will illuminate delicately the area.
A set of Mason jars is transformed into lanterns hanging from the tree branch to throw light directly to the dining table and make staying outside at night more comfortable.
4. String Lights Stretched Over A Sitting Nook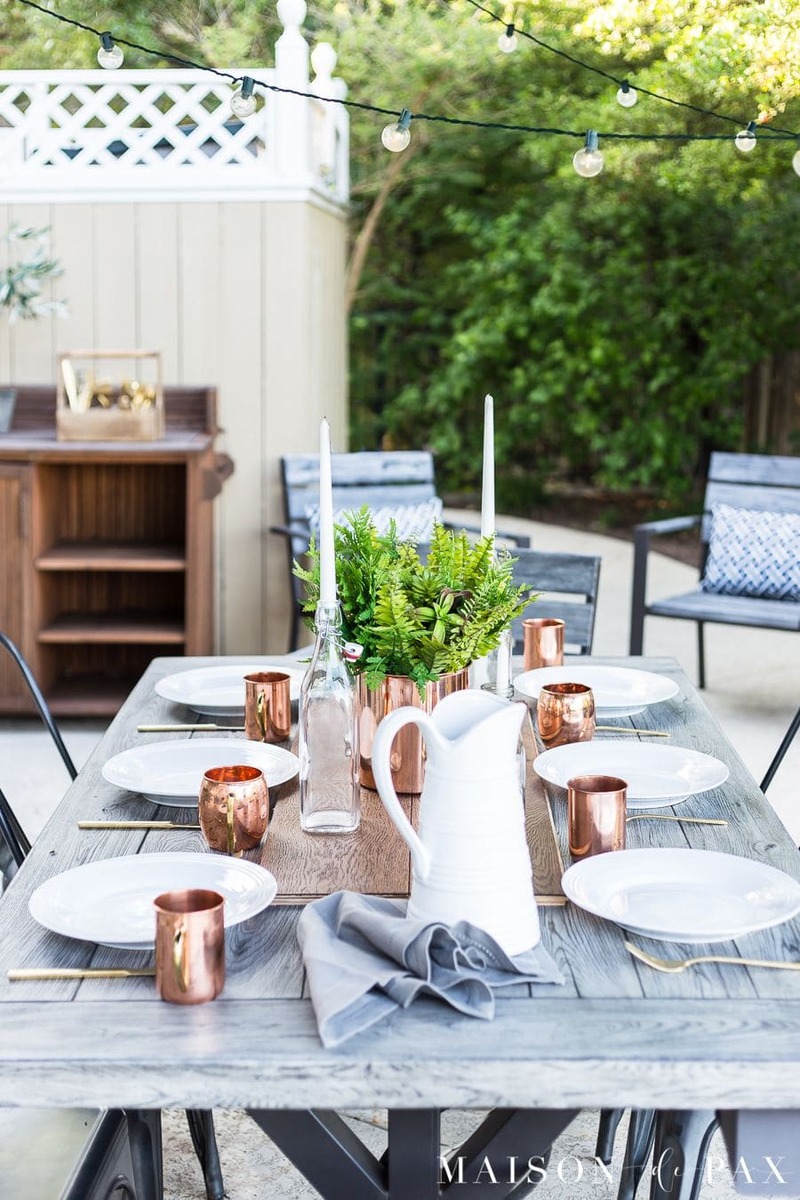 Wherever in the backyard your sitting nook is made, you can equip it with cheap but functional lighting. One or two sets of solar-powered strings of light can be stretched over the table set. All you need to ensure in advance is support where the strings can be stretched.
That can be branches, wooden posts, metal dowels or any other existing high features.
5. Strings Of Lights Woven Around The Pergola Slats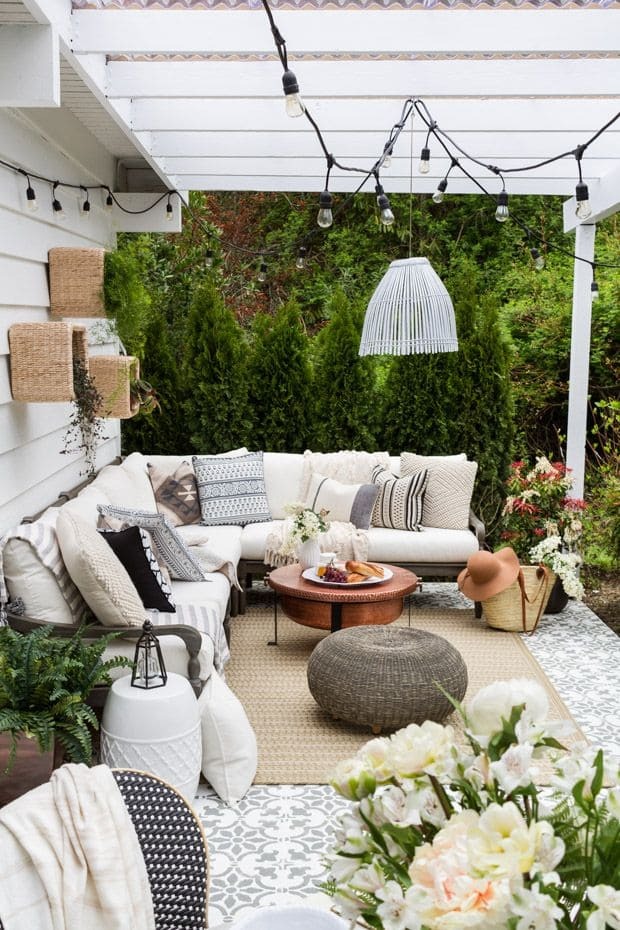 If you have a pergola, then you do not need anything else to add strings of lights. Simply weave them around the top slats, and why not also around the posts?
6. Curtain Of Strings Of Lights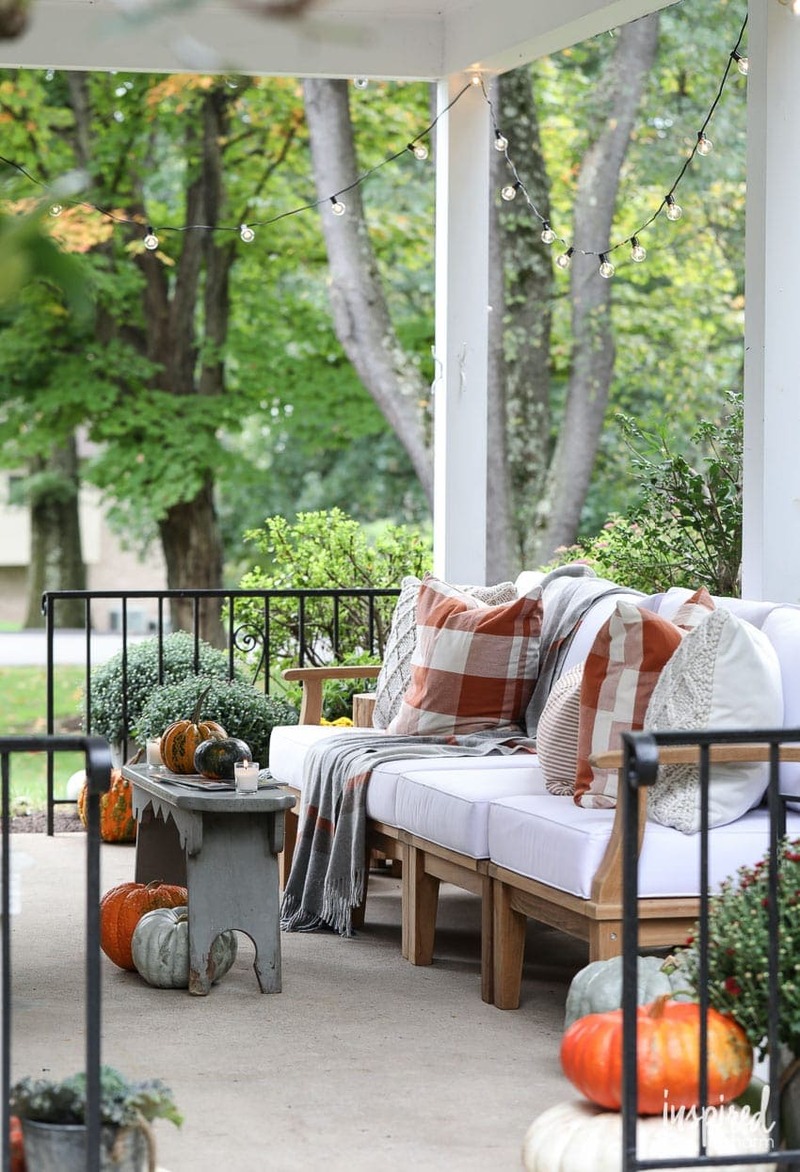 This is another position where you can install your strings of lights. Add screw hooks to the top corners of the patio ceiling or the pergola. Then add the stings of lights leaving them a little dappling down to form a curve.
7. String Lights On A Tree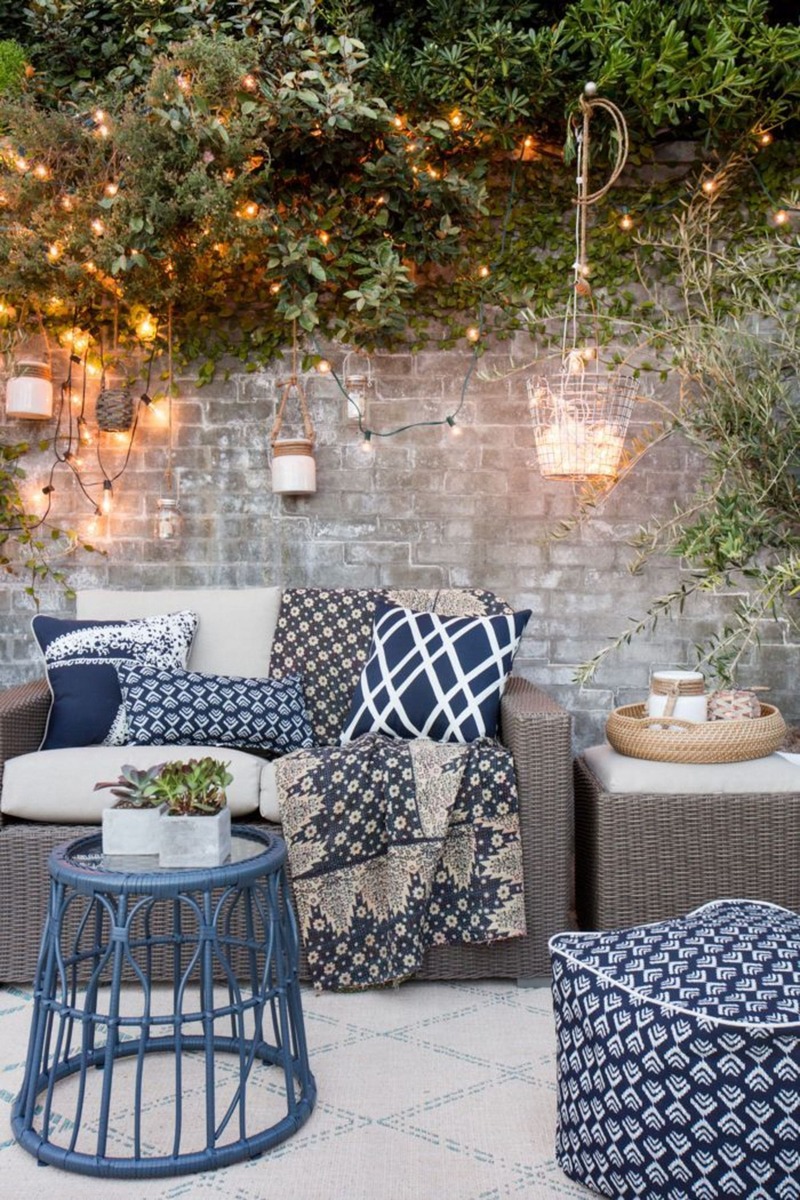 The crown of a tree can be used as a support to weave the fairy lights. Depending on the size of the tree and the size of the area you want to enlighten, add a suitable number of strings.
8. Strings Of Lights On Metal Posts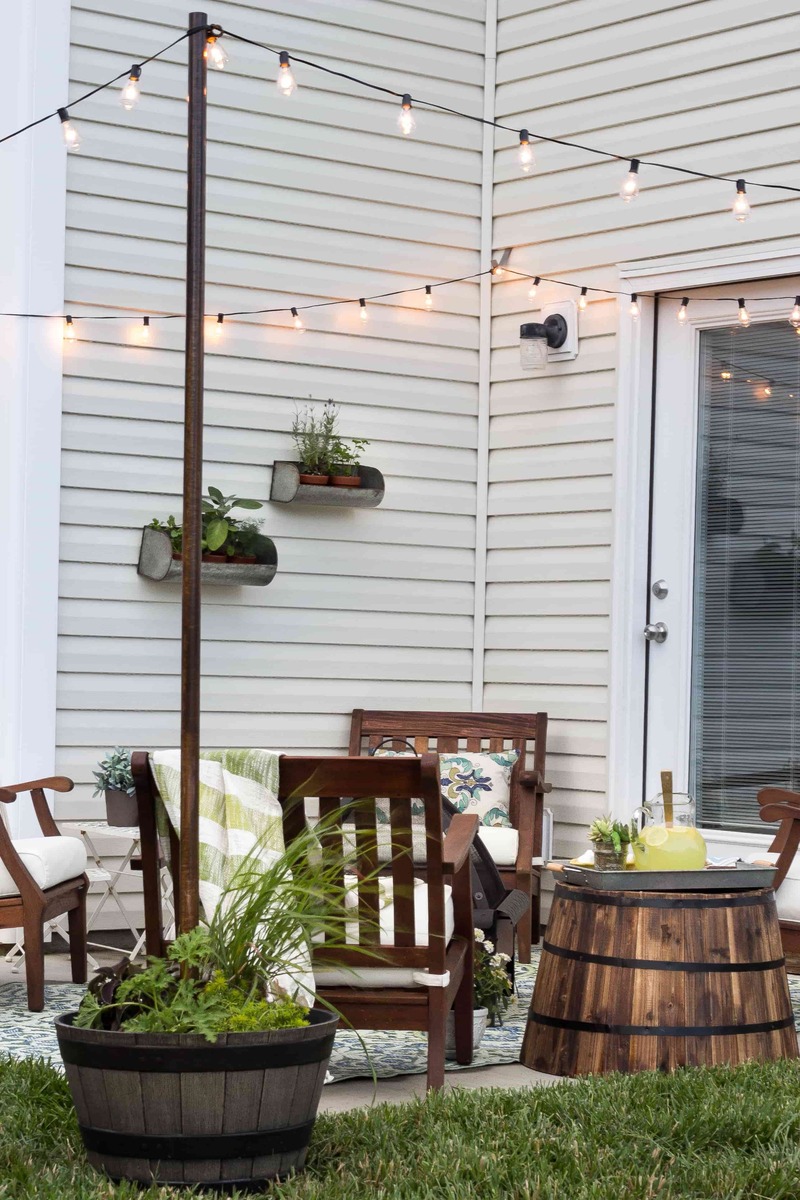 This is an interesting DIY patio idea for adding strings of lights. In case there aren't any support structures to attach the strings to, insert metal dowels in the ground.
9. Illuminate A Patio Area With String Lights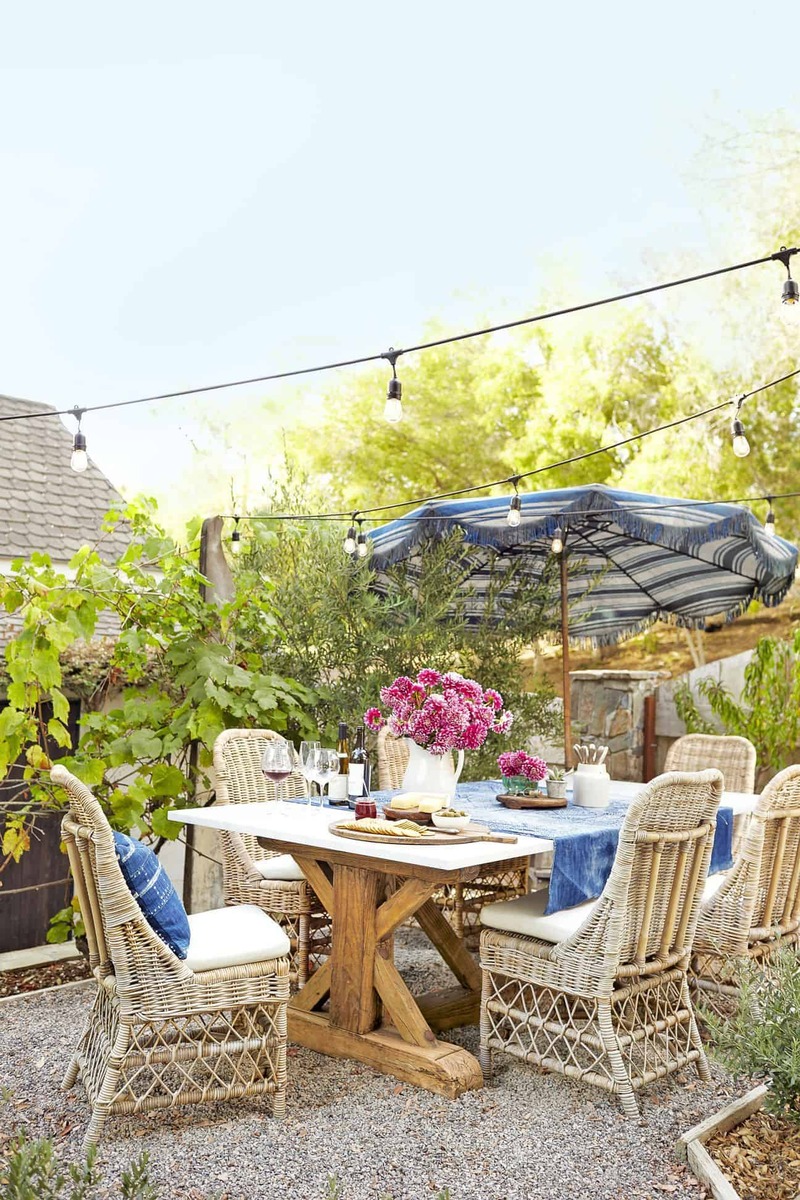 Adding posts with electrical lanterns could be quite expensive. Here is an alternative with strings of light. Get three or more sets and stretch them over the patio set.
10. Strings Of Lights To Wooden Posts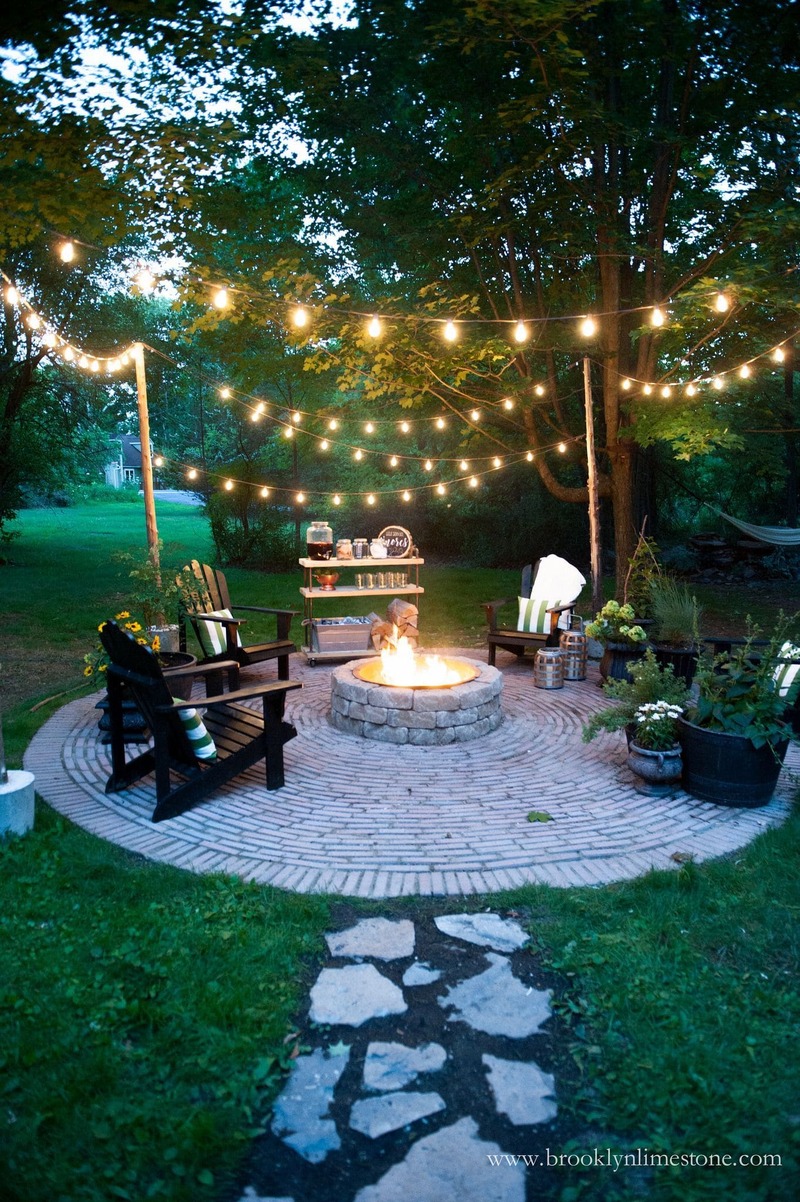 The fire pit is a great outdoor feature you would like to spend time around at night. To make the setting more comfortable and illuminated, add strings of lights. In this DIY idea, the strings follow the shape of the firepit zone. Stretching is ensured with additional wooden posts.
11. A String Of Light Over A Hammock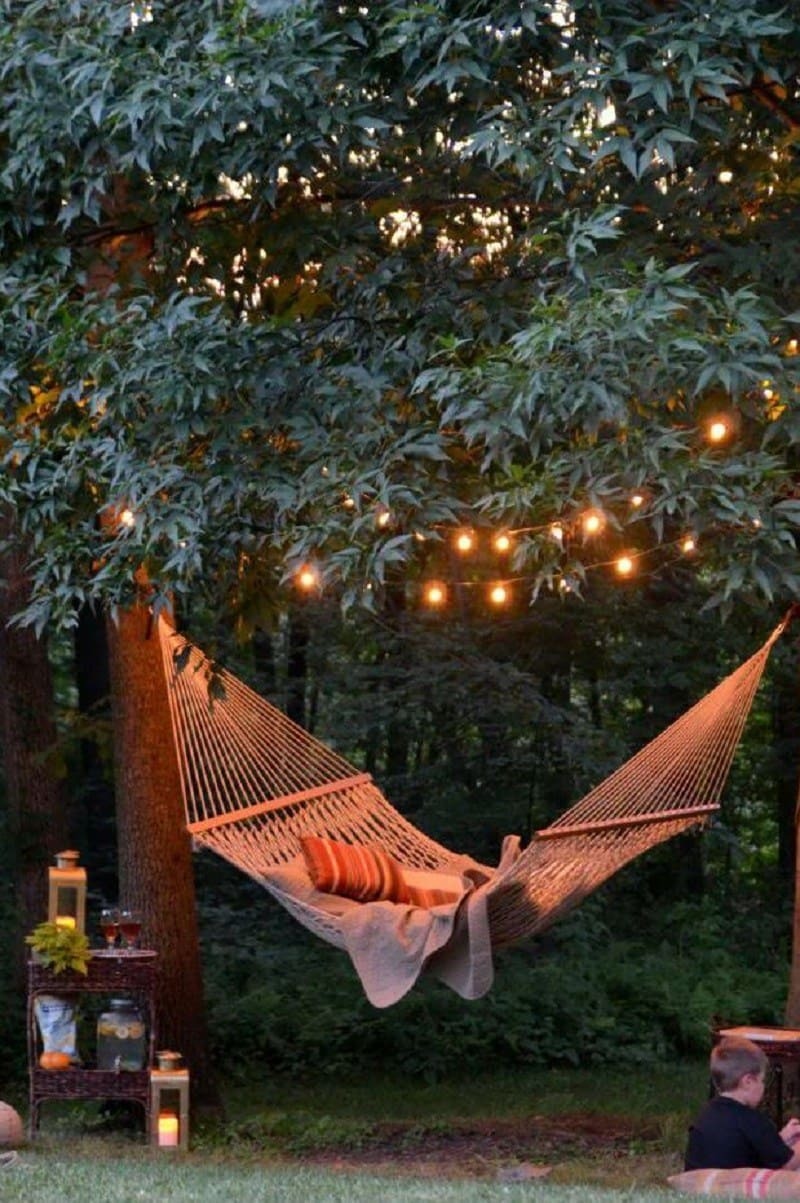 Any outdoor feature can be made more welcoming at night with a simple string of lights. In this DIY project, the strings are woven around the branches of two tall trees. This spot is like a fairytale because a boho hammock lays between the trees.
12. Strings Around The Tree Trunks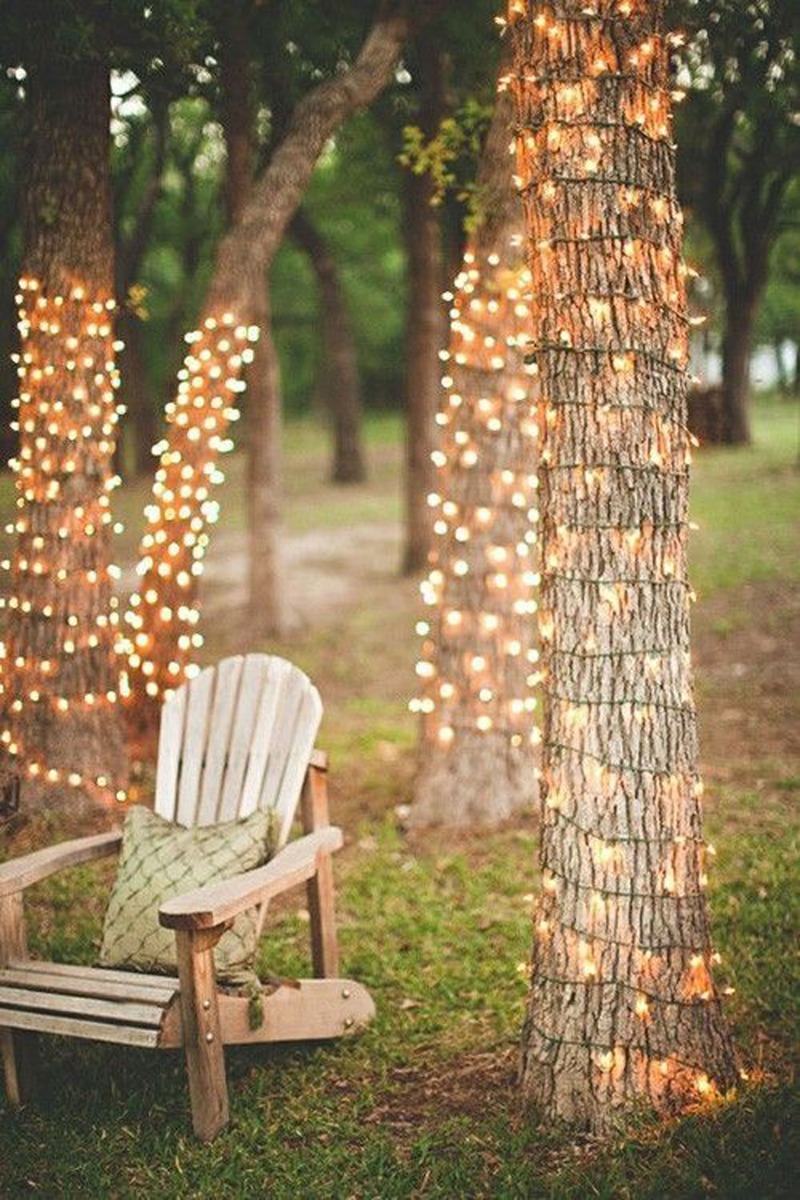 You can turn your garden into a magical wood at night by weaving strings of lights around the trunks of the trees. Add chairs, a hammock, a firepit or another outdoor feature to enjoy at night.
13. DIY Fairy Lights Balls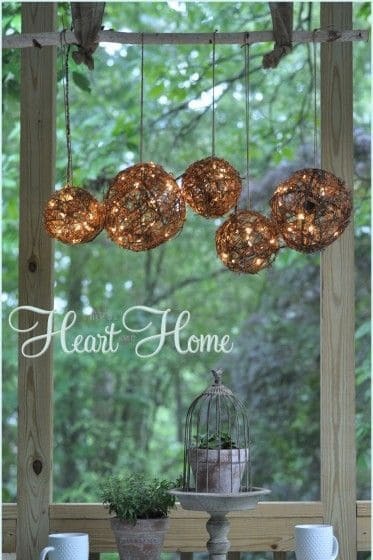 This is an idea that upgrades the standard fairy lights into pendants. Get a balloon or a small inflating ball to use as a mold for the pendants. Use school glue to dip the twine into and then weave around the mold.
Once the object has dried out, take the mold out. Insert the fairy lights into the ball aiming to spread them around the entire round surface. Then simply suspend each pendant with cord or twine on a beam or another horizontal surface.
14. Rustic Outdoor Setting With A String Of Lights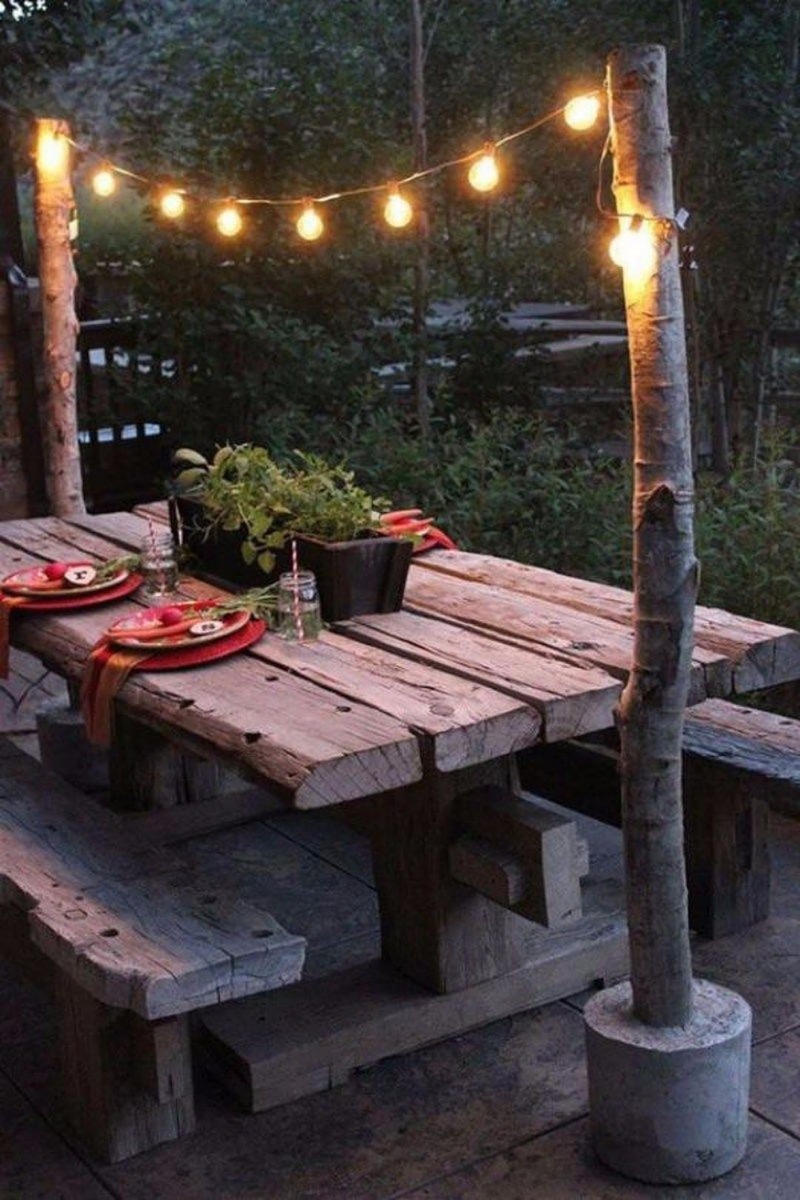 The creativity in this DIY post for a string of lights is amazing. Two tall branches are turned into supports for fairy lights to complement the rustic setting in this outdoor nook.
The branches are inserted into cylindrical molds filled with concrete to make them stable against winds.
15. Outdoor Chandelier With String Lights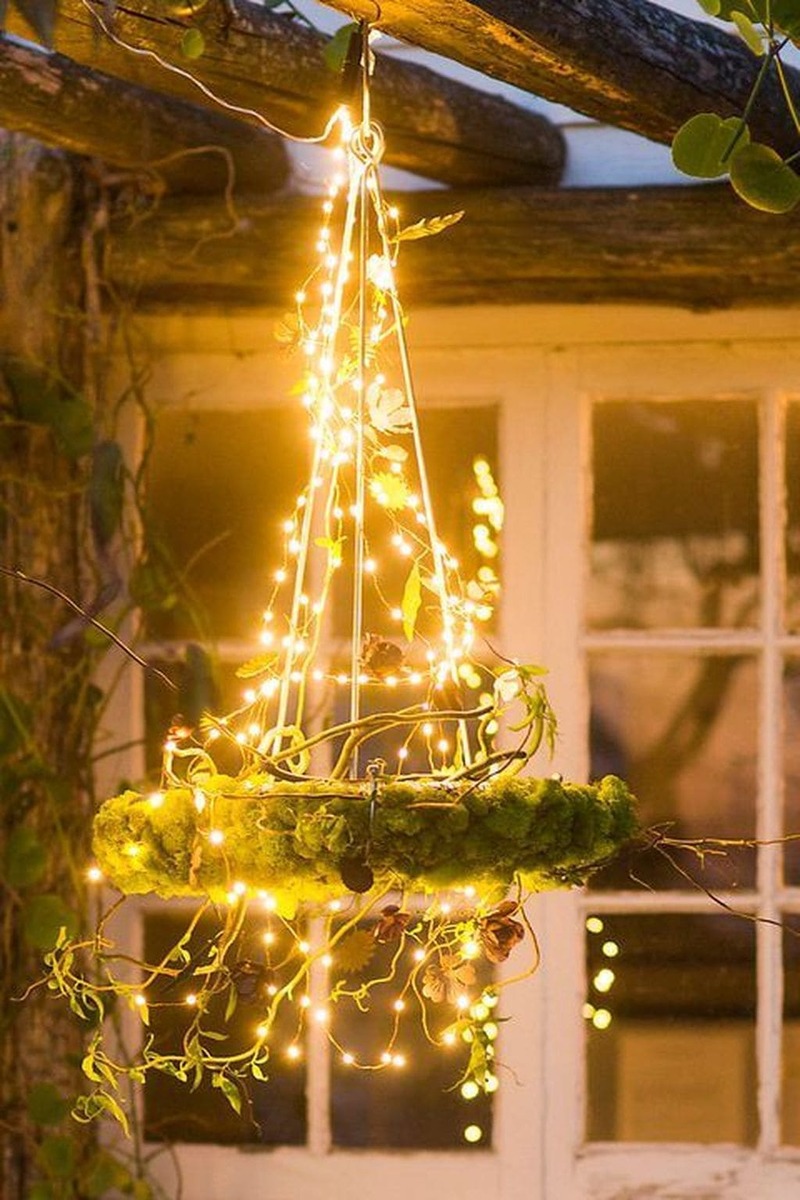 This living outdoor chandelier brightens up the night with a string of fairy lights woven around its pieces. The mixture of green moss and vines with yellow-colored light creates a magical atmosphere.
16. Flower Posts Turned Into String Of Lights Supports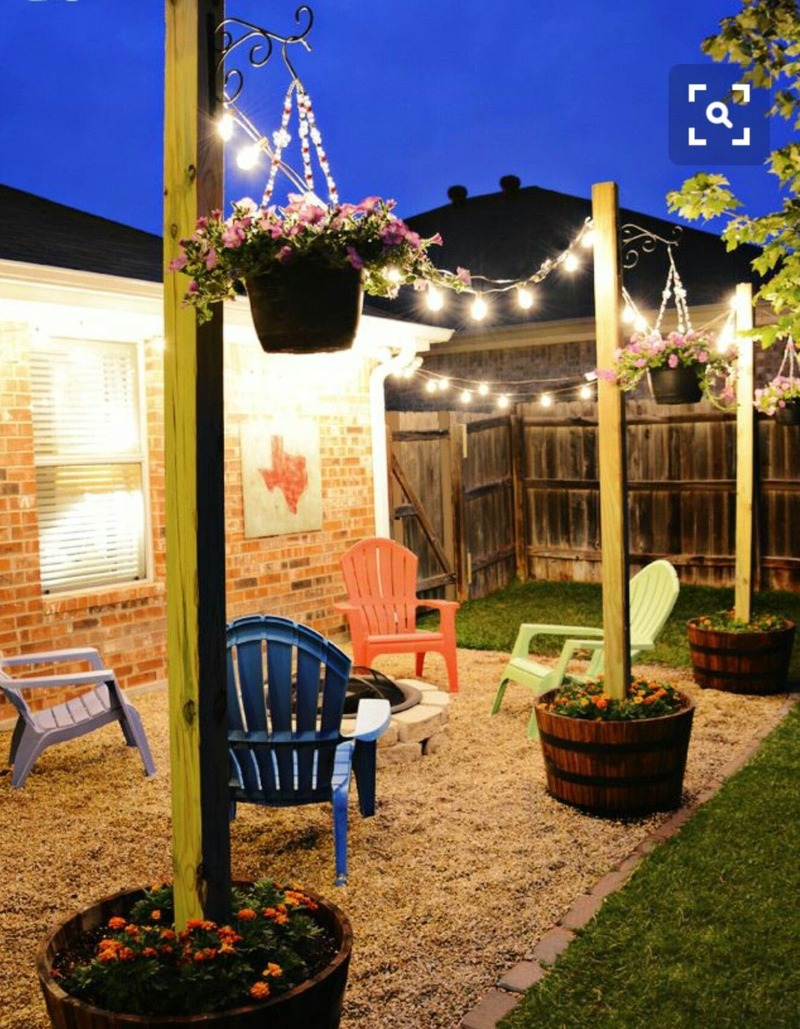 Another great idea to create supports for your outdoor lighting is to repurpose wooden posts into poles. They are inserted into barrel flower pots which keeps them fixed and at the same time makes it possible to adjust the place and the distance between the poles.
17. Continue The Roof With Strings Of Lights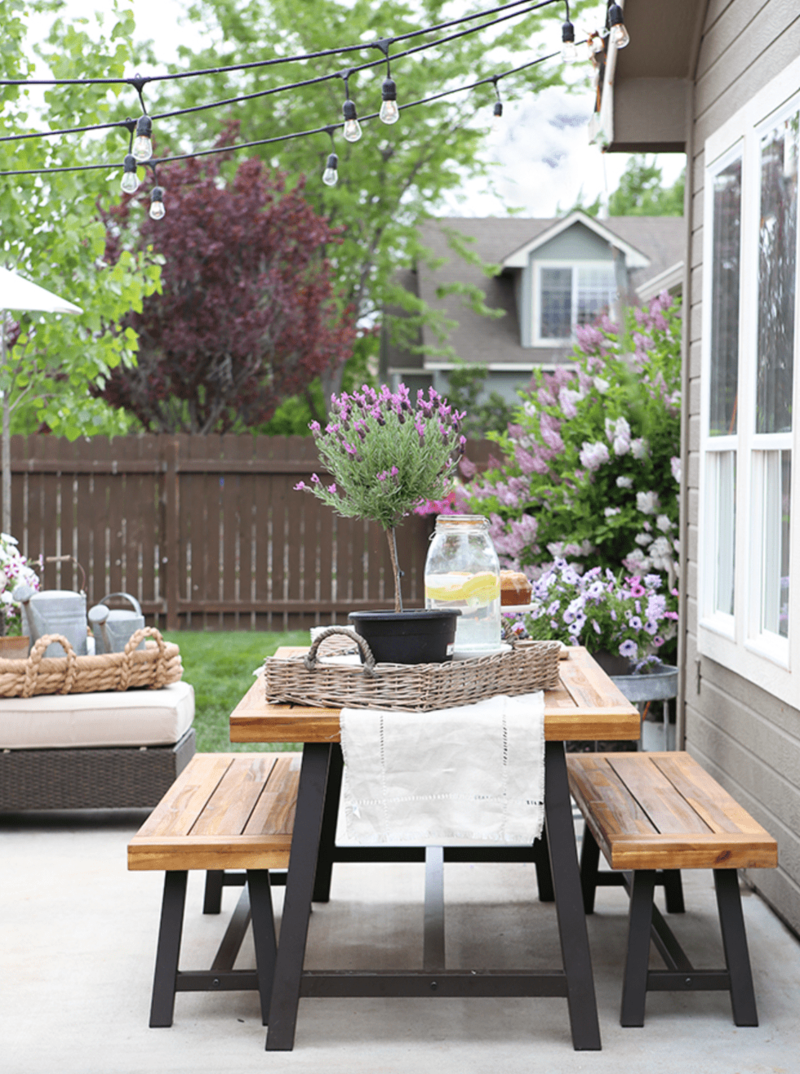 Stretching strings of light from the roof to a supporting structure on the patio creates a whimsical light roof. This DIY idea will turn the patio into a welcoming oasis.
18. Decorate The Pergola Beams With String Lights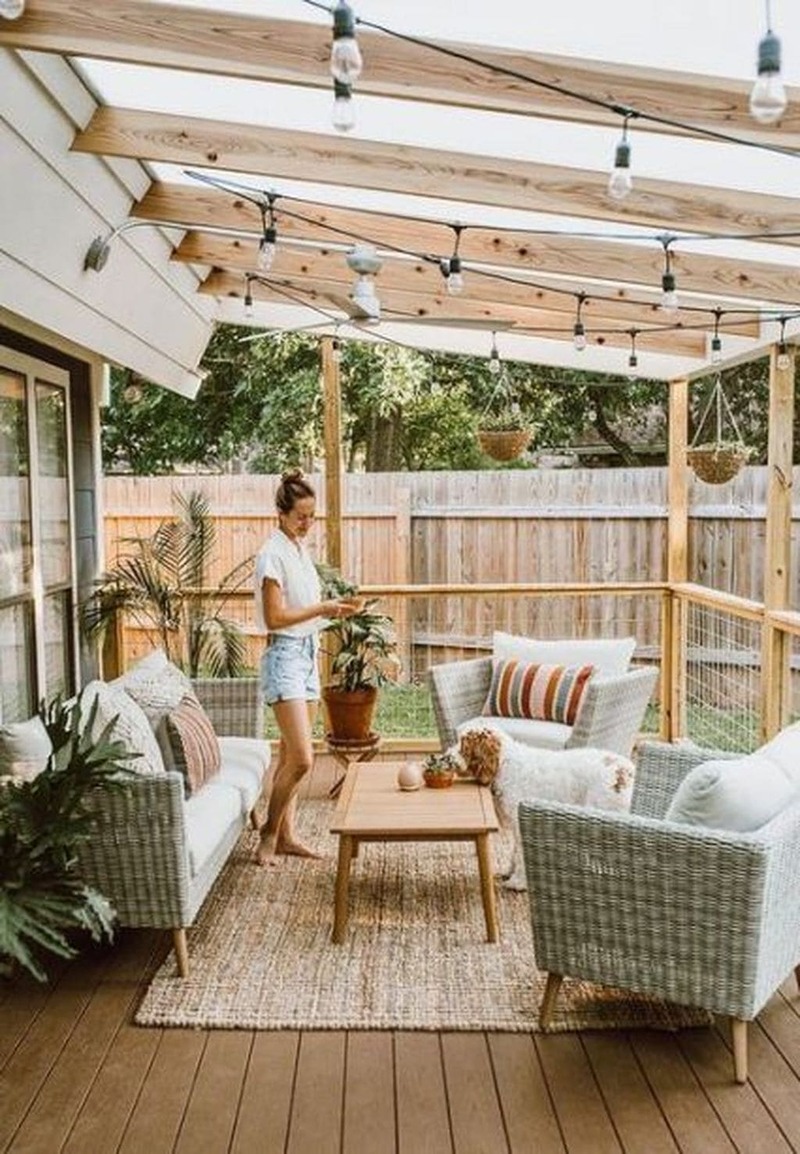 The beams of this pergola are perfect for stringing up fairy bulb lights. Make sure you attach enough strings so that each beam is equipped with light. This will ensure good illumination at night and also a symmetrical look.
19. Strings Of Lights With A Curious Shape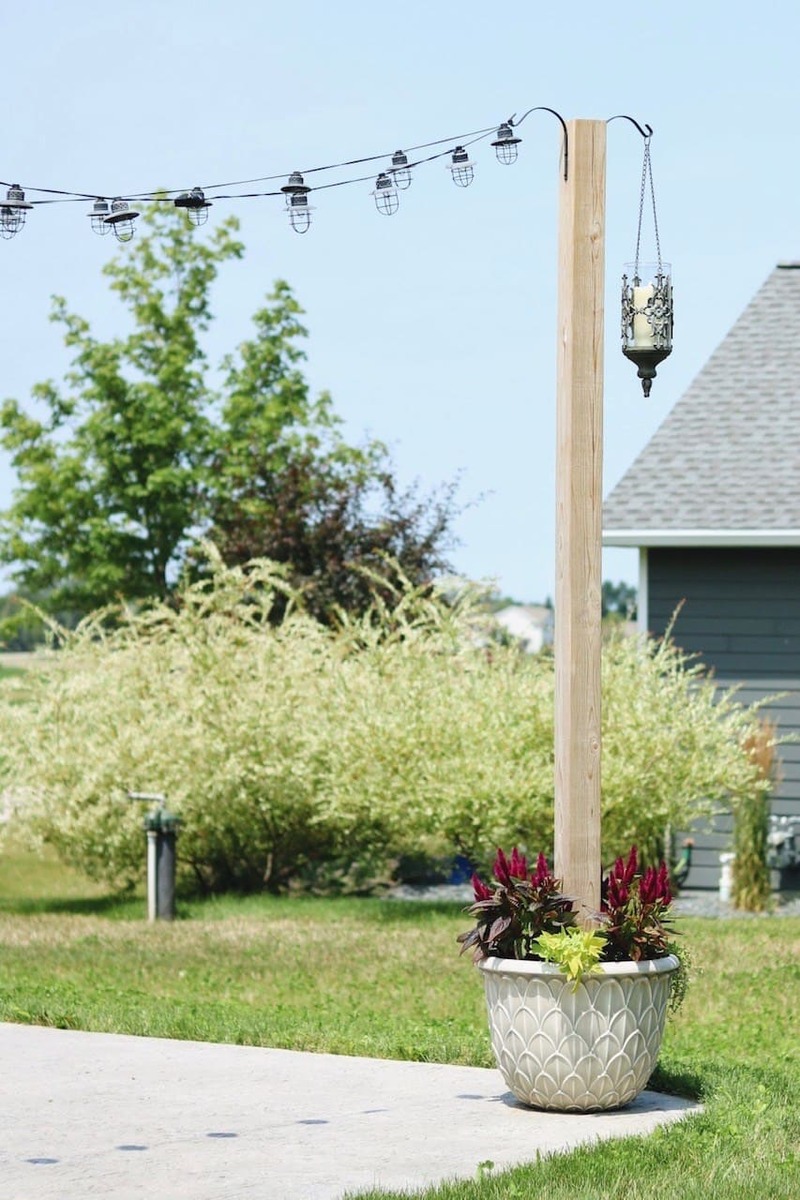 You can use the strings of lights to add character to an outdoor space. For example, in this idea, the bulbs resemble small-scale lanterns which complement the existing light sources.
It is also interesting how the string has been suspended. A flower pot has been transformed into a support by adding a wooden pole and metal brackets to it.
20. Raise The Roof With Strings Of Lights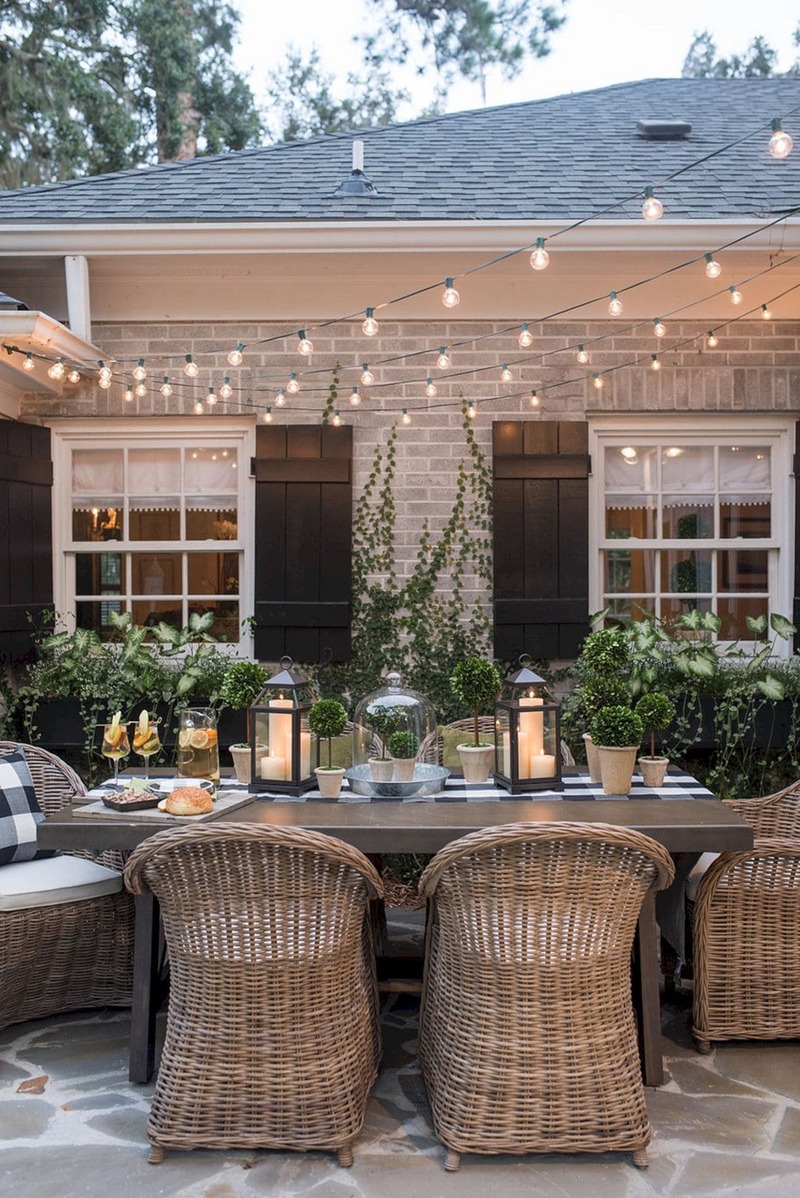 You can create the illusion of a roof with string lights. They are stretched above the patio starting from the existing roof and up to supports at the furthest end of the patio.