Adding a patio to your home is a great way to make it more appealing and would tremendously increase its value. Today we get our attention to the patio doors and how to cover them.
Curtains and other window treatments can make or break a room, but deciding exactly how to cover those patio doors can be overwhelming. We've put together the best patio door curtain ideas below.
There are tips and tricks here to help you make an inspired and informed decision.
What can you use to cover a patio door?
The most common ways to cover patio doors are vertical blinds, but you can also use curtains, frosted glass decals, roman shades, shutters, and sliding panels.
Should you put curtains on a patio door?
When they're installed properly, patio door curtains can work well with patio doors but it depends on the way the doors open. If you're not in love with vertical blinds, check out our ideas below for other solutions.
How do you choose curtains for patio doors?
First, you need to know the size of the patio doors you're trying to cover. Measure the width and height of your patio doors. There are standard sizes, but you'll never know for sure until you pull out the measuring tape. Add 4-inches to the width on each side. The height will be determined by how they're installed and how low they will hang to the floor.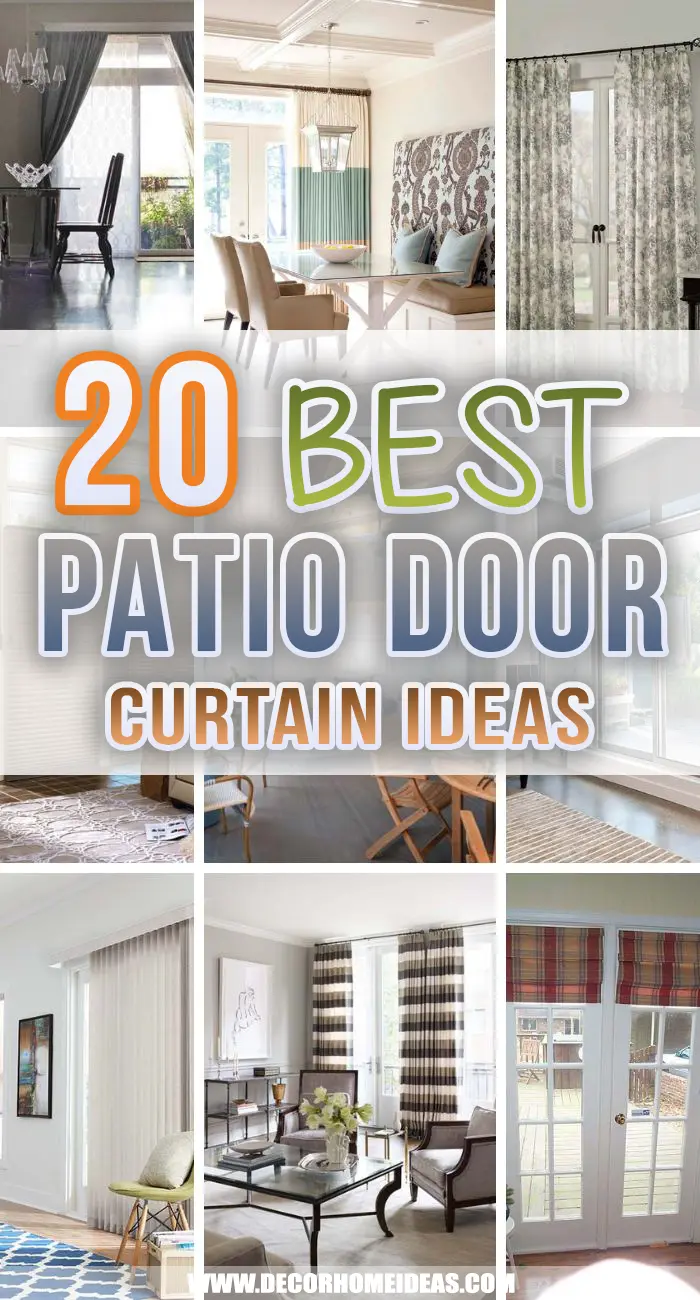 Then, you choose the material. Do you want light blocking, insulating, or sheer? Style will play a role, too. You don't want French country curtain panels in your contemporary bedroom.
1. Vertical Blinds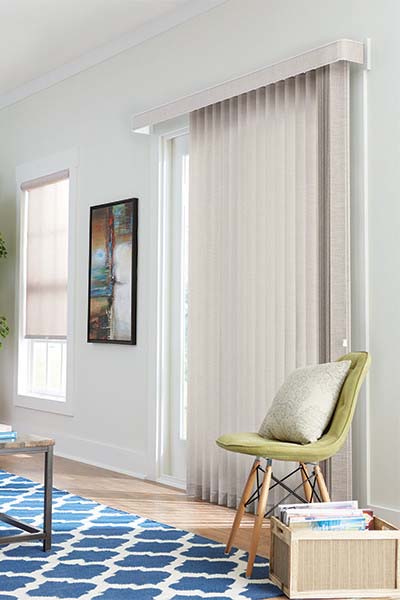 Vertical blinds have been the standard for apartments and condos for decades. They work seamlessly with a single sliding door. These days, they're available in a variety of styles and patterns.
You can get them in any weight from sheer to insulated and light-blocking.
2. Color Block Panels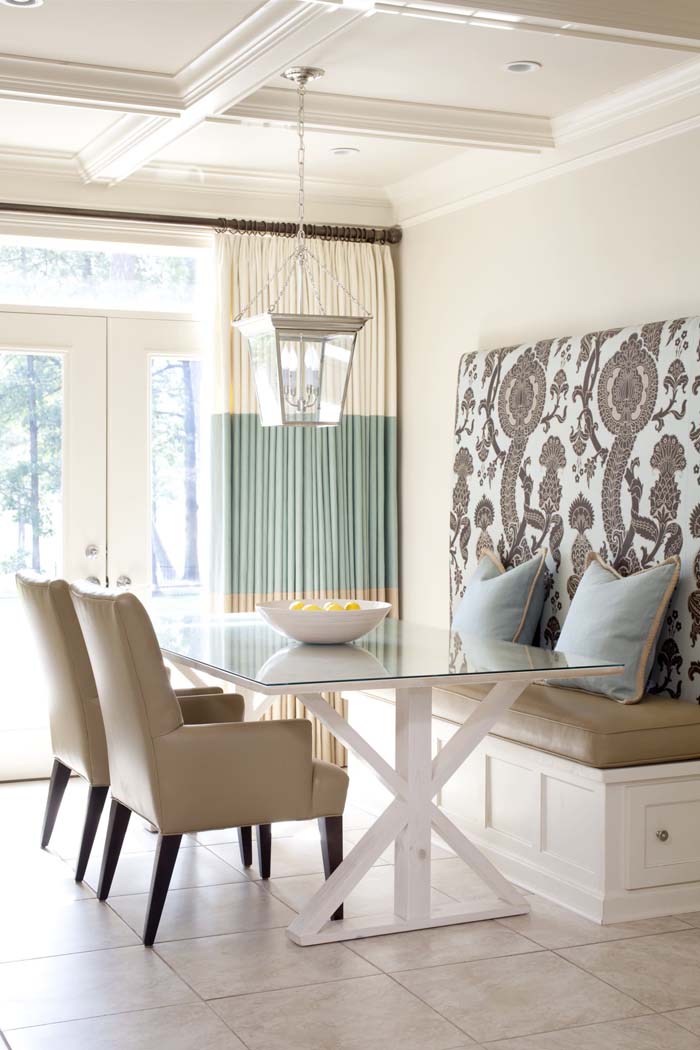 Color block panels are set above the transom windows. It's an easy way to introduce color to a room.
The green is matched to the throw pillows on the banquette.
via Tobi Fairley Interior Design
3. Add a Pattern with Curtain Panels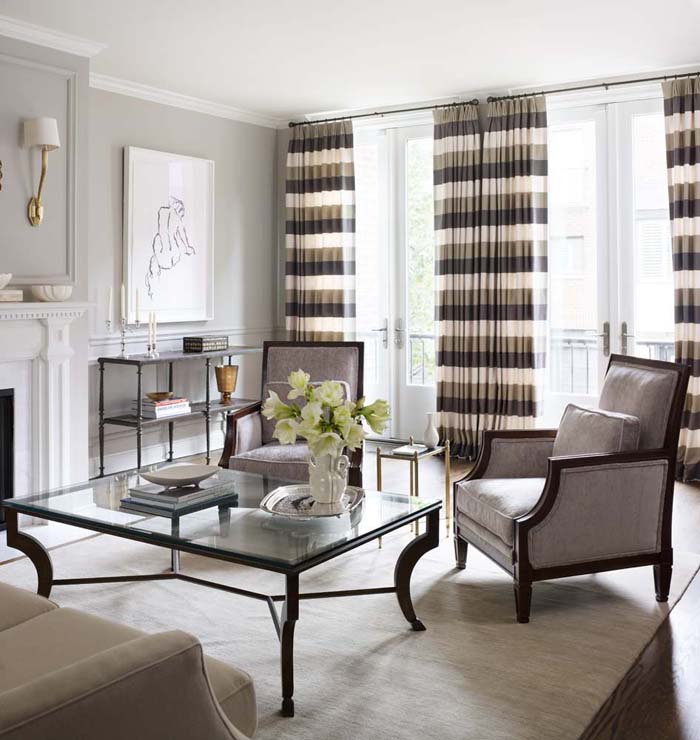 Pleated curtain panels run the height of the room. Blocks of stripes in a neutral palette are the only pattern seen.
They work as a backdrop to the formal seating area.
4. Roller Screen Shades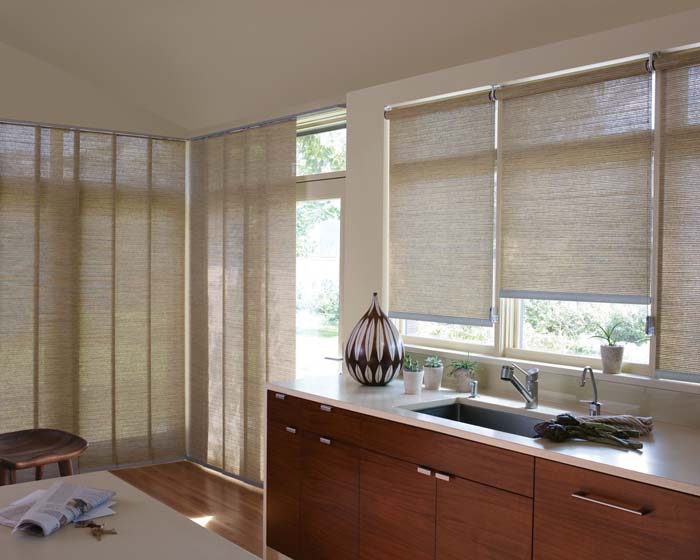 Coordinating roller screen shades are effective when you have windows and openings of various sizes.
These open weave shades allow full control of the light along the bank of window panels, patio door, and over the kitchen sink. Notice how they extend beyond the door frame.
5. Plantation Shutters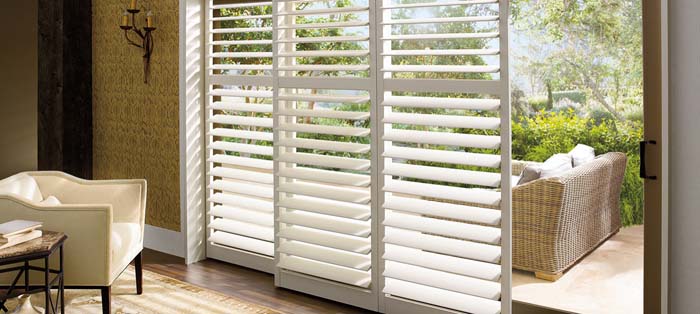 Plantation shutters are the mainstay of the Southern style. You can recognize these wood blinds by their deep, wide louvers.
They work with many styles of homes, so don't think your home decor needs to follow the Southern style to use them.
6. Vertical Pleated Shades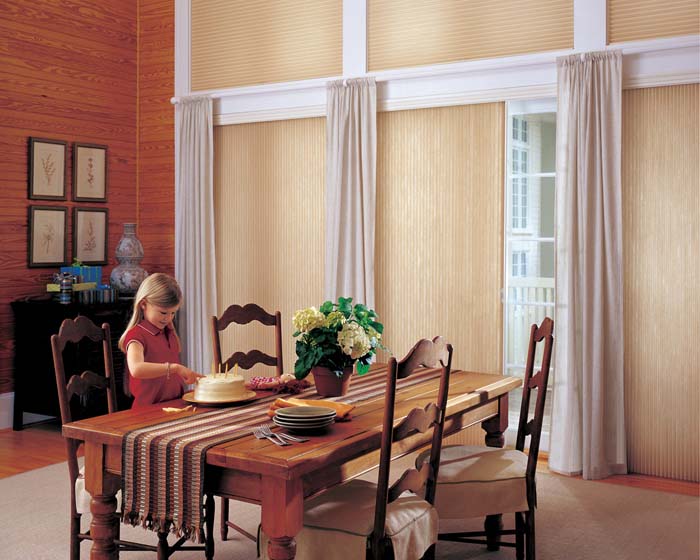 Vertical glide honeycomb shades are designed to open side-to-side. Check out how the pattern is different between the door blinds and transom windows.
Curtain panels are set between each section, softening the overall feel.
7. Double Blinds, Double Curtains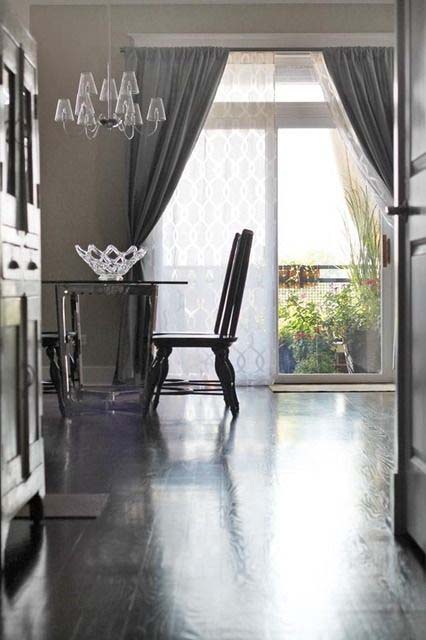 This is the most common setup found in traditional homes. A translucent shade is set to filter light, while an opaque curtain blocks light. They're set on two separate rods with the heavier panels fitted to use with curtain tiebacks so they can be pulled out of the way as needed.
The translucent panels can be decorative and sheer curtains are often embroidered and ornate. A rule of thumb is for the opaque panels to be darker than the adjoining wall decor.
8. Pleated Patterned Panels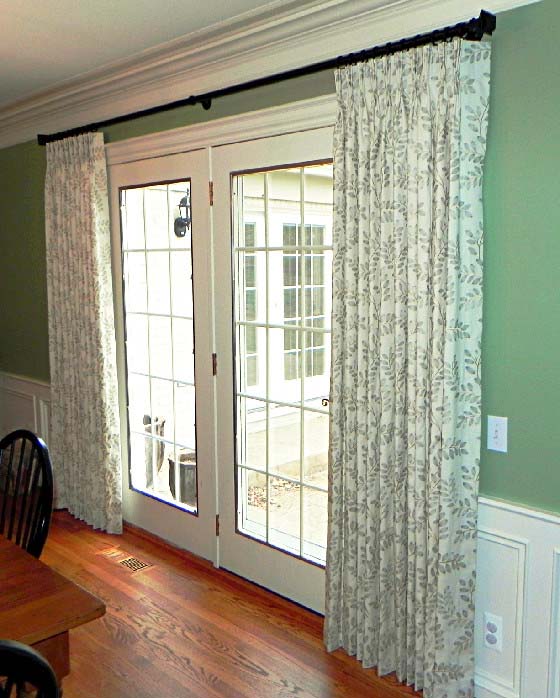 Pleated panels bring a neat look to French doors. They create the illusion of a larger opening. Raising the curtain rod to just under the crown molding adds height.
9. Delicate French Motif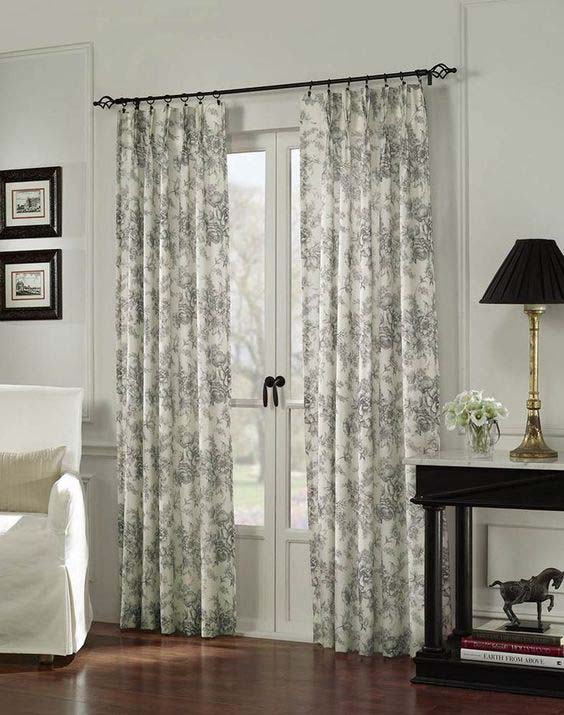 Both blackout curtains and sheer floral panel curtains can add color and texture. More importantly, they can also hide flaws and dictate style. Loose rings make it easier to move a curtain panel in order to access a French door.
When choosing drape for your French doors, consider the versatility of simple curtain panels. Using a French door curtain creates opportunities for creating illusions around the size of your patio door entrance.
10. Color Blocks and Roman Shades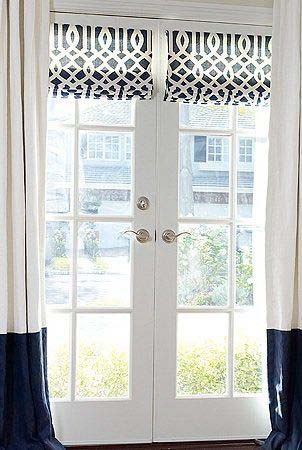 When coming up with your patio curtain ideas for covering up French doors, consider combining color blocks and Roman shades.
Use Roman shades directly over the door windows and longer drapes when you want to partition off the doors in the evening.
11. Plaid Roman Shades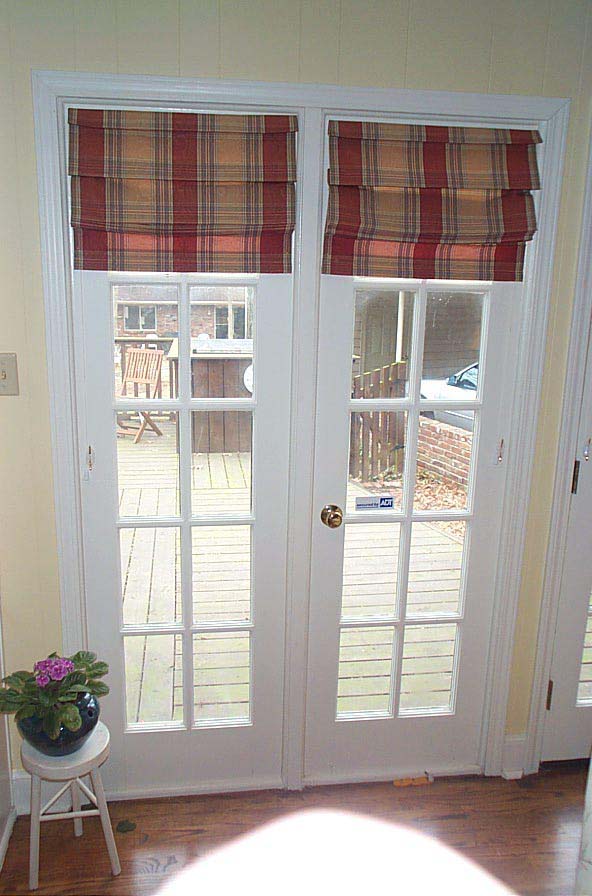 In a more casual setting, Roman shades can be used without curtain panels. Measure for these as if you were measuring for a single window covering.
These Roman shades have been elevated by the use of pattern. Tartan or Madras patterns work comfortably with the country cottage style.
12. Sheer Panels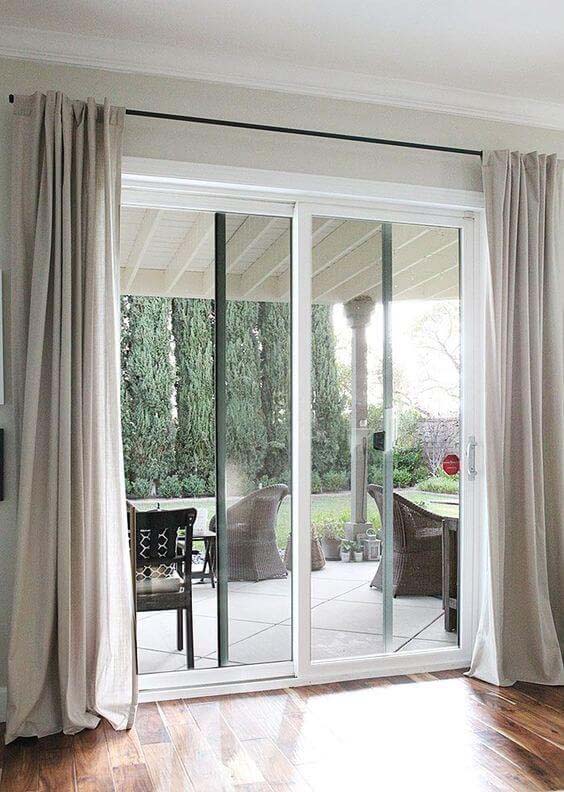 The most affordable way to add window treatments to patio doors is with the use of fabric curtain panels hanging on a simple hanging on a single rod. It's easy to find fabric that matches your home decor.
 Sliding glass door curtains look more natural in a traditional room. Sheer vertical shades are more appropriate in a modern or contemporary room.
13. Vertical Cellular Shades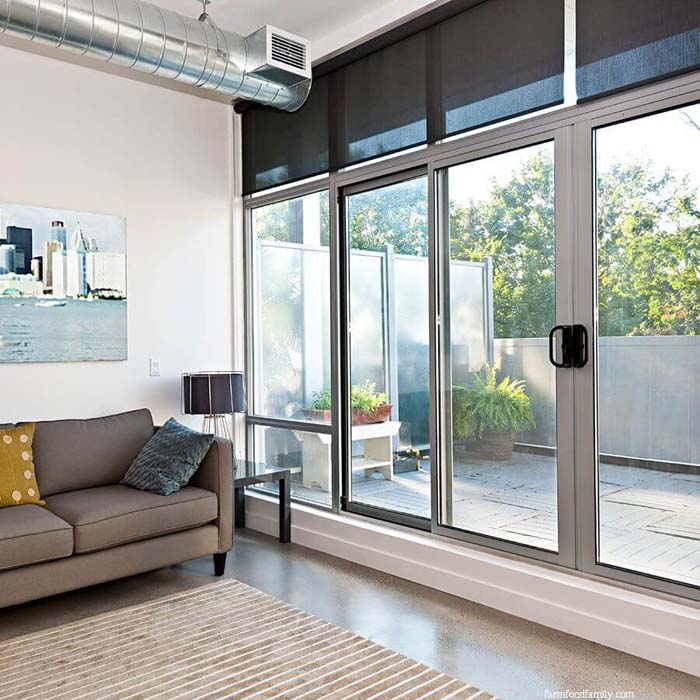 A cellular shade is made of a thin, stiff material formed in small, tight pleats. Vertical cellular shades can be rolled up or folded and are usually cut to fit a single patio panel.
A great advantage to these is using them UV put the UV protection they can provide. These panel track blinds offer a solid alternative to vertical blinds that hang vertically but more horizontally.
14. Honeycomb Shades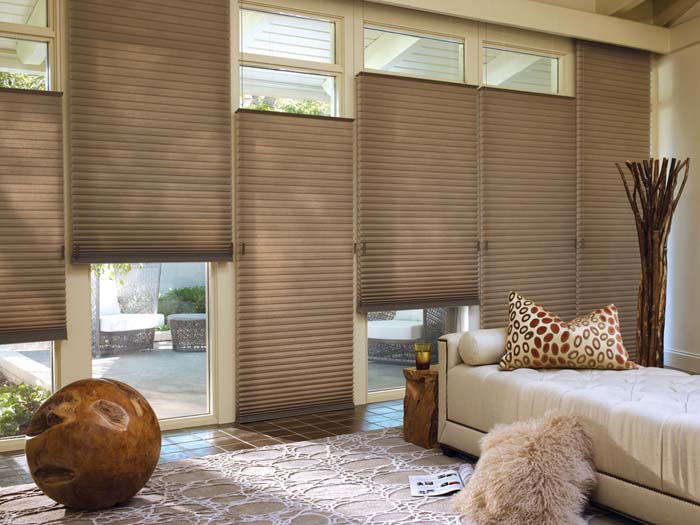 The advantage of the design of cell cellular or honeycomb shades is their insulating properties. Their unique channels trap air, holding a steady temperature near the window.
The versatility of panel track blinds is on full display here.
15. Simple Draped Fabric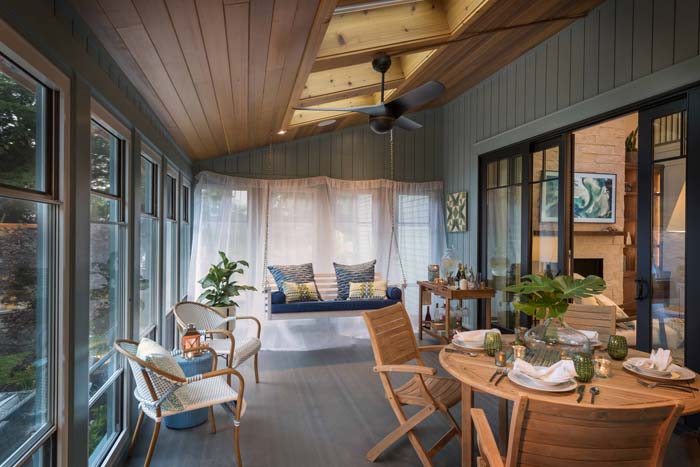 Retractable screens and sliding glass panels call for a unique window treatment on the porch of this Craftsman home.
The designer hung a large bolt of fabric from a cable suspended the width of the room.
via Sweenor Builders Incorporated
16. Automated Curtain Panel Tracks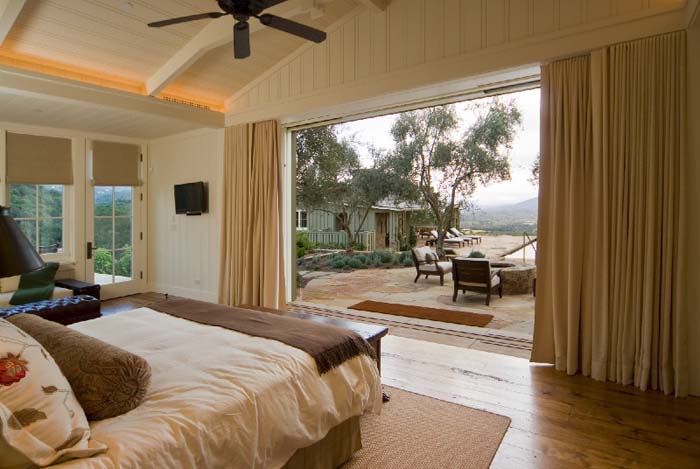 Double pleated curtains add a wall of texture to this bedroom. It looks similar to a theater screen setting.
Using a motorized track allows full coverage of the sliding glass door panels with little effort.
17. White Panel Curtains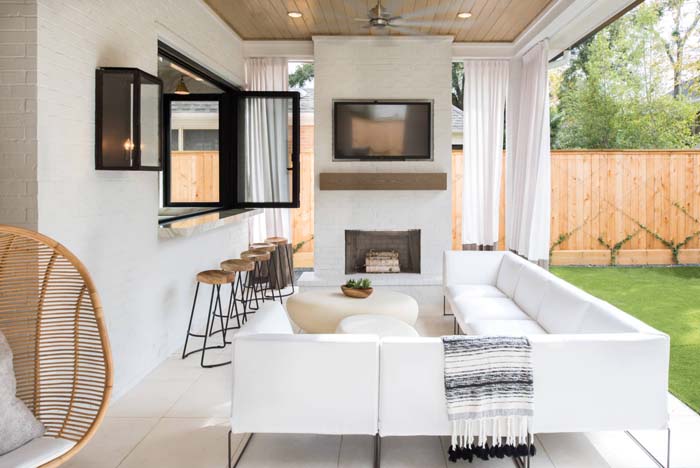 Nothing says summer charm quite like white curtains. These panels are unobtrusive during the day, but can be closed to filter the full sun and provide privacy.
via Wimmel Design & Construction
18. Tab Curtain Panels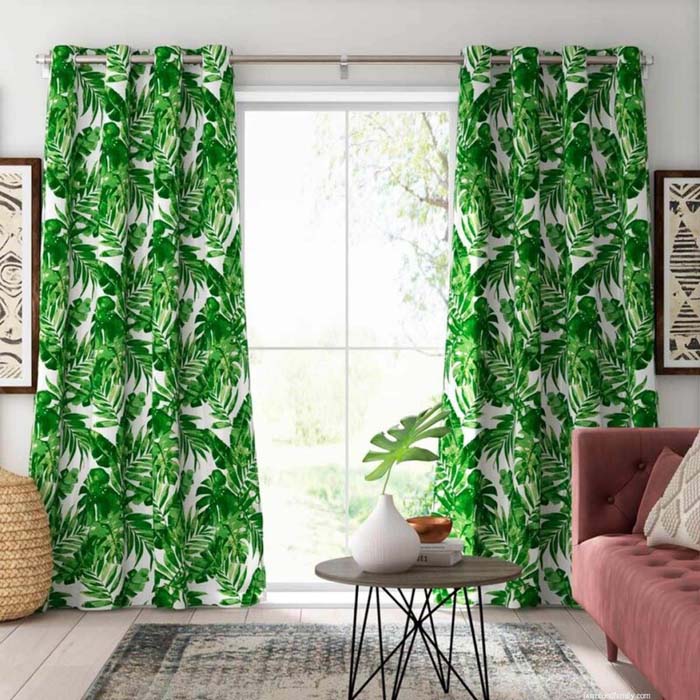 Botanical prints add tropical charm to this living room. Tab window treatments use fabric extensions to hang from the curtain rod.
Tab curtain panels create wider pleats, allowing you to use a larger print which brings a bold look to the room.
19. Sheer Roller Shades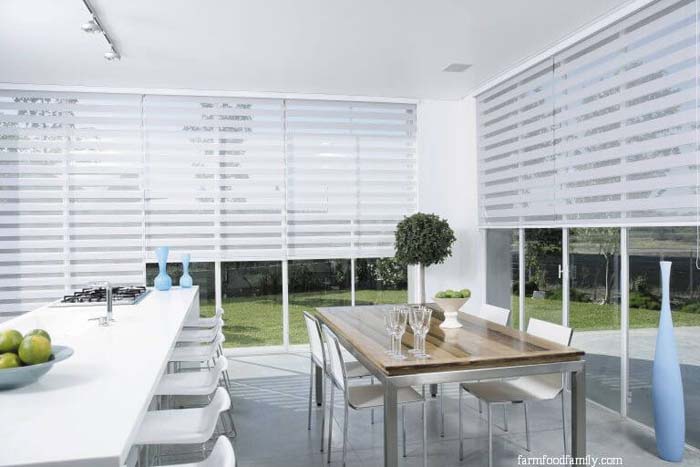 Roller shades come in all sizes and colors. The cassette is often hidden, as is the case with the shades on these window walls. 
A big advantage to using a cassette valance is its ability to create a seamless transition from the window to the wall. You don't have to worry about light shining through any gaps.
20. Fabric Curtain & Awning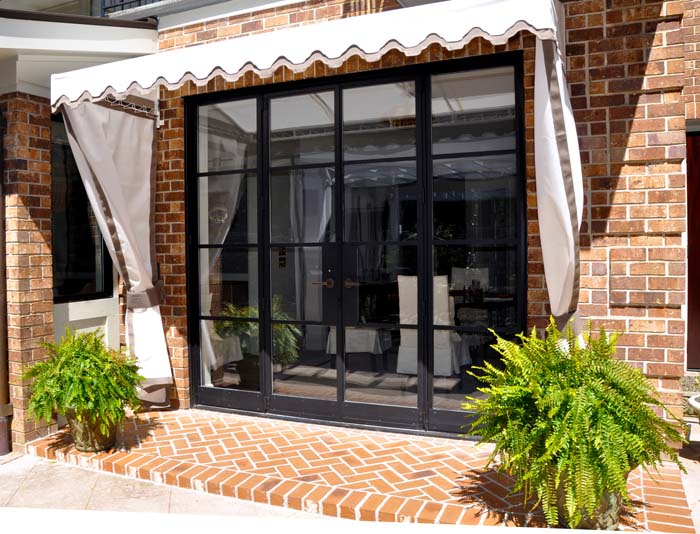 A fabric awning with side curtains offers more protection from the sun than other types of window treatments. The curtain panels become walls, creating more intimacy on the small porch.