One of the most popular trends in home decor is painting a room gray.
If you've decided that your gray room needs a lot more color, consider adding colorful curtain panels.
They can immediately change the look and feel of a room, creating the vibe you're after. Having decided on hanging colorful curtains, you may be wondering what color curtains go with gray walls.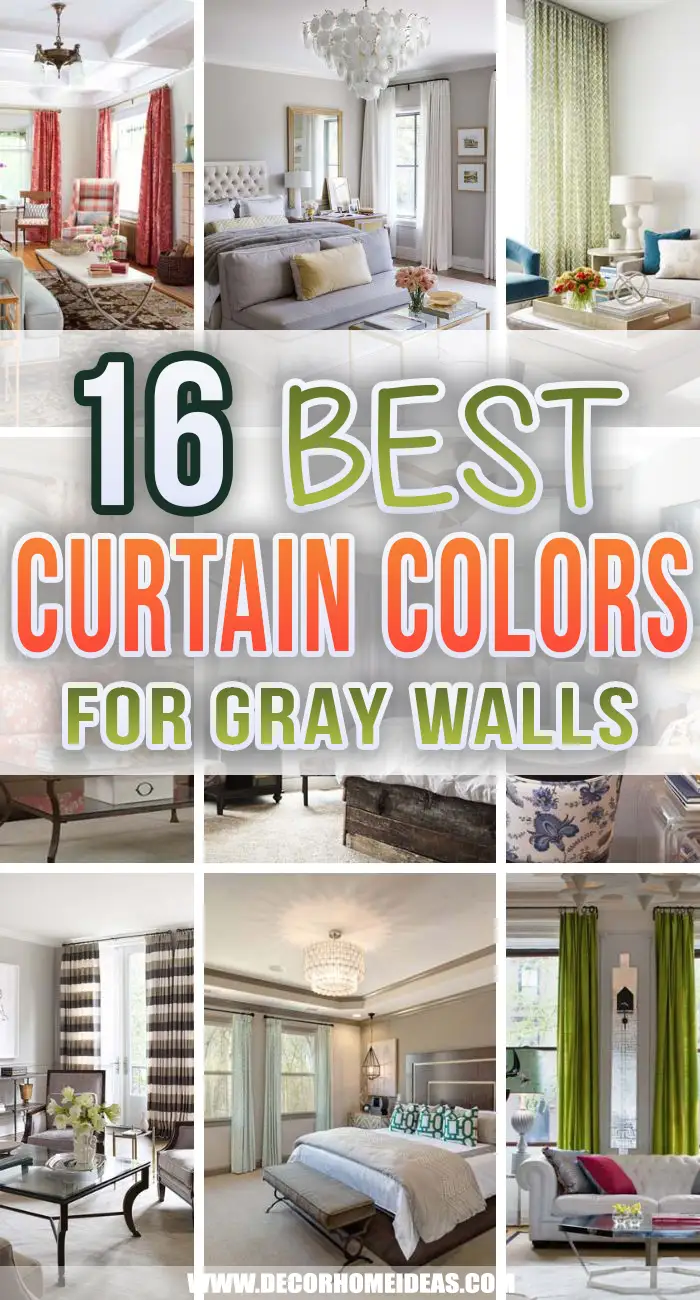 Gray walls can be matched with any color curtains, but it's more than just a color match that you're going for. Gray walls have undertones that can be warm or cool. You need to consider what type of overall feel you're trying to achieve and build your color scheme around that.
You'll also want to consider what kind of texture you're introducing into the room. Thicker curtains tend to evoke a formal, more luxurious feel. Lighter curtains bring an open, airy feel to the room.
If you're really stuck, consult an interior design professional. They'll work with your wall color and help you pick out the right color curtains for your space. They can help you tie together all of your beloved furniture pieces, ensuring your wall decor doesn't fight with the accessories in your room. 
Here are a few more ideas on what color curtains go with gray walls.
1. Black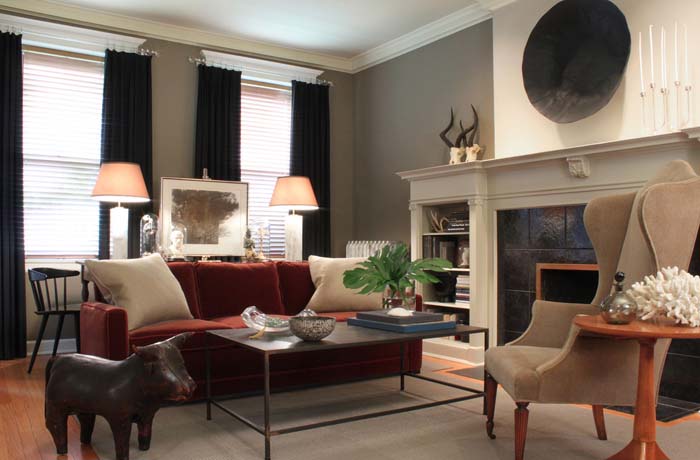 Black curtains bring a formal, high-end feel to a room. It adds a luxurious feel to the gray walls in this living room.
To make the windows appear wider, each curtain rod extends past the crown molding of the window frame. 
Black curtains are also the perfect choice when you're looking for blackout curtains.
2. Brown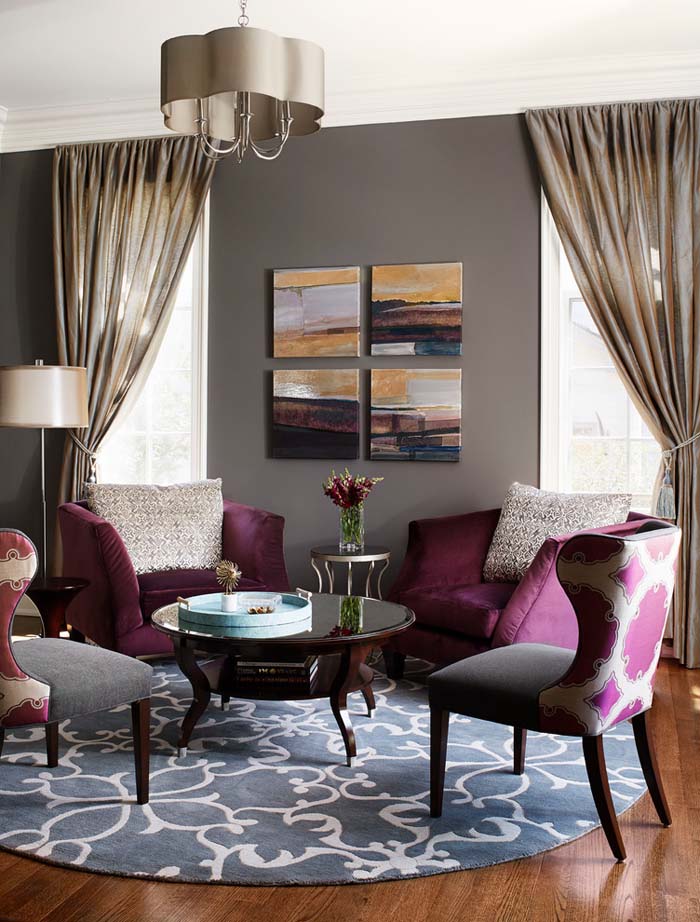 It's hard to go wrong with a brown and gray combination. Brown curtains add warmth to the room, making it feel more inviting.
You can also use brown curtains to create a more unified look with other colors in the room, such as furniture and accessories. It's versatile and can be combined to create a more formal or more casual atmosphere.
via Morgante Wilson Architects
3. Cream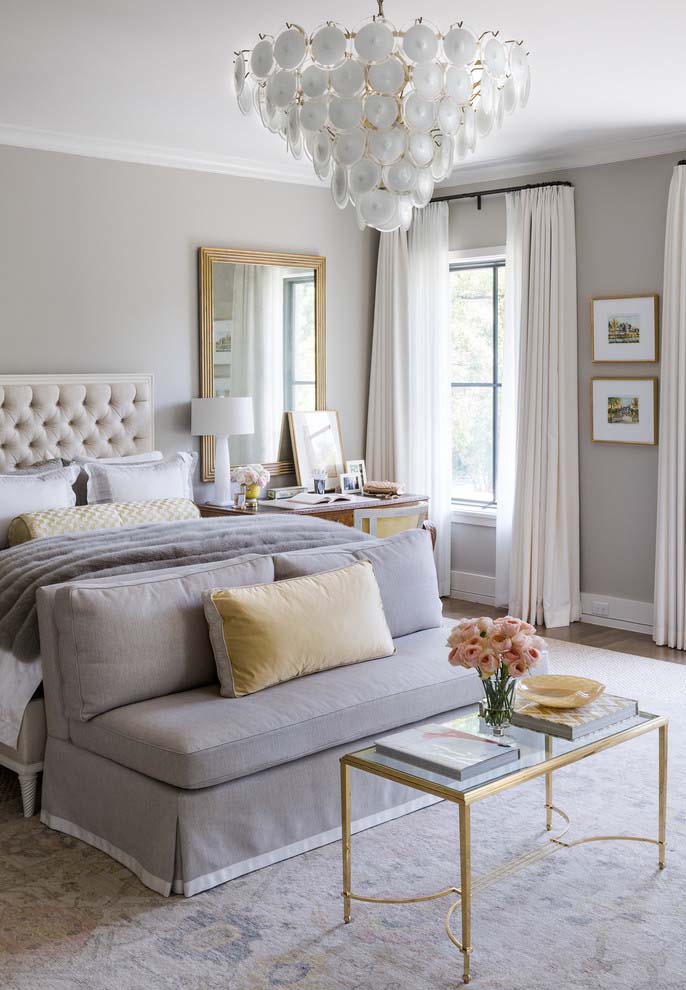 Choosing a cream color for your curtains can brighten up a room with gray walls. This color is great for creating a warmer feel in a space. Pairing cream curtains with a white or light gray bedspread or wall paint can create a very clean look.
Cream curtains go well with gray walls that have warm undertones, like yellow or red. This room is filled with neutrals but avoids feeling cold because golden yellow accent pieces are set strategically across the room from the mirror frame to the coffee table.
via Jan Jones
4. Floral Orange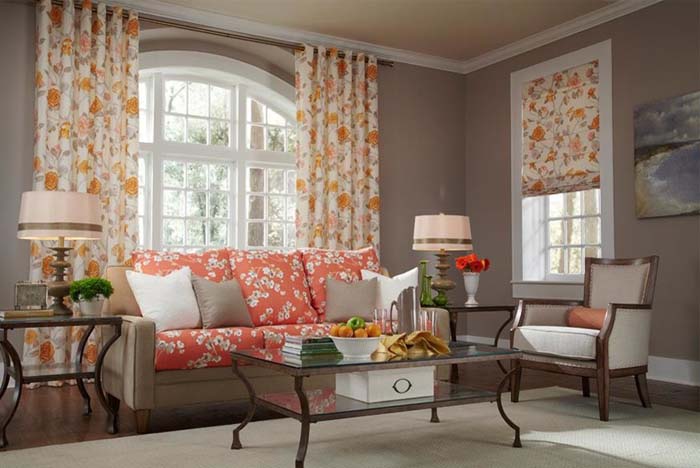 When it comes to color combos, orange and gray are popular choice. Orange is the perfect color to add some life to a gray room, and the two colors together are a great way to add brightness and energy. In addition, orange floral print curtains can add a touch of personality to a room and help to brighten up the overall look.
Floral prints, like the flowers themselves, are soft and forgiving. The orange tones in these curtains pick up the warm tones in the gray walls. Even though the orange color in the couch isn't an exact match to the curtains, the yellow base and floral print make it work.
via Abda Custom Window Fashions
5. Gold Sand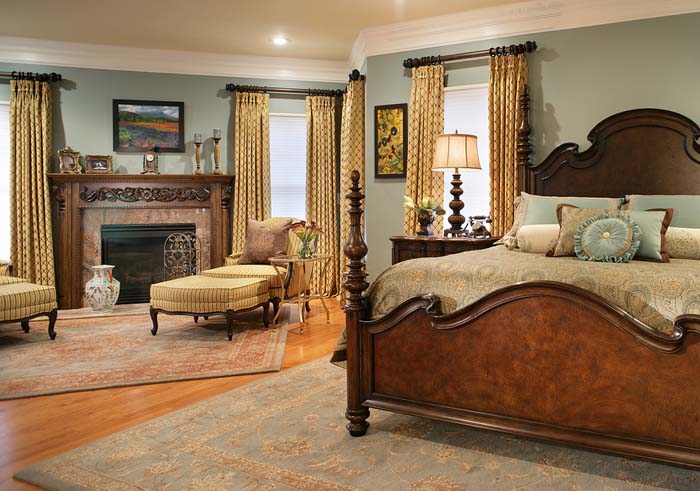 Gold sand curtains can work with any color of gray, but work best with the middle to deeper shades. Warm undertones are a matched pair. Cool undertones provide contrast and interest.
Antique gold curtains are a great way to add a touch of luxury and class to any room. They can be used in any style home, from a traditional setting to a modern one. They also look great in a home with gray walls. The combination of the two colors creates a sophisticated and elegant look.
6. Matching Grays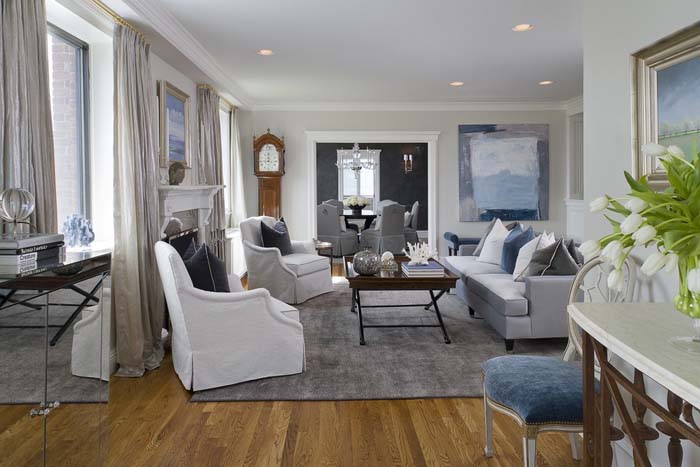 You may think you can't have gray curtains when you have gray walls, but we're here to show you some options. Match your curtains to your wall when you want a neutral background. It creates a nice backdrop for any accent color.
In this case, the blue accent color creates a serene room. The wood accent pieces and floor get an extra shot of warmth as they contrast with the cool background. The tone-on-tone shown here is in a light pewter gray. Consider using charcoal gray curtains when you want to give your room a touch of sophistication.
7. Green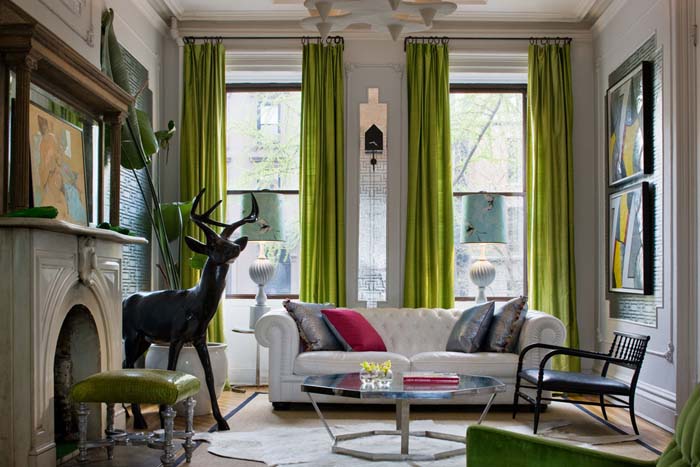 Green curtains bring an organic element to a room. Paired with gray walls, we see how striking they are without taking over. These curtain panels dictate the dominant accent color in the room.
The white couch and rug almost float in the center of this eclectic living room.
8. Navy Blue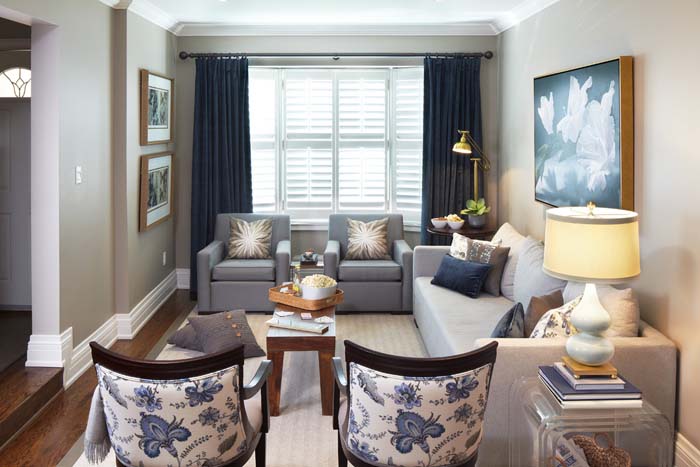 Navy blue panels add a comfortable formality to this room. They make the room look longer than it is.
The color is picked up in toile fabric on the backs of the chairs in the foreground.
via Sealy Design
9. Patterned Light Green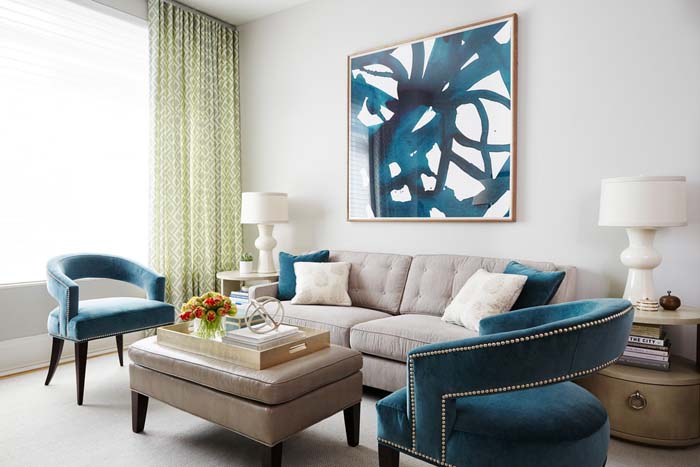 The pattern in these light green curtain panels adds a secondary accent color. It's a great contrast to the turquoise accent chairs, throw pillows, and painting.
The pattern in these sheer curtains also introduces another texture to the room, which is needed against all the smooth fabrics.
via Nicole Gibbons
10. Pink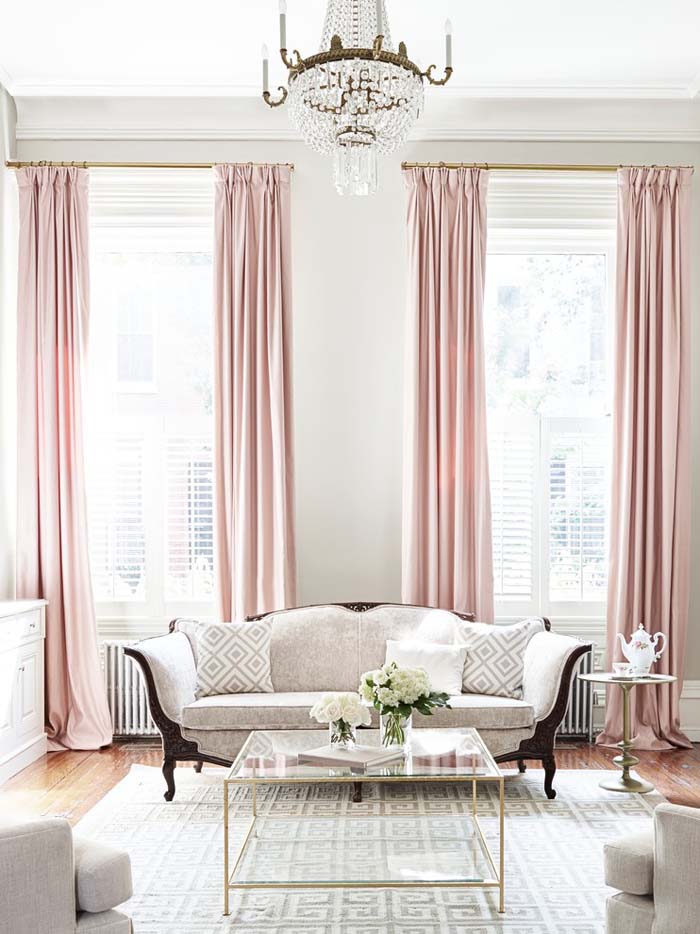 Consider using pink curtains with gray walls to add a pop of color.
Pink may not be for everyone, but these dusty rose gray panels are a sophisticated statement in this formal living room. Light shades of any color are a nice complement to a light grey wall.
via Shophouse Design
11. Pure White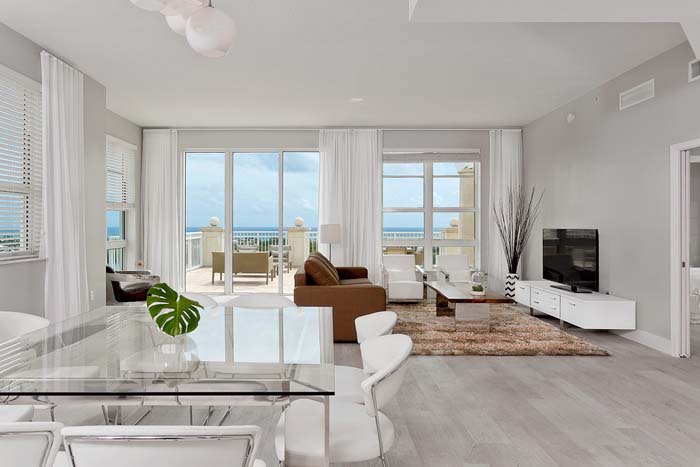 When it comes to decorating in a modern style, gray and white are becoming the alternative pairing to a black and white color scheme.
Related: Measuring Your Windows For Curtains: Standard Curtain Sizes
Pure white curtains are the right match for this coastal style open floor plan. They tie in with the white chairs and white media console.
12. Purple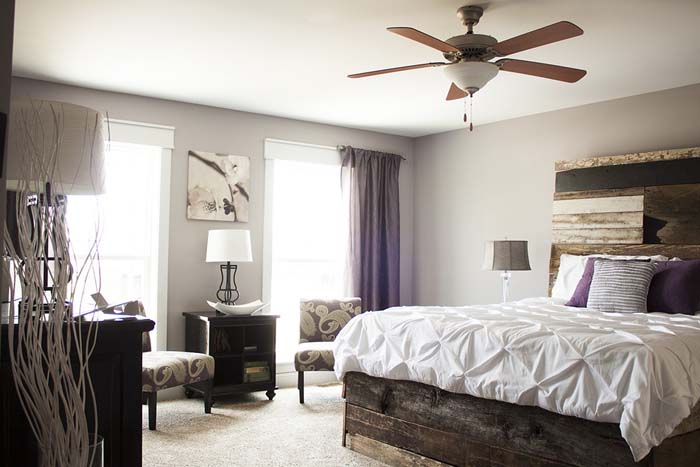 Purple curtains with gray walls can add a sophisticated look to any room. It's a deep, luxurious accent color that doesn't take away from the room's ambience.
These lightweight purple curtain panels blend in with the organic elements and neutral tones in this bedroom.
13. Red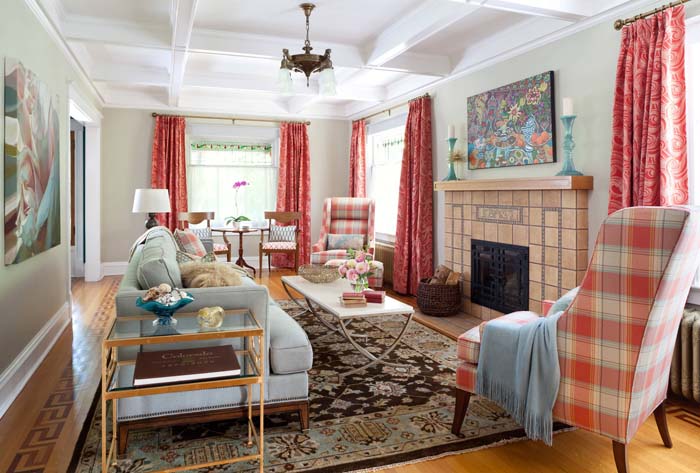 Red curtains are a bold choice in this living room.
The choice works because the warm yellow undertones in the gray walls run through all the red accent pieces, including the fireplace, floor, and rug.
via Atelier ID
14. Striped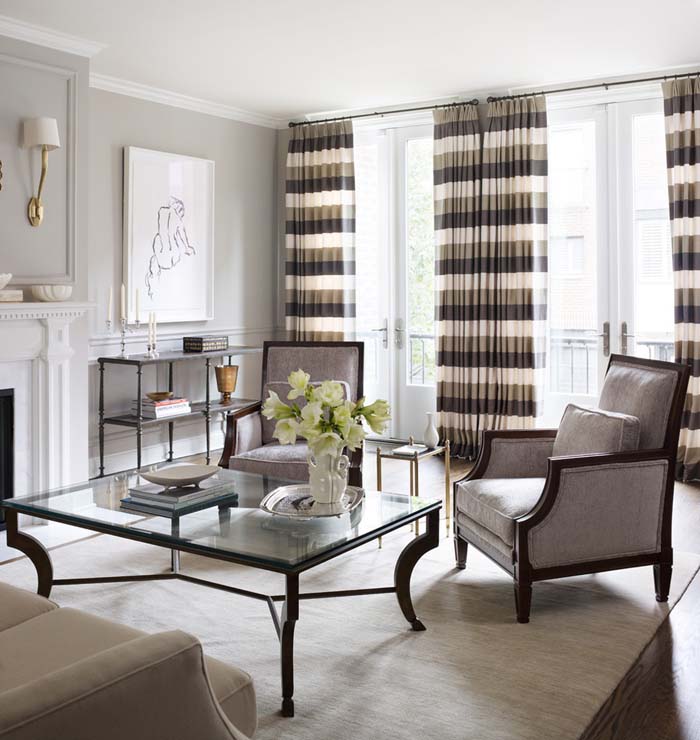 Think of these striped panels as color swatches for the rest of the room. The colors are picked up in the chairs, couch, rug, and fireplace. The stripes bring texture and cohesiveness.
This is a great alternative if you feel like nothing is working and you're afraid you'll have to settle for plain beige curtains.
via Kim Scodro
15. Teal
When choosing curtains for a gray wall color scheme, teal is a great choice because its light blue color compliments gray while still looking fresh and new. Lighter shades evoke a calm, coastal feel. Teal curtains can help brighten a room while keeping it cool and modern.
If you're really having trouble deciding what color curtains go with gray walls, teal is a solid and safe choice. It also works as an accent color in this gray and brown room. The dark walnut furnishings get a light touch with the teal curtain panels.
via GMD Design Group
16. Turquoise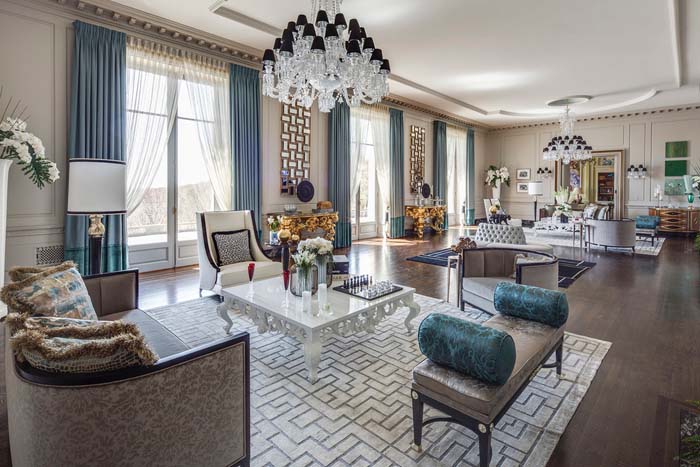 The turquoise accent color is set up as a jewel tone in this gray and brown room. The color is deep enough to ground the room.
This gives the reflective surfaces a chance to cast light without being a blinding show.
via Alan Schatzberg