Choosing curtain colors is just one aspect of matching up to one color wall in particular.
We don't want to say, "never pick red curtains," because it may be the right choice for your personality and style.
As with every other choice in the room, choosing the right color curtain depends on several things.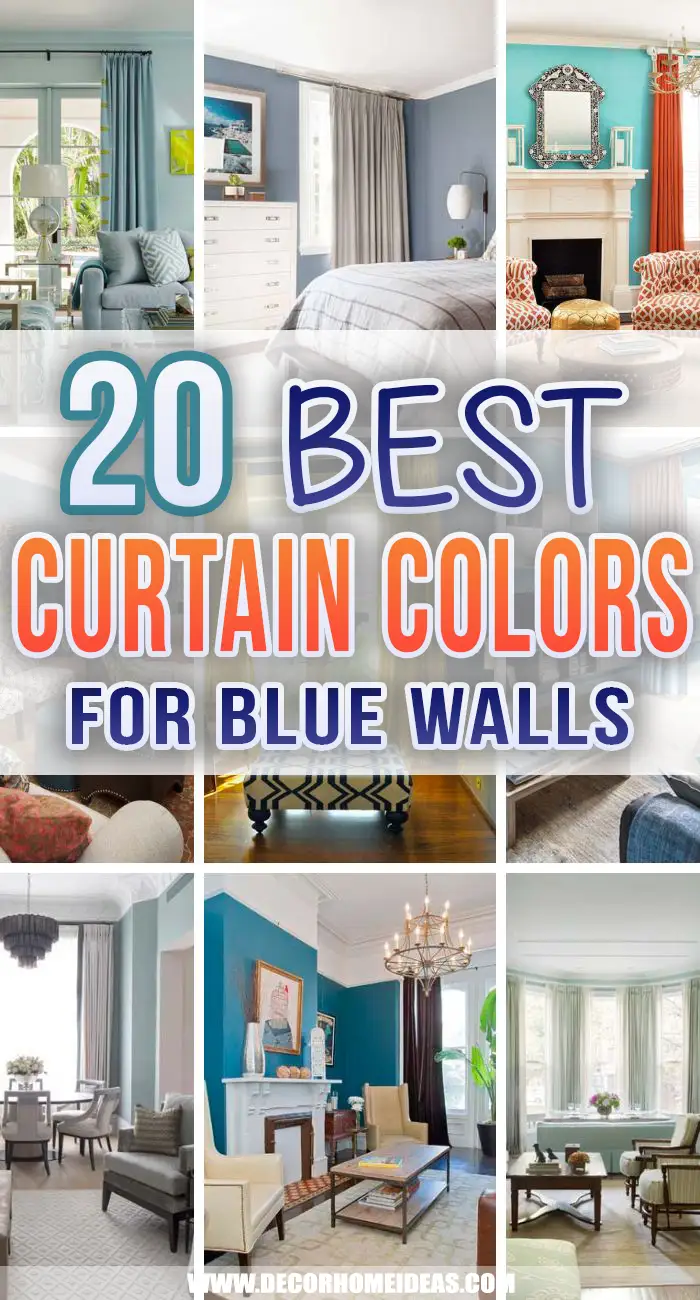 What color of curtain goes with a blue wall?
When it comes to decorating a room, don't forget about curtain colors. If you're a seasoned decorator, you may be comfortable working with a dark blue wall color. If you're just getting started with interior design ideas, here's a friendly reminder that the color of your curtains can make or break the room. Keep on reading if you'd like to learn more about what color curtain goes with blue walls.
Overall Style. If you're set on a colonial revival, green curtains would be an unconventional choice. However, if a coastal style is more to your liking, there may be a shade of a green curtain that suits your room perfectly. 
The room's style will also determine the curtain fabric and type of draping the curtains will have. If the room is a light color, a lighter, sheer curtain fabric is usually a safe choice. If it's a formal living room, you'll want to go with a more substantial fabric.
One more note is that sash curtains are sheer more often than not. Since they sit in the window frame, a sash curtain is made from a thinner fabric to allow in more light.
Shade of Wall Color. Pale blue walls evoke a different emotion than navy blue walls. One wall color generates serenity, while another creates energy. We'll take a look at different wall colors so you can see how a curtain color can change the mood of a room.
1. Cream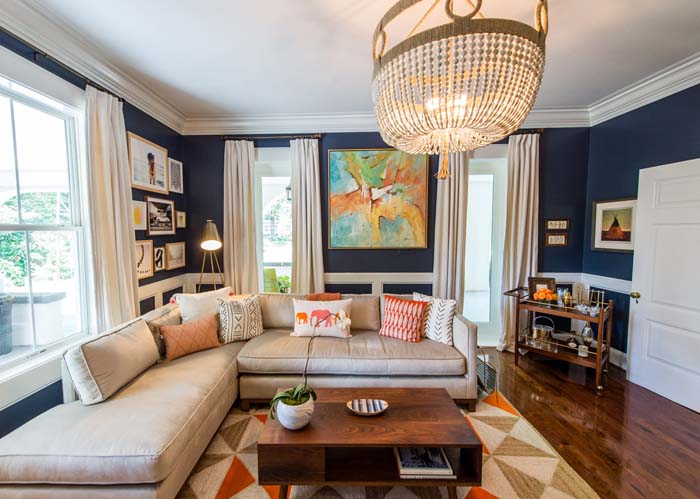 Cream works as a lighter shade in a neutral palette. It has undertones of yellow, which work with blue in the color wheel.
Here, we see it complementing brown and soft orange hues against navy walls. 
2. White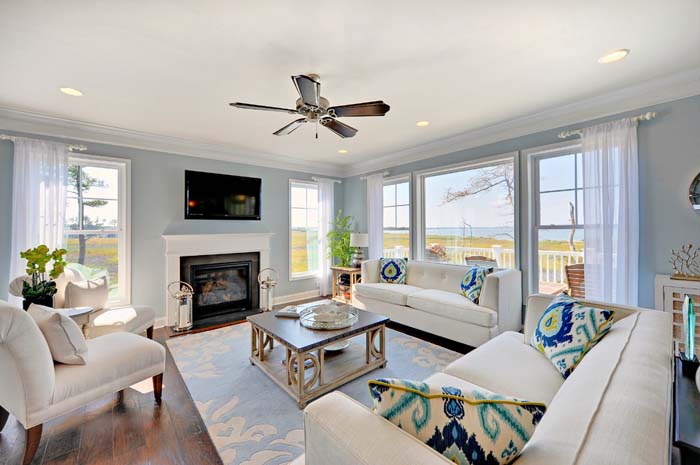 White works when you're trying to make any kind of statement.
It can work as a bold color against a navy blue wall or it can work with a light blue wall as we see in the room above. Sheer white curtains amplify the airy coastal feel of this living room. 
via Schell Brothers
3. Black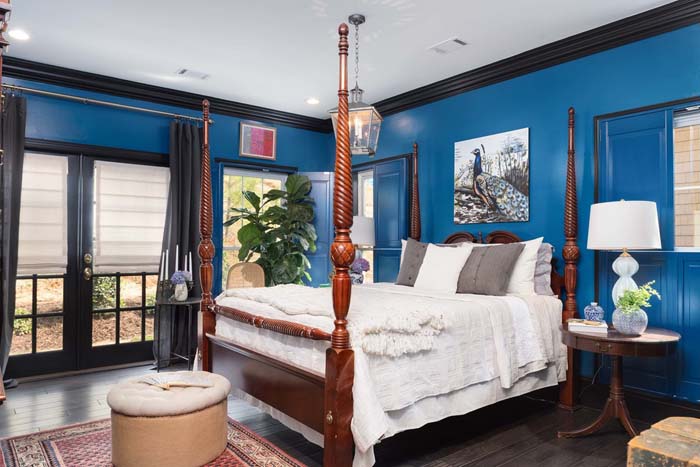 Black curtains bring drama to a room. It's the best choice if you need a blackout curtain.
In this cobalt blue room, it works with the molding and window trim to bring definition to the space.
4. Taupe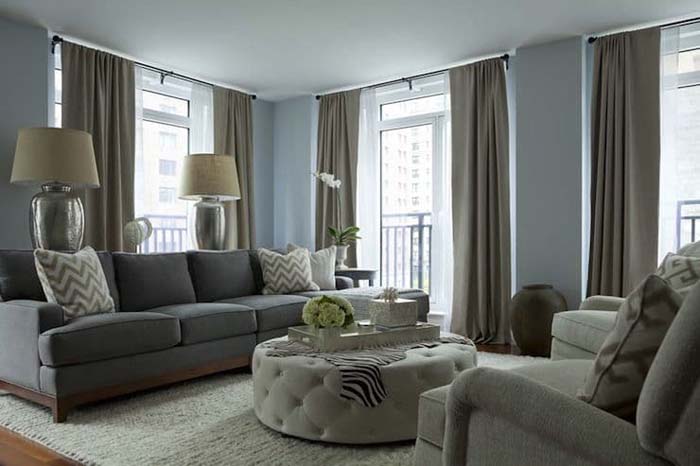 Taupe works with any shade of blue. It works with navy blue walls in the same way as cream-colored walls.
It subdues the tone and has less drama than white curtains against navy blue walls. It will also work with a soft neutral palette, as shown above in this living room with the gray couch and beige accents. 
5. Brown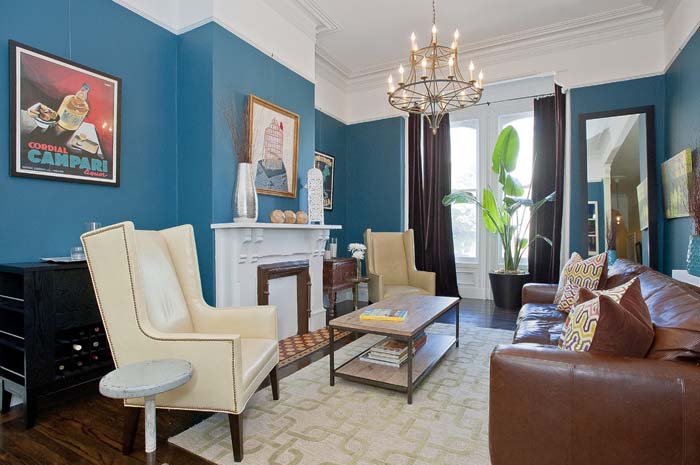 Brown and blue are a natural color pairing when you're working with warm colors.
Brown curtains, like any other dark curtain, work especially well if you're planning on hanging thermal insulated curtains.
What Color Curtain Goes With Blue Walls video:
They're a great choice for blocking light. They're also a natural pairing for dark stained furniture. 
6. Navy Blue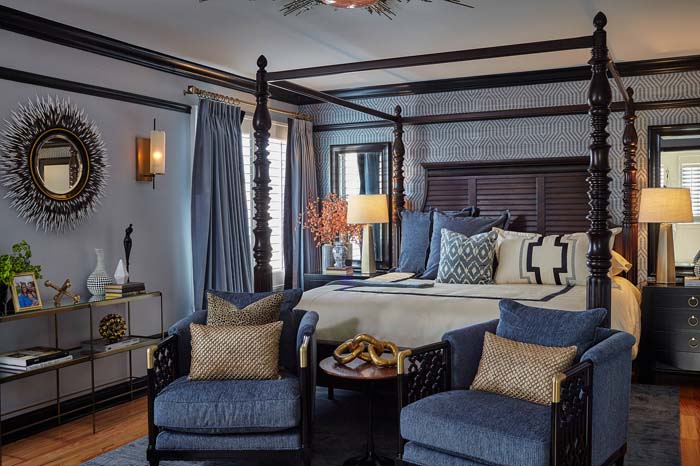 You may not think that you can use a blue curtain with blue walls, but it's actually quite common.
Navy blue is a natural choice against a lighter blue wall. If any furniture, accent pieces, or textiles in your room are navy blue, matching the color in the curtains will help unify the space. 
via Tiffany Brooks
7. Blush Pink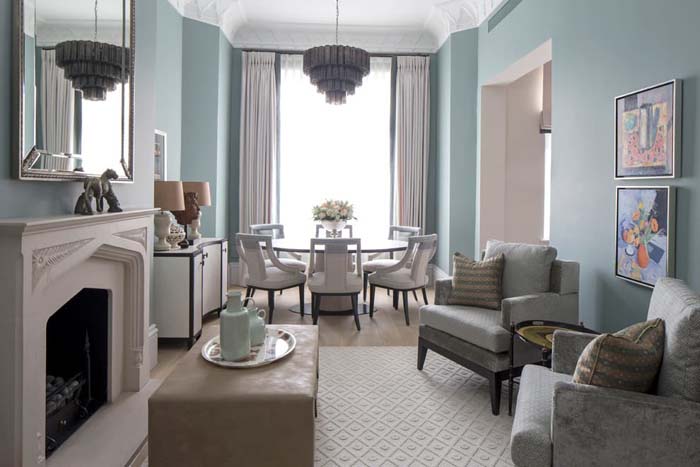 Blush pink has a soft coastal feel. It works with soft, muted tones such as the room shown above with its cream colored rug, soft gray chairs, and light teal walls.
Used with the right tone of blue walls, it's very sophisticated. If the colors become too bright, it will appear childish.
8. Aqua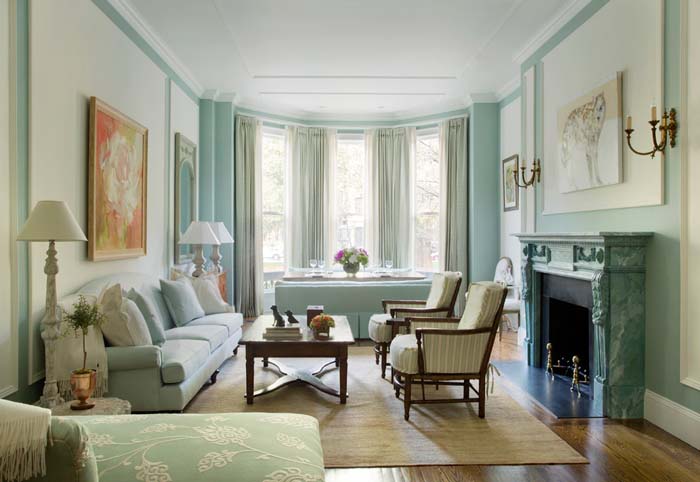 Aqua is the ultimate choice for a coastal style room with light blue-green walls. It's light and breezy, especially if you choose a sheer or semi-sheer fabric.
It works with these muted Coastal colors and neutral sand-inspired palette. 
9. Pink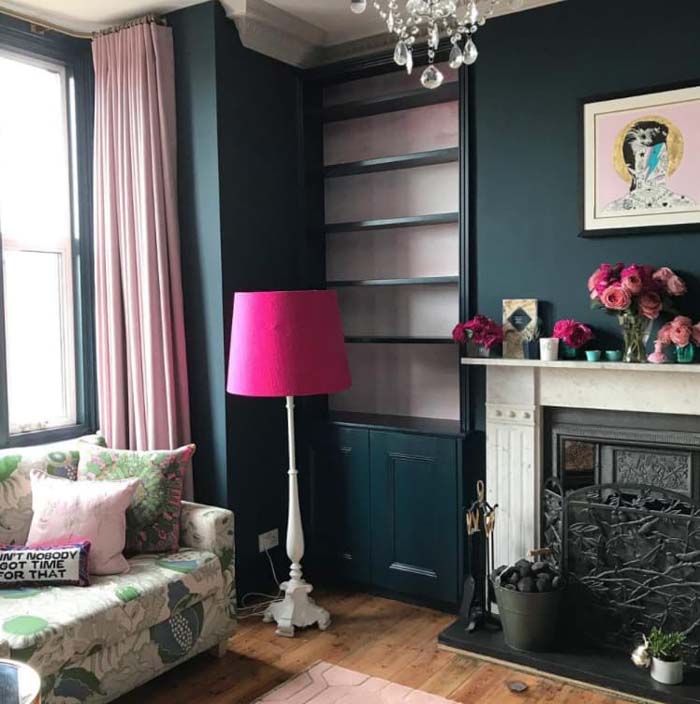 Pink isn't just for little girls' bedrooms or the vanity anymore. It's become a bold choice for everyday rooms such as the living room. It's especially bold when paired with deep blue walls as seen in this living room.
There are definite feminine touches here, with the right pink lamp shade, pink back wall on the bookshelves, and classic crystal chandelier. 
10. Light Blue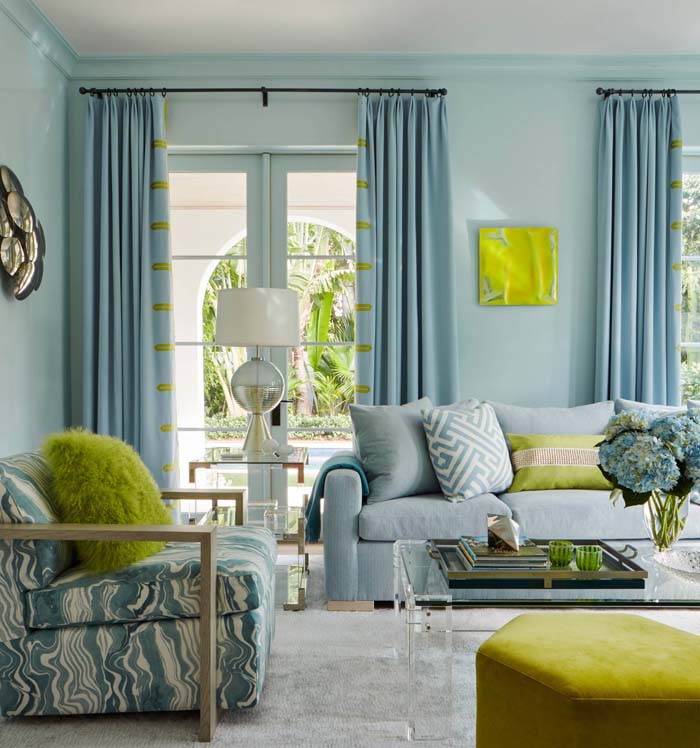 Light blue is a calming influence in any room. It looks especially calming when used with walls of an even lighter shade of blue.
Lime green accent pieces work with the light blue palette to bring a tropical vibe to this modern room.
11. Gray and White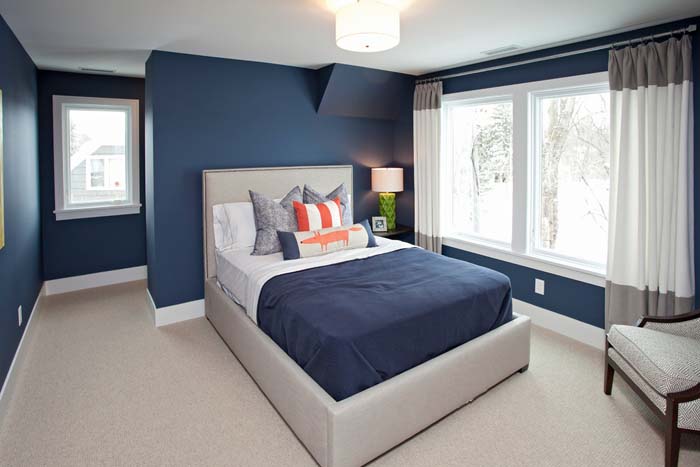 Gray and navy brings a masculine quality to the room. Adding gray to a navy and white room adds a more modern feel to a combination that can feel nautical almost to the point of caricature.
The dark gray color blocks add a nice variation to the light gray bedding and furniture. Sheer curtains allow lots of light to flow into this room.
via Refined
12. Yellow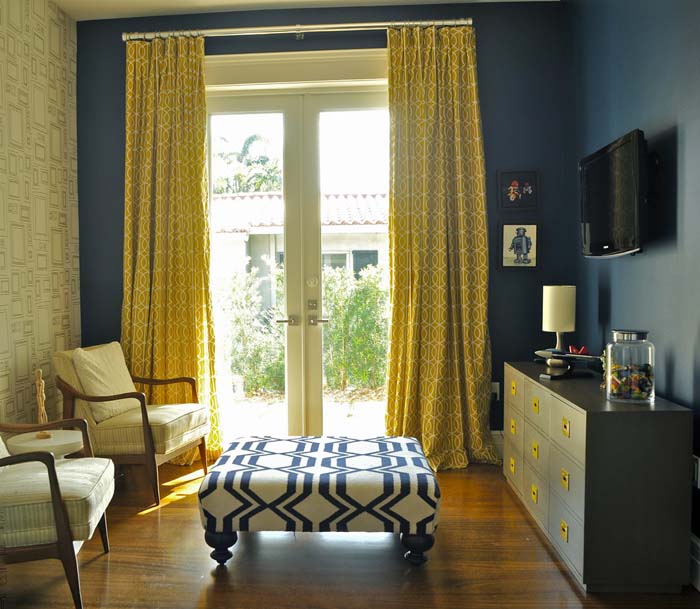 via B Design Home
Use yellow curtains with dark blue walls to bring energy into the room.
They'll capture and reflect light, so be sure and add some shiny gold or brass accent pieces, like the hardware shown on the dresser in this room. 
13. Gold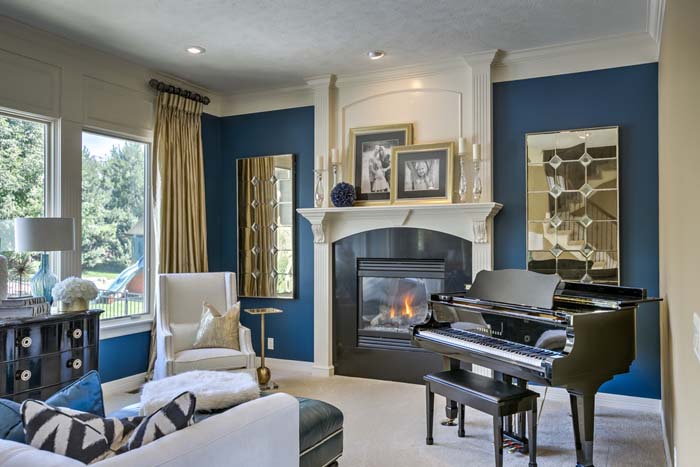 Gold brings glamor like no other color. Using a shimmering textile adds elegance to this room's modern design.
Like the yellow curtains in the previous picture, shiny elements and textiles are used to enhance the reflective energy of the room, adding even more sparkle.
14. Brick Brown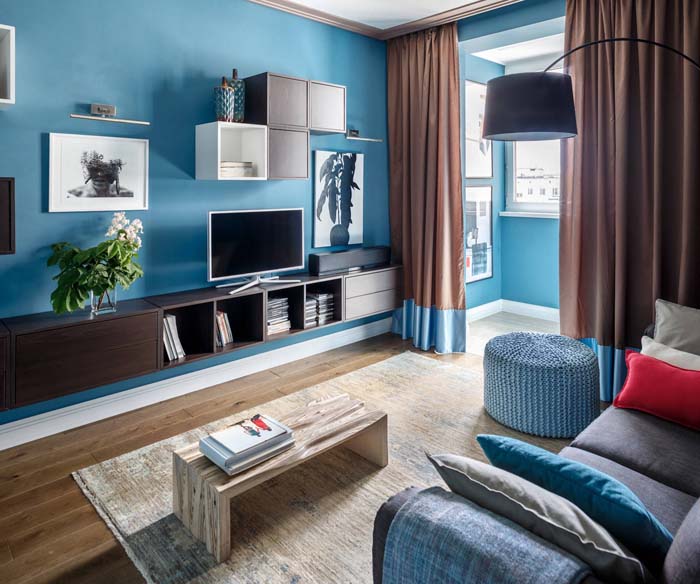 Brick is the perfect choice against a sky blue wall.
It's a comfortable and cozy color combination. We like the matching color block at the bottom of these panels.
15. Circle Patterned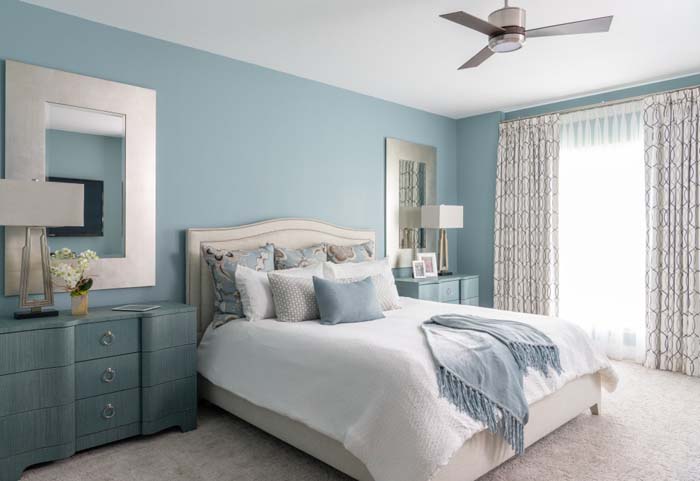 Introducing a patterned curtain works as a way to add texture without conflict.
The simple circular pattern adds interest to this art déco inspired room without fighting with the furniture or bed clothes. 
16. Brown Pattern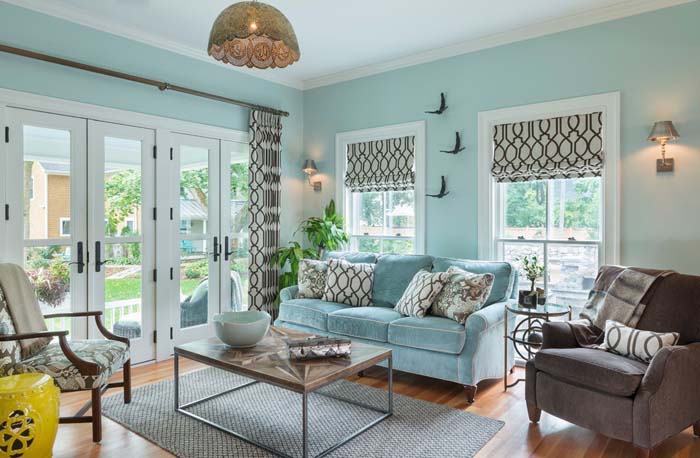 A brown pattern is used to continue the brown accent color onto the curtains without taking away from the light feel of the aqua walls. 
17. Ecru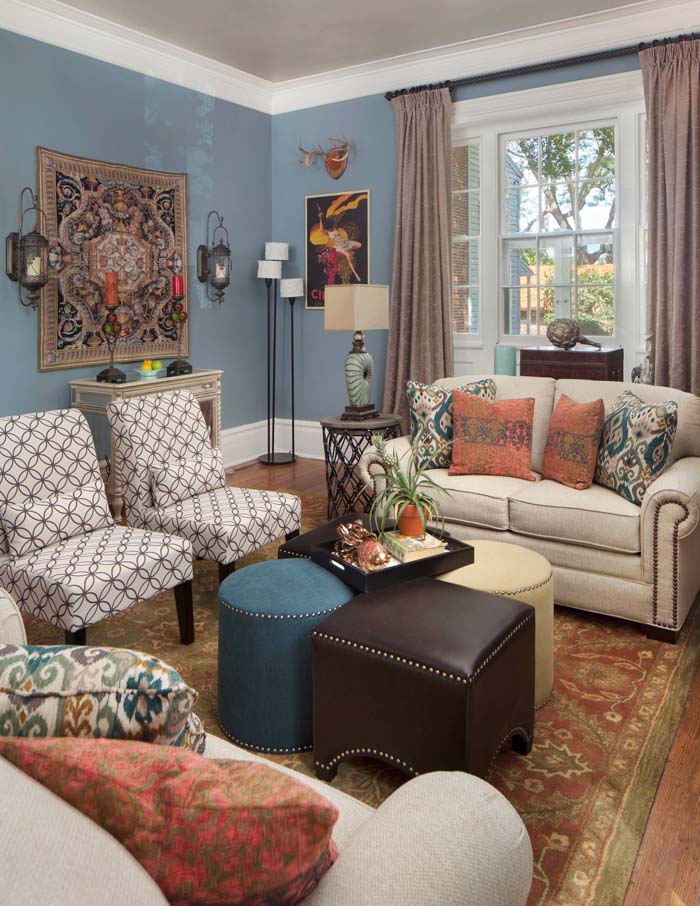 Ecru is the choice when you want a linen-like texture that offers soft brown undertones.
It's considered the color of unbleached linen and works well with beige furnishings. This makes the color a creative substitution for linen curtains. 
18. Light Gray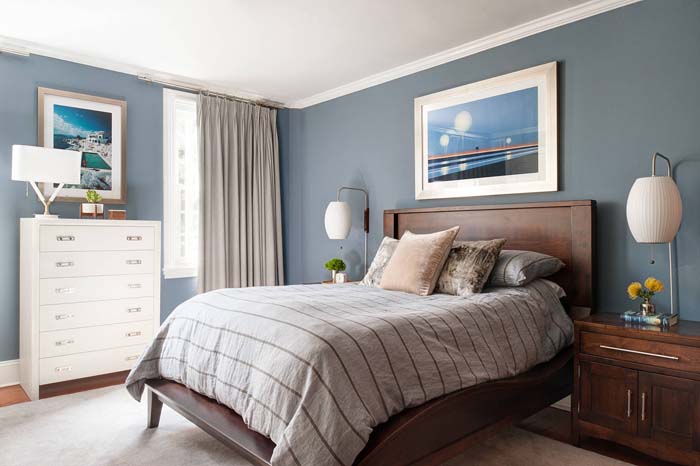 Grey curtains are a popular choice when working with blue walls.
Light gray curtains bring a calm feeling to a room with blue walls. Since many shades of blue have gray undertones, it's easy to work with this color scheme.  
19. Beige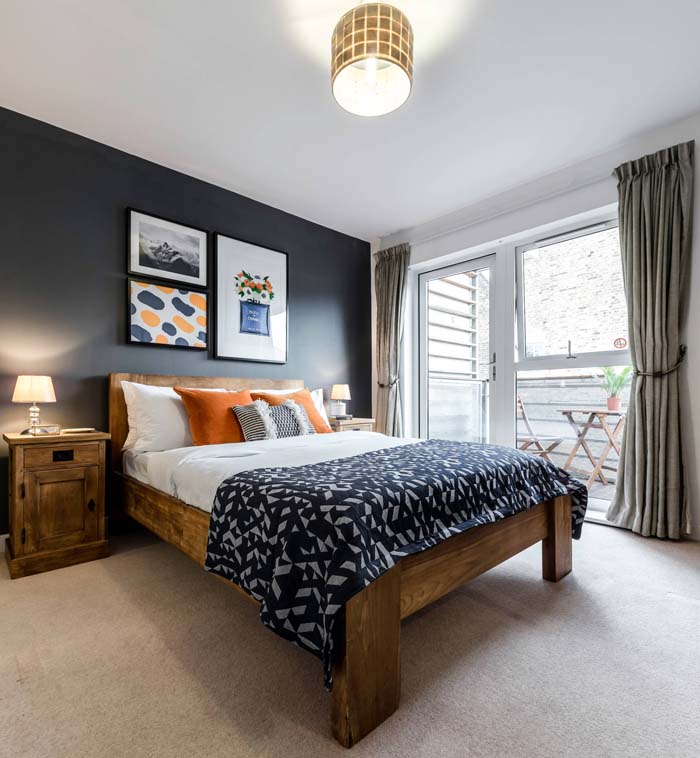 Beige curtains are similar to light gray curtains, but they have yellow undertones.
This is definitely a color that needs to be seen in the context of your room. You won't get a feel for this color in a showroom with fluorescent lighting.
20. Orange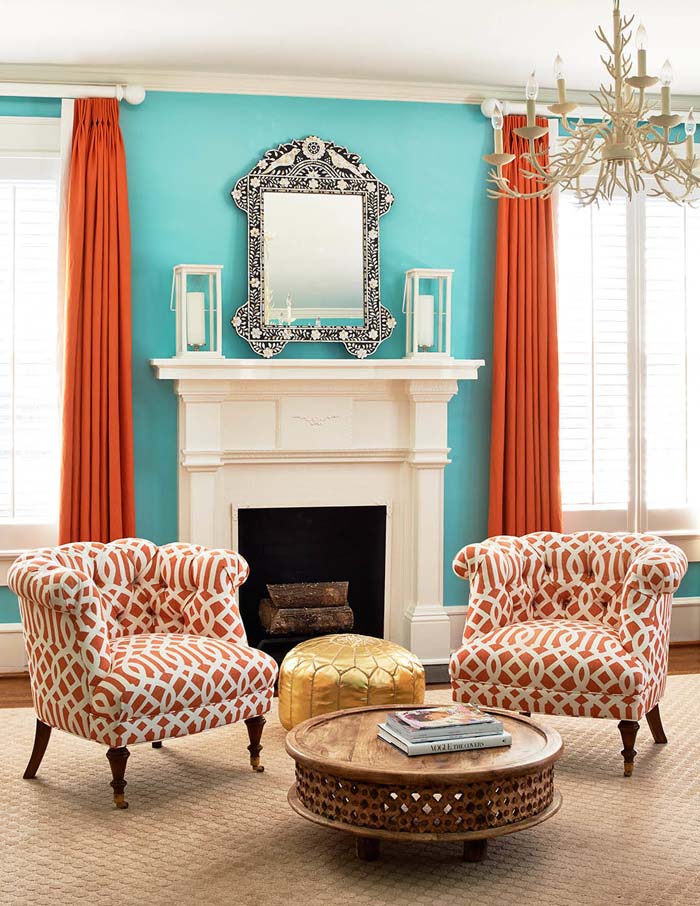 Orange is an energy bomb and a bold choice for a complementary color. Orange curtains create a whole new attitude in this funky seating area with its teal blue walls.
It brings out the undertones of neutral colors. When you're choosing a curtain color and want a welcoming, fun feeling, orange is hard to beat.
via The English Room