If you want to open up the space in your home and feel like you can't breathe, then it's time to consider how you can renovate your living room.
A dark and closed-off living room can be frustrating and make your home feel much smaller than it really is.

Instead of living with a living room that you don't love, you can easily update it and enjoy a much brighter and airier space.
Take some inspiration from the professionals at Blackband Design.
Owners Greg and Wendy Blackband are loved for their ability to help transform dark and cramped spaces into open and airy ones.
They specialize in creating homes that are the perfect mix of polished and your personality, allowing you to enjoy an open space that feels inviting.
1. Add Architectural Interest to Your Ceiling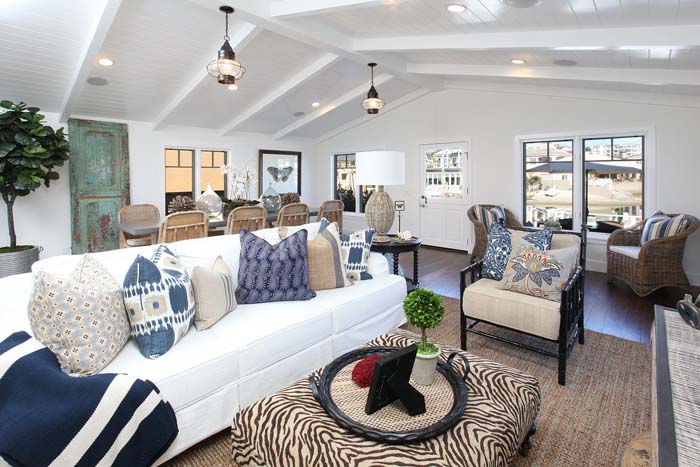 One of the best ways to make a room look large and airy is to emphasize the ceiling.
Any home with a vaulted ceiling will instantly look more open, but you can add architectural interest with beams across the ceiling.
Rather than leaving them exposed, painting them white helps them to blend in a little and give the appearance of a more open space.
2. Make the Most of Large Windows with Crafted Built-Ins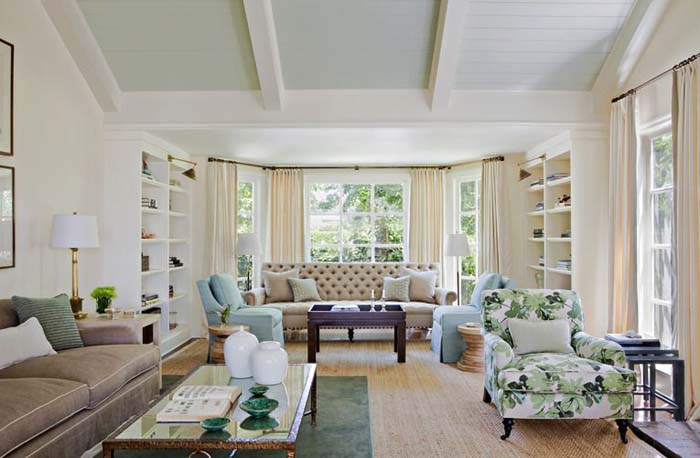 Large windows look even more impressive when they are framed by gorgeous built-ins.
Keeping the built-ins a neutral color helps to prevent them from adding too much visual weight to the house.
It's important to avoid adding too many items to the shelves, as they can make the shelves appear cluttered and detract from the overall beauty and design of the room.
3. Anchor Neutral Spaces with Dark Colors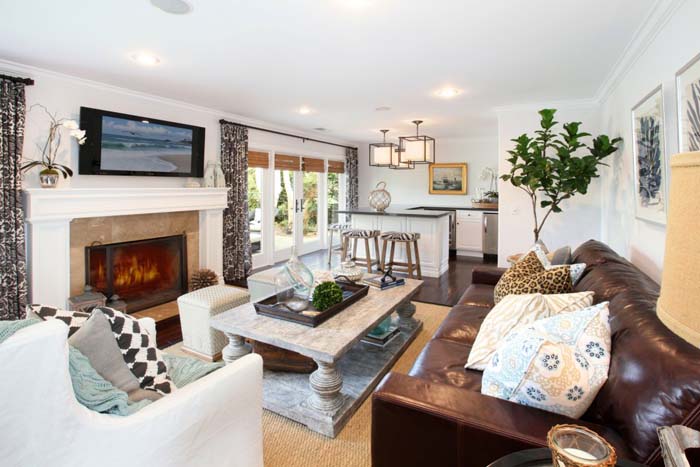 It's a good idea to anchor a neutral space using some darker pieces, and one great way to do this is with a dark fireplace surround, as well as a darker sofa.
They help to prevent the space from appearing too ethereal and do a wonderful job at setting limits and boundaries in the space.
By choosing a sofa that is the same color as the fireplace surround, you can make sure that the room feels clearly defined.
4. Add Subtle Elegance with Shades of Blue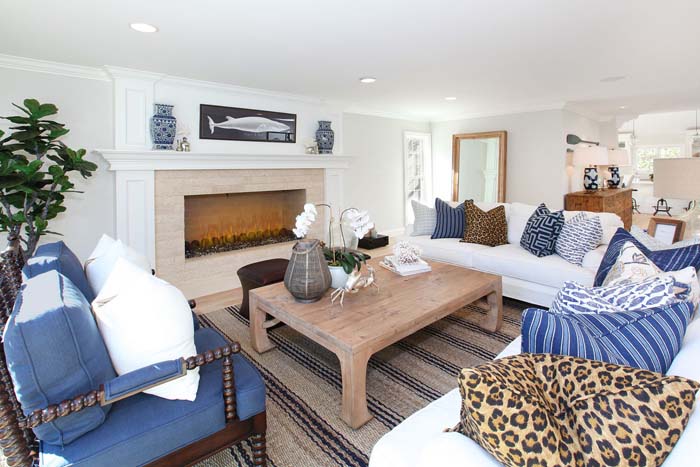 Blues are a wonderful addition to any neutral room since they are a natural color, but are a bit more weighty than whites and tans.
This room still manages to feel open and airy thanks to the careful selection of various blue fabric, as well as the way that it was sparingly used around the space.
This prevents it from becoming the focal point.
Related: 9 Fantastic Living Room Color Schemes
5. Transform Your Room with Stunning Wood Floors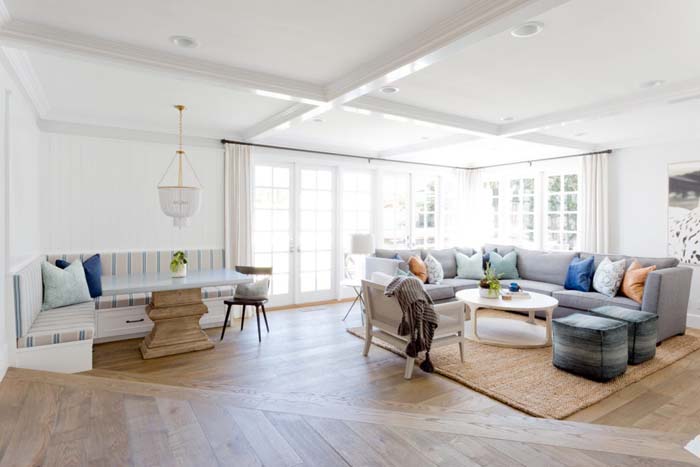 A gorgeous wood floor should never be completely covered up, but instead should be allowed to shine so that you can enjoy the way that it looks.
Large planks and interesting lines will help to draw the eye down, while open windows and a structured ceiling draw the eye back up.
This ensures that the room looks open and larger than it is.
6. Create Visual Interest with Elevated Ceilings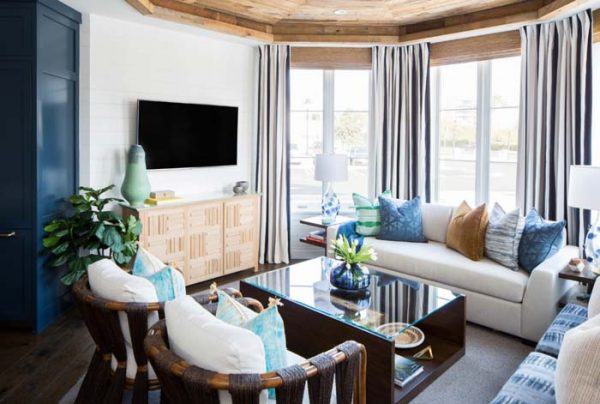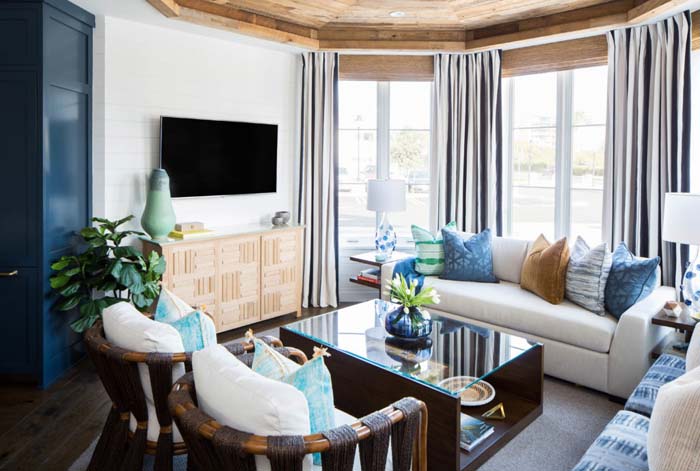 It may be an old trick to hang curtains high on the wall to make the ceiling look taller than it is, but it certainly works.
This not only frames the windows and helps make them more of a focal point in the room, but also makes the ceilings look much taller, which is beneficial in a room of any size.
7. Reveal the Charm of Large Windows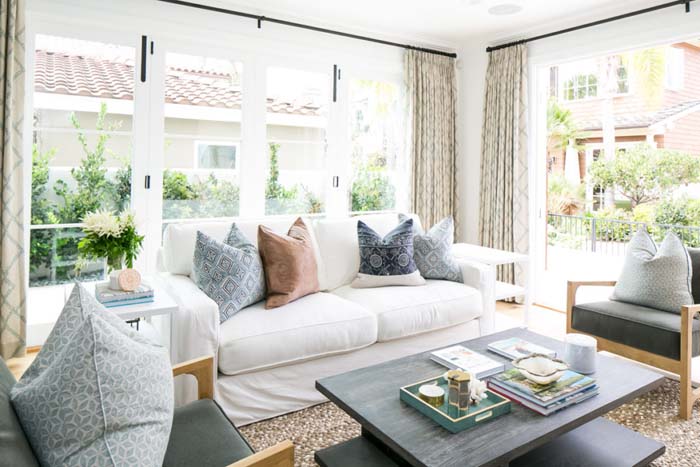 Natural light in a space is the best way to make it feel and look airier.
Homes with large windows can enjoy plenty of natural light, even with furniture placed in front of the windows.
It's a good idea to choose neutral colors if putting furniture in front of windows so that the light can be reflected and bounce into the room.
8. Create a Cozy Seating Area with Minimal Space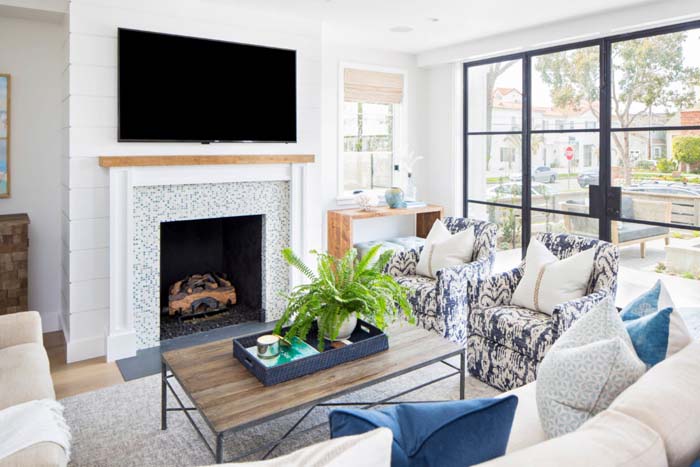 A cozy seating area is a great way to partition off part of a living room without making it feel cramped.
Thanks to the wall of windows behind the chairs, this seating area feels open and accessible instead of like it was shoved into a corner.
The light surround around the fireplace helps to offset the dark color of the TV.
9. Add a Modern Touch with Clean Corners and Lines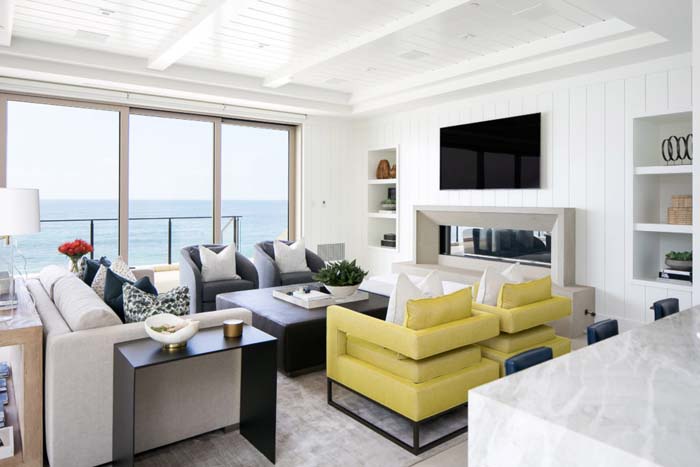 Sharp angles and corners make furniture look really defined and keep it from appearing soft and like it takes up a lot of space.
The furniture in this room mimics the straight lines and corners on the ceilings and is a lovely contrast to the natural waves and movement of the ocean.
Thanks to the soft pillows and white walls, the room doesn't feel too angular.
10. Bring Definition and Sophistication with Exposed Wood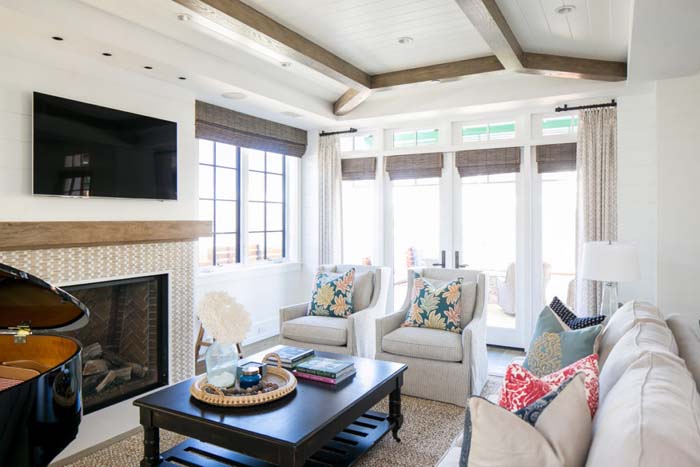 Exposed wood on the ceiling of a room can draw the eye up, which is a great trick when trying to make the ceiling look higher than it really is.
Using a slightly darker rug on the floor, as well as darker window shades, helps to keep the eye moving around the space.
Bright pops of color on the sofa and chairs also add to the pleasant feel of this room.
11. Make Your Room Look Bigger with a High-Gloss Ceiling Finish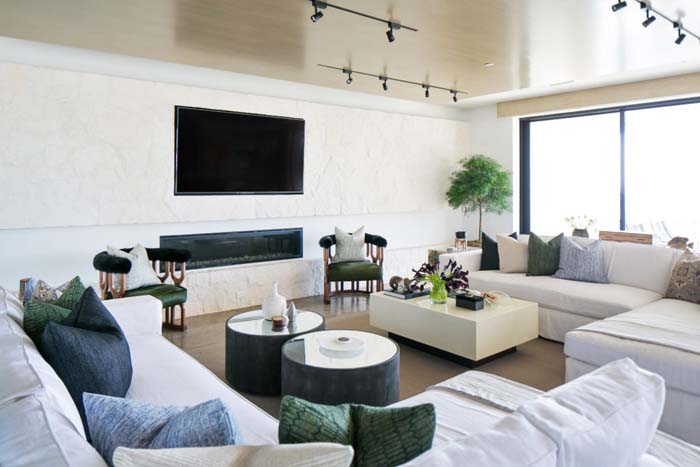 Ceilings are often boring or an afterthought, but there's no reason why a ceiling can't help the room look bigger.
Instead of painting it white, opting for a light brown with a high-gloss finish is an interesting choice.
This mimics the appearance of the floor, but the glossy look to the ceiling helps reflect light. This makes the whole room feel airier.
12. Create a Focal Point with Darker Furniture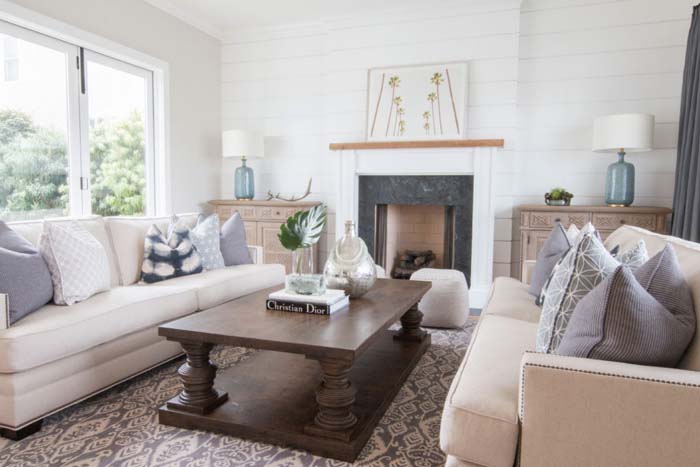 Even though bright and airy living rooms tend to be packed full of neutrals, you can go a little darker and still enjoy the same open feel.
A dark coffee table and dark fireplace surround help to anchor the space.
Blue lamps and light gray cushions tie the room together.
Any of these 12 great rooms are sure to inspire you to update your house and living space.
Take note of the bright open windows, the neutral colors, and the way that Blackband Design managed to showcase the personality of each family.
With this inspiration and a little hard work, you can turn your living room into an open and airy space, as well.