So, you decided to be bold and bought yourself a blue couch. A blue couch is a great centerpiece for any living room and there are countless ways to design around it.
Whether you picked a navy blue couch or a light blue sofa, you may find yourself a little stuck on how to maximize its impact. We're here to show you blue couch living room ideas that'll help you get started.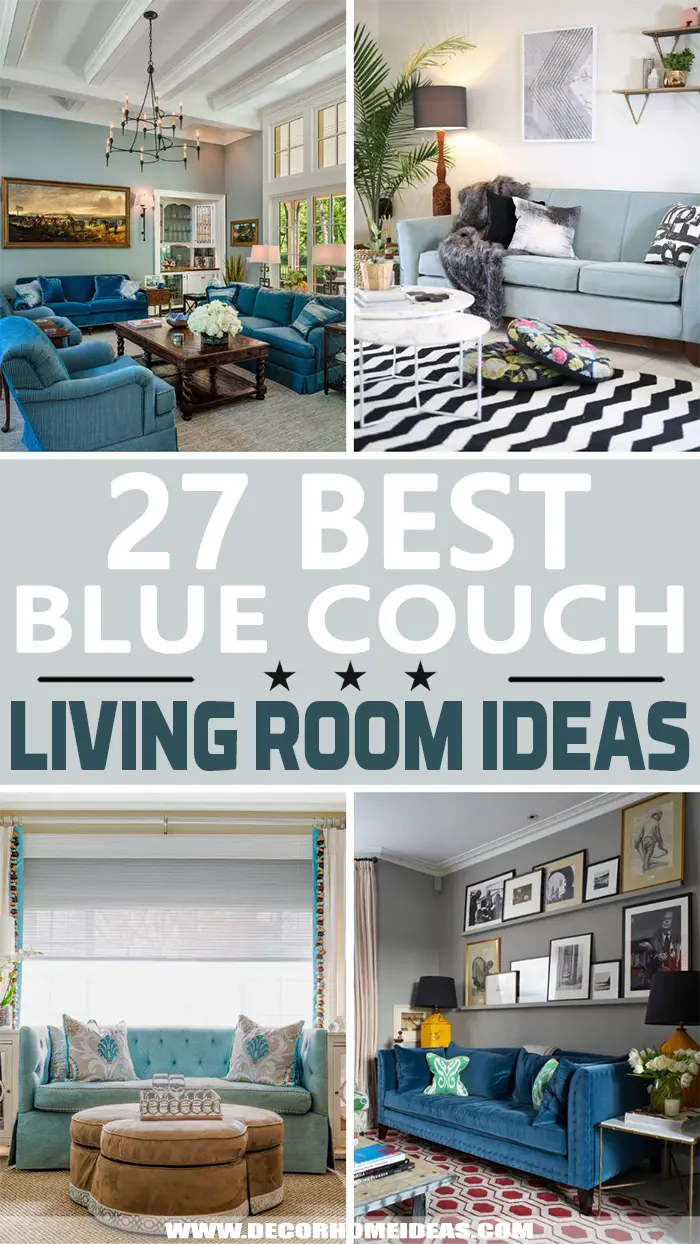 What compliments a blue sofa?
Pair your blue couch with neutral colors. Beige, white, brown, or gray can create a calming, soothing atmosphere. They allow the blue couch to stand out as the focal point. Having a navy couch while keeping the rest of the living room furniture neutral isn't out of character.
Introduce complementary colors. As we stated above, complementary warm colors, such as orange, yellow, or green, bring a bright, energetic vibe. You can easily add to a neutral color palette with a throw pillow or two,  and can be incorporated through accent pieces like artwork, cushions, or vases.
Add textures and patterns. They bring interest and can help define your style. You can use a variety of materials such as wood, leather, or velvet to add texture. Patterns like stripes, florals, or geometric shapes can add visual interest.
Ultimately, it depends on your personal style and preferences. You may want to personalize the room with your grandparent's wedding photo or Uncle Ted's beer stein collection. Don't let the decor gurus keep you from adding your own heart to the space.
How do you style a living room with a blue couch?
Blue couches can work well with various interior decorating styles, depending on the shade of blue and the overall look and feel you are trying to achieve. Here are a few examples:
Coastal: Think beaches and boat docks. Light blue or turquoise couches can work well in a coastal-themed room. Pair them with white or sandy beige walls and natural materials like rattan or jute.
Mid-century modern: A blue couch with a clean, streamlined design can fit well in a mid-century modern room, which often features geometric shapes and bright, bold colors. Add in some retro-inspired accessories like a shag rug or funky light fixtures.
Traditional: A deep navy sofa can create a classic and sophisticated look in a traditional room. Bring into a room filled with rich wood accents and neutral or warm-toned walls.
Bohemian: A blue couch can add a pop of color and texture in a bohemian-style room, which often features eclectic patterns, natural materials, and a mix of colors and textures.
Check out this list of blue living room ideas that we've put together for you.
1. Choose a Background with a Neutral Palette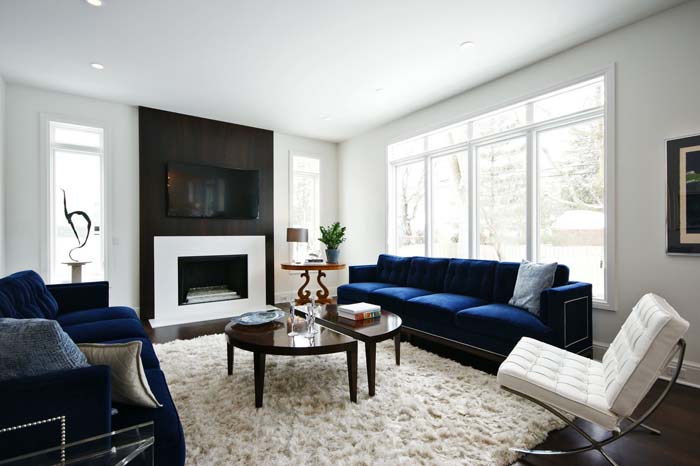 Cobalt blue is a jewel toned standout in any setting. The plush velvet couches here glow against a white backdrop. The dark floor works to ground the room.
2. Connect the Room with Wall Art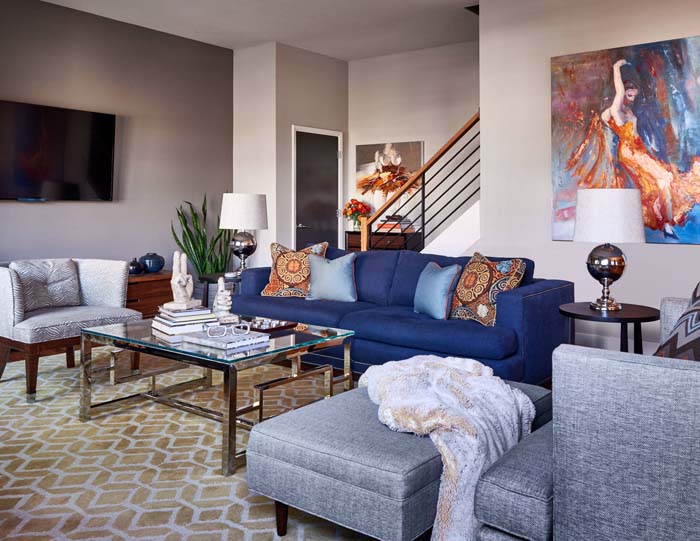 Throw pillows connect the blue and brown palette in this living room. The denim accent chair and matching ottoman go a long way to bringing casual flair to the space.
3. Use Bold, Bright Colors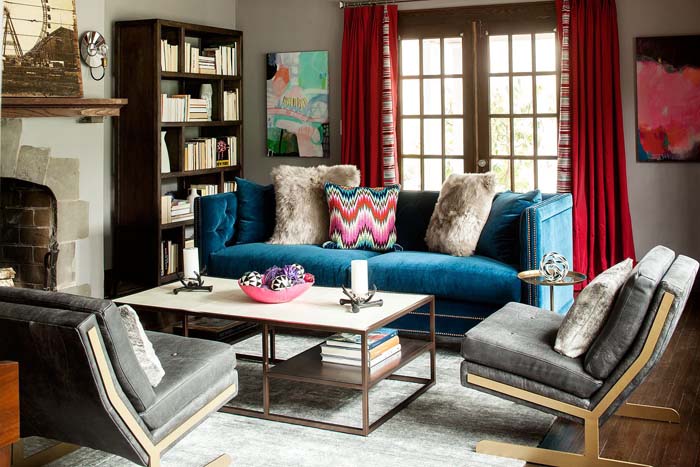 Using a complementary color makes a bold statement. Bold colors are a surprise in this contemporary setting. The bright jewel tones add character and energy to the seating area.
via Karen B Wolf
4. Throw Pillows Can Change a Room's Mood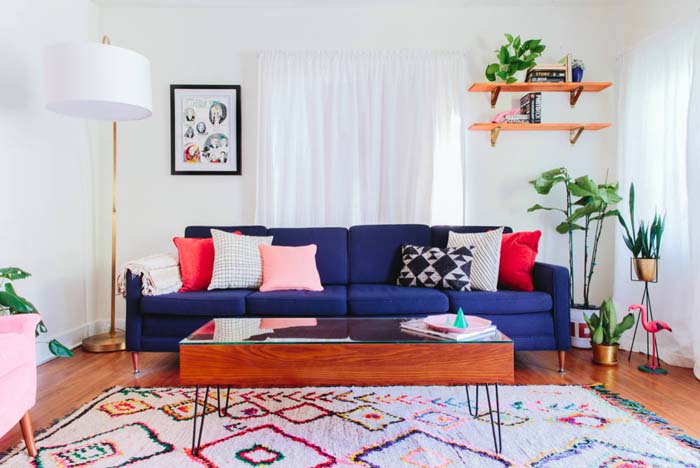 A blue sofa is a winning backdrop for using pops of color throughout a room.
While much of this design has a mid-century influence, the use of bright colors brings an eclectic feel to the room. The white walls and curtains keep the palette contained within the seating area.
5. Sophisticated Blue Sectional Sofa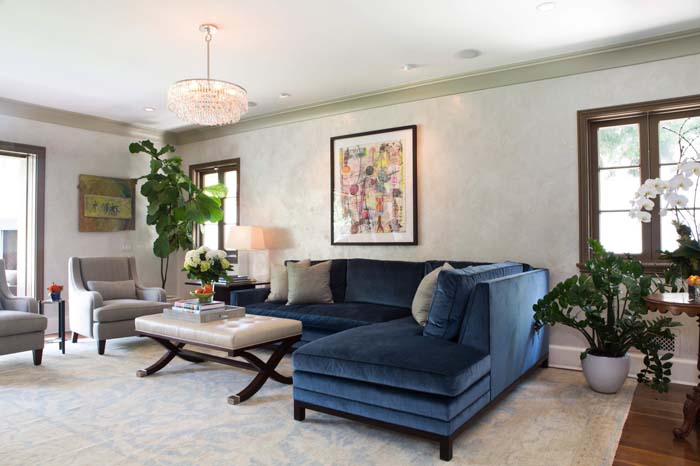 Create sections using furniture to define living spaces in open rooms.
A plush sectional sofa defines this seating area using its weight and color. Instead of a single color wall, texture is created by using a color wash technique. It makes the texture stand out on every cushion in the room.
6. Blue Sofas Paired with Bold Patterns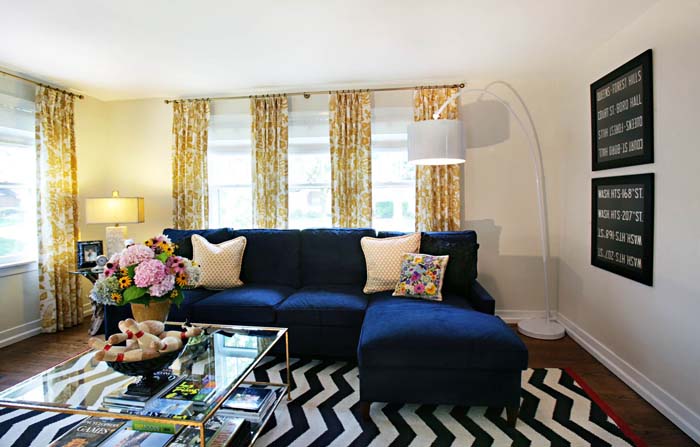 Blue and gold. Whether you team your blue sofa with golden yellow accent cushions, brass framed coffee table, or a gold living room chandelier, this is a luxe color combo that exudes style.
7. Create a Soft and Subtle Reading Nook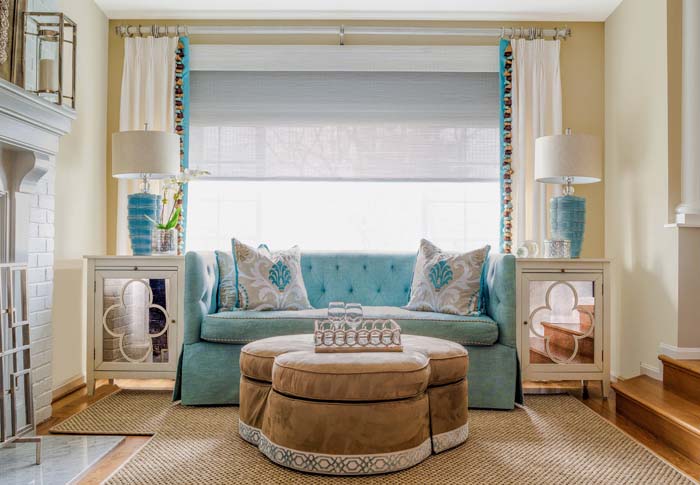 Aqua blue has a softer look. It works well in a cottage or coastal interior design. Small cabinets are used as side tables and a large ottoman coffee table fronts the couch.
Using oversized furniture in this way creates a small space in a larger living room.
via The Gilded Nest
8. Tufted Sofas Have Their Own Pattern & Texture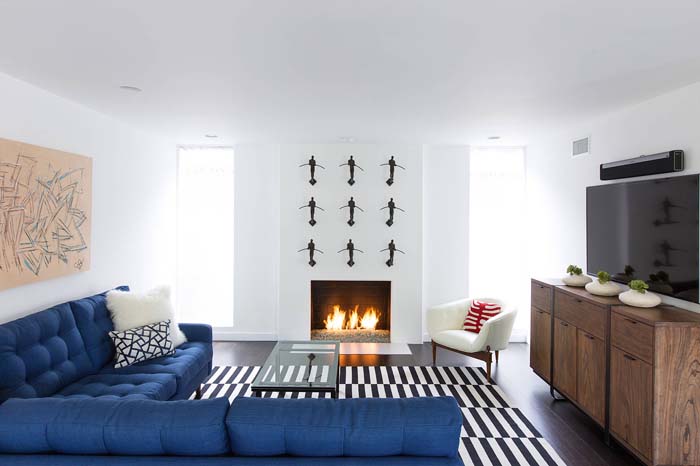 The blue tufted sectional sofa grounds a bold, graphic rug. A modern fireplace warms up the room. The heavy TV console matches the weight of the couch.
A patterned pop of red colour in a throw pillow keeps the accent chair from drowning in the white light.
9. Contrasting Piping in Navy Blue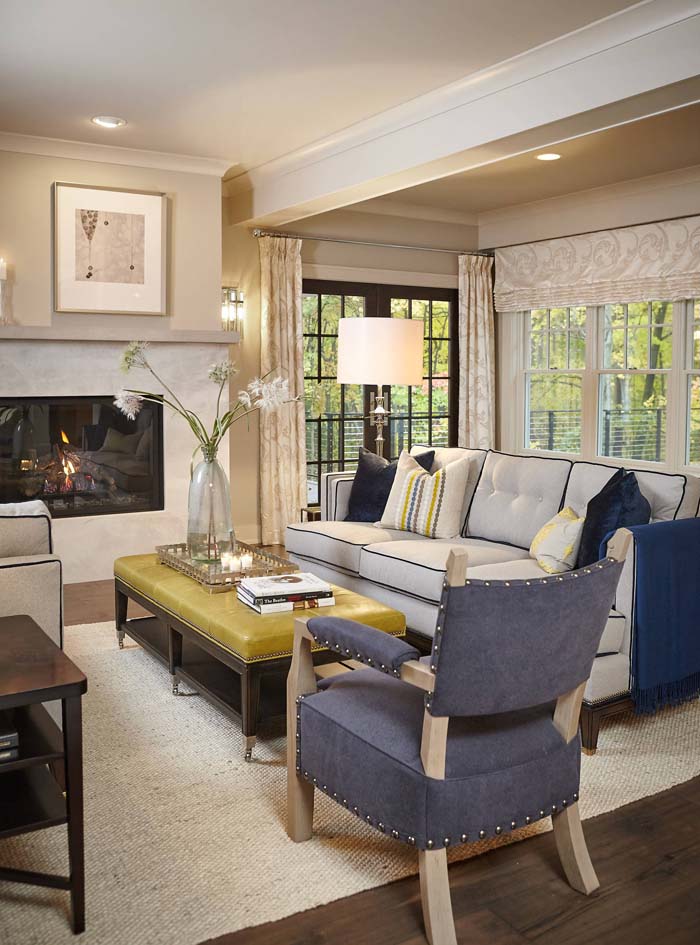 You don't have to commit to a full-on blue sofa. Blue piping on the cushions, throw pillows, and a blanket are simple changes that bring color to the sofas.
The light blue accent chair splits the difference between all blue and beige.
via Insignia Homes
10. Soft and Serene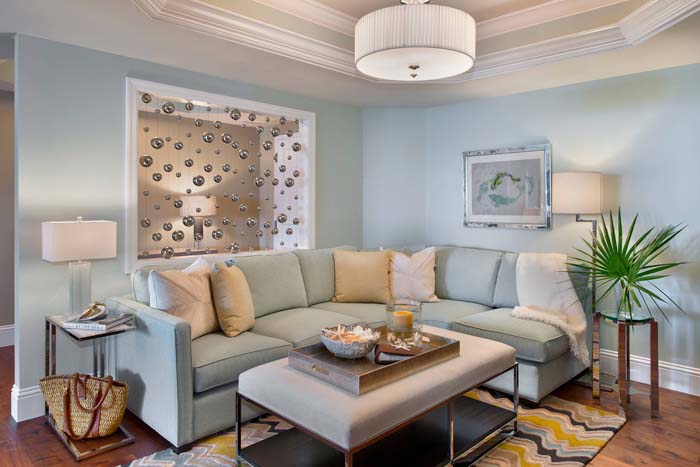 A serene feeling washes over this coastal interior by choosing a blue-green wall color that matches the couch.
A pale neutral palette creates interest without disturbing the peace. Try this color scheme in a home office for a calming work space.
11. Bring in the Outdoors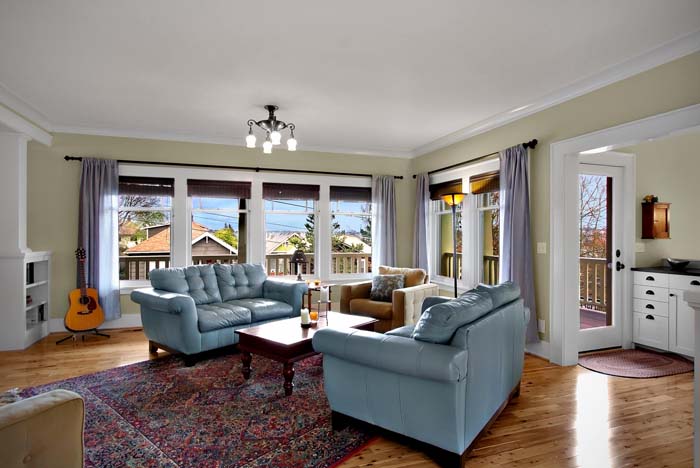 Tufted loveseats are set at an angle to create a visual connection to the blue skies in the background. An Asian rug defines the seating area.
Soft sage green walls and gray curtains keep the room from looking too formal.
12. Deep Blue Sofa in a Bright Room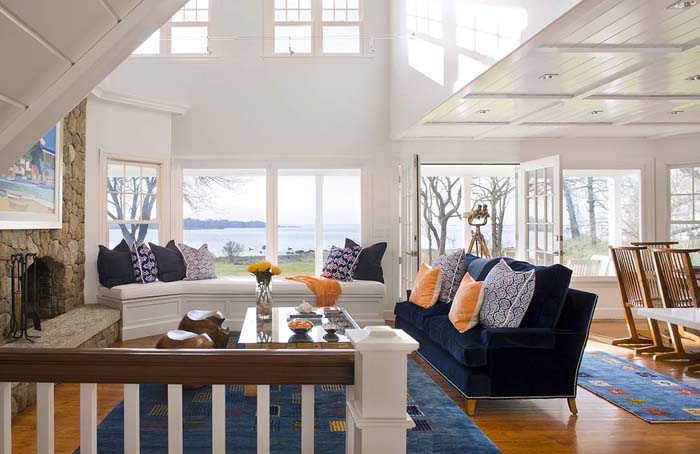 The interior designer uses the dark blue couch to define the seating area. The area is further defined by using the same color blue on the white bench.
Pops of orange run through the space to visually intertwine the furniture. Orange may feel like a stretch, but its yellow undertones work with light wood finishes.
via Michael McKinley and Associates
13. Transitional Color Blocks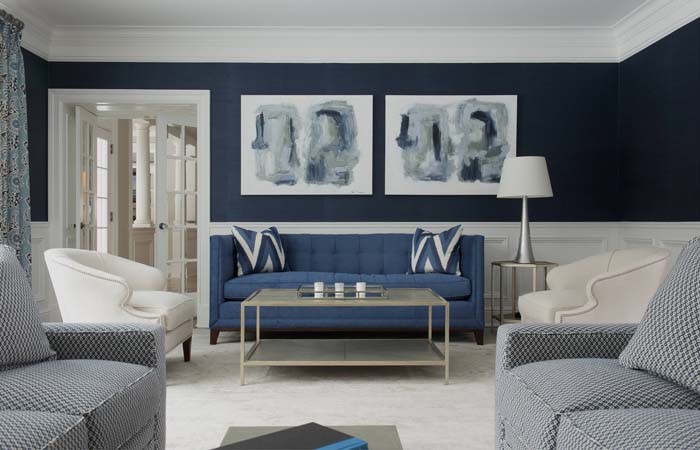 Here's a magnetic study in blue and white. The lighter shade of blue used on the couch almost feels like a relief against the dramatic darker shade of blue and white wainscoting backdrop.
via Alice Burnham
14. Play with Textures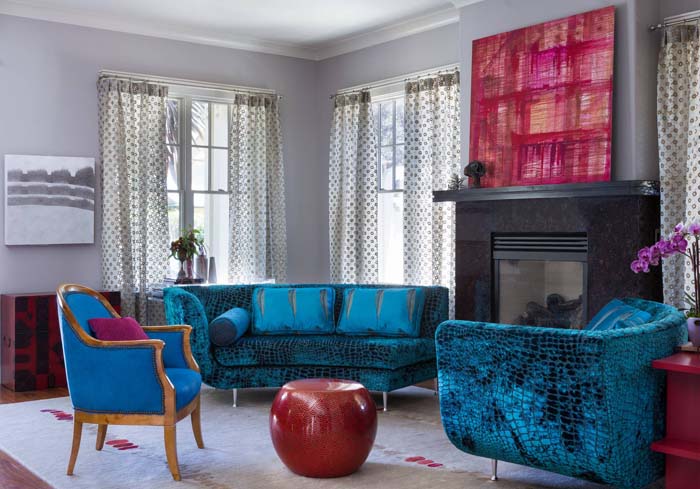 By using bright colors and tactile finishes, traditional furnishings turn into an eclectic ensemble.
If you have a flair for refinishing furniture and want older pieces to stand apart from their roots, go with bold colors like the bright red coffee table and crushed velvet on the blue sofa. The blue side chair fits in because the throw pillow matches the wall décor.
15. Use a Neutral Background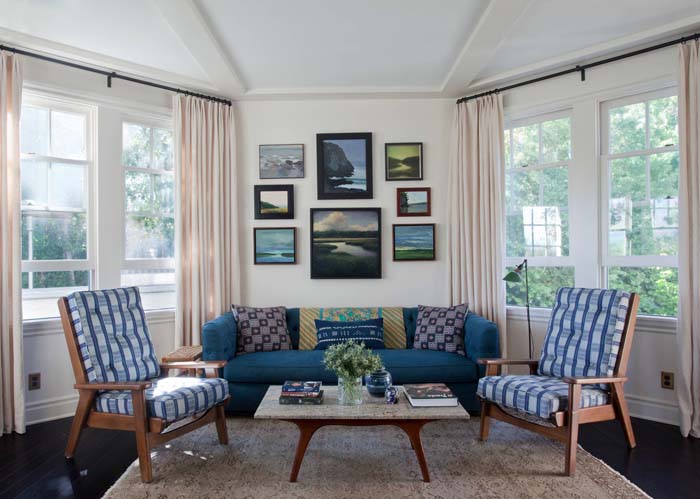 Using a creamy beige on the walls and area rug on the dark floor allows many shades of blue and patterns to stand out without feeling too busy.
16. Try Multi-Color Groupings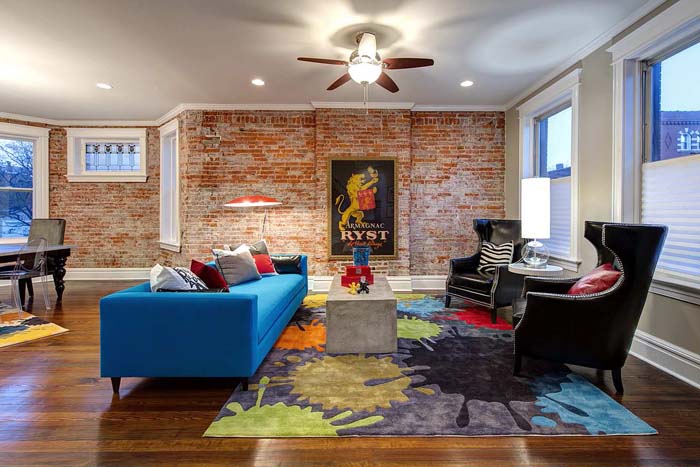 A blue couch looks right at home in this eclectic living room that embraces bold splashes of color. Note how the colors are collected in small areas.
The wall decor, area rugs, and throw pillows all work to bring cohesion to the room.
via S&K Interiors
17. Stack Your Blues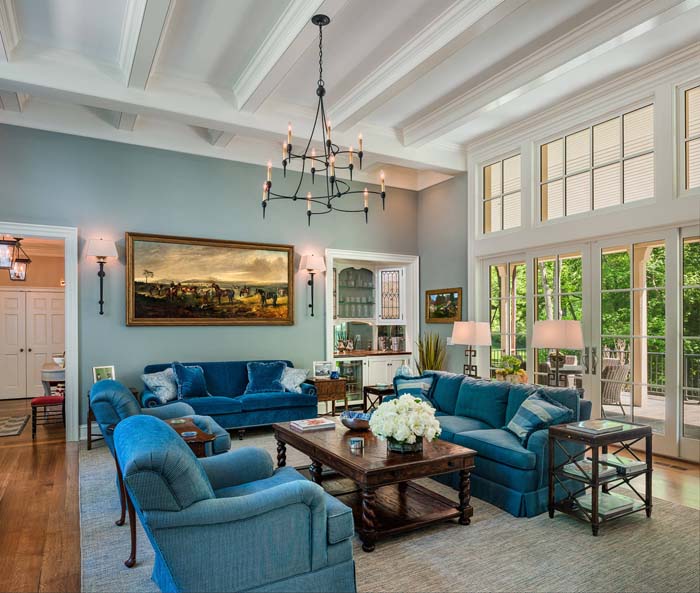 Azure blue sofas and chairs are nestled against Robin's egg-blue backdrop. The connection creates the idea of a river flowing through the room. It shows how blue furniture can work together with being an exact color match.
Yellow lighting helps bring out the yellow undertones in the wood, creating a dynamic interaction.
via EC Trethewey Building Contractors
18. Blue Couch Brings High Style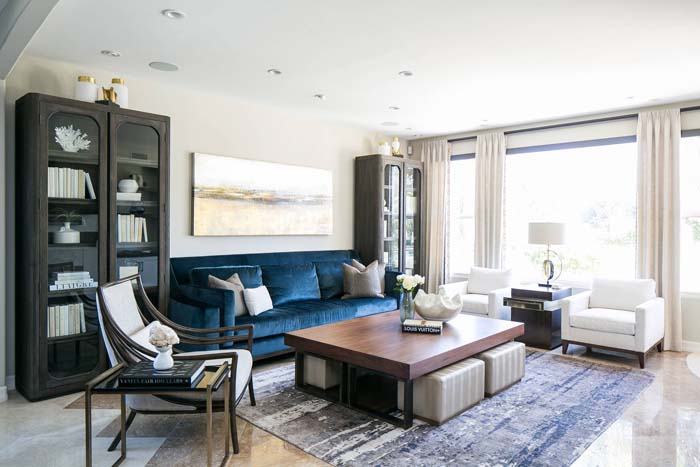 A decidedly masculine room gets a sophisticated lift with the inclusion of a plush royal blue sofa. Its soft texture and casual back cushions bring a welcoming vibe to an otherwise formal space.
The size and scale of the piece works great with the bookend hutches and oversized coffee table.
via Robeson Design
19. Ocean Blue Living Room Idea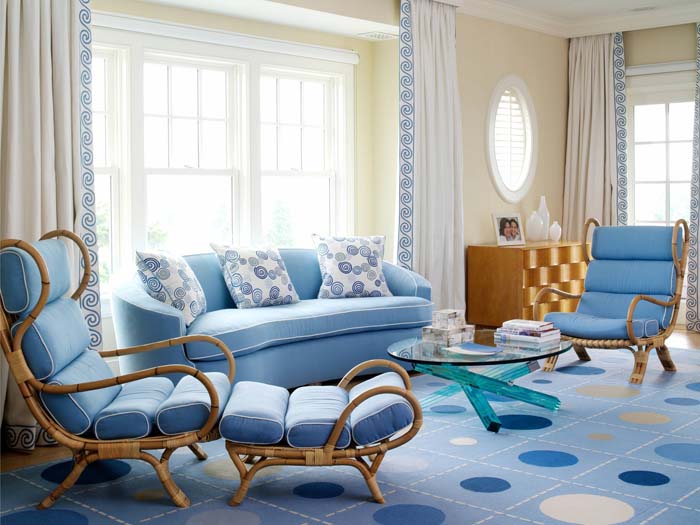 One of the tricks for bringing together several shades of a base color is by sticking to neutral colors in the rest of the color scheme.
While there's a hint of pale yellow on the walls, it works with the yellow undertones in the side chairs and side table in the back.
20. Casual Cottage Charm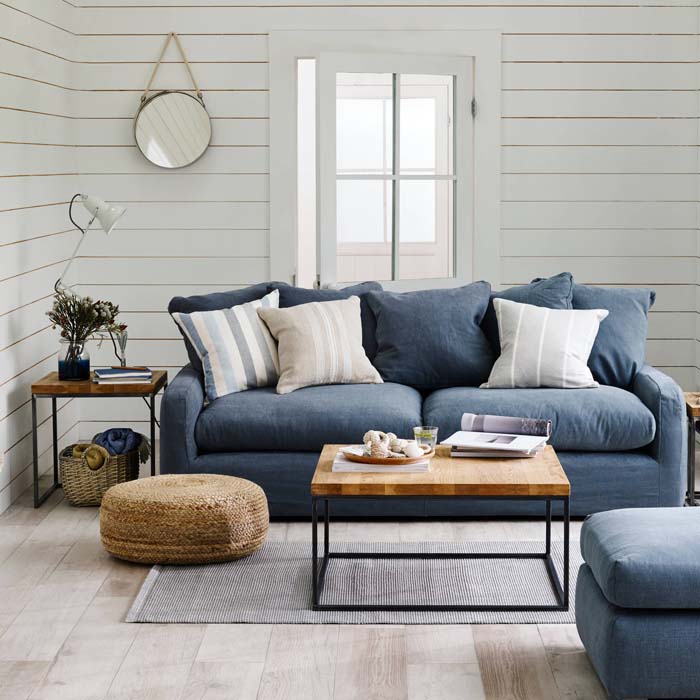 The denim/periwinkle blue is the right amount of casualness in this cottage room. The oversized cushions are an invitation to sit back, relax, and enjoy your stay.
21. Denim Blue Sofas in a Formal Living Room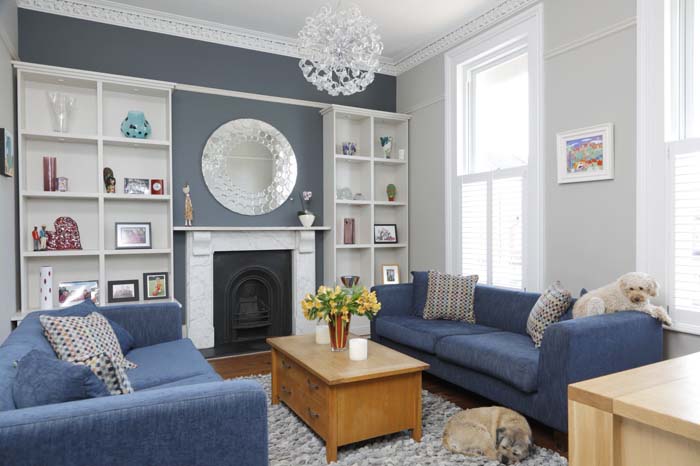 Unlike the photo above, we can see how the denim blue sofas take a more formal approach simply by changing the cushion style.
It's still a very welcoming, casual room but is ready when friends drop by and when dogs want to nap.
via Completion Interior Design & Architecture
22. Bold Colors and Patterns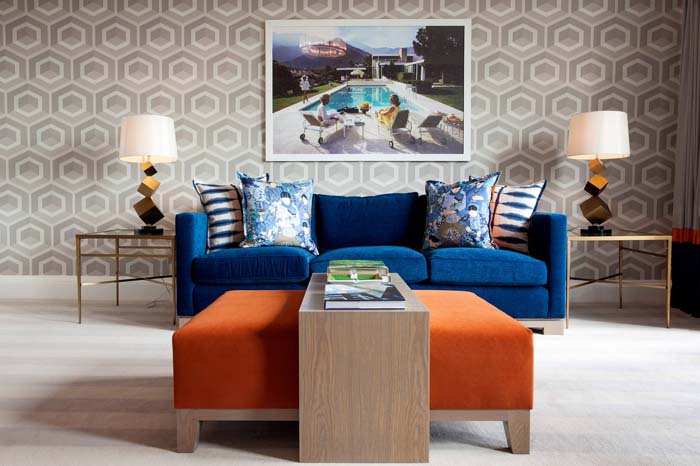 Another interesting idea that can be used with blue sofas is by combining them with geometric patterns. The back wall refuses two different shades of the same color, keeping the color scheme neutral.
Energy is created by using bold colors in the fabrics of the furniture instead of on the walls. This gives you the opportunity to mix and match without the expense of painting entire walls.
23. Dark Blue in a Light Room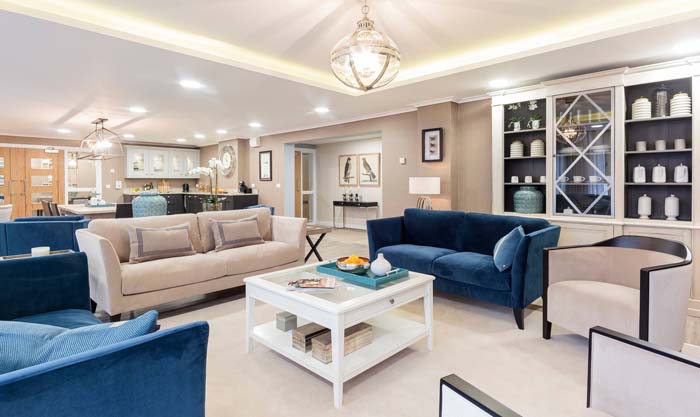 The navy blue sofas sit like jewels in this room of taupe, white, and walnut.
Overhead lighting shows off the plush textures. The white coffee table sits like a white sandy beach waiting for the tide to roll in.
via WN Store
24. Blue Sofas and Gray Walls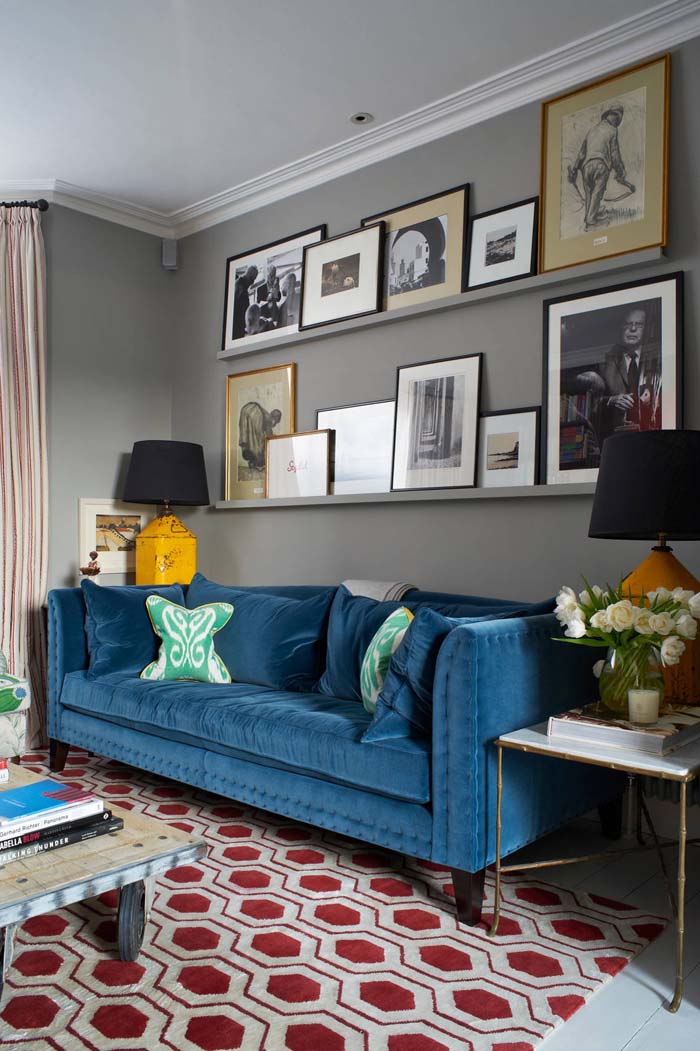 A different approach to using geometric patterns is by using them in other textiles in the room. An area rug changes out of the look of the blue sofa.
The furnishings are decidedly casual. Look carefully and you'll see the reclaimed mantra throughout the space.
via Turner Pocock
25. Light Blue and Big Patterns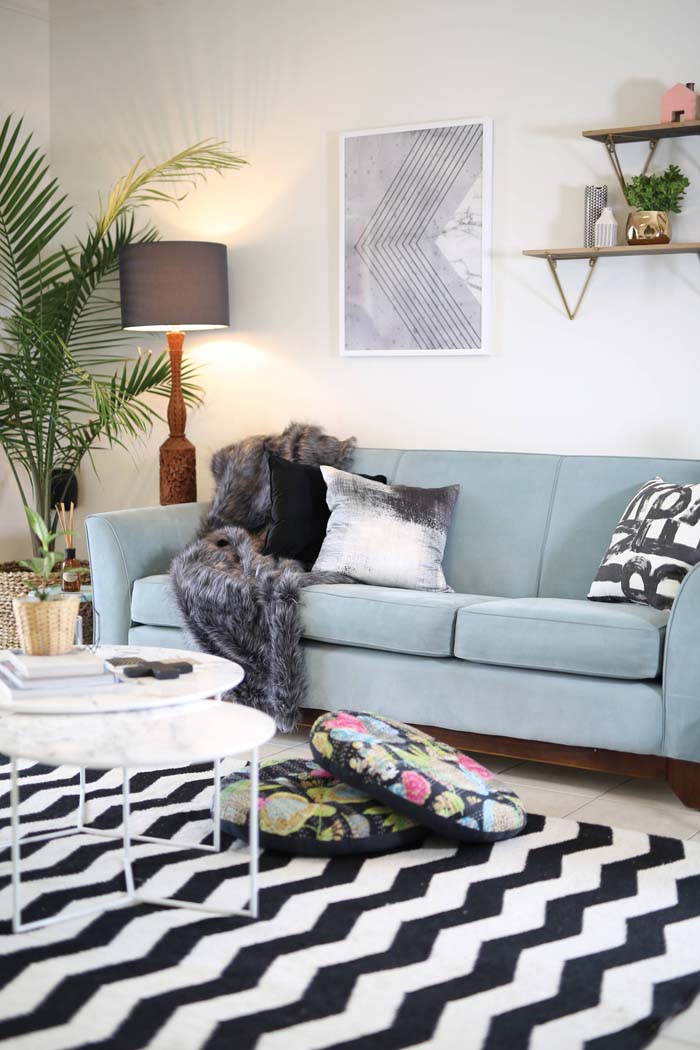 You can get the geometric print and blue sofa idea in any interior design style.
A pale blue couch looks right at home in this coastal / eclectic room with bold prints and tactile accessories.
26. Deep Blue with Light Walls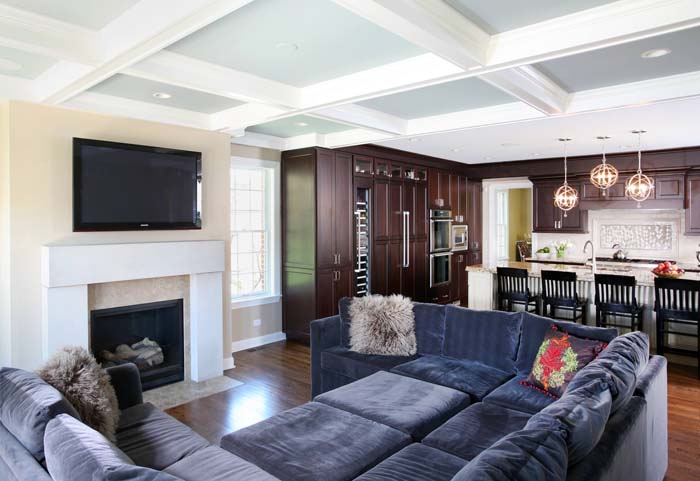 A large navy blue sectional sofa is the heart of this seating area. It works with the pale yellow fireplace and turquoise tray ceiling but also fits the color scheme of the kitchen cabinets in the background.
27. Mix and Match Blue Sofa Ideas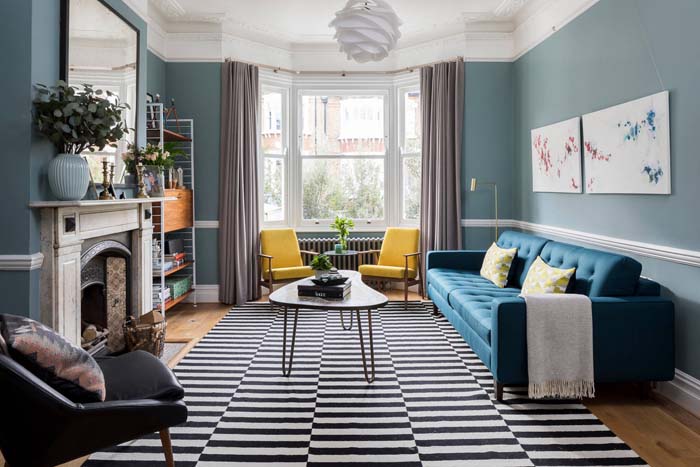 This room uses many of the blue sofa room ideas we discussed earlier. A greenish blue tufted cushion couch sits in a room with walls painted robin's egg blue.
Yellow chairs are the complementary color, while the accent chair closest to this end is different. An area rug introduces a bold pattern. The room works because accessories were kept to a minimum and the furniture itself has a sleek, mid-century feel.