Looking for an easy and inexpensive update to the kitchen? Then it is time to change the color of the cabinets!
You would be surprised by the transformation achieved by this simple change. You can go for a natural look or for a bold accent in case the interior is plain and needs a pop of color.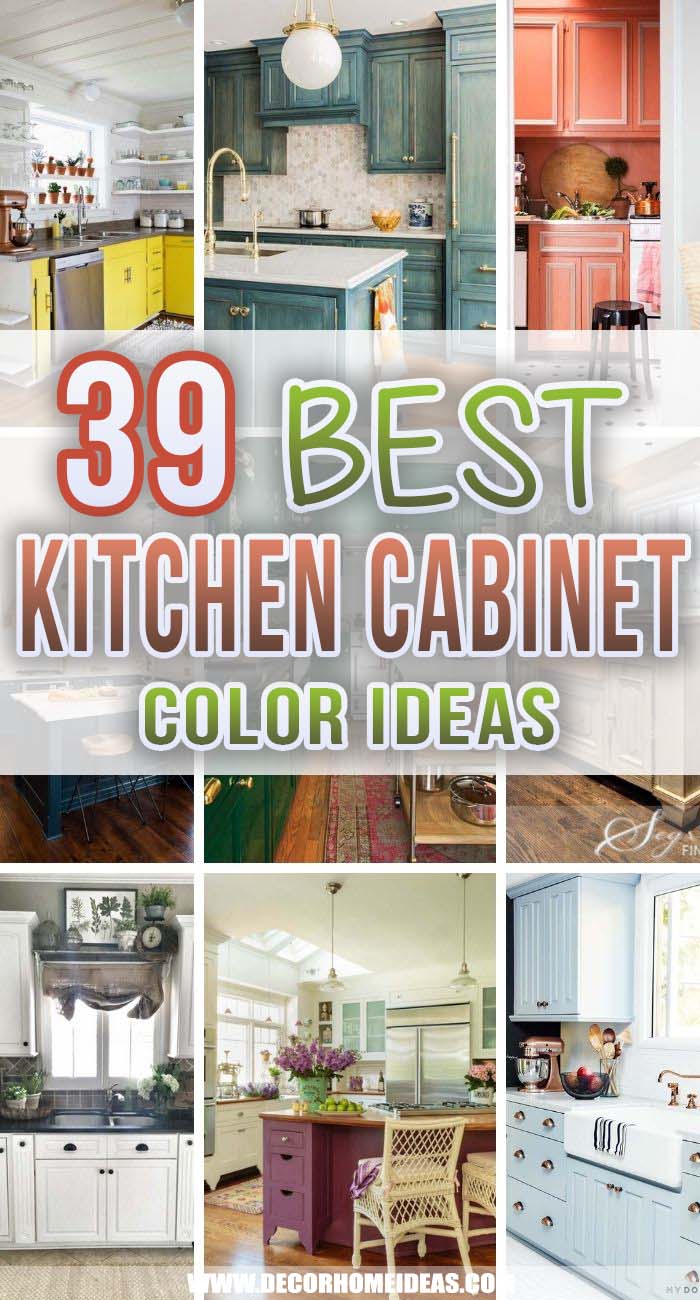 Want to know the trends in the kitchen cabinet colors? Check out the collection of Best Kitchen Cabinet Color Ideas that will inspire your next kitchen makeover!
1. Add a Color Shot with Cheery Blue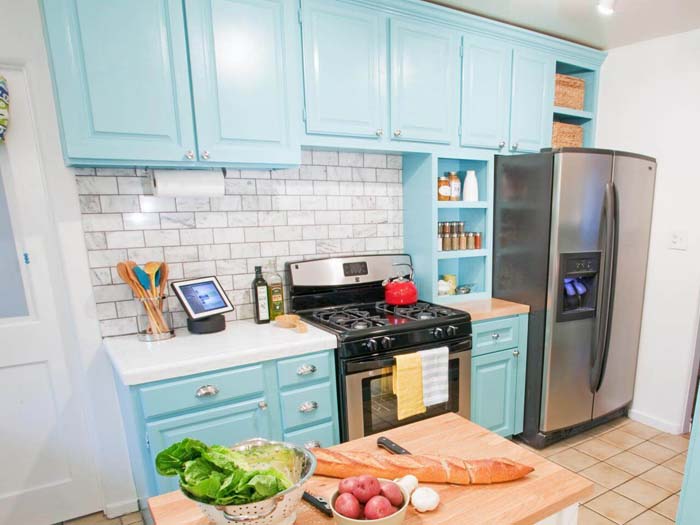 Want to give your kitchen a unique look? Try this amazing blue color that will make you want to cook with pleasure and keep all items well organized!
One thing you need to consider is the surroundings. This bold and bright color needs a neutral interior that will balance it.
via HGTV
2. A Dramatic Use of Robin's Egg Blue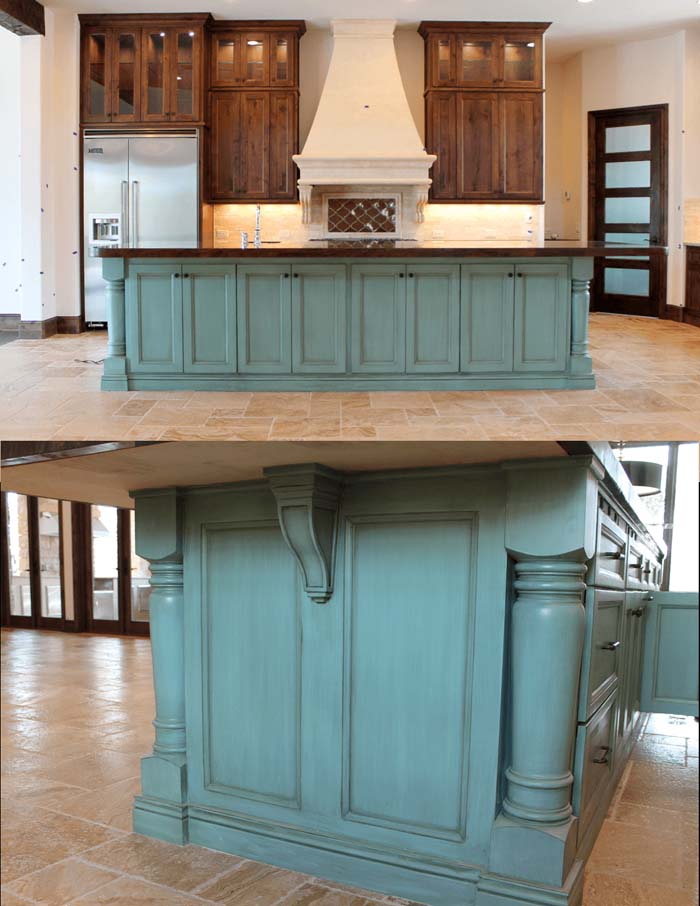 All shades of blue have become quite popular for kitchen cabinets. Among all advantages this fresh color offers, you won't be worried about accumulated dirt because blue hides it pretty well.
Ocean-inspired blues are timeless and suit perfectly traditional kitchen designs. They both add personality to the standard look and let the beauty of the classic stand out.
via The Ragged Wren
3. Antique Blue Wood Finish is a Classic Look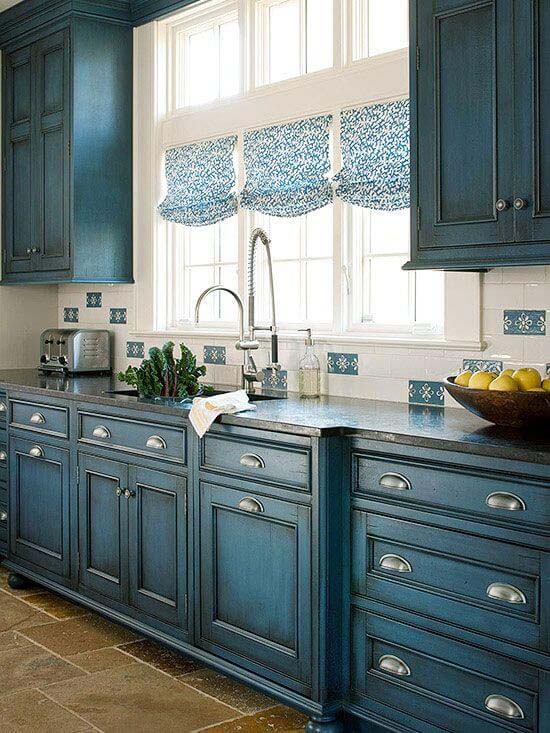 Deep blue can be classified as the most popular shade of blue used in the kitchen interior. It offers a classic look and gives the outdated cabinet designs a modern look.
You can combine this color with metallic accents, white tiles and stainless steel utensils. If you are keen on experimenting with the texture, give the wood cravings a coat of antique paint to give it depth and a rustic accent.
4. Beige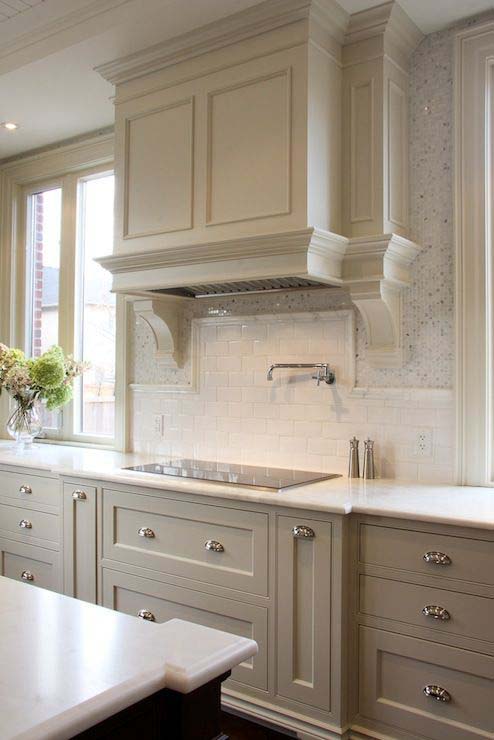 If you are looking for a more neutral look in the kitchen that is not deprived of a personal touch, try the beige color for the kitchen cabinets. Beige matches natural wood colors that are used for the flooring and also metallic finishes for the utensils and the accents.
White base elements such as the walls and the backsplash will let the beige stand out and together they will unite to create an airy and appealing kitchen atmosphere.
5. Black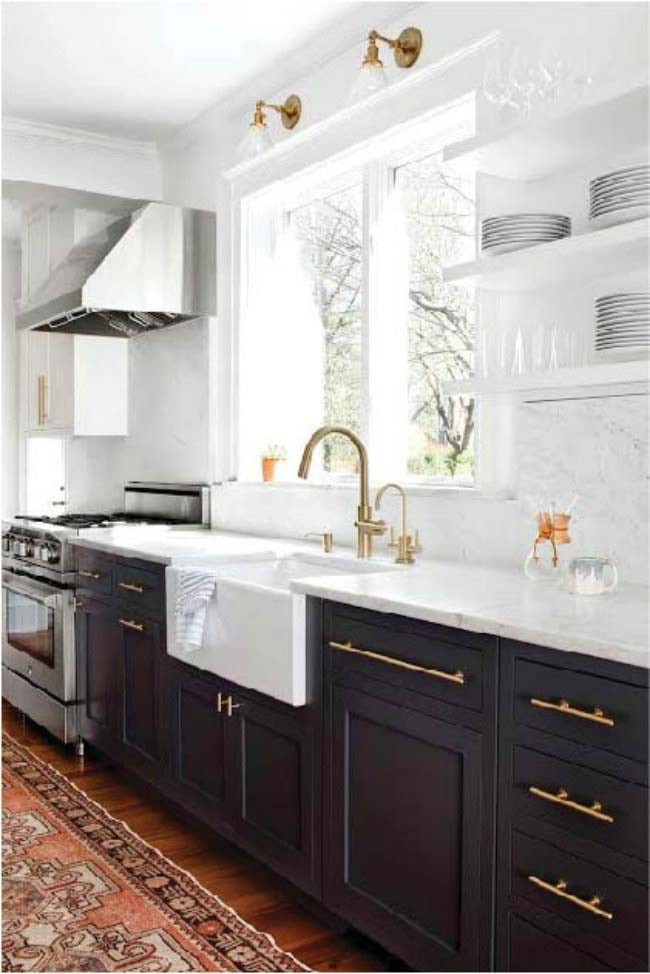 Another huge trend in the kitchen cabinet colors is black. It is very bold but also very elegant. It makes an amazing definition of the cabinet door design.
39 Best Kitchen Cabinet Color Ideas To Inspire You video:
When you have decided to repaint the cabinets in black make sure that your decision is also coherent with the amount of light coming into the room. If there is plenty of it, black will look great and won't affect the airiness. If the room doesn't get enough sunlight, then you risk making it even darker.
via Elizabeth Lawson
6. Bright Spring Colors are a Lively Choice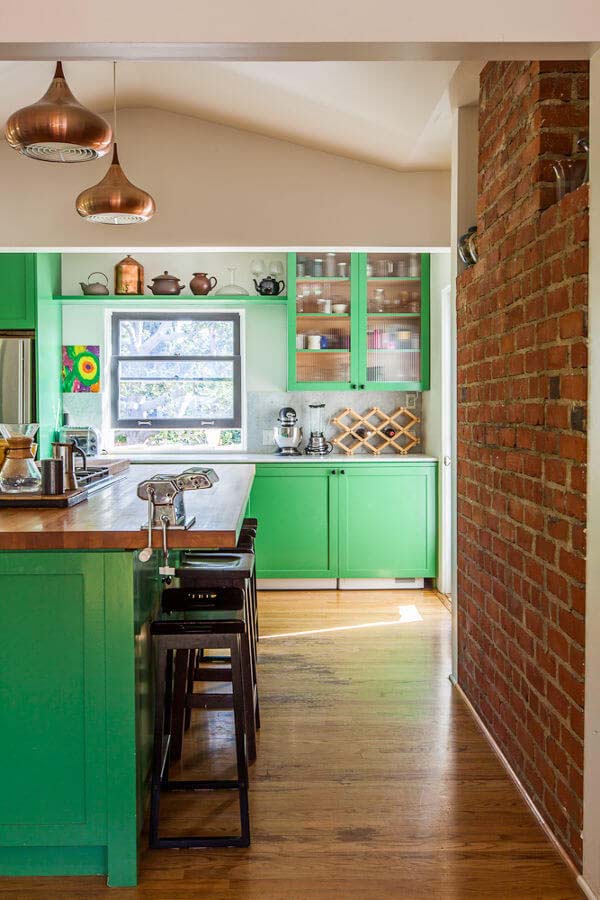 Lime green pairs beautifully with the warm red of the brick statement wall and wooden basic elements. It makes the interior very fresh and balances the farmhouse style.
This hue of green is very cheerful and makes the overall look sunnier and airier.
7. Choose a Gentle Yellow for a Farmhouse-Friendly Feel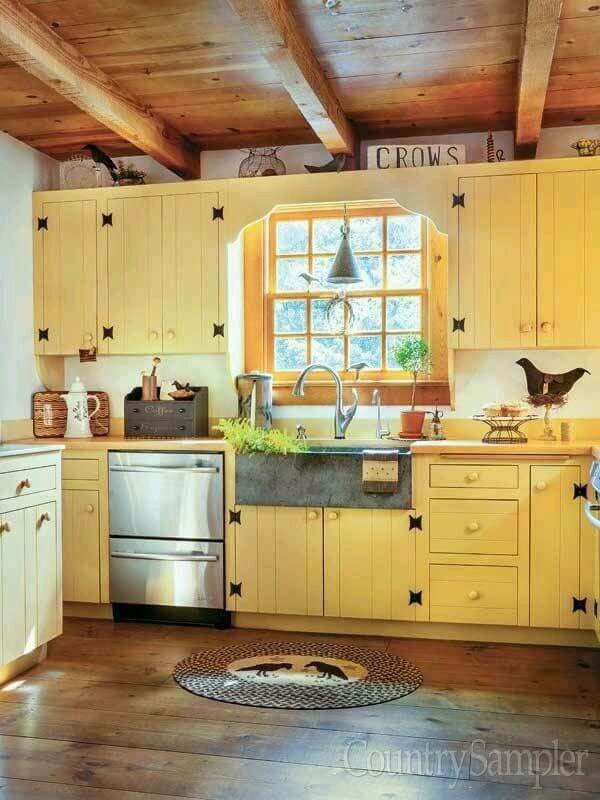 The farmhouse cabinets in the kitchen get a sophisticated look when painted in soft buttery yellow. It is a warm color that easily pairs with farmhouse accents in the brown palette.
Vintage hinges keep the doors fixed and add an interesting industrial element to the calm atmosphere.
8. Choose a Light Sage for an Unexpected Neutral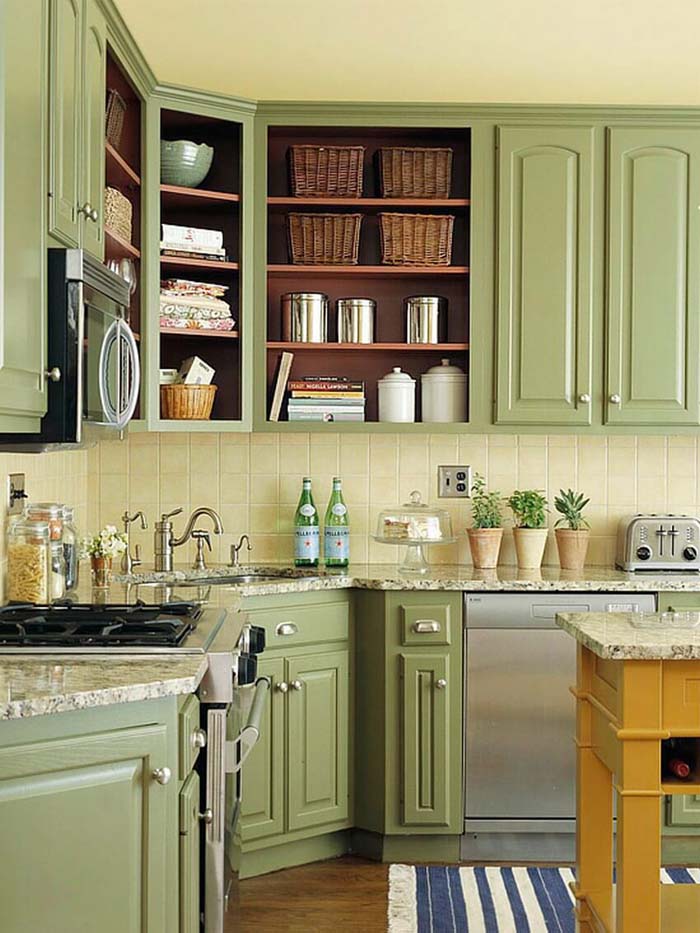 Sage green has become popular for kitchen islands the last couple of years. It is related to the calming Boho style in the interior design which makes the space more personalized and unique.
Sage green pairs perfectly with other natural materials such as marble, solid wooden flooring, and any elements taken from nature.
via BHG
9. Choose a Rich Hue When Going for Red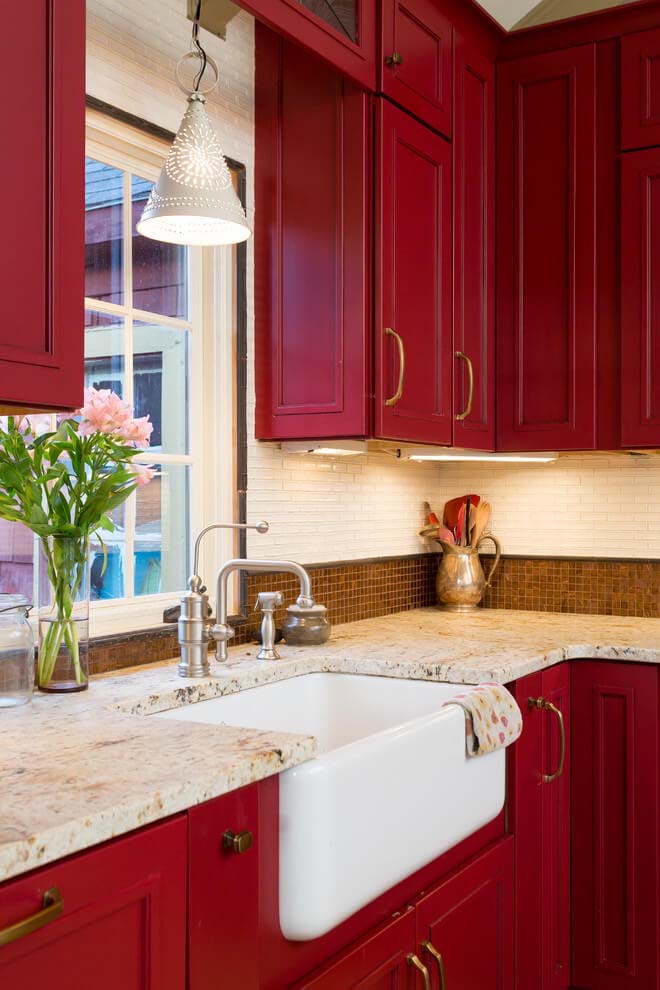 Another kitchen cabinet idea that leads to a total transformation of the general look of this room is possible with a coat of bold and rich red color.
Hues of red are all spectacular so before you take a final decision, you may want to take samples of the colors to your home and actually check which shade will suit you better.
The featured red shade here adds elegance and warmth to the modern rustic kitchen. Combined with brass pulls the cabinetry acts as a sophisticated and eye-catching element of the kitchen.
via Houzz
10. Choose the Right Gray to Maximize Light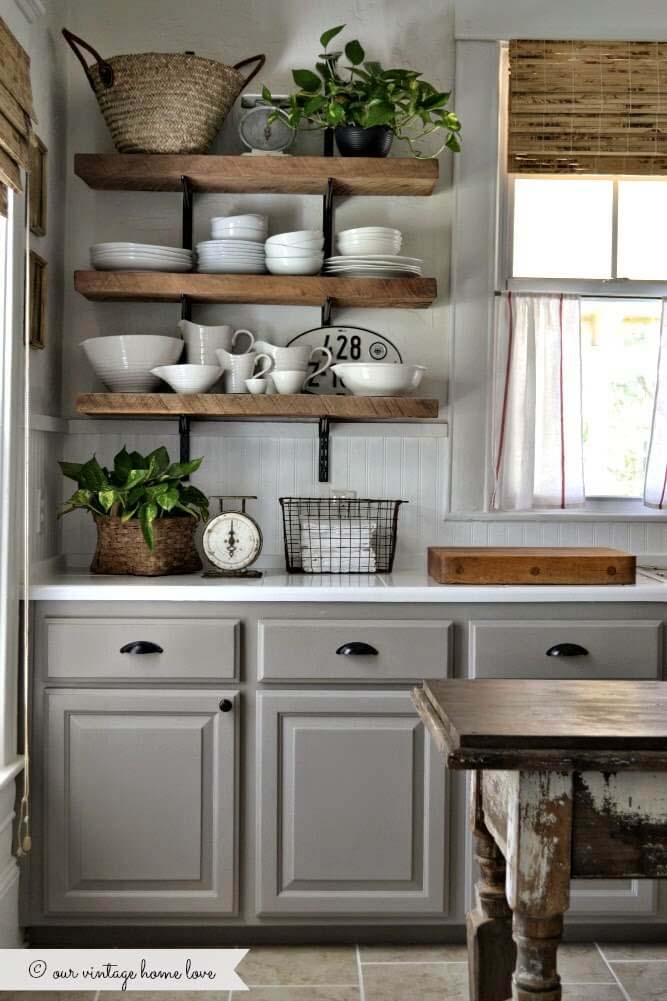 To give the small kitchen an authentic and personalized look without depriving it of light and airiness, go for paler tones of gray.
The reflectivity of paler tones of gray is what makes them so popular these days. Over the years, gray has also been proven as a timeless color so if you are looking for a long-lasting kitchen cabinet makeover, go through the variety of gray shades.
11. Contrast Wood and Paint Finishes for Interest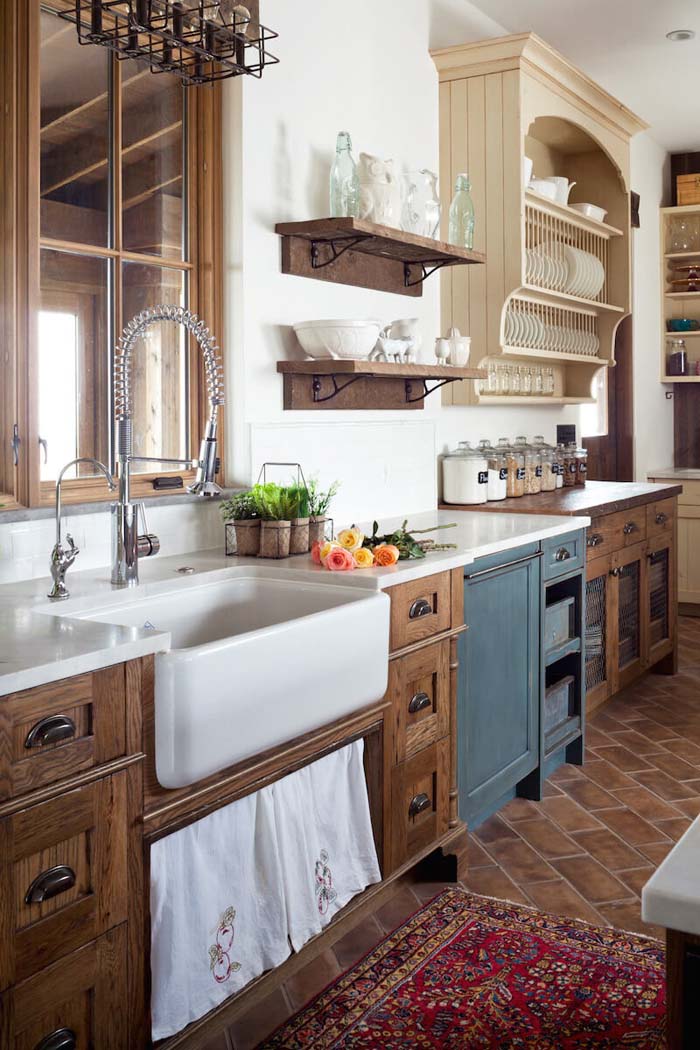 Dark wooden cabinets are charming with their rustic texture and casual design. If you want to make a change that is not as bold as painting all cabinets new color, apply a coat of paint on part of the cabinets only.
Muted blue and pale creamy color work perfectly with natural wood. They actually create a unique visual effect that makes the kitchen cabinets feel not that outdated.
12. Cream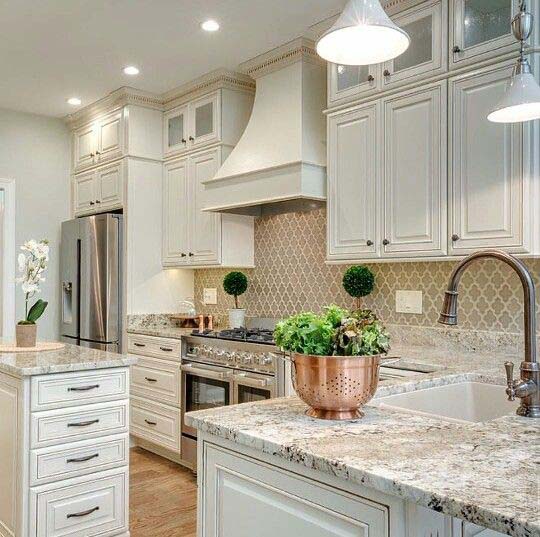 There is a trendy idea for those of you who like white kitchen cabinets. Creamy color has become very popular recently because it offers the same brightness and openness as the classic white paint but looks fresher and modern.
Creamy white pairs well with most textures and accents which is another advantage leading to its popularity.
13. Dark Grey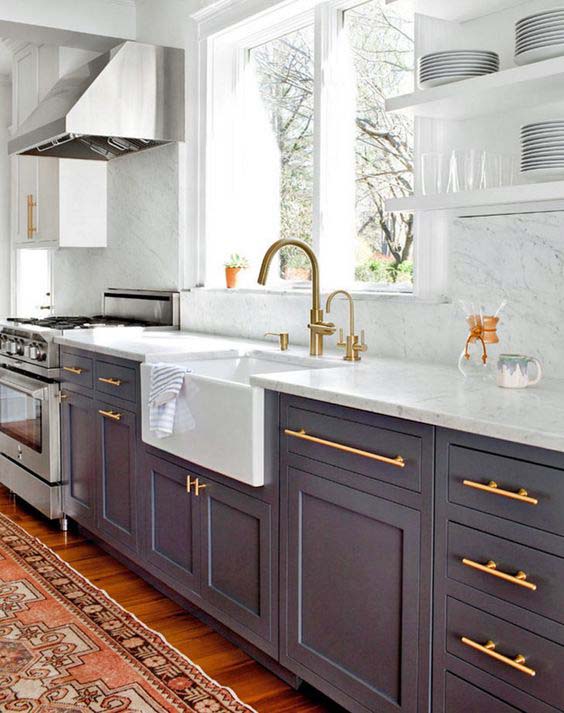 Dark gray cabinets create a magnificent contrast to the kitchen. It pairs perfectly with white acting as a sophisticated touch to the standard interior.
Grey goes well with all possible finishes in the kitchen such as stainless steel, marble, natural stone, tiles, butcher board.
Add bronze details to create a modern warm look.
via Elizabeth Lawson
14. Dark Wood Finish for a Lux Look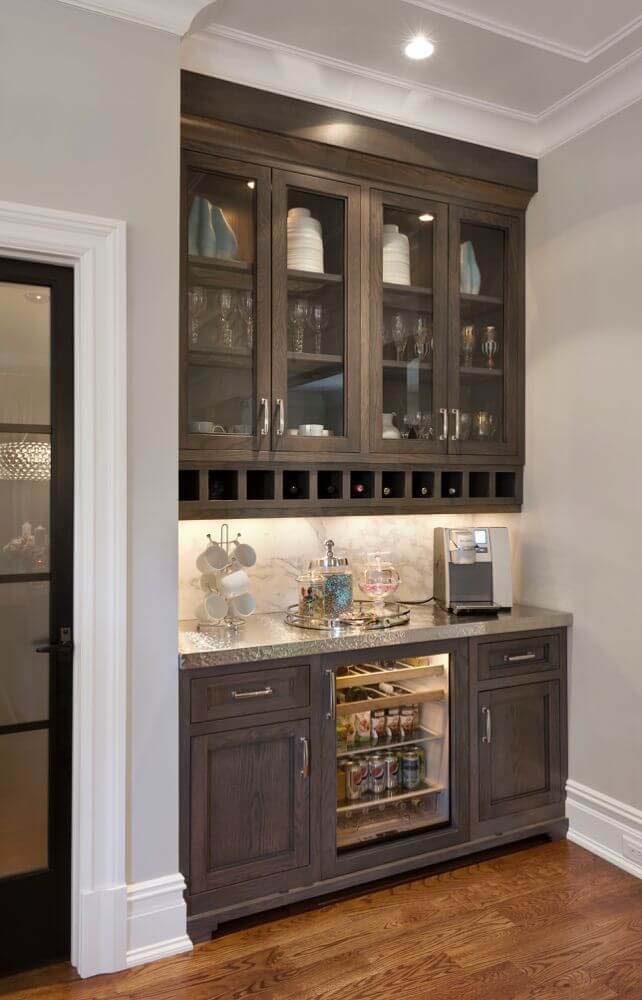 Having a dry bar in the dining room is a great advantage letting you to quikcly reach the cold drink you need in the summer night or a coffee in the afternoon.
Dry bars are usually fit in a niche and are of the same style as the existing storage furniture. Dark natural brown finish is a good choice for the cabinets of the dry bar.
It creates the feel for lux, especially when combined with glass section and metallic pulls.
15. Deep Purple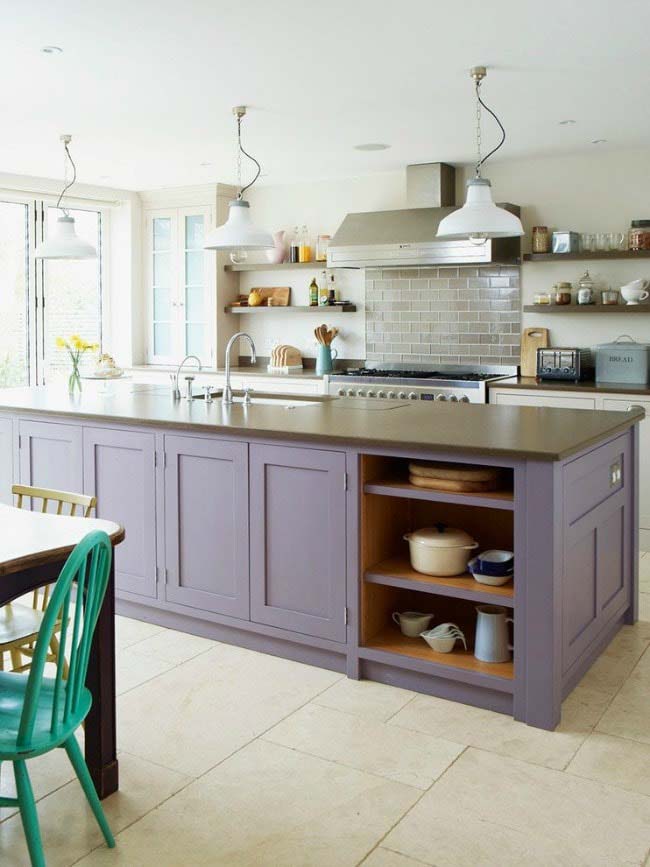 Purple is not a traditional color for the kitchen cabinets and that trend should obviously be changed! Lavender color or milky purple make the kitchen so fresh, inviting and at the same time calm.
Purple pairs perfectly with most of the typical kitchen textures- wood, natural stone, stainless steel.
When you are in the process of painting kitchen cabinets in purple, you may want to make another change inspired by nature- paint one or more of the chairs grass green color and watch the energy of the room changes.
16. Don't Be Afraid of Unexpected Hues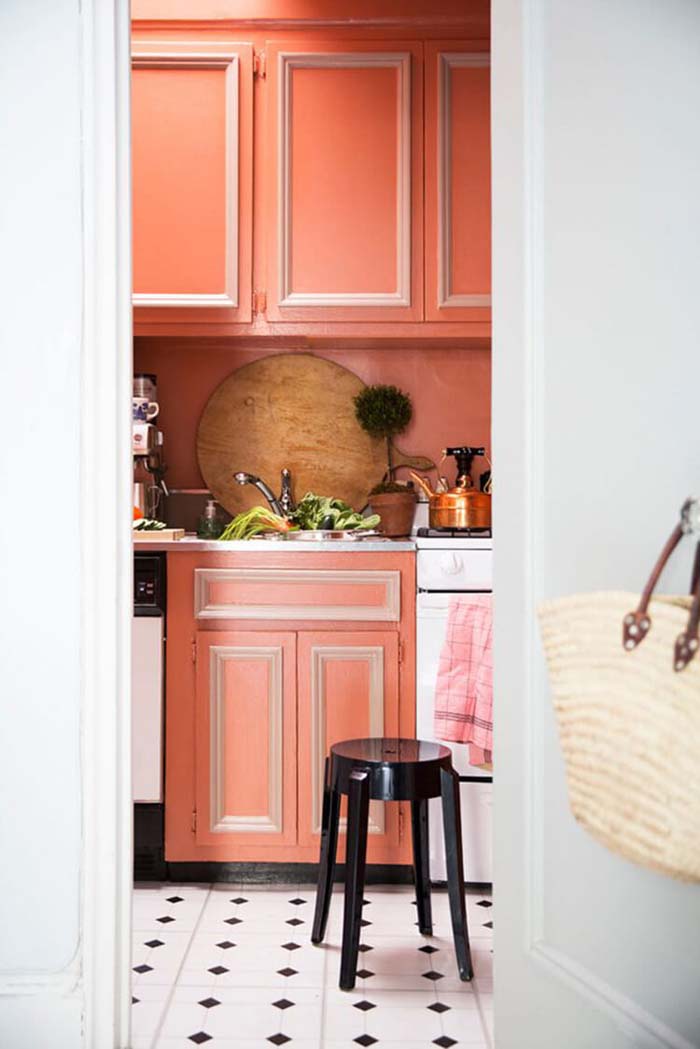 Unexpected bold shades that add warmth to the kitchen interior are becoming trendy for kitchen cabinet paint colors.
You can incorporate them on all cabinets or on a part of them for enhanced interest. Pale orange is a bright color but at the same time it doesn't make the space visually overwhelming.
Before changinf the color of the kitchen cabinets with orange, pay attention of their location. In case they are opposite a source of natural light, note that orange will improve the light intensity when the sun hits the cabinet surfaces.
17. Emerald Green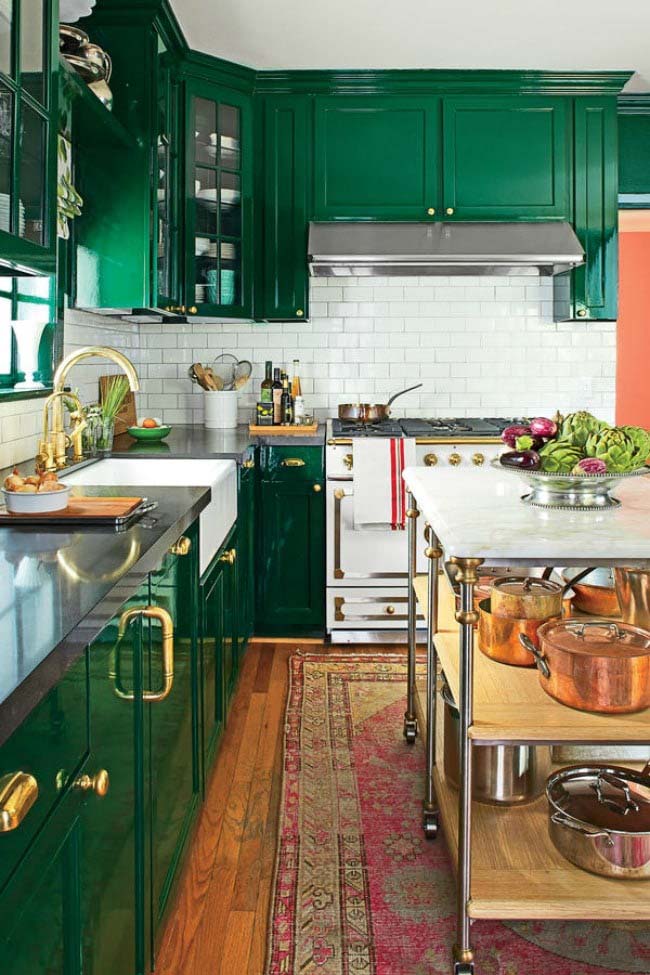 This kitchen cabinet color idea is very bold- firstly with the unexpected color choice, secondly- with the surface finish.
Emerald gold is an aristocratic color which has been mostly used in the past for sitting furniture. This deep green hue inspires with its richness and glossy surface reflecting everything around.
All metallic accents are more than welcome to complement the fine elegance of the cabinets.
via Southern Living
18. Fun Yellow is Pretty and Playful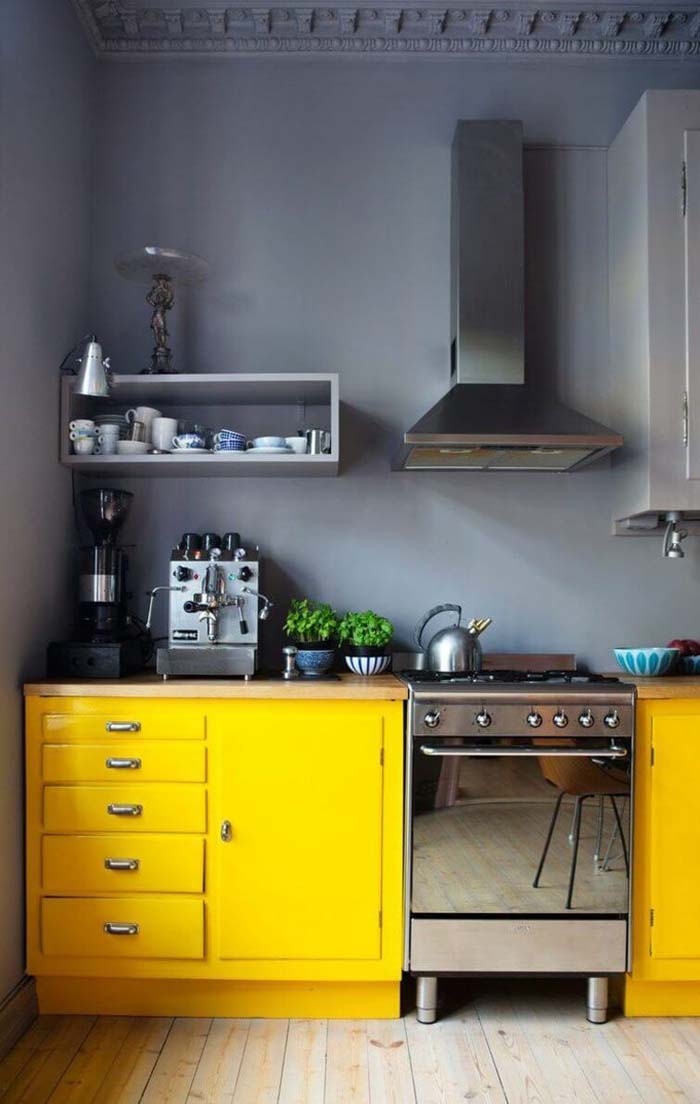 When you are looking for an instant change in the kitchen interior which doesn't require a total overhaul, go for yellow.
Yellow is very lively and will make your kitchen feel brighter. You will be surprised how cheerful you will feel when you enter your renovated kitchen with lemony yellow cabinets.
An advantage of this color is also its cover properties. You may get to the wished result only with one layer of this paint color.
19. Go Retro with Delicate Duck Egg Blue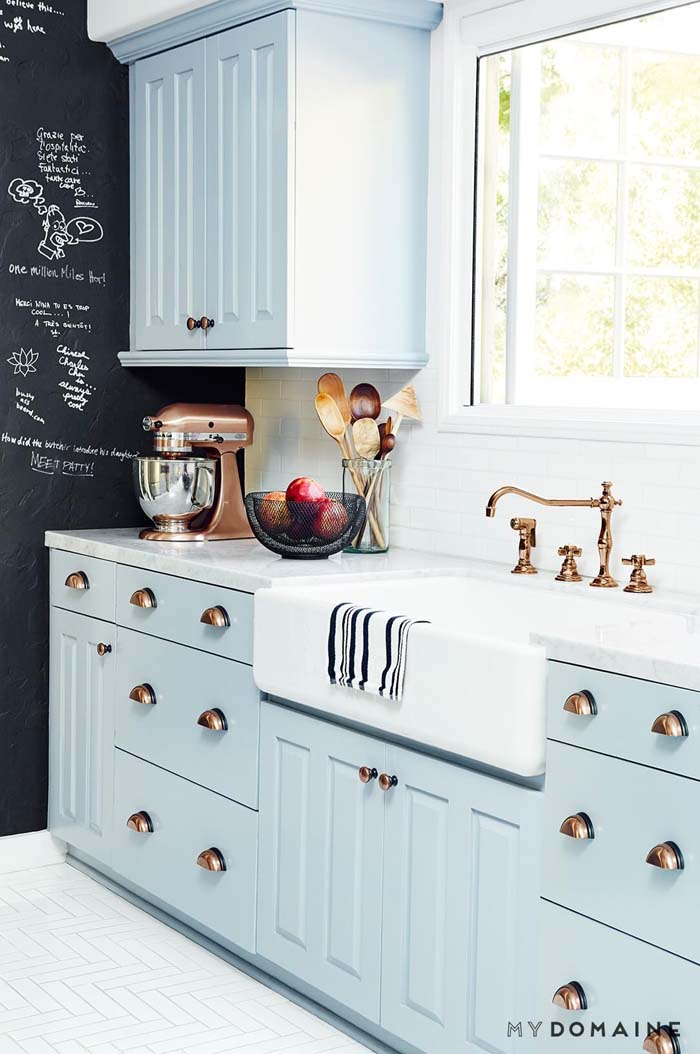 Give your classic wooden cabinets a charming and inviting hue.
The duck egg blue stands out from the rest of the interior and at the same time is mild enough to embrace metallic accents, white tiles and bold chalkboard accent wall.
via HGTV
20. Gray is a Perfectly Modern Match with White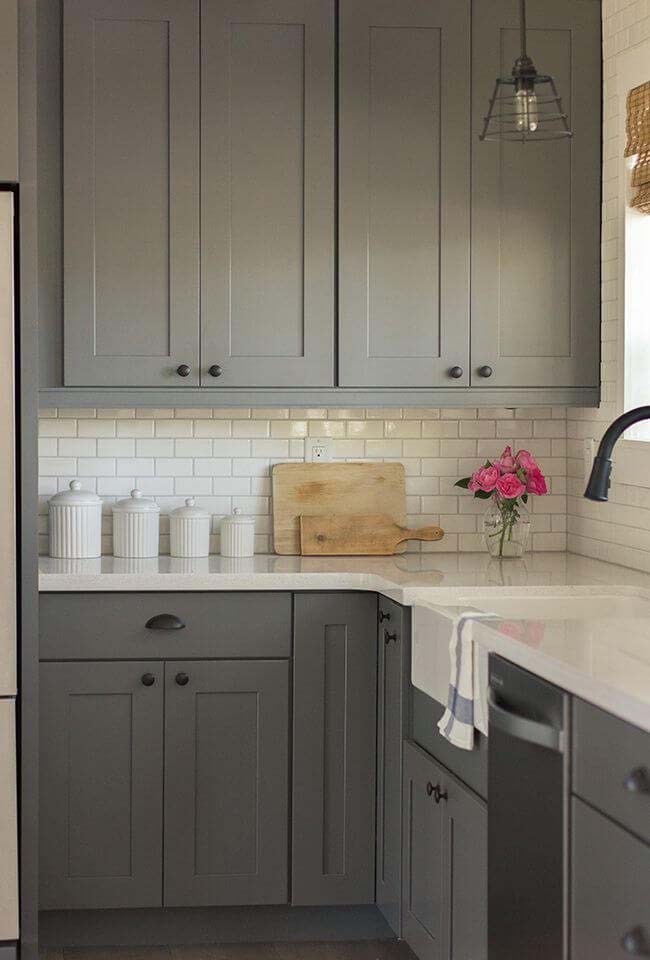 Gray and white are a classic combination in the interior style. When choosing the right grey shade for the kitchen cabinets, you need to cohere it with the amount of sunlight coming in the room.
When there are windows adjacent to the cabinets, you can go for a darker tone of gray. The natural light will smoothen its bold presence and thus there isn't a risk of an overwhelming feeling.
White backsplash and walls are also a helpful means to balance the darker hues of grey in the kitchen.
via Jenna Sue
21. Grey & Navy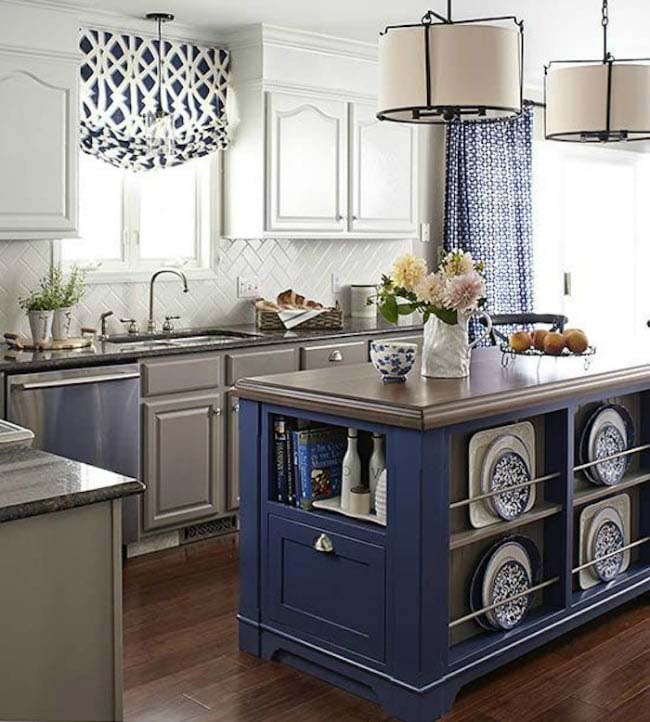 This is a surprising color combination which mixes contemporary with farmhouse. All cabinets are painted milky gray while the island in the center is decided in navy blue.
Accents on the island help the island pair with the cabinets. Curtains and shades act as a vertical element that unites these colors together to create a visually appealing interior.
22. Hunter Green Compliments a Country Kitchen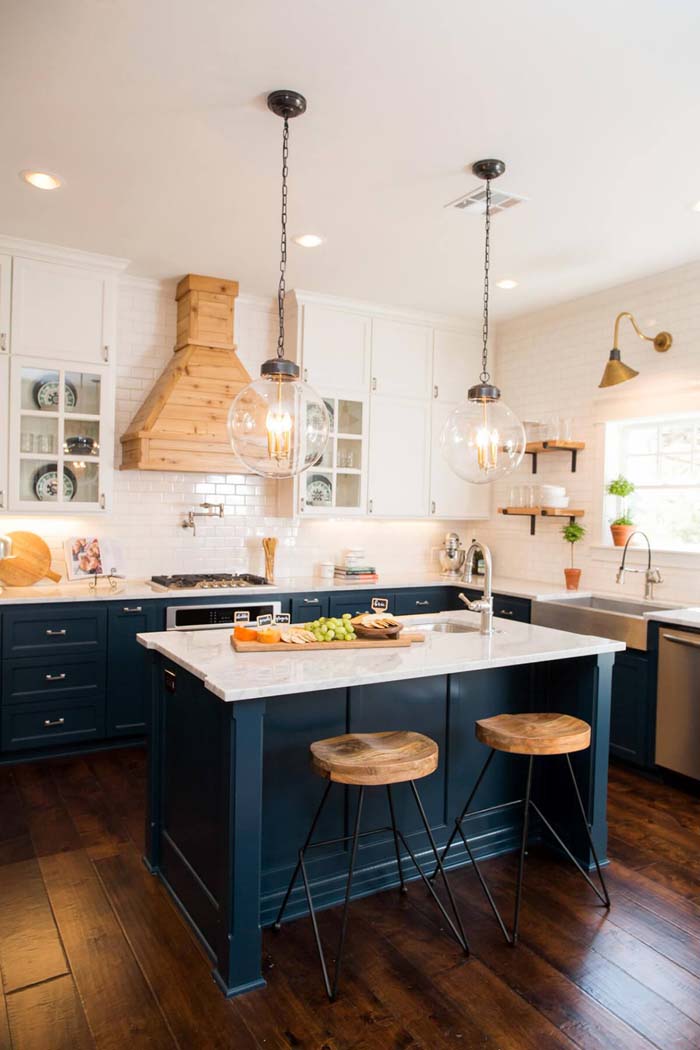 Amazing modern farmhouse charm! This is how we describe this kitchen design. Fresh but at the same time authentic, perfect balance between dark and bright.
The upper cabinets are glossy white to reflect the sunlight coming through the windows. The bottom cabinets are coated with hunter green color which adds depth and interest.
Metal, glass and natural wood accents spread around the room create visual contrast and united overall look.
23. Lilac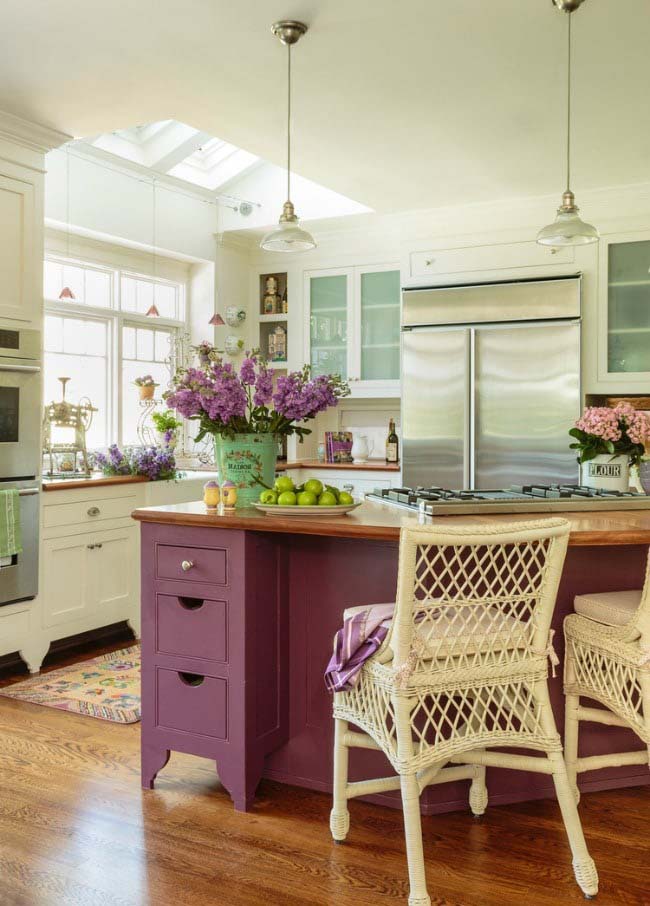 This is a lovely example of a kitchen focal point in the purple palette. Only the island is painted in the lilac color to stand out from the surrounding neutral furniture and turn the kitchen into a brighter space filled with natural spirit.
Lilac pairs perfectly with creamy white, green accents and wood basic elements.
via Alison Kandler
24. Mint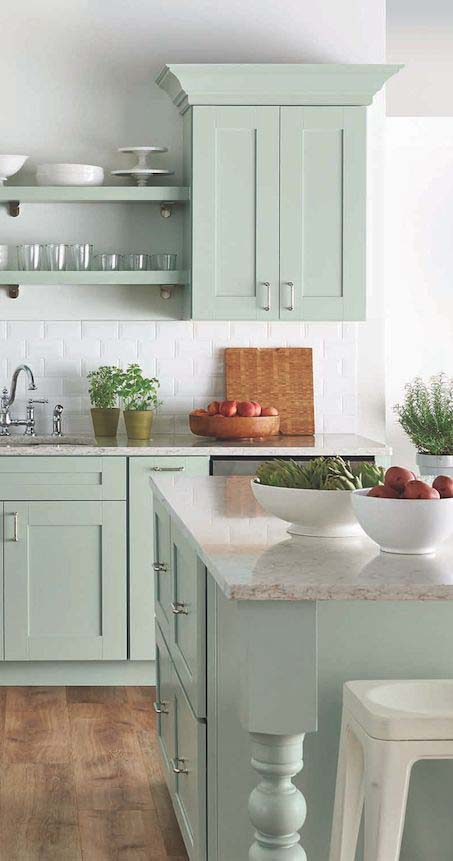 Mint kitchen cabinets add a relaxing vibe as if in a beach house. The light mint green kitchen cabinets brighten the space and enhance the airiness created by the windows and the white backsplash and walls.
Mint and white subway tile make a one-of-a-time combination that can be complemented by vintage pulls, bronze light fixtures or other antique finishes.
via Home Depot
25. Muted Sea Green Sets Off Gold Hardware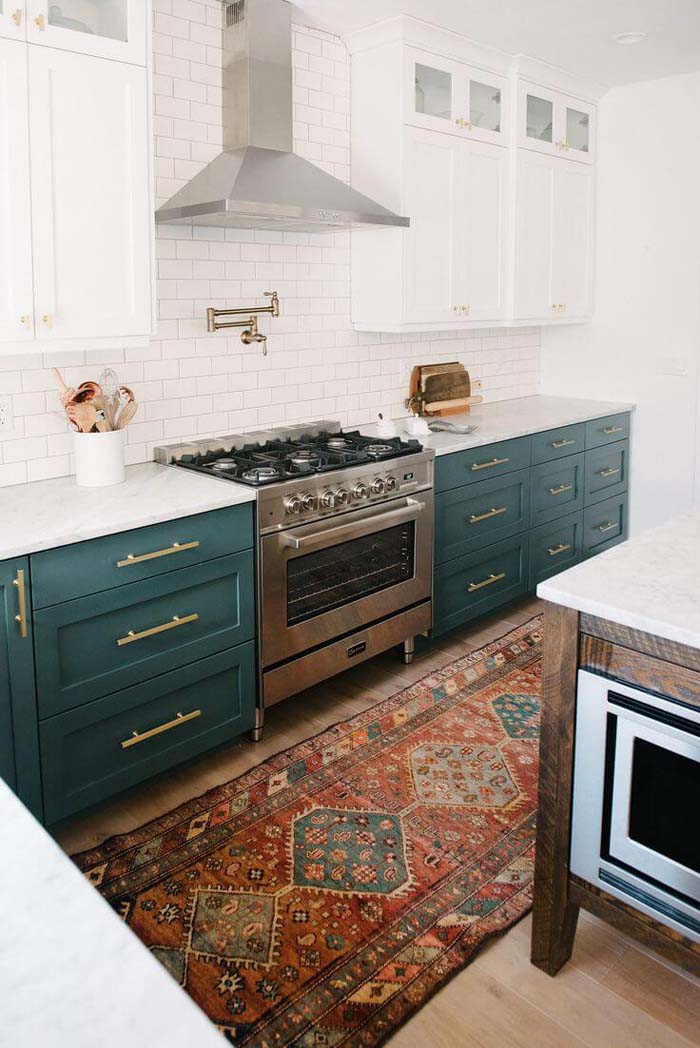 Another shade of green also works perfectly with white. Generally speaking, if the backsplash and the walls are white, you can paint the cabinets any bold color.
White is a balancing neutral color and that makes it so preferable in the interior design.
This kitchen cabinet example showcases muted emerald green that brings you to the calm world at the seaside. It pairs perfectly with wooden, brass and gold accents.
via Lonny
26. Navy Blue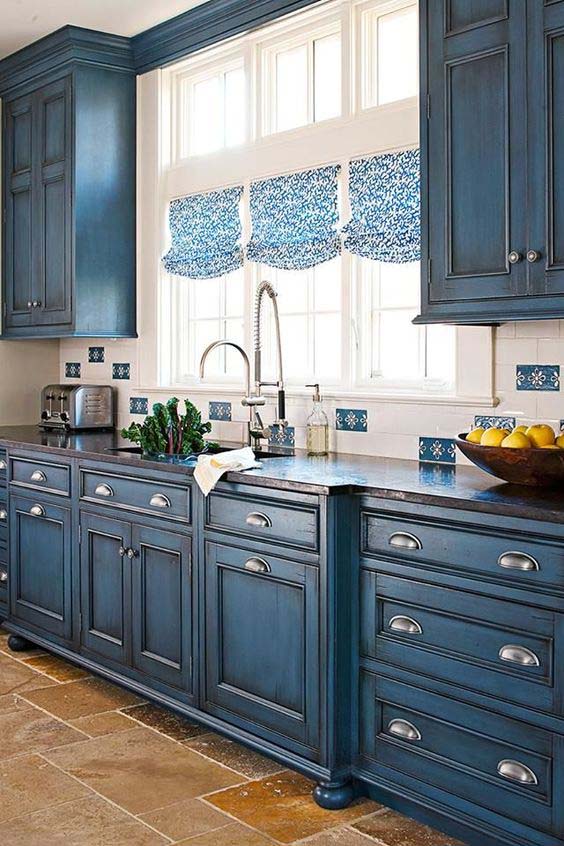 If you are looking for a way to make the kitchen calmer and inviting, try the navy blue color of paint on the cabinets.
Blue pairs perfectly with the stainless steel appliances but you can improve this visual match by replacing the old pulls with vintage silver ones.
via BHG
27. Neutral Gray is Clean and Modern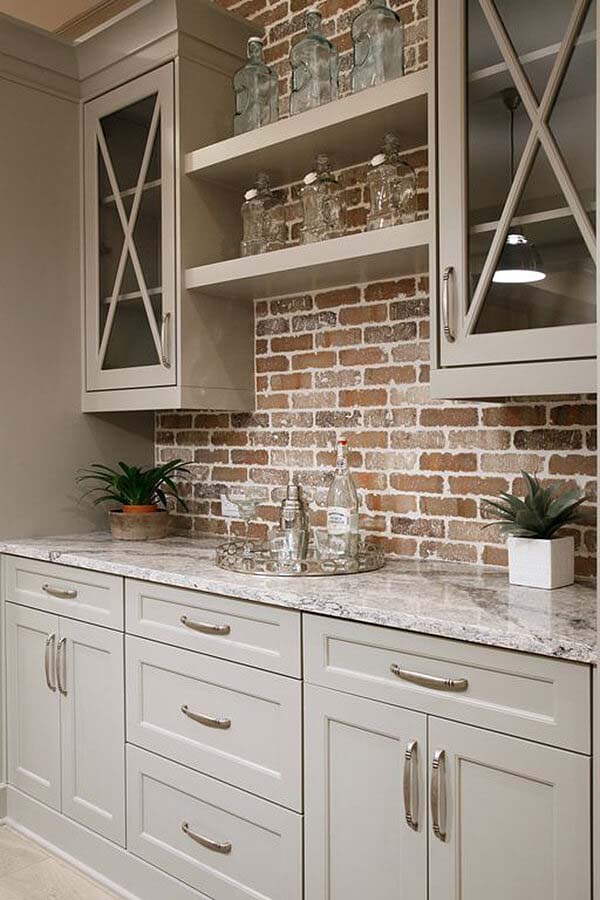 Neutral gray is prefered for small kitchens or kitchens where natural light is insufficient. This hue of grey has a good reflectability. When there are no or only a few windows, grey acts as a brightening feature.
It pairs well with natural textures such as marble, natural stone and wood.
28. Never Go Wrong with Classic White Matte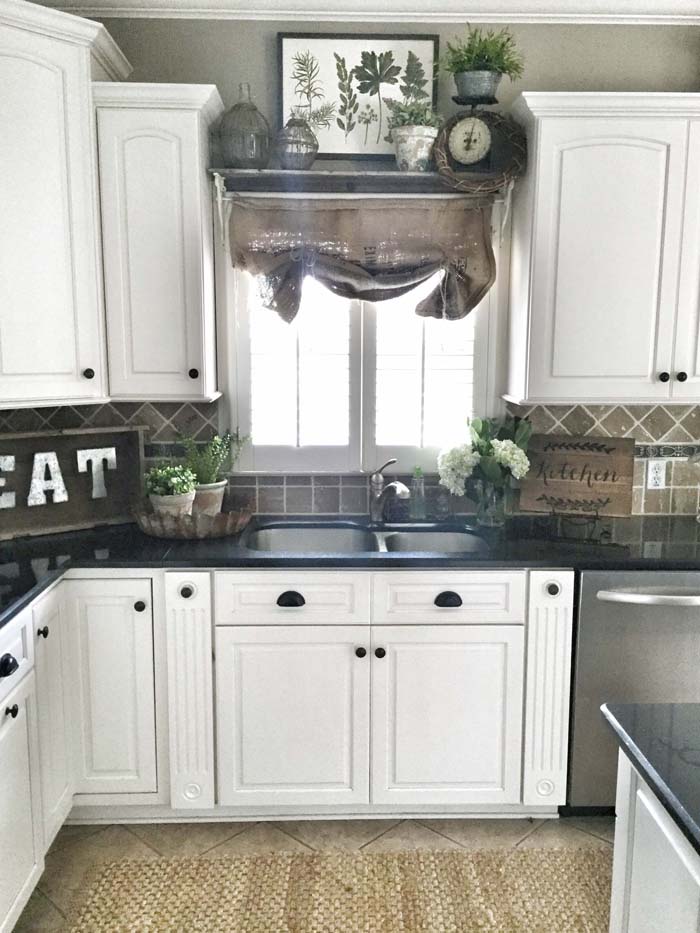 White is a timeless color when it comes to kitchen cabinet colors. White goes well with every color scheme and every texture.
For a more modern look, add metallic accents. For a farmhouse interior, pair white with wooden accents. White works well also with industrial items such as black hardware and light fixtures. It is so versatile!
via My Domaine
29. Pink/Blush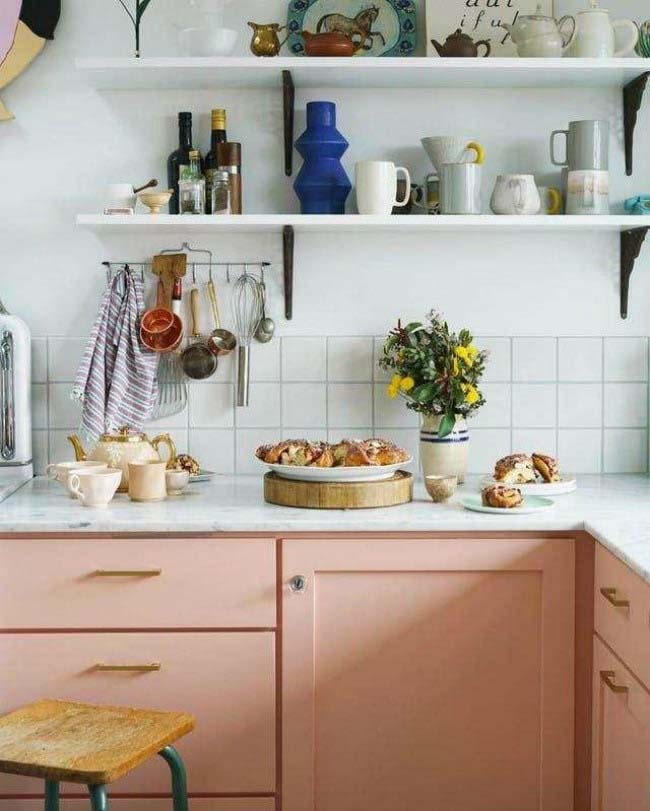 Similar to the purple color, pink is another choice that is very rarely used and quite unexpected for kitchen cabinet colors.
As you can see, pink looks good in the kitchen if the right hue is chosen. This blush shade of pink is inviting, bright and mild.
It works well with farmhouse interior and bold accents.
via Leela Cyd
30. Powder Blue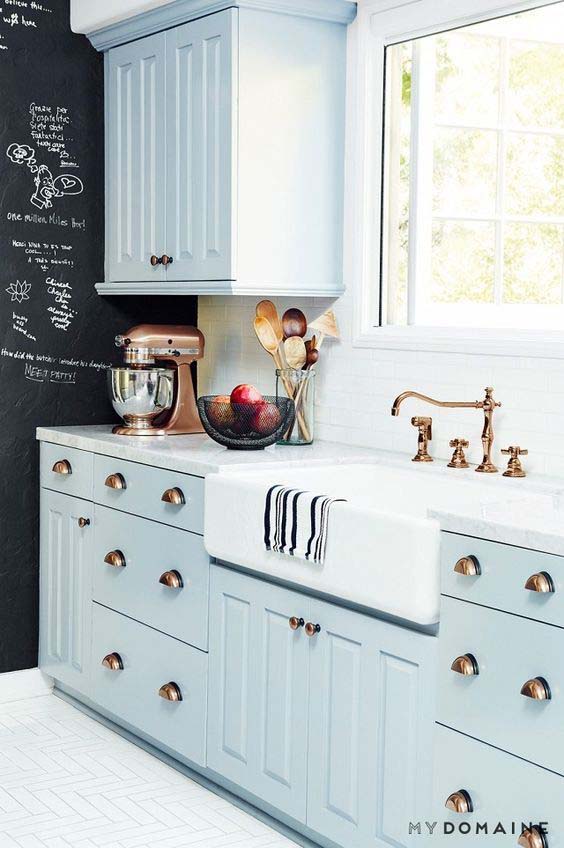 Powder blue color is another surprise in our kitchen cabinet colors collection. People are afraid to experiment it in other rooms different than nurseries.
When it is used for definition of the kitchen cabinets, it looks fantastic, elegant and unique. It pairs well in this black and white farmhouse kitchen, giving it a modern sophisticated touch.
via My Domaine
31. Rich Blues Pair Best with Silver Hardware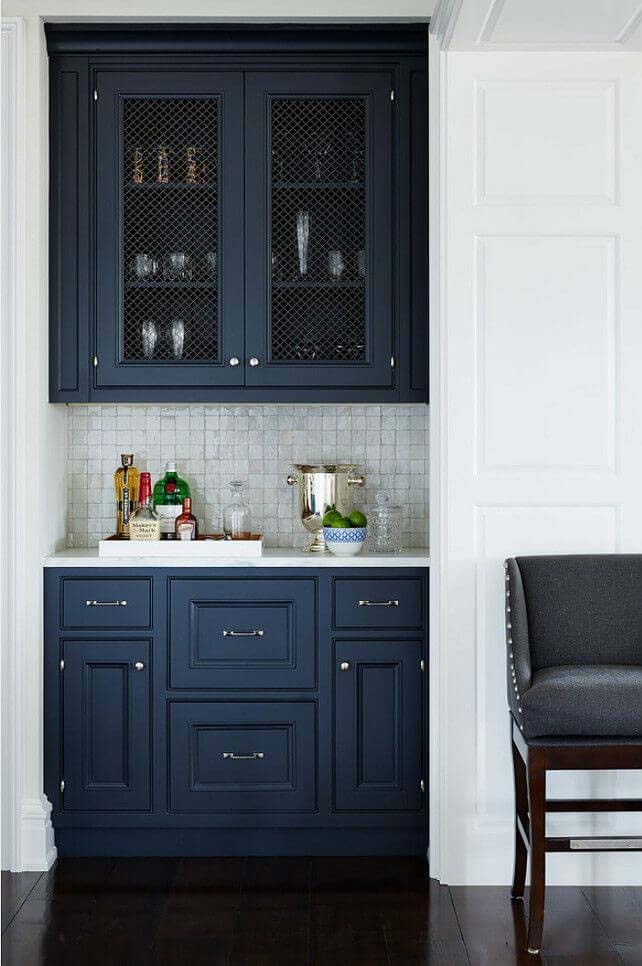 Blue kitchen cabinet colors are trendy, especially the deep rich navy blue hues.
They look fresh and clean but also quite relaxing because of their ocean theme relation. Blue cabinets pair best with silver hardware that gives it dark tone brilliance.
32. Rich Cherry Wood Finish For Contrast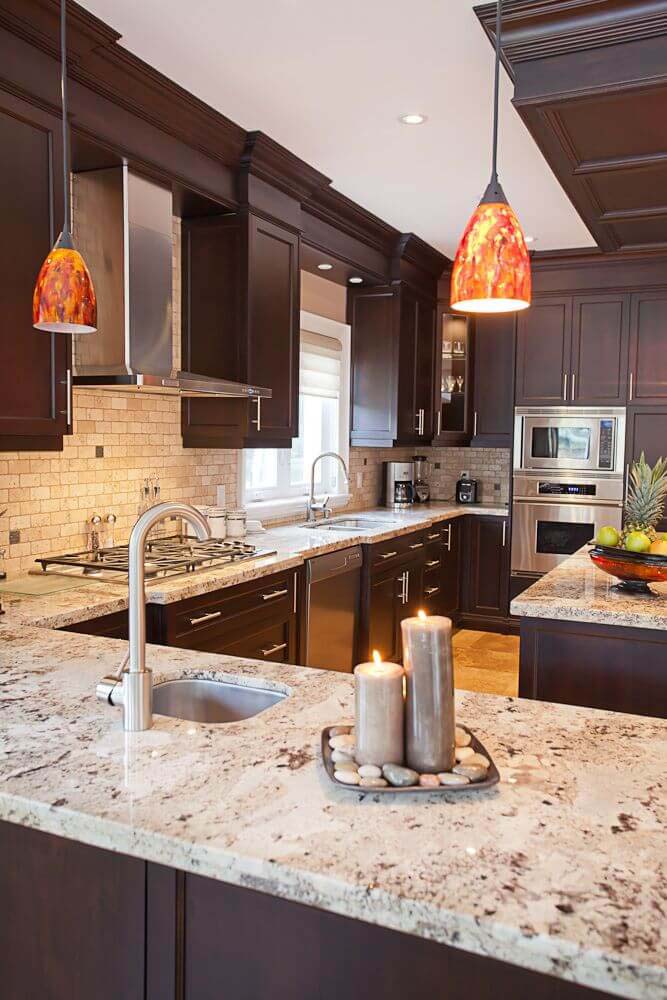 This kitchen design is classy and timeless. The wood of the cabinets is given an elegant touch with the rich cherry color applied. It appears also in the splashes of the marble countertops which is a stylish decision.
Silver hardware and nature-inspired decoration let this kitchen look contemporary and inviting.
33. Sage Green and White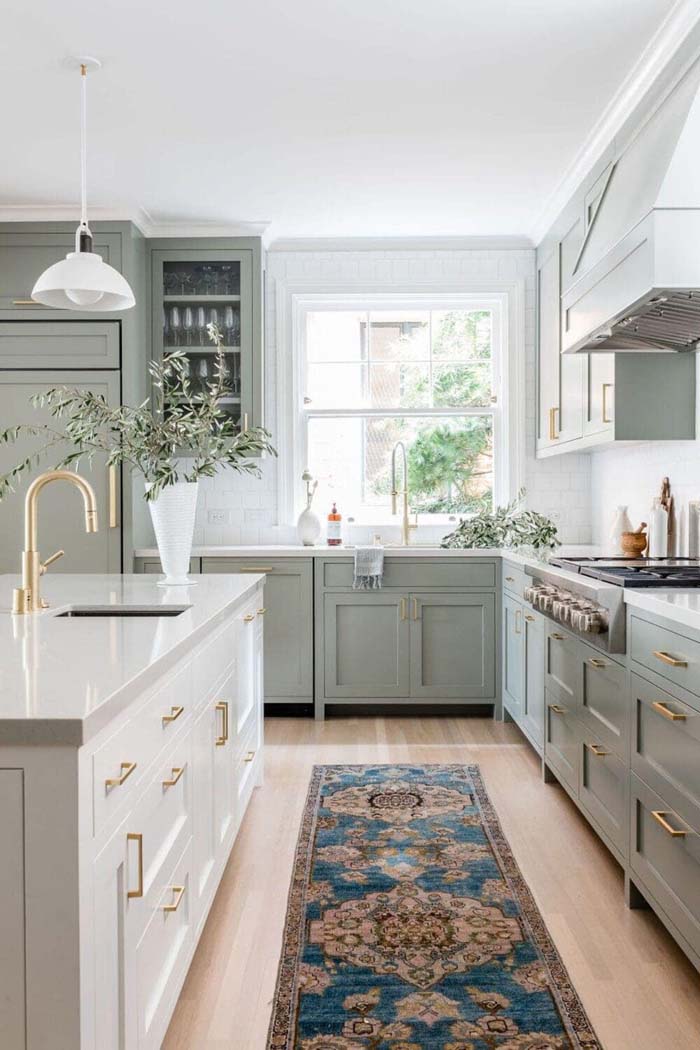 The earthy sage hue of the green stands out in this kitchen interior design and yet it is open to work out with other hues in the kitchen.
The color of the cabinets pairs nice with the golden finish of the hardware and the aristocratic pattern of the long carpet leading to them.
34. Stone Neutral Picks Up Granite Highlights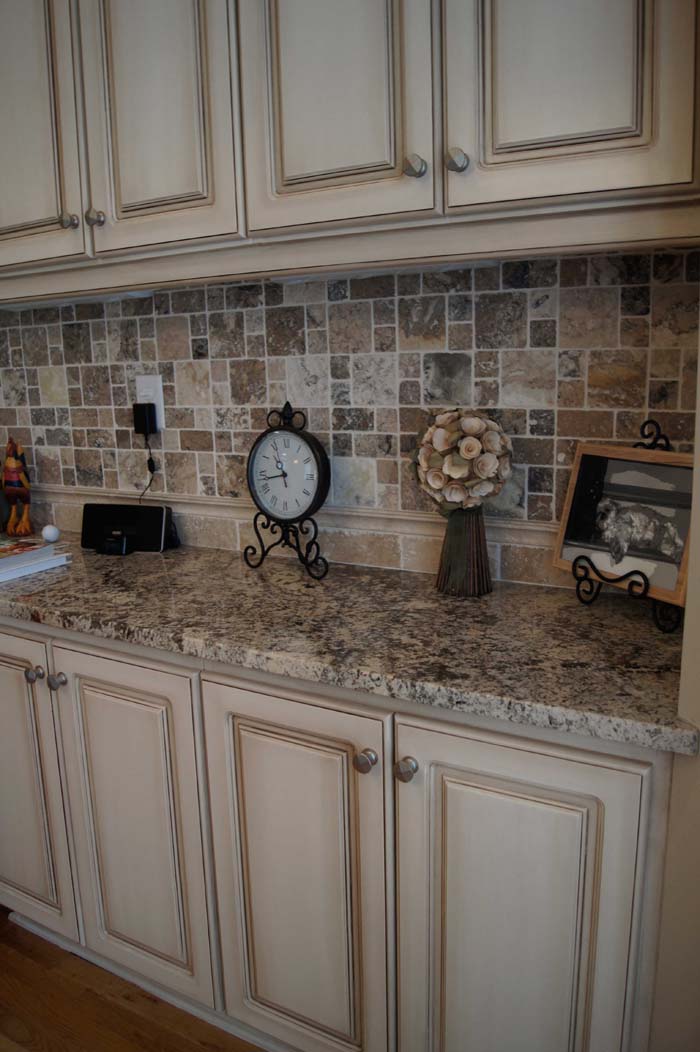 The color palette of this kitchen is so aesthetic! Creamy color cabinets mix with marble countertops and natural stone backsplash tiles. All of these elements are united by the beige color present in their textures.
The rustic feel is additionally enhanced by the moderate usage of antique decorations.
35. Turquoise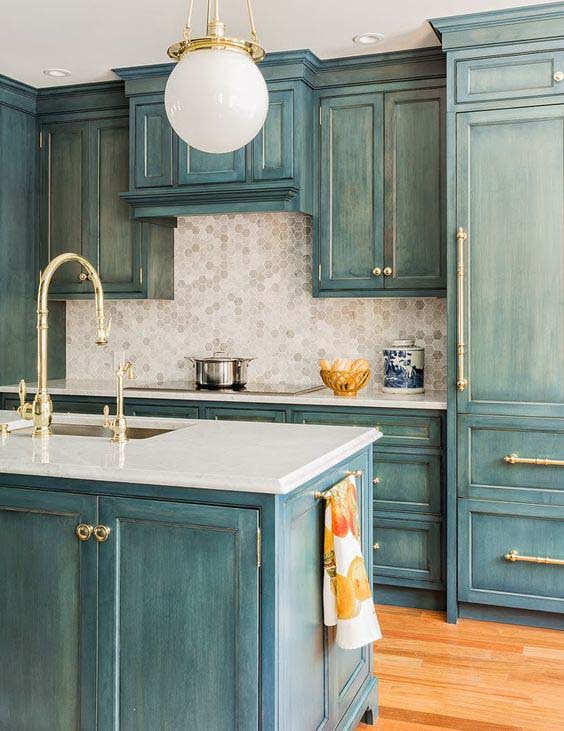 Turquoise stained kitchen cabinets? Yes, of course! This color looks great not only on the coastal-themed decorations or on your summer clothes!
See how it it makes this farmhouse kitchen more unique and personalized. It pairs perfectly with the laminate flooring and the modern hexagonal backsplash tiles.
To achieve the same surface finish, apply a dissolved coat of paint which creates this washed texture.
36. Use Black Matte to Compliment Focal Points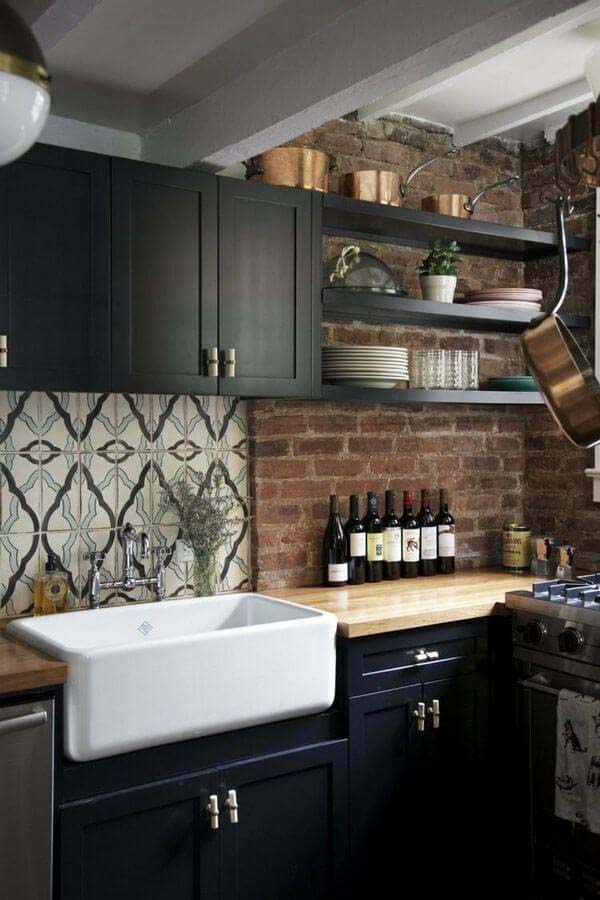 Black is perfect for modern kitchen designs or for retro style kitchens that need a modern upgrade. Black is a huge trend which comes from the sophisticated look it creates, its versatility when it comes to pairing with other colors and styles.
When you choose the black color for your kitchen cabinets, make sure that there is sufficient light in the room, otherwise it will overwhelm the air since it has low reflectivity.
via Archzine FR
37. White on White is Classic and Clean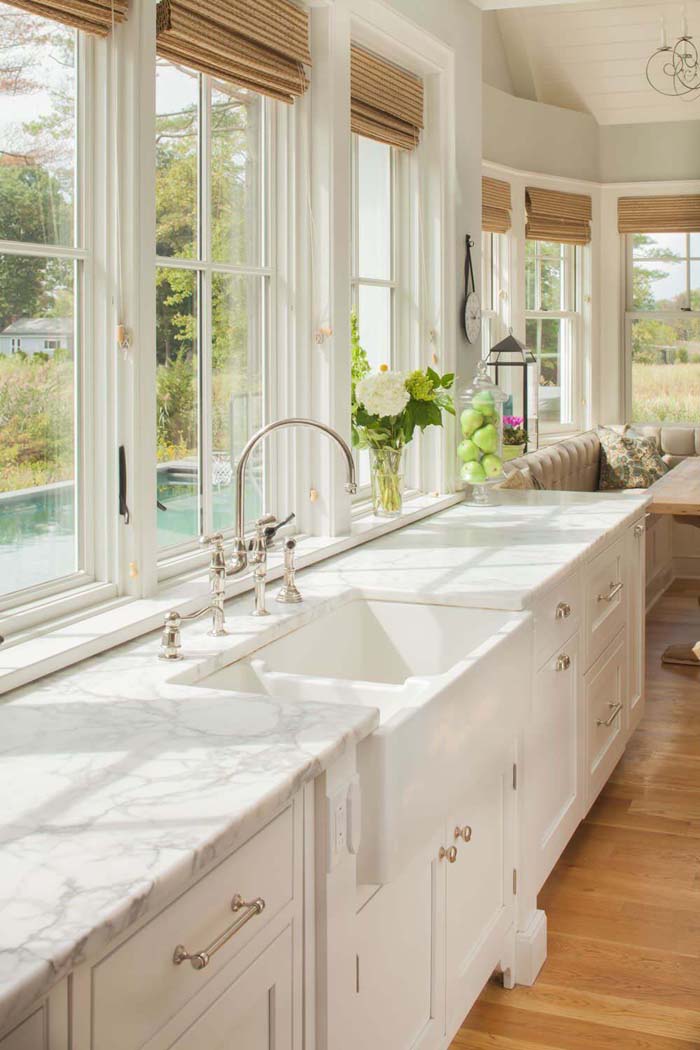 White is a safe, timeless and elegant color when it comes to kitchen cabinet colors. The interior design here has used layers of white to create an extremely airy and bright space.
Simple woven window shades create a contemporary contrast and complement the all-white kitchen.
38. Wood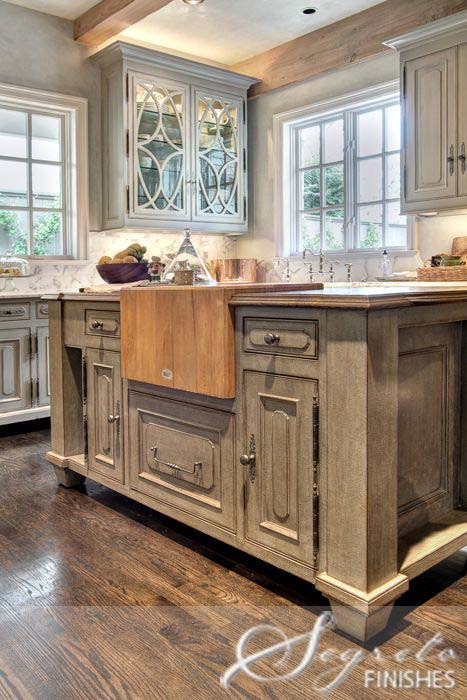 Another classic choice for the kitchen cabinets is the timeless and simple wood cabinet finish.
It always presents a touch of farmhouse but depending on the wood hue that effect can be enhanced or smoothened.
39. Yellow
Don't you feel like seeing the most cheerful kitchen design ever? Mood there is certainly always happy and people are charged with energy there.
That is possible with the great color choice for the lower cabinets. Sunny yellow is welcoming and bright letting the interior look and feel airier.
via A Beautiful Mess
40. Milky Way Kitchen Cabinets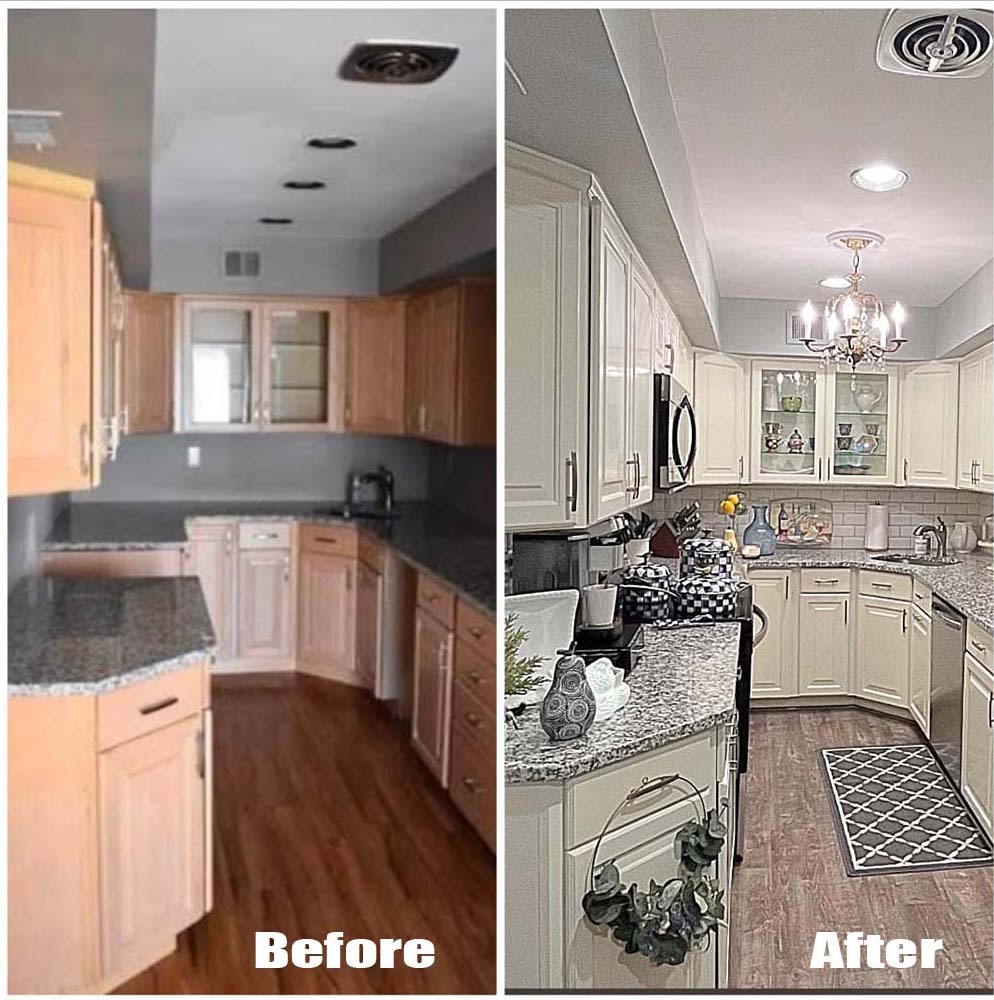 credit: Nora Buscemi Dibari
Transform your kitchen into a stylish haven with a captivating makeover, featuring cupboards elegantly painted in the enchanting Benjamin Moore Milky Way color.
Pairing perfectly with subdued grey walls, this palette brings a harmonious blend of modern charm and timeless sophistication to your culinary space.