When it comes to your home's curb appeal, driveways are often considered as an afterthought. Driveway design should be included in the planning of your landscape. It's a significant section of your property that can make or break the look of your home.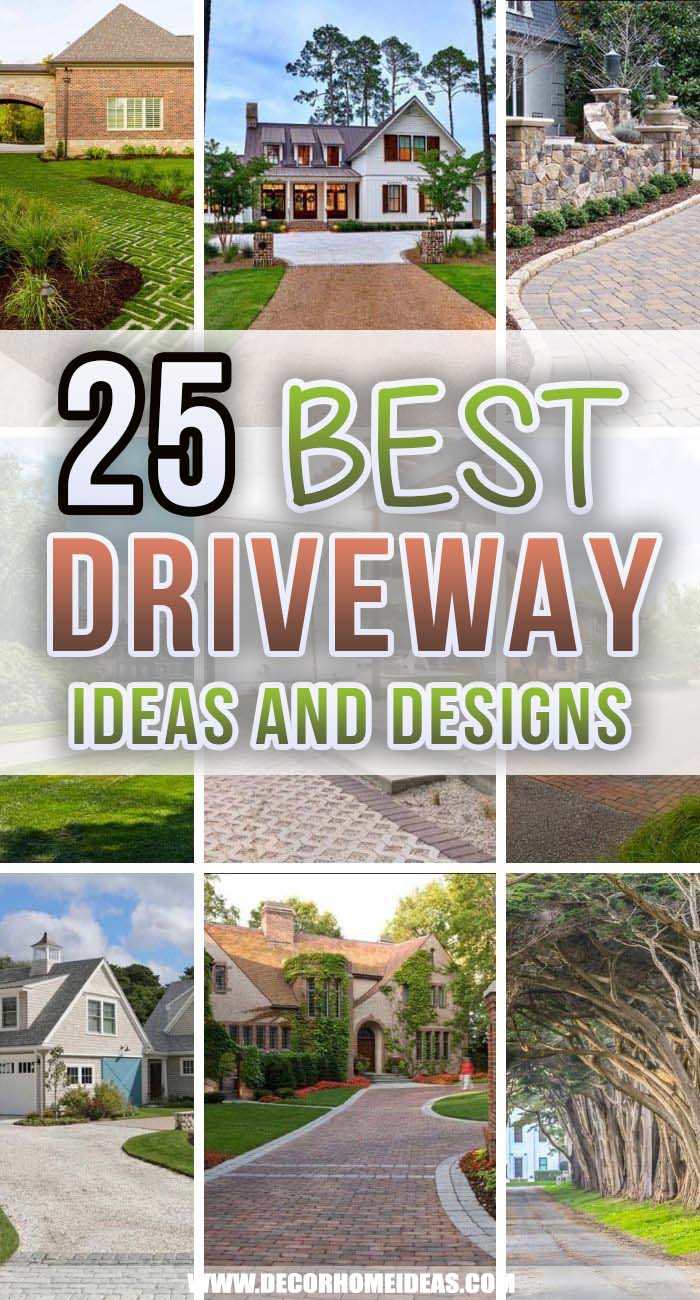 You can still have a driveway surface made from concrete or asphalt, but there are also choices available that may better suit your needs. We've collected a series of the best driveway ideas and designs to work with your budget.
1. Use Brick for Curves and Patterns
Brick is a cheap and durable material. The versatility of a brick driveway makes it a low cost and attractive option.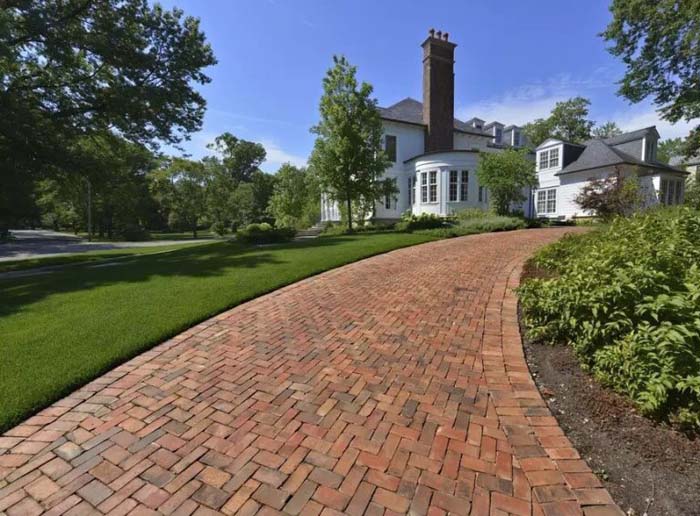 A mix of traditional brick patterns was used to meet the demands of the curve on this driveway.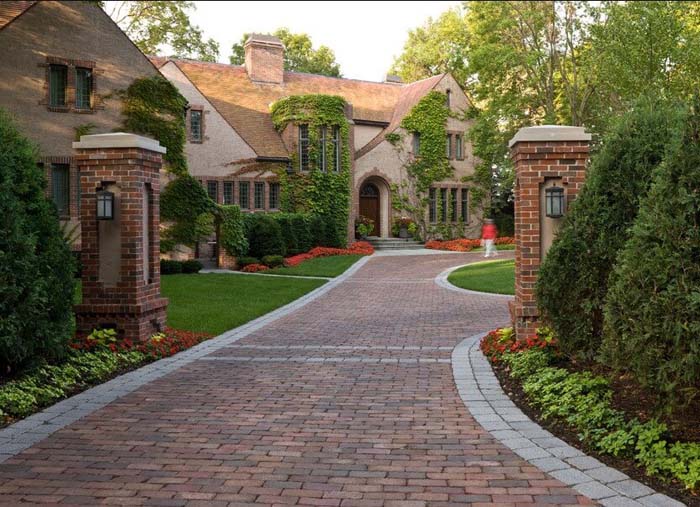 A typical brick pattern is broken up by using wider, gray blocks on the edges and between the lamps.
2. Grated Asphalt Has Smooth, High-End Appeal
Grated asphalt is a cost-effective way to get a high-end look. Since it's poured into a form, it's a good solution for irregularly shaped driveways.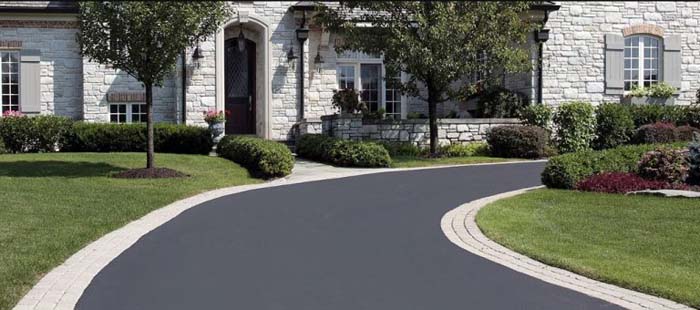 This grated asphalt driveway looks sleek against the whitewashed stone home.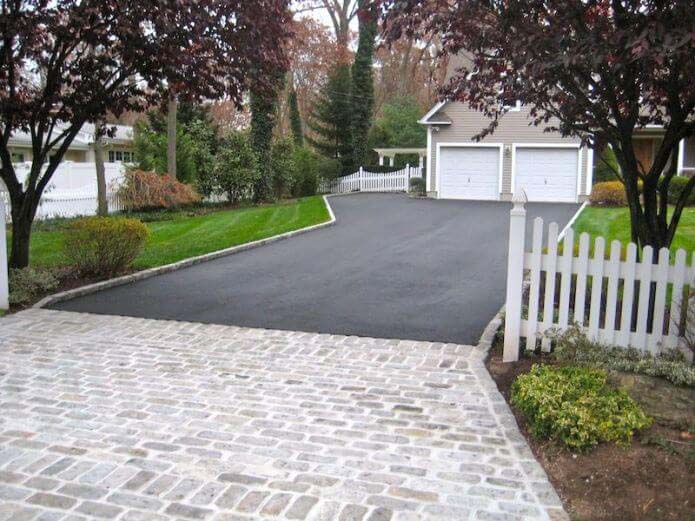 Extra parking and vehicle access can be added seamlessly by using grated asphalt.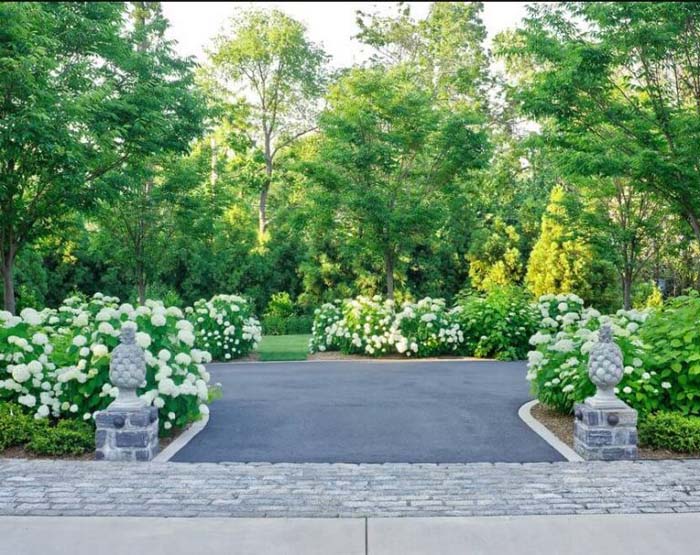 Grated asphalt creates flow and serenity in formal gardens.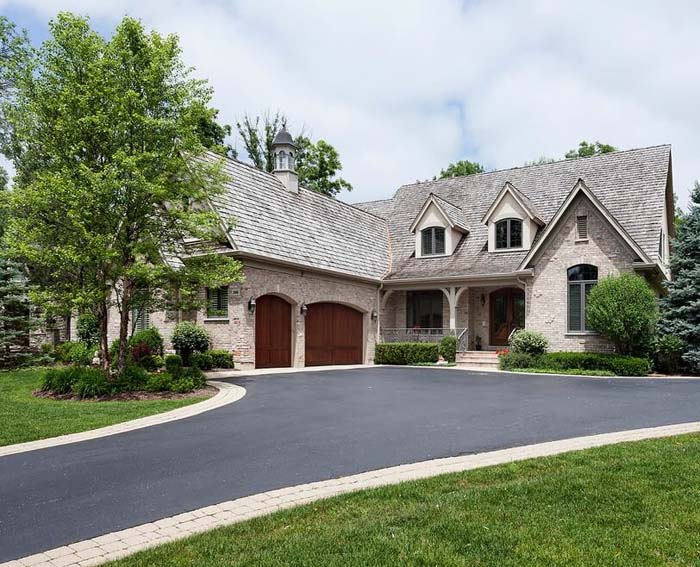 Grated asphalt, edged in white brick, adds to the formal look of this home.
3. Tar-and-Chip Covers Large Areas
Tar-and-chip is a mix of asphalt and gravel.
25 Best Driveway Ideas and Designs Perfect For Any Budget video:
This aggregate has a layer of gravel pressed into the top. It's a durable, low-maintenance choice.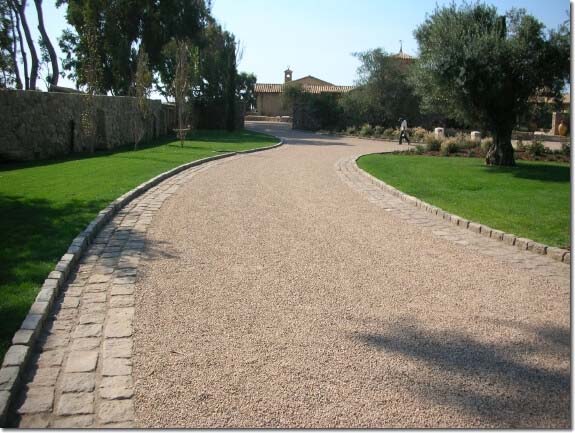 Large estates cover a lot of ground with tar-and-chip drives.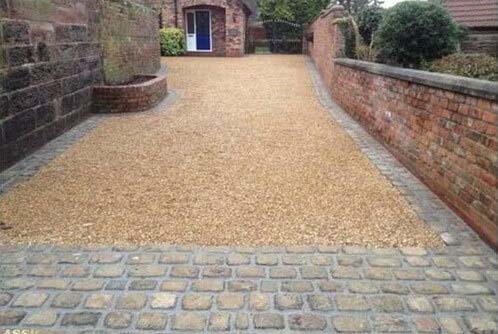 A tar-and-chip driveway framed with cobblestones.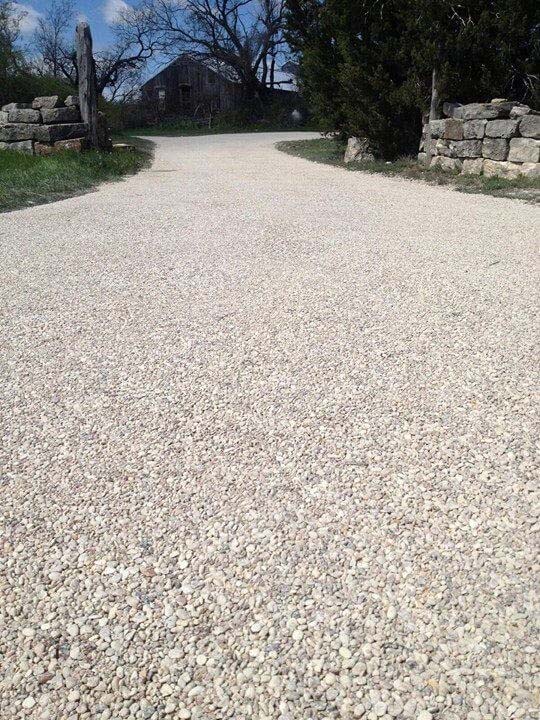 Tar-and-chip looks a lot like pea gravel. The difference is the top layer is embedded, so the driveway stays neat.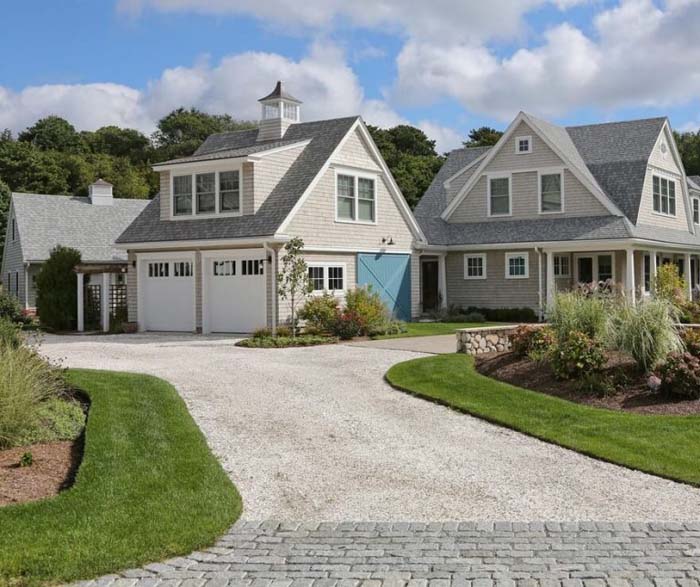 Tar-and-chip is used to connect the driveway to the cobblestones and walkway.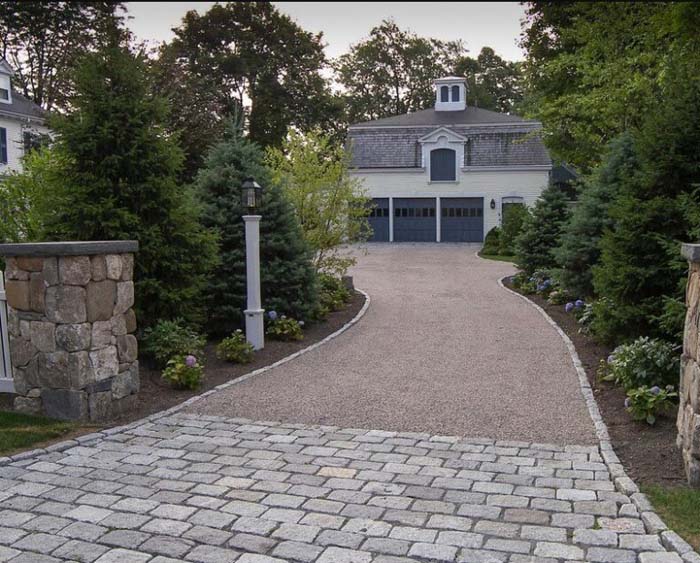 Edging pavers visually connects the tar-and-chip sections with the cobblestones.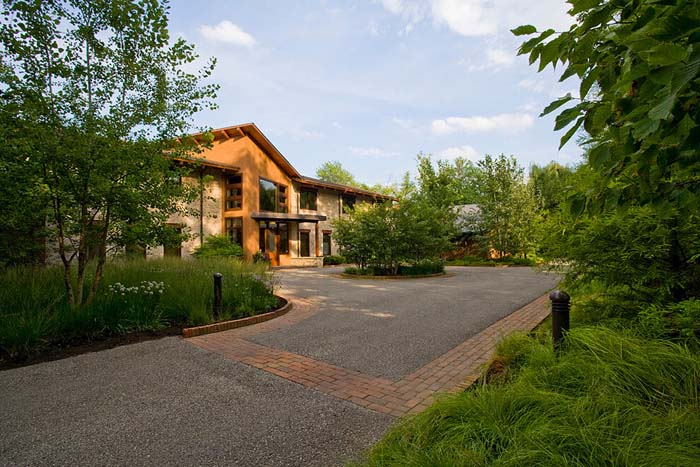 Tar-and-chip embedded gravel framed inside brown brick.
4. Edge Stone Driveways Are Easy to Maintain
Using very small-edged stones is the simplest and cheapest solution to a finished driveway.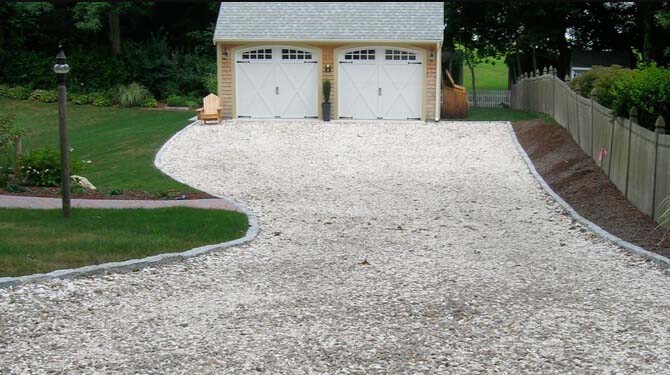 Edged stones are an easy solution for a driveway with a slope.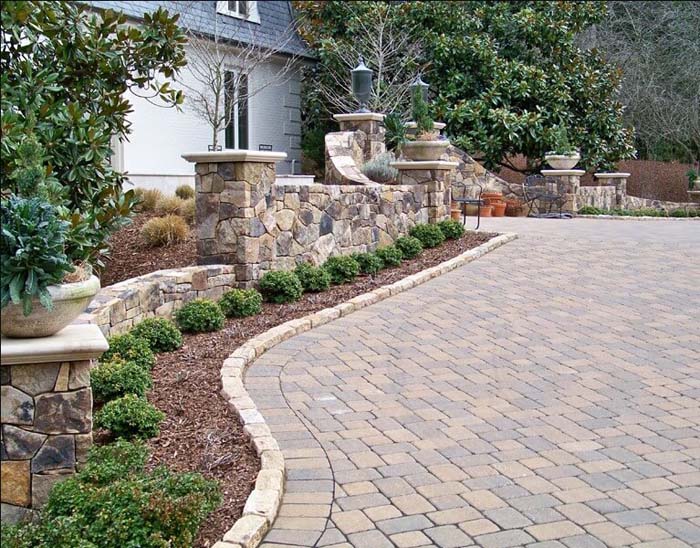 Edging for stones can come in the form of bricks, pavers, or poured concrete.
5. Poured Concrete for a Variety of Looks
Concrete is a fast-drying and durable material. It lasts the longest and is the easiest to repair. You can stain it for a different look.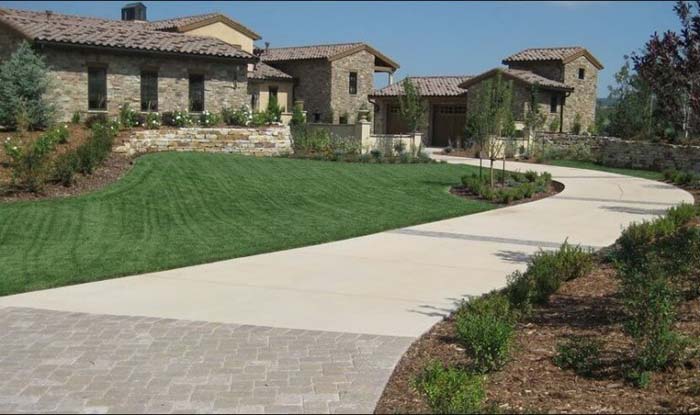 It's recommended to pressure wash your concrete driveway once a month.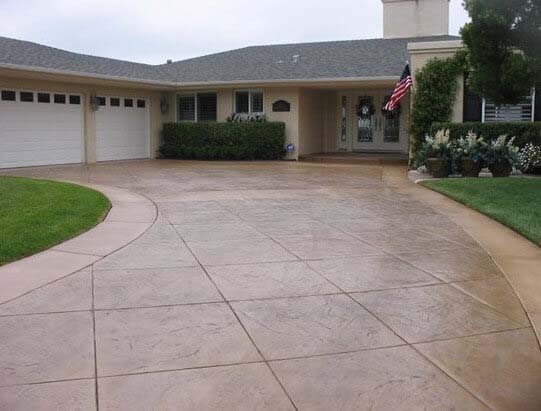 Create the look of pavers by adding texture and stain to stamped concrete.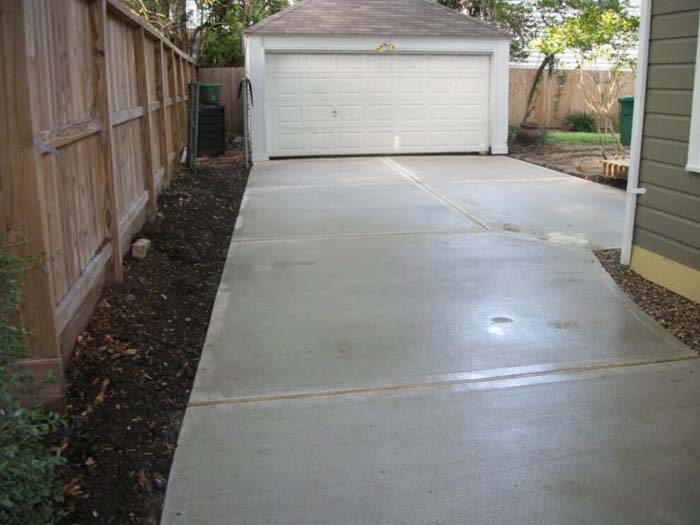 Pouring concrete in sections makes it easy to set a level pavement.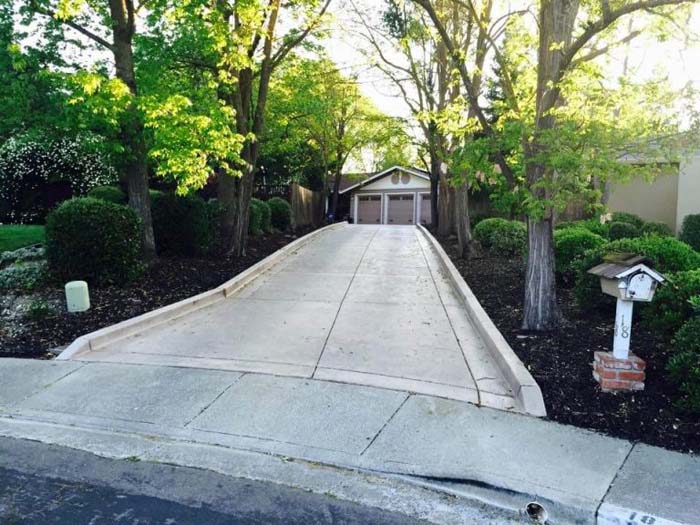 Concrete works with edging to keep the garden beds looking neat.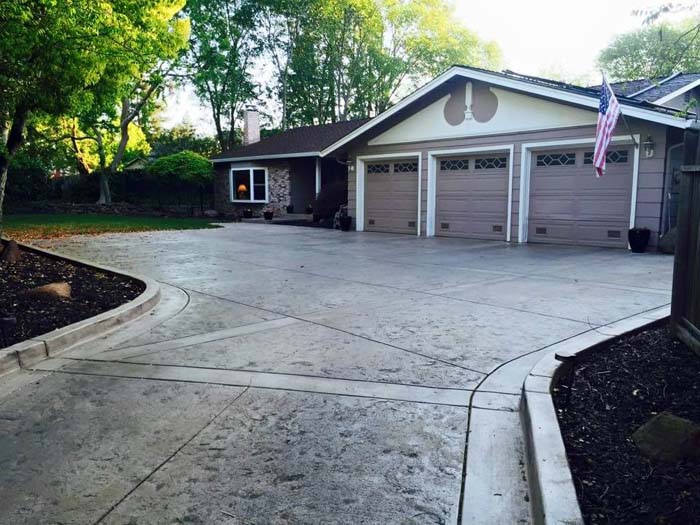 Adding texture to concrete helps with traction on wet pavement.
6. Blocks and Pavers Are Great for Drainage
Pavers are flat stones and blocks are quarried from larger pieces of stone. Both are popular because of their flexibility in driveway designs. They have the ability to be as permeable or filled.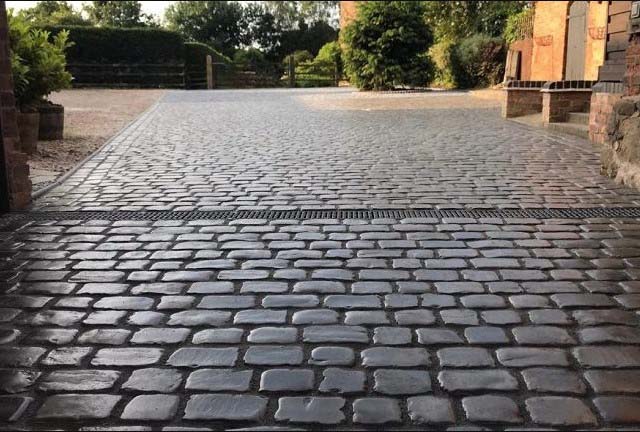 Blocks are laid in place with the cracks filled with sand. This creates a permeable driveway.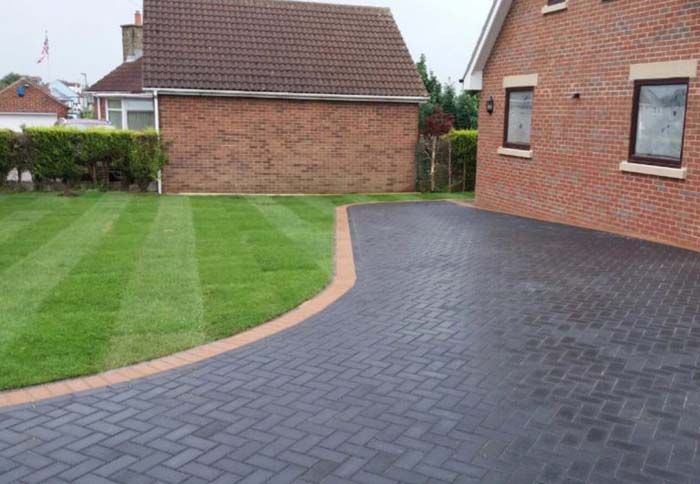 You can create interesting patterns with blocks.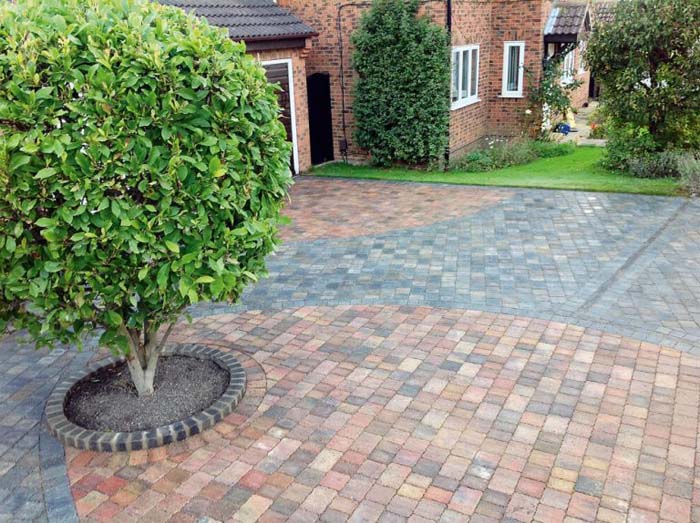 Add flow to a driveway by using two different colors.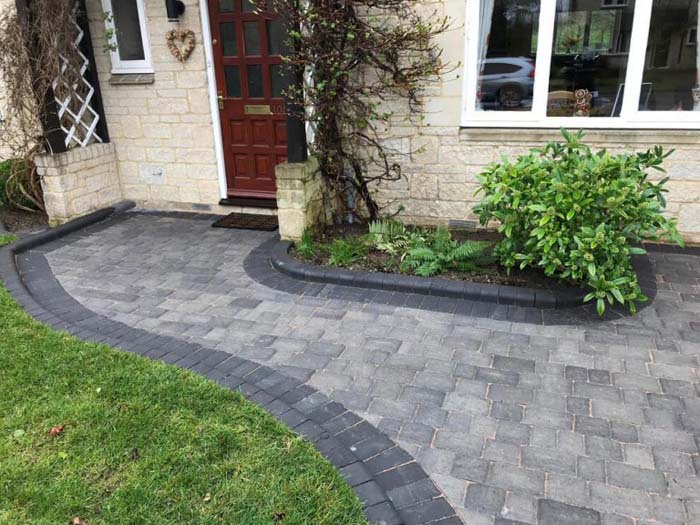 Bluestone cobbles are edged with dark gray brick pavers.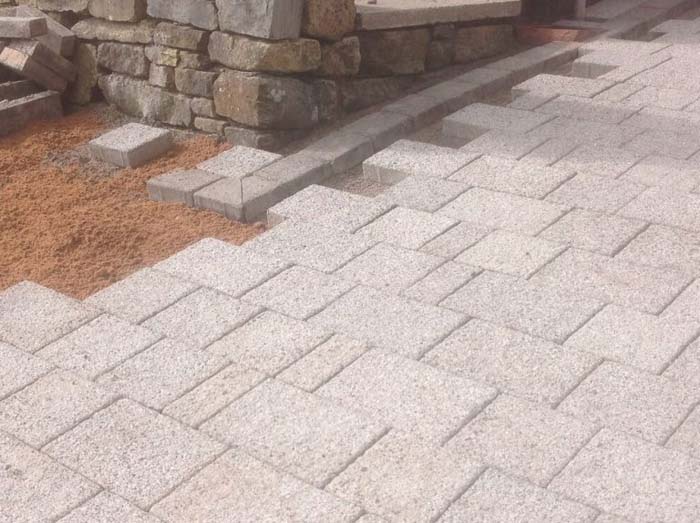 Blocks being cut and set to create a new driveway.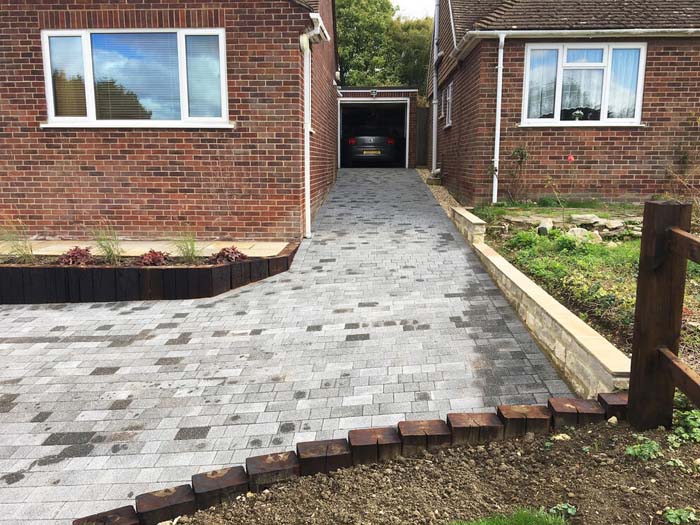 Multi-colored bricks create a mosaic look. Pavers can be set right next to a retaining wall.
7. Cobblestone Gives New Driveways an Aged Look
Cobblestones are made from smooth riverbed stones. They're usually made from granite. They can make a new driveway look like it's been there for years.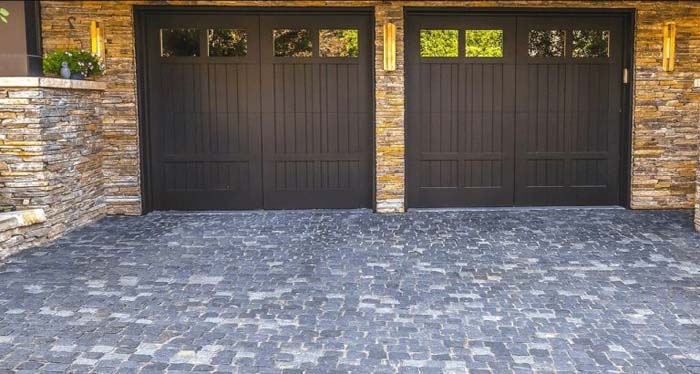 Bluestone cobble can be ordered through companies that salvage historical bricks for resale.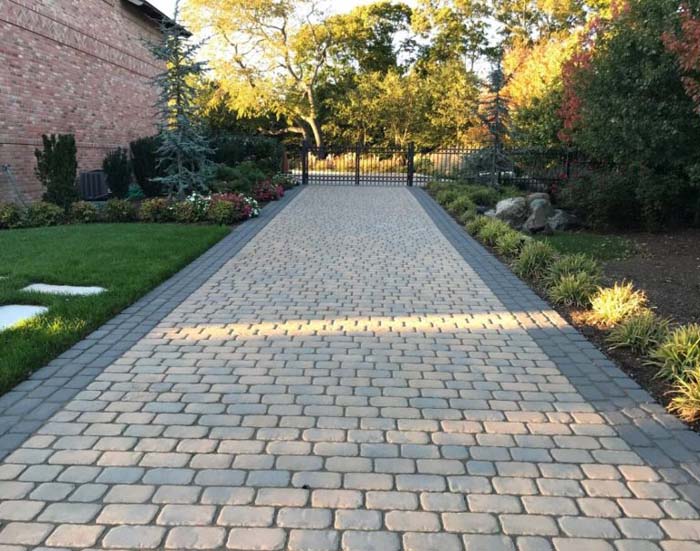 This cobblestone driveway was set to perfection.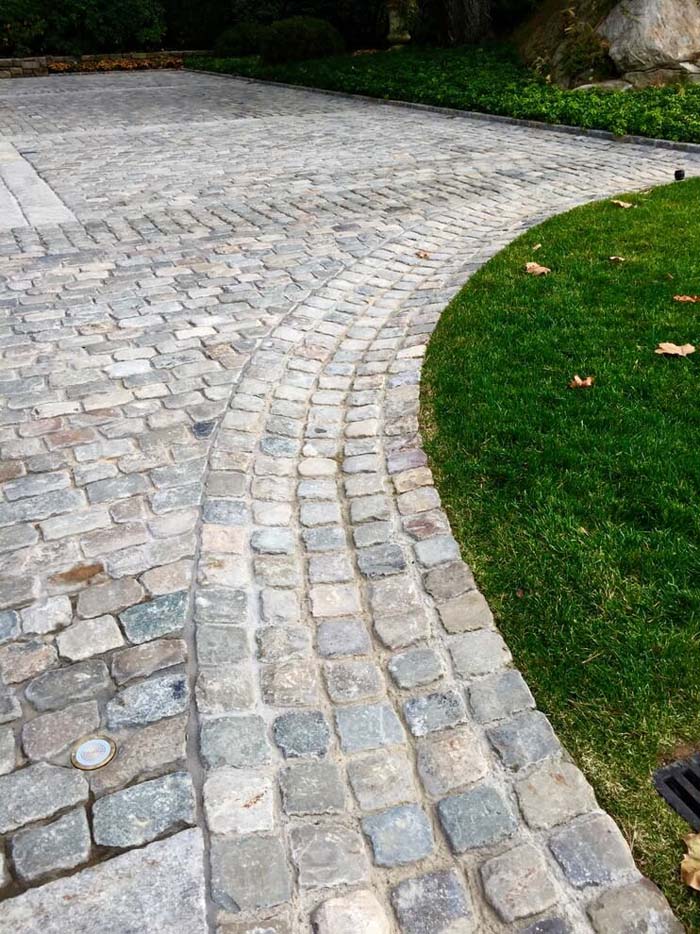 Modern embedded lighting is barely noticeable among the antique cobblestones.
8. Permeable Driveways for Reliable Drainage
Permeable driveways are designed for allowing water to pass through. This keeps the entire driveway clear of ponding water. It also helps snow and ice to melt off. They can be made with pavers, brick, and gravel.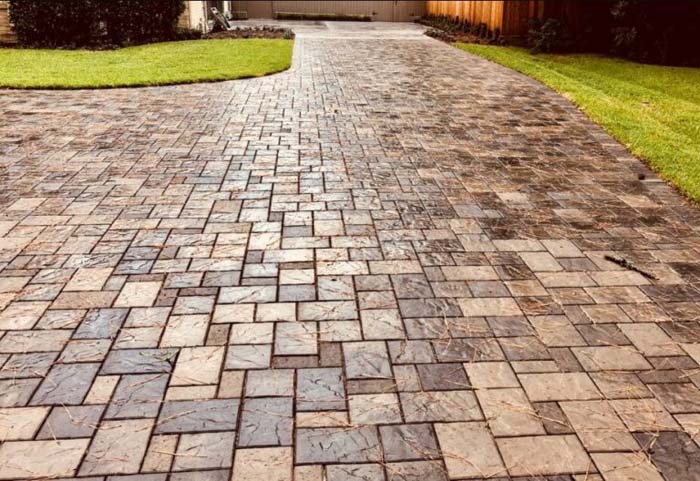 A permeable driveway built with stone pavers.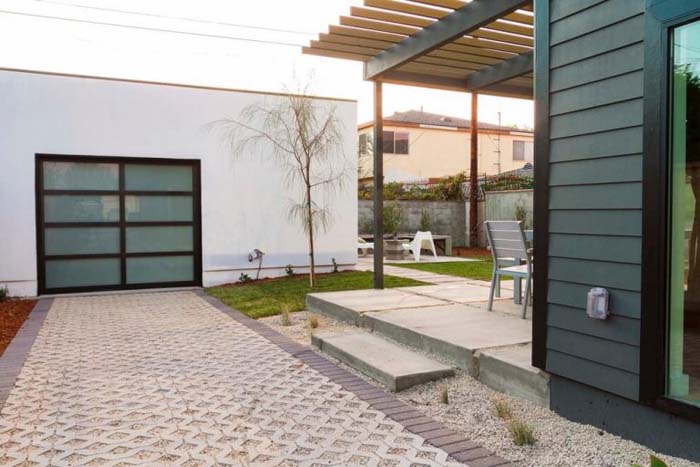 Gravel is set underneath a manufactured permeable system.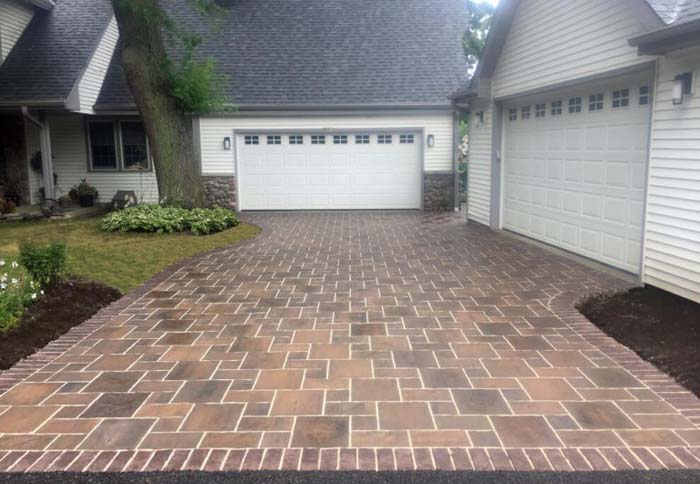 Using bricks or driveway pavers takes planning and preparation, but the effort is worth it.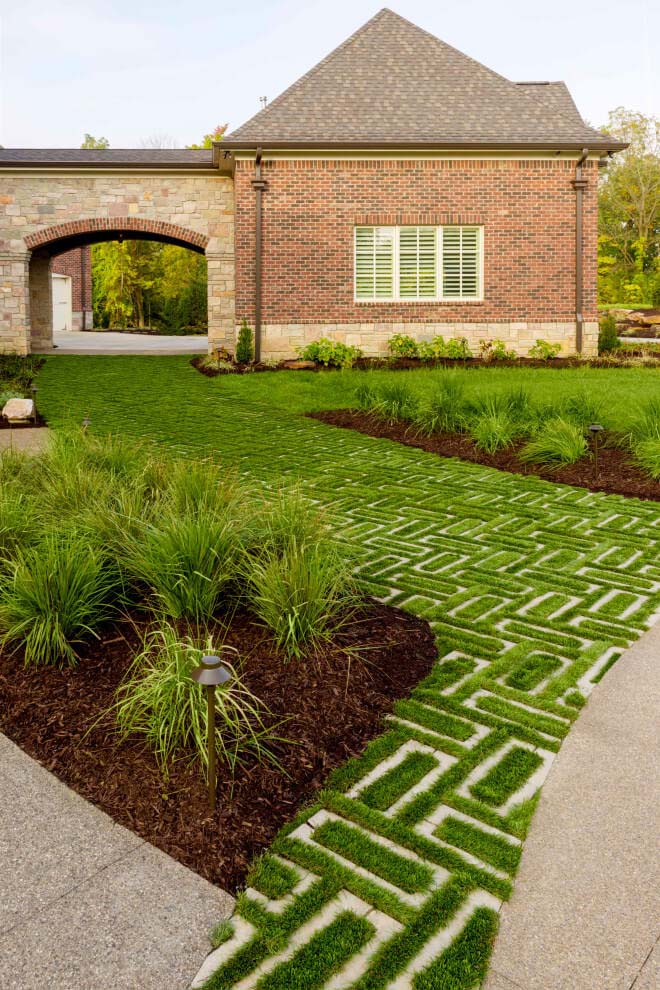 Grass and concrete pavers are set in a geometric key pattern.
9. Natural Stone Tile Has an Upscale Finish
Many people don't realize you can use natural stone in a driveway. When a sub base is installed properly, tiles with a thickness of 10 to 20 millimeters will support a vehicle.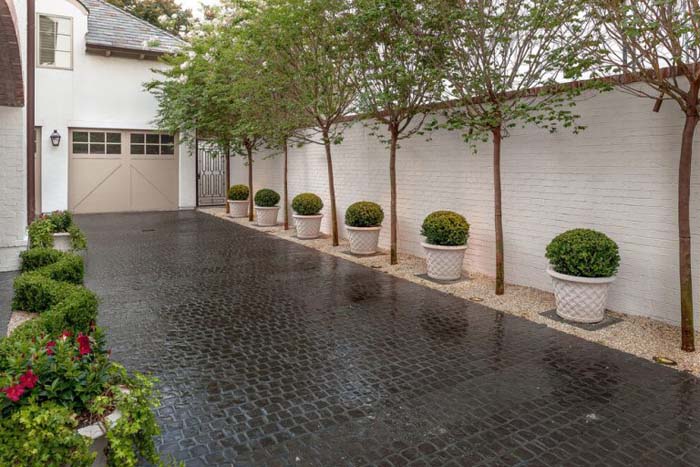 The size of these dark tiles creates interest against the formal planters and trees along the wall.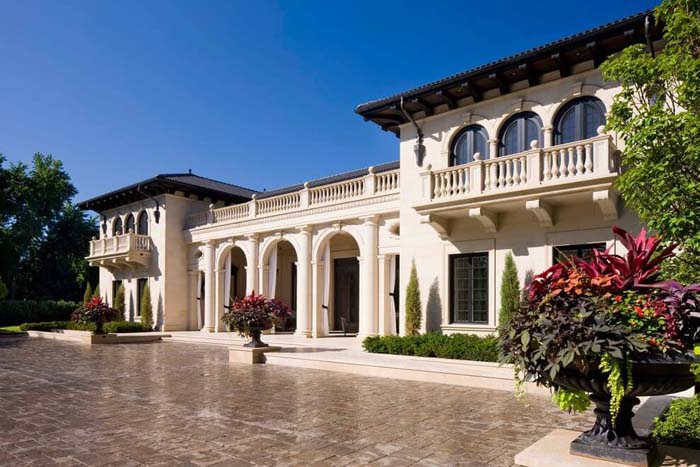 Travertine tile driveways are popular with Mediterranean style homes.
10. Wood Chip Is Well-Suited to Farm Areas
Wood chips are a great short-term answer to dirt driveways when you're renovating a property.
They're also good for rural areas. You can pick up wood chips for free through municipal recycling programs.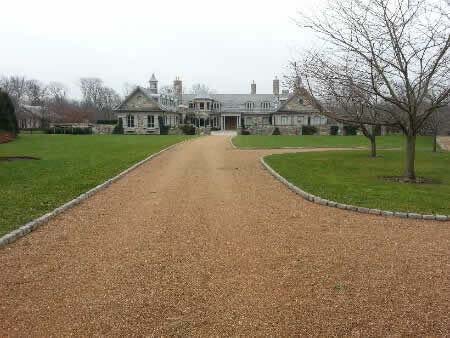 Wood chip driveways add a rustic feel to older homes in rural areas.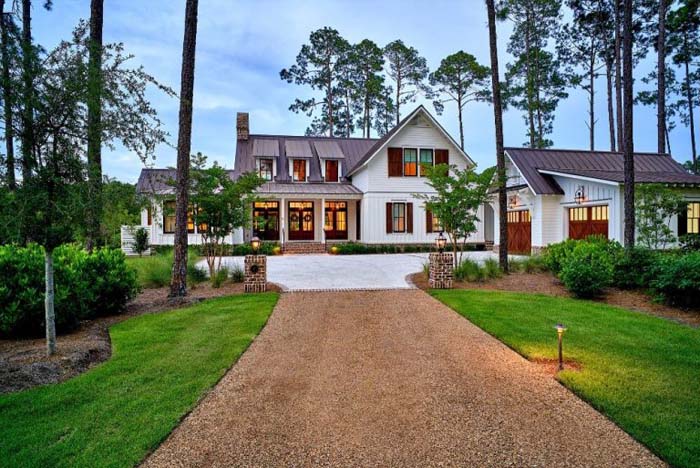 A wood chip driveway works with an upscale farmhouse style home.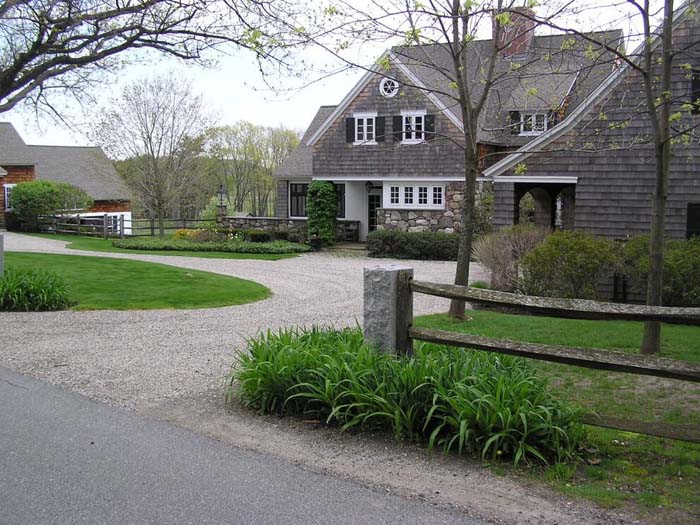 The weathered gray wood chips in this driveway look fine against this gray country home.
11. Recycled Rubber Driveways Are Smart and Safe
There are companies that use recycled tires for paving over old driveways, making it a more eco-friendly solution. It creates a softer landing for any mishaps.
These features make it ideal for families with children, the elderly, and people with physical challenges.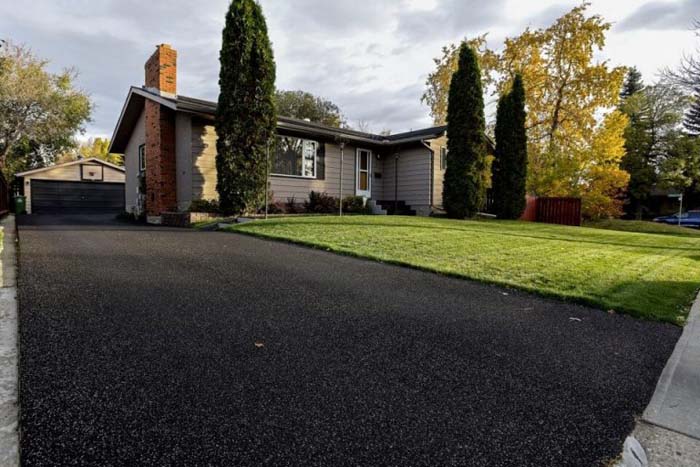 Rubber driveways look right at home as a substitute for asphalt.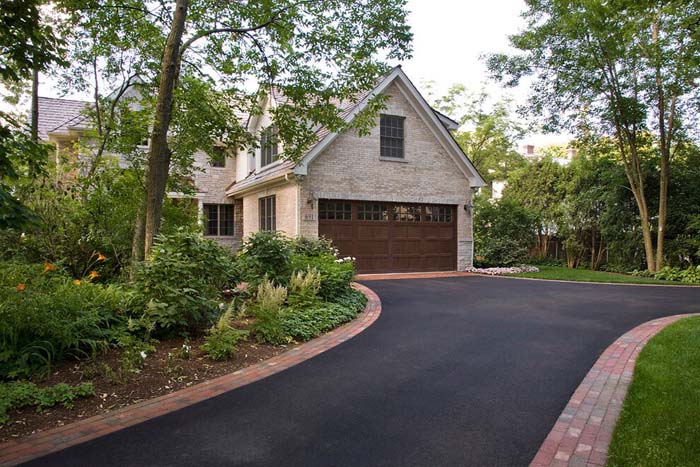 Brick edging looks great against a rubber driveway.
12. Gravel and Crushed Stone Are a Long-Time Favorite
Gravel driveways are built in layers with different types of gravel helping with drainage. Its different layers are made with different types of gravel.
There are several options available for the top layer, including crushed stone. Crushed stone has a rough surface when compared to the smoother finish of gravel.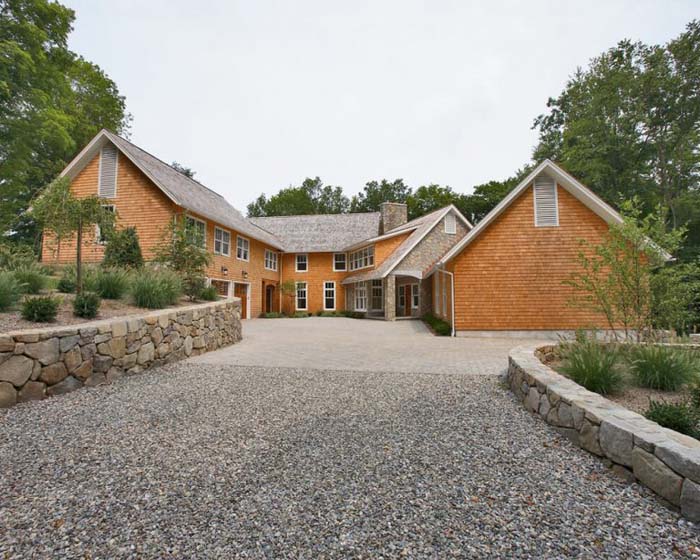 Crushed stone used as a top layer for a gravel driveway.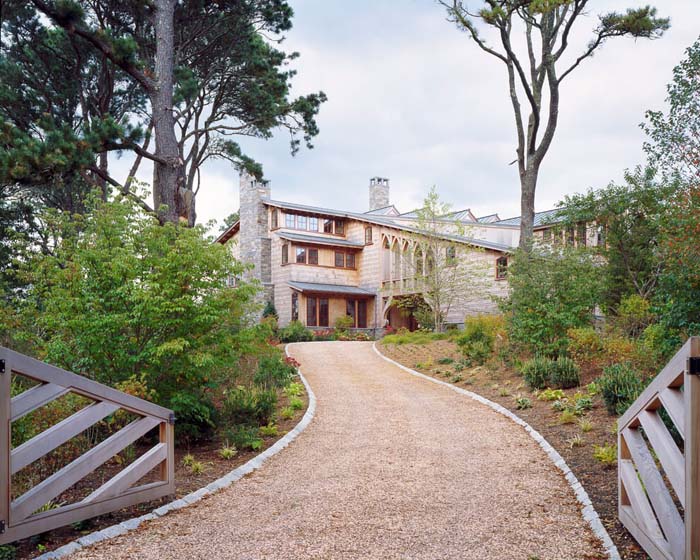 Pea gravel and Jersey Shore gravel have similar tan and brown coloring.
13. Resin and Aggregates Are Slip Resistant
Resin bound driveways are created by mixing together resin and aggregates that can be anything from gravel to glass.
The mixture is poured into place and troweled, resulting in a smooth surface.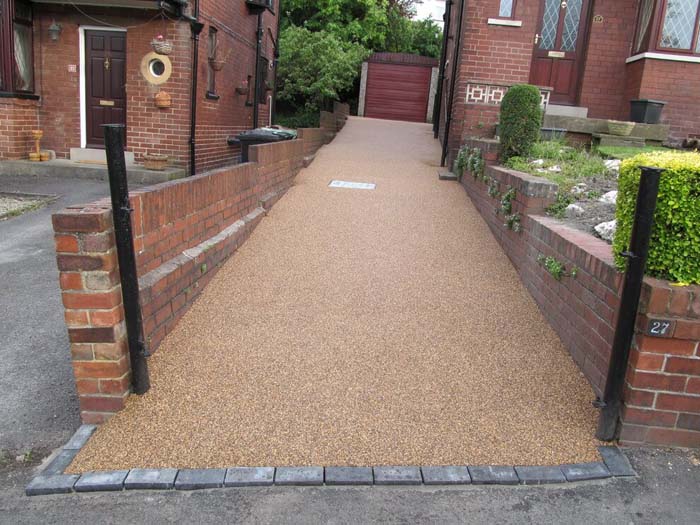 Resin driveways are permeable, slip resistant and seamless.
14. Use Pavers With Grass for Artistic Look
Create the look of a formal garden by using turf block pavers made with recycled plastic or concrete. They're eco-friendly and porous, allowing grass to grow through the open cells.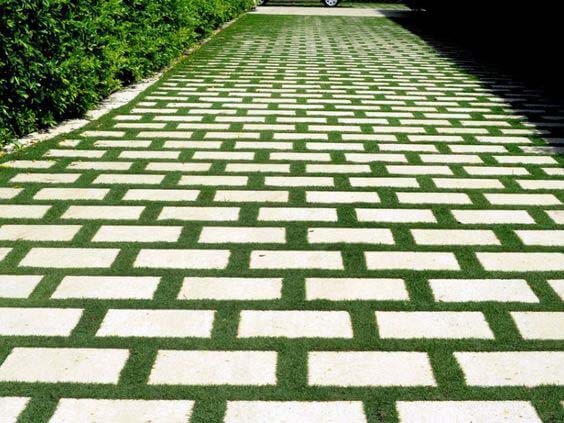 Create an amazing look with a simple pattern.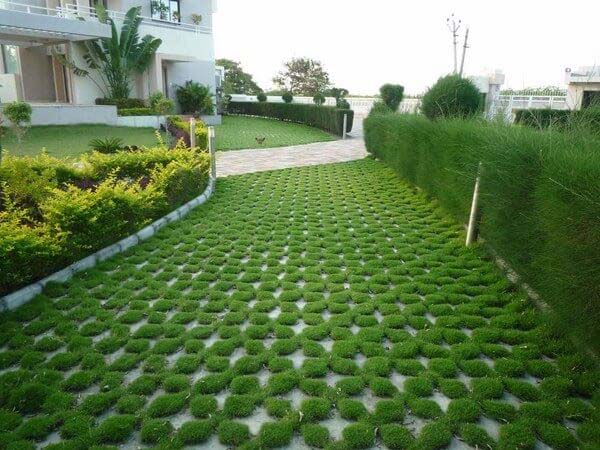 Grass paver patterns are available for every style.
15. Gravel and Grass Are a Countryside Favorite
Using grass and gravel is the most tried-and-true method for building a driveway. They're a familiar site in the countryside. You may see them referred to as either a grass driveway or a gravel driveway.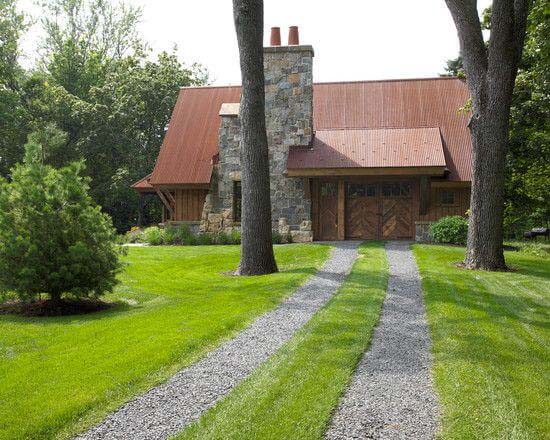 The trick to keeping a gravel driveway looking neat is keeping up with killing the weeds.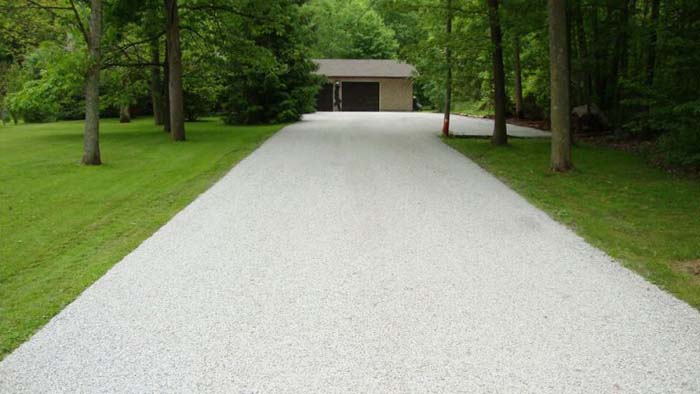 This driveway gets its dramatic looks with white chip marble.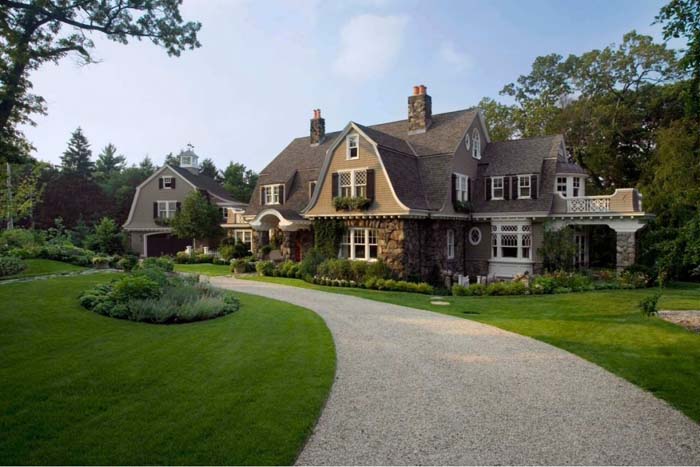 The earthen tones in the pea gravel create a warm dry riverbed running through the lawn.
16. Upgrade Your Entrance With a Decorative Gate
A gateway is the ultimate upgrade to your driveway. They're great for privacy, adding elegance to your home, and keeping out trespassers.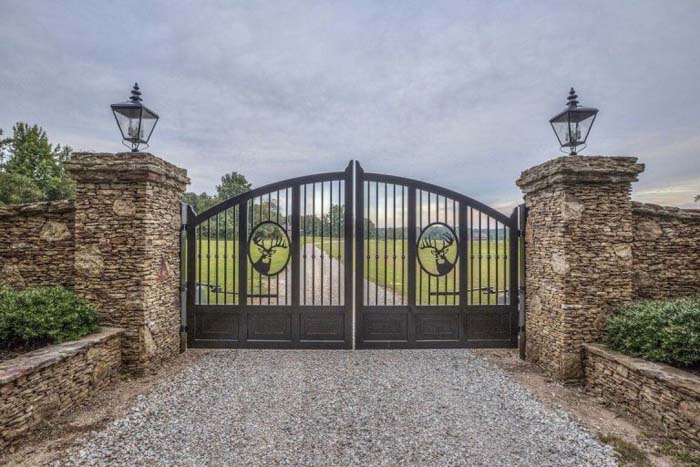 What about a fancy driveway gate?
A gate can be customized to include designs that are a part of your signature style.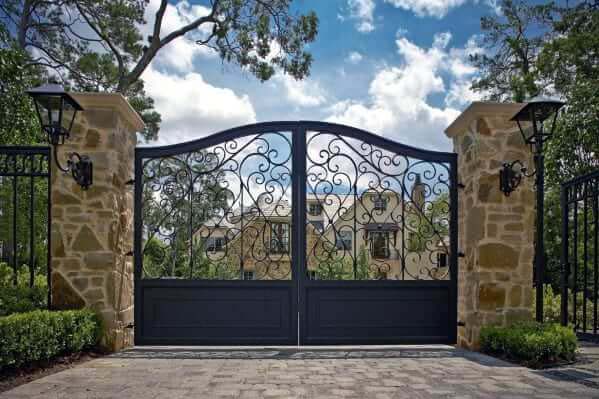 Gates with intricate patterns can be purchased online.
17. Natural Landscape Brings Seasonal Interest
You can use any type of tree or garden bed to add a warm welcome to your home. Trees with branches hanging over the drive create a stunning garden feature. You can also use flower gardens.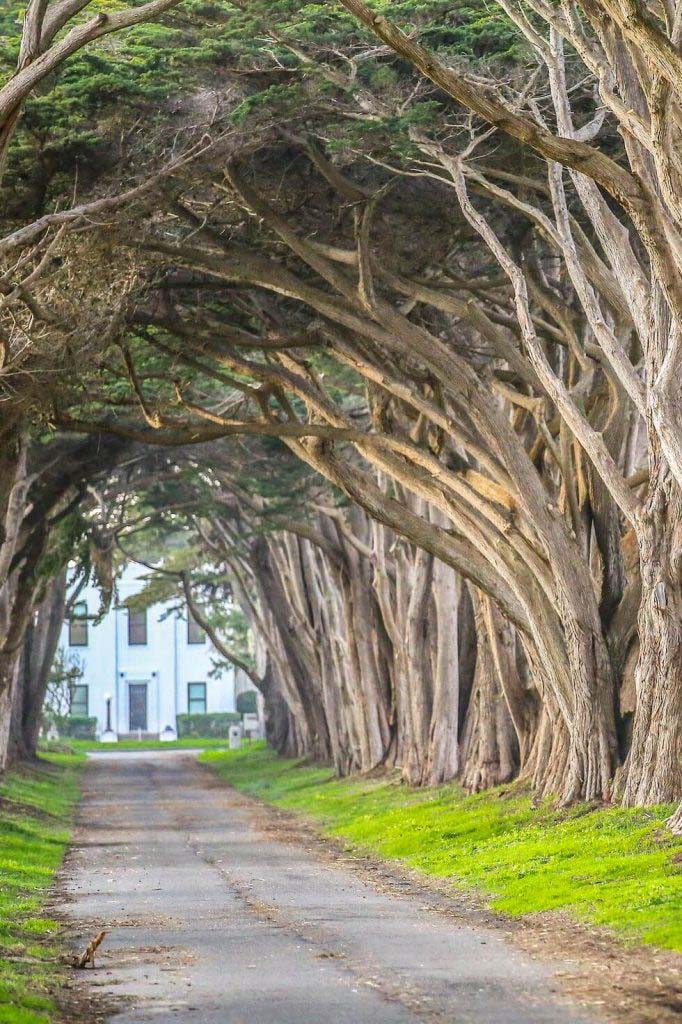 An extraordinary archway like this takes a lot of planning and pruning, but it will last for generations.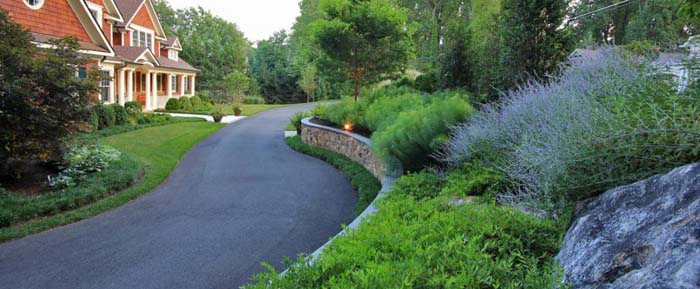 Ground cover and ornamental grasses create the perfect welcome mat.
18. A Winding Driveway Adds Curb Appeal
Winding roads have their own personalities. They can be long or as simple as a U-shape that can add curb appeal as well as function by avoiding the hassle of having to back out onto a busy street.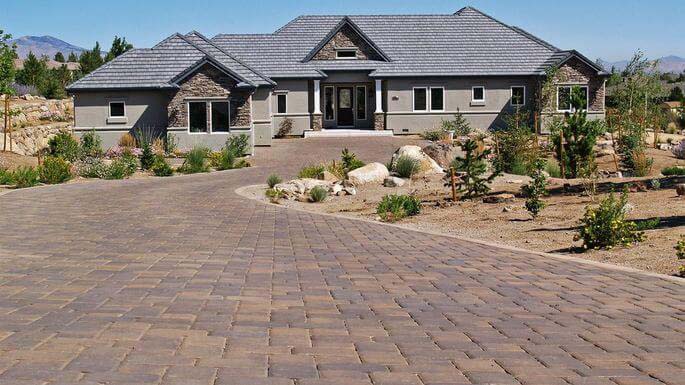 Smooth bricks join with the hardscaping front yard to add to the curb appeal of this home.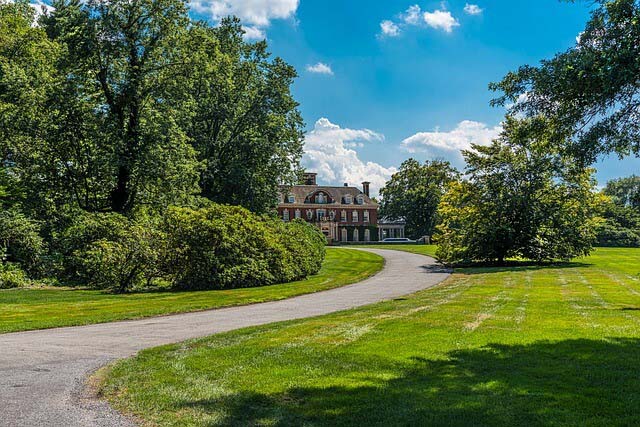 A very large front lawn provides an opportunity to create a majestic driveway.
19. Mosaic Drives Can Be Simple or Artistic
Mosaic styles can be as intricate or as simple as you like. They can be made from most tiles and pavers. You can even create patterns from concrete and aggregates.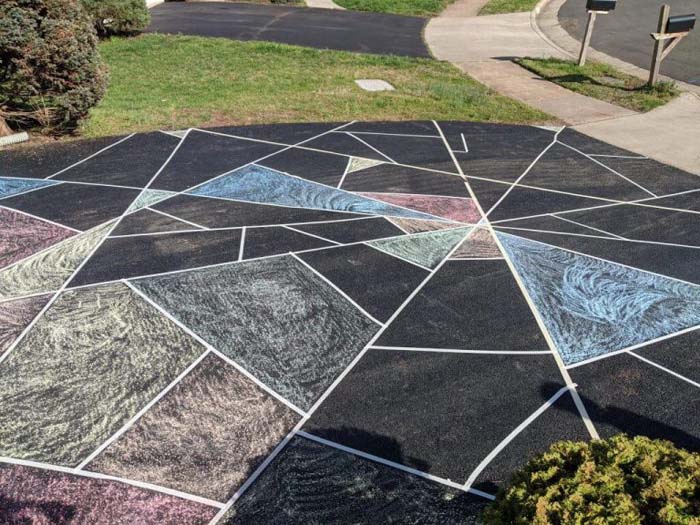 Black geometric shapes add interest and make a great backdrop for chalk art.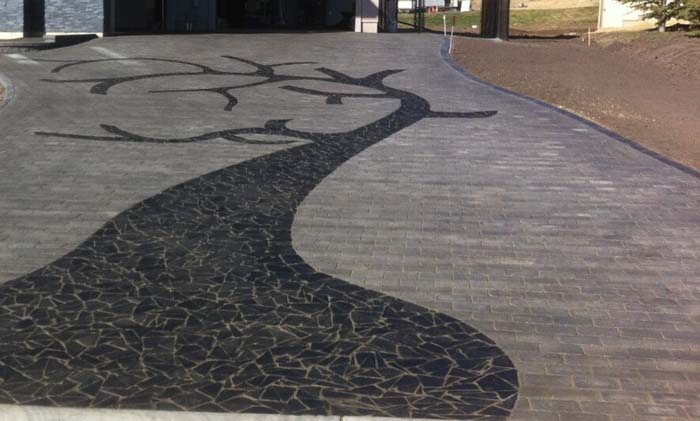 A cobblestone driveway is bound to suffer damage. Instead of trying to match bricks, create an art piece with tiles of a contrasting color.
20. A Minimalist Driveway Brings High-Style
Minimalist driveways are uniform and smooth. They're a reflection of Japanese art, which is a heavy influence.
Grass and pavers work well. You'll find a lot of companies selling products to help you achieve this style.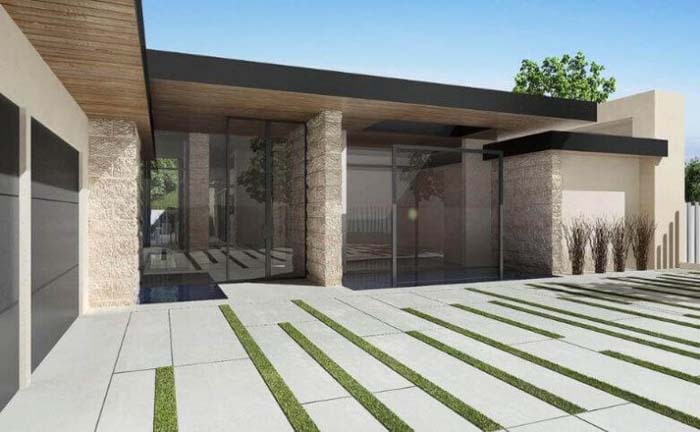 Long pavers are broken up with grass sections.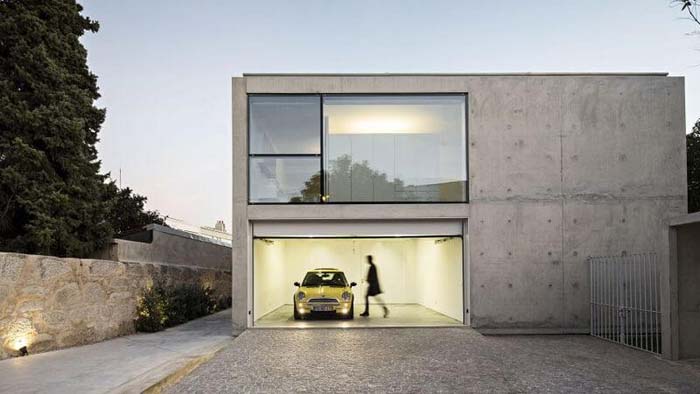 Get the minimalist look by using pavers in a neutral tone.