Many homeowners wonder what to do with old tires when they no longer need them.
Rather than taking them to the dump, it's time to get creative with these fun uses for old tires.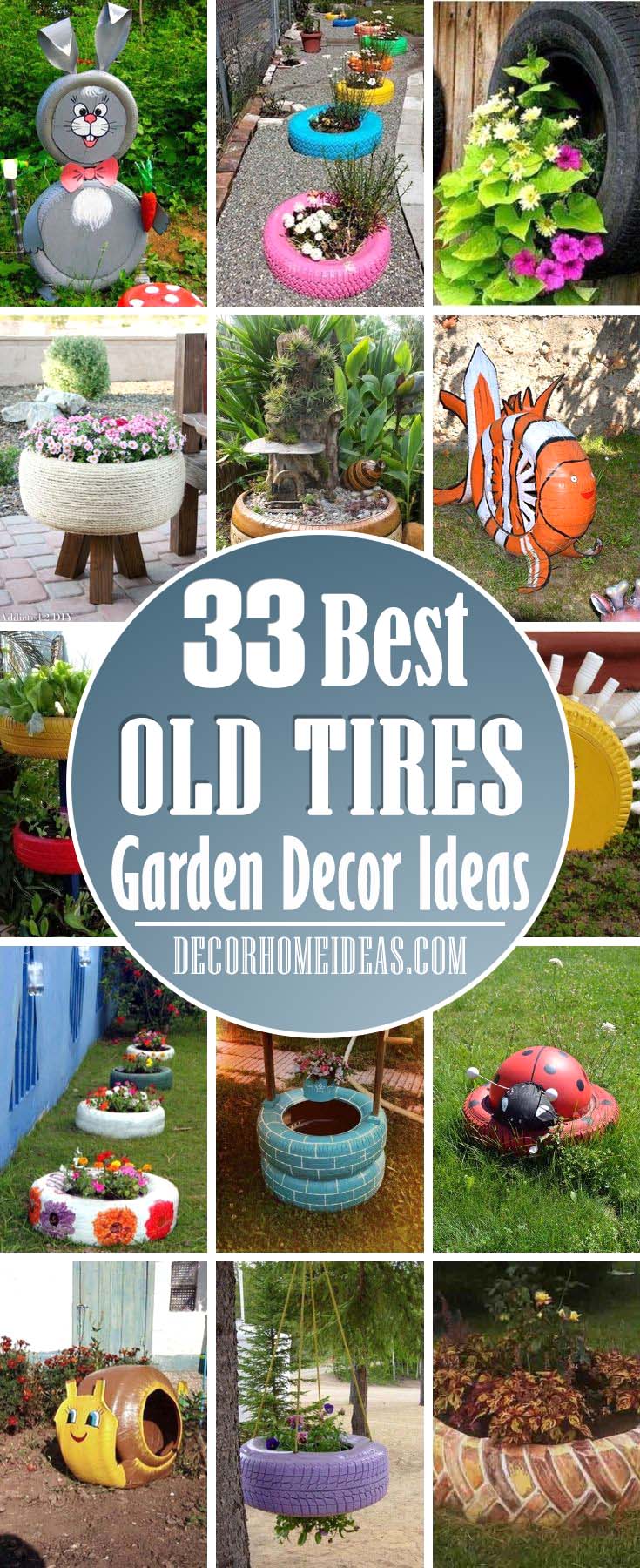 It's easy to recycle old tires into fun garden décor with a little time and effort, resulting in DIY options that will look great.
Moreover, when it comes to transforming tires into garden décor, the options are virtually endless – from flower planters to mini ponds.
1. Upcycle Used Tires into Hanging Wall Planters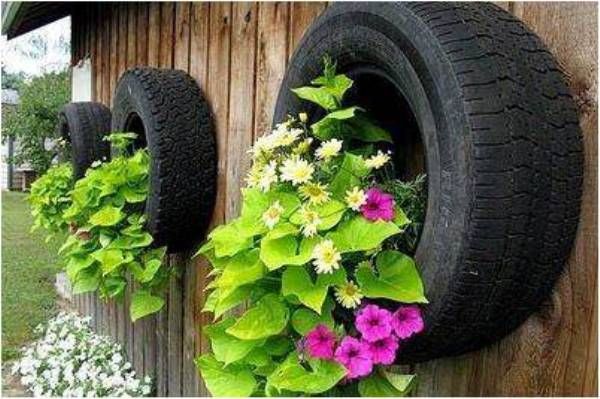 However, the most common one is turning tires into planters. Whether hanging, attached to a wall, or positioned on the ground, tires serving as planters are an easy, affordable, and eco-friendly way to add charm and personality to your outdoors.
2. Transform Old Tires into Lovely Swan Decor Pieces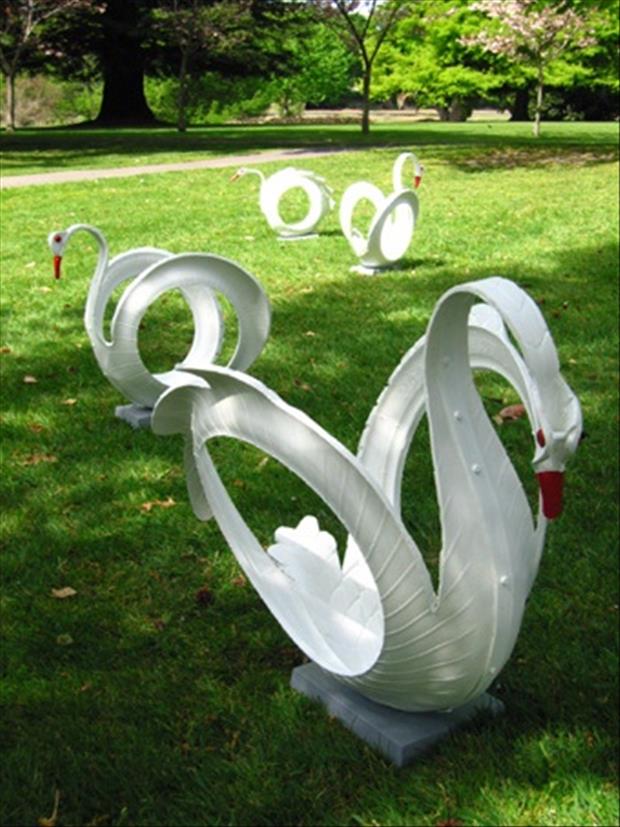 Look at this beauty and think twice before throwing your old tires away.
White swans against the green grass background… So elegant and sophisticated, don't you think?
This arrangement of swans will definitely make your neighbors envious. Plus, recycling tires can help protect the environment. Are you ready to unleash your creativity?
3. Turn Trash into Garden Decor with DIY Tire Animals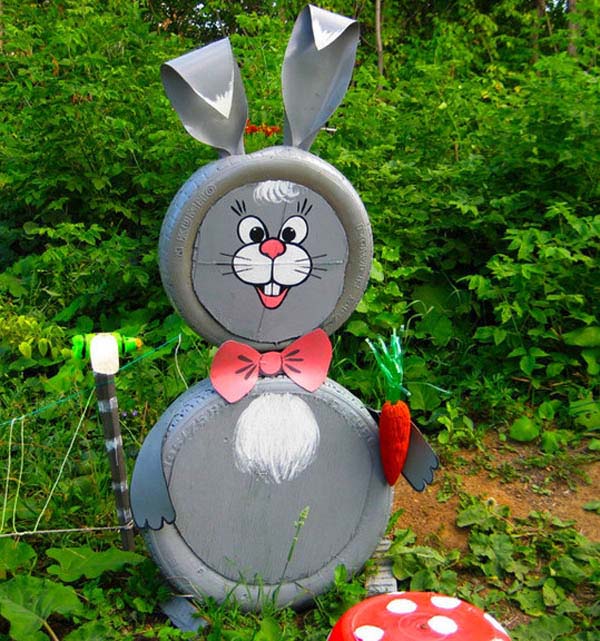 Want to make your outdoors unique? This smiling rabbit is a surefire way to add interest and personality to your garden!
Check your garage for old tires, you most certainly have some, get creative, and start transforming trash into statement garden décor!  You can try to make your kids' favorite animals and create a whole animal corner.
4. Make a Cute Green Frog with Upcycled Tires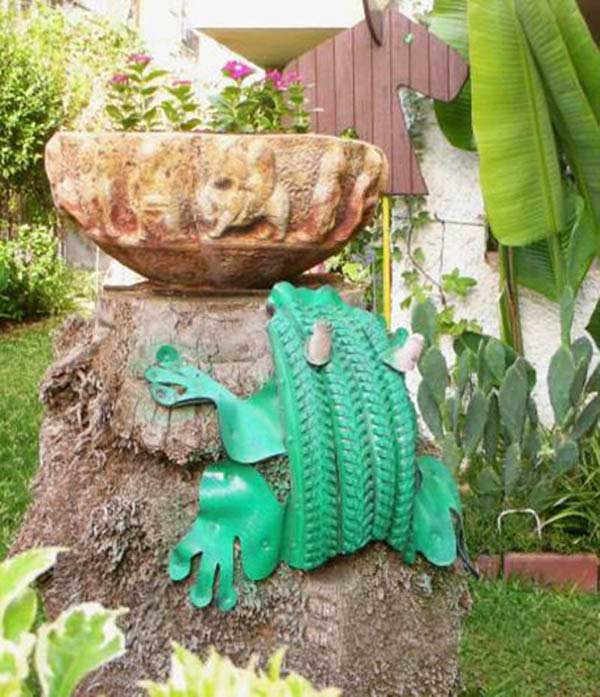 A cute green frog crawling up a rock in the garden is fun, bright, and unexpected. It's sure to grab attention and make anyone smile when they see it.
5. Brighten Your Flock with Tire Chicken Planters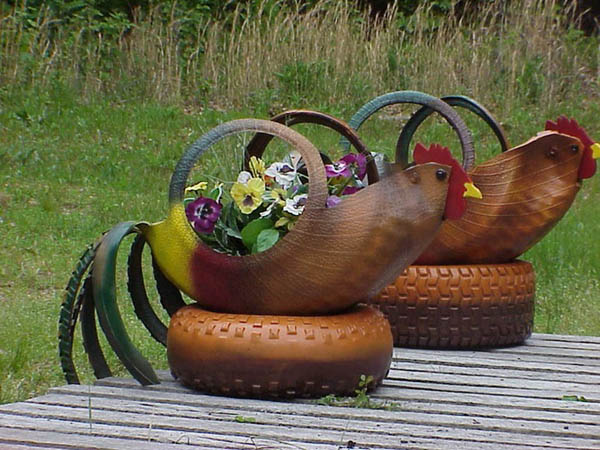 A lot of families have chickens, and these fun tire chickens are a great addition to any flock. They are gorgeous colored and perfectly sized for holding flowers.
6. Give Your Garden Vibrancy with a Recycled Tire Toucan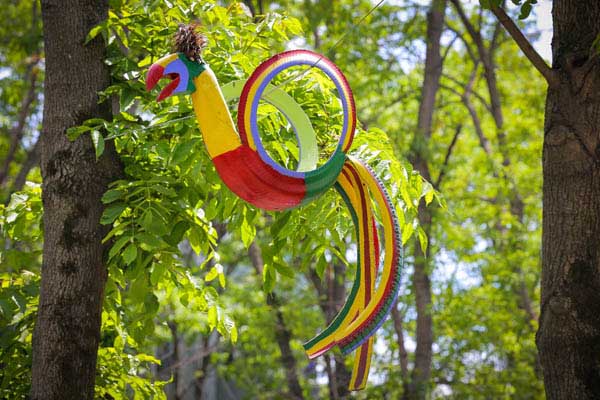 Recycled old tires get new life as this fun and bright toucan. Hanging it in the trees adds a lot of whimsy and enjoyment to the garden.
7. Brighten Your Garden with Colorful Tire Planters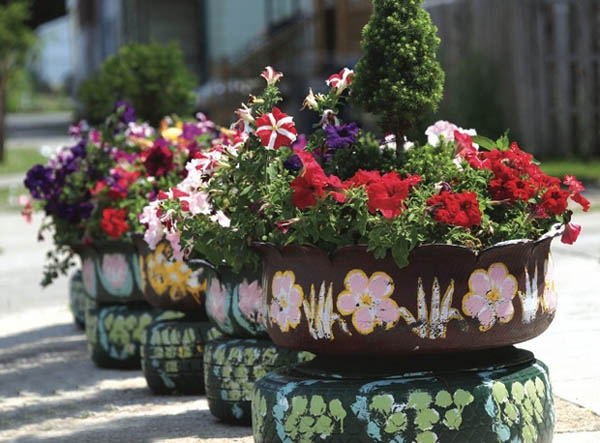 Every garden needs flowers, and these fun tire planters are painted to add even more color to the space. Stacking them allows for the addition of healthy dirt.
8. Upcycle Old Tires to make a Stunning Green Frog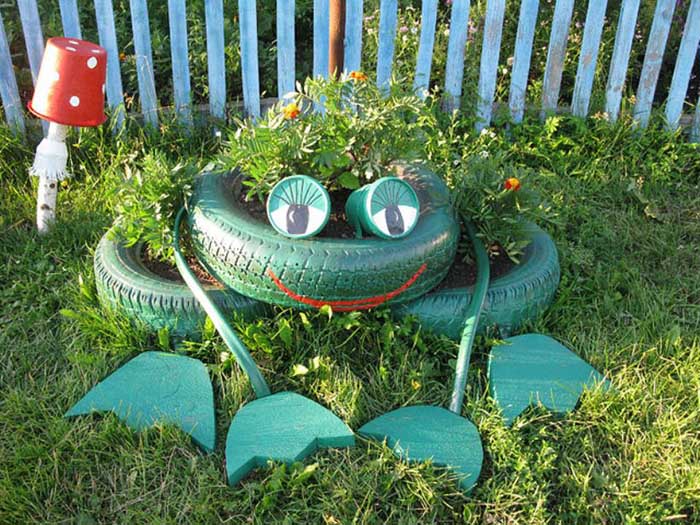 A big green frog is eye catching. This is a great way to repurpose old tires and leftover paint for a one-of-a-kind piece.
9. Make a Cute Pink Flamingo with Old Tires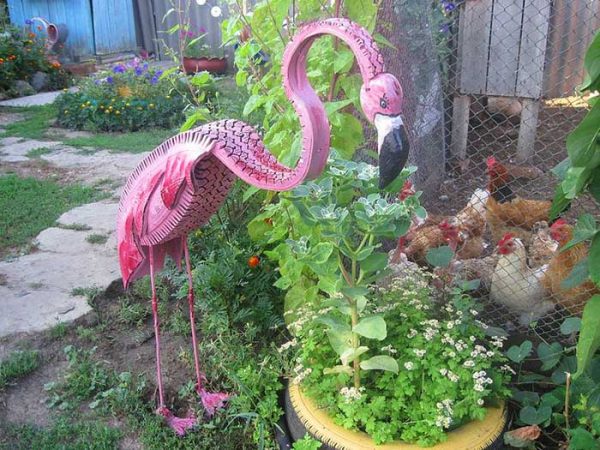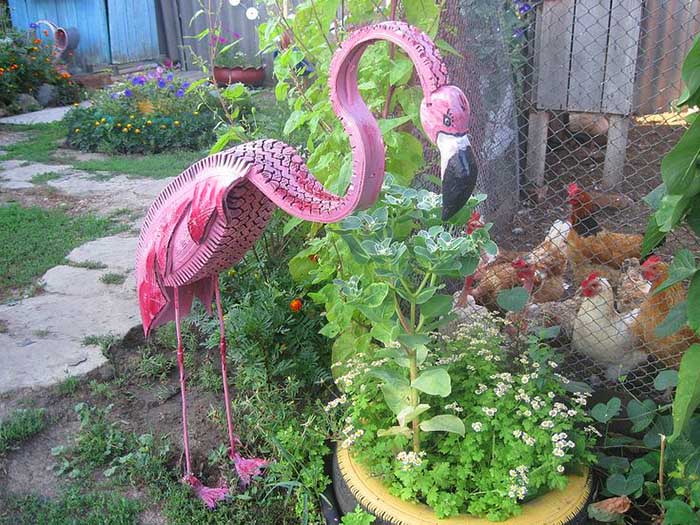 A bright pink flamingo is a wonderful way to catch anyone's attention and make them smile. The graceful curves and hot pink color help it to stand out.
10. Craft Happy Decorative Snails for Your Garden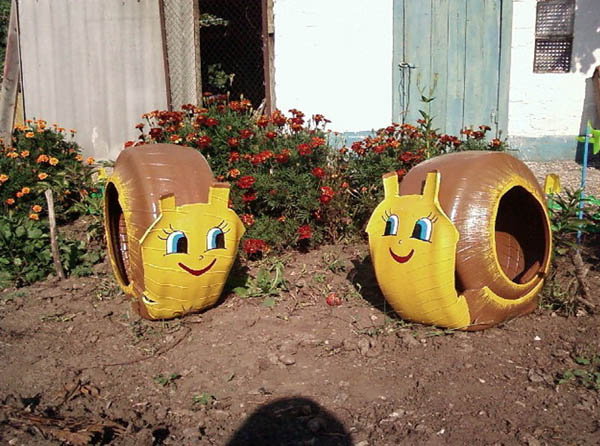 Snails aren't always welcome in the garden, but these will be. The gentle curve of their shells and their fun faces make them a fun décor option.
11. Camouflage a Tire Alligator with Grass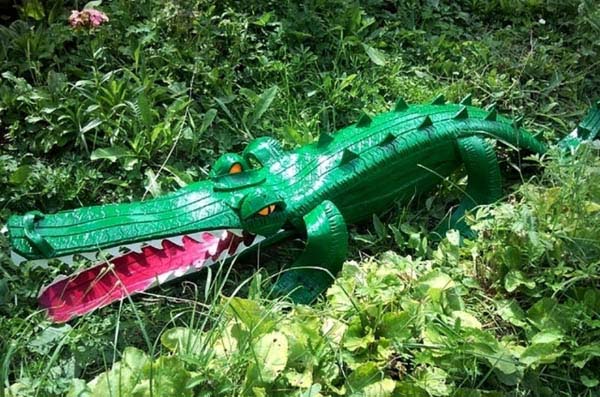 Green alligators roaming through the garden may seem scary, but not when they're made from old tires.
This alligator blends in with grass and adds texture.
12. Create a Sun Tire Decor with Bottle Rays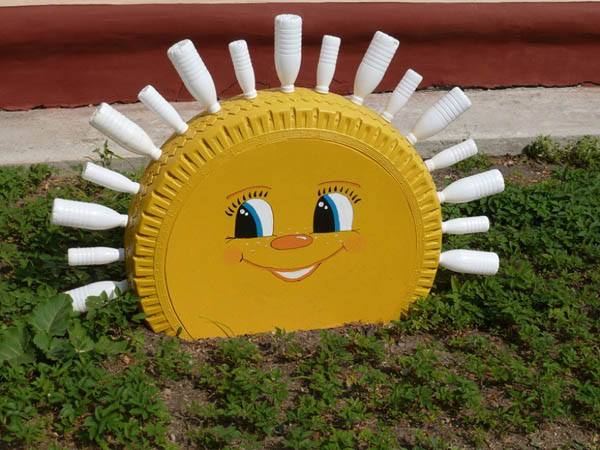 A happy sun rising out of the garden is sure to complete any garden. Using bottles painted white helps give the sun its rays.
13. Utilize Tire Planters for Garden Walls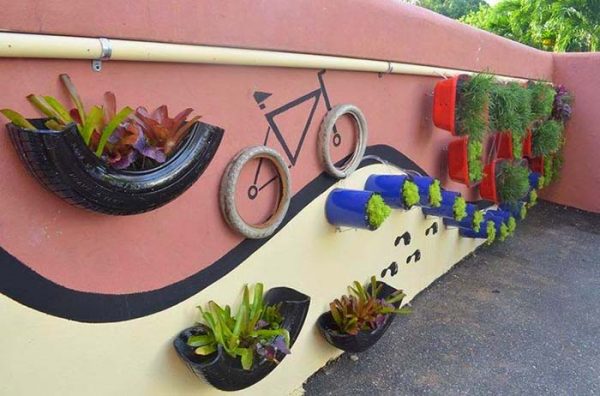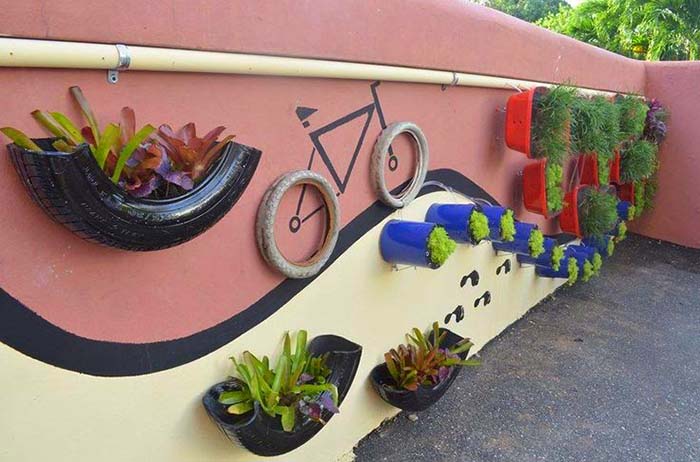 Garden walls are a fun way to grow plants along the wall and not just in the ground.
Cutting tires in half provides the space needed for lettuce and herbs.
14. Construct a DIY Wishing Well from Retired Tires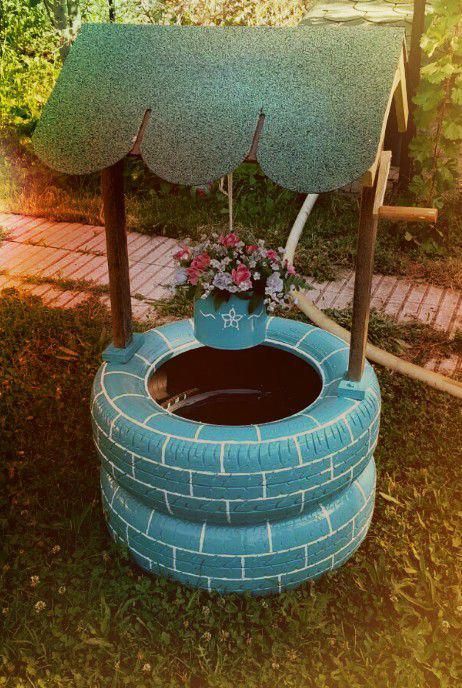 Photo: Credit
Every garden needs a wishing well, and it's never been easier to have one than it is now. It's easy to craft this wishing well from retired tires.
15. Upcycled Tire Planter With Sisal Rope and Wooden Legs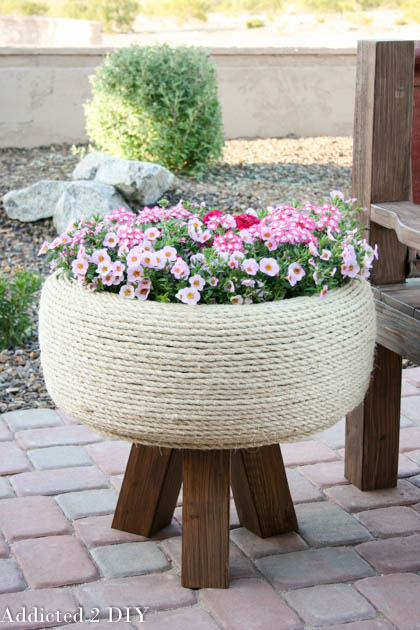 Upgrade a tire to an elegant planter with some sisal rope and wooden legs. The neutral color of this planter is refreshing.
via addicted2diy.com
16. Add Color to Your Tire Planters with Bright Blooms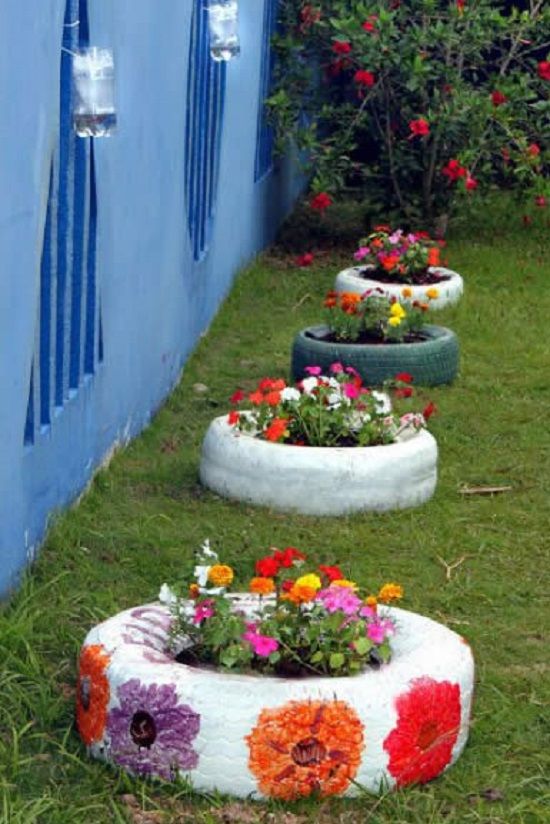 Planters don't have to be boring, as these colorful options proof. They are great when filled with bright blooms for more impact.
17. Make a Cozy Autumn Tire Planter with Neutral Hues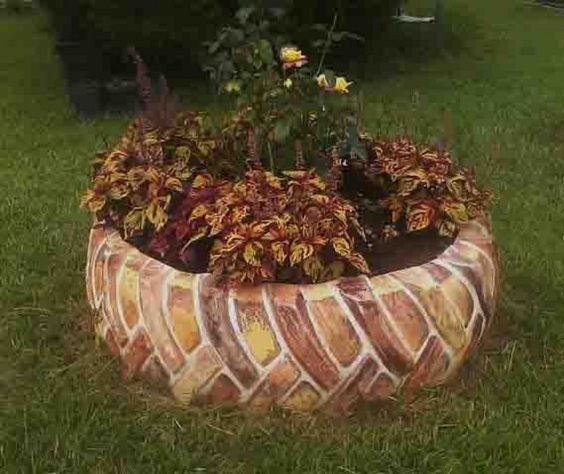 Photo: Credit
Browns, golds, and yellows make this an autumn planter that looks great. The neutral tones and hues are really relaxing.
18. Transform Old Tires Into a Magical Fairy Garden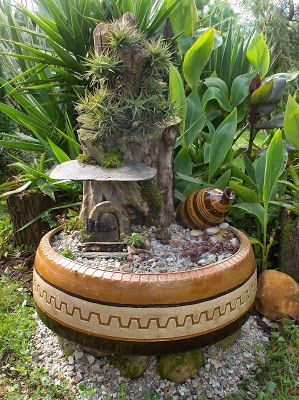 Photo: Credit
One of the most fun things to do with old tires is to turn them into a fairy garden and add a small fairy house, which is cute and unexpected.
19. Make a Bold Statement with Bright Tire Planters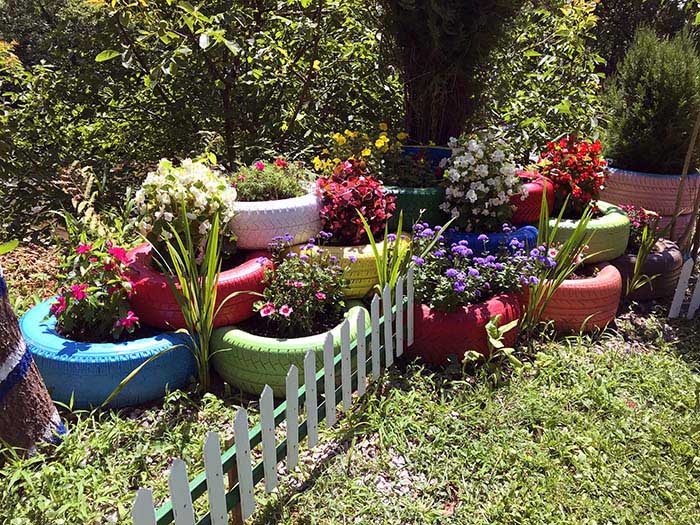 Brightly painted tires look great when stacked together to form a large planter in the corner of any garden.
20. Paint Your Tiered Tire Planter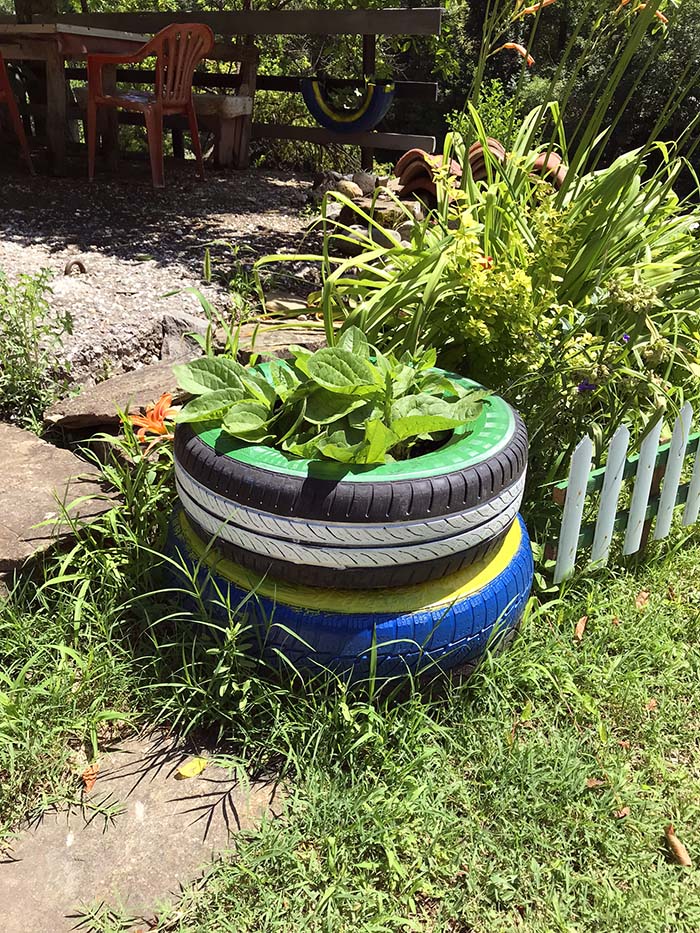 Stacking tires and painting them bright colors helps them really shine as planters and adds definition to a space.
21. Make a Giant Watering Can using Upcycled Tires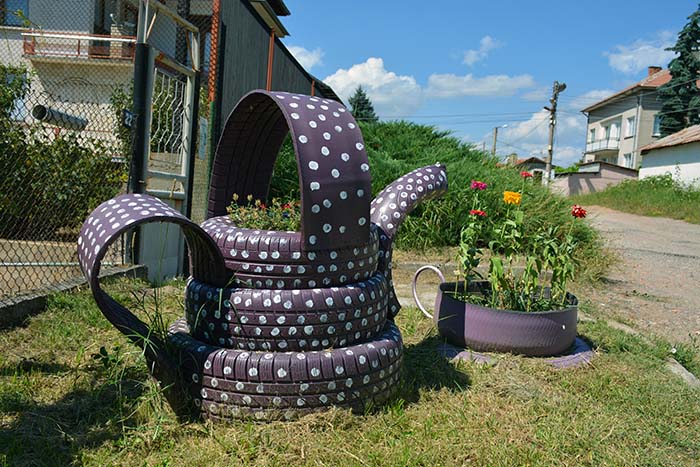 A few leftover tires can be combined into a giant watering can and painted with bold and fun polka dots. This is a huge piece that draws attention.
22. Create an Adorable Bear Garden Decor with Tires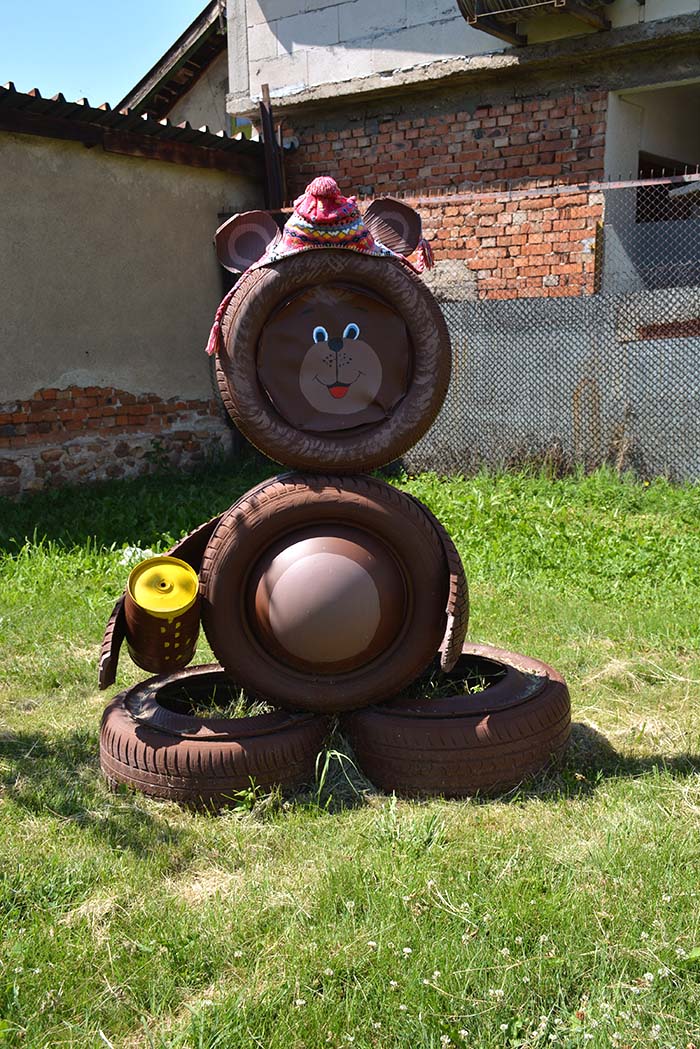 Everyone loves a friendly bear, and this bear looks great in any garden. It's a great option for fun outdoor garden décor.
23. Brighten Up Your Garden with a Decorative Tire Crab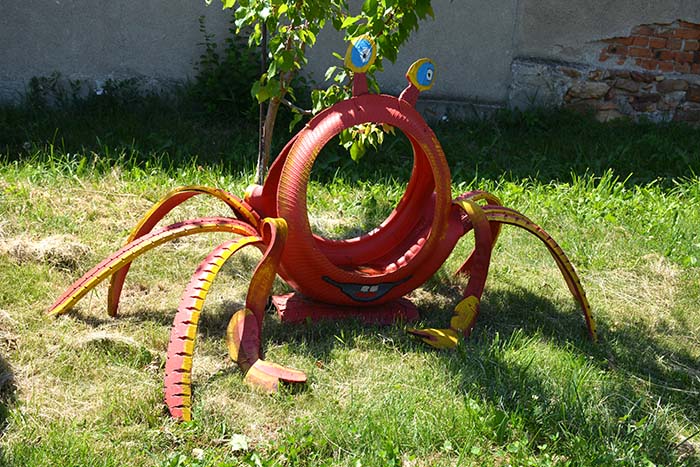 Crabs aren't just for the beach and the sand, as this fun and bright crab proves. He looks right at home in any garden and adds color and movement.
24. Enhance Your Garden with Polka-Dotted Tire Ladybug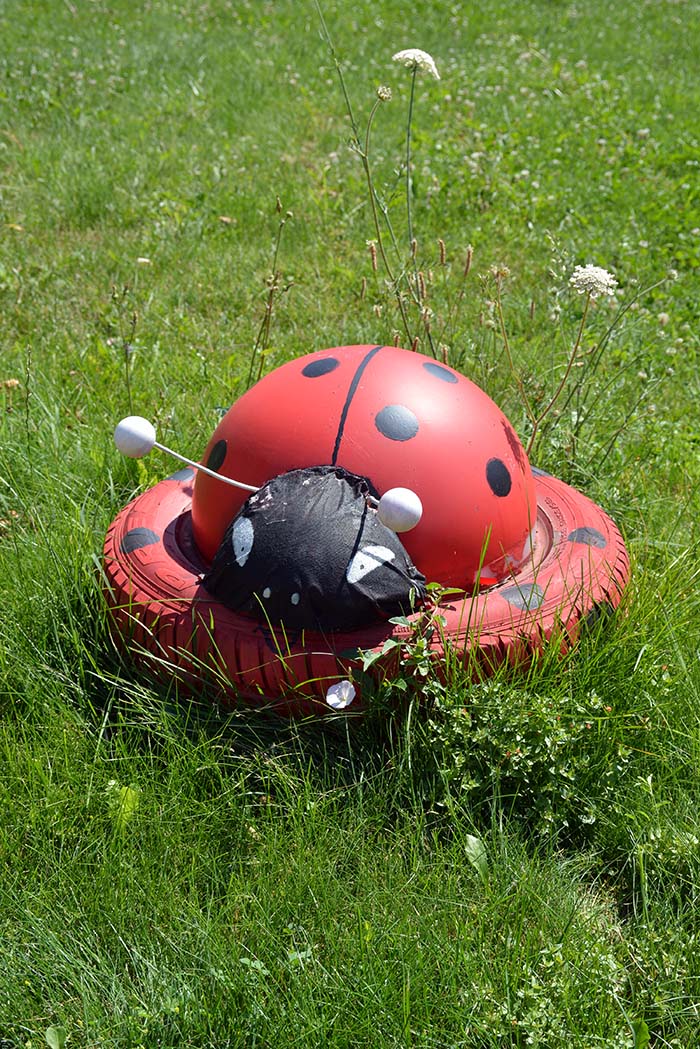 A bright red polka-dotted ladybug is a happy addition to any garden. Gardeners love ladybugs, so they're sure to love this one, too.
25. Make a Whimsical Tire Orange Clown Fish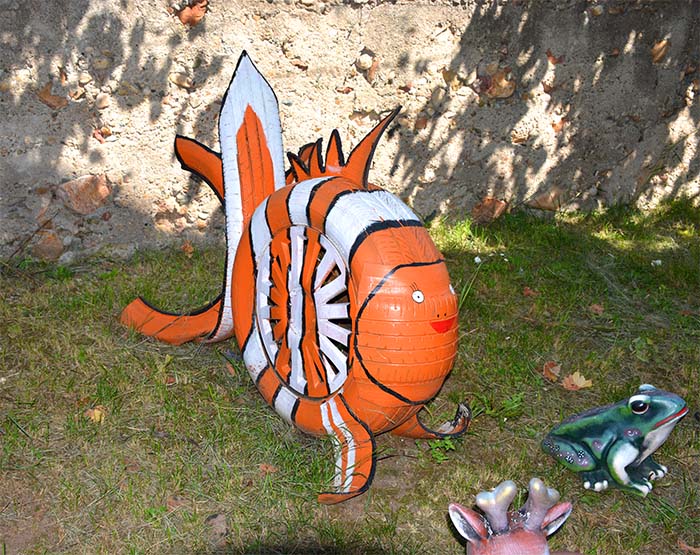 A happy orange clown fish looks fun and adds whimsy to the space. This bright fish has bold stripes and a happy face.
26. Use Tires and Upcycled Pieces to Make a Peacock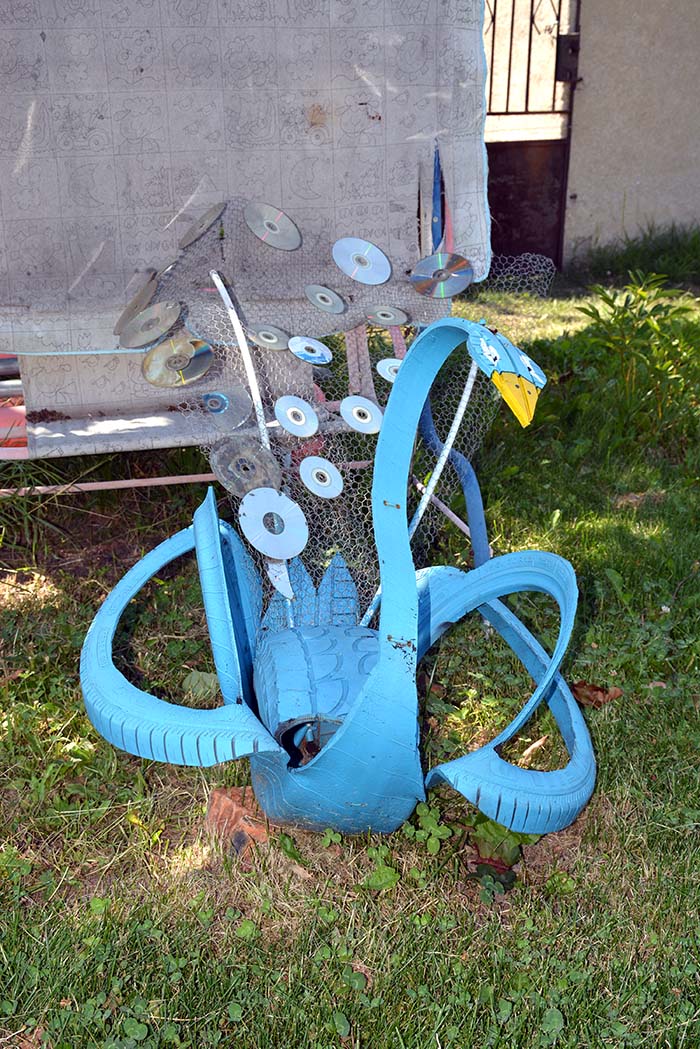 A mix of old CDs, chicken wire, blue paint, and tires make this a peacock that stands out. It's a perfect example of fun and cheap garden décor.
27. Welcome Visitors with an Orange and Black Bear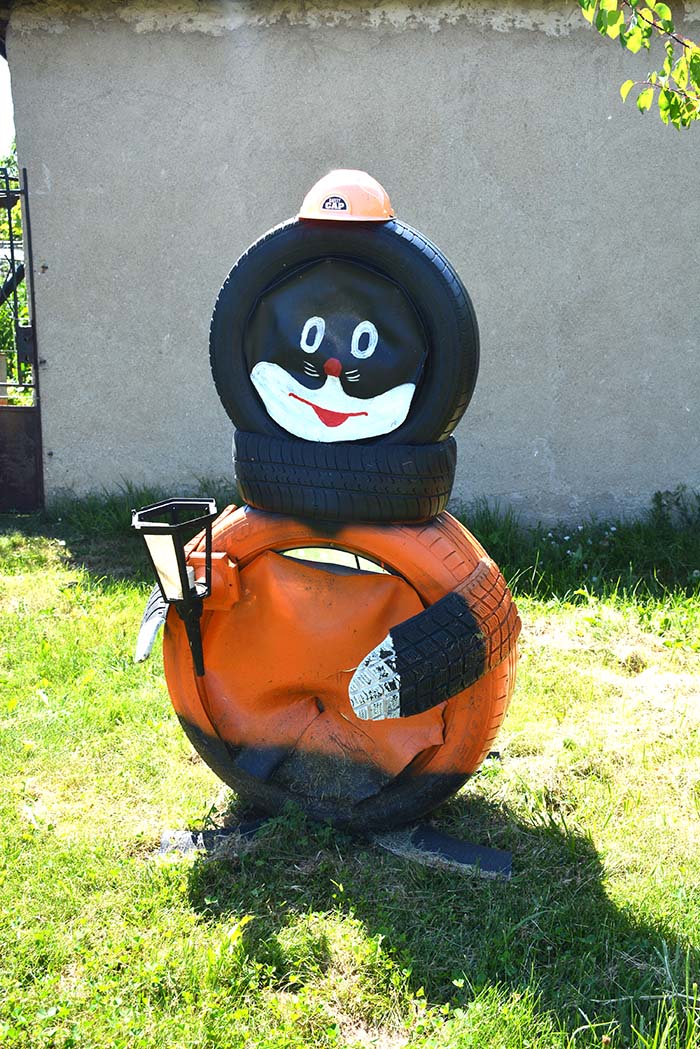 A bold and bright orange and black bear is anything but boring. This décor is a great way to welcome visitors to a garden in a fun way.
28. Unveil the Beauty of Flower-Shaped Tire Planters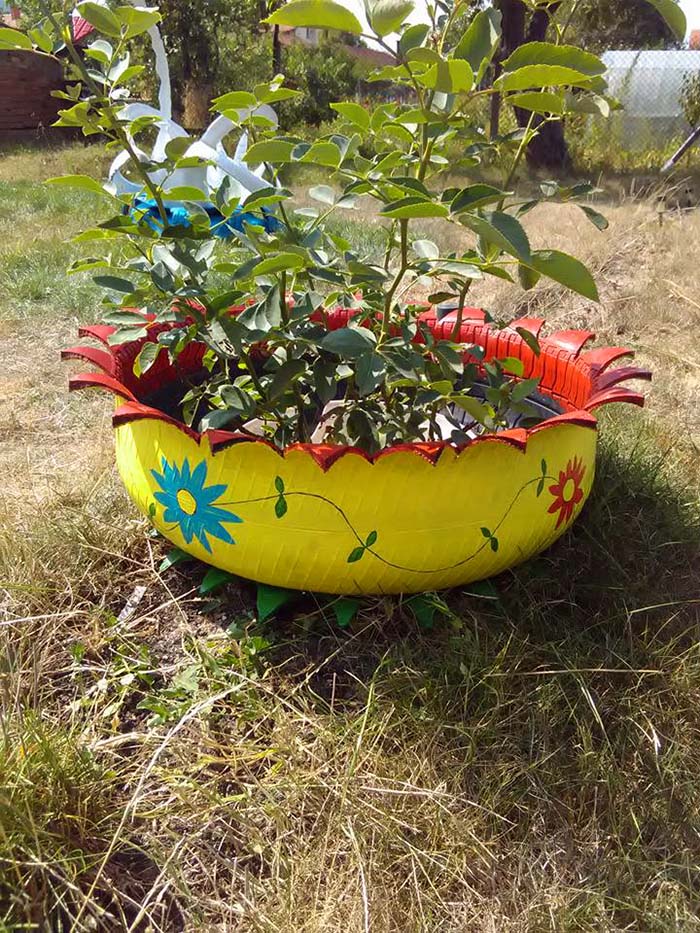 Cutting the top of a tire allows it to open up like a flower, mimicking the shape of anything that is planted in this bright planter.
29. Make a Rustic Teacup Garden Decor with Tires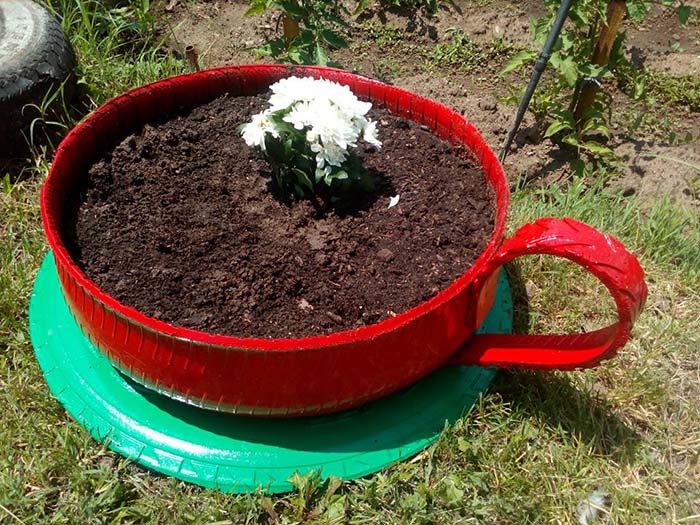 Enjoy a spot of tea in the garden with this oversized teacup. Planting flowers in it to fill in the top makes it look like a fun cup of tea.
30. Utilize Space with Vertical Tire Planters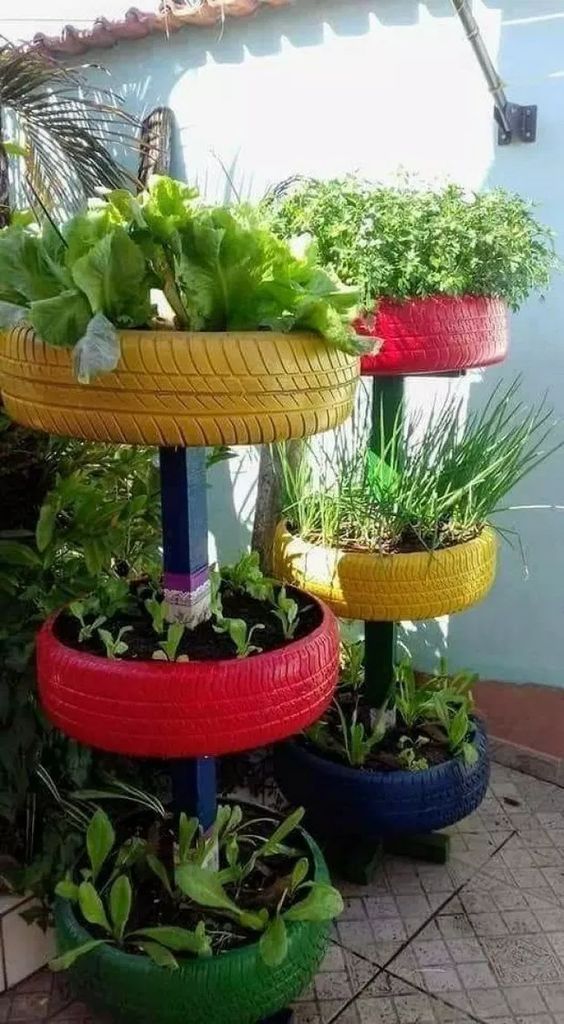 Tires that are stacked vertically allow for growing a lot of plants in very little space. Painting them fun colors makes this planter enjoyable.
31. Repurpose a Tire Swing into a Hanging Garden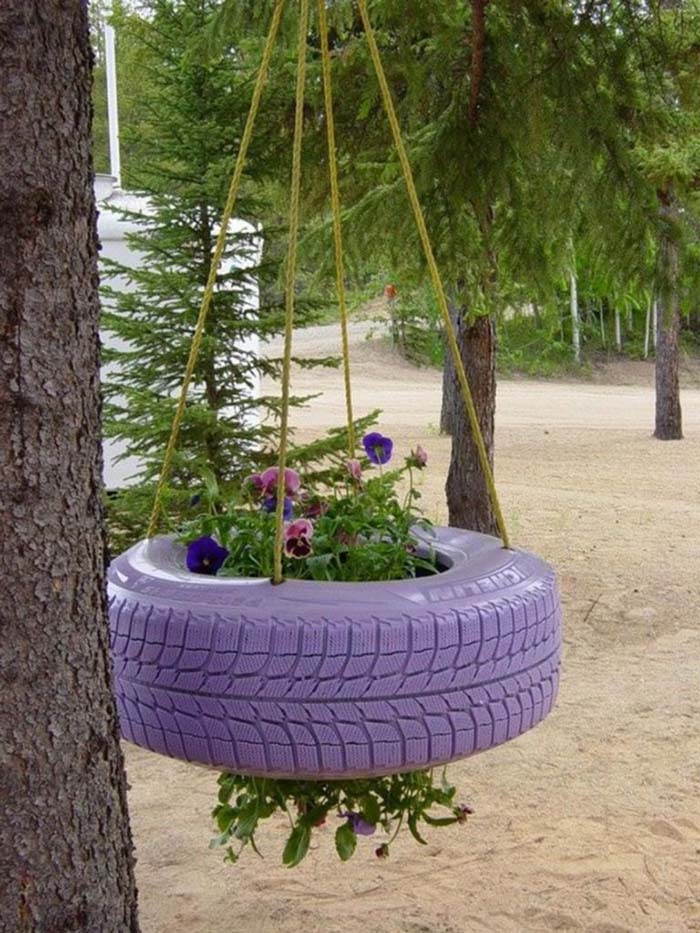 While tire swings are popular, using one for a hanging and swinging garden is even more fun.
Not all garden décor ideas have movement, which is why this one is so special.
32. Captivating Tire Snake Planter with Flowers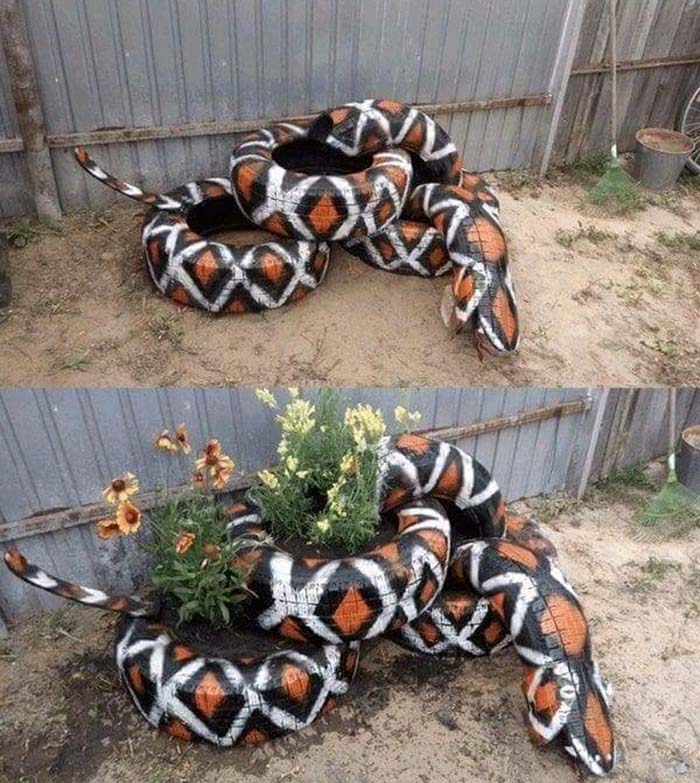 A curled snake delicately holds flowers, making this a planter that people are sure to remember when they visit a garden.
33. Decorate Your Planters with Rainbow Tire Art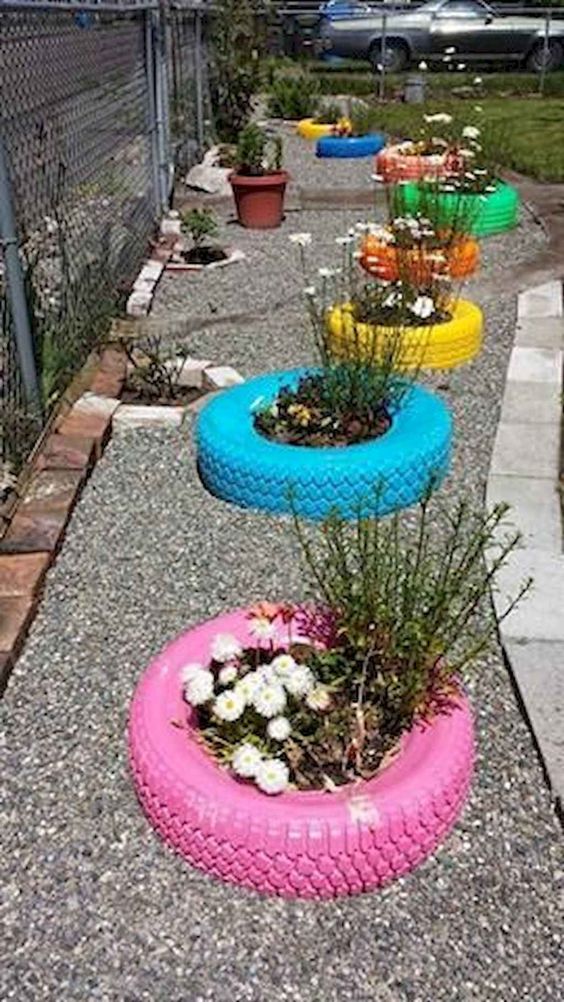 Brightly painted tires in the colors of a rainbow make any space more enjoyable and are favorites of both kids and adults.
34. Elevate a Whitewashed Tire Planter with a Rope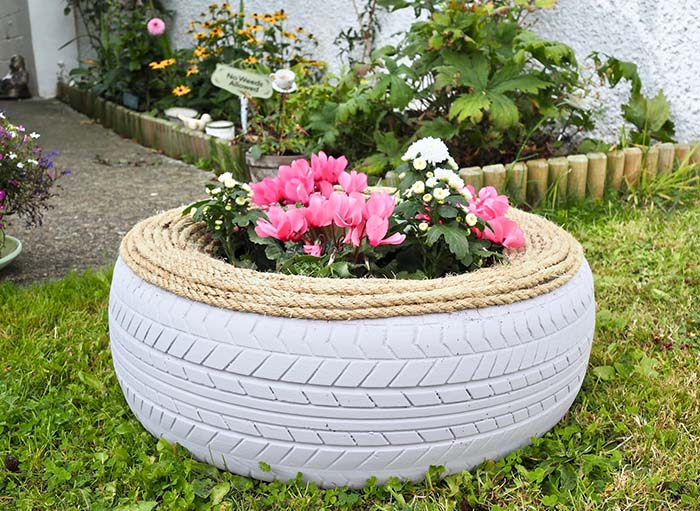 You can DIY a garden planter for your small flowers with an old chalk painted tire and some rope!
35. Creepy Climbing Ghost Made of Cement and Tires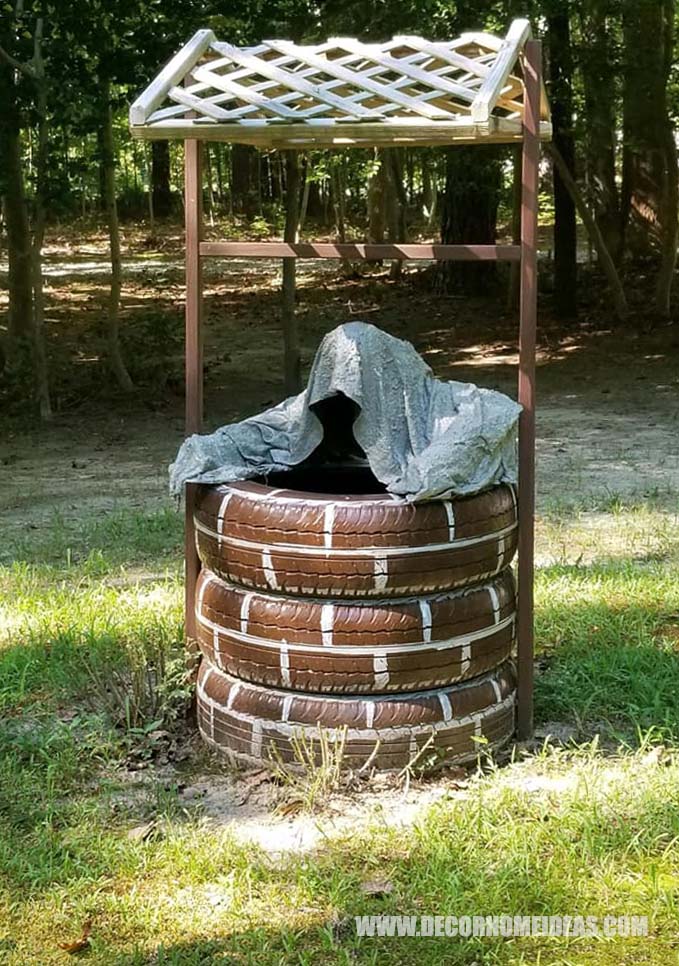 Here is another creative project that could be the creepiest one in our selection.
Ghost climbing out of well which is made of old tires. Tires are painted in brown like some old bricks. The ghost is made from cement.
Rather than throwing tires away, it's time to try out one of these creative uses for old tires. They're all fun ways to answer the question "what can you do with old tires?" and add some great DIY garden décor to the home.
36. Tea Cup Made Of Old Tires