Do you have brick leftovers in the garage?
Now is the best time to give them another application. With some inspiration that comes from us and a little time from your side, you can repurpose them in many ways.
There are ideas that are good for the outdoors knowing that bricks are one of the most durable building materials.
Their texture and the capability to add warmth and personalization have also been appreciated by the indoor projects included here.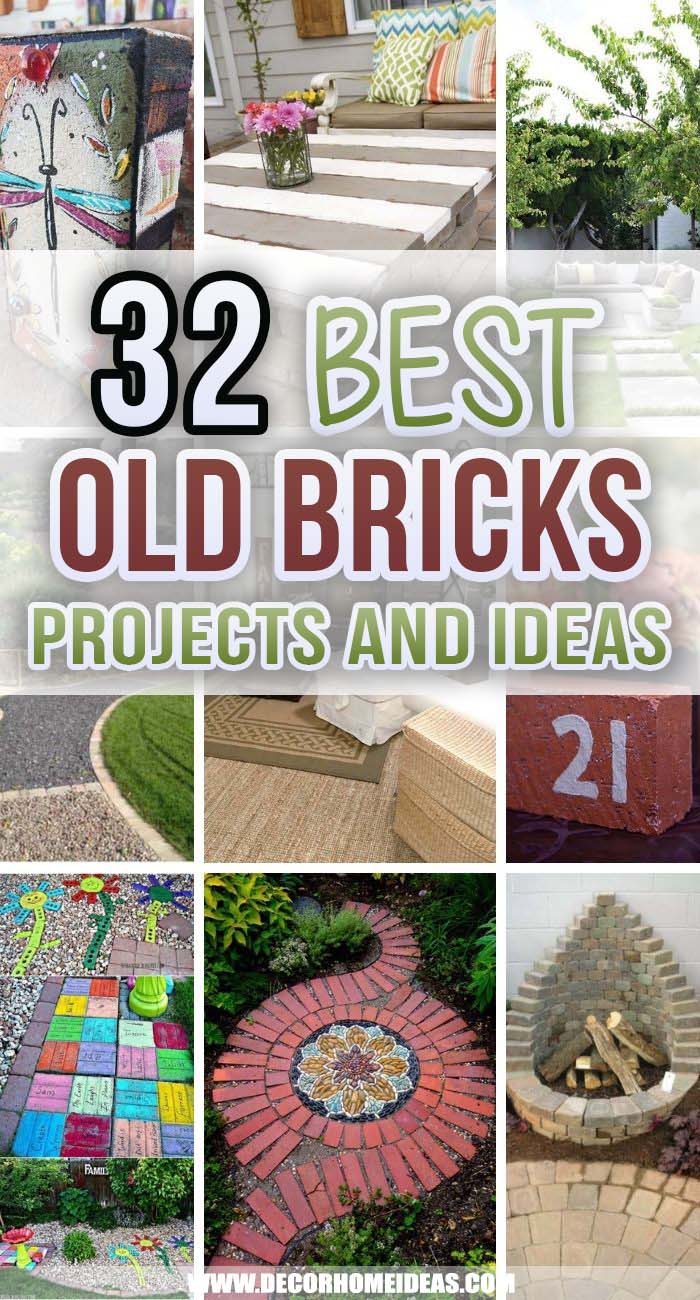 Bricks come in many colors and styles and we have made sure that the most creative ways to repurpose them are gathered in one place for you. Are you anxious?
The best old bricks projects and ideas that will spruce up your home follow!
1. Repurpose Bricks into a Rustic Bug Hotel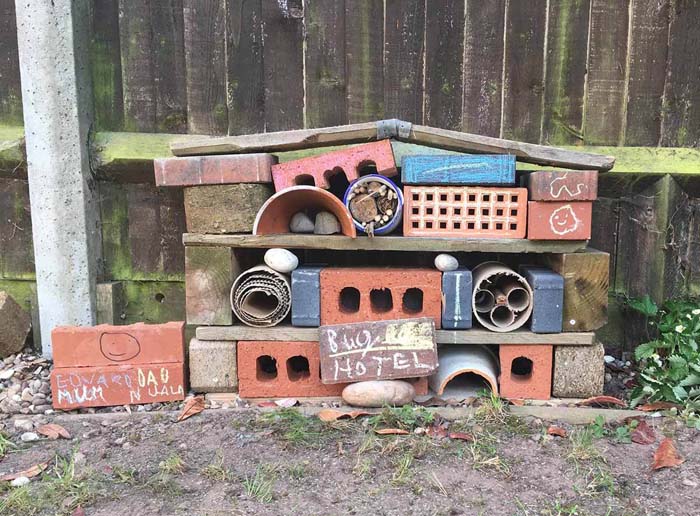 Turn the brick leftovers into a fun and unique bug hotel! Build it together with your kids and see how the different shapes of brick pieces create backyard entertainment.
You would be delighted to understand that this way you also help the ecosystem, giving the local species of insects a place to live and help your garden with pollination.
2. Personalize Your Decor with an Engraved Brick Sign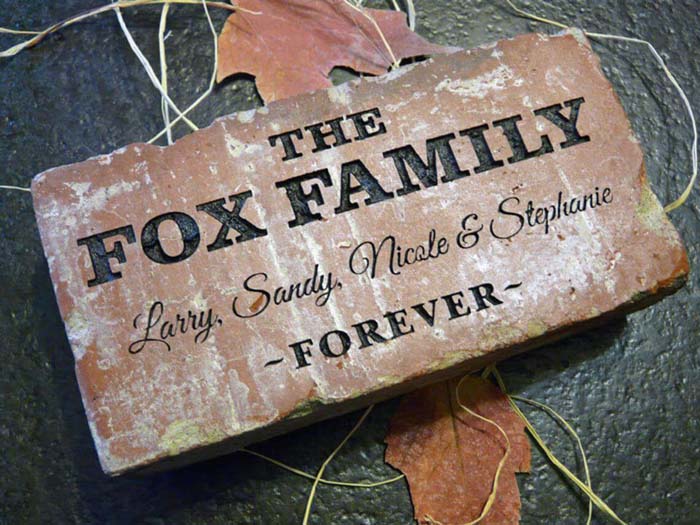 Make a personalized brick art that will praise your family. It is a project including engraving using stencils and paint that lets the letters stand out.
Because of the small size of the brick, you can put it everywhere.

3. Upgrade Garden Path with Brick Stepping Stones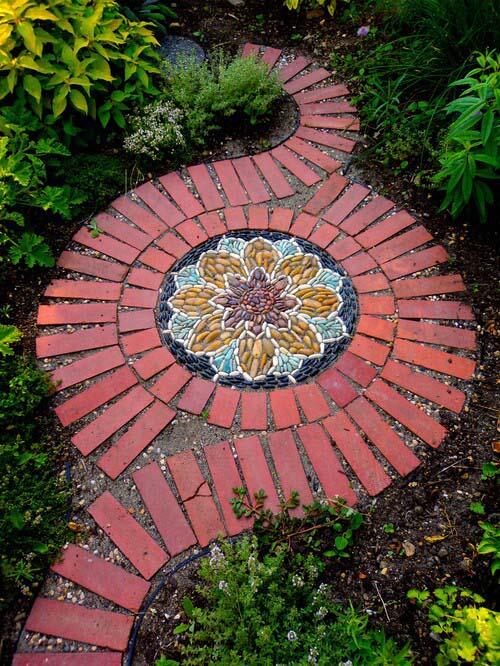 This is a unique backyard idea utilizing brick leftovers. The mosaic pattern in the middle creates a Mandala image thanks to a beautiful stone arrangement.
Around it, circles of bricks create one endless circle and then an outer one that continues as a walkway through the soil to ensure a clean and pleasant walking through the garden.
4. Enjoy Cozy Warm Nights with a Brick Fire Pit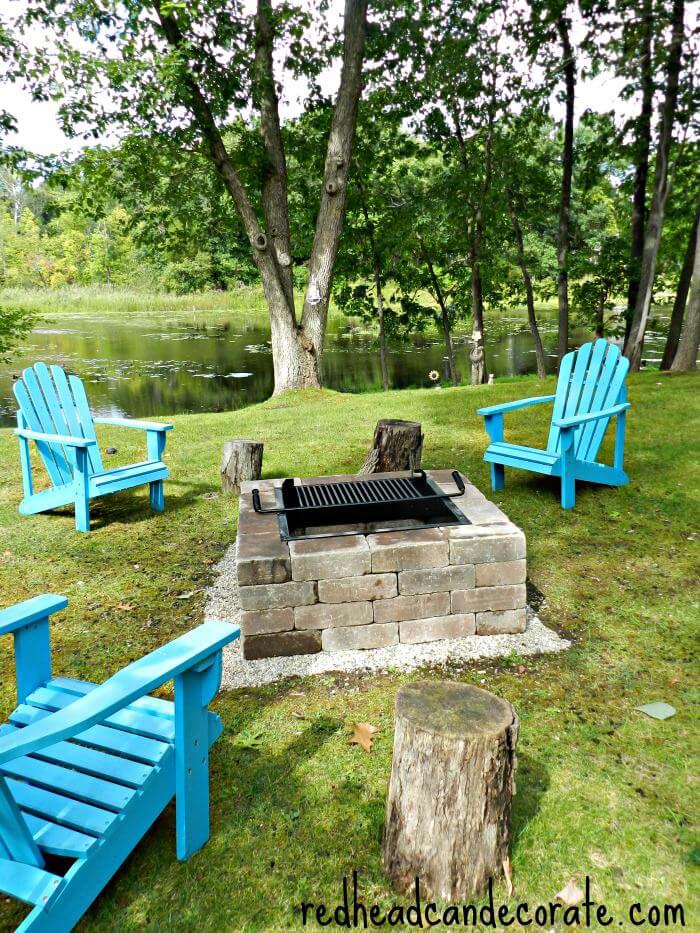 The concrete bricks have many DIY applications and one of them is building a firepit. Made only within a weekend, the built outdoor entertainment feature looks like it is made by professionalists and will ensure a pleasant time spent outdoors even when the weather gets colder.
Add a grill to the top to prepare grilled meals.
5. Get Creative with a Rustic Brick Birdbath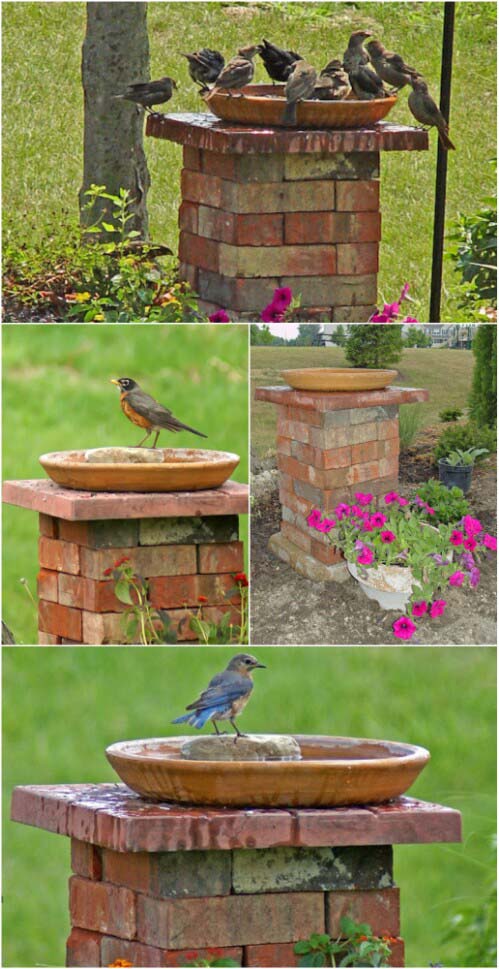 Are you an eco-lover? Then you can make your own birdbath and enjoy the cute picture of birds visiting your yard to drink water and cool themselves.
You need bricks and a ceramic plate for this idea. Build a pedestal using concrete to fix the bricks in place. Add flower pots with blooming flowers to attract bees and butterflies and give a pop of color to the built water feature.
6. Create a Backyard Oasis with Repurposed Brick Fire Pit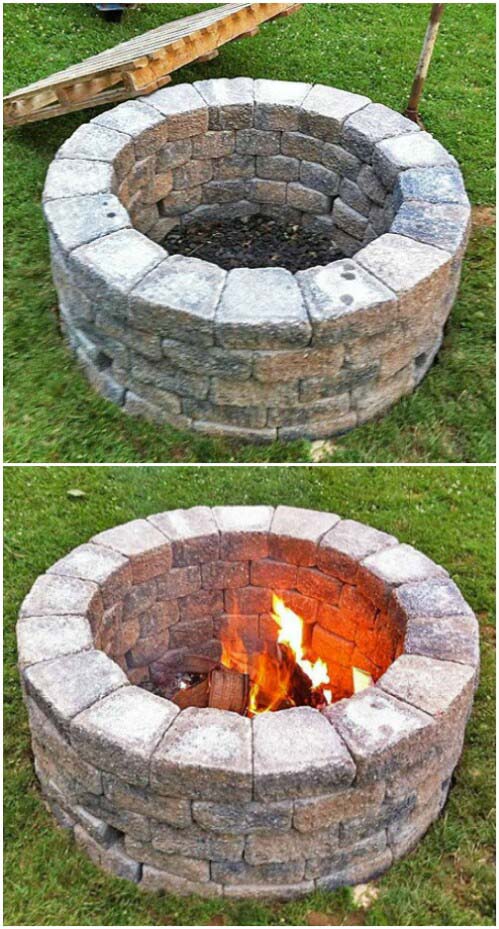 The easiest and quickest way to make your own backyard firepit is to build it over the ground.
You can use fire-resistant bricks or stone bricks that are suitable for high temperatures.
via Bridgman
7. Boost Your Curb Appeal with a Brick Path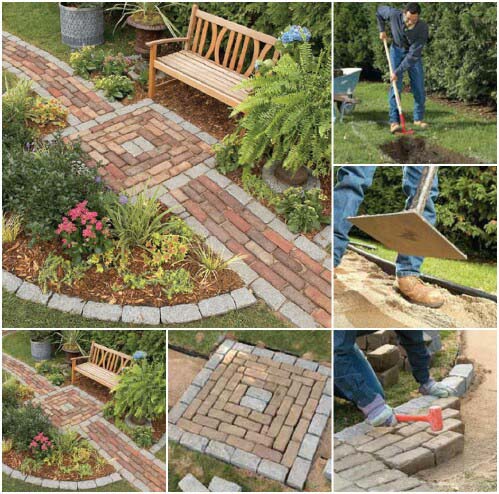 Bricks are a suitable and inexpensive material for making a garden path. Depending on the area you would like to cover, you can create attractive ground patterns with the rectangular shapes of the bricks.
Lay them in a square pattern or why not try to match different geometrical shapes? The ideas for making the functional pathway also attractive are numerous!
via Home Dzine
8. Create a Refreshing Oasis with a Brick Waterfall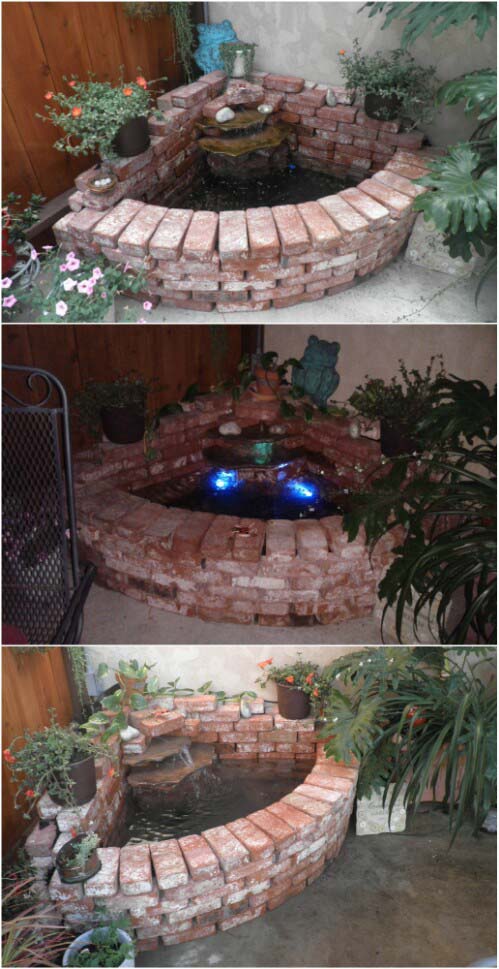 You can make your own garden water feature with bricks. You can build your own outdoor relaxing corner on the soil or any type of floor surface.
The easy detailed tutorial below will help you create a brick waterfall like a master. In addition to that, the authors have considered the low-maintenance and outer look as important.
9. Enjoy the Beauty of Nature with a Brick-Lined Pond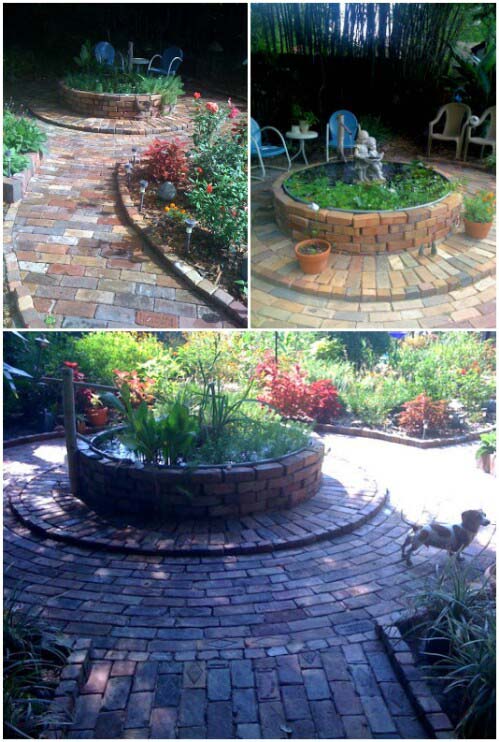 If you have more free space in your backyard and you admire the natural water treasures, you would love this idea of a pond. Lined with bricks, the plastic pond ensures an environment for growing water plants in the center of well-maintained brick-covered garden space.
via Mmeara
10. Transform Your Walkway with Unique Brick Design

This is an inspiring idea of how you can align bricks to create a durable and outstanding walkway, after all such outdoor structures are made once in a while.
You do not need a special project for that, just lay the bricks thickly next to each other, placing them diagonally. You can cover the entire space with them or leave clearances for raised garden beds.
via Wild Ink Press
11. Create a Rustic Spiral Herb Garden with Brick Ideas

The raised bed can be built in many shapes and one of them is the spiral. This curious design is perfect for a focal point in the garden where you can grow cascading flowers and why not herbs.
Related: 29 Beautiful Gabion Planter Ideas
There are two ways to make the spiral. The non-permanent way requires organic materials to build the garden and as the name implies, such a raised-bed structure will last for one season.
The permanent way makes sure that the attractive garden lasts for many years thanks to durable and solid materials among which are the bricks.
12. Elevate Outdoor Cooking with a Brick Fireplace Grill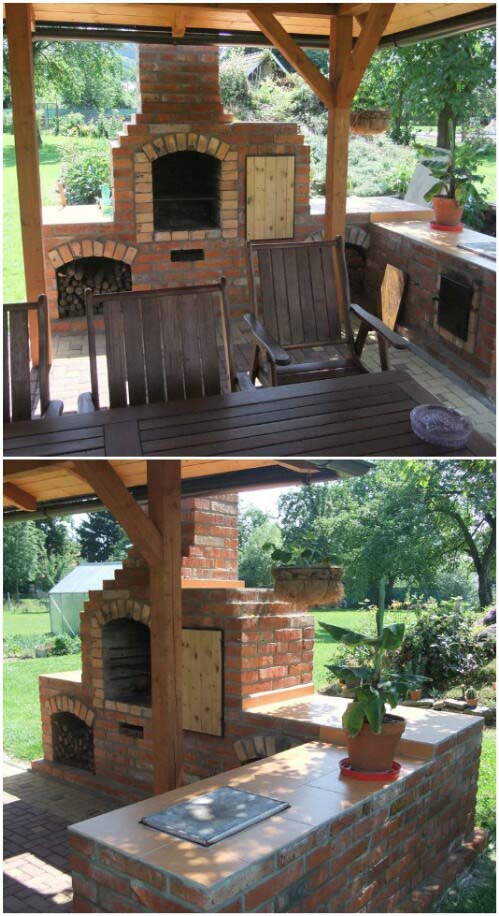 If you want to make your outdoor living room cozy, use bricks. Their color and texture succeed in breathing the space warmth and therefore they are preferred material not only because of their durability but also because of their look.
This DIY leftover bricks idea features instructions about how to make an outdoor fireplace enclosed with two countertops where cooking and food preparation is comfortable.
via Instructables
13. Make a Statement with Brick Planters and Lanterns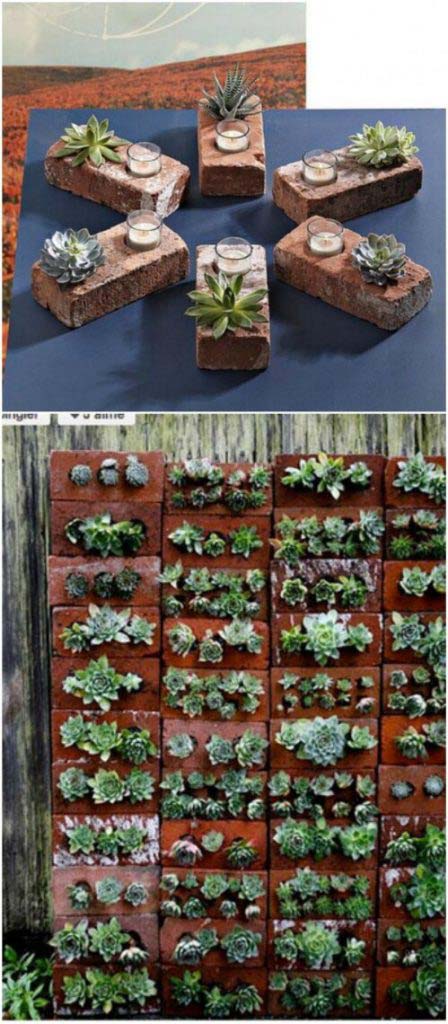 This creative idea has made the available brick holes into functional planters. Of course, the size of the plant grown is important. That could be seeds of herbs, succulents or any other small kinds that will develop well in tiny spaces.
There are also options for how to align the bricks. You can put them horizontally directly on the soil or you can build a vertical wall that will soon become living wall art.
14. Transform Your Home Garden with Raised Brick Planters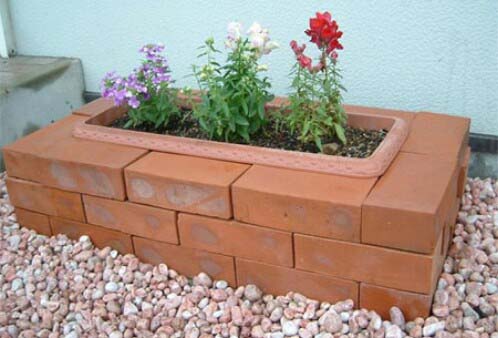 The bricks you have left from the last backyard improvement can be just enough to hide the plain plastic material of a flower pot. Thus, you will give the garden container an attractive lining such as a real garden bed.
This design could be more fancied by people that prefer easy maintenance and enjoy changing the flower variety as the season's change.
15. Style Up Your Garden with Customized Hand-Painted Markers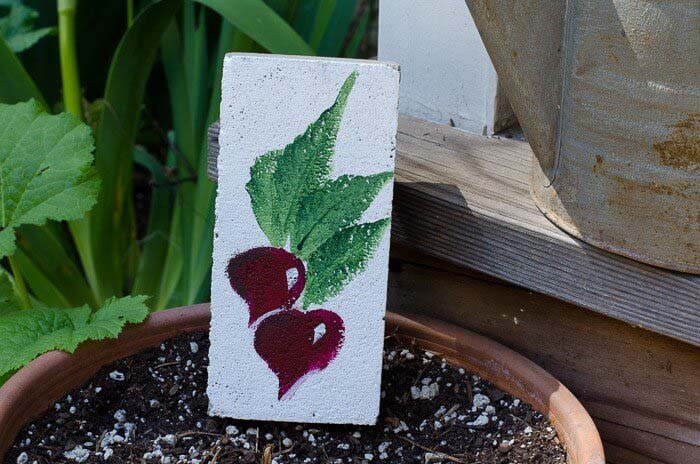 The green-thumb lovers will fall in love with this great vegetable kind's labeling. One of the wider sides of a brick is painted white and then a cute image of the plant grown in the flower pot is drawn.
This cute and fun idea is so simple that you may want to make a label for every plant you grow. In addition to the practical aspect of this garden accessory, the brick labels are also a unique and personalized garden decor.
16. Embrace Minimalism with a Chic Brick Fire Pit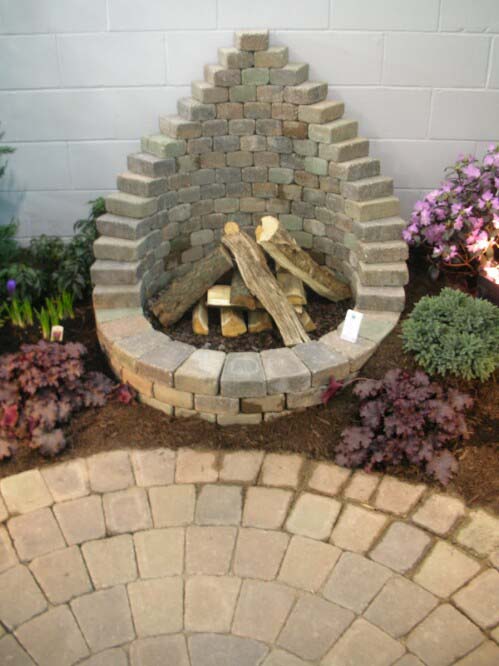 This is another design idea of an over-the-ground firepit with bricks.
The part of the firepit that is next to the wall is higher than the rest of the periphery in order to protect the adjacent surfaces from getting smoked with the fumes.
17. Edge Your Walkway with Upcycled Bricks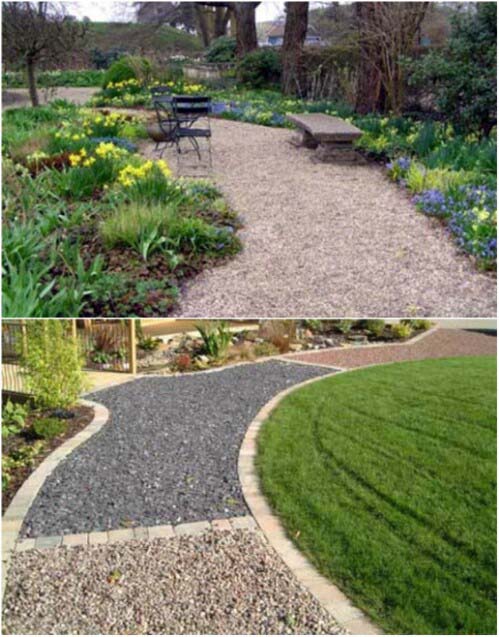 If you are wondering what to do with the bricks left from building an outdoor fireplace, here is one interesting and easy garden decor idea. Use them to outline the limits of the walkway passing through the backyard.
This is a perfect utilization of a smaller amount of bricks as the clearance between the edges is filled with gravel. In case there are many bricks left, you can build the entire walkway with them.
via Home Dzine
18. Unleash Your Creativity with Brick Painting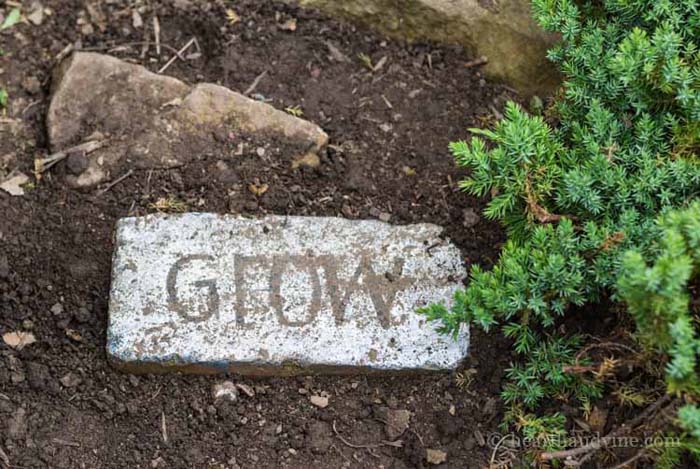 Do you remember our favorite painting rocks project? You can do the same on bricks! By the way, the wider surface allows more ideas like inscribing a word or a phrase!
Just paint the surface in a neutral color so that the inscription stands out.
via Hearth and Vine
19. Get Rustic Elegance with a Brick Garden Bench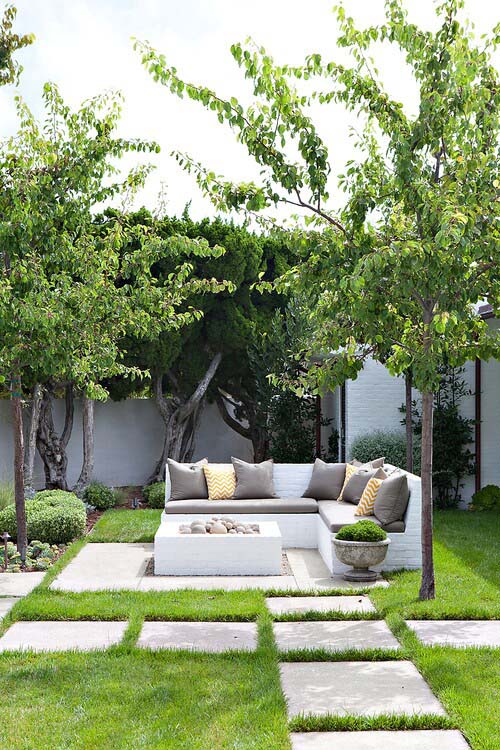 Are you looking for a durable outdoor sitting set? Well, buying it from the garden store may not be possible but building it yourself is surely a way to make that happen!
Use bricks to build benches and a firepit at a spot from the backyard that is empty. Then make cushions to place on top of the bricks so that resting there is comfortable.
And one hint when you choose the relaxing corner place- build it below trees so that there is natural shade during summer.
20. Improve Your Landscape with a Tree Brick Ring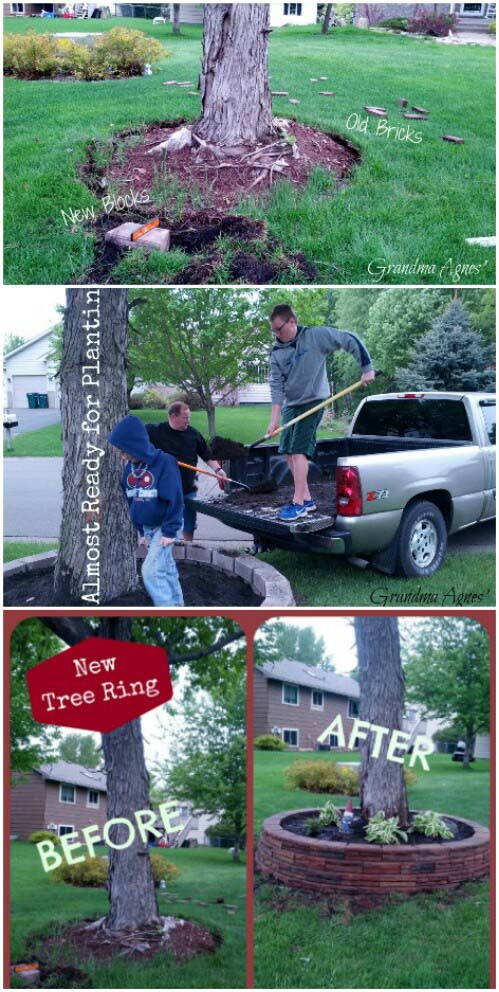 If you are looking for a way to make your garden landscape more aesthetic, you can do it by creating garden beds around the trees.
Use bricks to define the size and limits of the garden bed and then fill the section between the tree and the bricks with soil. Plant your favorite flowers and watch how the curb appeal improves with such an easy and affordable improvement.
21. Get Unmatched Aesthetics with Brick Wall Sculptures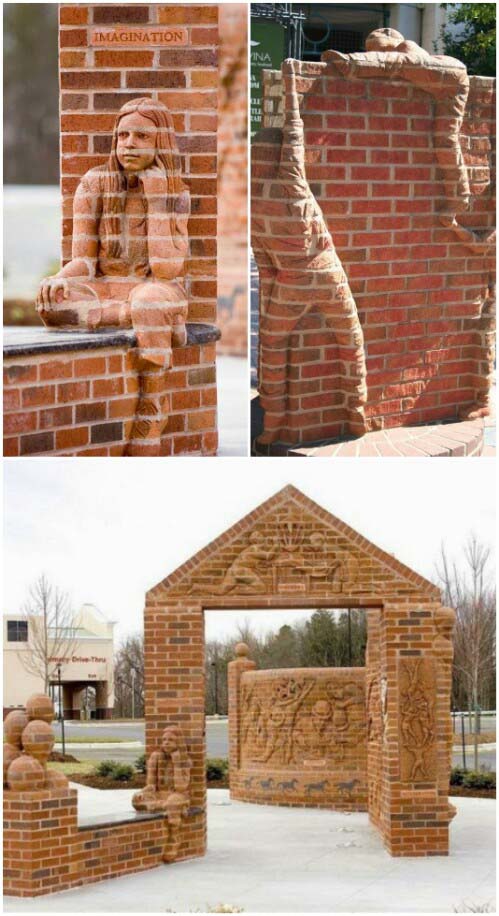 These amazing images are to show you that even the roughest materials can make delicate art that inspires and leaves you breathless.
The bricks as we know them are of rectangular shape and most of us wouldn't believe that sculptures can be formed from them. Actually, it is totally possible because bricks are prone to easy shaping.
22. Add Texture and Definition with Brick Books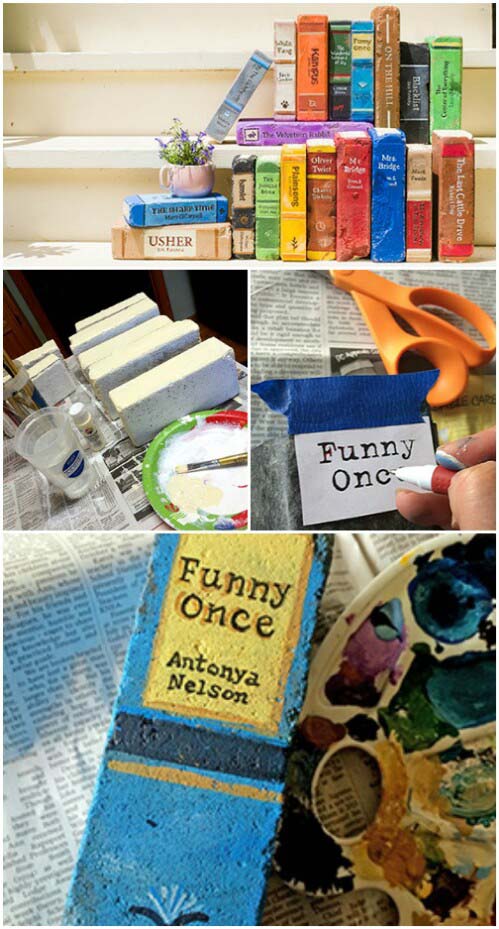 Making a brick library is a curious way to make your porch very welcoming. The books enhance the personality of the author, the characters and the reader.
In addition to that, this idea lets you play with colors to create a vibrant outdoor decor with almost no investment and effort.
Duplicate your favorite titles and give your outdoors a point of interest and character.
23. Enhance Your Garden Beds with Brick Edging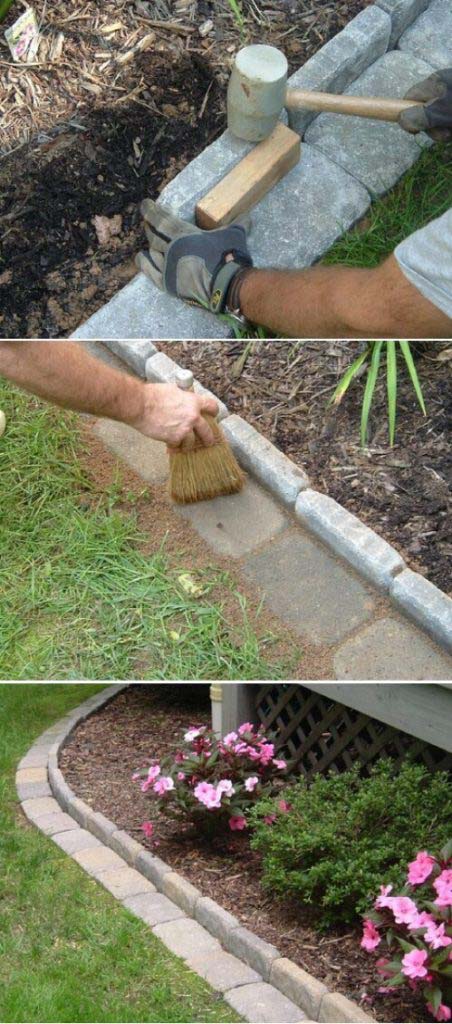 Adding an edge garden to your backyard improves the curb appeal and gives the outdoors an aesthetic look. The garden beds around the house or the fence can be outlined with stones, rocks and bricks.
These images show you how to align the stone bricks in a way that looks like a performance of a landscaping designer. Place the inner row upright and the outer flat and horizontal. Use solid wood and a hammer to fix the bricks rigidly in the ground.
24. Add a Pop of Color to Your Yard with Brick Art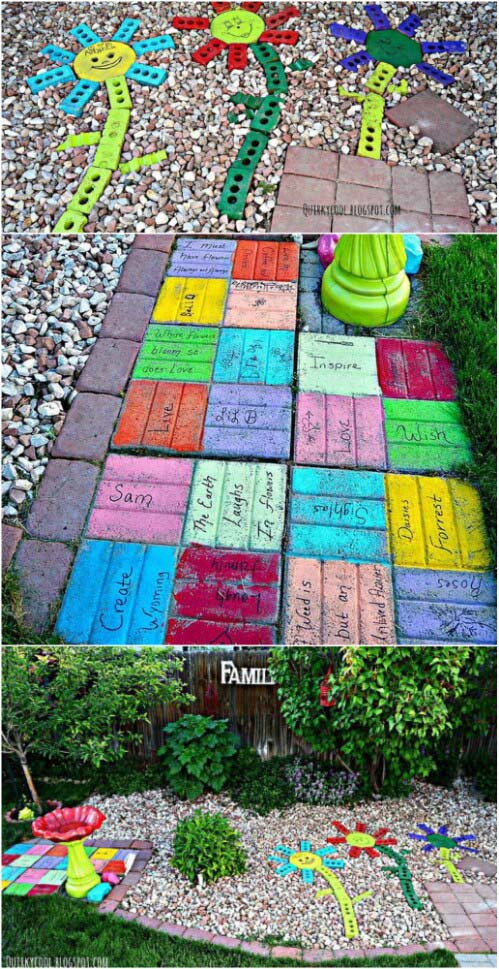 The brick repurposing can be upgraded to a fun DIY project with this awesome idea! Paint the bricks you have got left in different colors.
Then release your imagination to create cute shapes and forms. Flowers, stepping stones, imitations of books, there are many ways to transform the plain bricks into unique outdoor art pieces.
25. Label Your Herb Garden with Brick Art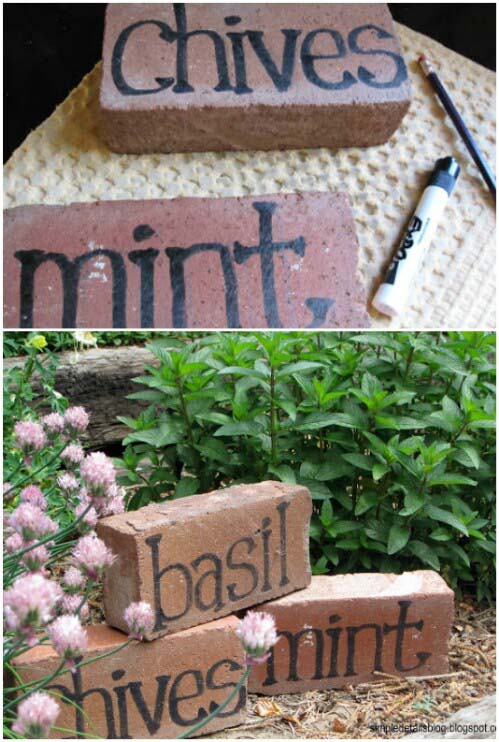 This simple DIY idea is an alternative to brick garden labeling. You need only a permanent marker to write the names of the kinds of herbs you are growing in the garden this year.
Place the brick before the herb tuft or build a pyramid of the entire variety a garden bed holds.
via Simple Details
26. Bring Rustic Charm with a Brick Patio Table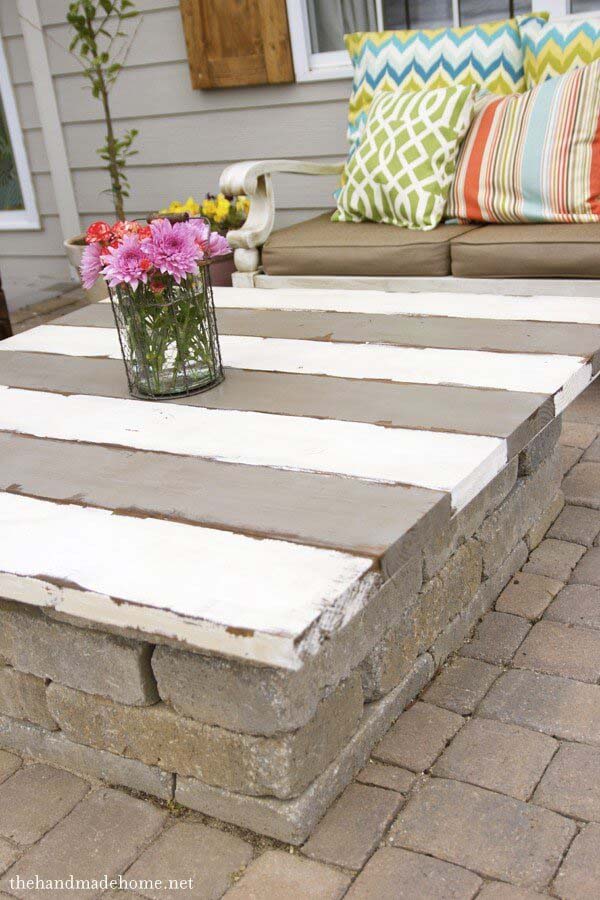 The outdoor furniture is very expensive and most of the time it doesn't last as many years as we would wish. So, why not building them from durable materials? The stones and the bricks are perfect for that.
This table has been made to satisfy these needs and looks so amazing. It is chic, unique and very strong. Furthermore, it is a perfect size.
You can give this built table even more character by painting the top surface.
27. Create a Unique Home Address with Bricks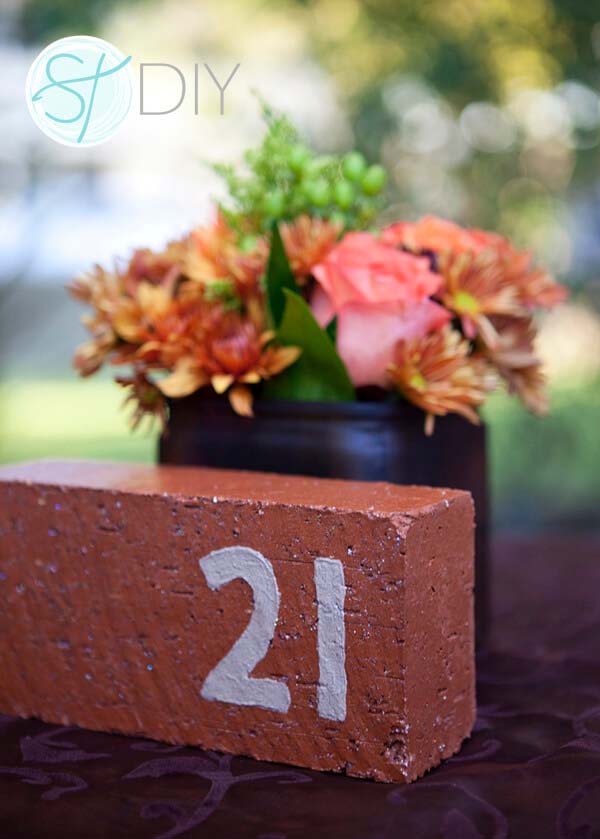 Mark the number of your home on a brick. It is so simple and inexpensive DIY project that will take not more than 1 hour of your time.
This interesting personalized project could come in help for special occasions like an outdoor rustic wedding for marking the numbers of the guest's tables.
28. Add Artistic Flair with Your Brick Art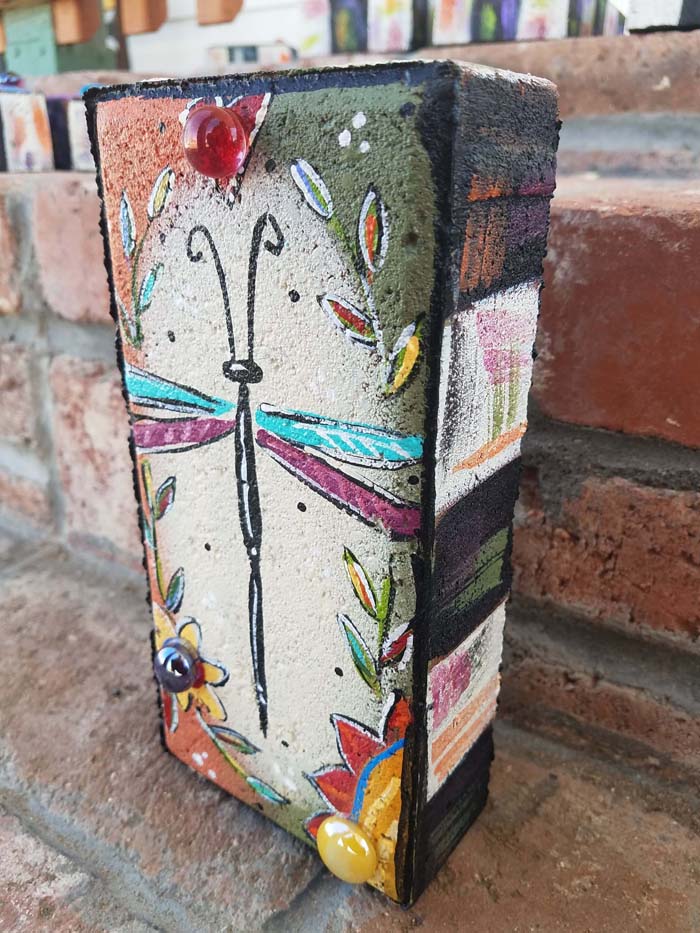 Are you an artistic type of person? Then you know that a canvas for the art could be any surface, including the brick one.
Make your next expression on a brick to showcase your skills in an attractive way. The surface is wide enough to paint complicated images like animals, objects. You can also add inscriptions and make this art personalized for a gift.
By the way, the decorated brick could also be a helpful indoor accessory- like a door stopper.

29. Define Your Space with Colorful Painted Pavers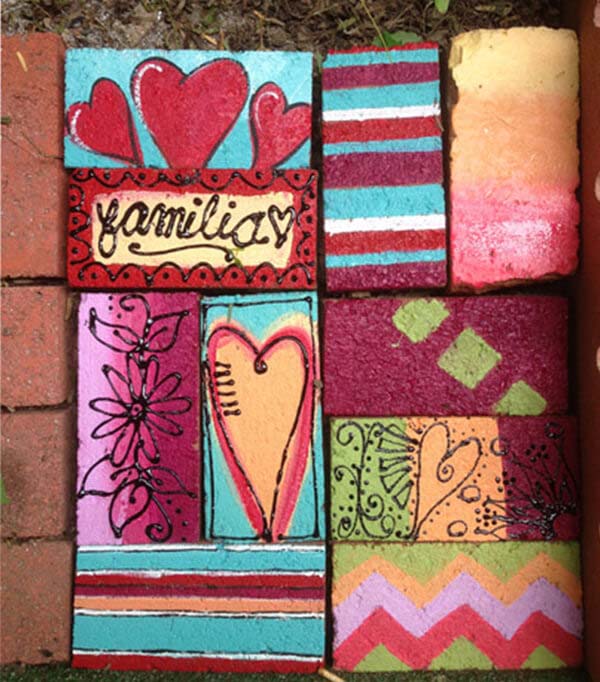 This is how the bricks can look like as canvases of your painting skills. The rough texture gives the art more interest. And if you are looking for outdoor activities for your kids, you can use the leftover bricks to keep them occupied for some hours.
Then you can include the art pieces in building a structure and let them stay forever as a nostalgic memory from their childhood.
via Crafty Chica
30. Add a Hint of Nature with Brick Succulent Planter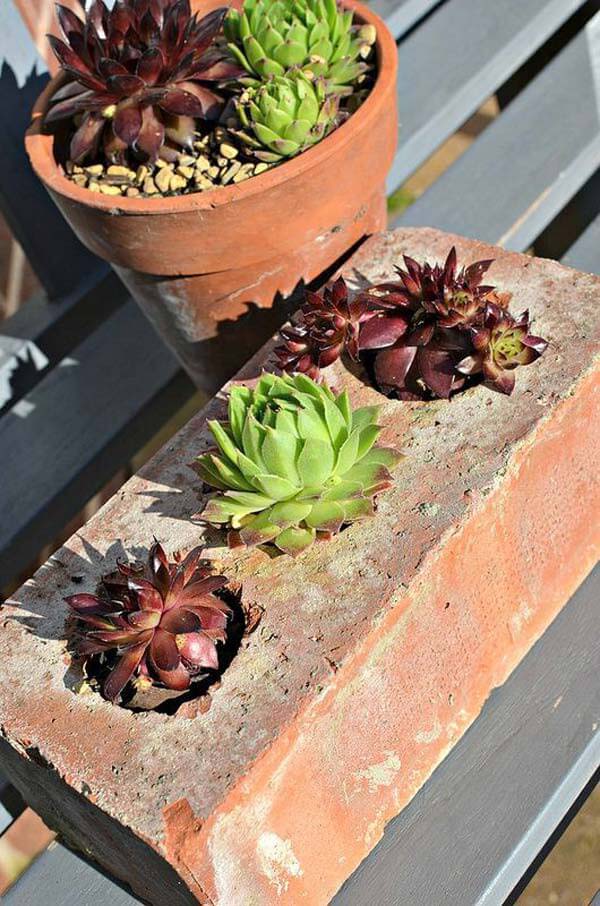 The little succulents feel so right in small places. The bricks are the easiest way to create a succulent garden for your porch in a minute. The interesting idea creates such a cute small garden- the succulents peek out of the brick holes and make it so easy to add a planter everywhere.
The brick gardens are perfect to decorate the porch railing or the table.
31. Set the Right Tone with a Brick Fireplace Makeover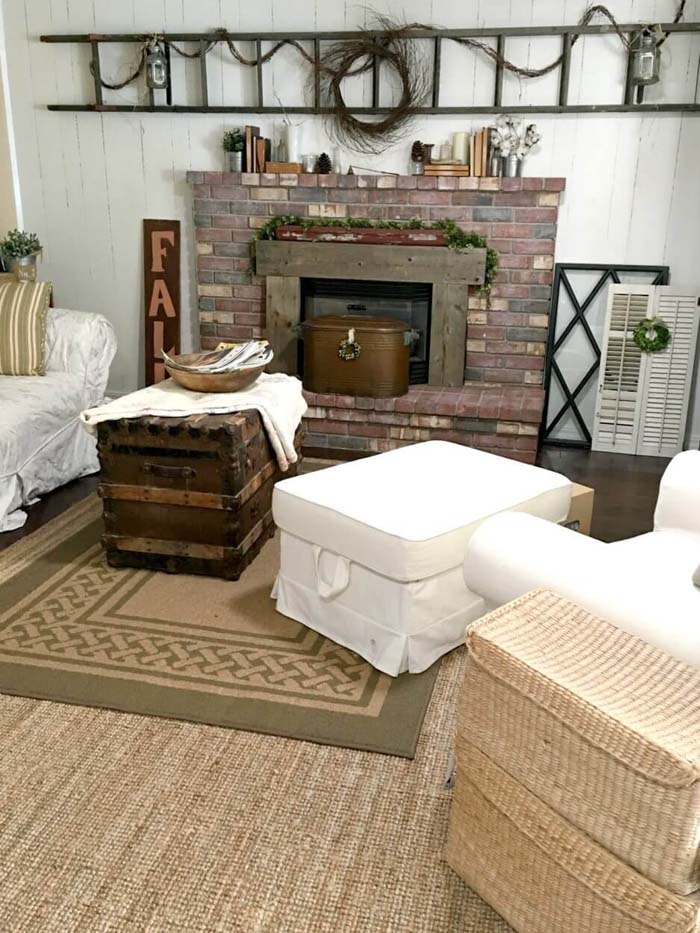 Bricks have become a trendy material for building indoor statement walls. Adding them to the build of your fireplace will have the same interior effect as a neutral wall.
If you already have a fireplace but you like the warmth and the texture of the bricks, it is no problem to update it by adding bricks.