Nothing's more satisfying than gathering around a warm, crackling fire with your closest family and friends, enjoying good company and great conversation.
By adding a cheap fire pit to your backyard, you can make lasting memories while extending the life of your backyard.
Our top 10 best fire pit under $100 picks will give you a warm place to cozy up next to during the cooler months, and their unique styles and textures will raise the property value of your home.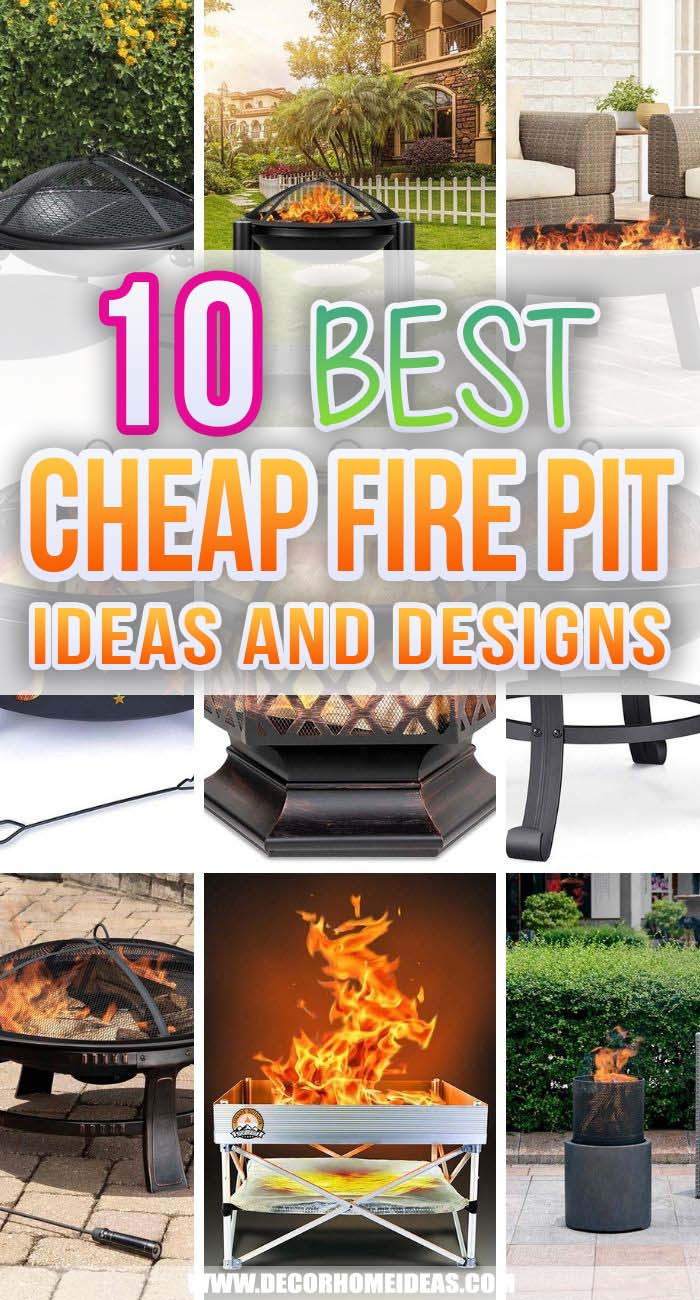 How to Build a Fire Pit Cheap?
Take a look at these DIY Fire Pit Ideas where you can find different cheap and inexpensive options with tutorials and step-by-step instructions.
Fire Pit Buying Guide
Thinking of buying a fire pit for your garden, well there are probably a few questions that you need to ask yourself when deciding what you want.
Firstly, what sort of material would you like your fire pit to be made out of?
This is quite an important one, as it will have a big influence on the style and look of your fire pit.
Secondly, would you like to be able to cook on your fire pit?
You may not have even considered the possibility of being able to cook on a fire pit but unlike a patio heater a fire pit can also be used for cooking. Lastly, what is your budget?
What materials can I choose from?
Fire pits come in a range of shapes, sizes and materials so it is important that you know which one would be suitable for your needs. Here we will run through the most popular materials in use and the virtues for choosing them.
Iron fire pits tend to make up the budget end of the market as they are cheaper to make and can be made in many different styles and sizes. These fire pits will last a long time if looked after but may quickly rust and become discolored if not looked after properly.
Copper fire pits are more expensive than iron ones and tend to come in a bowl style with a polished flat copper rim. Copper is a very durable metal that stands up well to high heat and being left outdoors. These fire pits won't rust over time but the copper will take on a green tint over time unless it is regularly cleaned.
Steel fire pits are very similar in nature to their iron counterparts but are lighter in weight and more weather resistant. Steel is often used in the combination table/fire pit designs as they give the best of both worlds combining a slate or ceramic table with a steel fire pit. Steel is also generally priced somewhere between Iron and Copper in terms of cost.
Would you like to cook on your fire pit?
The advantage fire pits have over chimneys and patio heaters are that as well as acting as a focal point in your garden they can also be used to cook with.
One of the best designs around is the coffee table fire pits which contain a fire pit in the center of the table which can be used for cooking a barbecue. The table has a pull-out central section which when removed reveals the fire pit beneath.
What is your budget?
If you're looking for a cheap fire pit or fire pits under $100 – They are a fabulous way to heat your garden at night and will offer a great focal point around which your friends and family will be drawn.
The price you pay for a fire pit is really up to you so have a look around and see which fire pit is for you.
We hope that this article lets you decide to purchase the best yet cheap fire pit!
1. Valentine 15.75" H x 23" W Steel Wood Burning Outdoor Fire Pit with Lid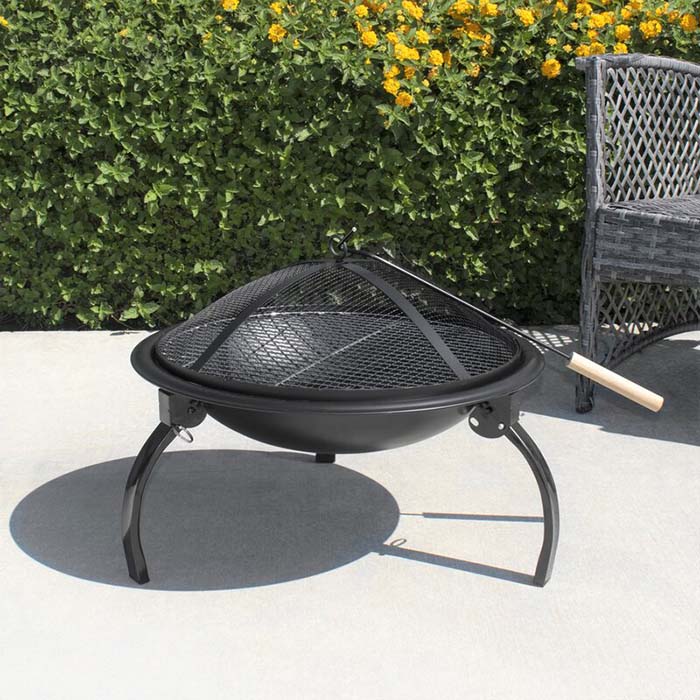 The Valentine Wood Burning Steel Fire Pit incorporates a touch of class! With its attractive steel-finished bowl, it really does bring elegance to any patio or garden area.
The Fire bowl is mounted on a durable wrought iron stand, ensuring it is sturdy and secure, especially reassuring if you have small children. Even more reassuring is the protective screen to help prevent stray hot embers and a protective outdoor cover to shelter it from the harsh elements when not in use.
The 20" diameter bowl is perfect for large or small gatherings, and the wrought iron legs are embossed with decorative scrolls, which a delicate finish to this robust fire pit.
Features
Durable steel construction, making it weather-resistant.
Equipped with heat-resistant bowl and fire screen.
Foldable design makes it portable and travel-friendly.
Spacious design, measuring 20" x 20" x 7" fire bowl.
Pros
Long grate design
Lightweight, weighing only 6.5lbs.
Weather-resistant design
Cons
May unbalance on uneven surfaces

2. Best Choice Products Hex-Shaped 24 in Steel Cheap Fire Pit for Garden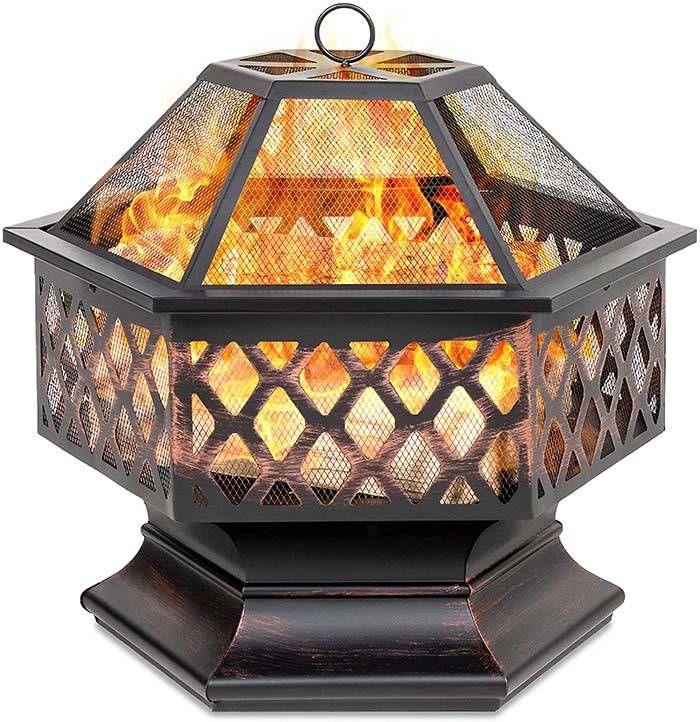 The Hex-Shape Steel Fire Pit is a great product that would definitely win you over.
It is specially made to last longer during cold seasons while uplifting your outdoor décor, thanks to its modern yet rustic hex-shaped design.
It lets you stay outside in your backyard and enjoy your evenings without having to worry about the weather.
This is perfect for entertaining all your friends and families. It is easy to assemble and is excellent in quality and efficiency. You can place the fireplace anywhere in your yard and not be worried about destroying the place.
Features
Exquisite steel frame construction.
Side steel mesh for ventilation
Deep fire bowl design for protection
Spacious design measures 24" x 24" x 25"
Comes with a spark guard and mesh lid
Pros
Lightweight yet durable construction
Reliable and sturdy steel base.
Beautiful hexagonal design.
Cons
Low in height from the ground.

3. Delshire Polyresin Wood Burning Outdoor Fire Pit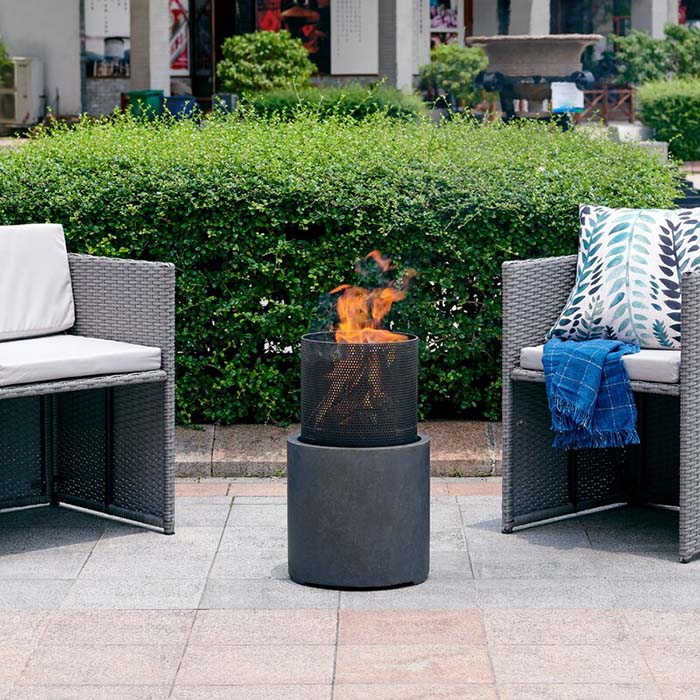 The Delshire Fire Pit is a fantastic addition to your patio! Gone are the days when you had to sit inside the house and watch TV all through winter.
With this inexpensive fire pit you can relax outside in warmth and comfort. You also have the opportunity to entertain your guests in your backyard.
Moreover, its round shape design is ingeniously crafted with polyresin material, making it incredibly lightweight, portable, yet weather-resistant, making it perfect for outdoor use.
Features
Beautiful round shape design.
Polyresin material makes it weather-resistant.
Spacious design, measuring 9.13" x 10.38" x 10.38" fire bowl.
Pros
Compact design
Weather-resistant
Lightweight & portable
1-year warranty
Cons

4. YAHEETECH 22″ Outdoor Wood Burning Firepit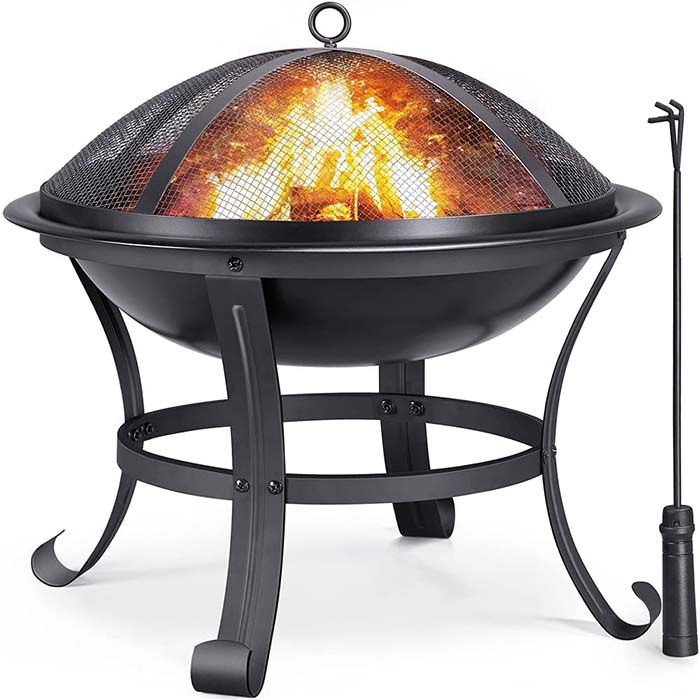 The outdoor fireplace of YAHEETECH promises longer-lasting heat while outdoors.
It is ideal for camping, hunting, or any outdoor activities.
It can also provide good warmth when placed on a patio, deck, outdoor garden, or anywhere else that you would like to have fun without worrying about leaving traces of the fireplace.
Features
Durable alloy steel construction
Spacious design measures 22" x 22" x 20"
Stable and reliable iron stand frame
Equipped with mesh cover and poker.
Powder-coated black color makes it resistant.
Pros
Curving metal legs make it beautiful.
Combustion supporting grate for logs burning
Stable structure
Quality steel construction.
Lightweight and portable
Cons
No carrying handle for portability.

5. Tamil Steel Wood Burning Outdoor Fire Pit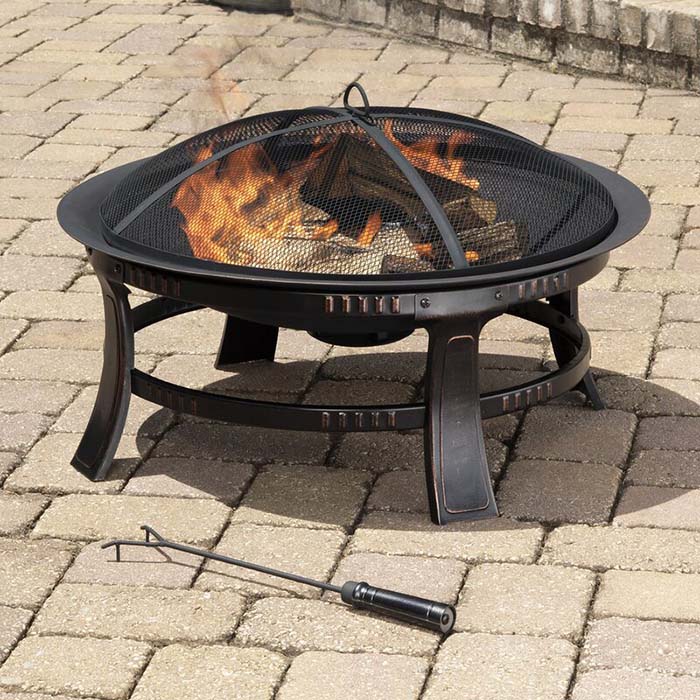 Bring a touch of warmth to your patio or garden area with this fantastic Tamil Wood Burning cheap Fire Pit.
The bowl itself is made of 100% steel material and is extra deep so that you can enjoy those bigger fires that last a lot longer.
This rubbed bronze finish will age naturally, giving you a beautiful rustic-looking piece of garden furniture. It rests securely on a robust wrought iron stand for extra peace of mind.
The Tamil Outdoor Fire Pit is highly portable, so you can move it wherever you like around the garden.
You can even take it with you on a camping trip, or to a friend's house. It measures 30 inches in diameter, making it an ideal size for large or small gatherings. The steel tub itself is 6 inches high with the cover fitted, and 11-3/4 inches without.
Features
Exquisite rubbed bronze finish look
100% pure steel construction makes it durable.
Comes with a sparks screen for protection.
Spacious design, measuring 6" x 29" x 29" fire bowl.
Above-ground stand frame design
Pros
Spacious wood-burning pit
Spark screen for protection
01-year limited warranty
Round shape modern look
Cons
Heavier than other models, weighing 30 lbs.

6. Portable Pop-Up Full-size 24" Fire Pit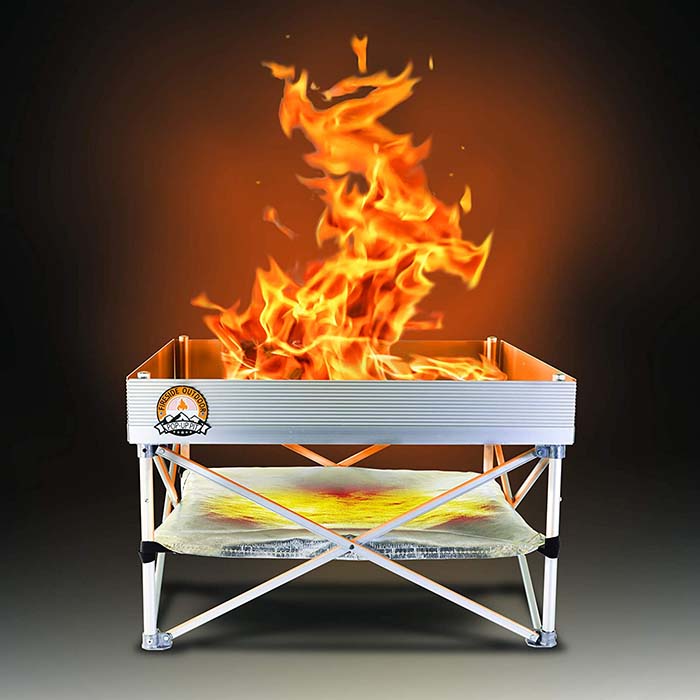 For those tired of moving heavy outdoor fireplace, the Pop-Up Lightweight Outdoor Fire Pit is the ideal option.
This fireplace comes with lightweight construction, weighing only 7lbs, making it incredibly lightweight, allowing everyone to carry it from one place to another.
The fireplace also has some additional features to make your outdoor time comfortable. The Pop-up fireplace measures 24" x 24" x 15" in diameter, which makes it big enough to warm an entire group.
Moreover, it's ingeniously designed that lets you ignite the fire pit in just 60 seconds, thanks to its smart airflow design, allowing you to enjoy brighter and hotter fires without any smoke.
Features
The ingenious patent material design makes it lightweight.
Quick and easy to ignite setup.
Weighing only 7lbs. in weight.
1-year guarantee.
Reliable and sturdy framing.
Detachable design makes it travel-friendly.
Pros
Detachable design.
Smart air flow for smokeless burning
Cons
The design is broad enough

7. Powe 27.5" H x 20.4" W Iron Outdoor Fire Pit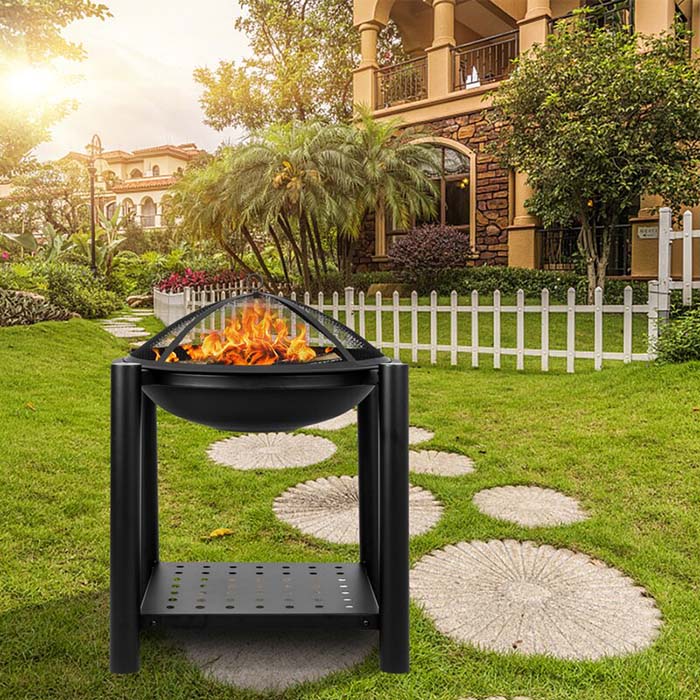 During the cold winter season, most of us long to stretch out in our backyard.
We are forced to entertain our guests inside the house with limited fun. The fire pits that are in the market are either costly or ineffective – But there is some great news.
The POWE Wood Burning Iron Stand Fire Pit is the best choice for anyone planning to have a relaxing time in the backyard.
This model is an absolute piece of beauty, adding spice to your outdoor décor.
With its steel framing and spacious fire bowl, it really brings a touch of class to your patio, lawn, or garden.
Loading and tending to the Powe Fire Pit couldn't be easier. It's large 20" inch diameter fire bowl makes it a snitch.
The fire bowl is also high-quality black steel which offers added durability. This solidly built unit includes a heavy steel grate with an easy-lifting spark arrestor, set securely on a wrought iron stand, making it perfect to match your lifestyle.
Features
Exquisite iron stand fire pit with a deep bowl
Comes with a spark screen and cover.
Powder-coated black finish texture.
Lightweight, portable, & travel-friendly.
Limited warranty of 90-days.
Pros
Perfect for outdoor use.
Weighing only 17 Lbs.
Durable design.
Cons
Limited Warranty
Some may feel it heavy due to the big design.

8. LEMY 32 inch Outdoor Square Metal Firepit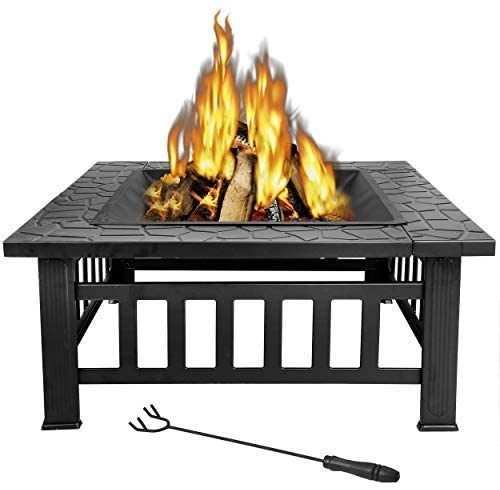 Bring a touch of class to your garden or patio with this 32″ Square Wood Burning Steel Fire Pit. The frame itself is high-quality steel with a weather-proof powder-finish coating for extra durability.
The unit includes a well-built removable safety mesh cover to protect you from stray embers and flying sparks, making it a perfect addition to your lifestyle. It also comes with a cover to protect it from the elements when not in use, so you won't have to buy a separate one.
The design of the fire pit is particularly attractive in comparison to other similarly priced units. It is also exceptionally sturdy in its build, giving you added peace of mind.
Features
Steel construction, making it durable and long-lasting.
Spacious design, measuring 32" x 32" x 12.25" frame.
Safety mesh cover, protecting the user from flying sparks or else.
Easy to assemble, comes with a complete instruction manual.
Comes with a protection rain-cover, keeping out dirt and dust.
Inclusive of grilling accessories, such as tong, steel grill, top cover, and else.
Pros
Easy to assemble
Equipped with grilling accessories
Exquisite design and durable
Deep basin to contain wood or coal
Cons
Not portable due to 30lbs of weight

9. Janke 13.5" H x 27.55" W Steel Wood Burning Outdoor Fire Pit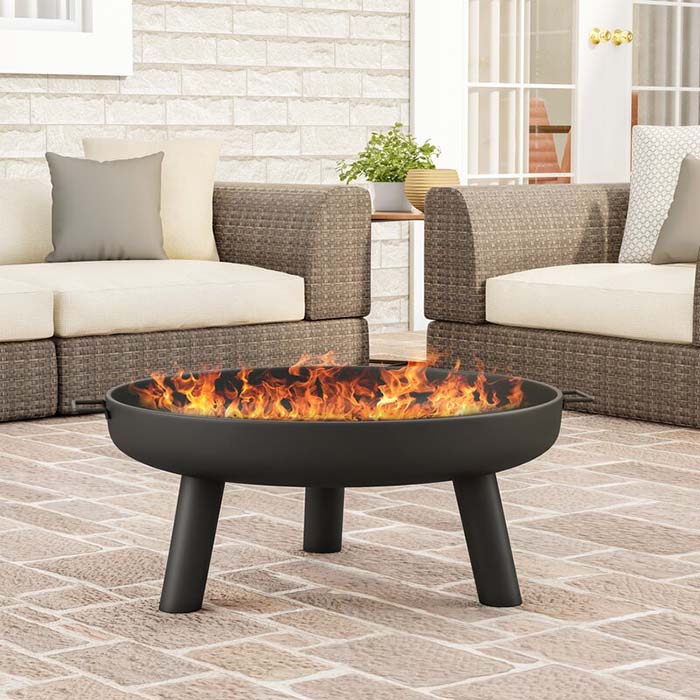 The Janke Wood Burning Fire Pit provides an excellent place to eat, drink and socialize with family and friends.
Not only that, but when it gets dark or cold, you can make the most of the fire pit located in the center and enjoy valuable time via socializing near it.
The unit is made of durable, lightweight, rust-resistant steel material, with an attractive dark and flecked finish.
It is easy to assemble and will take no take at all to go from the box to taking pride of place on your patio. Its underneath rests a black metal grate. Above, a mesh dome prevents stray sparks and embers from flying.
Of all the Fire Pits we have researched, this model is one of the well-loved.
Basically, it looks good, practical, and a highly capable fire pit, appearing to be a well-constructed and solid unit with great durability.
Features
Compact & practical design with steel construction.
Comes with PVC storage cover for extra protection.
Low-maintenance & easy to setup design.
Spacious design, measuring 27.55" x 27.55" round fire bowl.
Easily ignited via match or lighter.
30-Days warranty
Pros
Simple, exquisite, and neat design.
Compact round shape look
Durable steel construction
Protection covering
Cons
Some may feel it quite heavy compared to its compact look.

10. Super Sky Outdoor Fire Pit Wood Burning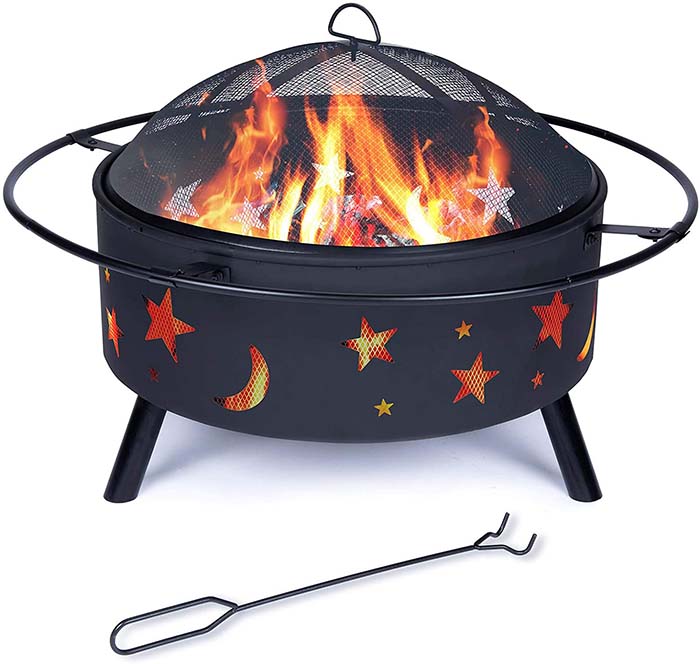 The 32" outdoor compact design Super Sky Fire Pit has a unique and attractive design with styles stars and moons cut out around the sides to create a beautiful ambient light at night.
It offers a full 360-degree view of the fire and a 33-inch diameter bowl. The bowl is actually 40% larger than the regular-sized big sky fire pit.
This unit also comes with a black spark screen to help prevent stray embers and a useful poker to help control your fire.
An easy assemble, sturdy steel construction, and a full diameter handle make for long-lasting durability and easy transport.
Features
Durable alloy steel yet metal construction
Spacious design, measuring 33" dia fire pit.
High-temperature paint finish.
Equipped with a protective mesh screen.
Pros
Ingenious design for good air circulation.
Easy to assemble makes it user-friendly.
Artistic decorative cut-outs.
Portable air-ring for child safety
Cons
Some may feel a low distance from the ground.