A fire pit takes your backyard living space to the next level, creating a spot for guests to gather.
When you want to encourage friends and family to relax, comfortable fire pit seating is a must.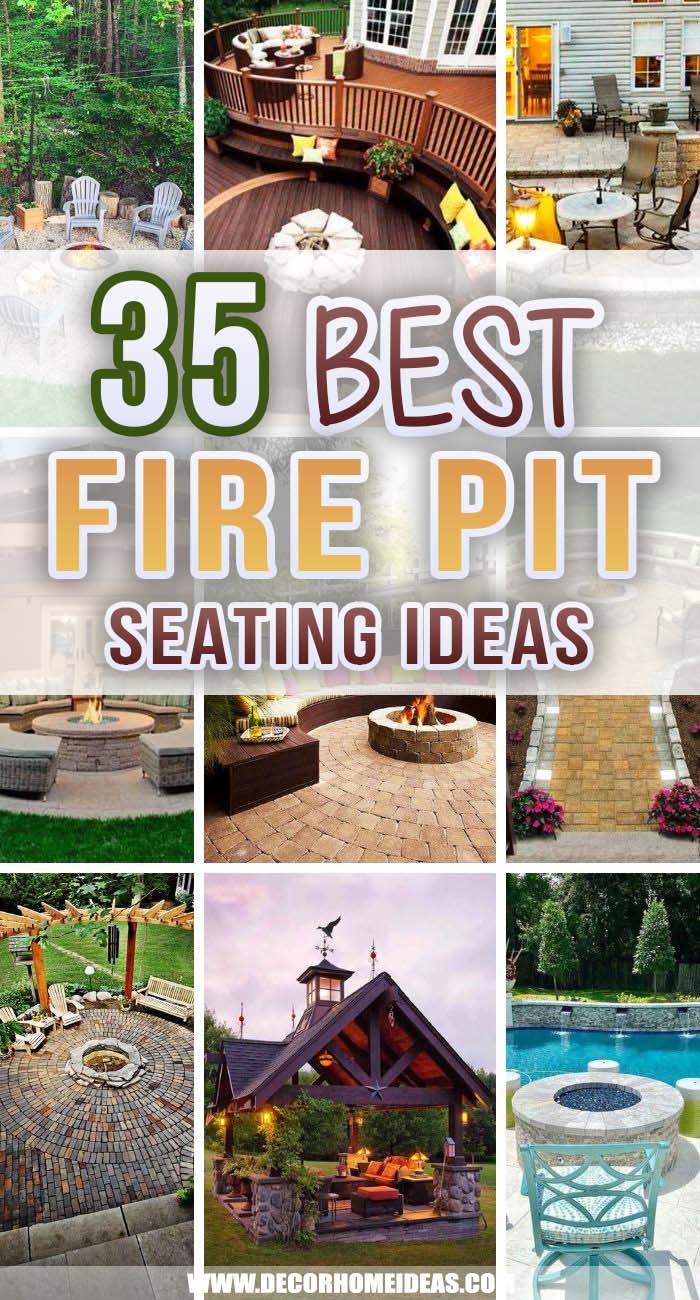 Whether you're envisioning a rustic, back-to-nature experience or a luxurious spot for evening drinks, these stunning outdoor fire pit seating ideas can help you create the perfect design.
1. Classic Adirondack Chairs with an In-Ground Fire Pit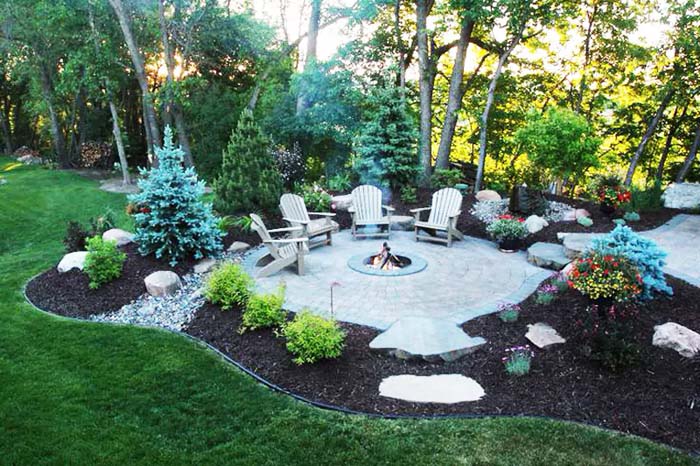 Do you want your DIY fire pit to blend into the natural environment? Choose chairs that fit the vibe.
Here, light-colored Adirondack chairs coordinate with the stone patio, creating a cohesive look. Add as many or as few chairs as you need for parties or intimate gatherings.
2. Classic In-Ground Stone Fire Pit and White Adirondack Chairs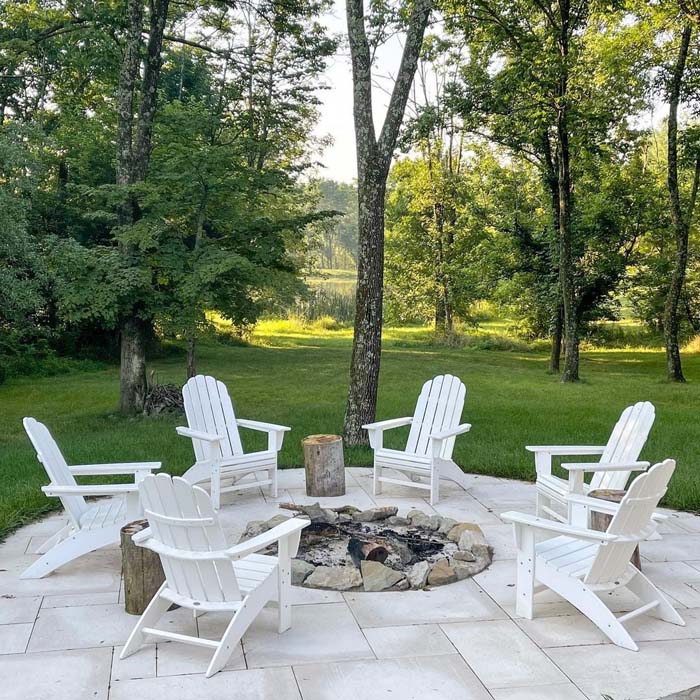 When it comes to fire pit seating, you can't go wrong with white Adirondack chairs.
They look fresh and bright, whether you live next to a lake or in the middle of farm fields.
Here, the homeowners used pale stone for a cohesive look.
via Lindsey Sinclair
3. Contemporary Concrete-Block Fire Pit Seats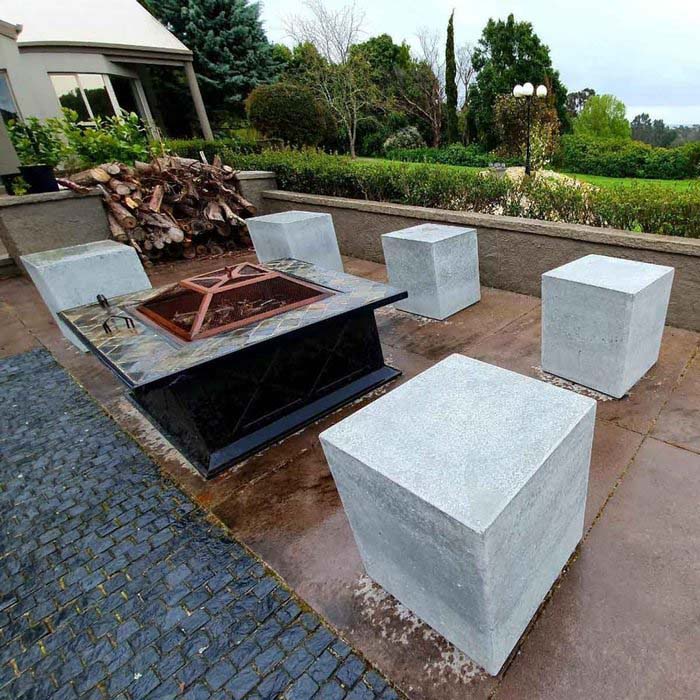 Is your home stark and modern? Help your fire pit blend in with concrete cube seating.
As a bonus, you'll never need to worry about maintenance or winter storage; the cubes can stay outside year-round.

4. Coordinated Brick Bench and Fire Pit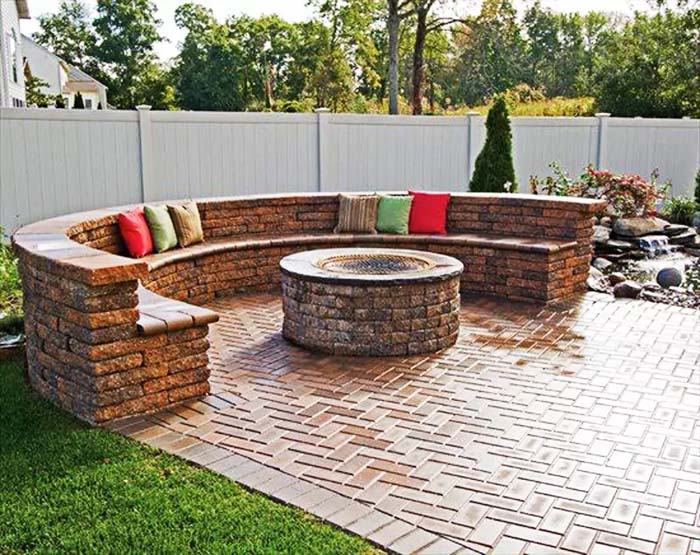 With their natural texture and consistent shapes, bricks offer a pleasant blend of rustic charm and sharp shapes.
This beautiful firepit and matching bench work beautifully in both modern and Old-World backyards. You can use matching fire pit bricks for the firepit and the bench.
5. Cozy Cement Bench with Built-In Firewood Storage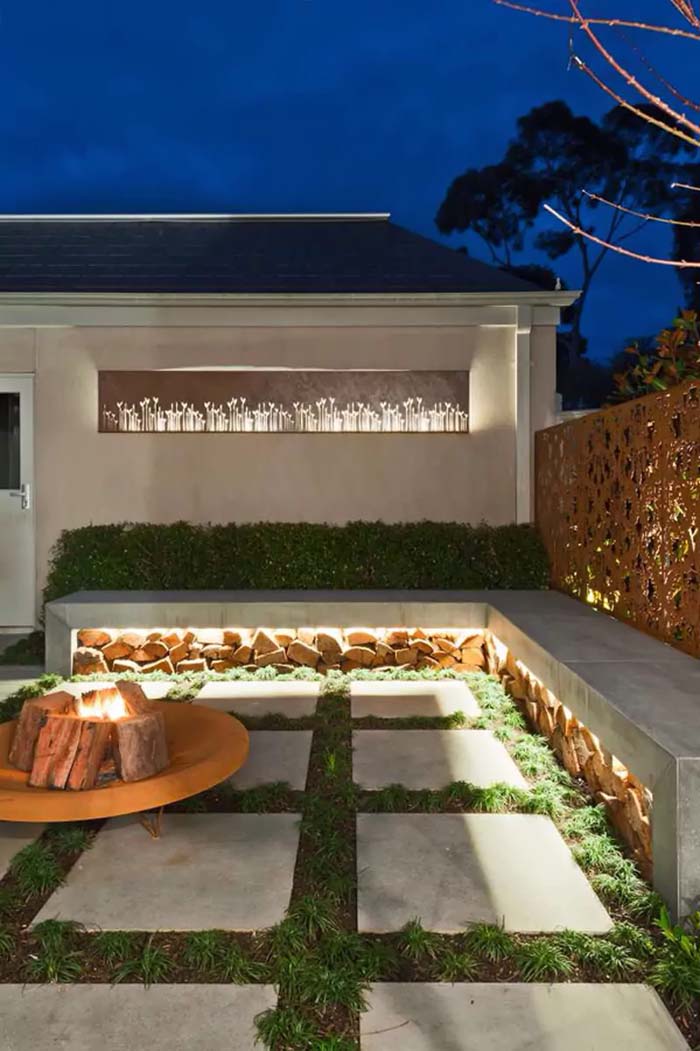 A modern home calls for a sleek and chic fire pit seating area.
Here, an L-shaped concrete bench echoes the clean lines of the house. Underneath, the hollow area provides plenty of room for firewood.
6. Cozy Fire Pit with Sofa Seating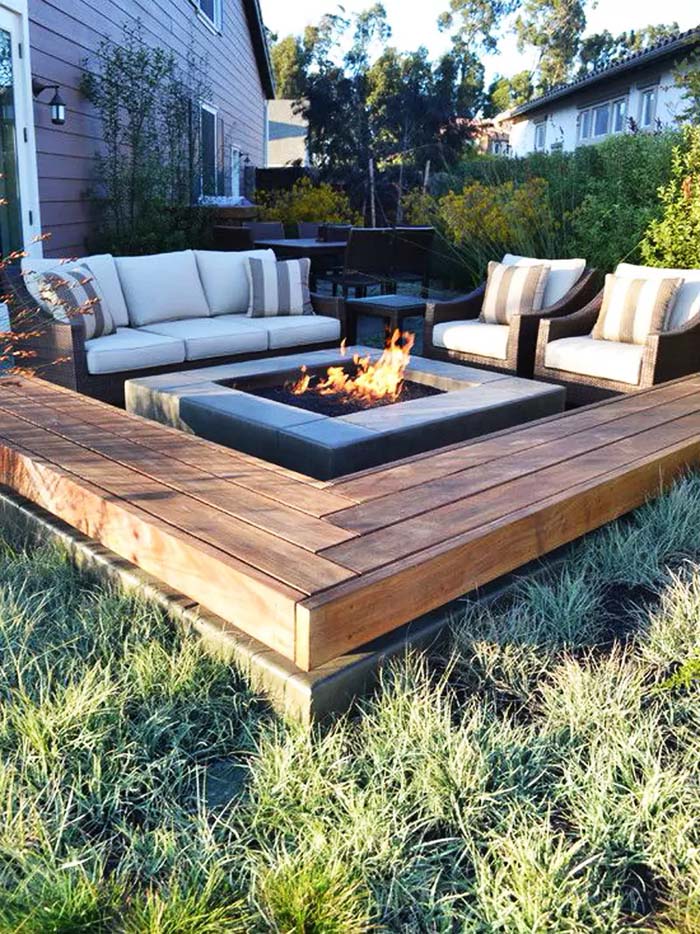 Are you dreaming of long, relaxing evenings by the fire?
Surround your outdoor square fire pit with sofas and armchairs. The deep seats and thick cushions allow your guests to settle in and enjoy the environment.
When you're entertaining a big group, the wooden retaining wall doubles as a bench seat.
7. Cozy Patio Fire Pit with Swivel Chairs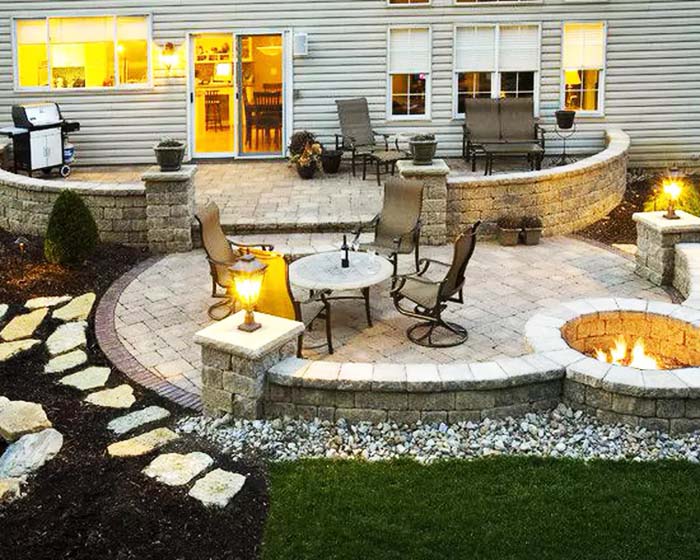 Swivel chairs are a wonderful addition to your fire pit seating area; they rock and turn, so guests can select a comfortable position while they participate in the conversation.
Place the chairs near the fire pit to enjoy the warmth and light.
8. Curved Bench with Colorful Cushions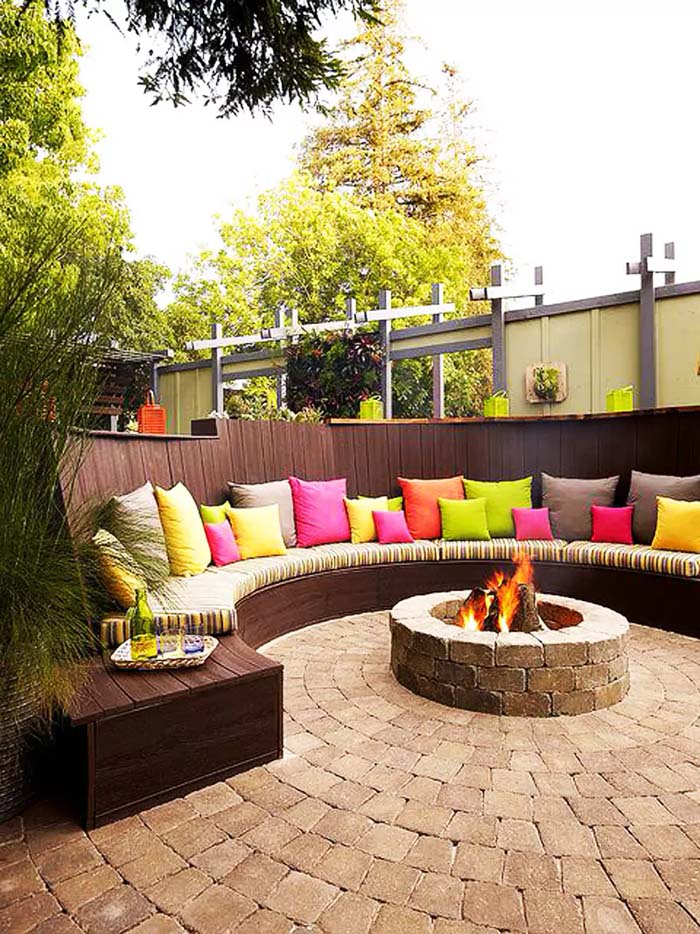 If you don't want to worry about maintaining and storing outdoor furniture, built-in fire pit benches are a great alternative.
This version has a tall backrest, creating a cozy vibe and ample support. Add cushions and pillows for comfort; they're easy to store in the off season.
9. Curved Benches Surround a Forest Fire Pit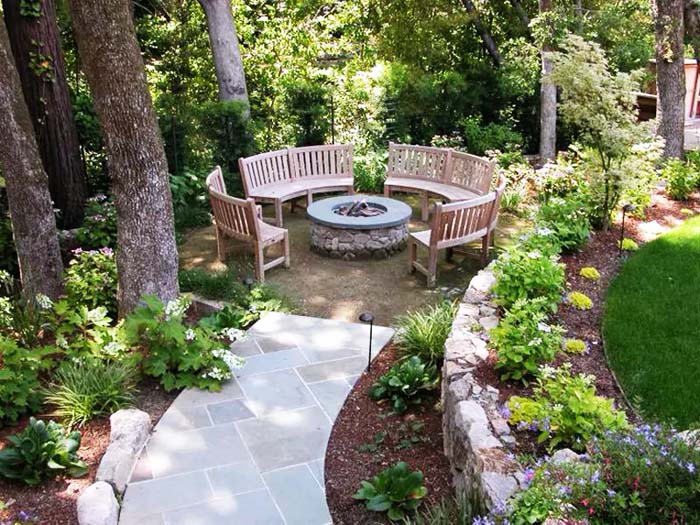 This cute little forest fire pit feels like a hidden garden, thanks to the lush landscaping and gravel base.
Curved, natural-wood benches work with the environment rather than against it.
They form a circle around the fire that's ideal for cozy, intimate gatherings.
10. Elegant Outdoor Seating Area with Fire Pit and Pergola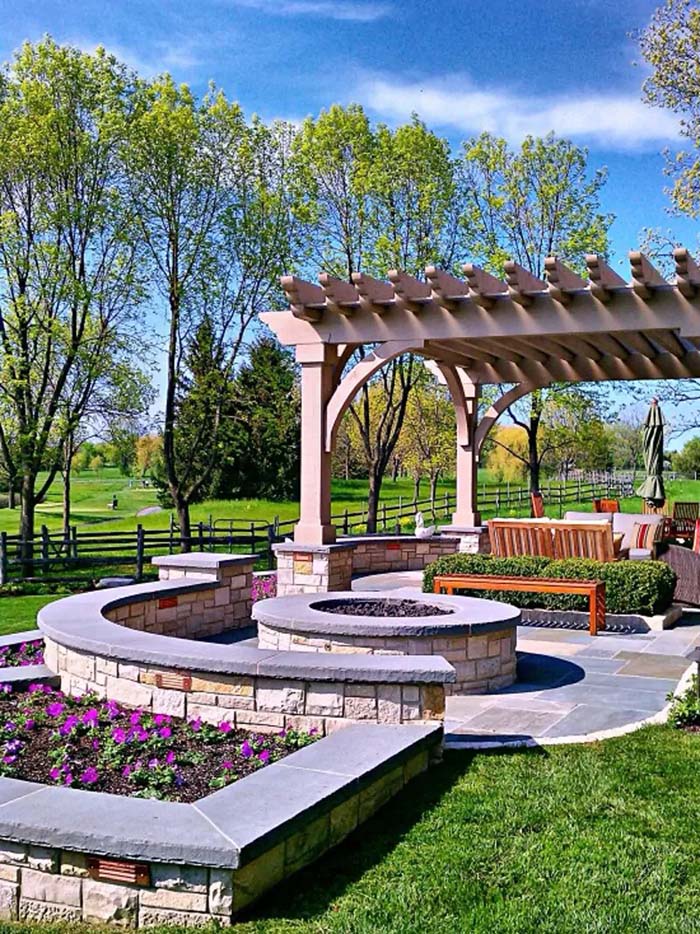 A large property gives you space to go all out with a fire pit seating area.
Here, the fire pit sits next to a grand pergola and an outdoor living room.
A bench and a semicircular wall create extra seating, so guests can migrate between the two areas.
11. Gravel Fire Pit with Lights and Plastic Adirondack Chairs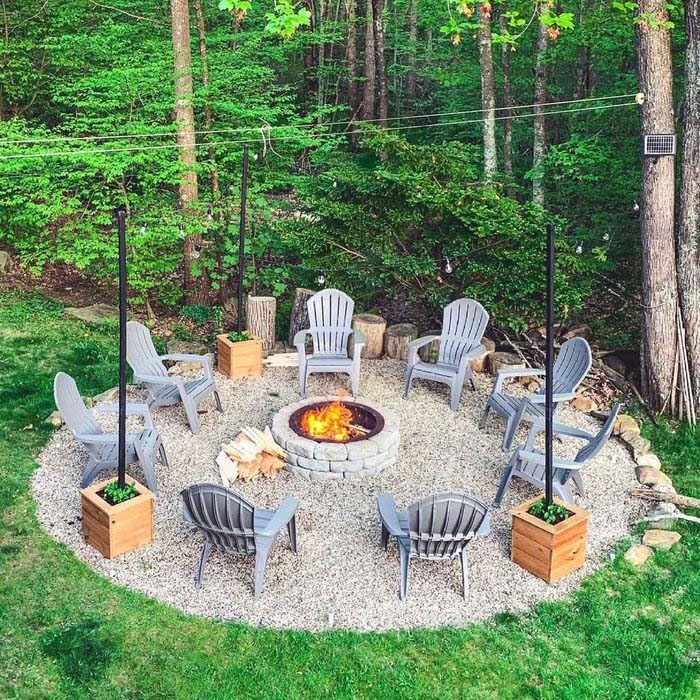 Your guests will feel like they've stumbled on a wilderness wonderland with this magical fire pit. It's separate from the yard, but the gravel base makes it feel defined and intentional.
Plastic Adirondack chairs are easy to transport and clean, and integrated light posts add a welcoming glow.
via Sandlot Creative
12. L-Shaped Stone Sofa and a Rectangular Fire Pit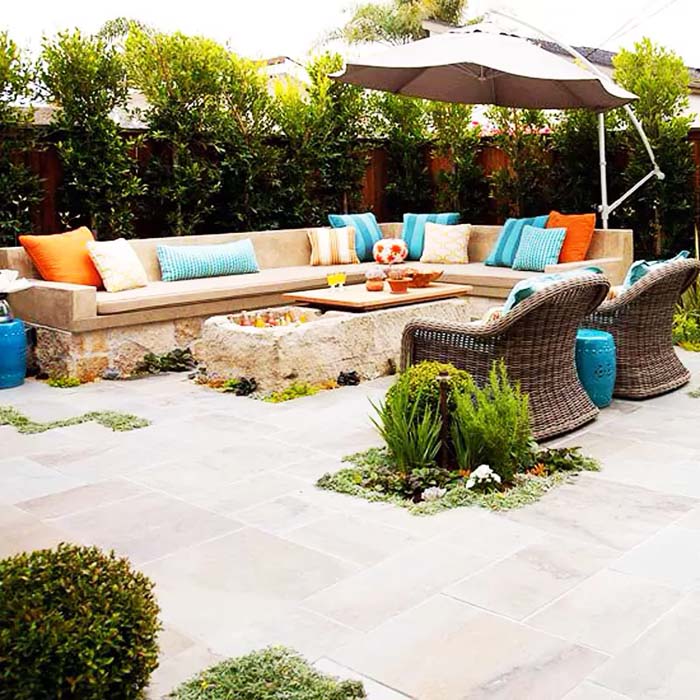 Do you like to entertain outdoors? Allow everyone to sit by the fire with a rectangular fire pit; it pairs easily with an L-shaped sofa.
Add a few extra side chairs, and you're ready for large summer gatherings around the campfire. This fire pit table will allow you to serve drinks by the fire.
13. Lakeside Fire Pit with Adirondack Chairs and Tree-Stump Side Tables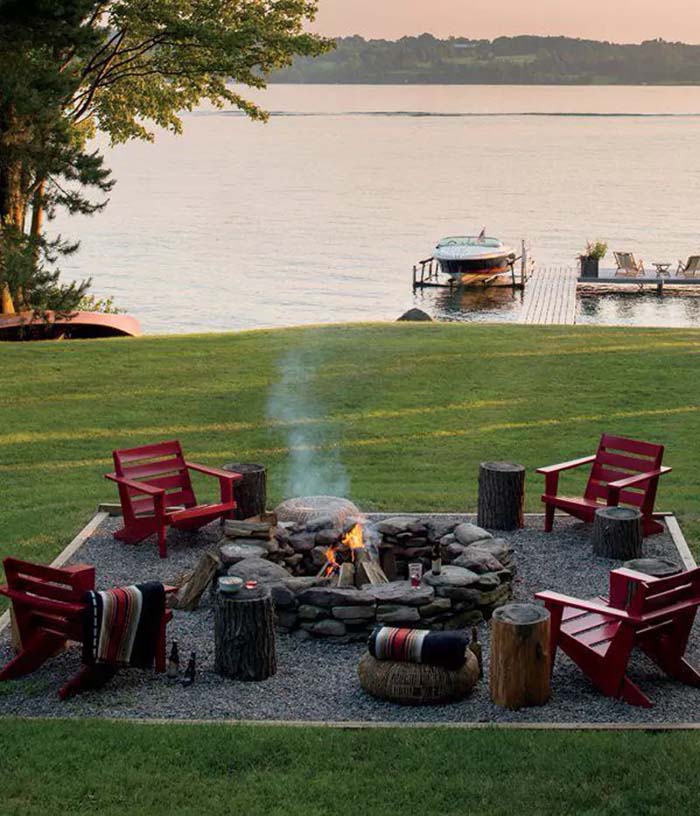 This dream fire pit has everything you need for a relaxing evening by the fire.
The deep, cozy Adirondack chairs welcome guests to stay awhile, and the adorable tree stumps make handy side tables, footrests, or extra seats.
Notice the round poufs and thick blankets, which add a boho-chic vibe.
14. Landscaped Fire Pit with Built-In Bench Seating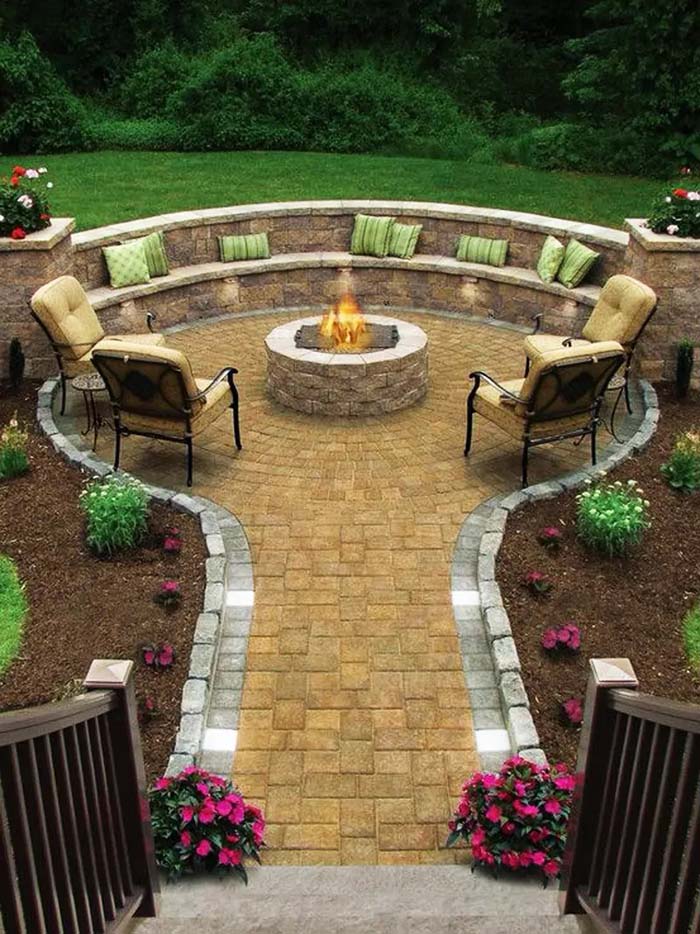 If you like your backyard to have a sharp, well-designed look, look to this fire pit seating idea for inspiration.
The stone wall defines the outdoor living space, and an integrated bench adds dimension.
Add extra chairs as needed to accommodate your guests.
15. Metal Swivel Chairs by Poolside Fire Pit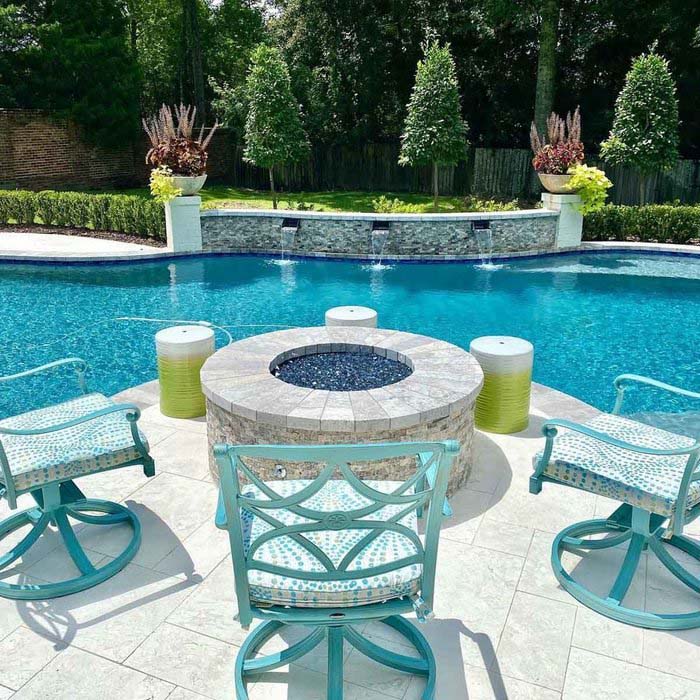 Color coordination is a foolproof way to help your fire pit chairs fit into an outdoor space. In this stunning backyard, the metal swivel chairs match the color of the pool for a harmonious aesthetic.
The stone fire pit also blends in with the pool deck, heightening the effect.
16. Modern-Art Carved Tree-Stump Fire Pit Stools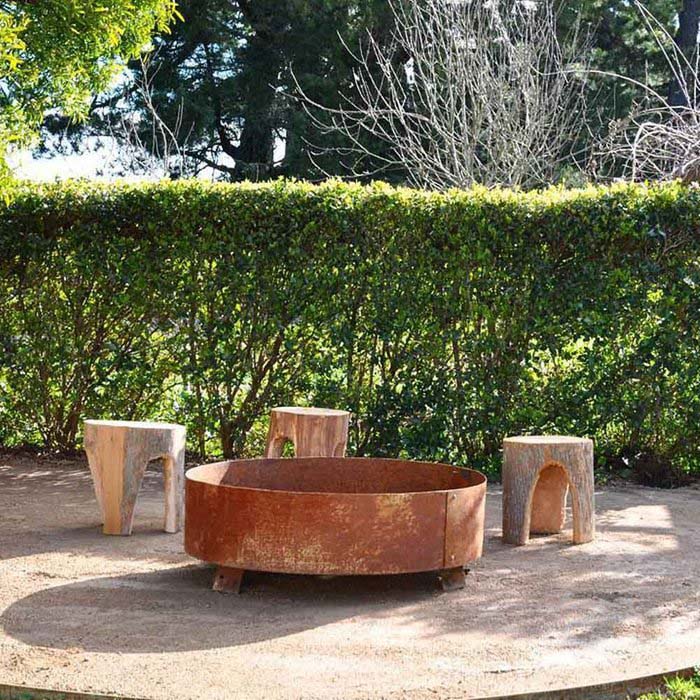 Less is more with this fire pit — the carved tree-stump seats are eye-catching, but they keep the focus on the large, rustic metal pit.
The natural tones help the seating area look like part of the outdoor environment. The whole outdoor area is placed over pea gravel.
via Harriet Goodall
17. Natural Rock and Wood Fire Pit Seating Area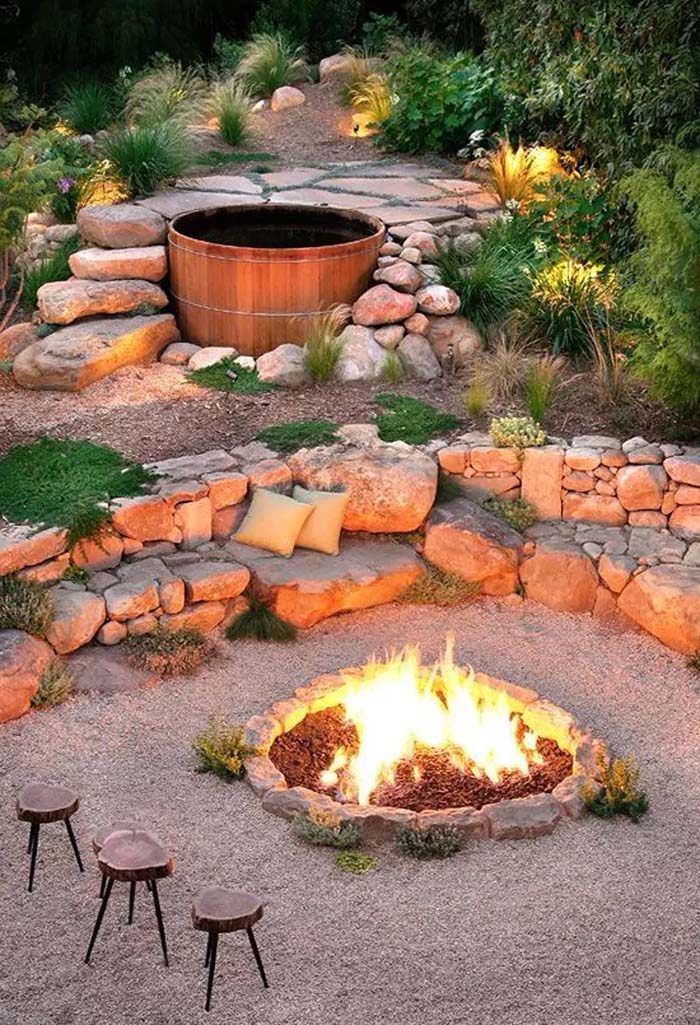 Do you want the fire pit to be the star of the show?
Build low-key seating into a natural rock wall. The seats aren't crisp or structured, so they look like part of the environment. Add extra seats for big groups with tiny, rustic stools.
After the evening is over, they're easy to store in a small space.
18. Oversized Plush Loungers with a Metal Fire Bowl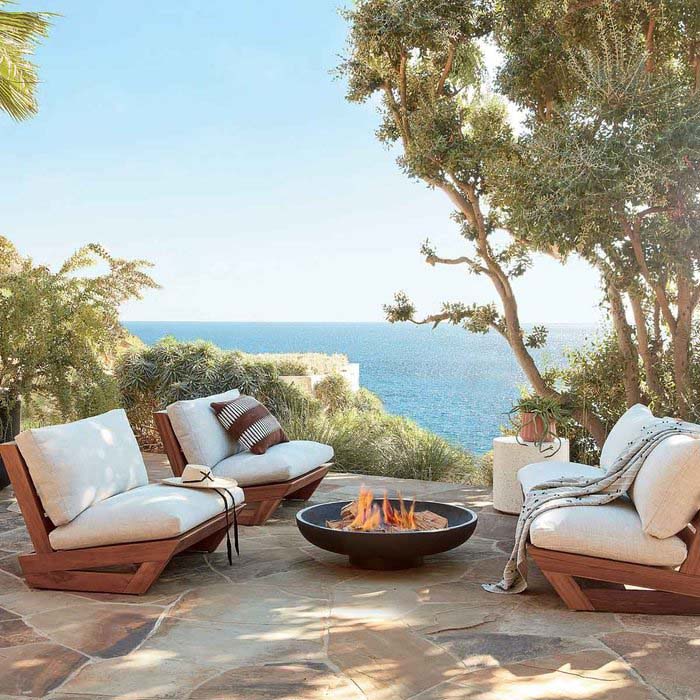 Host intimate cocktail gatherings or family s'mores nights by this elegant fire pit.
The upscale wooden loungers feature armless frames and large cushions, giving guests lots of room to choose a relaxing position.
via CB2
19. Patio Fire Pit Surrounded by Sofas and Chairs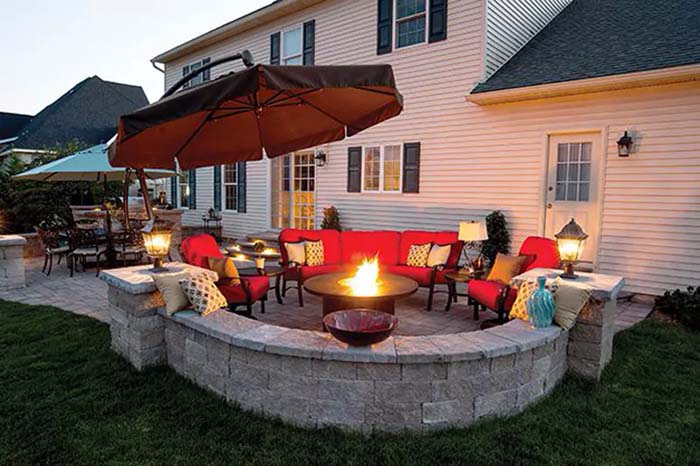 Does your lawn grow right up to the border of your patio?
A low, curved stone wall brings definition to the patio and adds seating at the same time. Complete the circle around the fire pit with a sofa and a couple of chairs.
20. Plush Wicker Chair and Luxurious Fire Pit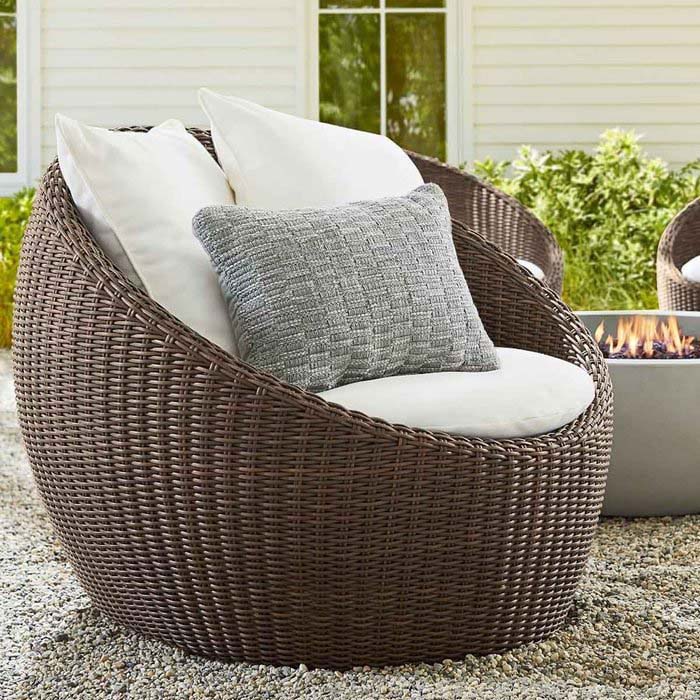 Do you like to cuddle up next to the fire with a glass of wine and a few friends?
Invest in these spectacular oversized wicker chairs. The overstuffed pillows and deep seats give you plenty of room to pull up your legs for a relaxing evening.
via Pottery Barn
21. Round Fire Pit Bench with Oversized Built-In Adirondack Chairs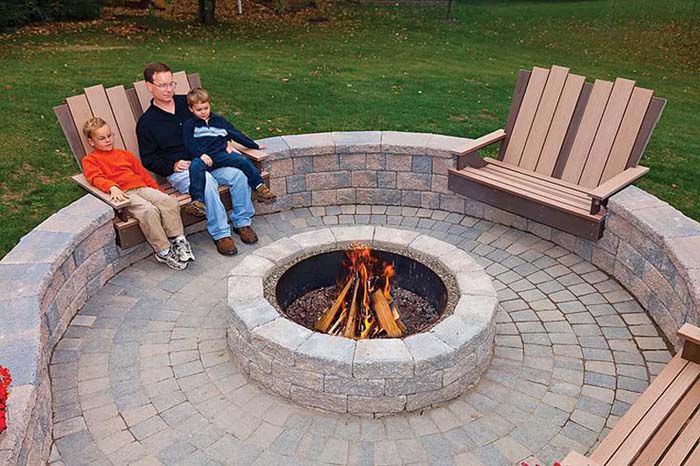 Your family and friends will be delighted by this charming fire pit design — the oversized, built-in Adirondack chairs create lots of space for cuddling or stretching out.
For big groups, the stone wall doubles as a bench.
22. Round Fire Pit Seating Area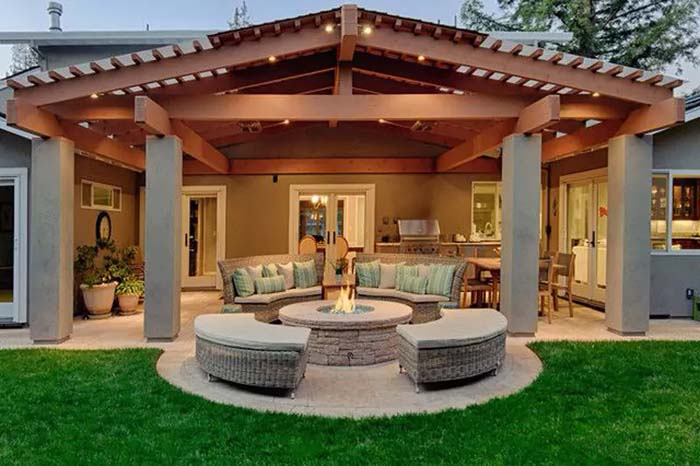 Round sectional sofas pair perfectly with a classic round fire pit; the similar shapes create an attractive sense of balance.
Plus, you can separate the sections to fit your space and seating needs. There are plenty of patio furniture options on the market to choose from.
23. Round Fire Pit with Wicker Outdoor Furniture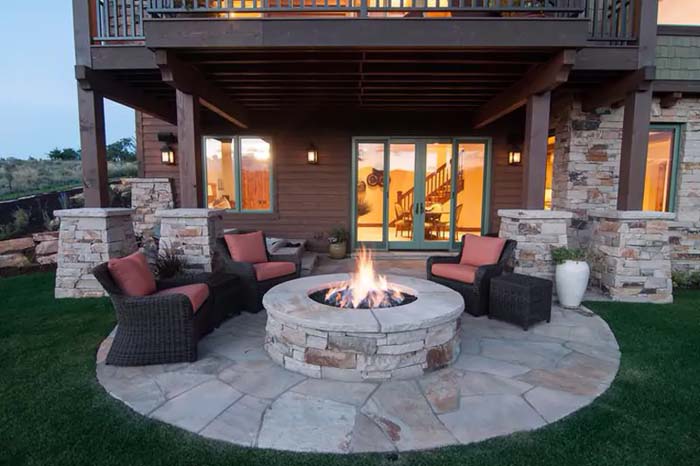 Outdoor furniture is the perfect choice for fire pit seating. It's engineered to stand up to the elements, so you don't need to rush to pull it in before every storm.
Here, wicker chairs create a flexible seating space. Your guests can get as close to the fire as they like to feel the warmth or roast marshmallows.
24. Round Sectional Sofa Fire Pit Seating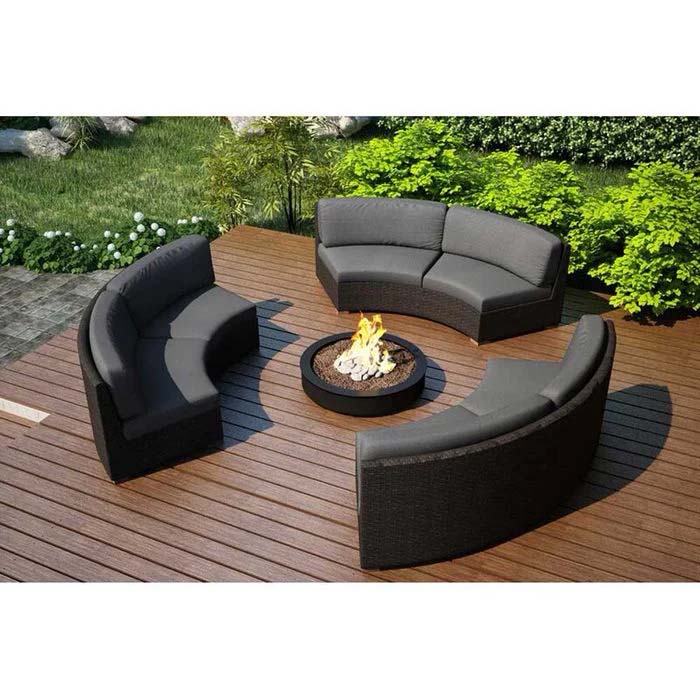 Sleek and simple, this gorgeous round sectional sofa exudes contemporary style.
The dark colors mimic the style of the black fire pit, creating a sharp, eye-catching effect.

25. Rounded Stone Bench and Matching Fire Pit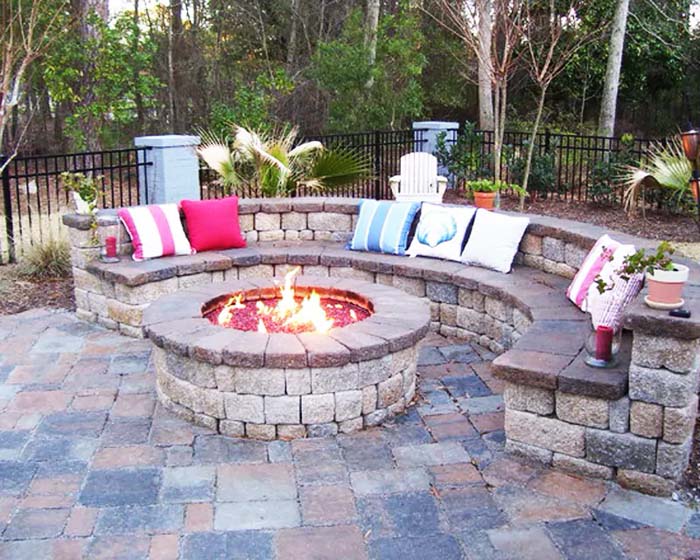 If you love symmetry, this fire pit seating area is a wonderful choice.
The curved stone bench mimics the shape of the fire pit itself, creating a balanced look. Add cushions for softness and back support.
26. Rustic Architectural Gazebo with Sofa Seating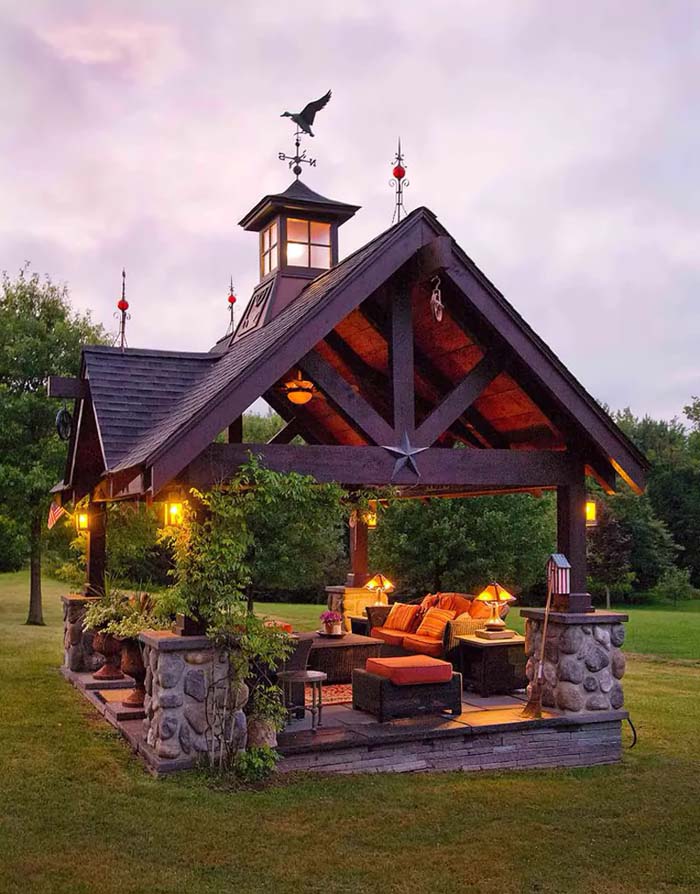 With its grand gazebo, this spectacular fire pit seating area is the perfect outdoor living room.
The peaked roof keeps the elements away, and the plush sofas provide plenty of space to relax.
Add warm-toned lighting for an extra-cozy glow.
27. Rustic Wood-Post Fire Pit Bench Seating Area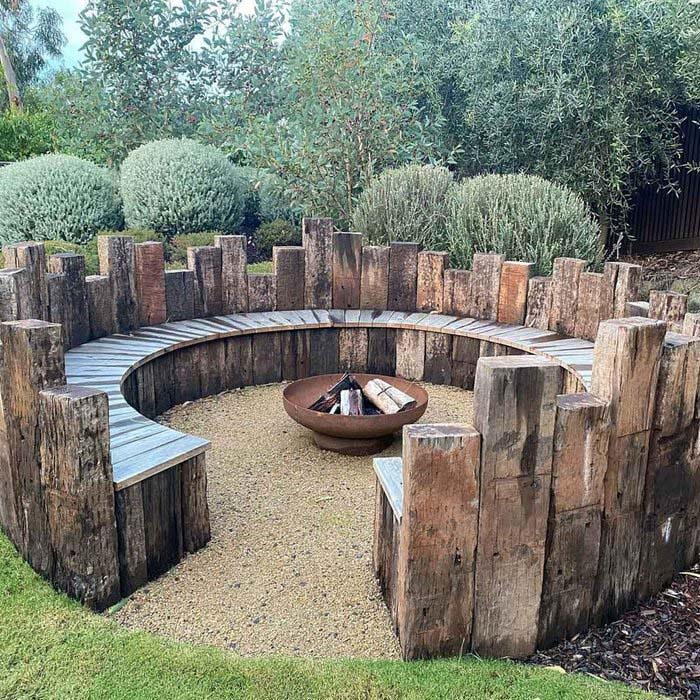 This fire pit seating area looks like an art installation — the thick wooden posts sit at different heights, creating a delightful blend of height and texture.
The wood-plank bench echoes the linear accents, and the almost-enclosed design adds a sense of comfort and seclusion.
via Instyle Gardens
28. Simple Benches and a Stone Fire Pit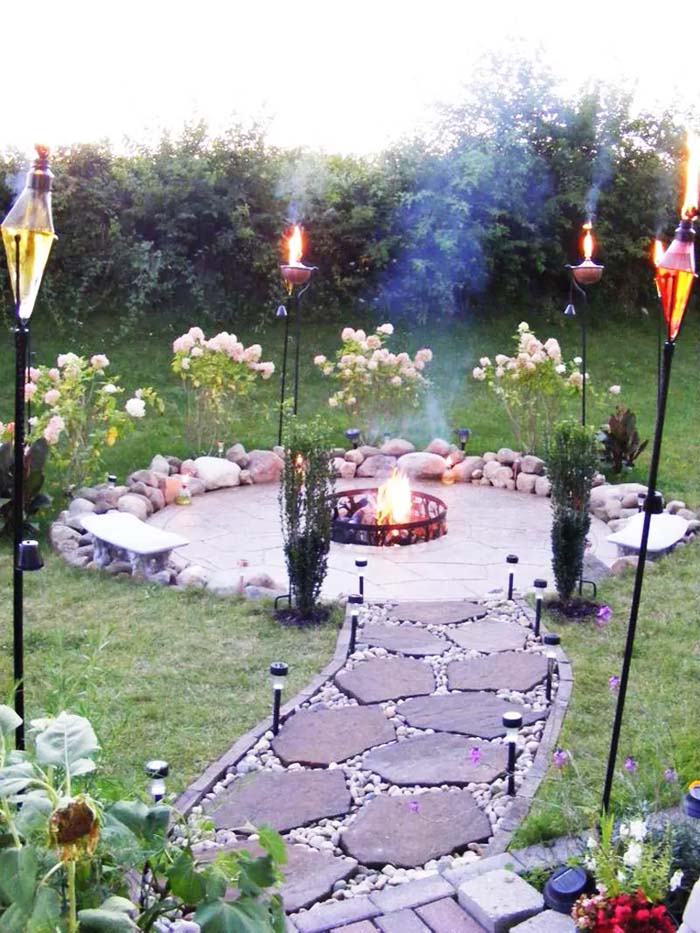 In a small yard, proportional fire pit seating is a must. Here, petite stone benches blend into a ring of river rocks.
The wide stone base also creates space for chairs as needed. Do you want to create a relaxing oasis?
Surround the area with greenery for a secret-garden vibe.
29. Sunken Deck Fire Pit with Built-In Wooden Seats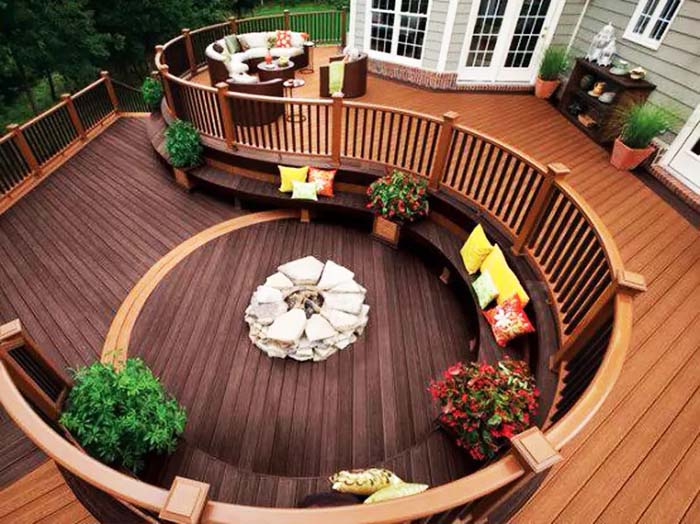 Are you planning to redo your deck? Turn it into a showpiece by building in a fire pit and seating.
This spectacular deck features a sunken fire pit and a slim bench seat that highlights the curving rails.
30. Traditional Wood-Slat Fire Pit Seating Area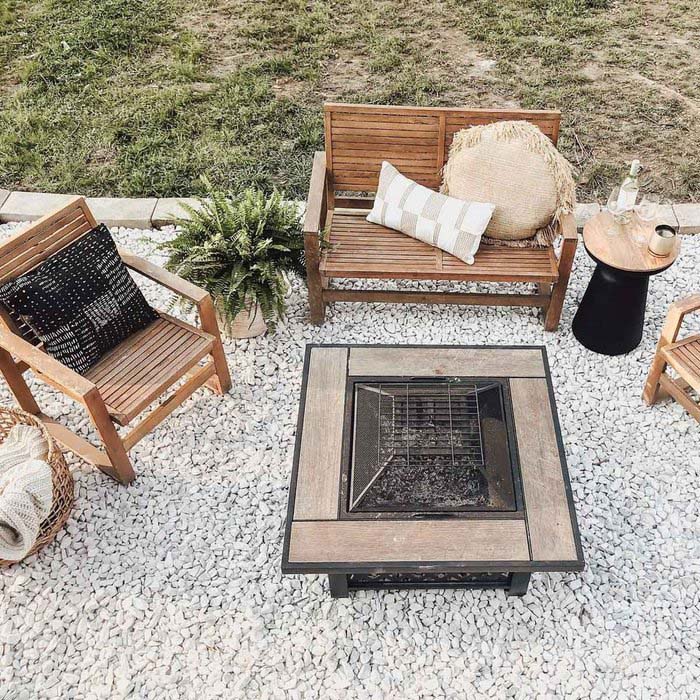 Slatted teak wood benches and chairs make a simple but stylish fire pit seating solution.
The teak stands up to the elements; add extra comfort with a few plush throw pillows and a basket of blankets.
A potted plant and a petite side table complete the setup.
via Elizabeth Petty
31. Wicker Sofa and Cage Seat with Bowl-Style Fire Pit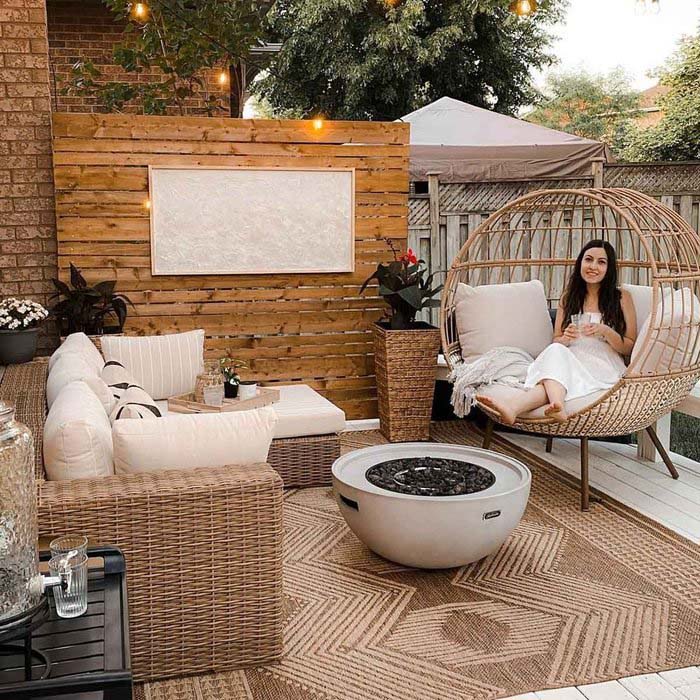 This boho-chic fire pit turns a tiny patio into a welcoming outdoor living space. The secret is to fill the space — a sectional sofa and a large statement chair add a homey vibe.
Complete the design with a natural fiber rug and a selection of potted plants.
32. Wooden Chairs and a Swing Fire Pit Seating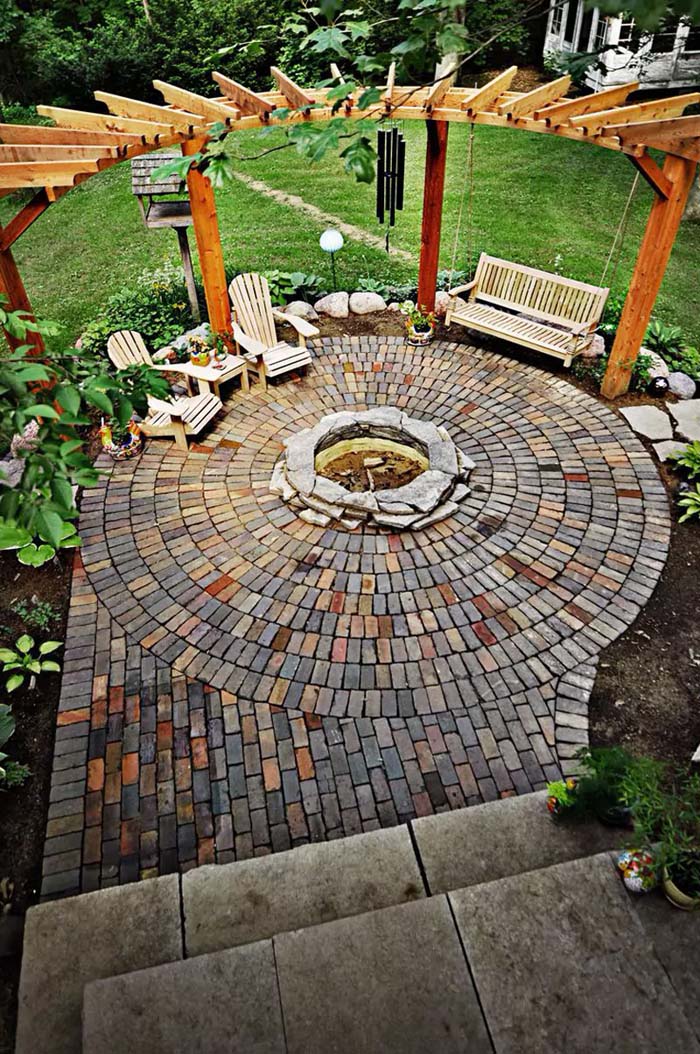 Enjoy this fire pit at all hours — the wooden pergola provides shade, and the wind chimes add ambiance.
We love that this arrangement has multiple seating options; the swing and deep Adirondack chairs make it easy to relax.