Have you ever wondered which are the irreplaceable elements of the backyard? Well, there are some that have the natural ability to attract gatherings of people and add uniqueness to the outdoors.
The round fire pit ideas we are going to speak about today creates an ambiance of coziness, romance, harmony and calls forth thoughts about evenings out with our family and guests. This is an outdoor accent that will not remain unnoticed. This is the firepit.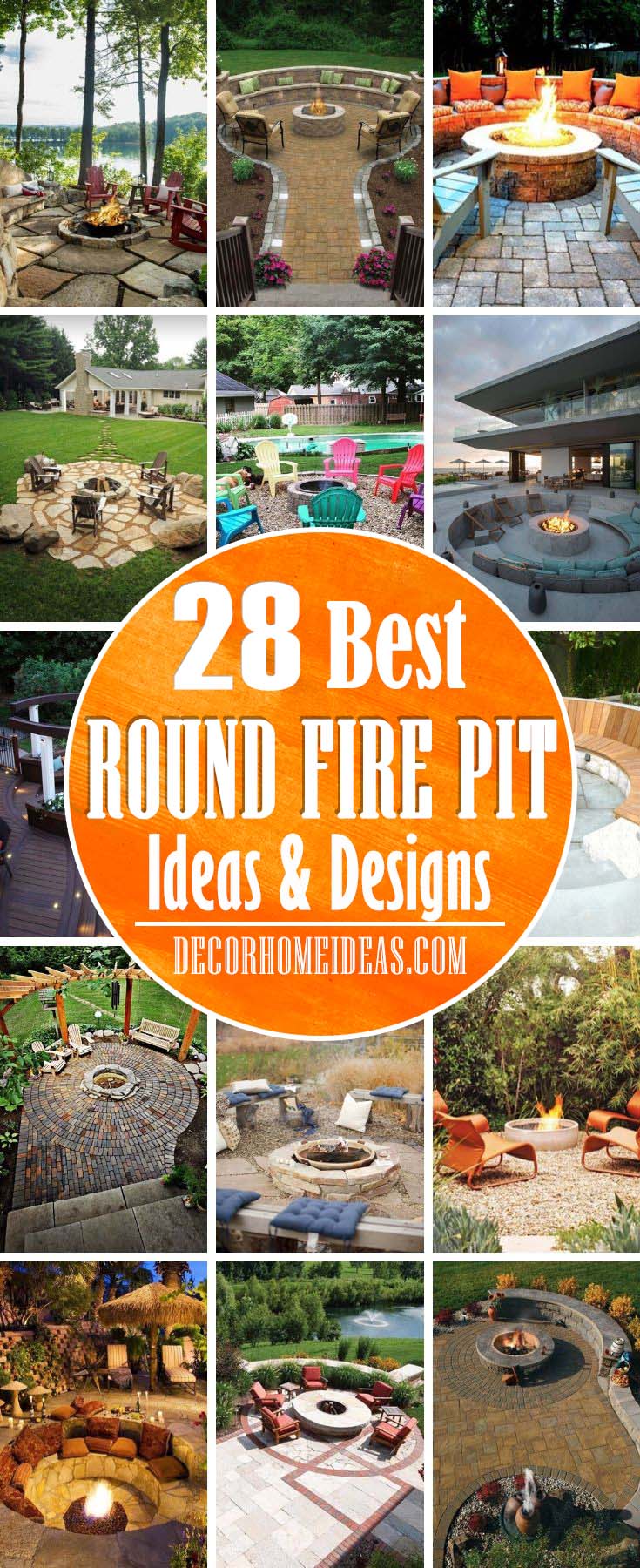 The round firepit beautifies the garden and gives it a unique charm that we can enjoy during the long cool nights from early summer to late autumn.
If you don't want to bother with DIY stuff we have reviewed the Best Cheap Fire Pits Under $100 so you can always just buy one and start enjoying it tomorrow.
An open firepit combined with a seating area successfully replaces the living room inside the house on summer days so make sure you go through our round fire pit ideas and find the best firepit idea that will suit your taste and backyard characteristics.
1. Contemporary Stone Fire Pit for Outdoor Relaxation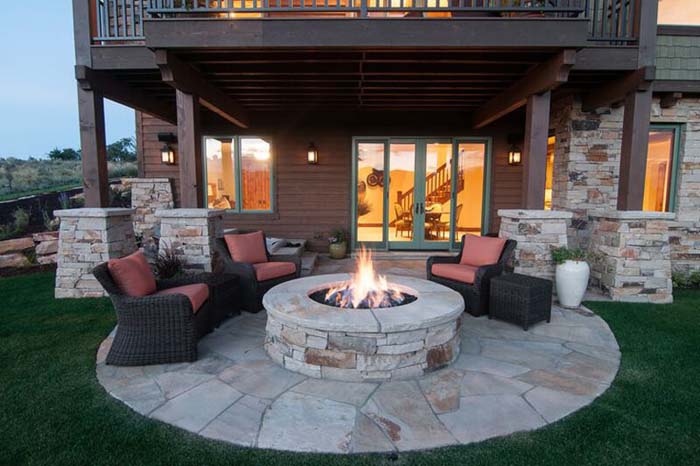 The entire outdoor relaxing area is designed in a contemporary spirit using mainly stone. Stone is a suitable material for a firepit as it is resistant to high temperatures and is easy to be cleaned.
via Cameo Homes
2. Build a Firepit in Your Backyard with Gravel or Sand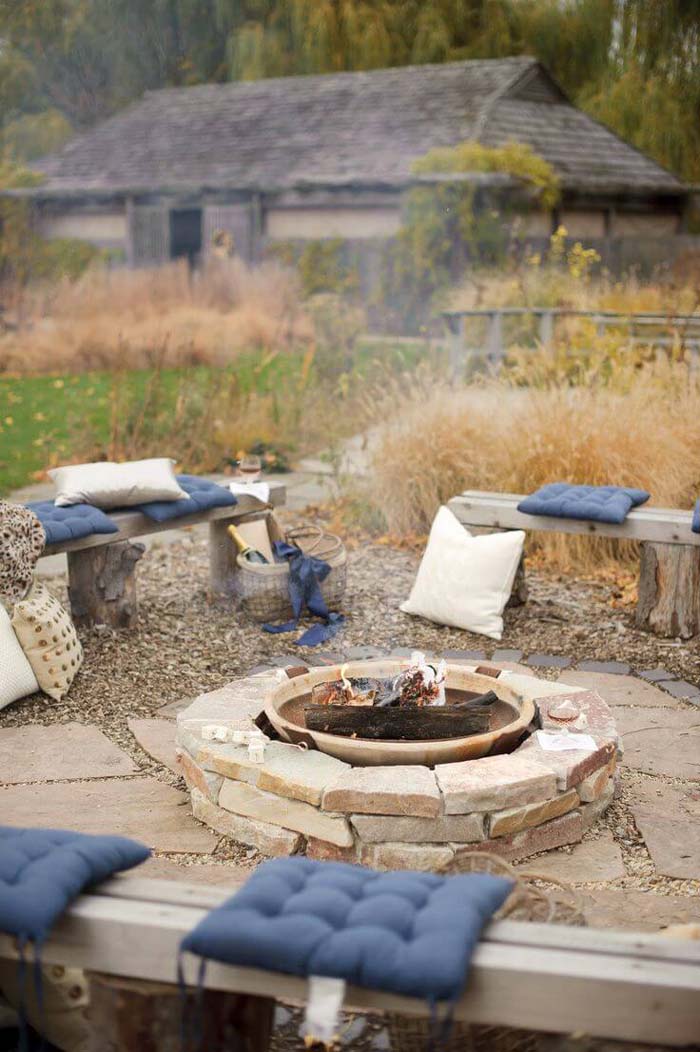 If there is an area from your backyard covered with gravel or sand, it is perfect to build your firepit. In case you are going to install an additional stone or ceramic bowl to hold the logs, the stone structure around can be plainer and lower.
via Style Me Pretty
3. Bring an Inviting Ambience in Your Yard with a Stone Fire Pit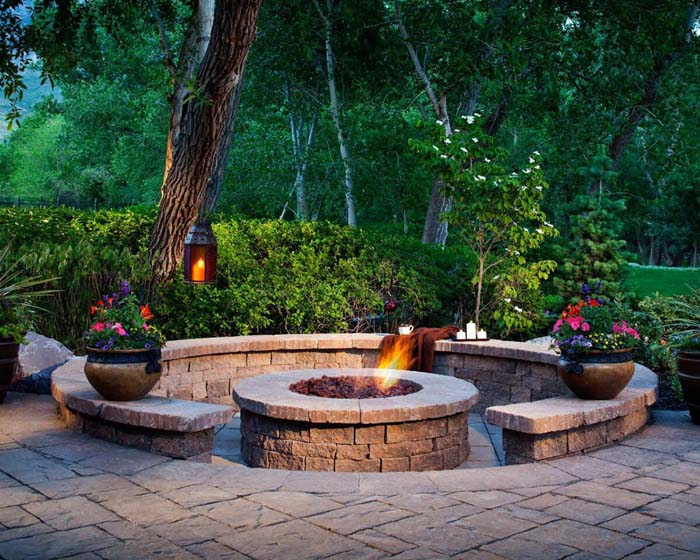 Creating a fire feature doesn't have to be complicated. A stone fire pit will add a unique cozy touch to your yard.
4. Perfect Location for your Fire Pit to Enjoy an Unforgettable View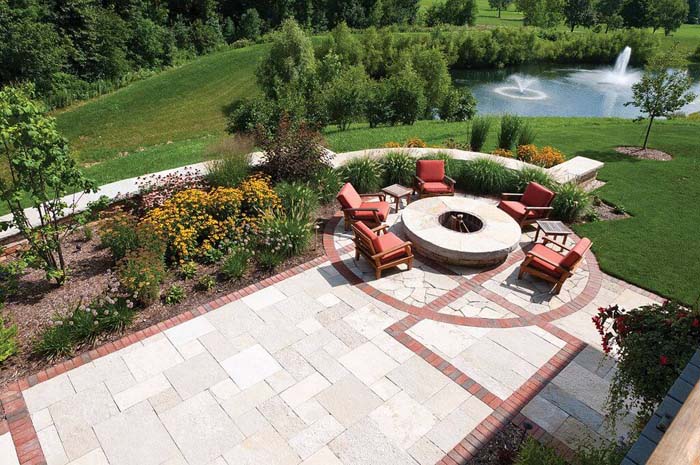 When choosing the place for your fire pit, don't forget to take into consideration its location- choose that part from your backyard that reveals the most attractive and appealing view.
5. Add Rustic Elegance with a Crescent-Shaped Fire Pit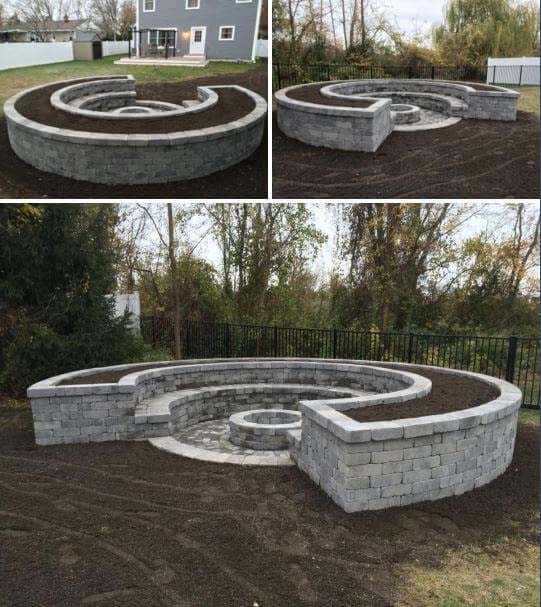 The fireplace can be surrounded by sitting and garden areas in a cascading alignment for maximum comfort and beauty. The crescent shape of the surrounding stone structure allows a wide entrance to the firepit nook.
6. Bring an Island Feel to Your Outdoors with a Fire Pit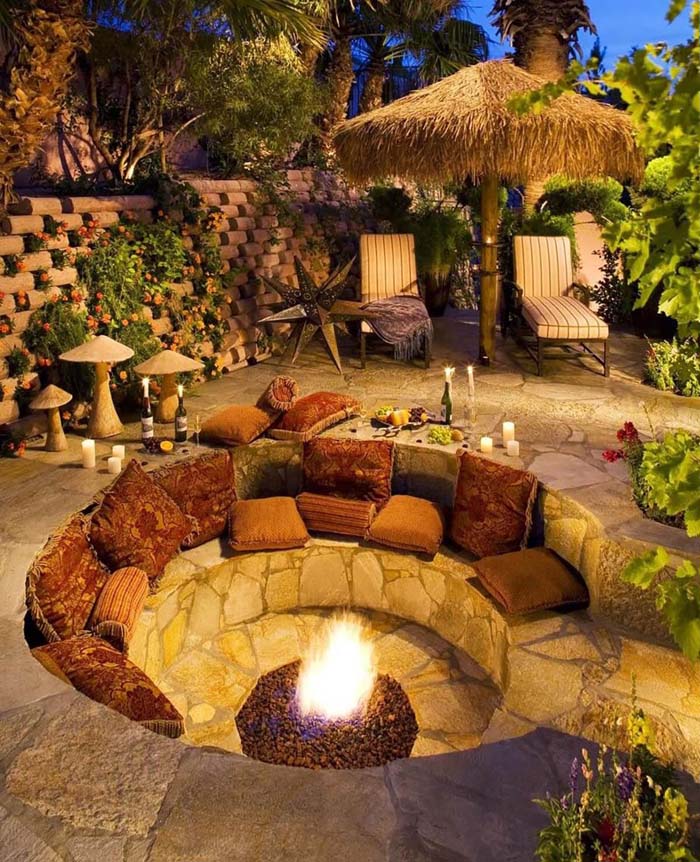 An in-ground fire pit will become the most appealing gathering place from the yard. The fire will illuminate and warm the comfortable stone sitting area.
7. Relax at the Backyard Fire Pit with Great Ambience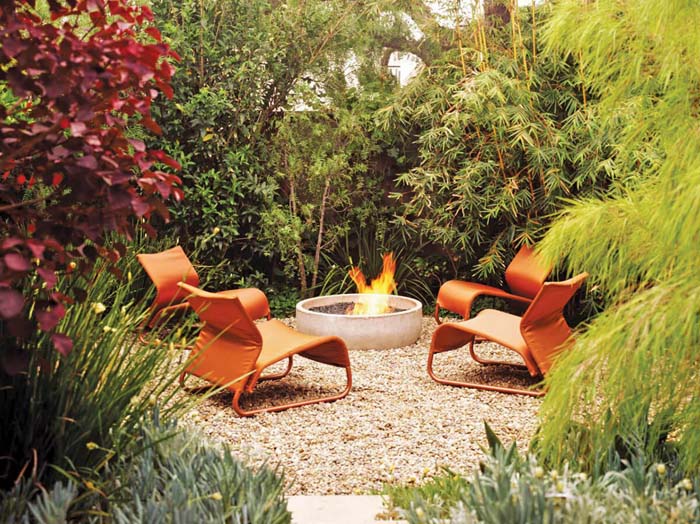 The fire pit is placed over a gravel-covered area from the backyard. As the fire pit stays over the ground, the furniture around is of suitable height to enjoy the romantic illumination.
via Flau Minc
8. Construct a Wall to Border Fire Pit Area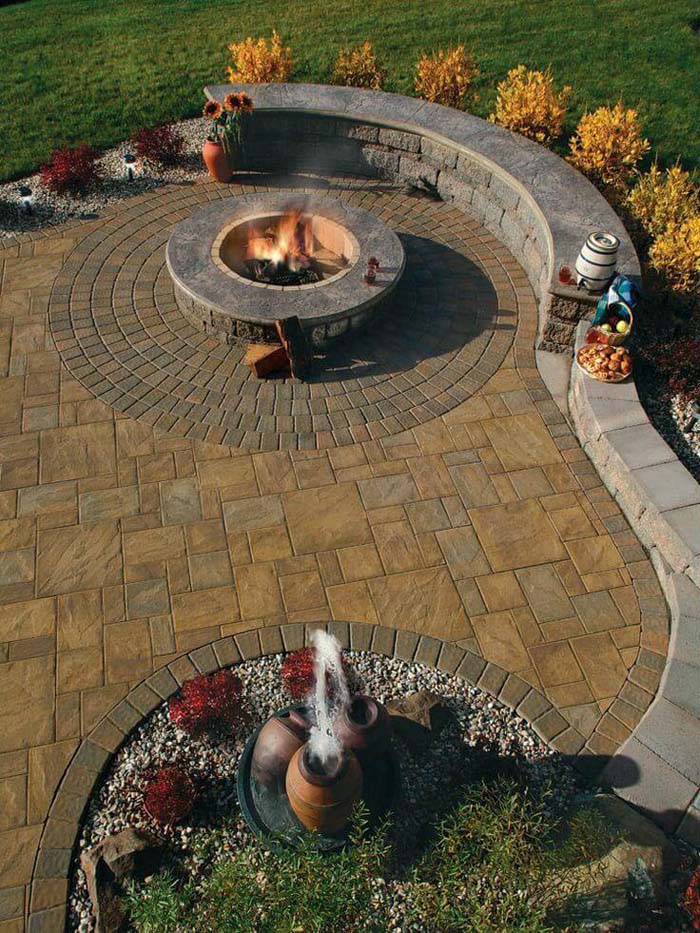 Outline the fire pit area with a beautiful wall with the same texture. The wall will serve as a divider between the planted and gathering zone.
9. Stunningly Designed Fire Pit Pathway Leading to a Serene Oasis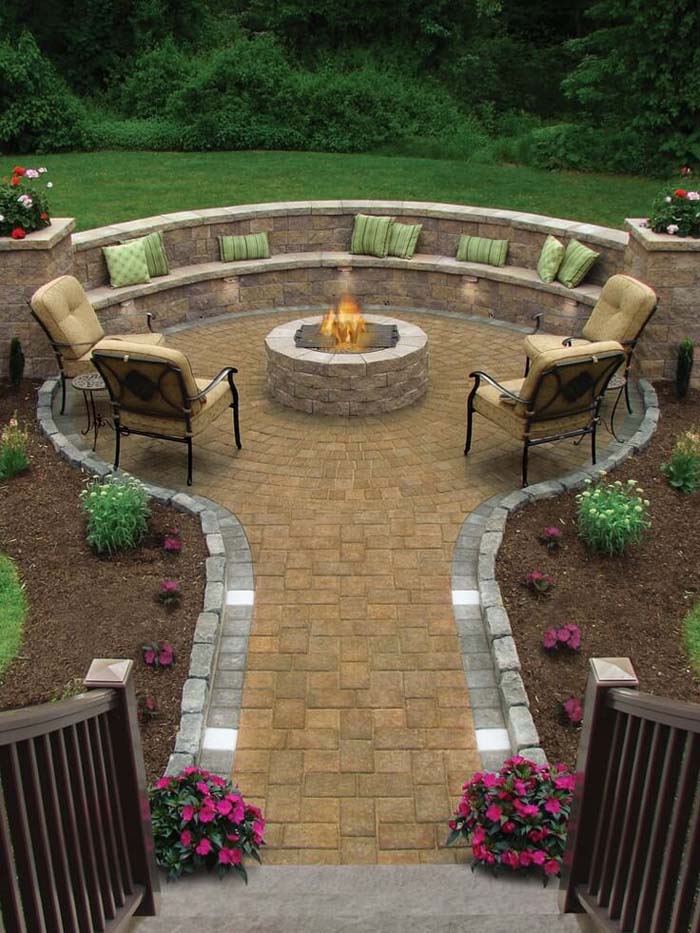 A beautifully paved pathway shows the direction to the fire pit zone. It is edged by gardens on both sides and an above-the-ground sitting area made of stones to match the fire pit texture.
10. Bring Rustic Elegance with Log Benches for Your Fire Pit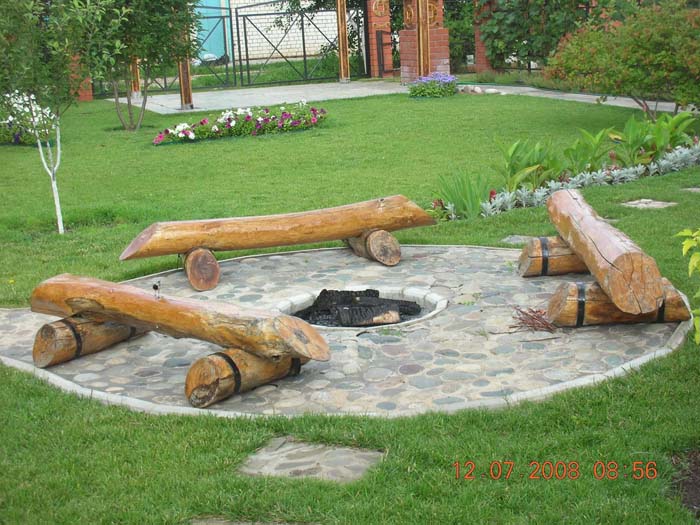 A fire pit on the ground level is an affordable and classy garden feature. Differentiate the area with stones fixed with concrete and add low furniture like log benches to enjoy the flames in the cool nights.
via Art Lib
11. Contemporary Outdoor Fire Pit and Sitting Area for Gatherings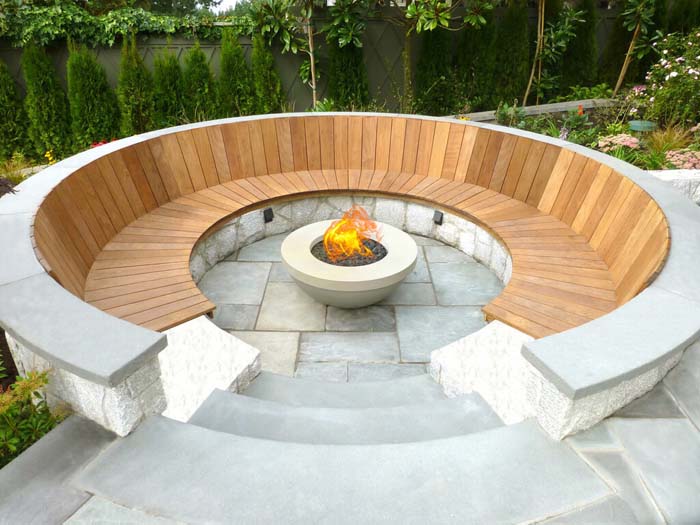 A stone bowl fire pit is versatile and functional.
Together with a concrete sitting area covered with decking, the gathering nook gives a contemporary finish to the backyard.
12. Make a Fire Pit Retreat with a Lush Garden Setting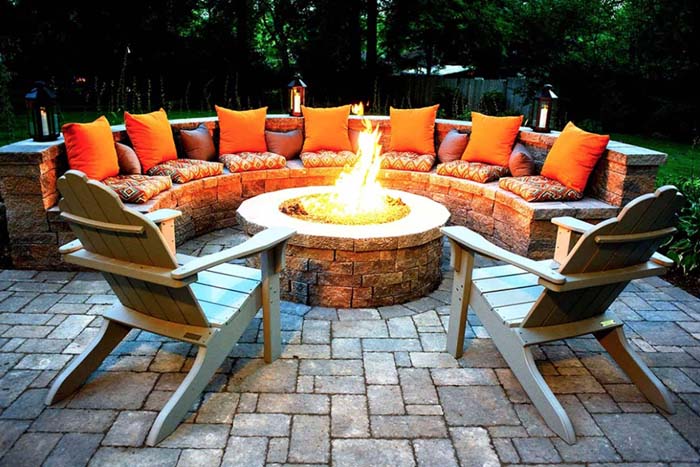 Surround your fire pit nook with a green garden oasis. Add comfortable cushions at the sitting area to eliminate the cool feel of the stone.
13. Pool and Fireplace Come Together in Cozy Harmony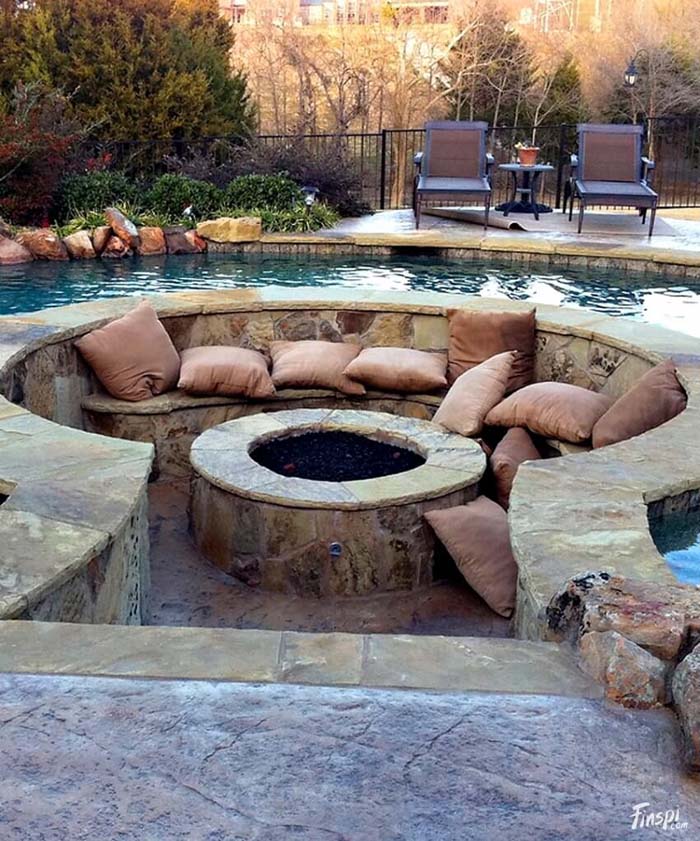 This is a dreamy summer oasis- a pool to cool down the hot temperatures and a built-in fireplace to warm up in the nights. Although these two features are antipodes, they can actually work very well together.
via Zillow
14. Fire Pit Setup with Wrought Iron Garden Benches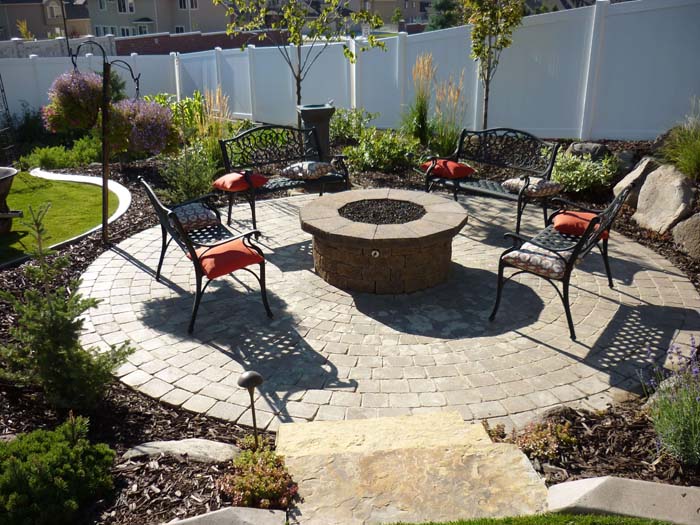 Fire pits above the ground can fit well into any time outdoors. Garden benches from wrought iron look comfortable and sophisticated around the fire pit.
15. Place Your Fire Pit by a Water Feature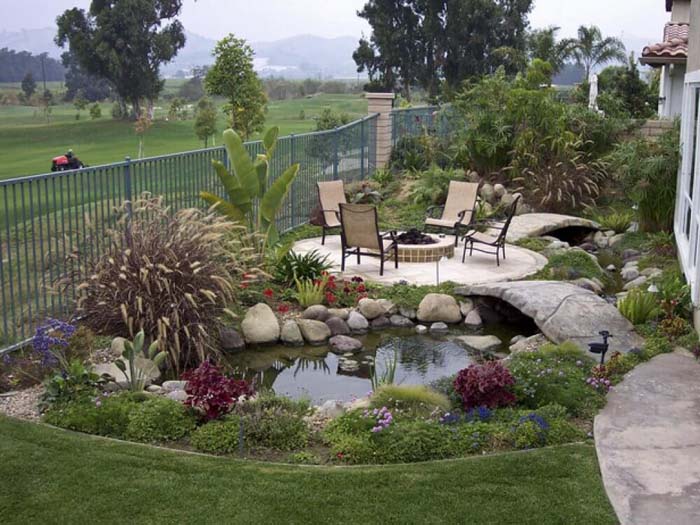 If you have a water feature in your backyard, consider placing your fire pit next to it for an ultimate outdoor experience.
16. Rustic Outdoor Round Fire Pit Ideas with Upcycled Furniture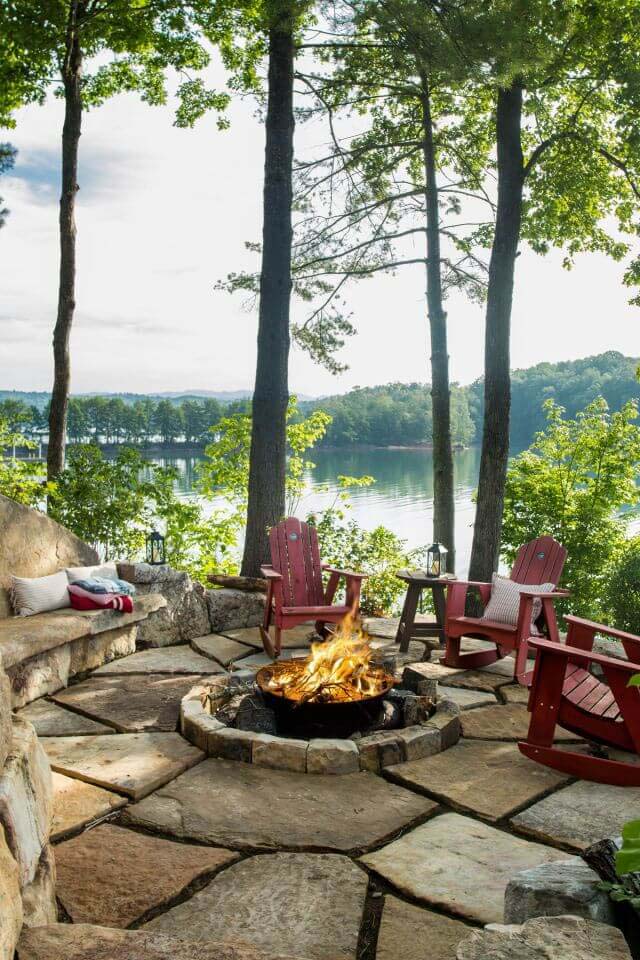 The metal bowl in the middle of the fire pit gives a rustic touch to the differentiated outdoor area. Upcycled furniture like rocking chairs and a small side table will make the place more romantic and appealing.
via The Happy Housie
17. Make an Outdoor Gathering Spot with a Sandstone Fire Pit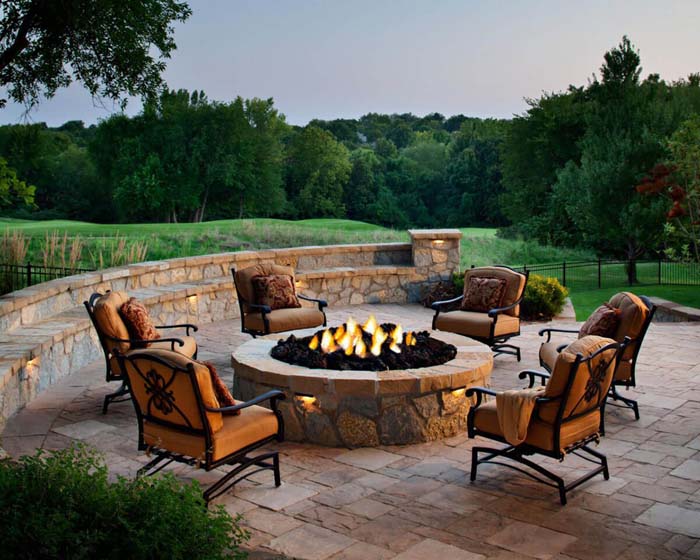 Sandstone is an excellent choice for fire pits because of its natural beauty and durability. Place comfortable arm-chairs around the firepit.
via DIY Network
18. Build a DIY Fire Pit and Stunning Pathway with Rocks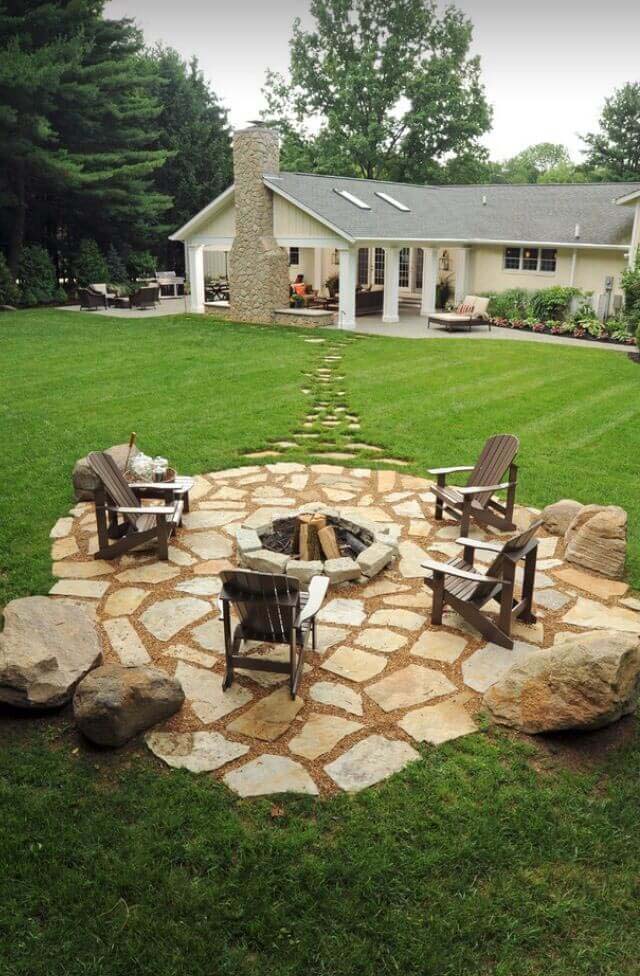 This is one of the easiest fire pit ideas you can make yourself. Cover an area with stones and fill in the gaps between them with sand.
The firepit can be dug into the ground in the middle of the differentiated area. Make a stepping stone pathway to the fire feature with the same rocks.
19. Transform Your Backyard with an Affordable DIY Fire Pit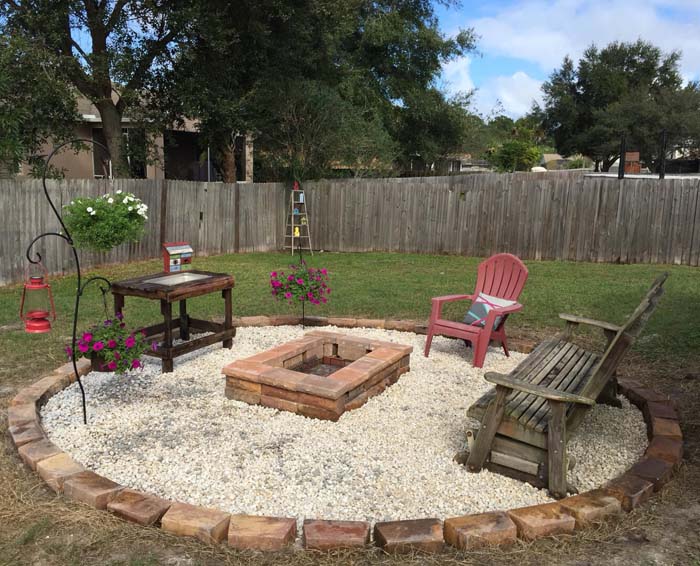 This is a firepit idea on a budget and for any type of yard as its size can vary. Outline the contour with stone bricks. Cover the surface of the formed circle with gravel. Build a fire pit with stone bricks in the middle.
20. Zen Elegance with a Flagstone-Circled Metal Fire Pit Bowl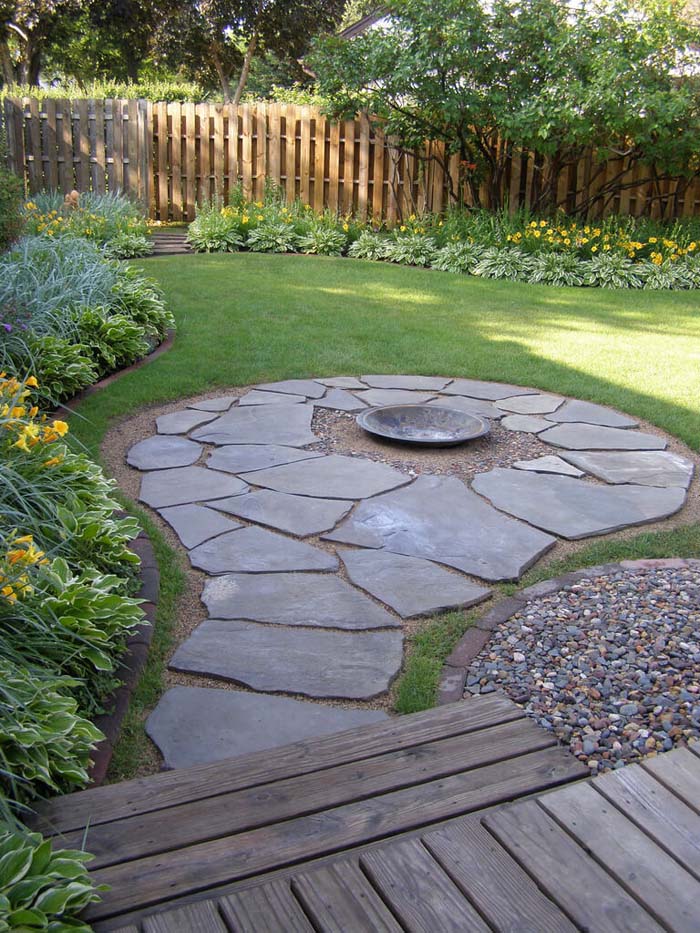 Add a bit of zen to your backyard atmosphere with a metal fire pit bowl on the sandy ground. Trace the nook with flagstone for an accomplished and sophisticated look of the area.
via Erin Lanigan
21. Enjoy the Fruits of Your Gardening Labors Around a Fire Pit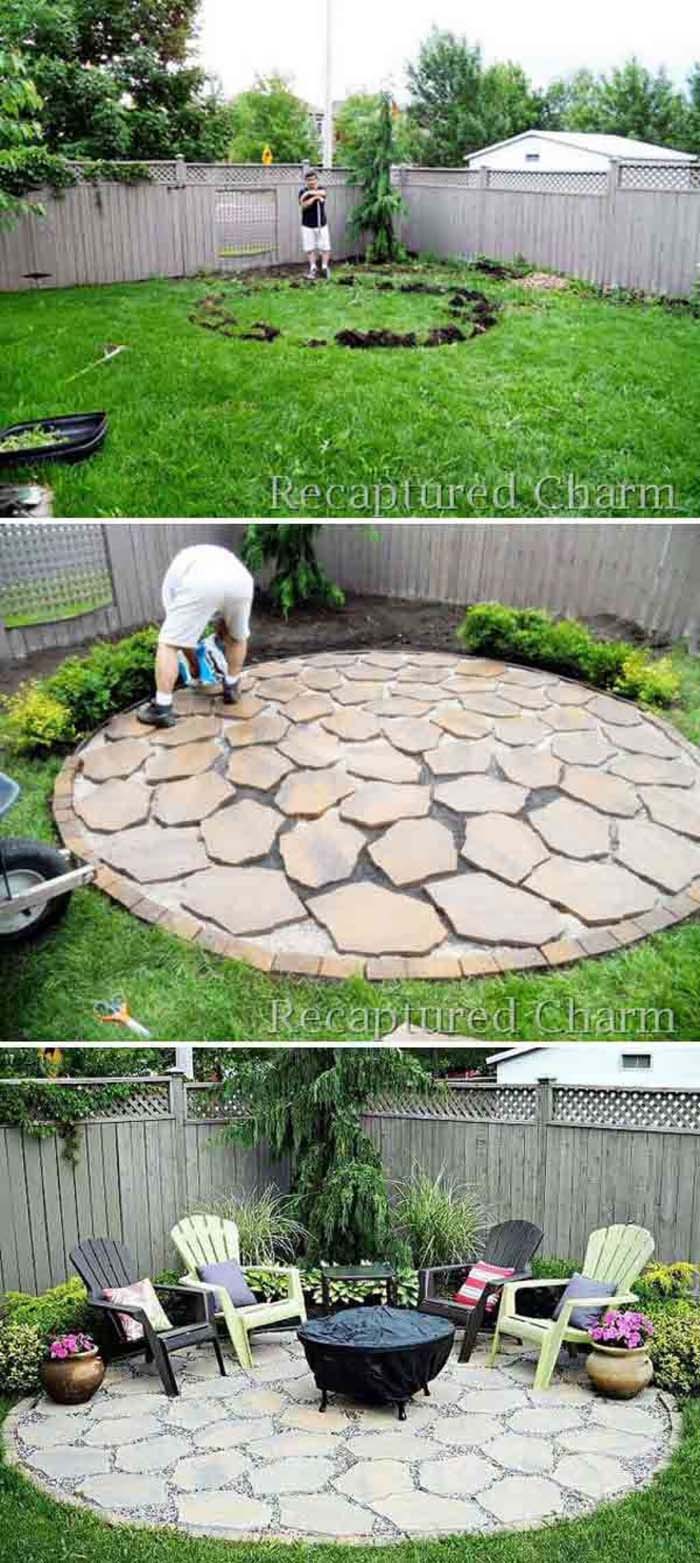 Enjoy your gardening achievements while sitting in your handmade fire pit. The surface is covered with stones with pea pebbles around them. Add a metal fire pit in the middle and some chairs to enjoy freshly grilled hot dogs.
via Recaptured Charm
22. Create a Colorful Outdoor Fire Pit with Decorative Chairs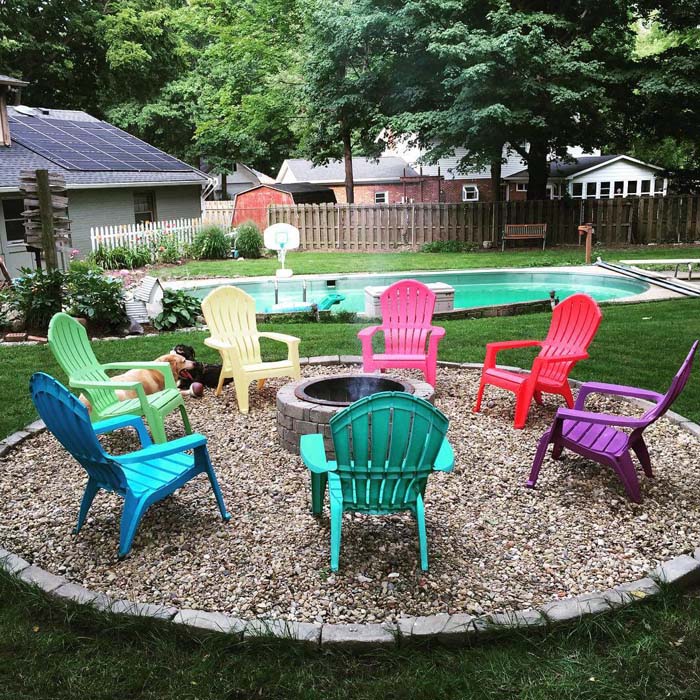 This photo is an example of an inspiring DIY fire pit. Lay marble chips or pea gravel over the dedicated area. Build a circular brick structure around a metal bowl in the center of the gravel area. For a brighter mood, arrange plastic chairs around in rainbow colors.
via Lori McDonough
23. Enjoy Summer Evenings around a Modern Concrete Fire Pit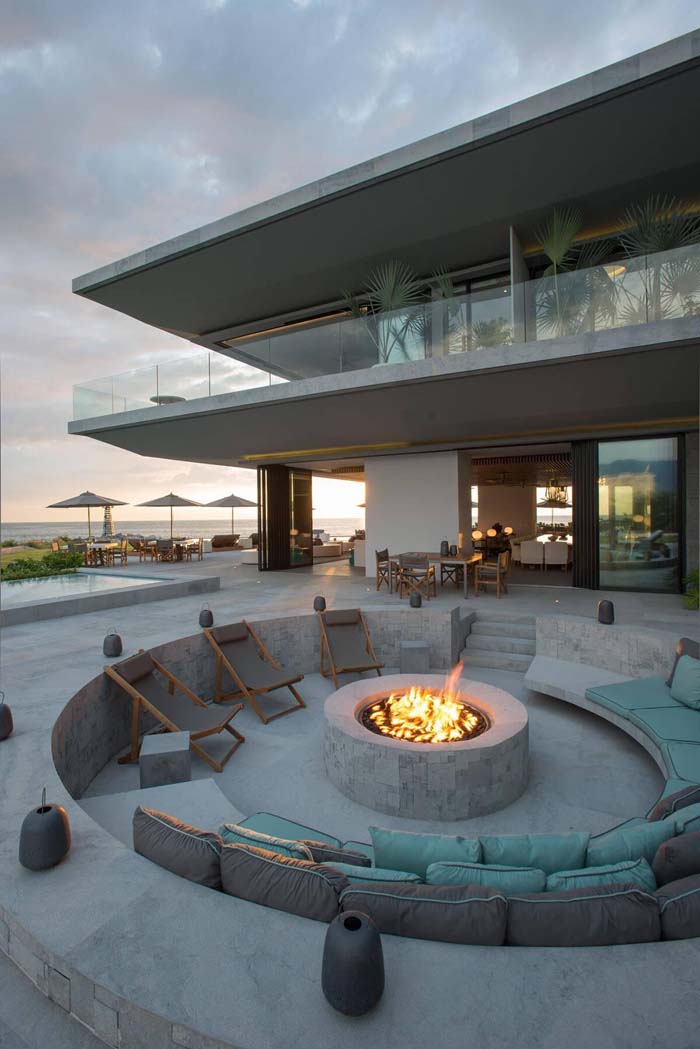 This contemporary design of a fire pit is a guarantee for many long nights out under the sky. The concrete is a source of natural cooling so placing cushions on top of the dedicated seating area will be a clever decision.
24. Bring Rustic Elegance with an In-ground Fire Pit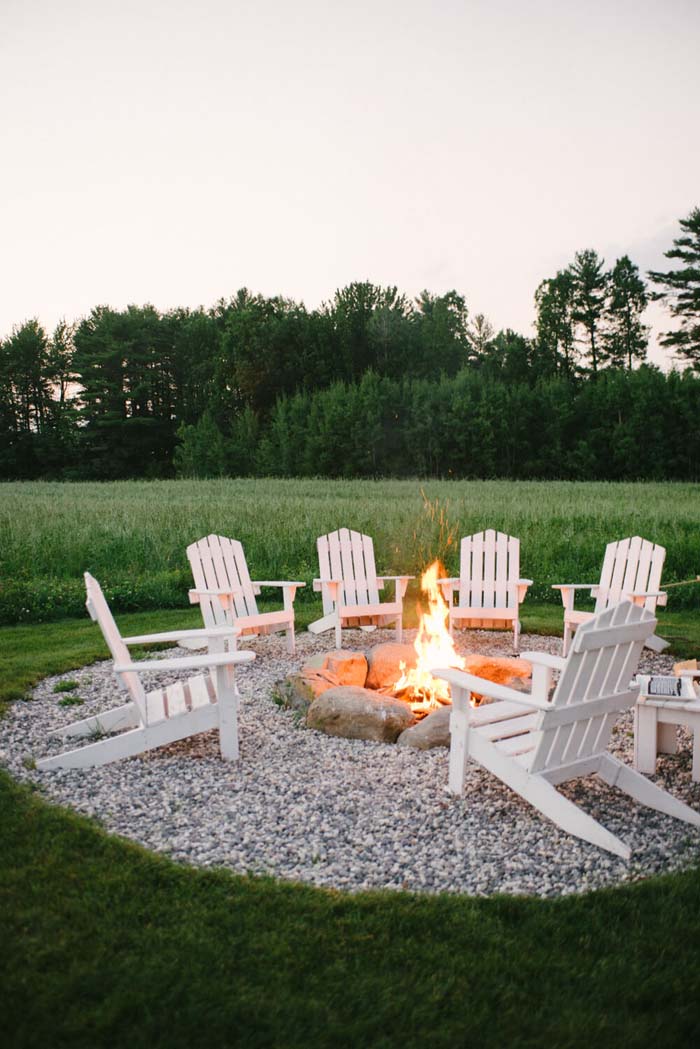 When you like designs that are simpler but provide the same amount of coziness and comfort as a designer's idea, go for an in-ground fire pit. Surround the fire with large rocks and the area with gravel. Use garden furniture to sit around and enjoy the playful flames.
via Style Me Pretty
25. Appreciate Artistic Design with a Mosaic Firepit Patio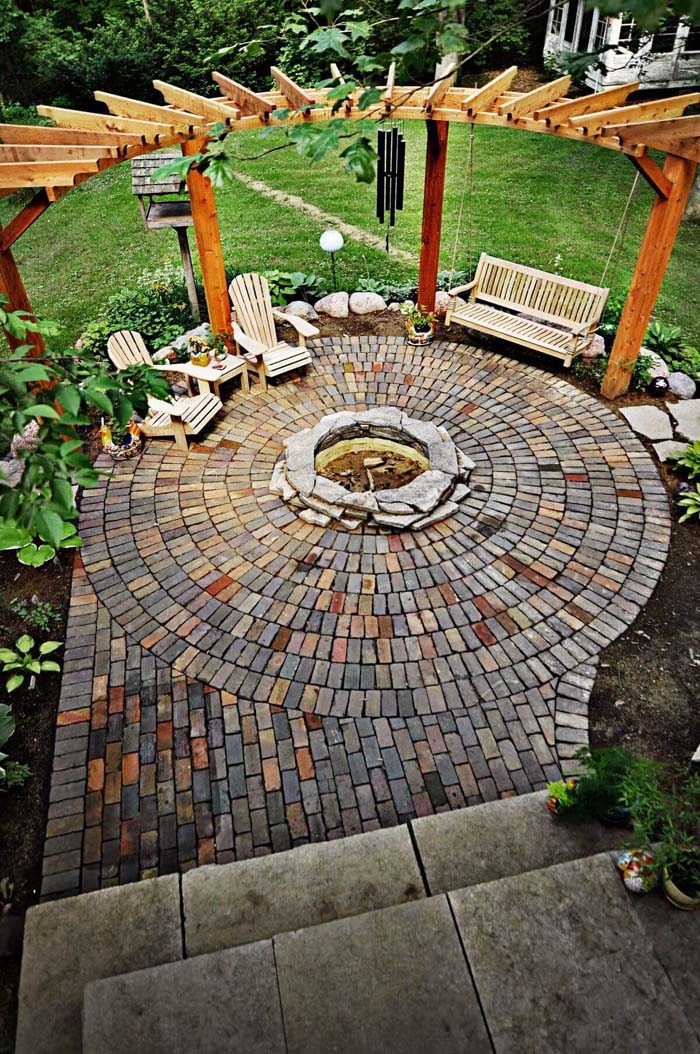 This firepit idea is for the artistic types of people who will appreciate the mosaic look of the bricks. The fire feature is part of the patio entertainment features.
26. Contemporary and Multifunctional Fire Pit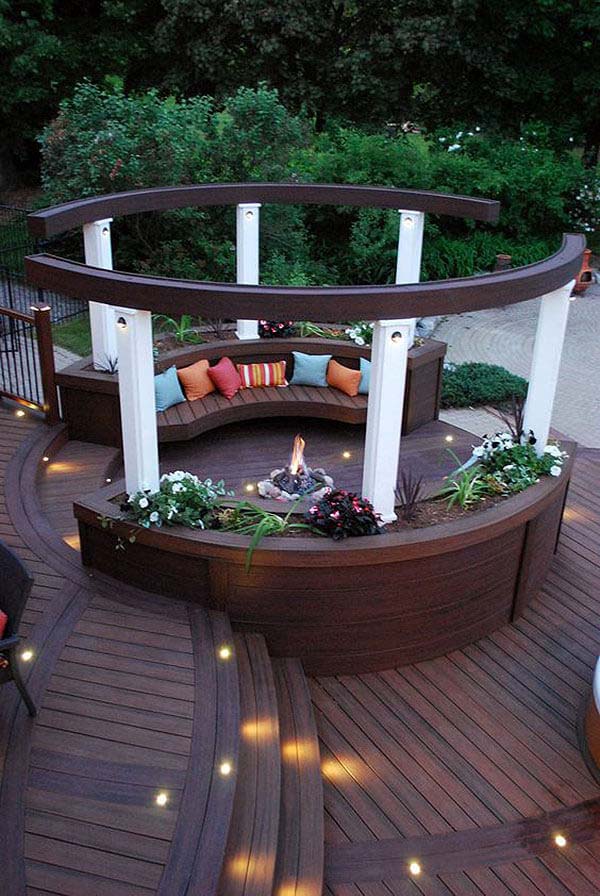 This is another idea for a contemporary and multifunctional fire pit. The fireplace is surrounded by semicircle wood structures for sitting. The top of each semicircle is left opened to plant seasonal plants and flowers.
27. Rustic Fire Pit with Flagstone Hearth and River Stone Base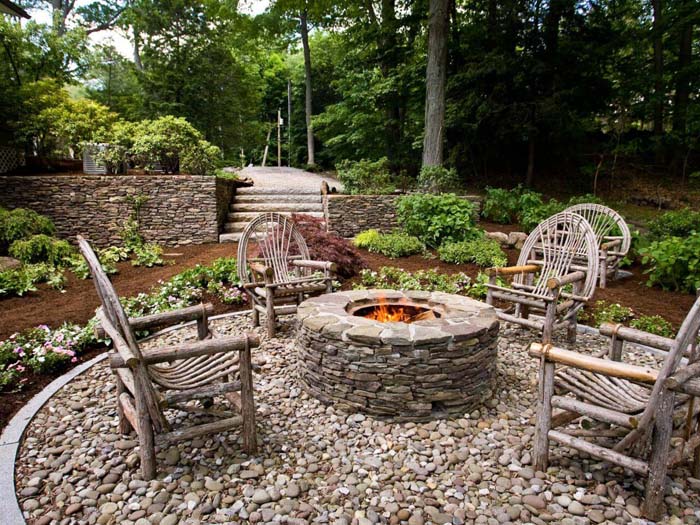 If you are looking for a rustic fire pit inspiration, you would most probably like this aesthetic example. The fire pit area is covered with river stones, the fireplace is built with flagstones.
Antique wooden armchairs make the nook look like it has been there for ages.