There's nothing cozier than hanging out by the fire on a cool summer night.
If you have the space in your backyard, a sunken fire pit is a gorgeous addition to your landscaping. The recessed design creates a natural seating area that's perfect for parties and family gatherings.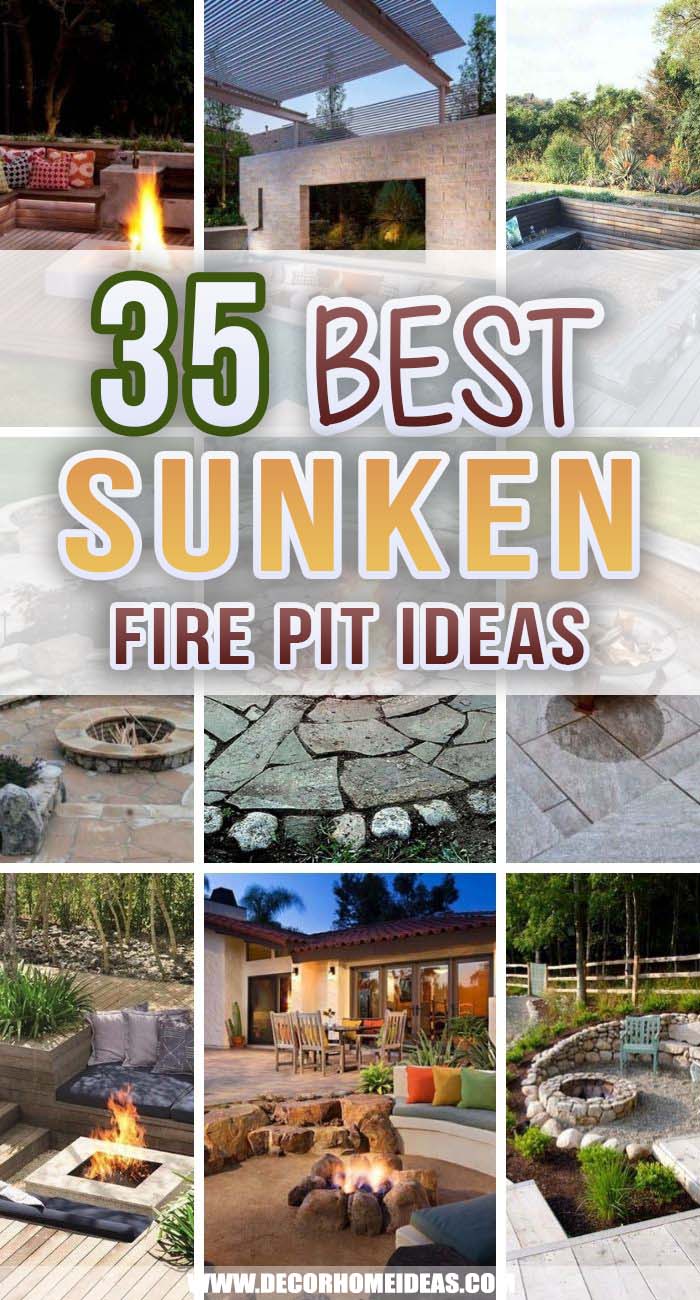 Whether your home is a country cottage or a desert oasis, these awesome sunken fire pit ideas provide all the design inspiration you need.
How do you make a sunken fire pit?
First, find a good location in your yard away from the house and away from low-hanging limbs. Also, make sure it's a spot that won't collect water. Then you are ready to build it.
How much is a sunken fire pit?
It might surprise you to learn the national average cost to install a fire pit is right at $700, and most spend between $300 and $1,500 for the project, but it really depends on the fire pit design. You can also DIY and make it as low as $50. Check our top selection of DIY fire pits.
1. Cement Patio with Sunken Fire Pit and Versatile Seating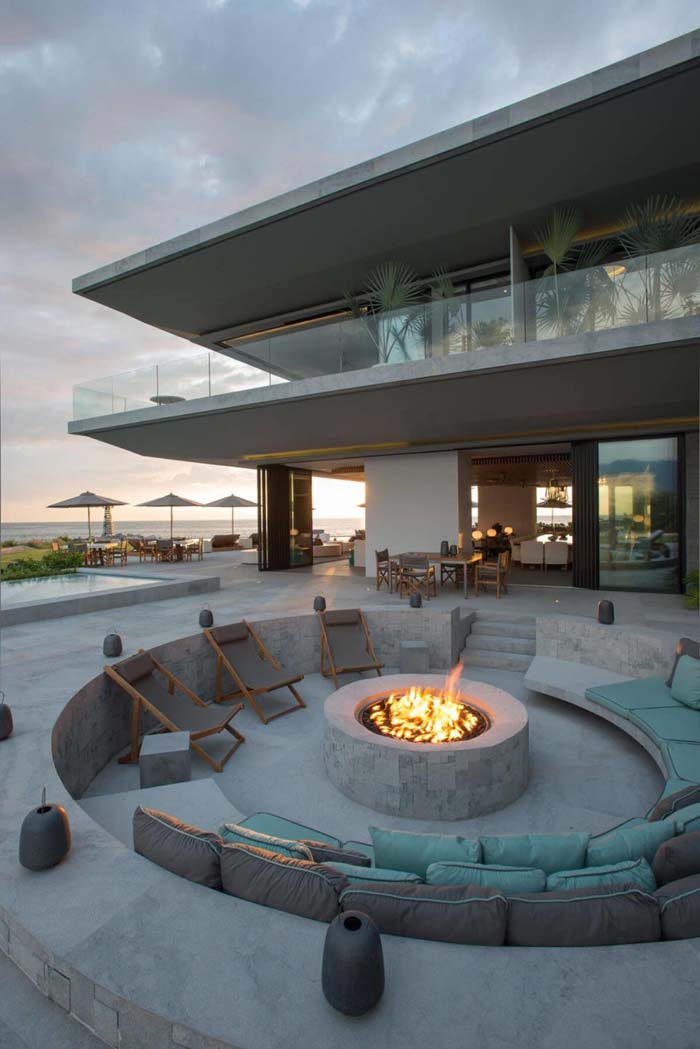 Your guests won't be able to stay away from this sunken fire pit; it rises from the center of a deep seating area, creating a contained spot for conversation and s'mores.
The best thing about this fire pit idea is the combination of a bench and chairs that will suit any taste.
2. Circular Cement Fire Pit with Blue Glass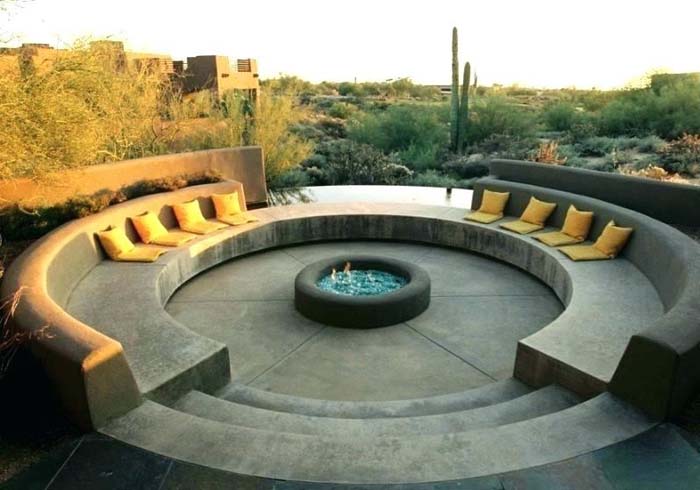 Make a statement in your yard with an enormous circular fire pit. The cement construction looks sleek and contemporary, all while blending in with the natural environment.
In the center, sparkling blue fire glass adds a burst of icy color.
3. Circular Sunken Fire Pit with Built-In Wood Storage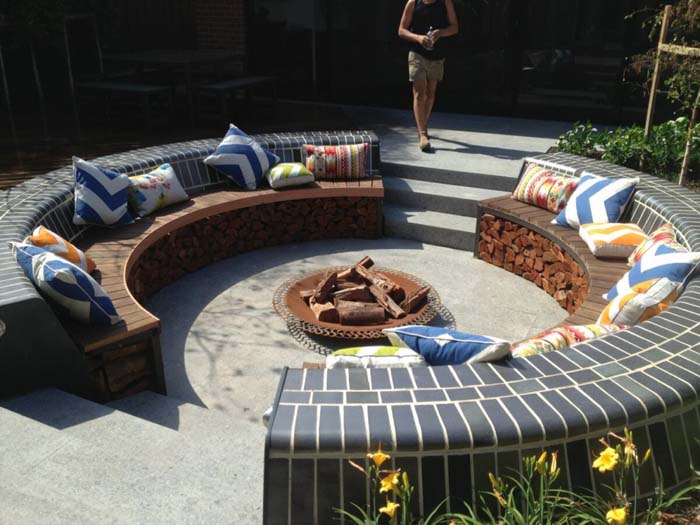 There's no need to run out for firewood when you have this clever fire pit. Firewood storage is built under the seats, so there's always a supply on hand.
Two staircases make it easy to get in or out of the seating area.
4. Classic Circular Stone Fire Pit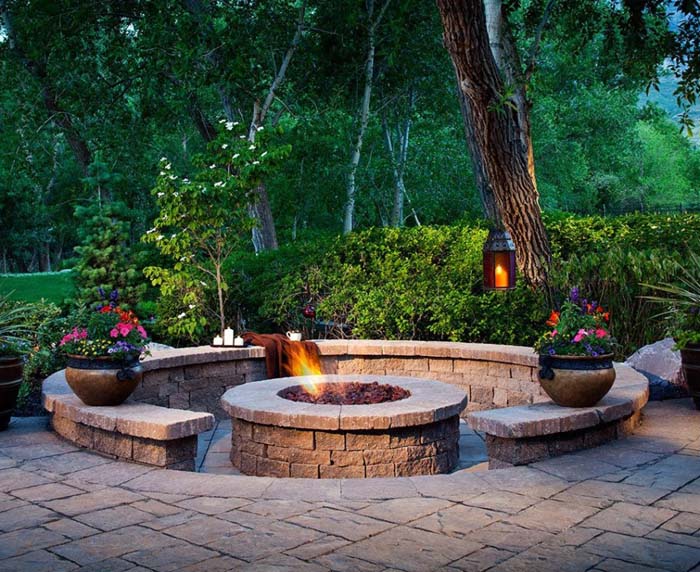 This adorable little sunken fire pit adapts to your needs. When the weather is nice, the stone walls act as seats.
The rest of the year, you can use them to display plants, lanterns, or other decorative items.
5. Contemporary Wood Seating and Sunken Cement Fire Pit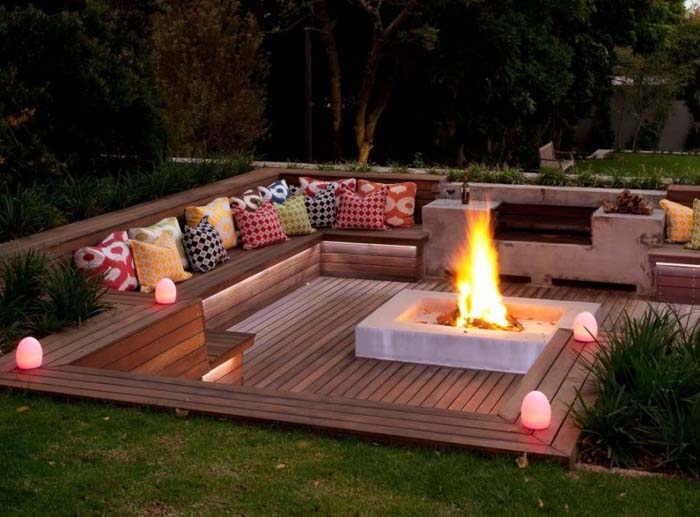 Complement the exterior of your modern home with a sleek wooden seating area and a rectangular cement fire pit.
For a softer touch, add a selection of colorful pillows and glowing lights.
6. Covered Fire Pit in a Pool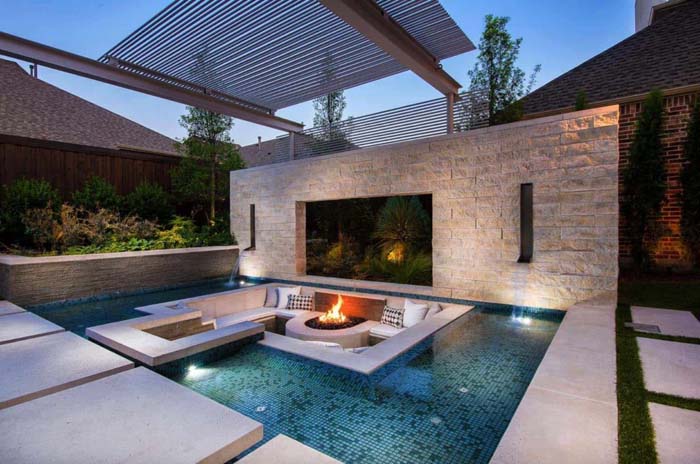 Go from swimming to sitting by the fire in seconds when you have this spectacular fire pit in your backyard.
The sunken seating area is surrounded by a small pool, so your guests have plenty of ways to relax.
7. Cozy Wooden Fire Pit Seating with Lights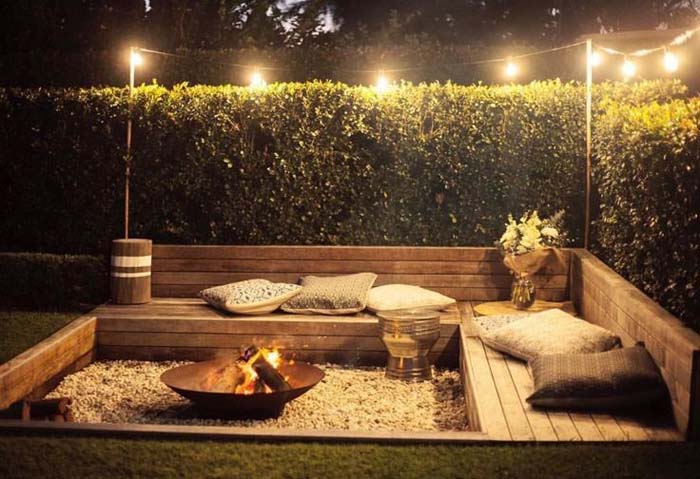 If you don't have the budget for a built-in sunken fire pit, this version is more affordable.
The wooden seats are a breeze to make; just leave space for an elegant metal fire pit.
8. Deep Sunken Fire Pit with Stone Seating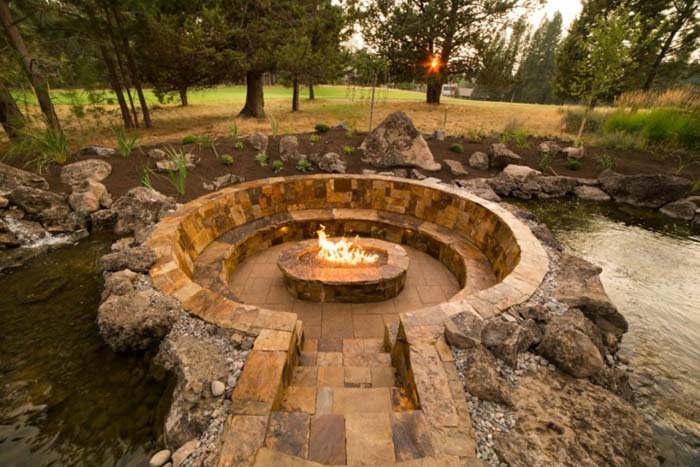 If you're ready to transform your backyard, this extra-deep fire pit is the perfect project.
Surround it with plants and a water feature for a secret-garden vibe.
9. Elegant Wood and Cement Fire Pit Area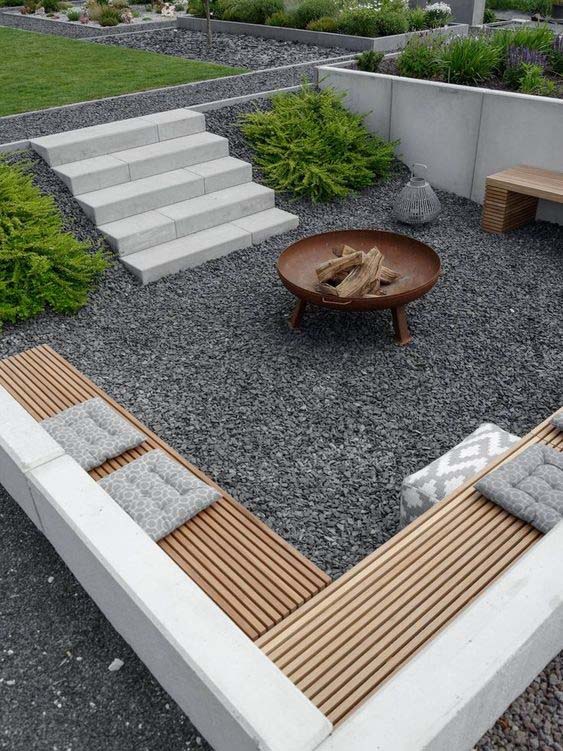 If your yard is hardscaped, it's a breeze to integrate a fire pit. Here, cement retaining walls and wooden seats blend in with the rest of the yard.
Add gravel for texture, and set a beautiful metal fire bowl in the center.
10. Flexible Sunken Fire Pit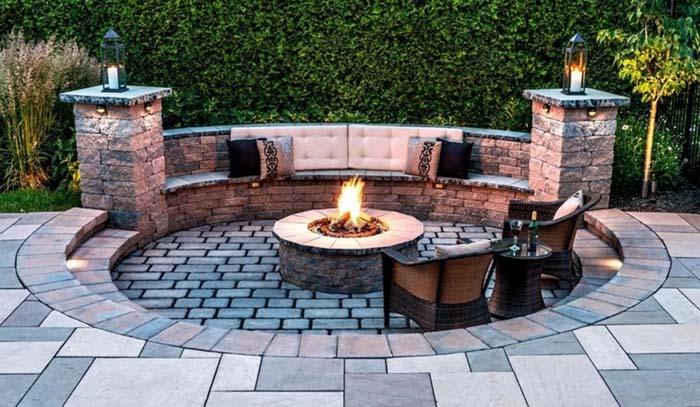 Enjoy intimate family gatherings or big parties with this flexible sunken fire pit.
Integrated bench seating runs along one-third of the pit, leaving the rest of the space open for mingling or extra seats.
11. In-Ground Fire Pit and Seating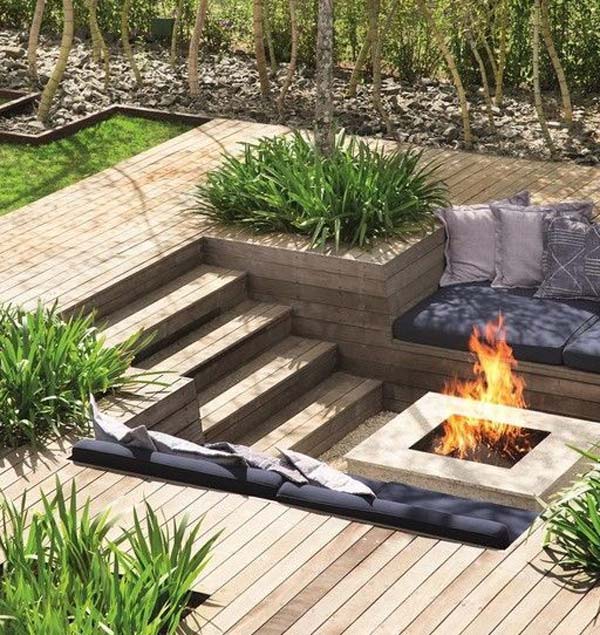 There's something magical about deep in-ground seating; it turns the fire pit area into a world of its own.
Here, natural wood and plush blue cushions create an inviting spot to rest.
12. In-Ground Fire Pit with Rectangular Benches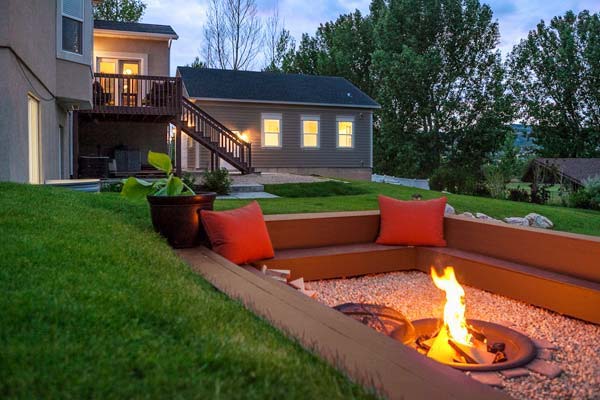 Do you love the rustic feeling of a traditional campfire? Recess your fire pit into the ground.
The gravel around the pit provides protection from sparks, and the simple wooden bench seats offer lots of space for family and friends.
13. In-Ground Stone Fire Pit with Bench Seating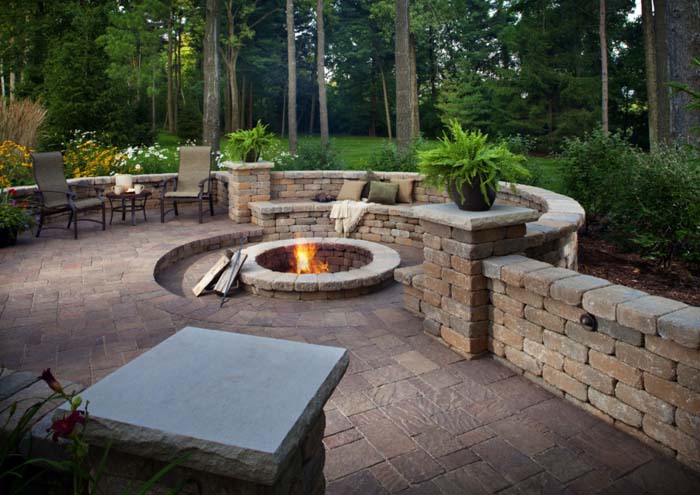 If you have a stone fire pit, it's a breeze to build a sunken firepit.
Here, the lines of the pit are echoed in the curved bench seat for a beautiful, organic look.
via Belgard
14. Landscaped Backyard with Sunken Deck Fire Pit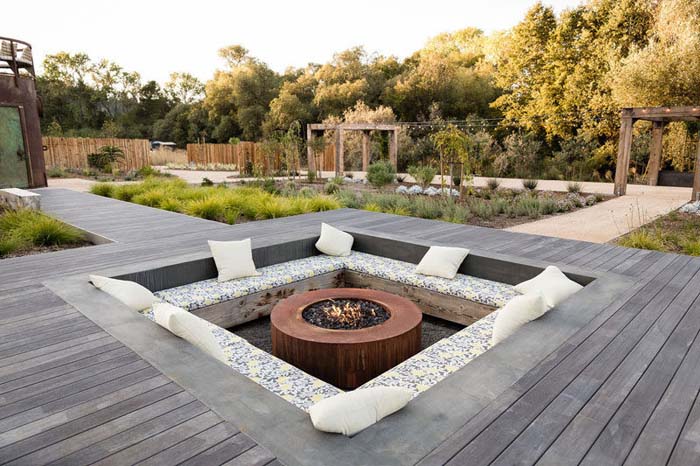 This cute little fire pit is a fun way to maximize deck space.
All-around seating leaves plenty of space for lounging or big groups; plus, each spot is close to the fire for warmth.
15. Modern Linear Fire Pit and Water Feature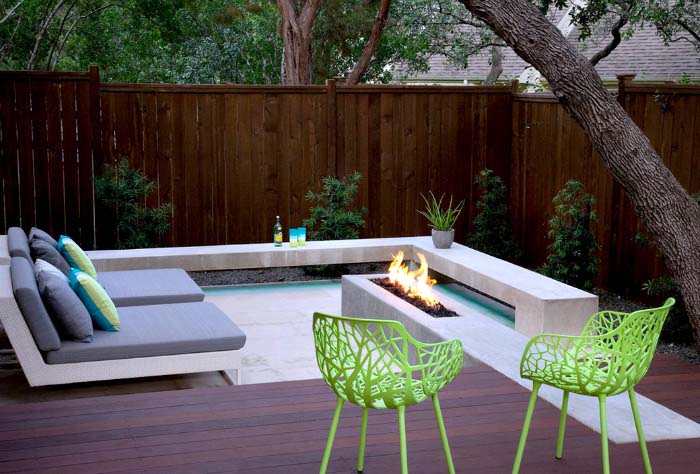 Turn a small backyard into a showpiece with this remarkable fire pit.
The long, linear fire area intersects with the deck, creating a mix of lines and materials. A subtle water feature completes the design. You can add your favorite outdoor furniture to the scene.
16. Rectangular Ocean-View Fire Pit with U-Shaped Seating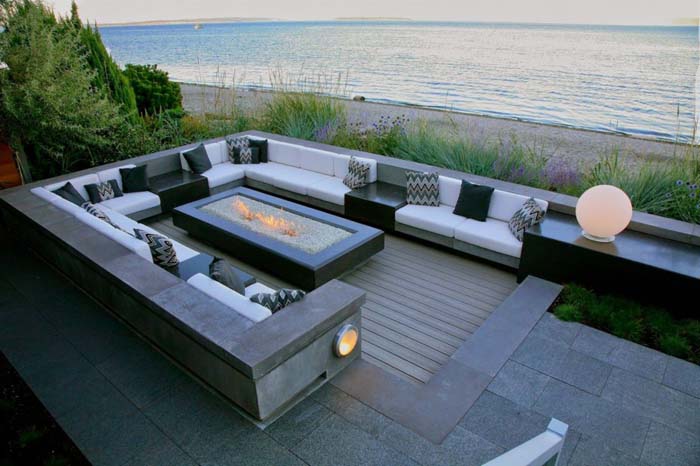 If you love to entertain, a big seating area is a must.
That's where a rectangular fire pit comes in — it's the perfect centerpiece for a U-shaped sectional sofa with plenty of seats for family and friends.
17. Relaxing Lighted Wooden Fire Pit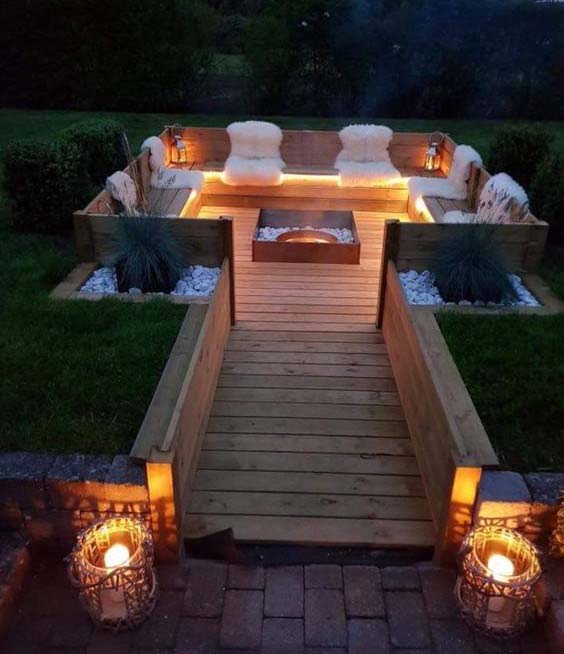 Encourage your family and friends to cuddle up by the fire with this stunning lighted fire pit.
The lighted benches enhance the glow of the fire, and the fur seat covers are soft and cozy.
18. Retro Cement Fire Pit with Gravel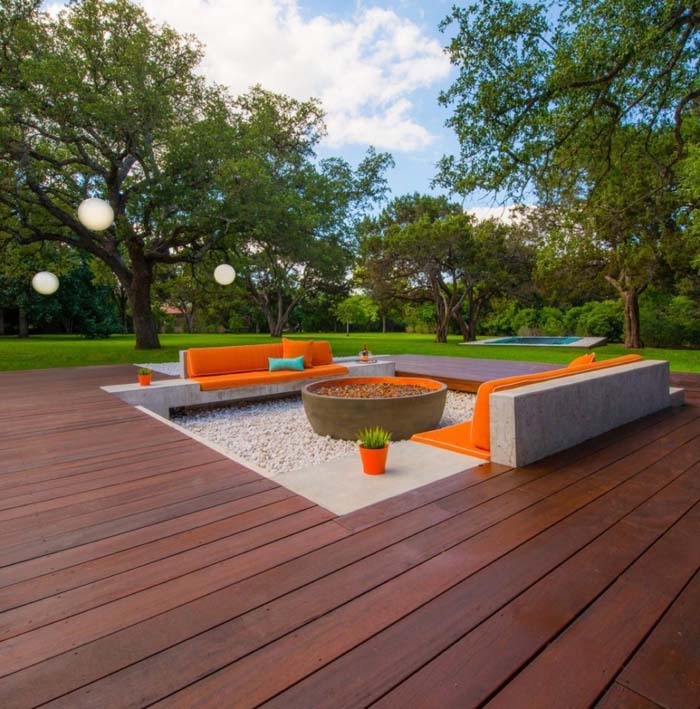 Is your deck looking bare? Cut out a large square for a fire pit and lounge area.
The clean lines and cement construction of this design complement the wood deck, and the bright orange cushions add a retro twist.
19. Round Fire Pit with Landscape Border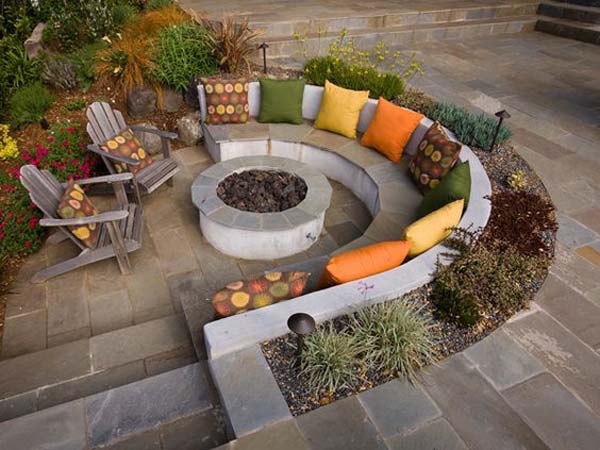 Set your sunken fire pit apart by surrounding it with a landscaped border.
Here, a semi-circular row of plants separates the fire from the rest of the patio.
20. Rustic Natural Stone Fire Pit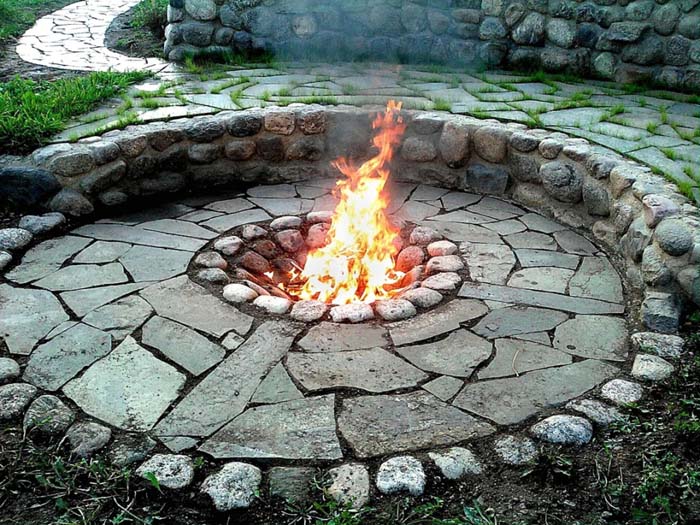 Maintain the relaxed, natural feeling of your backyard with this rustic DIY fire pit.
The walls, floor, and pit are all made from irregular stones that blend in with the surroundings.
21. Separate Backyard Fire Pit with Sunken Seating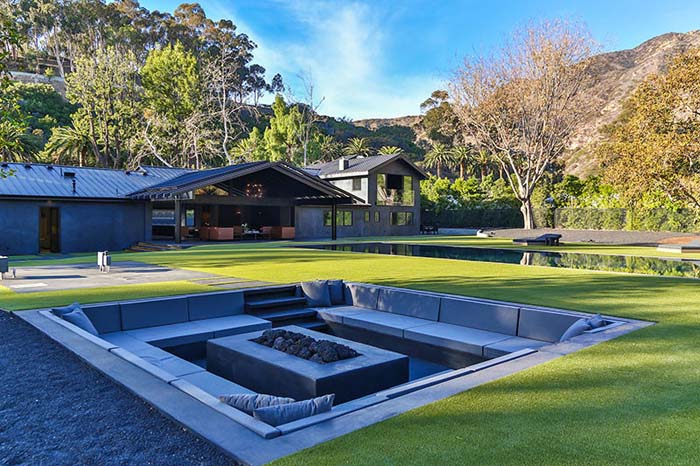 Use some of the open space in a large backyard by creating a fire pit that's separate from the house.
The distance creates a retreat-like feeling, and the sunken seating adds a cozy vibe to small outdoor gatherings.
22. Simple Minimalist Wood and Stone Fire Pit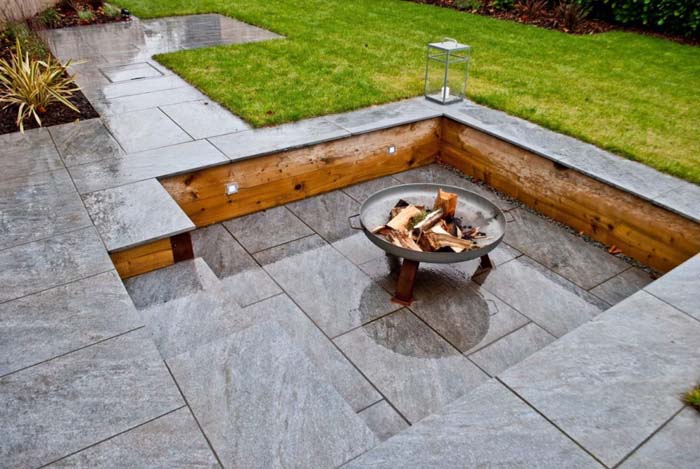 Make the most of a small backyard with this fire pit, which uses a minimalist wood and stone design.
The fire pit is removable, so you can store it easily when winter sets in.
23. Sleek Square Sunken Fire Pit with Stone Seats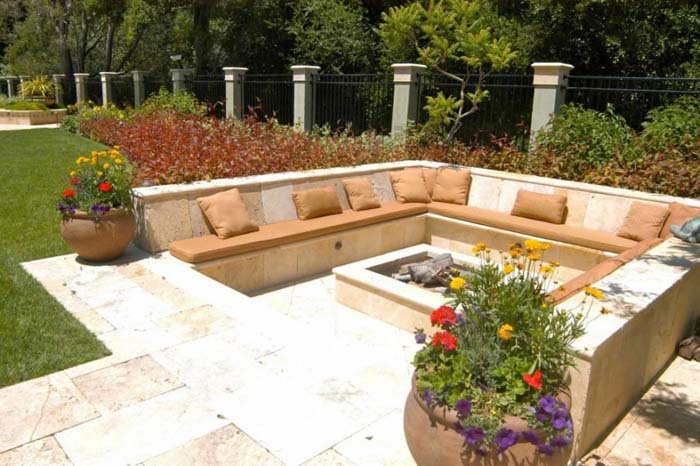 A square fire pit and seating area contrast beautifully with organic plants and flowers.
In the off-season, simply remove the cushions; the stones are naturally weather resistant.
24. Southwestern Desert-Style Rock Fire PIt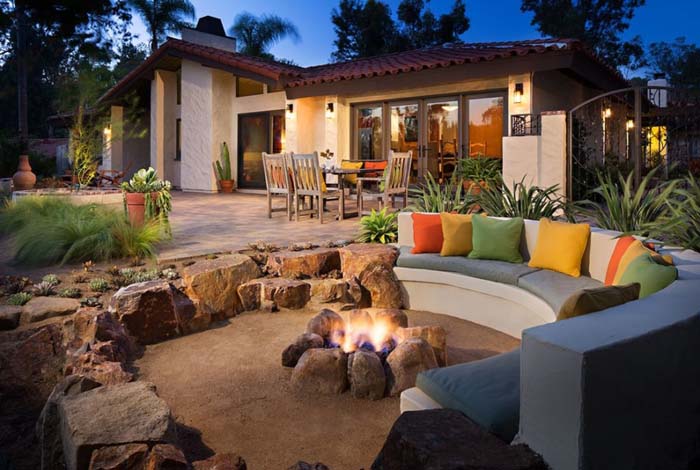 Step into this sunken fire pit, and you'll feel like you're on a luxury camping trip.
The sleek circular seating area features plush cushions for comfort, and the natural rock fire pit adds a back-to-nature feeling.
25. Square Sunken Fire Pit with Gravel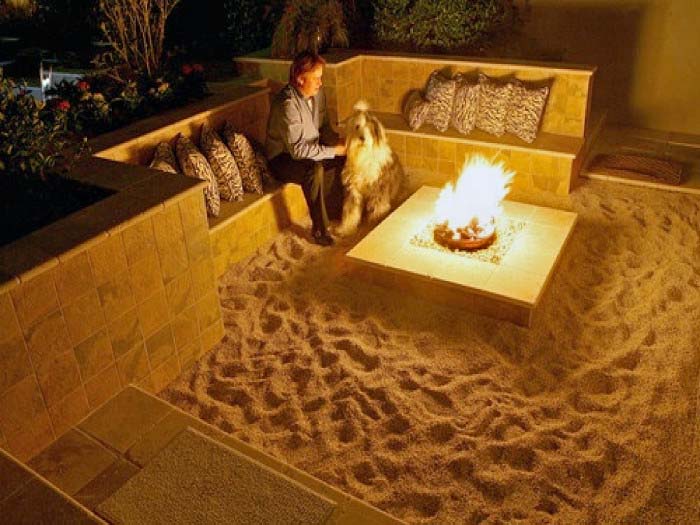 You'll want to dig your toes into the pea gravel that surrounds this square fire pit.
A small corner seating nook is the perfect spot to hang out by the fire.
26. Stone Fire Pit with Gravel Base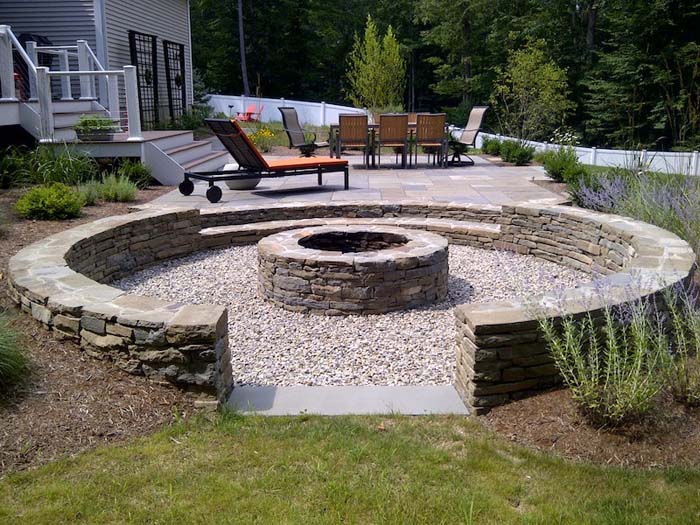 Gravel is the perfect material for a fire-pit surround; it's not flammable, and it's easier to install than expensive flooring.
Here, a beautiful stone retaining wall doubles as a frame for the garden.
27. Stone Fire Pit with Natural Landscaping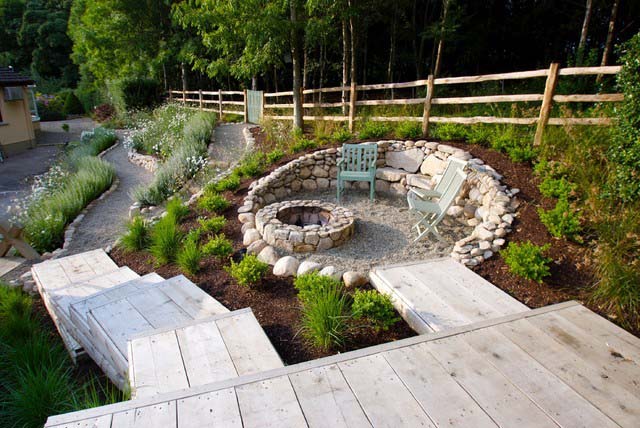 If your yard has a lovely, wild vibe, create a fire pit that fits in.
The secret is to build up the ground around the stone pit, so it looks like it was dug into a hillside.
28. Sunken Fire Pit on Pool Deck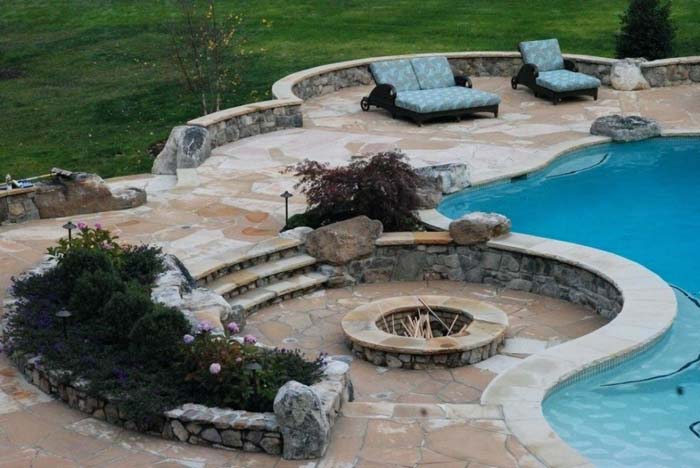 If you're remodeling your pool area, why not add a sunken fire pit? It adds warmth and charm to the space, giving you more opportunities for outdoor entertaining.
Here, the pool wall also doubles as a bench seat.
29. Sunken Fire Pit with Boulder Seating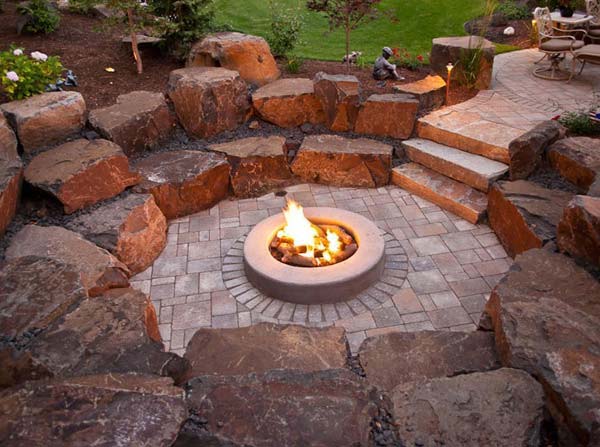 Large boulders make breathtakingly beautiful seats around this fire pit. Integrate the stones into the soil of your yard for a natural yet awe-inspiring result.
Your guests will be delighted to choose a rock and settle in for a fun evening.
30. Sunken Metal Fire Pit with Recessed Wraparound Seats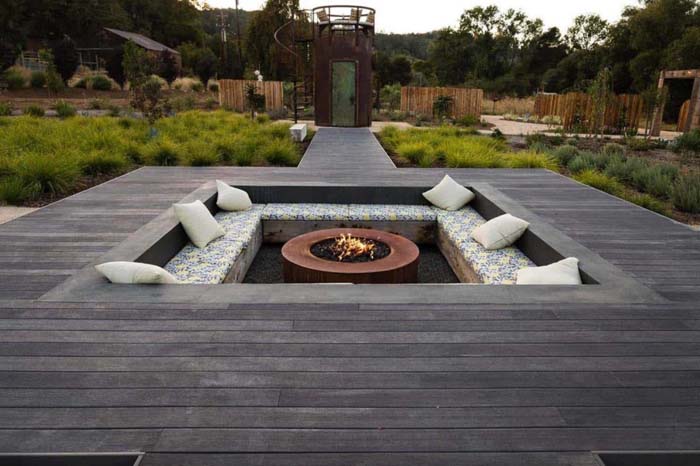 The wraparound walls that line this sunken fire pit create an instant cozy feeling.
Climb down, and you'll feel like you're in a different world. Note how the metal fire pit contrasts with the weathered wood deck.
31. Sunken Outdoor Fireplace with Sofas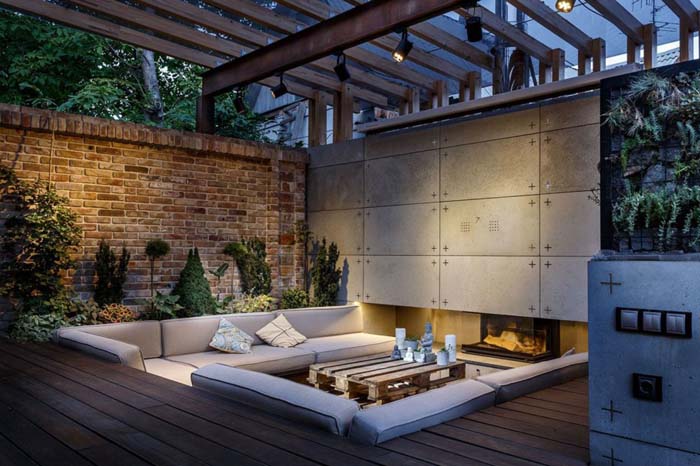 This clever design integrates an outdoor fireplace and cushy seating to create an outdoor living room.
The magic is in the deep seats, which give you plenty of space to curl up.
32. Weathered Wood Fire Pit Surround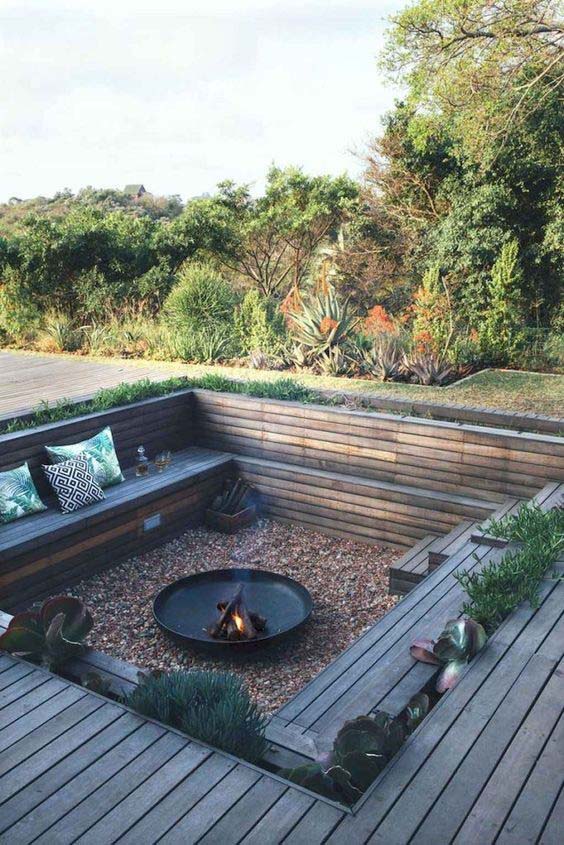 Create a fire pit that's an extension of your deck by using the same boards to build seating. The weathered wood looks elegant and relaxed, and the round fire pit is the right height for roasting marshmallows.
Use a shallow metal fire pan for easy cleanup and simple winter storage.
33. Zen-Style Sunken Fire Pit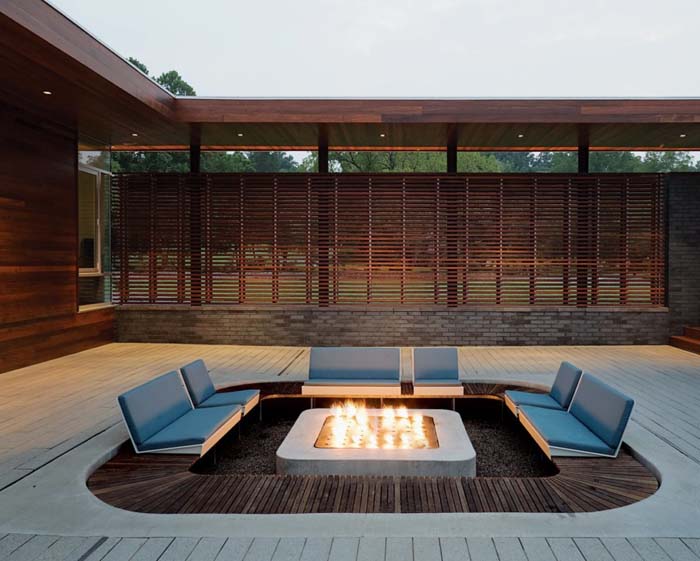 With its minimalist design and use of natural wood, this gorgeous fire pit is the perfect complement to a contemporary backyard. Integrated bench seats with back support create a cozy spot to relax.