I bet everyone's favorite time of the year is when the weather gets warmer and all the family and friends are gathering around the fire pit, roasting marshmallows, drinking mulled wine and enjoying the moment.
A couple of months ago I decided to update the fire pit and started to search for inspiring fire pit ideas. Here are 35 of the best ones I've managed to collect, hope I will help you out!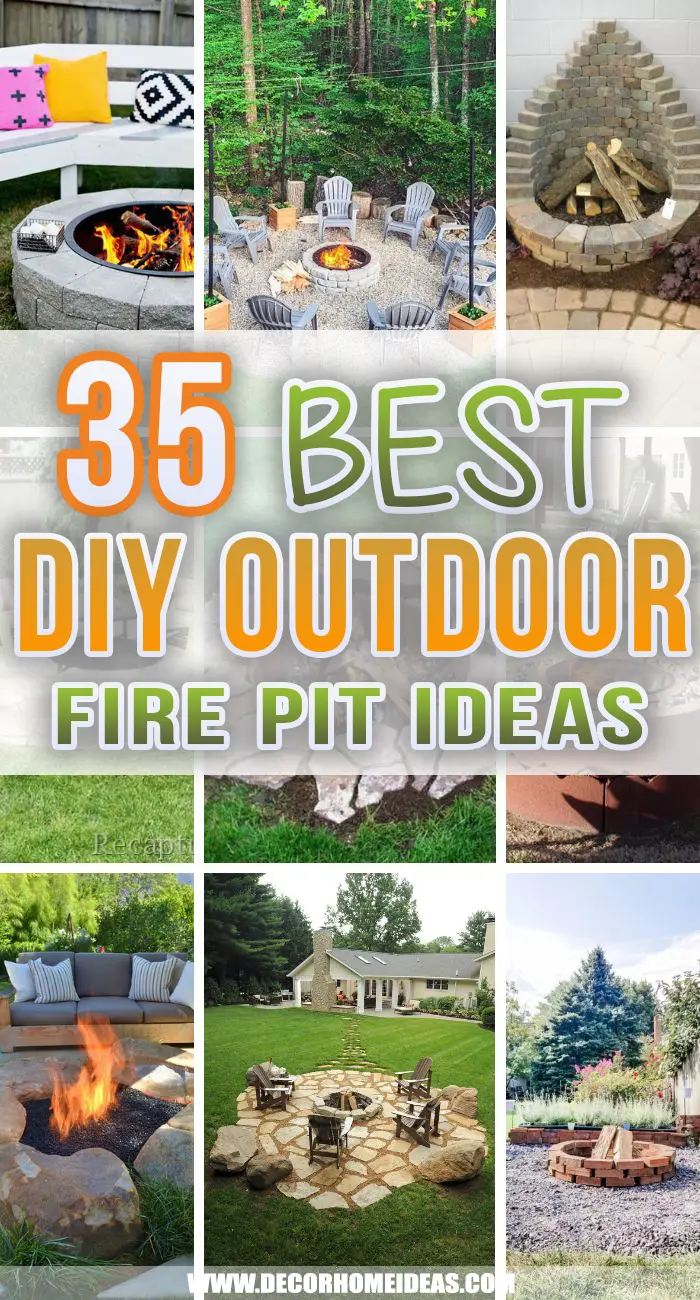 This list could save you hours of browsing the internet looking for the best DIY outdoor fire pits, so don't forget to save it for later in your favorites.
If you don't want to bother with DIY stuff we have reviewed the Best Cheap Fire Pits Under $100 so you can always just buy one and start enjoying it tomorrow.
It's a great idea to have them saved somewhere so that when you finally have the time and desire you can easily check them and choose the one that suits you best.
Before we start with firepit projects, here are some answers to the most popular questions we receive all the time:
How do you make an inexpensive fire pit?
Use some materials that you already have in your home or garden. For example – cinder blocks, bricks, or simple rocks. Arrange them in a circular pattern and put some small rocks on the bottom. As per nationwide research, the average budget for a fire pit is $90 so you have to try your best to get in to this amount.
What should I put in the bottom of my fire pit?
Put a layer of sand at the bottom of the pit, and then top the sand with gravel or small rocks.
What is the best surface to put a fire pit on?
Concrete pavers or patio slabs are most preferred, but you can also use just dirt.
How far away does a fire pit need to be from your house?
Place your fire pit at a minimum distance of 20 feet from any flammable structures or surfaces in order to be safe.
1. Building A Simple Fire Pit For Less Than $50?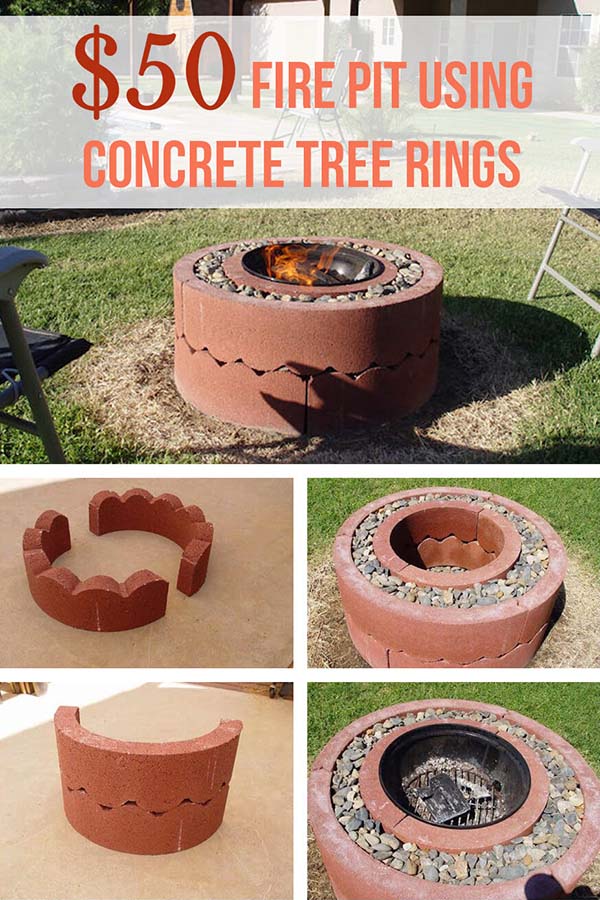 Photo:Credit
The first idea is for those of you who are passionate DIYers with a very limited budget. You can build this small and practical backyard fire pit by using pebbles, road gravel, small stones,  or decorative rock for about $50.
The best thing is that this type of pit can be easily moved to a different spot (so if you are not sure where exactly to position it – that is your game).
More info: Here
2. Build a Fire Pit In The Ground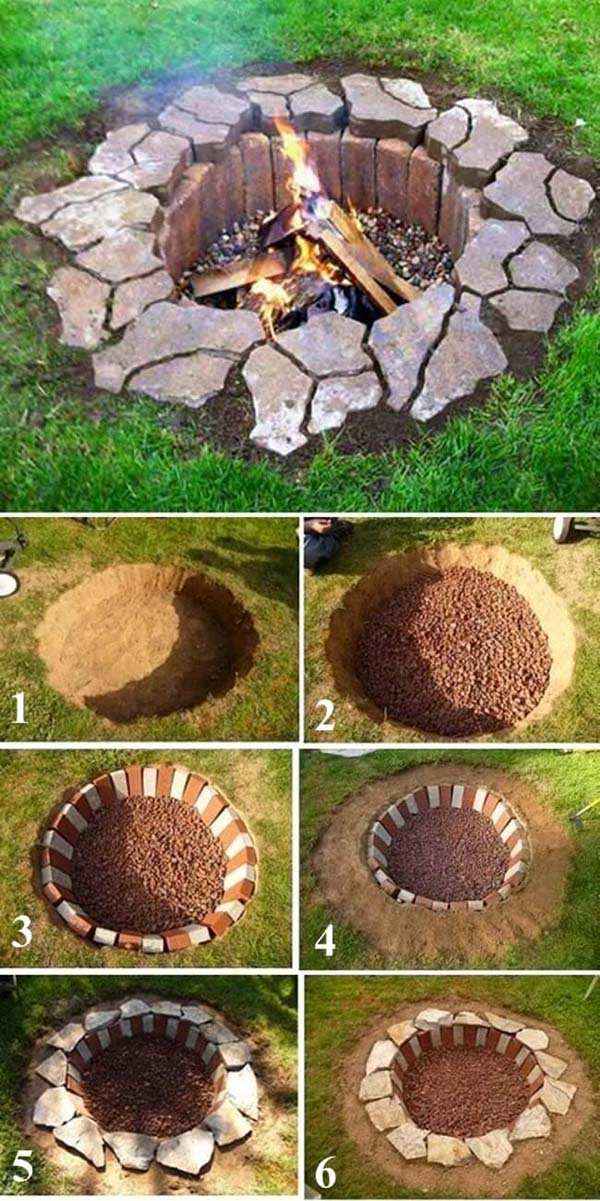 Hey you, dear DIYer, here is how to build your own fire pit in the ground in 6 easy steps:
Dig a hole (4 inches wide and 12 inches deep)
Fill the bottom of the hole with lava stones
Set brinks in slightly reclined on sides
Get rid of the grass around the hole
Place some flat rocks around the rim on top of the bricks
Fill in the top area around and between the rocks with sand
And here it is –  easy, cheap, volcano-looking fire pit!
More info: Here
3. Fire Pit Ring – An Useful Graphic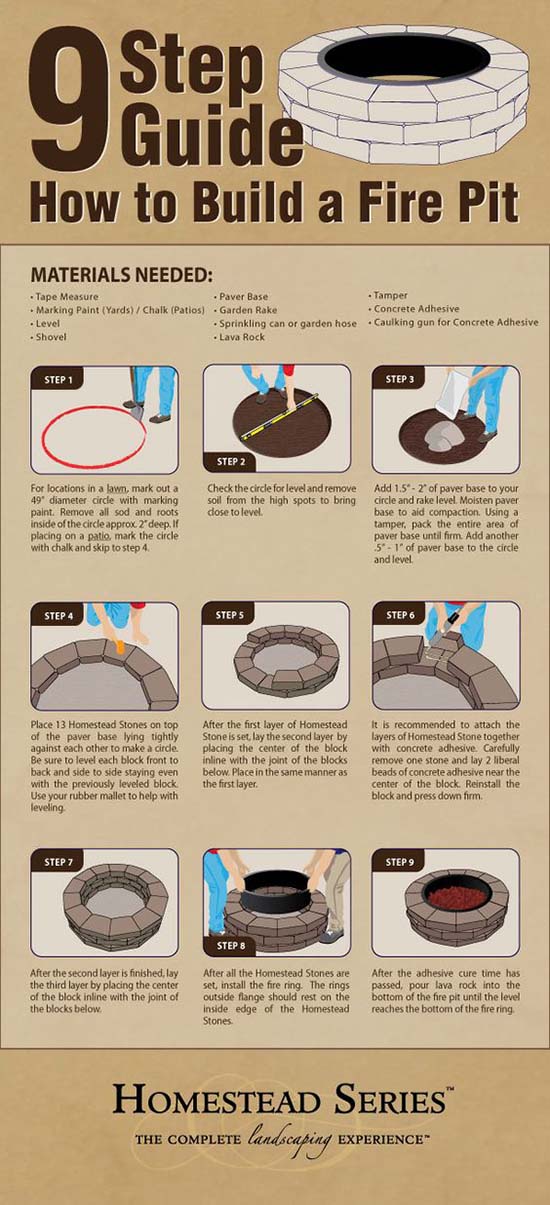 While searching for some cool fire pit ideas, I found this useful 9-step detailed scheme on how to build a fire pit ring.
This one could perfectly fit the patio or small yards. Hope it could be helpful for some of you.
4. DIY Fire Pit Idea On Concrete Slabs

Continue with the useful step-by-step scheme for another variation of the circular pit. What I really like about this one is that there is a picture included for every single step.
Plus, the instructions are very detailed. The design is not complex, too. So this beautiful and easy fire pit could be made by a beginner DIYer with a pinch of enthusiasm and a bit of free time.
5. Big Fire Pit Made Of Cinder Blocks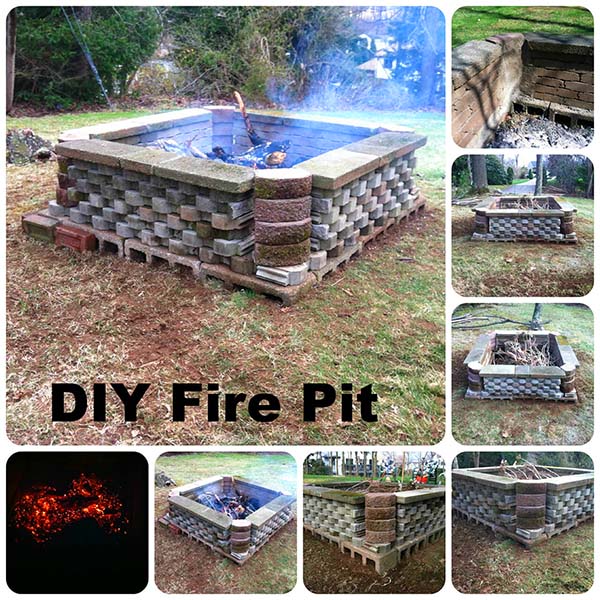 Photo:Credit
For this design, you can use Cinder blocks for the base, cement landscape edging for the walls, landscape blocks for the corners and old bricks to wrap it up.
Just keep in mind that this type of pit would take quite a lot of space so If your yard is spacious – stick to this idea!
More info: Here
6. A Simple Tutorial How To Make A Fire Pit In 4 Easy Steps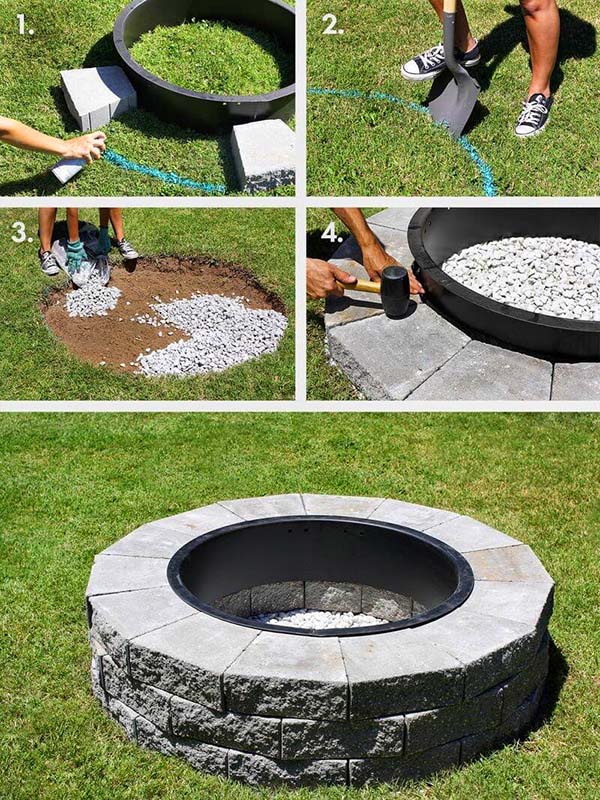 Photo:Credit
The reason I chose to add this design to my top 35 list is that it reminds me of a camping fire pit…and I love going camping! It is made of stones, it is safe enough and a great spot to gather friends and family around.
The four steps you need to follow are OUTLINE, DIG, LOAD UP, BUILD… the rest is on the pictures.
More info: Here
7. Cute Table Top Small Fire Pit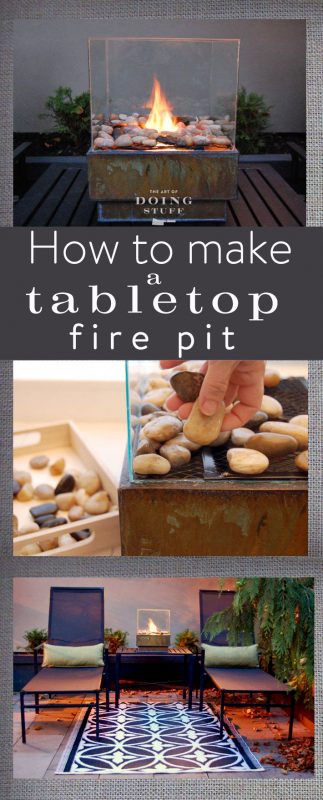 Photo:Credit
I instantly fell in love with this modern fire pit and decided to build it for the wooden table on the patio.
Here are the materials you will need: any kind of metal netting ($2-3); marine silicone ($4); small round rocks ($1-2); any kind of metal planter with an edge ($7-10); gel fuel ($4); and cheap glass photo frames ($5 max).
More info: Here
8. Brick Fire Pit Step-by-Step Tutorial Project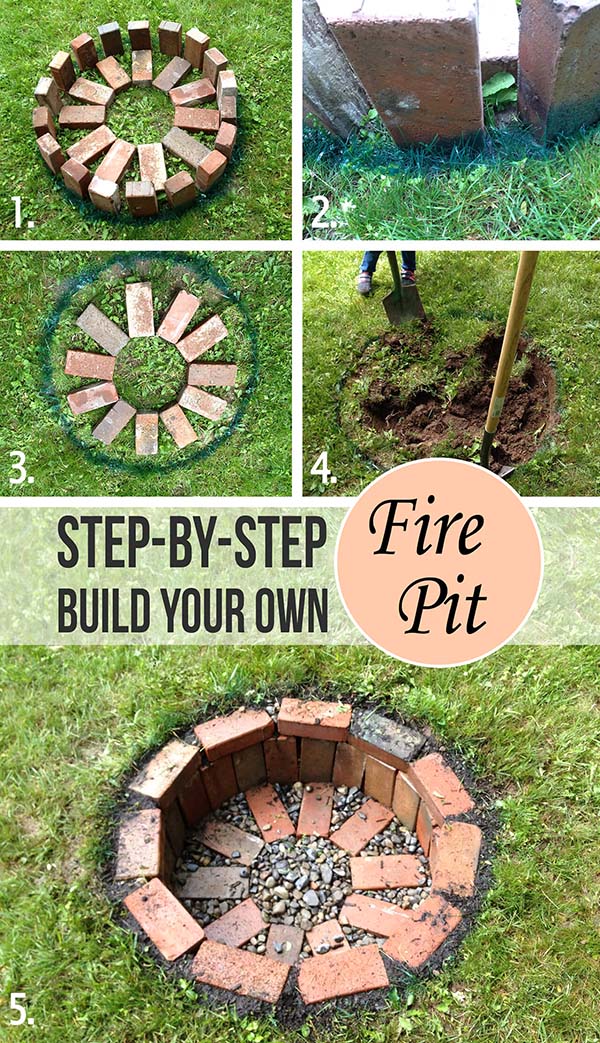 Photo:Credit
I love this simple circular in-ground pit made from old bricks. It could be easily built by a beginner DIYer in 5 steps for less than 3 hours. It is also suitable for very small yards.
Plus, I like the rustic atmosphere it brings to the whole landscaping.
So now you know how to build a fire pit with bricks… I cannot wait to see the result!
More info: Here
9. Large Square Fire Pit For The Backyard

Photo:Credit
This large square fire pit takes about 6-7 hours and $150-180 to be built.
If there is a space in your yard which you rarely use – this may be the solution! Imagine…making a barbecue while you are drinking beers and chatting with some friends around the pit. Not bad, isn't it?
More info: Here
10. Above-Ground Rustic Fire Pit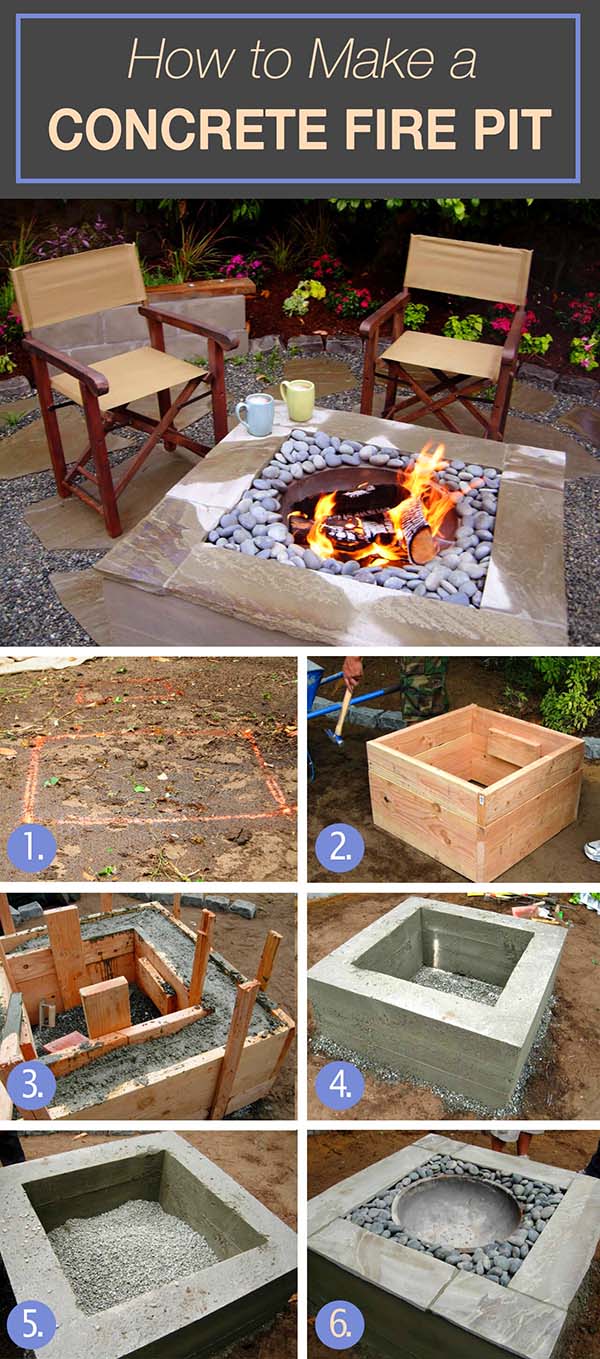 Photo:Credit
This lovely fire pit could be made of concrete in 6 easy steps (shown in the pictures).
In my opinion, this design has a slightly higher level of difficulty so If you are a beginner DIYer ask someone to give you a hand to pour the concrete, put the wooden construction etc. Good luck!
More info: Here
11. Cheap Fire Pit For Only $60

Photo:Credit
I am always saying that sometimes simple ideas are the best ones.
For instance, this lovely simple fire pit made from pavers could be made for less than $60 but it looks very stylish and could perfectly fit any kind of yard's design.
More info: Here
12. DIY Outdoor Fire Pit Idea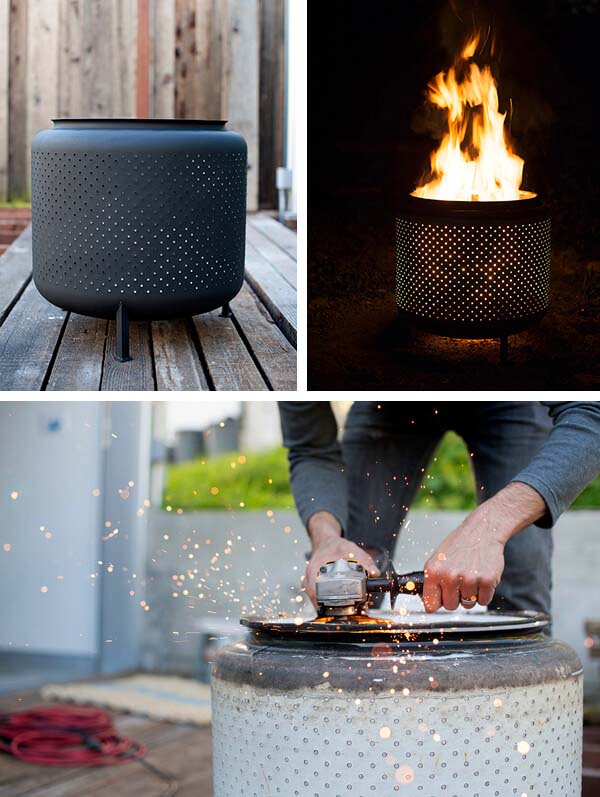 Photo:Credit
Can you imagine that this outdoor pit is made for less than an hour, spending about $15, and using a recycled washing machine drum? I love the vintage stylish look it brings to the whole garden.
Plus, it could be easily moved everywhere.
More info: Here
13. Pirate Ship Pit – Metal Art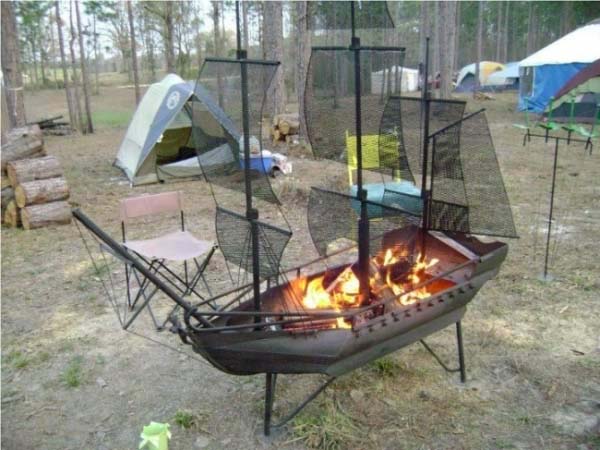 When speaking of unique fire pit designs, I always think about this one! It is catching the eye and at the same time, it is actually a grill.
So you can spend some quality time with your beloved ones while enjoying cool beers and juicy hamburgers.
14.  How To Build A Fire Pit For As Low As $5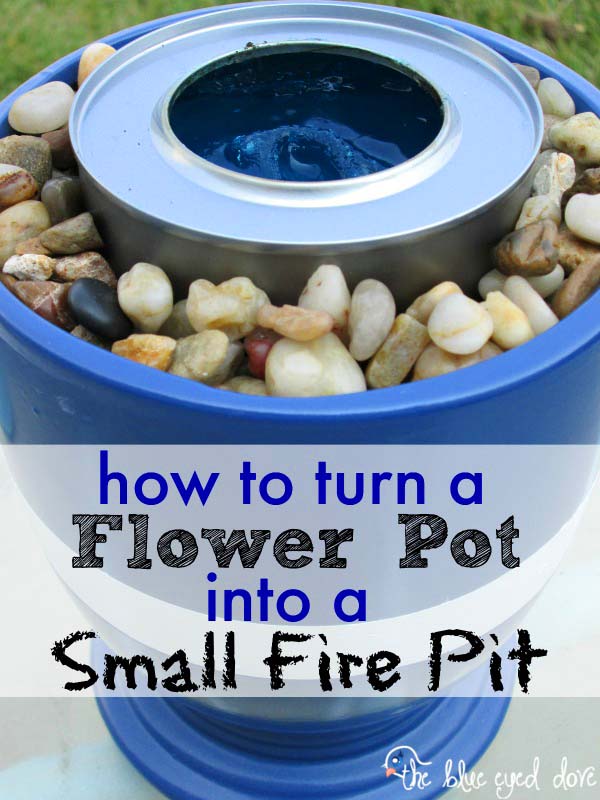 I was a bit surprised to see this tiny DIY fire pit made from a flower pot.
There are three 'ingredients' you need – a flower pot (medium size), chafing fuel and a bag of small river rocks.
You can, for example, put it on the table on the patio.
More info: Here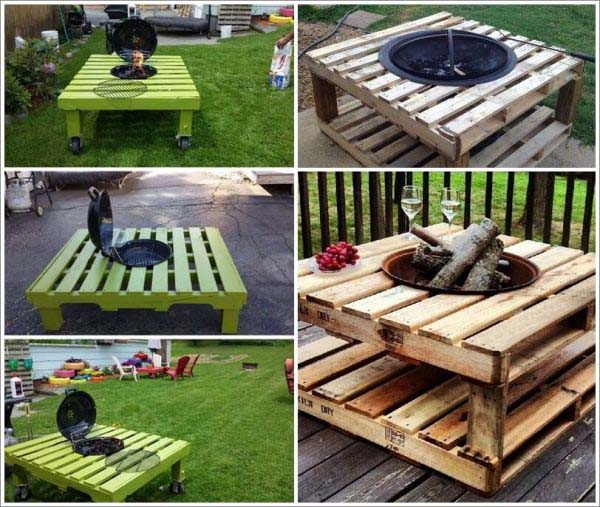 You should definitely add this one to your list of amazing backyard fire pit ideas!
If you love organizing garden parties and making barbecues – this type of pit would be your partner in crime. Plus, it won't break the bank!
More info: Here
16. Square Concrete Fire Pit With Lava Rocks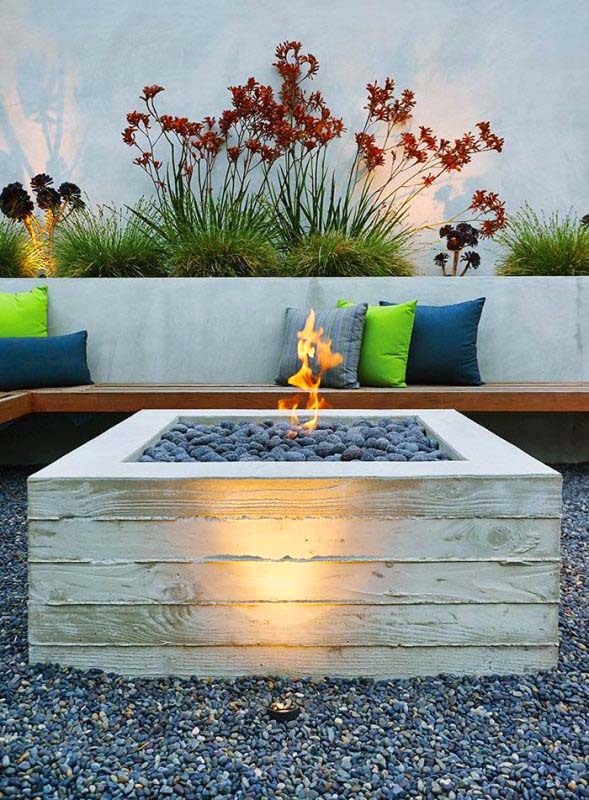 Another simple concrete-made fire pit that is meant to inspire you! It will easily fit the whole garden design as it has a very clean stylish look.
The material reminds me of wood, however, it is 100% made of concrete.
More info: Here
17. Making A Circular Fire Pit In 4 Easy Steps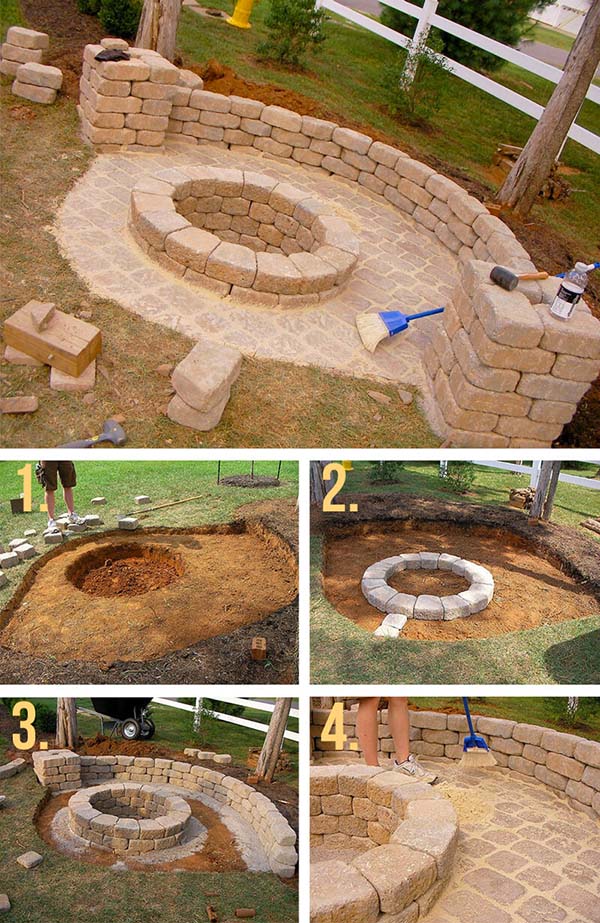 Photo:Credit
When I first saw this pit design, I thought it reminds me of Roman remains. It is made of stone pavers and a bit of sand, and it does not require endless hours of hard work and a big budget.
If you also like it, I hope this 4-step tutorial in pictures would be helpful!
18. Just Another Mini Table Top DIY Fire Pit…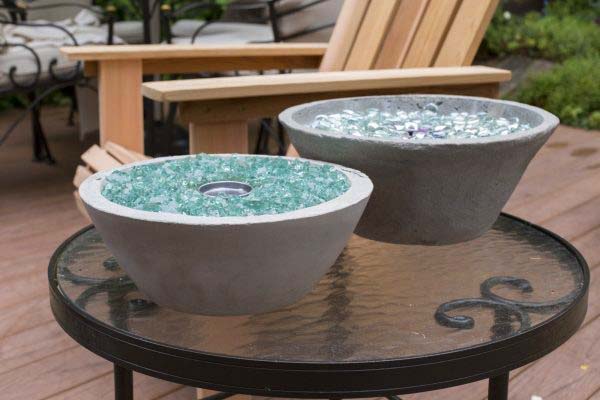 Photo:Credit
…that should go to your list with amazing cheap fire pit ideas! It takes about 2 hours to be made and it looks very contemporary with these lava rocks. Love it!
The materials you will need are:
Concrete
2 Large plastic bowls
Bucket to mix the concrete
A bag of lava rocks
Fire glass
Gel fuel can
Grill topper
More info: Here
19. An Old Wine Barrel Fire Pit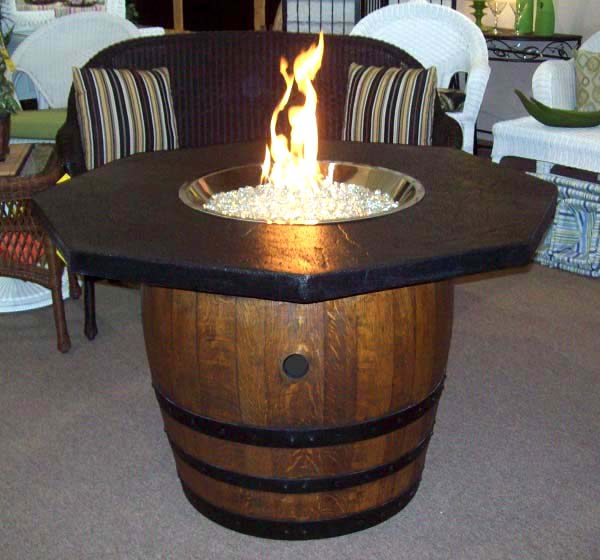 Here is a great patio fire pit made of a refurbished oak barrel.
I have found this one in an online shop for $2399.99 and after the initial shock, I started searching for a DIY step-by-step tutorial that could save me $2000.
More info: Here
20. Rocks and Stones Fire Pit Ideas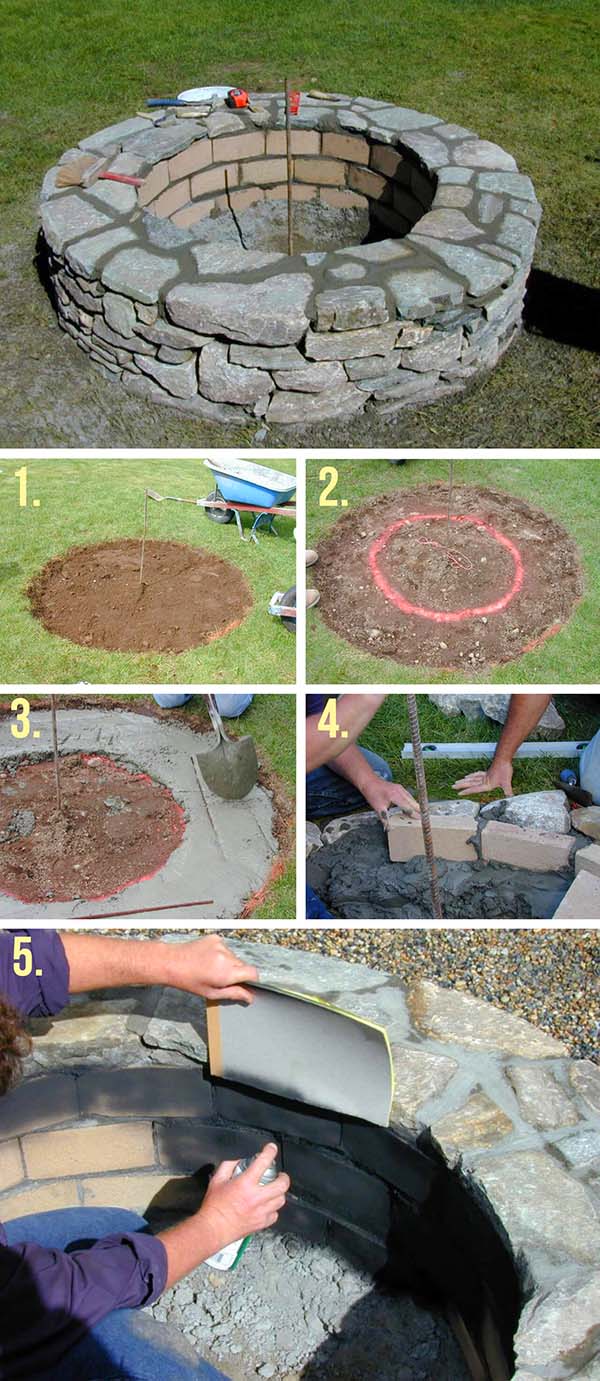 Photo:Credit
To be honest, this is one of my favorite in-ground fire pit ideas. It has a very clean design and looks a bit like one of those wells people were using to access groundwater.
Here is a 5-step tutorial to help you start.
More info: Here
21. An Old Wheelbarrow Fire Pit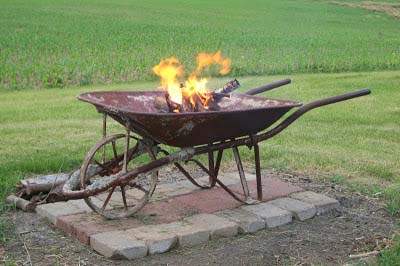 Photo:Credit
For those of you who want to bring an additional vintage look to their garden – consider transforming an old wheelbarrow into a pit.
It is cheap, it is not time-consuming and it is very safe!
More info: Here
22. Koi Pond Fire Pit Design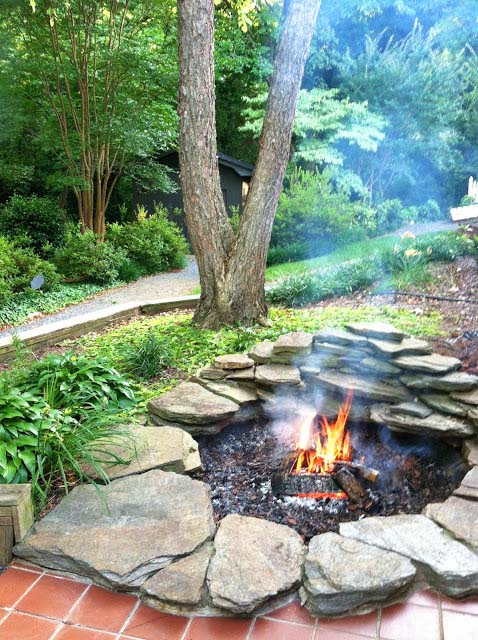 Photo:Credit
I find this design truly inspiring! It makes your imagination racing.
This is an old Koi pond transformed into an in-ground stoned fire pit. All you need is just a bunch of flat stones and some free time. It's a traditional wood-burning fire pit that you can make in your backyard.
More info: Here
23. Colorful Mosaic Fire Pit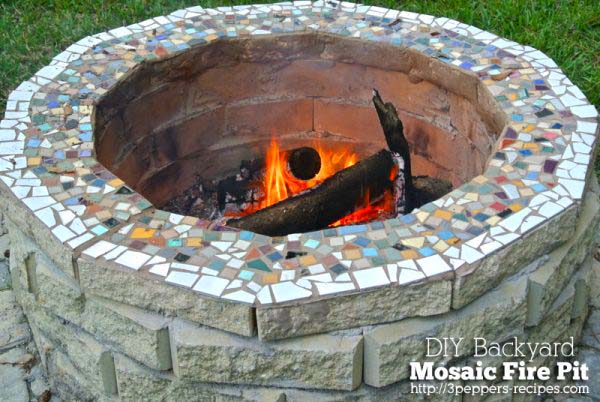 The colorful tiles put a strong accent on the whole design of the garden.
This above-ground fire pit idea may take more time but the result would not make you regret it.
More info: Here
24. Another Patio Fire Pit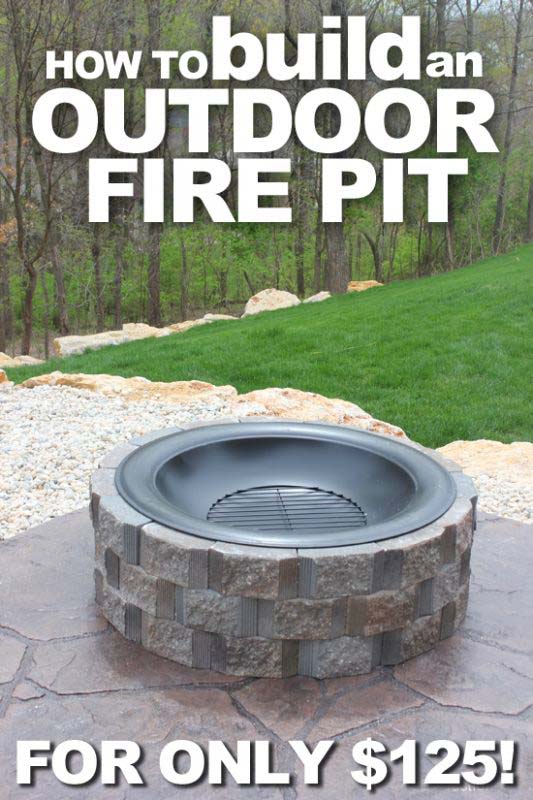 Photo:Credit
If your patio is not spacious enough, this may be the best option for the fire pit. But it doesn't just save you space – it is also very cheap (less than $130).
It is made of a black steel fire bowl and some stones that add more character.
More info: Here
25. DIY Fire Pit Table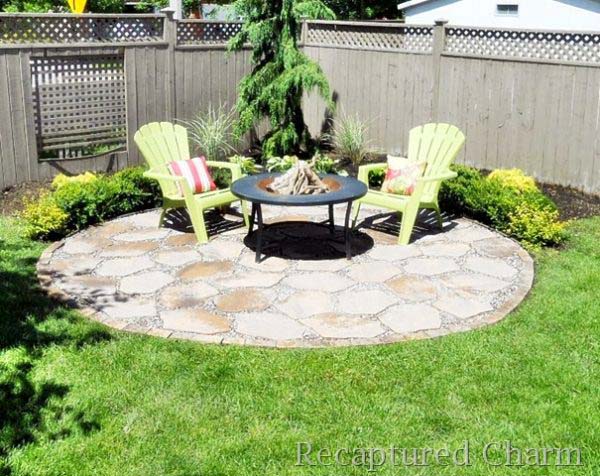 Photo:Credit
This lovely and unique table fire pit with 12 feet diameter might be the best companion for your patio. I love this idea – it is a great spot to gather with friends and family on chilly nights.
The pit will warm you up and you can leave your glass of wine on it. It's a metal fire pit.
More info: Here
26. Simple Brick Fire Pit For A Rustic Look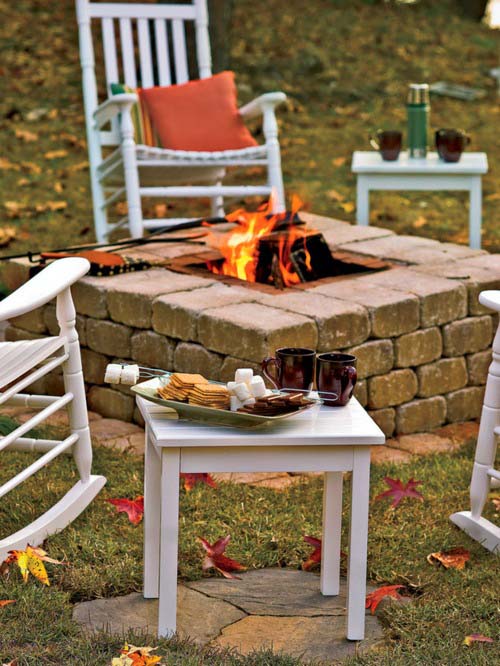 Photo:Credit
The main reason to add this lovely outdoor design to my fire pit ideas DIY list is because I find it quite universal (of course, it won't fit well in a modern home!).
You can use stoned paver, bricks, or concrete blocks (it depends on the look you want to bring).
More info: Here
27. The Backyard Stone Fire Pit Project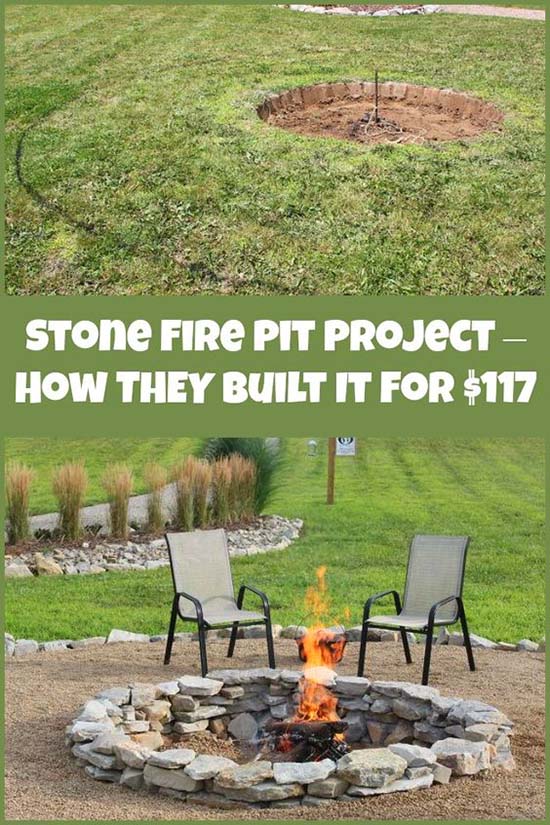 Photo:Credit
This basic stone fire pit is created to fit the existing rocky landscape. It could be a great space to gather 10 to 15 friends and family members around and enjoy the juicy barbecue. The most exciting about this design is the price – it costs about $110! Unbelievable!
More info: Here
28. Keep It Simple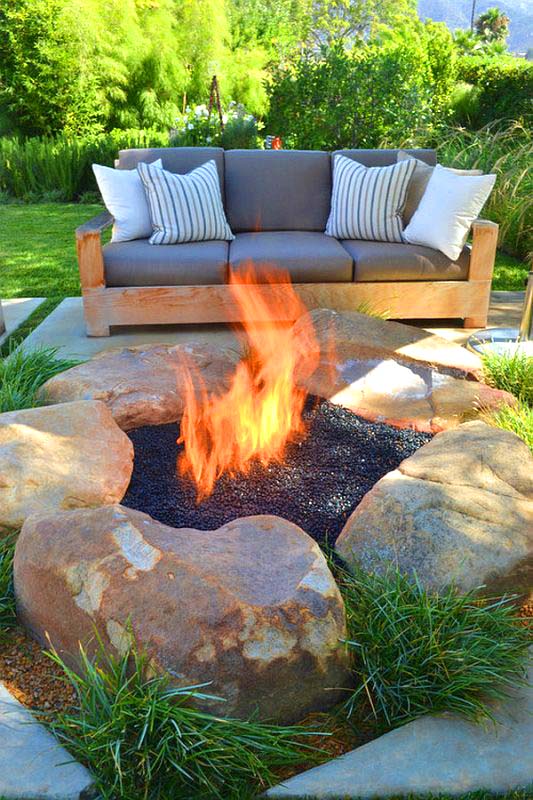 This backyard fire pit is basically made of five large rocks and some dirt. It goes somewhere between the contemporary and the rustic style. I love it!
Tip: It can be a bit pricey due to the price of this type of big rock. Do some research and try to find a cheaper alternative. 
More info: Here
29. Circular Stone Pit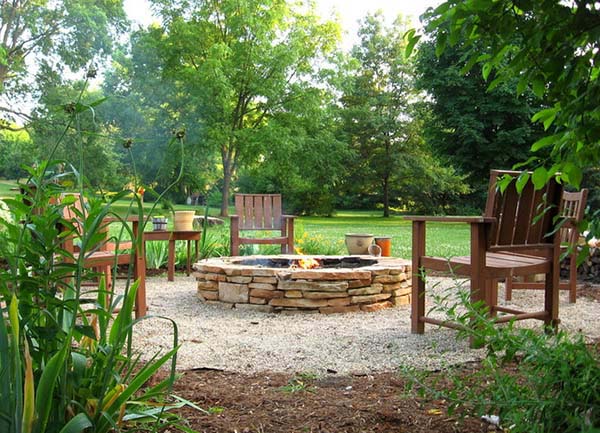 I decided to include this design even though the price to build it could go up to $500 ( keep in mind that those flat stones are not really cheap).
In the end, If you still want to build this pit in your garden, here is a detailed list of the materials you'll need:
4 bags of concrete
Sandy flagstones – 1,600 pounds
About 50 fire bricks (can be old ones)
More info: Here
30. Outdoor Fireplace With Bench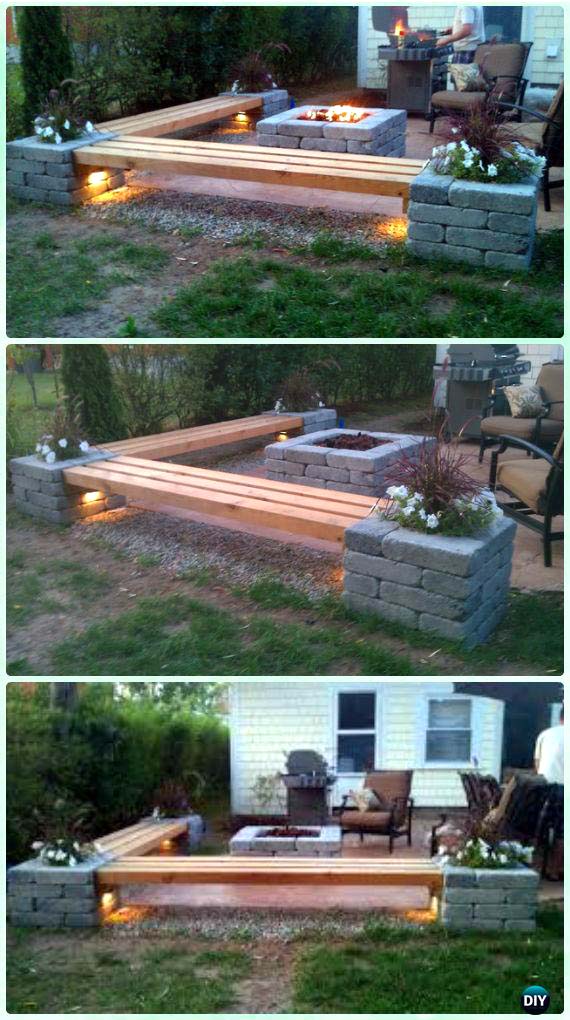 This design shows the charming rural idyll – crafted wooden benches, propane fire pit, romantic lighting… what else would you need?
More info: Here
31. Another Simple Circular Pit Design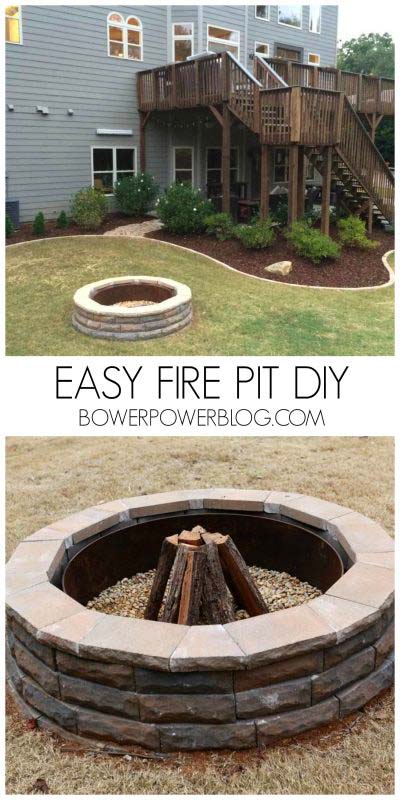 Photo:Credit
Here is something basic, functional and, yet, amazing! Think of a spot where you can build it and… start digging!  🙂
More info: Here
32. Stacked Flat Stones Fire Pit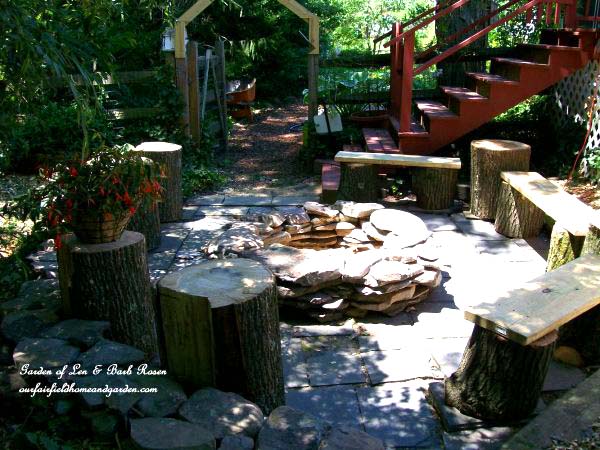 If you are not very tight on the budget, by any chance, you should definitely go for the flat stones. They are usually more expensive but the atmosphere they bring to the whole landscaping is priceless!
I would add this to my list with backyard fire pit ideas, however, it could easily fit the patio as well.
More info: Here
33. The Fire Pit As Part Of The Whole Scenario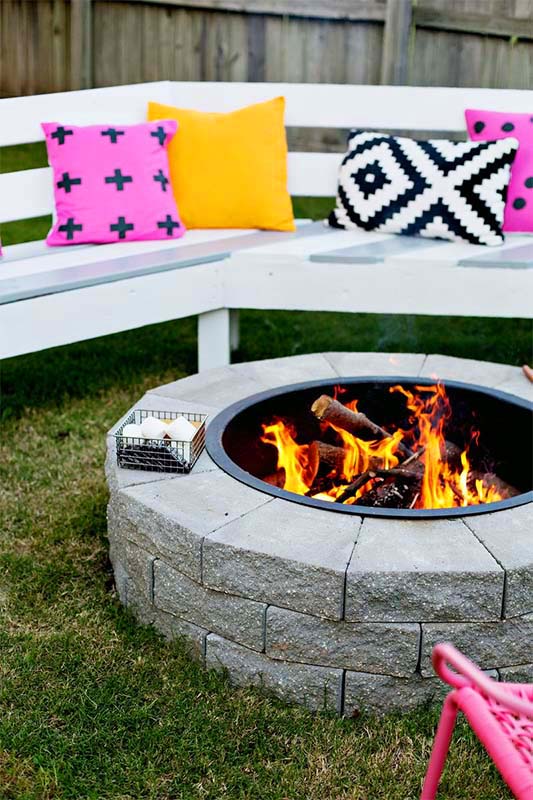 Photo:Credit
I believe the pit is as important as the garden furniture, the flower beds and the rest of the accessories.
Check how this amazing stoned fire pit suit to the white bench and the colorful vintage pillows.
More info: Here
34. Modern Fire Pit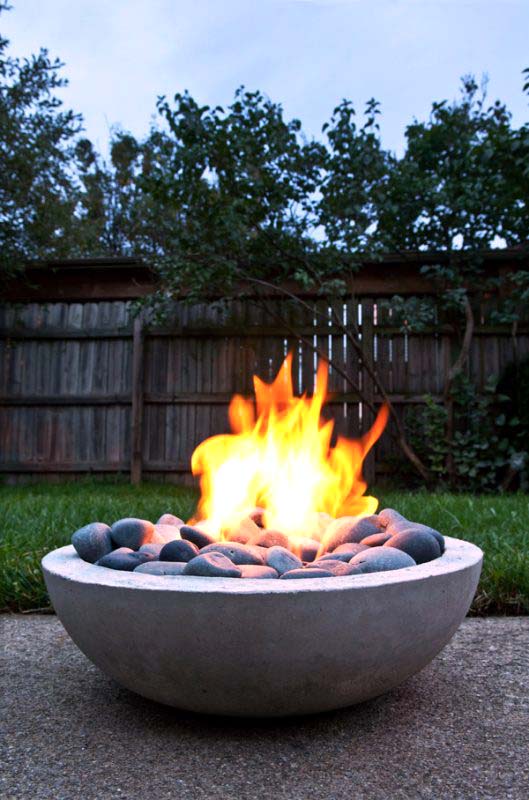 Photo:Credit
To be honest, I left this one for the end but it is actually my favorite one. I love the shape, the size, the stones, and how contemporarily it looks thanks to the concrete material. How could you not love it?
If you are looking for something modern and trendy – you should definitely go for this one.
More info: Here
35. Stone Fire Pit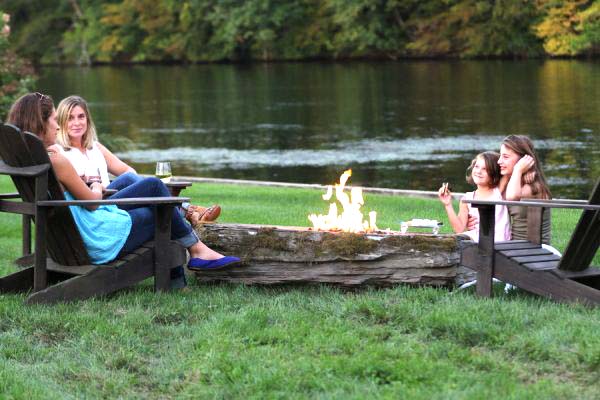 Photo:Credit
In the end, this simple but incredible fire pit made from natural stone is ideal for any outdoor living space.
However, it could be a bit more expensive due to the pricey stones. The good thing is that this design could be easily integrated into the whole landscaping. Just remember – simplicity is the key to brilliance!  🙂
More info: Here
36. Square DIY Fire Pit Design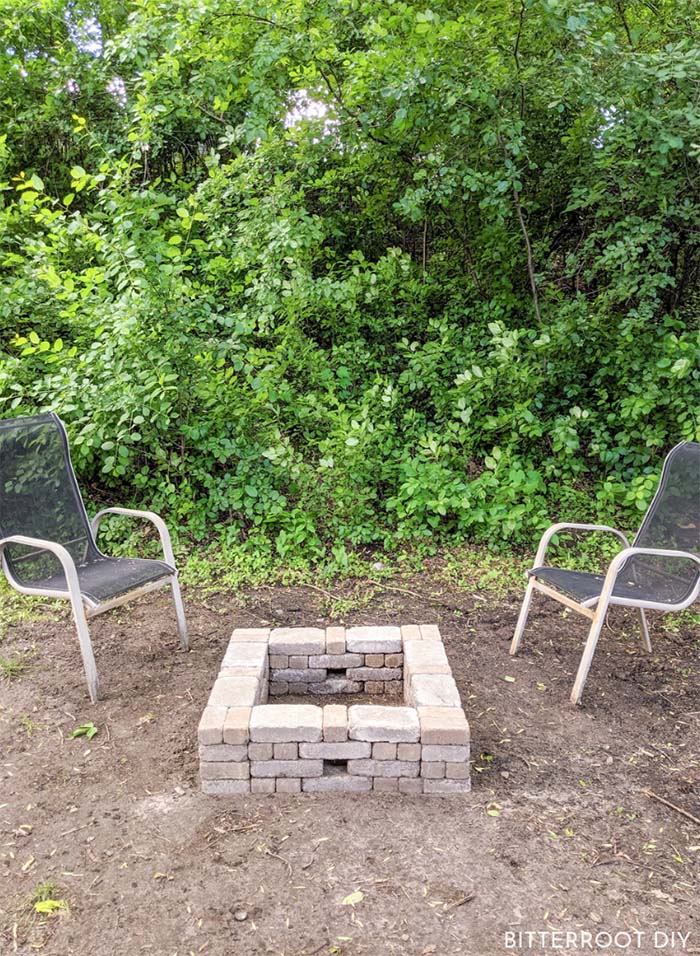 If you are looking for a simple DIY firepit to spruce up your outdoor space this one is really easy to do in just a day.
You can add one Adirondack chair on each side and enjoy cooler evenings with your beloved one or best friend.
via Bitter Root DIY
37. Homemade Fire Pit From Leftover Bricks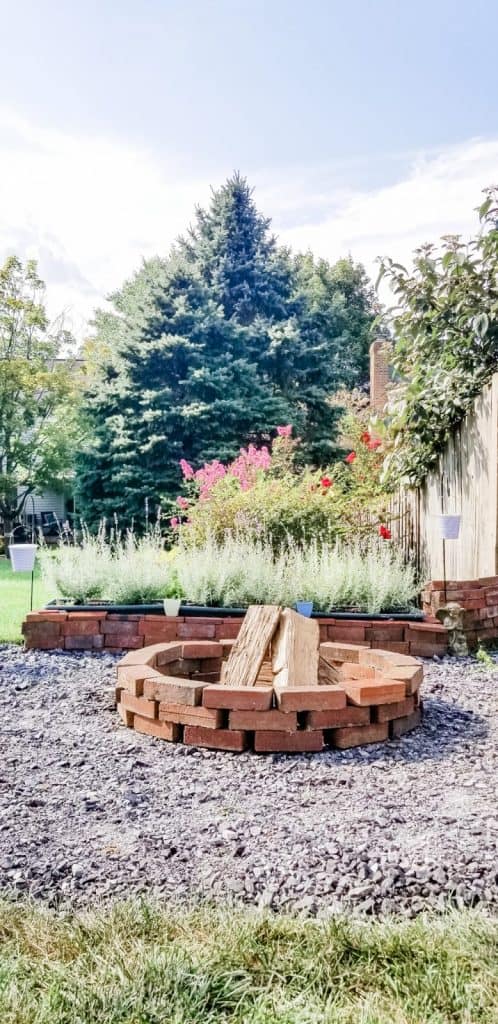 If you are wondering what can you do with leftover bricks we have one really simple and easy idea – a DIY brick fire pit. It is one of the easiest on this list as you only need bricks, glue, pea gravel and a tape measure.
I bet it won't take you more than an hour to build this wood burning fire pit and enjoy it with your family.
via Hammers and Hugs
Don't forget to PIN this image for later.