Continuing the topic about the general cleaning and tidying of our homes, we have realized that organization and optimized space usage are intrinsically linked.
Whether you live in a small apartment or a spacious house, there is always a need for some more square meters.
Unfortunately, this is not possible so we need to think of ways to take maximum advantage of the available floorage.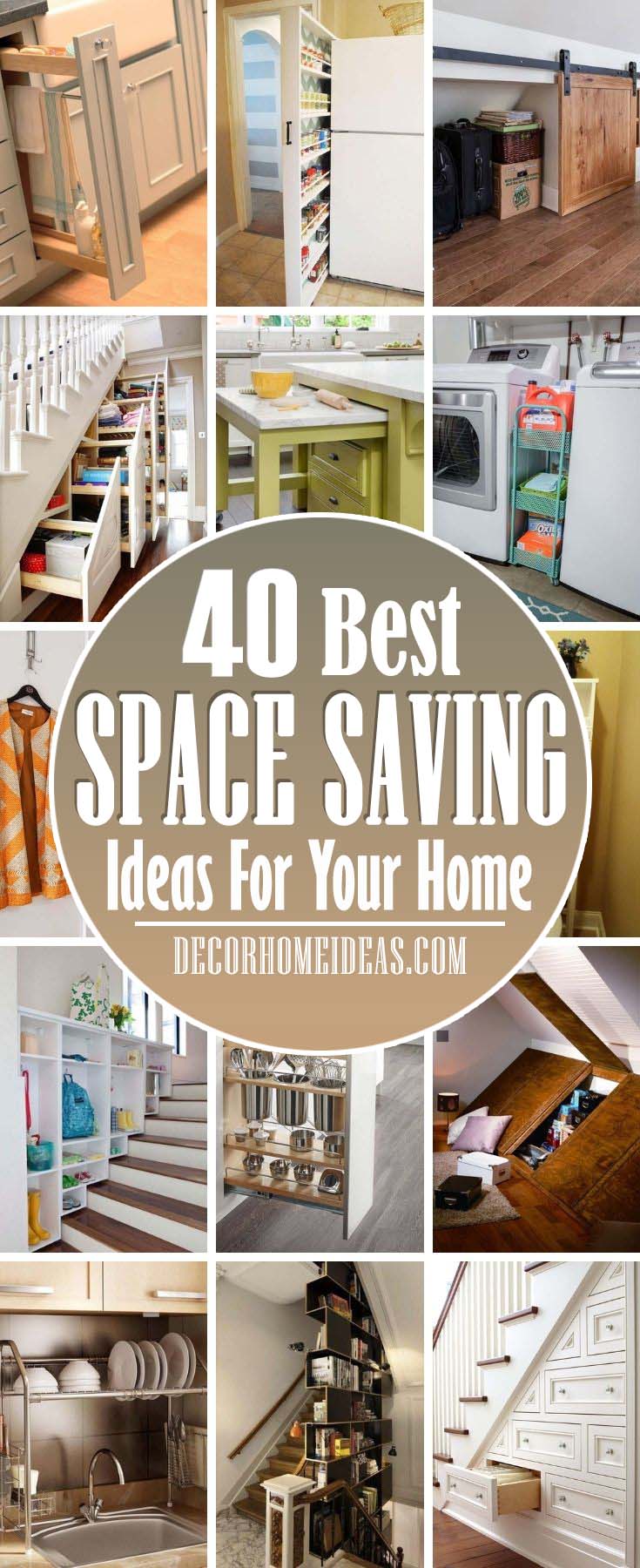 This is where the organization hacks, tips and ideas come in help.
If you are wondering how to organize your home without taking any further from the floor space, you are in the right place.
1. Maximize Cabinet Space with a Repurposed Magazine Holder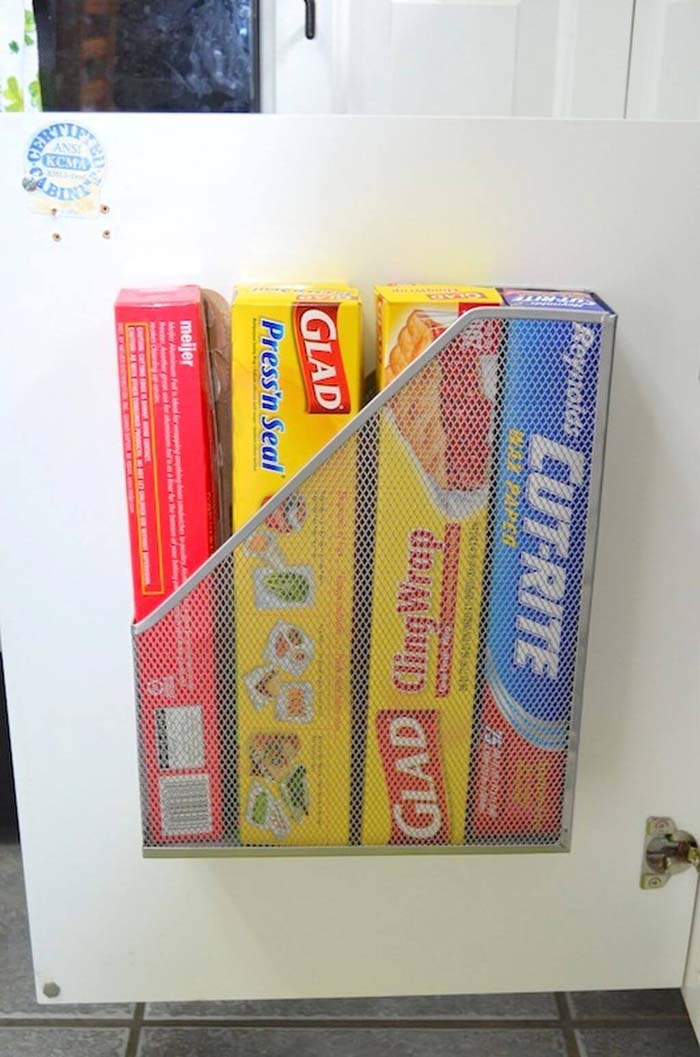 The Dollar Store is a source of affordable and original storage products.
Repurposing a magazine holder could do a miracle in the kitchen organization.
Fix it to the internal surface of a cabinet door and use it to store the baking paper, wax paper etc.
2. Add Extra Dish Storage with Shelving Baskets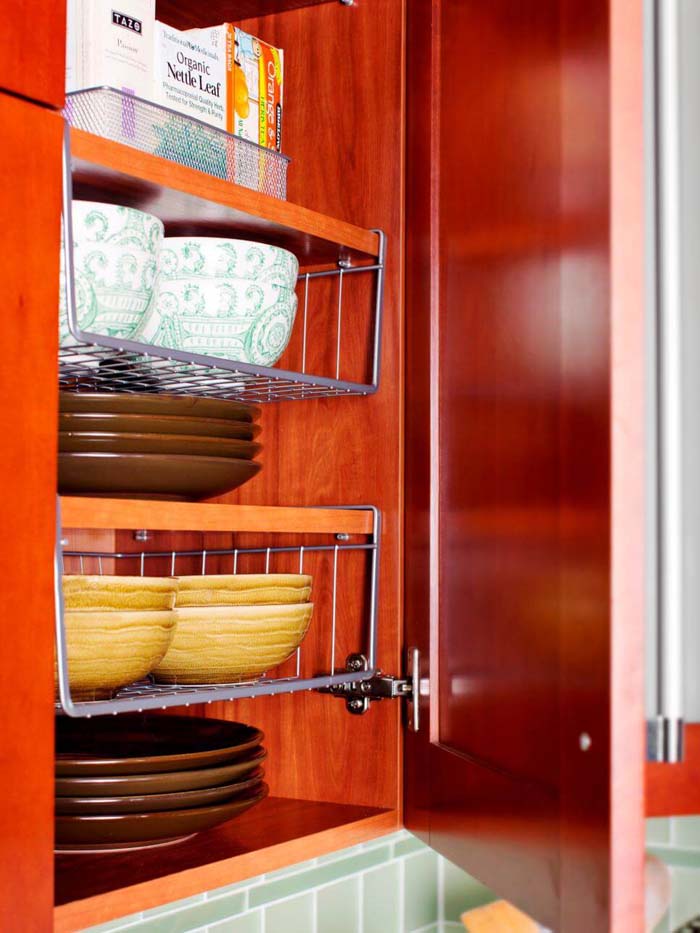 These baskets are a means to add shelving for dish storage in the cabinets saving you from the mess of the special carpentry services.
They are attached to an existing shelf, providing leveled and rigid surfaces for storage.
via DIY Network
3. Maximize Storage Space with Pull-Out Storage Solutions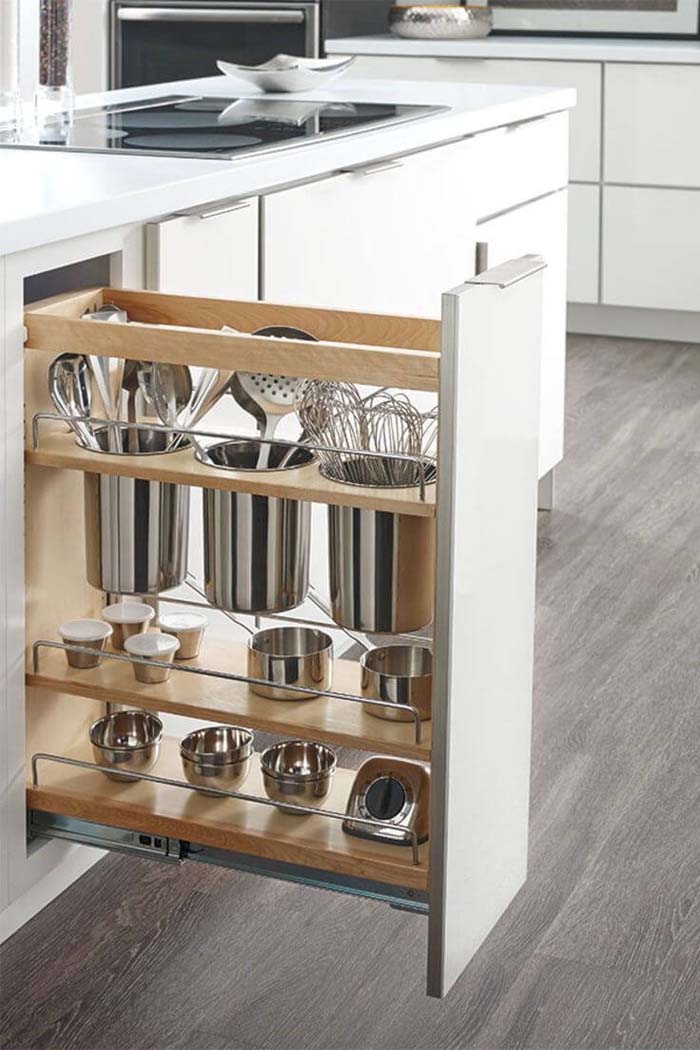 Pull-out mechanisms make the usage of the smallest space possible.
Such narrow drawers can actually be irreplaceable utensil storage or herb organizer. The open sides allow easy access to all levels.
4. Creatively Utilize Awkward Angles in Your Home with Furniture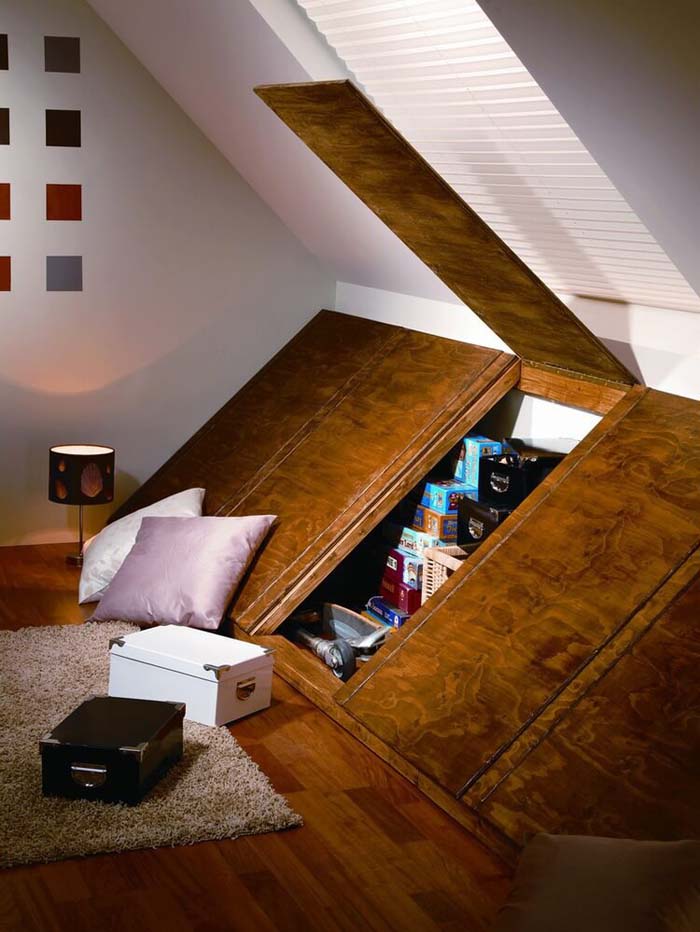 The awkward angles in your home may look totally unfunctional.
Actually, this disadvantage quickly becomes an advantage with the help of some wood material.
Use the wall shortened by the inclined ceiling to build an interesting and pretty wide cabinet.
via Hornbach
5. Increase Storage Space in a Room with a Small DIY Sofa Table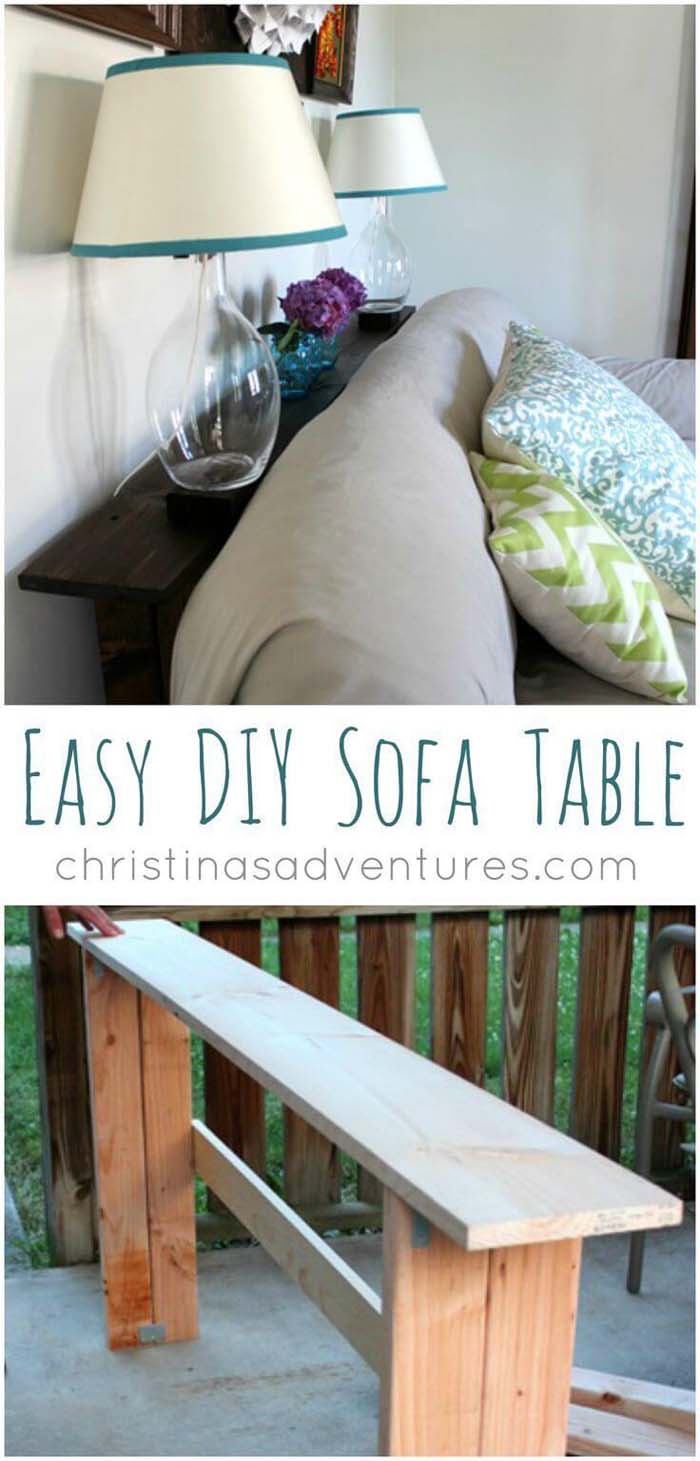 This simple project has a great impact and increases storage options in a small living room.
Made of wood boards and brackets, it stays right behind the sofa to hold the reading lamps, some books, your drinks while staying on the couch.
6. Add Life to Small Kitchens with Window Shelf Planters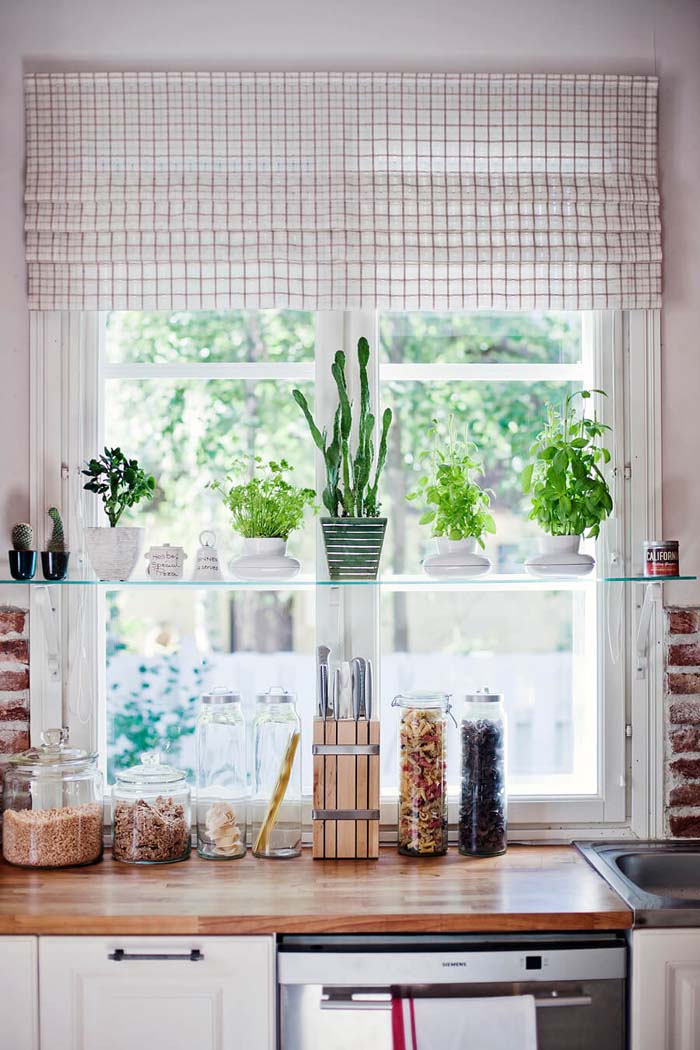 Even the smallest kitchen can be decorated with alive plants. Make a shelf from wood or glass and fix it to brackets placed in the middle of the window frame.
The plants will make the space cozier and welcoming and won't take any of the valuable surfaces related to the kitchen activities.
via Elle
7. Transform Understairs Area into Practical Storage Solution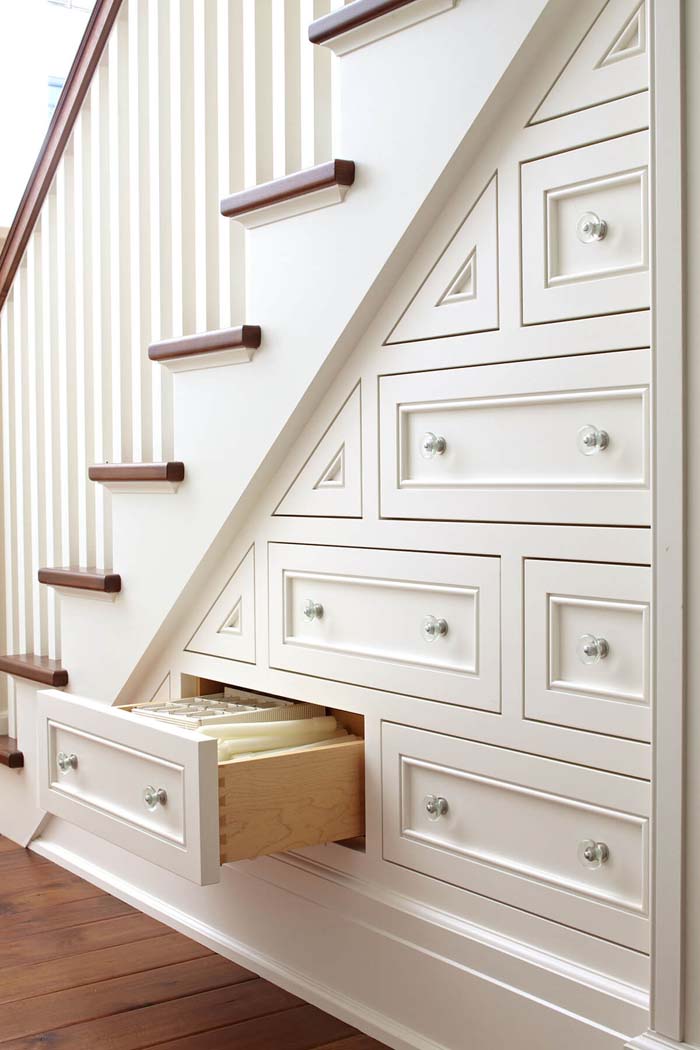 You will be surprised how big the space under the staircase is. You can make it an irreplaceable storage area with drawers or cabinets.
There are even ways to turn it into a functional closet.
via One Kindesign
8. Modify Unused Kitchen Cabinets into Functional Storage Space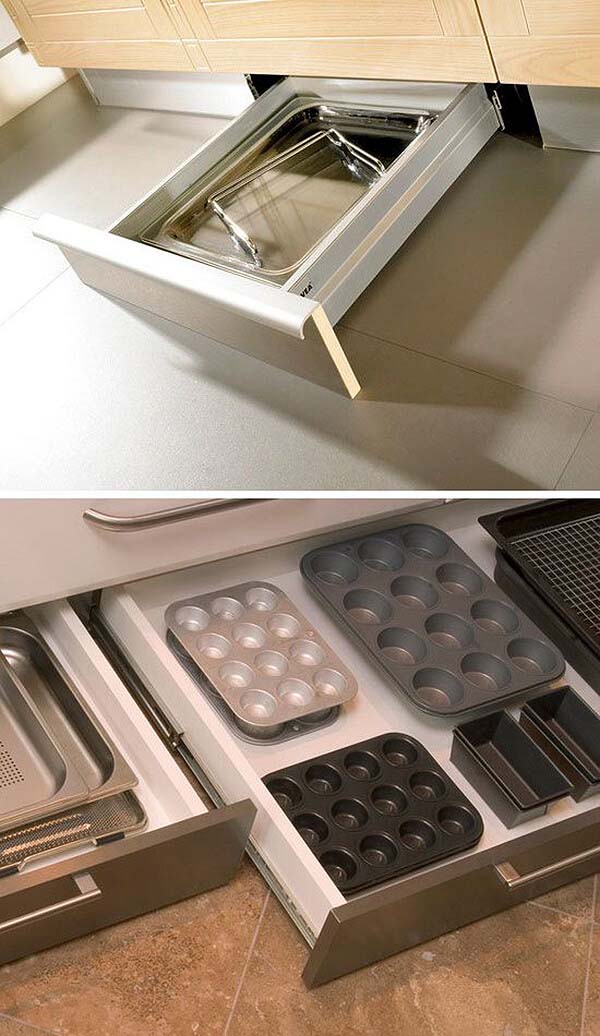 The unused and unfinished base of the kitchen cabinet can be turned into a practical storage area.
The toe kick mechanisms ease the opening of the drawers which can store tools and utensils you don't use that frequently.
via Houzz
9. Maximize Bathroom Space with a Tall Cabinet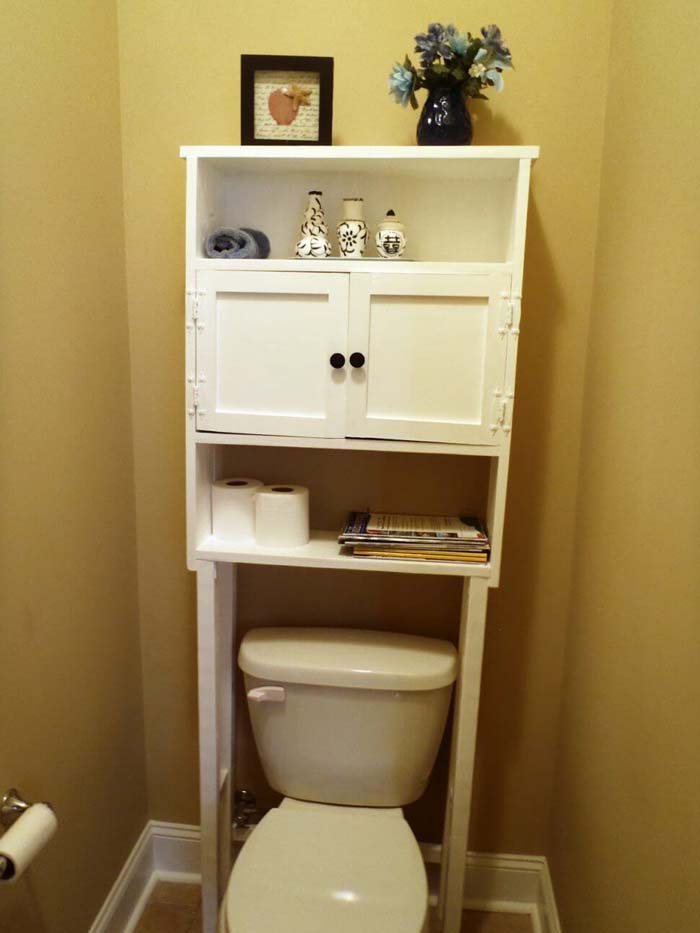 When the bathroom is small, you feel like there isn't many or even any furniture that could take up the standard consumables and accessories.
Such a high vertical cabinet will solve that problem and will also function as a display for decorative elements.
10. Customized Cubes for Bedroom Jewelry Storage Solutions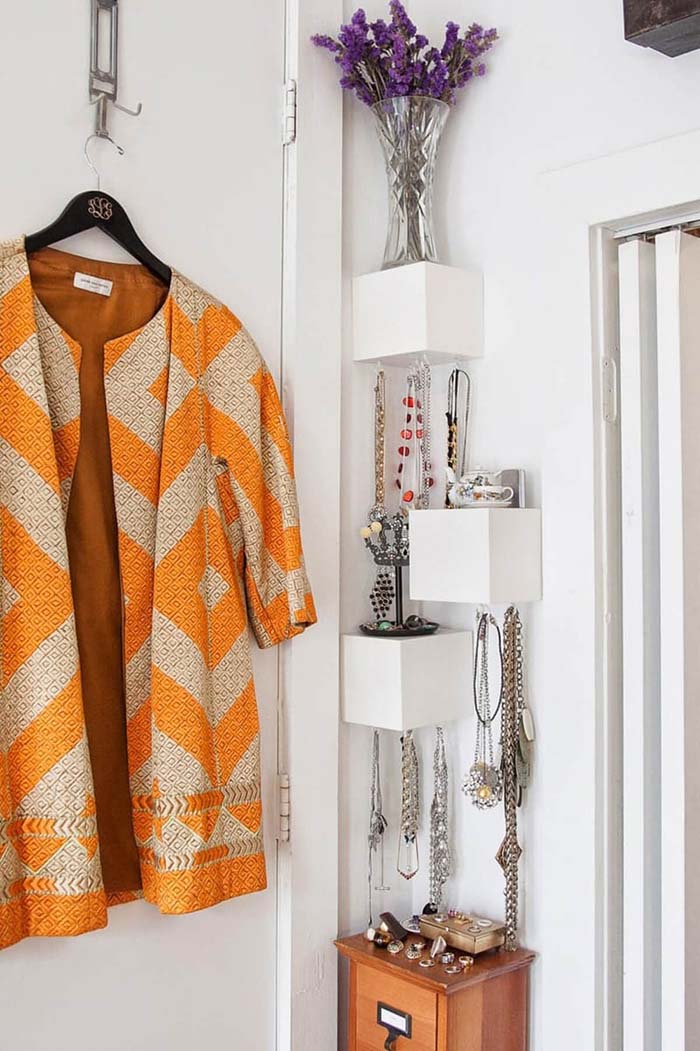 These customized cubes fit tightly into a small corner in the bedroom to provide a place for jewelry in cases where the vanity will take up too much from the floor space.
They can be of a size, material and color that best suits your bedroom decor.
via Refinery 29
11. Affordable Dollar Store Bathroom Organization Project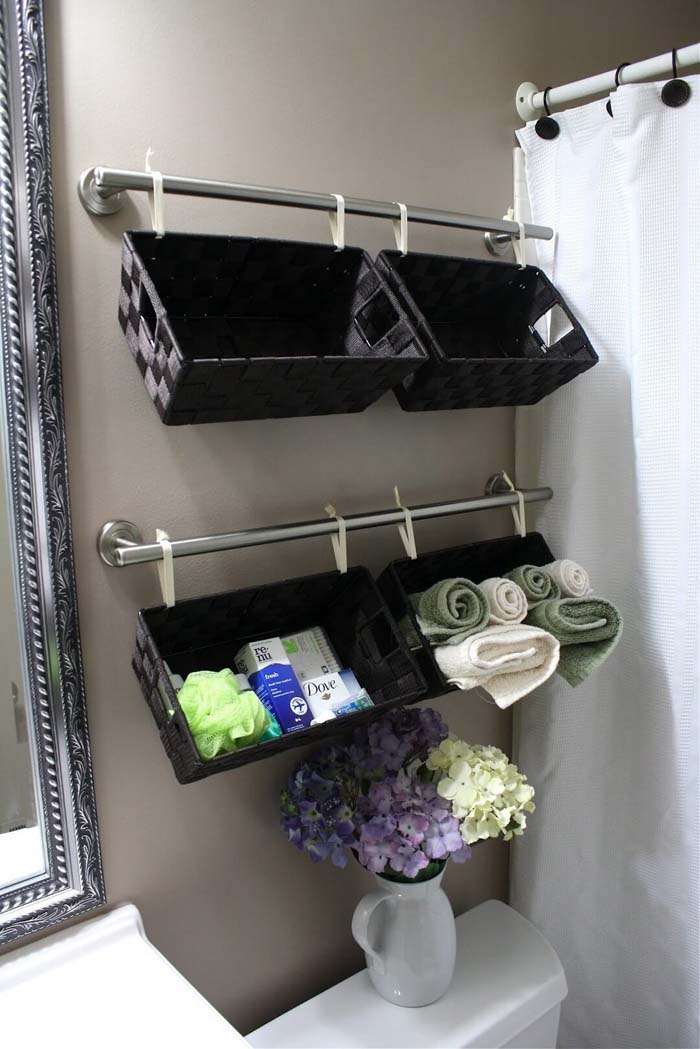 Are you looking for an affordable and easy project for a bathroom organization? This one is for you.
Although the supplies are from the Dollar Store, its finish and layout look like a designer's touch.
via Simply DIY 2
12. Utilize Gift-Wrapping Storage with an Over-the-Door Organizer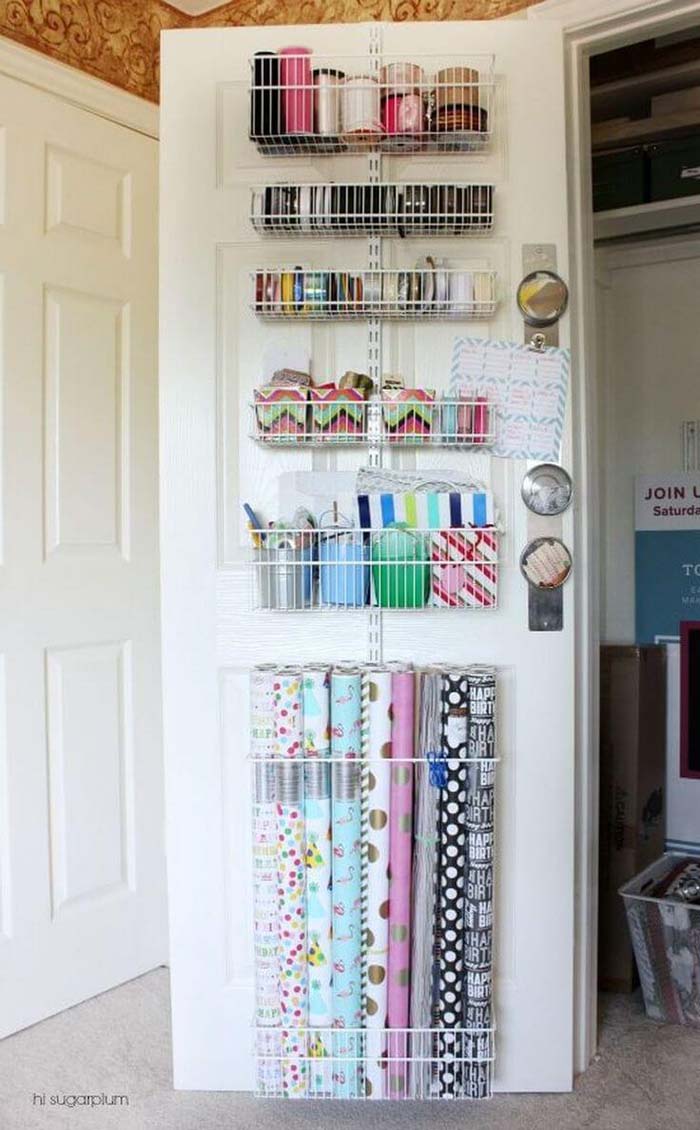 Another idea, inspired by the ultimate repurposing of Dollar Store products, lets you organize the gift supplies in a neat and space-saving way.
An over-the-door organizer lets you adjust the height of the shelves so that even the tallest paper rolls are stored properly.
via Hi Sugar Plum
13. Install Over-the-Sink Drying Racks in Small Kitchens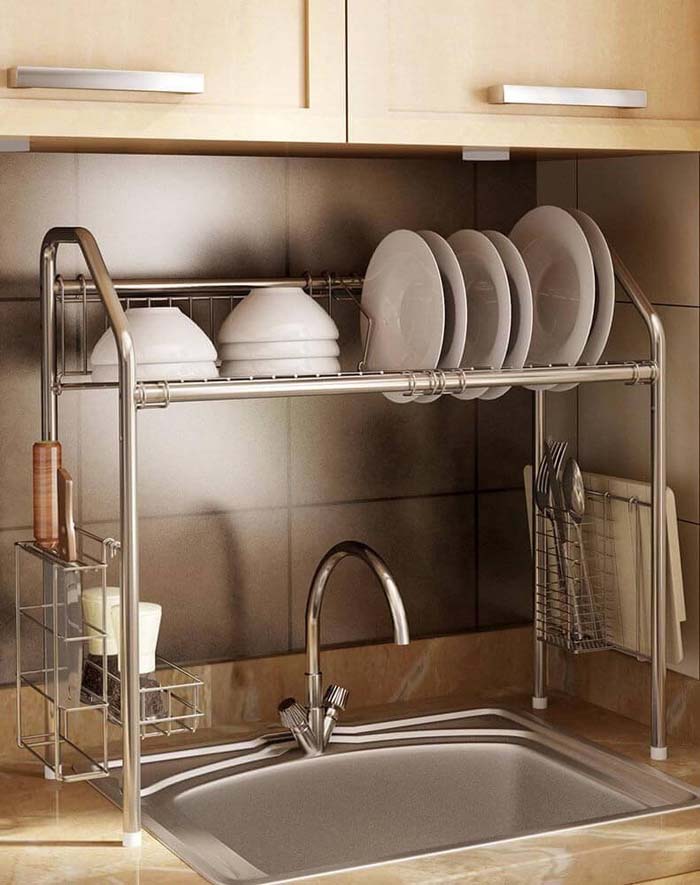 The over-the-sink drying racks have become very popular recently. Their advantage comes with the place for installation- right over the sink.
The excess water drops directly into the sink so a drip tray that requires regular cleaning is not needed.
Furthermore, the rack doesn't cover any from the countertop surface and that makes it suitable for small kitchens.
via Amazon
14. Maximize Space with Built-In Shelves for Shoes and Clothes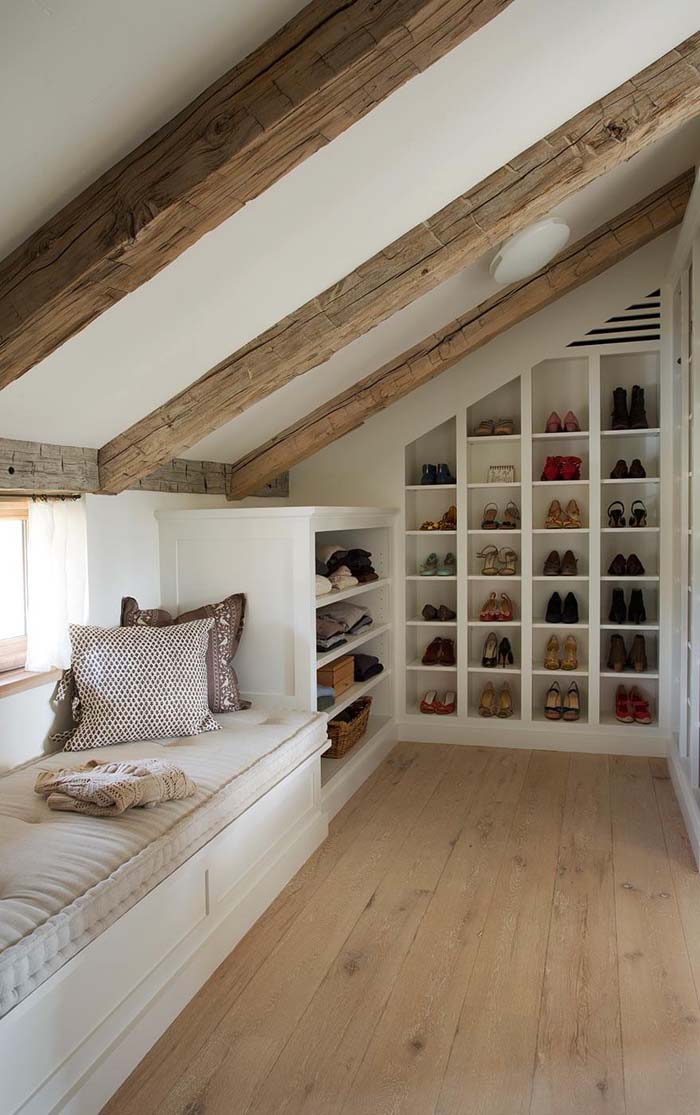 Utilize the entire height of the walls for built-in shelves. Depending on their design, they can accommodate your entire shoe collection or clothes.
If the room is small, the open concept may be more feasible because it will give visual depth to the space.
via Lonny
15. Create a Practical Closet under the Stairs with Shelves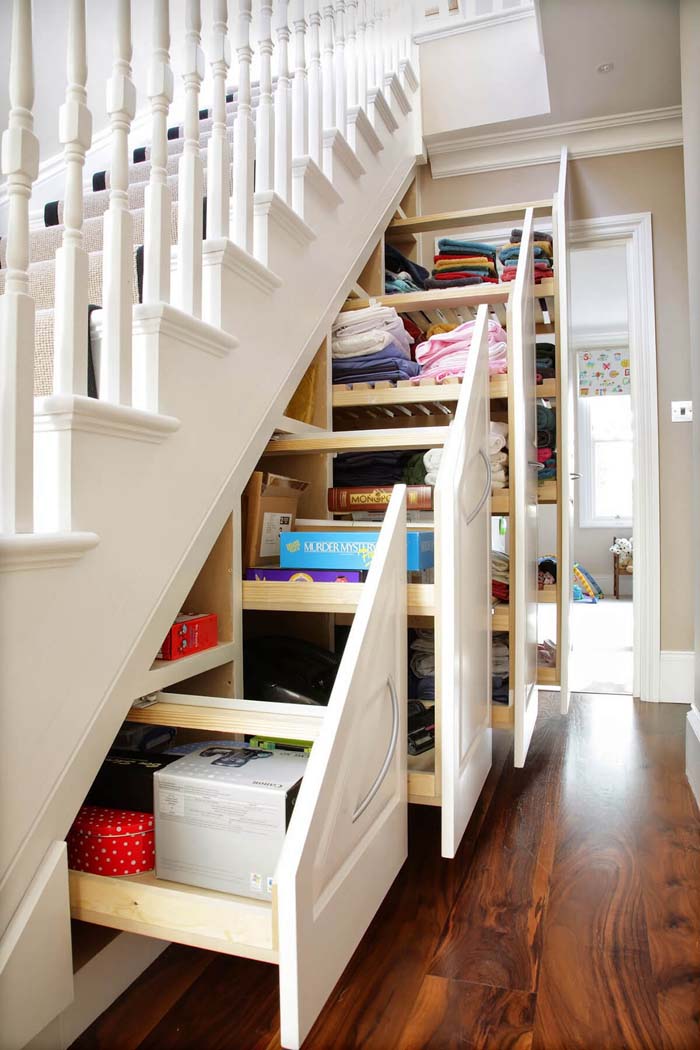 When the space under the staircase will serve as a pseudo-closet, then it needs to go for larger drawers.
Equip them with shelves at different levels so that all sizes and types of items fit in there.
16. Modern Makeup Storage Solution With Copper Tumblers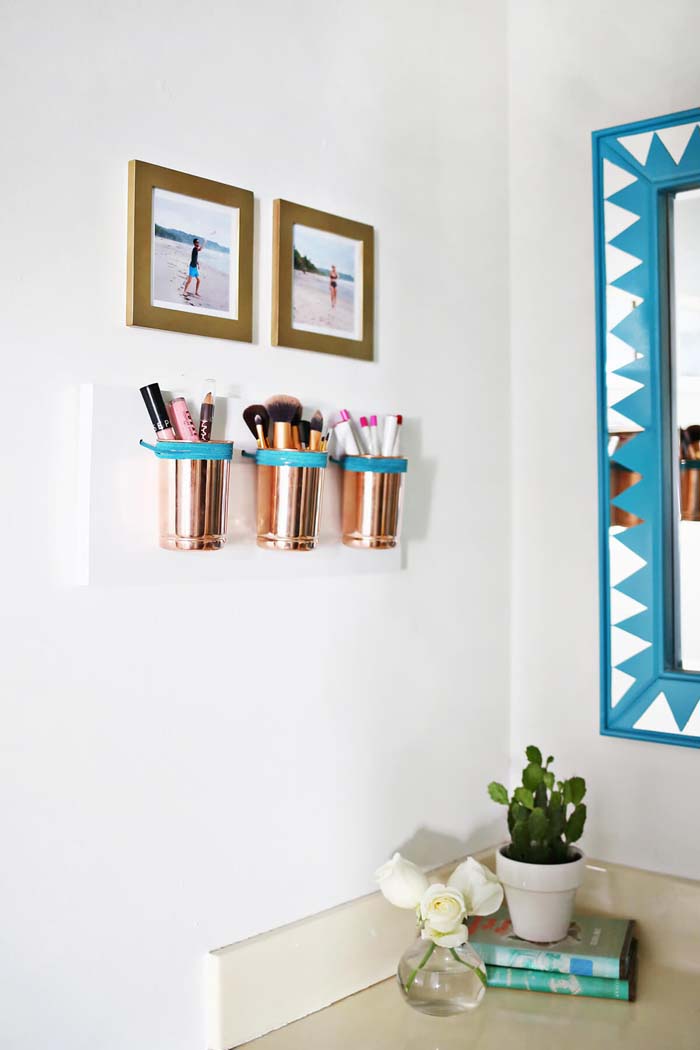 This idea for storage of everyday makeup accessories considers not only the practical side of the holder but also its aesthetical modern look.
If you like how it turned out, prepare a few copper tumblers, a wood board and leather lace.
via A Beautiful Mess
17. Elegant Checkmate Bookcase for Books and Media Storage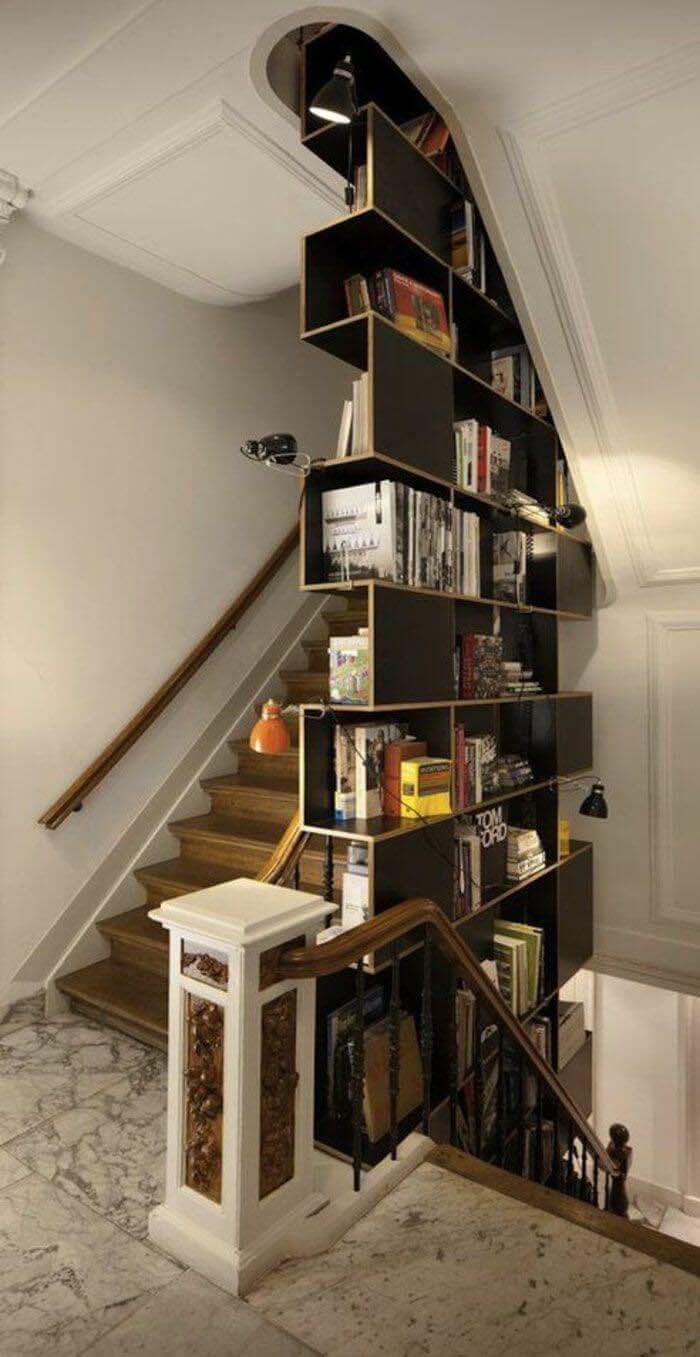 This bookcase serves not only as a storage place for books and media but also as a definer of the space.
Its interesting design offers open squares in a checkmate pattern that will attract the sight and will take up a big part of your book collection.
via Archzine FR
18. Compact Folding Wall Desk Ideal for Small Spaces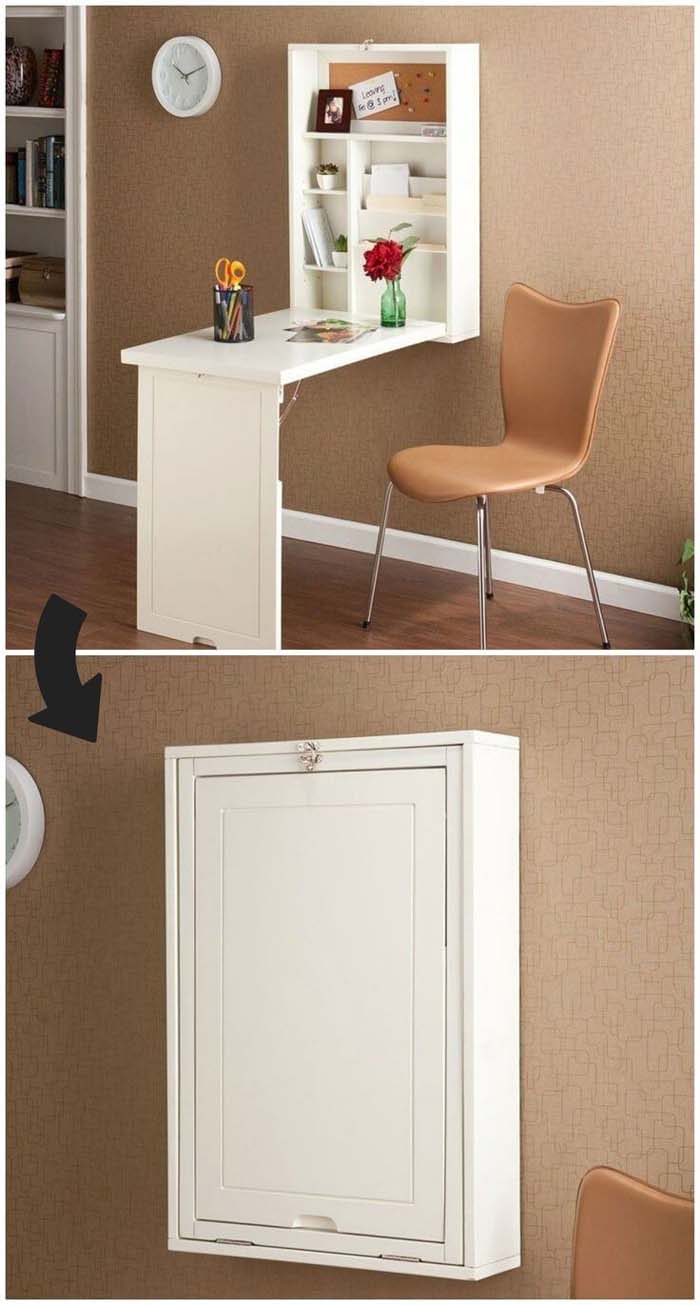 This folding-down desk is a practical piece of furniture for small apartments or for a kids' room.
Looking as a mounted to the wall 3×2 cabinet, it is neat and tight when folded.
via Amazon
19. Achieve a Sleek and Dust-Free Kitchen with Closed Cabinets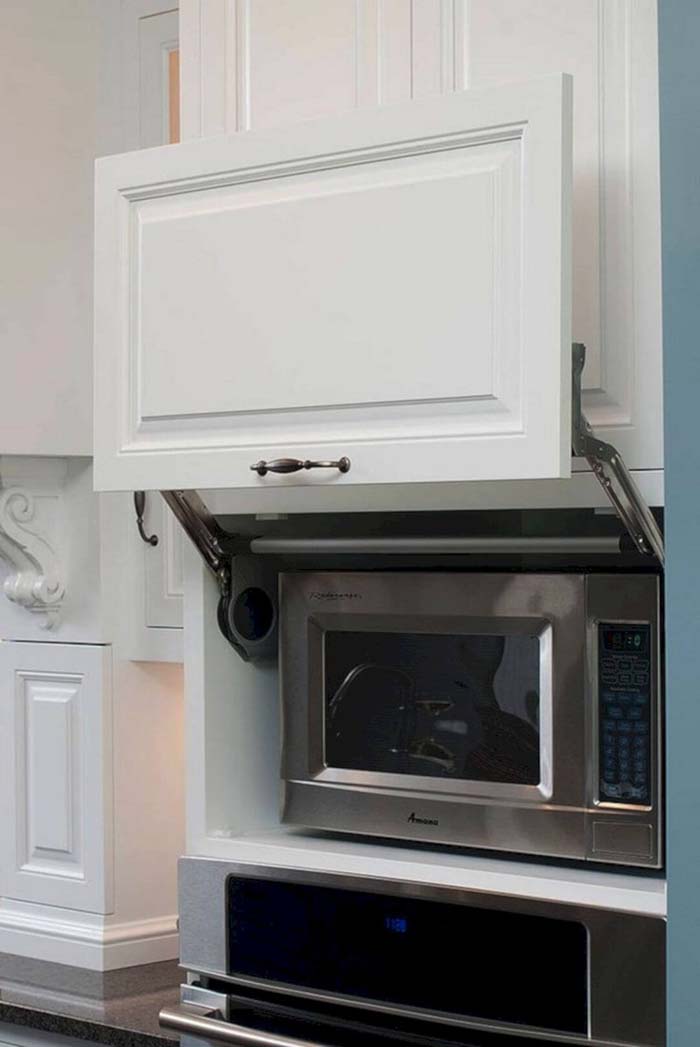 The closed cabinets are the best design for the kitchen because they ensure free of dust and neat storage of appliances.
The microwave is usually placed in a niche in the kitchen. If you would like to create a continuous line between the cabinetry and the niche, close it with a door of the same design.
20. Build a Canned Food Organizer in a Small Kitchen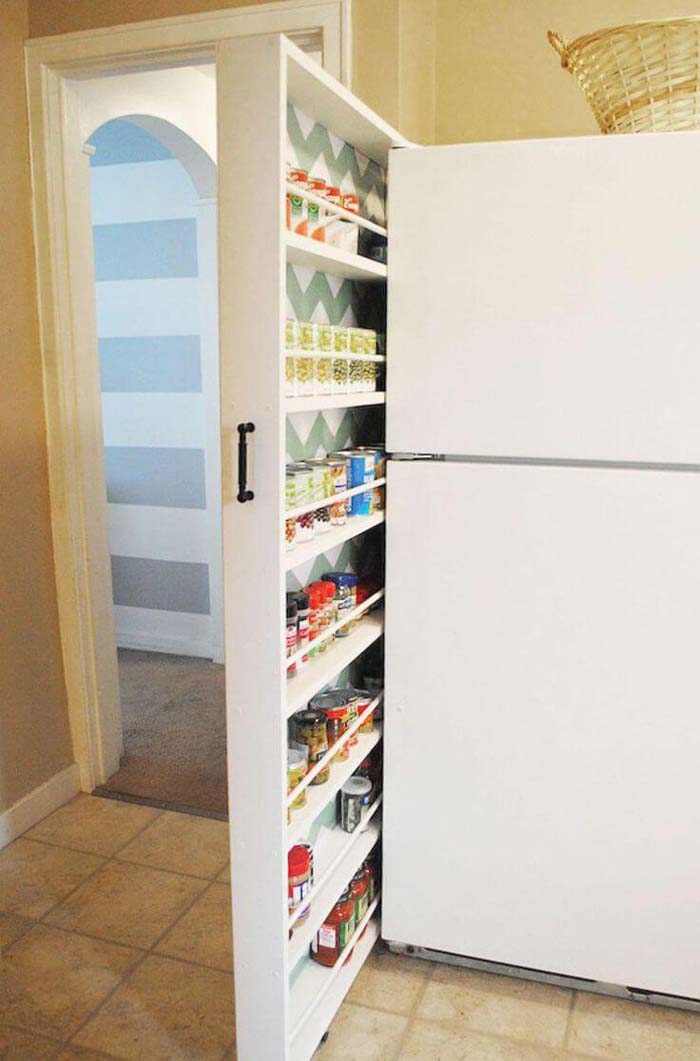 Maximize the empty space in the kitchen by building your own canned food organizer!
Although it looks very narrow, it uses the depth between the edge of the refrigerator and the wall so basically, its storage properties are quite good.
It will solve the dilemma with the small kitchen organization and the lack of a pantry thanks to the 7 shelves.
via Classy Clutter
21. Create Slim Shelves to Store Cosmetic Products on Your Wall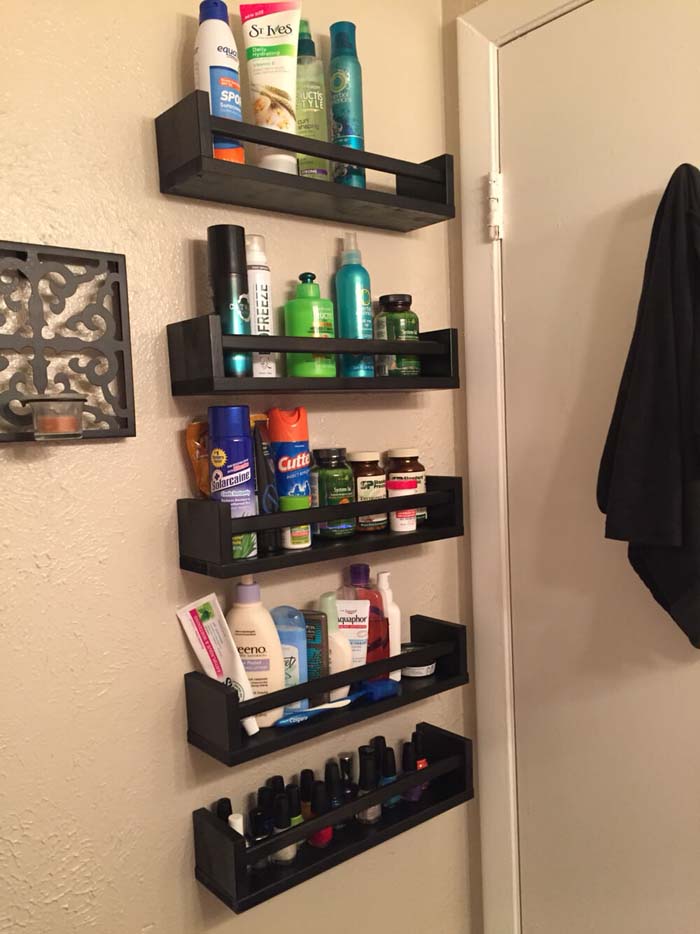 Use the wall behind the door for slim shelves.
Place them at different distances from each other to let them store cosmetic products of various sizes.
22. Smartly Utilize Small Corners with Shelving

This is another great idea of how to use a small corner smartly.
Whether in the living room or in a bedroom, the shelves can organize a book or magazine collection that will otherwise be piled up, creating a messy atmosphere.
via Kids Room Ideas
23. Creative Transformations of Unused Space Above Doors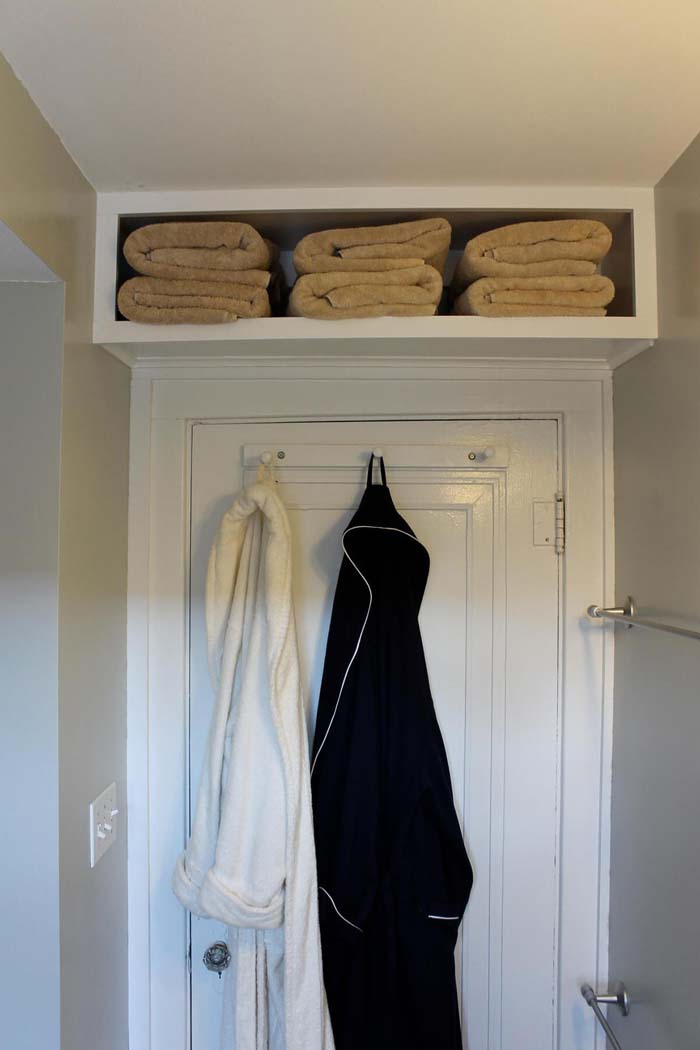 The space between the top of the door and the ceiling is usually empty.
It can be turned into a functional part of some rooms, the bathroom for example, by turning it into a storage space for towels.
via The 2 Seasons
24. Transform Your Closet Door into a Stylish Interior Showcase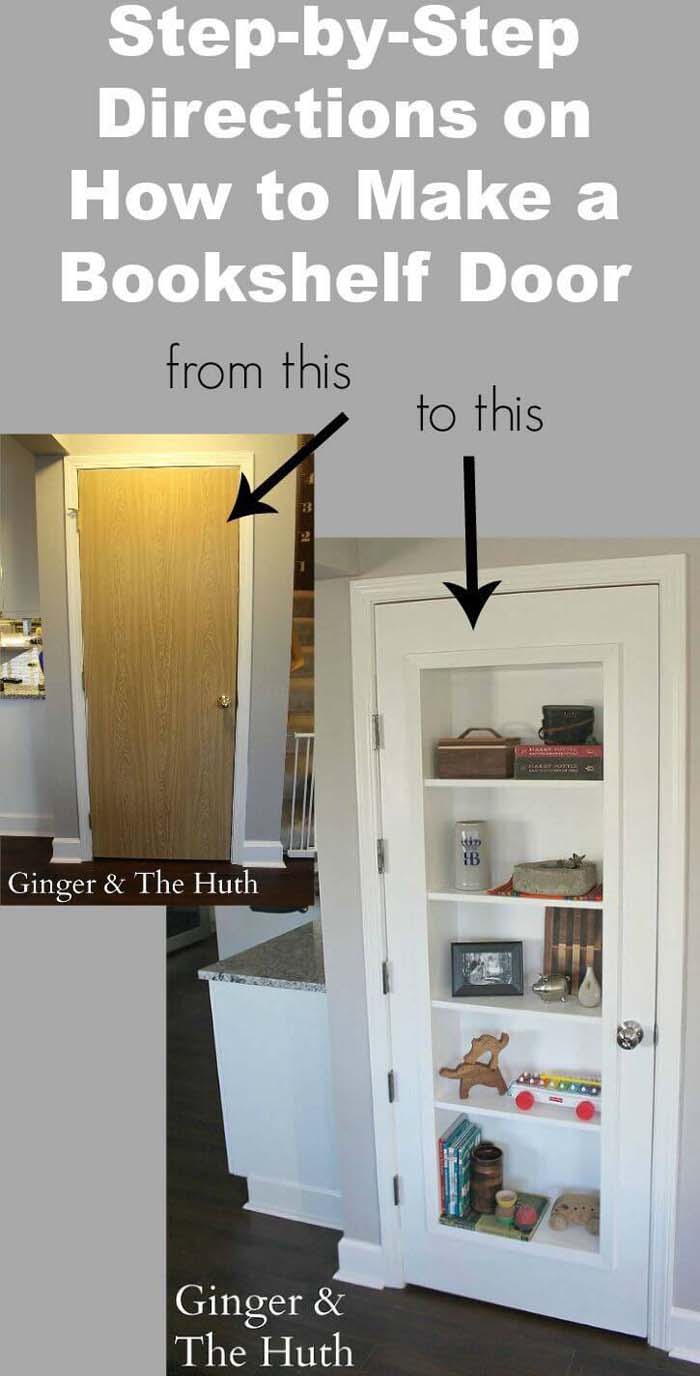 Make your closet door an impressive interior display. The depth of the shelves depends on the door frame, the closet space and the thickness of the door.
If you are inspired by this idea, get full instructions and a supply list on the link below.
via Hometalk
25. Utilize Staircase Space with Built-In Shelves for Storage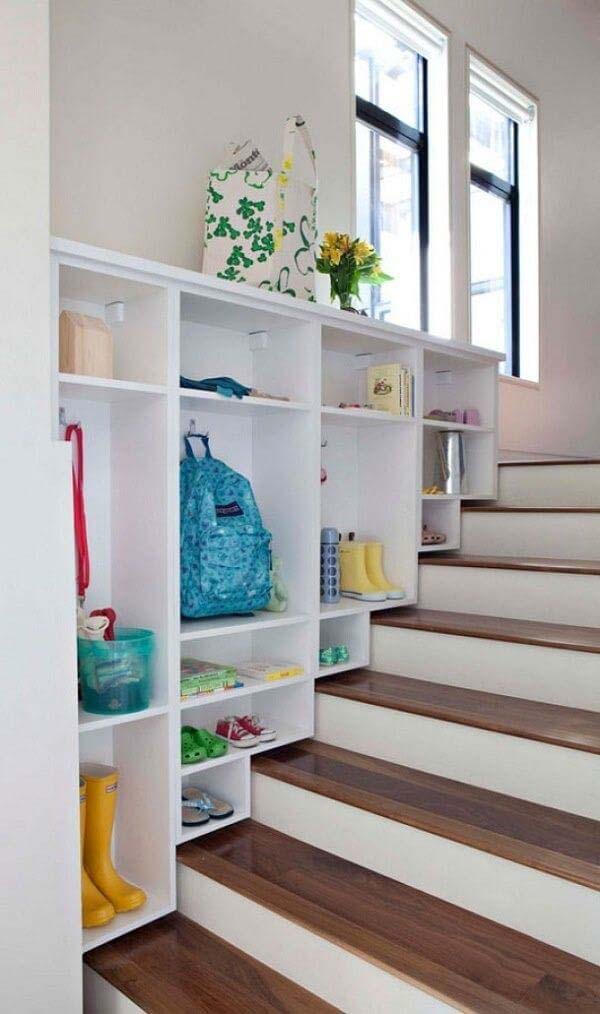 We have seen how the space under the staircase can become a valuable storage place.
The space along the staircase can also become a functional organizer with the help of built-in open cabinets.
via DO Architecture
26. Maximize Storage in Small Bathroom with a Niche and Shelves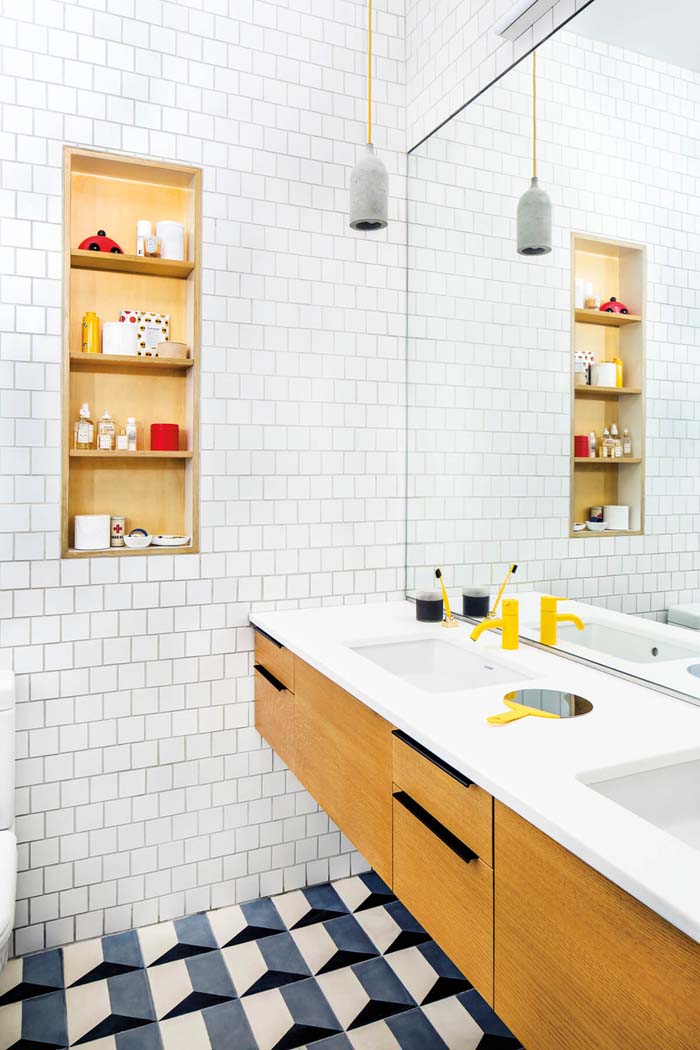 Before any room makeover, think about the potential storage places in it. Such that will not look overcrowded, that will ensure good storage conditions and will save space.
One of the best storage solutions for a bathroom is a niche with shelves in the wall.
via Domino
27. Make the Most of Kitchen Space with a Nesting Table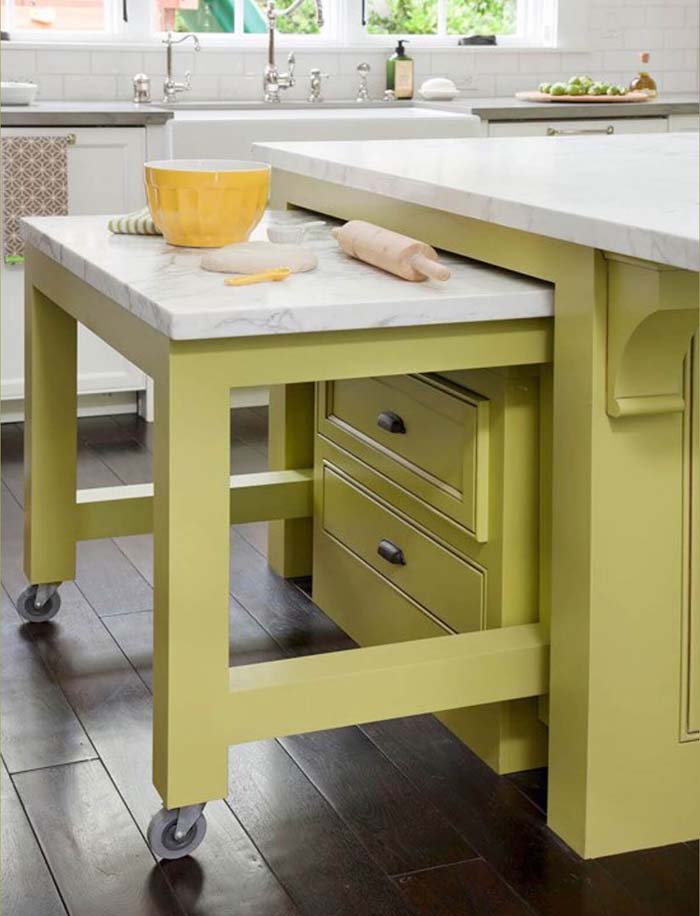 The islands in the kitchen are very contemporary and convenient furniture. However, they take up considerable floor space so any additional furniture usually makes the space look too overcrowded.
The nesting table comes in help when an additional surface is needed for the cooking activities.
28. Compact Space-Saving Rolled Dish Drying Station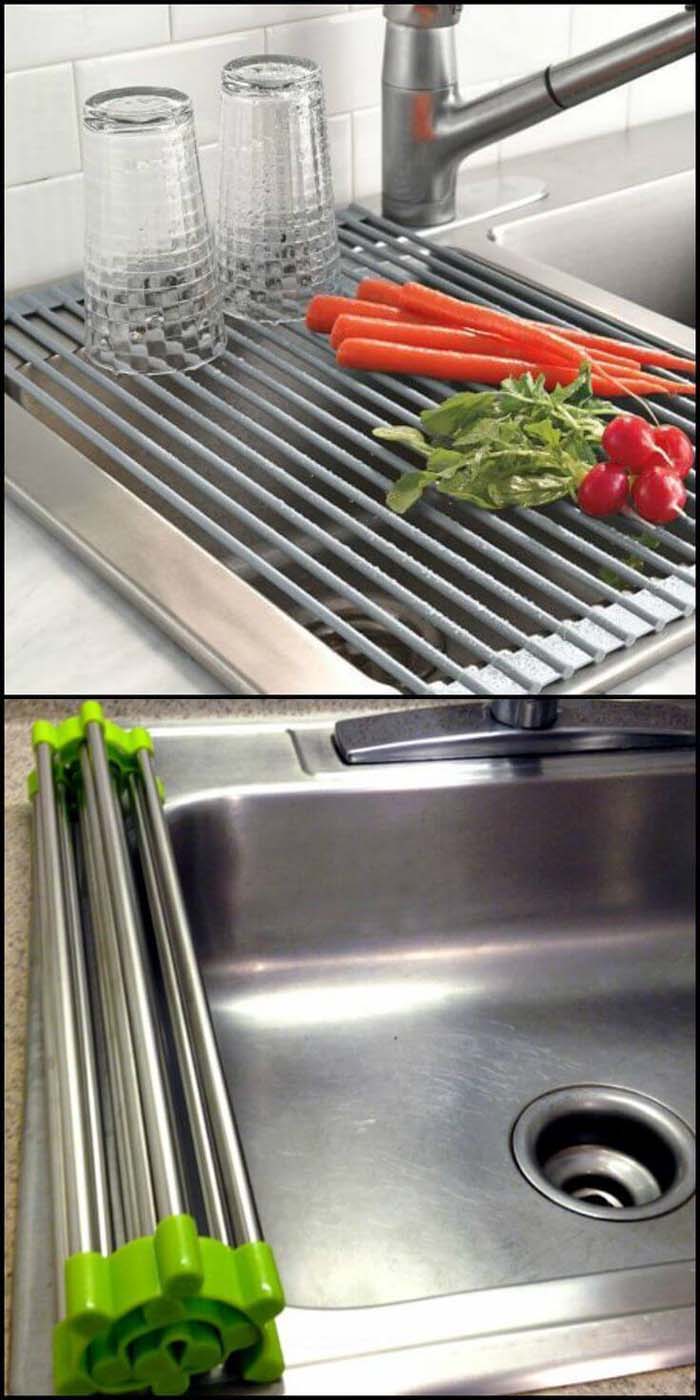 This rolled station replaces the drying rack.
Suitable for small kitchens, when rolled away it creates a grate with the size of the sink where the washed dishes and glasses dry safely out.
29. Upcycle Old Sawhorses Into Bathroom Storage Cabinets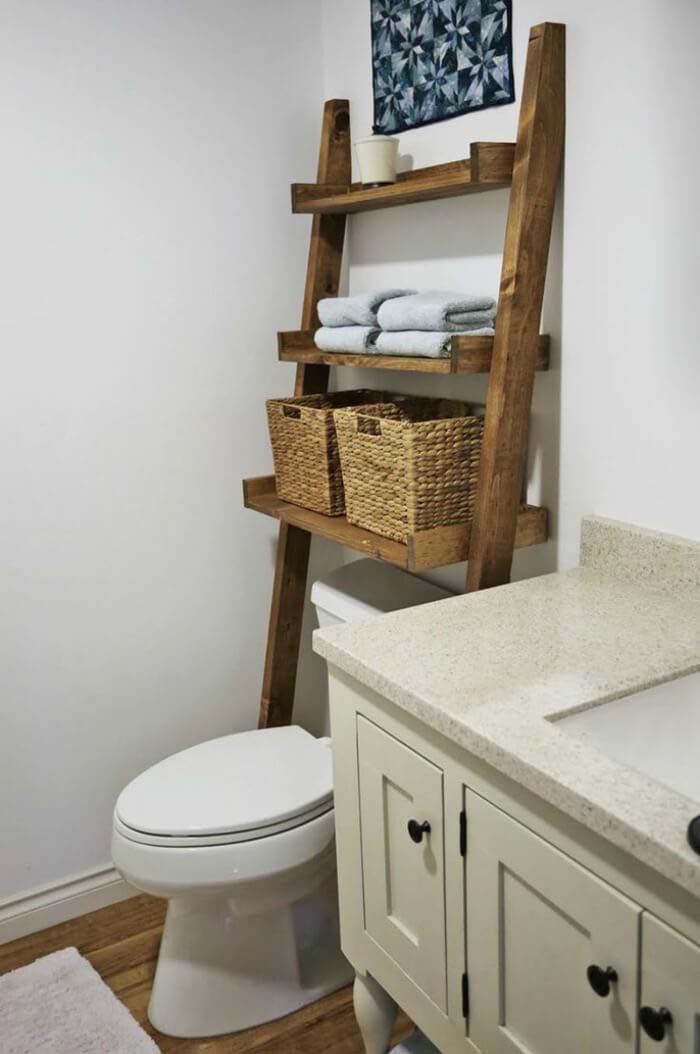 If you don't have the time or tools to make a high vertical cabinet for your bathroom, you can consider a simpler design in the shape of a sawhorse.
You can upcycle an old one by taking off the lower levels to allow fitting right behind the toilet.
30. Farmhouse-Inspired Backsplash Shelf for Your Kitchen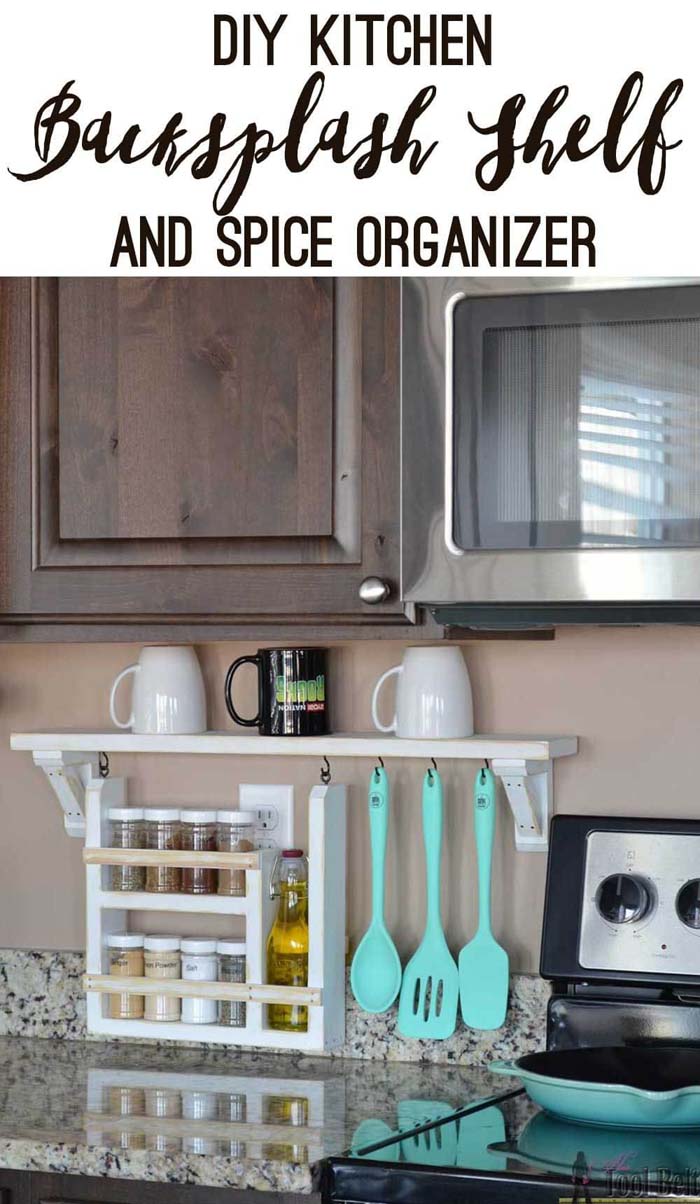 Do you have a spice organizer? If not, you can easily make yourself a charming farmhouse-inspired backsplash shelf that can be customized according to your space.
via Her Tool Belt
31. Modify Dead Spaces with Custom Carpentry and Barn Doors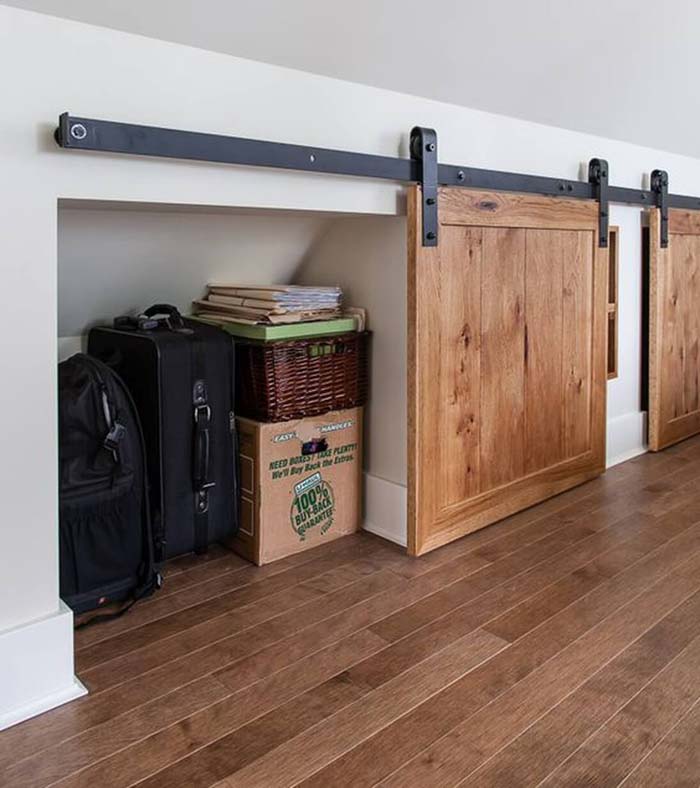 Turn dead space into extra storage using insulation, drywall and a little custom carpentry per your taste.
Taking advantage of the welcoming atmosphere the farmhouse elements create, the niches are closed by repurposed barn doors.
32. Create A Vertical Broom Cupboard To Maximize Closet Space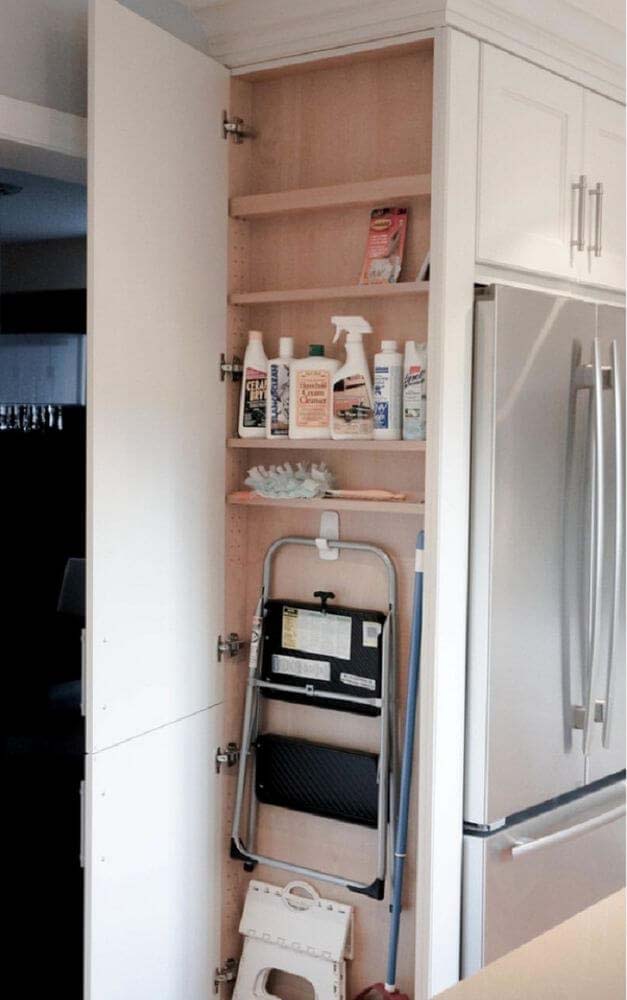 Take a little space from your closet to make a shallow vertical broom cupboard.
Think in advance what type of tools and appliances you are going to store to figure out a configuration for optimum storage.
via Houzz
33. Increase Storage Space with Cup Hooks for Mug Collection

As simple as it looks, cup hooks can increase the storage places for mugs and cups without creating additional clutter.
Just screw them into your shelves in a straight pattern and hook your mug collection.
via Penelopes Oasis
34. Utilizing Transitional Walls for Creative Storage Solutions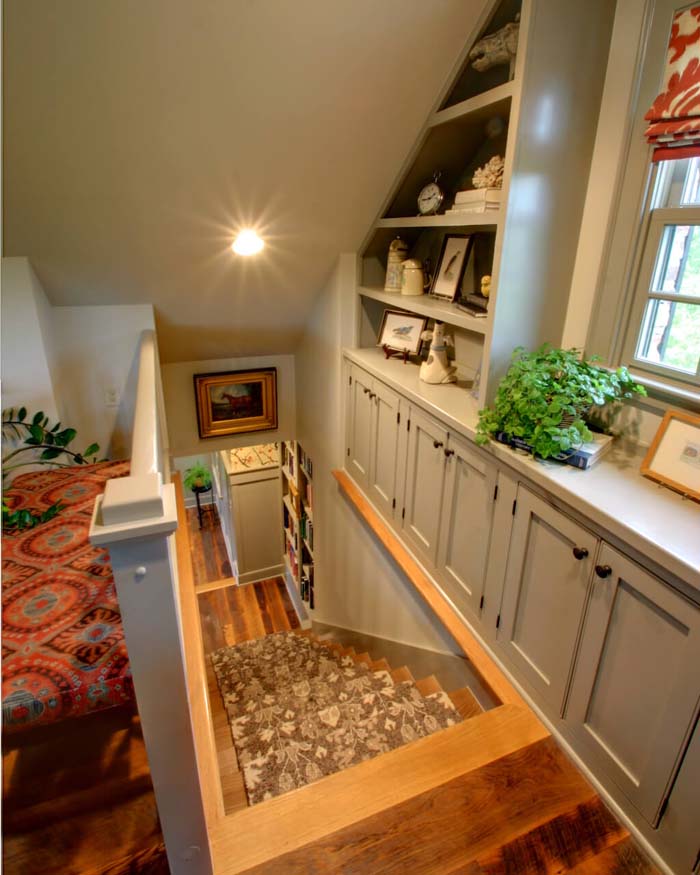 This is an example of how the transitional wall between the two floors can be utilized providing extra storage spaces.
Coming in different designs, their bottom cabinets can store bulky items or seasonal clothes, the open shelving can be used as a bookcase or for decoration display.
35. Customize Your Kitchen with a Narrow Spice Storage Drawer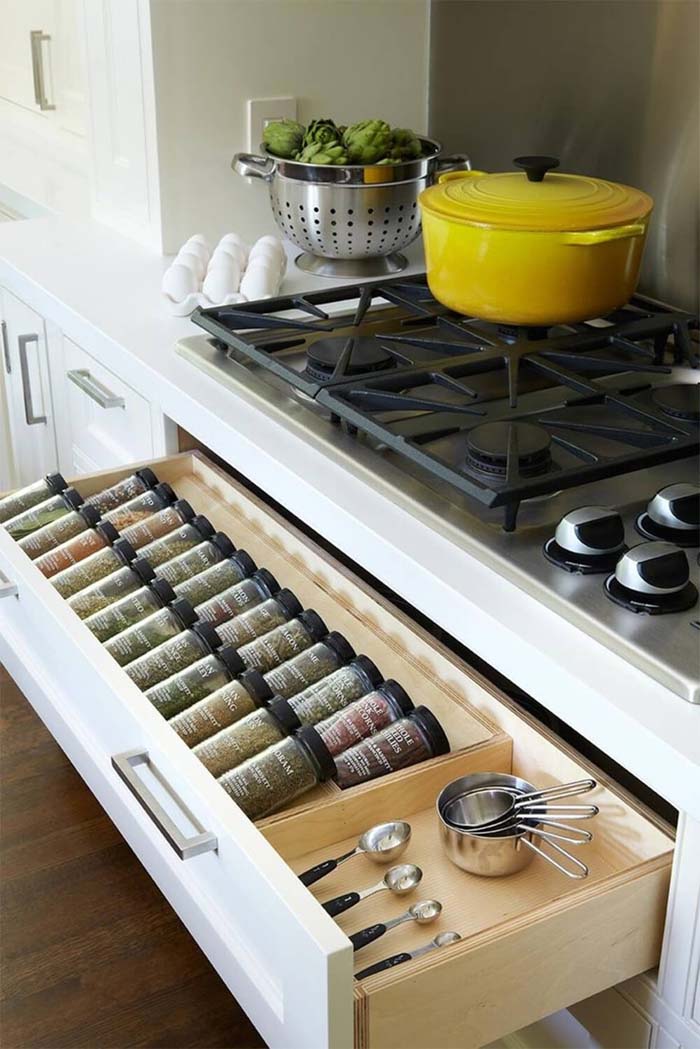 Instead of adding the next organizer on the countertop, save that space and turn a slot into spice storage.
This customized drawer doesn't have to be wide. A narrow space or corner will be just enough for a customized drawer with sections for your favorite flavors.
via Atap Co
36. Unique Floating Shelves to Maximize Your Odd Corner Space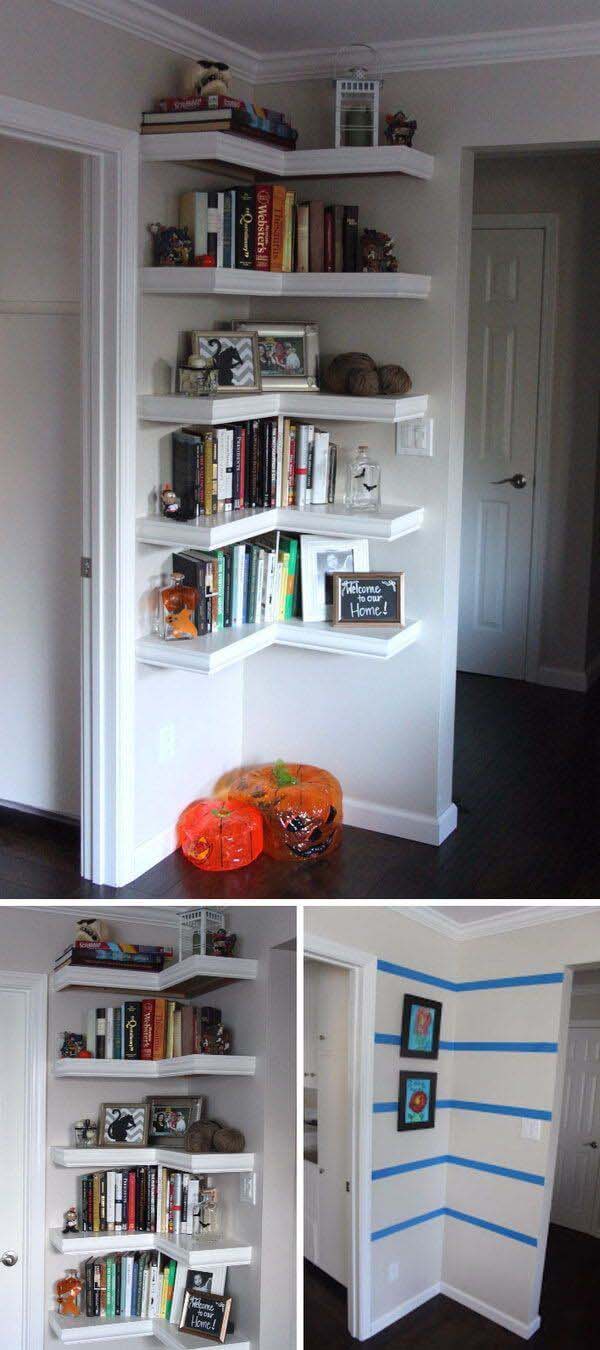 These floating shelves utilize a small and very odd corner that will otherwise be used only as a display for photos and decorative accents.
If you are not keen on DIY, you can ask a carpenter to make and install them.
37. Increase Storage in Narrow Spaces with Versatile Organizers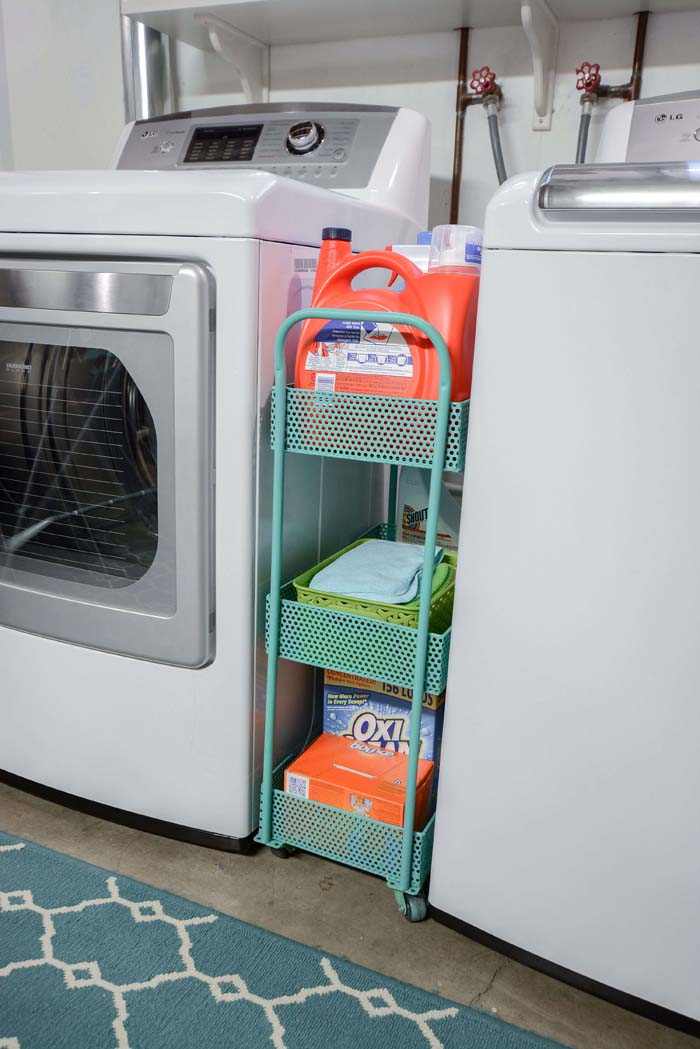 If you are looking for ways to increase the storage places, there is always a way. Even the narrowest spaces can become a functional organizer if you find the right storage product.
The space between the washing and drying machine is big enough to take up a stand on castors that store all washing products.
38. Add Extra Seating to Your Living Room with Stylish Ottomans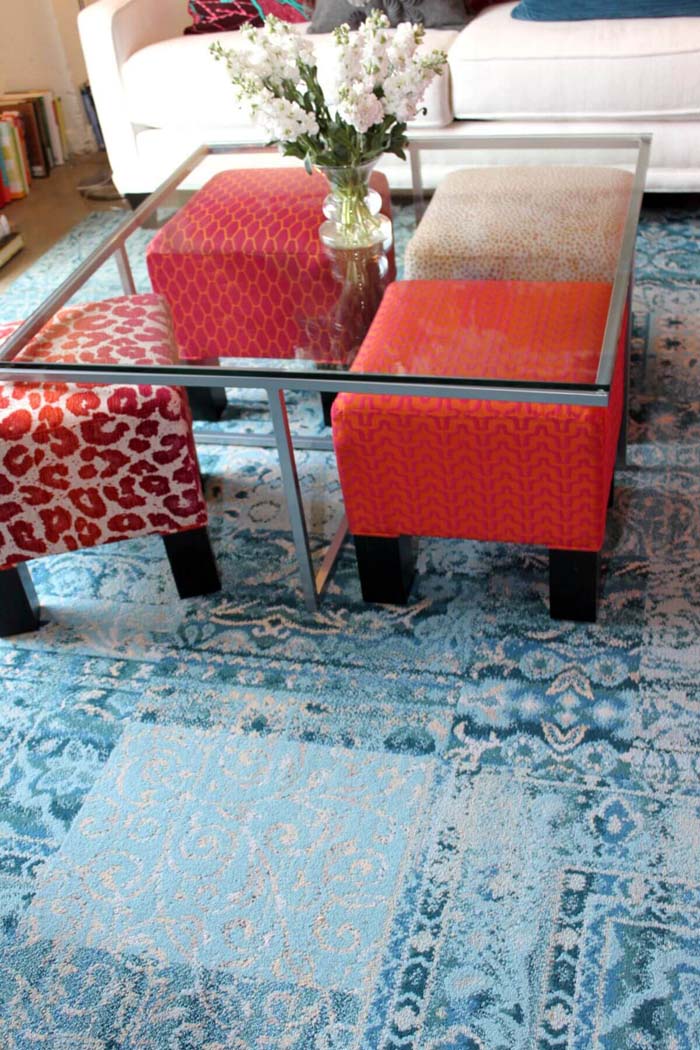 If you have felt the need for extra seating places but the living room cannot take up another sofa, we have a good idea- get ottomans.
They are offered in various designs, sizes and shapes so you would be able to find those that match your interior.
39. Upcycle Your Mirror Frame Into an Elegant Shelf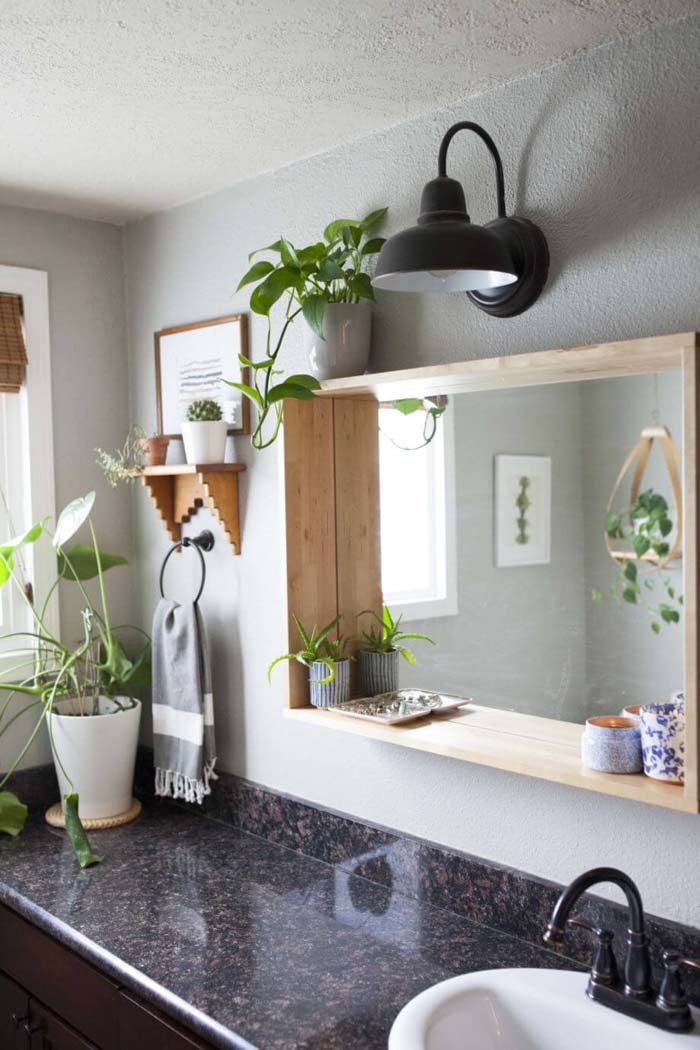 Turn the frame of a mirror into another shelf. We are used to seeing the frames almost flat with the mirrors.
Instead, make it protruding, like a shadow box, to create an interest in the space and give the decorative feature a practical function.
40. Maximize Space with a Pull-Out Bathroom Drawer for Towels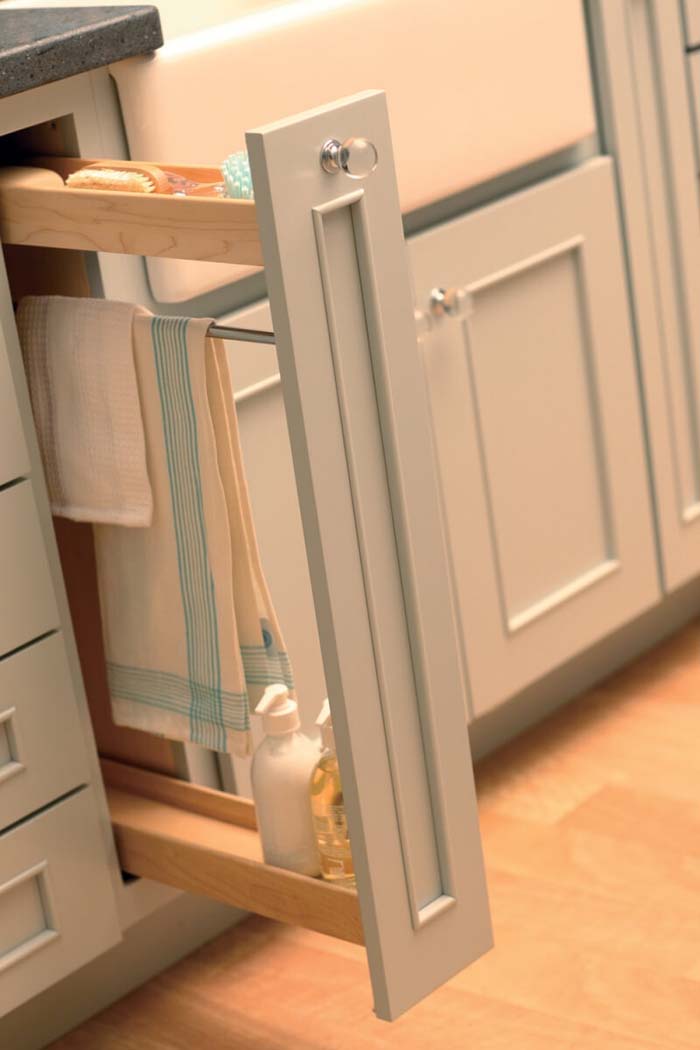 This thin pull-out drawer is an important part of the bathroom as it is a hidden rack for drying towels with space for cosmetic products.
It is worth making in every bathroom as it will contribute to a more clean and organized look of the relatively small space.
via Dura Supreme