Tired of looking for spices you can't find? You are sure that you have the best flavor to add to the Italian pasta you are cooking but suddenly it is gone?
Whether you use just a few spices or you are a culinary guru and love experimenting with the post-taste, cooking will be much more pleasant and your kitchen countertop very organized, if you use the ideas and hacks for spice racks here.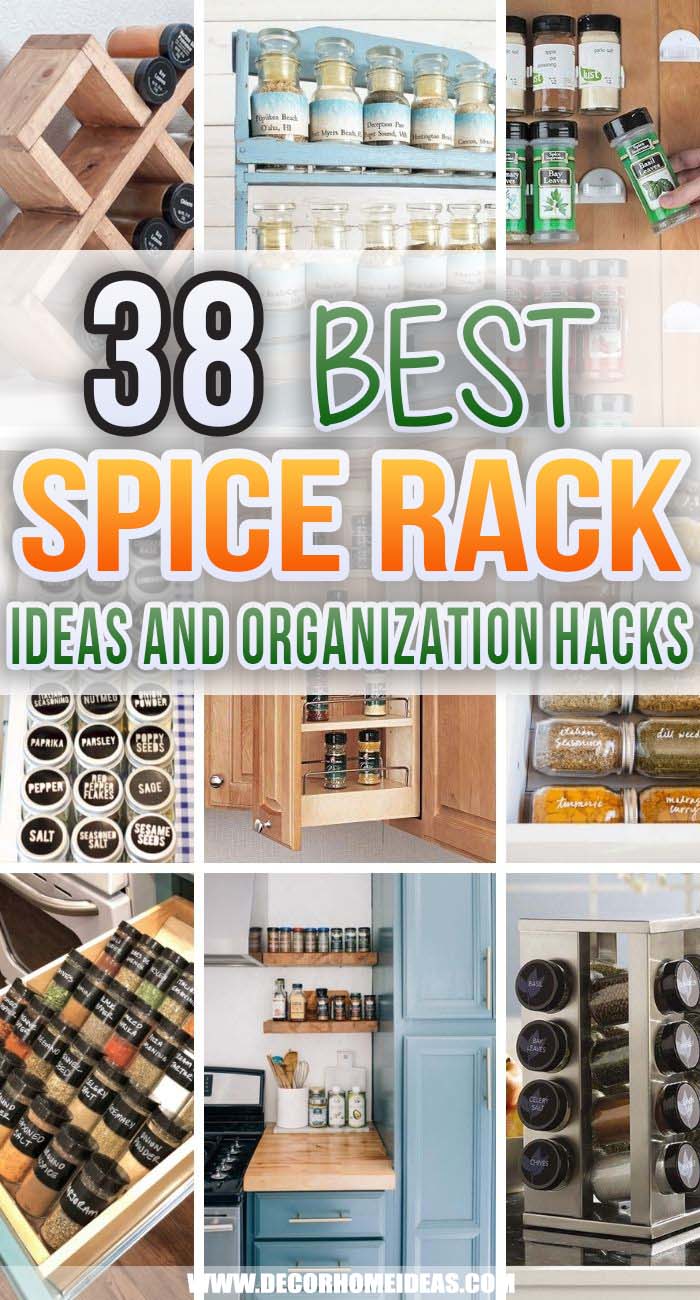 Take advantage of a variety of designs, DIY and store-bought solutions of spice racks that will maximize the space in your kitchen and will facilitate finding the spice you need.
1. Floating Shelves Fit In Narrow Spaces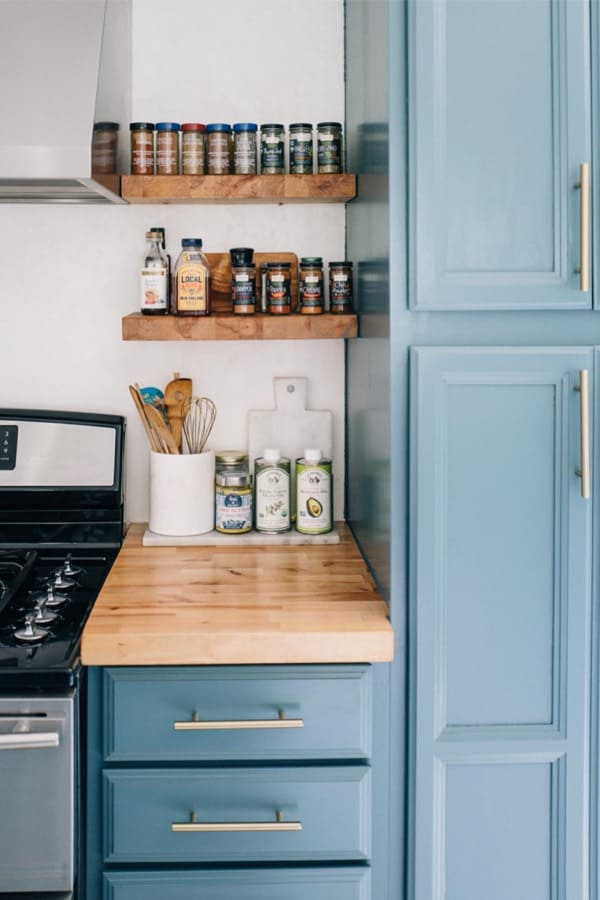 Even the smallest corner can accommodate a couple of shelves where the spice jars can comfortably sit. Each jar is labeled with the contained spice so no time will be wasted looking for what you need.
For such small spaces, you can DIY floating shelves yourself or find a vertical organizer that will fit in the empty wall section.
via Jess Ann Kirby
2. Drawer Racks For Organized Spices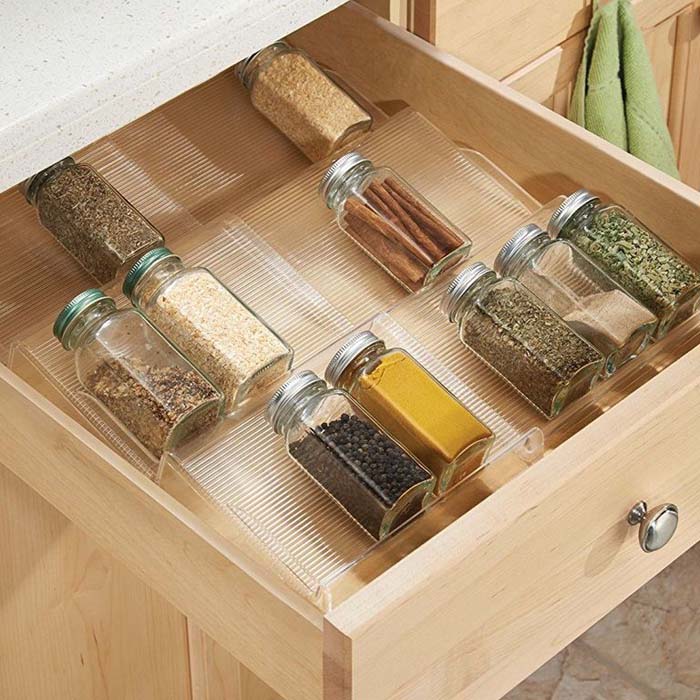 If you prefer keeping the spices hidden due to various reasons, you may need the means to keep them well stored and organized.
This plastic drawer organizer has sections for jar spices. When you pull it out, you won't hear the jangling sound of glass.

3. Easy Visibility Wire Basket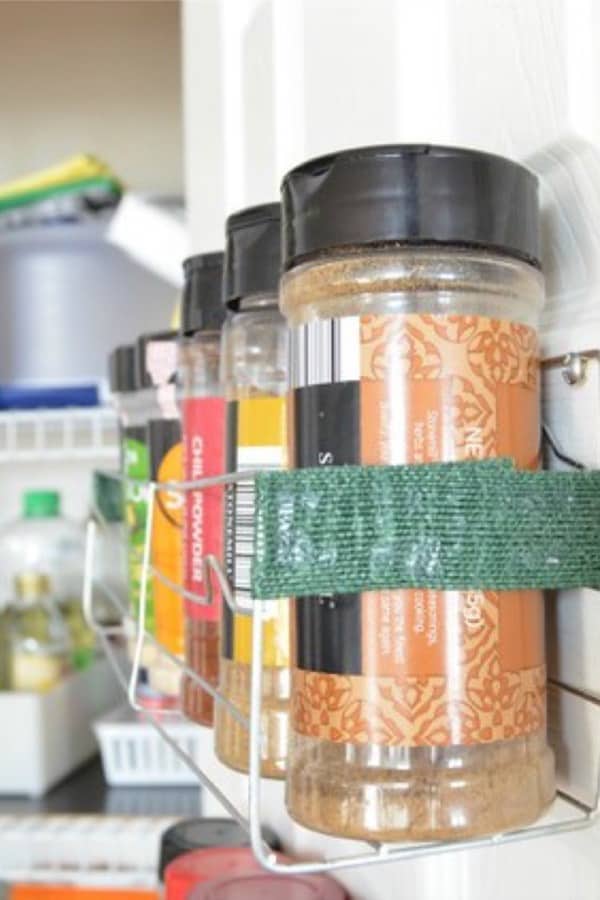 This wire basket solves the issue with the countertop clutter in a very affordable way.
Found at the Dollar Store, you won't invest more than $2 to give your spices a dedicated space for storage.
4. DIY Modern Copper Rack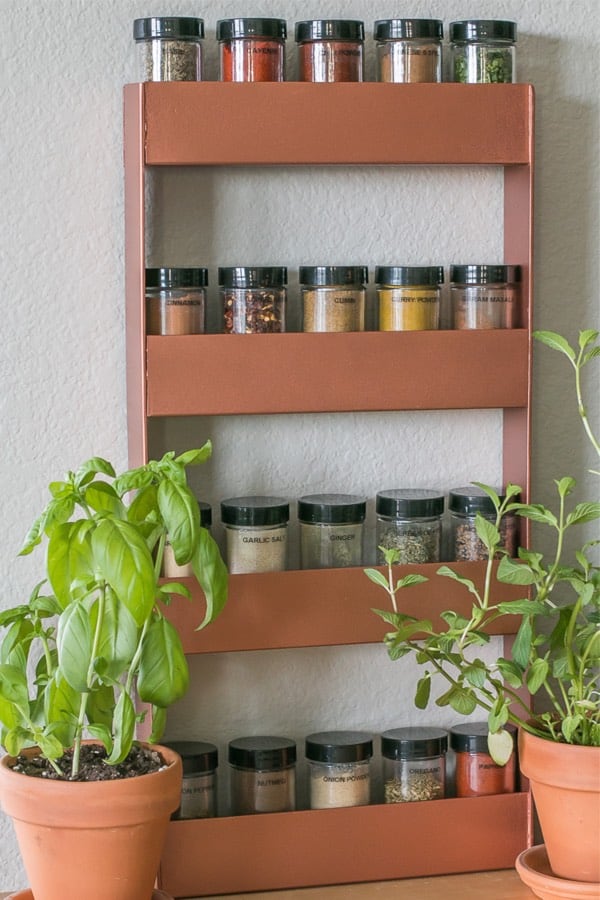 If she can do it, you can also handle it! This is a gorgeous DIY spice rack that adds a modern vibe to the kitchen with its sleek copper finish.
Actually, no copper is needed, just regular iron bars. Some cutting and brazing basic skills are involved to assemble the spice organizer.
Iron is a sturdy material so if you assemble the pieces right you can safely put the rack next to the kitchen wall.
5. Rotating Rack Offers In-Cabinet Storage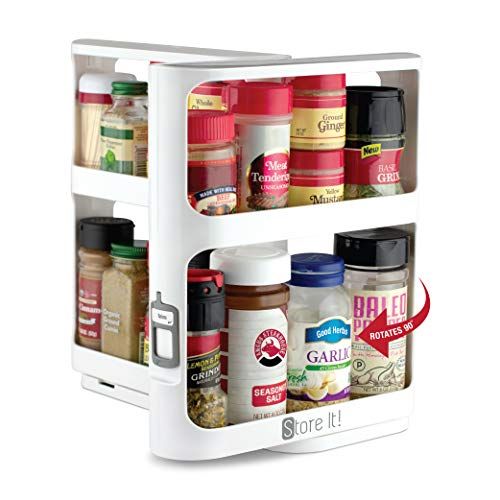 Not keen on DIY' and looking for a quicker spice storage solution? This caddy is compact but provides a number of sections for the storage of different sizes of spice containers.
Placed in a cabinet, you can easily find the spice you are looking for thanks to rotating and pulling out of the shelves.

6. Upgrade To Apothecary Jars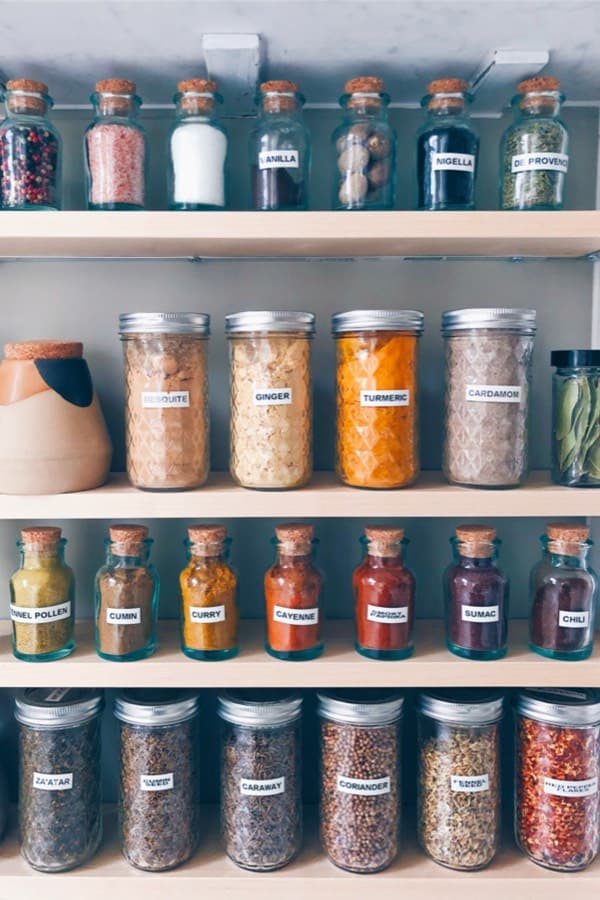 When you already have a dedicated space for your spices, you will feel the need to organize them neat and tidy. And this cute idea comes to inspire you- transparent bottles and jars reveal the contained exotic and standard flavors to meals.
And if you don't want to invest a lot in such a set, you can use Mason jars as storage containers. Label them with tape or glass marker to easily find the flavor you need once you open the pantry door.
via Wu Haus
7. Simple Wood Block Drawer Rack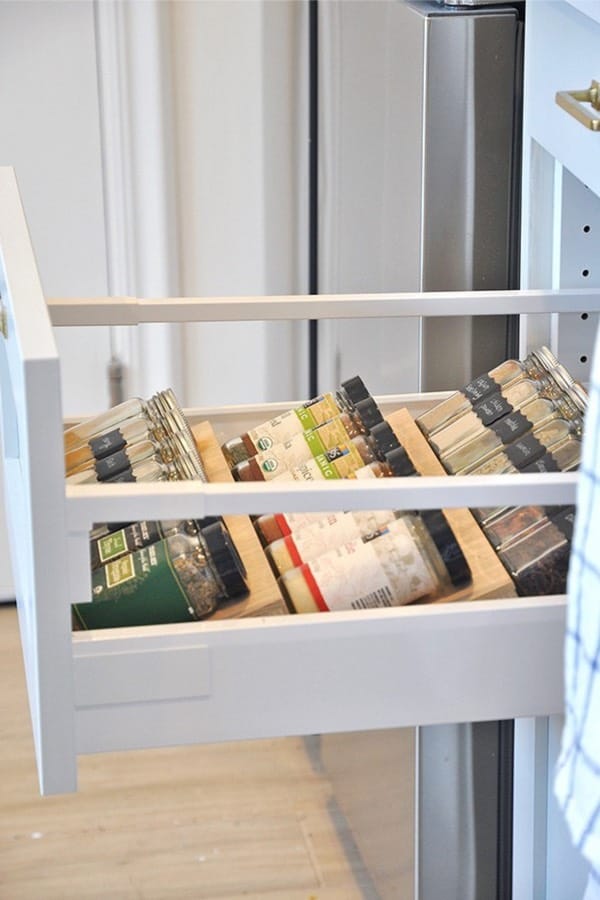 If you prefer to store the spices in a drawer, there is an idea to do it in a way that both don't take up much space and accommodates a big collection of jars.
The tiered drawer can be made from any drawer and some plywood. The wood is used to make boards that keep the spices a little bit upwards and in rows.
8. Inset Pantry Spice Shelf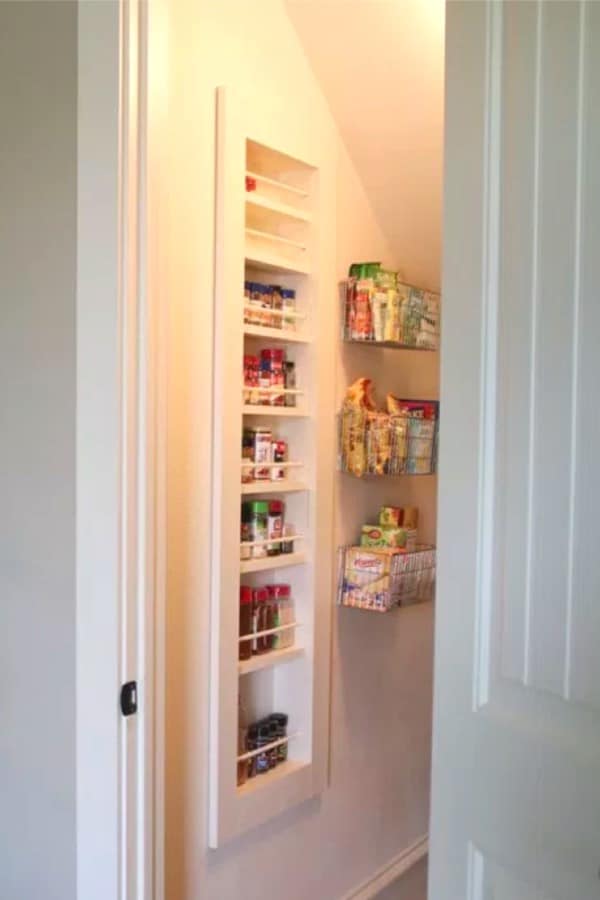 This is a built-in rack that can be incorporated into a pantry or kitchen wall as long as it is drywall.
So if you have a section from a wall that is not used, this is the perfect place for your customized and super-helpful rack.
This idea is so inspiring and helpful to declutter the kitchen!
via Shanty 2 Chic
9. Cabinet Storage With Uniform Jars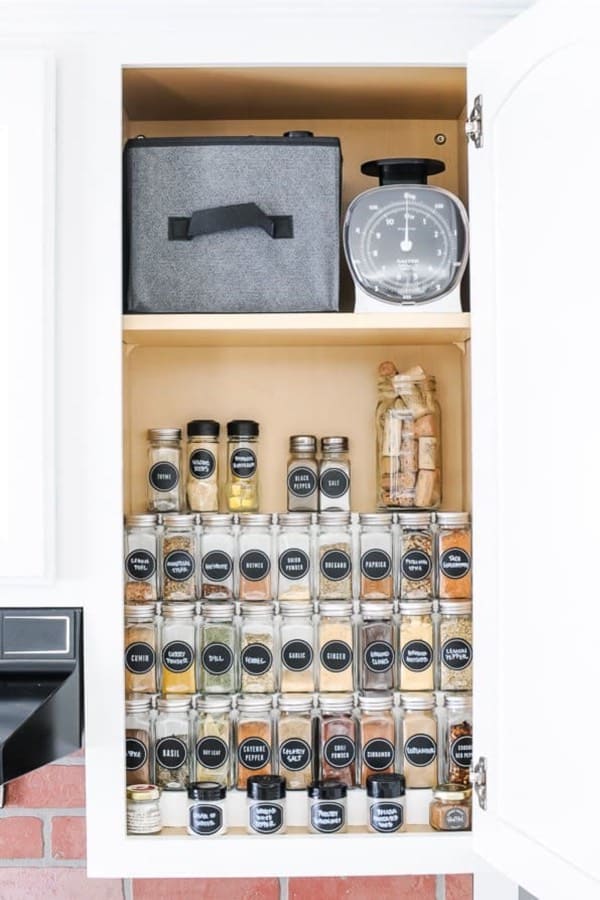 This kitchen cabinet has been turned into a spice paradise! The shelf that has originally been there having been taken out to make space for tiers of spice jars.
The structure that keeps the jars elevated and easy to be accessed is made of plywood in the shape of a staircase. Add labels to each container to make cooking even more pleasant.
10. Magnetic Jars Offer Vertical Storage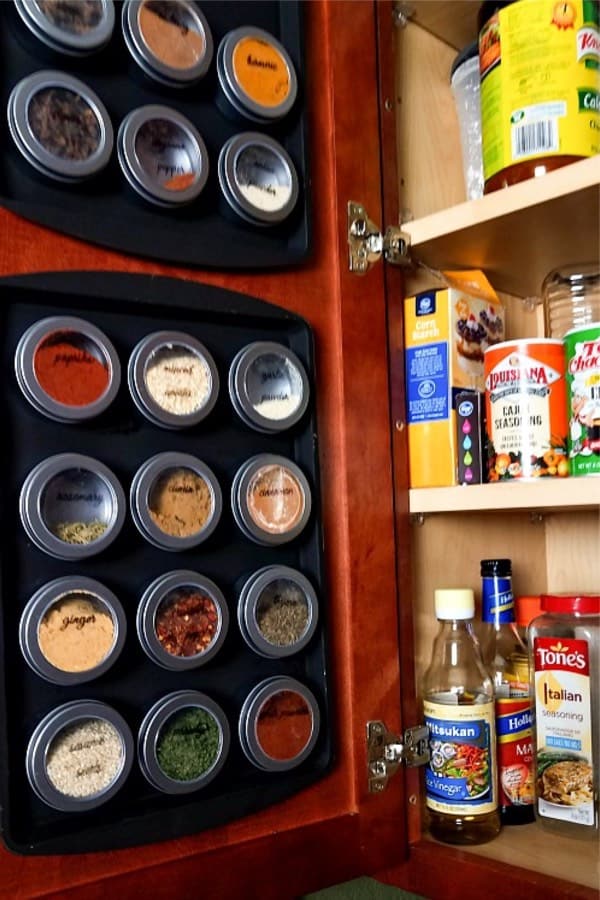 Have you seen magnetic jars in the local Dollar store? You will be surprised how handy they can be when transformed into a vertical spice organizer. With a cookie sheet that you probably already have, you can make a hanging spice rack that will take no space!
Placed on the door of a cabinet, it becomes a unique and inventive organizer
11. Rustic Look Ikea Hack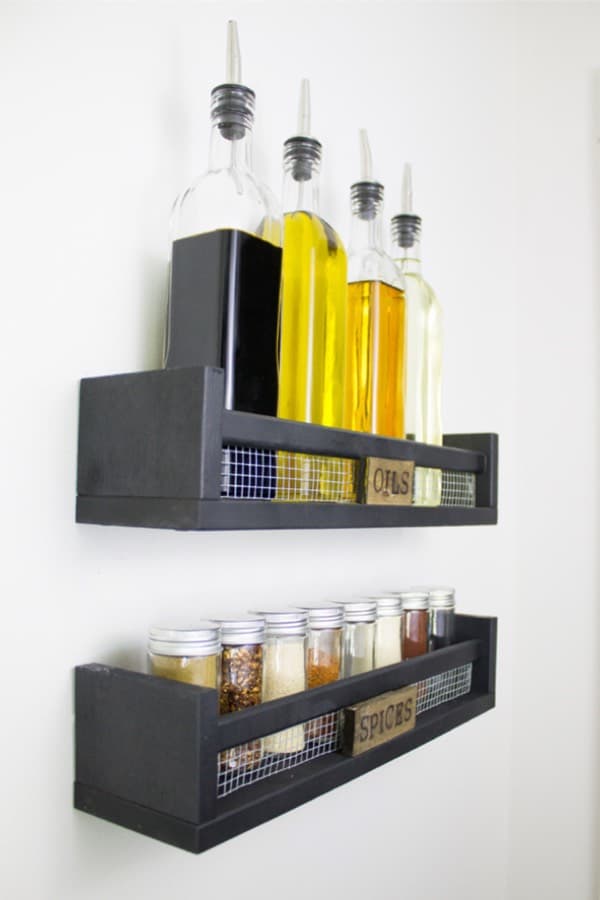 This spice rack idea modifies Ikea Belkram shelves to make them a wall organizer with a farmhouse charm. The blonde wood is totally transformed with black spray paint and metal hardware cloth.
For less than $20 you get a rack that can fit on any pantry or kitchen wall.
12. Hanging Jars Save Shelf Space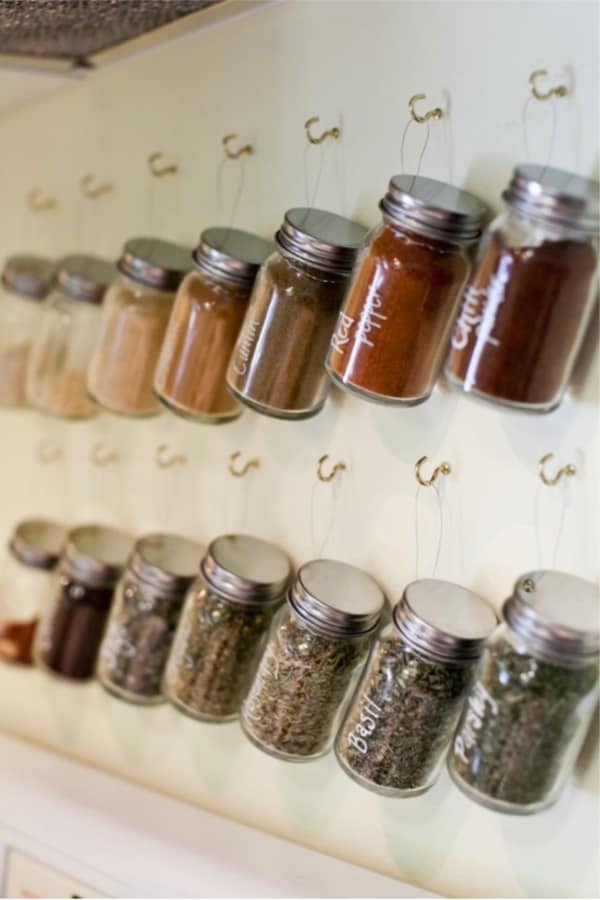 This is an inspiring idea for a hanging spice rack that makes organization in the kitchen possible on the budget-friendly side. If you don't want to damage the wall in the kitchen, you can use a wooden board or a chalkboard as a backdrop to attach the screw hooks.
A wire is woven around the neck of every jar to hold the jar safely and provide a means to hang it on the screw. A quick, affordable and unique spice rack organizer!
via Dream Green DIY
13. Keep Spices Visible With Decorative Test Tube Rack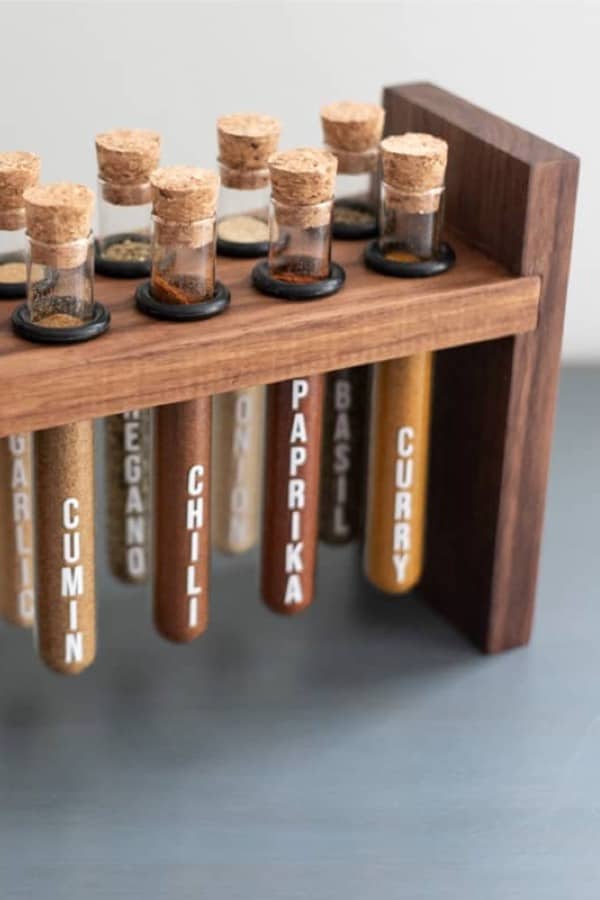 Looking for a unique spice storage idea? The design of this science spice holder takes storage to another level.
The test tubes hold the spices upright in a walnut wood stand made especially for the scientific spice containers. The stand can be put on the countertop and since it groups the spices in one place, it will give the kitchen a clutter-free look.
14. Efficient Use For A Shallow Drawer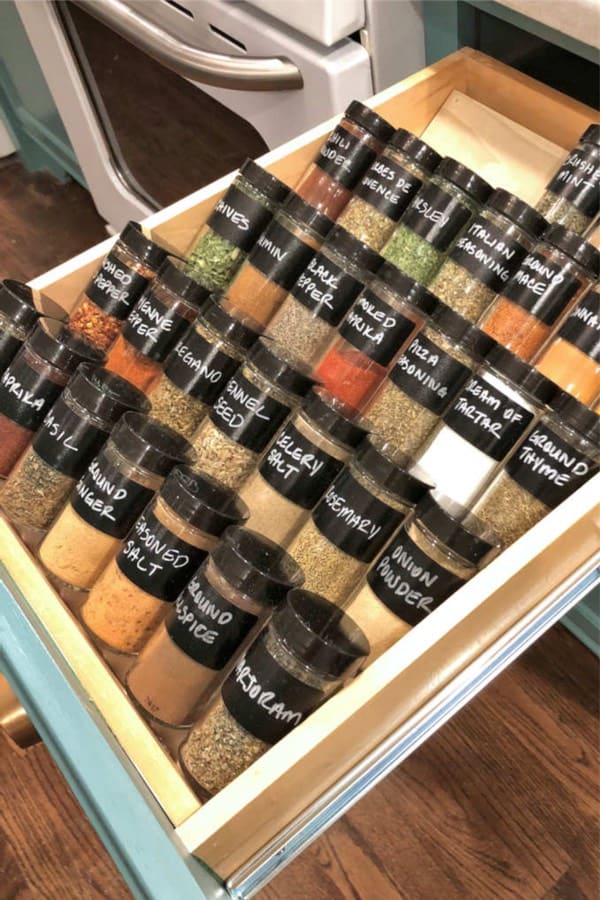 If you don't have the possibility to make a double shelf for tiered storage of spices, you can try this DIY project. The special insert is designed for plain shallow drawers.
It is designed to organize the spices in 5 rows. The special insert is made of plywood cut in sections and then assembled in a concertina design. Depending on the size of your spice containers you can customize the number of tiers.
15. Easily Accessible Magnetic Rack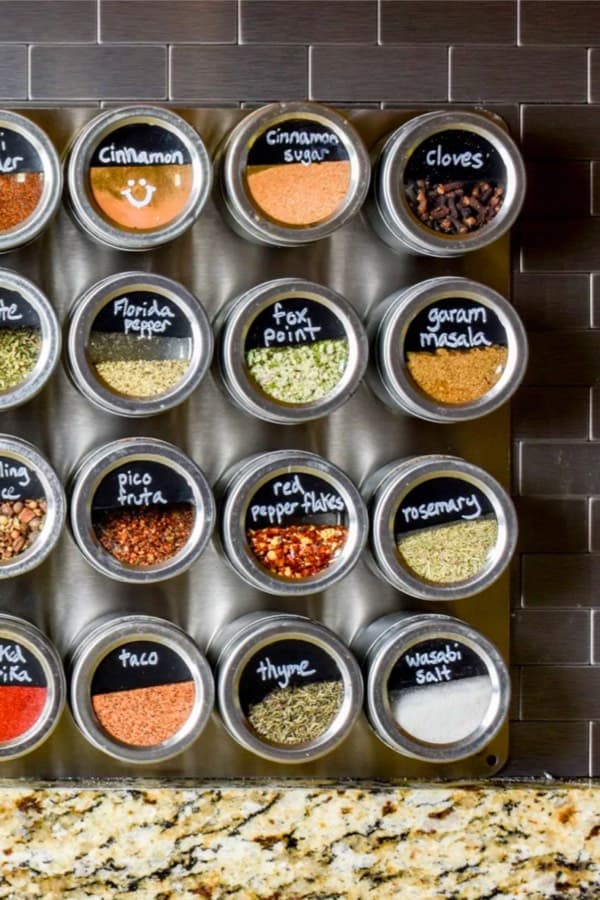 This modern industrial spice rack can be built anywhere as long as there is an empty wall space. The base that holds the spice tins is a magnetic stainless steel plate that can be cut to a size that fits the wall.
The tins are preliminarily filled with spices and then closed with gorgeous transparent lids that reveal the content. If you want to make finding the spice you need even easier, label them with a chalk paint pen.
16. Bottle Liners Keep Spices Organized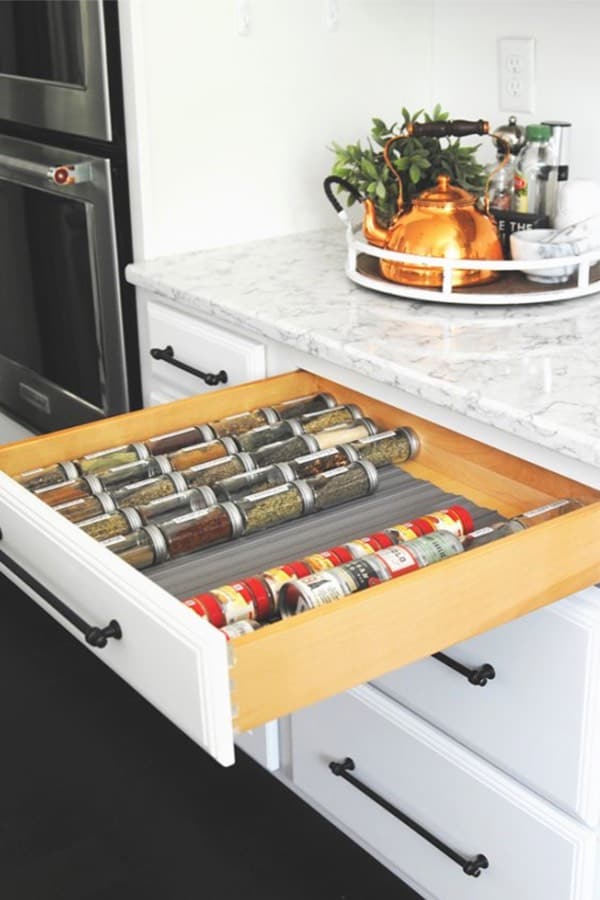 If you are looking for a quick spice organization hack, here is a great and budget-friendly idea! Bottle liners that cost less than $20 are laid on the bottom of a drawer to keep the jars securely stored and organized.
Have you heard of bottle liners? Their design features channels on which the glass container can lay and stay fixed.
via Making Lemonade
17. Clear Jars And Floating Shelves Add Farmhouse Style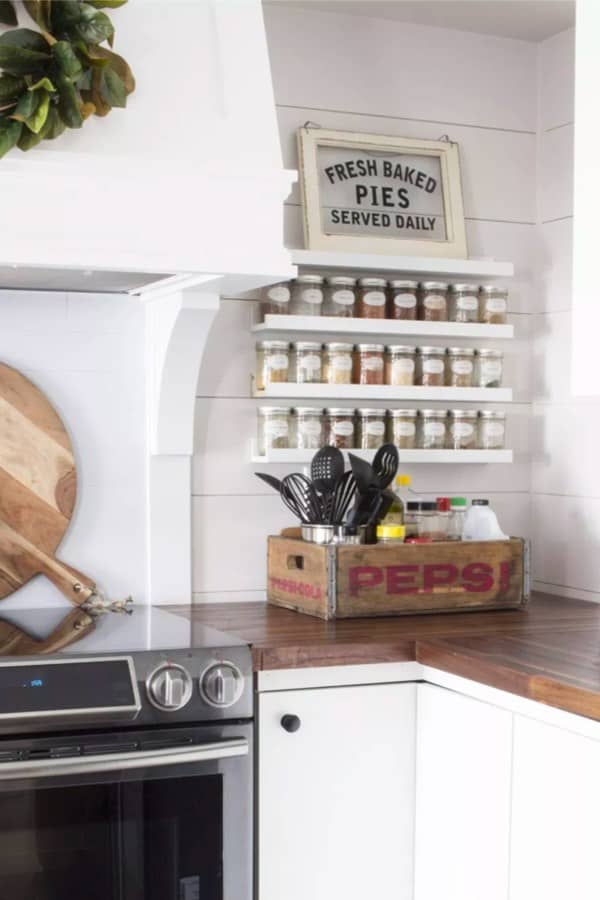 This wall spice organizer features more tiers and a slimmer rack design. It consists of shelves made of Ikea frame ledges attached to the wall one above the other.
Each shelf can easily hold up to 8 glass containers from the medium size. You can barely see from first glance that there is such a farmhouse storage solution on the kitchen wall because the color of the shelves blends with the wall hue.
via Homemade Lovely
18. Go For Etched Jars For A Modern Look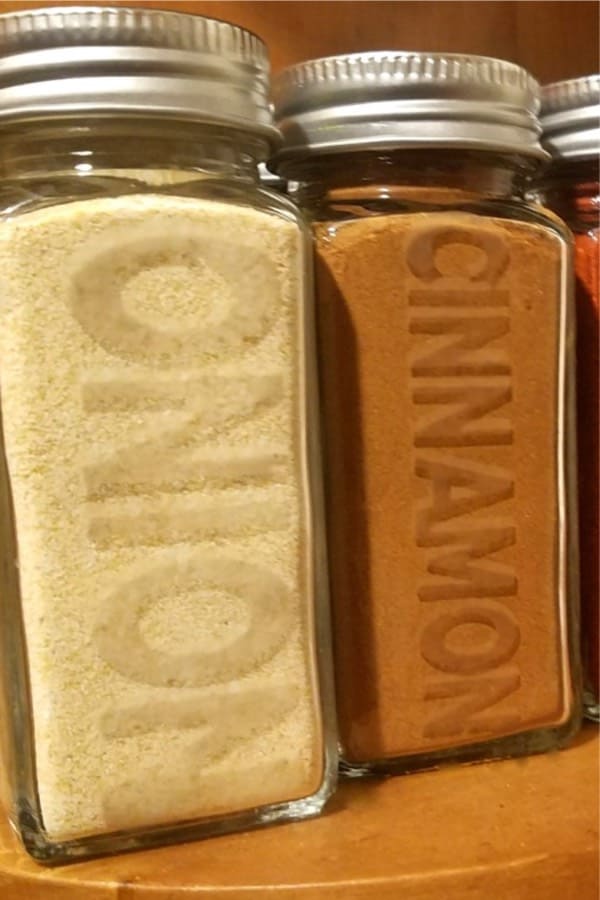 Etched jars look stylish and unique but could cost a lot. So here is an idea of how to do it in the comfort of your home with the glass jars you already have on hand.
An etching medium and contact paper stenciled with the names of the spices will do a miracle with the plain glass containers. When all jars are neatly organized in a cabinet or on a rack, you will admire the stylish spice organizer you have created with your own hands.
via AV Does What
19. Mountable Wire Test Tube Rack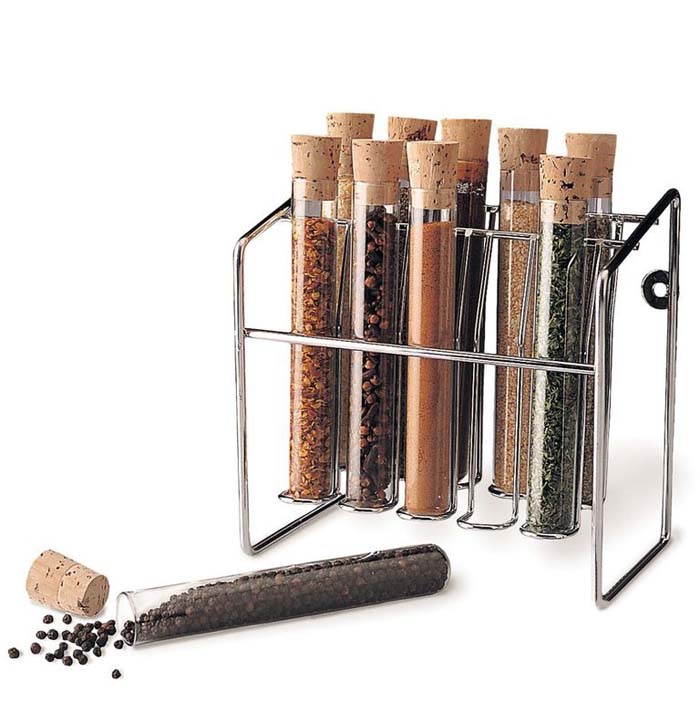 If you have loved the idea about the "scientific" spice rack but you can't find test tubes, you can get this organizer from Amazon.
It features an industrial design of the rack holding the tubes and a farmhouse "pinch" added by the cork plugs.

20. Hexagonal Magnetic Jars Create A Pretty Pattern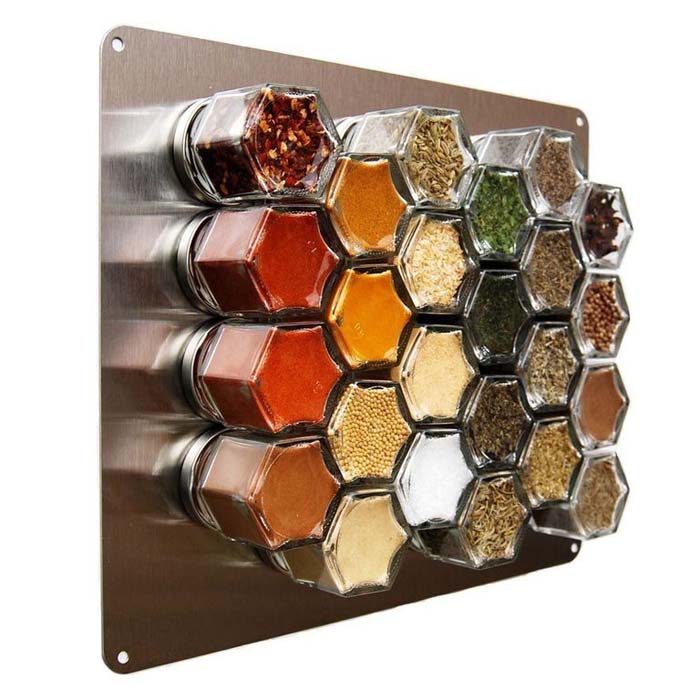 If you need a quick solution for the spice organization, check this ready-made magnetic organizer solution. Amazon offers a complete set of magnetic sheet and jars in star-shaped design.
In addition to the whimsical shape of the jars, their alignment when grouped together also adds interest forming a puzzle from spice jars.

21. Keep Open Shelving Clean With Uniform Jars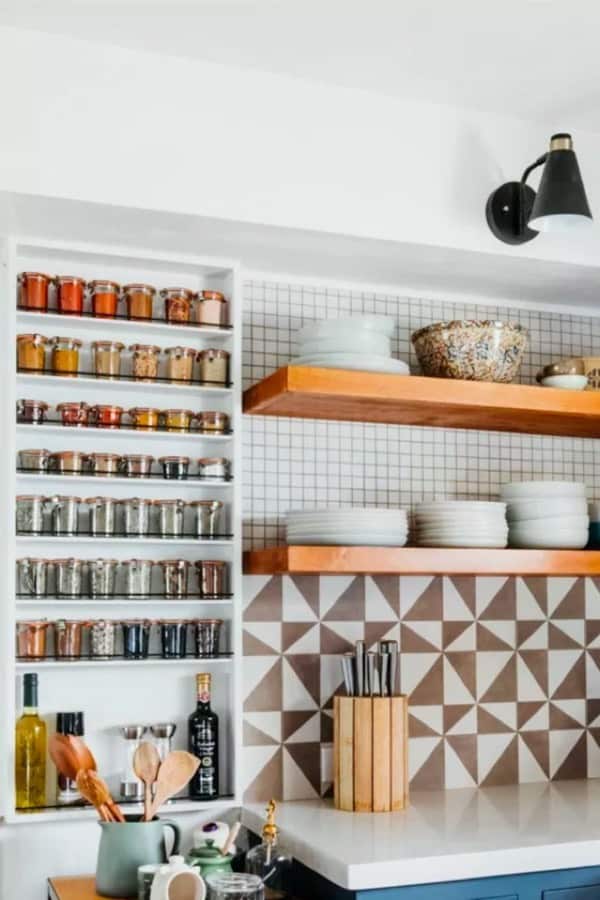 Taking the organization of spices to another level, this is an example of how the best ones do it! In addition to the space-saving but generous storage spice rack, the storage considers also the colors of the spices.
In this case, no labels are needed as you can clearly see what is contained in the clear glass jar.
via Studio Plumb
22. Built-In Cabinet Spice Rack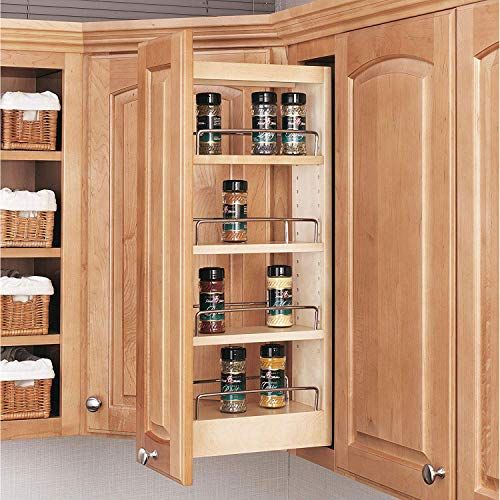 This type of cabinet organizer deserves its trendy position in the kitchen designs because they utilize a very small part of the cabinet and provide easy access.
When you pull out the cabinet you can clearly see every spice container. The thick wood sides are replaced with metal holders that keep the jars in place and yet don't hide what is contained in there.

23. Modern Rotating Spice Storage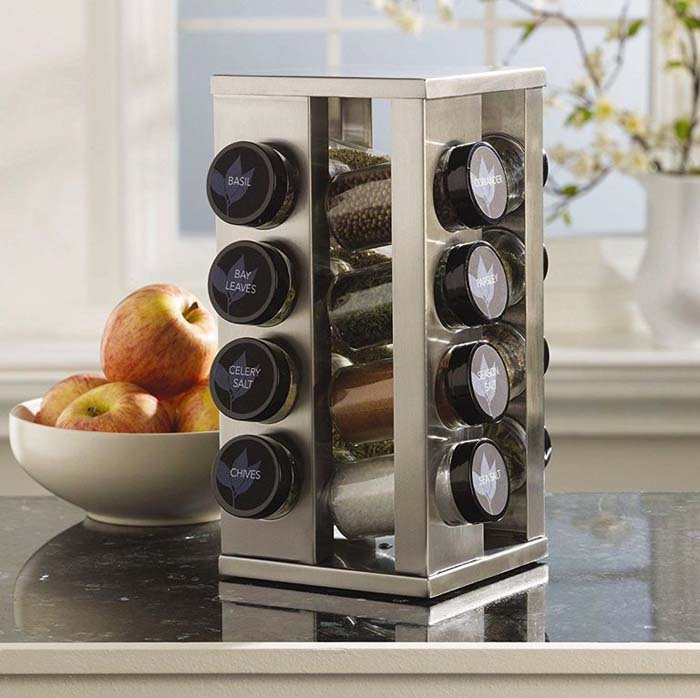 Inspired by the Lazy Susan design, this metal spice rack rotates at 360 degrees making access to spices easy. The set comes with glass containers and labeled lids that define what spice should be contained.
The size of this stylish rack is not big so you will find space on the countertop easily.

24. Large Spice Jar Shelf Storage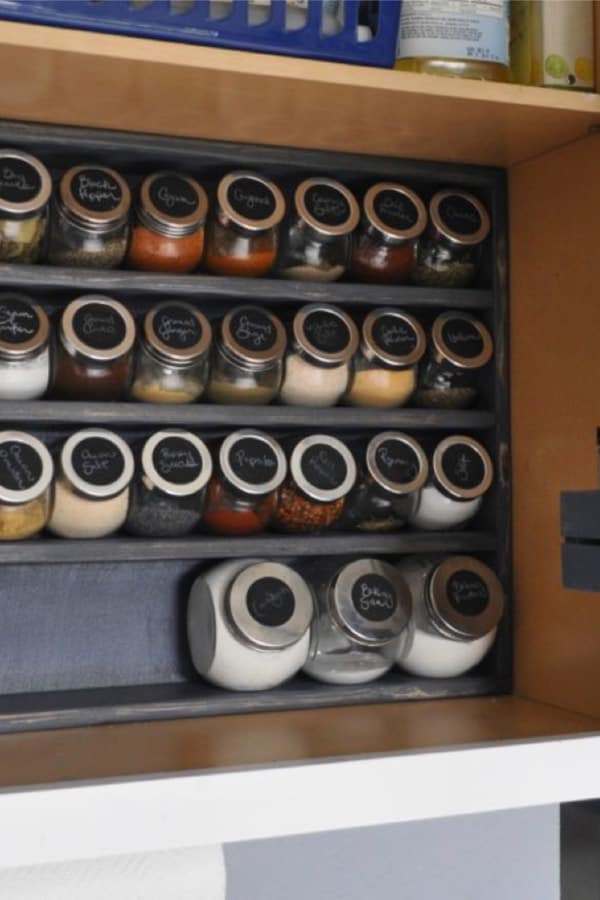 This rustic spice organizer is a dream come true for a culinary addict. The jars it can accommodate store big quantities of spices. In addition to that, there are four shelves that hold 8 jars! Spices fit perfectly in the hollow sections of every shelf because of the geometric shape of the glass container.
The handmade rack has been designed to suit optimally an empty kitchen wall. It is made of wood and stained with grey, it has a charming rustic look that makes the kitchen welcoming.
25. Chicken Wire Wall Mounted Rack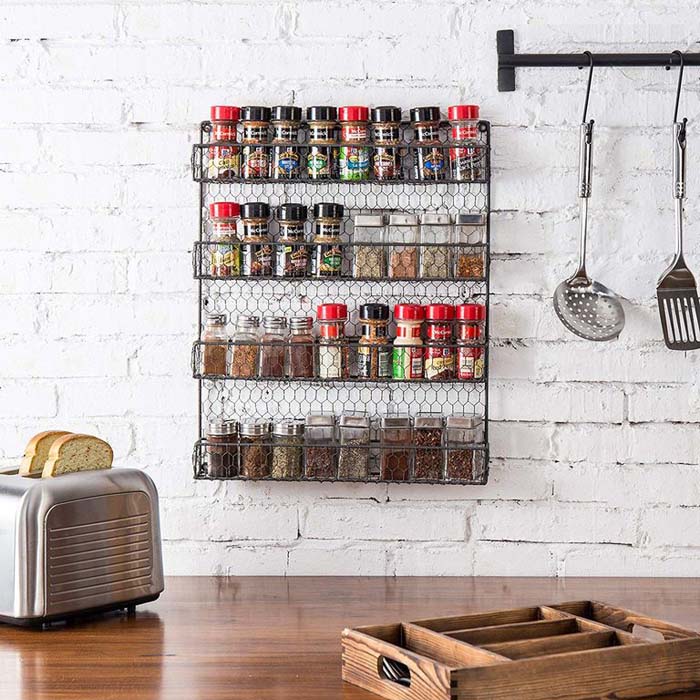 This organizer has a simple vision and the needed functionality. Having four tiers, it can accommodate many spice containers without taking any of the countertop space.
It is provided with a hook for easy hanging on the wall. The chickenwire back and the open concept of the design will add farmhouse charm to the kitchen and will enhance its homely atmosphere.

26. Attractive Wood Block Countertop Storage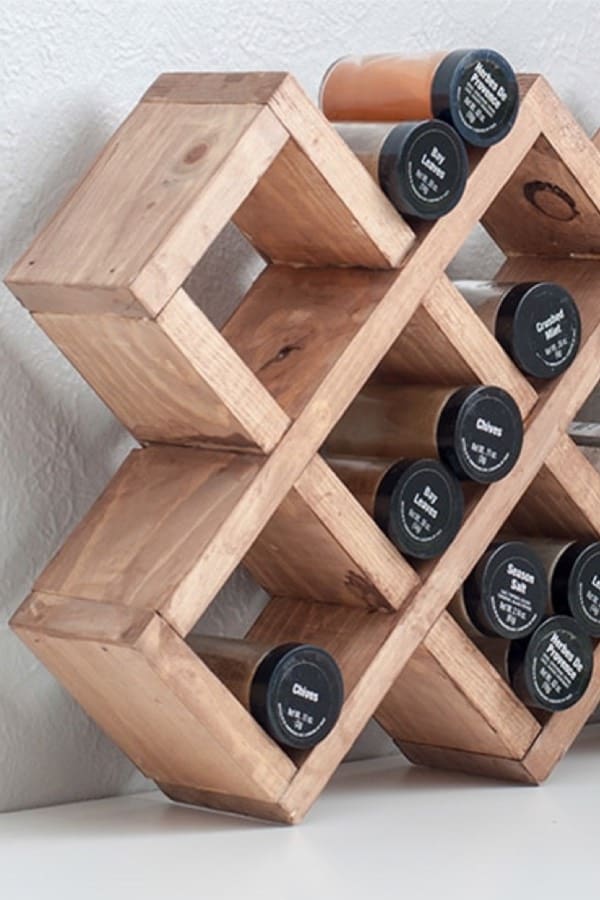 This spice rack thinks about functionality and style! The creativity of the author has focused on making a practical and space-saving spice organizer with scrap wood. The wood pieces are assembled in a beehive pattern, similar to the wine racks, but with smaller squares.
The spices lay into the hollow sections and can be stacked until the wood sides allow it. This spice rack is so unique that it will surely become a focal point in the kitchen.
via Anika's DIY Life
27. Matching Containers Fit Perfectly In A Storage Drawer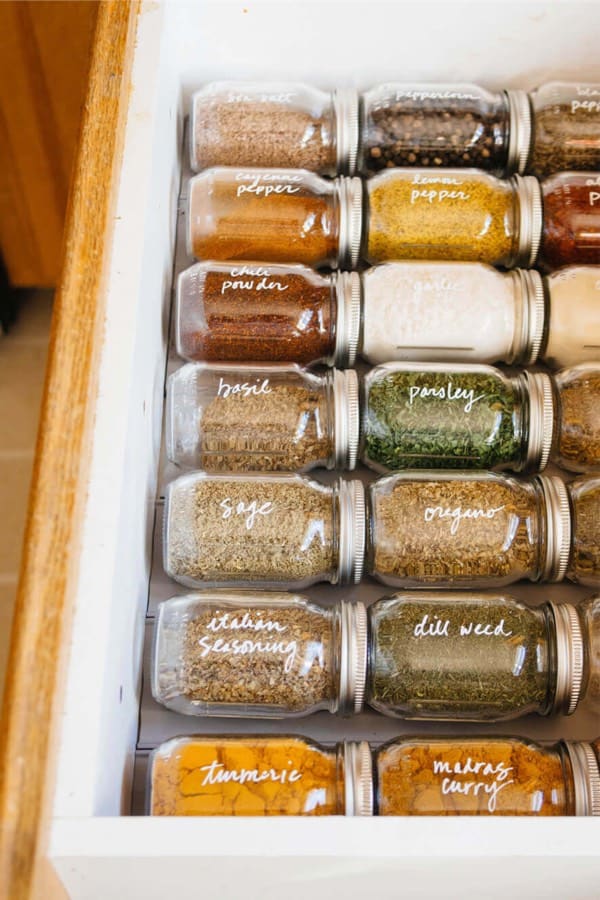 This idea for the storage of spices will surely inspire you to make your kitchen more organized. It is not expensive and it does miracles finding what you need in a second.
Just empty a drawer in the kitchen and cover the bottom board with a soft foam liner. The key to keeping all jars not moving when you pull out the drawer is the identical size of the containers.
The added label made with a pen adds clarity in addition to the colors of the spices. So with almost no money and effort, you can have your own organized spice system.
via Garden Betty
28. Stackable Mason Jar Spice Storage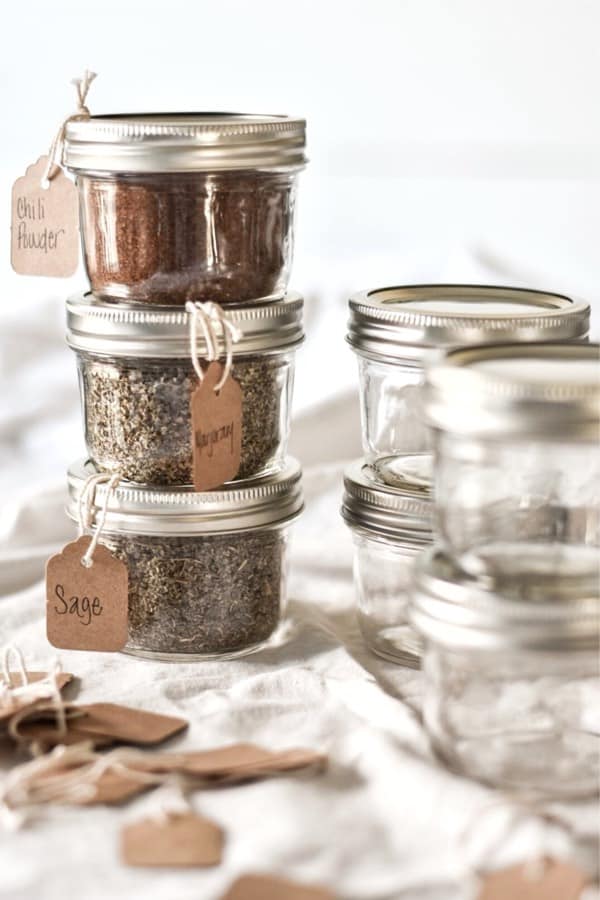 Mason jars to store spices? Why not? This idea is very good for the storage of spices in a restaurant or in a household where cooking is an everyday ritual.
Mason jars can contain a larger amount of spices so basically, you will never run out of the flavors you like. Add labels or tags to every jar to make finding easier and stack them in columns on the countertop or in a cabinet.
via Rocky Hedge Farm
29. Small But Spacious With Sliding Drawers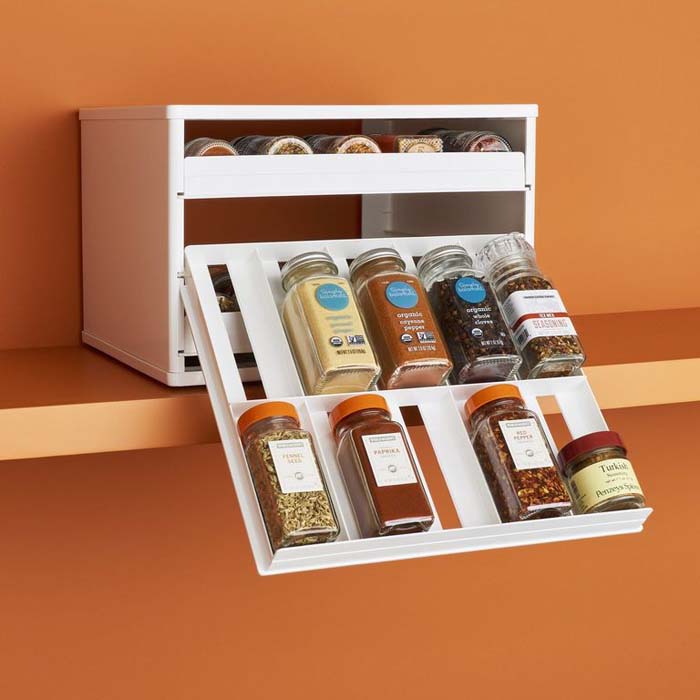 Although this spice rack looks very small, it surprises with its capacity and functionality. It has three shelves, each providing two rows for spice jars.
The design also thinks about accessibility- you can pull out the drawer and not only. The rotating pin at the ends of the sides makes it possible to access the jars on the farthest row.

30. Hanging Baskets Free Counter Space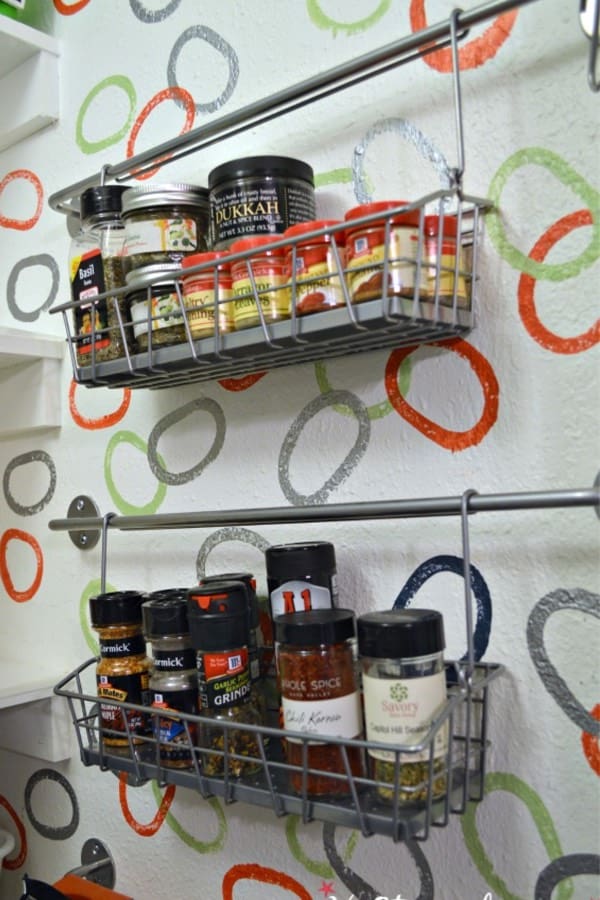 Looking for a spice organizing hack for your small kitchen? You are at the right place- this is a space-saving and cheap spice rack idea that anybody can do!
Towel holders start to function as basket holders. This easy DIY will make a total transformation in the kitchen atmosphere. In addition to the decluttering effect and the aesthetic design of the hand-assembled rack, it will make access to spices easy.
via H2O Bungalow
31. Top Labels Allow For Vertical Storage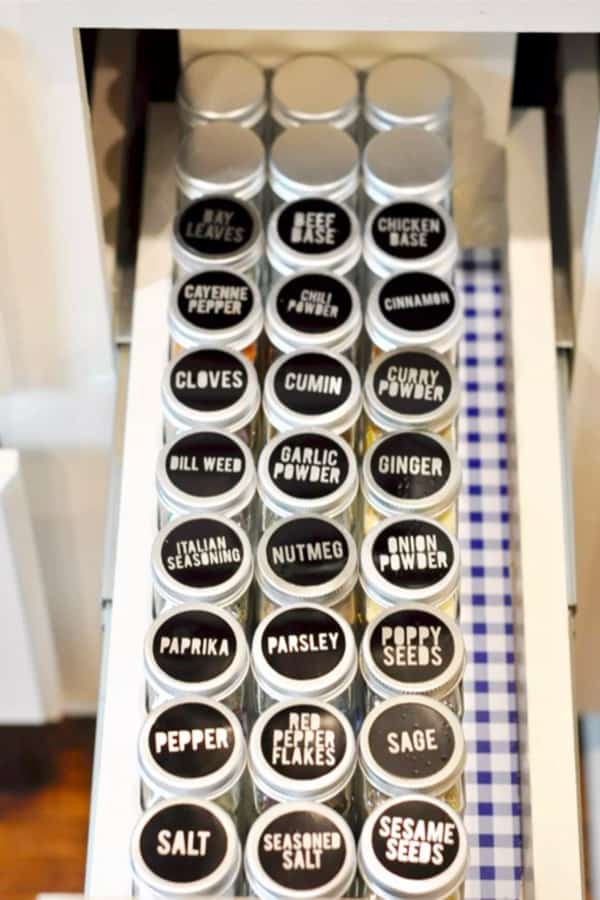 In case you are storing the spice jars in a plain drawer, you can help yourself and not waste time taking jars out until you find the one you are looking for with labels.
This cute hack gives an idea of how to label every container with cute and adorable labels.
via Lamberts Lately
32. Hanging Spice Grips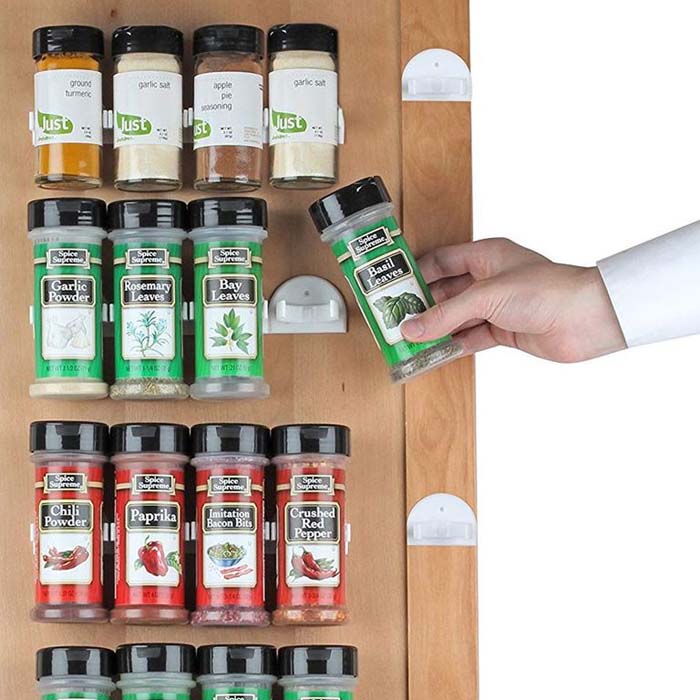 These clips are made to save the housewives' lives! They are cheap and easy to be mounted. Screw or tape them on the door or back of a cabinet and insert the spice container in the clip.
You can have as many of these clips as you wish and can use them not only as spice organizers but also for storage of seasonings.

33. Multiple Options Make For A Neat Cabinet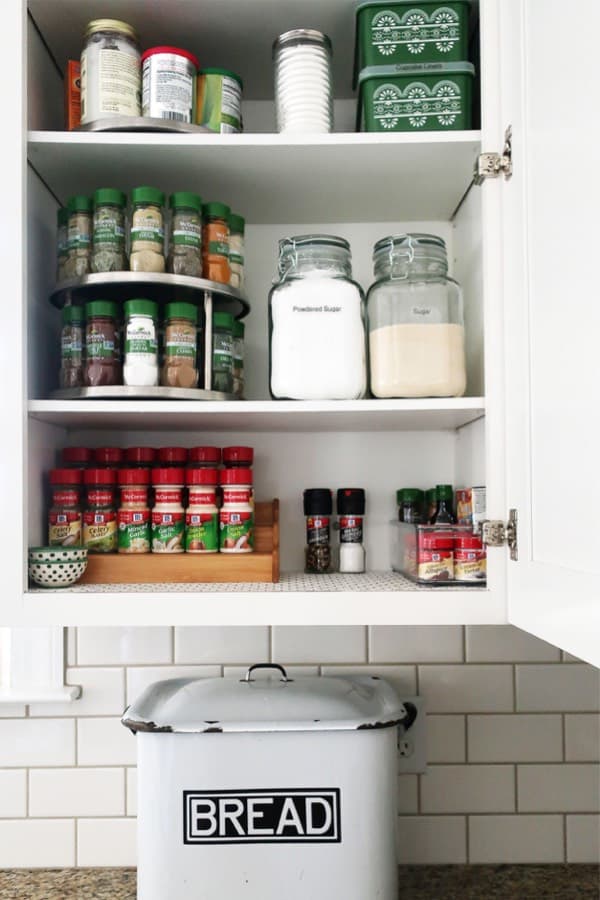 You can use together different storage systems to tidy up the cabinet with spices. The Lazy Susan system is good for spaces where access is limited.
On the bottom shelves, the tiered stands are a good organizer as you can reach out and find the jar you need. The article below reveals more secrets and hacks on how to make the spice cabinet more organized.
34. Printable Labels Add Versatility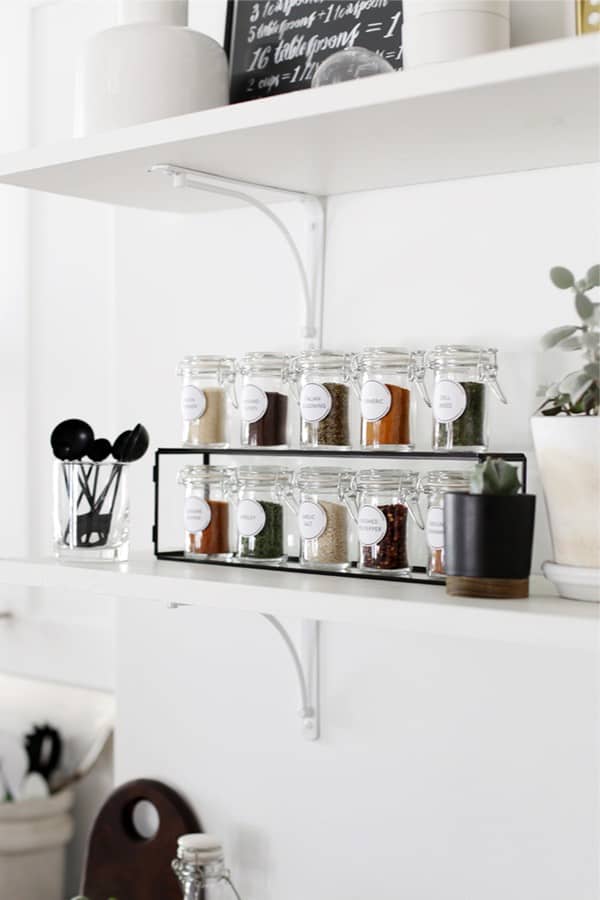 Need free printable labels for your spice containers?
You may think that they are not needed but when you place them on the glass jars you will quickly become convinced that they are the hack you have long needed to stop wasting time staring at the content of the jars.
35. Easy Foam Drawer Liner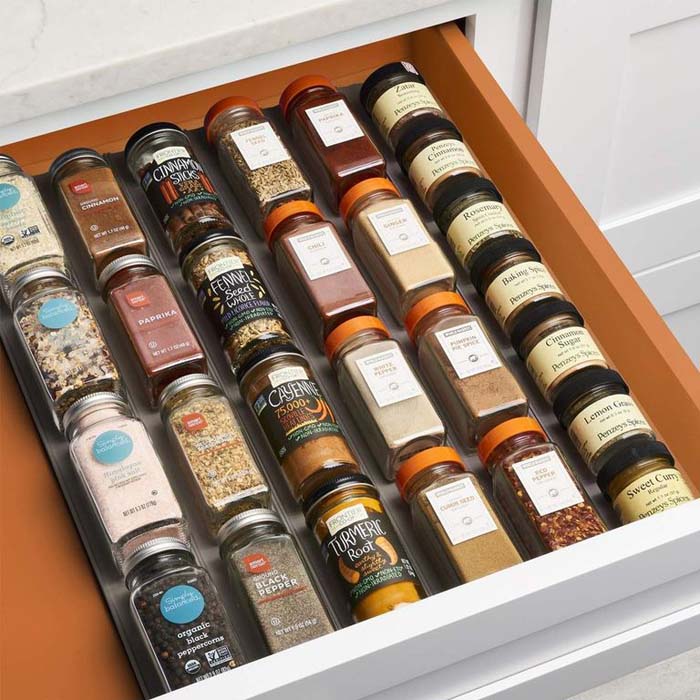 If you have loved the affordable idea of transforming a drawer into a spice organizer, you can check Amazon for liners.
They are made of foam and sticking them to the bottom of the drawer is an easy task.

36. Add Vintage Charm With A Crate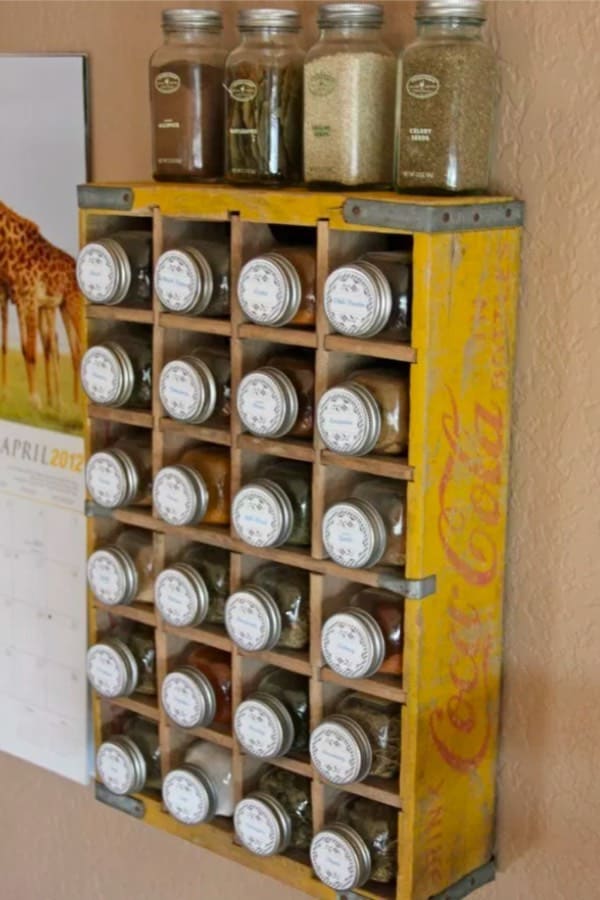 Need a farmhouse spice rack? You may not find it at the stores but you can surely do it yourself. You need a crate and plywood or scrap laths to form the storage sections for that awesome project.
The outer surface is what makes this organizer unique in a vintage way. No modifications have been done on the outer surface of the crate. The yellow paint and the Coca-Cola inscription are so weathered that they give the repurposed storage unit a great antique value.
via BRO Haha
37. Farmhouse Spice Cabinet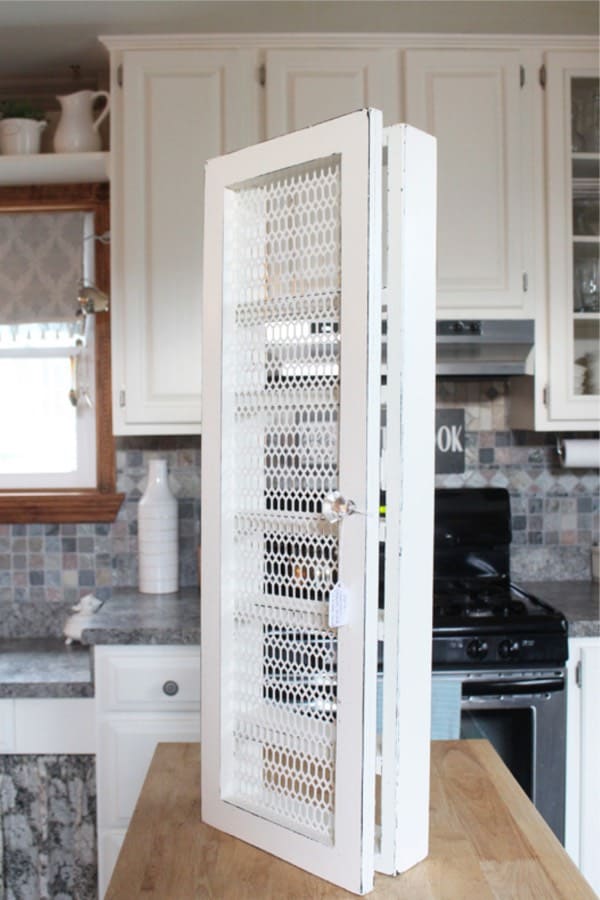 If you end up wasting a lot of time digging into the spice cabinet, you need new inspiration! This slim extra cabinet is attached to the side of a cabinet to give 6 tiers for the storage of spice containers.
If you are looking for a vintage effect, the wood paint can be distressed. If you prefer a more elegant vision, paint the wood nicely with a deep dark color and add a chick knob.
via Confessions of a Serial DIYer
38. Weathered Coastal Spice Shelves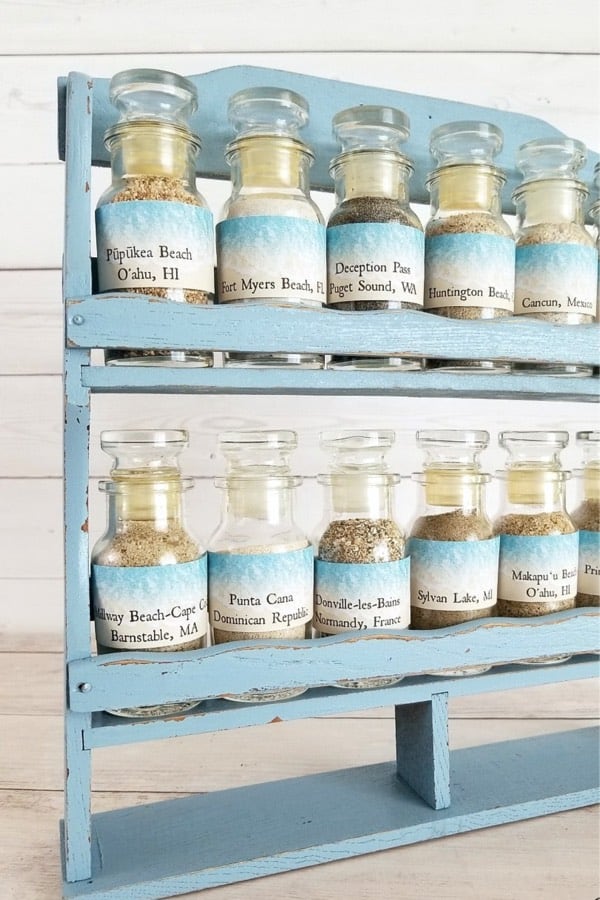 This coastal-inspired rack will make cooking an enjoyable activity even on the hottest days. The spice rack originally had a vintage look but somehow it wasn't that attractive anymore.
Some blue paint and distressing have given the plain wood texture a fresh and appealing look that adds to the kitchen a pop of summer color.
So if you are happy with the functionality of your spice rack but don't find it suitable for the interior and your taste, try changing its appearance with paints and techniques.