One of the indicators for an organized kitchen is the fridge. Believe it or not, you can quickly ruin the idea for a neat and tidy look when you open the door and food starts falling down.
Organizing the space of the fridge is not a big deal if you follow our collection of tips and hacks.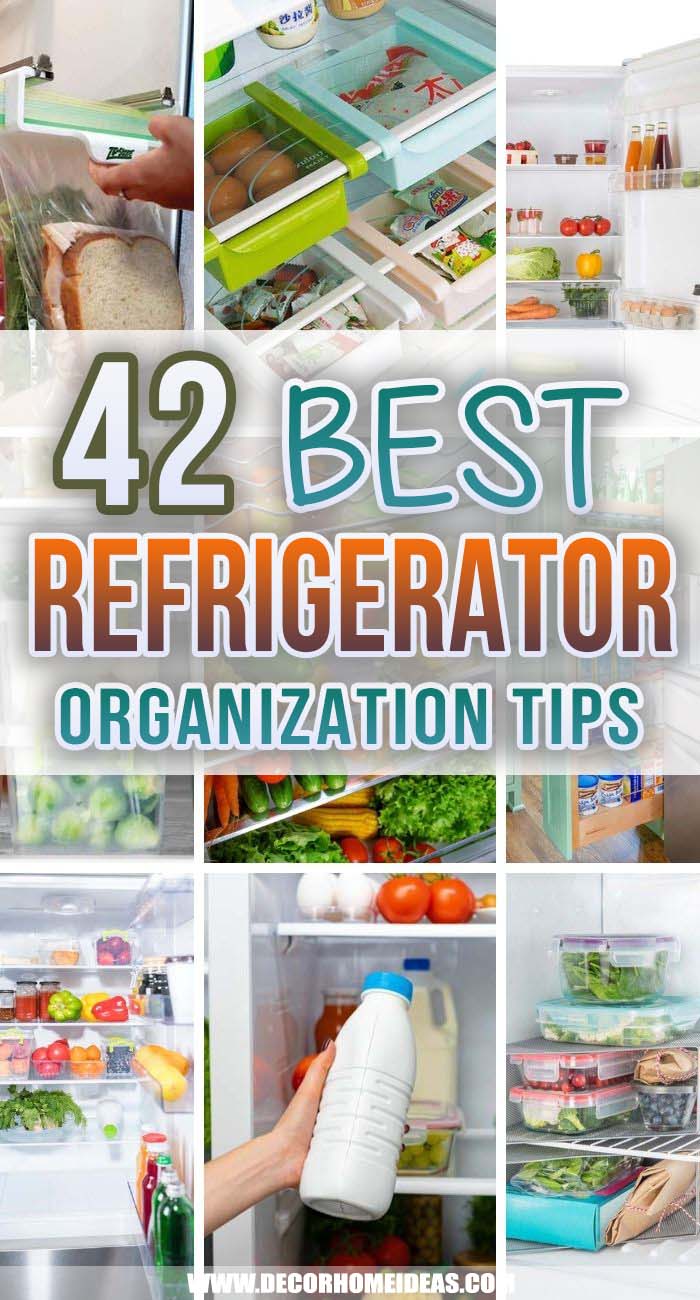 With only a little of your time and effort, you will turn the fridge into an honorable piece of your kitchen and most importantly, you will enjoy fresh and properly stored food.
1. Eliminate Fridge Odor through Activated Carbon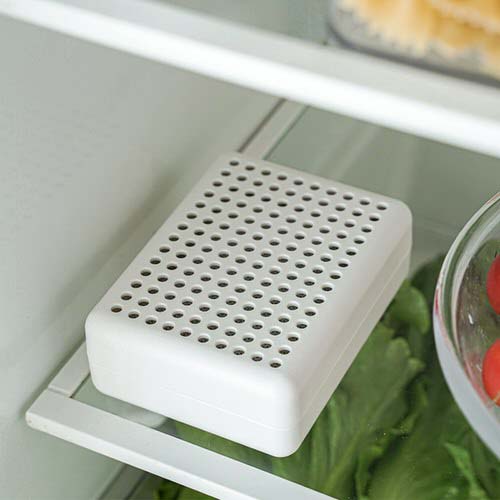 Odor in the fridge appears often and it doesn't certainly mean that there is spoiled food.
Baking soda is a well-known fighter against odor but you probably don't know that activated carbon works better.
2. Maximize Your Fridge Space with a Wire Shelf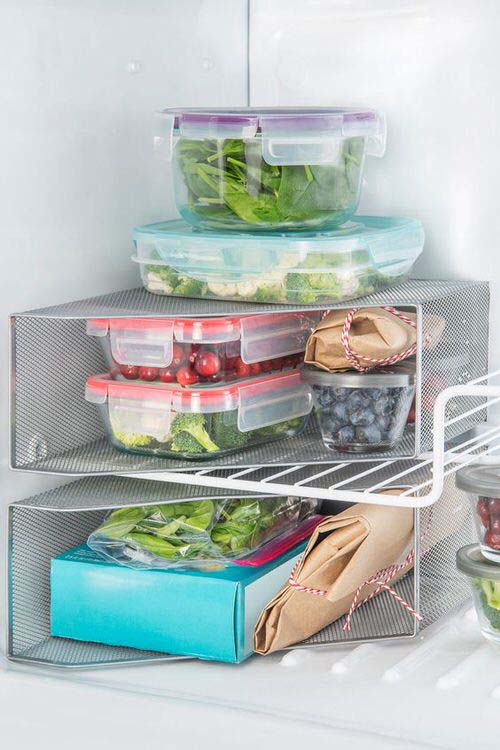 Wire shelves are an inexpensive way to increase the storage space. Slide it on another shelf and place containers or products in.

3. Organize Food in Your Fridge According to Expiry Date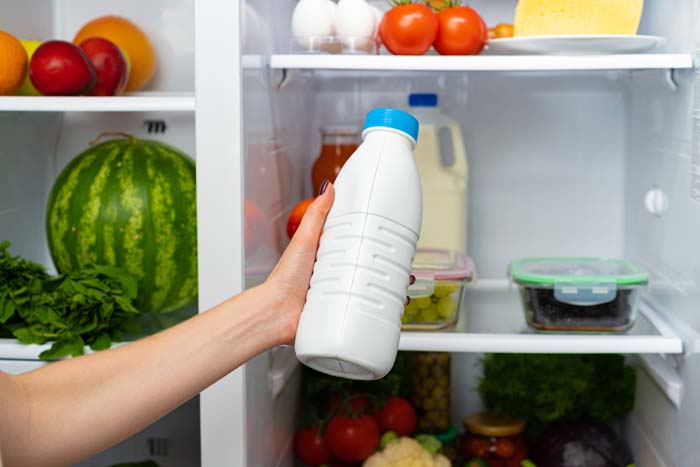 It is always a good idea to organize food items according to their life span. By the way, the rule for shelf organization is closely related to that.
Make sure that things that expire soon are easy to be seen when you open the fridge.
4. Organize Your Fridge for Easy Meal Planning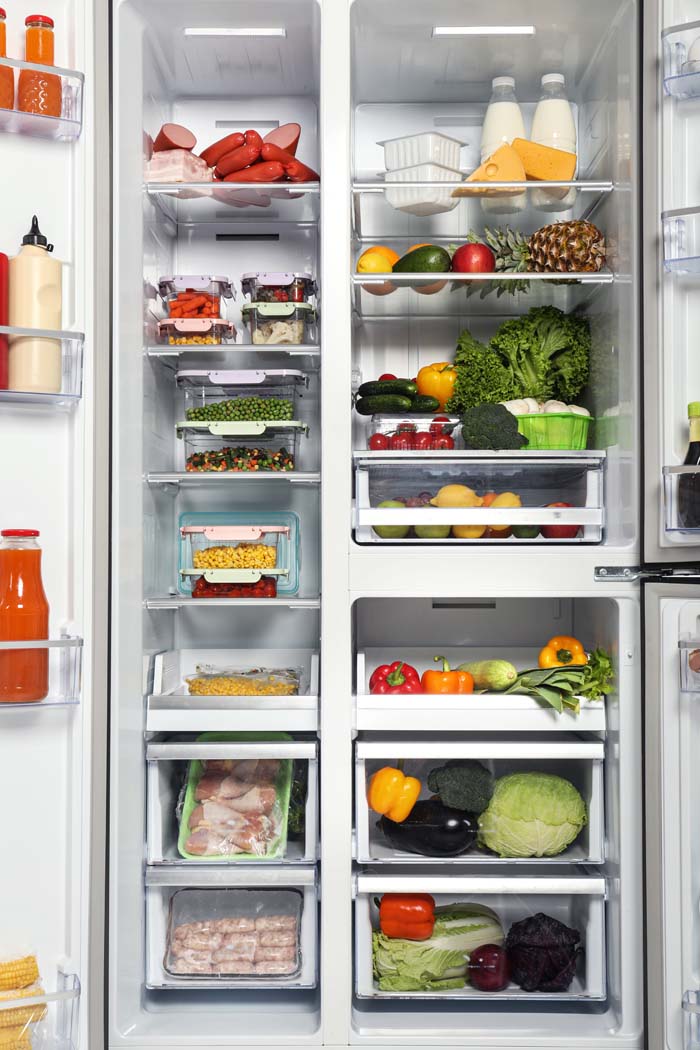 Organize your fridge based on your weekly meal plans and requirements.
Place the items you need most often in the front and those that will not be needed immediately at the rear part.
5. Store Your Milk and Eggs in Middle Fridge Compartments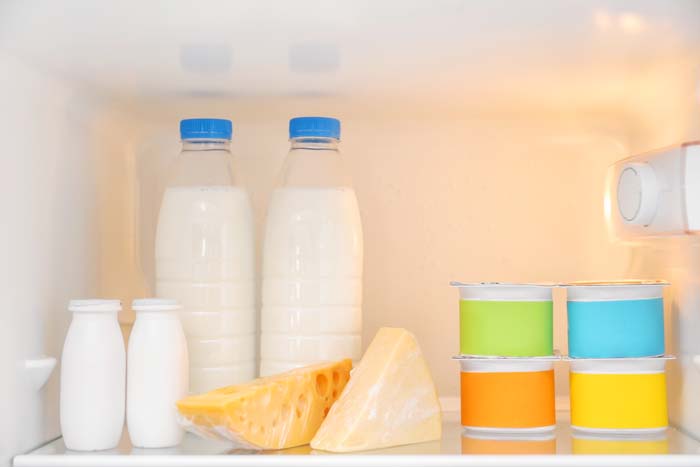 Eggs and milk tend to spoil quickly and although it seems most convenient to find places for them in the door, the middle shelf is the better storage place as it provides lower temperature.
42 Refrigerator Organization Tips & Hacks to Increase Fridge Space Quickly video:
You should know that the door and the top shelf are the warmest spots.
6. Properly Store Your Food with Trays, Bins, and Baskets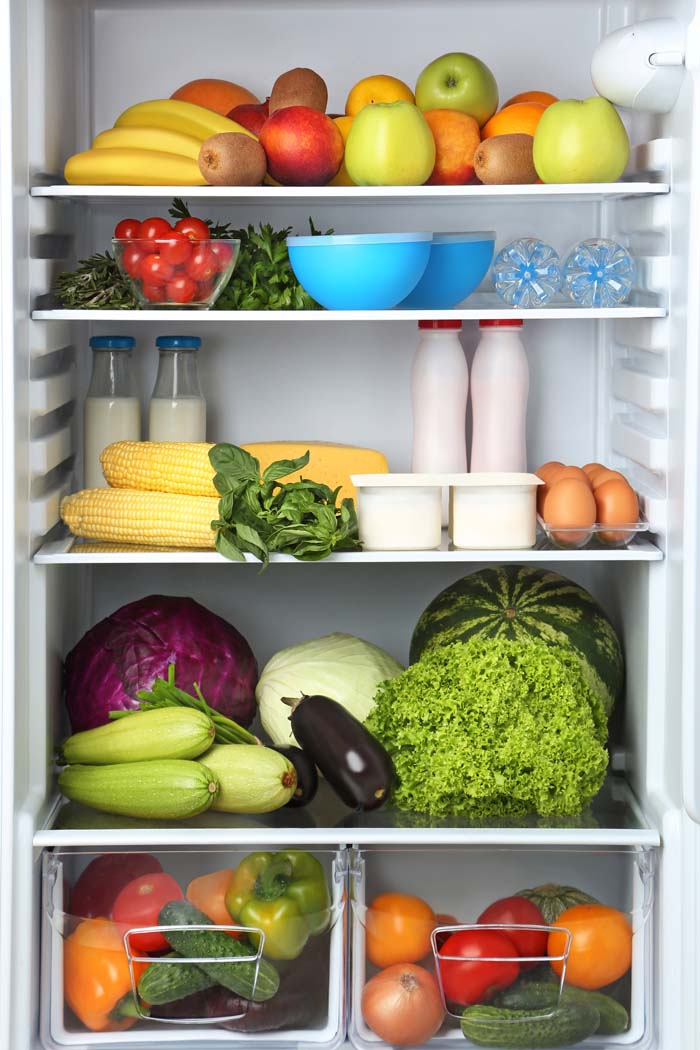 If the vegetable compartments of the fridge are full, you can use any type of trays, baskets or bins to separate and store them properly.
Trays are also good for meat storage on the bottom shelf to keep the leakage away, bins are perfect for condiments and colanders- for citrus fruits.
7. Keep Eggs Secure with an Egg Holder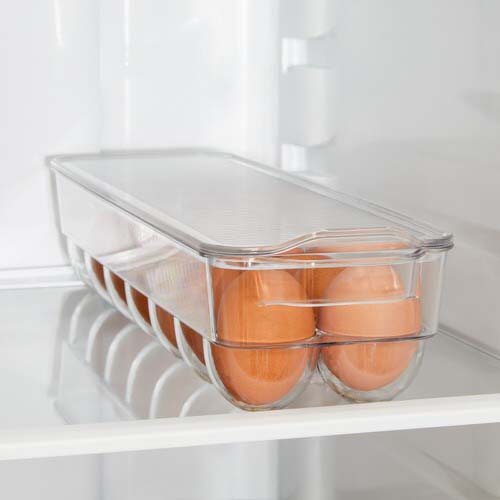 The egg holder is a useful container as it keeps the eggs safe from breaking and lets you stack over it.
A cheap and space-saving idea for fridge organization.
via Storage Box
8. Store Your Vegetables as a Whole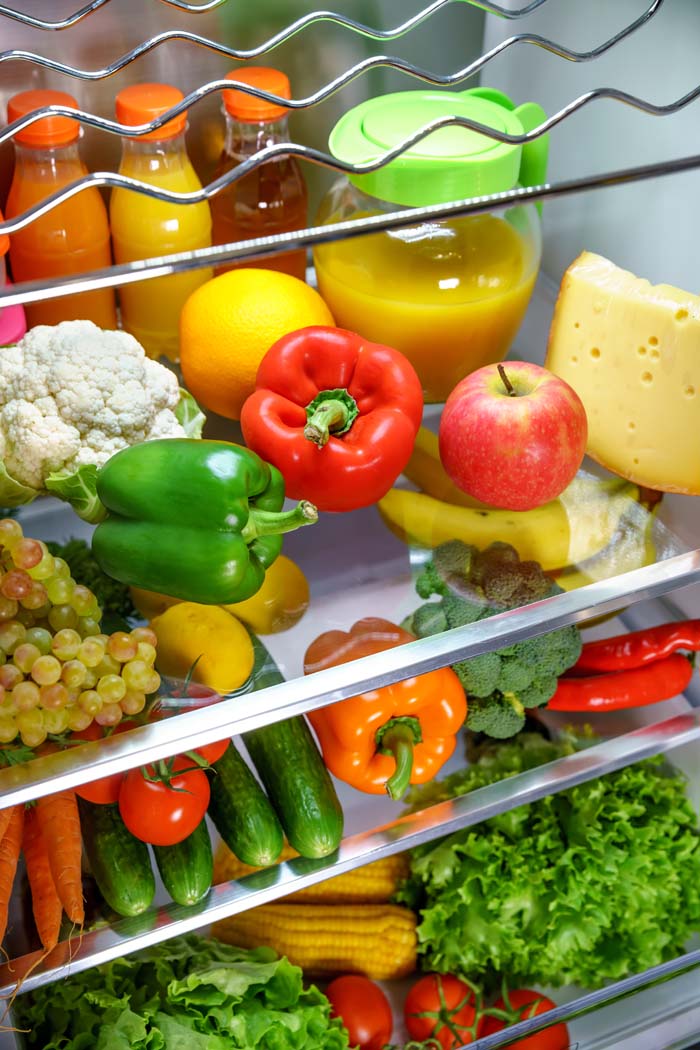 If you are used to preparing the fresh salad in advance and keeping it cool in the fridge, you should know that pre-cut vegetables deteriorate quickly.
The salad will taste best when ingredients are washed and cut before consumption.
9. Make Cooking Easier with a Food List on Your Fridge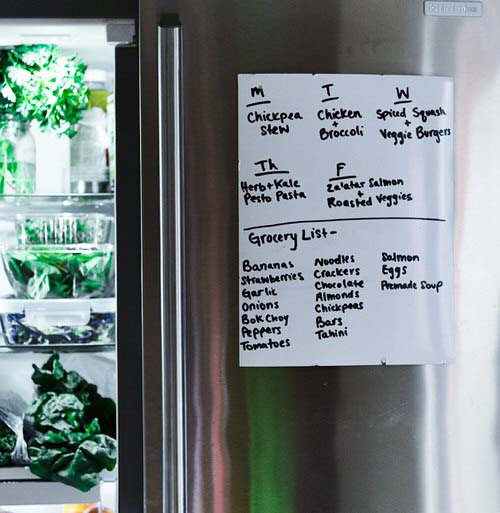 Most people use the front of the fridge door to display memory magnets from holidays. Well, this surface could be far more practical if you want to keep track of the things going on in your kitchen.
Make a list of the items inside the fridge. You will see that you will never be out of any food if you have a helper like this.
via Food Network
10. Organize Your Shelves with the 'First In, First Out' Rule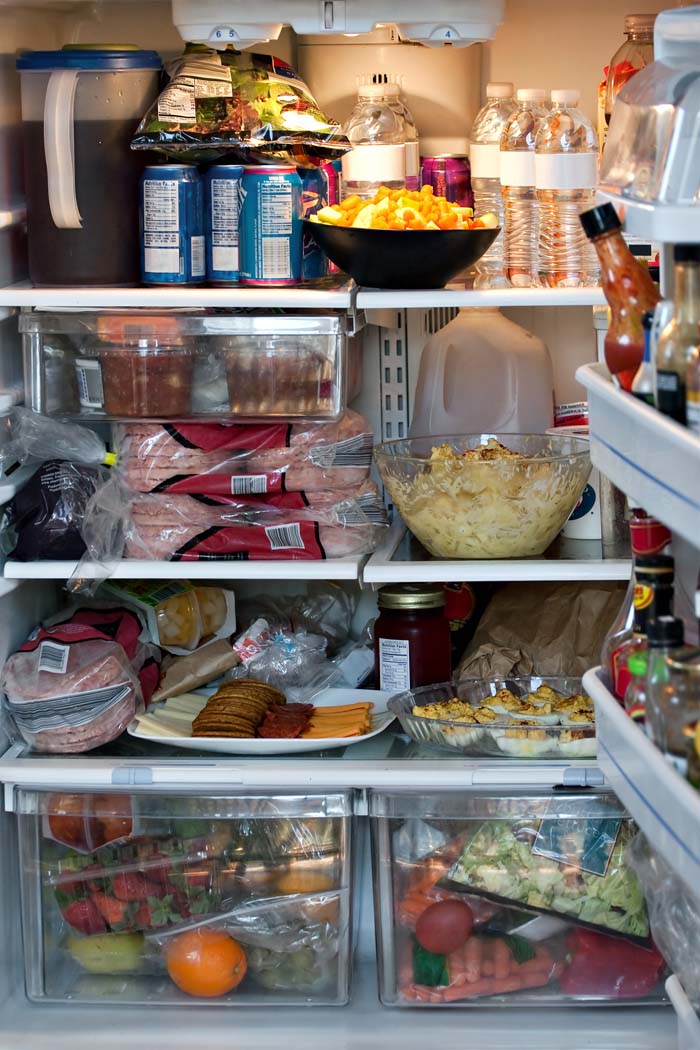 This rule applies to many fields, including domestic life. It is simple, easy to be kept and working.
Place older items in the front of the shelves and freshly bought- in the rear part of them.
11. Utilize the 3-Step Rule for Organizing Your Fridge Shelves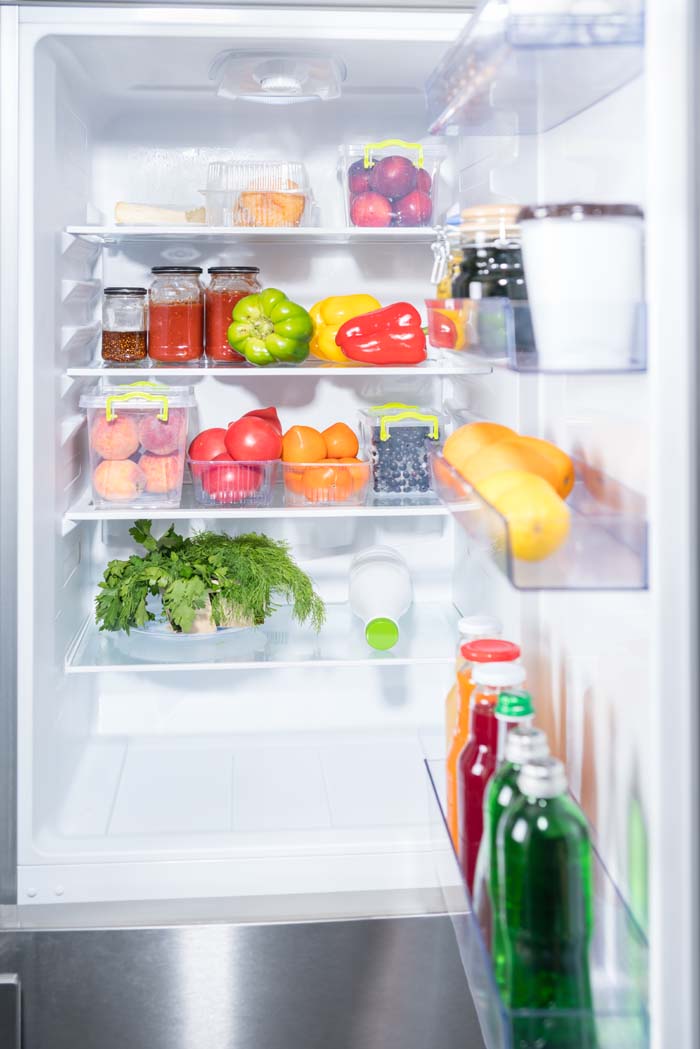 When you do the next overall cleaning of your fridge, remember this 3-step rule:
Organize the middle shelf
Arrange the food on the bottom shelf.
Transparent containers are always welcome to store food properly and keep the leakage in.
12. Maximize Fridge Storage Efficiency with Basic Hints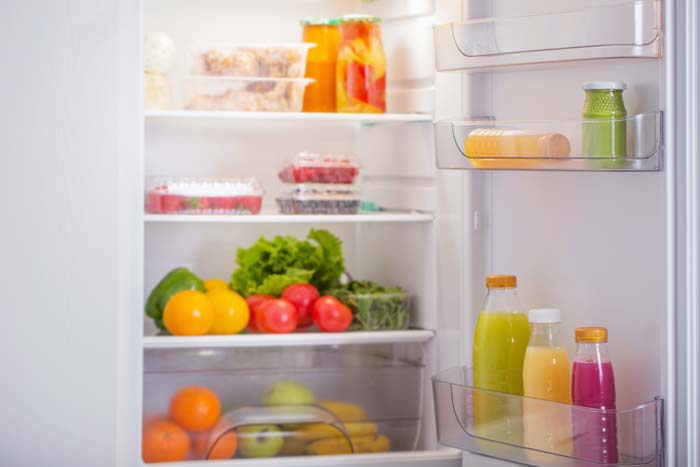 When it comes to basic hints, don't forget these:
Top shelf is for tall items and containers.
Middle shelf is for milk, leftovers in containers, drinks and prep and ready-to-eat food.
Bottom shelf is the meat drawer where you can place raw meat on a tray to keep the drips in.
One of the crisper drawers is for fruits with low humidity, the other one for veggies with high humidity.
The door is the place where you can keep the items with longer shelf life stored like soft drinks and condiments.
13. Revolutionize Pouch Storage with a Door Storage System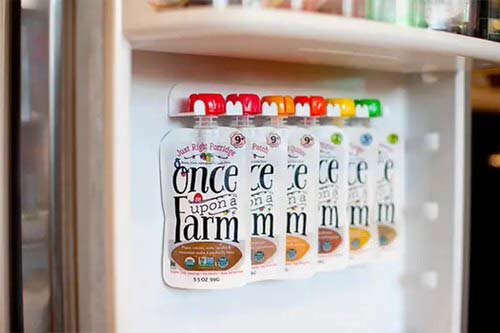 How do you store pouches? Probably you haven't found the right way yet.
Check this door storage system- as simple as it looks it does miracles with the organization and saves space from the door compartment.

14. Free Up Fridge Space by Removing Non-Perishable Veggies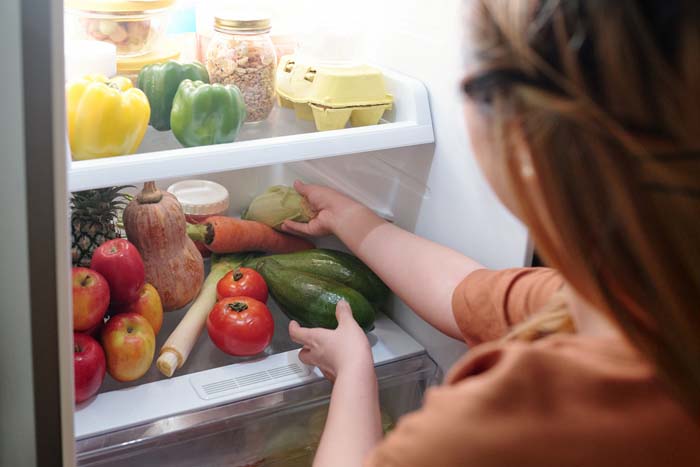 There are certain veggies and fruits that will stay fresh for a longer time if kept outside the fridge. These are onions, potatoes, citrus fruits, tomatoes, winter squash.
They will have access to the circulating air in the room and that is enough to keep them in fresh condition.

15. Use Binder Clips for Creative Freezer Hack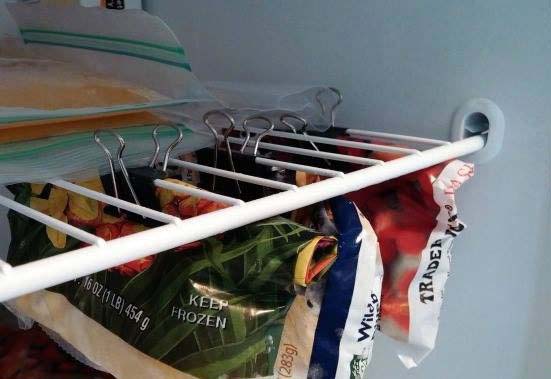 Isn't that an amazing idea? Binder clips could be helpful also in the kitchen. Clip the bag with food and clip it on the grid shelf of the fridge.
Space there will be enlarged and food items properly stored.
16. Optimize Your Fridge Storage with Transparent Bins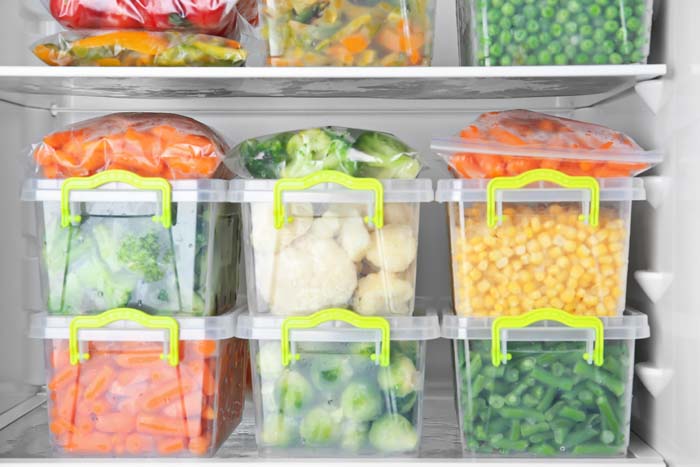 If you like storing products in bins, go for transparent ones.
You can easily see what is contained in them, check the quantity and restock it in case it will soon be over.
17. Preserve Fresh Herbs with Plastic Containers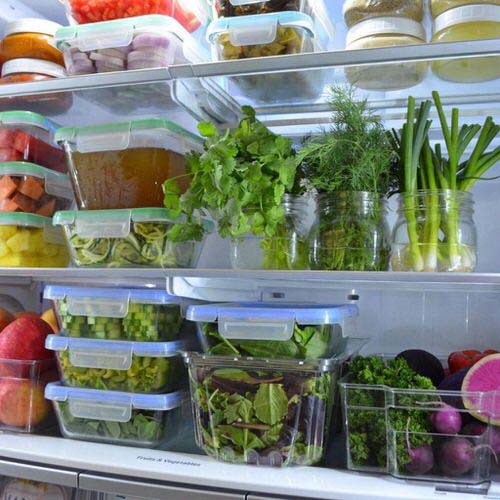 Do you prefer seasoning your meals with fresh herbs? Then you will like this hack.
You can keep herbs fresh for 3-6 days in air-tight plastic containers or dipped in water in small glass jars.
via Kristen Hong
18. Keep Meat in the Lower Fridge Shelves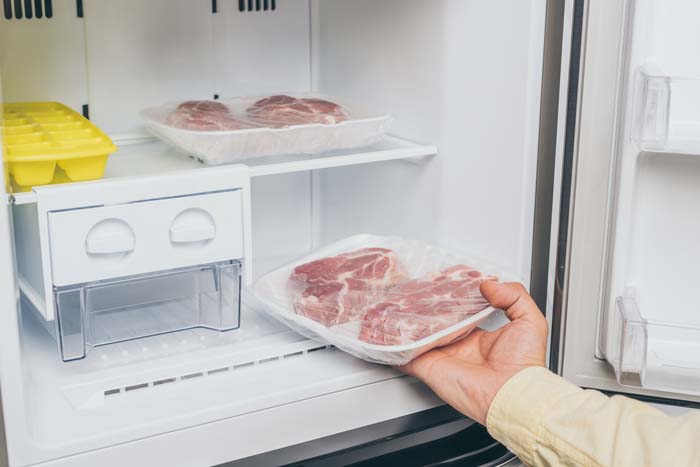 If you plan to cook meat in the next couple of days, you can store it in the fridge instead of in the freezer.
Place it on the lowest shelf where it does not drip on other food. It is always a good idea to place it in a tray that will collect any spillage. Good storage, less cleaning!
19. Keep Fridge Two-Thirds Full for Optimal Cooling and Air Flow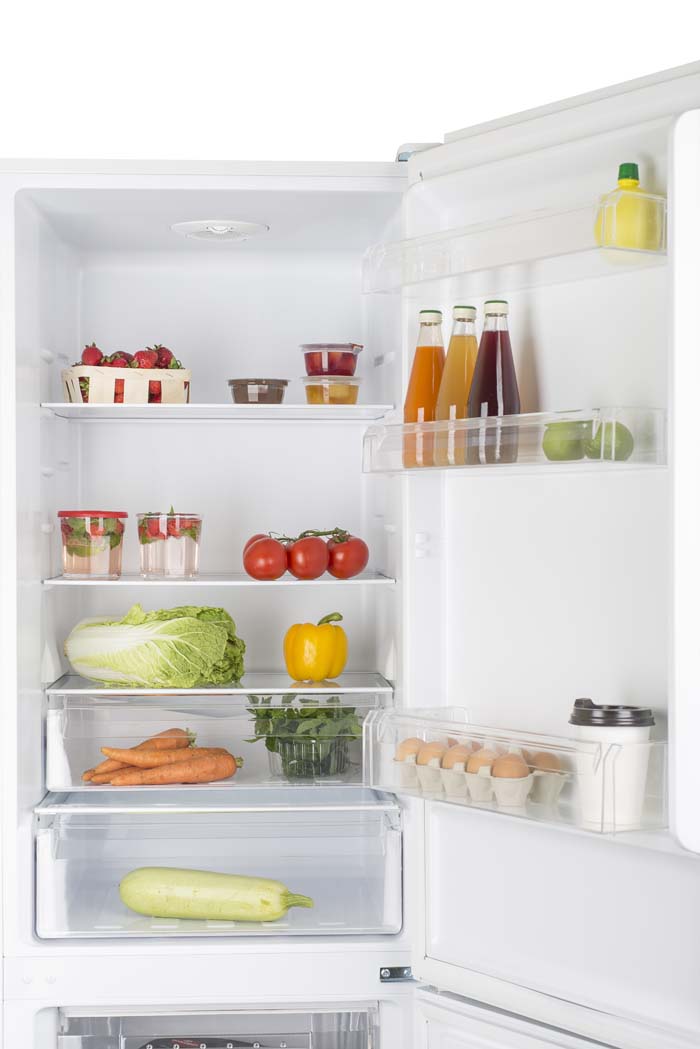 Don't overload the refrigerator. The obvious sign that it is time to declutter it is items coming out every time you open the door.
The more stuffed the fridge is, the less air blows from the air vents and that means that the energy efficiency, respectively cooling function decrease.
In case there are times when the fridge remains empty for a while, put a few bottles in to help the fridge keep the cool temperature inside. The best rule for keeping the fridge in its perfect operating condition is to keep it two-thirds full.
20. Periodically Clean Your Refrigerator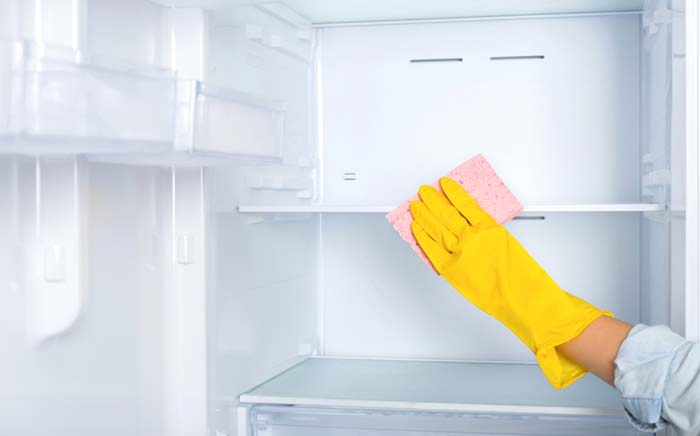 Try to maintain the fridge clean to keep the stored items fresh.
Do a check once a week for items that have expired or leftovers you wouldn't eat.
21. Get Creative with Personalized Fridge Containers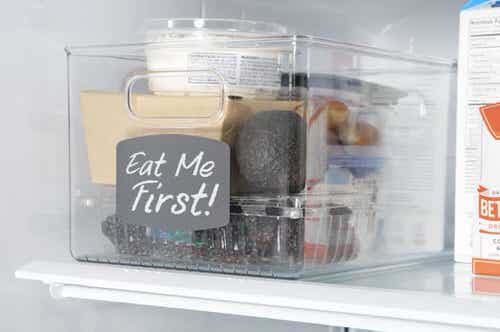 Draw attention to the items that will soon expire with a special label.
'Eat me First' is a fun message and family members will surely check what is inside the box.
via Babbling Panda
22. Sort Your Fridge Food with Labeled Containers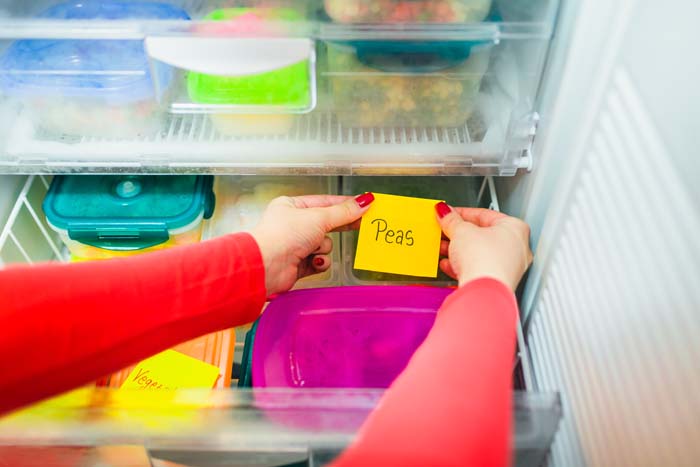 If you are an organization maniac, you would appreciate the idea of labeling the containers with the stored food.
Especially, when the refrigerator is full, that habit will help you quickly find and remind what you need.
23. Extend the Shelf Life of Citrus Fruits with a Simple Hack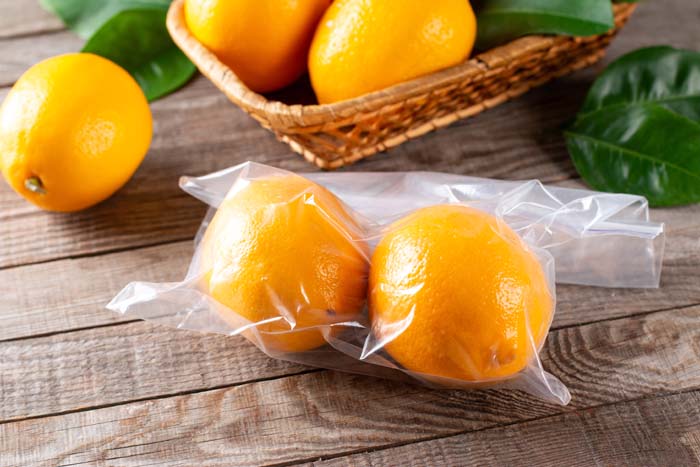 Unlike the advice for keeping veggies and fruit out of plastic bags, the lemon and limes will last longer if they are zipped in a plastic bag filled with a spoon of water.
This hack helps as the citrus fruits are porous and that makes them dry quicker when kept in the open air.
24. Revamp Your Small Fridge with Colorful Sliding Drawers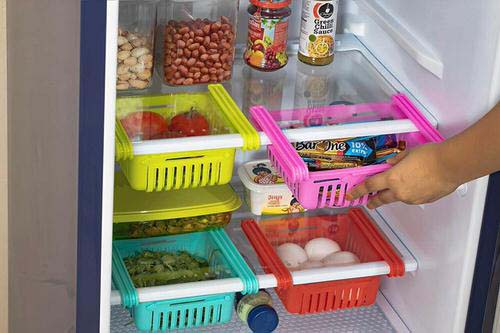 If you have a small refrigerator, you may want to try these sliding drawers that let you store things underneath the shelves.
They come in different cheerful colors and are very affordable. Probably, they are one of the greatest refrigerator hacks ever!
25. Repurpose Office Organizers as Freezer Shelves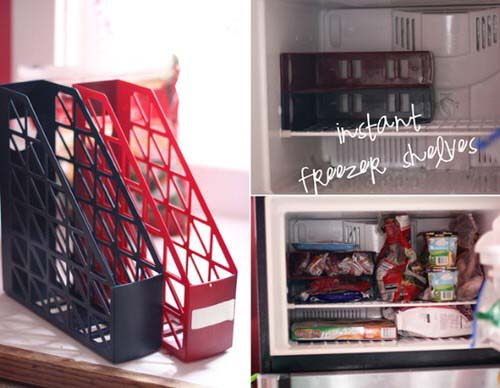 You can repurpose file organizers into freezer shelves.
Get them from the Dollar Store and see how quickly your freezer gets neat and organized with no investment.
26. Maximize Freezer Space with Plastic Food Container Storage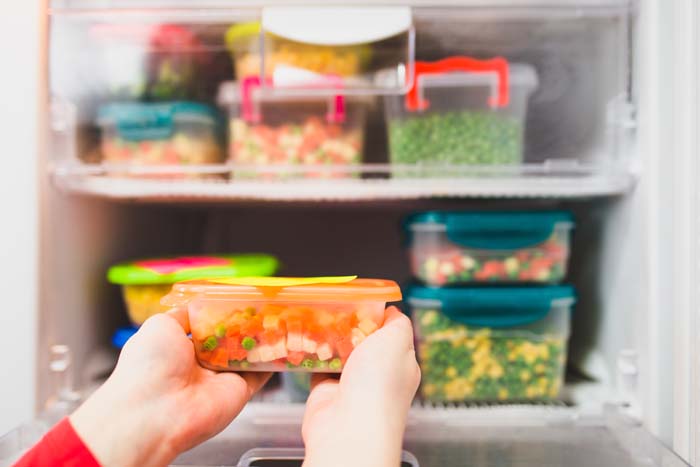 Before putting the meat in the freezer, think about when you plan to cook it. Make a plan for a week in advance and then separate the food that needs to be frozen.
Use sealable freezer bags or upright containers to store food as the space there is limited.
via Reddit
27. Make Fridge Cleaning Easier with Peel-Off Plastic Wraps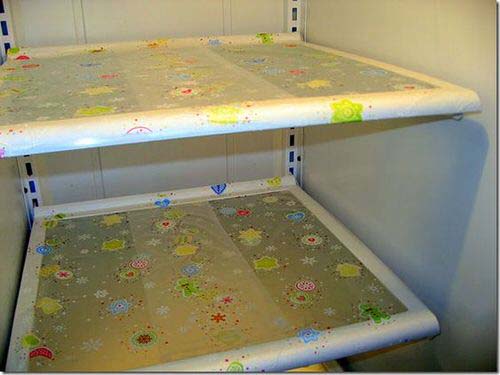 An alternative to the non-adhesive liners for keeping the shelf clean is cling film or plastic wrapping.
Once they become dirty or there is a spill, just peel them off.
via Life Hacker
28. Get Optimal Food Storage with Plastic Bags and Tubs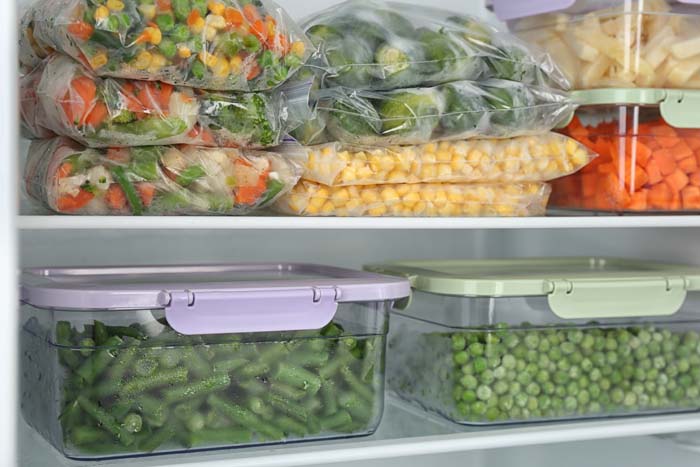 Plastic sealable bags are perfect for freezer storage as they allow stacking.
Plastic tubs are also great for storage as you can store a larger amount of the ingredient and easily see it thanks to the transparent container.
29. Chill Your Tulip Bulbs in the Fridge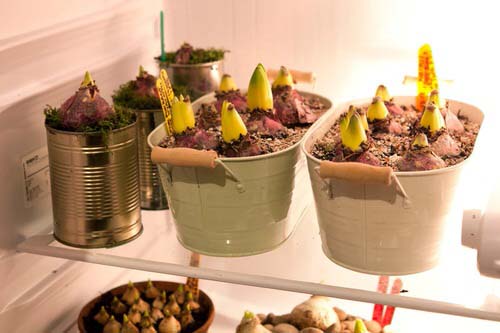 You are probably wondering what these tulip bulbs are doing in the fridge but there is a reasonable explanation. If you are a garden enthusiast, you know that spring bloomers such as tulips and narcissus require a chilling period of 12 to 16 weeks.
There are many people providing the low temperature by placing the bulbs in containers with soil in the fridge. If you are willing to try this, make sure to dedicate one entire section from the fridge.
via Gardener's World
30. Keep Fruits and Veggies in the Open for Lasting Freshness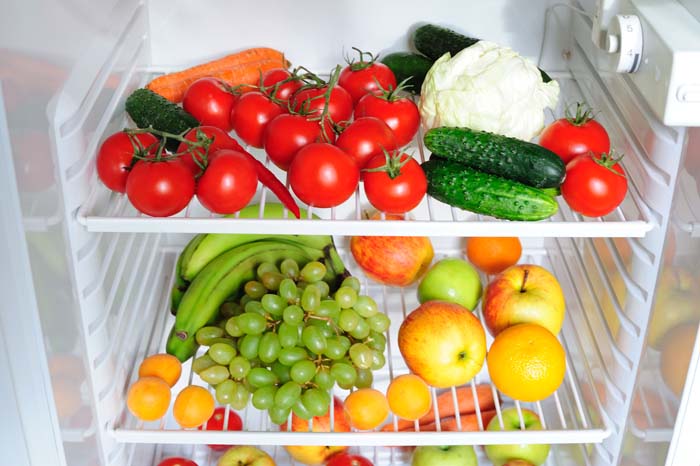 Don't store fruits and veggies in plastic bags. Take them out and then place them in the fridge. This will allow airflow to go around them and keep them fresh for longer.
The best place for this type of food is the middle of the refrigerator.
31. Place Similar Food in the Fridge Together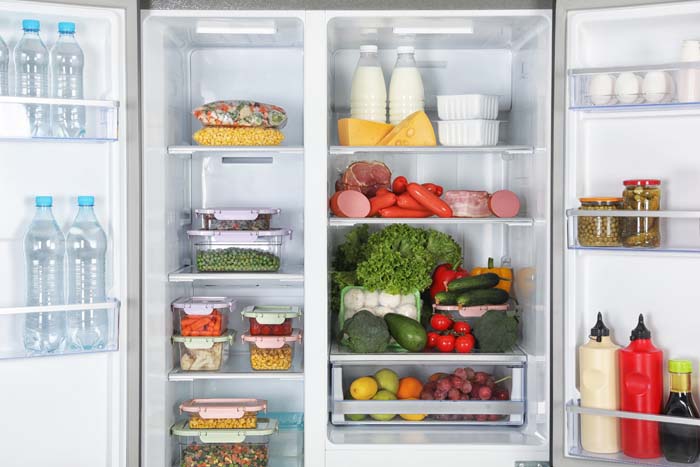 Group similar food items together. For example, place the herbs and the veggies on the same shelf. Milk and other dairy items can be stored close to each other.
This is a hack to see everything you may need quickly and access it easily.
32. Store Your Six Packs in the Fridge Door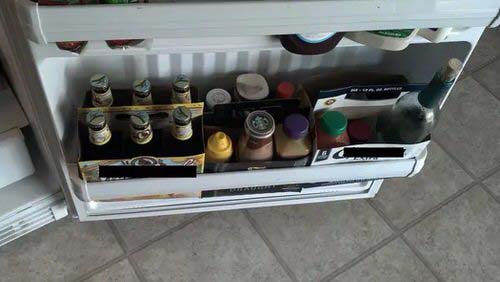 Did you know that items packed in a six-pack are of the size of the door compartment? This packing size has been made to keep the fridge organized so use it by inserting it directly in the door compartment.
via Reddit
33. Incorporate a Sliding Wall Organizer to Free Up Fridge Space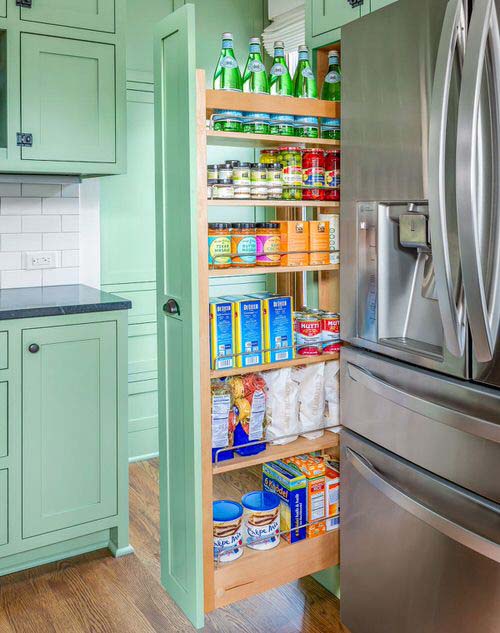 You can use a wall organizer for the fridge to increase the storage places and easily check which items are about to expire soon.
via This Old House
34. Get the Perfect Solution for Small Fridges with Storage Boxes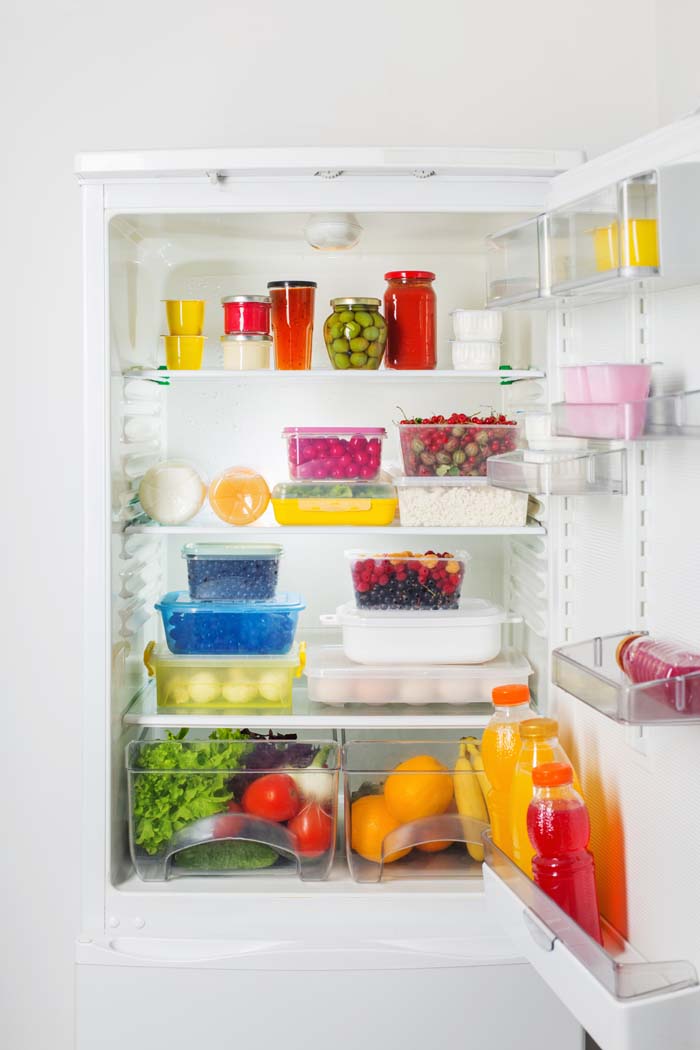 Smaller fridges are not a challenge if you use storage boxes.
You can use different colors or transparent colors depending on your daily needs and requirements.
35. Extend Shelf Life of Leafy Vegetables by Tying Them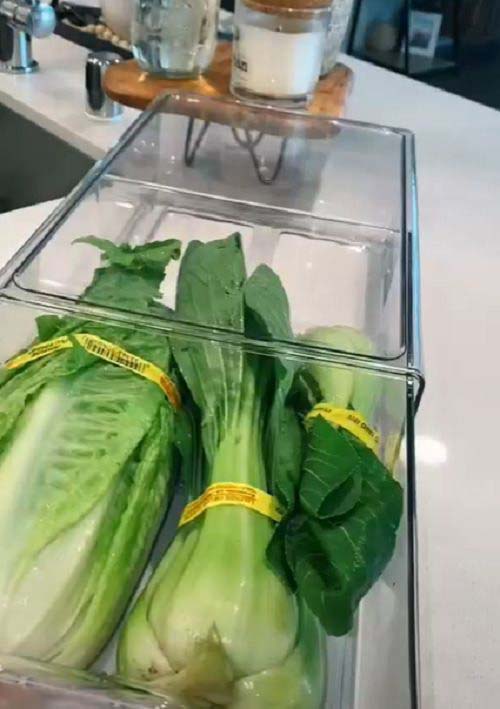 You probably haven't been aware until now that the leaf veggies will last longer if they are tied with bands.
Of course, first, take them out of the plastic bag.
36. Maximize Your Fridge with Mason Jars and Tupperware Boxes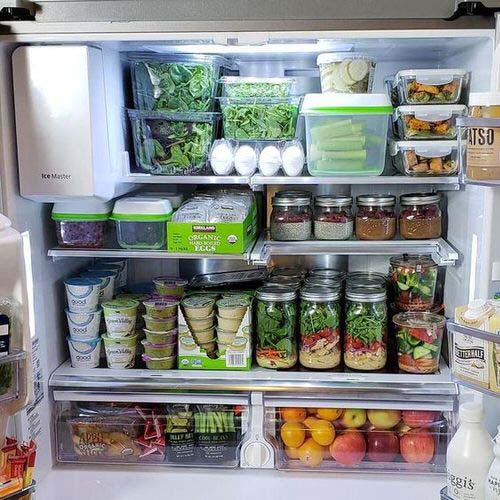 The Mason jars and the Tupperware boxes are the perfect fridge organizers.
Sort the food types in or prepare semi-finished meals to quickly see and access them. When you open a refrigerator organized with these containers, you get a great impression of tidiness.
via Alejandra P
37. Optimize Fridge Storage with Convenient Plastic Baskets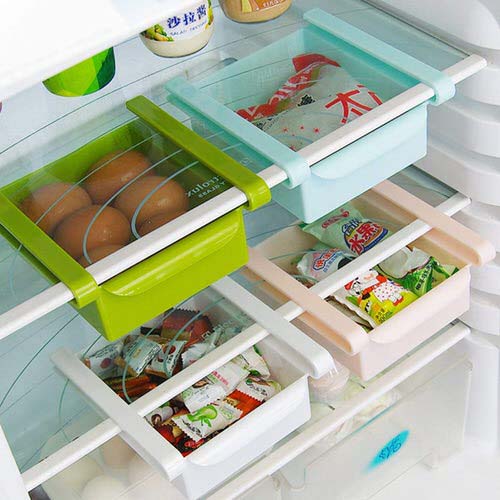 Another design of the additional drawers is these cute plastic baskets. They are good for eggs, candies, pouches or other smaller food items.
They will increase the storage space and will create a neater look in the fridge.

38. Store Your Leftovers in Deli Containers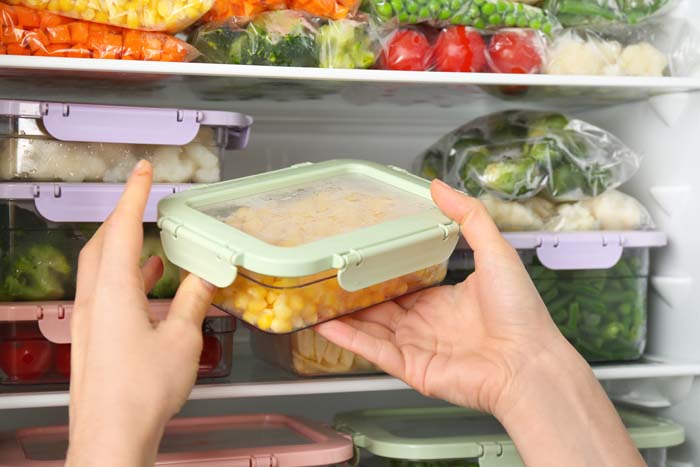 You can use the deli containers to keep leftover food for the next meal. They easily stack and will keep food well preserved.
Another advantage of these containers is that they won't allow leaking if they get knocked over.
39. Opt for Square Containers as Alternative to Round Containers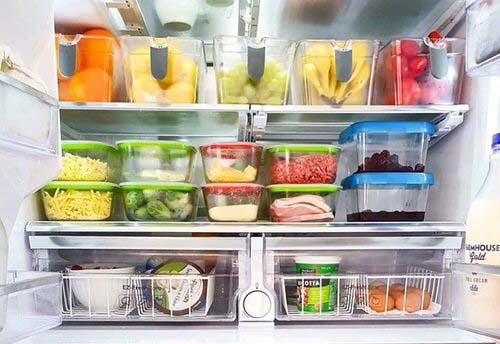 To utilize the space on the shelves best, go for square containers.
They conform with the shape of the fridge and let you use more of them compared to round containers.
via Stasher
40. Store Your Food in Style with Rotating Trays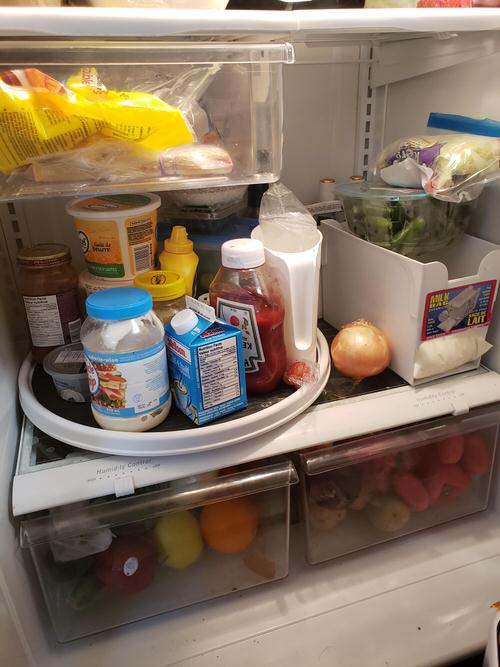 Lazy Susan trays are handy in the kitchen. In the fridge, they can store items that will soon expire or are already opened and should be used.
You will quickly access the item you need thanks to the rotating.
via Reddit
41. Add a Pop of Color in Your Fridge with Shelf Liners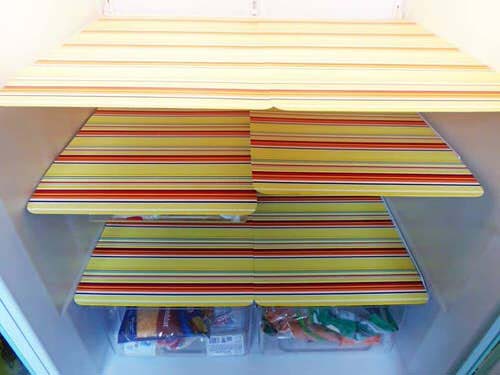 The shelf liners come in help to provide a cleaner look of the fridge. By the way, they are easy to be cleaned when there are spills as they are non-adhesive.
via My Frugal Home
42. Add Lasting Charm with a Ziplock Bag Organizer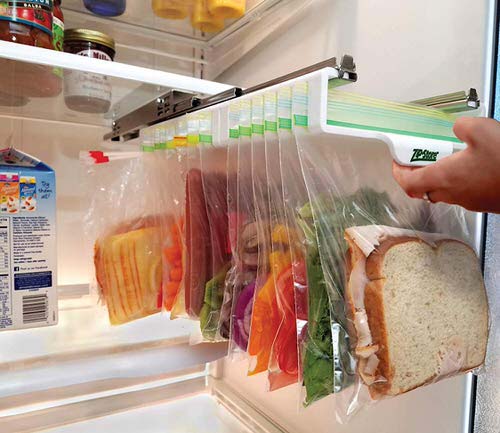 A ziplock bag organizer is a gadget you can get separately to add to the space in the fridge or the freezer. Pull the organizer out and get the bag you need. You can store veggies, fruits, sandwiches for a short time.
Bonus Tip: Enjoy Tasty Meals with Right Onion Selection