Tiny, small or big kitchen- this doesn't matter at all if it is not well organized! If everything is stored in a suitable place, it will look neat and appealing and that is the key to making cooking and dishwashing a pleasant activity.
Getting to this point may require a very simple upgrade of the existing kitchen. And here is where we get involved- to show you ideas and hacks that have already been tested and confirmed to be working.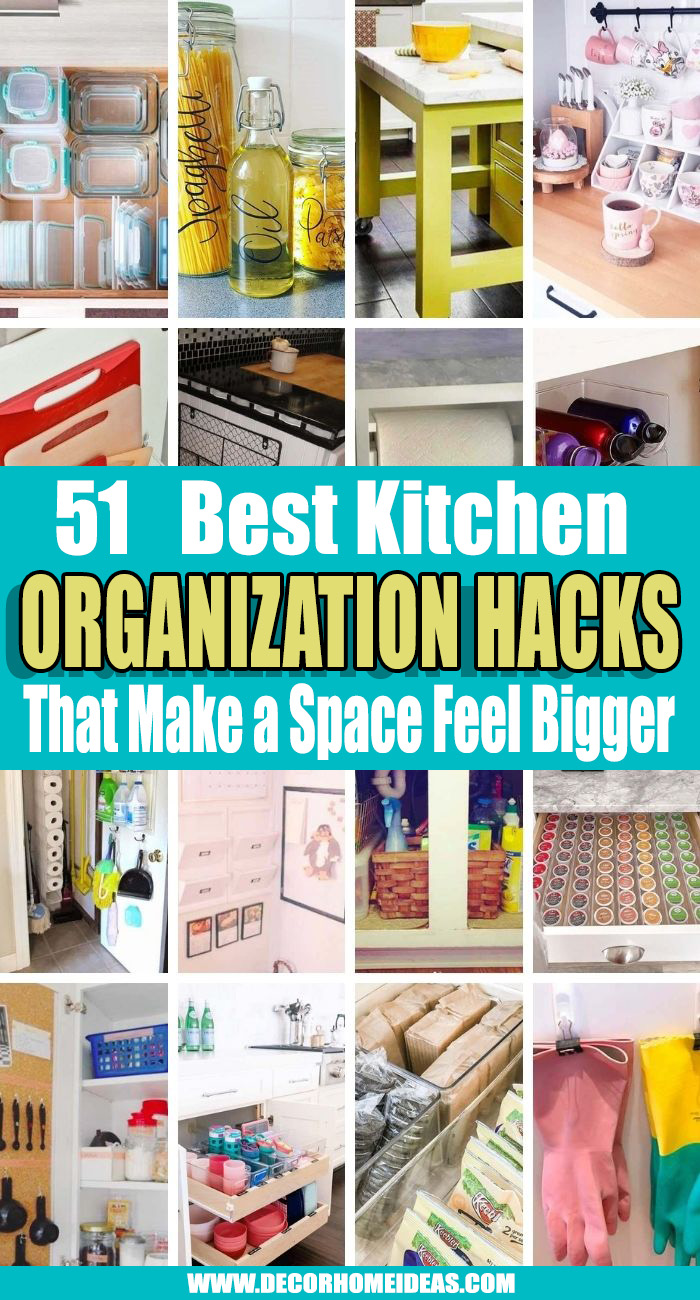 So before planning a total makeover of the kitchen, make sure to try one of these kitchen organization hacks that will declutter the kitchen and will ensure a spot for all of the accessories belonging to that space.
1. Control Counter Clutter With Baskets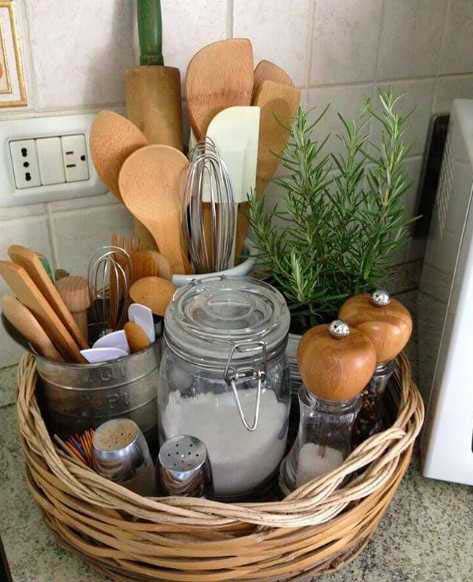 Put all of the items that are usually spread on the countertop in one container.
That will make finding them easier and will free a significant amount of space for food prep. You can get similar trays here.
2. Use An Underutilized Space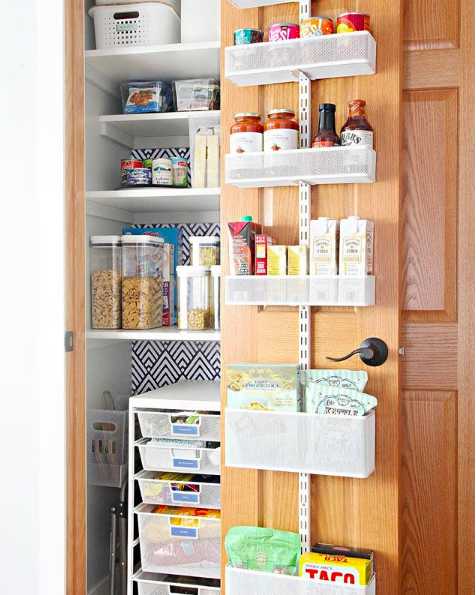 This over-the-door organizer is a practical gadget that lets you utilize the space behind any door.
The slots on the metal support are given to fix the plastic containers at different heights consistent with the stored items.
3. Organize Children's Dishes Within Reach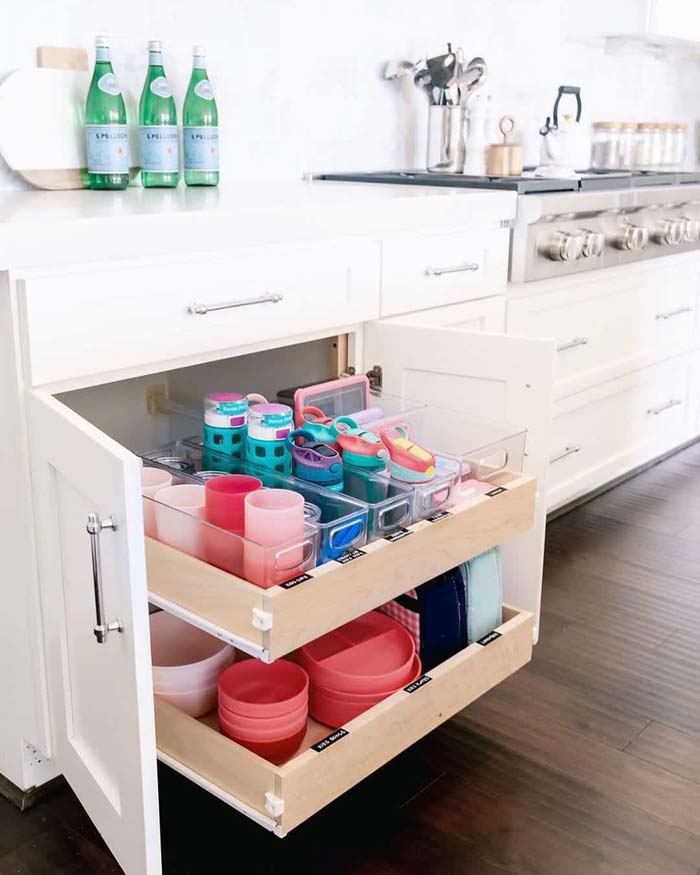 Keep all of the kids' utensils at one place. It would be great if they are stored in a cabinet that is easy to be reached by them.
Use plastic holders and other accessories to make the storage more organized and sorted.
via Mika Perry
4. Organize A Pantry With Containers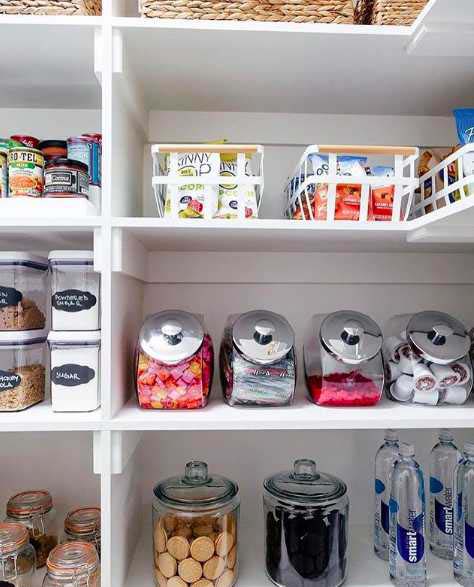 Candy jars from the Dollar store can be repurposed into containers for storage of cooking essentials.
Being of identical design will also make the internal of the cabinets more attractive and will turn the organization of the kitchen into a more pleasant and easy activity.
5. Think Vertically To Maximize Space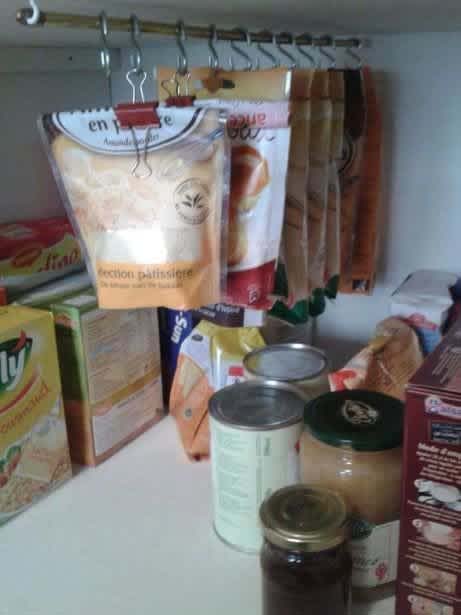 There are special plastic clips made to close the open packages with spices or additions. They are very helpful in protecting the stored in a good condition, however, they do not help at all with the storage.
There is a way how to do both of these with a simple accessory like the money clip. Their loops will let you hang the packages on a rod with S-hooks or a screw hook which is a great hack for storage in a space-saving way.
6. Keep Coffee Pods Together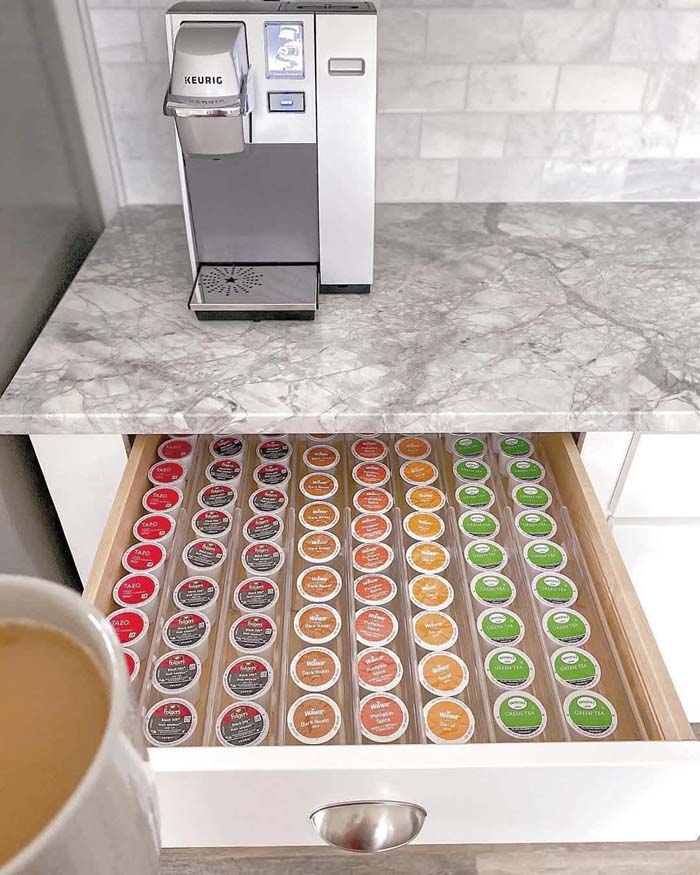 If you don't have any space left on a shelf in the kitchen cabinets for your coffee cups, then you must be storing their carton on the countertop. That is just fine if your kitchen countertop is wide and free.
In case it is not, here is an idea of how to store your coffee cups- in a drawer with sections that divide the cups according to their taste.
via Kate Lissova
7. Decorate Walls With Mugs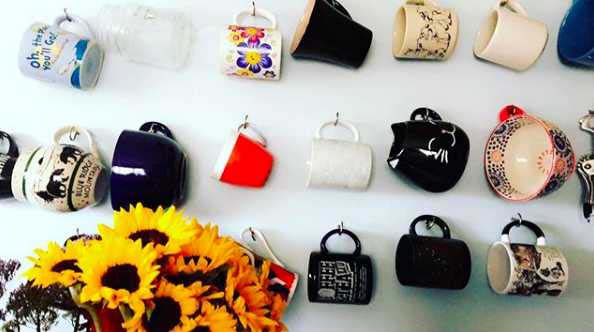 Use the kitchen wall as an alternative storage space when the cabinets and the drawers are full.
Screw hooks onto it and attach the coffee mugs to them. Your mug collection will become an interesting focal point.
8. Organize Mugs With A Standing Tree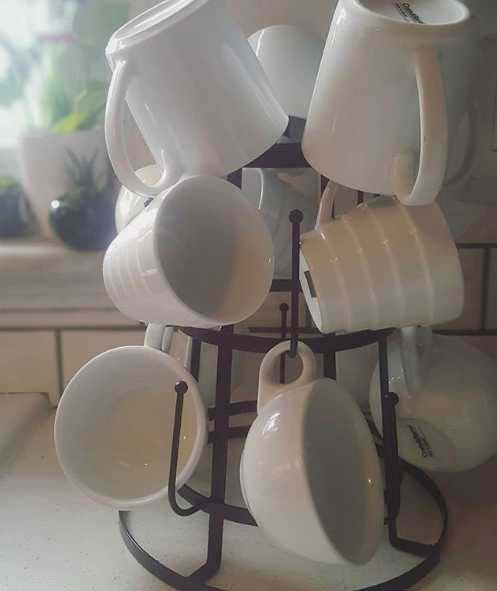 Another way to store your mugs when the cabinets are overcrowded is to use a metal tree for storage on the countertop.
It usually accommodates a whole set but there could be taller variations that provide more hooks.
9. Add Cork For Extra Storage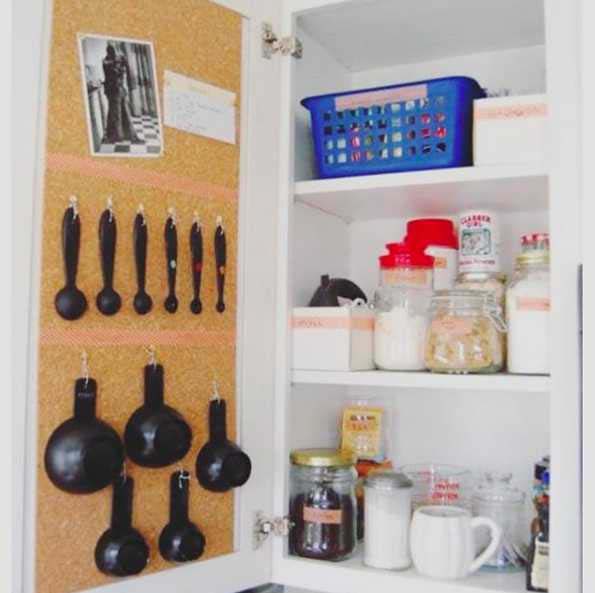 Increase the storage places in the cabinets by utilizing the internal surface of their doors. That can be done in many ways- from metal racks to magnet strips, coat racks with hooks, screw hooks.
This idea features a corkboard attached to the door which can bear light-weighing items that will free the space on the shelves for bulkier ones.
via Handy Dandy
10. Small Shelves Allow For Double The Space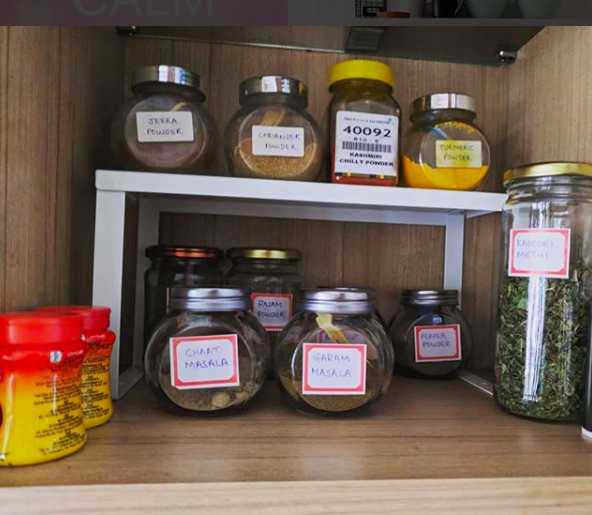 When smaller jars and cans are stored in the cabinet, you will notice how much free space there is above them. You can utilize it by creating a second level without any risk of damaging the wooden surface.
Adding a standing shelf is the simplest idea for providing this extra storage space.
11. Clear Organizers Give Sight To Items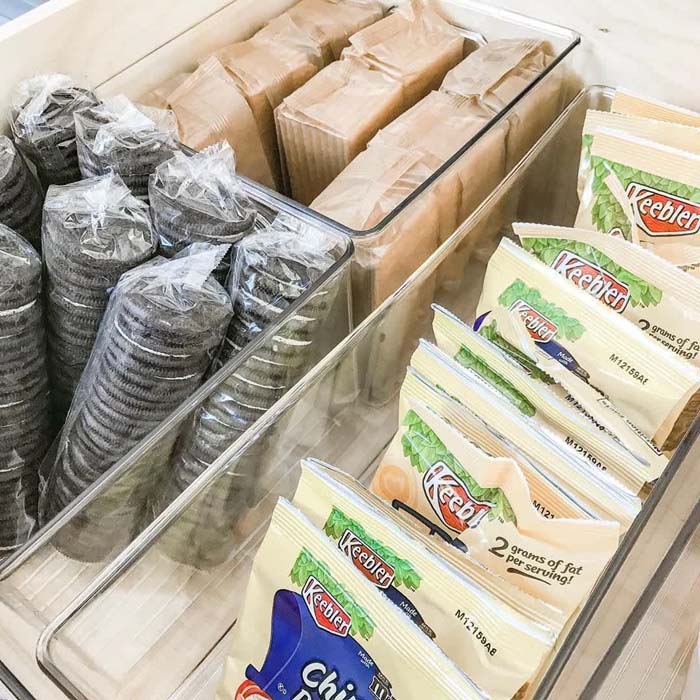 The original packages and boxes could take up a lot of space in the cabinets.
Replacing them with plastic organizers like those from the Dollar store will optimize the space because of their identical size and open design.
12. Clips And Hooks Store Gloves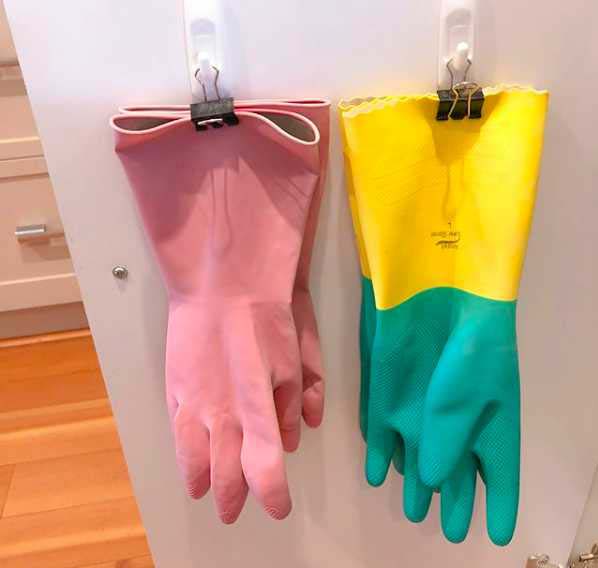 Repurposing the money clips into hangers provides you endless options for usage- you can store open packages with kitchen essentials, cleaning gloves, cooking gloves and many more.
13. Hanging Broom Rack Saves Floor Space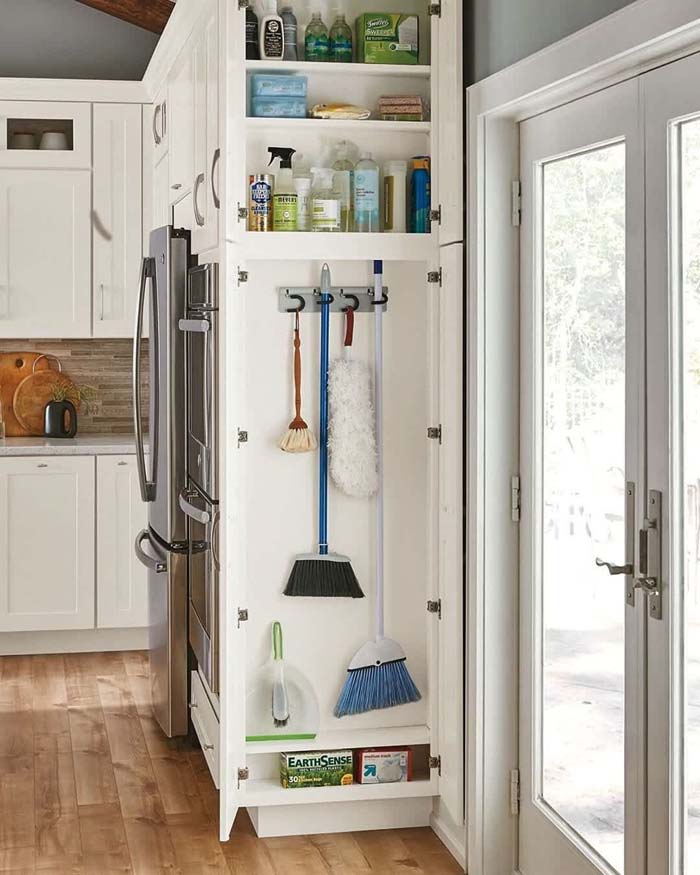 No closet or missing space in it for the cleaning devices? Make yourself a neat organizer on the side of the fridge.
It consists of a wood panel of the size of the fridge side with racks and hooks where all brooms and supplies can be hung.
via Front Products
14. Pull Out Hanging Pan Storage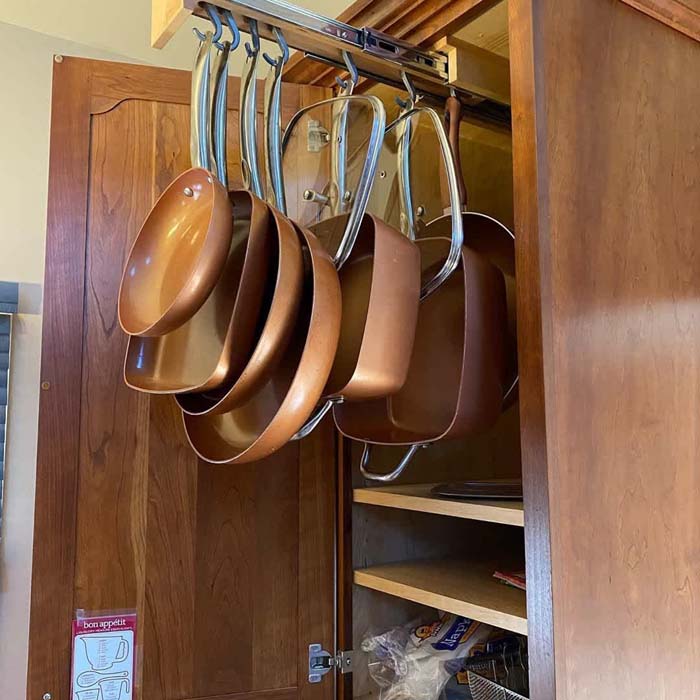 We have seen pots organized on the kitchen wall, creating an extravagant focal point.
If you are not that keen on that idea and prefer hidden storage, a pull bar at the top of a cabinet will keep them organized and accessible.
15. Creative Cubbies Built Into Cabinetry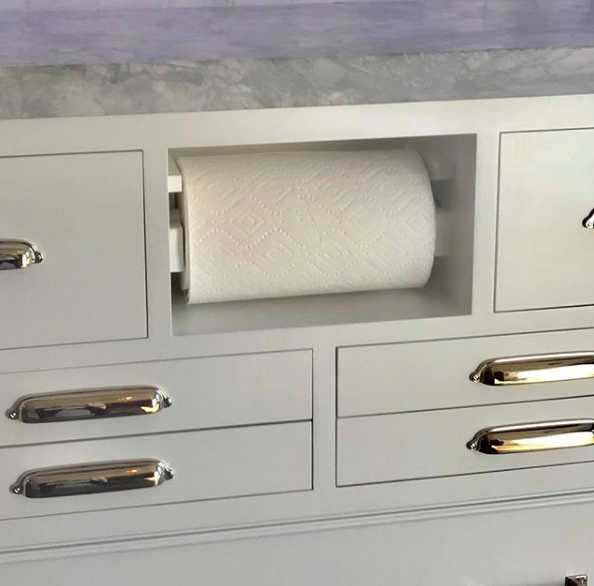 In a tiny kitchen, optimum use of space and clever storage are the key to creating a clutter-free and welcoming ambiance.
Keeping the paper towel on the countertop won't be a good idea. Instead, place it onto a dowel in a section from the cabinets that has been specially designed for that.
16. Glass Jars Optimize Open Storage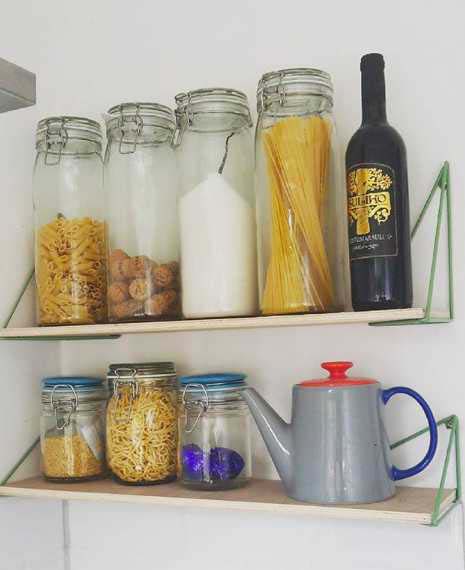 If you have an open-shelving type in your kitchen, you must be careful with its organization.
Choosing jars or identical containers for storage of the products is a great idea. Otherwise, the random packages will add the feeling of chaos and mess.
via Eleanor
17. Dividers Organize The Dreaded Junk Drawer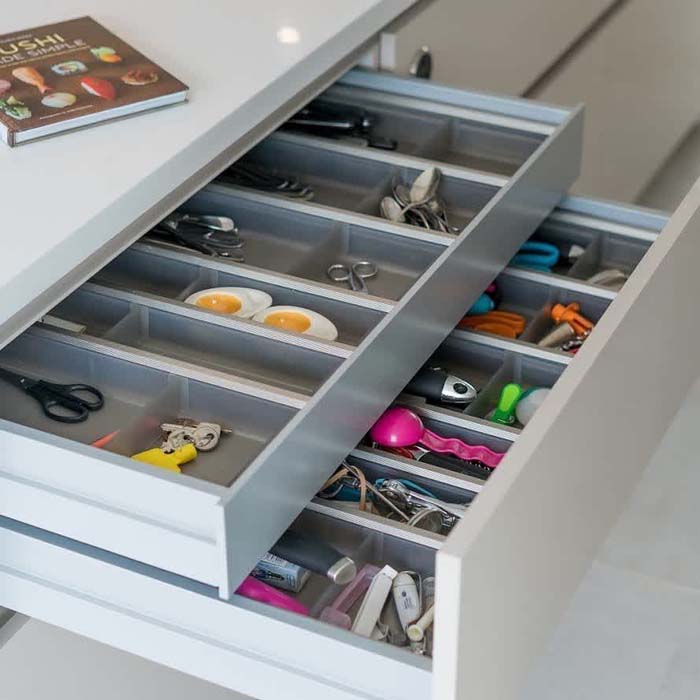 Use plastic containers, dividers and similar accessories to make the drawers more organized.
You will be satisfied with the instant uplift of the drawers as all items will be properly stored and easy to be found.
18. Integrate Storage In A Unique Light Fixture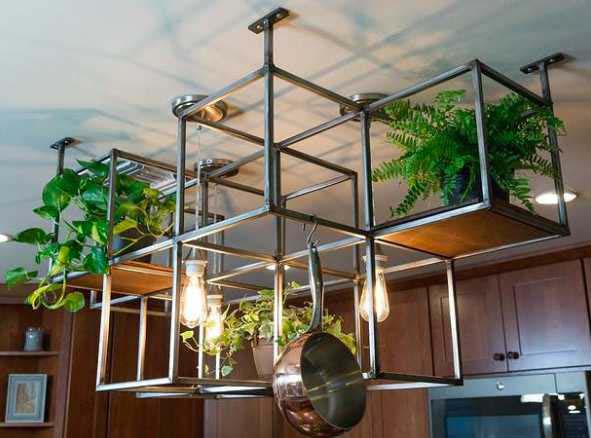 This modern ceiling rack is a focal point with functionality. It provides space for the storage of pots.
The combination with plants and industrial light fixtures distracts from the unusual usage and adds a personal touch.
via Rediscover Homes
19. Lazy Susans Ease Access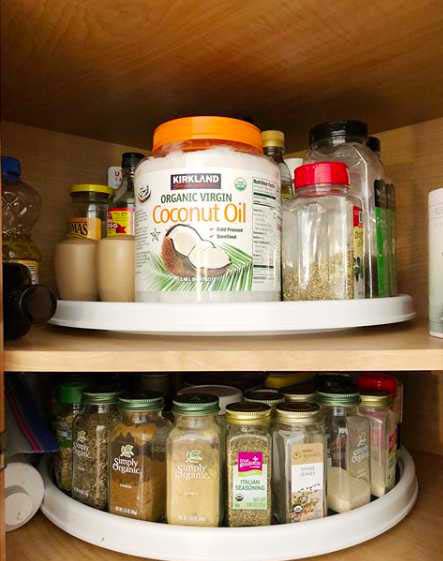 The Lazy Susan trays are a simple means to bring order on a shelf and ensure easier access to stored items.
It can organize spices, mugs, canned food and many more.
via Allison Breuker
20. Mount A Magazine Rack For Foil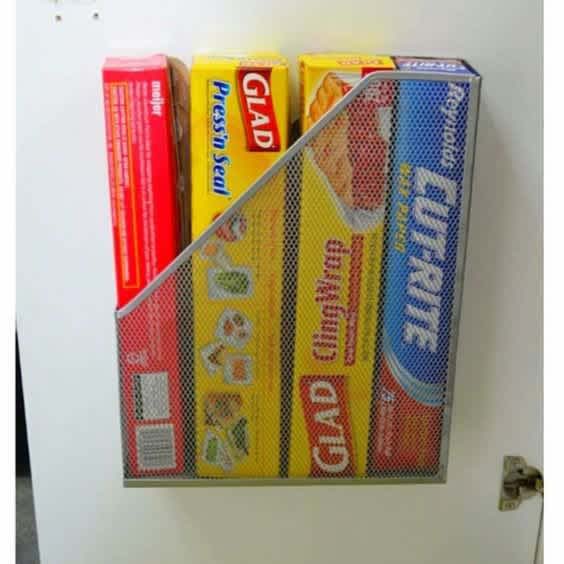 Another idea inspired by the repurposing of items from the Dollar store features a file organizer turned into foil and wrap holder.
Its functionality is combined with practical optimization of the space by attaching it to the inside of a cabinet door.
21. Clear The Cupboards With Magnetic Spice Jars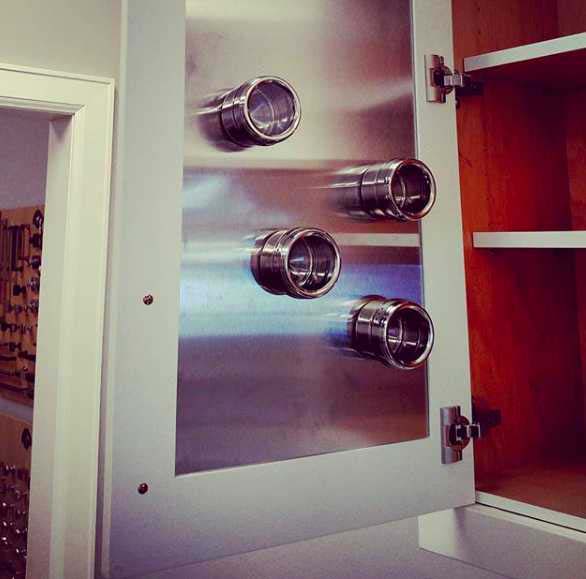 Have you seen magnetic spice holders on the fridge door? This is only one way to use them. In fact, you can place them on any surface as long as it has a magnetizing ability.
Just add a metal sheet to the existing surface and enjoy the new storage space.
22. Use An Empty Corner For A Command Center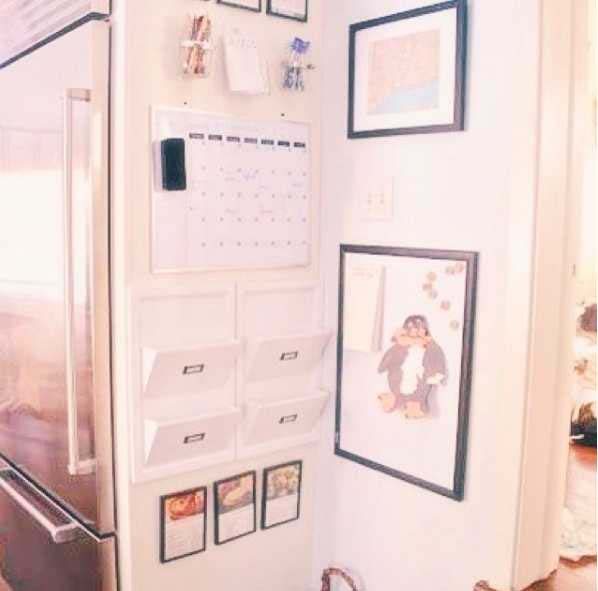 Create an informative display on one of the kitchen walls to coordinate the mail and school papers while you are cooking.
This idea features a calendar and four compartments for paper organization.
The family command center has been decorated with accents like a vase with flowers, framed wall art to not only keep things organized but to enhance the welcoming atmosphere.
via MHM Society
23. Mason Jars Create Attractive Storage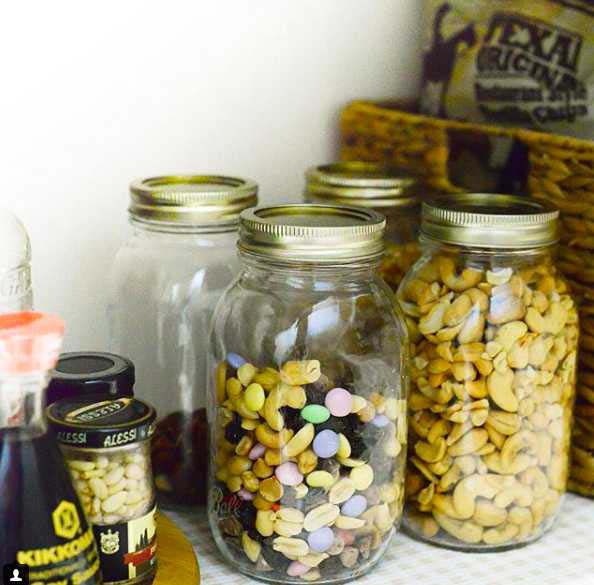 When the cabinets are full and there is no other place for storage than the countertop, think about storage in identical containers. They can be metal boxes, glass jars, wicker baskets- anything that will be practical and good-looking.
Mason jars are great for such purposes – affordable, with farmhouse charm and various sizes.
24. Use Cabinet Doors For Mixer Attachments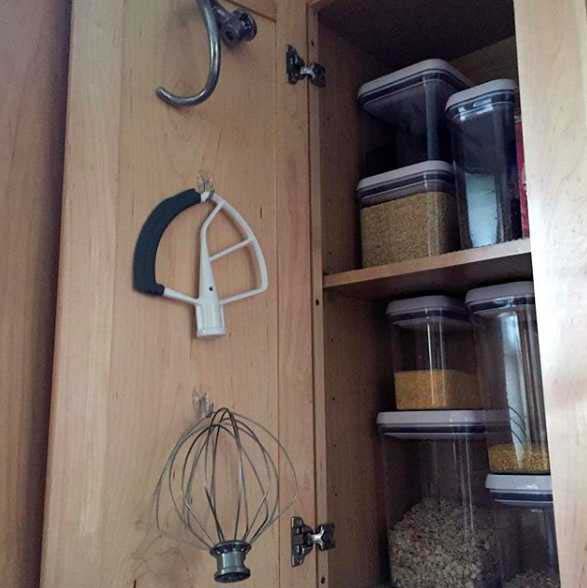 A simple idea to increase the storage places in a space-friendly way is to screw hooks to the wooden surfaces.
The inner side of cabinet doors, the bottom of shelves are both storage canvases that have been initially underestimated.
via Nina
25. Organize Snacks In Baskets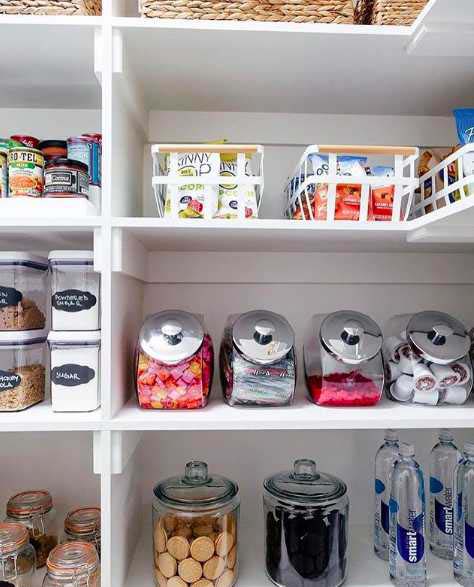 26. Movable Food Prep Drawer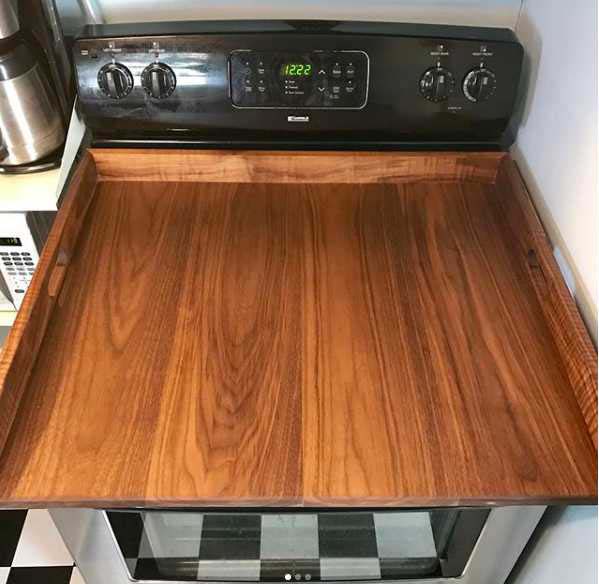 Have you ever heard of a noodle board? This is a wooden surface in the design of a drawer that goes on top of a stove.
It is made as an extra surface for food prep. Cleaning it is easy, wipe off or take it off the stove to wash under water.
via Cottage By The Sea Woorwork
27. Utilize Wall Space With Hanging Buckets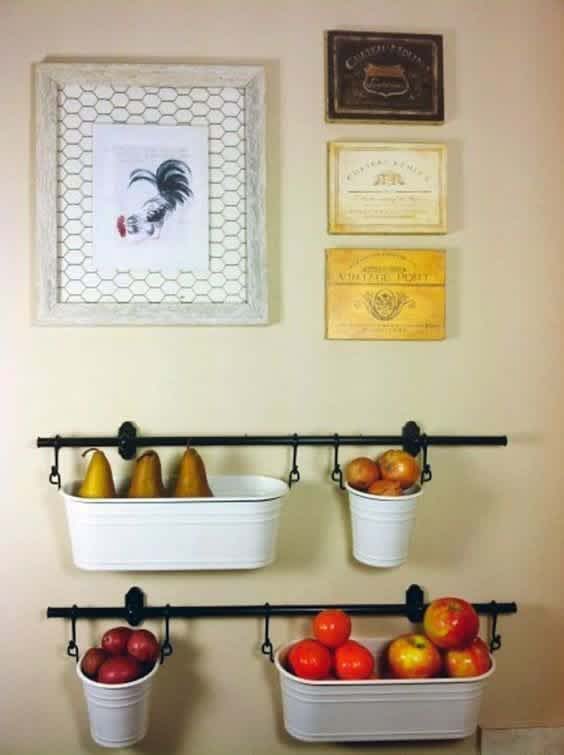 Storing some fruits and vegetables in an open space will keep them fresh for a longer time. The ideas for wall storage in the kitchen are various so you will certainly find the one that suits the interior and the free space.
This one will add a lot of vintage beauty to a kitchen furnished in the farmhouse style.
via Brit Co
28. Customize Storage Needs With A Peg Board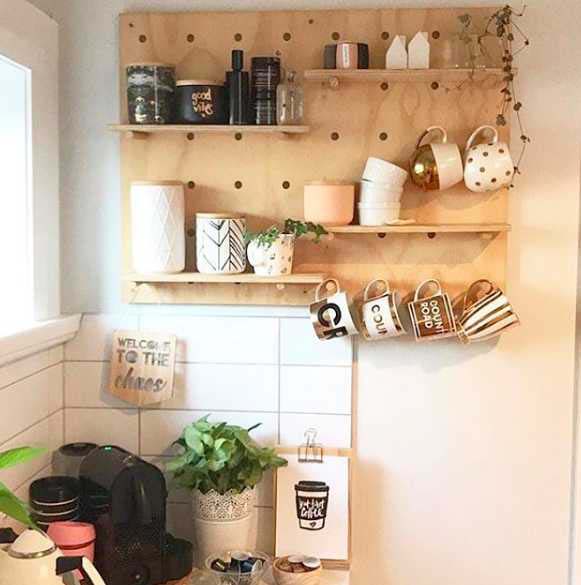 If you are looking for an affordable way to increase the storage places in the kitchen, make yourself a wooden pegboard.
No carpenter or any special skills are required- only a wide board, wooden short dowels and slats.
via Jo Westwood
29. Use Picnic Baskets For Pretty Storage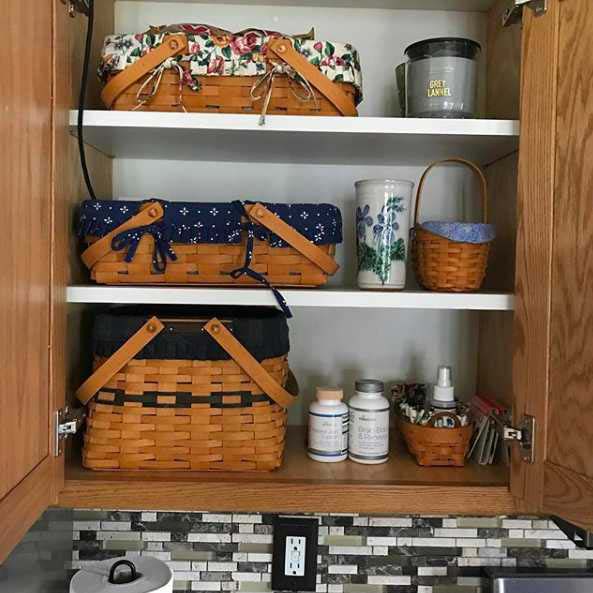 Using picnic baskets as storage containers will add a shabby chic charm to the kitchen.
The different size of each basket from the set lets you store various kitchen essentials.
via Miss Simplicity
30. Keep Countertop Storage Attractive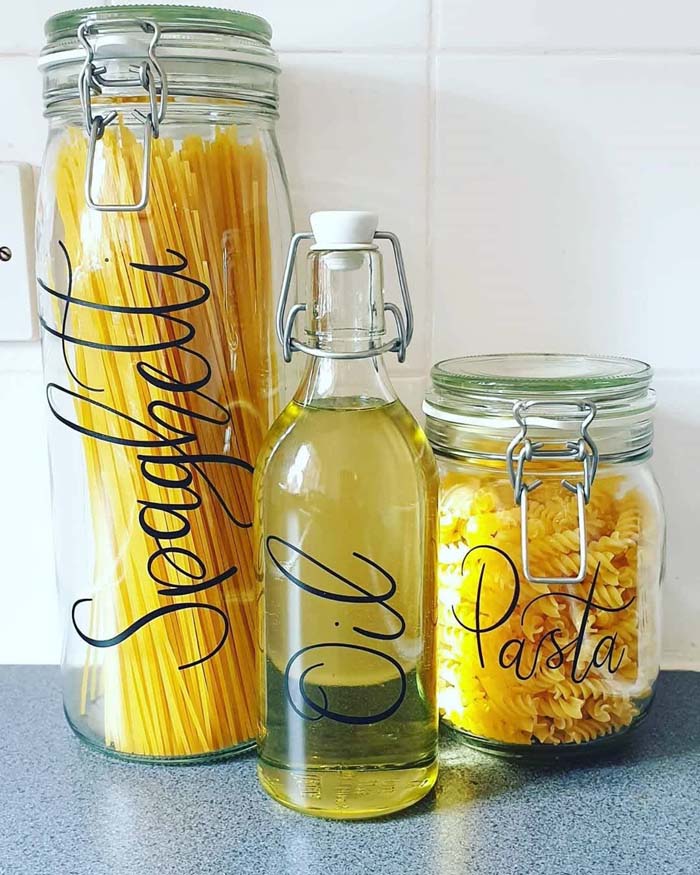 When storage on the countertop is inevitable, do it with style. A set of labeled glass containers will add functionality and a personal touch to the kitchen.

31. Disguise Trash Cans As Cabinets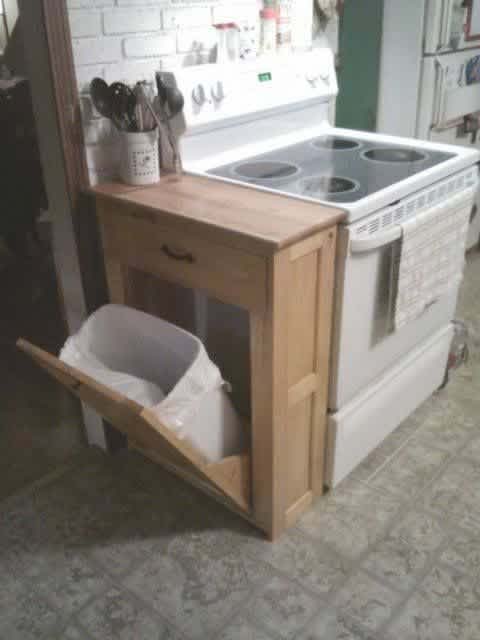 In a tiny kitchen, the trash bin placed in a vivid place will create an unpleasant look. Instead, build it into a wood panel next to the oven.
Thus the trash bin will be on hand when cooking and the extra surface on the top of the cabinet will give extra space for storage or as a side countertop.
32. Pot Lid Door Mounted Storage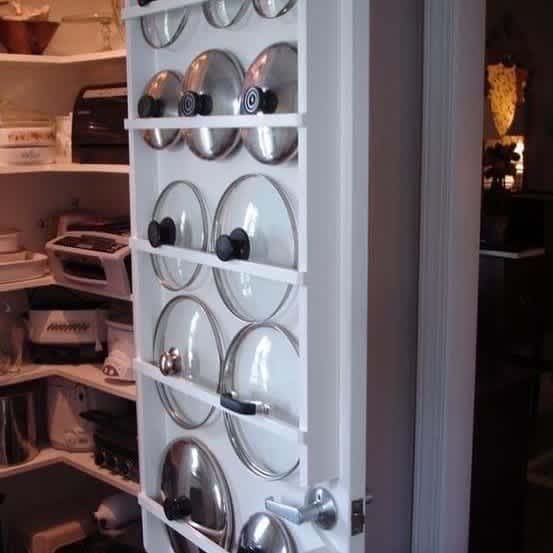 Finding a place for the lids of the pots is a challenge. Aiming to save space, we stack the pots in each other. The lids cannot be piled up in the same way because of their shape and the material they are made of.
A clever kitchen hack comes to help with this problem featuring a specially designed rack for the pantry door.
via Living Organized
33. Repurpose An Antique Rake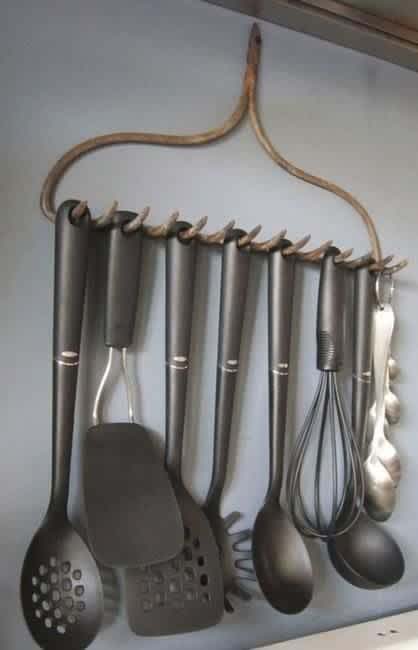 Add a farmhouse rake to the kitchen wall to create a utensil organizer and increase the attractive vibe of the room.
This is one of the easiest and most affordable ideas for kitchen storage optimization.
34. Hang Paper Towels From A Shoe Rack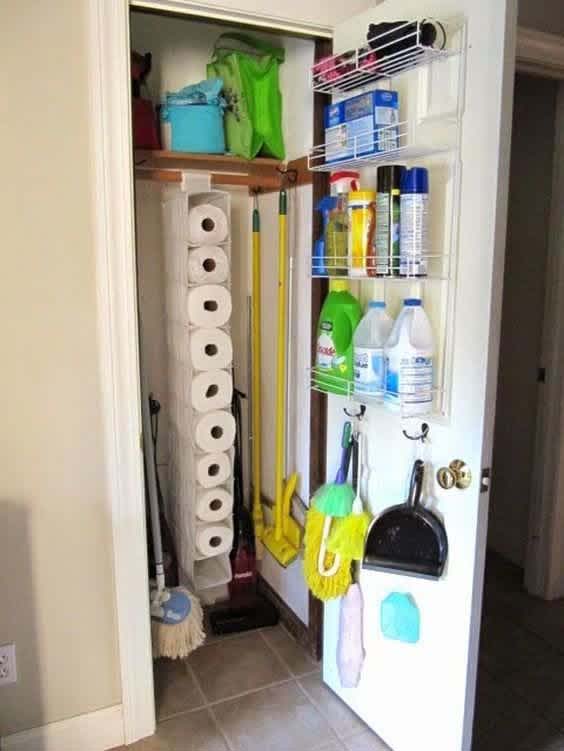 Upgrade your closet with a dedicated place for toilet paper. Don't worry it won't cost you a lot, neither you will need to make any modifications to space.
Just grab a shoe organizer and hang it to the ceiling or to the door.
via DIY Ready
35. Expand Prep Space With A Rolling Table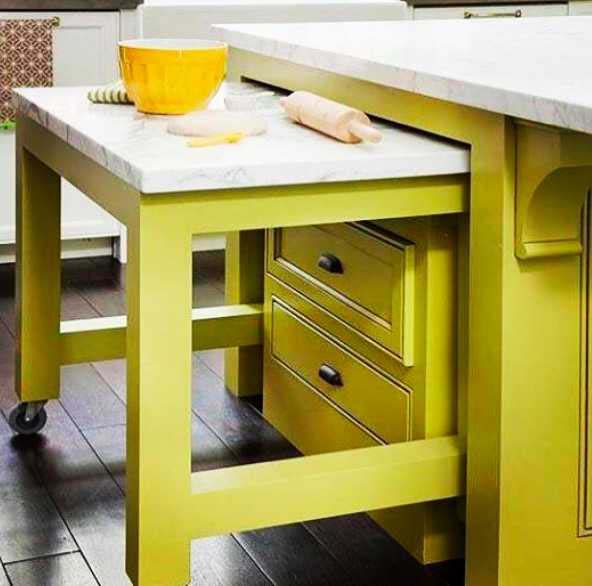 This clever kitchen island design has taken into consideration comfort in a space-saving way.
To let food prep and baking be pleasant, a hidden side table gets out of the island thanks to casters.
When cooking is done, it just slides into the hollow section to free the space.
36. Track Inventory With Visible Storage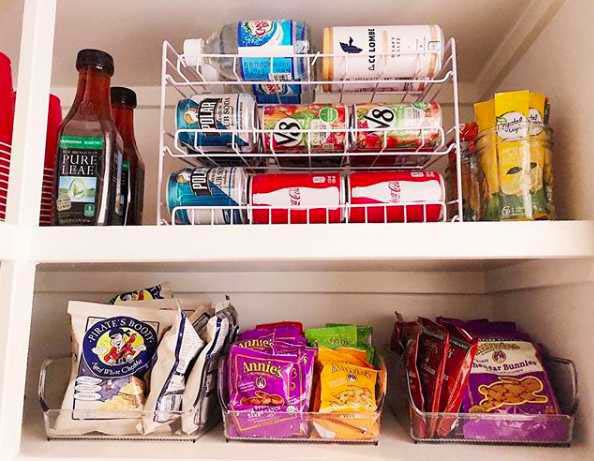 Take the snack packages away from the carton boxes and sort them into file organizers.
Thus you will free space and will ensure that they are easily seen and accessed.
37. Label Spices For Easy Access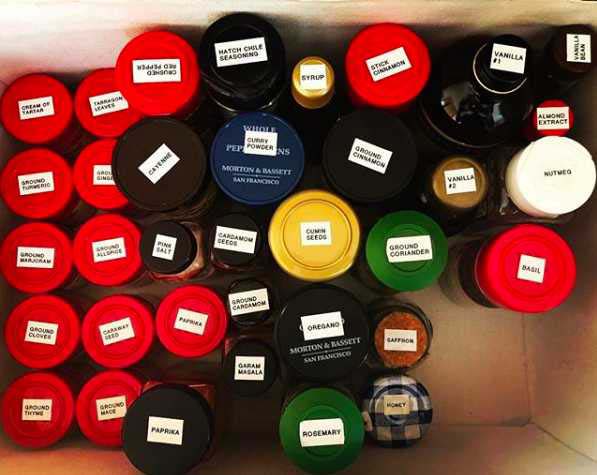 In case your spice containers are not transparent or if they are accommodated in a drawer and finding the one you need requires taking many of them out, help yourself by labeling their lids.
It is a very easy thing that will make a great change- use a marker, a printed label, a chalkboard sign, anything that will mark the name of the spice contained.
via Amy Parker
38. Drawer Spacers Organize Storage Containers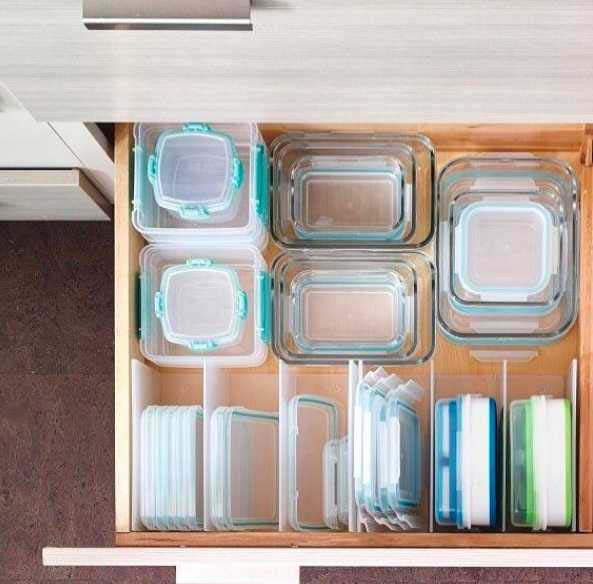 The masterclass of kitchen organization puts order even in the storage containers. Let's face it, all plastic and glass food containers are the housewife's nightmare.
Well, not anymore because they can be easily organized thanks to plastic dividers for drawers.
39. Repurpose A File Divider For Trays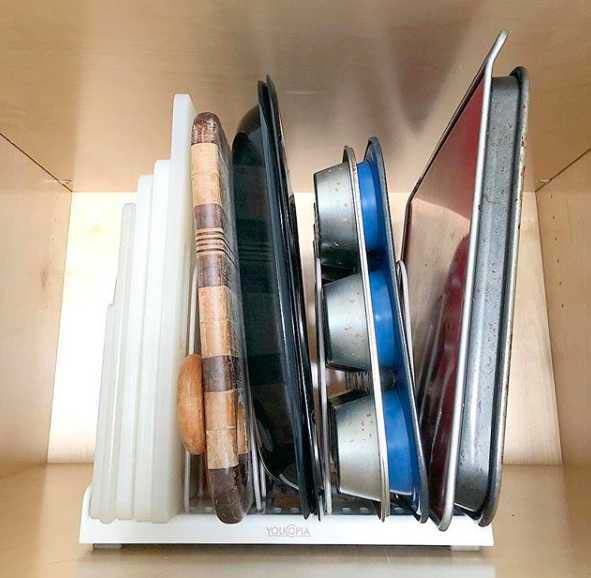 Use a file divider to organize your baking trays and cutting boards. The compartments are wide enough to sit them sturdily.
Take as many file dividers as you may need to organize the trays and free the precious space in the cabinets.
via The Tidy Bee
40. Elevate The Microwave For Extra Space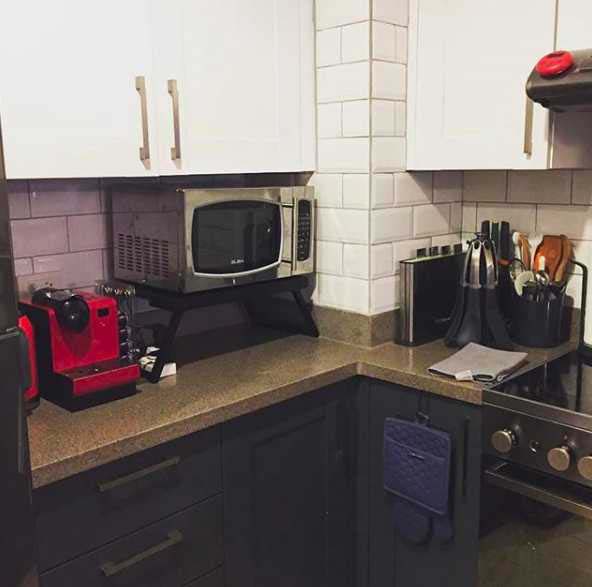 When space is a limit, think vertically! This is a strategy used for all types of rooms, so is with the kitchen. But this time it is not related to the utilization of wall space but the countertop.
Lift the microwave onto a stand and use the shelves below it to store spices, popcorn, wrap paper, etc.
41. Baskets And Bins Under The Sink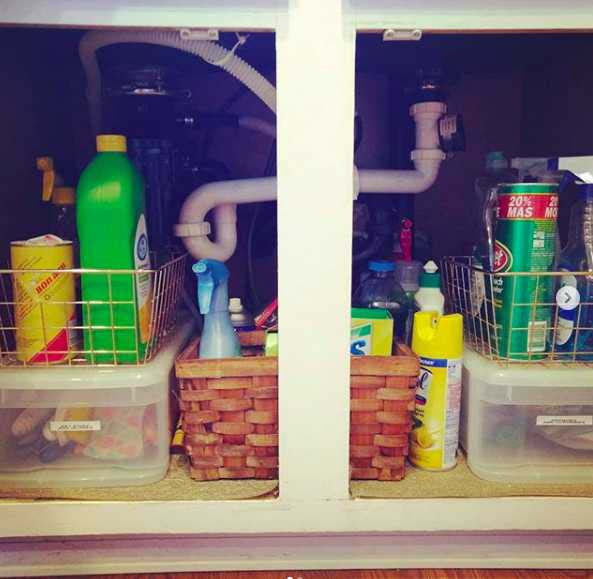 Most of the time, the cabinet under the sink is dedicated to cleaning utensils and detergents, especially when the closet is not available.
If it is organized like every other cabinet is, cleaning will be given a good and recharging start. Use baskets, plastic boxes, wire crates to store the supplies. The box type of storage bins may the most practical ones as they will allow stacking.
via The Perfect Home
42. Use A Tension Rod For Sprayers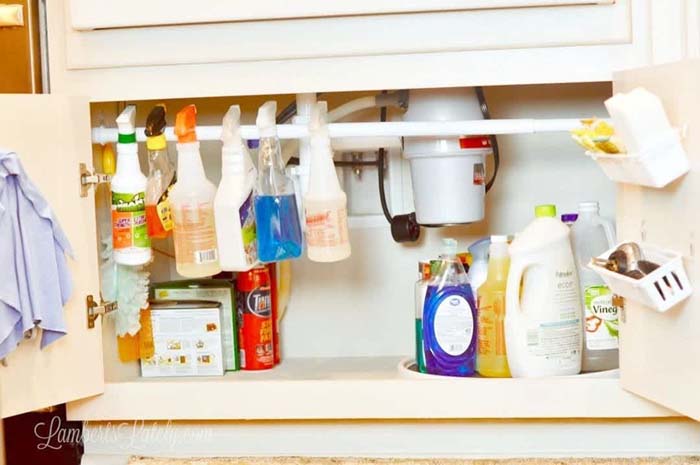 The storage under the sink has been upgraded with a plastic dowel on which all spraying detergents are attached.
This vertical organizer has freed the surface for bottles and other supplies.
via Leslie Lambert
43. Deep Utensil Drawers Free Counter Space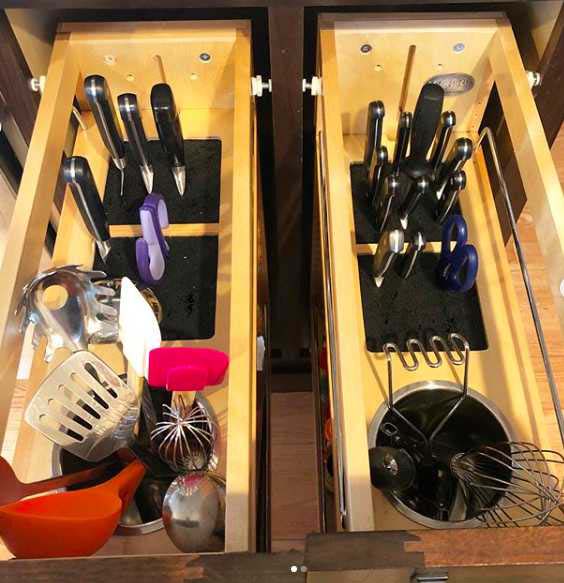 A hack to declutter the kitchen countertop reveals how to store knives and cooking utensils in drawers.
These drawers are deep to accommodate special bins designed to take up that part of the kitchen arsenal.
44. Make A Cute Tea Center With Hanging Mugs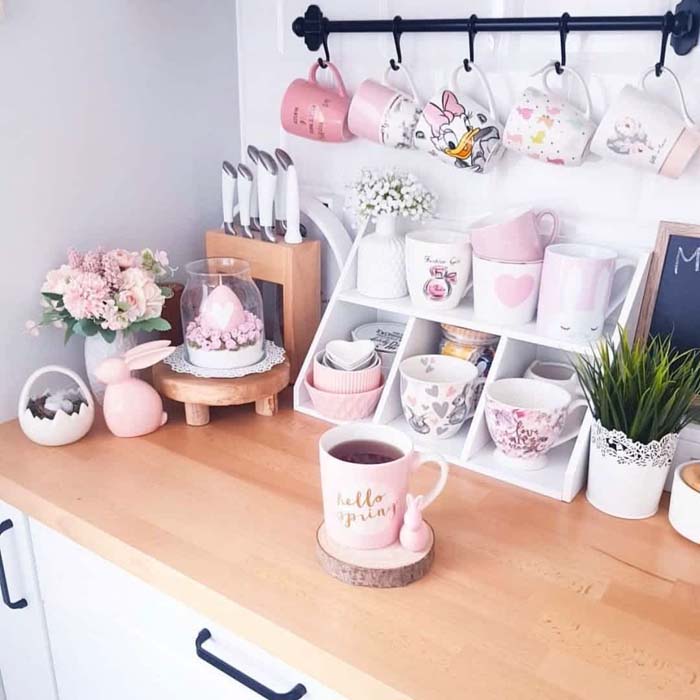 Use a curtain rod with hooks to complete your coffee & tea station. It will display the special mugs that will make drinking of tea more anticipated.
The rest of the accessories can be stored on the top of a chest. Use small stands, baskets and other vintage containers to turn the nook into a shabby chic oasis.
via Martaa Home
45. Decorate With Mugs And Free Up Space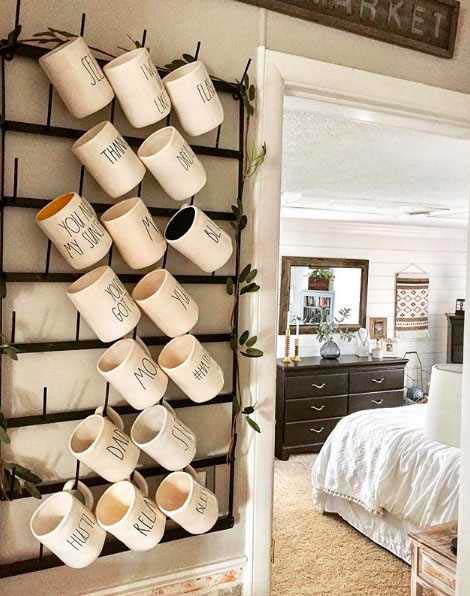 This metal rack turns a wall into a mug organizer. The wrought iron motifs add a vintage charm to space.
The attractiveness of this organizer can be increased if interesting mugs are attached.
via My Graceful Mess
46. Maximize Space On Every Level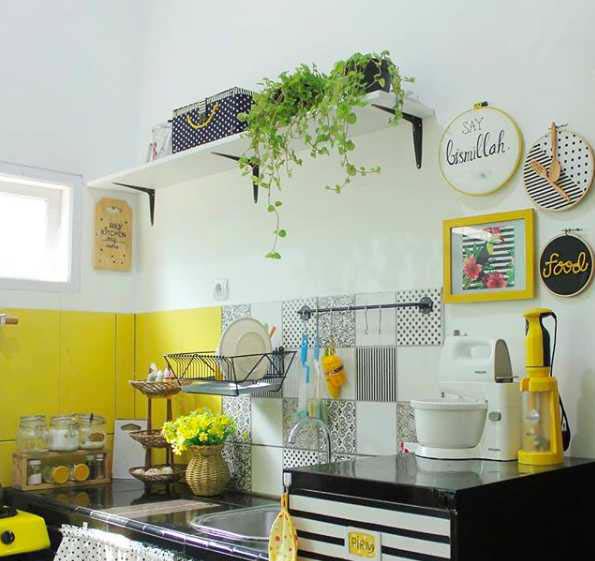 Small kitchen can be as appealing and organized as the big ones if space is used smartly.
Here storage has been considered on all levels, from the countertop to the ceiling. Differents storage accessories like stands, rods, shelves, baskets add beauty and functionality to space.
via Zenzareen
47. Wine Racks Corral Water Bottles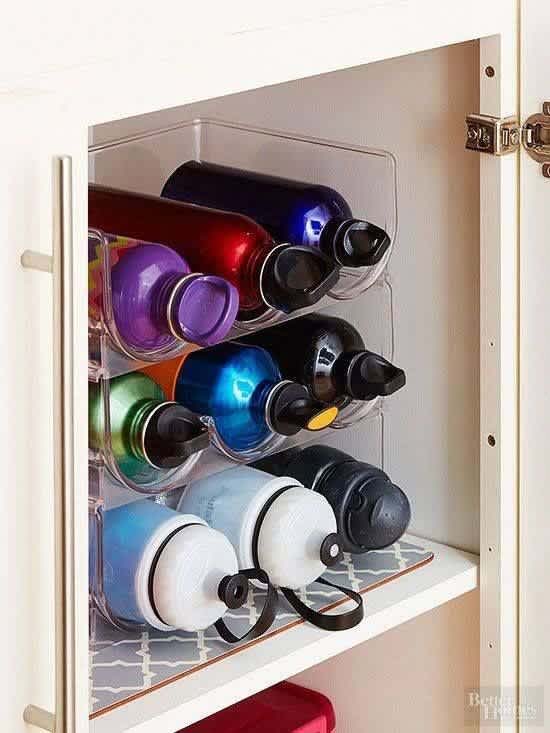 Use a plastic wine rack for the storage of water bottles. If you have kids, you know how keen they are on creating a collection of everything, even the water bottles.
If you have such a rack in one of the cabinets, that won't be an issue, neither they will take up any of the countertop space.
48. Use Under Stair Space For Wine Collection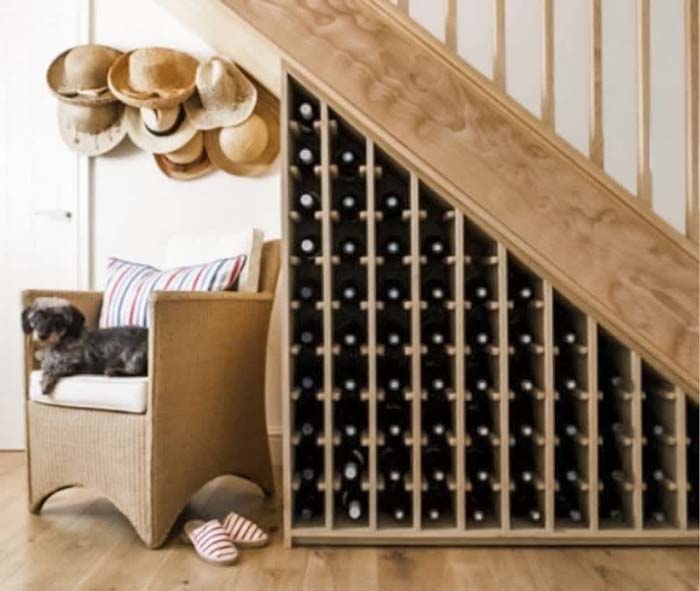 We have seen staircases turned into large drawers for storage of clothes or an open-shelving type accommodating any type of items that don't have their place in the rooms.
This idea must have been created by a wine lover who needs a special place for their wine collection. The wine rack along the steps takes organization to another level, creating a point of interest through the non-standard utilization.
via It's Organized
49. Find Niches On Cabinet Sides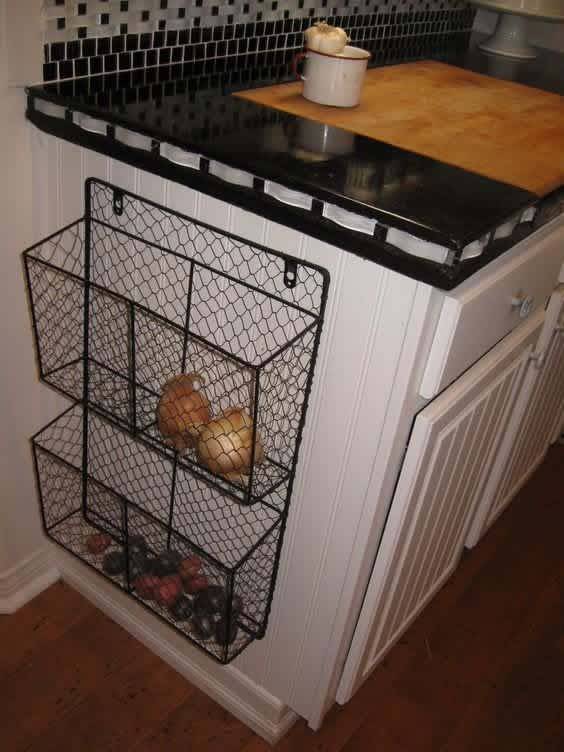 The wire baskets for storage of fruits and veggies can be attached to any vertical surface. In a small kitchen that can be the side of the end kitchen cabinet.
To make the organizer more attractive, add a cute sign like farmhouse market above it.
via Fly Lady
50. Inside Door Cutting Board Holder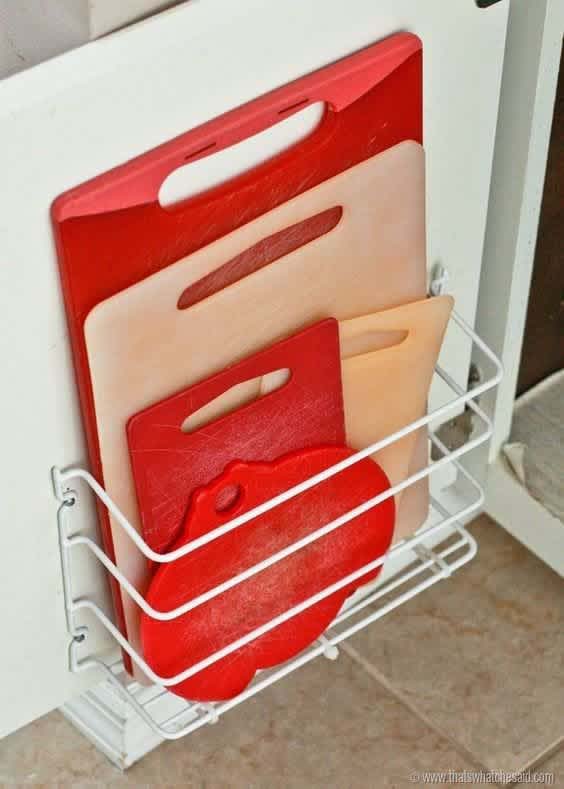 There are special metal racks for the storage of two cutting boards under the cabinets. In case this option doesn't suit your space and number of boards, you can go for a side type of organizer.
Such a metal holder can have many applications and one of them is a cutting board holder. Screw it on the side of a cabinet that is closest to the food prep and cooking area.
51. Crates Maximize Storage In A Small Pantry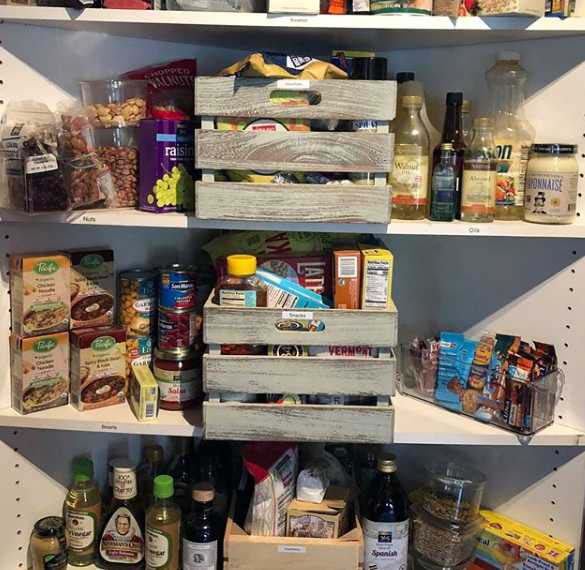 A solution for organization of smaller items that will otherwise create a cluttered look in the kitchen is to place them into a container.
The crates and the wicker baskets look very charming for such purposes and are also affordable organizers.
via Enriched Family