When you're managing family schedules or a busy home office, a command center makes it easier to stay organized and clutter-free.
This central hub is a great place to keep calendars, important documents, reminders and more — since it's all in one spot, everyone in the household can stay on the same page.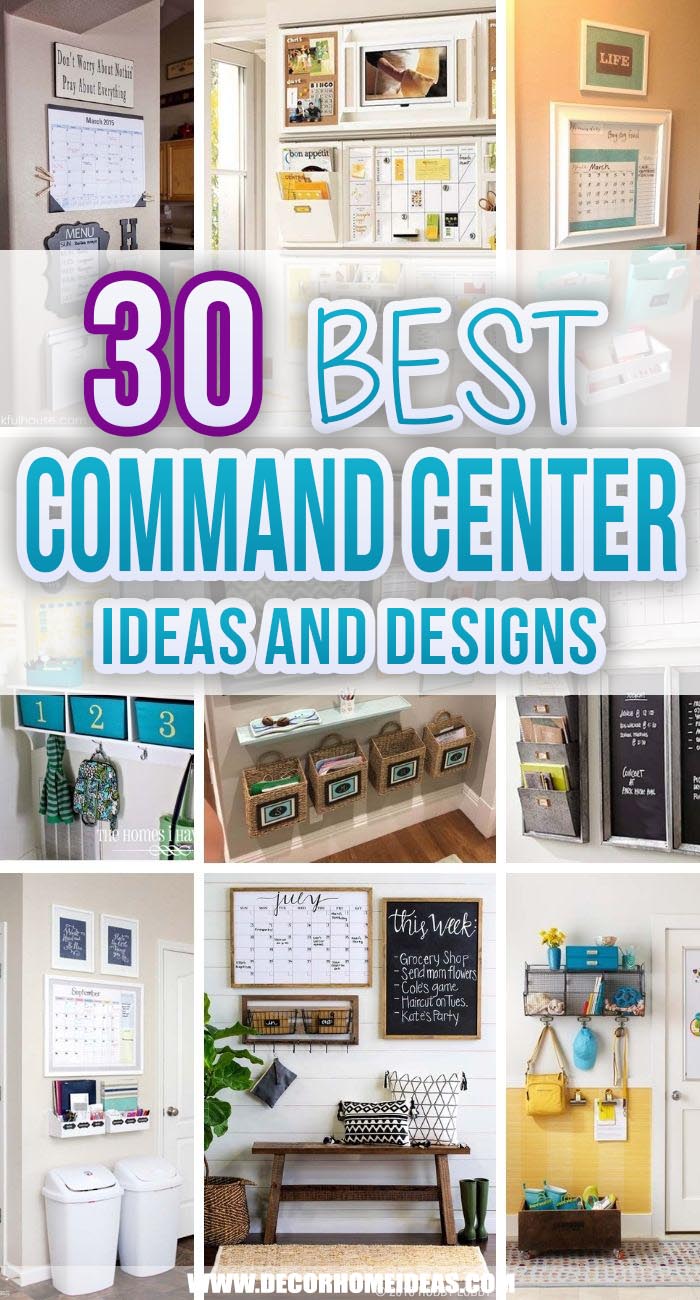 For solutions that are both pretty and practical, check out these creative DIY command center ideas.
1. File Folders And Frames In Pretty Pastels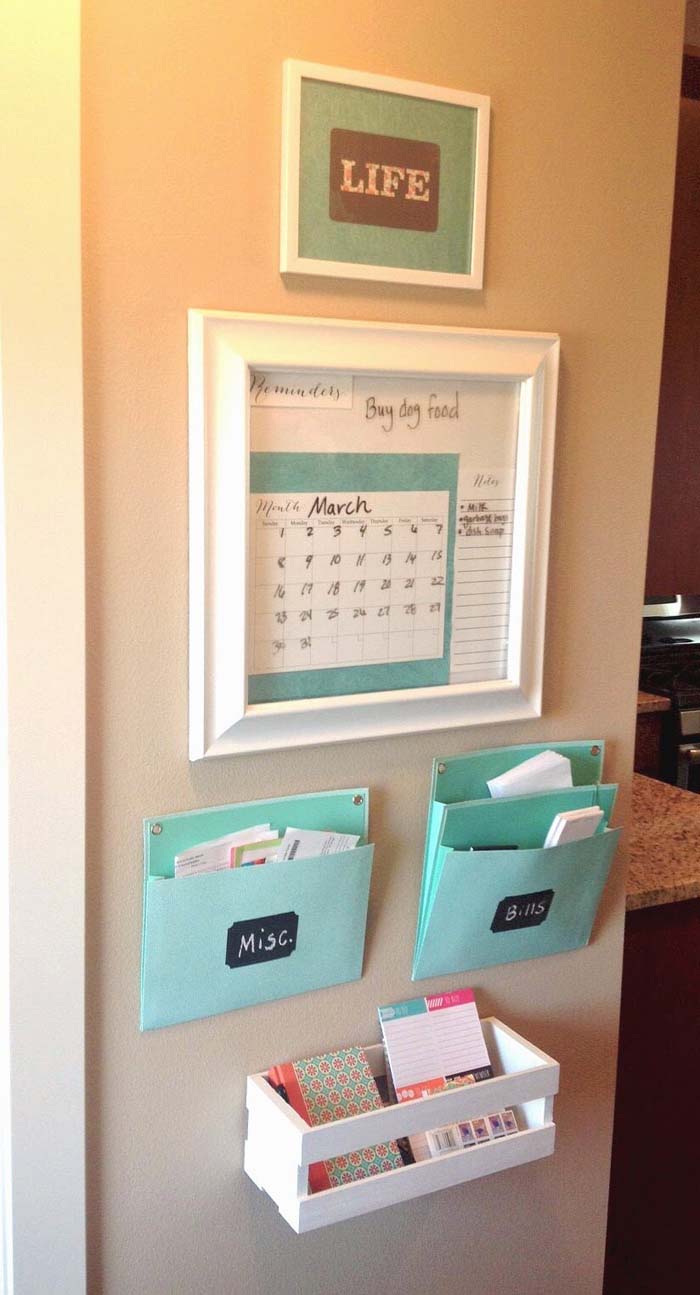 Are you short on space?
This adorable little command center is an efficient option; all you need is a narrow wall.
Use the vertical space for just the essentials: a calendar/white board combo, a few hanging folders for documents, and a simple shelf for odds and ends.
2. Mail Center In Sleek Black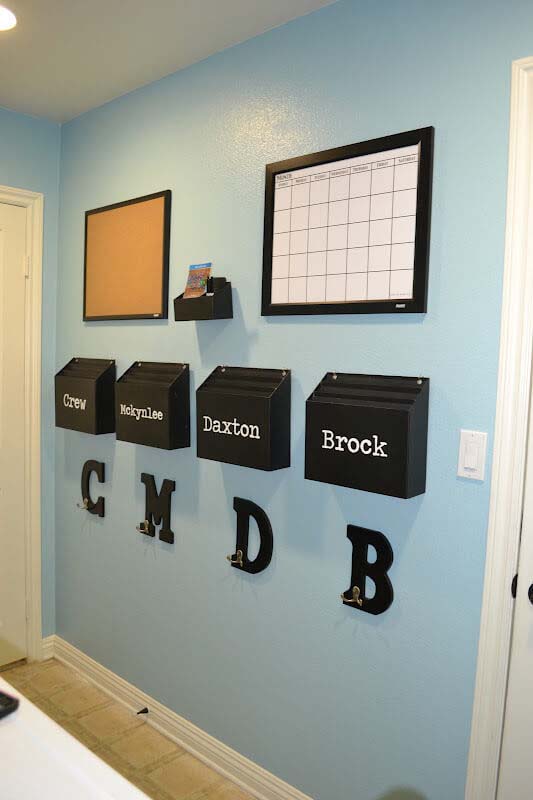 You won't need to worry about kids losing their homework or permission slips with this creative DIY family command center.
Each child gets a labeled mailbox and coat hook, so they always have personal space.
For the parents, a corkboard and calendar keep schedules and notes out of reach of little ones.
3. Efficient Family Organization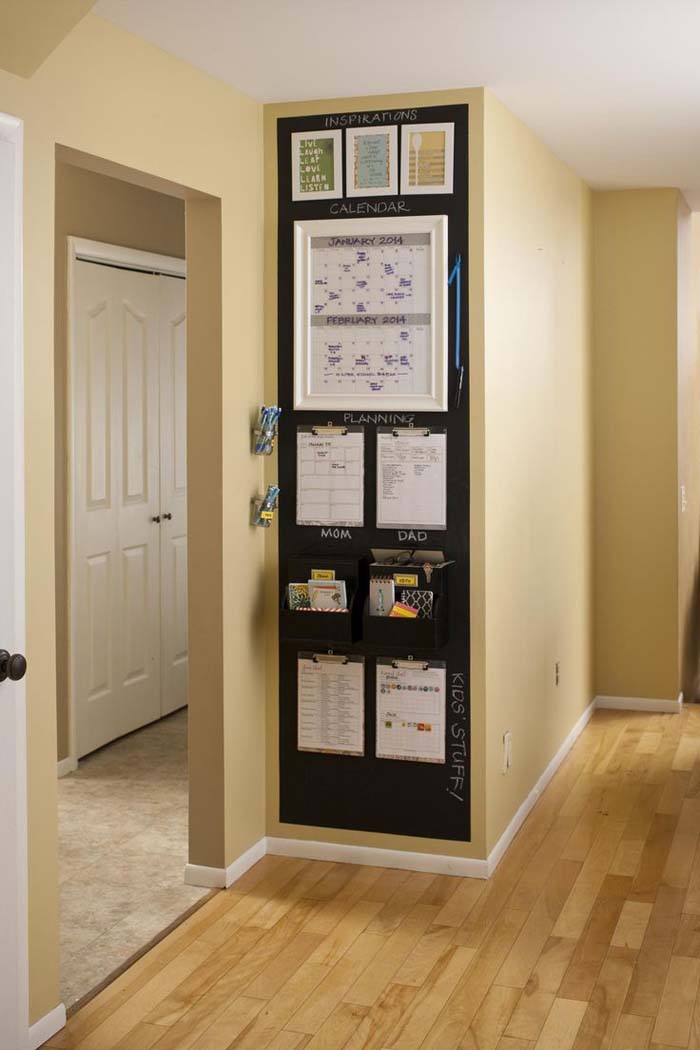 Stay on top of your life with this super-organized wall center.
Individual stations for each family member create a handy spot for reminders and notes, and a family calendar gives you an idea of the week's schedule at a glance.
We love the wall-mounted pen holders and the minimalist chalkboard background.
via BHG
4. Chalkboards Add Monthly Versatility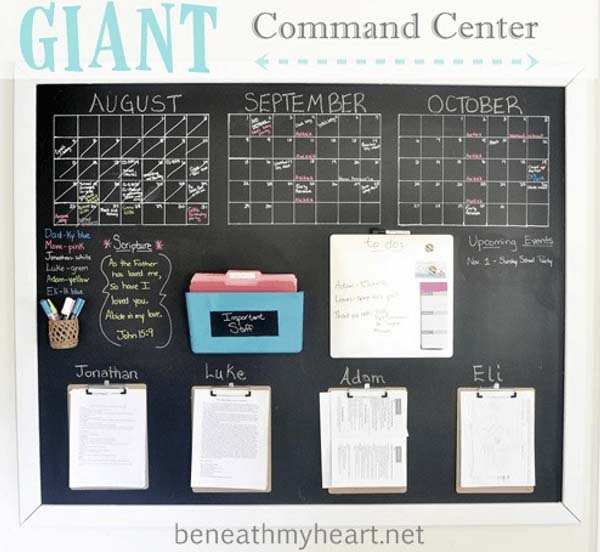 A chalkboard is a cost-effective background for your command center — you can write notes, grocery lists, and calendars on it and erase as needed.
This model keeps track of kids' documents with clipboards and features a handy folder for important documents.
via Beneath My Heart
5. Utilize A Small Closet As A Command Center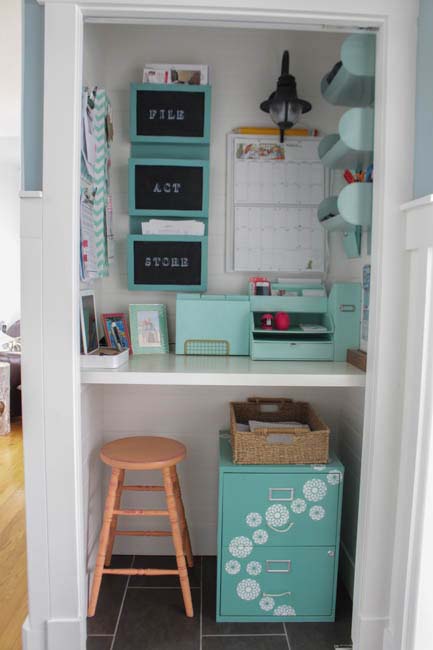 If your organizational needs go beyond a simple wall, turn a closet into a mini home office.
Wall-mounted folders, bulletin boards, calendars, and shelves keep you organized; there's even a file cabinet for important paperwork. The best part?
The desktop and stool, which create a workspace and extra storage.
via The Happy Housie
6. Plan Ahead With Specialty Calendars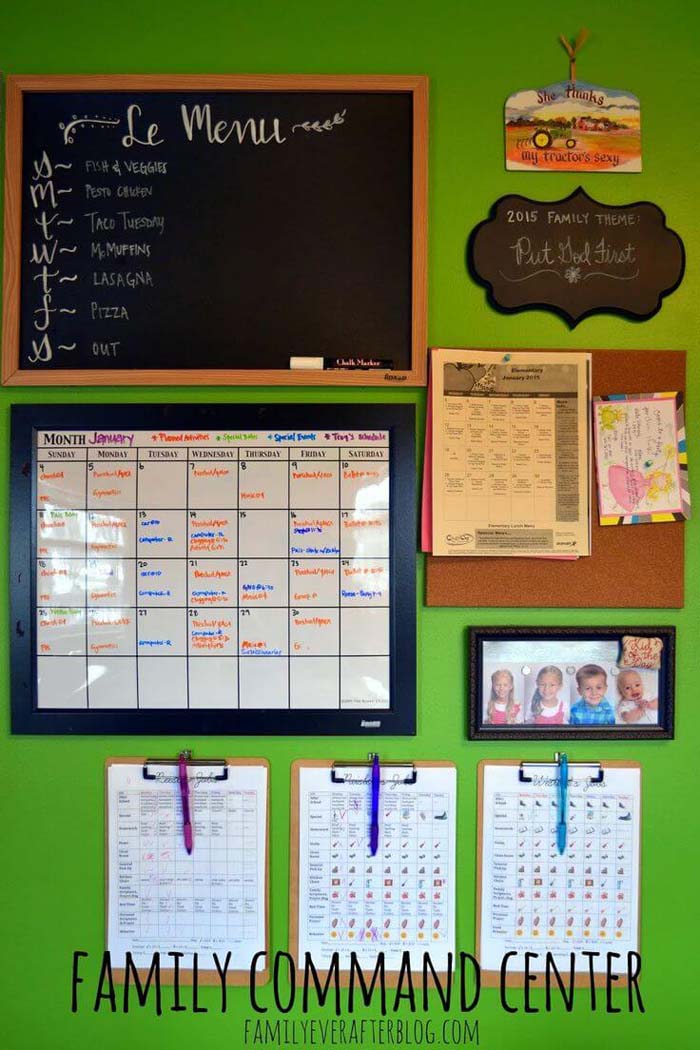 Manage everyone's schedules with a future-oriented command center.
The menu lets your family know what to expect for dinner, and a family calendar shows you what's happening in the coming days and weeks.
A corkboard and kids' chore charts help little ones get involved.
7. Chore Charts And Family Clocks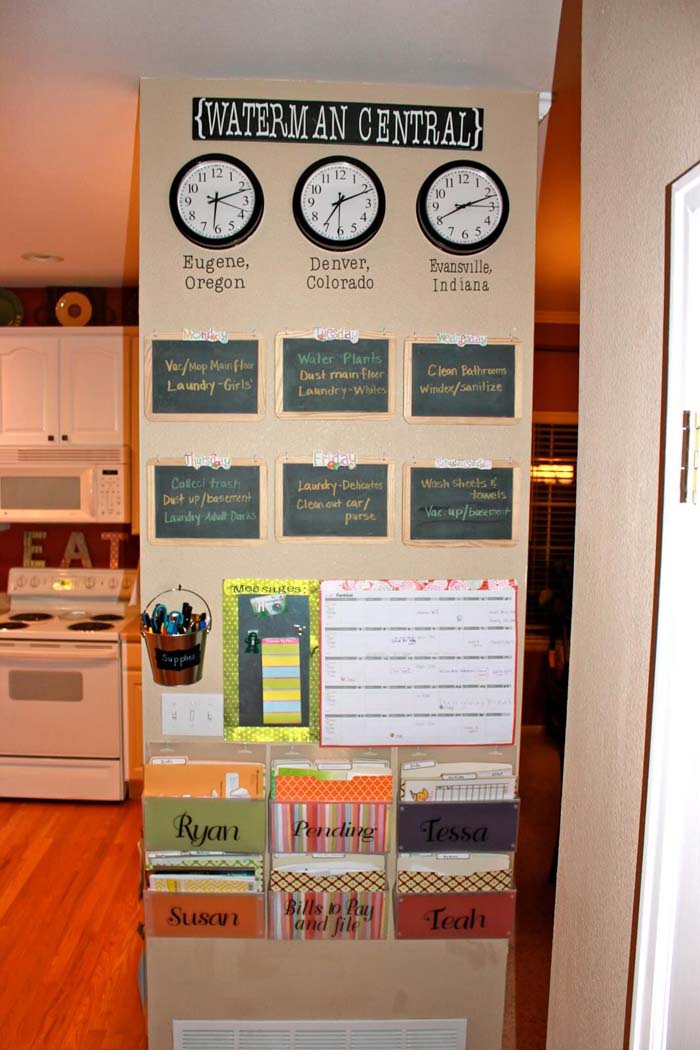 Is your family scattered around the globe?
Make them feel included with an extended-family command center. In addition to folders and calendars, this creative design tells you what time it is for your far-flung relatives.
Day-of-the-week chalkboards are the perfect spot for daily reminders.
8. Make Use Of A Small Corner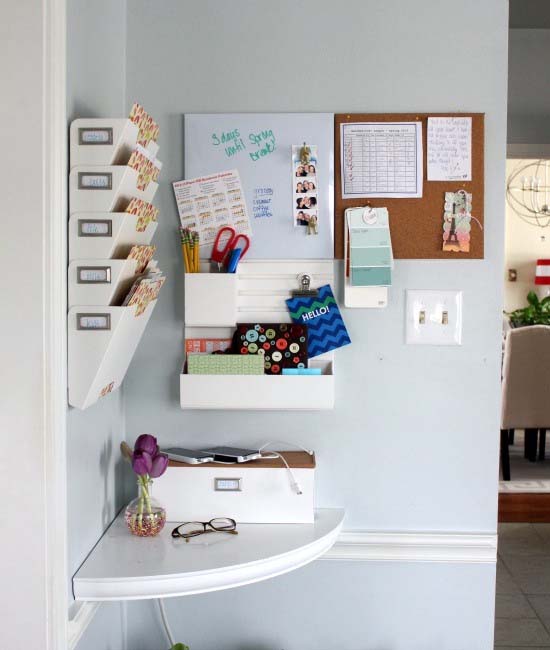 Do you have an empty corner? Turn it into a workspace command center!
Add a corner shelf that doubles as a desktop, and install your organizational items on the wall above.
For extra convenience, this station comes with a charging point for cell phones and tablets.
via Hi Sugarplum
9. Entryway Organization For After School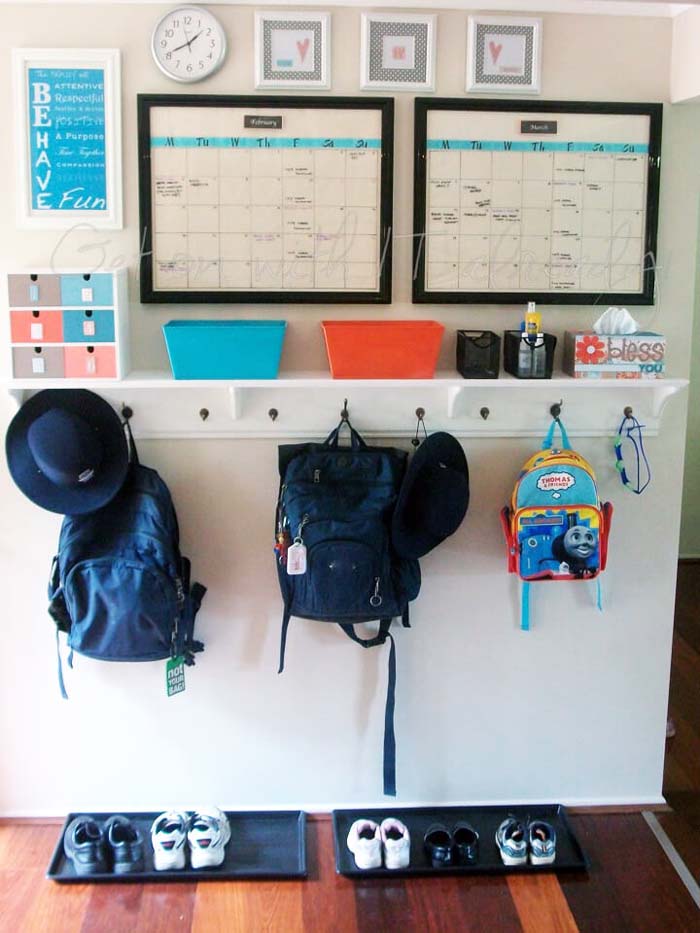 Make back-to-school mornings easier on everyone with a kid-focused entryway command center.
Your children can grab their backpacks and shoes on the way out the door, and you can glance at the calendars to find out what's on the schedule for the day.
10. Behind The Door Center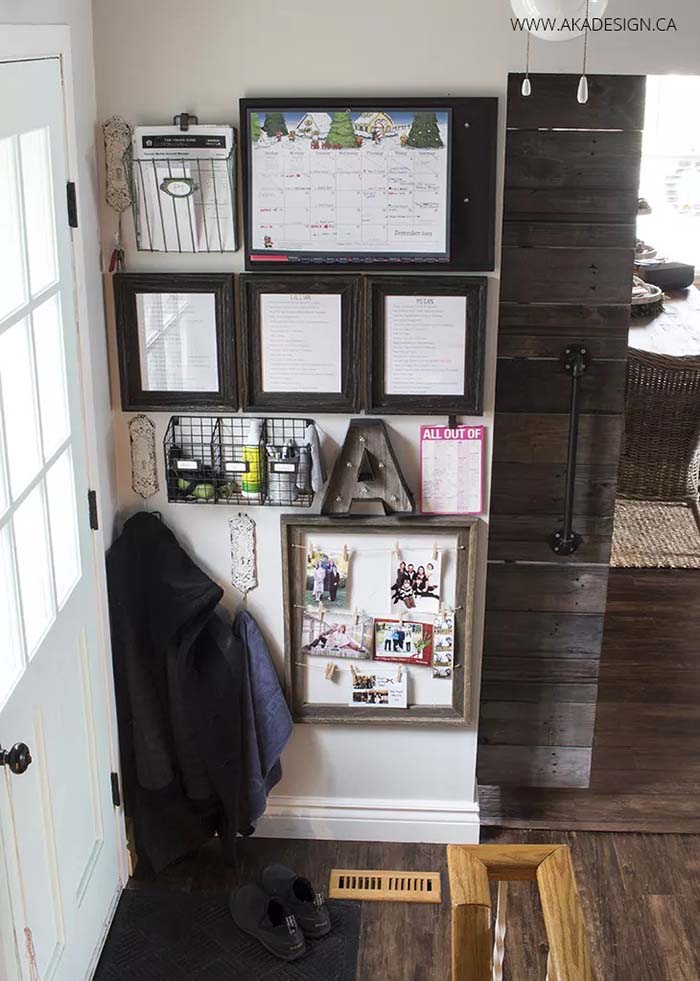 This command center is both cute and convenient, thanks to rustic-themed frames, baskets, and accents.
A photo display adds a sweet personal touch. The best part?
It's right next to the door, so it's easier to see reminders on your way out of the house.
via Homemade Lovely
11. DIY Printable Calendars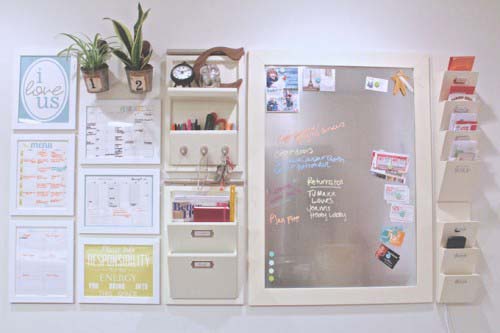 Have you ever accidentally erased your calendar?
Printables are the perfect solution — write your appointments and schedule on each sheet, and slip it into a frame each week.
The handy marker board is a great spot to write last-minute notes.
12. Blend Your Command Center With Art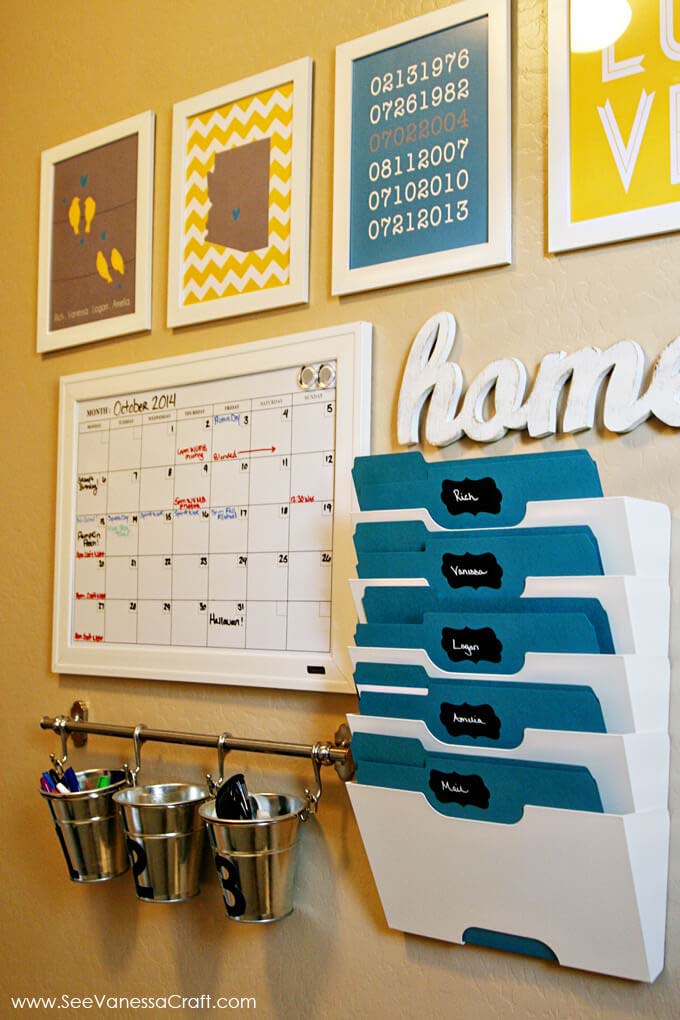 Color is a wonderful way to jazz up your organization system.
This command center uses white frames paired with colorful art, folders, and markers.
It's elegant and fun, so it blends into your home decor. Add cute wall signs or containers for extra flair.
13. Children's Checklists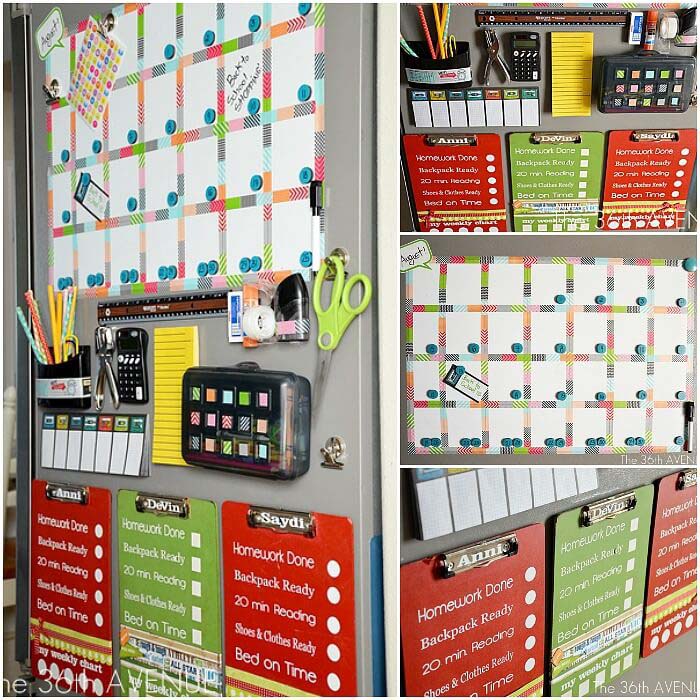 Looking for a way to keep your kids on task?
Try a school-centered command center. Each child can mark off their homework and other chores — that way, they get a sense of autonomy, and you can see their progress at a glance.
Spots for school supplies ensure that your kids always know where to find scissors or a calculator.
via The 36th Avenue
14. Cabinet Command Center Hides Clutter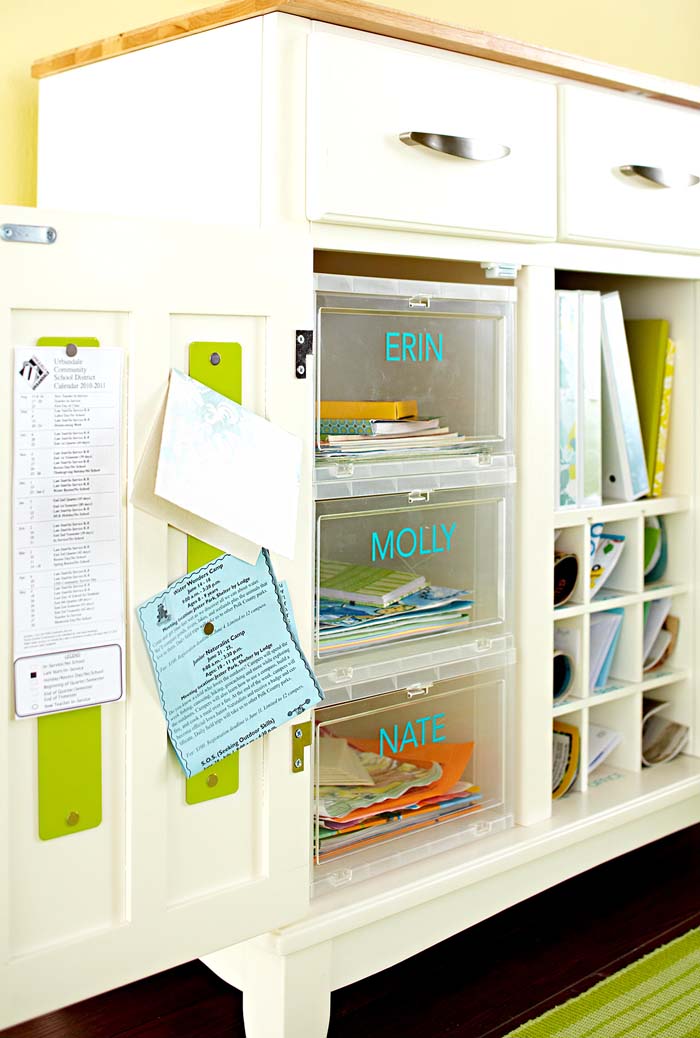 Is your home too small for a wall-hung command center?
No problem; just hide it inside a cabinet. Add dividers and drawers to keep everything organized ( like office supplies, file folders or school papers ), and use the inside of the door as a bulletin board.
via BHG
15. High-Traffic Kitchen Center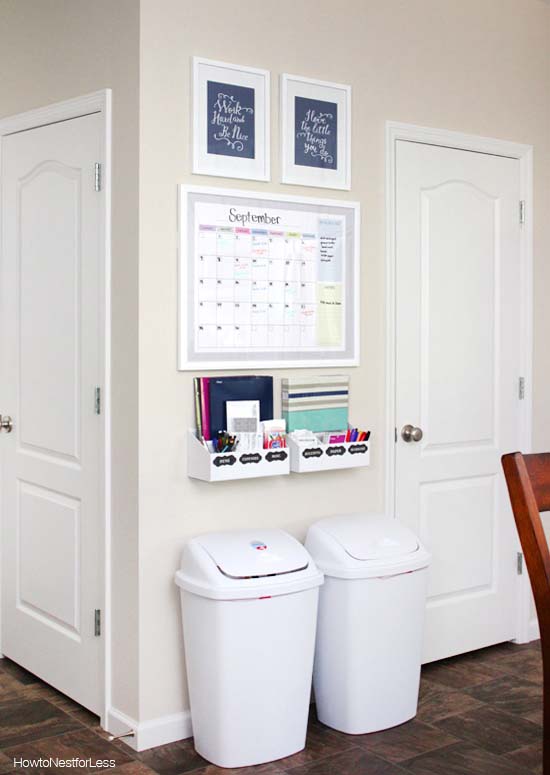 The kitchen is the heart of the home, so it's often the best place to put your command center.
This design is simple and cute — all you need are wall-mounted organizer shelves and a wipe-off calendar. Add a few pieces of art for a bit of fun.
16. Underutilized Wall Space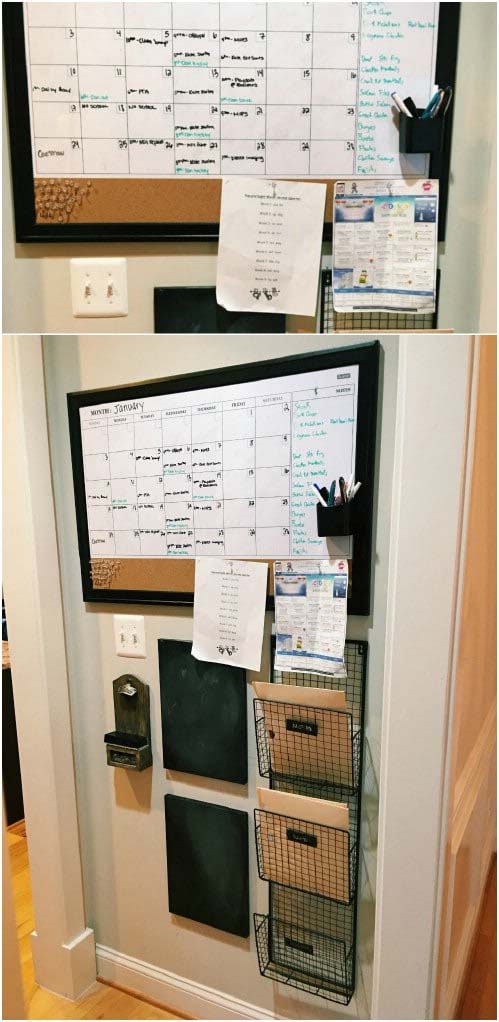 A small out-of-the-way wall is a perfect spot for a command center.
With a calendar, file baskets, and two small chalkboards, you can create a fully functional space.
The trick is to choose a calendar with a built-in corkboard and space for notes.
17. Go For Stylish And Efficient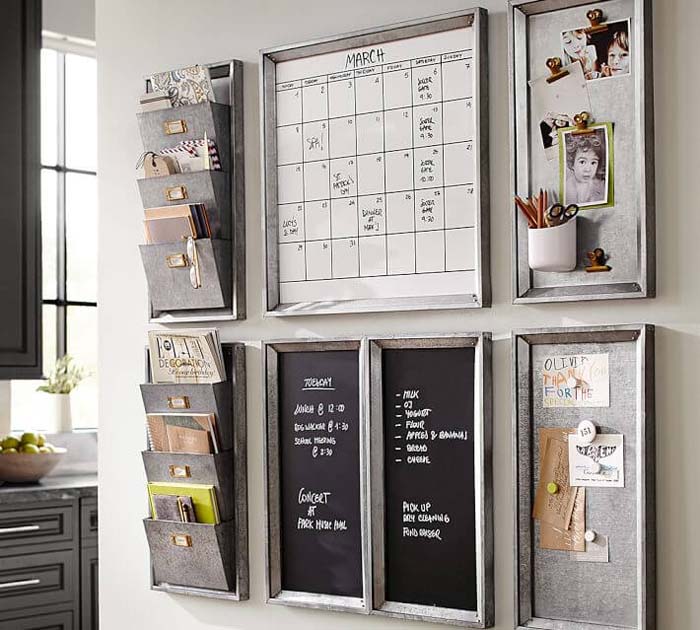 Do you want to make a command center that's as beautiful as it is useful?
Choose elements in a similar finish. Here, galvanized metal and a symmetrical arrangement tie everything together.
We love the office-inspired vertical files, which are great for organizing supplies, paper, homework, and more.
via Pottery Barn
18. Bright Colors Engage Kids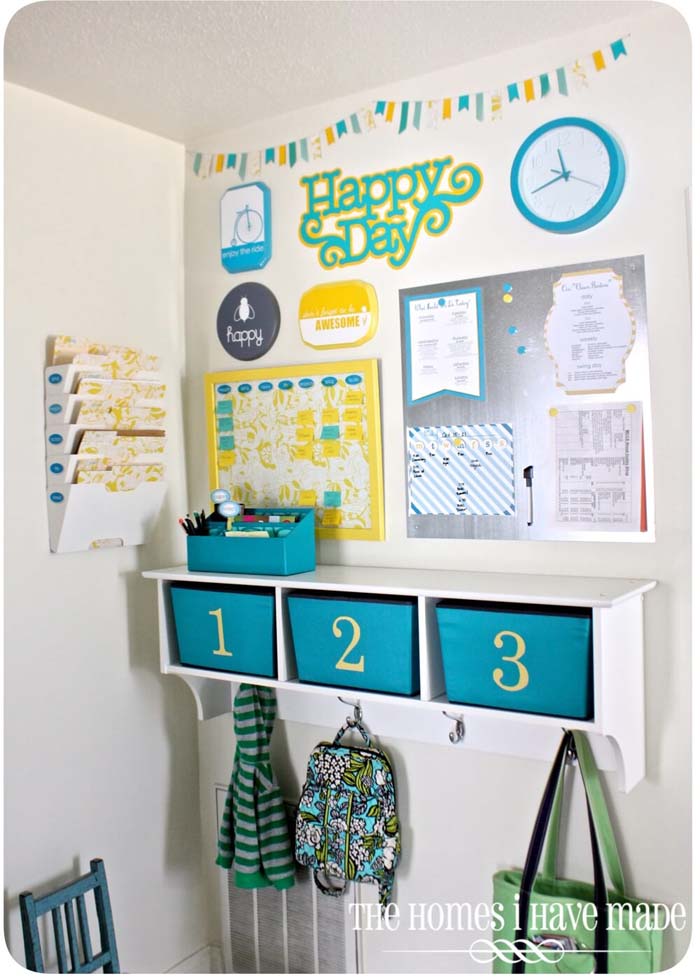 Transform your mudroom or entryway into a retro masterpiece with this sweet command-center design.
The magic is in the bright colors, which bring the plain wall to life.
We love the clever organizer, which comes with individual baskets and hooks for each of your children.
19. Pre-Made Simple Solution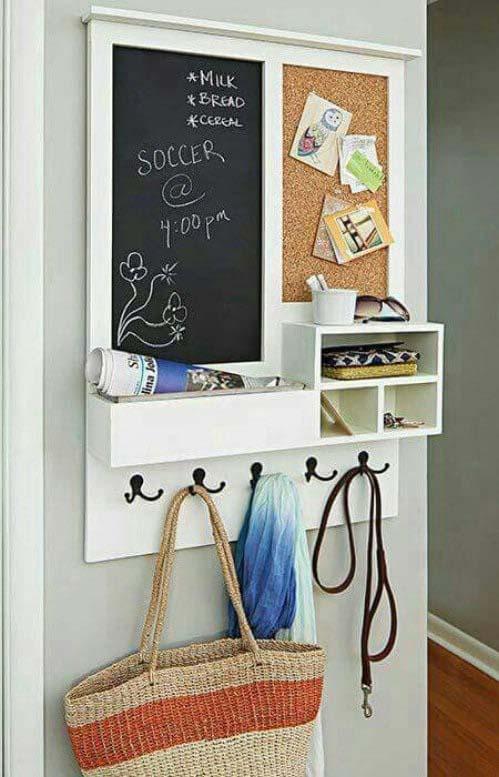 Don't have time to design a full-wall organization hub? Buy a premade command center.
This model comes with storage, a chalkboard, a corkboard, and hooks, so you have everything you need in one attractive unit.
20. Repurposed Elements Make A Statement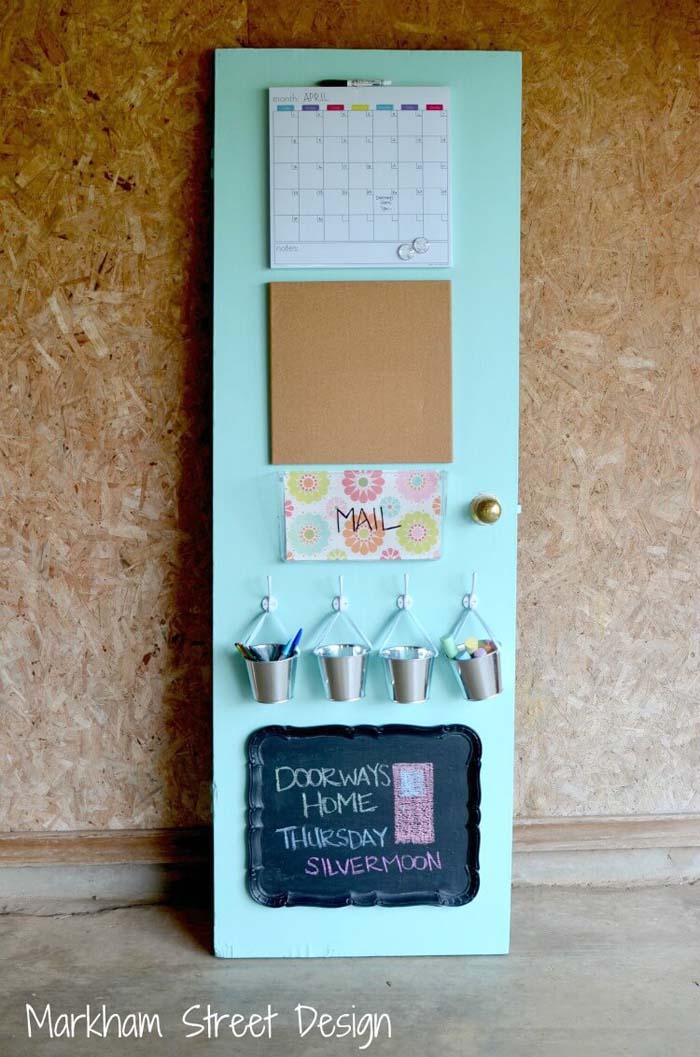 Break out your craft supplies to create this gorgeous command center, which is made from a repurposed cabinet door.
Add a coat of paint to complement your home; then, mount accessories that match your needs. Note the clever chalkboard — it's an antique tray with a coat of chalkboard paint.
21. Desk Wall Makes Ideal Center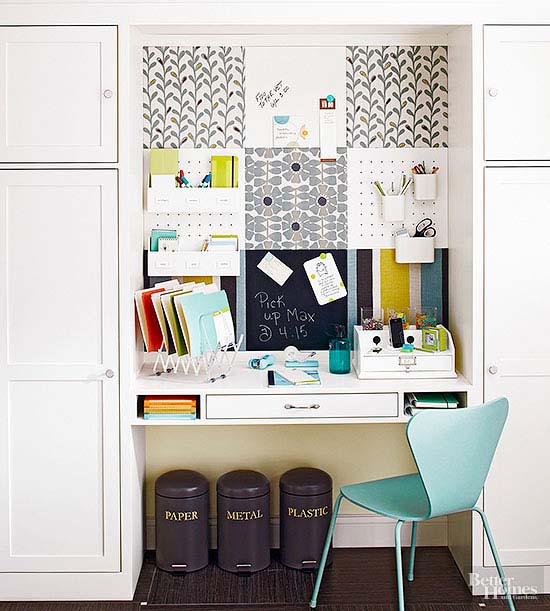 Clear out a small alcove or closet to create this command center, which features a built-in desktop that doubles as a home office.
This design is all about the wall; it features a pegboard, whiteboard, and chalkboard panels for the ultimate use of vertical space. Printed panels add color and life.
via BHG
22. Rustic Wood Small Space Center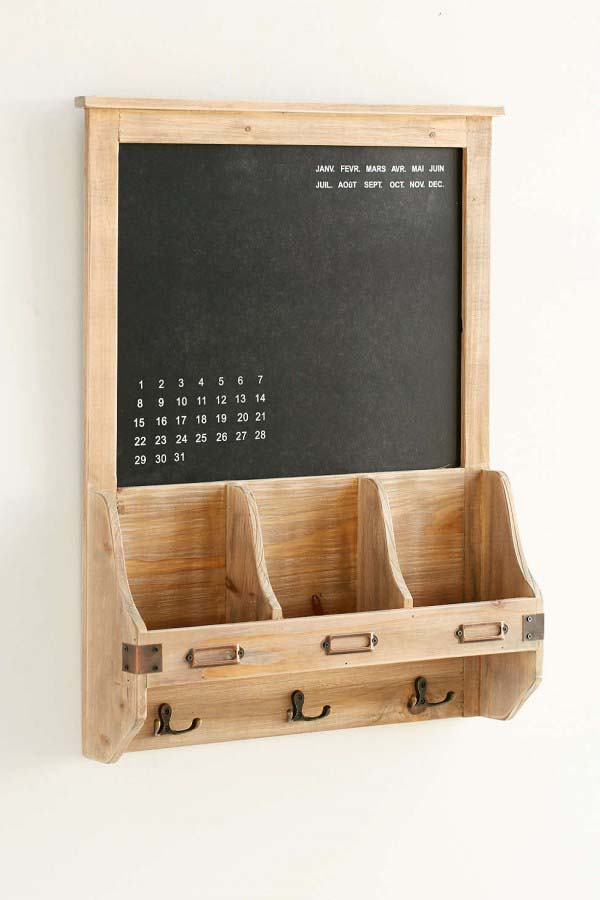 Here's another cute and compact command center.
The chalkboard, cubbies, and hooks are all contained in a beautiful wooden frame — just hang it on the wall for instant organization.
Add a few pieces of chalk to the shelf for quick notes and appointment reminders.

23. Stylish Family-Centric Area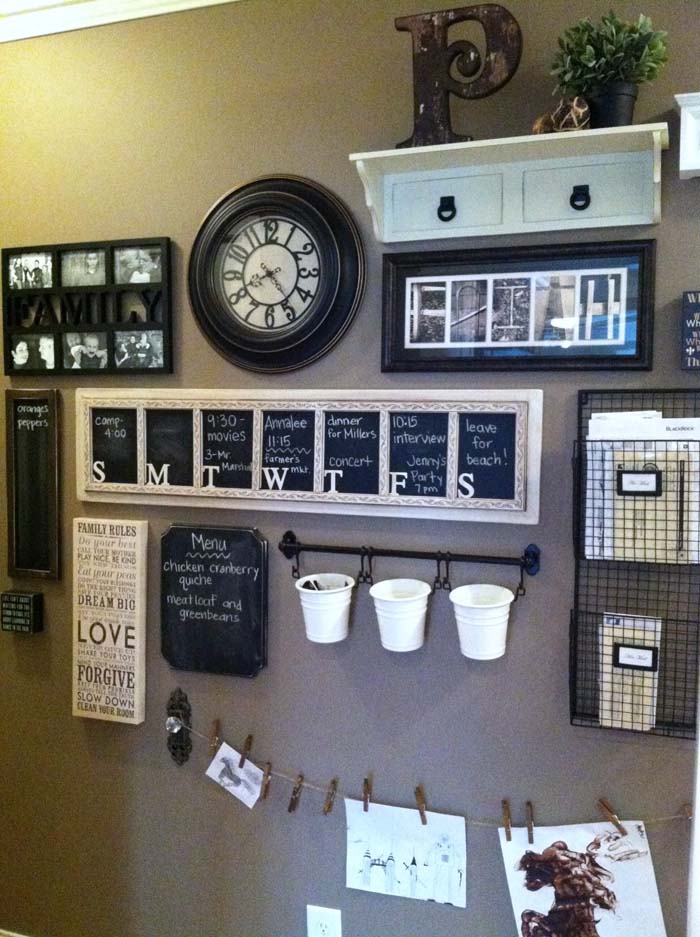 If you love the eclectic look of a gallery wall, why not incorporate that style into your command center.
This stunning design features a mix of vintage-themed decor and organizational supplies.
Since each piece fits the color scheme and style, the result is unified and beautiful.
24. Neat And Orderly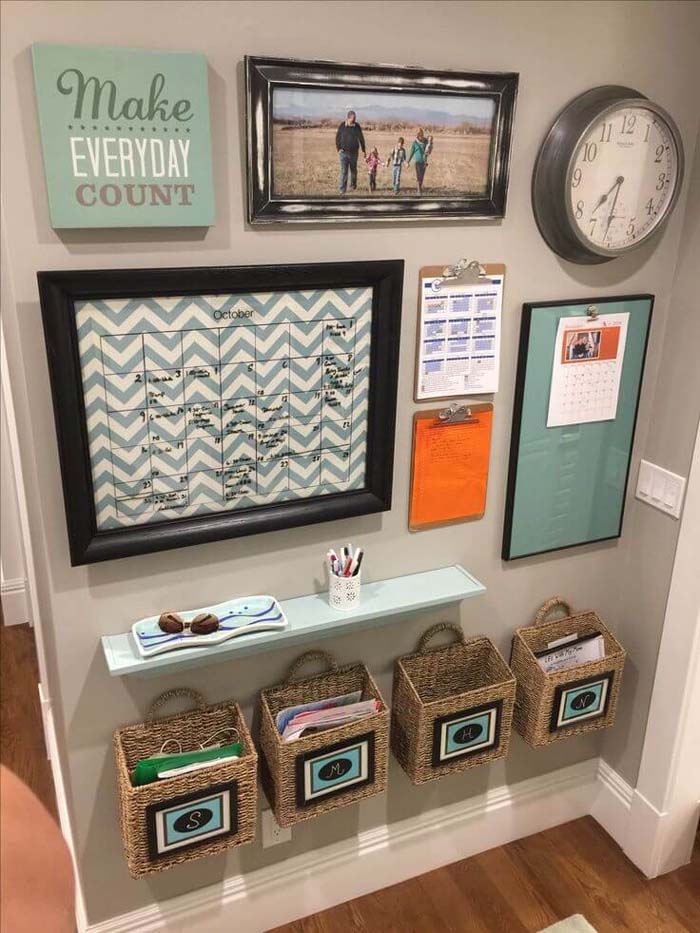 Professional styling is a great way to create a clean, sleek command center.
Here, sharp black frames, classic clipboards, and two accent colors create just the right businesslike vibe. Natural-fiber baskets add a homey twist.
25. Minimal Efficient Organization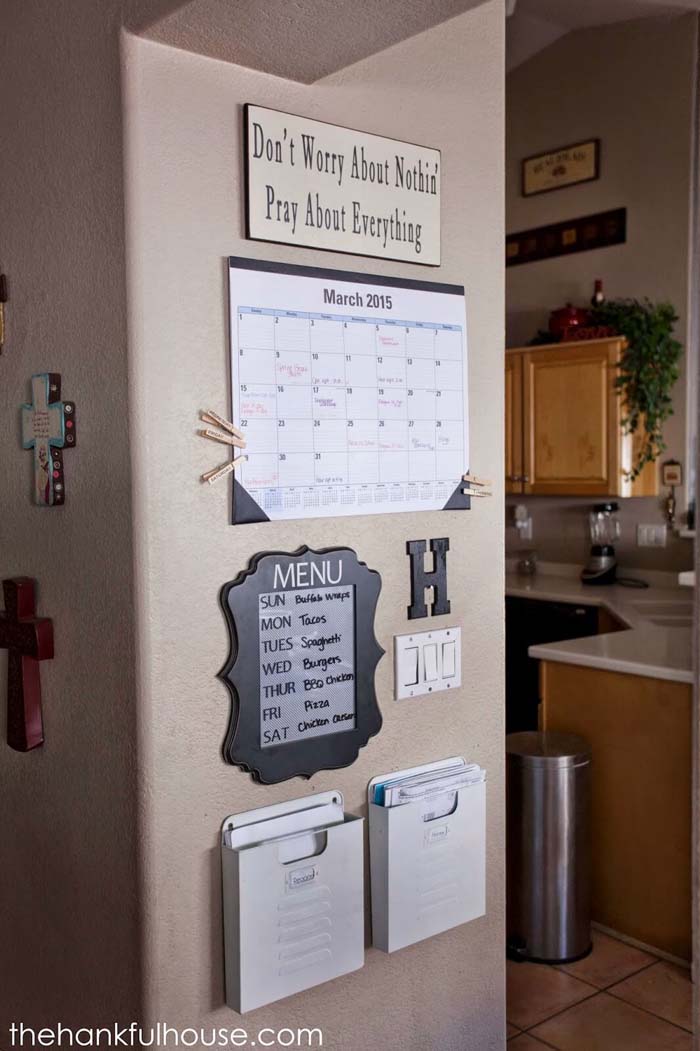 Do you hate clutter? Choose minimalist elements for your command center.
The key is to choose two colors, such as black and white; they create a visual connection between each piece while maintaining a chic feeling.
26. Magnetic Door Whiteboard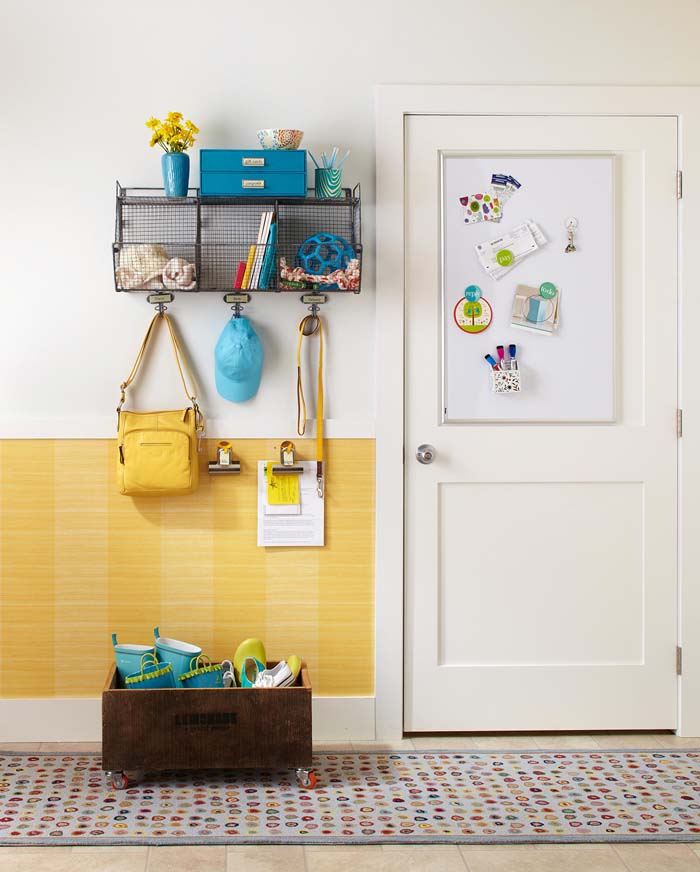 Expand a command center that's next to a door by using the door itself. Use it as a canvas to hang a whiteboard or a bulletin board — it won't get in the way, and it will give you lots of room for notes and dates.
Plus, it leaves the wall space free for bulky shelves, hooks, and organizers.
via BHG
27. Rail Mounted Symmetry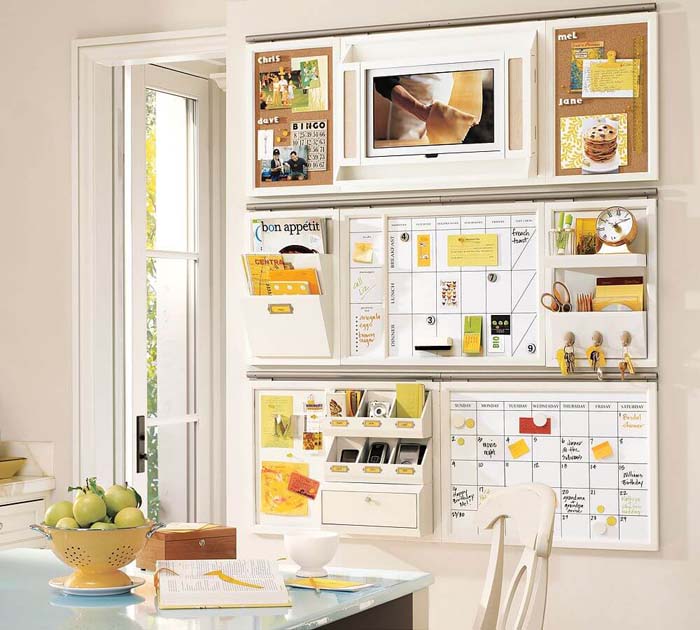 Minimize damage to your walls by mounting your command center on hanging rails.
Simply choose the organizers, white boards, and cork boards that fit your lifestyle for a truly custom design.
28. Farmhouse Style Command Center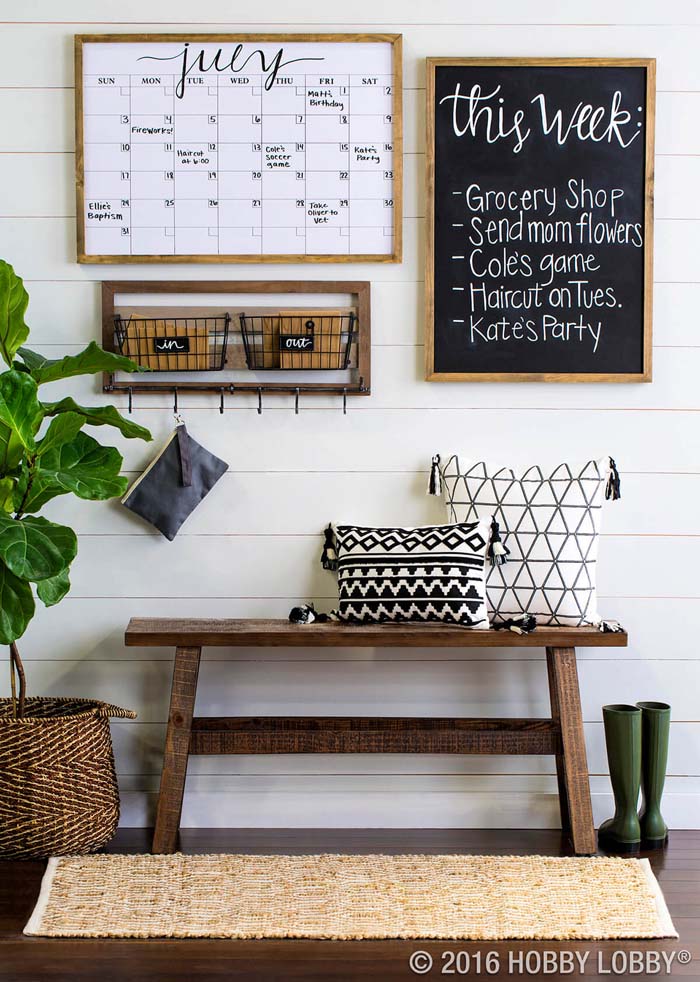 Beautiful and inviting, this gorgeous command center is a fantastic way to use your entryway.
To tie it together, the homeowner uses frames, organizers, a bench, and a planter in similar natural tones.
Black and white pillows bring in the colors of the calendar and chalkboard, and the plant adds a burst of cheerful color.
29. Organized Kitchen System With Filing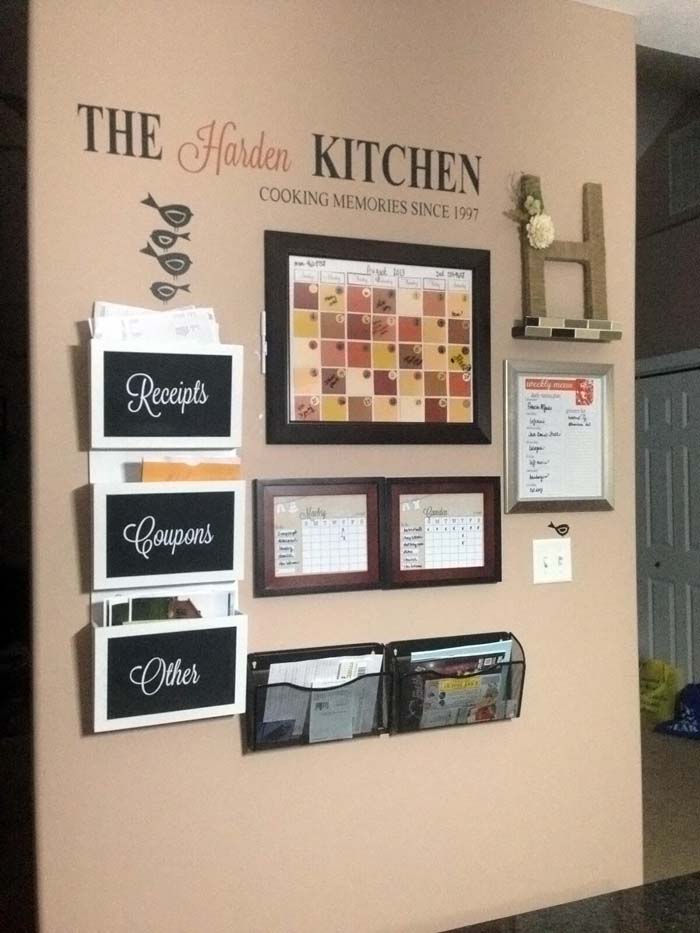 A cohesive color palette is a great way to turn a command center into a work of art.
This version uses warm, autumnal colors that pair beautifully with the wall color. For an official look, paint a personalized sign directly on the wall.
30. Expanded Desk Area Command Center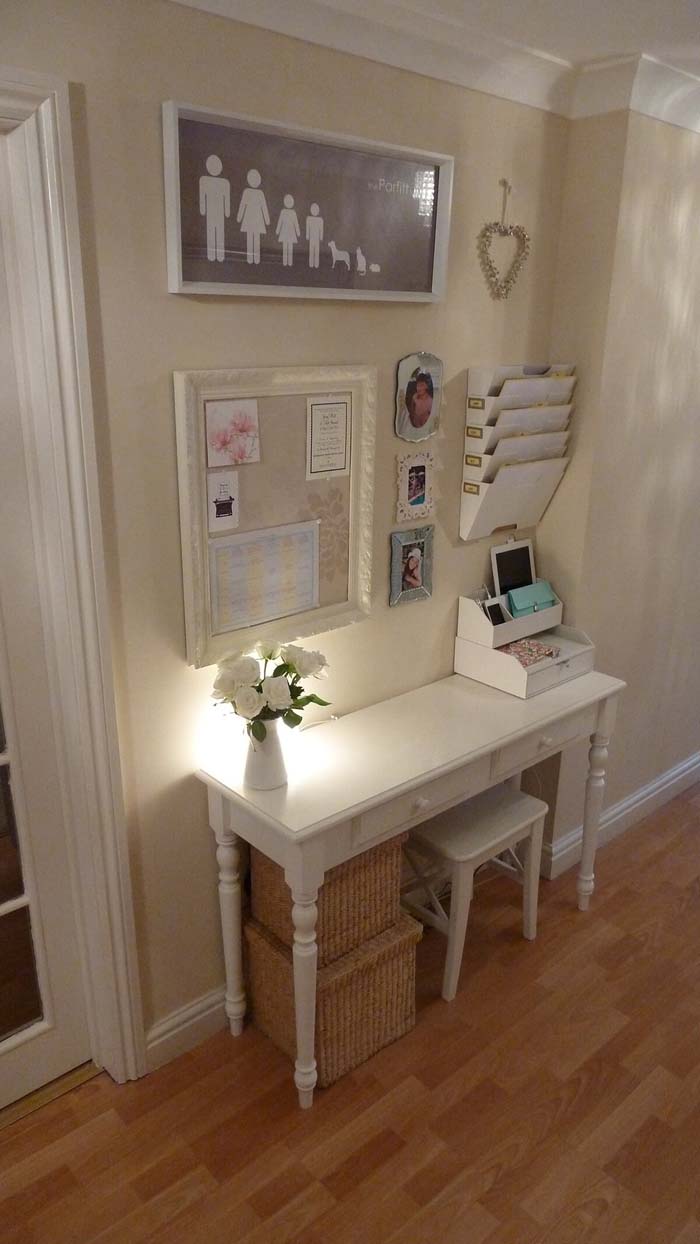 There's no reason your command center can't be as beautiful as the rest of your home.
This cottage-themed version is the perfect example — by using vintage elements and small wall decorations, it's both welcoming and efficient.