If you feel like your home office is a bit disheveled or even barren, then it might be time to give it new life.
As it is your seat of power, it needs to reflect your true nature.
Not only that, but it should also be organized such that you can access all your items.
Check out these 14 ingenious ideas to add some professional pizzazz to your home office.
1. Modern Chic Home Office Storage Solution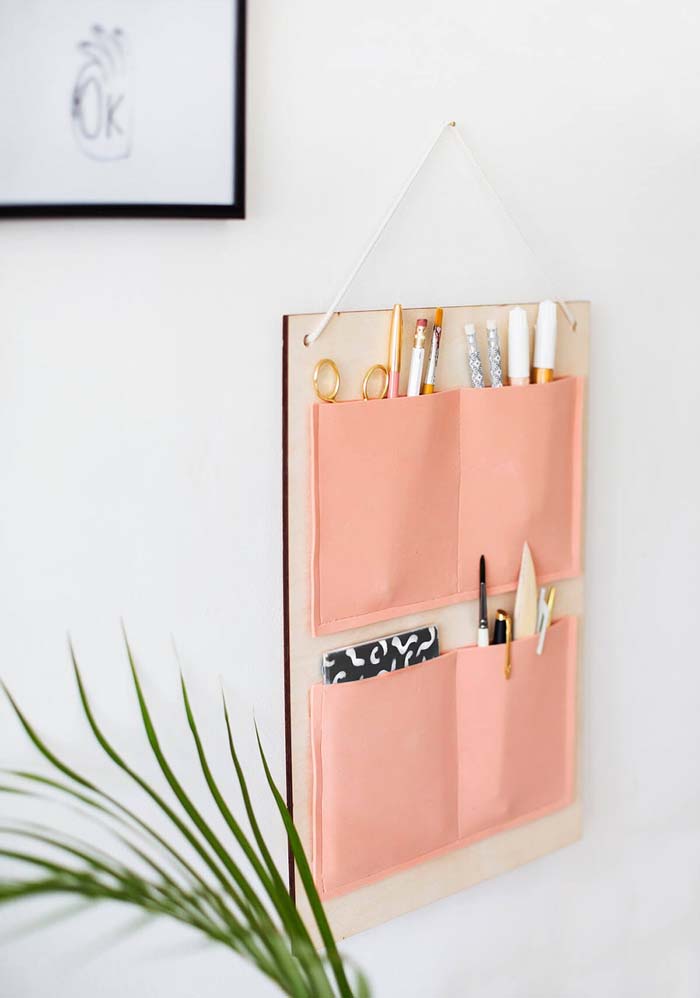 Add a touch of modern chic to your home office with this fun and easy storage idea.
A cream-colored base supported by a single nail holds four-wide pink pockets used to store your various supplies.
From pens and pencils to notebooks and scissors, you will be able to easily access your tools of the trade. More to the point, this design adds beauty.
2. Organize a Home Office with Stylish Desktop Essentials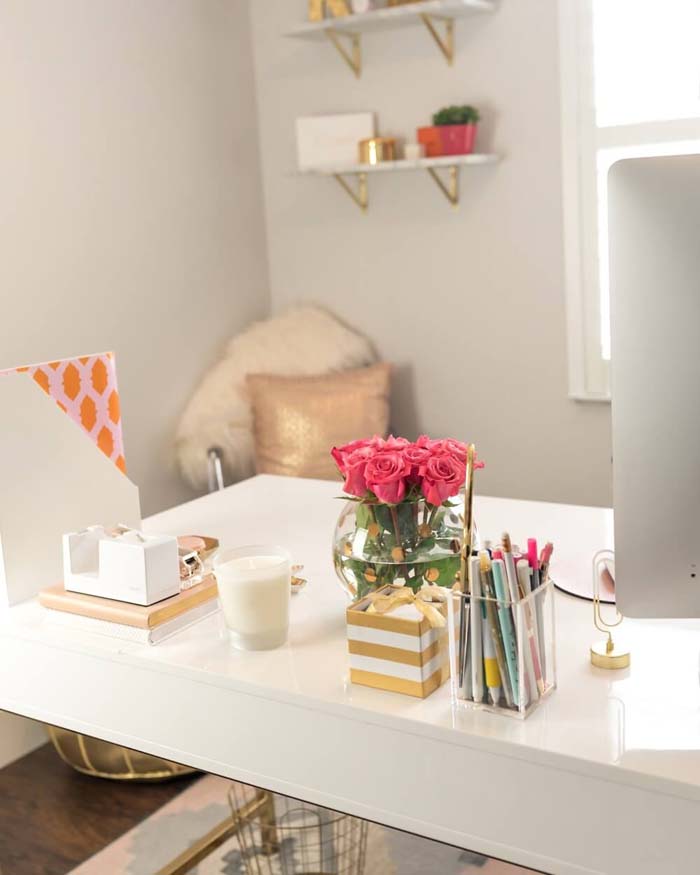 Compartmentalize all of your home office desktop essentials with these well-organized and spacious designs.
Variously shaped and decorated containers hold your pens, pencils, notepads, and binder clips in easily accessible, but out-of-the-way locations.
The look is made complete with a small vase of pink roses and some mood-lifting candles. Make sure to find containers that speak to your own inner beauty.
via The Fancy Things
3. Organize Your Office Supplies with Polka Dot Boxes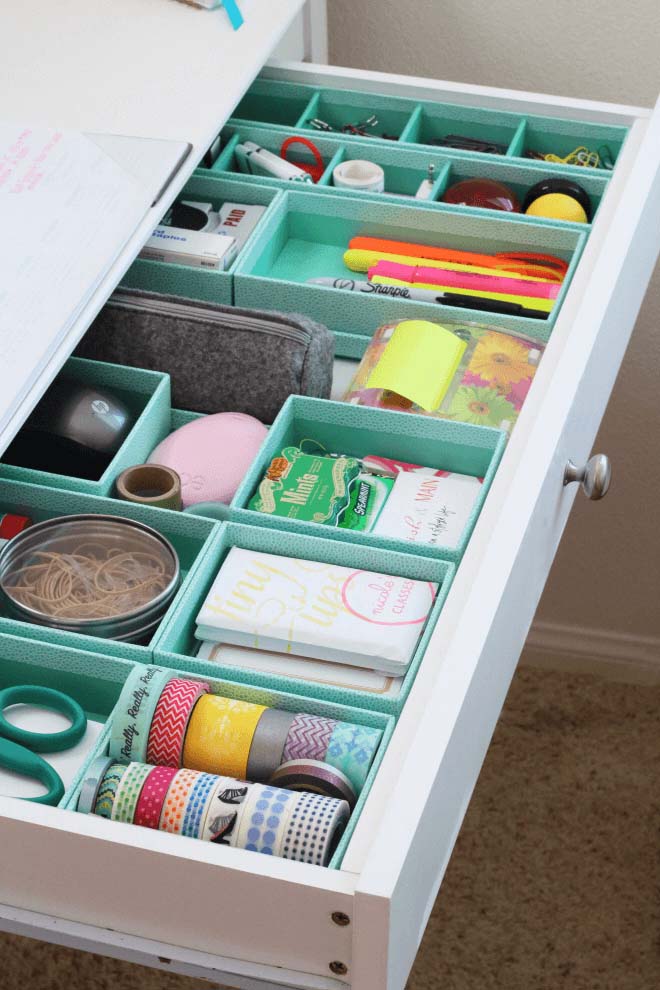 Finally organized the eclectic modge-podge of office supplies that exist in your drawers with this wonderfully refreshing idea.
A set of mint green polka dot boxes fit easily into the top drawer in a home office desk.
It gives the perfect home to each and every one of your items, including highlighters, thank you cards, and gum. These come in different sizes and can be chosen to suit your specific design needs.
via Modish and Main
4. Organize Files with Hanging File Folder System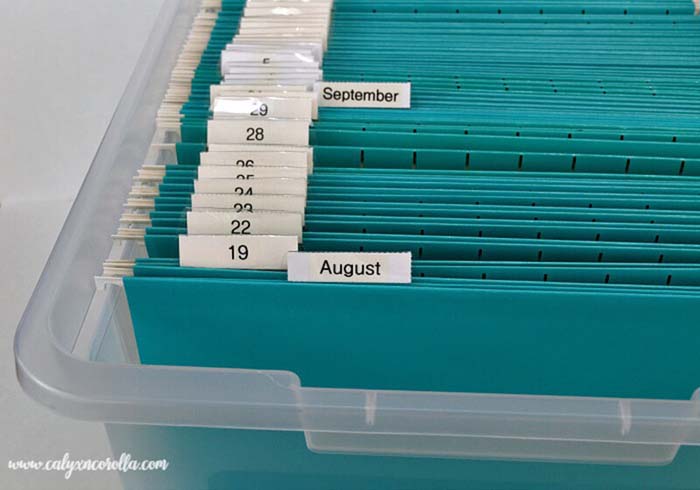 Put your burgeoning file collection in order with this easy-to-customize home office design idea.
A large clear plastic container is sectioned with labeled, aqua green hanging file folders. You may section and label as appropriate for your workspace. Maybe go by date or category type.
Either way, this design will allow for convenient storage, as well as ease of accessibility.
5. Maximize Home Office Space with a Desk Shelf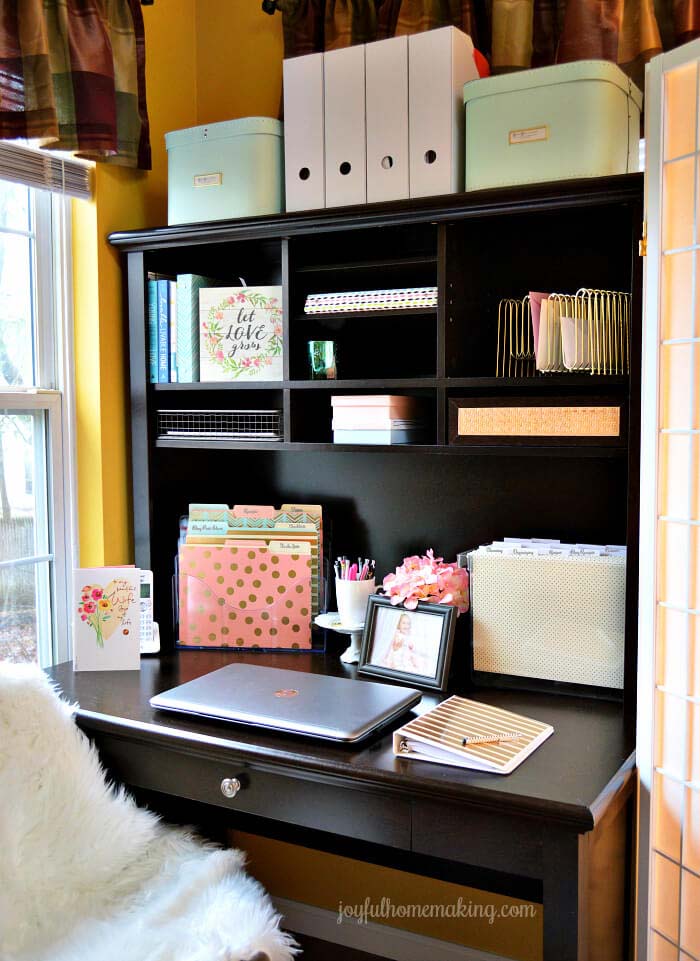 Maximize the space in your home office with this extremely useful and stylish design.
A sleek black wooden desk shelf rests atop a matching desk. It contains eight separate compartments to store all your essential office supplies and display your favorite inspirational artwork.
Additional storage may be found at the top of the desk shelf. Included in this design is a large desk draw to increase storage capacity.
6. Whimsical Mason Jar Storage for Your Home Office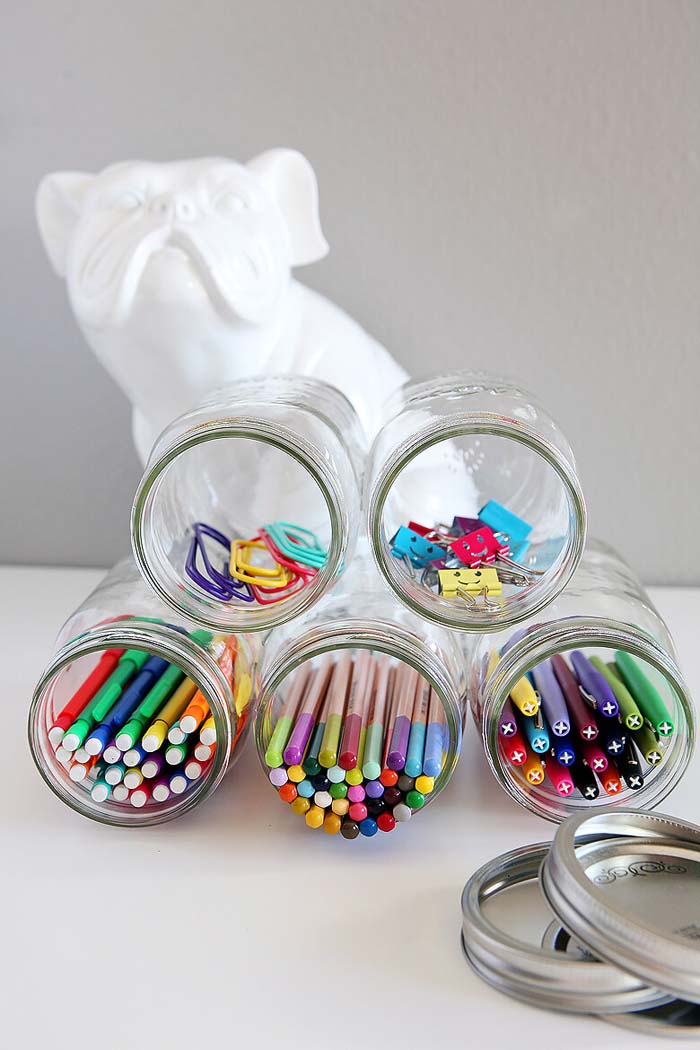 Add a touch of whimsical levity to your home office with this fun storage idea.
A set of five clear mason jars are laid on their sides and stacked in a pyramid. It provides convenient storage and accessibility for your various work supplies.
Try dedicating each jar to a specific item, like colored pencils. Then fill them when a many-colored version to give a nice pop of color.
via Eighteen 25
7. Refresh Your Office with Minimalist Mint Green Storage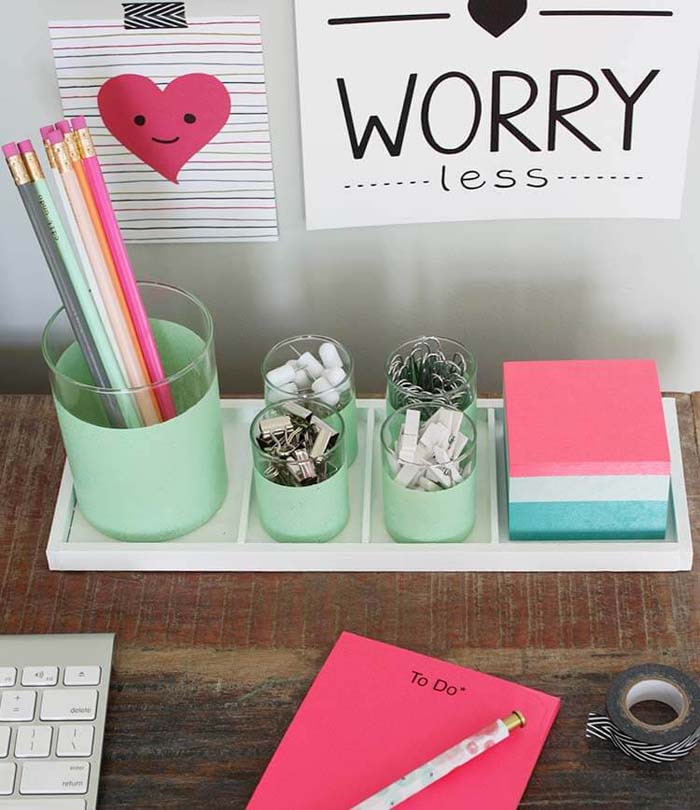 Go for a minimalist look with this refreshing home office idea. A rectangular tray with four inlets holds five separate mint green containers.
The glass containers are in different sizes, adding a nice height element to the looks.
They can be used to add various supplies, like push pins or erasers. Try adding a fun-colored notepad in one of the inlets.
8. Transform Your Closet into a Stylish Home Office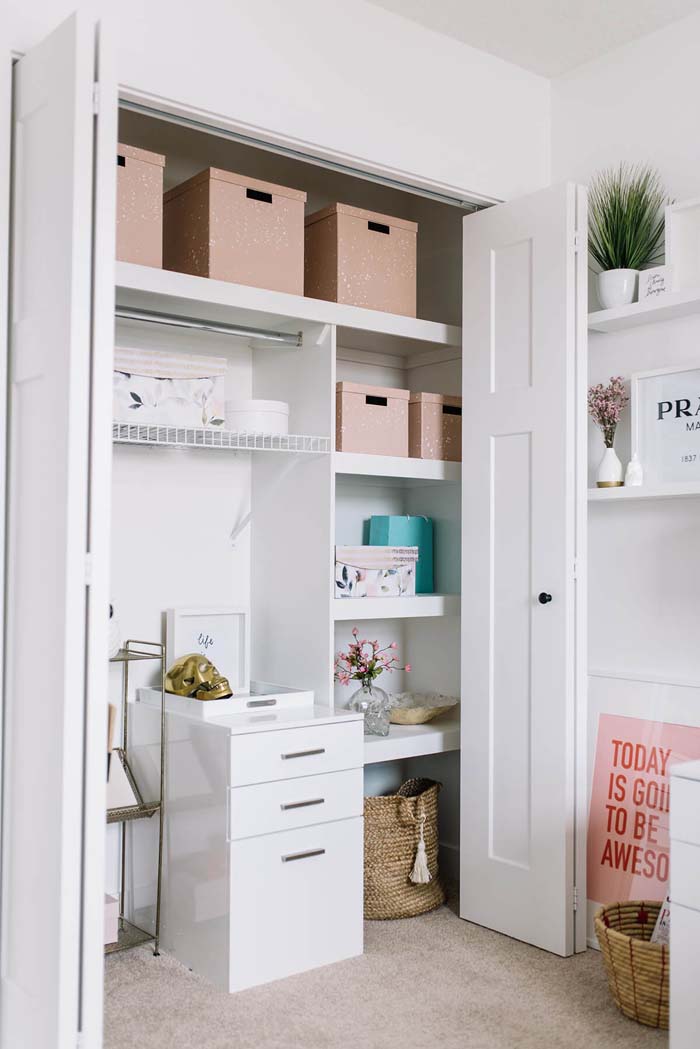 Transform your closet into a fully functional home office space with this amazing design.
A spacious and clean closet layout is restructured to include a file cabinet, golden shelving, and plenty of storage compartments.
Decorate the area with light pastel shades of blue and pink to keep the space feeling open. Floral arrangements work well here, too.
via 204 Park
9. Set Up a Modern Streamlined Home Office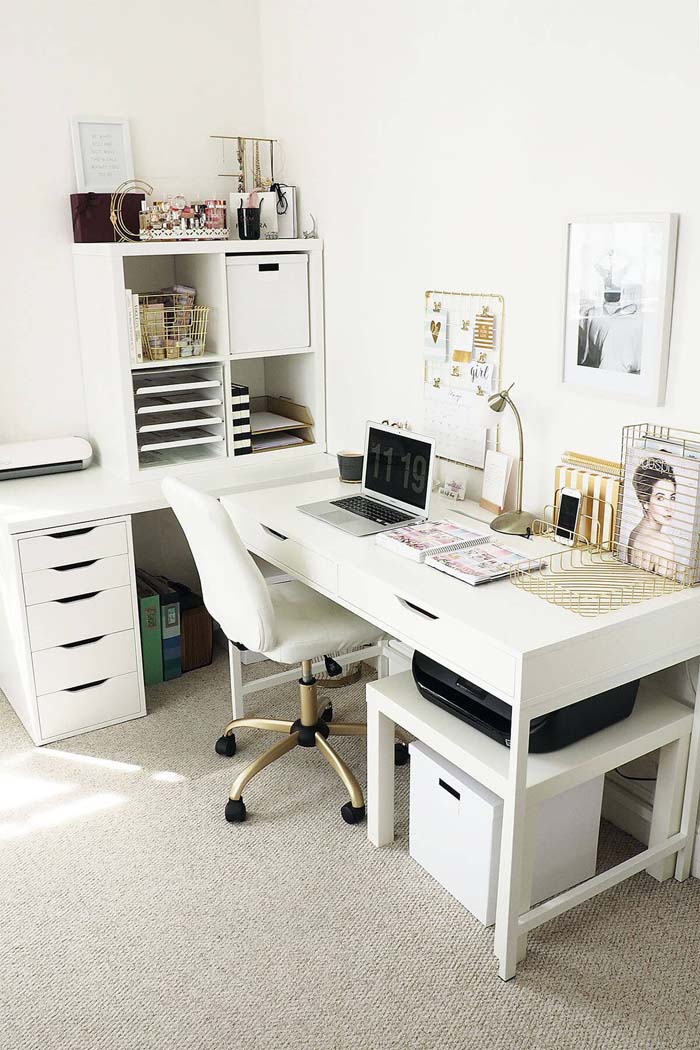 Add a modern, streamlined look to your home office with this exciting setup.
Two white wooden desks are nestled in the corner of a room, one with a maximized desk shelf and the other with an armless white chair.
Both contain storage below, including a file cabinet and two-tiered shelving. Decorate the look with metallic elements, like gold storing baskets and a small chrome lamp.
10. Customized Wall-Mounted Filing System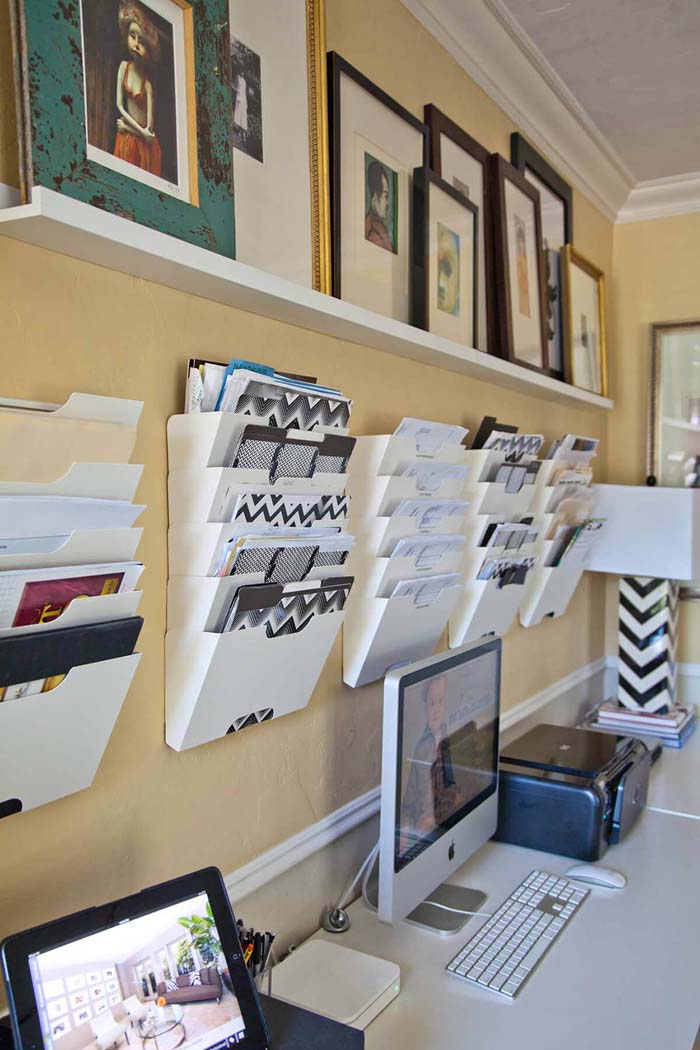 Give your space added file storage with this easy-to-customize home office idea.
Five white folder baskets are halfway stacked into one another and wall-mounted to give a sleek space for five filing compartments.
This look is repeated a total of five times. It transforms the slew of unorganized papers in the crumpled desk drawer to the spacious and well-thought-out filing system on the wall.
11. Refurbish Your Office with a Bold Blue Stacked Dresser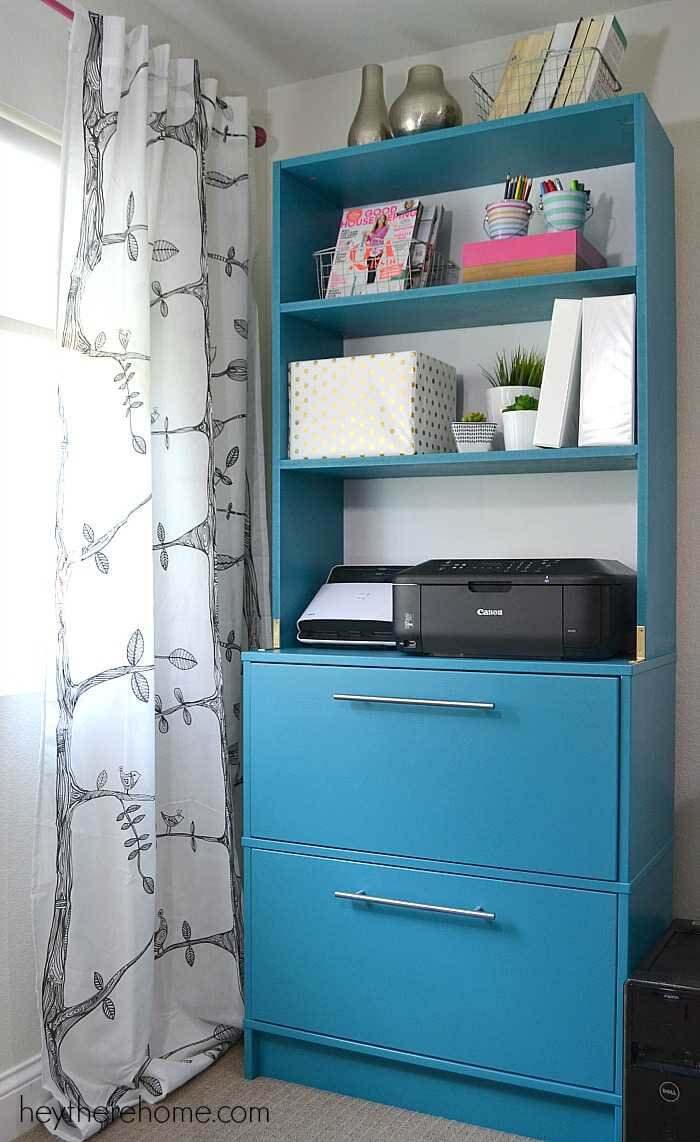 Use a pop of color to refurbish a tall clothing dresser into a convenient storage space for your home office with this fun design.
A large wooden dresser has been painted blue and placed into a home office to add new storage options.
With deep drawers and high based shelves, you are able to fit in the oddly shaped items in your office that often do not have a home.
via Hey There Home
12. Utilize Office Binder Organization with Plastic Pockets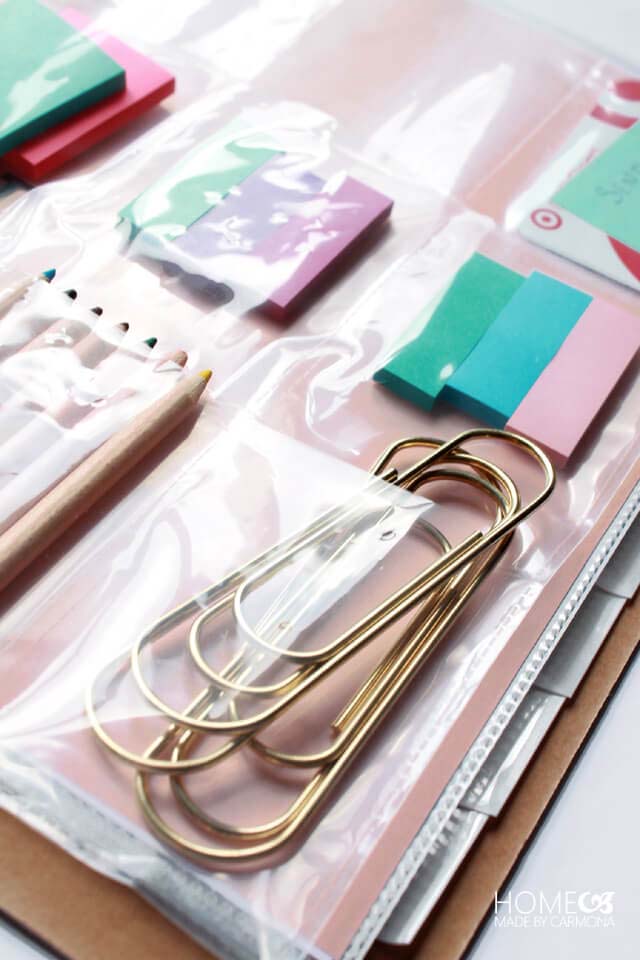 Upgrade your home office binder with a cute storage compartment of its own with this unique idea.
A clear plastic page is home to several differently sized pickets. These can be filled with all your traveling essentials, like colored pencils, paperclips, employee gift cards, and post-it notes.
Rather than disorganizing your purse or pencil pouch, carry these items conveniently in your binder.
13. Optimize Office Productivity with a Magnetic Wall Display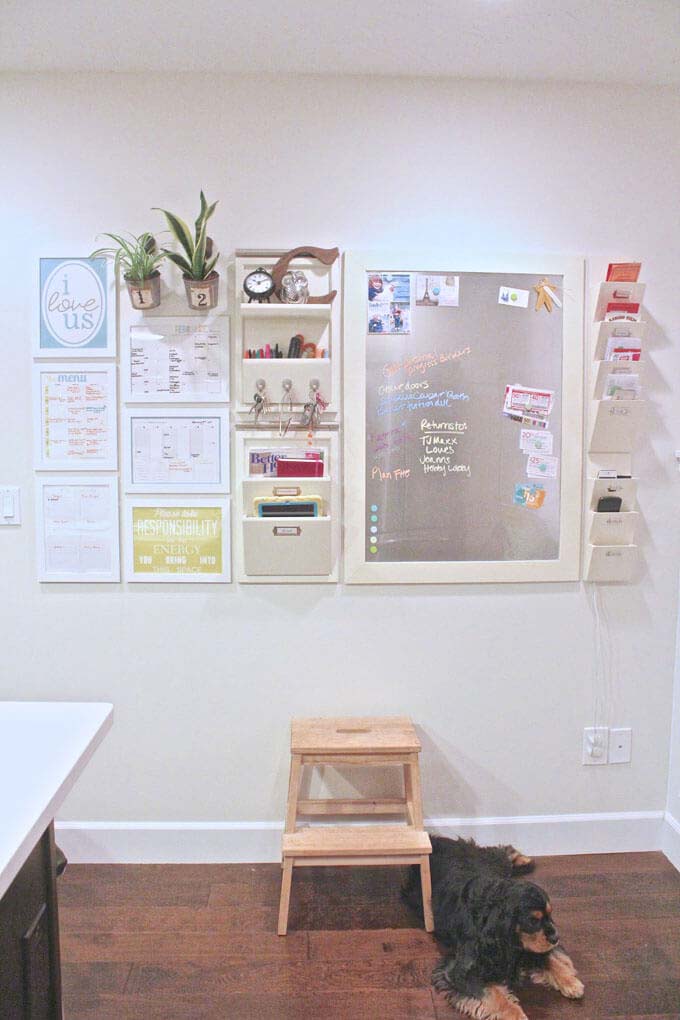 Put your daily agenda on display with this powerful home office design idea.
A spacious array of wall-mounted boards are used to give access to your essential home office items and to-do list. It includes a magnetic board, hanging file folders, and framed agendas and schedules.
Set in a cream color scheme this display gives a feeling of levity to what could be a dense and cluttered space.
14. Add Style to Your Home Office with Hanging Baskets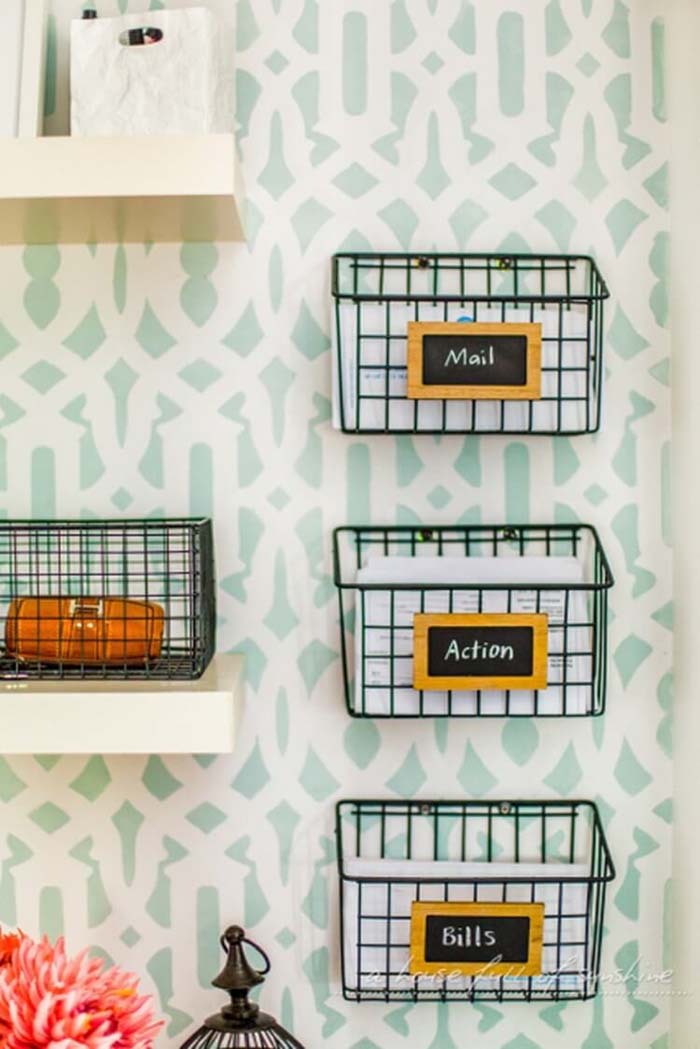 Give your filing system an adorable upgrade with this home office design idea. Three wide, black hanging baskets are mounted to the geometrically designed wallpaper.
Each basket is given a chalkboard label that you can customize to suit your organizational needs. Try adding sections for fun vacation ideas or more serious action items for the family.
Either way, it provides an accessible way to reach paperwork.