With everything that's happening in regards to the pandemic, many people have discovered that their living spaces aren't optimized design-wise for isolation and quarantine practices, home-based work and schooling or everyone together at the same time.
Yet, there is usually a lot of unused space in a home. You merely need to re-assess how you use it.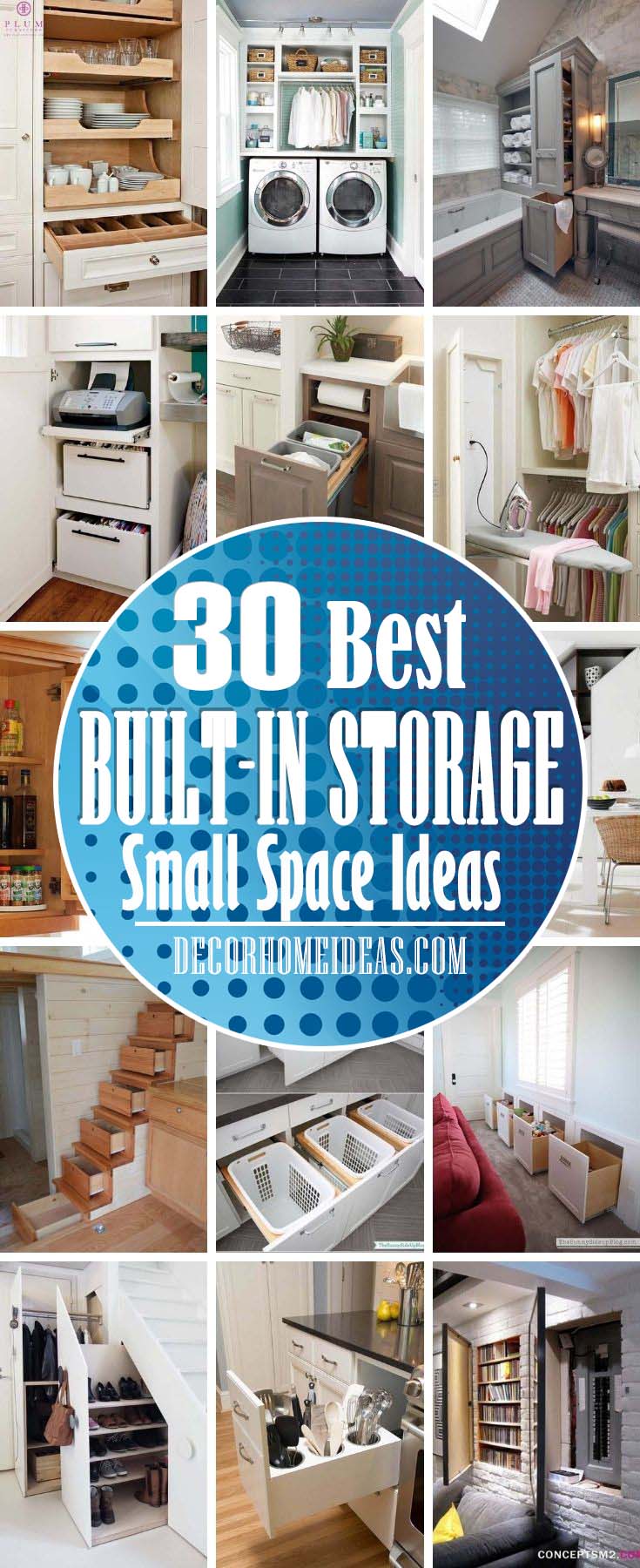 Before you start searching for a larger property to buy or rent, consider renovating your home by using one or more of these fabulous built-in storage ideas:
1. Maximize Space with a Wall-Mounted Accessories Storage Unit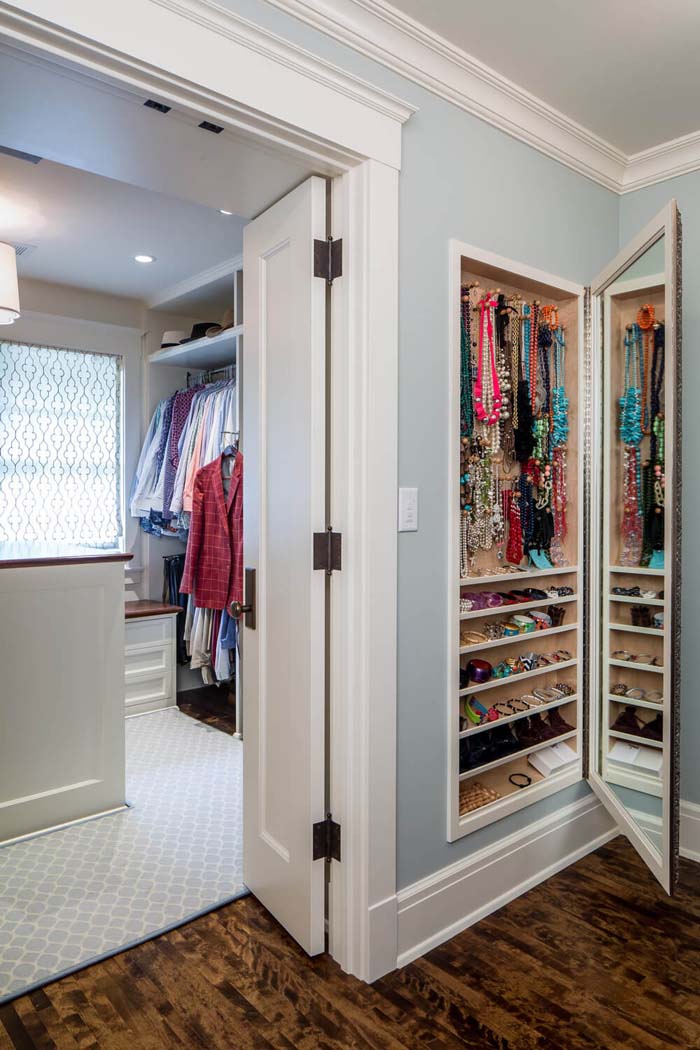 A wall offers more than space to hang the decor.
This built-in storage unit for fashion accessories combines storage and art while also freeing up plenty of space that your accessories might typically occupy in a box, dresser, armoire or closet.
The full-length mirror door can help you pick the right accessories to match an outfit one moment and then disappear the next behind a framed painting or a classic, border-style wall panel.
2. Creatively Maximize Living Room Space with Framed Artwork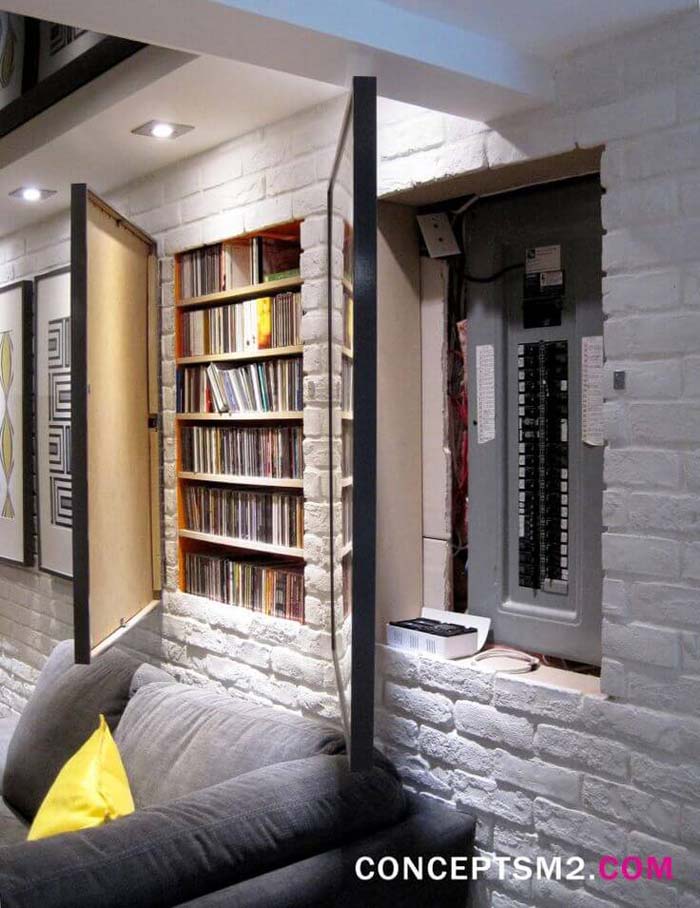 As seen with this series of black-framed art prints affixed to a brick wall in a modern-style living room, framed artwork can do more than provide hidden access to fashion accessories.
Besides covering up an ugly electrical panel, these artwork doors hide away additional space for an alcove of shelves that you can use for CDs, as featured, or books, video games, personal electronics and other entertainment items.
via Dig This Design
3. Upgrade Your Bathroom with a Modern MIrror Medicine Cabinet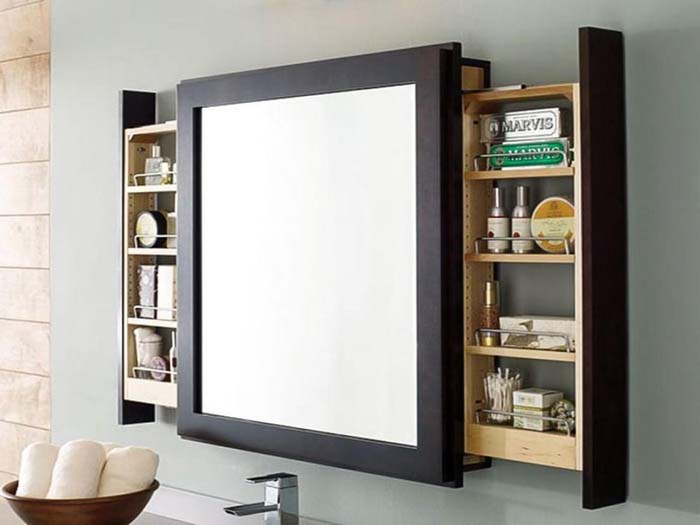 If your bathroom is so small that opening and closing the medicine cabinet door makes you feel like a contortionist, then it's time to consider this dark, modern, mirror-faced, medicine-cabinet box.
The enclosed design makes use of empty horizontal wall spaces with two pull-out shelving units that feature stylish metal bars for keeping beauty and hygiene products securely in place on each shelf.
4. Upgrade Your Bathroom with an Apothecary-Inspired Wall Shelf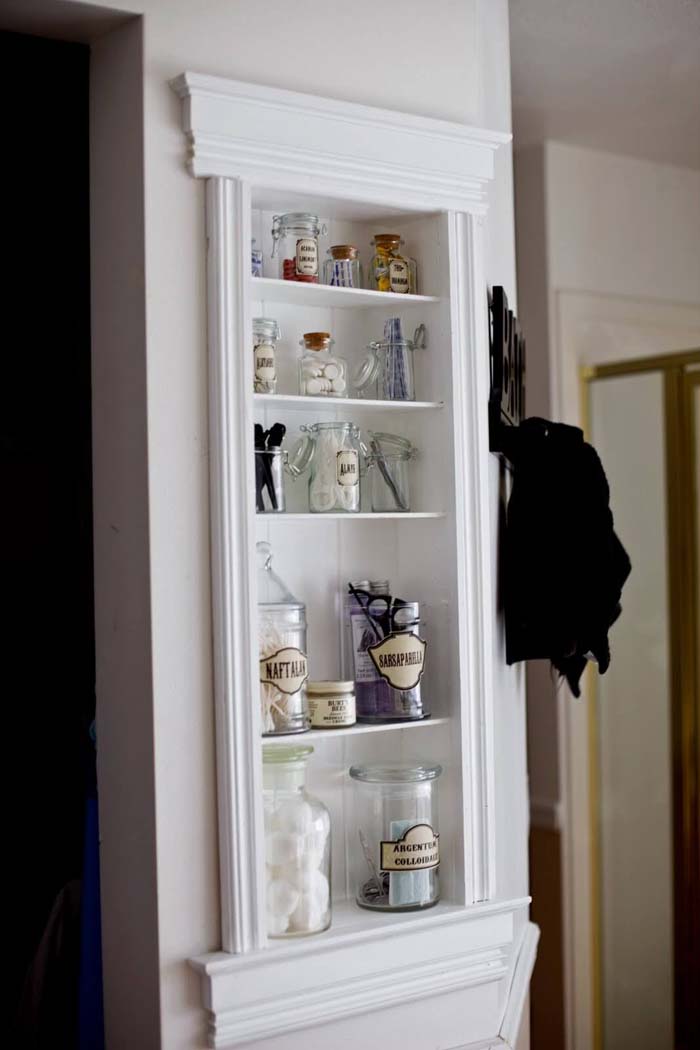 This bathroom storage idea turns an unused wall into an open shelf storage area reminiscent of shelf storage found in an old-fashioned Apothecary's shop. You don't need a door to cover it.
A coat of glossy white paint and clear jars make it easy for you to find everything you need with or without labels.
via Mandi Tremayne
5. Utilize Bathroom Storage Space with a Recessed Cabinet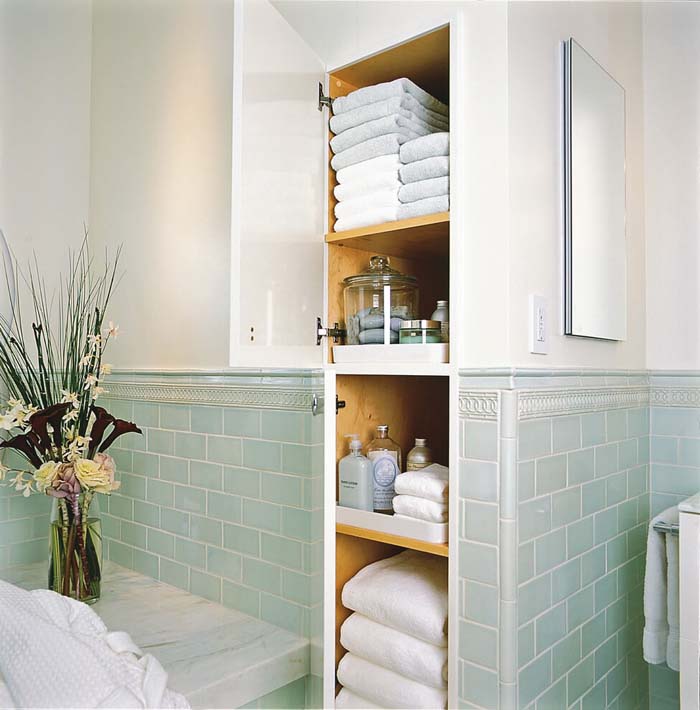 Do you feel liked your tiled bathroom offers zero storage space?
This stunning recessed cabinet idea shows just how much space is available behind those tiles when there aren't any pipes, wiring or studs in the way.
With a bit of remodeling, you can store bath clothes, towels, soaps, creams and other items that make your bath or shower feel like a spa behind slim-profile, concealed-hinge doors.
via Houzz
6. Maximize Space with Pull-Out Drawers for Toy Storage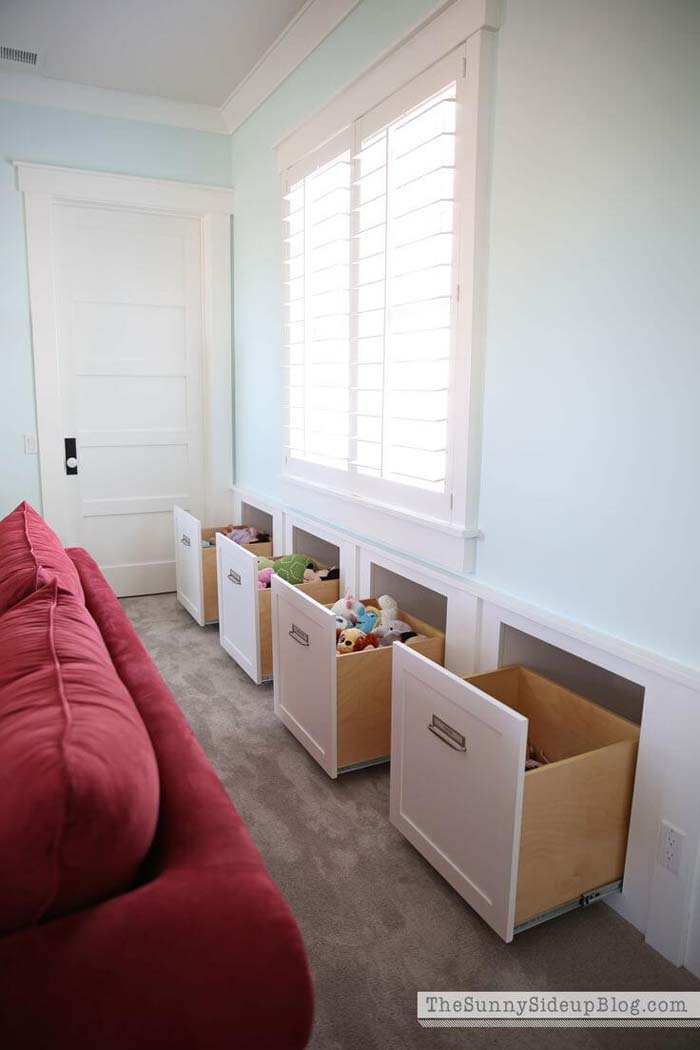 If the sitting room in your home has deep walls and you want more space in your children's bedroom or need to convert a playroom into a home office, this toy storage idea offers an excellent solution.
These pull-out, box-style drawers are at the perfect height for young children to use them with ease.
via Sunny Side Up
7. Utilize Deep and Floor-Level Shelves for Bathroom Storage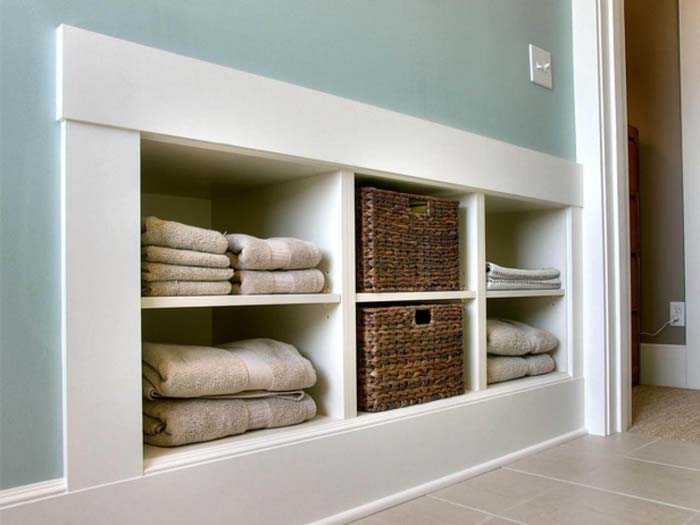 Deep, floor-level shelves don't need to force you to be on your hands and knees searching for items in the bathroom.
As shown, you can use some shelves for easy access to bath clothes and towels.
For pull-out storage of loose items that might normally disappear into the back of the unit, use simple handle-style wicker baskets in the color of your choice.
via DIY Network
8. Utilize the Space Under Stairs with Built-In Storage Ideas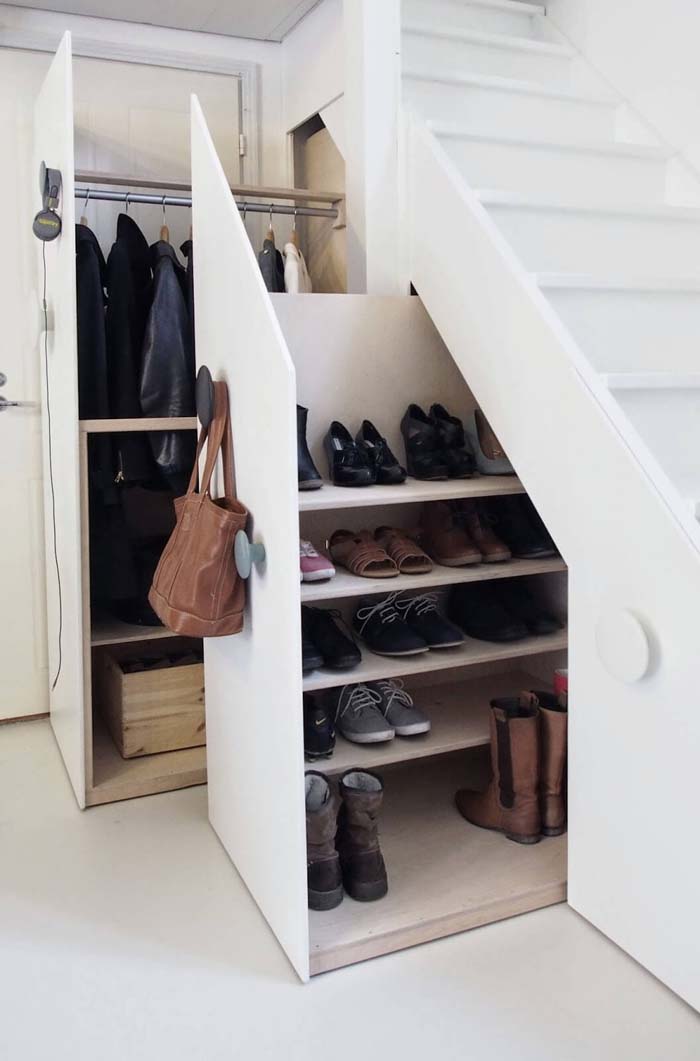 Storage underneath stairs isn't a new concept.
A history of "step" storage can be traced to many cultures over the centuries with some civilizations using both portable step-style chests and built-in stair units for storage and upper floor and attic access.
This design offers a modern twist with two, large pull-out units that combine closet, drawer and shelf features for storage of outerwear and footwear.
via Muotopuoli Blog
9. Organize Your Kitchen with a Pull-Out Drawer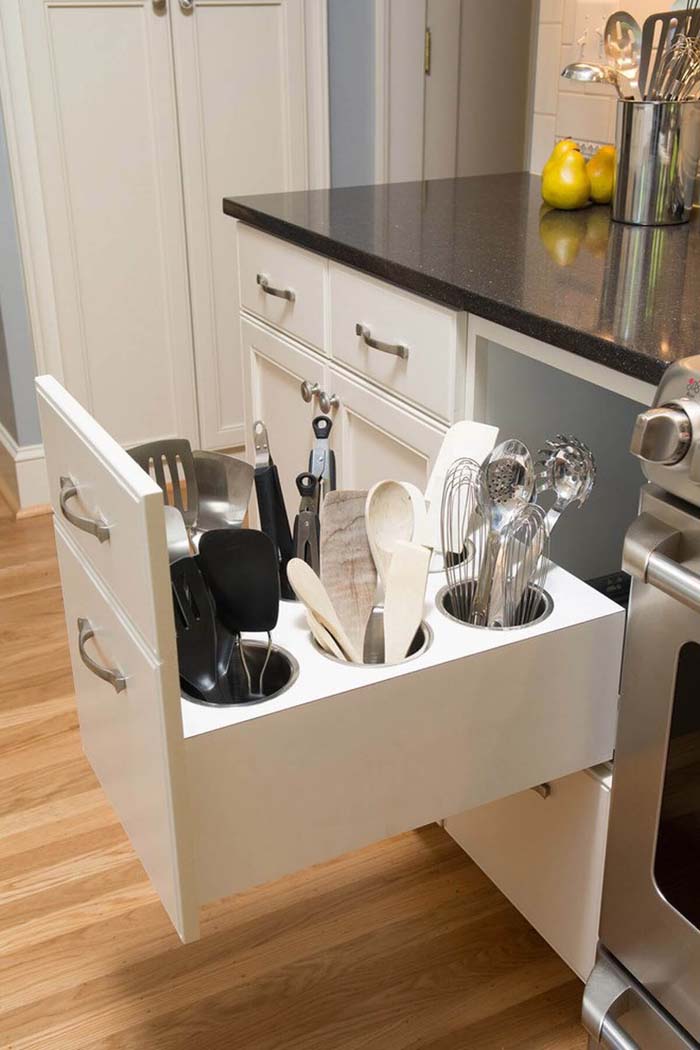 Do you need more space in the kitchen? Are you tired of grease and dust settling on kitchen utensils stored in open canisters on the counter?
This cabinet idea combines a simple, pull-out drawer with six stylish, inset, stainless-steel canisters.
Access your utensils quickly and efficiently when prepping ingredients and cooking without the countertop clutter or mess.
via Jeffrey Freeman
10. Open Up Your Room Space with Built-In Bookshelves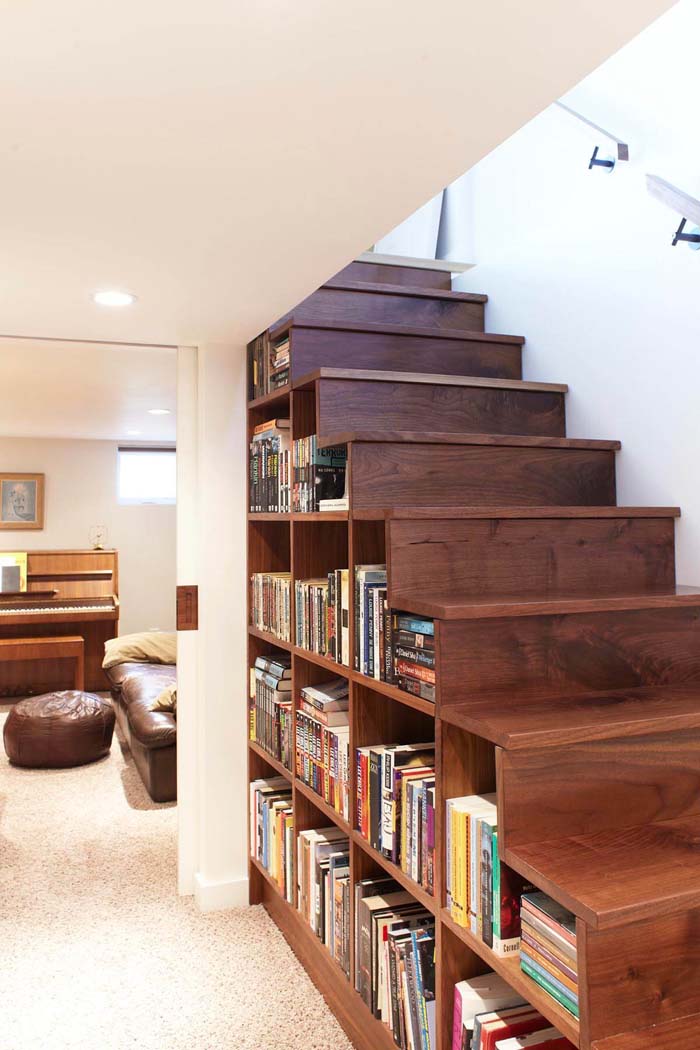 These built-in bookshelves are an excellent example of classic, step-style storage.
The wood-stained color hearkens back to traditional designs and matches almost any type of interior theme, including rustic, farmhouse and modern.
You can open up several feet of space along a room wall by shifting your favorite books, movies and other items from a free-standing shelf unit to this built-in.
11. Utilize Custom Cabinet Doors to Conceal Open Shelves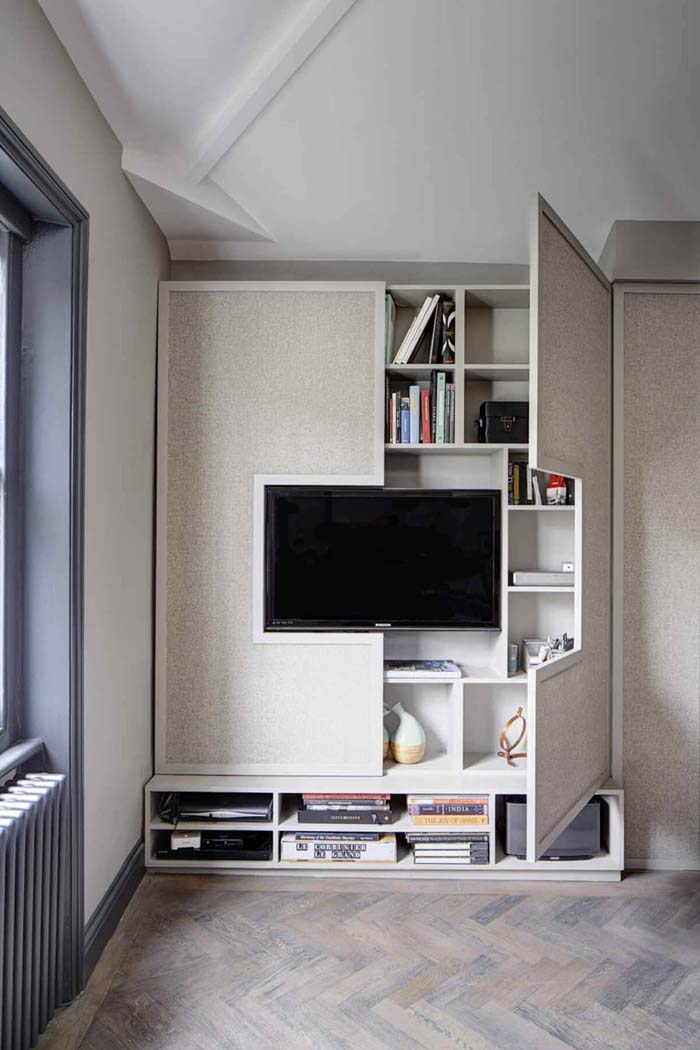 Open shelves are great, but they're prone to dust build-up.
They can also be a distraction while you relax if, as seen here, they surround a television.
To solve these problems, consider hiding the shelves entirely with custom cabinet doors that feature covers designed to match the wall or a favorite piece of artwork.
via One Kind Design
12. Utilize Space in a Small Laundry Room with Custom Shelving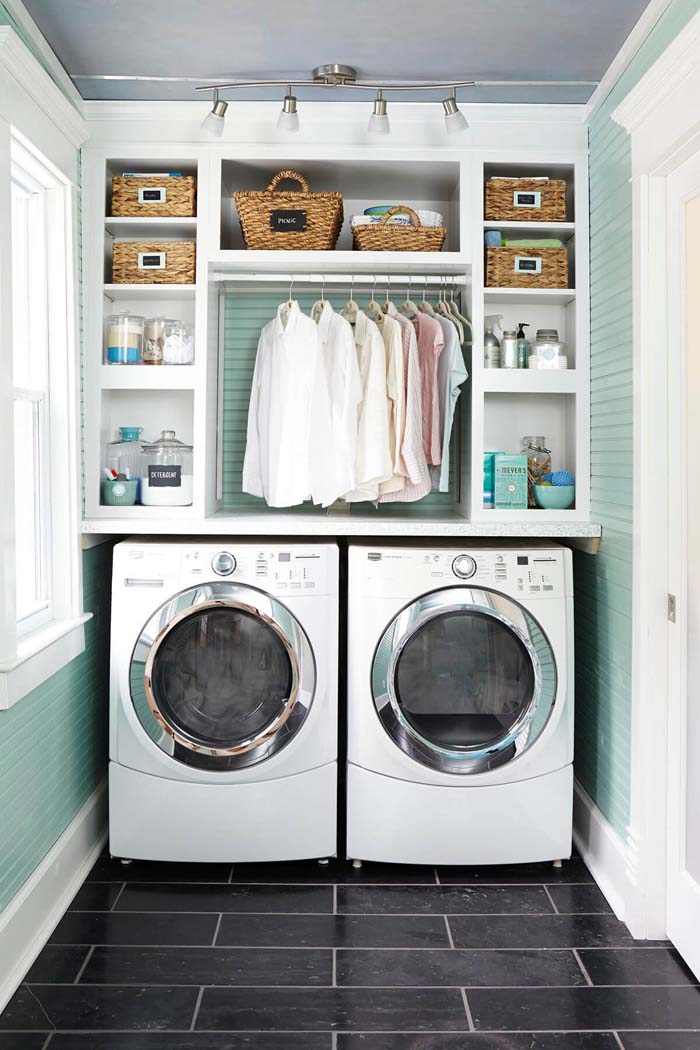 The built-in unit in this laundry room is proof that you can create more space even in a tiny room.
The wall above this washer/dryer set has been completely re-purposed with a custom, open-faced shelving unit that features both cubby holes and a space to hang laundry with an adjustable tension bar.
As in other areas of the home, you can make hard-to-access shelves more efficient with clear containers and wicker baskets.
13. Improve Bathroom Sink Storage with a Modern Hanging Vanity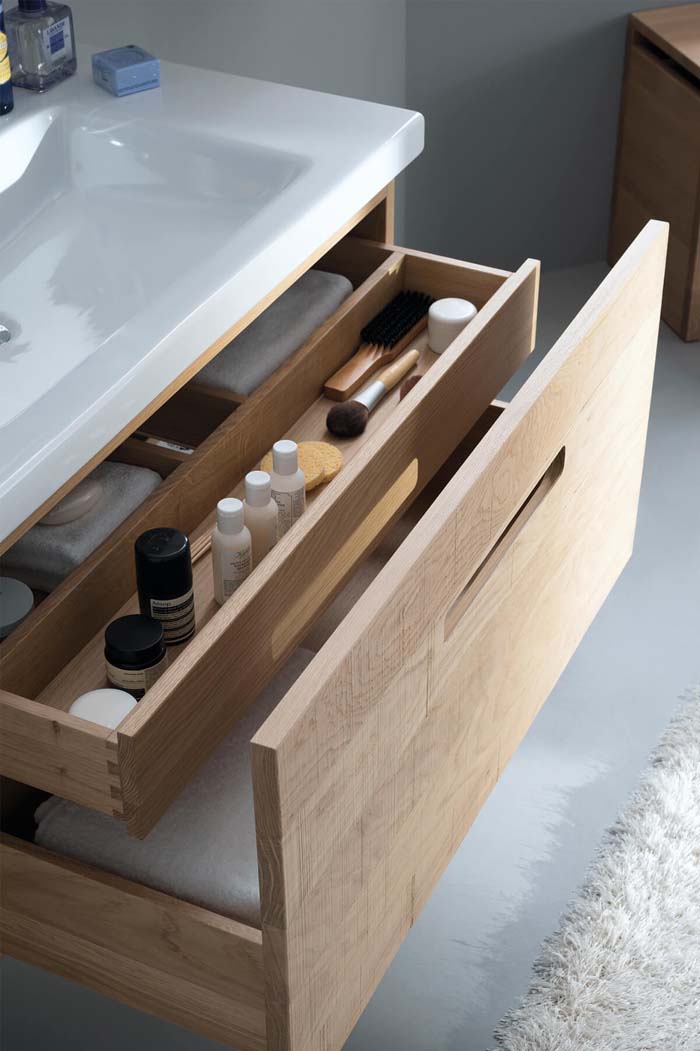 One of the least efficient storage areas in a home is the bathroom sink.
In older style homes, the sink is either a pedestal model with zero storage space or it's inset into a vanity that has a large area designed to hide pipes and provide a small amount of storage in the form of a shared pipe and storage area, side drawers and/or shelves.
The design of this modern sink and wooden hanging vanity gives you two expansive drawers for storage.
14. Maximize Desk Space with a Built-In Cabinet and Printer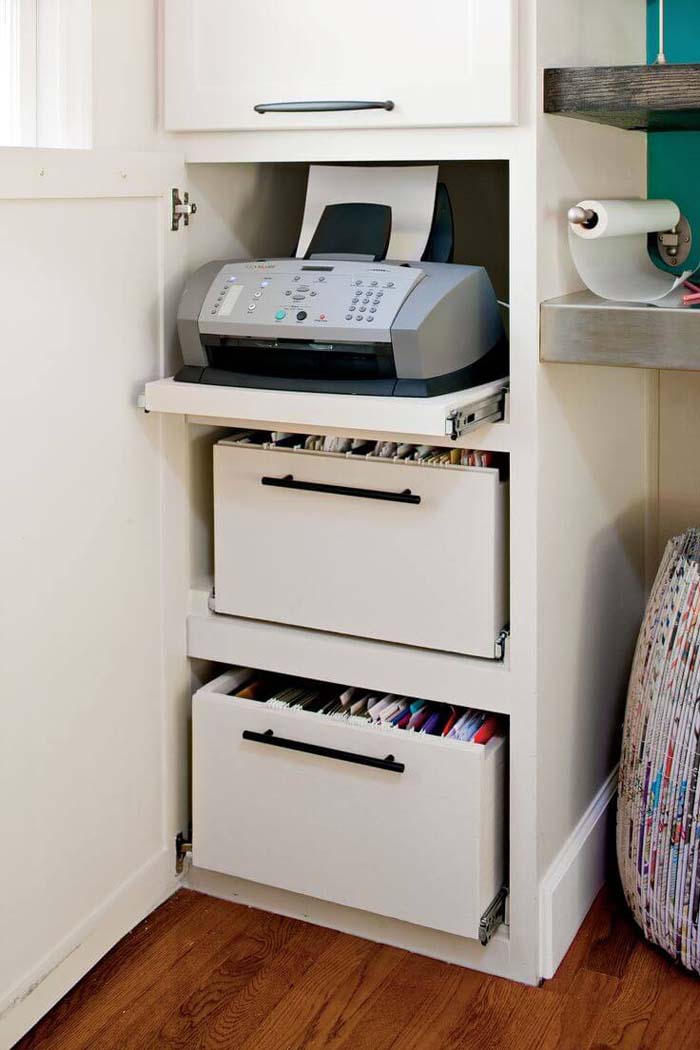 A printer takes up a lot of desk real estate. A built-in cabinet with a pull-out printer and filing shelves offers more room.
This type of setup also guarantees that your printer doesn't collect dust as quickly as it would when sitting in the open, which is important since dust can build up over time on hard-to-clean parts and interfere with print quality.
via Southern Living
15. Expand Storage Space with Kitchen Cabinet Spice Racks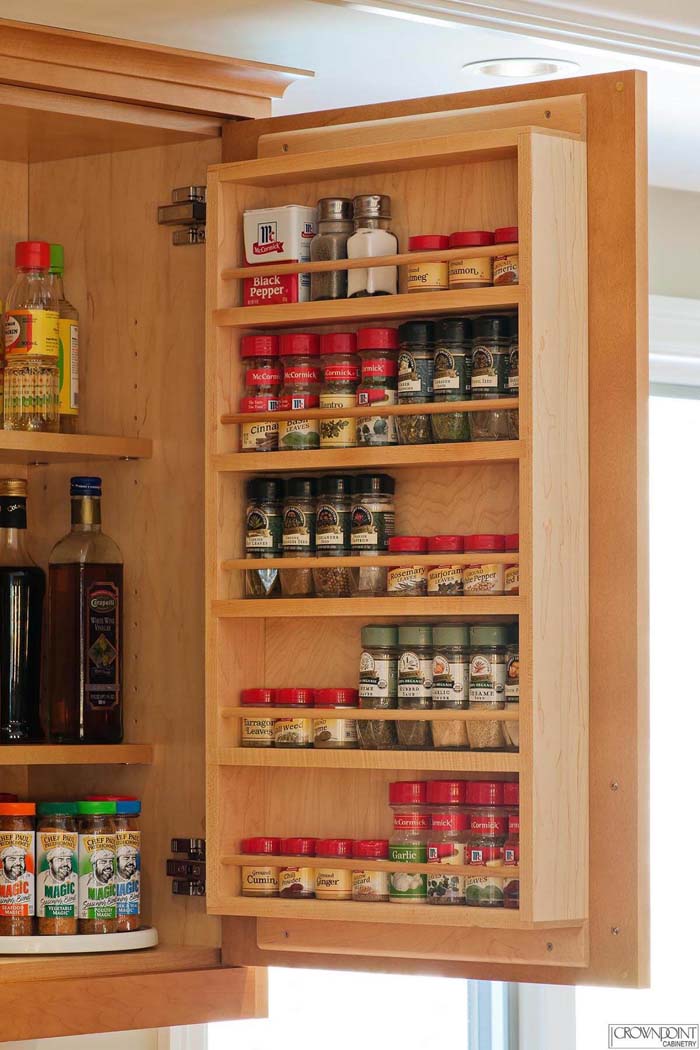 Most prefabricated kitchen cabinet boxes feature a lot of space between the shelves and door.
As you can see in this image, this space provides just enough room for a wooden spice rack.
Don't let the image fool you. You might also use a vinyl-coated or stainless steel wire rack.
via Crown Point
16. Make a Space-Saving, Wall-Mounted Ironing Board Cabinet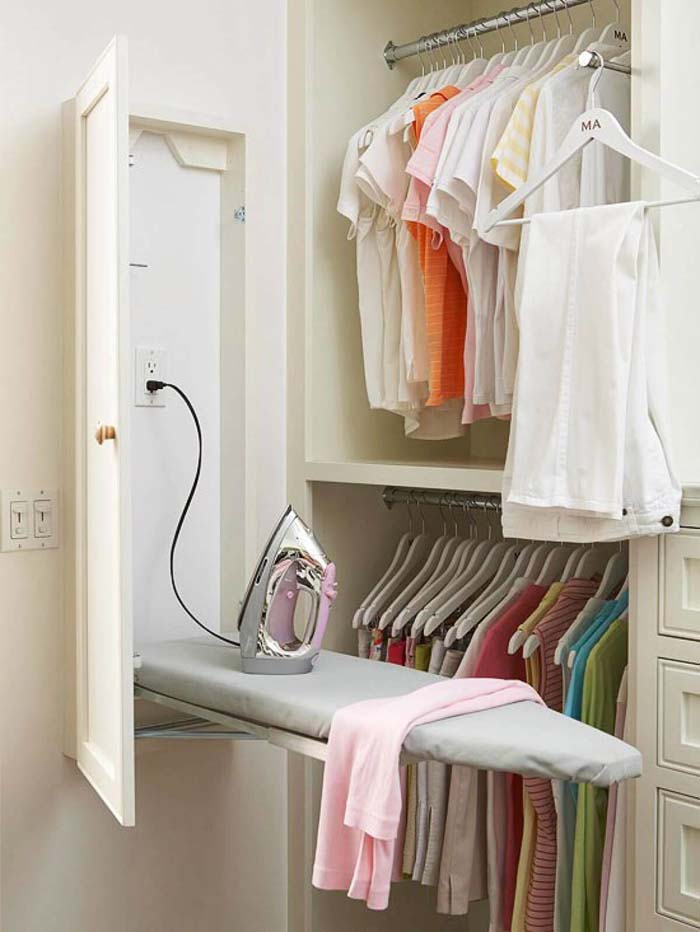 If you're tired of trying to handle a portable ironing board that doesn't want to unfold or stand upright, here's the perfect design for you.
Convert a narrow wall surface near a standard bedroom or walk-in closet into a handy ironing board storage cabinet.
This design also provides a high, hidden wall socket so that you don't have to worry about your feet becoming tangled in the iron's cord.
17. Make the Most of Your Kitchen with Hidden Appliance Cabinet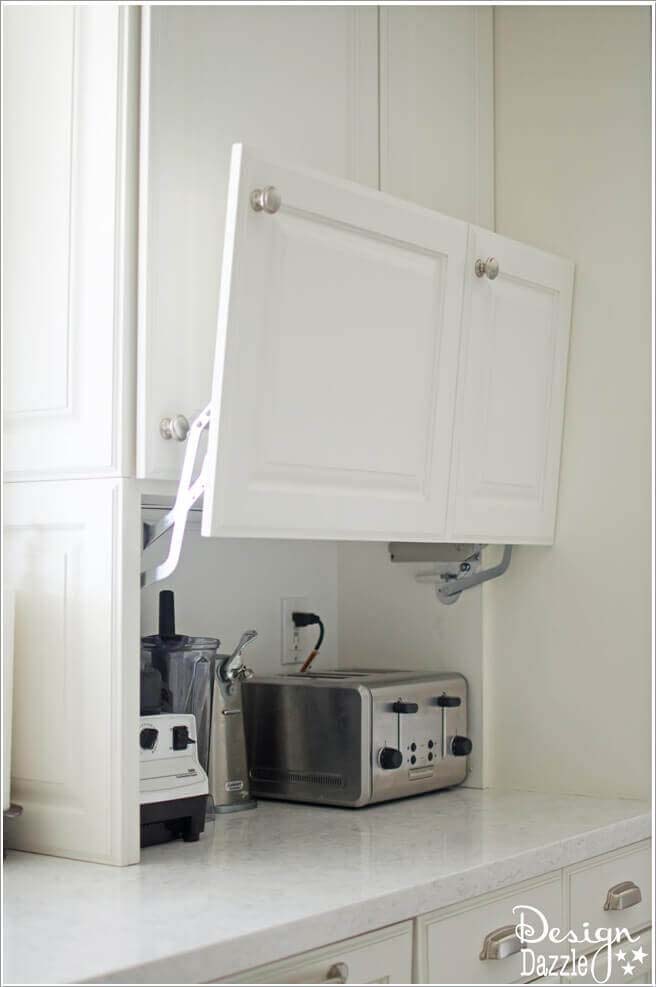 Small- and medium-sized appliances never need to take up food-prep space when your kitchen has a counter cabinet.
Instead of storing spices, food or glassware in the lower portion of the cabinet on shelves or in drawers, transform the area into hidden appliance storage.
A panel door with lift hinges makes accessing these appliances effortlessly.
via Design Dazzle
18. Access Kitchen Bins with a Built-in Pull-Out System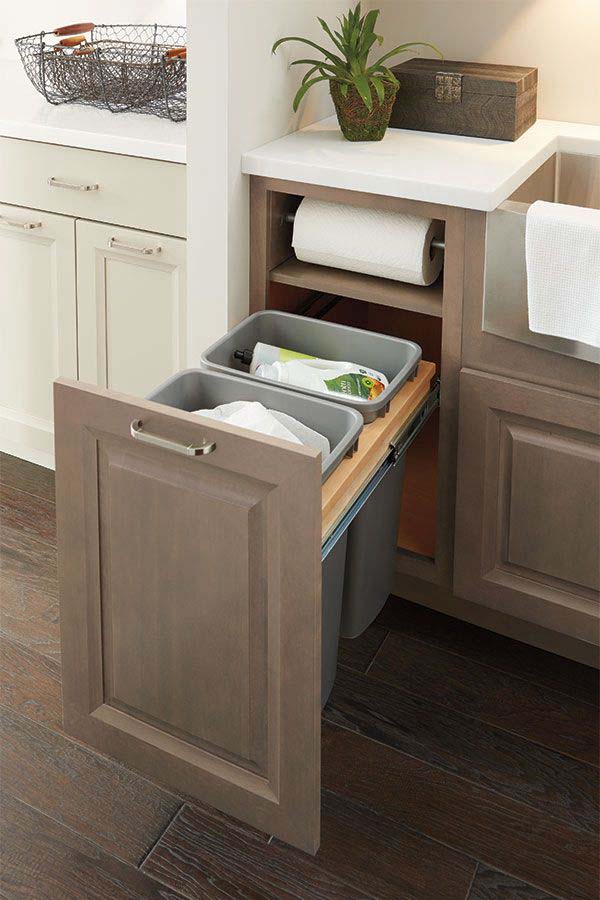 Trash and recycling bins are usually an eyesore and waste precious kitchen space.
With this built-in system, you can tuck your bins away into the area beside your sink by combining a pull-out drawer with a cut-out, wooden bin-holder.
Access them easily as needed and then push them out of sight.
19. Under-Stair Storage Unit for Dining Room Essentials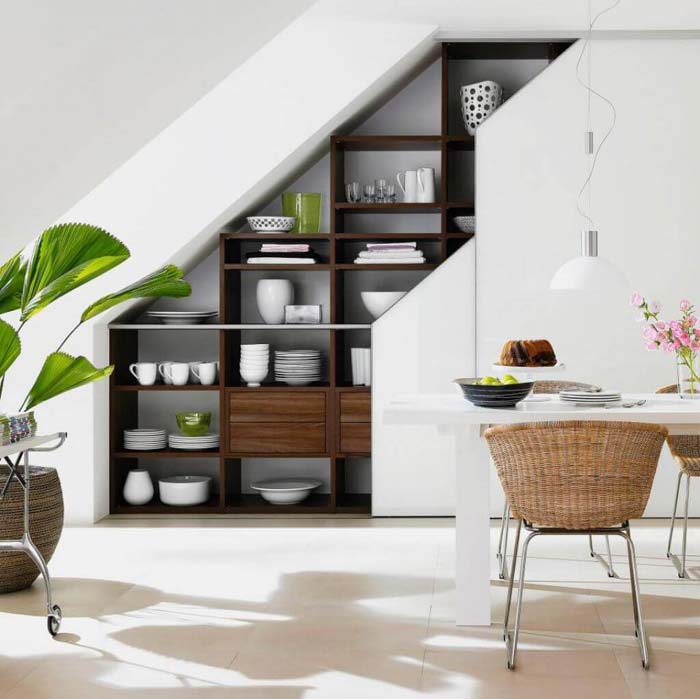 As previously noted, there are a lot of built-in cabinet options beneath the stairs.
This wall unit places dinnerware and linens on wide shelves and within drawers near your dining room table. You don't need to worry though about guests being distracted by it during a meal.
The modern design features a tall, sliding door that blends in with the wall when closed.
20. Multipurpose Room with a Fold-Down Bed and Office Space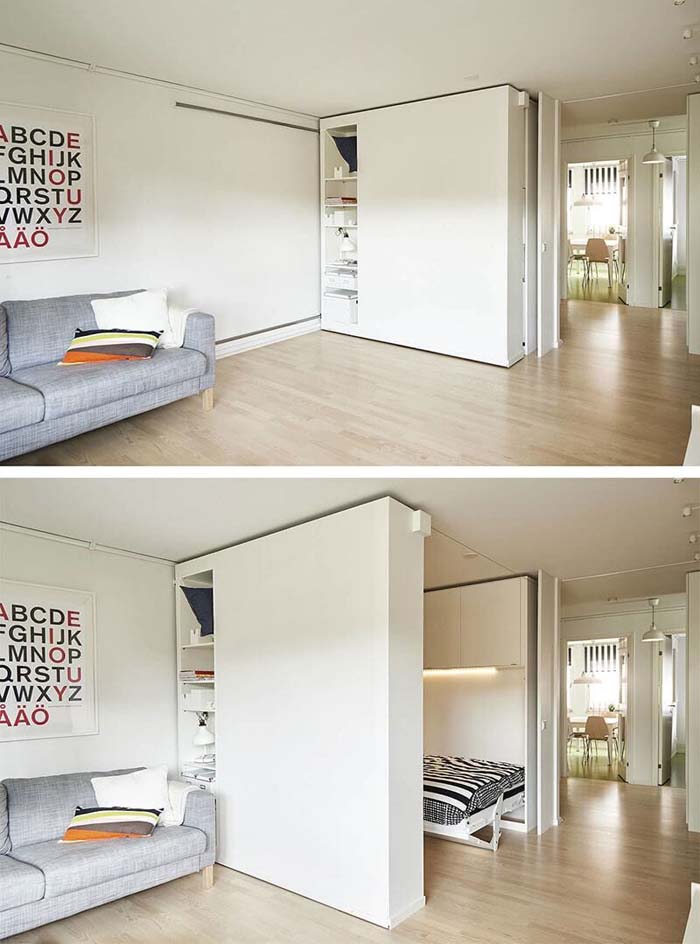 Limited space within your home means that sometimes one space must serve two purposes.
This convenient storage wall folds shut to give you extra floor space by day for a portable desk and home office setup. At night, you merely move the office supplies and unfold it.
Hidden cabinets, under-cabinet lights and a fold-down bed turn the area into a comfortable bedroom.
via Busy Boo
21. Modern Recessed Bathroom Shelving with Glass Shelves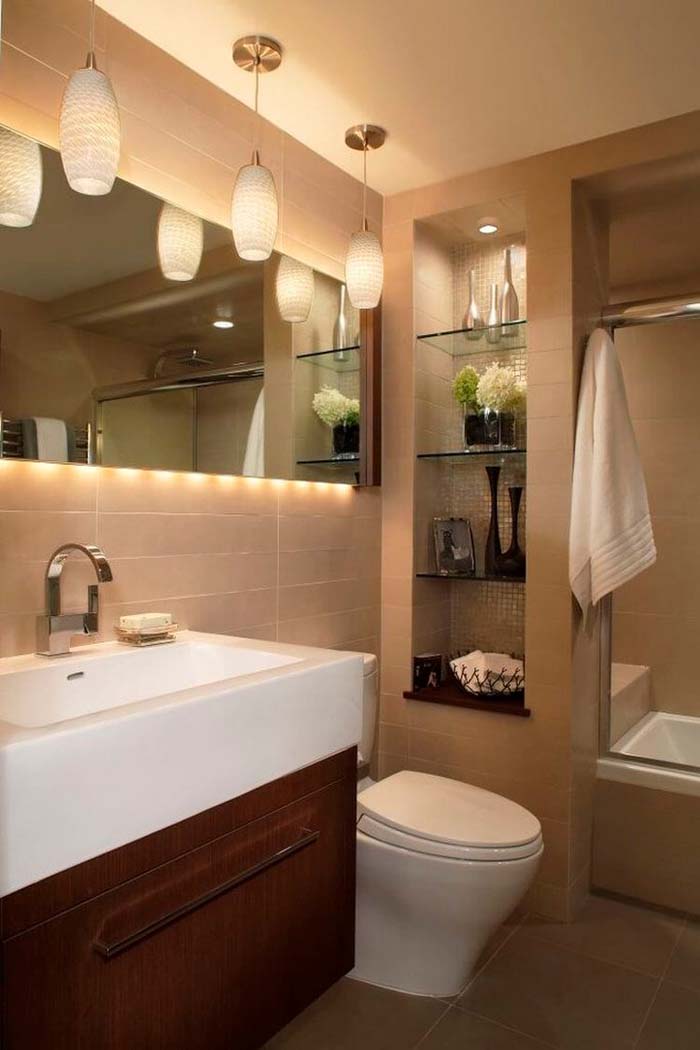 This beautiful recessed bathroom shelving space was created by removing concrete blocks from a non-load-bearing wall, creating a new alcove wall at the interior edge of the remaining blocks and installing glass shelves and a wood base.
Small, glossy tiles in a matching color and a recessed overhead light make this normally unused area a luxurious spot for extra storage and decorative elements.
22. Create More Bathroom Storage with a Sliding Cabinet Solution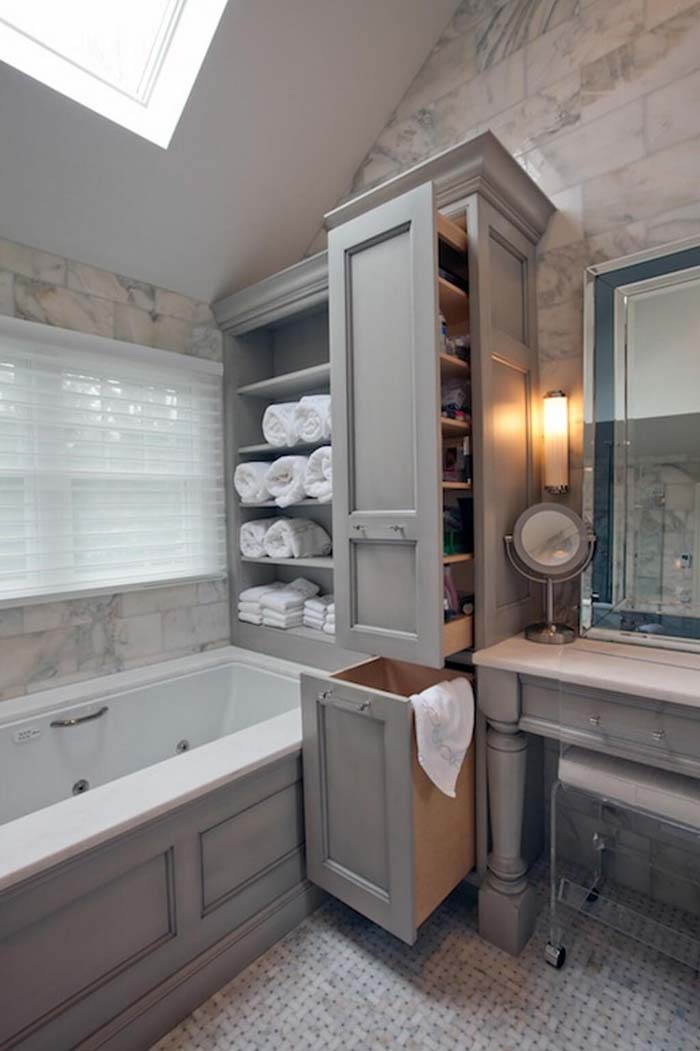 Here's another bathroom cabinet idea that can free up other storage areas in your home.
You don't need to use a bedroom or hall closet for bath or health and beauty items.
Best yet, you don't need to worry about people leaving dirty clothes or wet towels on the floor or dragging them throughout the house to a separate hamper.
via Decorpad
23. Maximize Efficiency in the Kitchen with Pull-Out Shelves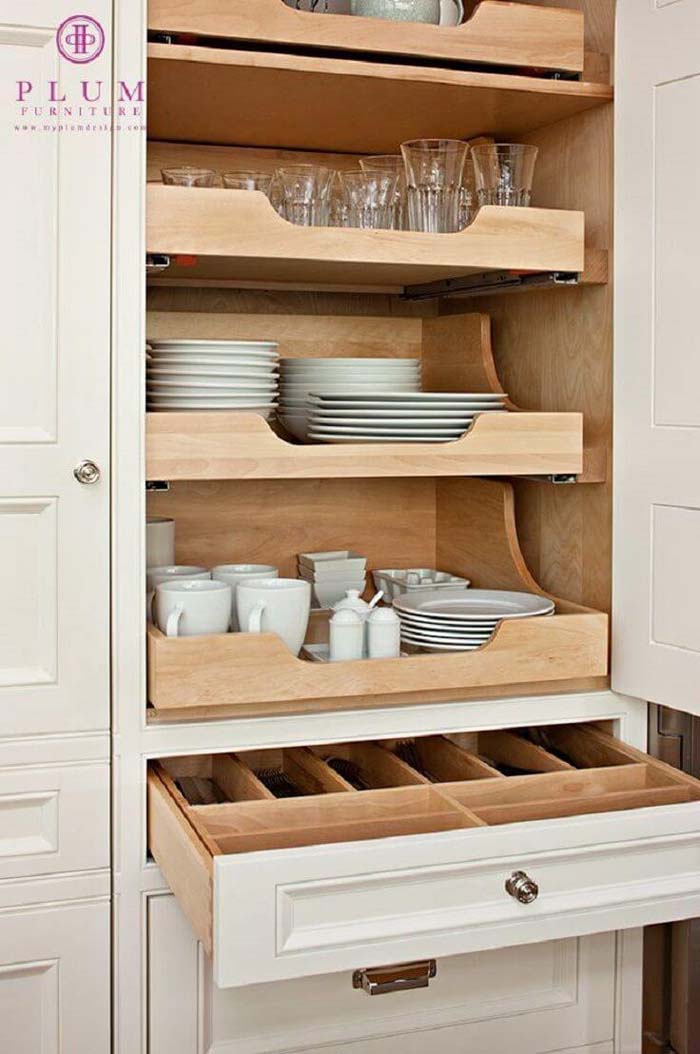 Step stools and ladders are an accident waiting to happen when you have several people trying to move about in a kitchen during busy meal prep and food plating scenarios.
This built-in, pull-out shelves cabinet puts everything you need within reach. When you're finished, the sliding shelves disappear behind a matching door.
via My Plum Design
24. Maximize Space with a Floor-to-Ceiling Pull-Out Pantry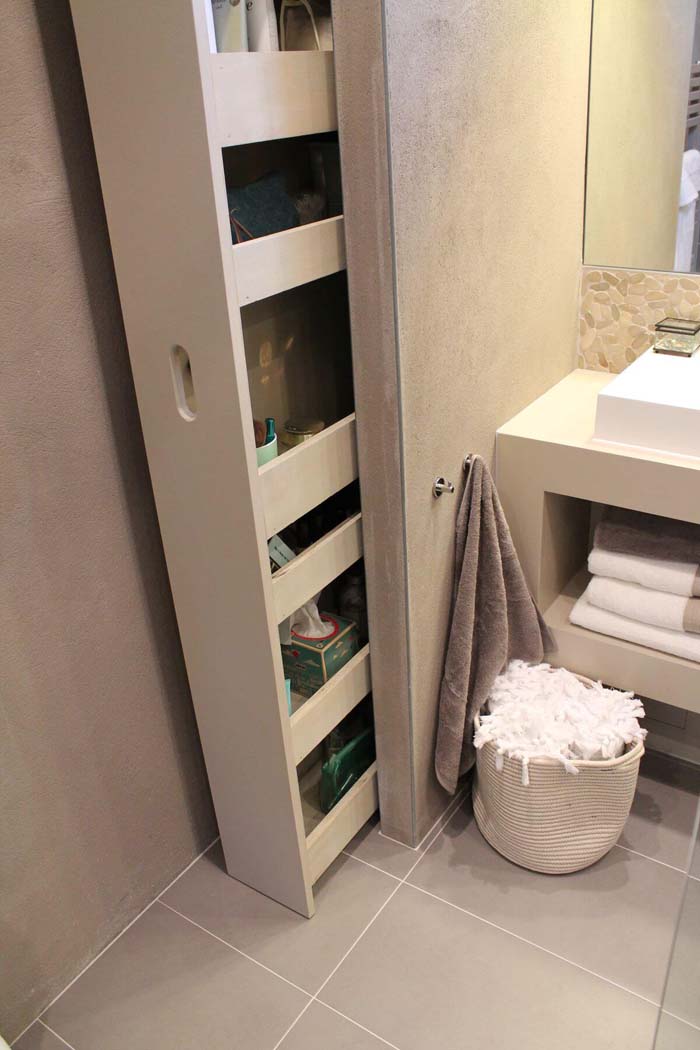 Floor-to-ceiling, pull-out pantries are a growing trend in more than just kitchens.
Their design makes use of empty, narrow wall areas and spaces between cabinets. You won't need a medicine cabinet or vanity with this storage idea.
The simple design gives you fast access to everything you might need in a bath or powder room.
25. Enjoy Effortless Laundry Sorting with Built-In Hampers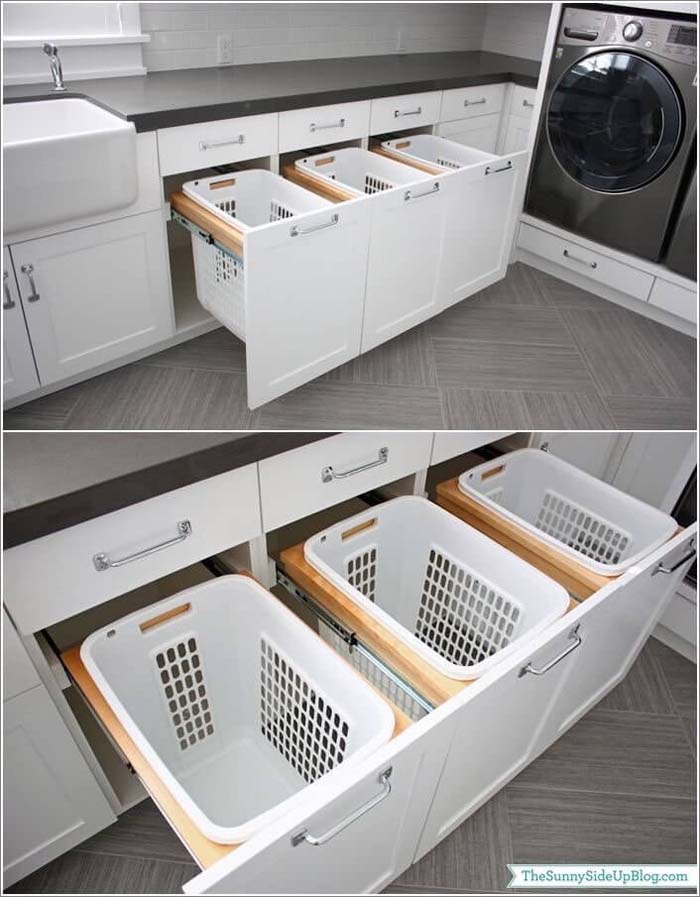 Some homes have washer and dryer hook-ups in the kitchen. If your kitchen is large enough, you can modify existing lower cabinets to create one or more pull-out drawers for hamper storage.
You and your family won't ever again have to carry or drag hampers throughout the home on wash day. Everyone can sort dirty laundry throughout the week in this convenient, hidden area.
via Sunny Side Up
26. Utilize Space Beneath Stairs with Pull-Out Drawers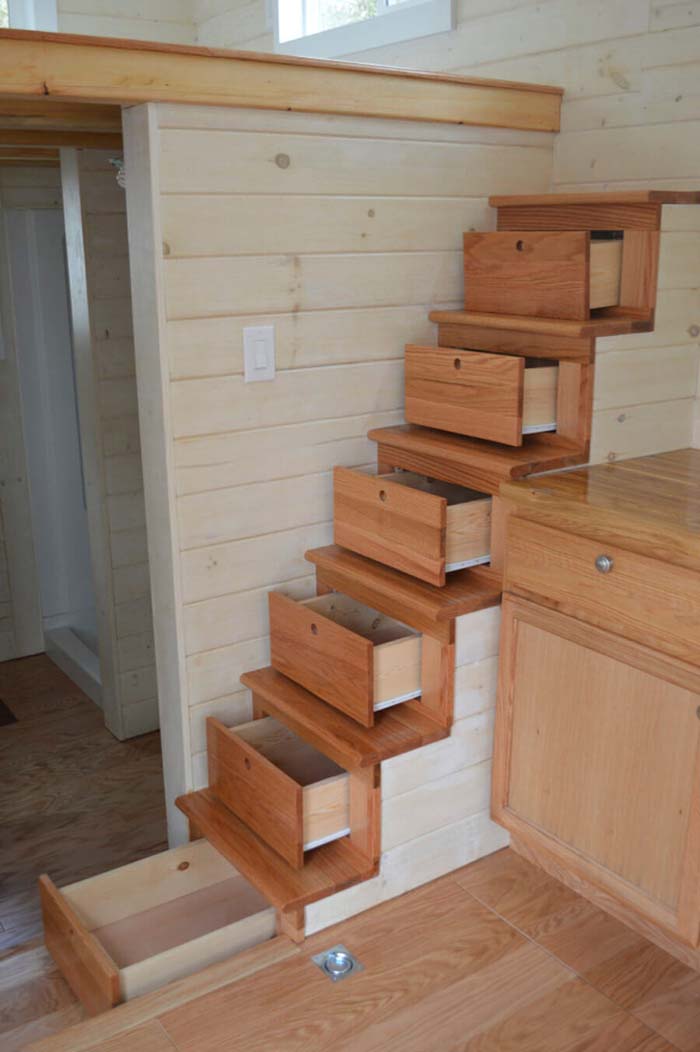 As seen with this custom, professional design, you can do more with stairs than install side-wall storage.
If your home doesn't provide easy access to the empty wall area beneath the stairs or the spot contains wiring and pipes, you can still create extra storage by installing a pull-out drawer under each step instead.
via Tiny House Swoon
27. Access Items Easily with a Tilt-Out Kitchen Cabinet Design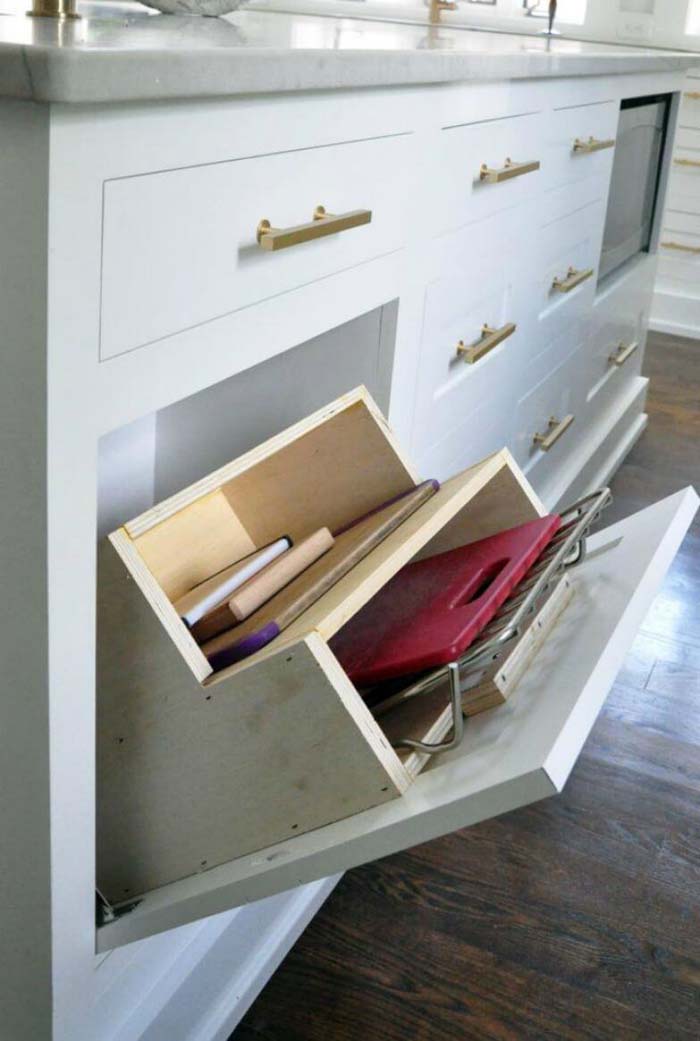 Lower kitchen cabinet boxes without drawers are a headache because standard designs often require that you bend down and search for items stored on shelves or that have been pushed to the back of the cabinet.
This tilt-out design makes accessing cutting boards, racks and other hard-to-reach-or-find items a breeze. You simply flip down the shelves and pull out the item you need.
28. Create a Window Seat Reading Nook with Storage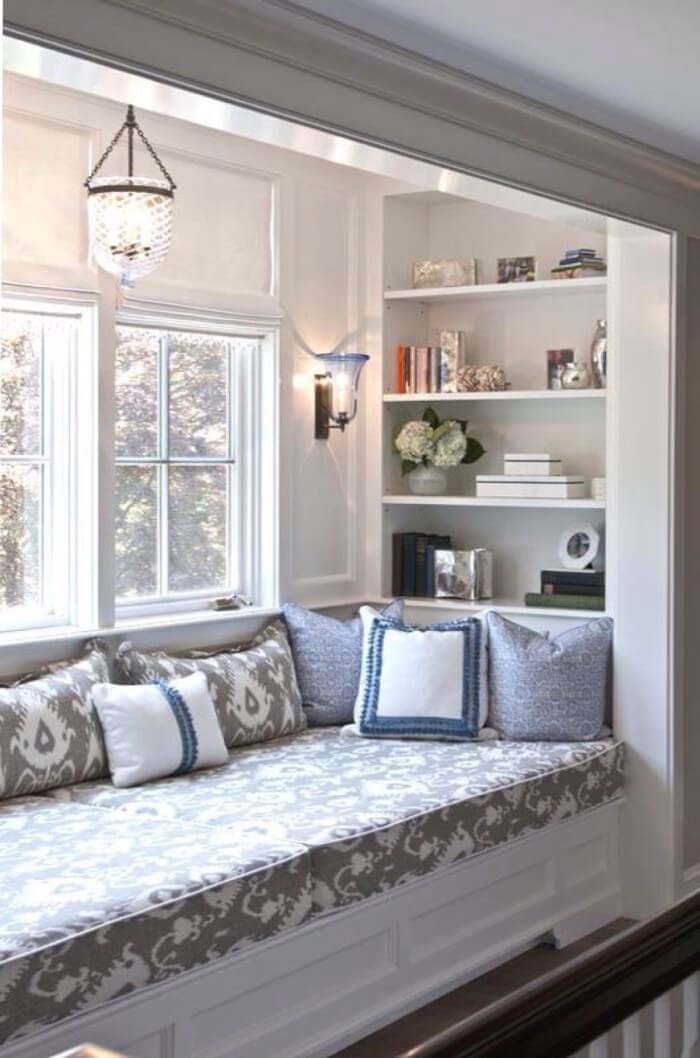 Lastly, a room with side-by-side windows, as seen here, offers both relaxation and storage opportunities.
You can create a comfy reading nook and rest area by installing a window seat with built-in shelves. Although not featured in this picture, you can add more space for art supplies, additional book storage or even a blanket by installing pull-out drawers.