33 Amazing Shower Tile Ideas To Add Personal Touch To Your Bathroom
I know exactly what is bothering you right now? What are the best shower tile ideas that I can get inspired from and start that long-awaited bathroom renovation project! So let's find out together!
An important part of the bathroom renovation is picking up the tiles. They are the core feature of the bathroom design, covering almost 90% of the room.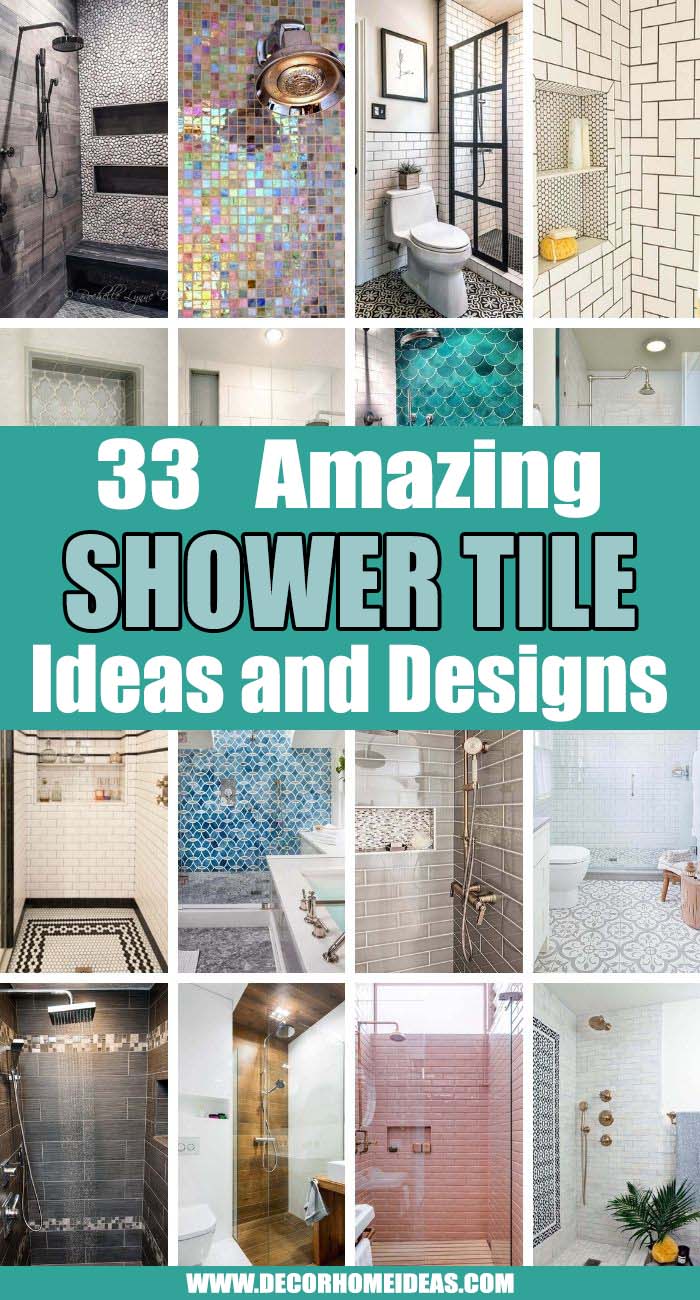 Depending on their design, you can change the whole look and feel of the space. Here you can find the most attractive ideas for shower tile designs that will transform your bathroom into a personalized relaxing oasis.
Related: 10 Best Paint Colors For Small Bathroom With No Windows
Before diving into the gallery let's answer the most popular questions from our readers:
What is the best tile for a shower?
Choose ceramic tile, porcelain tile, or quarry tile, which are all part of the ceramic tile family and are ideal for areas exposed to water.
What is the easiest tile to keep clean in a shower?
All types of tiles are relatively easy to clean with a simple $10 shower tile cleaner.
…or you can make your own DIY tile cleaner at home; a mix of soap and water, or better, water and vinegar in a spray bottle will work. Spray, rub a little with a soft brush for stains and grout (always gently to avoid scratching) and wipe off.
Do small tiles make a room look bigger or smaller?
The small tiles are definitely making the room appear larger and expansive.
Learn more here: 25 Best Shower Tile Ideas For Small Bathrooms That Will Make It Look Bigger
Is matte or glossy tile better for shower?
It's up to you, but there are a number of differences you should consider. Matte tile is slip-resistant, shows less grime, and can offer a more rustic look to your bathroom. Glossy makes the room appear larger, is easy to clean, and brightens up your space.
We have bathroom tile ideas with glass tile, patterned tile, pebble tile, marble tile, textured tile, travertine tile, accent tile and even natural stone.
1. Art Deco Cabana Style Shower Display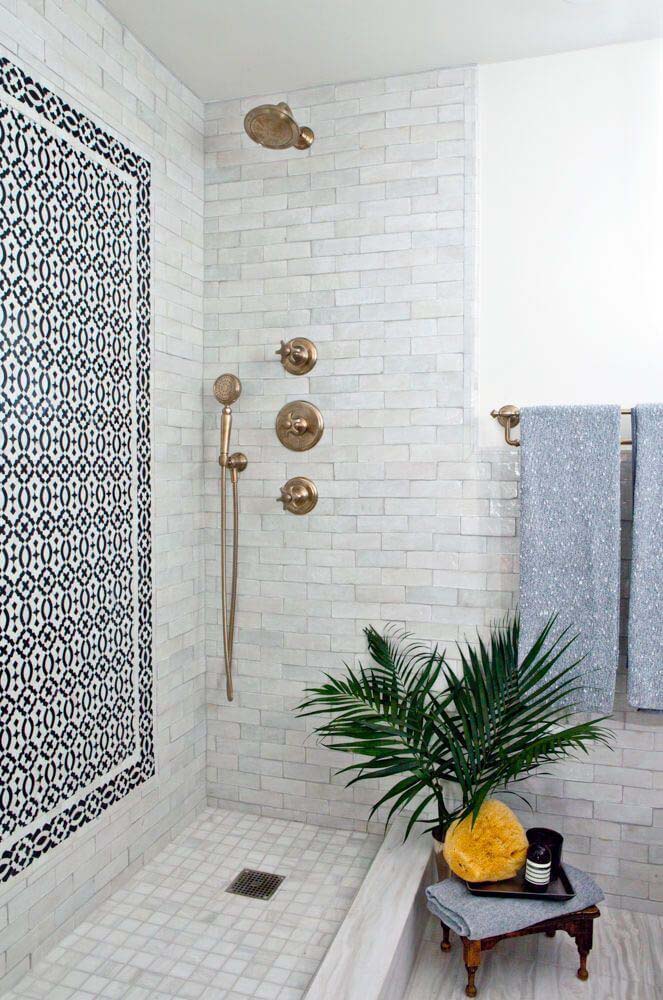 Break the overall wall covering pattern with a strategic spot with contrasting color and style tiles.
Such a bathroom tile design combination will be admired by people who love a clean, classic look with a pinch of personalized impact. Decorative houseplant will be a nice addition to your bathroom decor.
Similar shower tiles: Here and Here
2. Brick-look Shower Tile Wall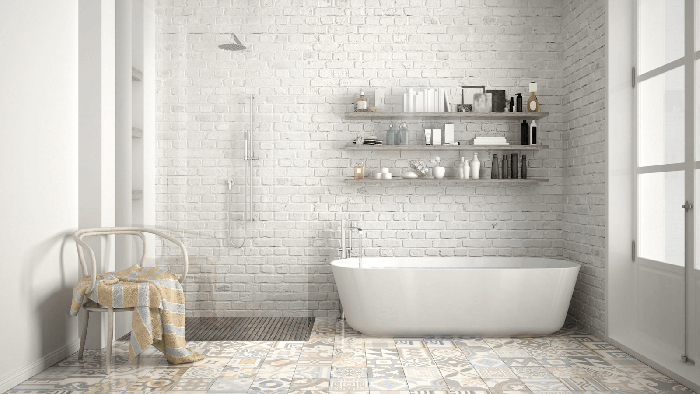 If some of these bathroom shower tile ideas in this selection are too modern for you this brick-look tile wall is something that will give your bathroom a touch of rustic flair.
Similar shower tiles: Here and Here
3. Big Sur Sauna Stone Flooring and Runner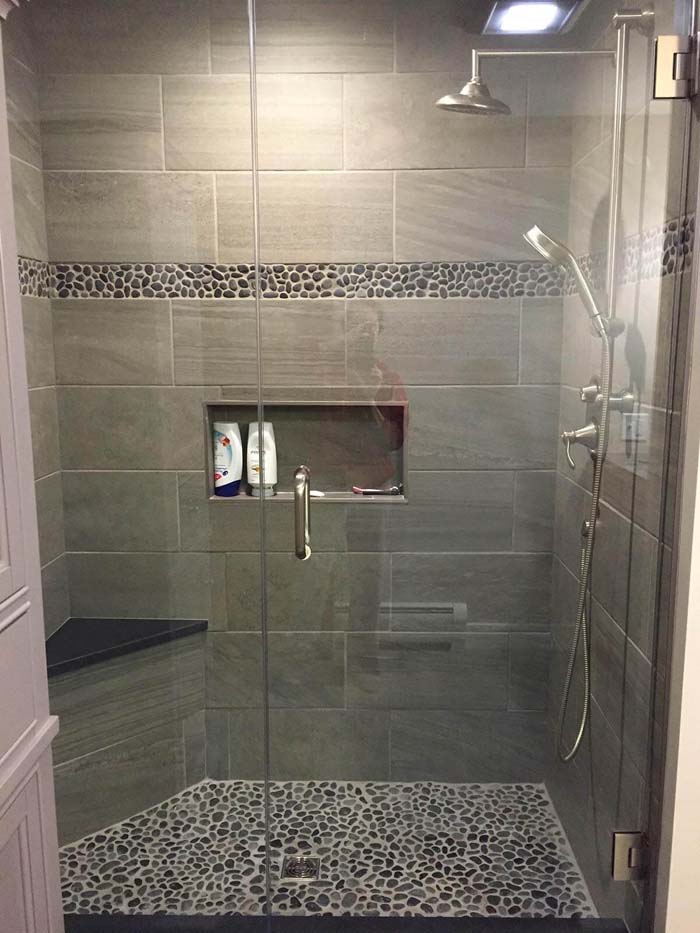 Going curtainless requires special attention to what will be seen. Recreate a sauna ambiance inside your own bathroom lining your floor with massaging pebbles.
Choose an earthy color for the wall tiles to incite the relaxing mode even for a short time. Make a bold pebble line across the wall tiles to add a point of interest and complete the zen design.
Similar shower tiles: Here
4. Byzantine Metals, Gold, Silver, And Copper Tiles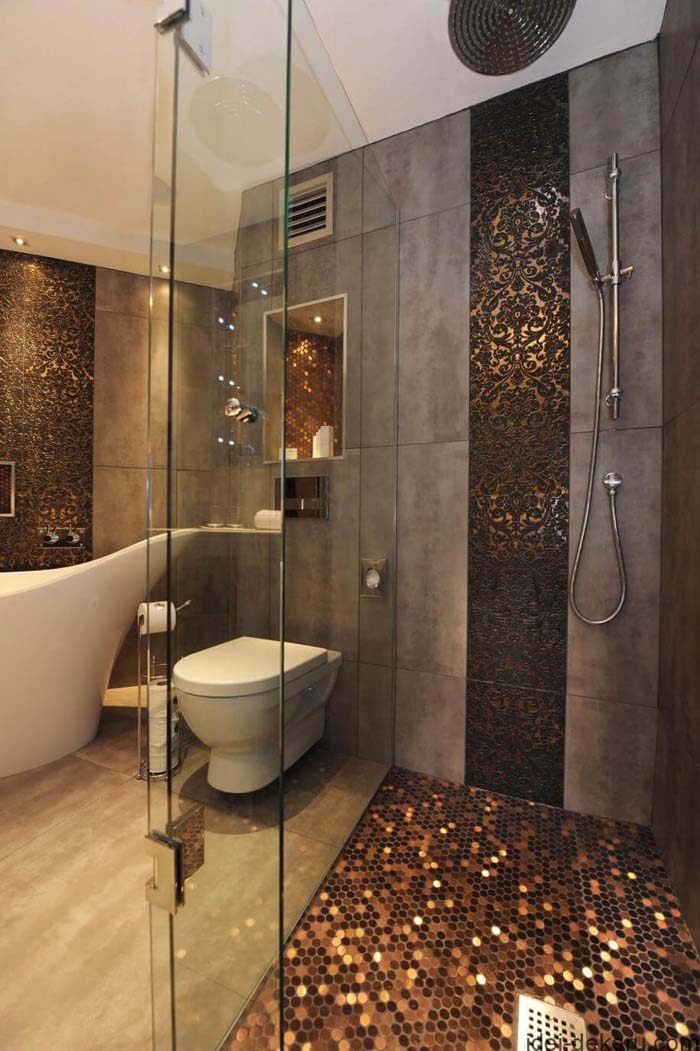 Make your bathroom one of a kind with gold, bronze and copper accents. These boutique tile designs will surely arouse unique relaxing times under the shower.
Such a luxury bathroom tile make will cost quite a lot but should style and uniqueness be measured in money?
Similar shower tiles: Here
5. Cabin In The Wood-Tiled Shower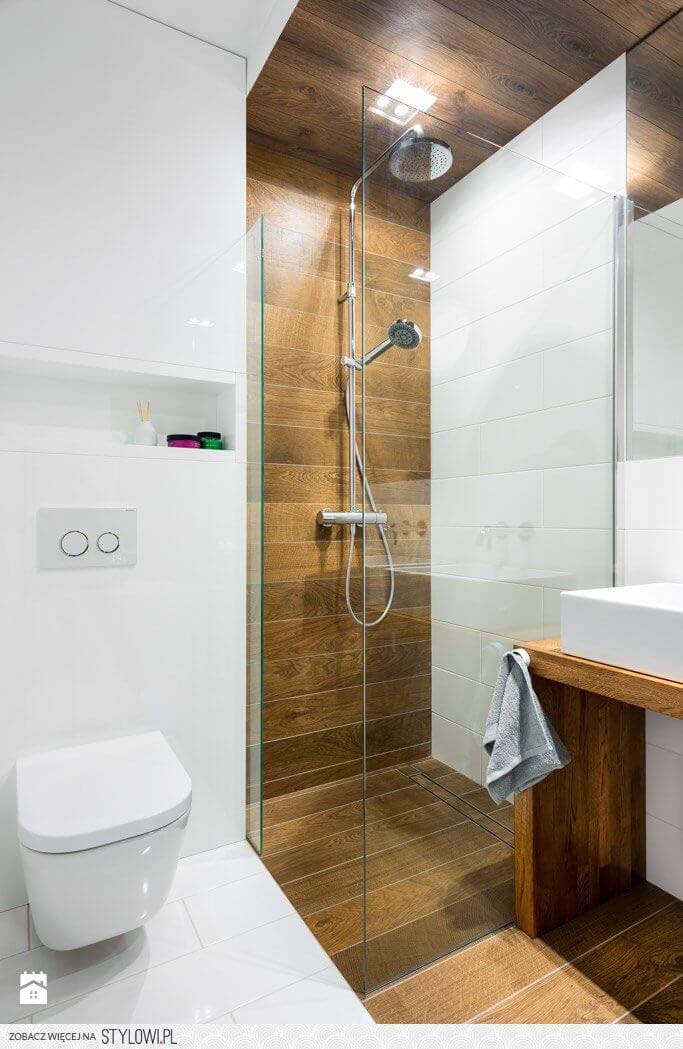 Inspired by the rustic interior, this bathroom tile combination reminds me of the calm living in the woods. Plain white tiles differentiate the toilet area while next to it an area covered with faux wooden tiles outlines the shower zone.
These two colors look amazing together creating a neat, calming and inspired by nature ambiance while keeping the look of a modern bathroom.
Similar shower tiles: Here
6. Desert Sands Stone-Inspired Tiles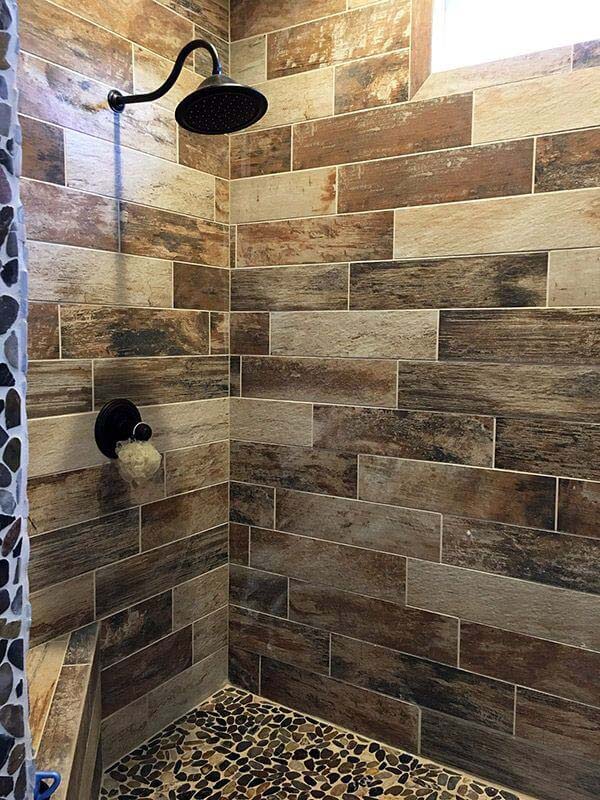 Such a tile combination is the best choice for those of you who want a warm, relaxing feel in the bathroom. Being inspired by the shades of sand, it welcomes on a floor covered with pebble tiles in the same palette.
Having a window on the wall or on the ceiling will let the light go in, reflecting the earthy colors of this special place.
7. Earth Toned Sonoma Tile Scheme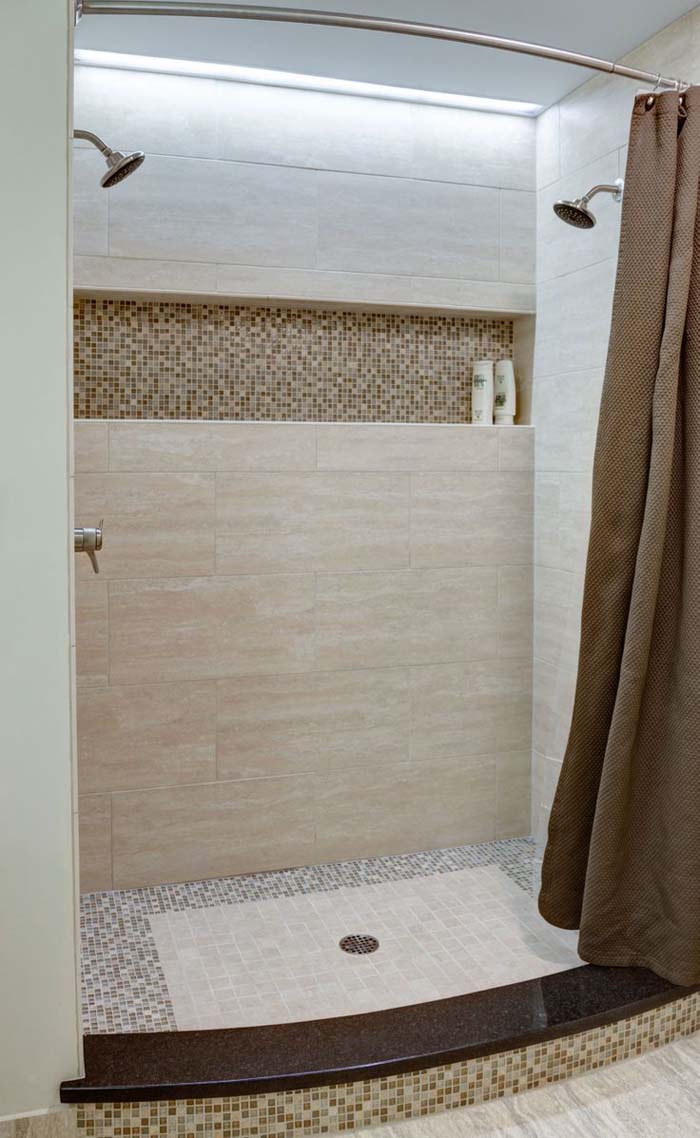 When shower tiles are in one palette, you can experiment with their textures, designs and sizes.
This bathroom is an example of how to mix different patterns of small square tiles on different levels.
This type of tiles has been chosen specifically for the areas of non-standard shape – the threshold, the highest point of the bathroom floor and the niche.
Similar shower tiles: Here
8. Falling Colors Waterfall Tile Desing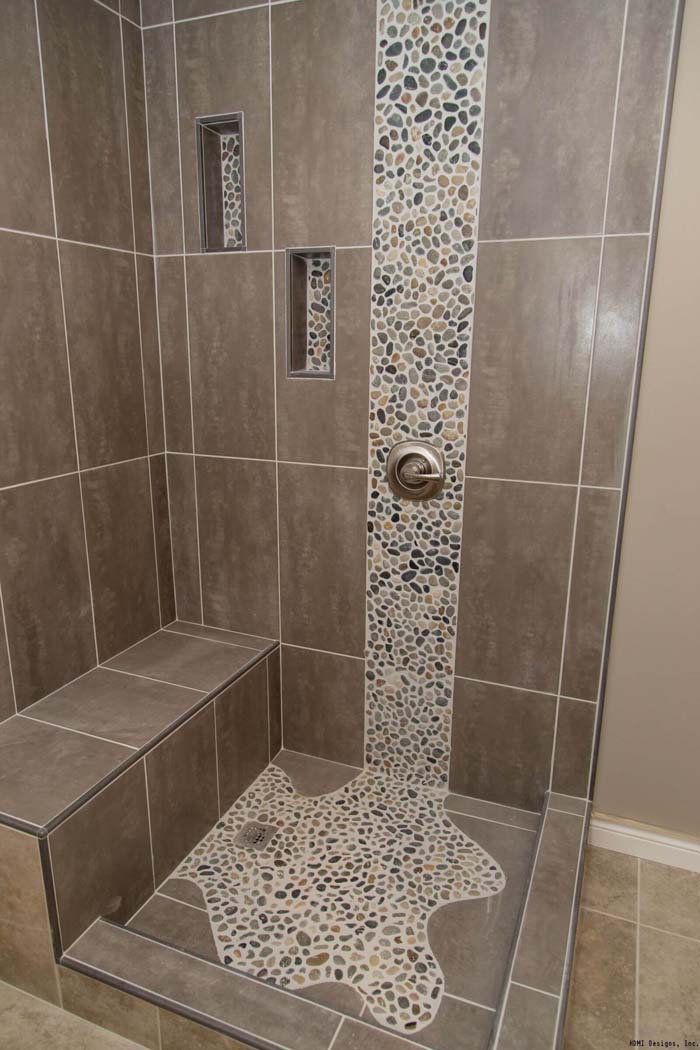 This is an idea of how to make a bold, nature-inspired statement on one of the shower room walls.
Using pebbles in earthy colors, mark the wall where the shower is installed and part of the floor with them, creating a waterfall design.
Similar shower tiles: Here
9. Garden Walk Simple Inlaid Stone Tiling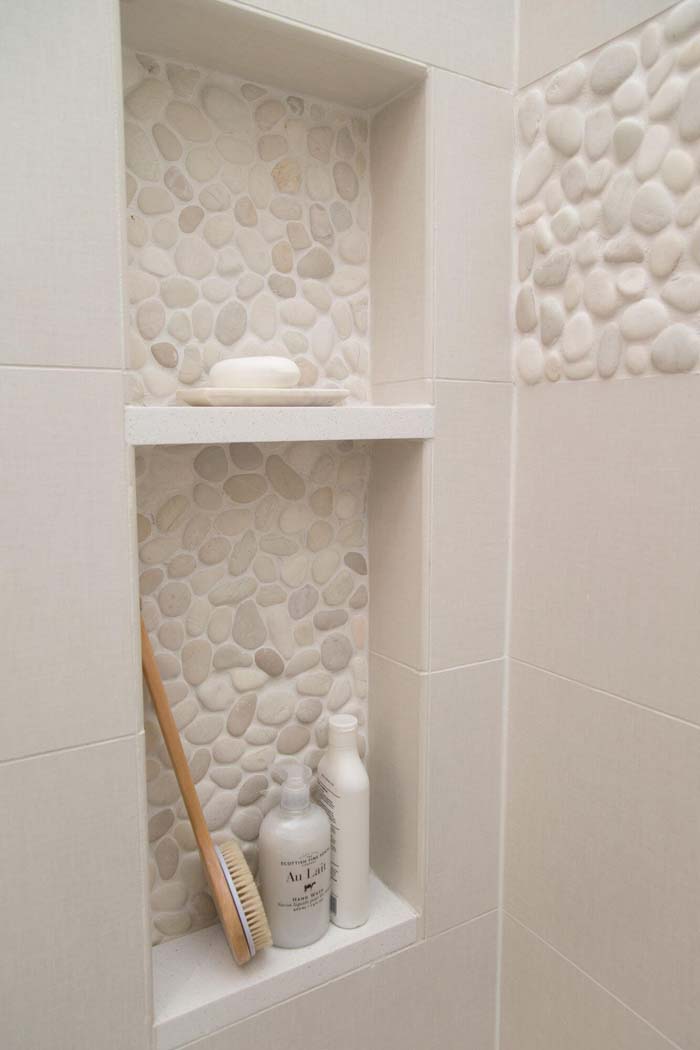 Do you live near the coast? You can easily give the niche of the shower area a point of interest by covering its deepest wall with pebbles.
To achieve this natural and light-colored look, use white grout to seal the stones onto the wall.
via Carla Aston
Similar shower tiles: Here
10. High-Rise Palace Ivory Shower Tile Ideas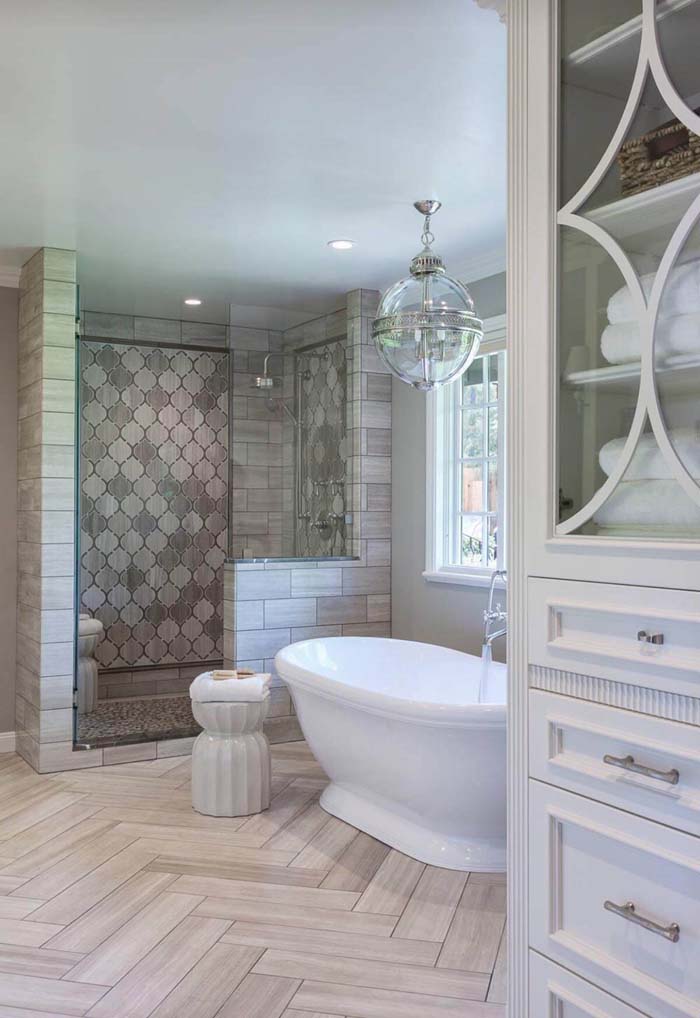 Add a unique touch to a wall of a shower room with ivory tiles of the royal pattern. Frame them with narrow dark lines to enhance the sophisticated feel.
The grey nuances easily pop out against the surrounding sand-colored tile and white accessories ensuring special attention and giving this master bath a personal touch.
via Chase Dowell
Similar shower tiles: Here
11. Huntsman's Retreat Rich Wooden Shower Palette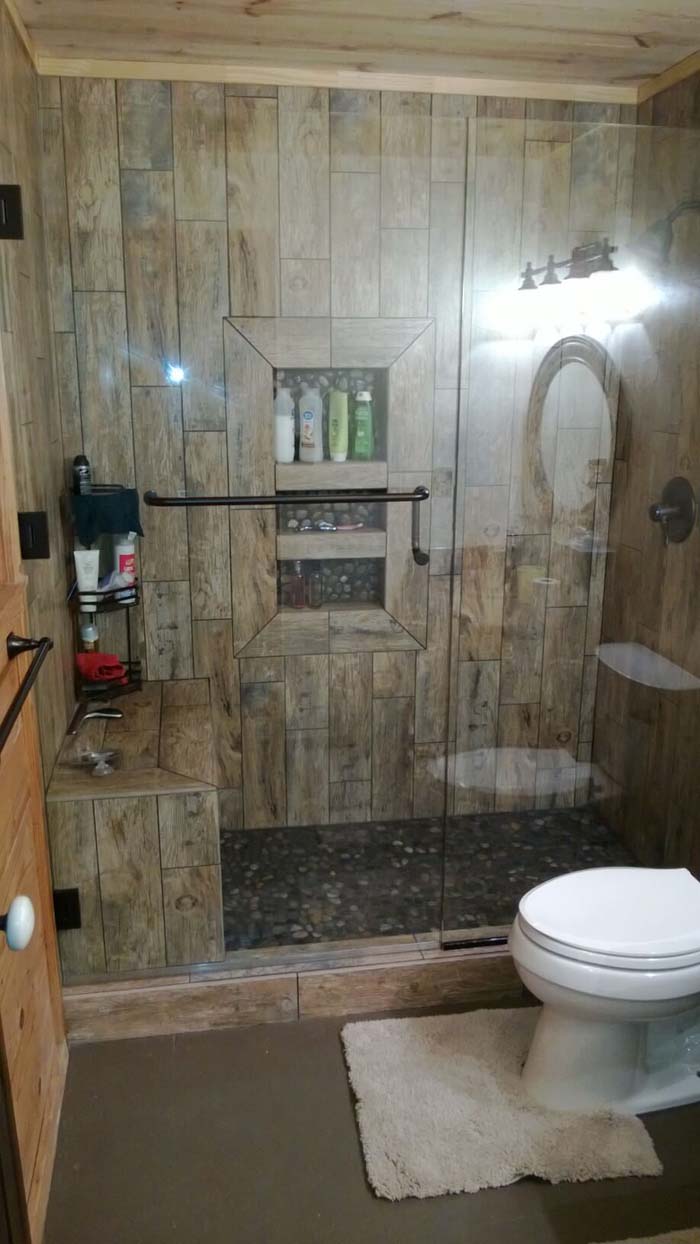 Give the shower area a very welcoming and warm look by installing faux wood tiles that will remind the casual and cozy life in a cabin.
This tile choice is perfect for small shower rooms with glass doors.
via Ideas 2 Live 4
12. Icelandic Spa Floor And Shower Scheme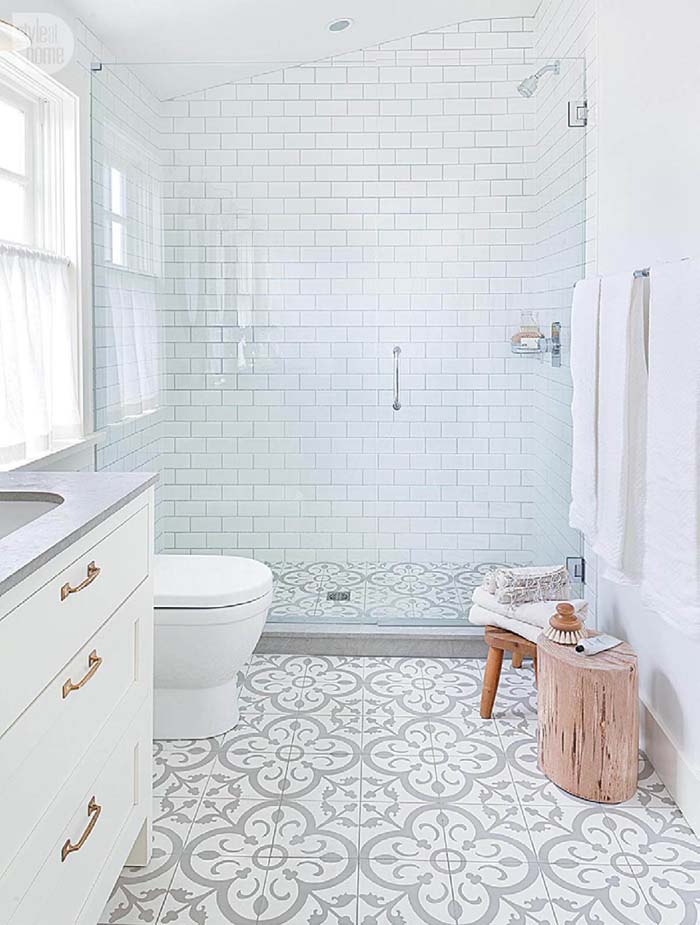 White is always right so choosing it for the shower room tiles won't disappoint you.
It will create a neat and clean look of the area and will make it visually bigger in case the footage is small.
If you cover the walls of a wide bathroom with white tiles, you can experiment with the tile design of the floor to give eye treatment.
via My Domaine AU
Similar shower tiles: Here and Here
13. Industrial Fusion Shower Tile Ideas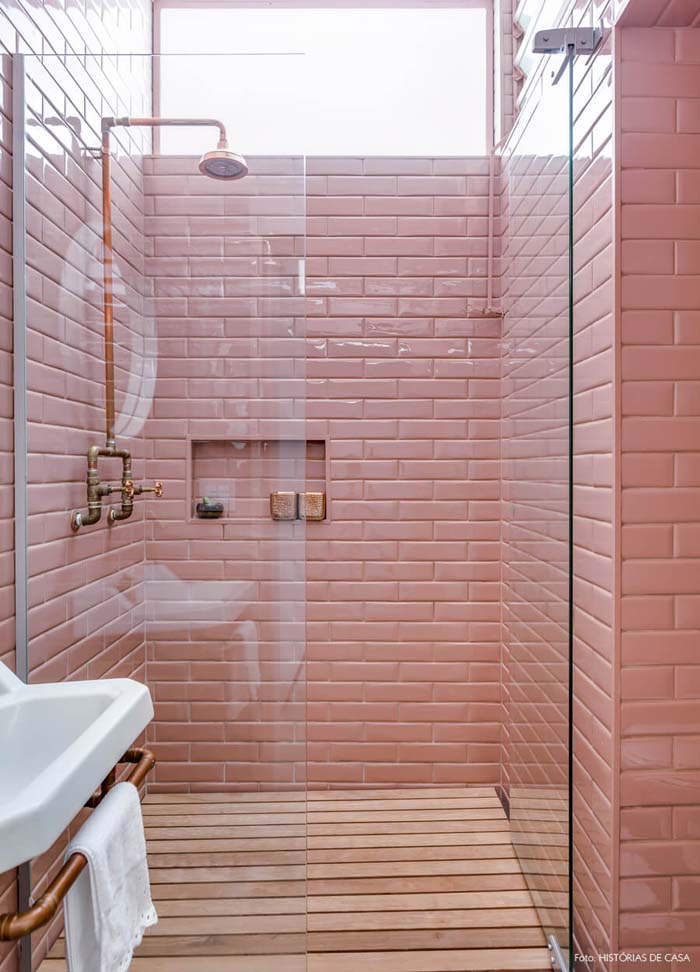 These candy tiles make the shower area very sweet and appealing. The tiles look like bricks but their texture makes the space look prettier and shinier.
The color and texture of the floor in cases with such shower tile walls are very important. It must be either covered with the same material or with one in a neutral color that won't drag the attention and make space look smaller.
In this case, the designer has chosen floor tiles imitating wood slats to complete the outdoor motive brought indoors.
via Instagram
Similar shower tiles: Here
14. Lapland Pearl Two-Tone Tile Pattern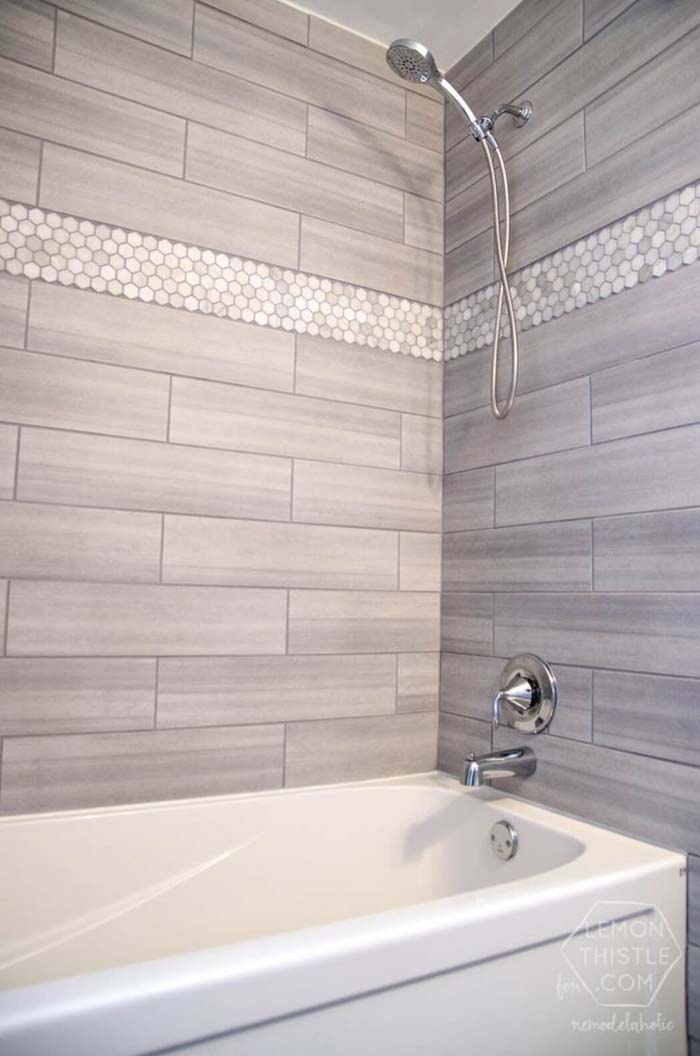 This sleek and minimalist design of the shower room is perfect for smaller bathrooms.
The tiles designs installed are only two and in the same color palette to enhance the airy look of the area. Plus grey is known as a color that creates a calming and relaxing ambiance.
via Remodelaholic
Similar shower tiles: Here
15. Manhattan Chic Black and White Tiling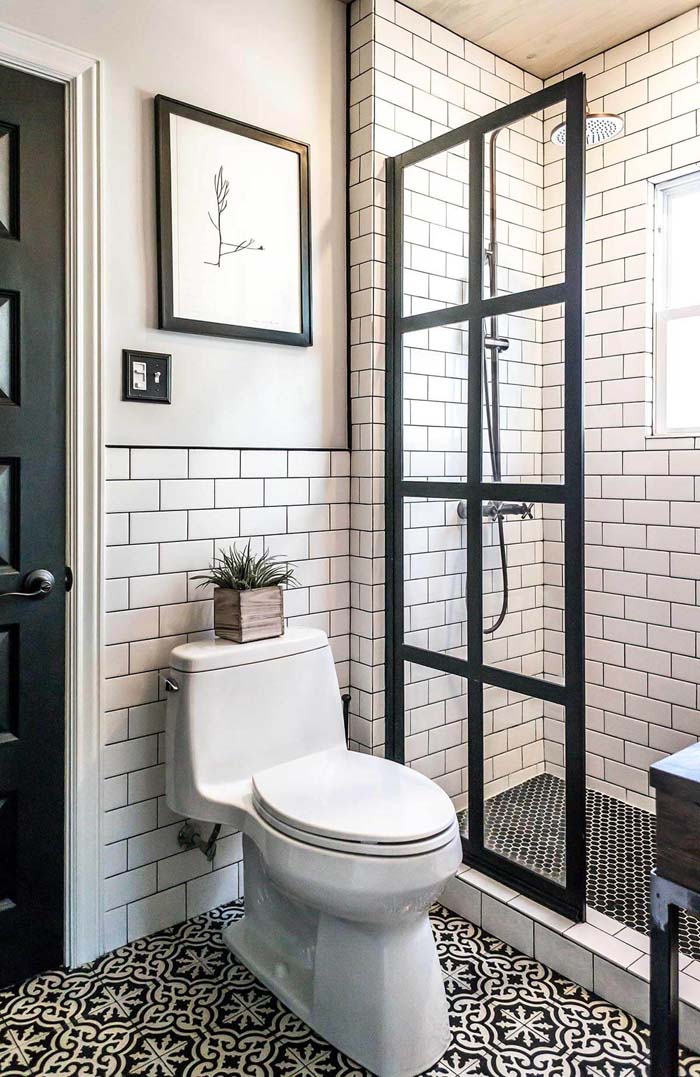 This black and white tile color combo is classic and will always look contemporary.
The shower area and the toilet are divided by a black-framed glass panel to be the perfect transition between the colors and the zones.
The floors of the zones are of different tile patterns but in the same color combo to give the bathroom a unique touch.
via Ruemag
Similar shower tiles: Here and Here
16. Modern Nautilus Abstract Turquoise Design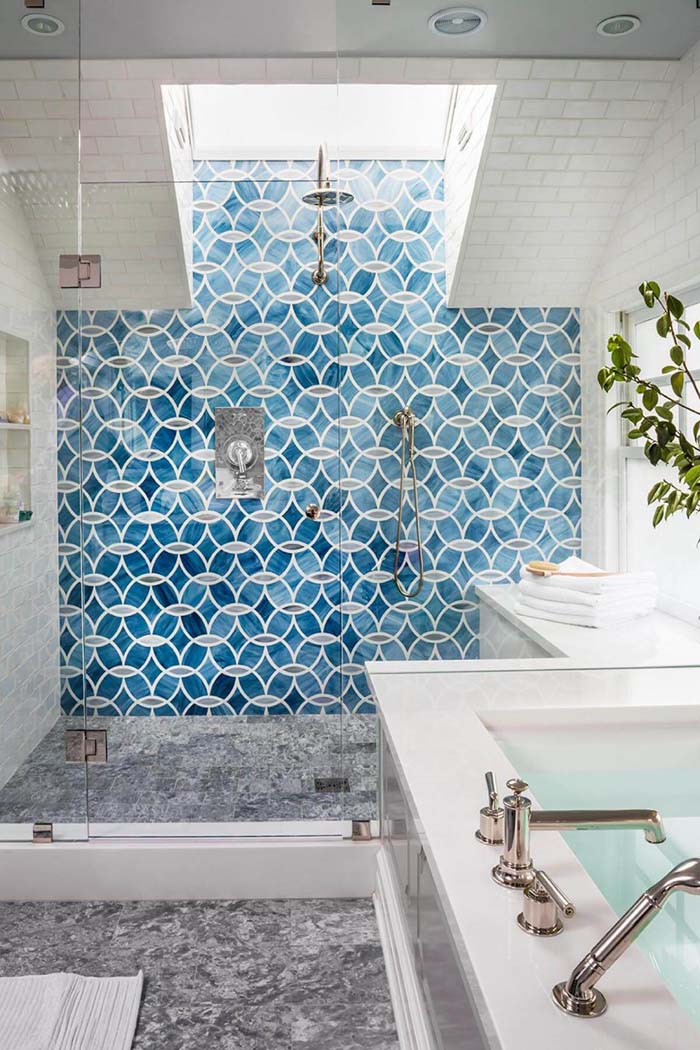 This abstract shower area must belong to an artist.
Although different patterns and colors of tiles are combined, the general feeling about this room is well-balanced and refreshing.
Is white subway tile out of style?
Ceramic subway tile is not going out of style any soon, but you can make it even more appealing by adding contrasting grout!
Similar shower tiles: Here and Here
17. Modern Parquet Inlaid Shelving Unit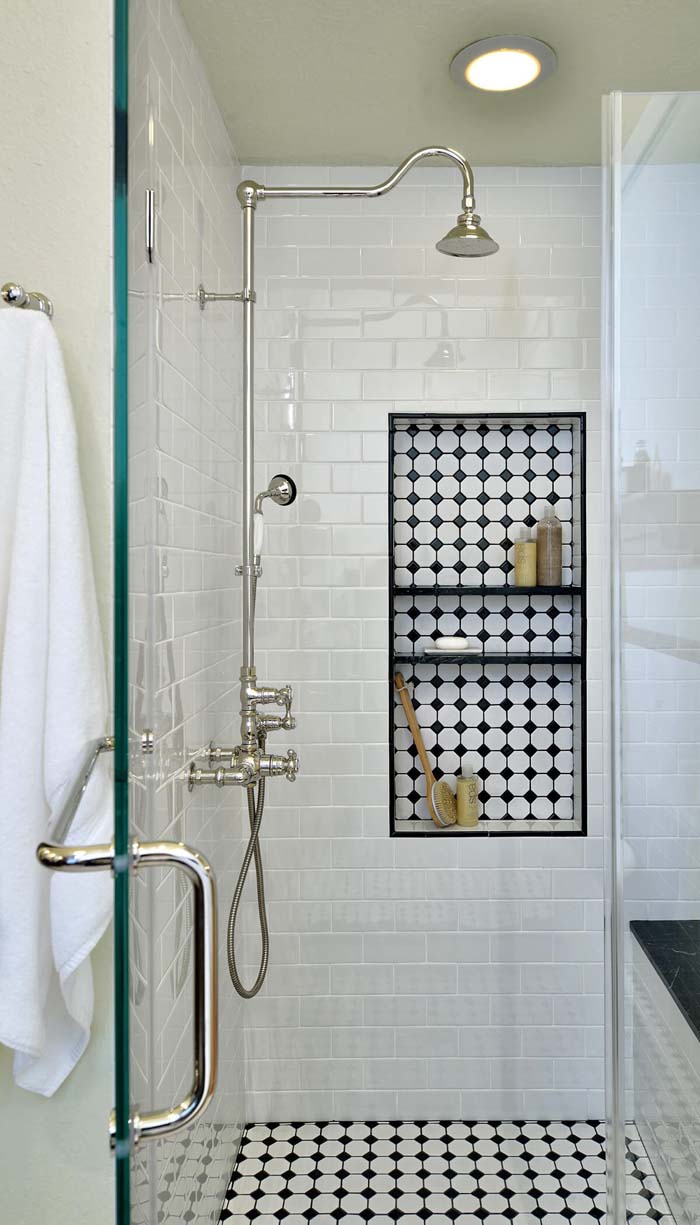 In case you want to have plain white tiles on the walls, make the floor and the niche more artistic by installing tiles with an eye-catching design.
These parquet tiles are not only functional but also very modern. Their graphic pattern will give the parts they are installed on more depth.
via Carla Aston
Similar shower tiles: Here and Here
18. Modern Rodeo Glass Paneled Tile Shelves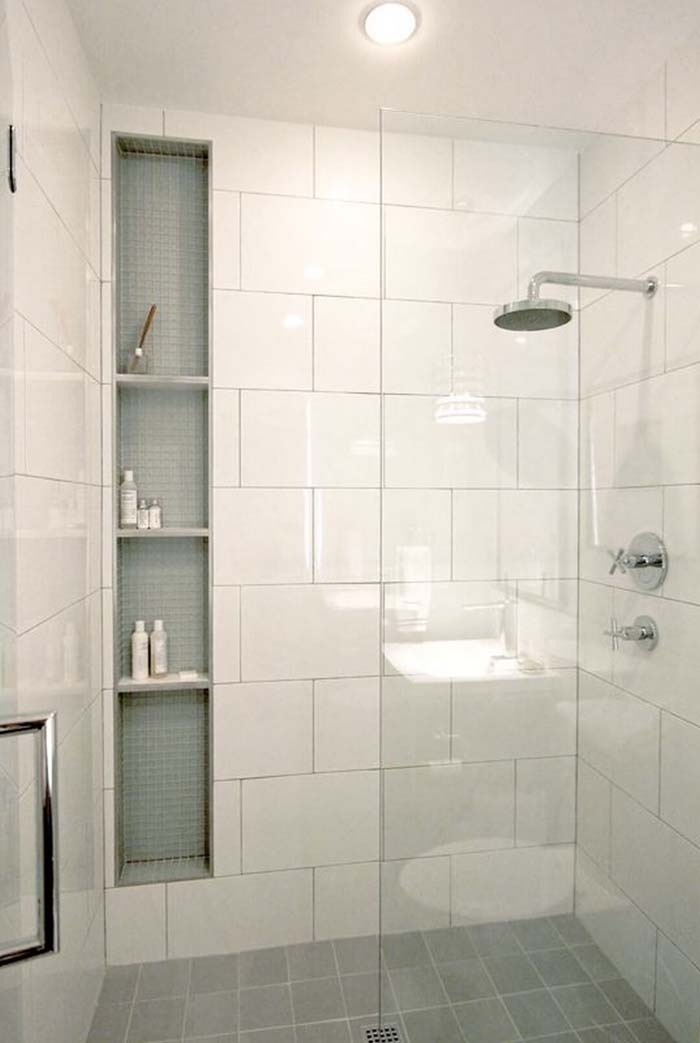 When the shower area is small, the smartest move is to install white tiles. Another feature that will make it look visually bigger is the glass panels replacing the standard curtain divider.
Working on creating an illusion for bigger depth, go for a niche lined with glass tiles which will be easy to be maintained and will be the unique accent of your bathroom.
19. Moroccan Mermaid Fish Scale Tiles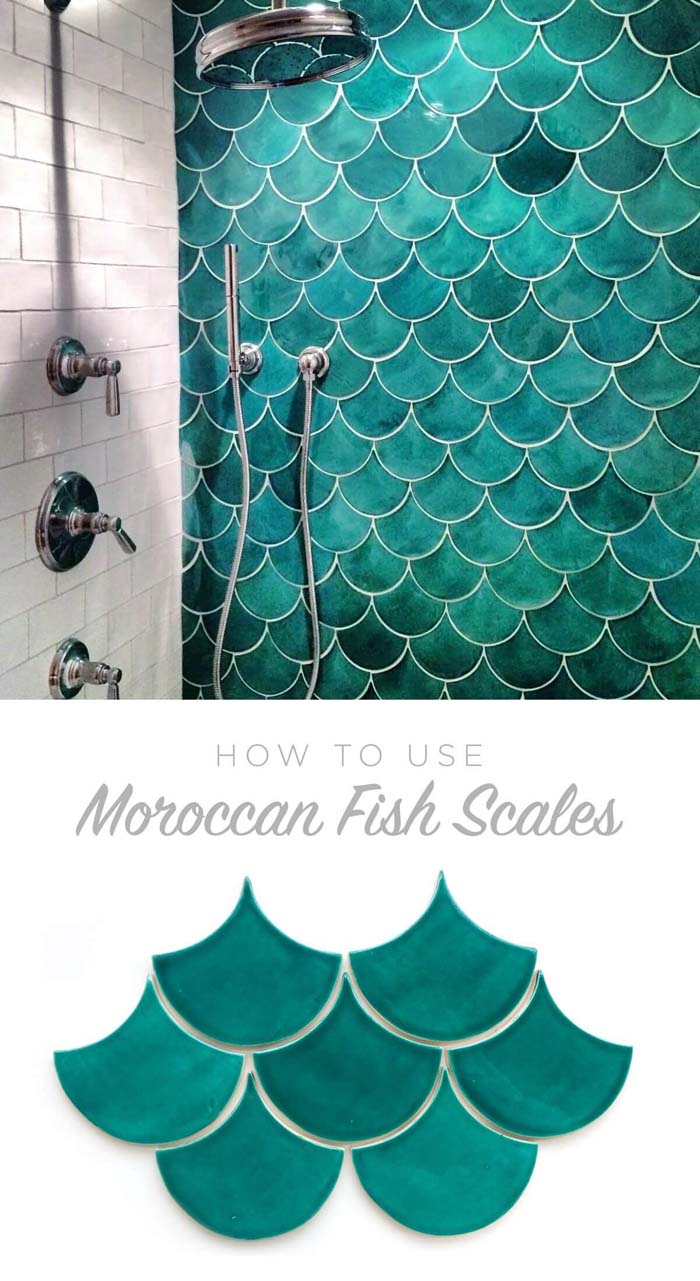 This tile design ( called fish scale tile ) has been claimed to be one of the best sellers recently. Looking like fish scales, these tiles will make the perfect focal point if installed only on one wall.
It will be best if a wall opposite the door is covered with these mermaid-like tiles because it will quickly attract attention and create a statement of uniqueness and taste.
via Mercury Mosaics
Similar shower tiles: Here
20. Multi-Color Mosaic Tile Squares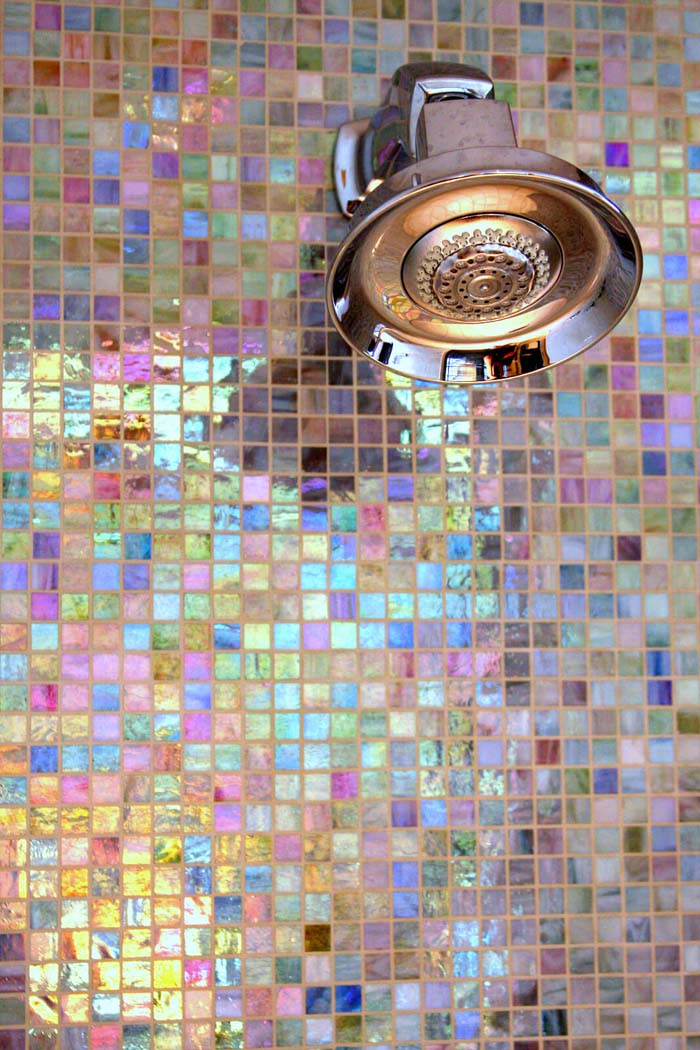 Installing mosaic small square tiles in your shower room will make you instantly feel happier.
The shimmery effect of some of them requires choosing bathroom accessories plated in gold or bronze.
Such a shower tile design will look best if installed only on one wall of a spacious bathroom.
via Larry
21. Nouveau Baroque Black and White Tile Floor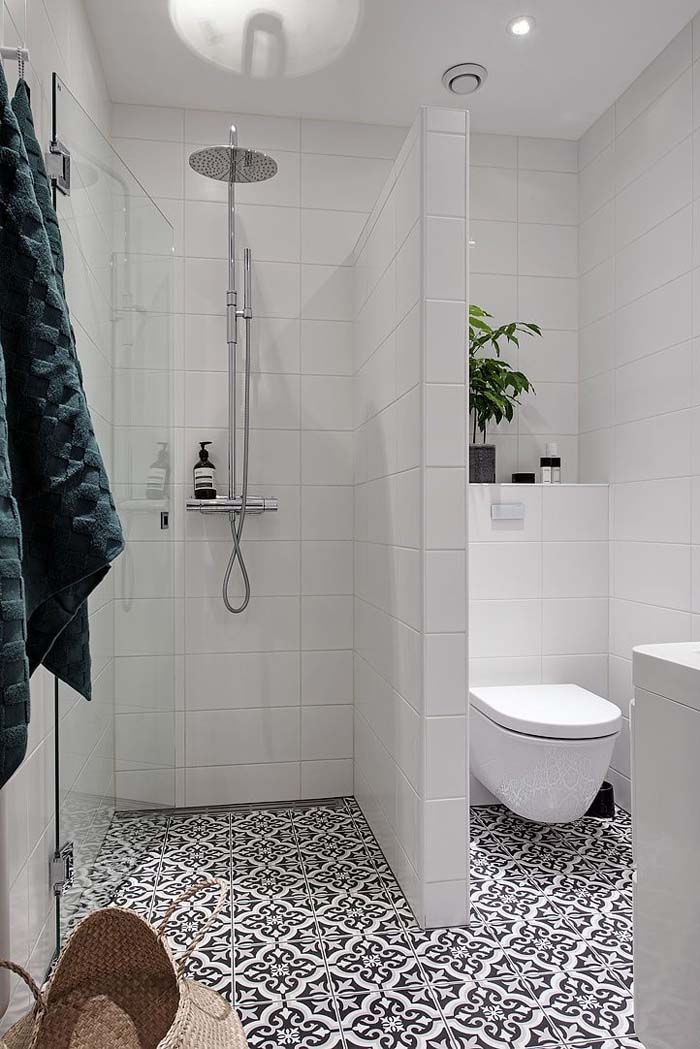 Another idea for an accent in the shower area when the wall tiles are in white, is to cover the floor with more attractive tiles.
In case you are looking for a cheap renovation of your bathroom, you can achieve the shown effect on the existing floor by stenciling the white tiles with black paint for tiles.
Similar shower tiles: Here and Here
22. Outdoor Shower Style Faux Wood Tiling

Why should you choose faux wood tiles for the shower area?
The reasons are many- they look exceptionally realistic, the earthy color will make the atmosphere more welcoming and calming and last but not least the rustic look will give the room a classic and unique layout.
via Houzz
23. Persian Style Tumurid Shower Shelf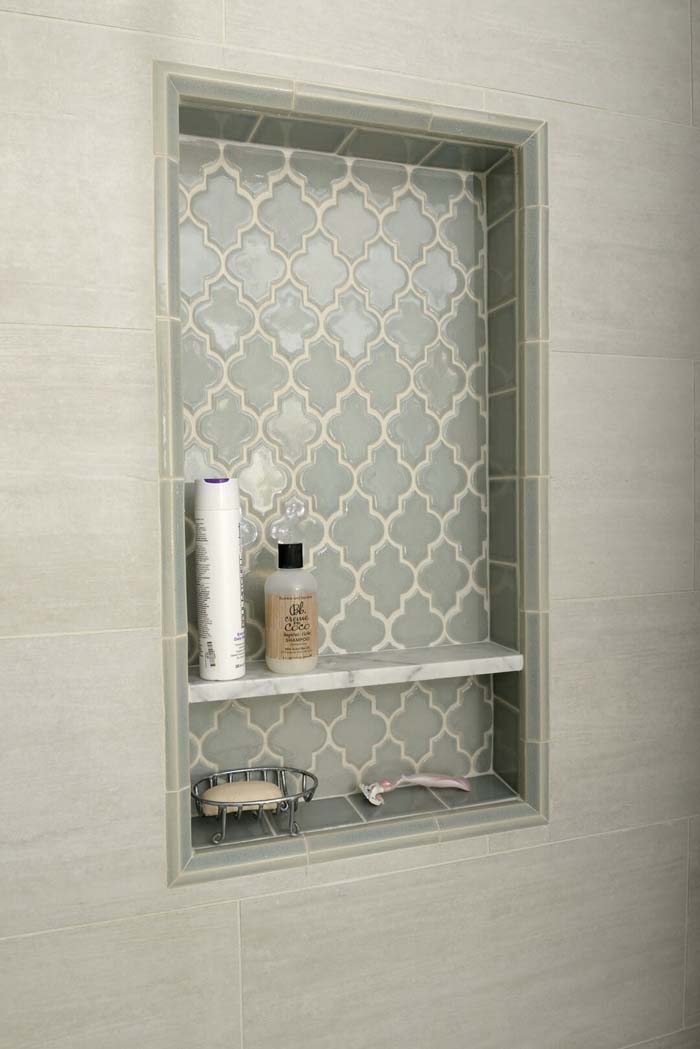 You don't need an extravagant and overwhelming tile design to create a focal wall. A small area like a niche, covered with unique tiles like these Persian-inspired ones will add the unique touch you are looking for.
The milk grey color and white contours of the motifs give the niche interest and contribute to making the shower area look visually deeper.
Similar shower tiles: Here
24. Roman Bathhouse Classic Shower Floor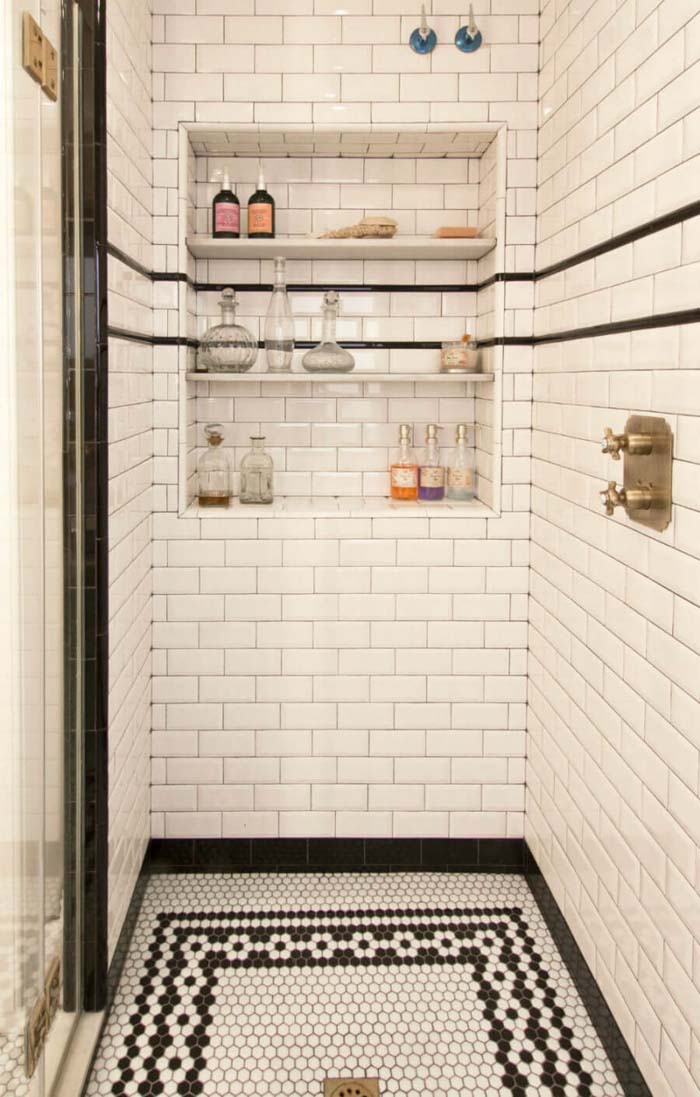 The floor tiles of this bathroom are used to create a focal point inspired by ancient Roman times.
Being aligned in a pattern that forms a whimsical carpet, they instantly enhance the homely feel of the room. If you are wondering what is the wall tile used – those are metro tiles.
Similar shower tiles: Here and Here
25. Scandinavian Lodge Stone and Hearth Tiles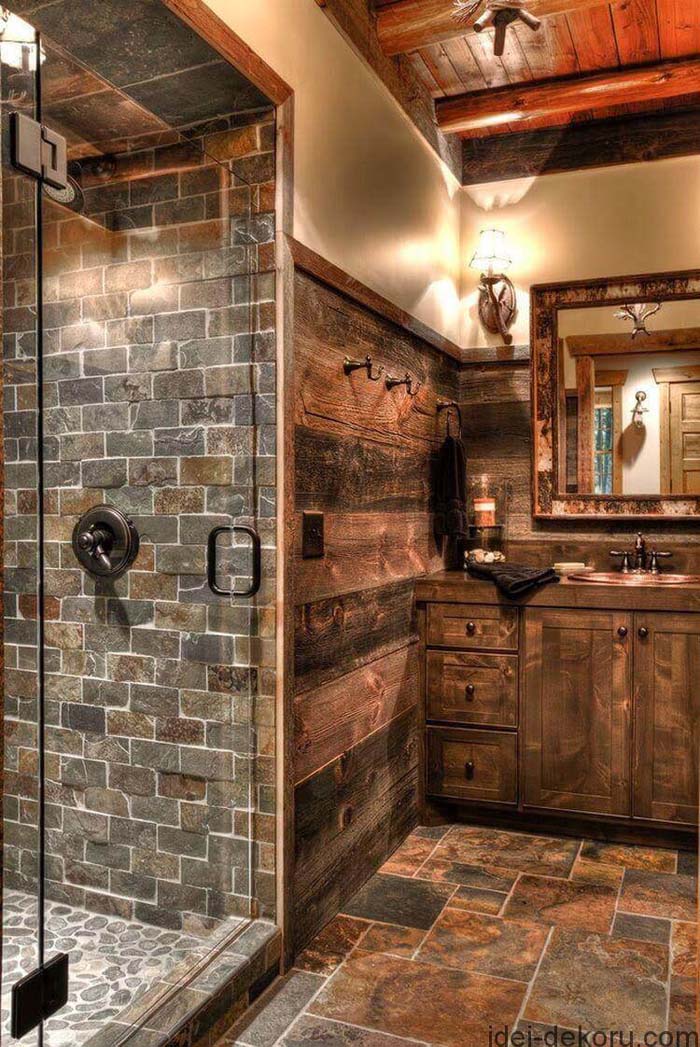 This bathroom reminds me of an outdoor scene of a cottage. Using brick tiles for the walls and pebbles for the floor of the shower area is a unique combination for a cabin or house situated close to wild nature.
To smoothen the coldness of the natural stone tile, use yellow light which will instantly spread a warm welcoming gleam.
via Bloglovin
26. Simply Sea Foam Tile Scheme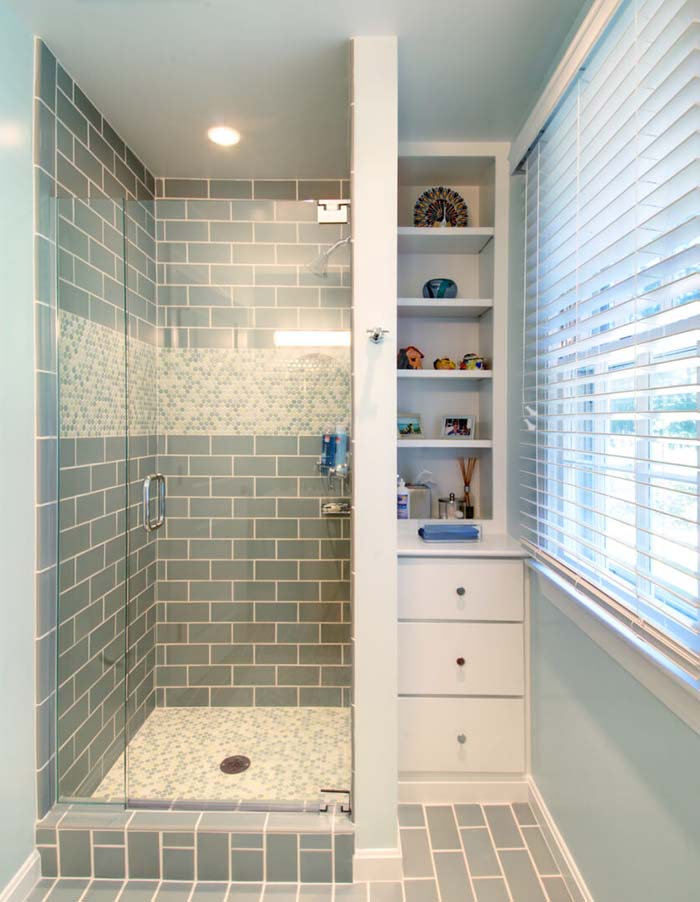 Why keep your new tiles hidden? Expose the two-toned grey tiles inspired by the beauty of the stormy ocean with a glass door.
For a more tremendous effect combine small and large tiles in symmetrical sections.
27. Slate and Sky Brick And Miniature Shower Tiles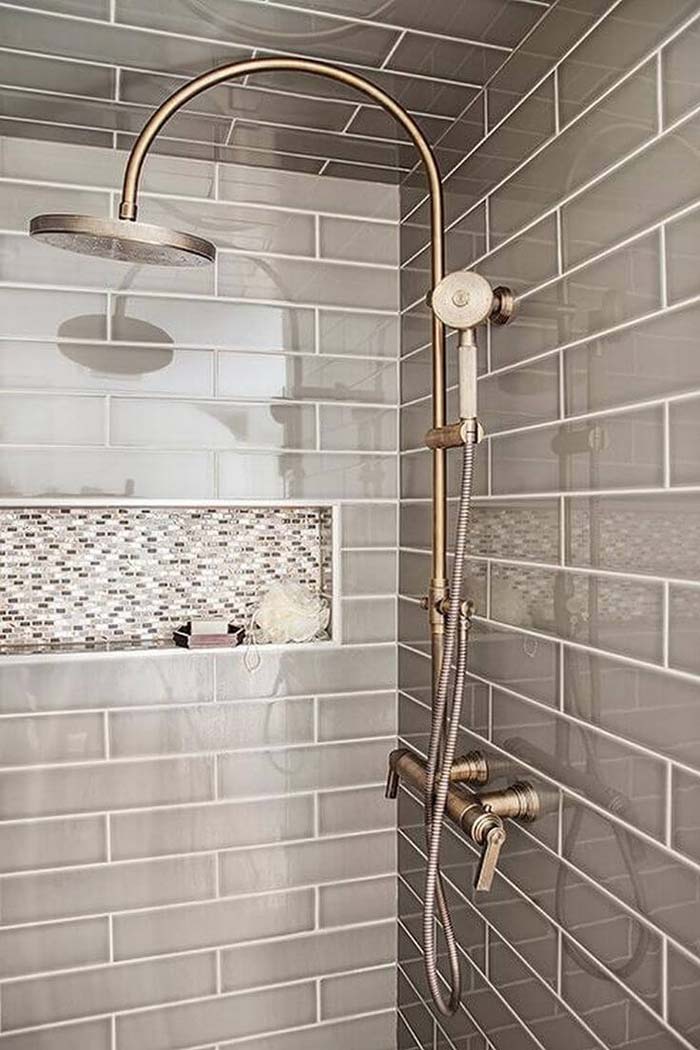 Glossy grey wide tiles create a soothing and neutral area. Aiming to achieve a tranquilizing ambiance, the point of interest has not been neglected.
It has been decided to be dedicated to a small niche by lining it with tiles imitating small pebbles.
via Decorpad
28. South-By-Southwest Multi-Tiered Shower Design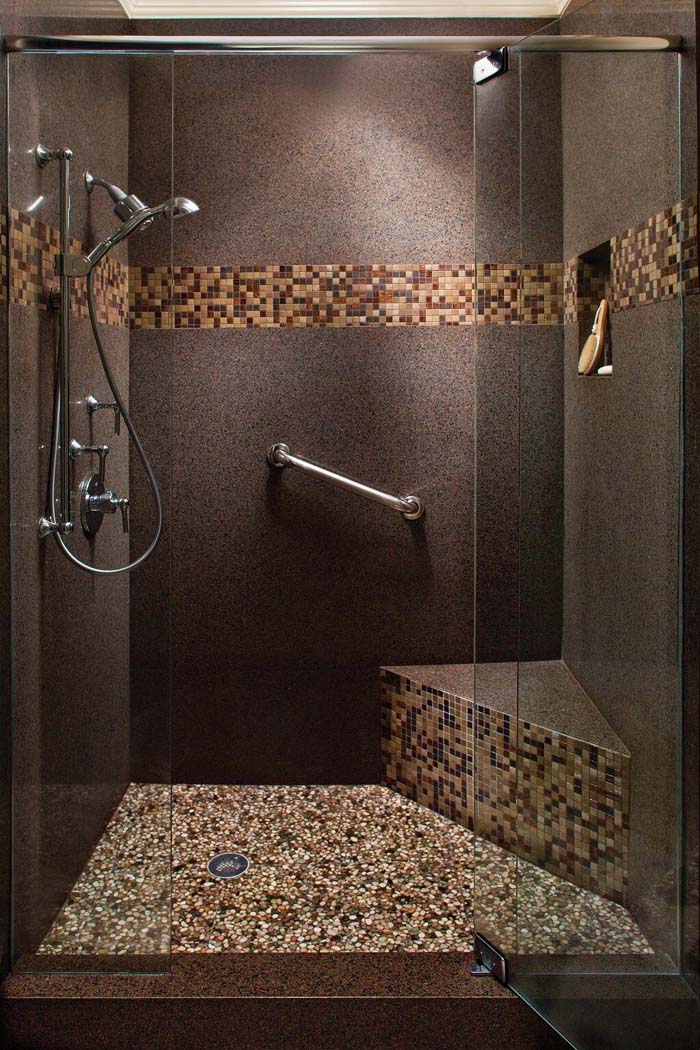 If you are bold and that can be felt even in the design of your home, opt for this tile design and combination.
Combining three tile designs, they are layered and in the same color palette to create a mix that perfectly matches.
The interesting experiment with an impressive effect deserves to be seen so consider installing glass doors instead of shower curtains.
Similar shower tiles: Here
29. Sunny In Palm Springs Tile Layout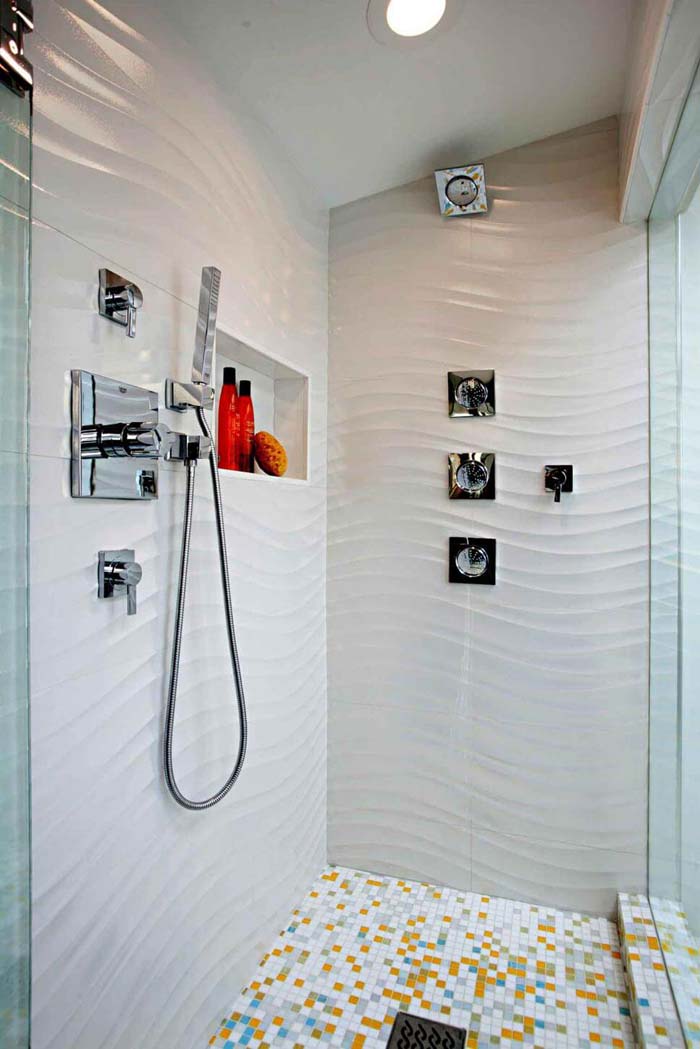 Be bold and experiment with the tile color, shapes and design combinations. When you think it well over, the mix will contribute to amending defects of the shower area like small floor space, lack of light, uneven walls.
The greatest effect of such a design decision will be the one-of-a-kind look that will please the sight each time in there.
via HGTV
30. Tunisian Kasbah Blue Shower Tiles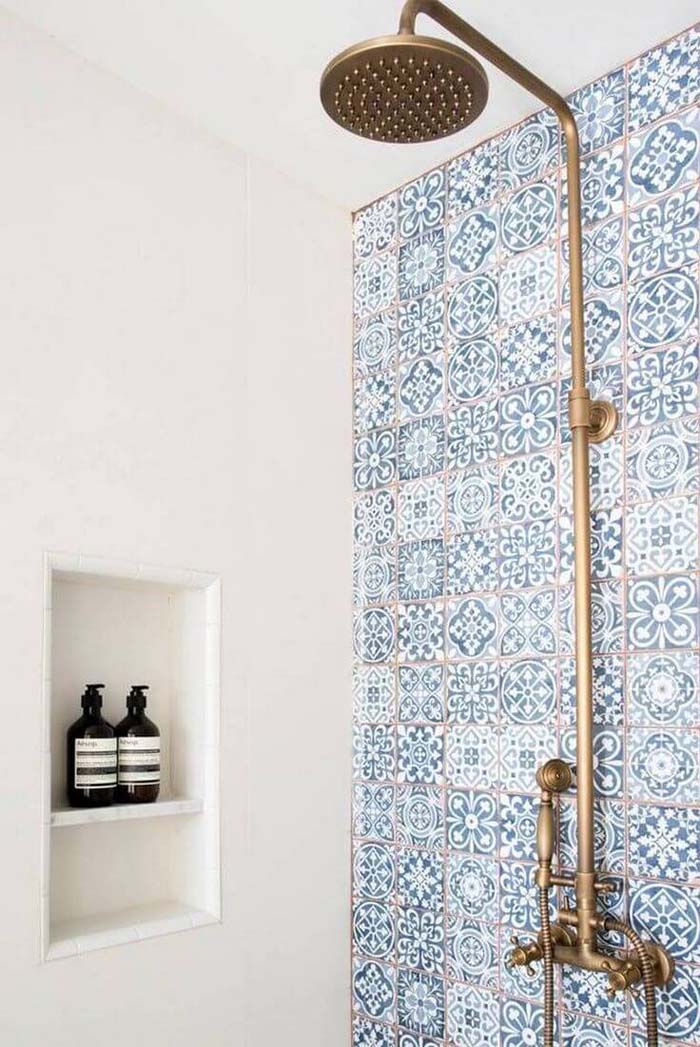 A wall from the shower area covered with tiles with Tunisian patterns will quickly wake up even the laziest person.
Yet, to make sure that the balance is ruling in this place, combine with white walls.
via Design Love Fest
Similar shower tiles: Here
31. Uptown Savvy Retro Style Studio Tiling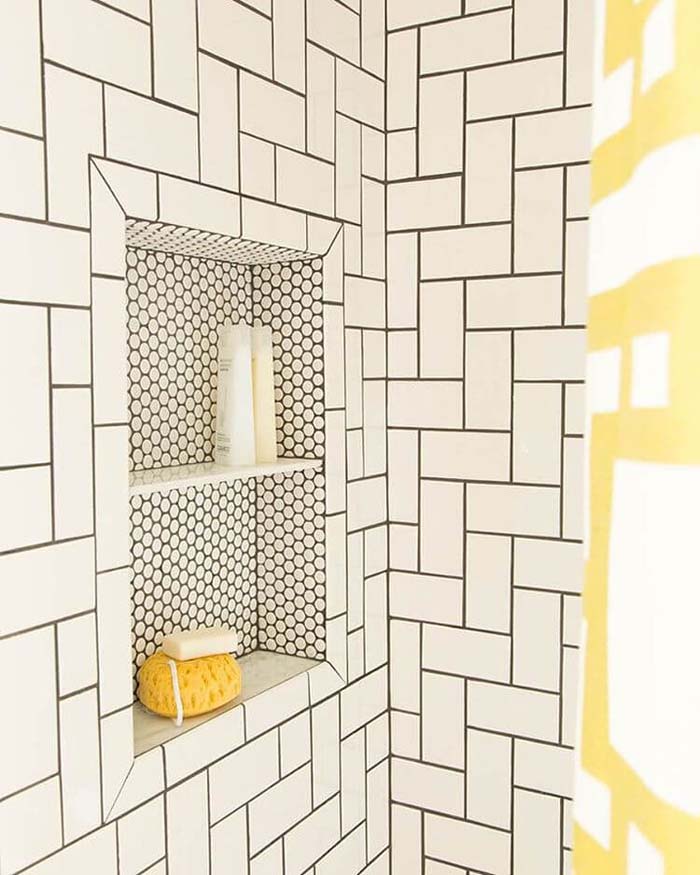 Want to give your bathroom a focal point? That can be done easily with tiles of a geometrical pattern that differs from the design of the rest. In this case, the colors of both tile designs must be the same.
This is a small makeover of the bathroom but it will give the shower area a brand new look.
Similar shower tiles: Here
32. Walk On The Beach Inlaid Pebbles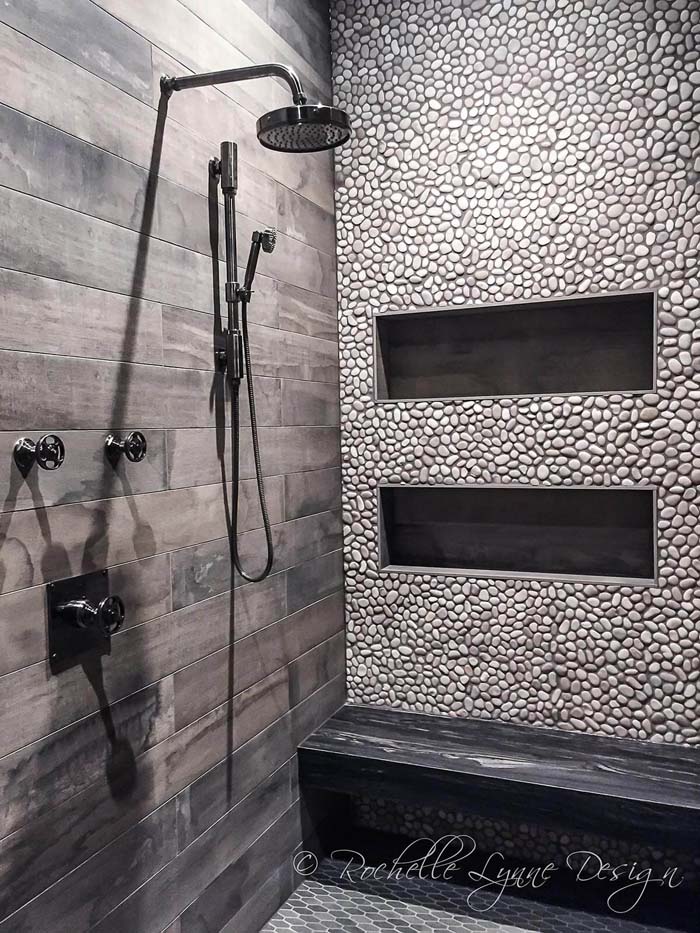 We can see two styles combined in this shower room. The motifs of the sauna ambiance are clearly marked by the earthy colors and the bench-like resting area. The nautical effect anchors the focal point of this room with a wall covered in pebbles.
These two styles combine so well together because they both have the ability to make you relax and dream away.
via Rochelle Lynne
Similar shower tiles: Here
33. Woodland Wonderland Differing Duo Tiling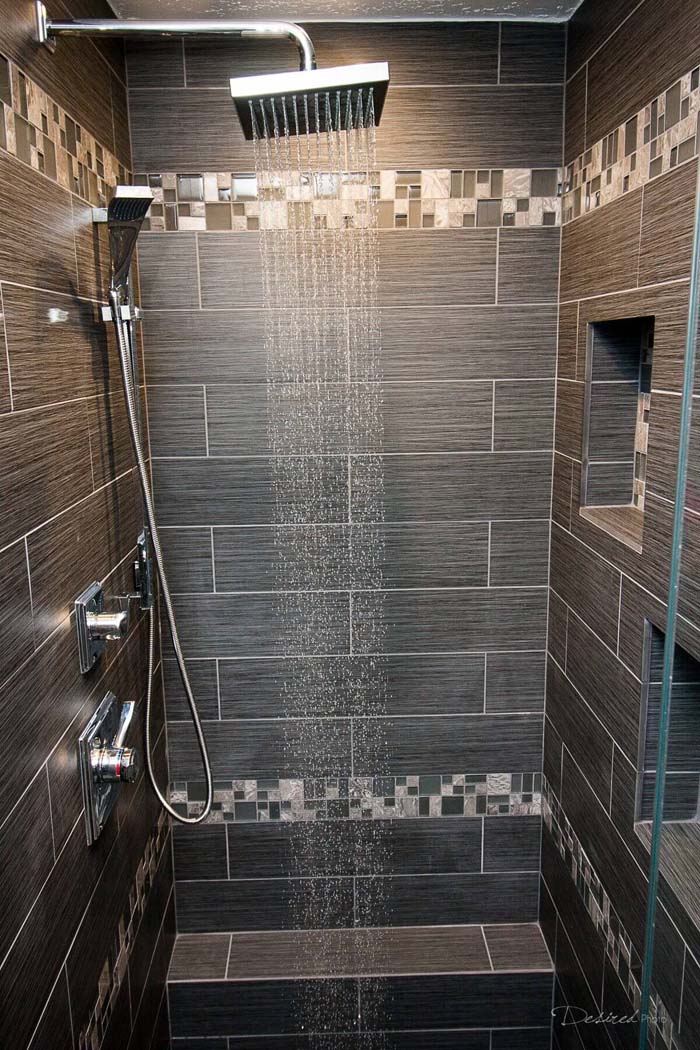 If you have ever thought that wood would look fantastic in the shower area, you don't have to worry about mold and bacteria because these days there are numerous tiles that are made of ceramics or porcelain and feature a wood look.
When the shower area is covered with dramatic tiles in dark brown you may want to consider adding small light-colored mosaics.