It's no secret that plants bring a fresh feeling and natural color to your living space — but have you ever considered using them in the bathroom?
Hanging plants are a beautiful way to brighten and refresh the room, all without taking up valuable floor space.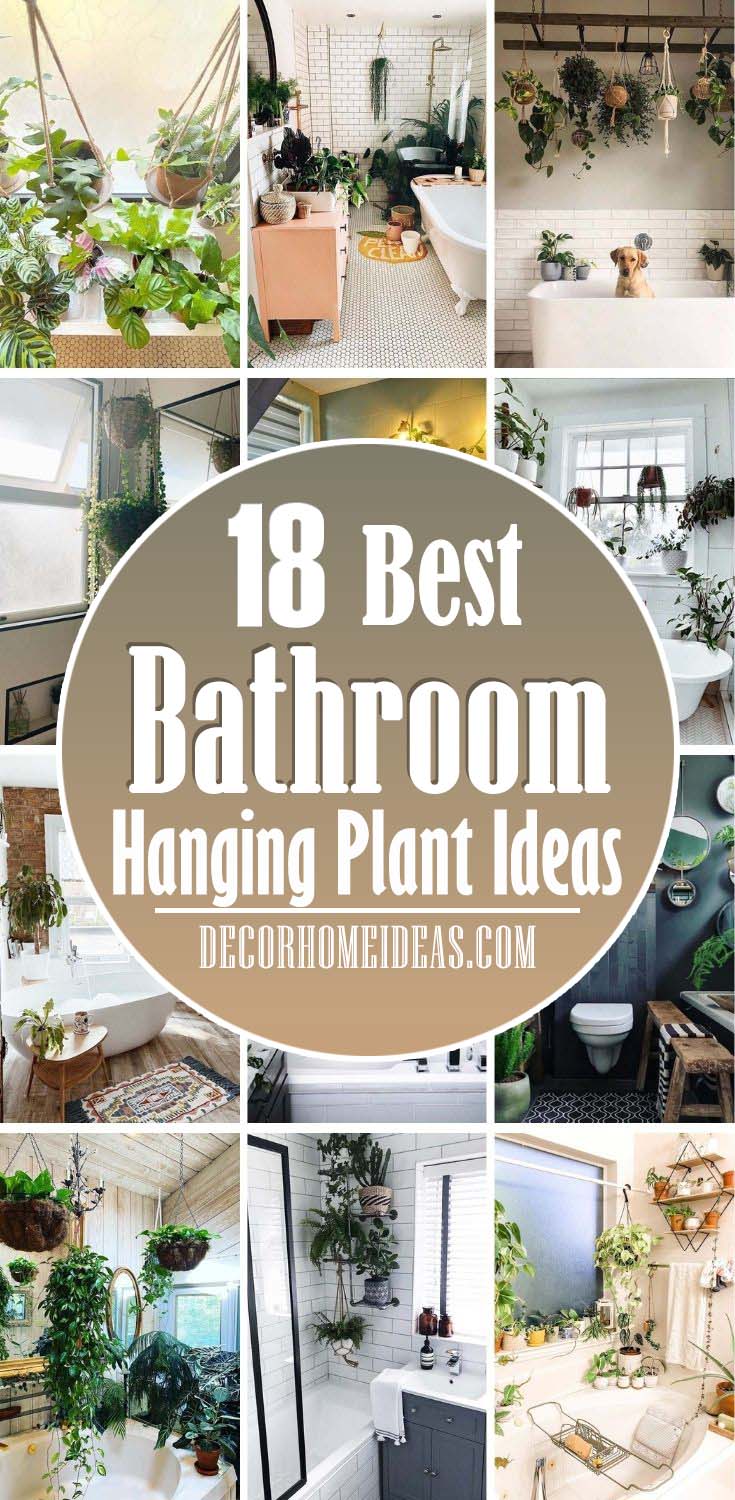 If you're looking for inspiration for your home, check out these clever ideas.
1. Decorate Your Small Bathroom with Hanging Plants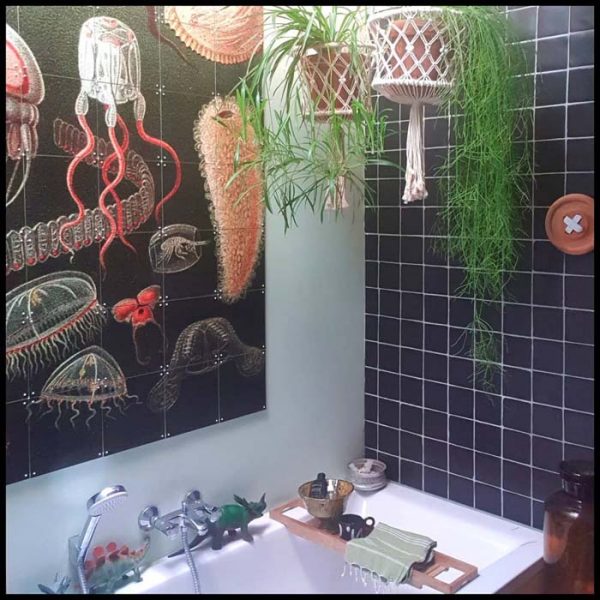 Are you short on space in your bathroom?
It's still possible to decorate with plants; just hang them close to the ceiling.
The greenery will be highly visible, but it won't get in the way as you move around the bathroom. In very small rooms tuck the plants into a corner.
via Jet Vandergraaf
2. Create a Living Canopy of Plants with a Hanging Ladder Planter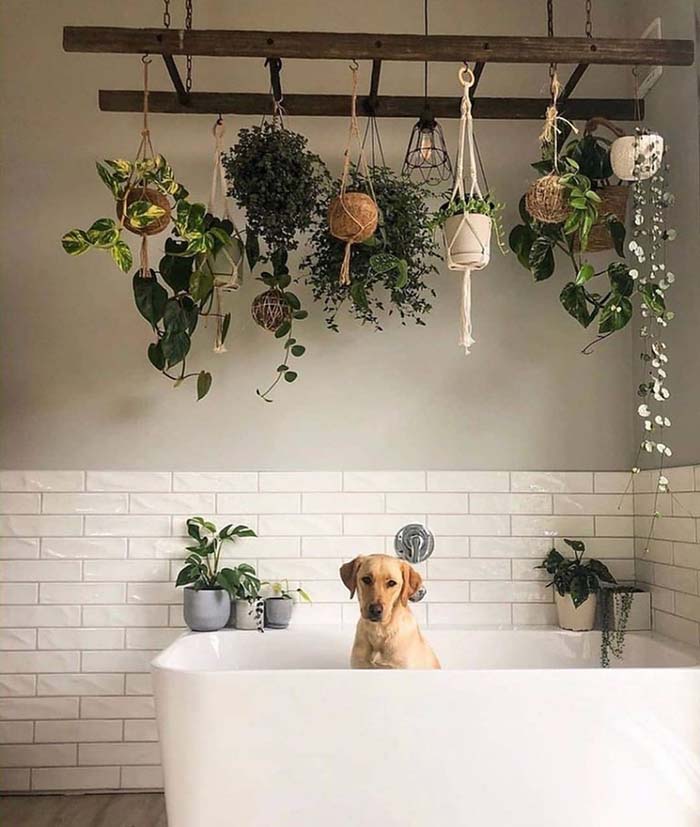 Would you love to look up at a canopy of greenery each time you take a bath? This ladder plant stand is the perfect solution.
All you need to do is install a few hooks and suspend plants from the rungs of the ladder.
Use species with different colors and leaf shapes for a truly wild look, and don't be afraid to vary the heights of the plants.
Just keep everything in the natural color spectrum for a unified and elegant look. (The adorable puppy is optional.)
3. Enhance Your Bathroom Window with Hanging Plants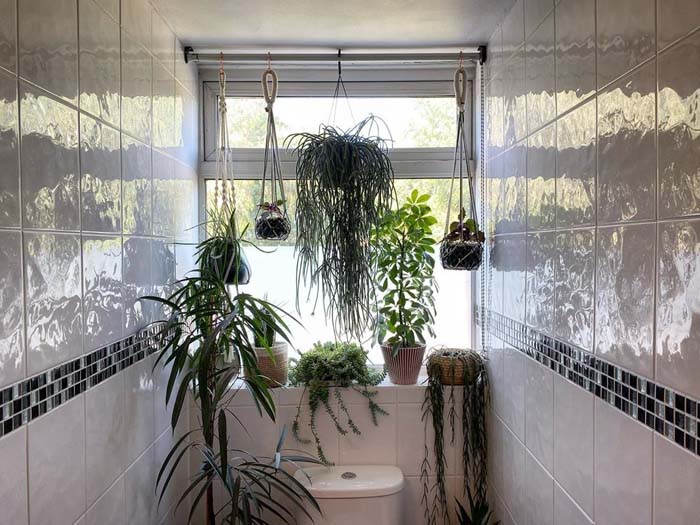 Does your bathroom have a large window that looks out onto the street or yard?
Don't worry about privacy glass or curtains — use hanging plants instead.
The secret is to use species with long, trailing vines or leaves; they block the view into the bathroom without blocking all of your sunlight. That way, your bathroom still feels bright.
4. Modify Your Bathroom into a Sultry Oasis with Hanging Plants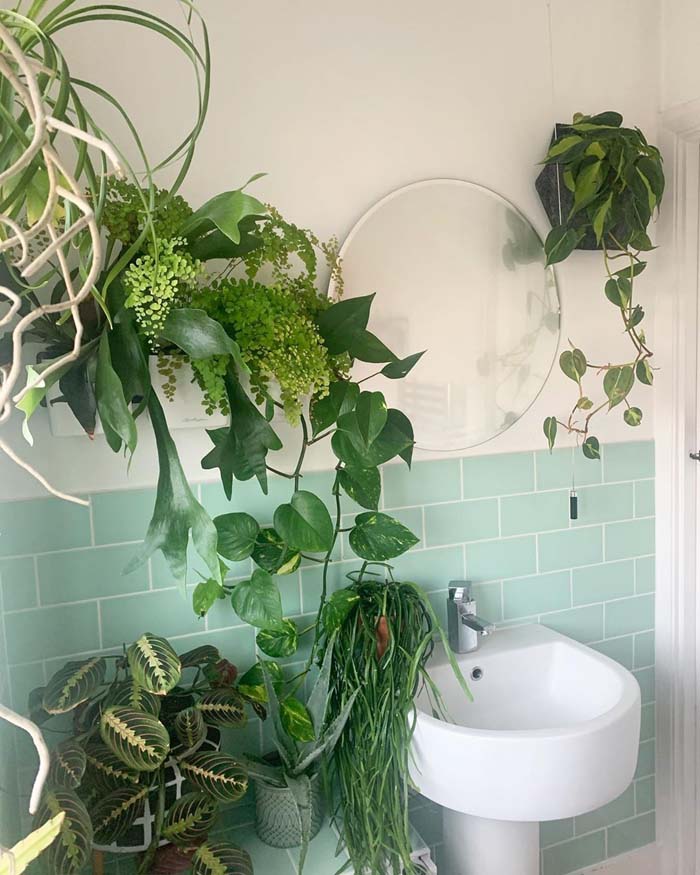 Feel like you're stepping out of the shower and into the jungle when your bathroom is decorated with a variety of hanging plants.
The key to this arrangement is levels — hang plants at varying heights to offer more coverage.
For extra visual effect, place a few miniature plants on the back of the toilet.
5. Create a Lush Oasis in Your Bathroom with Hanging Vines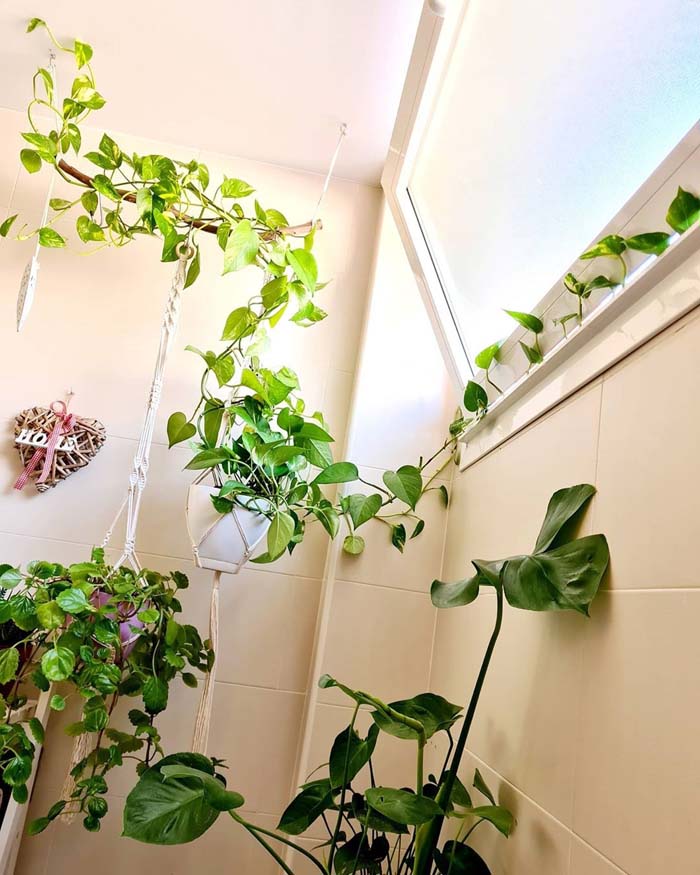 Here's another stunning use of hanging vines as bathroom decor.
To support the vines, simply use existing fixtures — here, a window ledge and hanging hooks get the job done nicely.
For an extra-lush look, add a few more hanging plants with smaller vines.
via Julita
6. Transform Your Shower with a Wall of Hanging Green Plants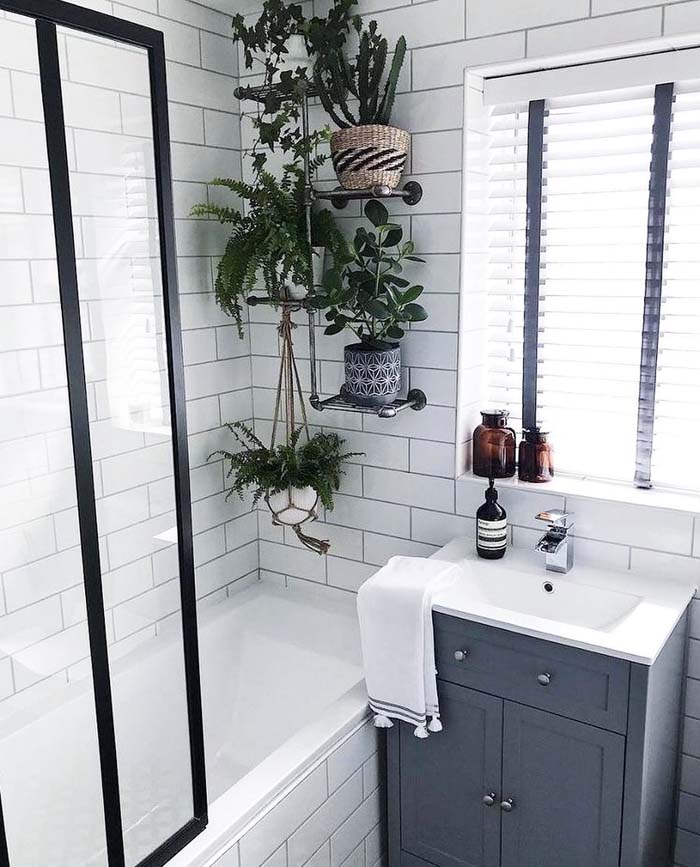 The shower is the perfect environment for plants — it's warm, humid, and often sunny.
This arrangement suspends stunning green plants right from the wall of the shower, creating an elegant look without compromising cleanliness.
A lone hanging plant completes the full-wall coverage.
via House On Cosmic
7. Renew Your Bathroom into a Jungle Oasis with Hanging Foliage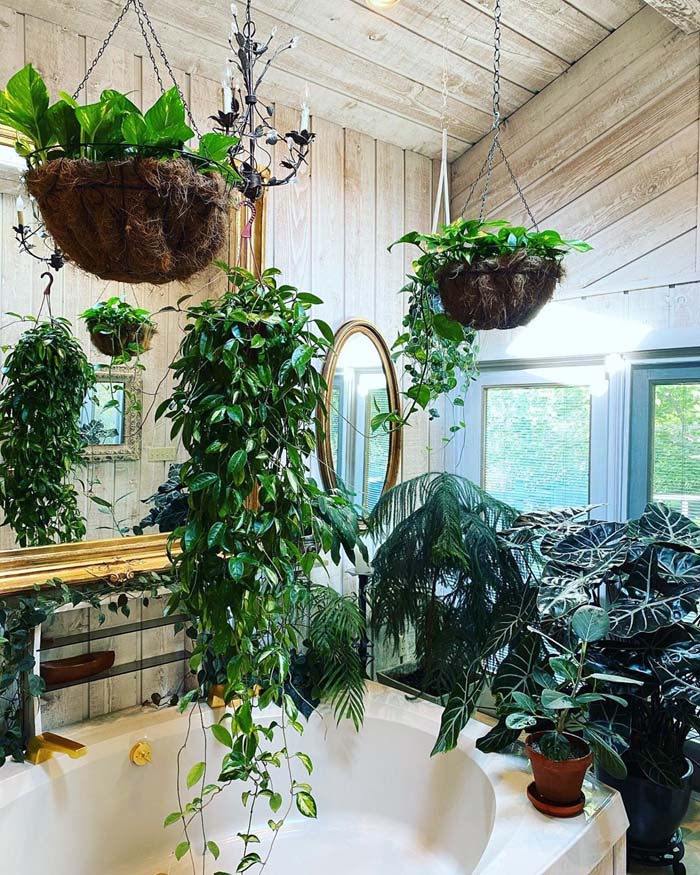 Large hanging plants with thick foliage can transform a bathroom into a jungle.
Here, a large wall mirror reflects the plants, and oversized potted plants on the floor block the view into the room. The best part?
The vines that nearly touch your bath water.
via Ohio Tropics
8. Transform Your Shower with Greenery for a Tropical Escape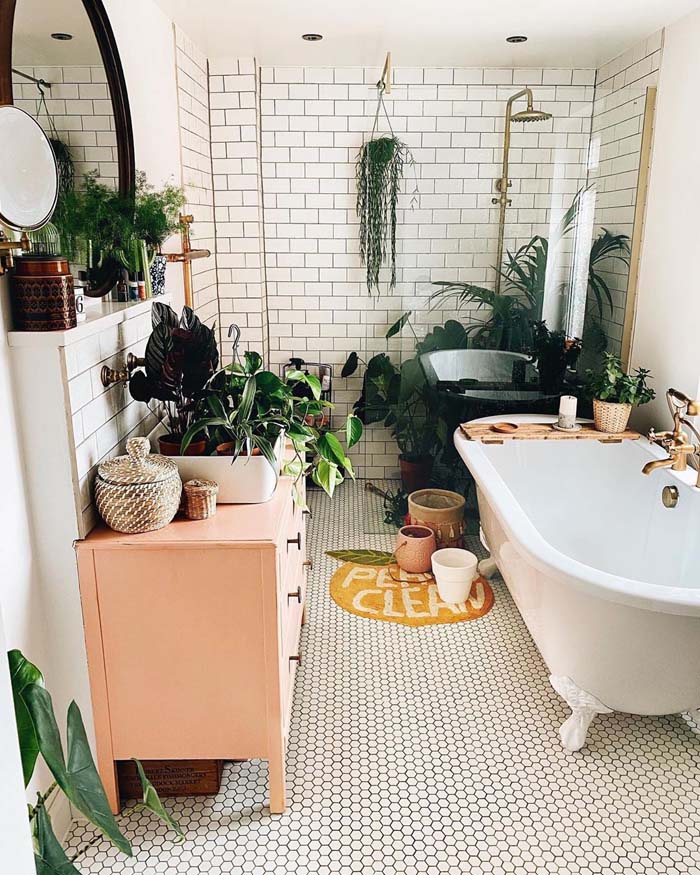 If you have a walk-in shower and a transparent glass door, delight your guests by hanging a plant inside the stall.
This bathroom amps up the fun by surrounding the tub with greenery for a tropical effect.
9. Create a Magical Bathroom Oasis with Plants of Varied Sizes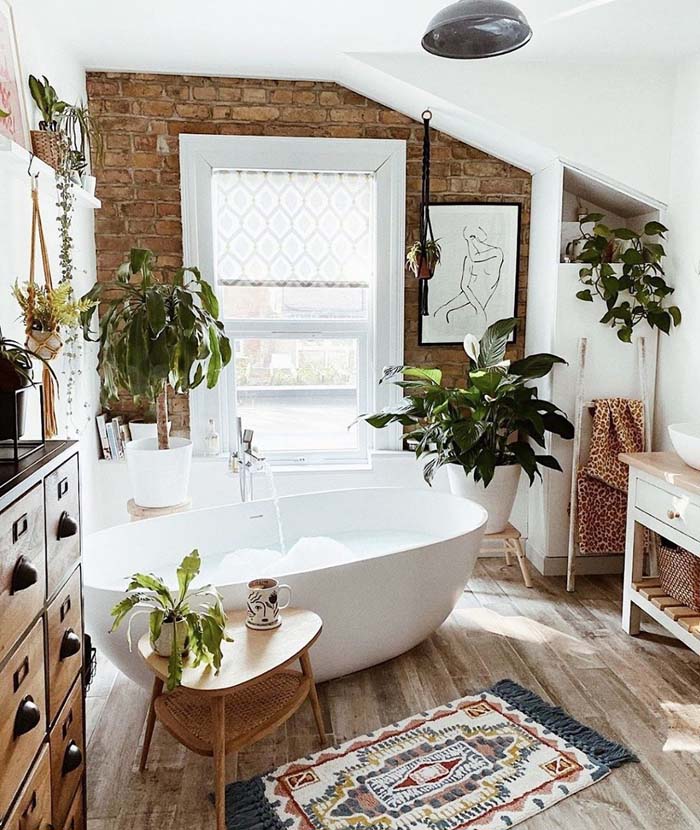 This magical bathroom capitalizes on the beauty of varying sizes.
Enormous floor pots set the stage, and tiny hanging plants complete the look.
For extra texture and depth, use rope hangers in different colors and consistencies. A sweet tassel adds a bit of boho charm.
via House Of Kato
10. Enjoy Relaxing Baths with a View of Hanging Greenery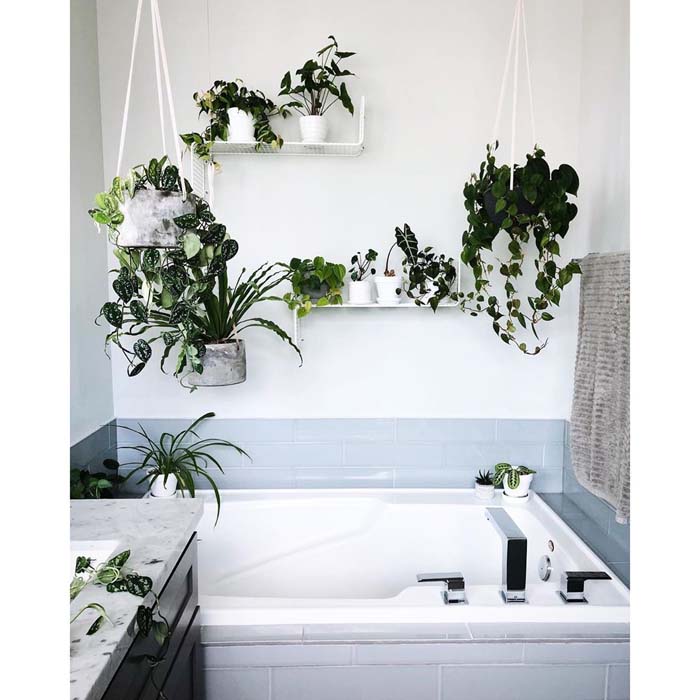 Slip into a bubble bath with a view of greenery when you suspend hanging plants above the bathtub. The trick?
Choose a hanging height that's low enough to enter your eye line but not so low that it impedes the use of the tub.
You can even hang additional plants from the bottom of the wall shelves.
via Little Fists
11. Hang Plants Easily with an Old Shower Curtain Rod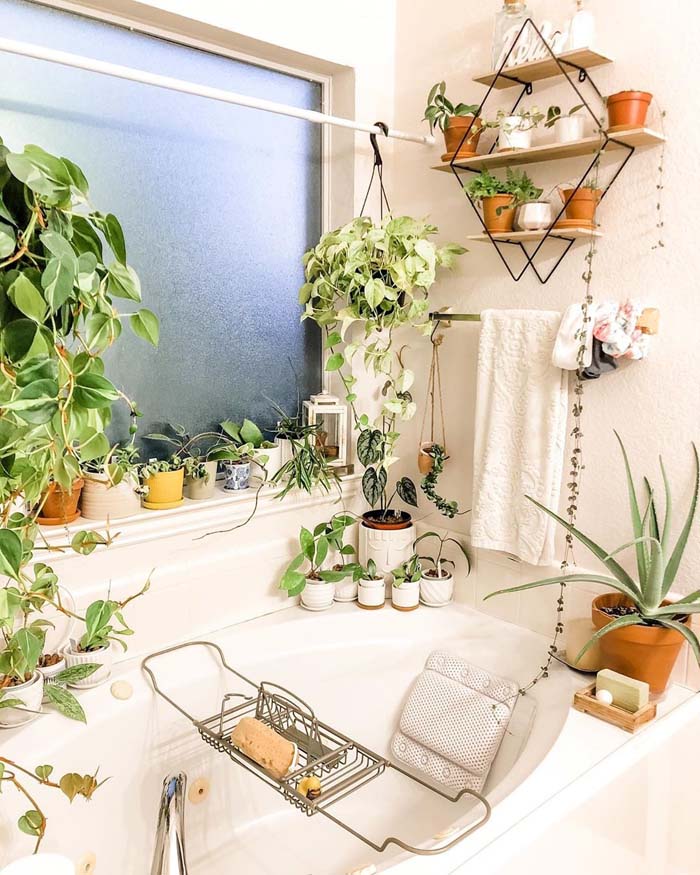 Do you have an old shower curtain rod hanging around the bathroom?
Follow this homeowner's lead and turn it into a clever hanging rod for plants. Just attach a hook and slip it over the pole.
With a tension rod, this is a safe, damage-free solution for rental homes.
12. Create a Magical Forest with Hanging Plants and Green Walls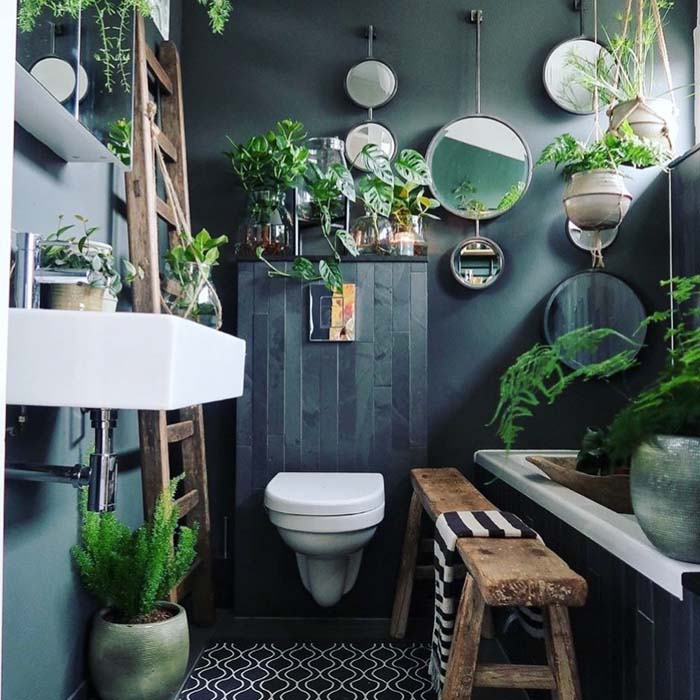 Opt for an unexpected look by pairing hanging plants with rich green walls.
The tone-on-tone effect creates the feeling of a magical forest hideaway.
Complete the look with rustic wooden decor accents for an extra pop of natural texture.
via Green Point Club
13. Use a Towel Hook for a Simple Plant Hanging Solution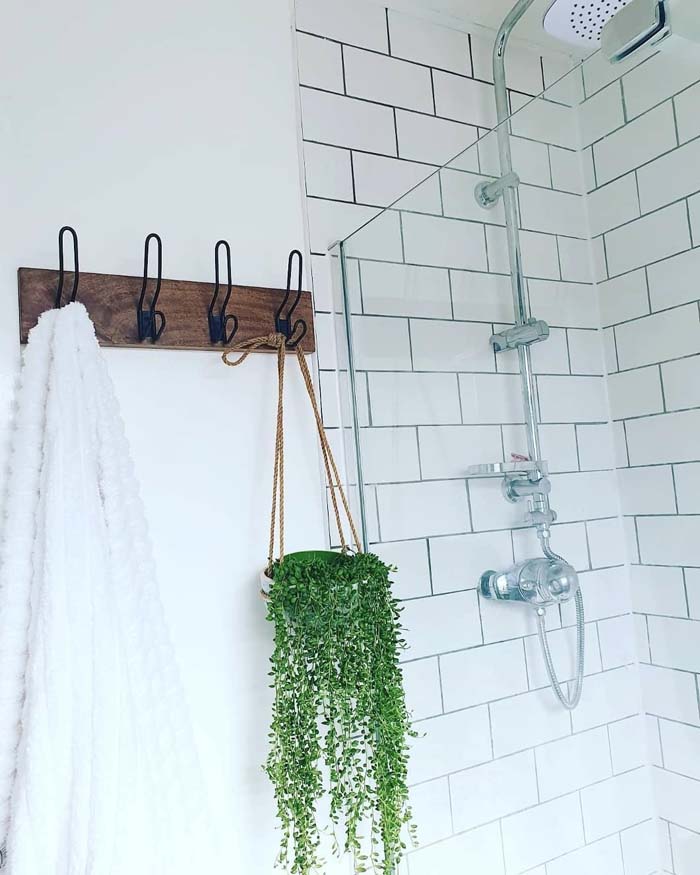 Don't want to drill holes for a plant-hanging hook?
No problem — you probably already have the perfect solution.
A towel hook makes a fantastic plant hanger; just tie a rope harness around the pot and loop the ends over the hook.
This style works best with creepers and vines that cascade over the sides of the pot.
via Secret Garden
14. Rejuvenate Bathroom Space with Twine Rope Hangers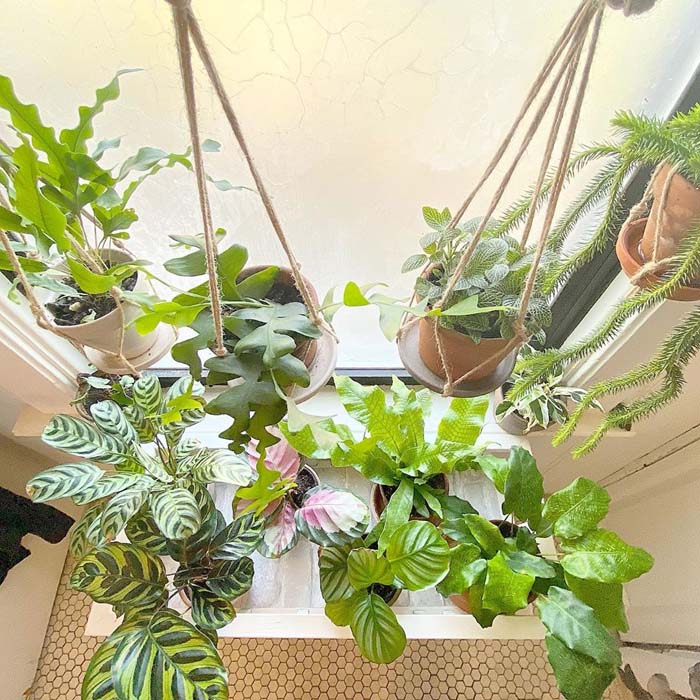 This arrangement is all about natural texture; it combines natural twine rope hangers and plants with distinctive leaves and needles.
The plate bases provide a sturdy spot for pots, and the knotted rope keeps your greenery safe in a busy bathroom.
We love how the plants hang in front of the window for extra freshness and privacy.
via Sarah Penny
15. Maximize Space with a Two-Tiered Hanging Plant Display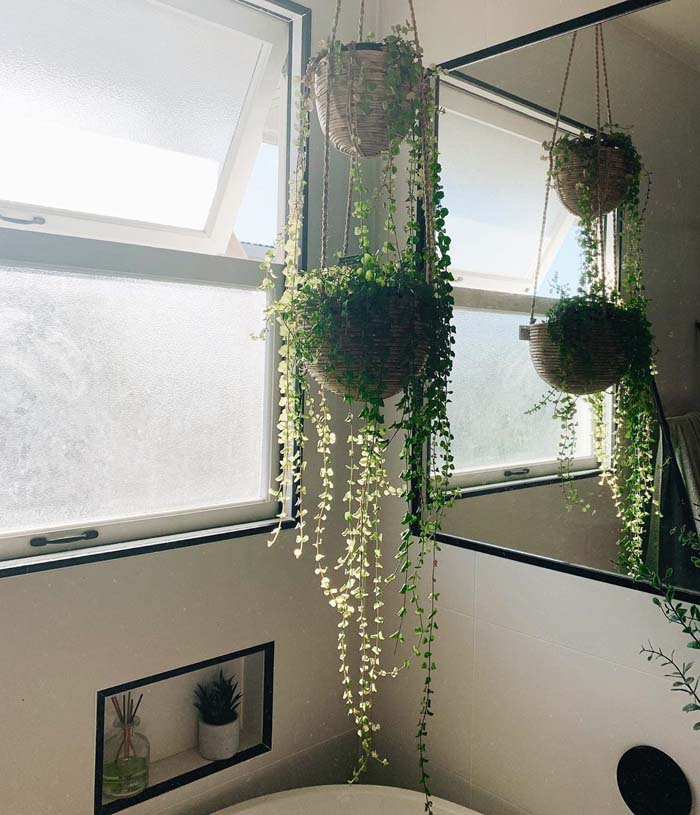 Here's another gorgeous solution for a small bathroom — the two-tiered hanger maximizes the greenery for a big visual impact.
Hang it in a corner of the tub for a gorgeous and out-of-the-way accent.
We love the way the hanging vines fall at different heights, showing off the tiny, delicate leaves.
via Triple Daily
16. Create Unique Decorative Garland with a Climbing Vine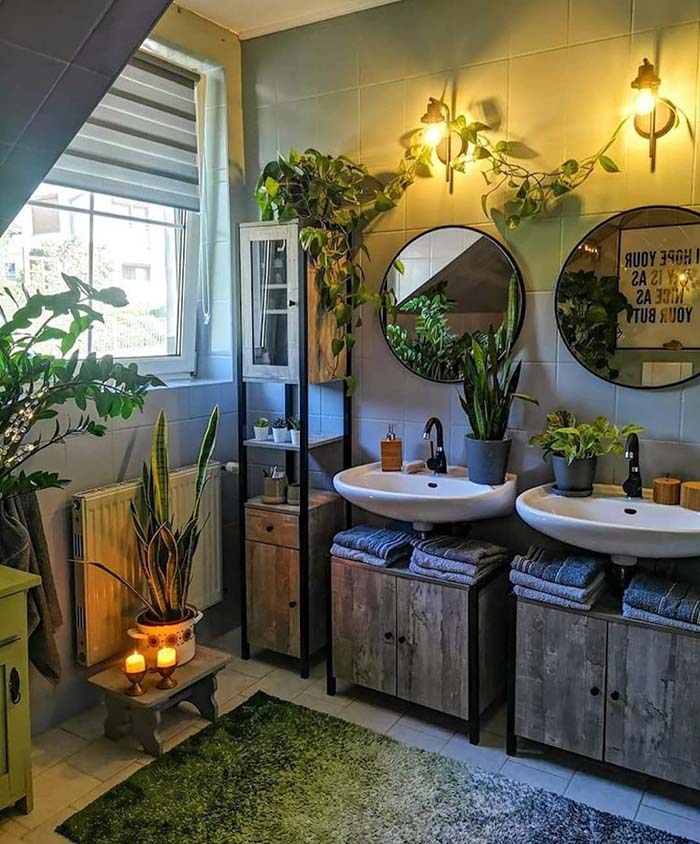 If you love the soft curves of draped garland, why not recreate it with a vine?
All you need to do is set a plant on a tall shelf and drape the vines over any convenient spot.
Light fixtures, curtain rods, mirrors, and furniture are all tough enough to support a leafy vine.
17. Decorate Your All-White Bathroom with Hanging Plants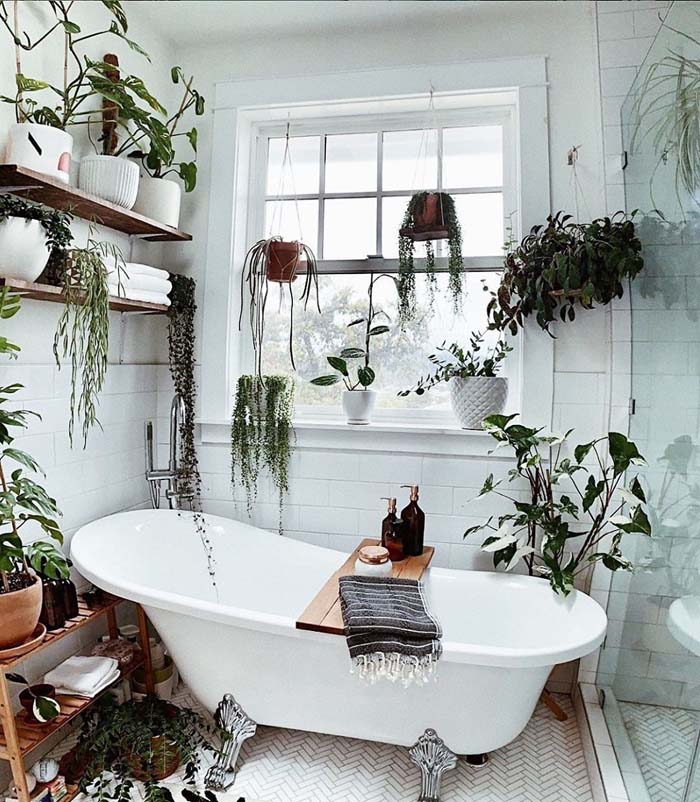 An all-white bathroom makes a spectacular canvas for hanging pants.
If you don't want to drill holes for hooks, don't worry; you probably already have everything you need.
Hang tiny, lightweight plants from the curtain rod, and use a wall-mounted towel hook for a larger pot. To enhance the effect, fill every open space with a different variety.
via House Of Kato