Are you a passionate gardener? Then you must have plenty of tools that have jammed the garage or the tool shed.
With our collection of 20 garden storage ideas, you will discover new places and ways to store the most needed tools and accessories for your green thumb.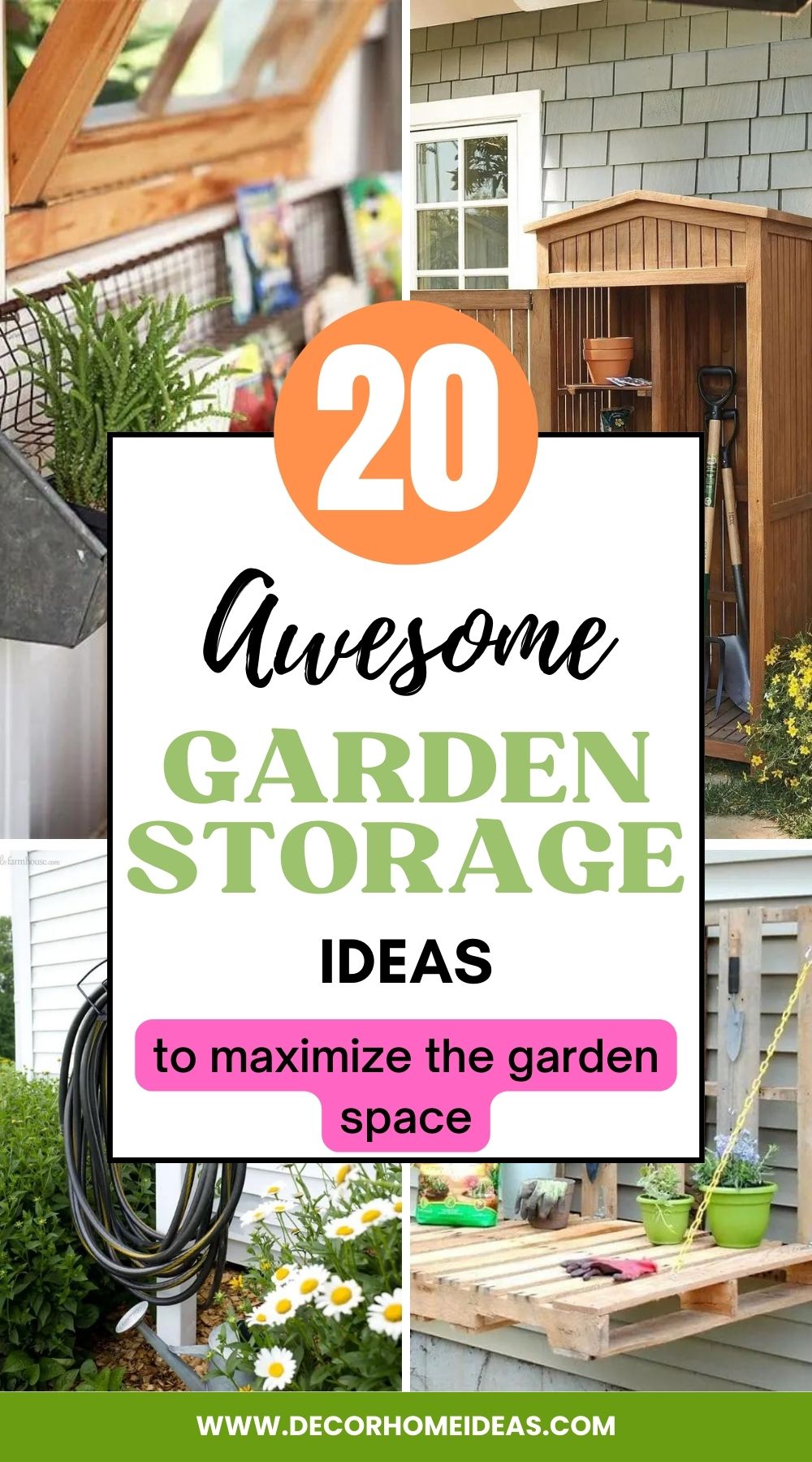 1. Think Vertically With The Flower Pots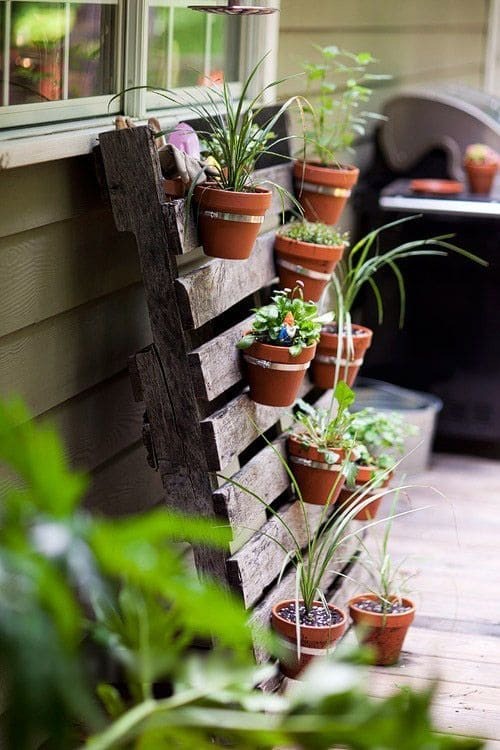 Arrange the flower pots vertically to save space from the porch. You can always get a vertical flower stand from the stores but you can also make it yourself and use its look to add a point of interest.
A weathered wooden pallet is cheap and suitable for adding flower pots with metal brackets. Its weathered look will add a touch of rustic to the porch decor.
2. Mailbox To Store Garden Tools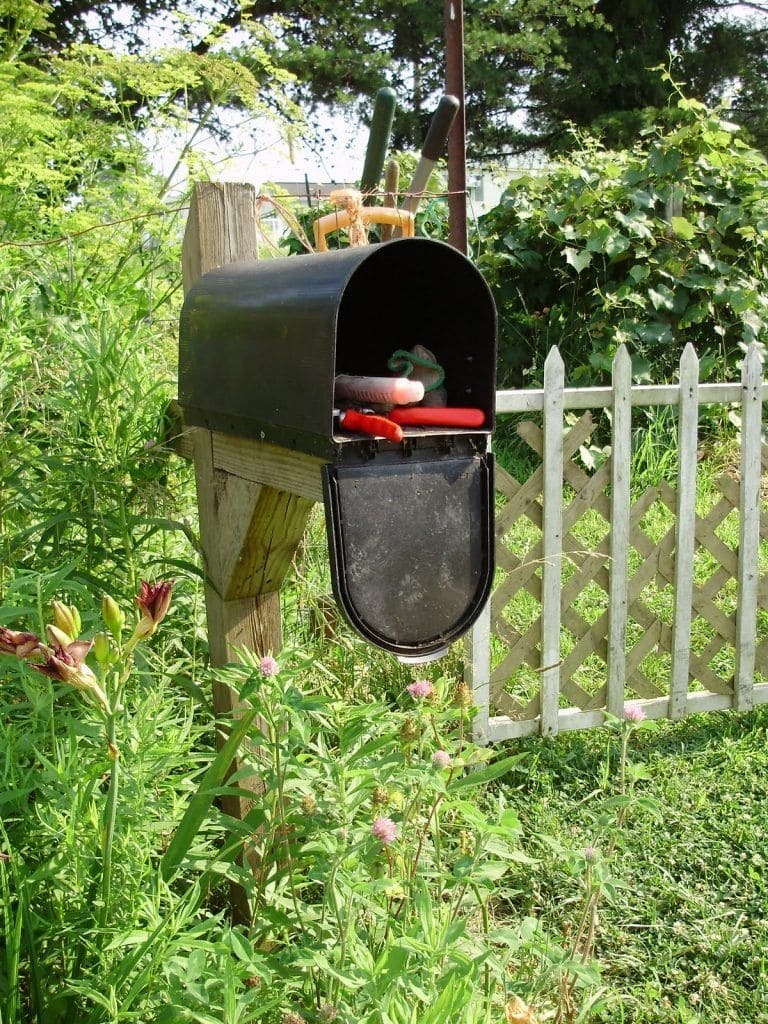 Instead of going every time to the shed with instruments, you can place posts with mailboxes in different spots in the garden and store the most needed green thumb accessories in them.
3. Organize Your Green Thumb Instruments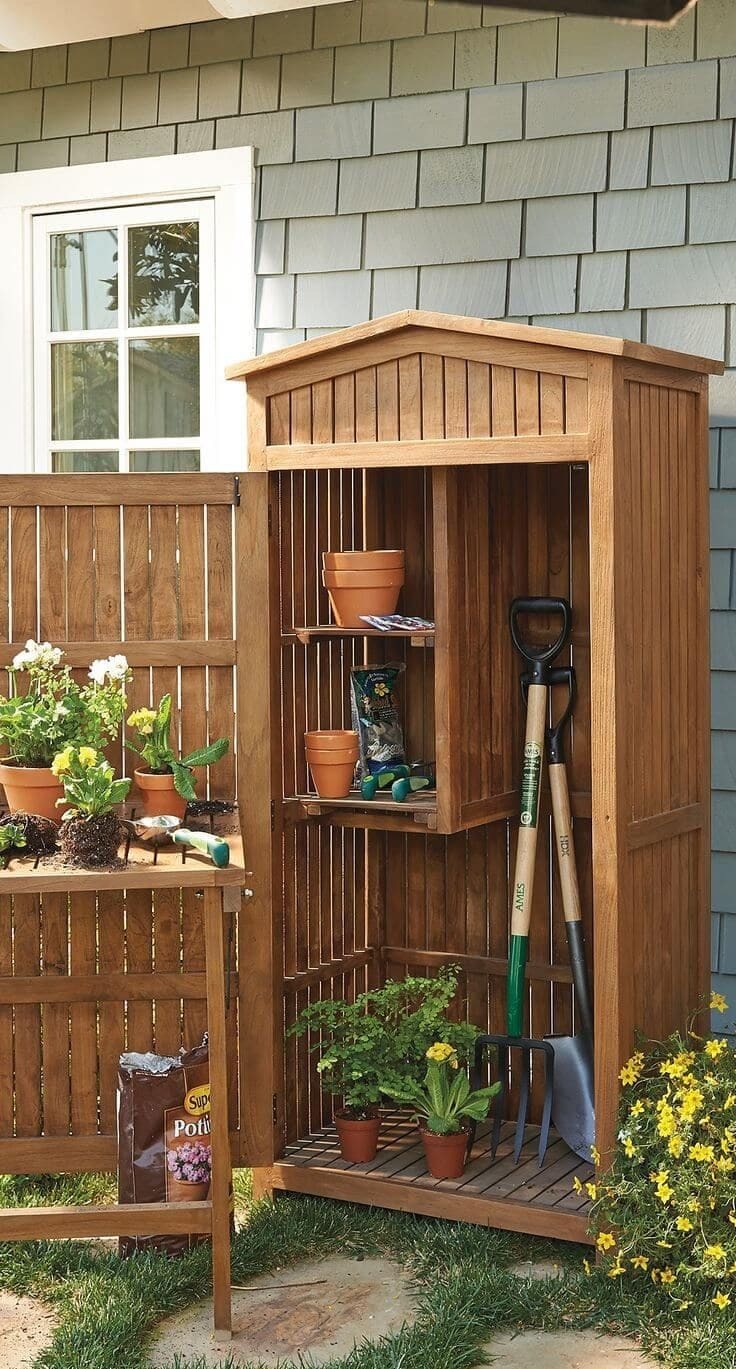 If there isn't enough space in the garden to add a shed for instruments, you can still have a dedicated place for them but on a smaller scale. Add shelves to make storage more organized.
4. Make A Potting Bench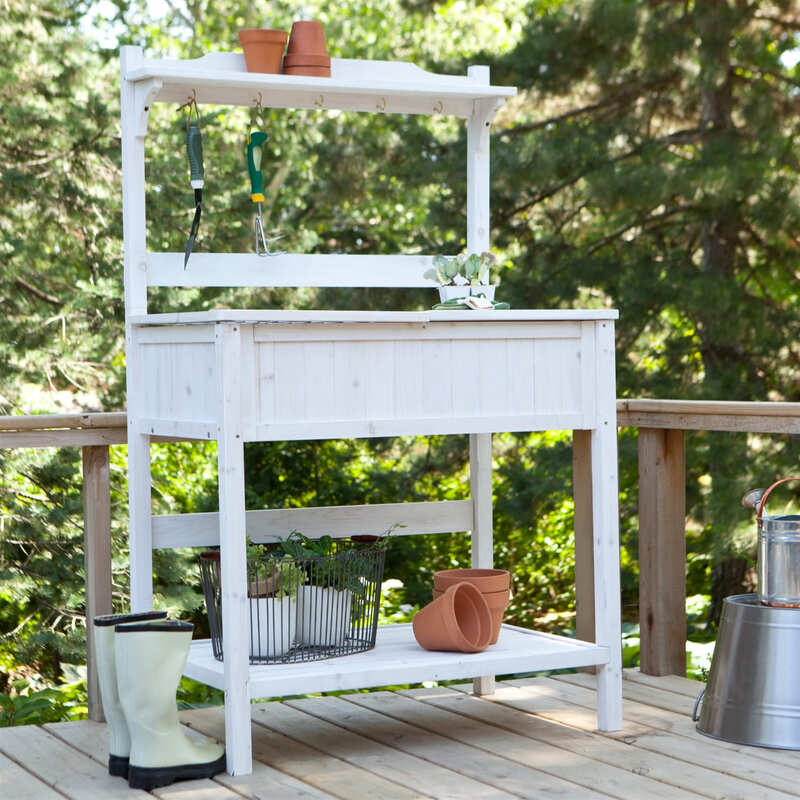 Another great idea that will organize the instruments for gardening and will ensure dedicated space for repotting is the potting bench. If you make it yourself from leftover lumber, you will make it in the size that fits your space.
5. Storage In Baskets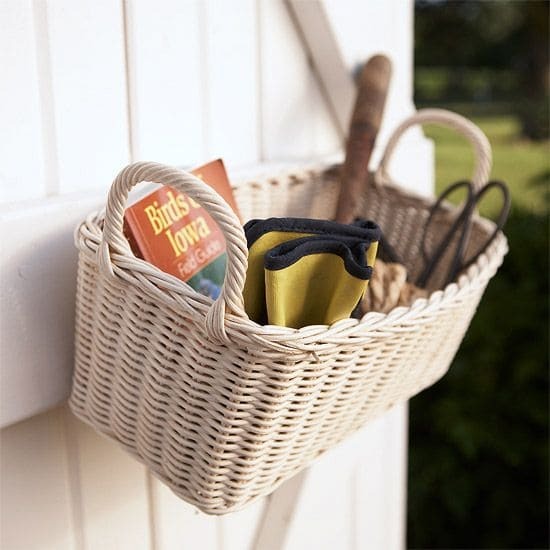 Increase the storage places for instruments by adding wicker baskets to the sides of the shed. Since they are not made from solid material, do not overload them.
6. Get A Garden Chest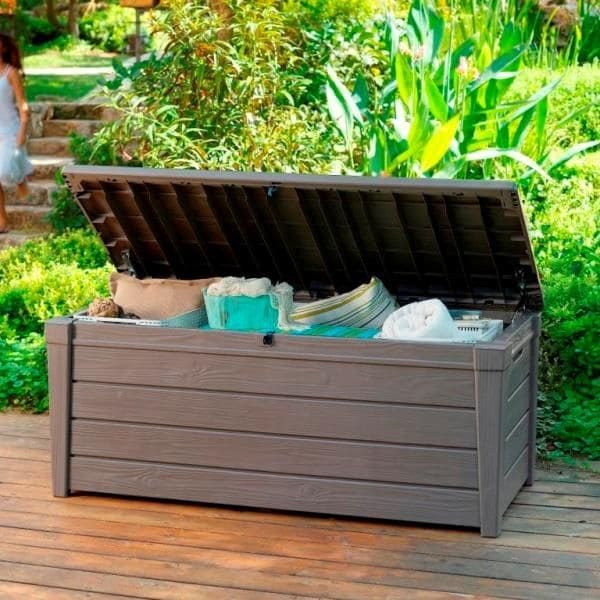 Garden stores offer chests of different capacities where you can store bulkier items and declutter the patio or the porch. There are models made from reinforced plastic which makes them durable when exposed outside for a very long time.
7. Storage In Wall Metal Shelves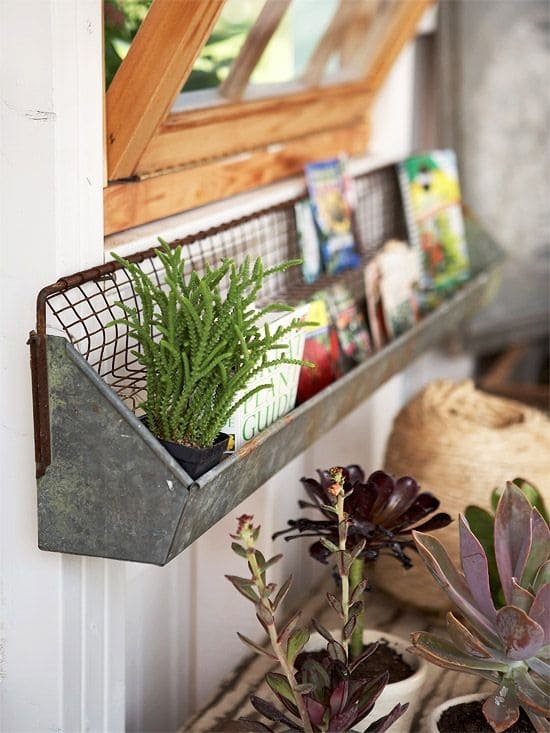 You can add compact metal boxes below each window with screws. They can be used as planters, storage boxes, and organizers.
8. Store The Hose Neatly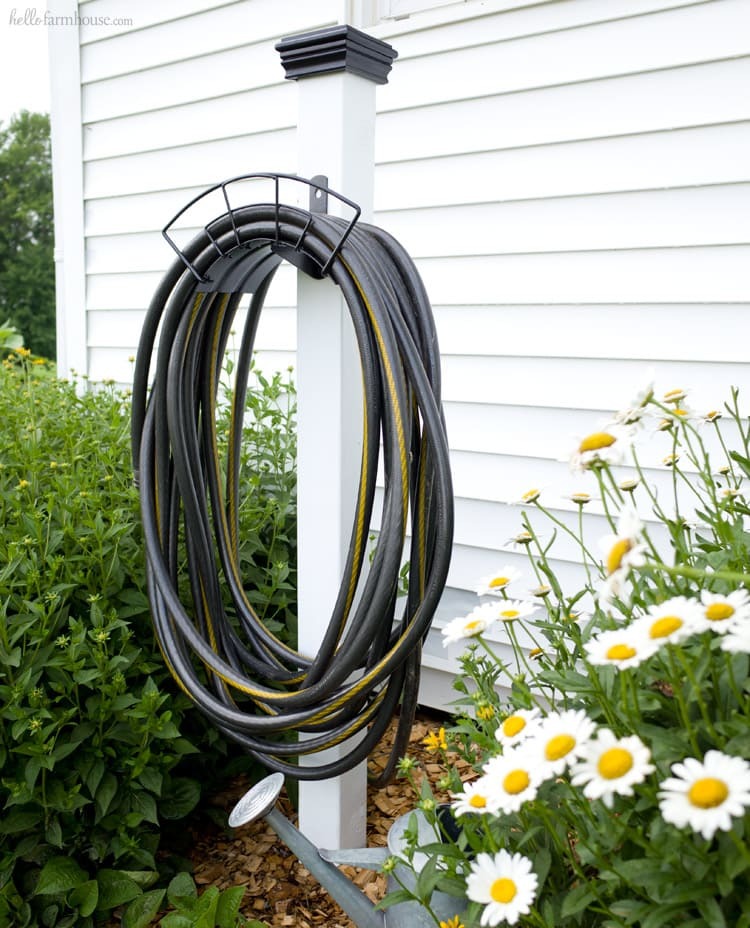 Storing the hose neatly is important for the overall look of the garden and for keeping it in its perfect condition.
There are wooden chests intended for that but in case you don't have enough space for such, you can hang it on a wooden post with a holding hardware screwed on it.
9. Slim Shed Idea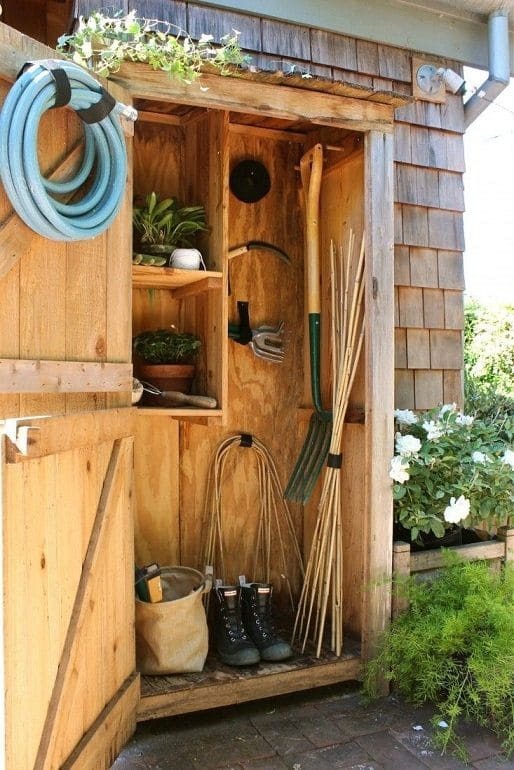 This shed is very compact, it barely takes up any of the garden space. It is placed tightly to the wall of the house.
When you open it, there are two shelves and an open compartment where you can store taller instruments.
10. Storage under The Bench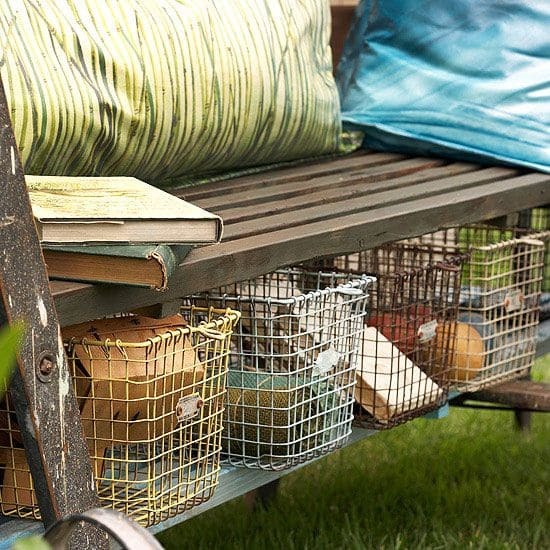 Increase the storage places with metal baskets. They are of light weight, durable at outer exposure and very attractive with their farmhouse origin.
They can be placed underneath the bench on the patio or stacked together in a column.
11. Make A Dedicated Place For The Waste Bin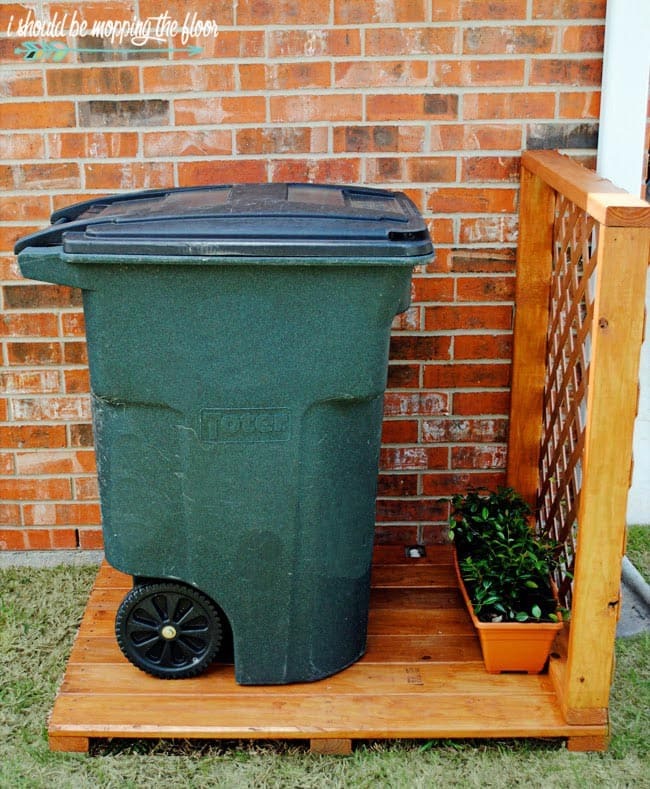 One of the unpleasant views in the garden is the waste bin. You can hide it behind a partition wall or assemble together a wooden structure as shown in the photo.
12. Storage Place Underneath The Bench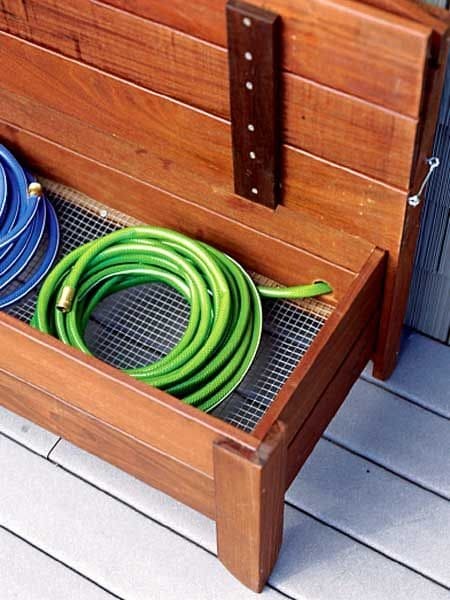 It is a clever idea to design the potting bench with a hidden storage place. When you open the bottom shelf, there is a compartment suitable for organizing and storage of all hoses.
Make sure that the bottom of this compartment is made from mesh which will let the remaining drops drain out.
13. Farmhouse Tool Organizer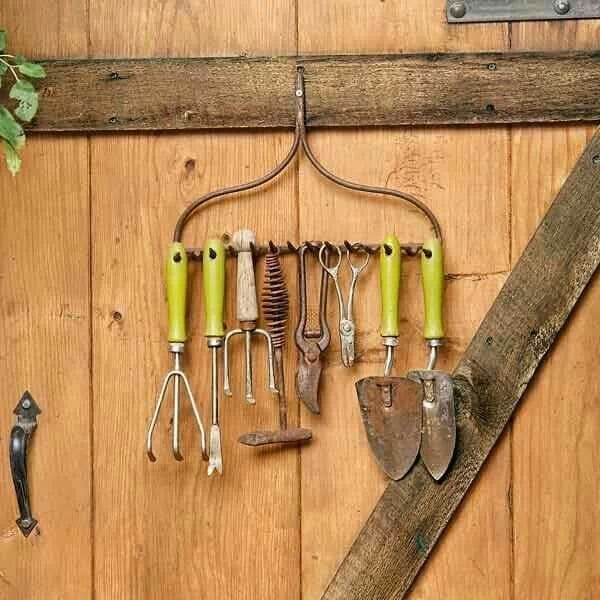 The rusty rake is no longer needed in the garden work but is perfect to repurpose into a tool holder.
Hang it on the wall of the shell with a screw and organize the smaller gardening tools there.
14. Pipe Holders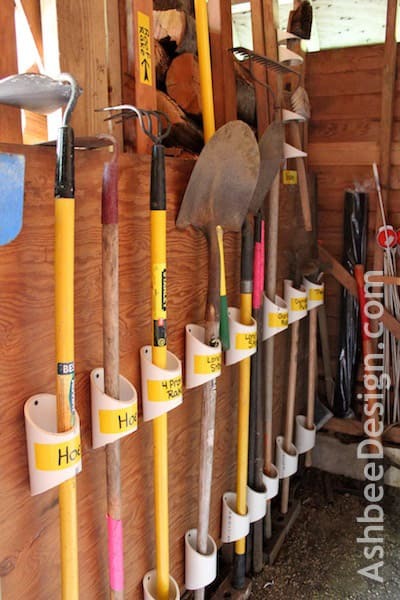 The shed is a good thing but it won't be functional if you bundle up the instruments in it. With these pipe holders, you can keep each instrument stored neatly and you can even label each of them.
15. Tiny Shed Idea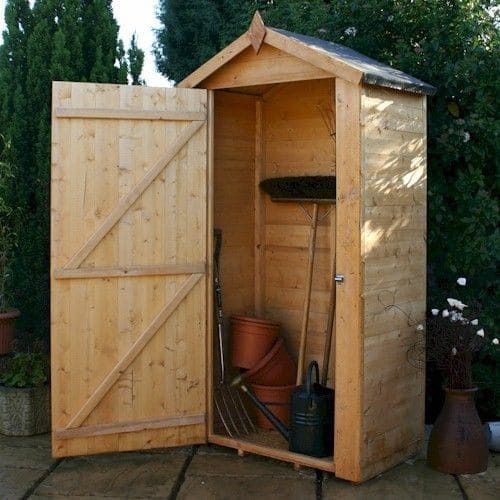 If the sheds sold at the garden store are too big or too expensive, why don't you make yourself one that fits your needs?
You need slats and posts to assemble your customized shed. Make sure to apply a stain that will protect the wood from the outer environment.
16. Bike Storage Box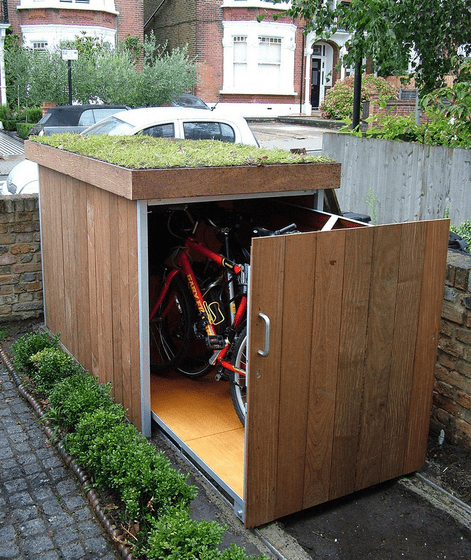 If the garage is full and you don't have any other sheltered places to store your bikes, check out this clever idea! It features a wooden box with a pullout drawer.
It is placed next to an edging garden and its finish blends it with the exterior.
17. Magnet Tool Holders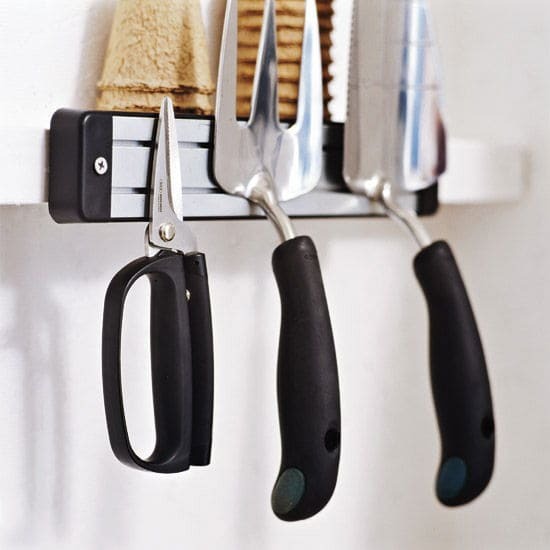 Another smart idea for small tool organizations is this magnet holder. You can screw it to any wooden shelf and arrange the most frequently used tools.
18. Wooden Pallet As Tool Organizer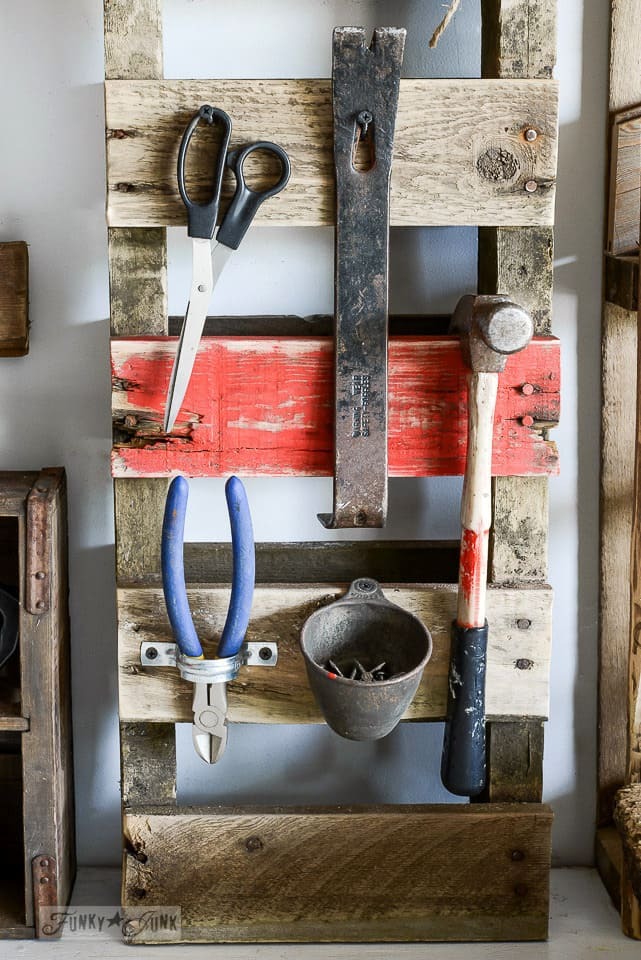 If you don't want to spend cash on new organizers, you can build one from a pallet. It can be even half a pallet, depending on the number of tools you want to store. Lean it against the shed or garage door.
19. A Foldable Organizer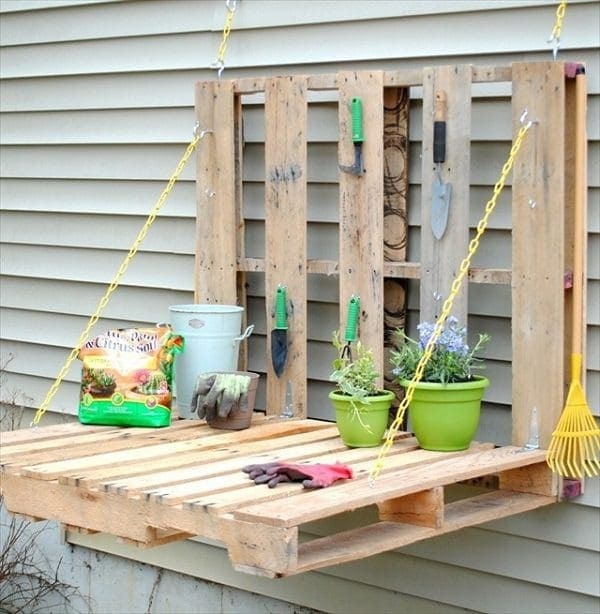 This idea features an organizer and a workbench in one. When it is closed, it is nothing more than a wooden pallet. When you open it, the vertical part is the organizer, the horizontal part is the workplace.
This is a great and more compact alternative to the potting bench.
20. Shoe Organizer As A Herb Garden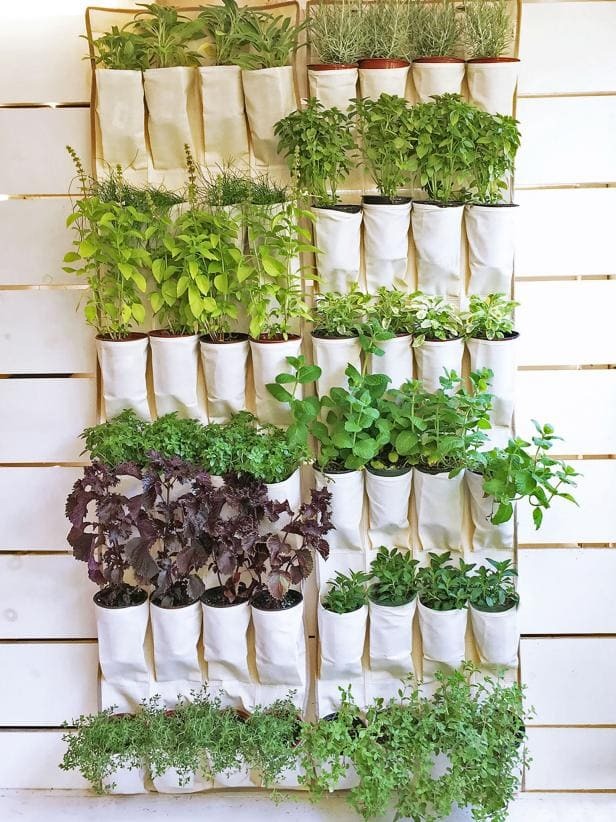 Do you want to enjoy the fresh taste of herbs cut from your garden? Then why not make a compact herb garden? This idea repurposes the plastic shoe organizers into vertical planters.
Fill in the pockets with soil and plant the seeds.