Are you considering having your own potting bench?
Well, for many substantial reasons- you will get rid of sore and tired arms, legs and back; potting activity will be much more organized and last but not least – gardening will be simpler, neater and less messy.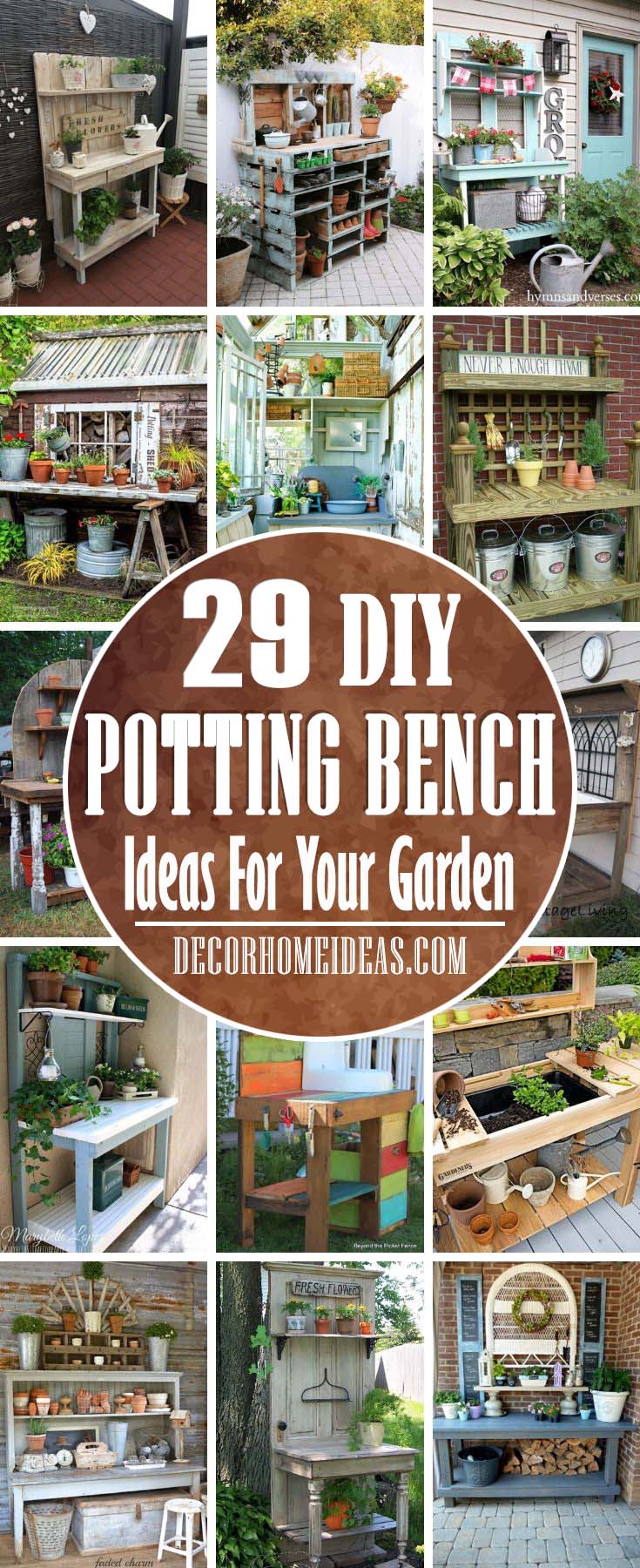 Potting benches from the garden stores are not that expensive, however, they do not give you the variety, the DIY projects do.
Using various materials – from pallets, crates, old furniture, you can make yourself practical potting bench ideas that will suit your space and will accommodate the number of tools you usually involve when exercising your green thumb.
Once ready with the chosen potting bench, you will soon realize how needed this gardening accessory has been plus you will have another piece of furniture to display your favorite plants.
1. Create a Vintage Herb Garden with a Potting Bench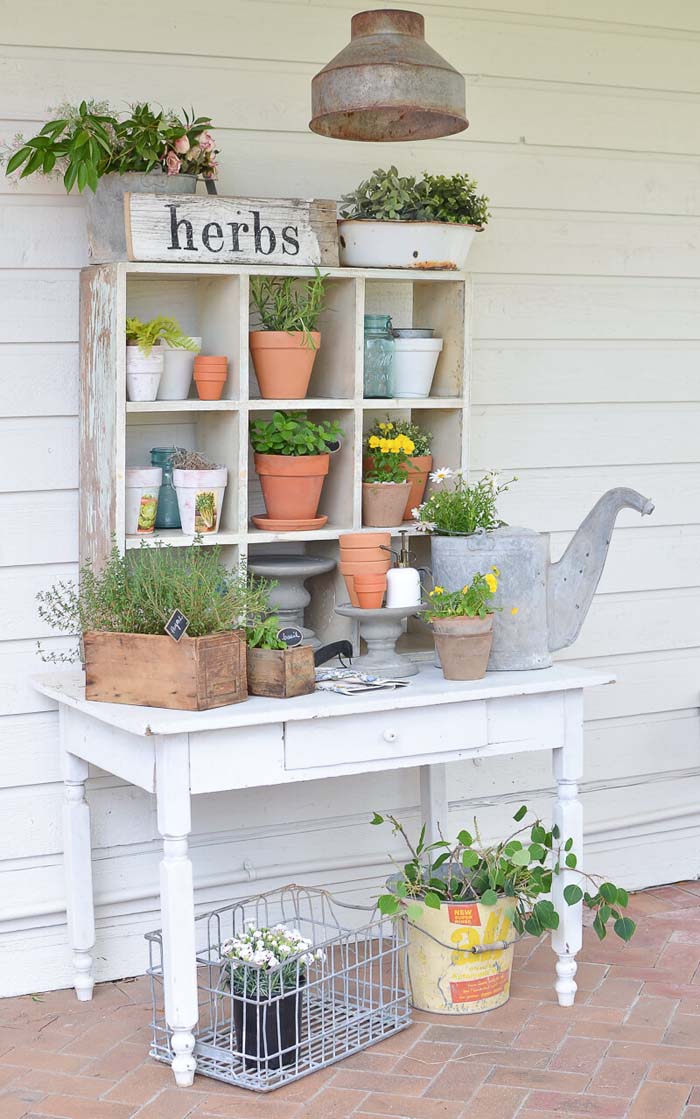 Inspired by the farmhouse living, a potting bench could become a great vintage herb garden. An old table and a cubby left in their distressed and aged look are used in a combination to create a small garden on the porch.
The horizontal and vertical spaces are utilized with the help of vintage plant holders as terra cotta pots, wood and metal crates, buckets.
via Sarah Joy
2. Repurpose an Old Wooden Gate as a Potting Bench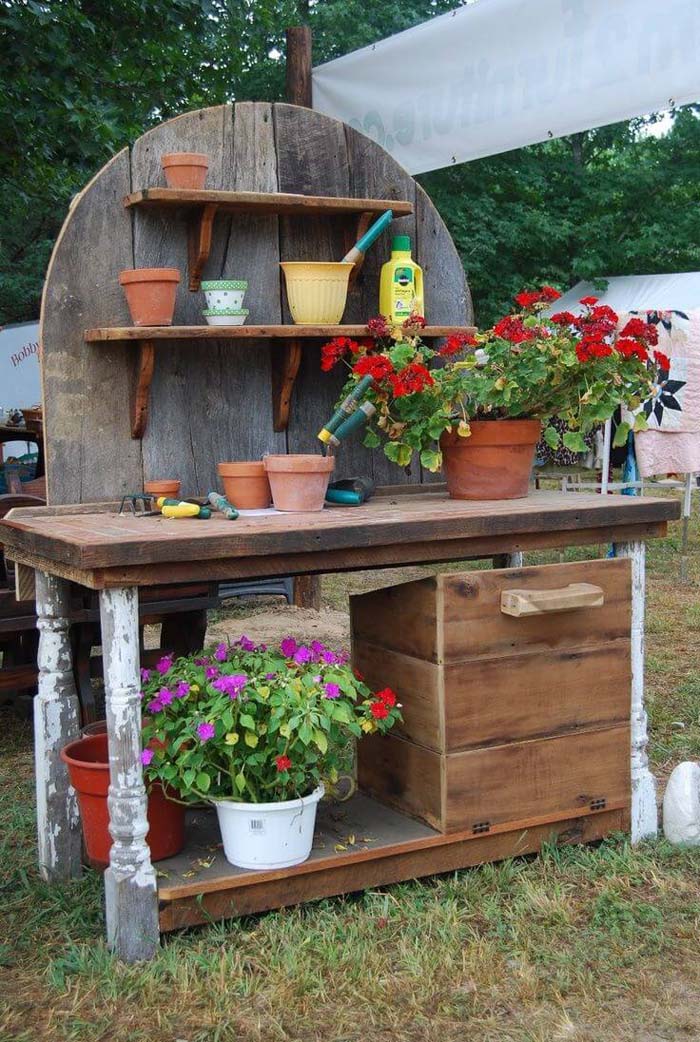 Any table can be used as a potting bench as long as it is high enough and provide suitable storage places.
The old wooden gate is no longer unnecessary – nail it at the back of a table and add shelves for your tools or supplies. Add a lower level at the bottom of the table to use as extra space for storage.
3. Make a Custom Potting Bench with Lumber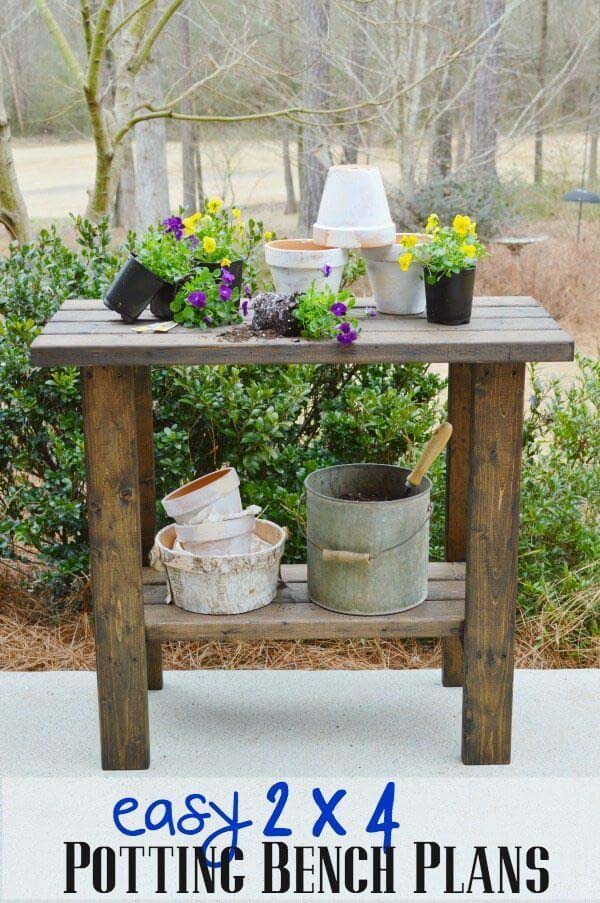 Make yourself a brand new potting bench out of lumber. The best about making it from new wooden material is that you can adjust the size, the height and the color as per your wish.
via Refresh Restyle
4. Rustic Potting Bench with Sink for Backyard Gardening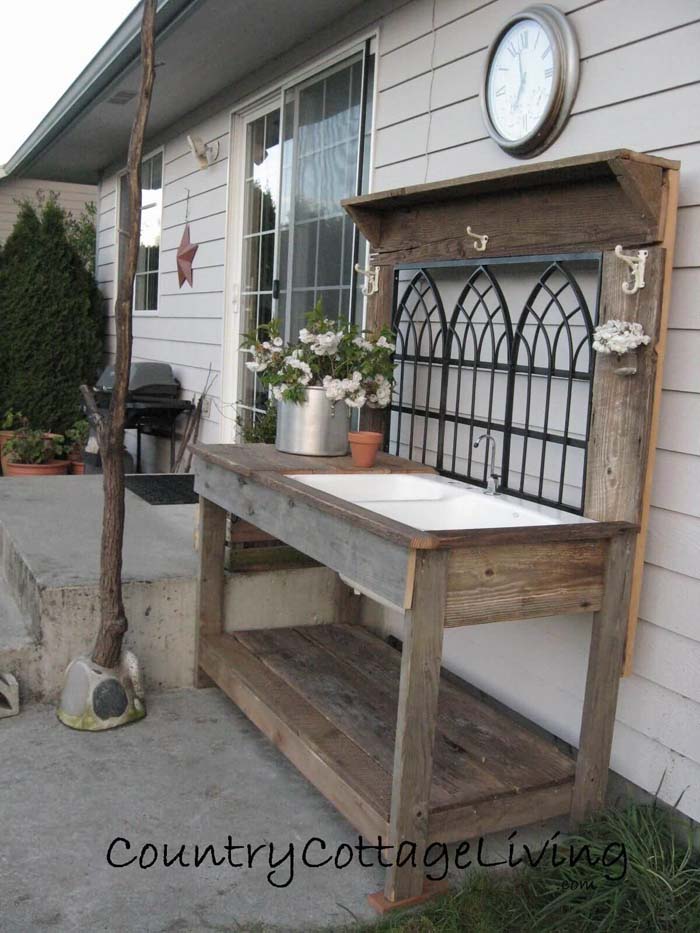 This marvelous potting bench is a great rustic treasure for anyone that has it.
Besides its practical benefits as the incorporated sink that will store the dirt in one place, it is a great decoration for the backyard because of the wrought iron ornament, weathered wood and beautiful hook accents.
5. Create a Stylish Potting Bench with an Old Round Table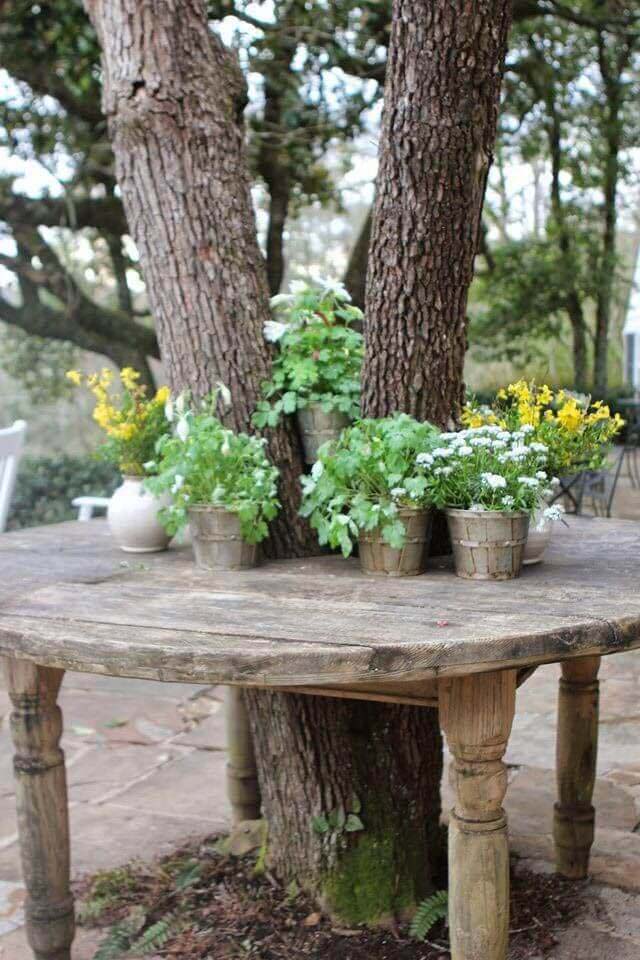 If you are keen on the simple concepts, use an old round table as a potting bench.
To blend it easily with the ambiance of your backyard, you may consider placing it around a large tree. Thus you would also benefit from the natural tree shade.
6. Elegant Potting Bench with Balusters and Window Frame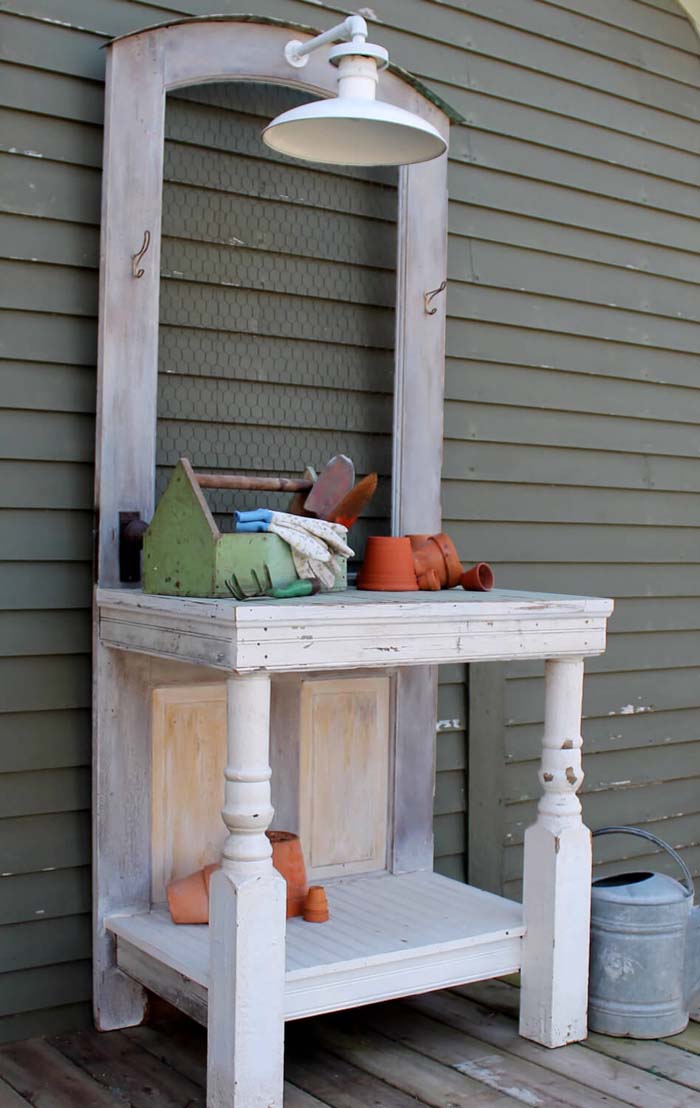 Make a potting bench that makes an architectural statement. Balusters are perfect for that purpose. The whole structure is an assembly of old furniture parts that are cut at the desired size.
Use a window frame for vertical storage. Replace the glass with chicken mesh for a mystic countryside effect.

7. Upcycle Your Table into an Organized Potting Bench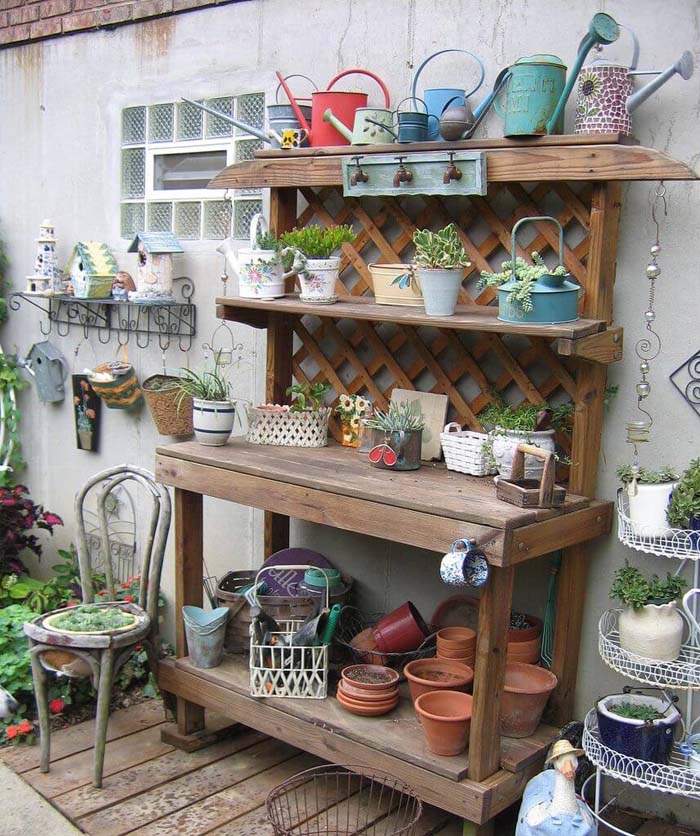 Salvaged wood is among the best supplies for indoor and outdoor DIY's. An old wooden table is modified to have a lower level for extra storage.
The vertical display and storage back is a lattice piece that compliments the plain table in a beautiful way. Add shelves, hooks and other storage accessories to increase the functionality of the potting bench.
8. Create a Cheerful Potting Bench with Storage Furniture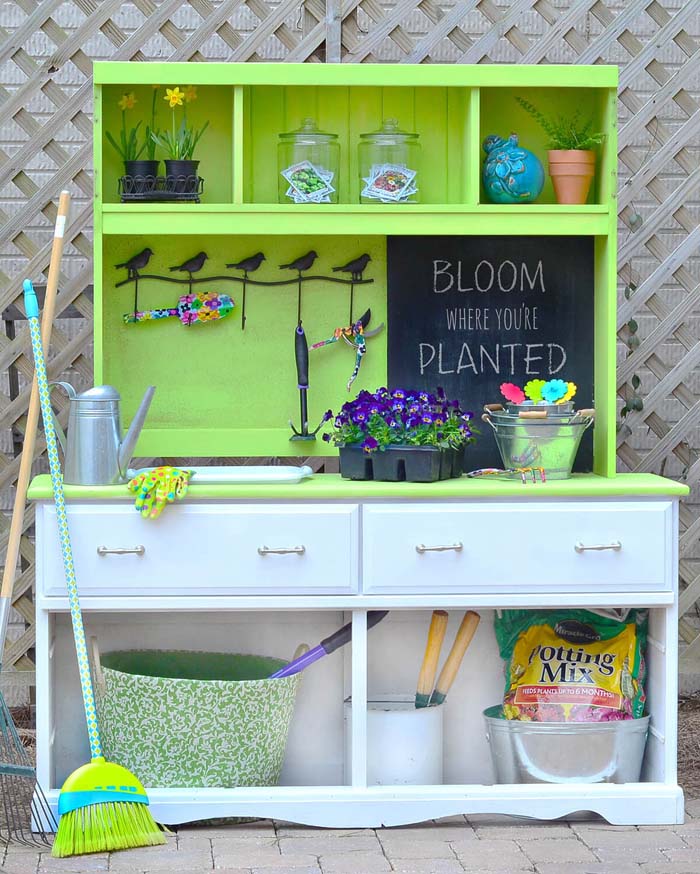 Two pieces of storage furniture make a functional potting bench. For that idea, you need an old kitchen cabinet module and a bookcase.
Paint them in bright summer colors that will cheer you up while you are doing gardening activities and that will suit your summer backyard decoration.
via HGTV
9. Build a Garden Potting Bench with an Office Desk Design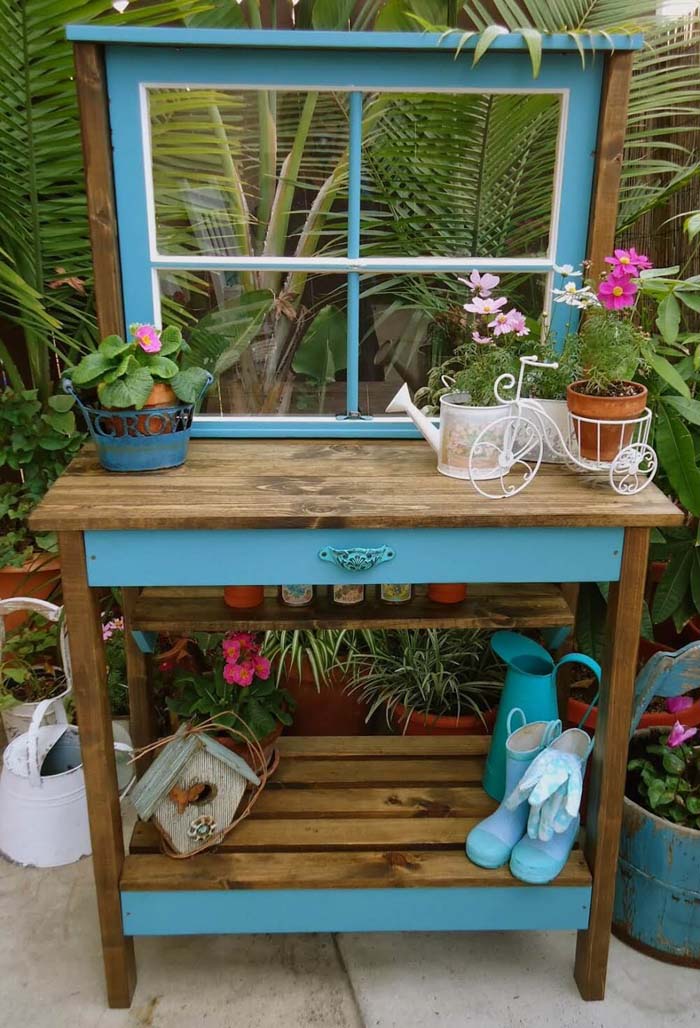 Make yourself a potting bench following the design of an office desk. Desks have a functional sliding board, a drawer, they are of suitable height and width. To make its appearance garden-friendly, use wood posts and slats.
The vertical back can be made of a window that reveals the beauty of the garden. Combine bright paint color with a warm wood stainer for summer inspiration.
10. Upcycled Potting Bench with Chalkboard Cabinet Doors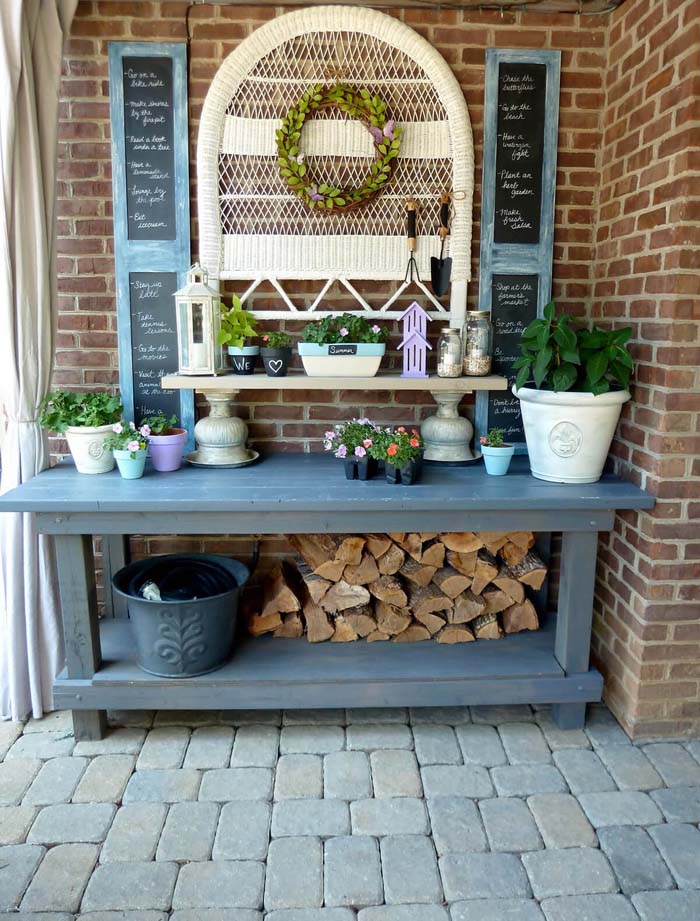 An inspiring example of a homemade potting bench! It is made of reclaimed furniture parts that have been combined in a beautiful way.
The bench is very comfortable for storing a large number of pots and wood logs. Its decorative function is taken to another level with the chalkboard cabinet doors.
via Our Sixth House
11. Brightly Colored Reclaimed Wood Potting Bench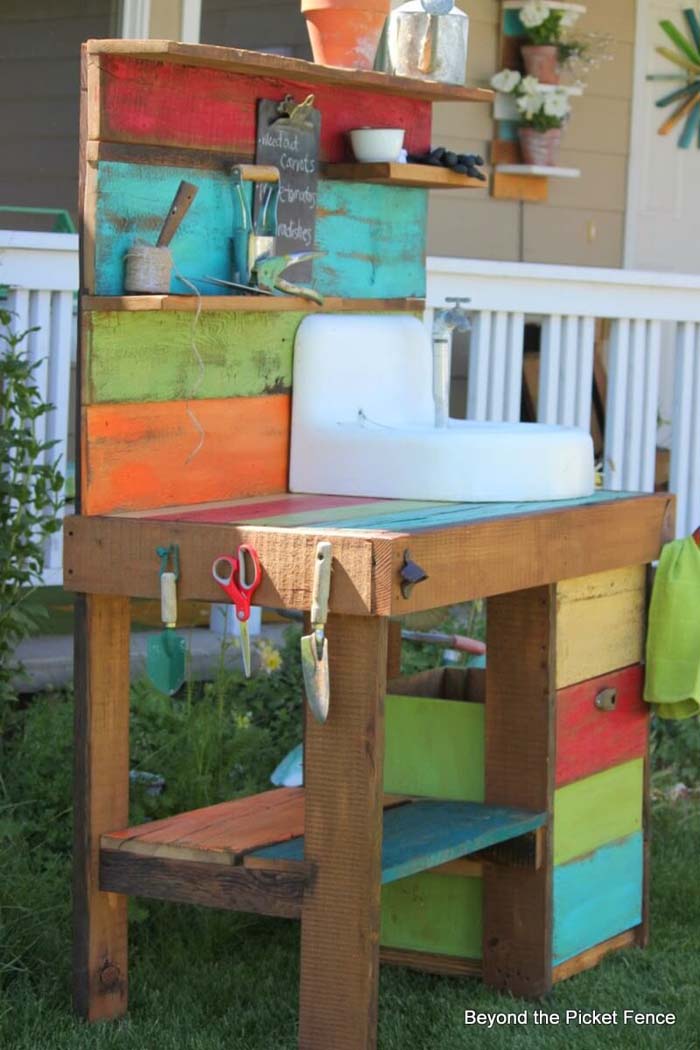 Potting benches don't have to be large to be functional and this colorful example proves it! Made of brightly colored reclaimed wood it has all you may need to do gardening easily.
It has a potting soil drawer, shelves for hoe hand holder for example, a trowel towel holder and additional side nails for tools.
12. Make a Rustic Sawhorse Potting Bench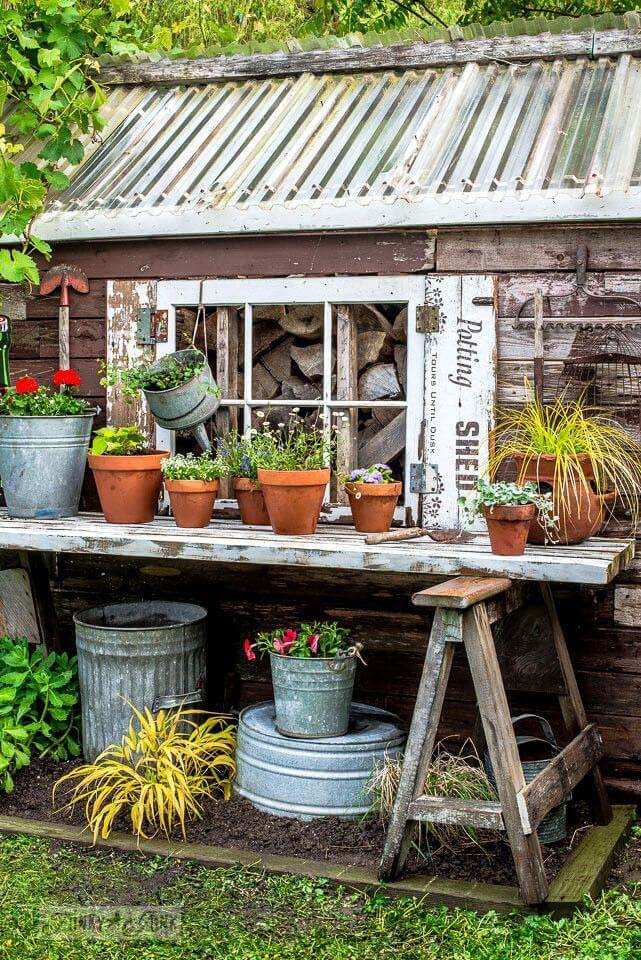 Potting benches remind me of the quiet days in the countryside. This potting bench screams farmhouse in every detail. If you would like to copy it, prepare a whole bunch of farmhouse containers and work accessories.
The legs are made of sawhorses, for a countertop you can use an old wooden barn door. Use galvanized containers to store soil, tools and other gardening stuff.
13. Extensive Rustic Potting Bench for Garden Activities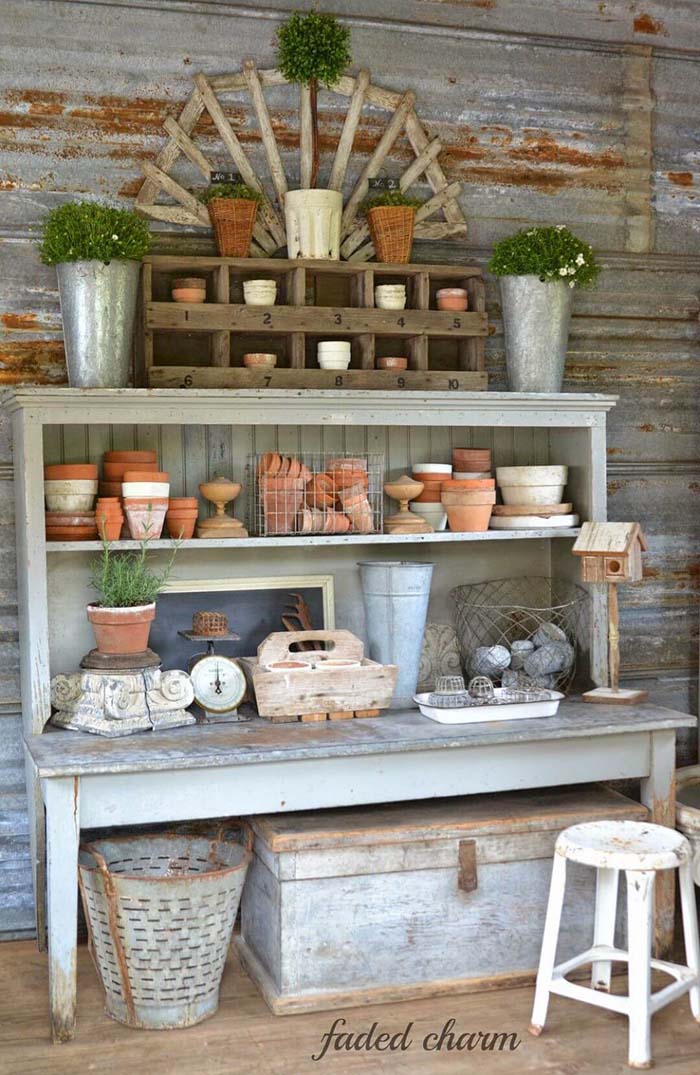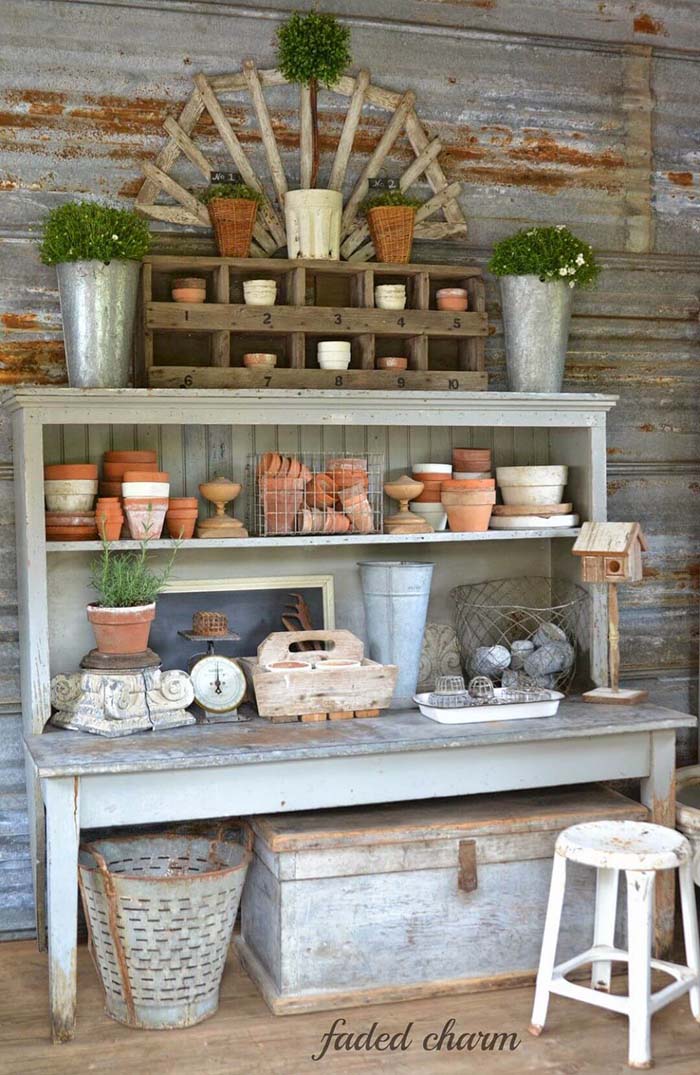 This potting bench is part of a garden house where everything is thoughtfully chosen and arranged to facilitate the planting activities.
All modules of the bench are old pieces of furniture that have been beautifully combined to construct a breathtaking rustic décor.
via Faded Charm
14. Match a Potting Bench Color with Your Home Decor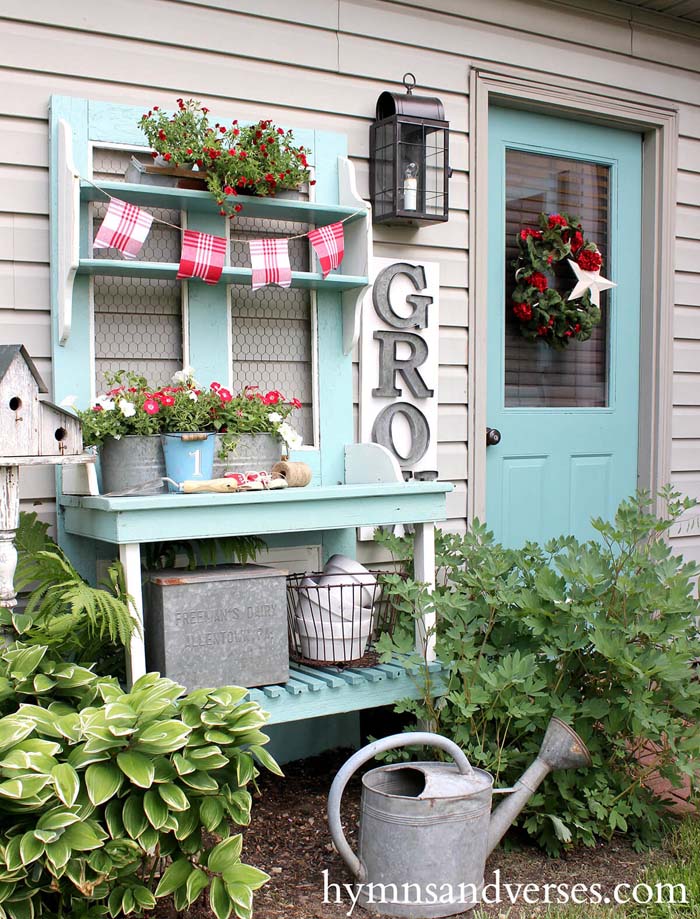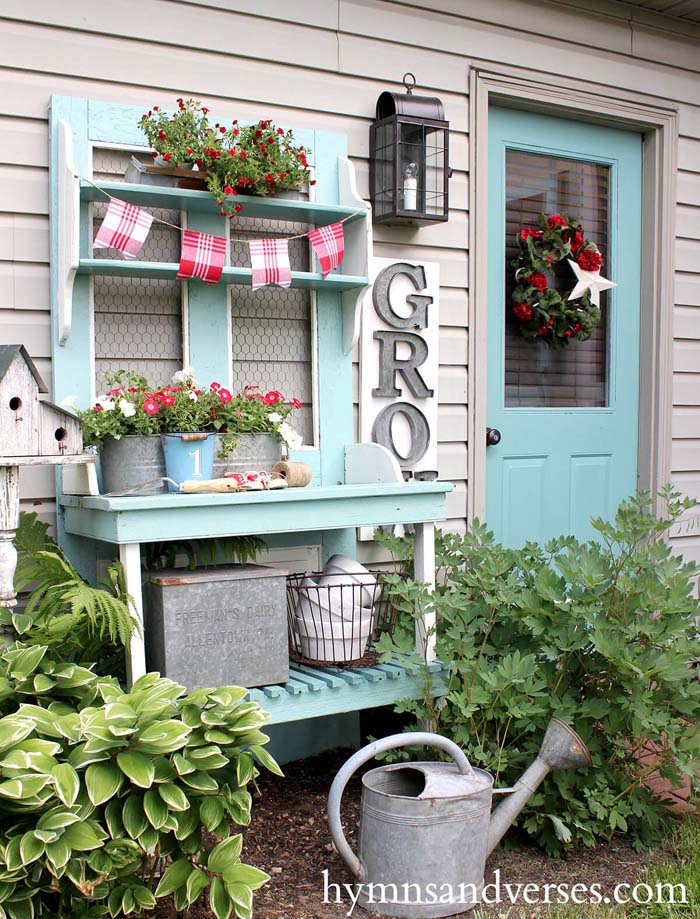 Depending on the place you would put your potting bench, you may need to consider painting it in a color that will match the adjacent exterior. In case it will sit next to your front porch, you need a design and color that will logically and visually go well with it.
Choose wood if your door is wooden and paint in the same color as the door.
via Hymns And Verses
15. Create a Potting Bench with Soil Container and Basin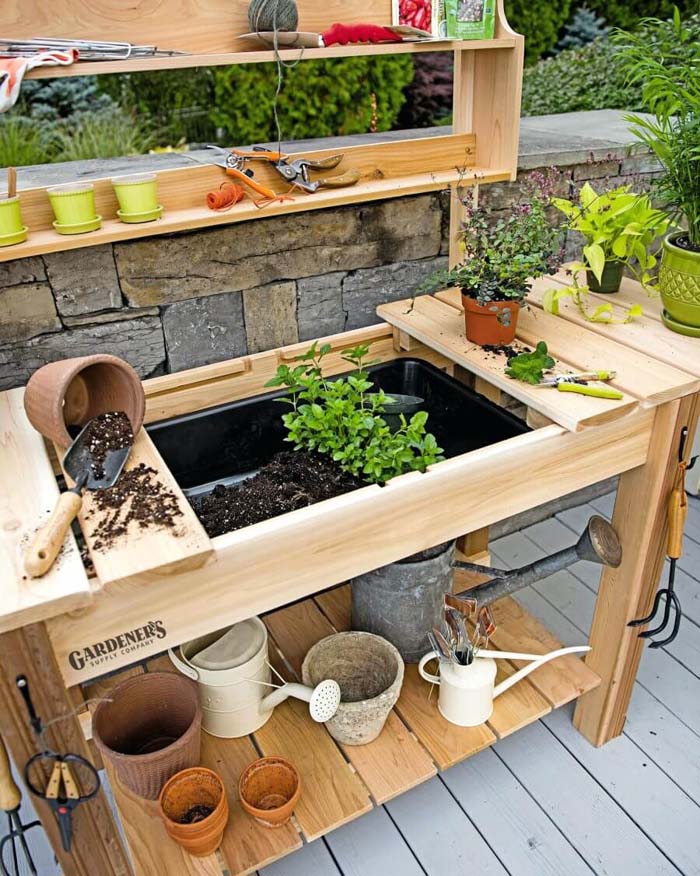 Speaking about functionality, the potting bench must have a container that stores potting soil and a basin that takes up the whole mess. The potting bench above combines both of these in one feature.
The plastic basin is large enough to accommodate a large package of soil and there is enough space left to handle the pot inside while planting the roots or seeds. The soil is protected by a sliding countertop. Very clever, isn't it?
16. Build a Retro Potting Bench with Enamel Bowls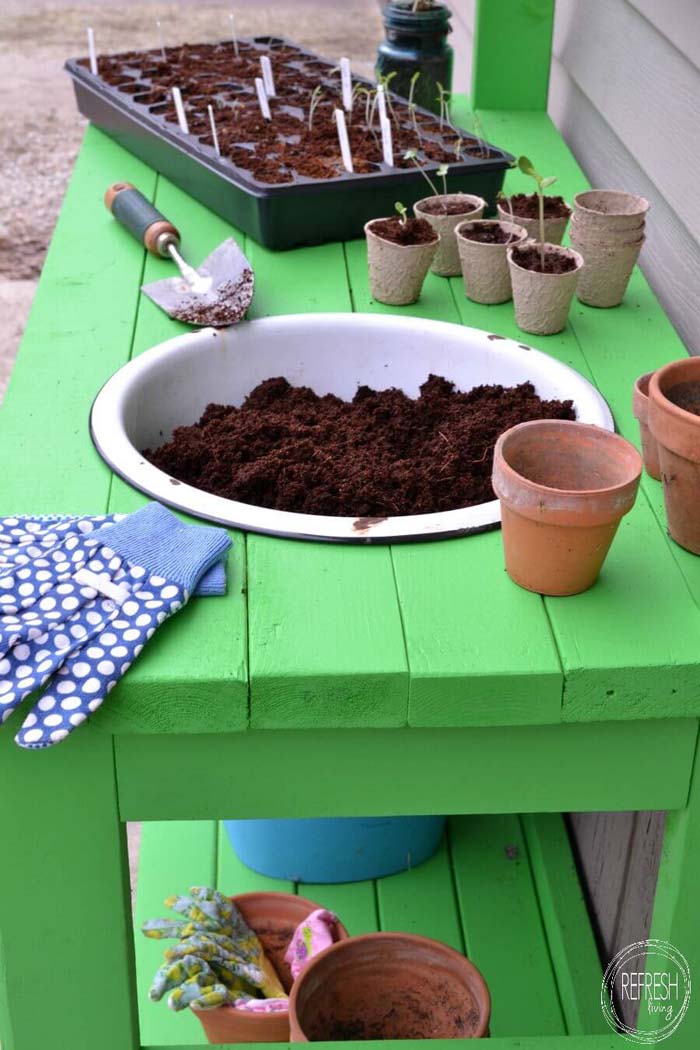 If you are keen on upcycling, you can easily make yourself a potting bench out of wooden boards. The enamel bowls are very vintage and go well with wood.
Choose a bowl of bigger diameter to use for soil dirt container. For more details, check the link below.
via Refresh Living
17. Turn an Old Door into a Kitchen Sink Potting Bench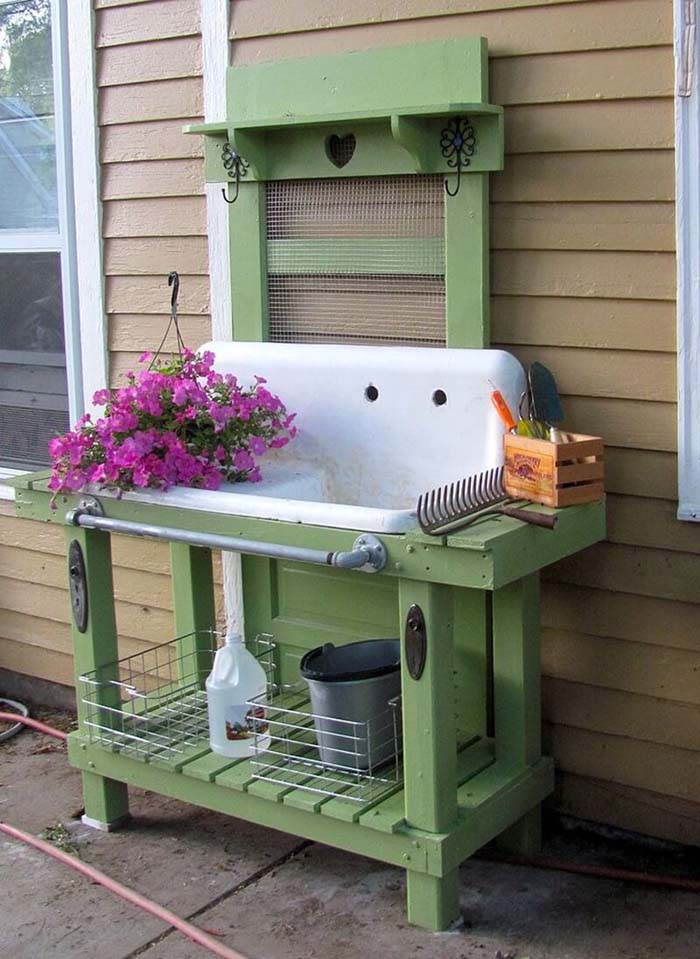 This is a DIY project where the old front door has become a lovely potting bench with the help of some additional items. This project allows you to free your creativity.
For that particular bench, they have used a sink for the soil, a shelf from the thrift shop, some hooks to hang the tools, metal baskets to bring order in the mess.
via HomeTalk
18. Quality Handcrafted Garden Potting Benches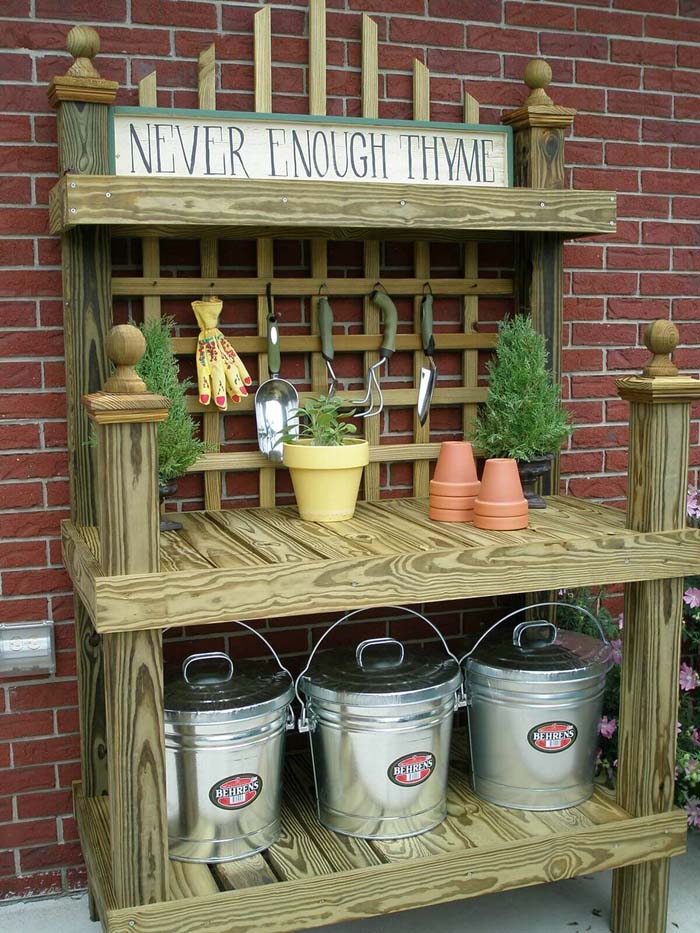 Potting benches can be a pedantic piece of garden furniture. For those of you that prefer the straight lines, the matching textures and symmetrical look, consider this handmade piece.
via On My Porch
19. Compact Potting Bench with Wrought Iron Accents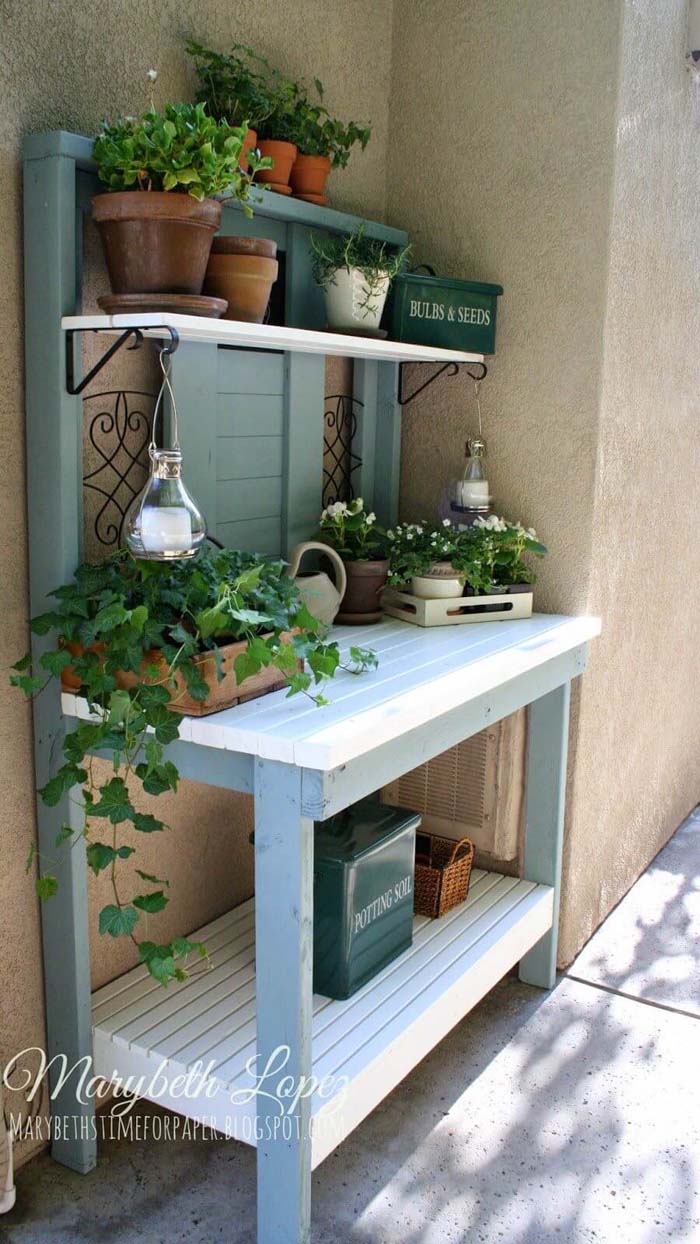 This is an example of a small potting bench as it had to go in a small corner area of a house. It is made entirely of lumber. The countertop, the lower level and the shelf are painted in white, the rest- in teal blue- a lovely combination.
What we most like about this bench are the wrought iron elements. They are so romantic… and functional!
20. Repurpose an Old Front Door into a Potting Bench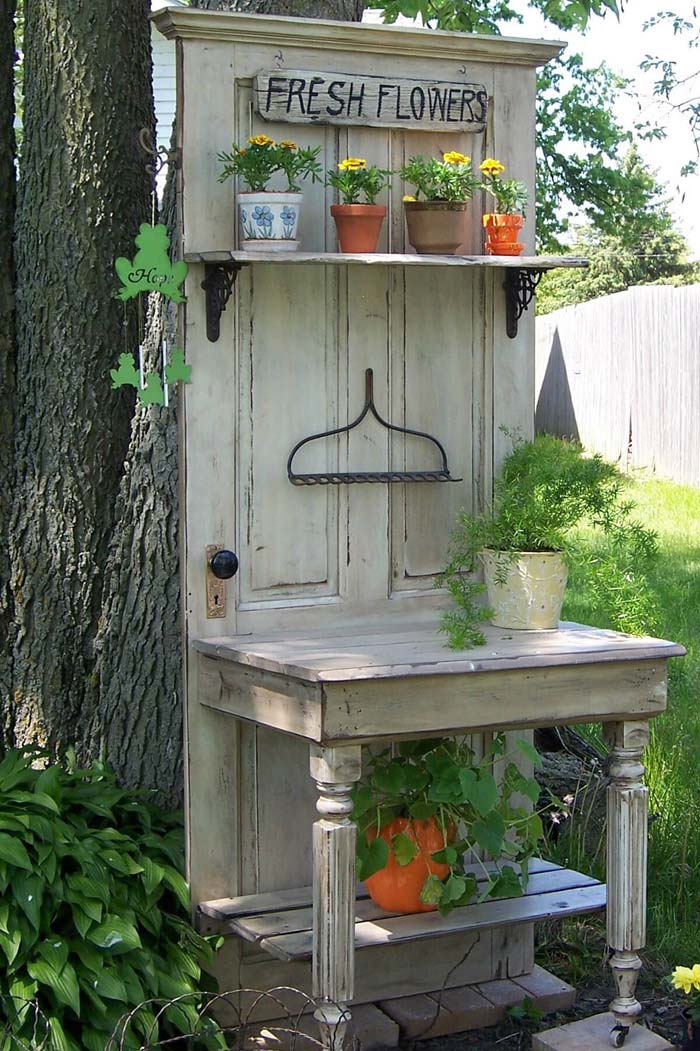 This is an idea about how to utilize an old front door in its original size. Attach a drawer's top and front legs, a shelf at a higher point and some hooks. This is one of the easiest potting bench ideas.
via Ideas 2 Live 4
21. Brighten a Garden with a Spindle-Legged Potting Bench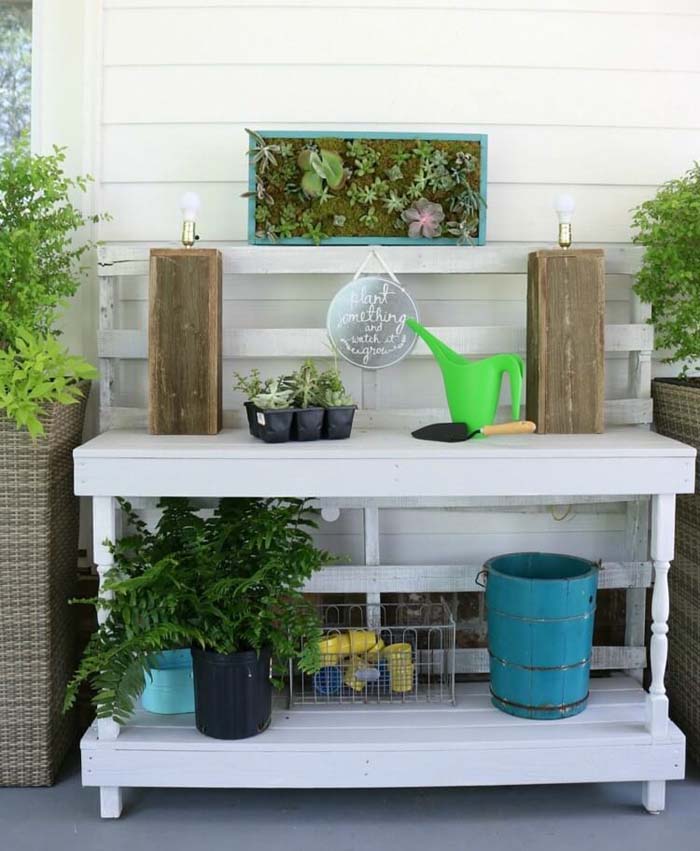 Let's be honest- sometimes we wait until the small hours until it is quiet enough to focus on our hobbies. If your hobby is gardening, then you have to consider the options for providing light to the potting bench.
One of the ways is to install two pedestal lamps on both sides of the countertop.
via Refresh Restyle
22. DIY Potting Station with Reclaimed Pallet Storage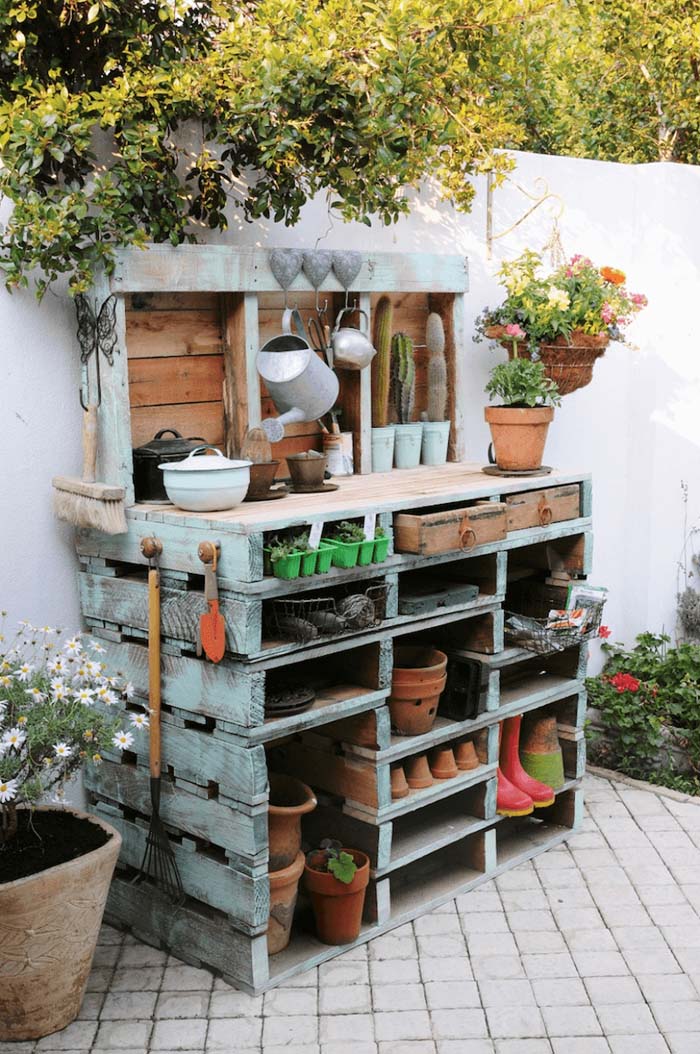 Reclaimed pallets are "starring" in this DIY potting station. Take advantage of the fabricated shape of the pallets to make numerous storage niches.
All you need to do is to stack as many pallets as you may need to achieve a chosen height. Add handles, hooks and similar hardware for better organization of the tools.
via Karenz
23. Create a Vintage-Inspired Potting Bench for Indoor Decor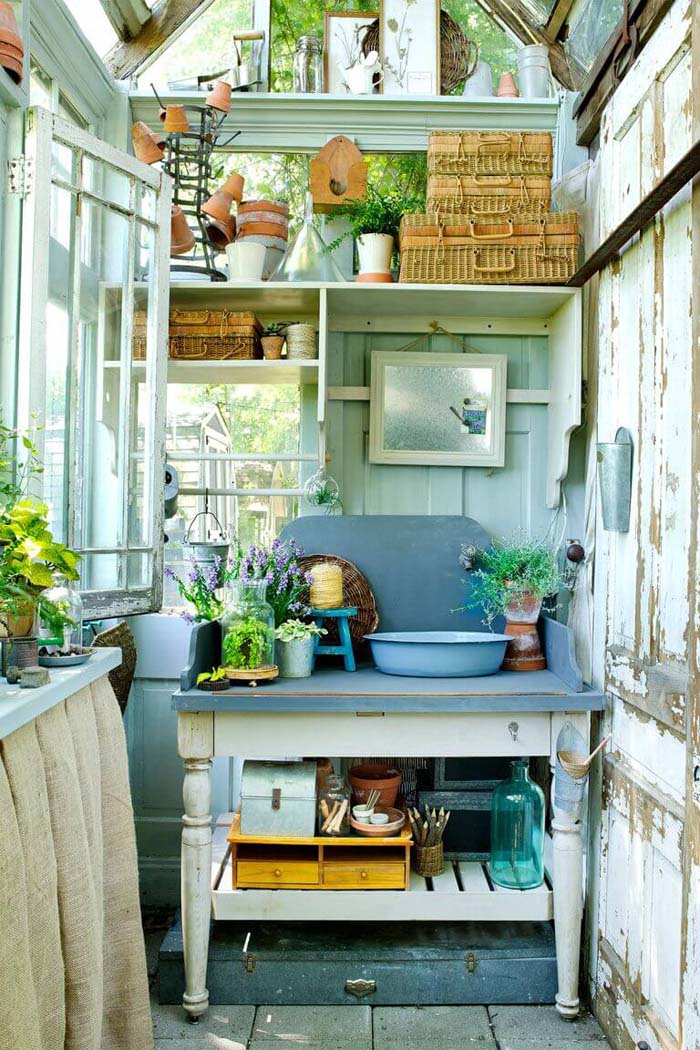 If your potting bench would stay indoors, consider making it of design that will suit the interior. In case you have decorated and furnished your home following the vintage trends, incorporate the same trend into the bench.
Use old pieces of furniture and accessories to make the potting bench an irreplaceable part of the decoration.
via Country Living
24. Turn Your Potting Bench with a Tiled Garden Tool Caddy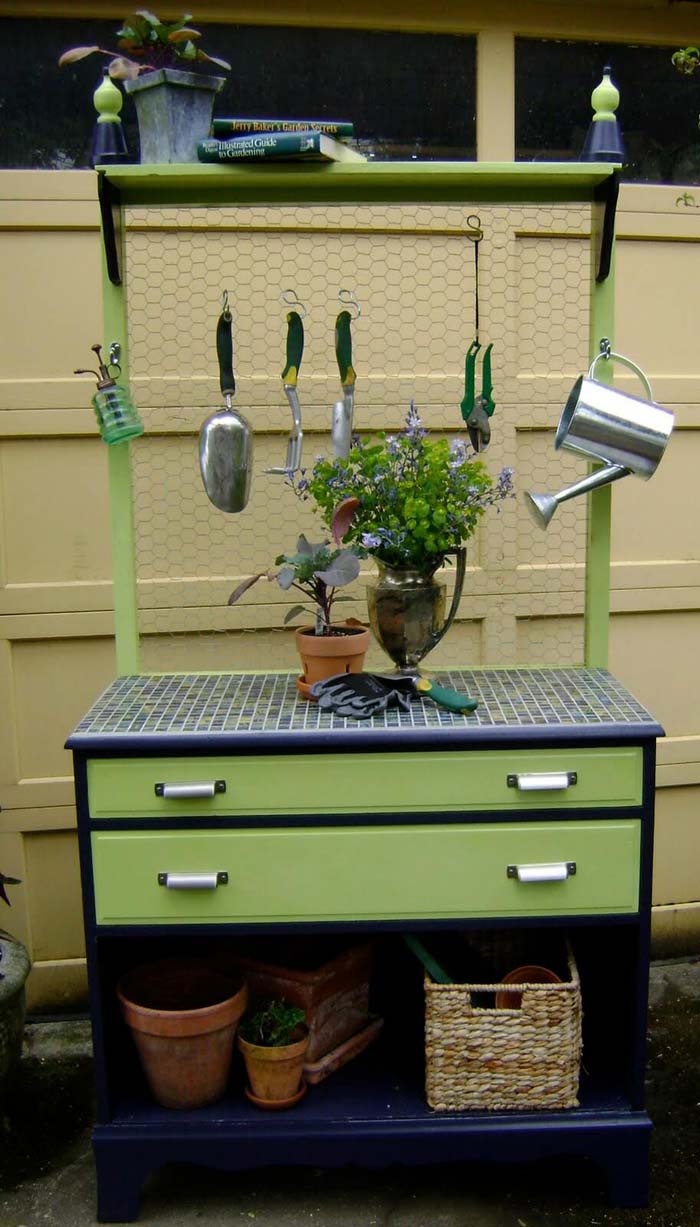 Take off one or two drawers from a dresser to store larger items, make a mosaic on the countertop to make the surface more resistant to the potting activities.
The back of the potting bench can be easily made out of wood slats and chicken wire mesh. At the end paint in bright colors that match the exterior.
via Jarden Designs
25. Build a White-Washed Potting Bench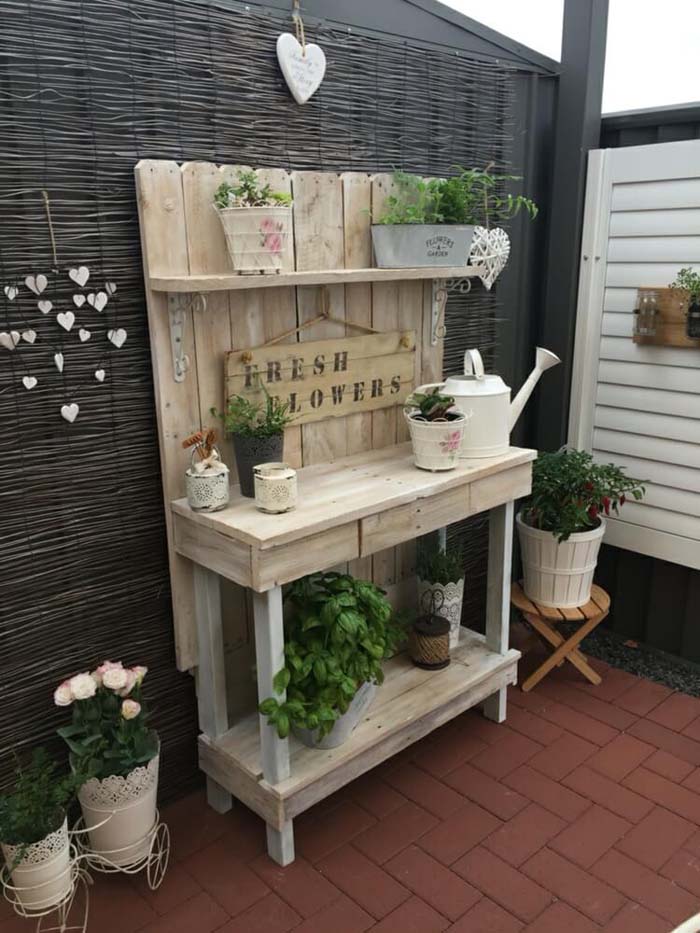 If you are thinking about the possible finishes of the potting bench, why not white-wash it? It doesn't hide the natural texture of the wood material and easily matches all exteriors.
Use wood boards to make the base frame and table of the bench. The vertical back is made out of picket fence boards.
26. Sturdy Granite Potting Bench with Grate-Backed Shelves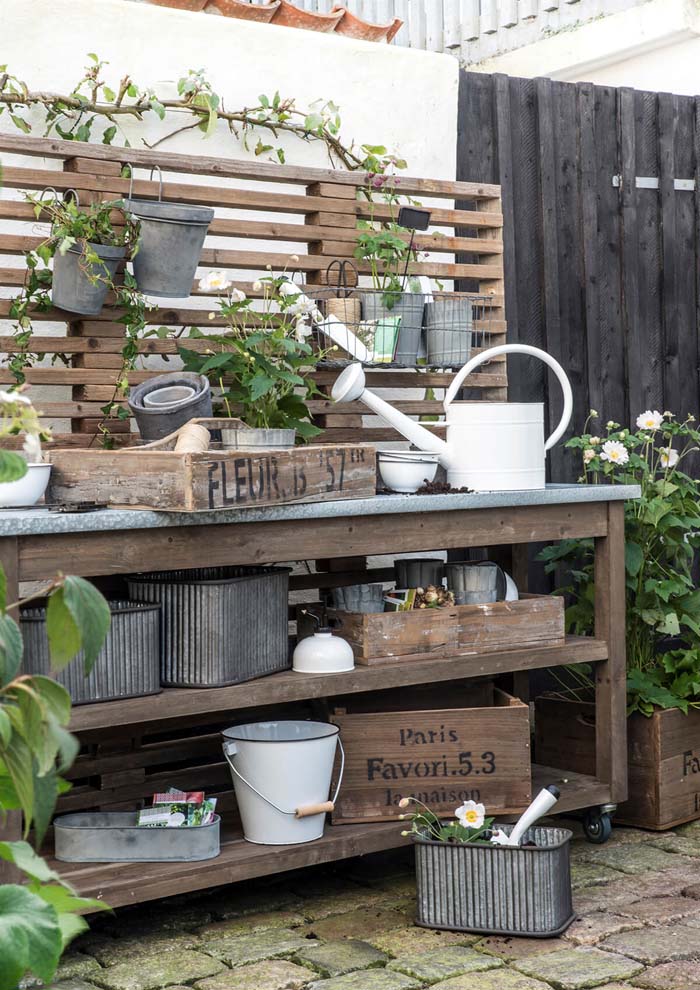 Talking about functionality, this potting bench is one of the best examples. There are two lower shelves under the countertop to accommodate larger items.
The countertop itself is made of granite as it is more rigid than wood if we talk about the life span. The best part of it all is the grate-like wood backing which allows various ways of hanging tools and pots.
via Trendspanarna