The civil building requirements nowadays aim to incorporate materials that achieve energy savings and safety. And therefore, the old models of doors have become less needed.
Instead of throwing them in the fireplace or to the waste, we have got a collection of great DIY ideas on how to harmoniously include them in the backyard decor.
Any doors can be used in our upcycling projects- wooden or metal, retro or modern, solid or with frames and glass panels. Firstly, you need to figure out what will their new application be.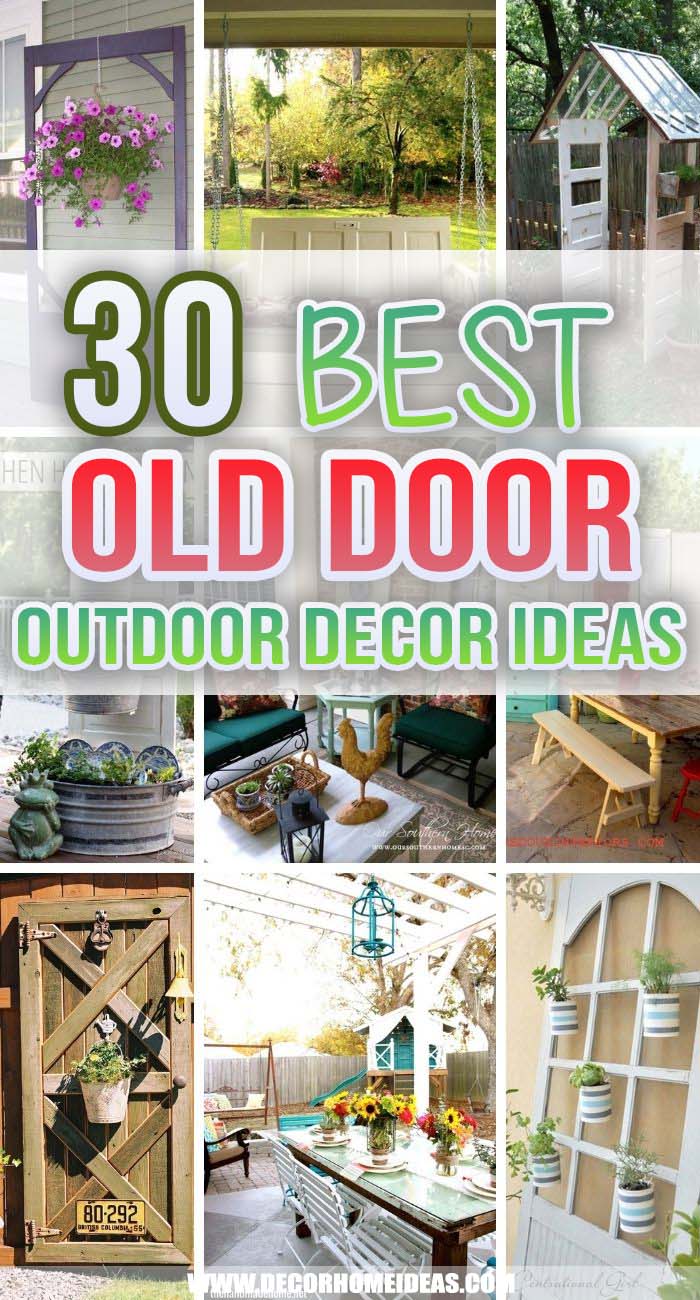 If the door you would be repurposing into a garden decor is weathered with cracks and scratches, don't sand or paint it. Instead, enhance these defects giving it an authentic antique vision.
And this is only one of the inspiring repurposing ideas. Are you ready for more?
1. Bright Painted Pergola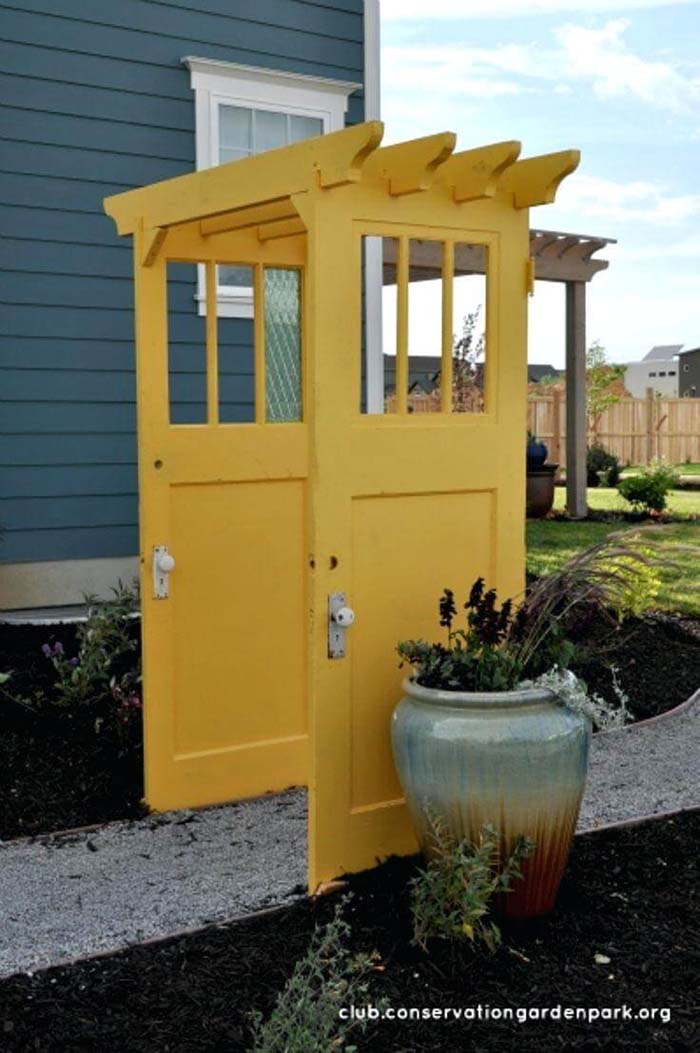 Create an arch from old wooden doors that will lead the way to zones in the garden. To fix them securely and rigidly to the pathway, use anchors for the base and a supporting roof.
An amazing effect would have the pergola-like roof- so typical for the garden decor. Paint in a bright color that will add a shiny and curious effect to the outdoors.
2. Elegant Porch Swing From Upcycled Doors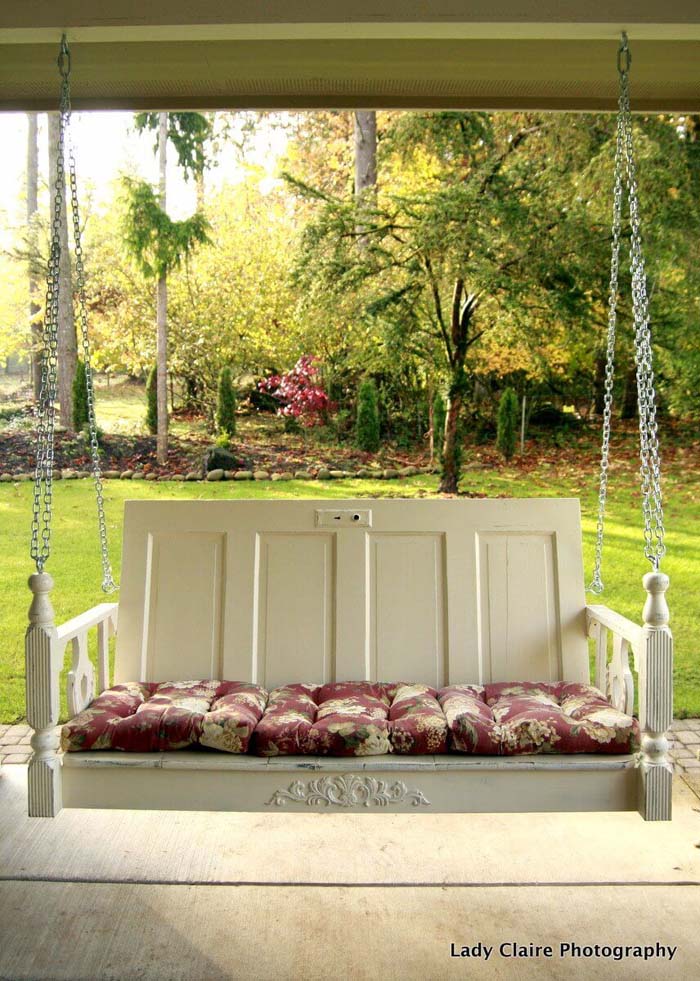 The advantages of the old wooden doors are their strength and big dimension. Therefore, they are perfect for a bench or swing DIY build.
The armrests can be made from other pieces of furniture – like fence parts and headboards.
via Huckleberry Lane
3. Build Your Own Door Bar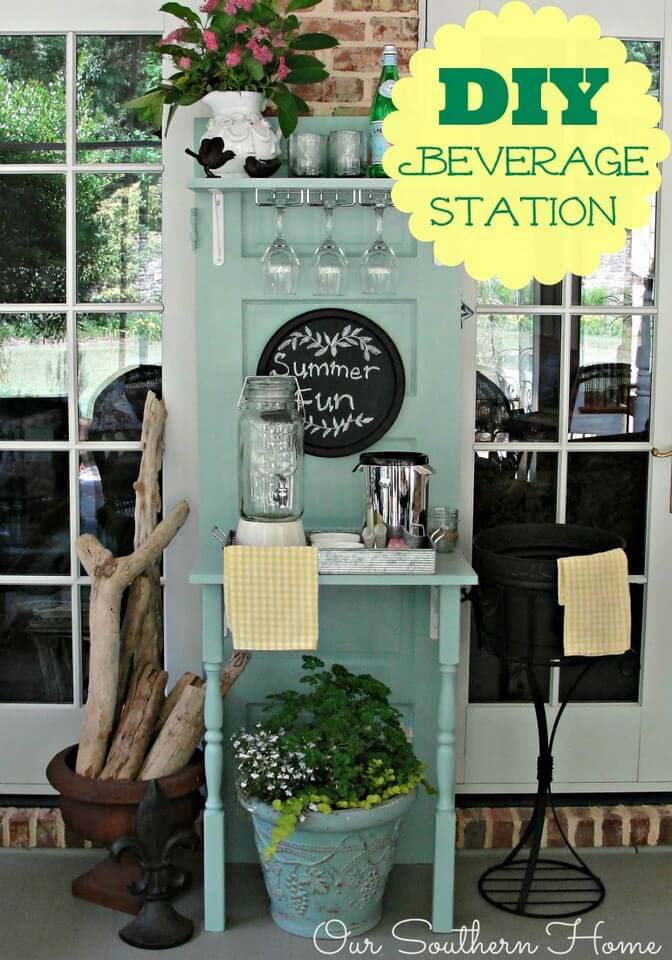 Having an outdoor bar is on-trend and will surely make your summer more cheerful and memorable. And instead of spending a lot on making the typical bar, why not make it from reclaimed materials?
Get the old wooden door and make it the basis of your bar. Add shelves for serving and storage and enjoy your rustic entertainment nook.
4. Charming Welcome Gate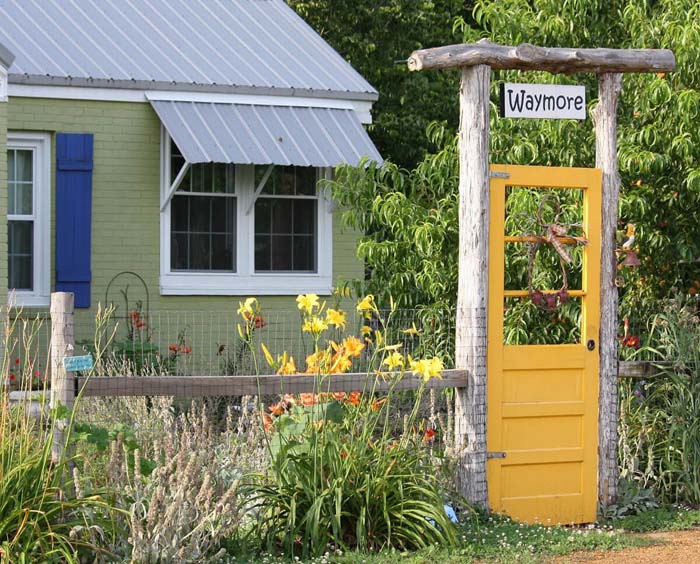 If you like the countryside charm you can use the old wooden door in the place of a modern automated gate. Of course, you need to coordinate the other elements with the farmhouse style of the door.
Use wire mesh for a fence, wood logs in the place of posts. Any welcoming decoration like a sign, a blooming pot of flowers will make your home more inviting.
via Country Cathy
5. Vintage Door Flower Planter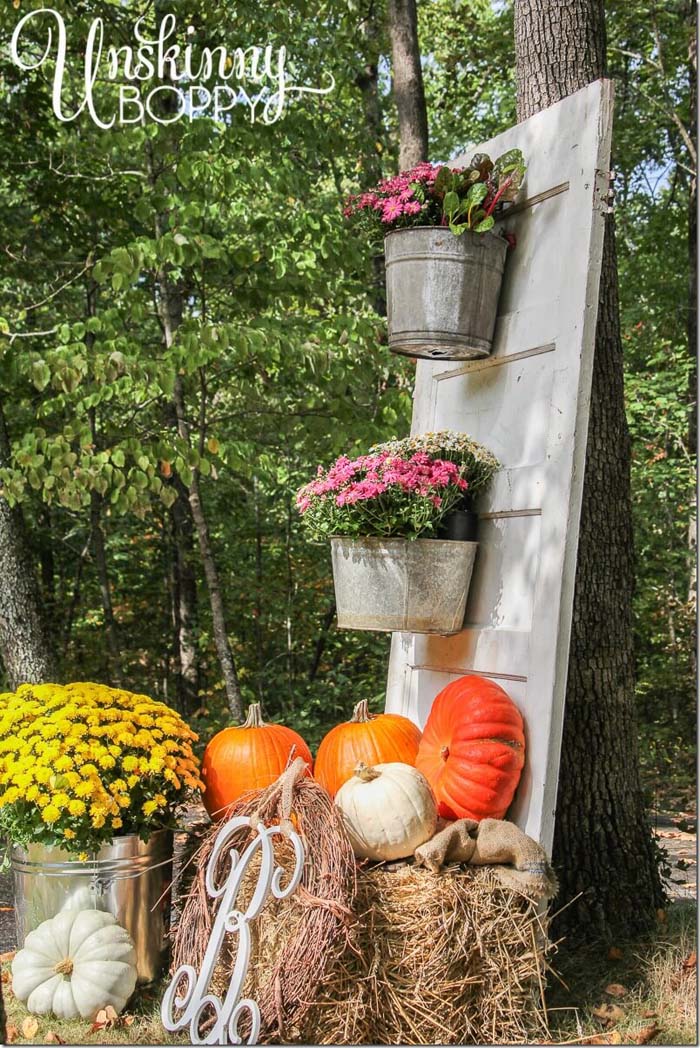 If you are a decor enthusiast, then you surely celebrate the seasons' changes and the holidays with due attention. The wooden door helps to make a gorgeous authentic background for a decoration nook. Only by leaning it against a tree or a wall, you make it the focus.
Add shelves from wooden board to display thematic decorations or use screws and nails to attach them directly on the door surface.
via Beth Bryan
6. Shabby Chic Old Door Privacy Screen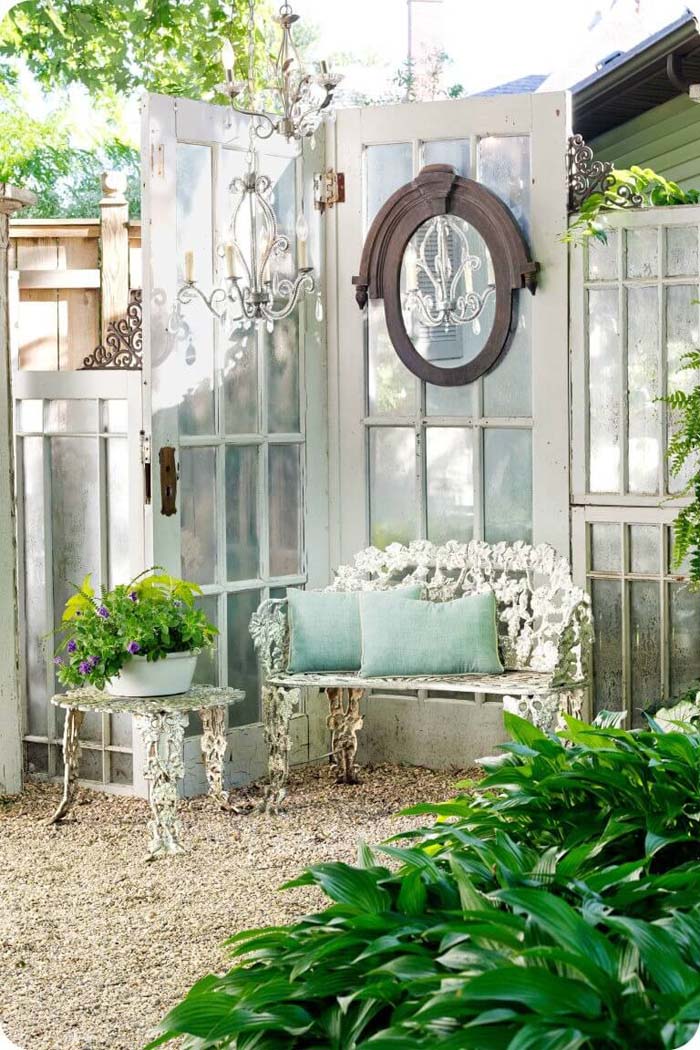 Add some privacy to your backyard relaxing nook with doors. A screen is created by placing a few doors next to each other that easily differentiates the zone and limits the curious eyes.
Use the height of the doors to create vertical arrangements for enhanced warmth and coziness.
7. Repurposed Door Adds Rustic Flair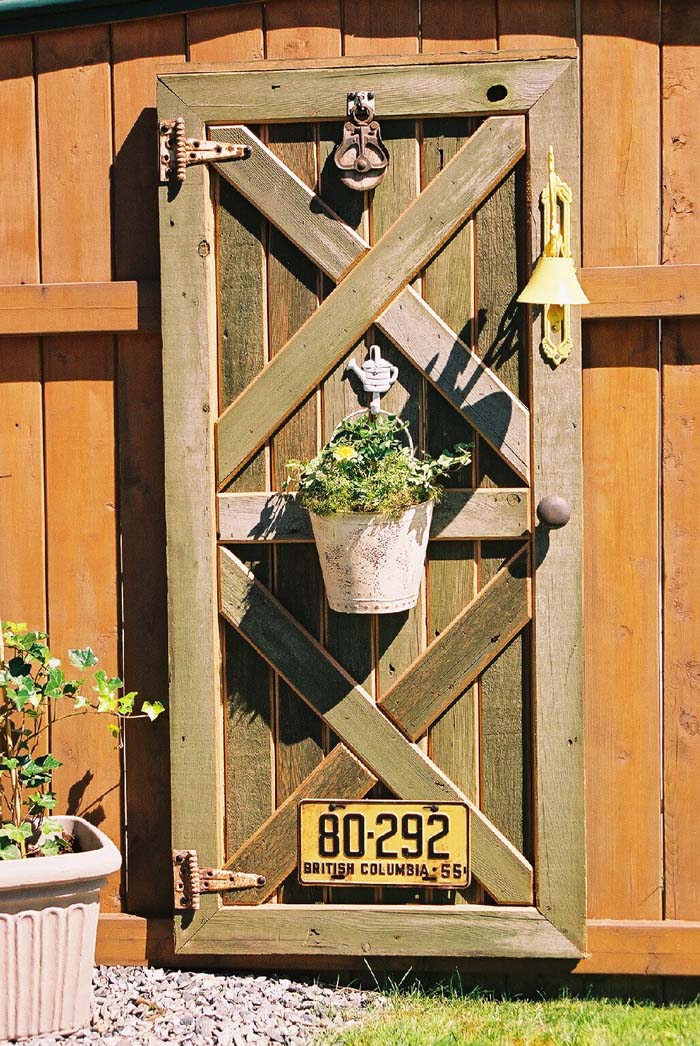 Looking for a way to create a point of interest in your garden? Use a wooden door to as a rustic backdrop for a floral decor.
Galvanized buckets, lanterns and other antique elements can be repurposed into plant holders that will stand out against the weathered wood.
8. Whimsical Window Herb Planter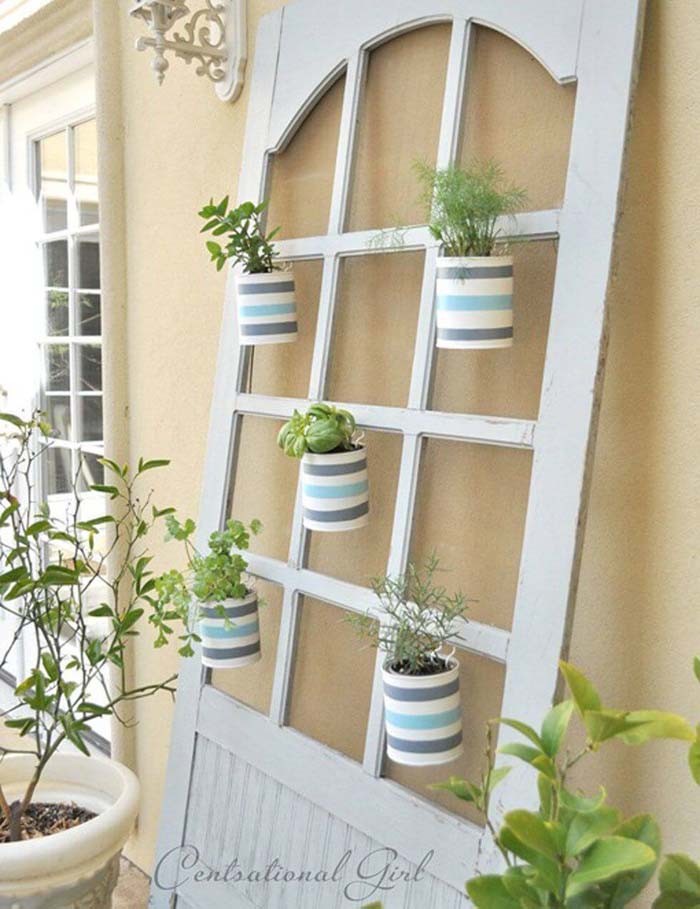 The wooden door with glass panels becomes a vertical outdoor planter in one quick step. For safety reasons, for less maintenance and for more interest, remove the glass panels.
Use the opened sections as frames for attaching flower pots.
9. Frame Your Flowers With An Old Screen Door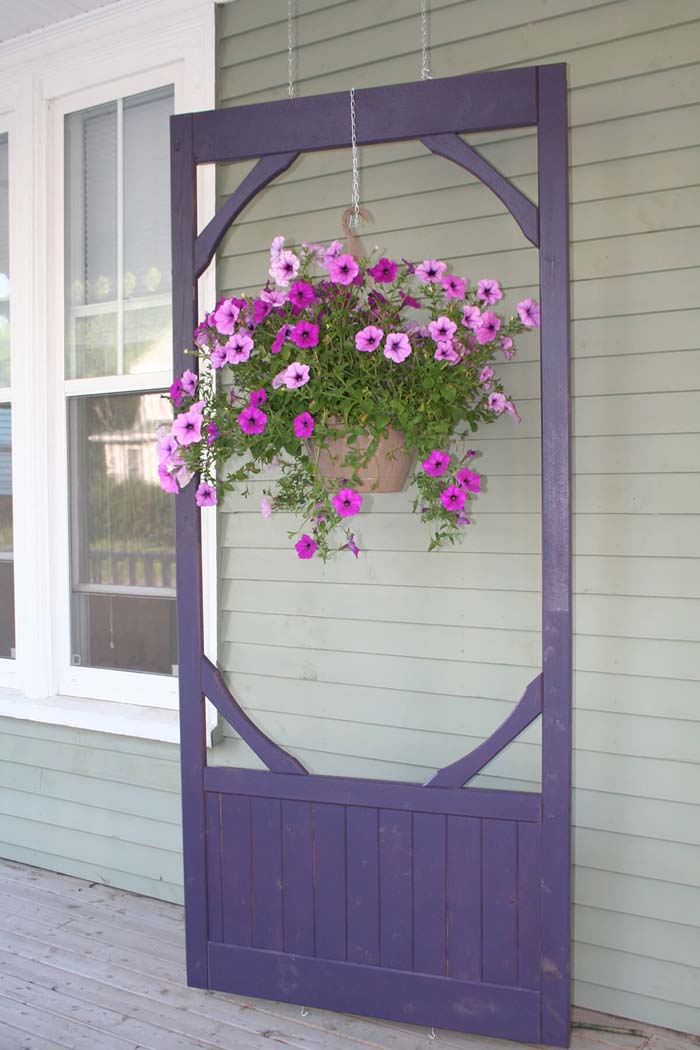 Make the door the frame of a porch art. Remove the glass panel and use the empty section to display a big flower pot. To give the arrangement a visual dimension, suspend it on chains to the porch ceiling.
Cascading flowers and vines will create a waterfall effect that will enhance the interest.
10. Window Door Makes A Stylish Large Frame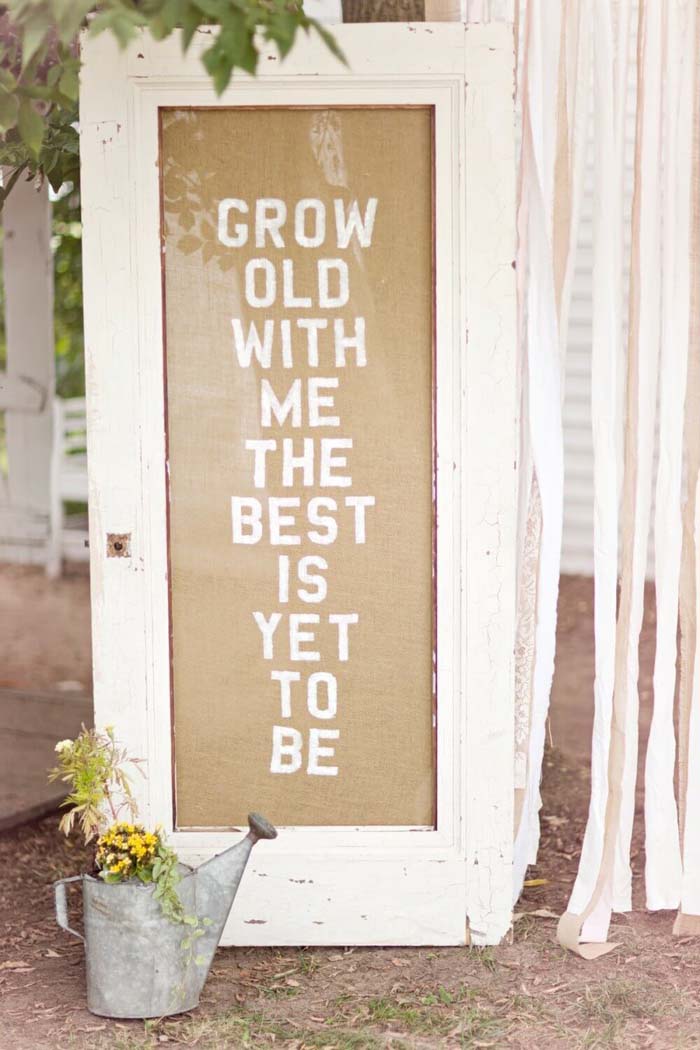 This is an idea for a large DIY sign. Instead of making a large frame, use an existing door that has a large glass panel. Put the created canvas with an inscription between the door sections.
The easiest way to display this large sign will be to lean it against a tree or a wall.
via Emmaline Bride
11. Attach Hooks For A Hanging Herb Garden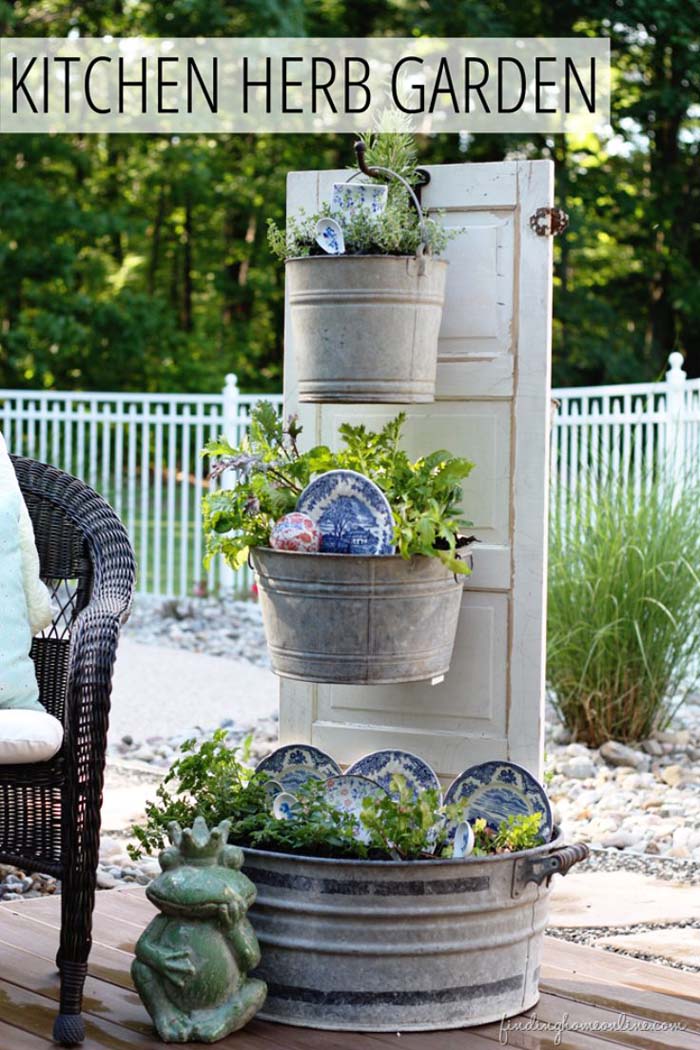 Make your herb garden more than a vitamin source by growing it in an appealing way. A wooden door becomes the stand of a vertical garden. It is solid and strong so bearing two, three or even more pots won't be an issue.
Hang the vintage pots on hooks with a retro design for the ultimate farmhouse effect.
12. Doorway To An Enchanted Garden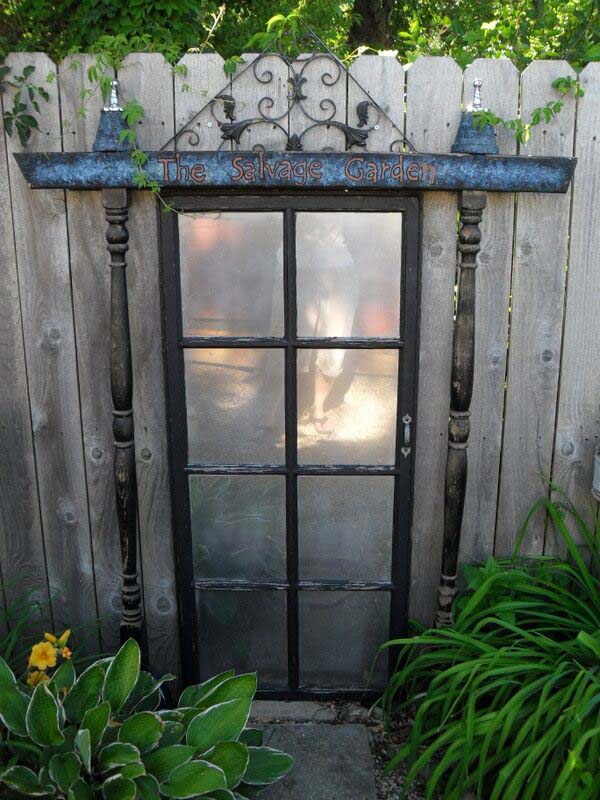 This decorative door is placed on an unexpected spot to create a point of interest.
The glass panels are covered with mirror paint that makes the reflection a little bit blurry. So charming and so magical!
via Hometalk
13. Add Color With A Painted Door Planter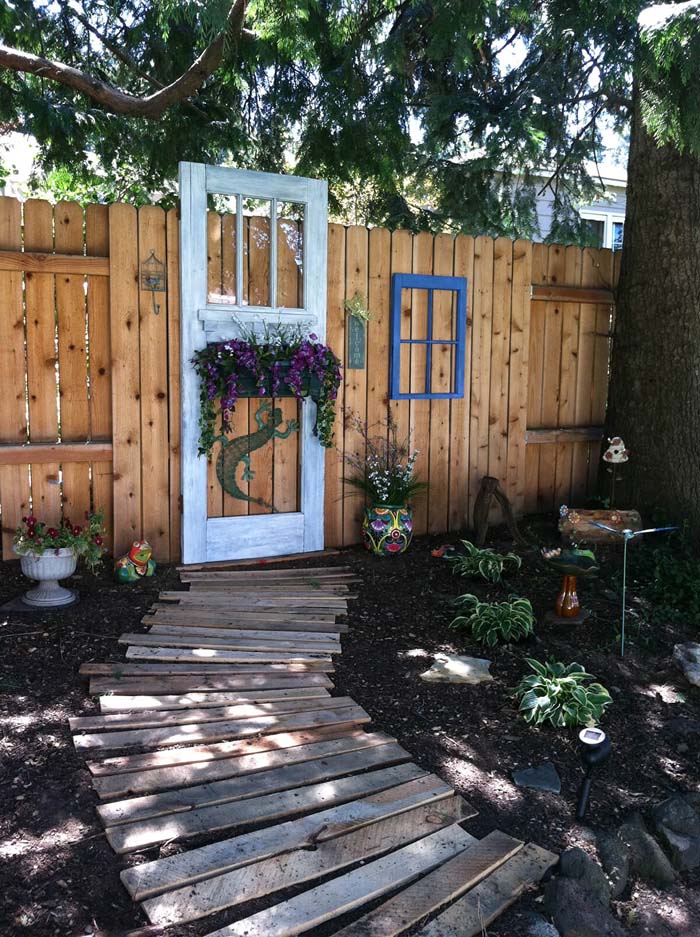 This walkway has been made to make maintenance of the garden easier and cleaner. However, the walkway ended nowhere and therefore the author has decided to make the finish more expected.
She attached an old door at the fence as if you can open it and go outside the property.
via DeaVita
14. Recycled Decorative Door Gate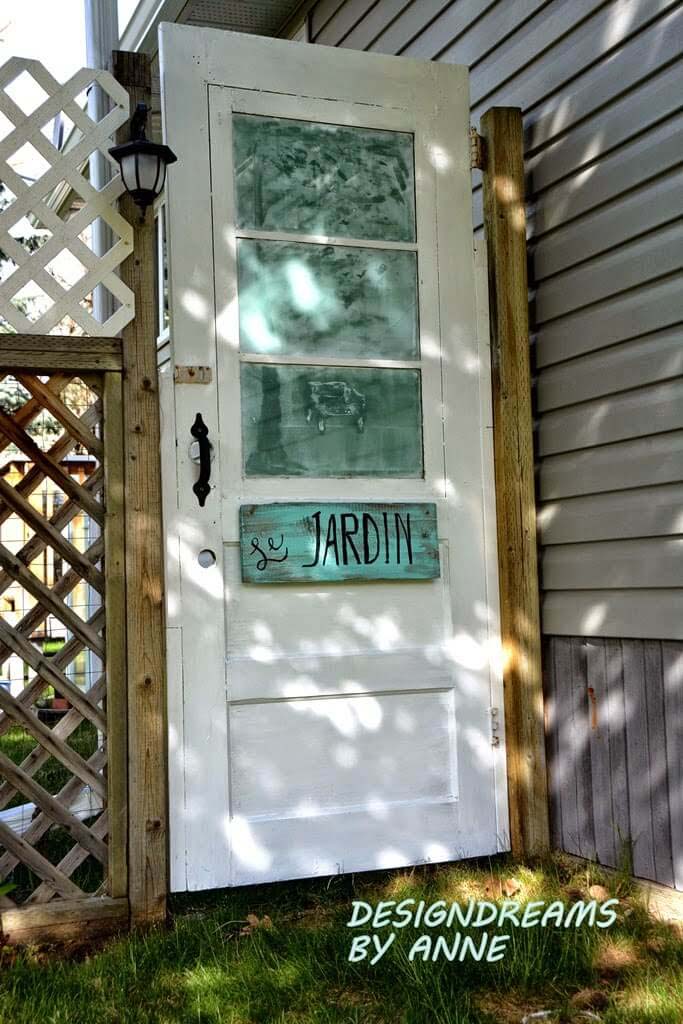 This is another idea for repurposing an old wooden door into a garden gate.
As it had glass panels that were transparent, the author found a way to matt them and give her backyard privacy.
15. Decorative Chalkboard Sign Holder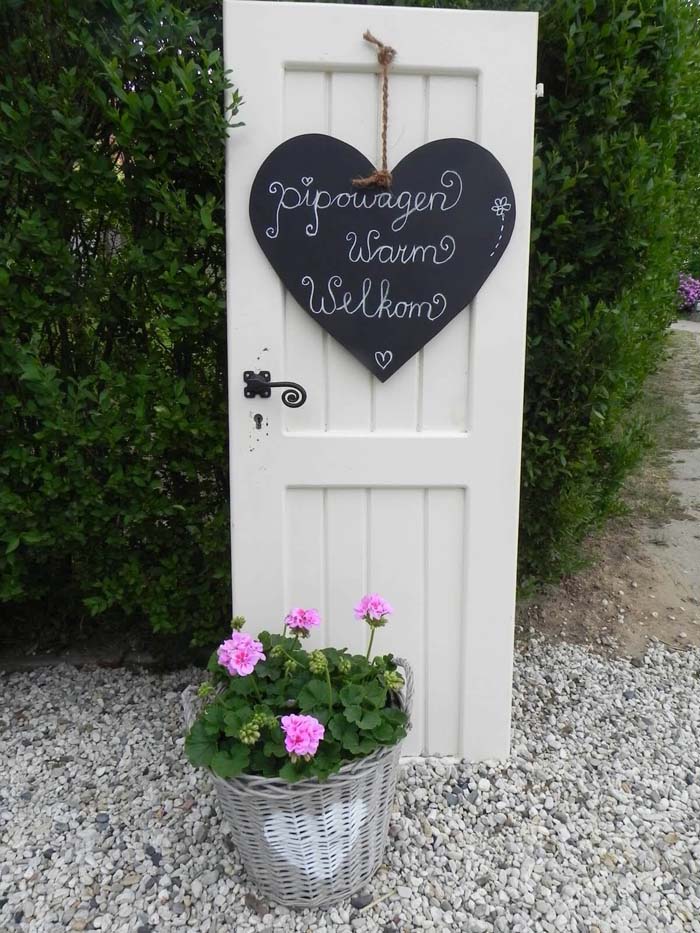 Let your garden clearly stand out as an integral part of your home with wooden door decor. Place it at the beginning of your garden walkway or in the garden bed covered with gravel to mark the beginning of your outdoors.
Add a welcoming sign to greet your friends and to increase the curb appeal of your house.
16. Gorgeous Outdoor Farmhouse Table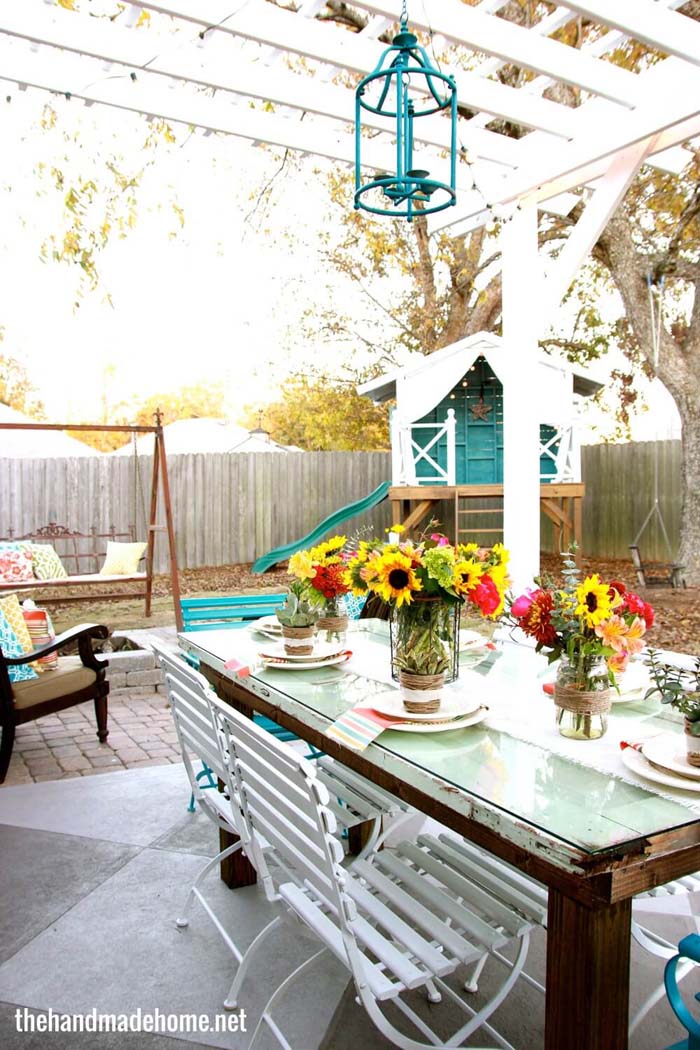 Need a big dining table for your patio? You don't need to invest a fortune in buying a new one or building it yourself from brand new materials. Instead, dig into the leftovers from the last home makeover and get creative.
You need a solid wooden door, wooden posts, some screws and tools to assemble it.
17. Vary Door Sizes For A Privacy Screen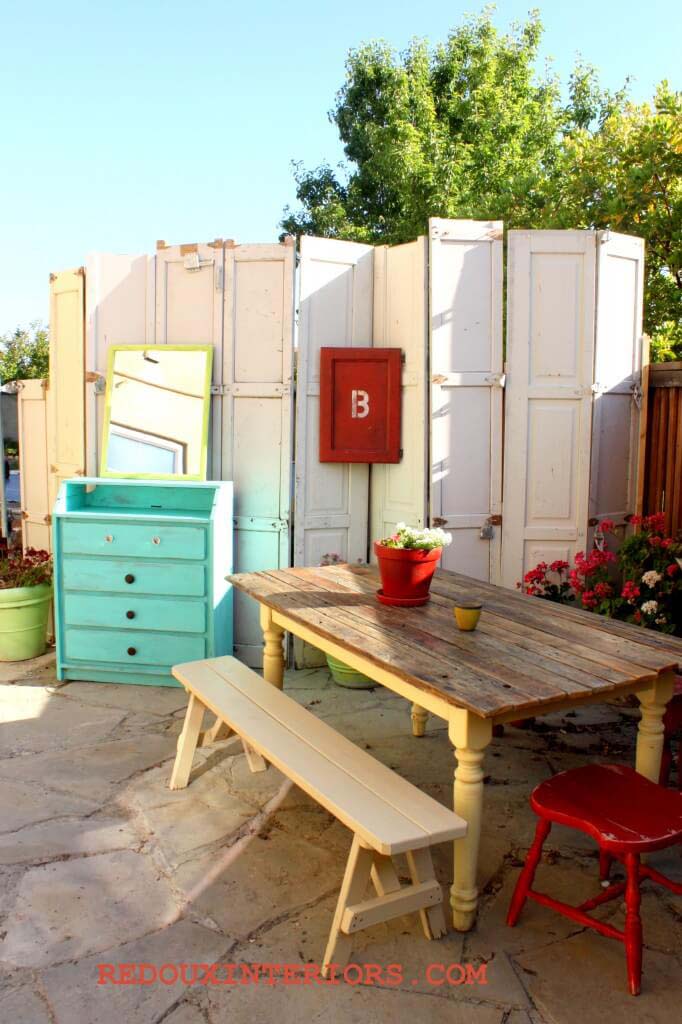 If you are looking for a budget-friendly and unique screen for your rustic relaxing area in the garden, use wooden doors. It doesn't matter what size they are. It doesn't even matter what their condition is as long as they can stand upright and there aren't any severe surface damages like holes.
Use hinges to attach the doors to each other and to be given the possibility to adjust their angle.
via Redoux Interiors
18. Cottage Chic Garden Wall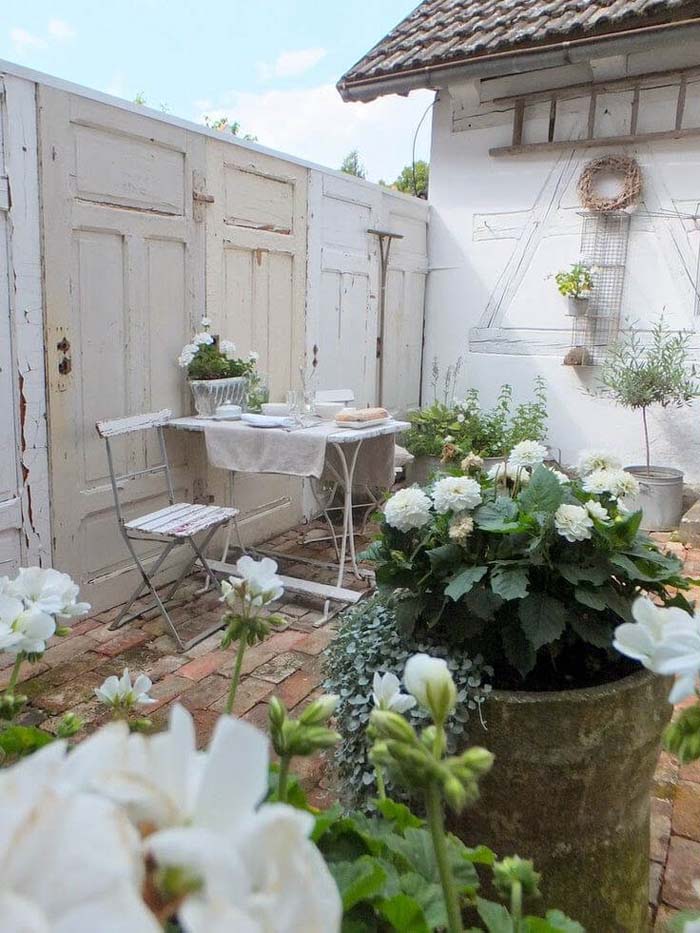 This non-traditional fence is made with doors. Whether because of low budget reasons or because of looking for a more unique backyard defining, the decor effect is stunning.
The doors incorporated are of the same size and design, only their color differs. Nevertheless, white and creamy are in the same neutral palette so the general look is continuous and finished.
19. Stylish Entertaining Center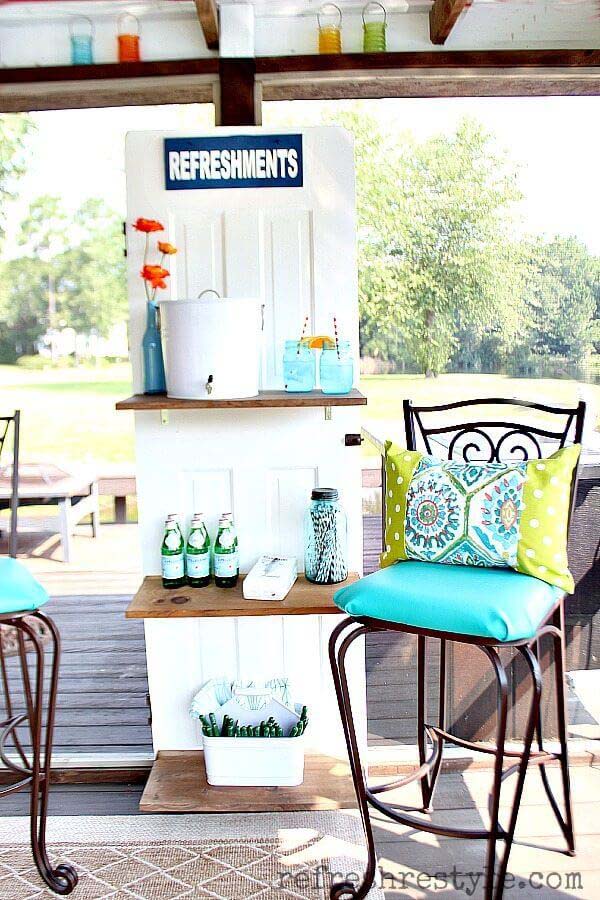 This outdoor bar solution is inspiring. The door repurposed into shelf support makes finding a spot for the outdoor bar easy. It is of a small footprint but rigid enough.
At the same time, wood allows attaching to any existing surface while making a traditional bar will require building activities and create a mess.
via Refresh Restyle
20. Quirky Gate From Upcycled Windows And Doors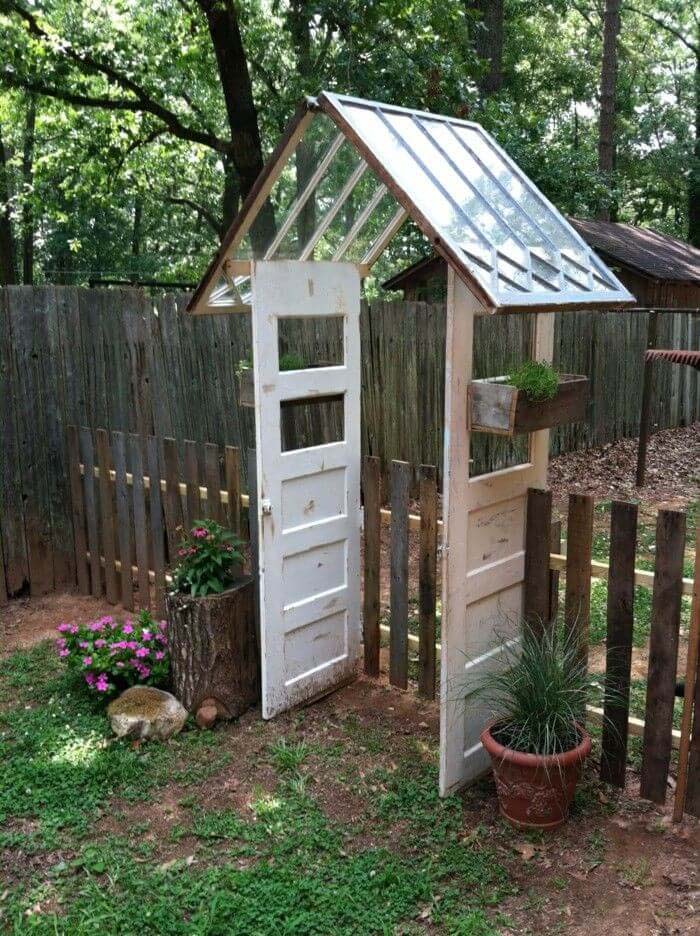 Repurposing materials give the useless pieces new life with a unique decor effect. This idea features a gate design in a farmhouse style.
Assembled from two doors and two windows, the structure looks like a small house that has become a shelter in the garden. And as every normal house is usually decorated with flowers at the windowsills, this one also has its own planters.
21. Vintage Door Decorative Backdrop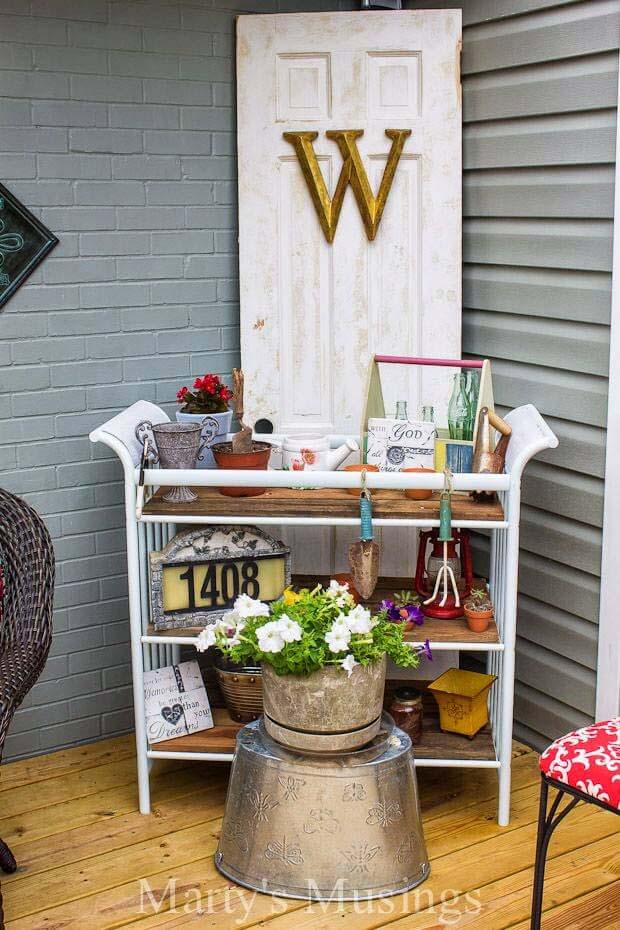 Use the wooden door to anchor a zone on the patio. Place it against the walls to set the background of the nook. White is always the best choice as it is neutral, clean and lets things stand out.
Use the unique outdoor wall art to display your family's initial that will instantly add a welcoming personal vibe to the space.
via Marty's Musings
22. Door Mounted Flower Box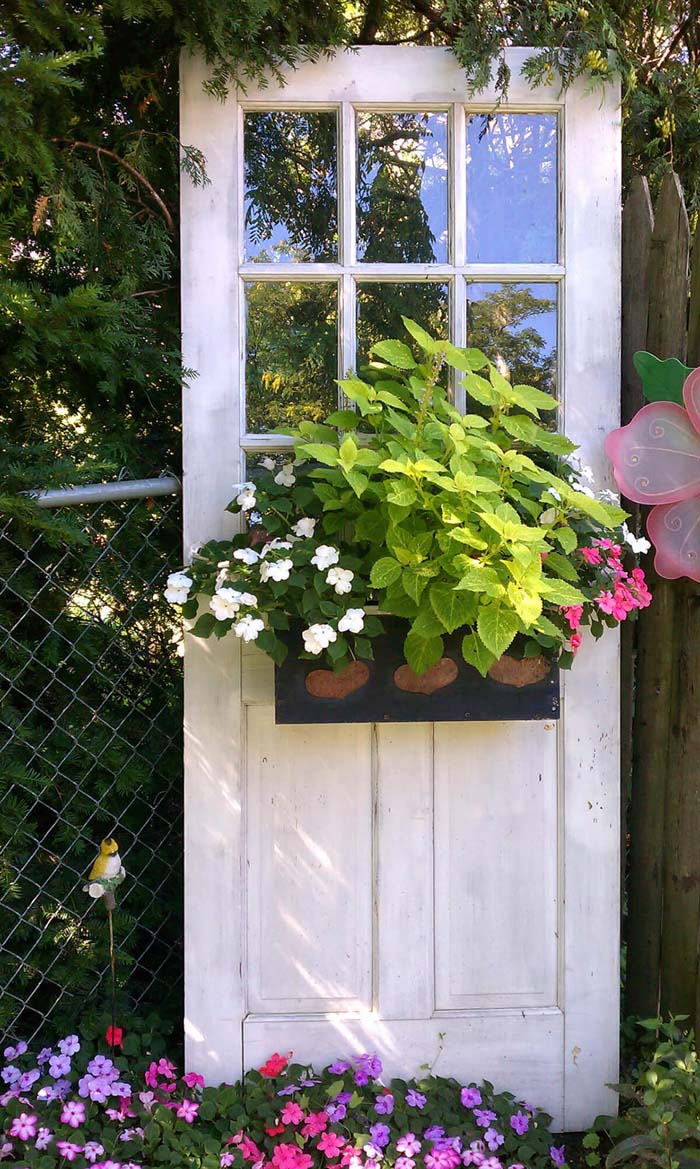 Add a door to the flower garden to turn your green thumb accomplishments into an attraction. Giving this element a non-standard place and usage is a bold statement of creativity and decor taste.
Attach a flower pot to the door to make a connection between the artificial element and the nature of your property.
23. Outdoor Décor From Rustic Door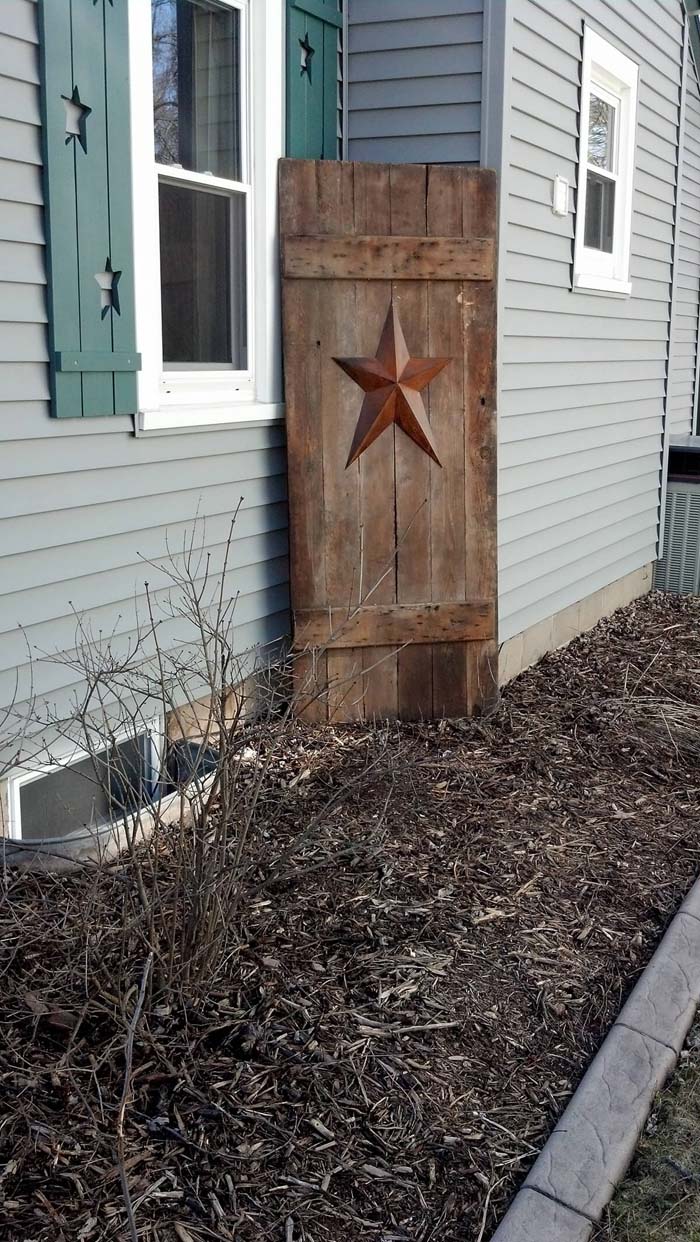 As easy as it seems, doors with carvings or ornaments quickly become outdoor decor only by placing them in the garden.
To make this idea even easier, choose a place where there are walls, posts or similar structures that can support the weight of the door.
24. Peaceful Garden Hideaway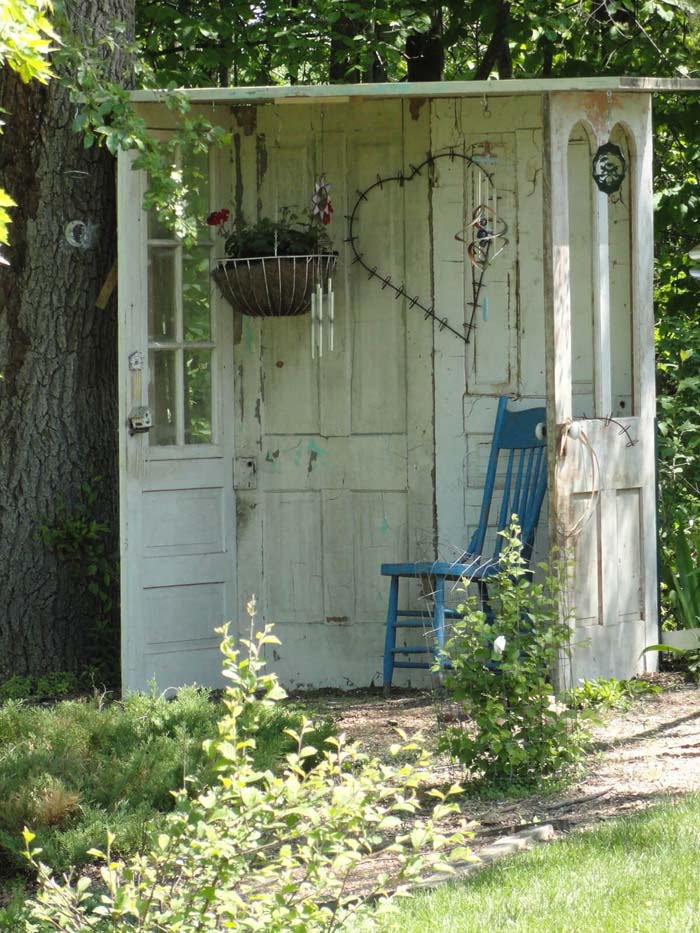 These doors are assembled together to create a French door greenhouse. The nook embraces a chair where a person can sit and enjoy the greenery outdoors under a shelter.
Added vertical decorations give the nook a homely feel and blend it with the outdoors.
via Hometalk
25. French Country Decorative Wall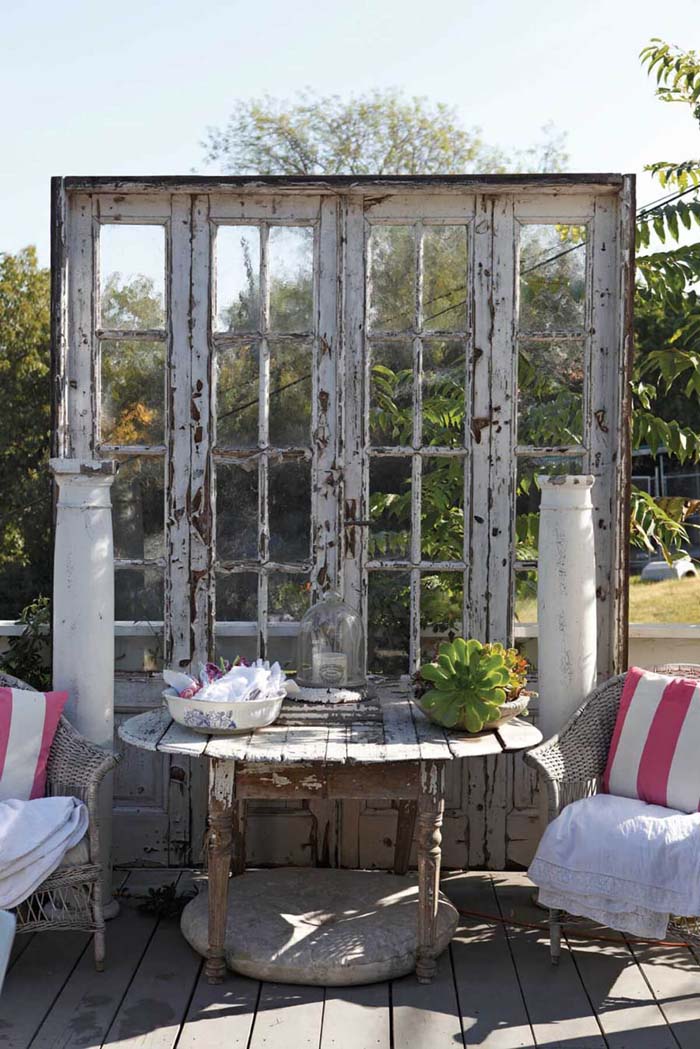 Although this French-door screen is transparent, it does add privacy to the sitting area of this backyard. The weathered surface of the doors is very charming and complements the style of the furniture.
Rattan armchairs sit on both sides of an antique wooden table. Vintage container pots hold succulents and create this nook a vision of an outdoor living area.
26. Add Pops Of Color With A Painted Door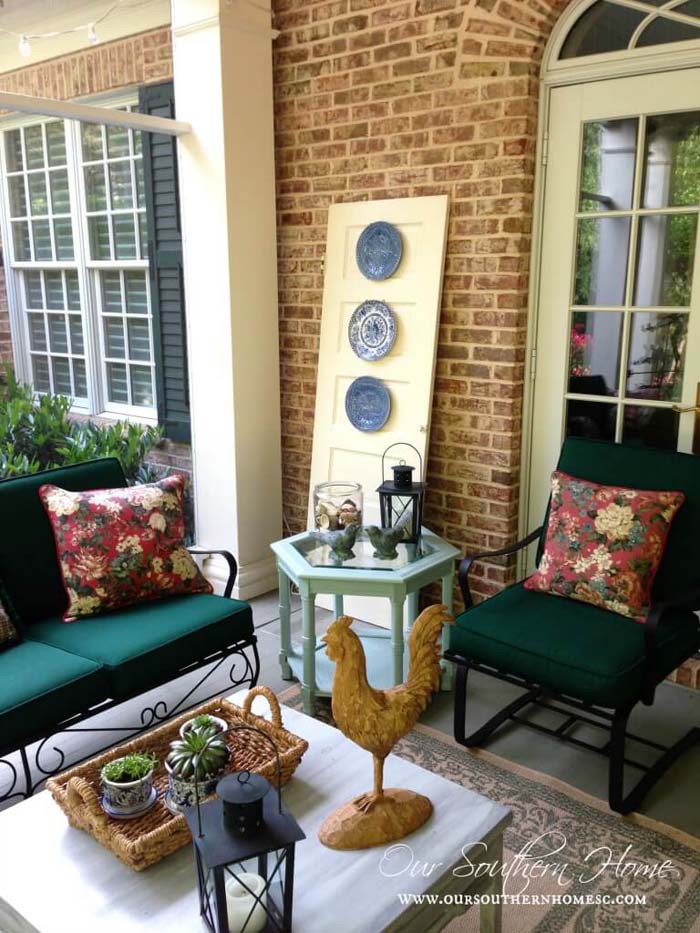 This door has been taken from a flea market only for $4. In the beginning, the author planned to turn it into a porch rule sign, but due to time limits, she had to find a way to make it decor-friendly. She took 3 unused plates and hang them on the door.
The final effect is so elegant with a Shabby chic twist that this outdoor door art deserves to become part of the permanent porch decor.