Are you wondering what to do with the old windows you have stashed in the corner of the garage or attic?
Don't throw them away — old windows make the perfect starting point for DIY outdoor decor.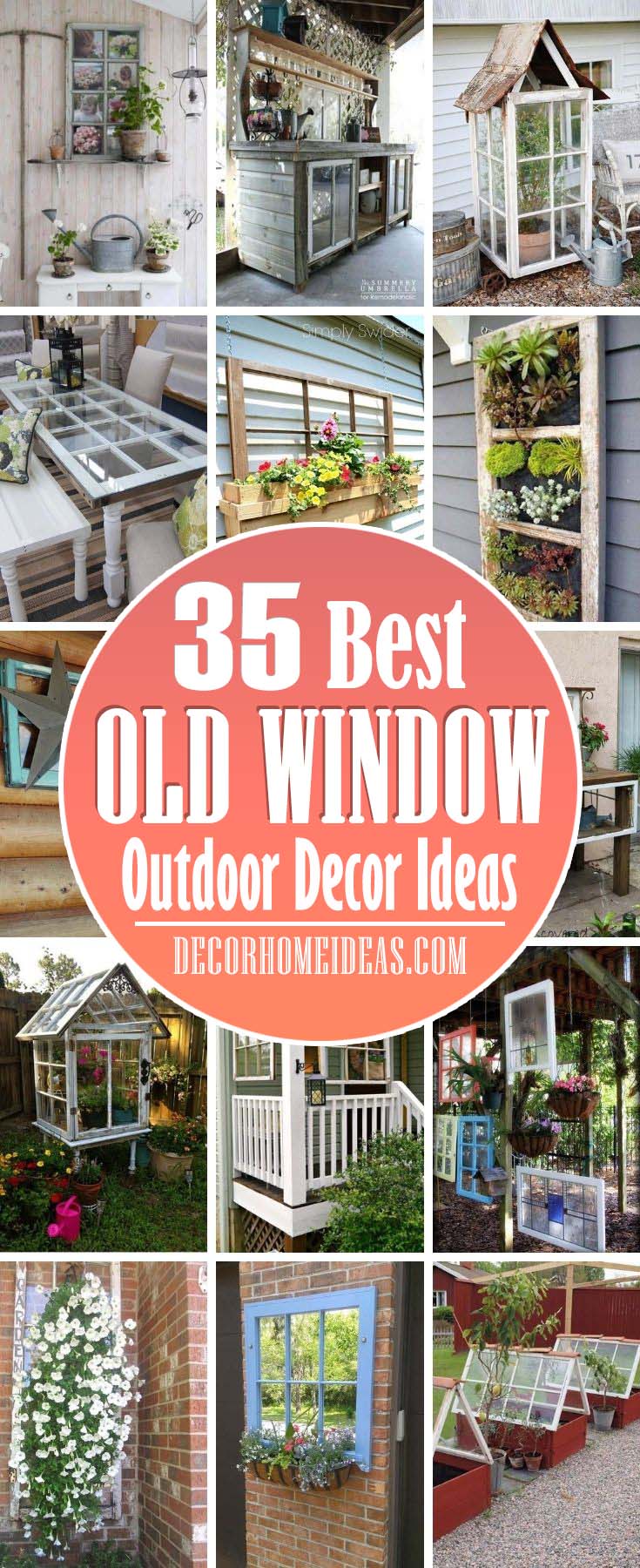 As long as the frame is intact, you can use windows for gorgeous projects ranging from personalized signs to creative birdhouses.
1. Build a Miniature Greenhouse from Old Windows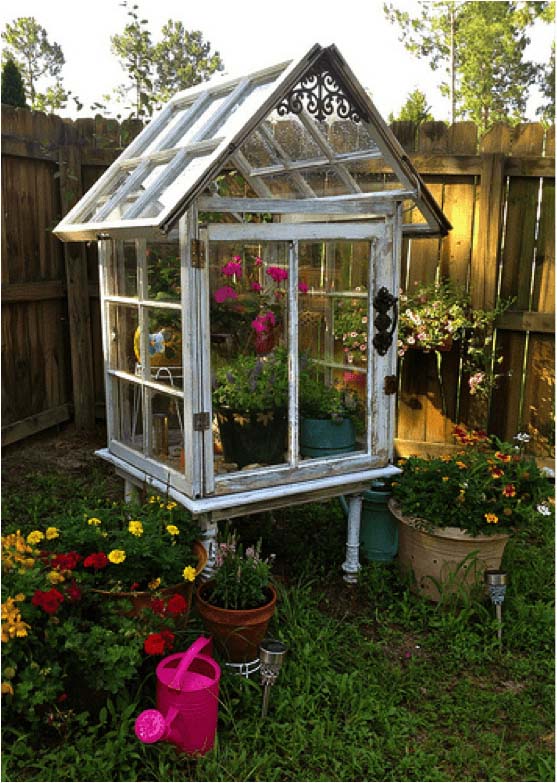 Showcase your favorite potted plants by building a tiny greenhouse from a collection of old windows.
The glass panes allow in the sun, shield your flowers from the elements, and showcase the beauty of each bloom. This model comes together quickly with a few hinges, screws, and a drill.
2. Rustic Decor with an Old Window Frame and Chicken Wire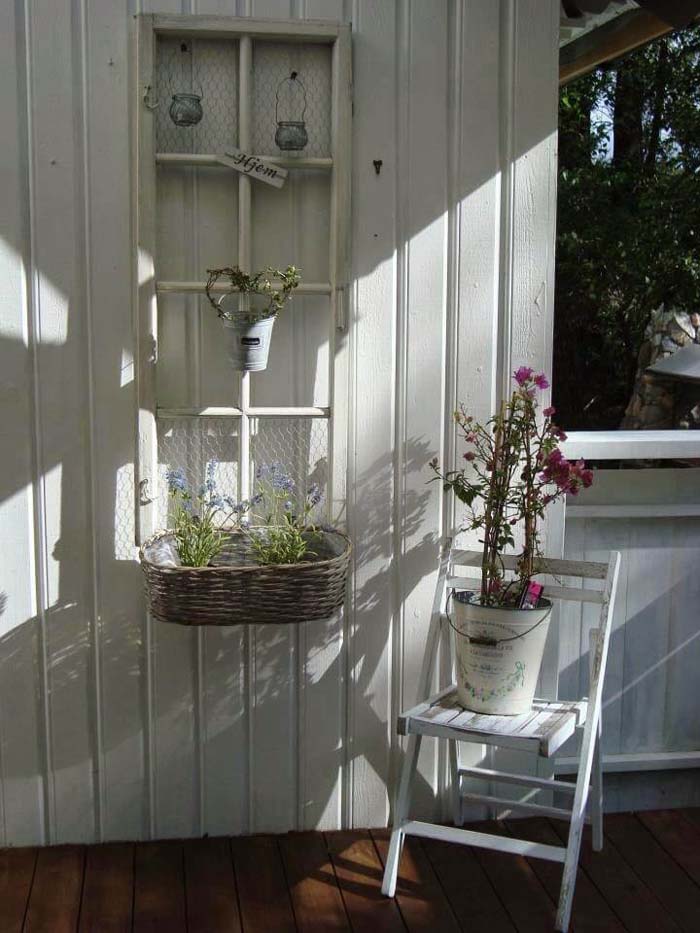 If you have an old window without the glass, add in a few pieces of scrap chicken wire to create this lovely wall hanging.
Paint the frame to match your home, or leave it as is for a charming weathered look. This piece is the perfect place to display small treasures.
3. Distinctive Farmhouse Arbor with Window Frames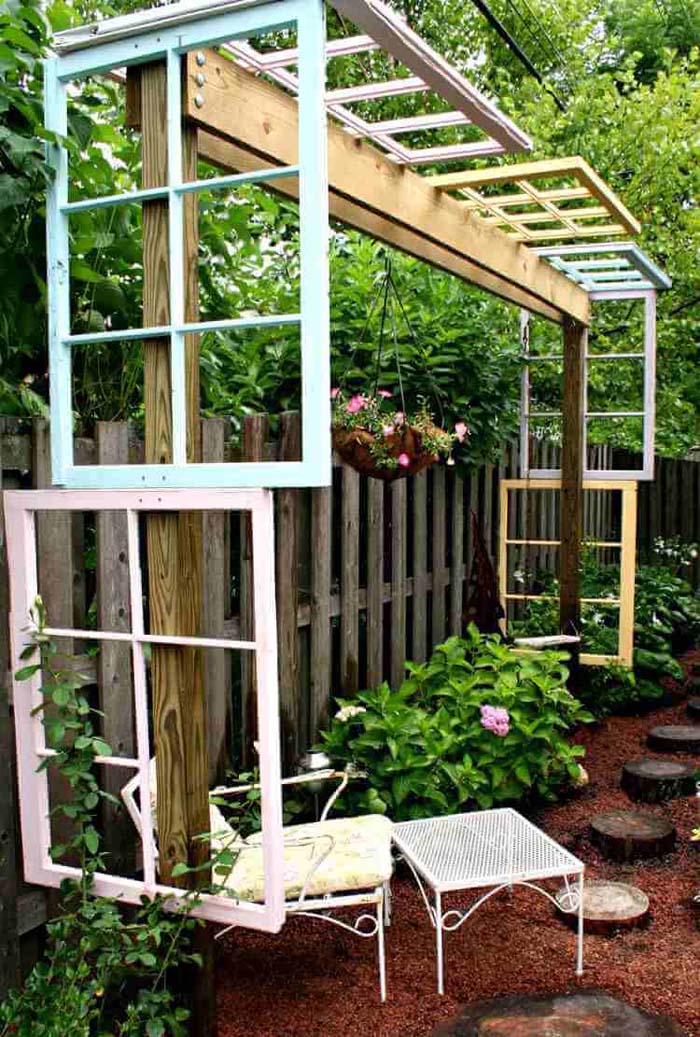 Put a casual farmhouse spin on a traditional arbor by adding window frames to the outsides.
The empty panes support climbing vines as they grow, and the unusual blend of textures and shapes transforms your armor into a focal point of the yard.
4. Transform an Old Window into a Charming Planter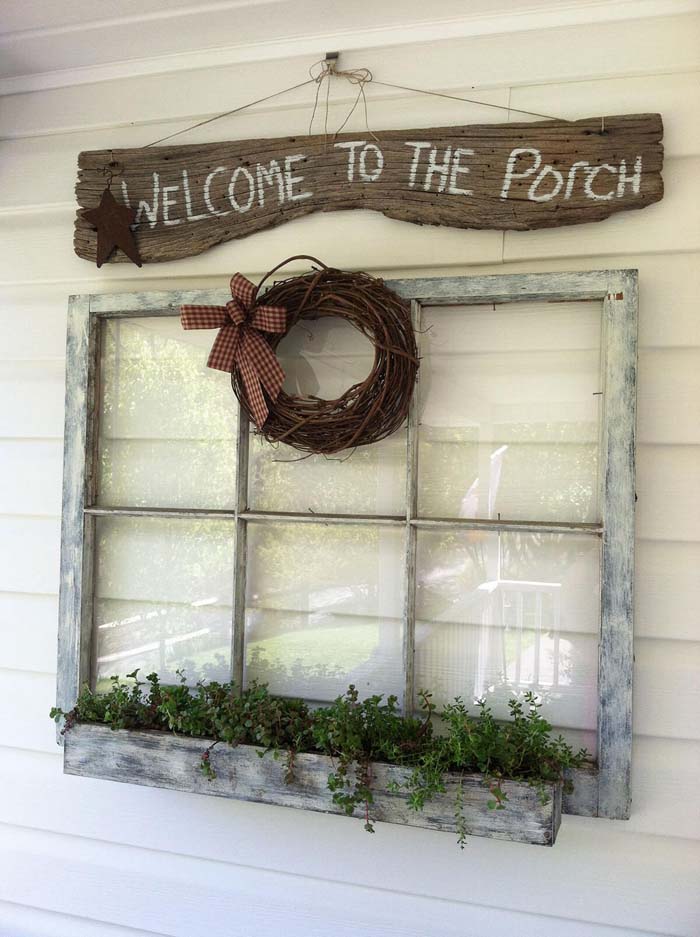 Show off the natural beauty of an old window by turning it into a planter.
Simply nail a wooden planter to the bottom edge and finish with the stain or paint of your choice for a coordinated look. A colorful wreath completes this rustic design.
5. Create a Unique Front Porch Sign with DIY Etching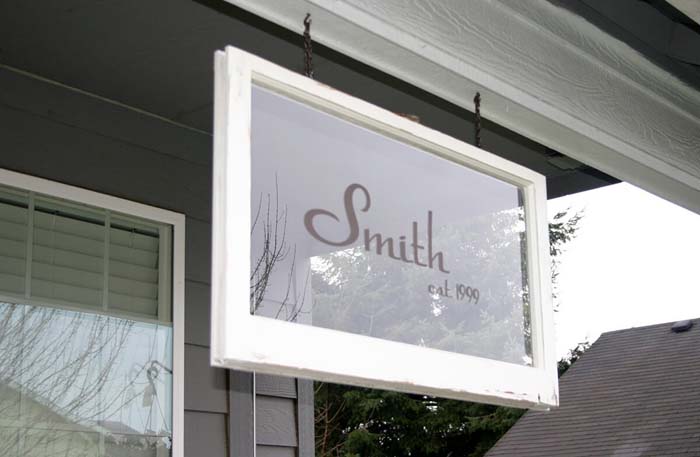 Upcycle a small window into a stunning front porch sign using this creative method.
A simple DIY etching process turns the window glass into an elegant sign. Go with a classic white frame, or choose a brilliant color to give your porch some personality.
6. Transform Old Windows into Birdhouse Displays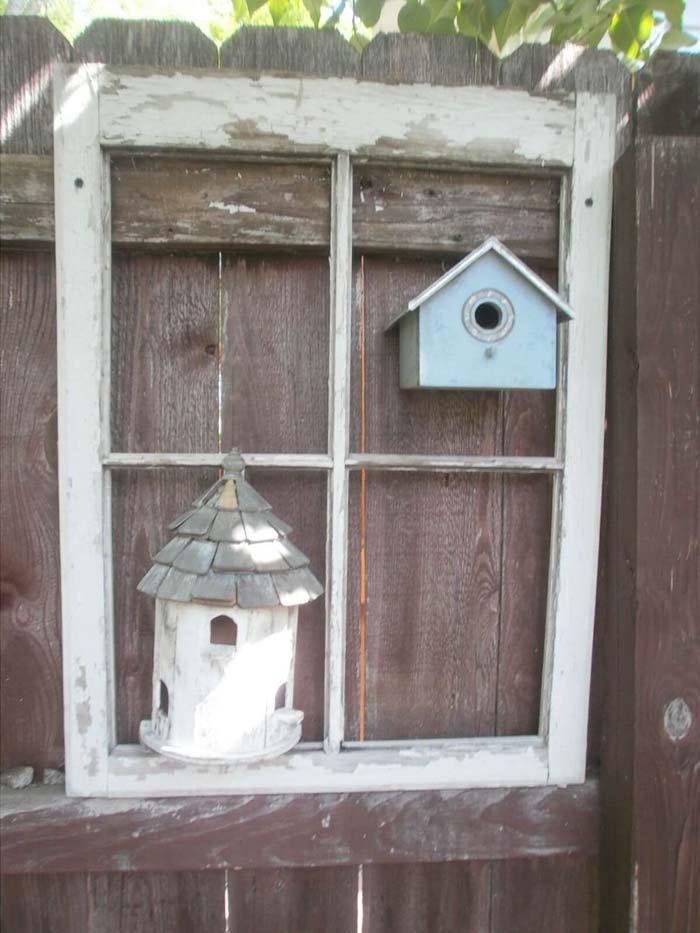 Do you have two or more small birdhouses?
Tuck them into the empty panes of an old window for impossibly charming fence decoration. The frame ties the two birdhouses together, giving them a unified look and dressing up a corner of your yard.
via My Creative Days
7. Illuminate Your Garden with a Windowpane Candle Holder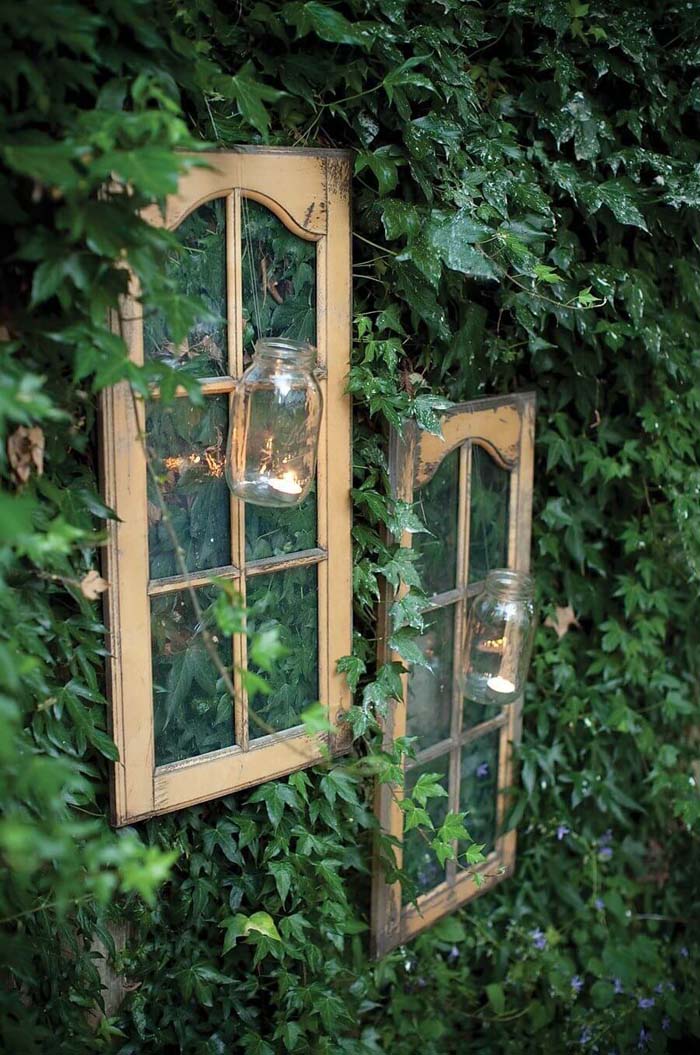 This windowpane candle holder gives your garden a magical, mysterious feeling.
All you need to do is fasten a clear class char to the center of the window frame, hang it on a fence, and add a tealight for a twinkling glow.
These decorations are an affordable option for an outdoor wedding.
8. Transform Your Deck's Underneath Area with Hanging Windows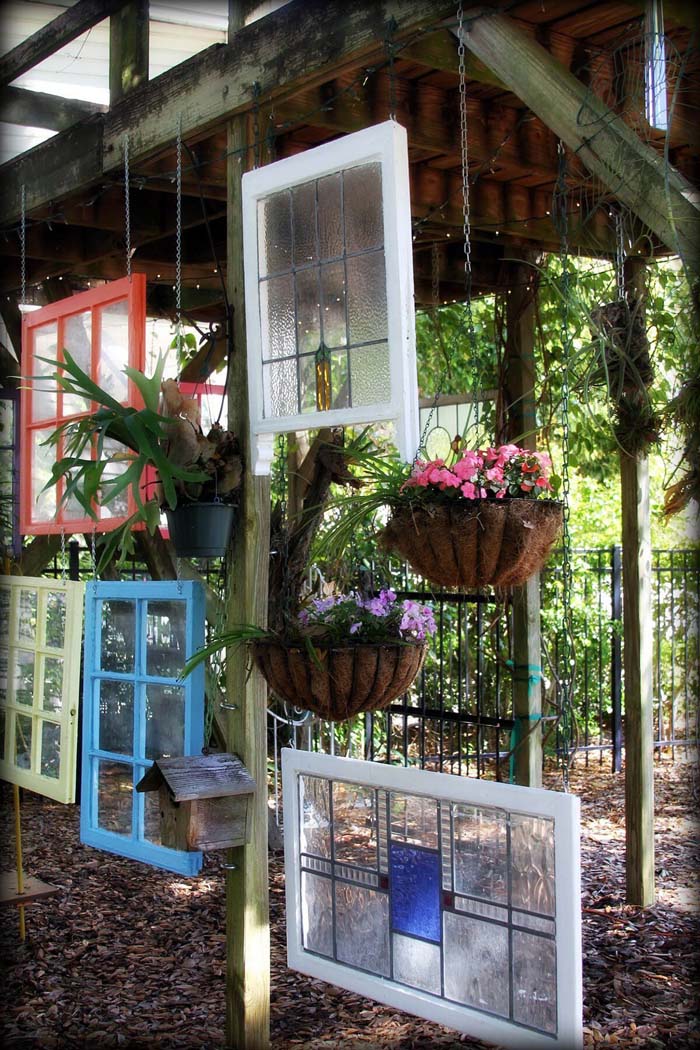 If you have an empty area under your deck, turn it into a work of art with several hanging windows.
Different sizes, shapes, and finishes add an eclectic look. Add in a few hanging plants for a burst of color and life.
9. Enhance Your Home's Curb Appeal with Dual Hanging Windows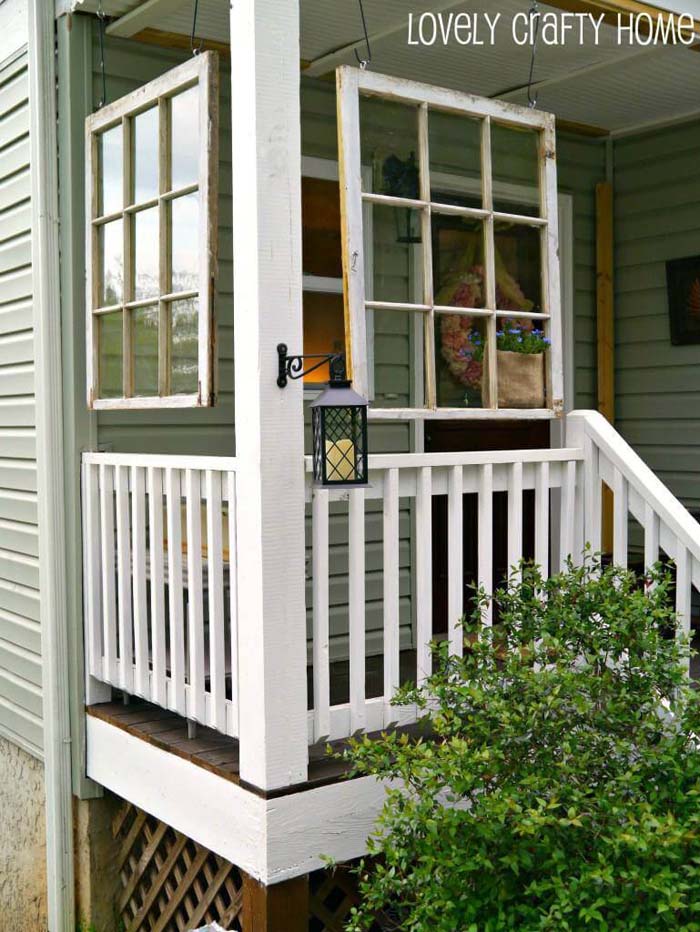 Use two identical windows to add curb appeal to your front porch.
This adorable design makes use of standard eye hooks for sturdy, safe hanging. Use a length of chain to add a burst of texture and make it easy to select the best hanging height for your home.
10. Elevate Your Floral Display with an Antique Window Frame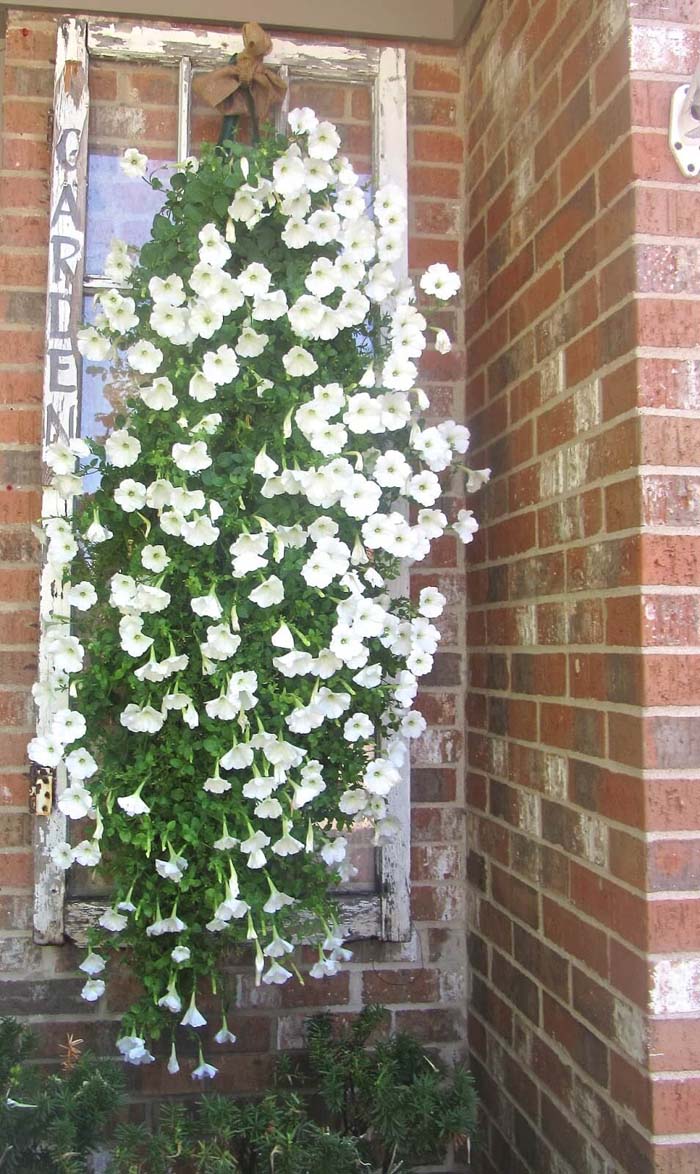 Show off a stunning cascade of flowers by hanging them in front of an old window.
The frame and glass add just the right hint of structure and architectural detail, taking your blooms to the next level. A window with a weathered or fading frame brings a vintage twist.
11. Enchant Your Yard with Fence-Mounted Planter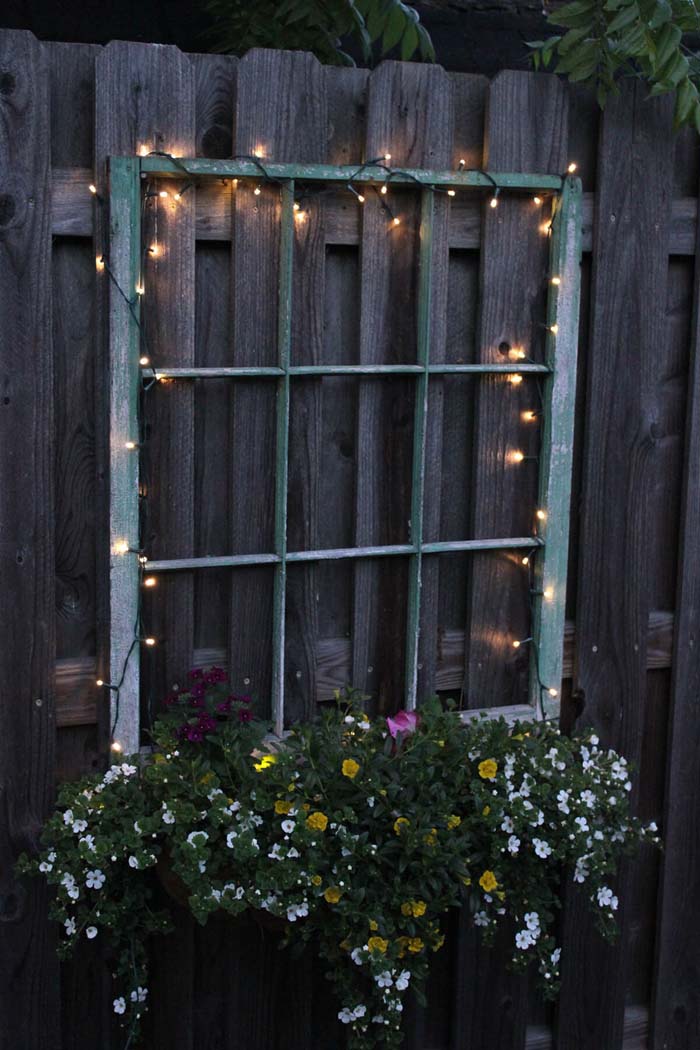 Is there anything more magical than fairy lights? We don't think so, which is why we love this beautiful yard decor piece.
Add a planter overflowing with flowers, mount the entire piece on your fence, and your yard is instantly more welcoming.
12. Create a Functional Cold Frame From Old Windows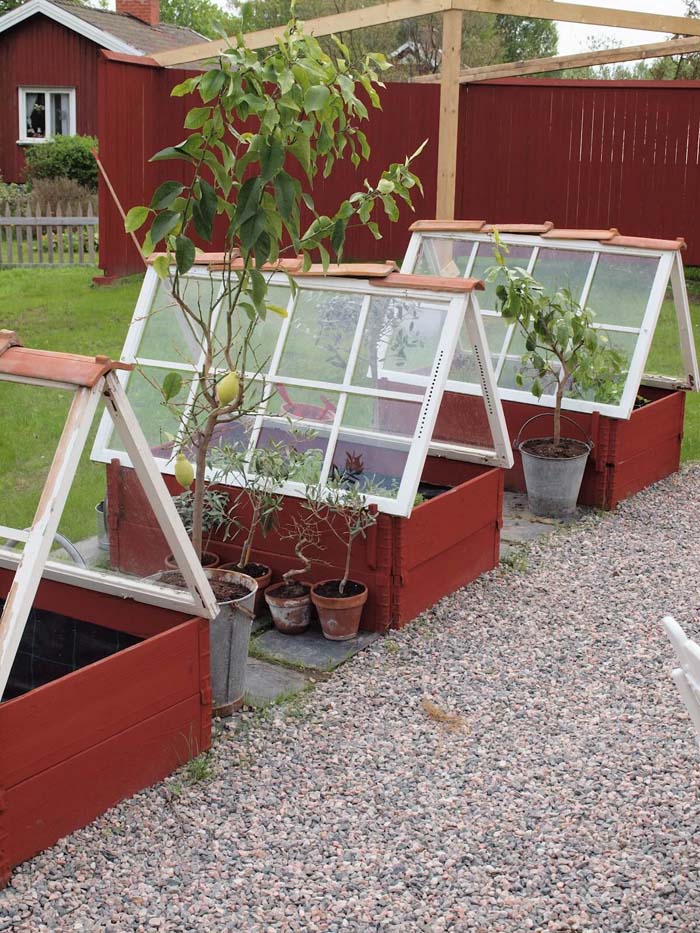 Protect your plants and use up old windows by turning them into cold frames for outdoor planters.
Here, each pair of two windows is topped with a row of stucco shingles for a polished look that's as lovely as it is practical.
via Norr Frid
13. Make an Outdoor Succulent Wall Garden with an Old Window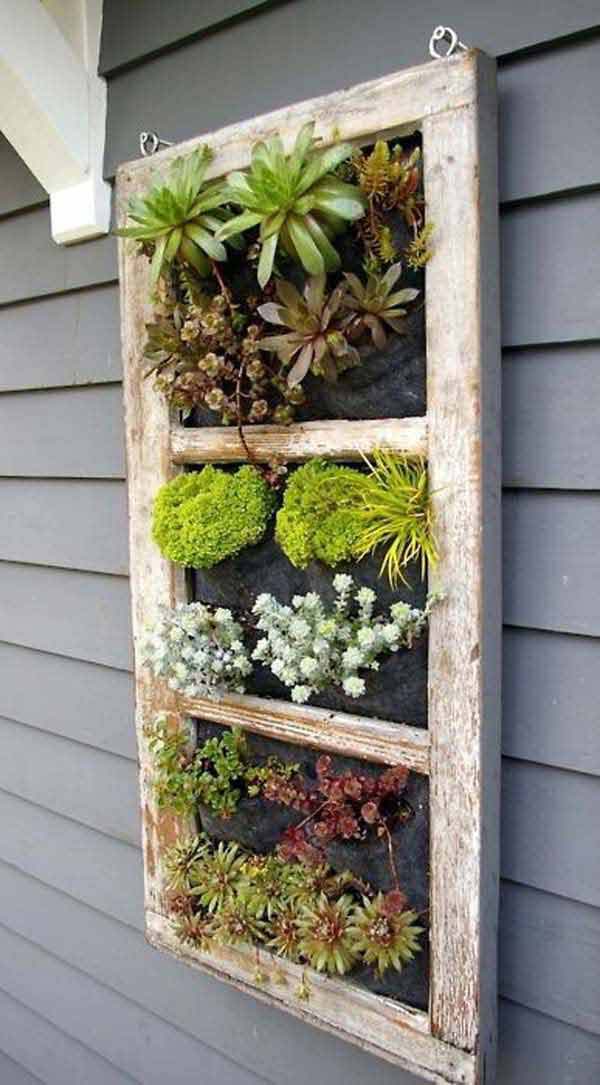 This hanging succulent garden brings a riot of color and texture to an empty outdoor wall.
Give the window frame a coat of paint for a clean look, or embrace the rustic vibe of a distressed window.
Add in succulents of varying types and sizes for maximum visual impact.
via Outdoor Areas
14. Create a Reflection of Beauty with an Upcycled Window Mirror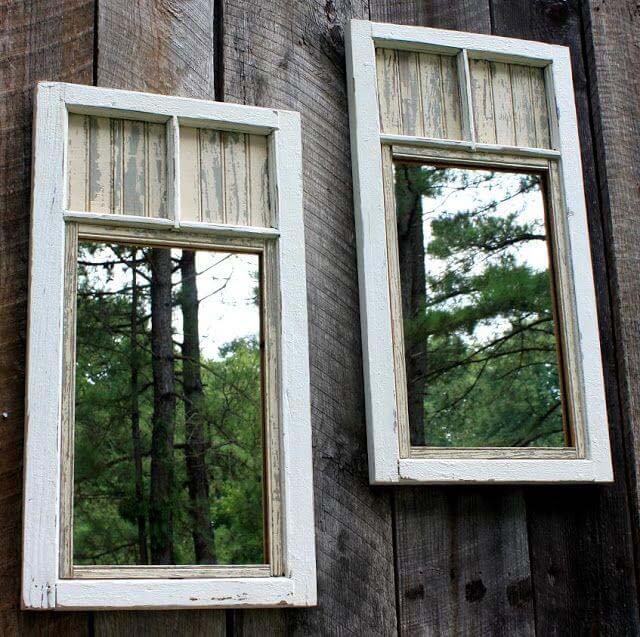 Highlight a spectacular outdoor setting by turning an old window into a mirror.
The reflective surface makes it easy to see your garden or yard from every angle. For extra depth, this piece features a paneled backing behind the open panes.
15. Upcycled Multi-Pane Window Mirror and Hanging Planter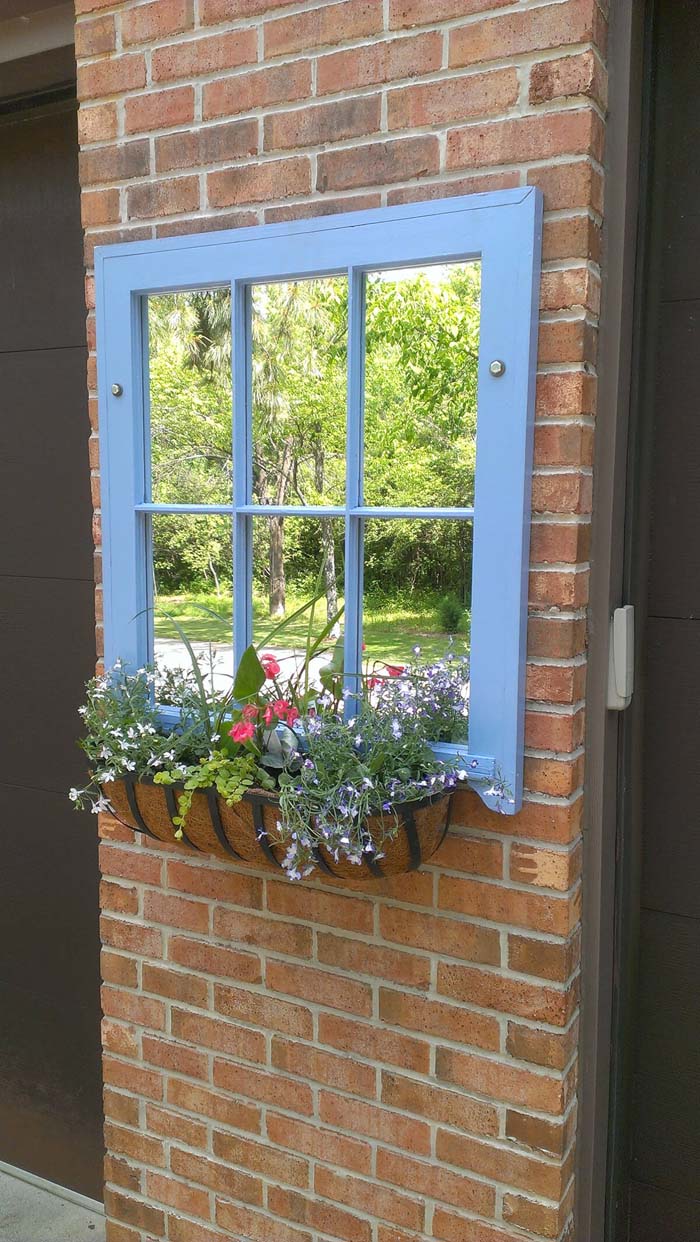 Welcome guests to your home with this adorable mirror, which is made from an old multi-pane window.
With a cheerful coat of paint and an elegant hanging planter, this is an affordable DIY project that looks like a high-end piece from your favorite garden store.
16. Personalize Your Porch with a Splendid Illuminated Sign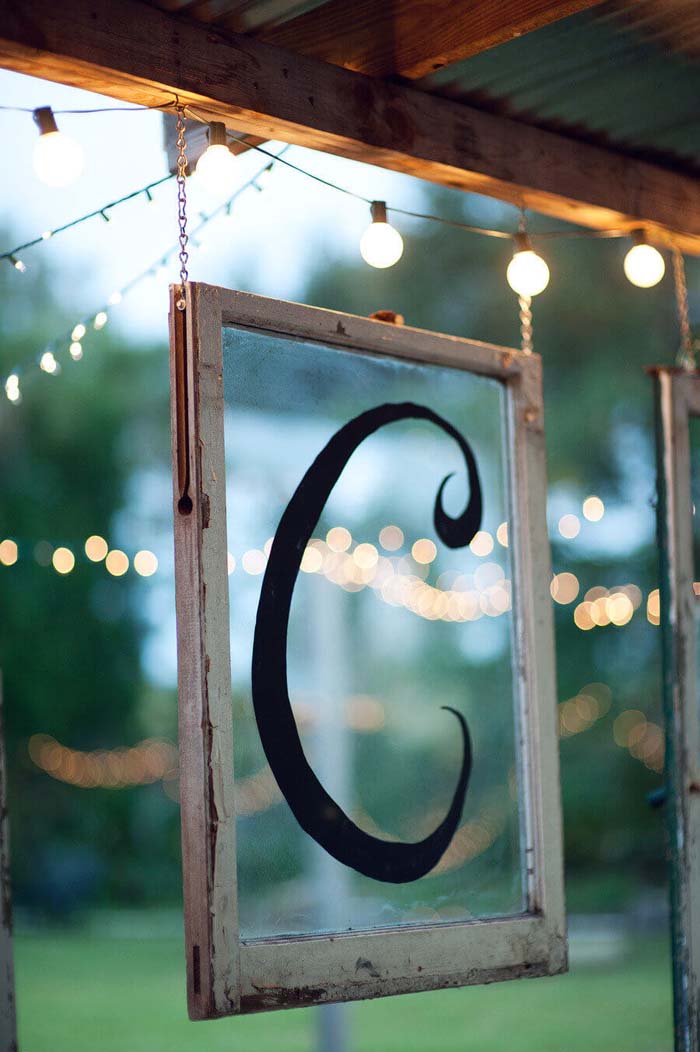 Personalize your front porch with this stunning sign.
It's a breeze to customize; use a stencil to paint on a crisp, professional-looking initial, or exercise your creative skills with a hand-painted letter. Since the light can shine through, this is a great option for a small porch.
via Style Me Pretty
17. Repurpose a Stained Glass Window as Art for Your Garden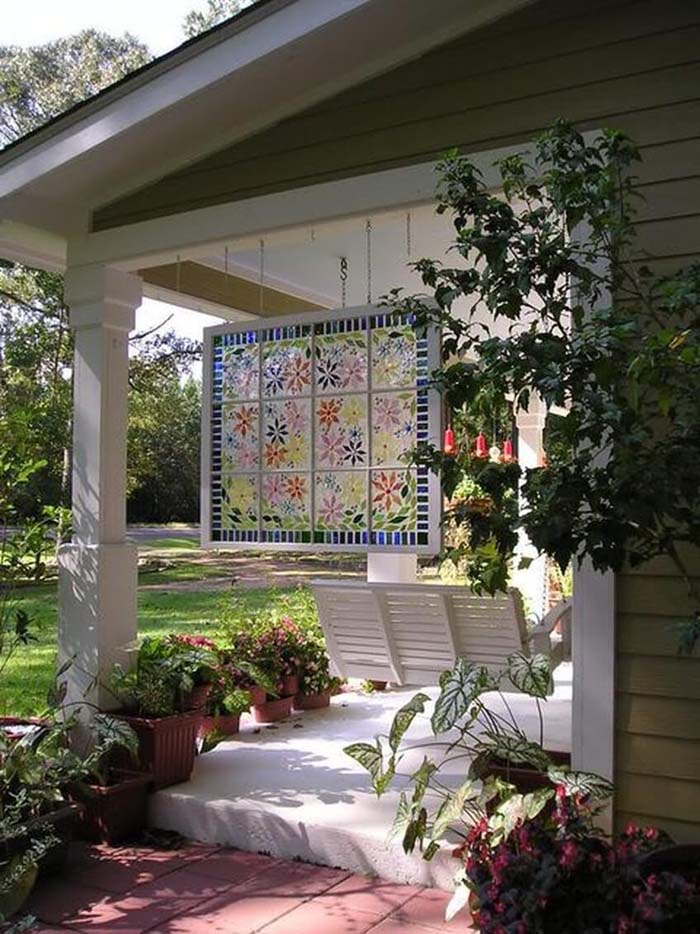 Don't let an old stained glass window go to waste — turn it into a work of art for your yard by suspending it from your porch ceiling.
We love the way it looks behind a swing, but you can place it anywhere there's space.
18. Create a Rustic Look with Old Window Outdoor Decor Ideas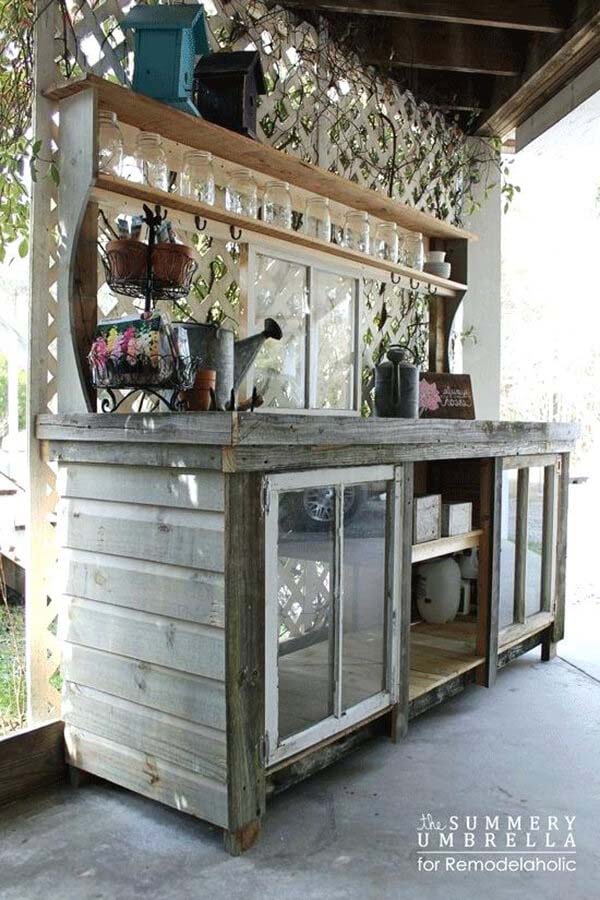 If your plants tend to slip off the back edge of your potting bench, this project is a fantastic solution.
Nail in a few old windows to personalize your bench and create a rustic look. This project works for windows with and without glass panes.
19. Elevate Your Patio Fence with a Customized Window Upgrade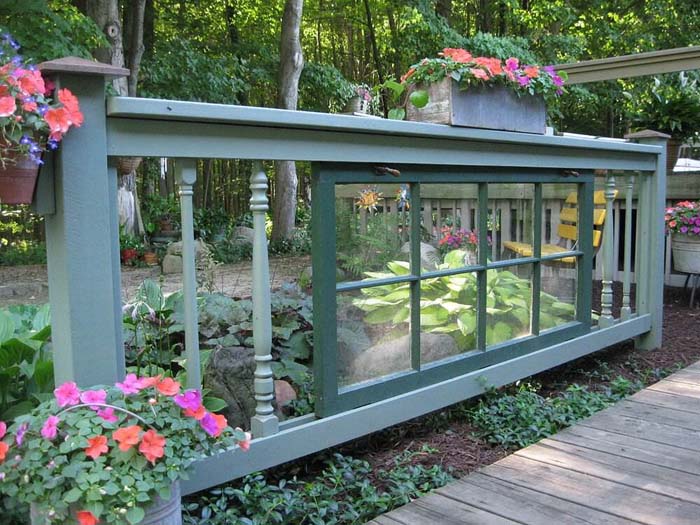 Who says a fence can't be part of your outdoor decor? This project uses an old window to upgrade a simple patio fence.
Paint it the same color as your fence posts, and it'll look like a custom-built piece.
via Hometalk
20. Enjoy an Open-Air Feel With an Upcycled French Door Setting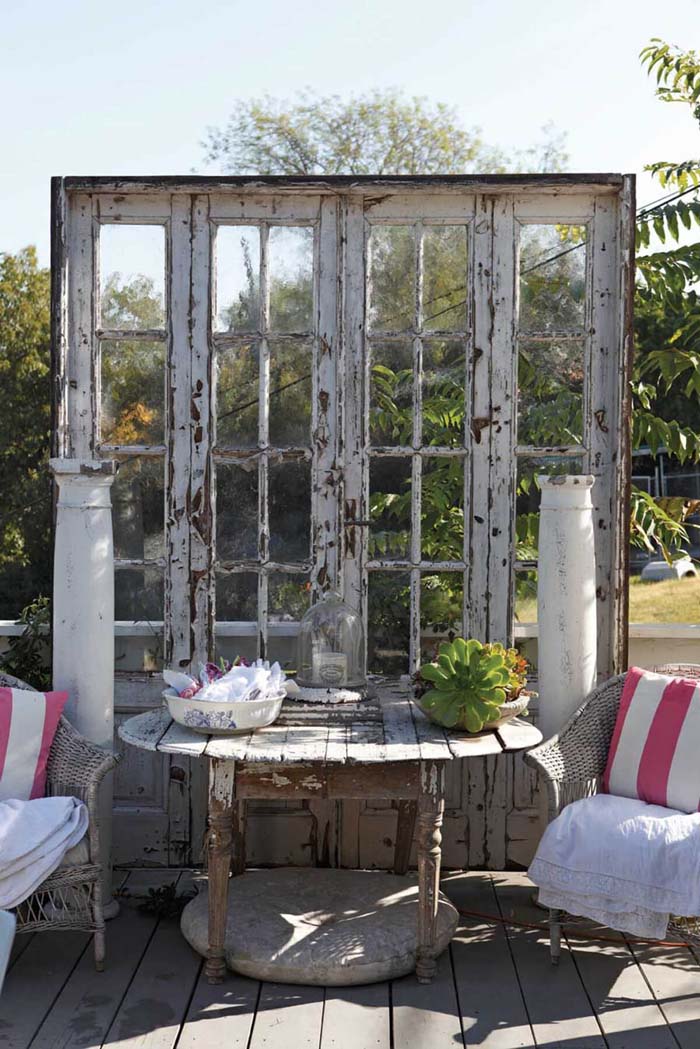 Create the feeling of a room without walls using an old set of French doors.
Paired with a seating area, this innovative design blocks the wind and allows you to make the most of a magnificent view out into the yard.
via Brooke Gianetti
21. Welcome Guests with a Country-Style House Number Display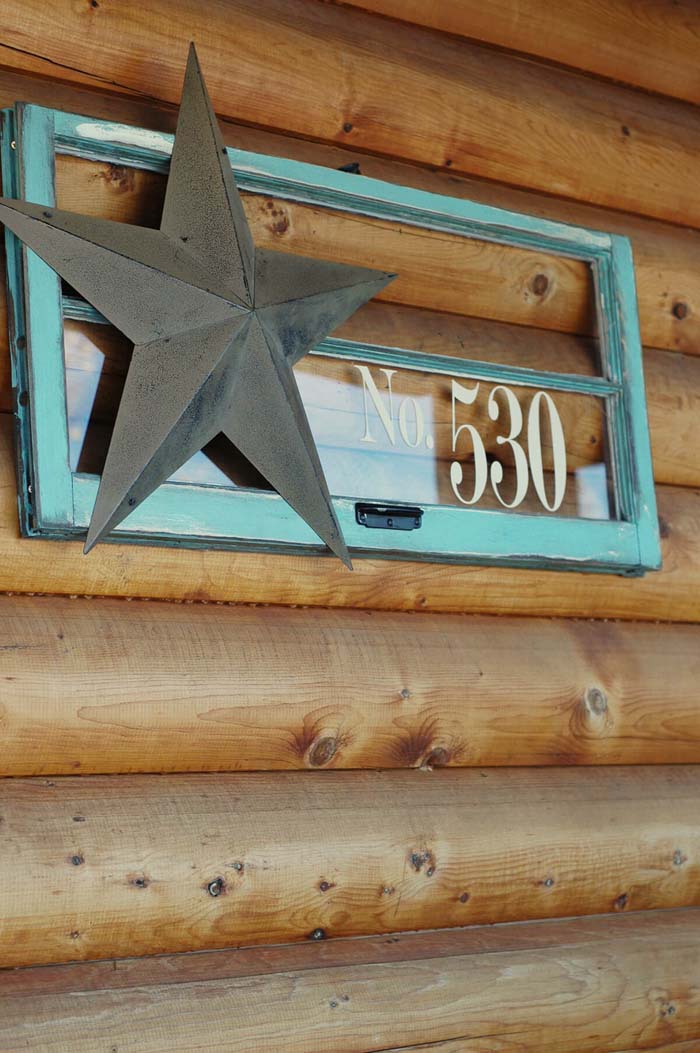 Looking for a creative way to display your house number?
A small old window does the trick.
A coat of colorful paint and an iron star accent elevates the piece and bring a special country twist that welcomes friends and family to your home.
22. Transform Your Fence with a Repurposed Shutter Window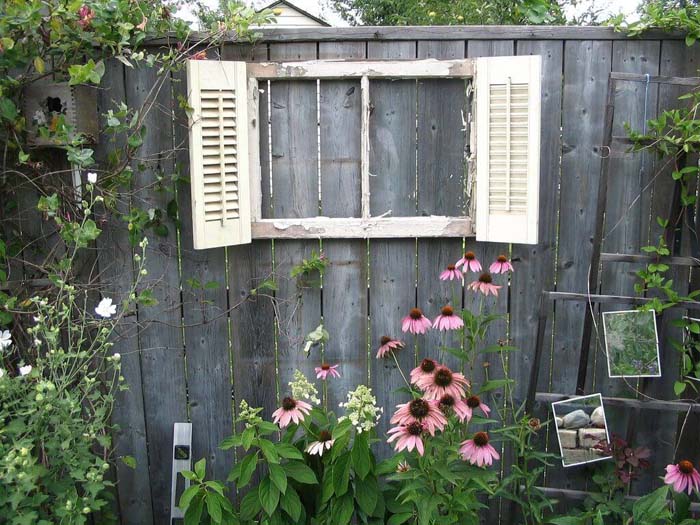 Repurpose an old window with shutters by hanging it on a fence.
With the shutters open, this window creates the feeling of looking out onto a magical world, all while showcasing the beauty of your fence posts and framing your garden.
23. Create an Outdoor Seating Area with Stained-Glass Windows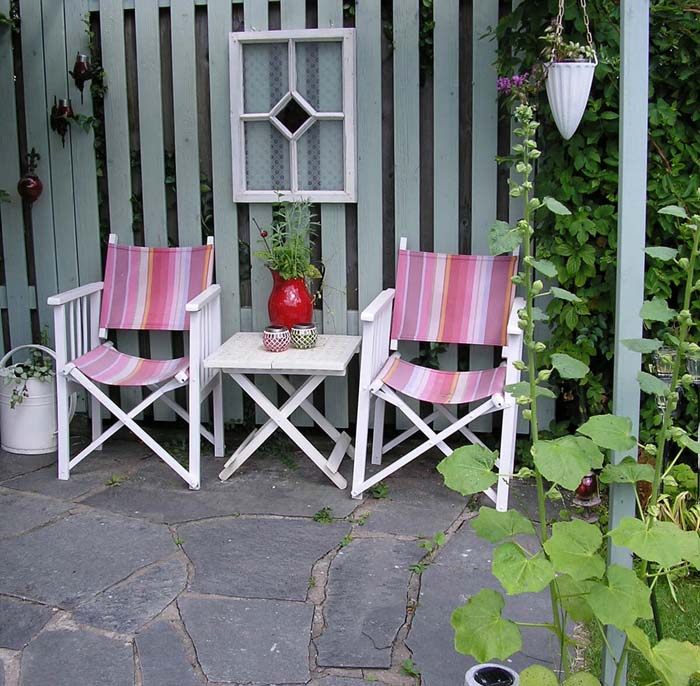 Anchor an outdoor seating area by hanging an old stained-glass window on a wall or fence.
The classic frame establishes an adorable vignette, and the texture of the glass brings a fascinating twist that will make your guests look twice.
via Dea Vita
24. Window Frame Creates Living Artwork with Flowers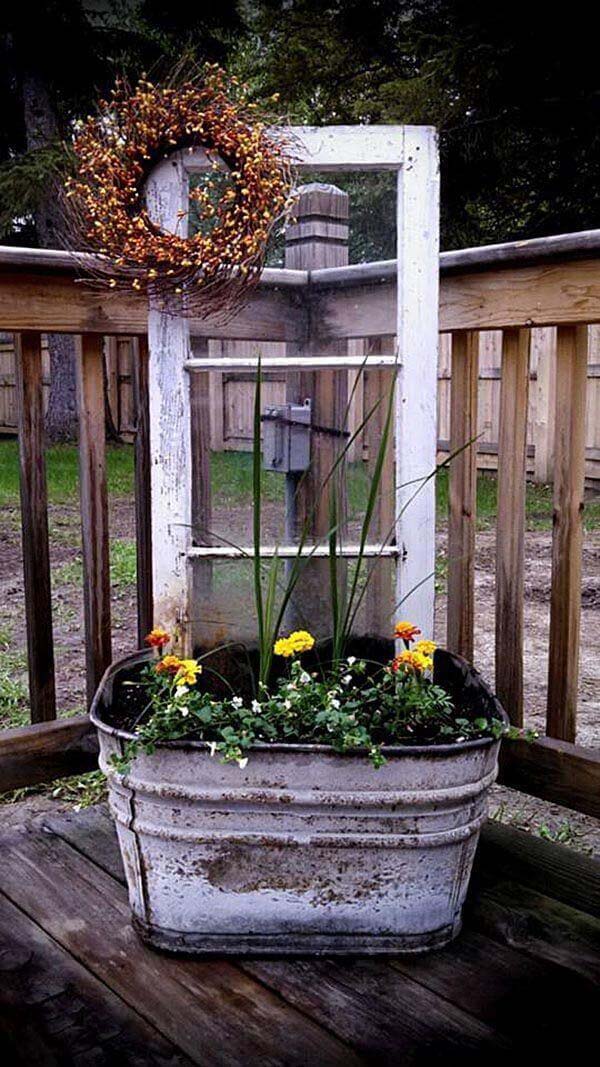 Who would have thought that a window could do so much for a simple pot of soil?
We love the way the frame disappears into the soil, allowing the flowers and plants to grow around it.
A hanging wreath is a perfect way to connect the top of the frame to the natural textures below.
25. Window Box with a Reclaimed Window and Rustic Planter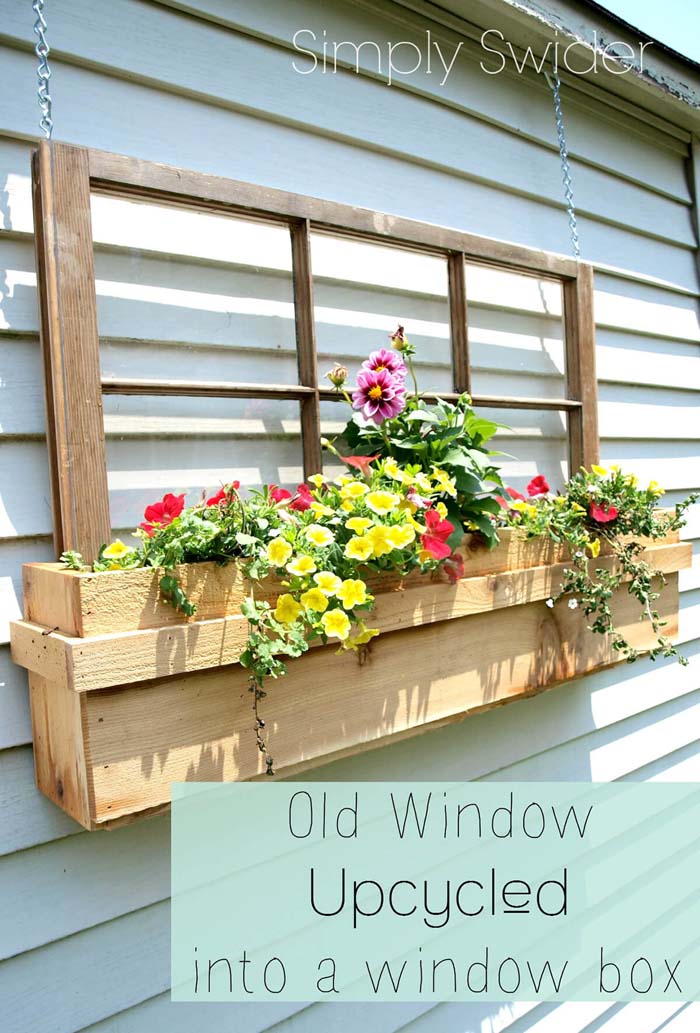 Using an old window and a rustic wooden planter, this piece brings new meaning to the phrase "window box".
It's easy to do with or without glass, depending on what you have on hand, and you don't need to worry about staining or painting; the natural finish of the wood looks lovely next to colorful flowers.
via Simply Swider
26. Upcycled Window Planter with Hand-Painted Bee Accents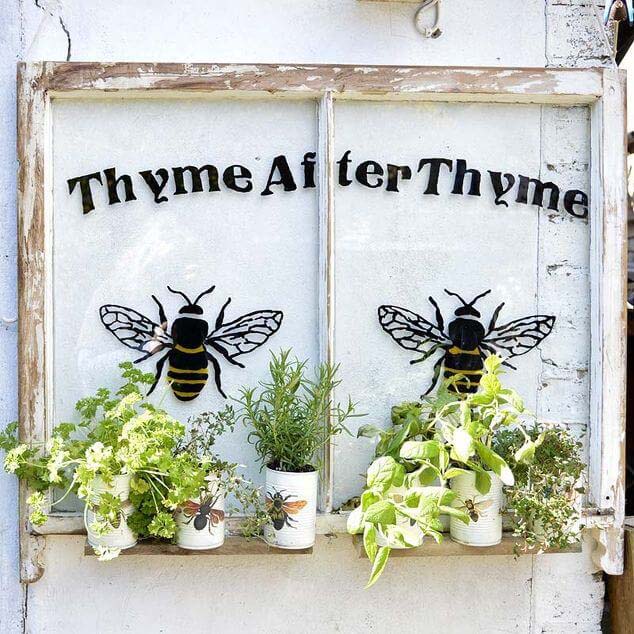 You can't help but smile when you see this sweet herb planter, which was created by adding two small shelves to the bottom of an old window.
Hand-painted bees and the words "thyme after thyme" are the finishing touches that elevate this planter into a true showpiece.
via Hometalk
27. Transform an Old Window into a Piece of Outdoor Art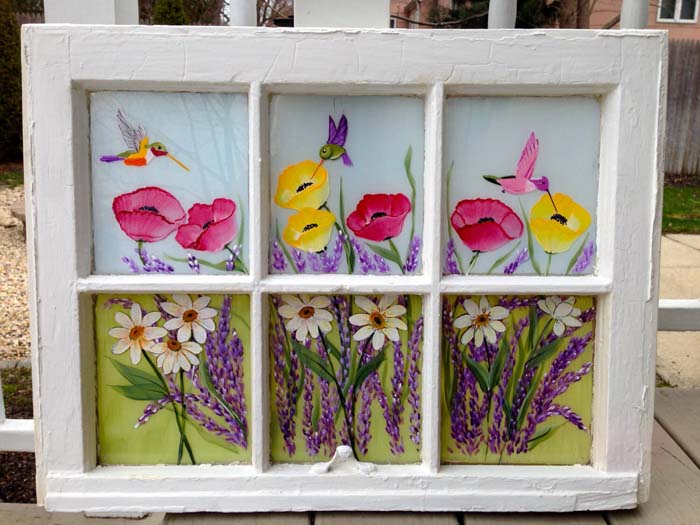 Showcase your artistic skills by turning an old window into a hand-painted piece of outdoor art.
The painted flowers recreate the look of stained glass; add a solid color behind the glass, or leave it clear to allow light to filter through.

28. Create a Rustic Potting Bench with Old Window Frames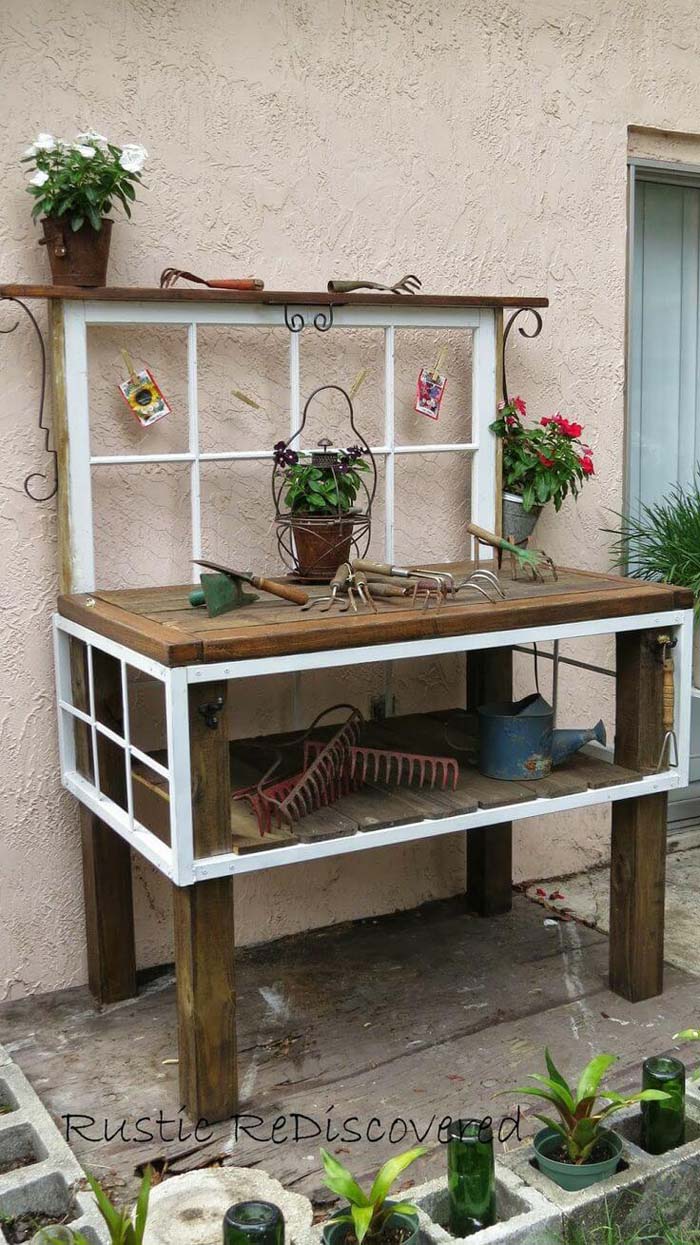 In this project, the sturdy frames of old windows serve as the frame for a vintage-inspired potting bench.
Don't worry if you don't have construction skills; the window frames are simply nailed onto an existing wooden table to create a bespoke piece that looks more expensive than it is.
29. Upgrade Your Tiny Potted Plants with a Window Frame Display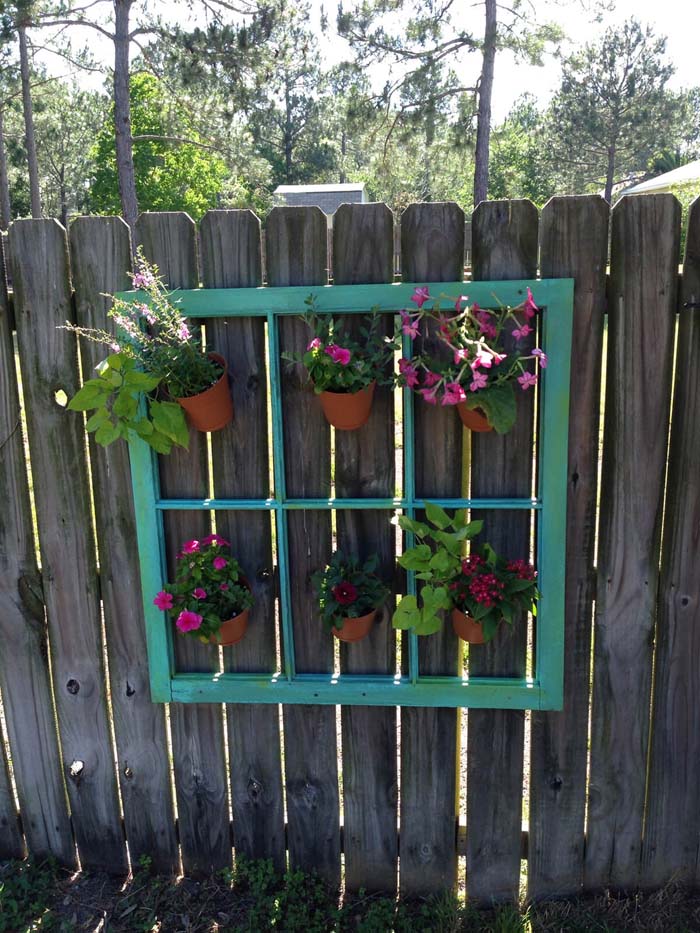 Do you have a collection of tiny potted plants? Turn them into a unified piece by displaying them inside a window frame.
The sharp edges of the frame contrast beautifully with the soft, organic look of the plants.
30. Unveil Family Memories with an Outdoor Photo Display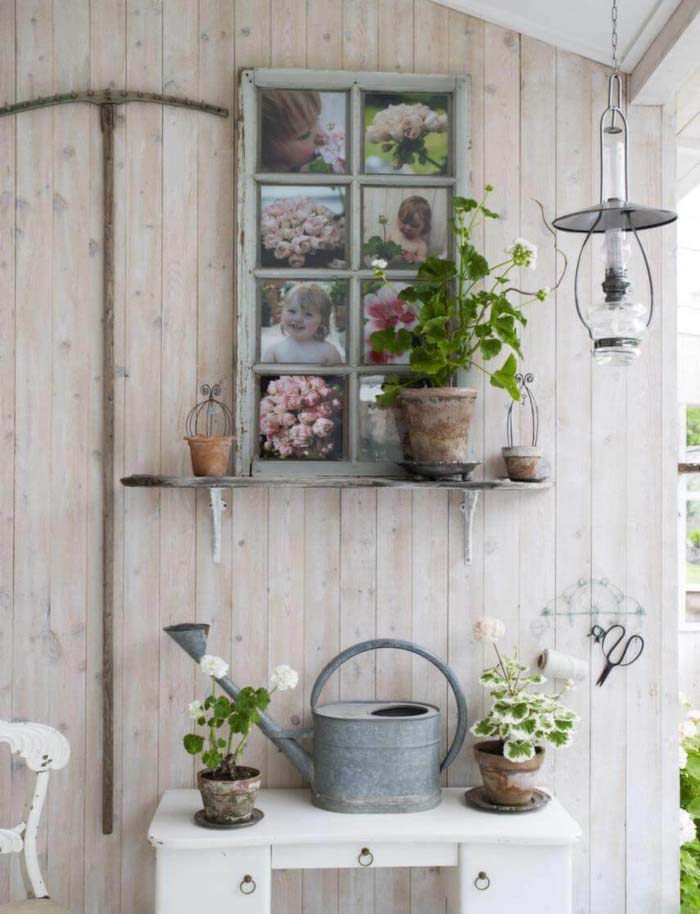 Family photos aren't just for indoor display.
Set them behind glass in an old window frame, and you can see your loved ones while you're relaxing in the sunshine.
via Prosa
31. Protect Your Plant with a Recycled Metal Greenhouse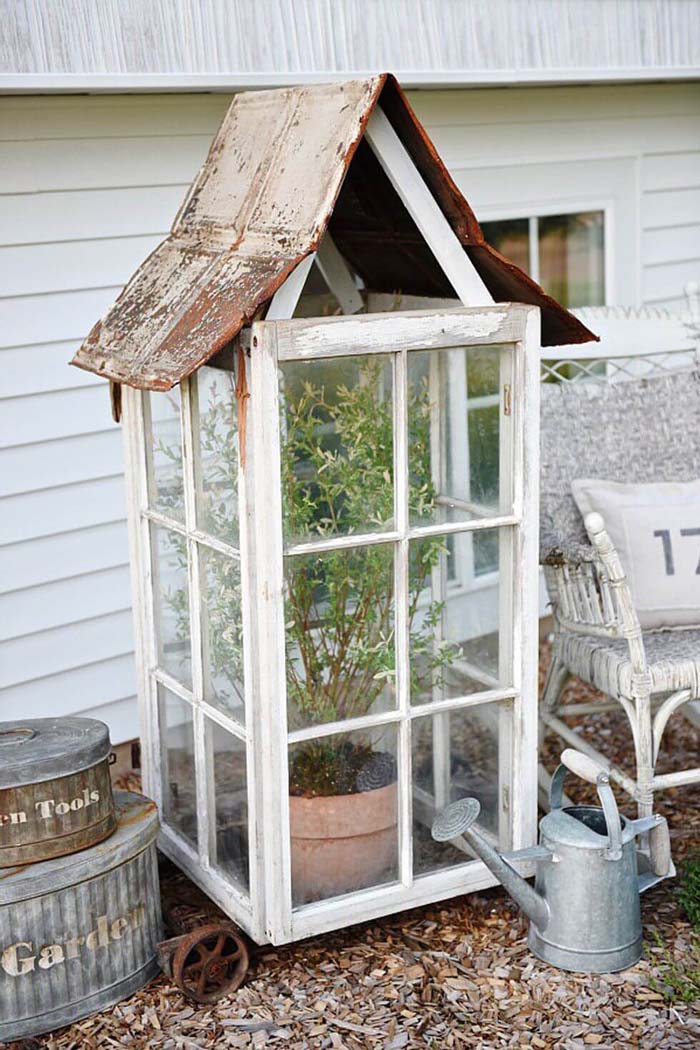 Crafted from four vertical windows and a recycled metal roof, this sweet greenhouse is the perfect way to protect a potted plant.
The glass offers ample protection, so your plants are safe in wind and rainstorms.
32. Transform an Old Window into a Coffee Table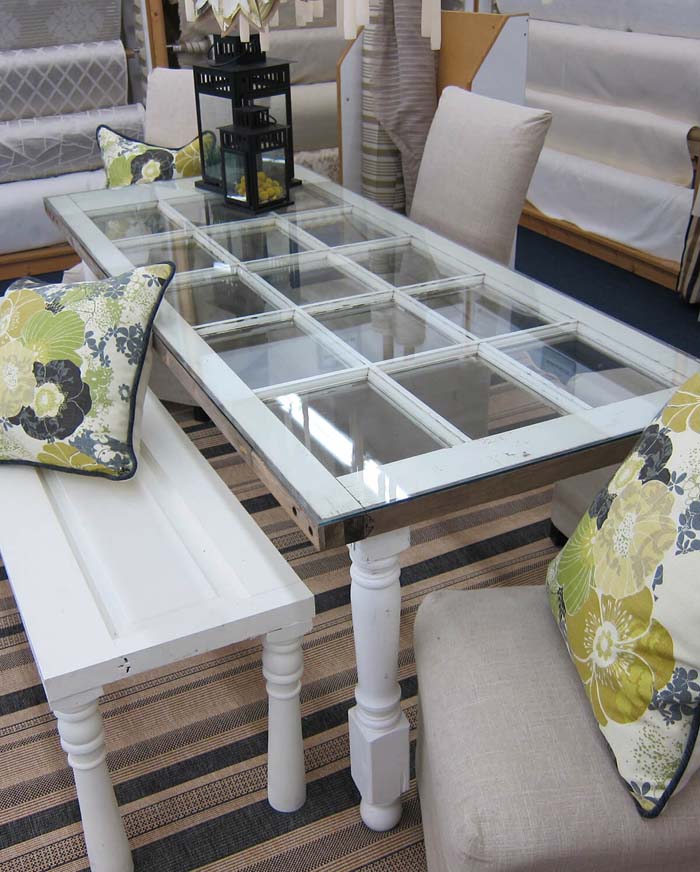 Give new life to an old door or a large window by turning it into a coffee table.
With a sheet of glass and four legs, this door makes a gorgeous centerpiece for a porch or patio seating area.
via All Weather