Do you have an outdoor space that's sitting empty and unused?
A garden makeover is a perfect solution — with a little bit of effort, you can transform an empty patch of grass into a space that's inviting and comfortable for your family and guests.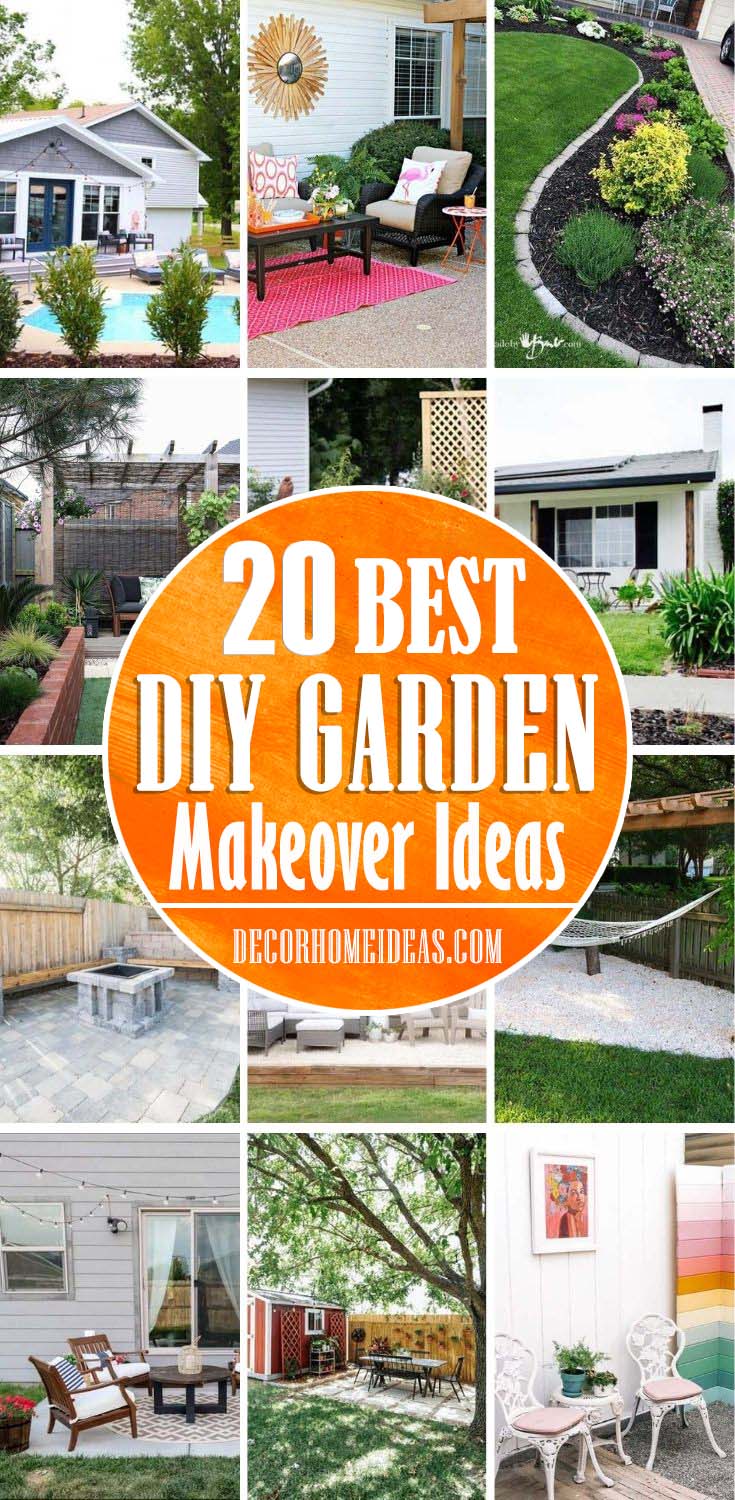 Whether you're starting with dirt, grass, or cement, these gorgeous garden makeover ideas can provide the inspiration for a creative solution for your home.
1. Create an Idyllic Gravel Patio in Your Backyard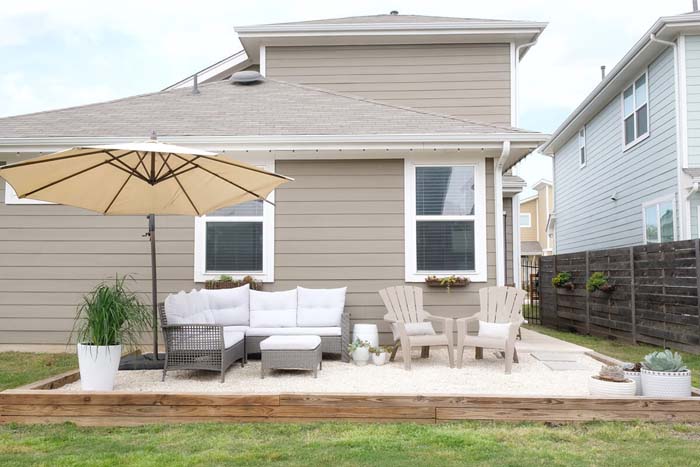 Give your backyard a soft, natural look by creating a patio out of gravel instead of the traditional cement.
This project is fast, affordable, and easy to complete; all you need to do is build a frame to keep the gravel in place. A few pieces of light-colored patio furniture complete the beachy, relaxed vibe.
2. Cozy Outdoor Dining Spot with Pavers and a Potting Table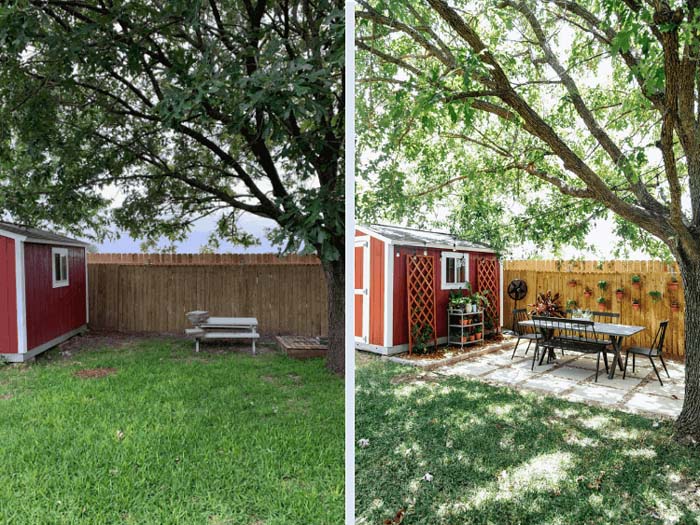 Enjoy your meals al fresco when you turn an unused corner of your yard into a dining space.
This project uses pavers for a fresh, country-inspired look. Hanging plants brighten the fence, while a potting table and a few standing lattice panels turn a simple shed into a gardening center.
Add in a beautiful dining set, and you have a place that's perfect for summer barbecues.
3. Create an Inviting Outdoor Space with a Firepit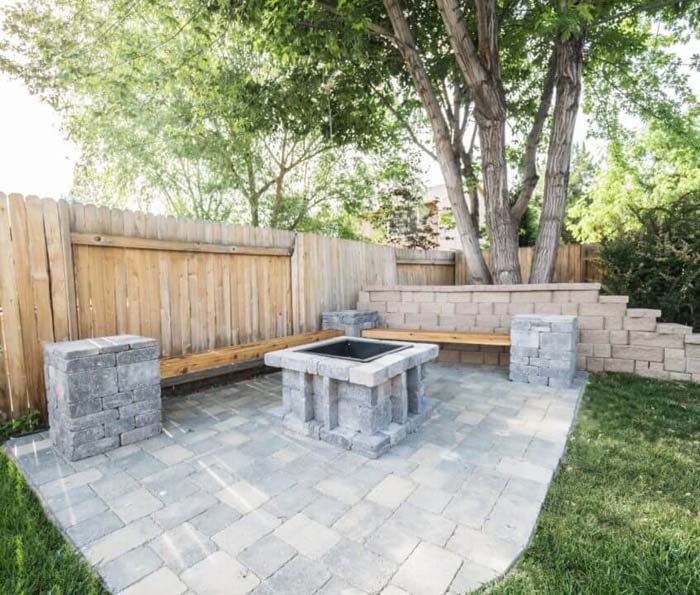 What's cozier than a campfire? Using simple and budget-friendly pavers, this creative makeover creates a usable floor, fire pit, and benches.
The result is the perfect place to gather with family and friends around the fire. Use the benches alone or bring in extra seating to accommodate a group.
via Mr. Build It Mrs. Style It
4. Transform Your Yard with a Pergola, Macrame Hammock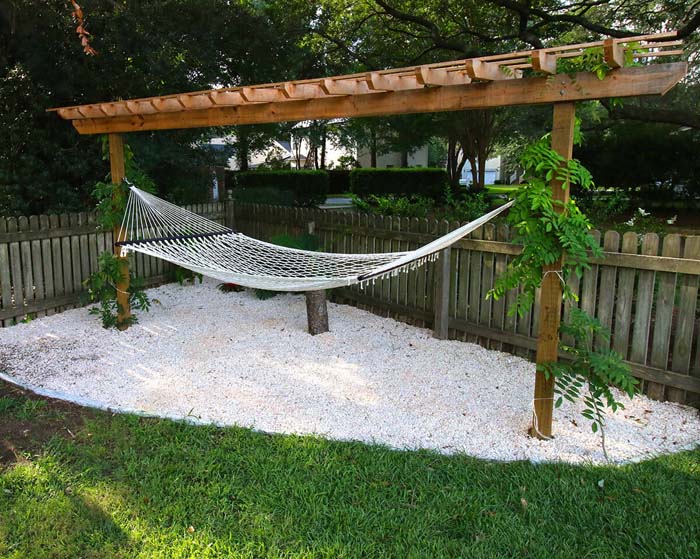 If your idea of the perfect afternoon is to relax outside with a book, this makeover is calling your name.
A charming pergola serves as a sturdy mounting point for a gorgeous macrame hammock, giving you all of the shade you need on a sunny day.
The light-colored gravel brightens the dark corner of the yard and provides a welcoming beachy feel.
5. Outdoor Retreat with Furnishings and Pergola Covering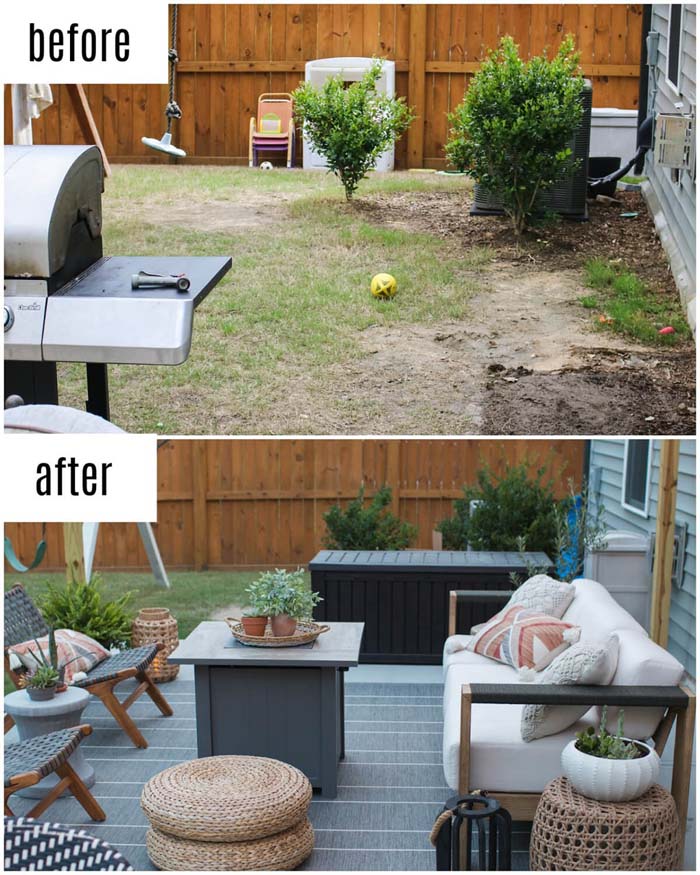 You'd never know a cement slab was hiding under this stunning patio grouping.
With ultra-chic furniture, cozy accessories, and a lovely outdoor rug, this is a spot you'll never want to leave.
A soaring pergola covers the entire patio for a touch of shade and natural texture — you can even add climbing vines for a romantic effect.
via Pretty Real Blog
6. Brighten Your Patio with Colorful Furnishings and Accessories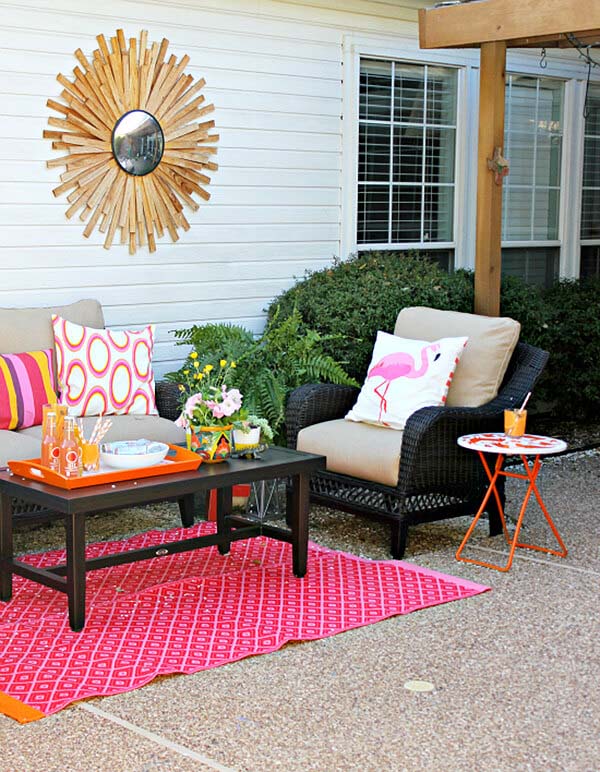 Do you have a few pieces of patio furniture hiding in the garage?
Give them new life with a few brightly colored accessories. The vibrant shades of pink and orange bring a cheerful look to your outdoor space; you can use any combination that complements the exterior of your house.
The painted table and serving tray add a fun finish.
via Hi Sugarplum
7. Enhance Your Home's Landscape with a Curving Garden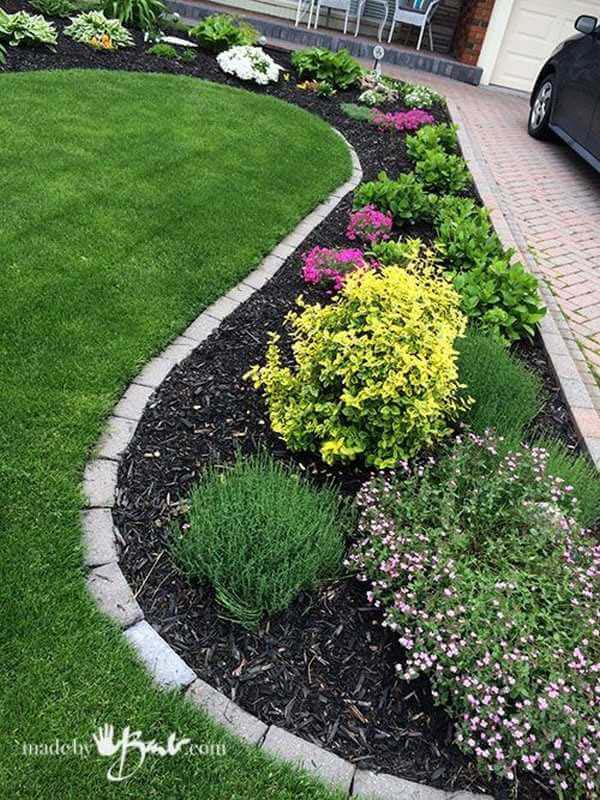 Boost the curb appeal of your home with a dramatic curving garden.
The soft, graceful lines contrast perfectly with the linear driveway accents, and the generous shape gives you plenty of room for flowers and shrubs.
The best part? With its beautiful shape, this garden looks lovely all year long.
via Made By Barb
8. Instantly Transform Your Fence with a Rainbow Color Scheme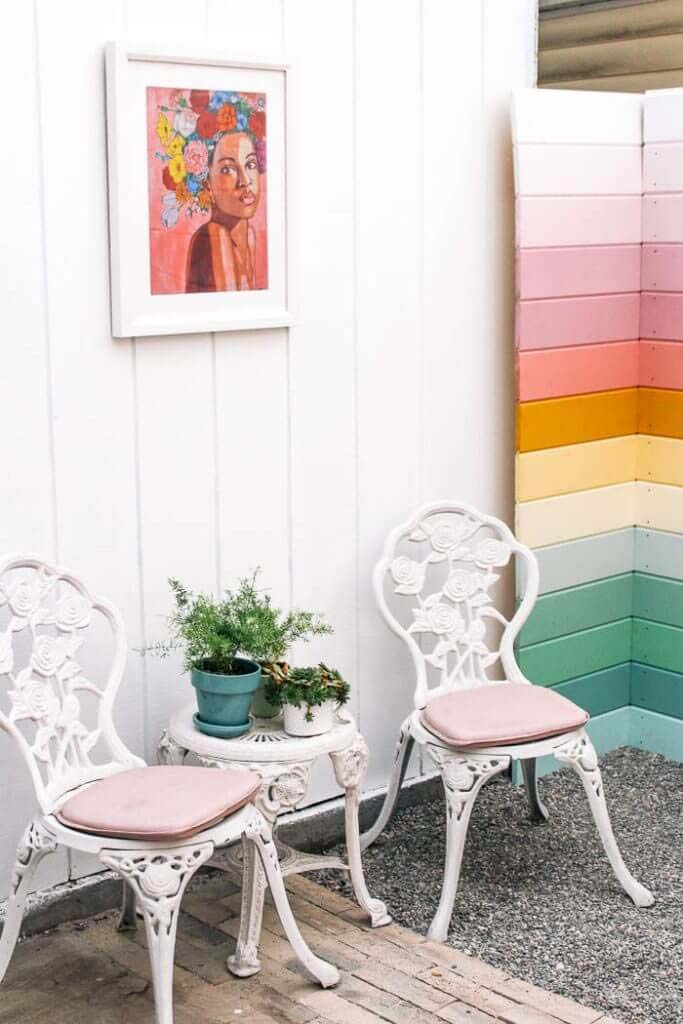 Whether you have an old fence or you're building a new one, a rainbow makeover takes it to the next level.
Choose pastels or vibrant colors and paint each board a different tone — the result is a spectacular focal point for the yard and a piece that's sure to make you smile every time you step outside.
9. Transform Your Garden with a Simple Mulch Makeover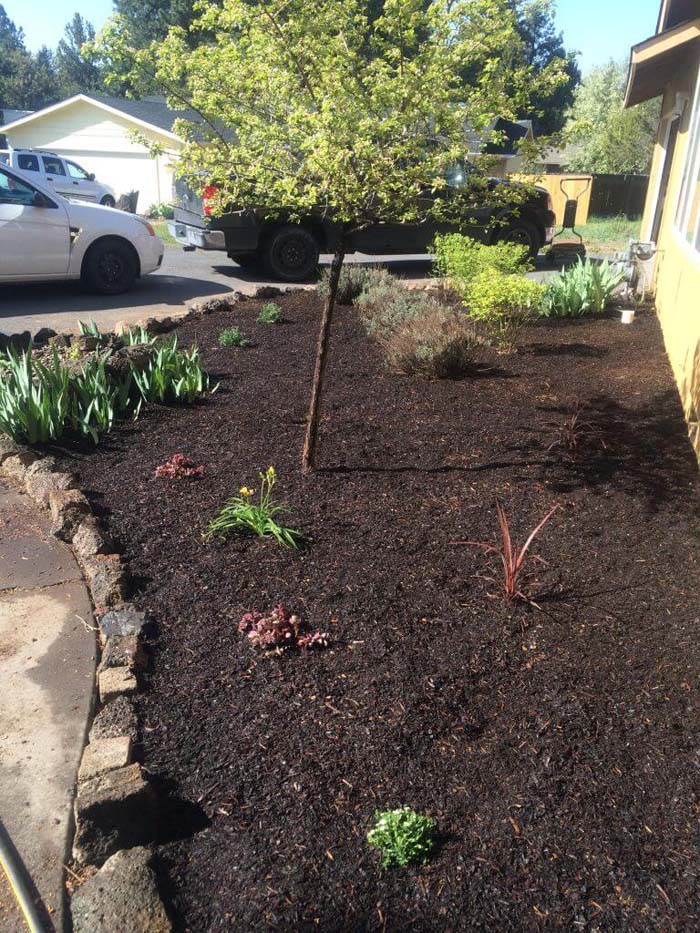 The secret to this gorgeous garden makeover is surprisingly simple: mulch.
The deep, dark color makes all of your plants pop; it also looks great with any type of siding. Don't worry if you're not a skilled gardener — just spread a few bags over the surface of your flower bed, and you're all set.
via Making Manzanita
10. Elegant Gravel Patio for Garden Makeover Ideas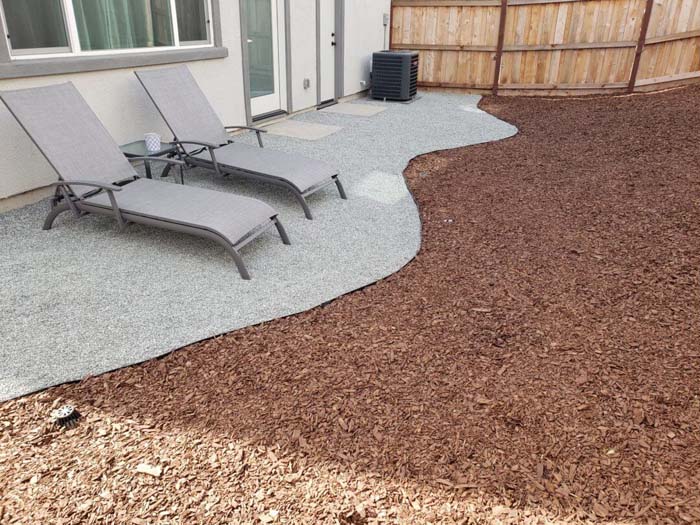 When budget is a priority, this gravel patio is a wallet-friendly solution. The rocks look natural and elegant, and as a bonus, they promote drainage and require zero maintenance.
Pair your new gravel patio with lounge chairs for a relaxing atmosphere, or add a sweet dining set and enjoy meals in the sunshine.
11. Cozy Garden Getaway with a Pergola and Raised Flower Bed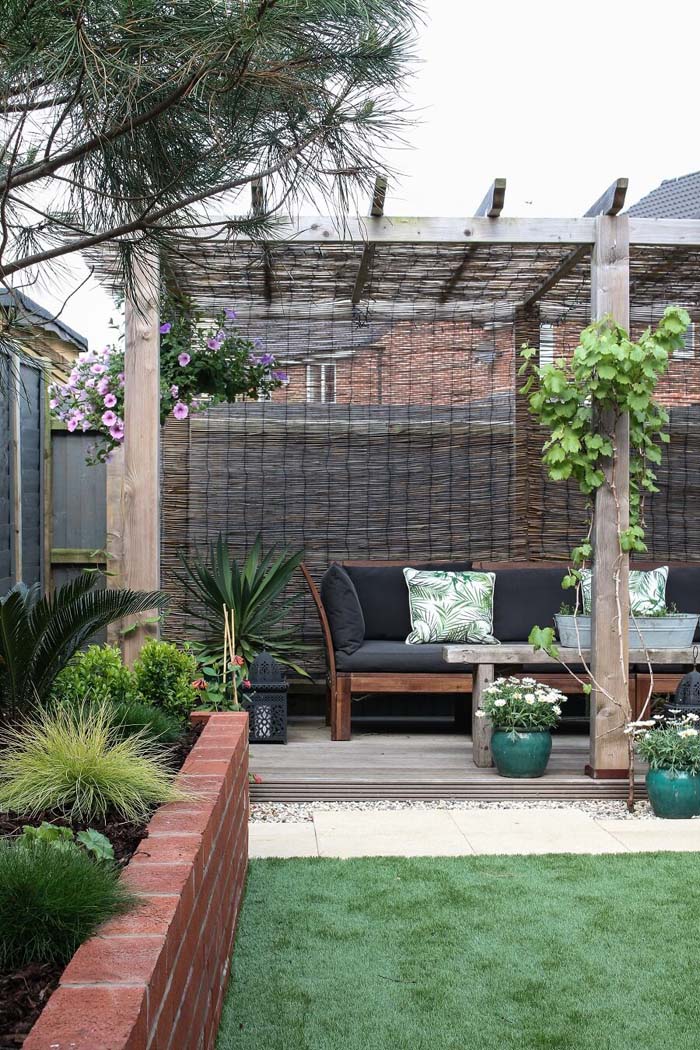 You'll find any excuse to hang out in your garden when it's decked out with a pergola and a raised flower bed.
A wooden pergola creates a cozy, intimate vibe that's the perfect setting for a small seating arrangement.
Load up the pergola with hanging plants to enhance the natural surroundings and infuse your space with life.
12. Dreamy Garden with Climbing Flowers and Potted Plants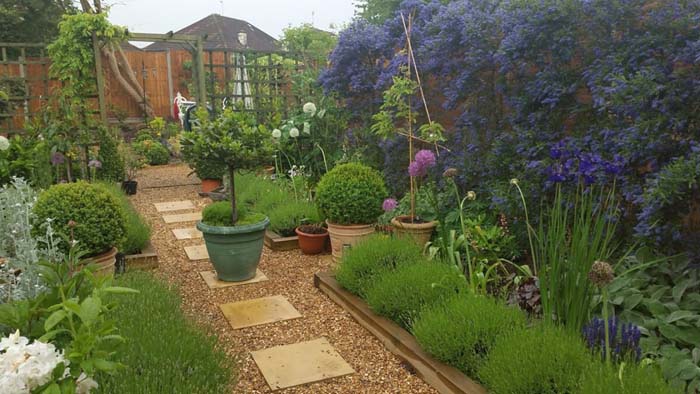 This dreamy garden is the stuff that dreams are made of. It's surprisingly easy to complete, particularly if you have access to a great garden store.
The real magic is in the flowers that climb the fence, concealing the wood and turning it into your own natural escape.
Large potted plants and a broad variety of plants create the feeling of a classic English garden.
13. Create an Intriguing Outdoor Sitting Area with a Gravel Fire Pit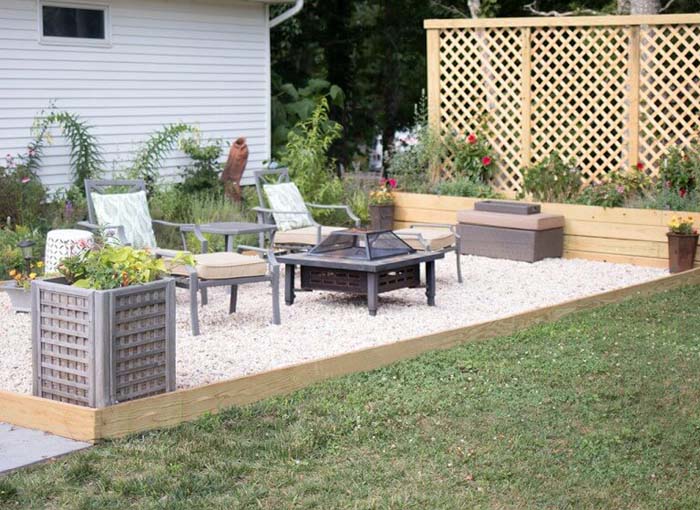 Embrace the transition from grass to gravel by turning part of your yard into a charming sitting area.
The wooden frame contains pea gravel, and the stunning garden surroundings make it easy to enjoy the fruits of your labor.
Set a fire pit in the center and invite your friends and family to enjoy your new green space.
via Gina Michele
14. Elevate Your Outdoor Space with a Raised Garden Bed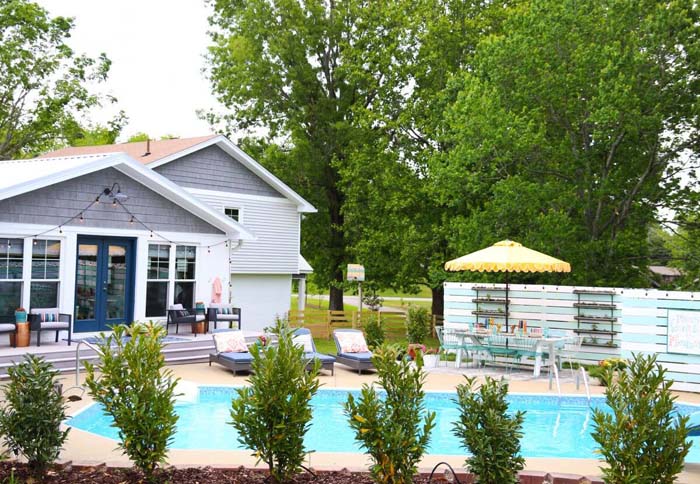 Simple yet sophisticated, this raised garden bed showcases a row of bright green shrubs.
The construction is surprisingly simple; just stack individual bricks to create a retaining wall. We love the way this bed frames the pool deck and adds extra privacy.
Use shrubs, or go for a joyful burst of color by planting a rainbow of flowers.
15. Transform Your House Facade with a Lush Front Yard Garden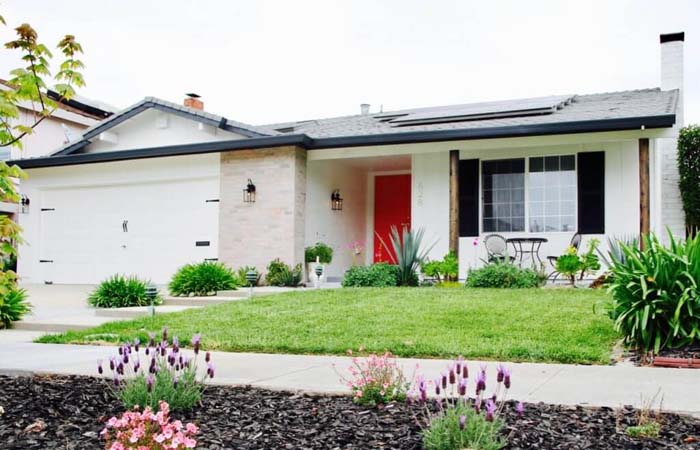 Is there anything more welcoming than a lush front yard garden? Here, a varied collection of plants and flowers provide an instant facelift for a simple house.
The different shades of green look chic and modern, and the range of shapes and heights create an organic yet textural look that pops against the white exterior.
via Ramshackle Glam
16. Transform a Tiny Patio into an Outdoor Entertaining Space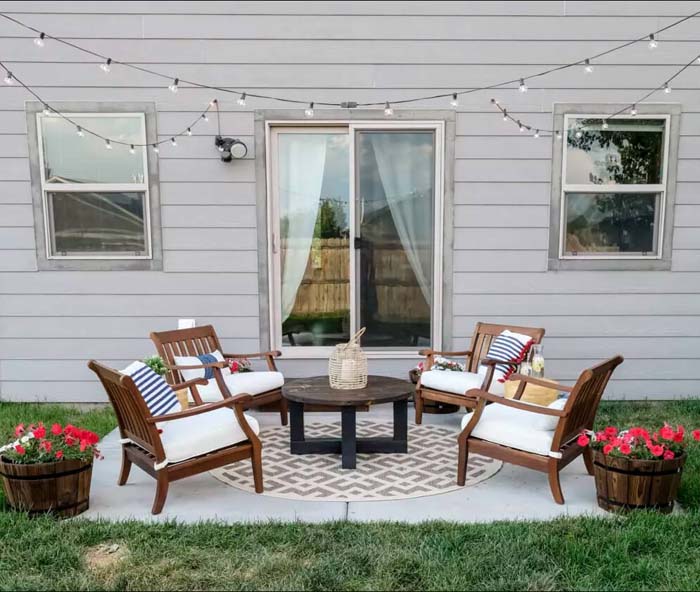 Go big on a tiny patio with a furniture grouping that fills the space. Here, a beautiful round rug anchors the seats and adds a homey feel.
Notice how the small details — hanging lights, colorful pillows, and a beautiful lantern — transform the simple cement patio into an upscale entertaining area.
Brilliant flower pots provide a garden effect without sacrificing valuable space.
via Joyfully Growing
17. Create a Modern Garden with Cement Flower Beds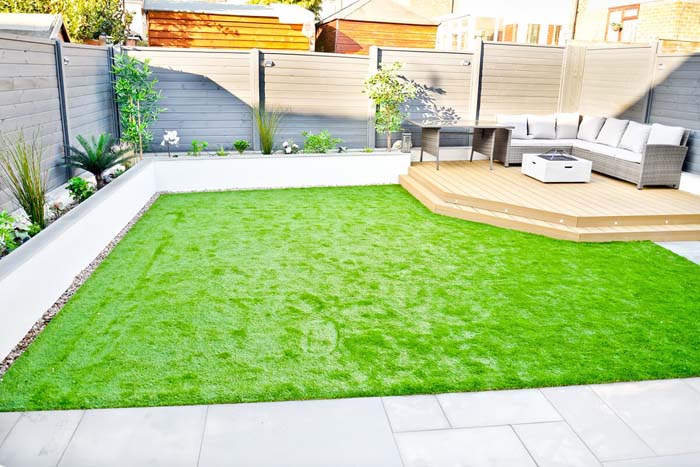 It's not easy to make a garden look modern, but this magnificent backyard hits the mark perfectly. The secret?
Cement flower beds with crisp lines and sharp angles paired with a fascinating lineup of all-green plants. A geometric corner deck keeps the contemporary lines and adds a soft hint of the natural wood grain.
via Alex Gladwin
18. Hard work pays off!

via Mark Allen Oldag
This incredible garden makeover project shows what you can do in your backyard when your creativity is awesome!
19. Great Garden Makeover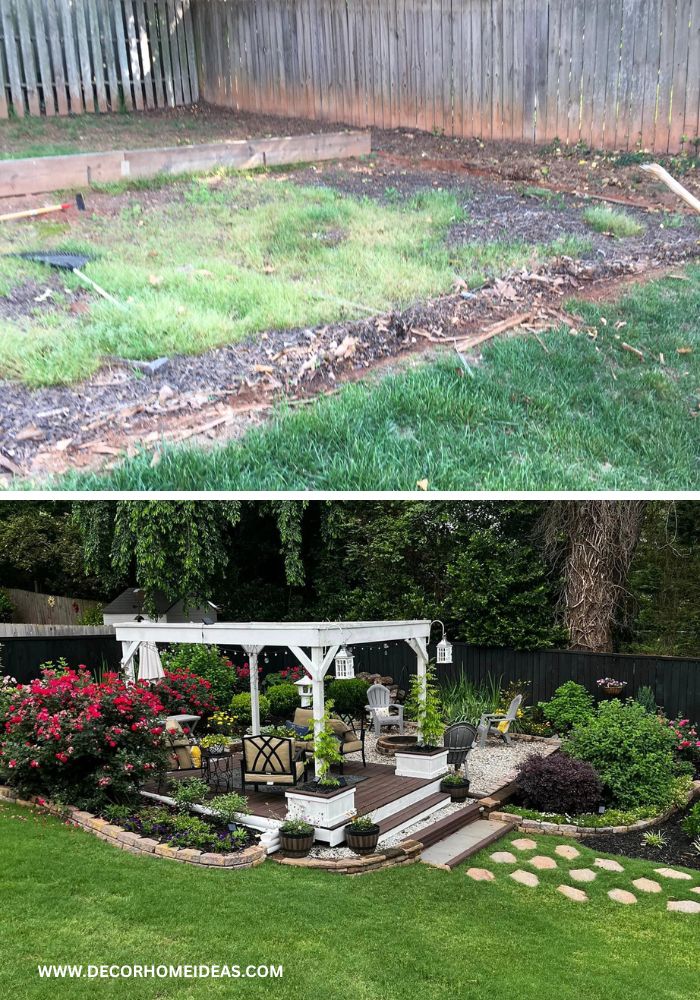 via Deborrah Tibbs