25 Budget-Friendly Outdoor Hiding Ideas To Keep Everything Organized
Outdoor storage is a necessity for many homeowners, especially when it comes to bulky items such as air conditioning units, utility boxes and bikes.
If you love to maintain a neat, elegant look in your yard, however, these items can create an unsightly clutter.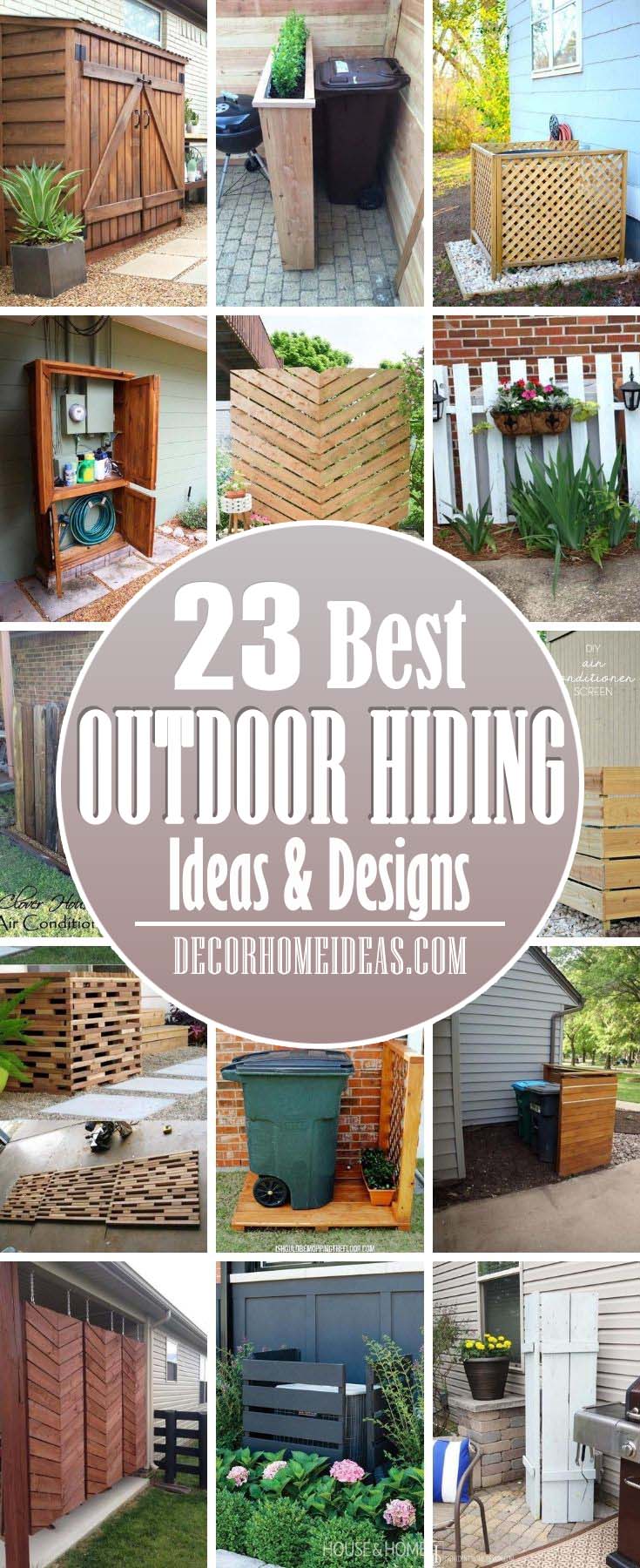 Don't forget to PIN this image for quick access to all these ideas!
That's where creative hiding spaces come in — by finding creative ways to hide your gear, you can enjoy the convenience of outdoor storage and keep your space looking beautiful at the same time.
A/C Cover DIY – Accessorize a Giant Eye-Sore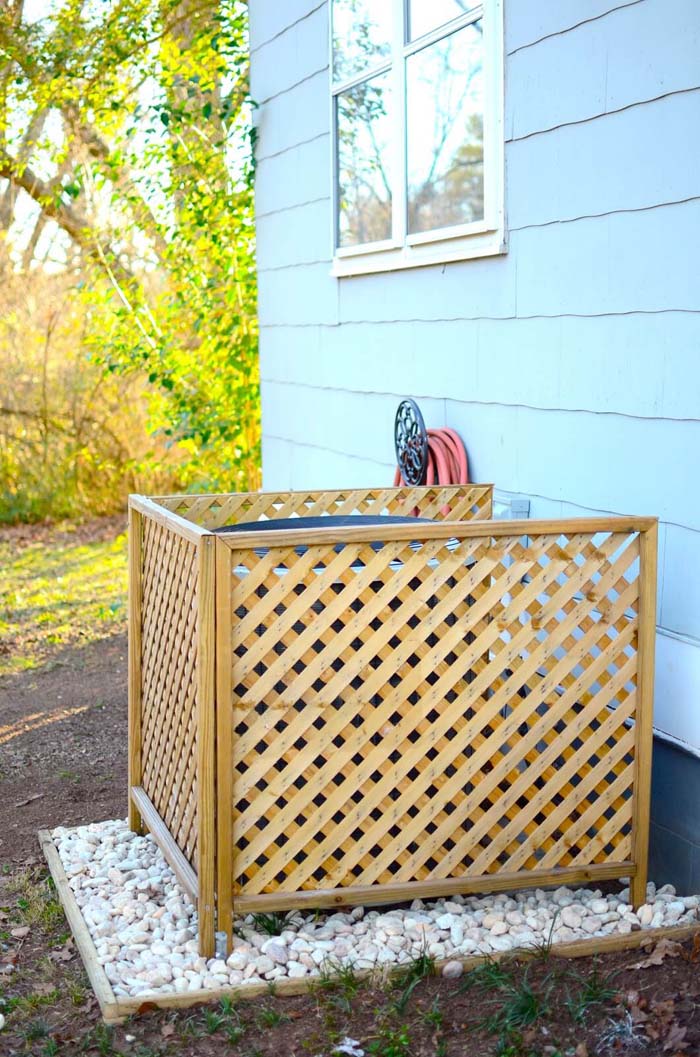 If your home has air conditioning, you probably have an enormous condenser unit sitting outside of the house.
Hide it easily by putting up a wooden screen; the open-frame sides look lovely and allow air to circulate. A wooden frame filled with white gravel makes the perfect elegant finishing touch.
Armoire Covers Unsightly Wires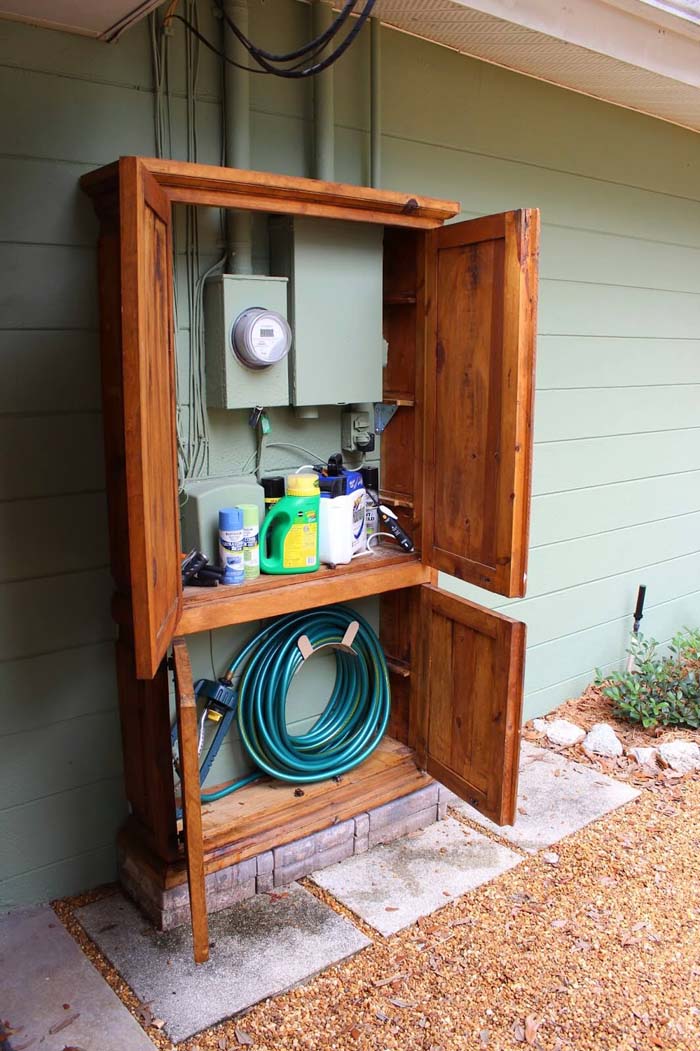 Electrical boxes and hose mounts can be an eyesore on the outside of your home.
This creative project uses an old armoire to hide the utilitarian items and add visual interest.
Just cut off the back panel and install the unit flat against the wall — the doors swing open to allow easy access.
via Shabby Glam
Backyard Fence Made Of Pallets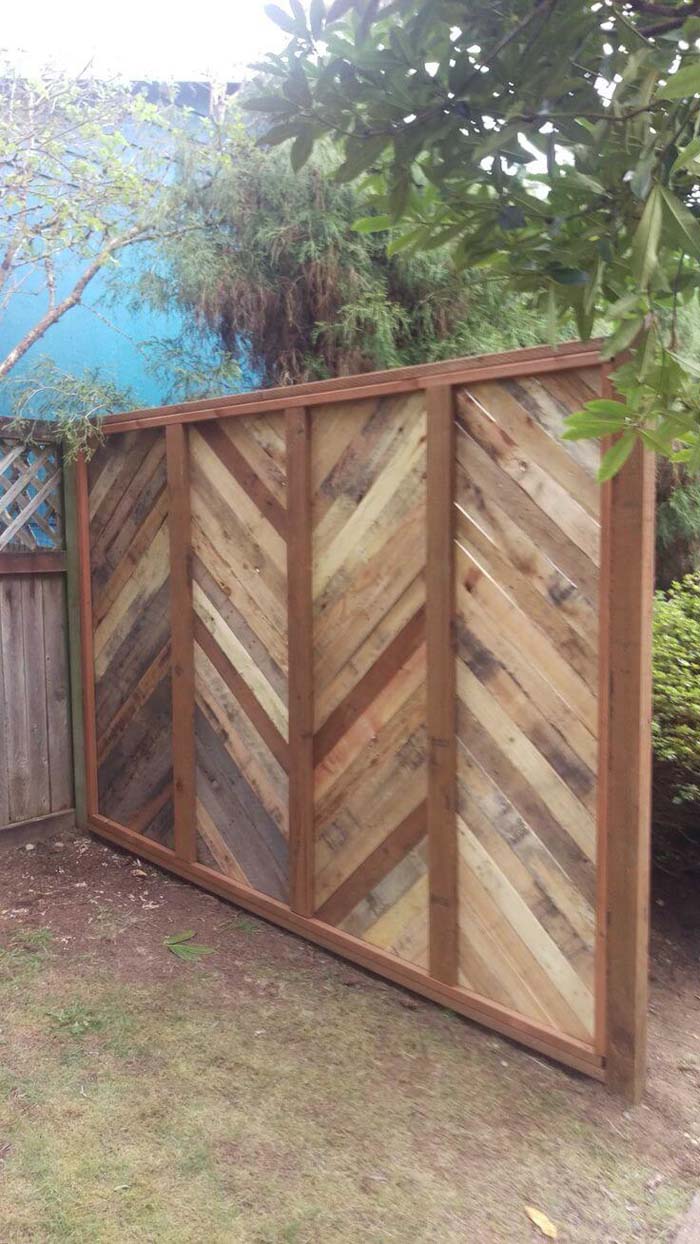 Do you have a stack of old pallets hanging around in the garage?
Transform them into a gorgeous privacy fence that shields large items from view.
This project showcases the different colors and textures of the palette wood using a fun chevron pattern. An exterior wooden frame gives the fence a crisp, polished look.
Basic Cedar Screen For Hiding Bins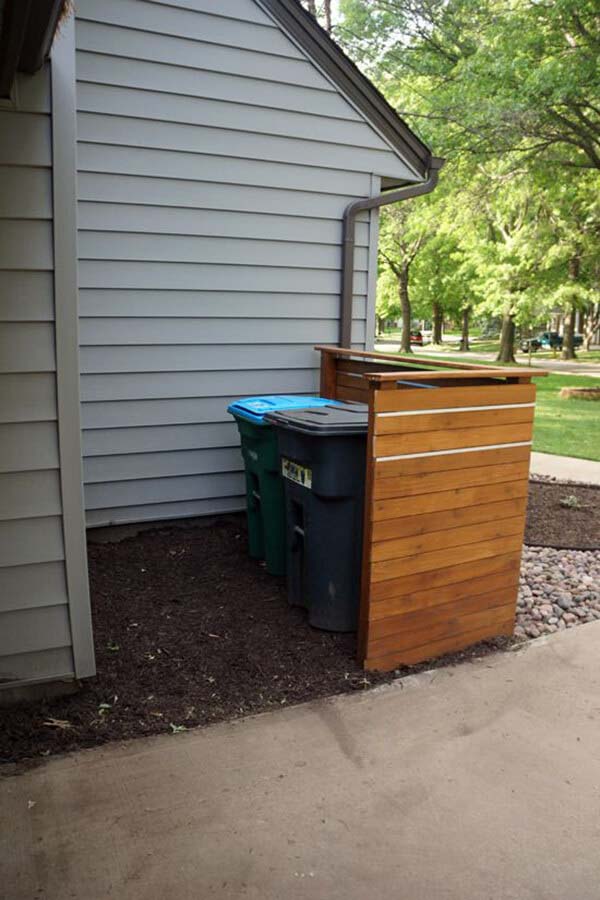 Garbage and recycling bins are a convenient place to store your trash between pickups.
Free up space in the garage without compromising on style using a simple corner cedar screen.
The rich, warm color boosts your home's curb appeal and conceals the bins from most angles. Make sure to leave a wide gap for easy moving on garbage day.
Camouflage Your Air Conditioner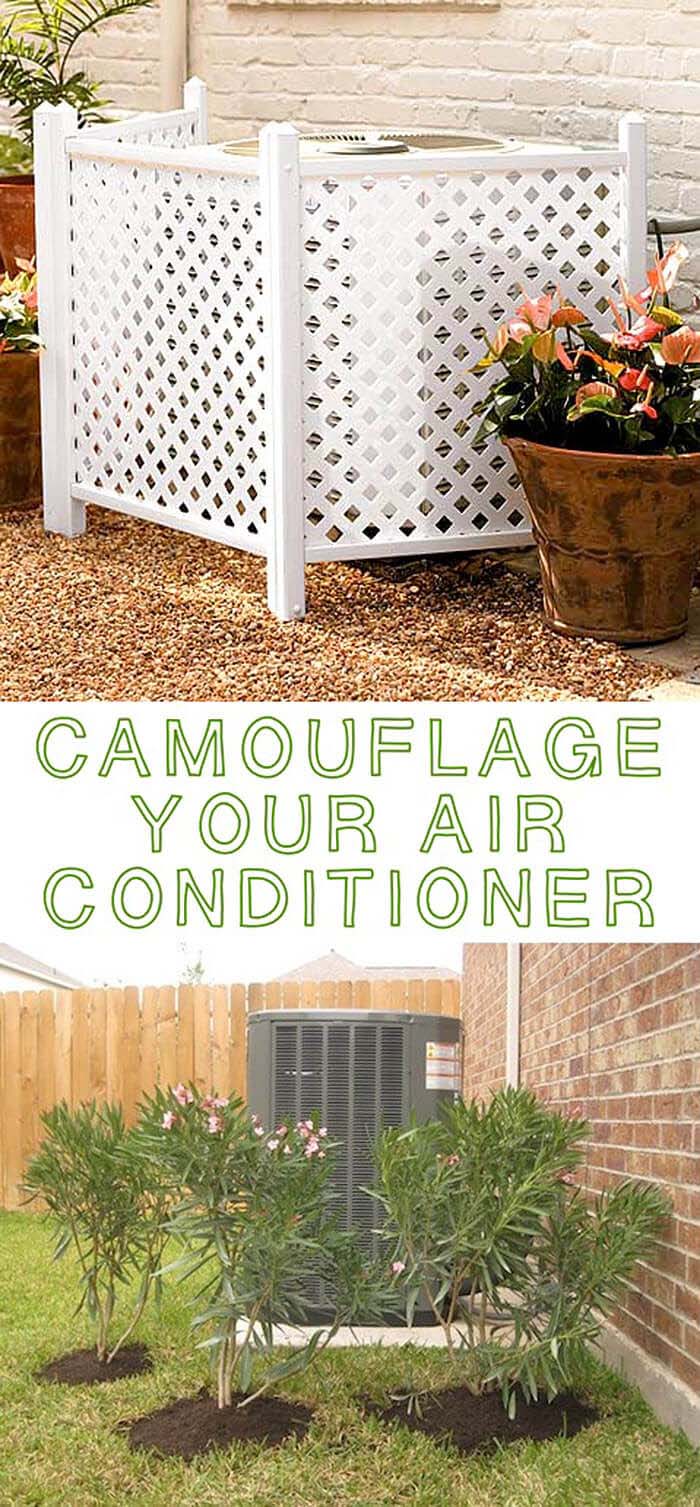 If you have a farmhouse or a bungalow, this adorable fence screen is a lovely way to hide your AC condenser unit.
The bright white color looks fresh and classic, particularly when you pair it with a few oversized flower pots or a few tall shrubs for a burst of color.
Cedar Fence Idea

To look at this beautiful cedar fence, you'd never know that it's hiding a pair of unsightly AC condenser units.
The slatted design suits both contemporary and traditional homes, making it a versatile option. By adding a bed of gravel around the base of the fence, the homeowner gave it a finished, intentional look.
via Mama Eats Clean
Faux Rocks Cover Pipes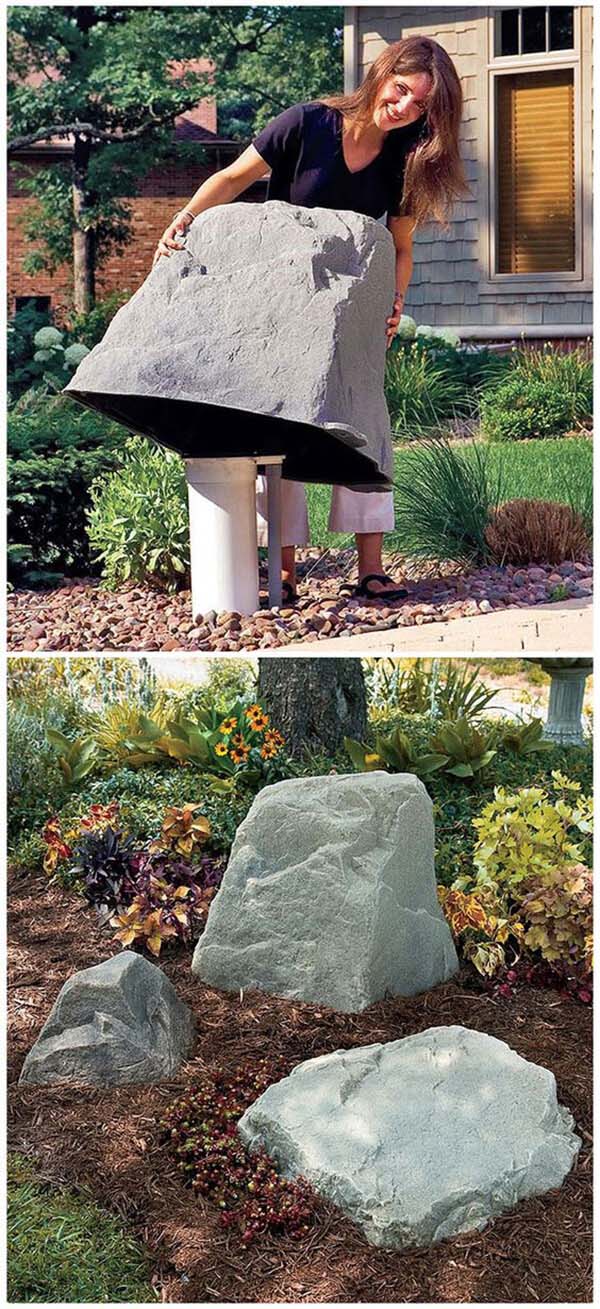 Do you have access pipes sticking up in your front yard?
Faux rocks are a clever way to conceal the pipe ends and anchor a gorgeous landscaping display. Just pop these durable, realistic-looking rocks in place, and your guests will never guess what's hiding underneath.
via Plow Hearth
Fence Picket AC Unit Cover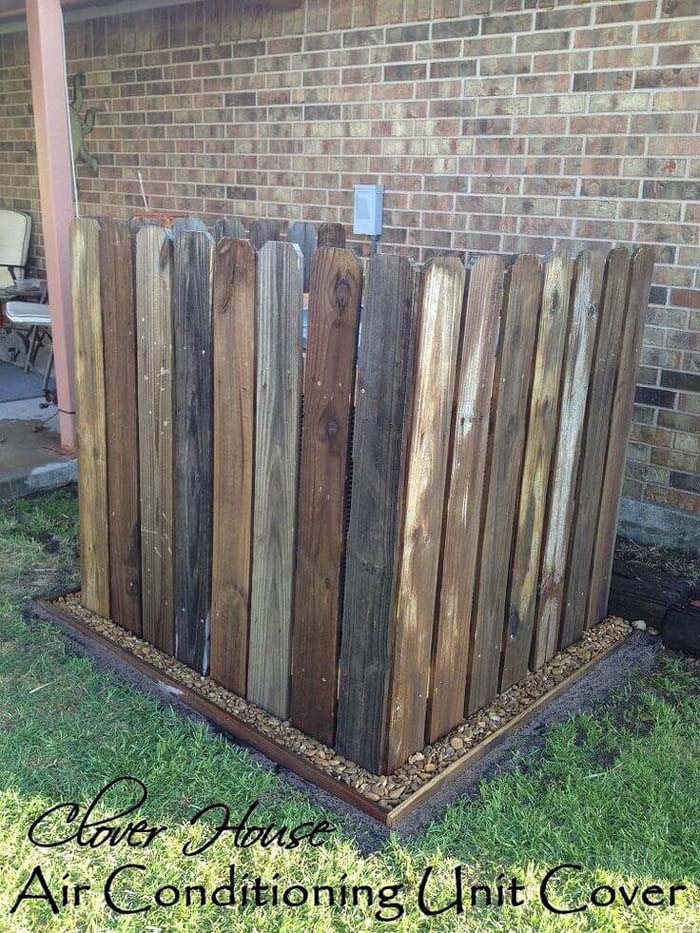 This creative hiding place brings new meaning to the phrase "picket fence".
Part storage, part work of art, it adds a charming rustic vibe to the exterior of your home.
A multi-tiered base highlights the geometric design, and the varying wood-grain patterns contrast beautifully with brick, siding, or even stone.
via Our Clover House
Hanging Wooden Screens For Back Patio Privacy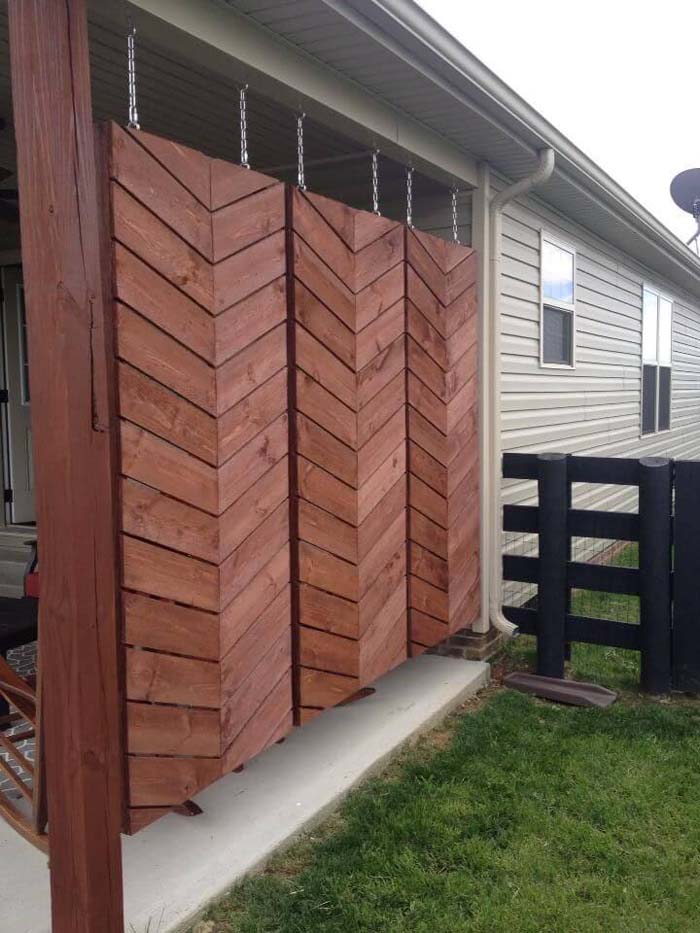 When you live in a tightly-packed neighborhood, privacy can be hard to come by in your outdoor areas.
Turn your back patio into a place to relax by hanging a set of wooden screens. We love the on-trend chevron pattern and the finish that matches the existing wooden posts.
via HGTV
DIY Hose Hiding Planter

An outdoor garden hose makes it a breeze to water the lawn, but the storage mounts aren't always the prettiest.
This fun planter box provides a handy and protected place to coil your hose between uses. Just lift off the shallow planter top when you're ready to work in the yard.
via Jaime Costiglio
How to Hide an Air Conditioning Unit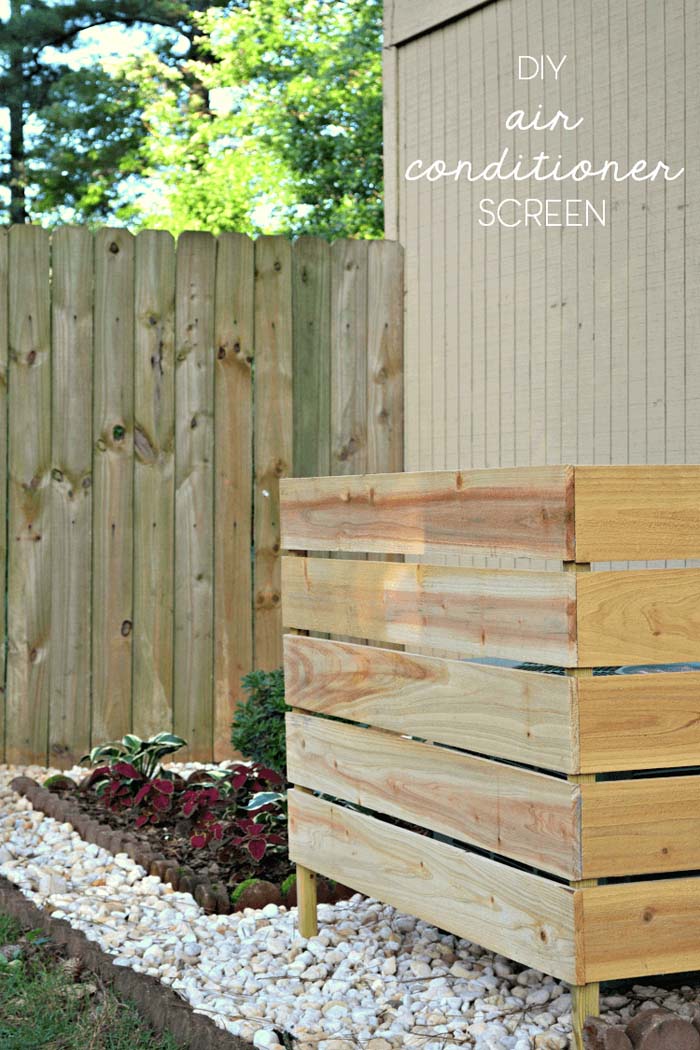 Are you creating a modern farmhouse vibe?
This AC-concealing fence is an ideal combination of rustic and contemporary styles.
Use a similar ultra-simple shape to bring the natural, unfinished wood into this century. After exposure to the sun and rain, the wood achieves a lovely weathered look that enhances your space.
Modern Dark Stained AC Unit Box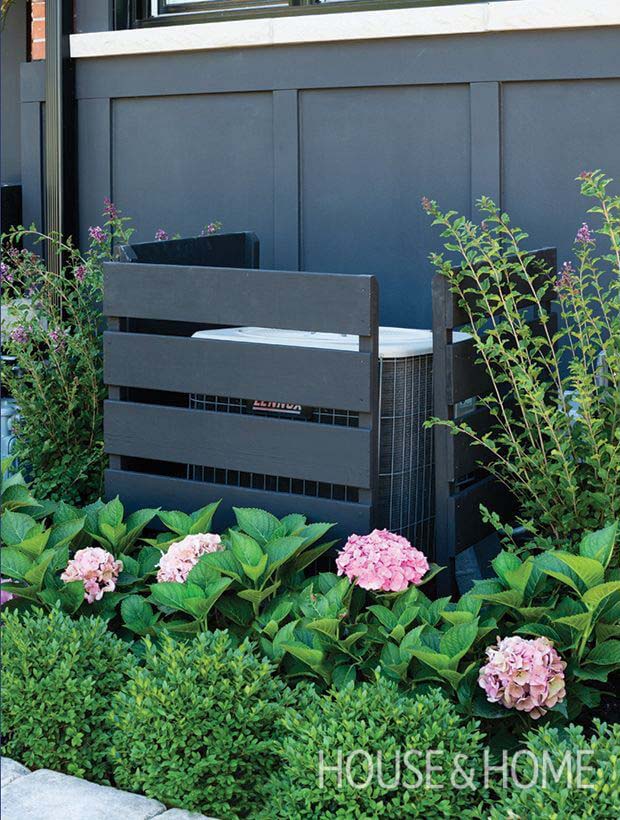 If you love a dark, contemporary vibe, this unique AC box is the perfect fit.
The deep finish blends in with the fence, creating an unbroken wash of color.
Use a variety of greenery to conceal the bottom edge, or add in a few flowers for a subtle burst of color.
via House and Home
Modern Design Wooden AC Unit Screen

Proper ventilation is essential for an AC condenser cover, and this fun model delivers excellent airflow.
The true beauty is in the unusual design, which uses blocks placed in offset positions for a modern-art twist. For extra visual interest, use wood in a variety of finishes.
via House Pet
Multifunctional Side Yard Shed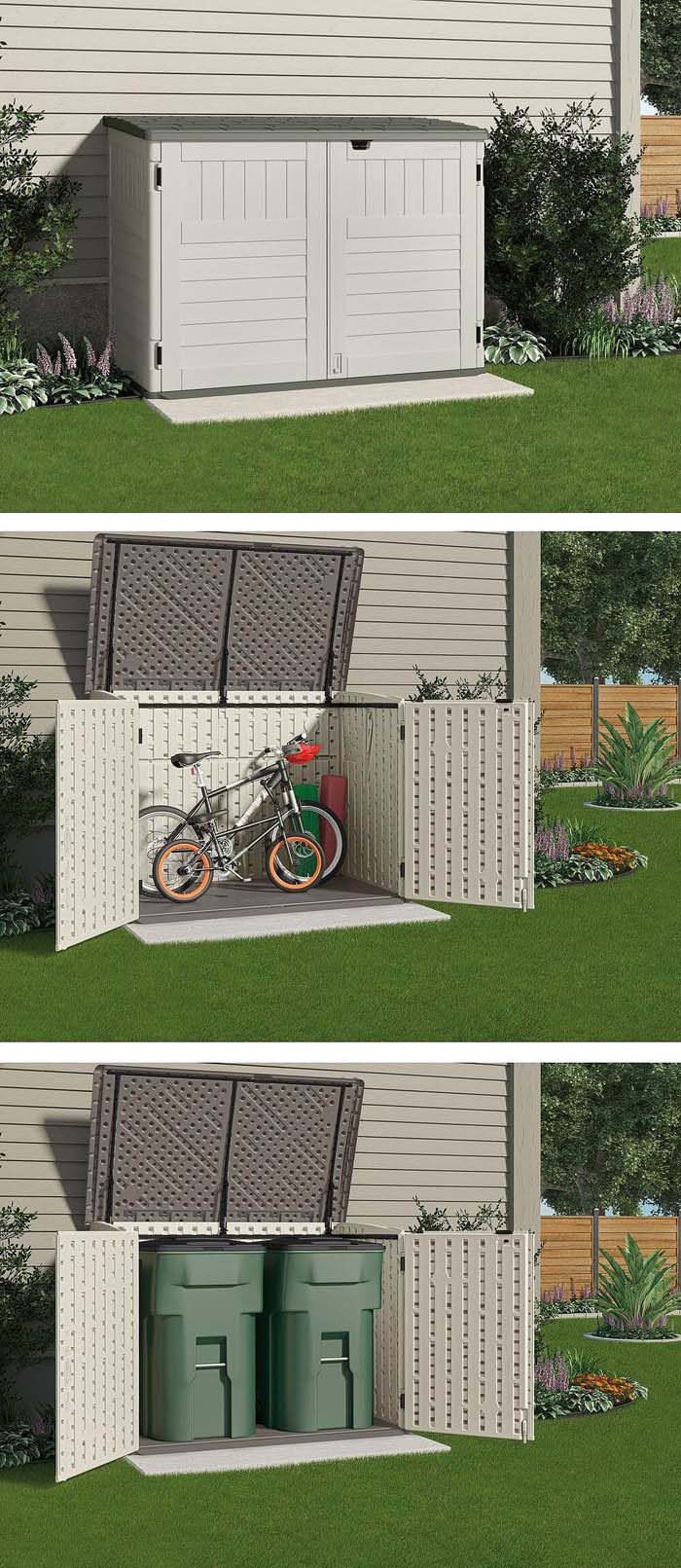 Does your small garage force you to keep bikes and lawn equipment out in the yard?
Protect your gear and keep your lawn looking great with this clever shed.
The lift-up top and opening front doors make it easy to access your belongings, and ample ventilation prevents condensation from gathering.
via Home Depot
Outdoor Garbage Can Storage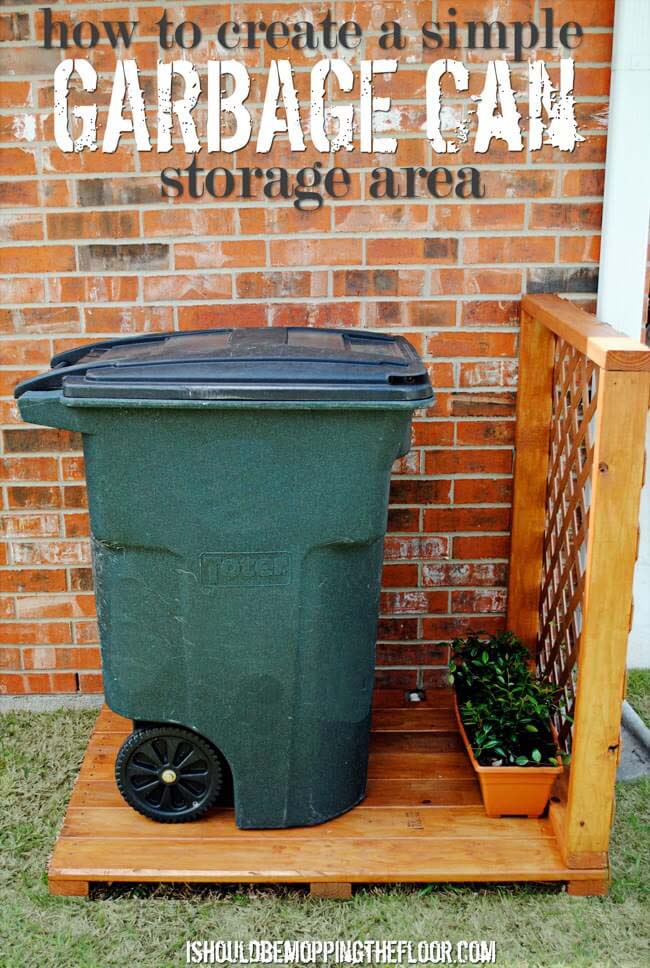 Are you working with limited space?
A raised platform and a simple wooden screen are plenty to hide your garbage can from people walking or driving by on the street.
The platform also protects the can itself, deterring pests and insects. A small potted plant adds just the right burst of natural color.
via I Should Be Mopping The Floor
Picket Fence Screens Unsightly AC Unit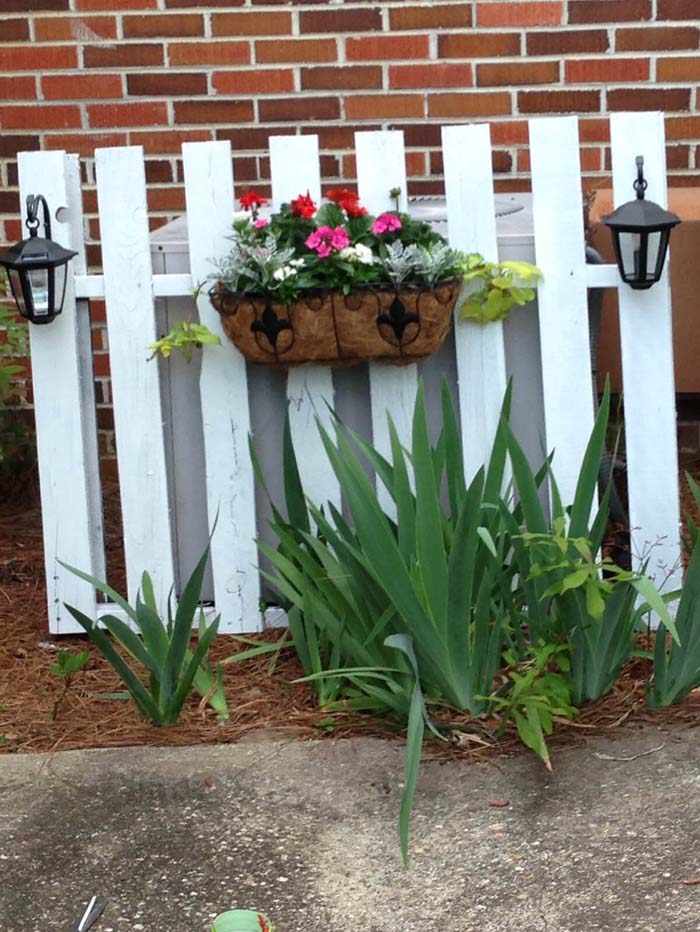 Adorable and impossibly charming, this sweet fence shields your garbage cans from view.
The whitewashed finish complements any vintage home, and a hanging lantern is a clever addition.
Plant a row of greenery along the base of the fence for a burst of color, and hang a flower basket for an extra-lush look.
Pretty Cabinet Hides Utility Box and Wires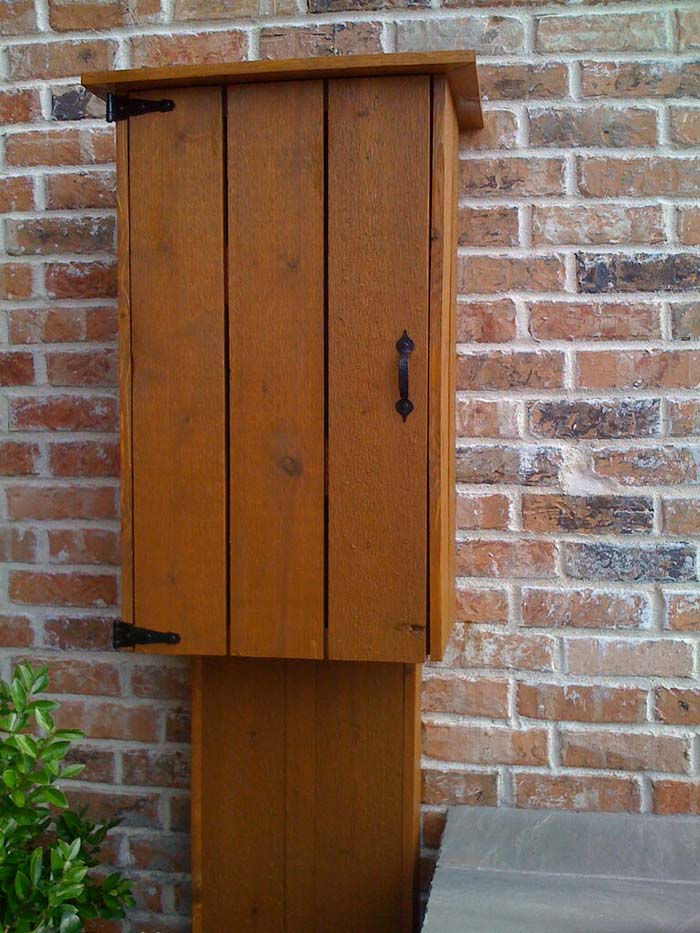 The utility box and wires are essential for delivery electricity to your house, but they're not usually beautiful.
A pretty cabinet hides the wiring; just pop open the door to access your meter.
This is a great DIY project that can be as budget-friendly as you like.
via Flickr
Raised Planters Hide Unsightly Bins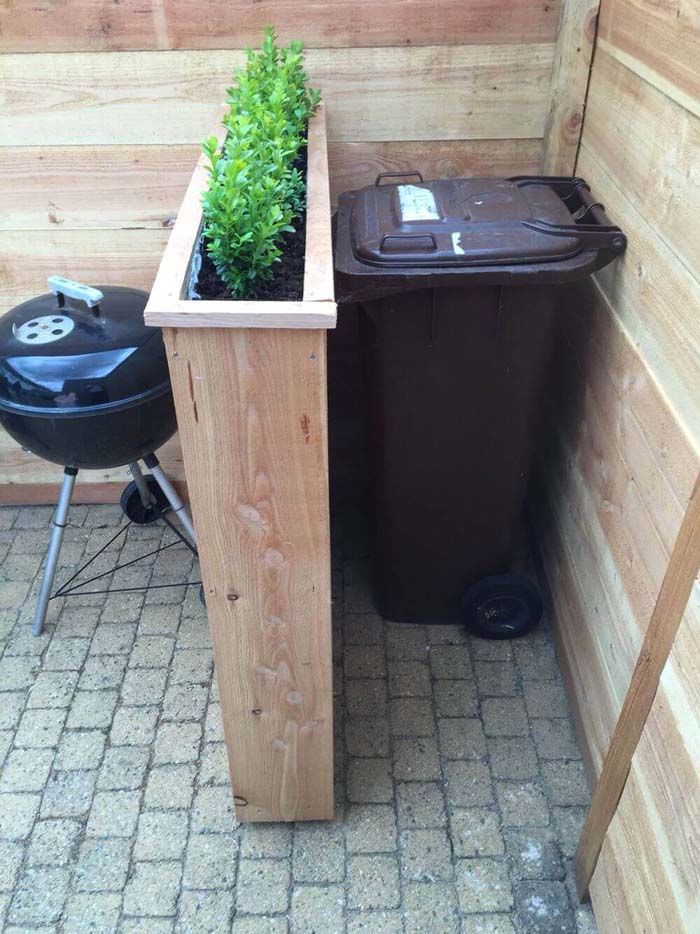 What's more beautiful than a planter overflowing with greenery?
This project uses a tall, narrow planter as a decoration and a hiding place for your garbage bins.
Add in a shallow planting box to fill with green plants or flowers — you can even fill it with pretty rocks to match a contemporary patio.
Simple Chevron Outdoor Privacy Wall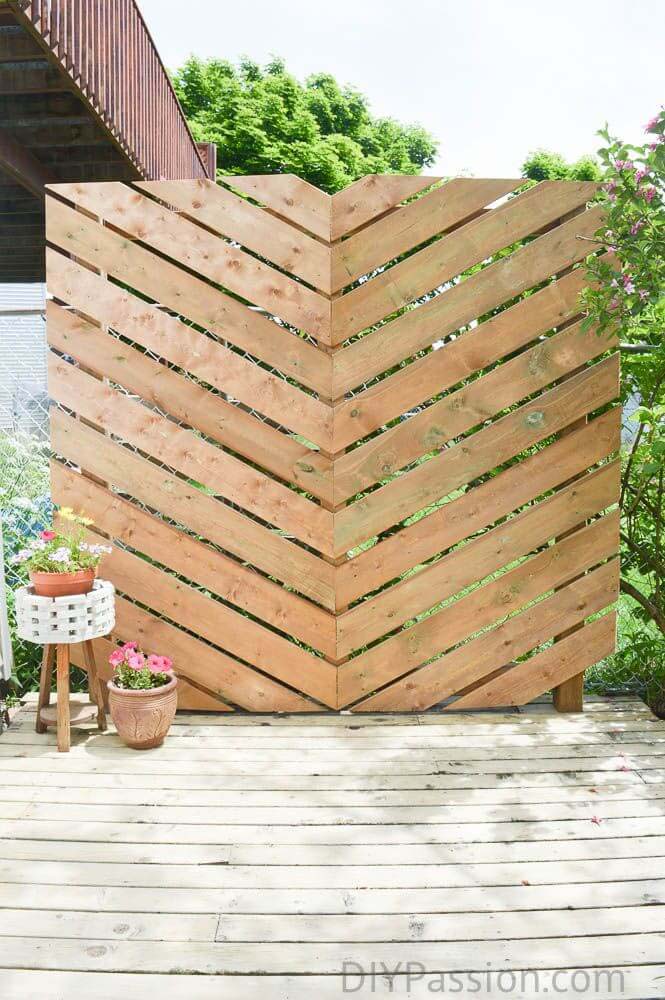 This wall is all about geometry — the bold chevron design transforms a simple outdoor space into a beautiful, photo-worthy spot to relax.
Install a privacy wall anywhere you need to block the view into your yard.
via DIY Passion
Simple White Washed Screen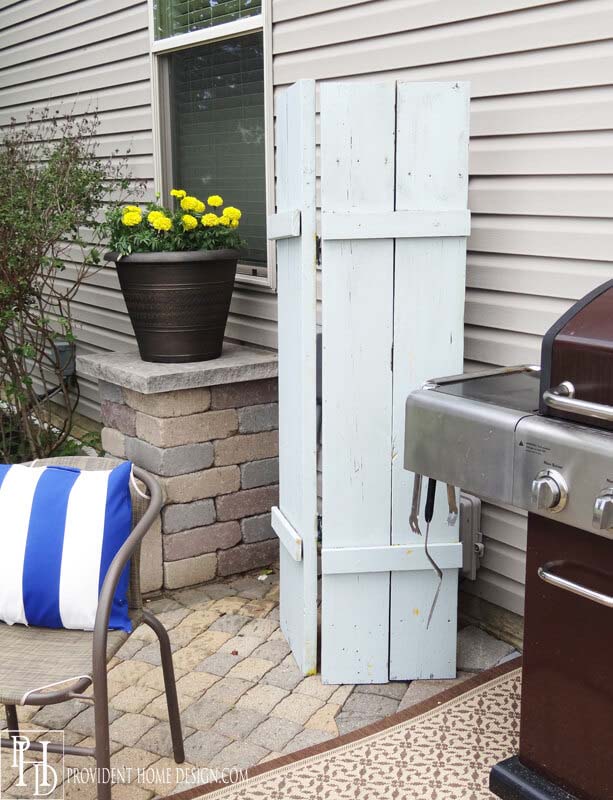 Inexpensive and easy to build, this wooden screen is a beautiful way to conceal any small item from view.
Two small panels are connected by hinges, so you can adjust the angle and take advantage of the screen's freestanding design.
Tool Shed Project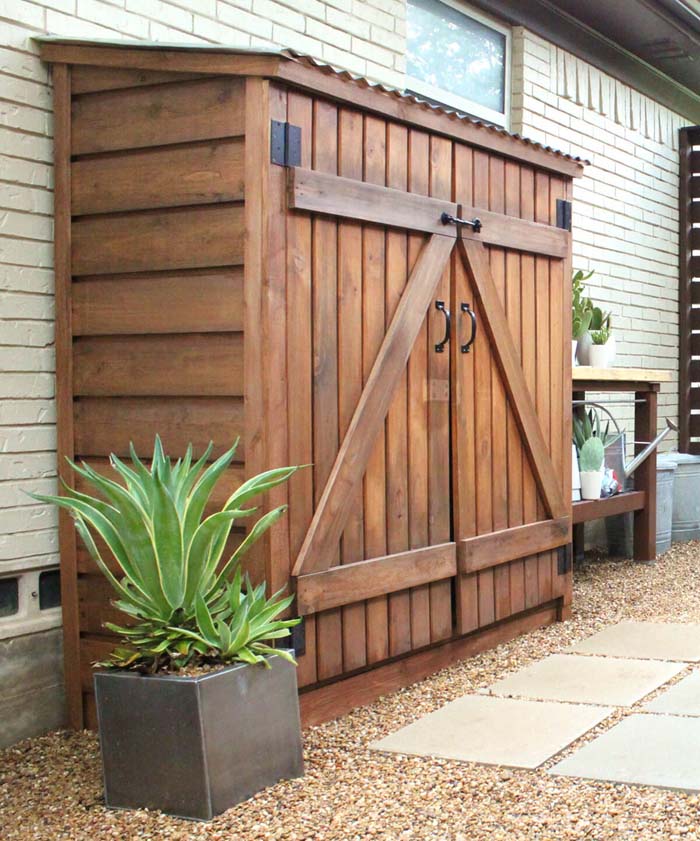 Do you have a large collection of tools?
This gorgeous wooden shed keeps them safe, all without taking up much space in the yard. Add a lock on the front doors for extra security.
A Trellis Top Adds Further Disguise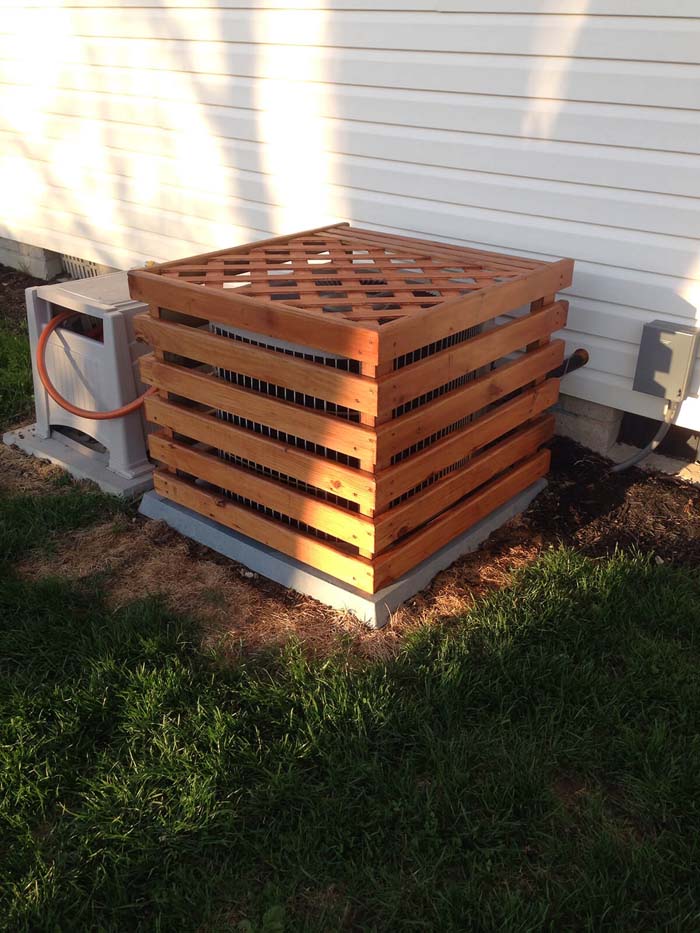 When you have a low-slung AC condenser, a fence can obscure the sides — however, the top is still exposed.
This creative solution uses a lovely lattice screen to cover the top surface and hide the condenser from view.
DIY Wood Screen To Hide Utility Boxes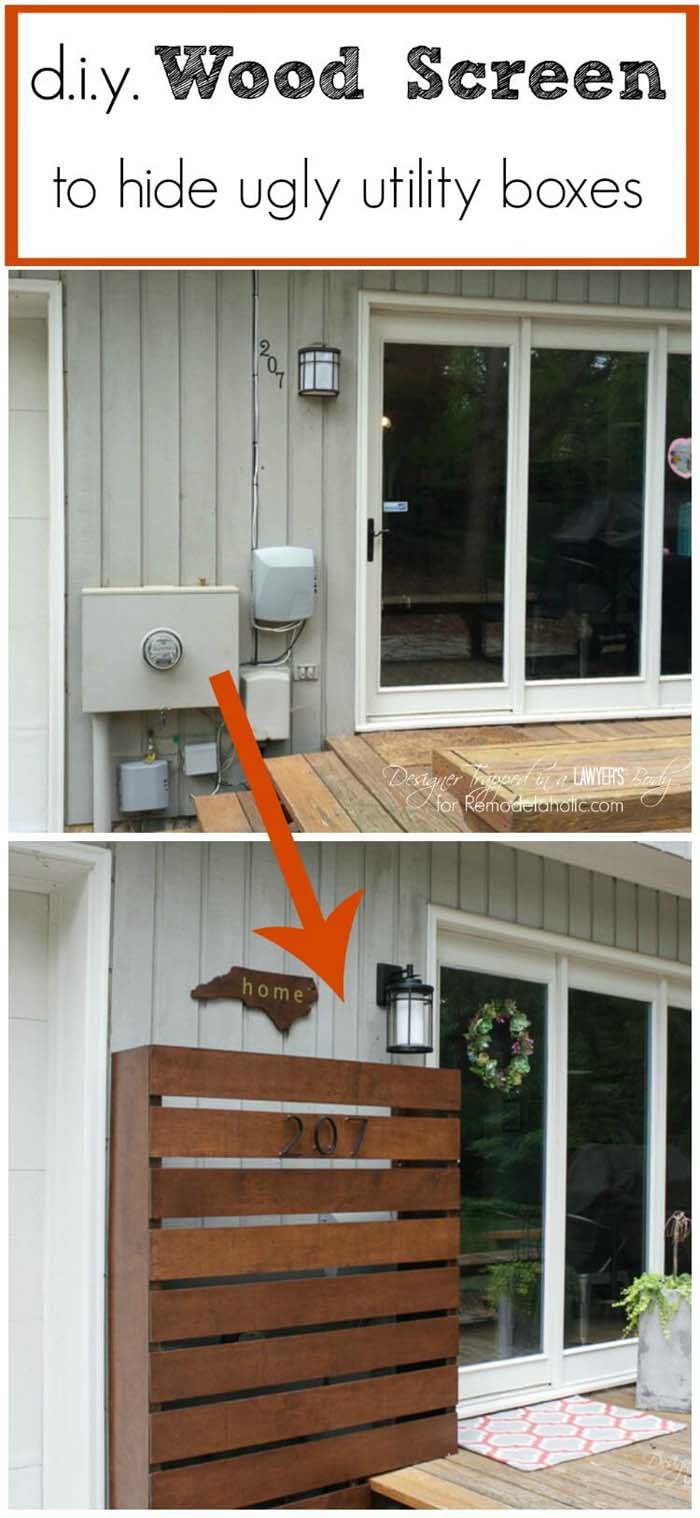 Are you dealing with utility boxes mounted on the front of the house?
Improve your curb appeal immediately with a shallow wooden screen.
Paint the wood to match your home, or go with a contrasting stain for extra impact. You can even burn on your house number for extra functionality.
via Remodelaholic
Wooden Privacy Screen

Have you ever wished for additional privacy without the expense and hassle of a fence?
This stunning privacy screen is a cost-effective solution. We love the woven-wood effect, which adds to the appeal of your outdoor space.