If your home has a pantry, you know how convenient it is to have extra room for appliances, serving dishes, and food.
Whether you have a walk-in closet or a tiny room, a smart organization system can help you make the most of the space.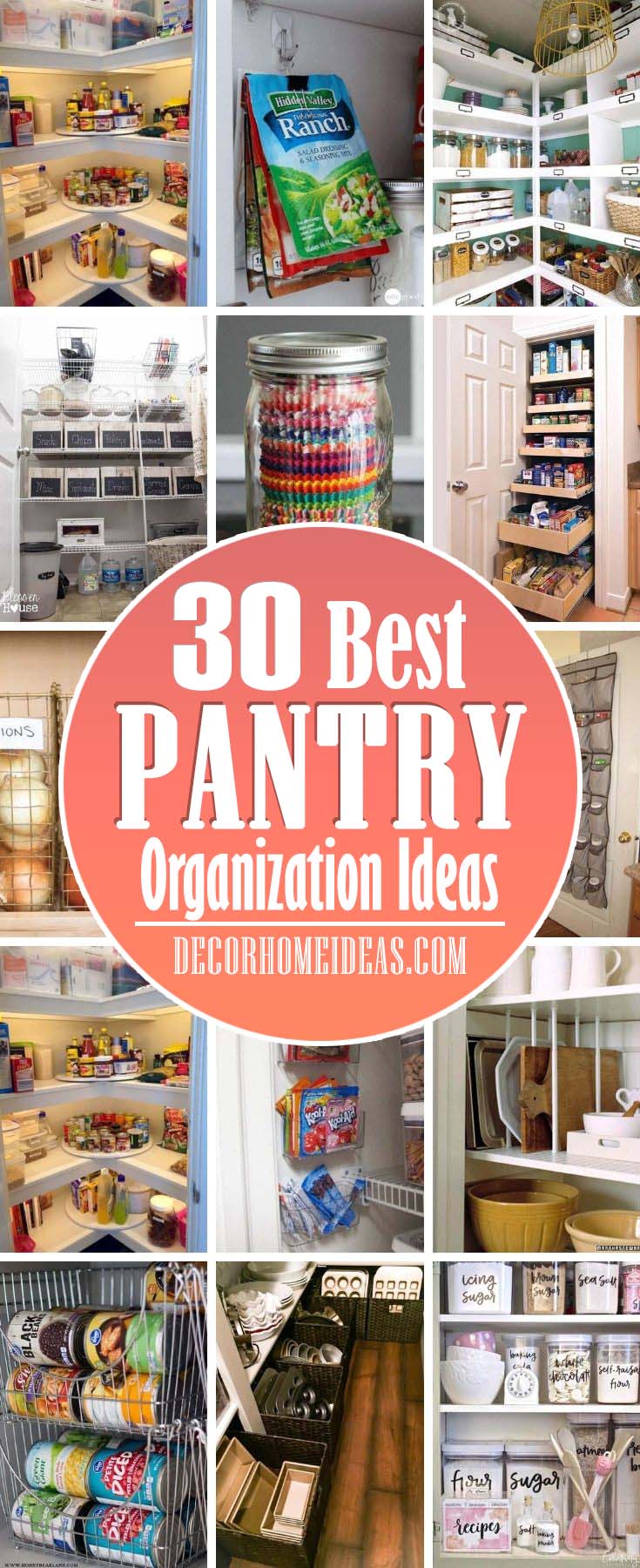 List of Pantry Organization Essentials:
Now let's see these fantastic ideas to organize your pantry!
1. Maximize Pantry Space with Clear Shelving and Wire Racks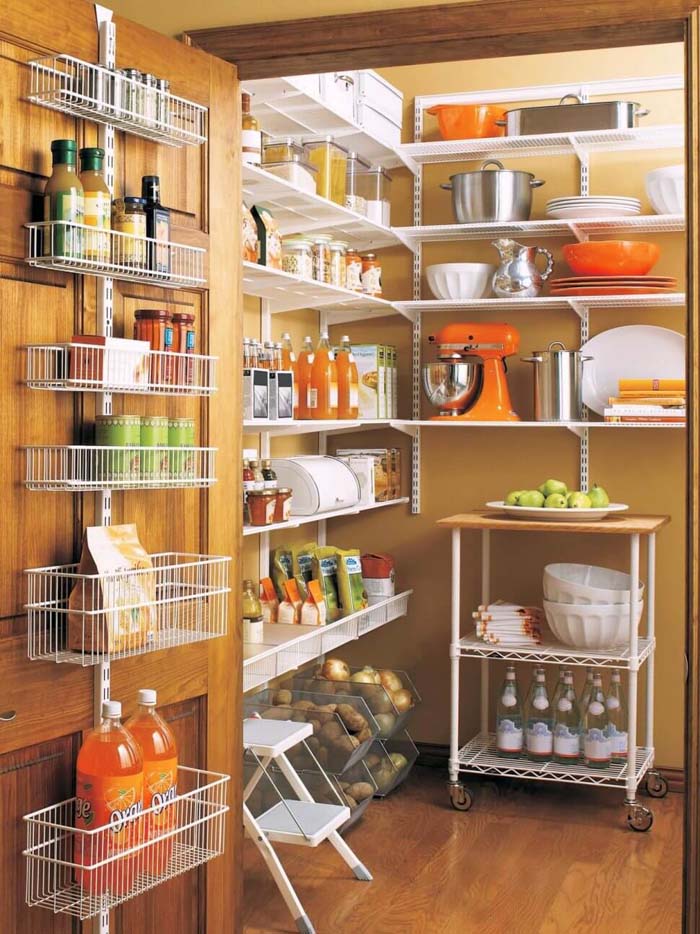 Who says a fully-stocked pantry needs to feel crowded?
This model uses transparent plastic shelves to create a bright, airy feeling. Wire racks on the back of the door maximize storage space without adding extra bulk.
Find shelves like this: HERE
2. Make Meal Prep Easier with Door-Mounted Spice Rack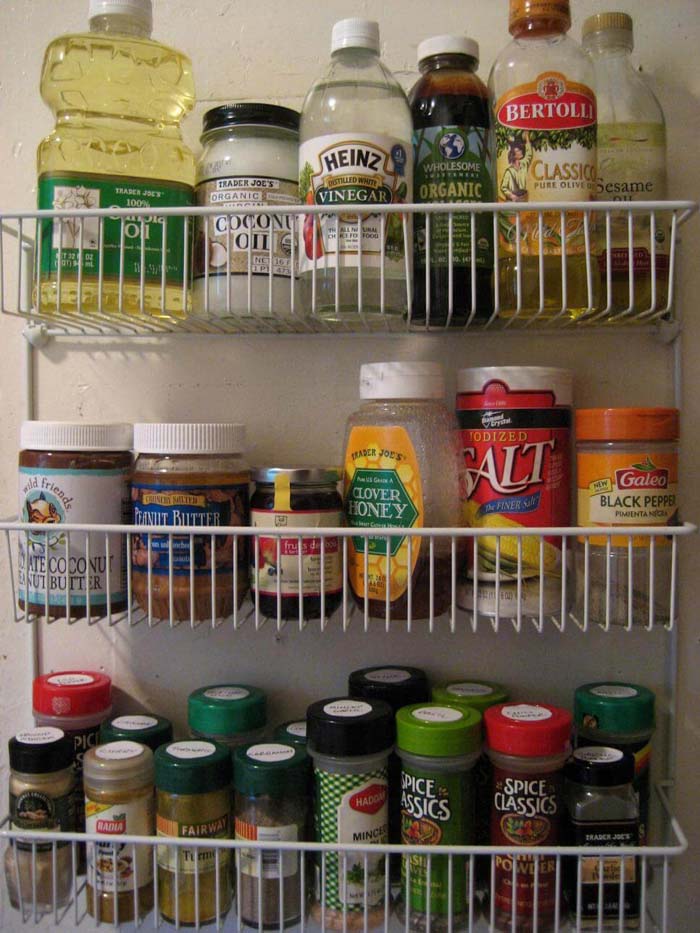 Have you ever had to dig through a cabinet to find the right spice jar?
With this clever door-mounted rack, you'll be able to find everything at a glance.
The open-frame wire sides make it easy to see the labels, and the shallow depth enables you to shut the door without bumping the inner shelves.
Find shelves like this: HERE
via HGTV
3. Find Your Baking Trays and Pans with Large Storage Baskets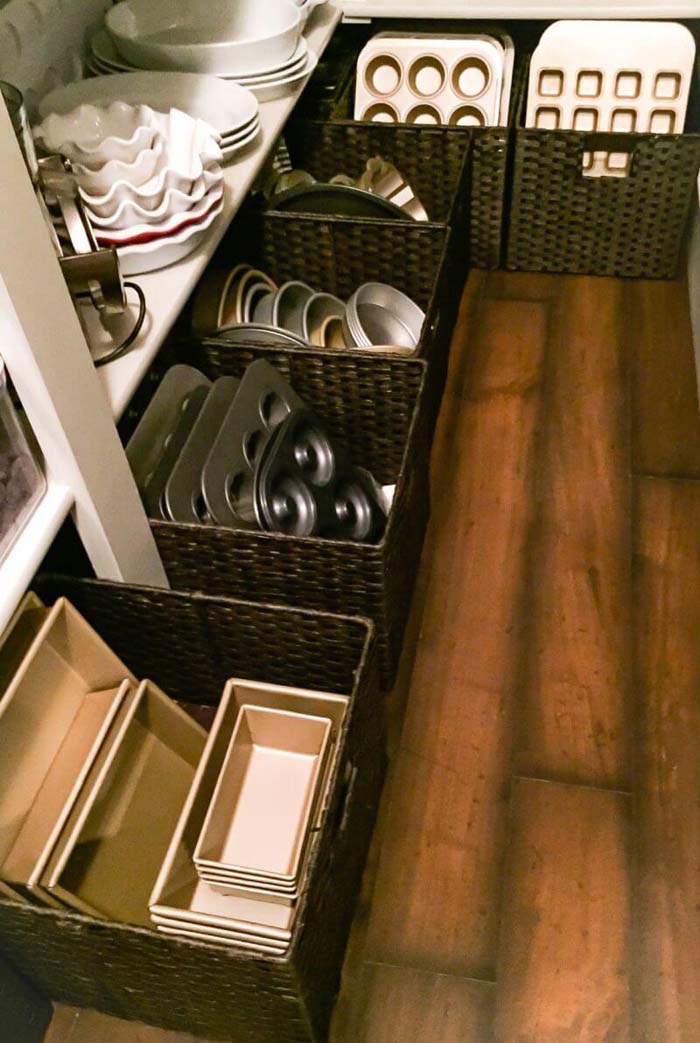 If you have a big collection of baking trays and pans, keep them organized and easy to find with a set of large baskets.
They slide under the bottom shelves in your pantry, so you can reach them quickly when it's time to bake.
4. Organize Your Pantry with Stacking Baskets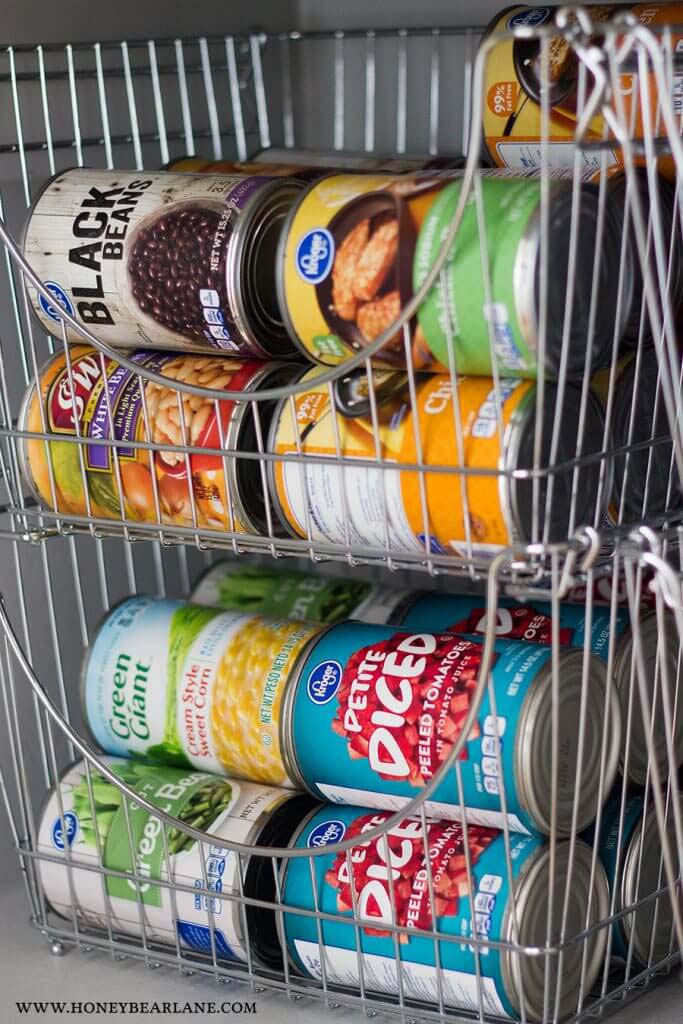 Make the most of your tall shelves with a set of clever baskets.
They stack on top of each other, filling whatever space you have available.
Use them to keep cans in order, or toss in bags of pasta or any other package of dry goods.
via Honeybear Lane
5. Keep Pantry Contents Organized with Elegant Closed Bins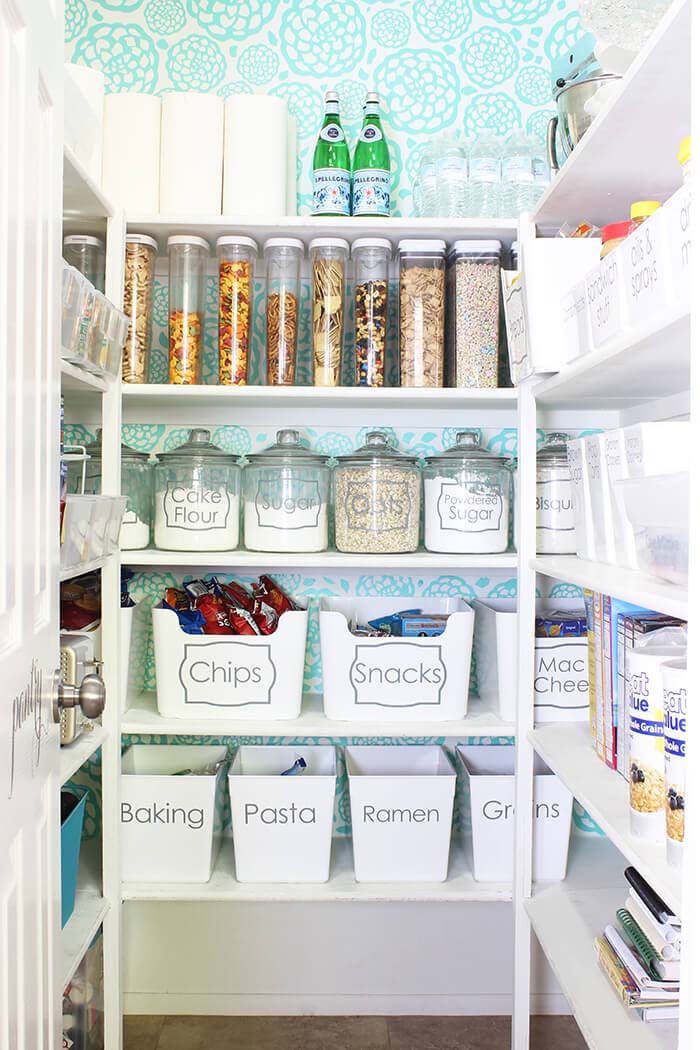 If your pantry is open to your kitchen, elegant closed bins look lovely and reduce clutter.
Neat labels help you identify any ingredient in seconds. We love how these containers allow a peek at the colorful wallpaper behind each shelf.
via Classy Clutter
6. Space-Saving Solution for Packaged Ingredients & Spice Blends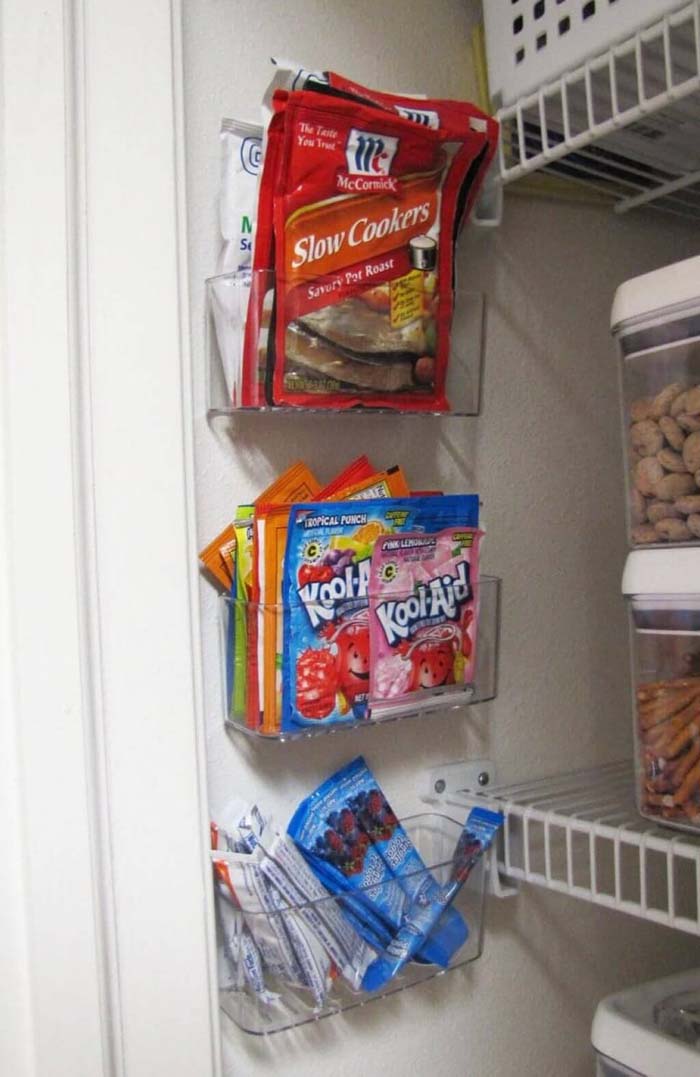 Have you ever wished for a way to corral ingredients or spice blends that are packaged in individual packets?
These clear plastic bins are the perfect solution — and best of all, you can tuck them into a tiny space in the pantry.
7. Protect Cupcake Papers with Glass Jars for an Attractive Pantry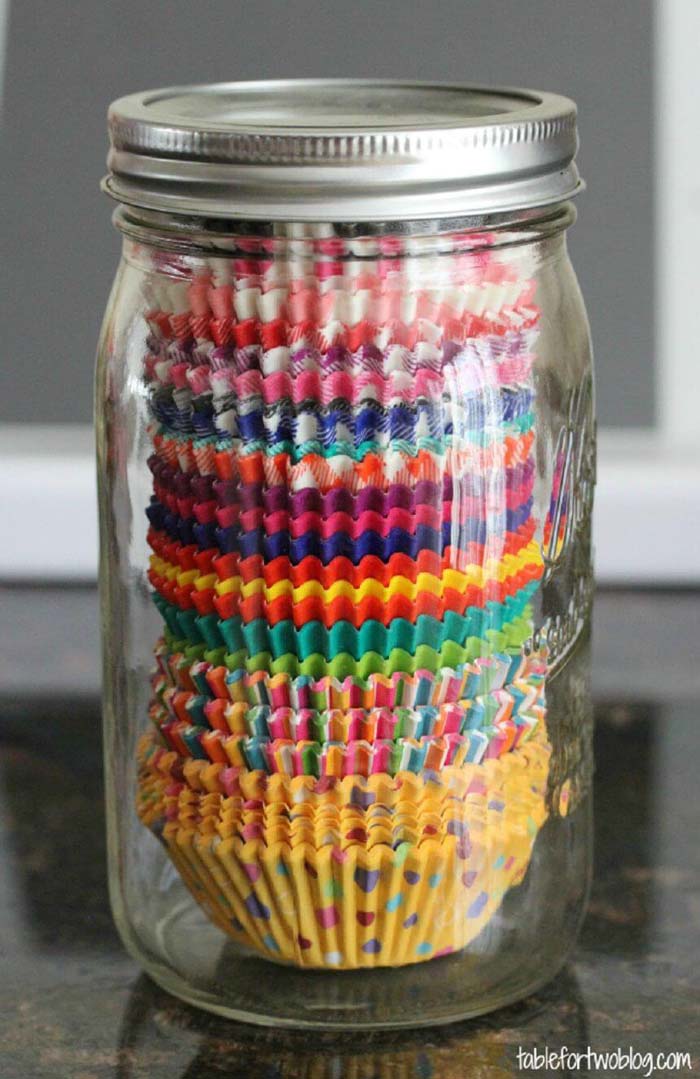 Delicate and lightweight, cupcake papers are prone to crush damage in a crowded pantry.
What better way to keep them safe than a glass jar?
As a plus, the clear glass shows off the gorgeous colors and jazzes up your pantry.
8. Utilize Weathered-Wood Crates and Chicken Wire Baskets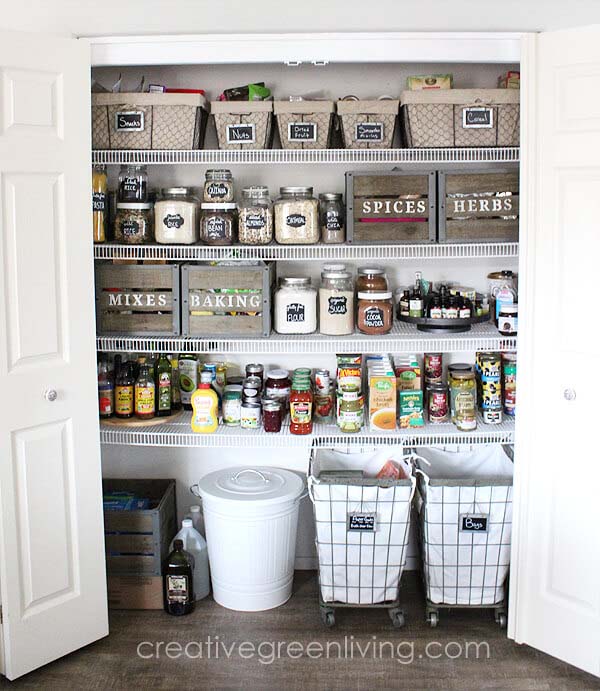 Extend your farmhouse decor into the pantry by utilizing rustic elements.
Weathered-wood crates and chicken wire baskets lined with burlap add beautiful texture to the space, and the neutral color palette keeps the pantry looking fresh and airy.
9. Pantry Organization Ideas with Sliding Drawers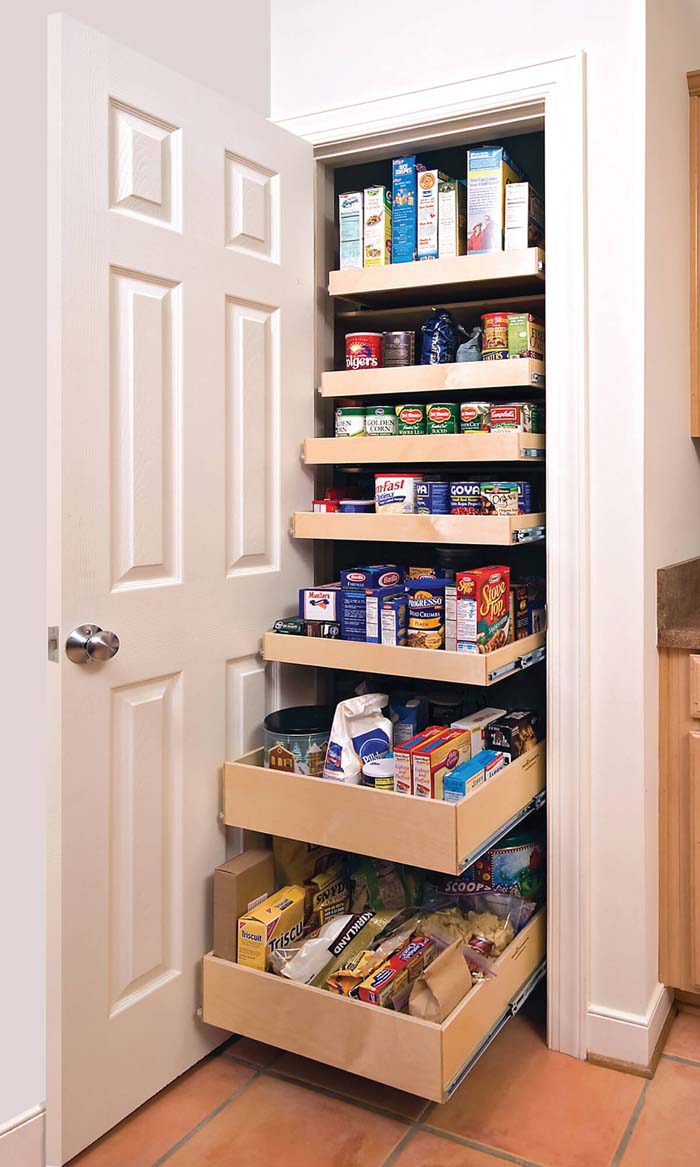 Are you working with a space that's narrow but deep? Sliding drawers help you use every inch of space.
Pack each drawer full — since you can slide it all the way out, it's a breeze to get to the items in the back.
10. Creative Spice Packet Storage Idea with Binder Clip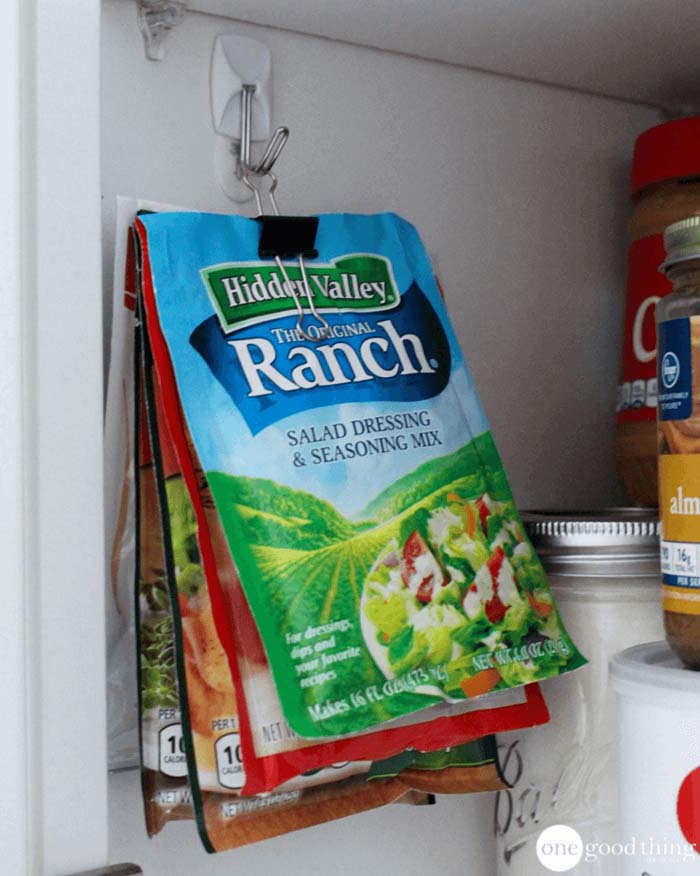 Here's another creative way to store your slim seasoning packets — just join them together with a binder clip.
A simple adhesive hook supports the entire arrangement, all without causing damage to your walls.
via One Good Thing
11. Organize Your Kitchen Pots and Pans with Pegboard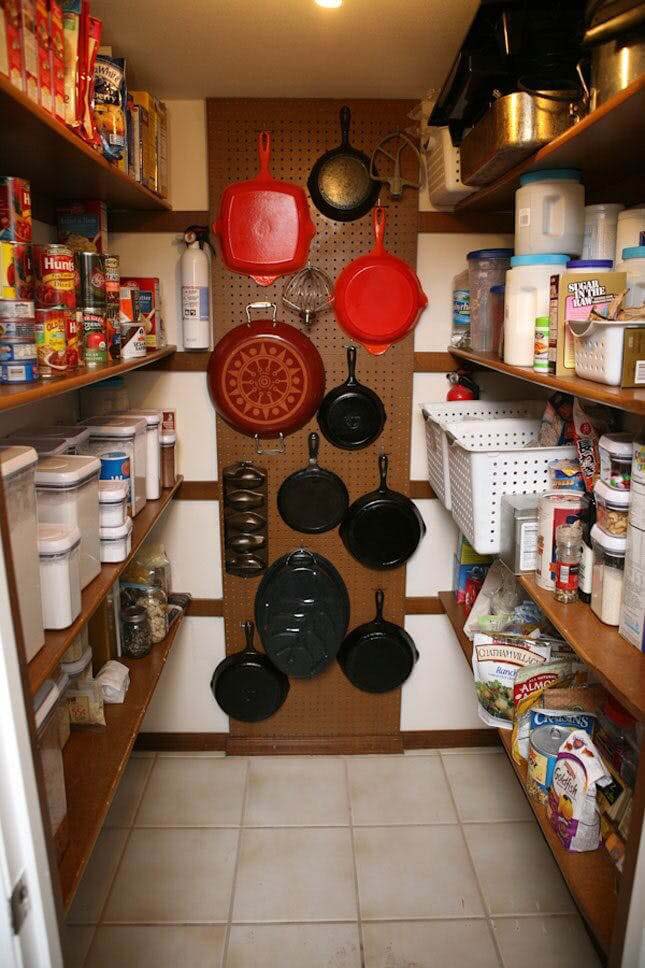 Do you ever struggle to find your pots and pans in a cabinet?
Turn an empty wall of your pantry into an easy-access storage unit by covering it with a layer of pegboard.
Add a few heavy-duty hooks, and you can hang all of your pans.
via Eclectic Recipes
12. Wire Shelving for Dried Beans and Corn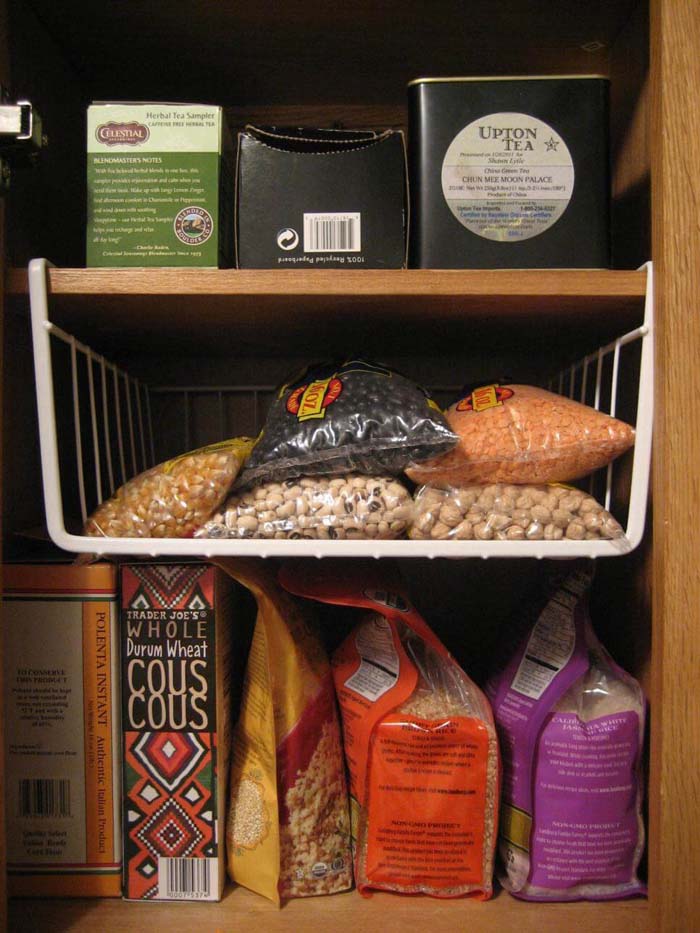 Bags of dried beans and corn are tough to stack in a pantry. That's where these handy wire shelves come in.
Plus, since they hang from the bottom of a shelf, they're a great way to use up vertical open space.
Find shelves like this: HERE
via HGTV
13. Overflowing Pantry with Natural Baskets and Labels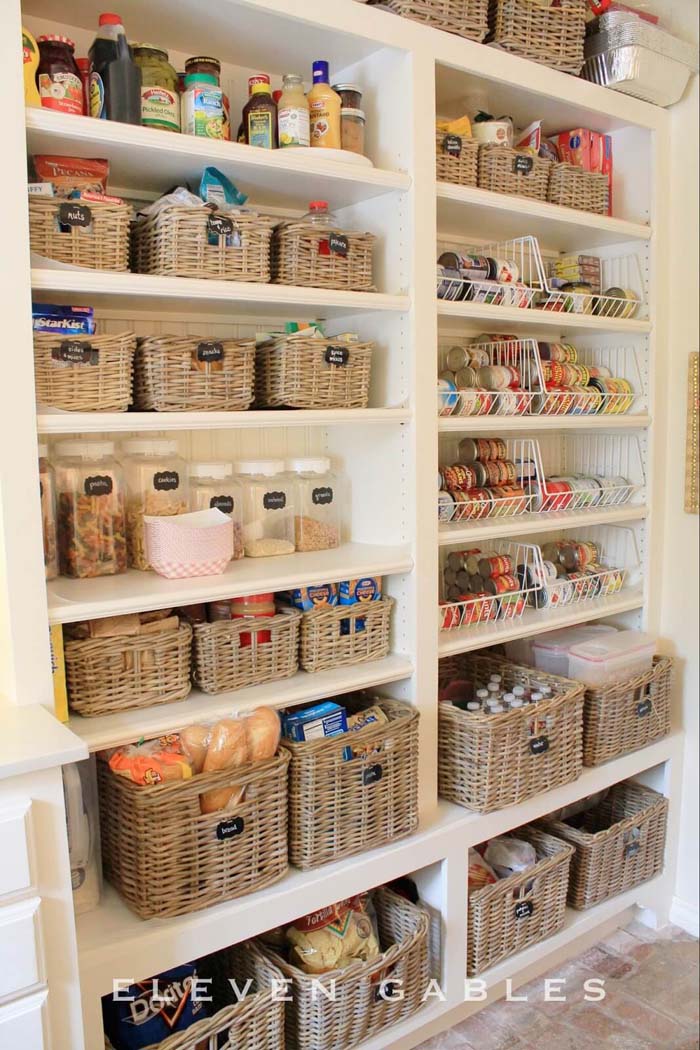 When you have a large pantry with open shelving, the fully-stocked space can be visually overwhelming.
This homeowner brought balance to the room by adding a set of square baskets made from beautiful natural materials.
Tiny label plates help you find the ingredients you need right away.
via Eleven Gables
14. Organize Your Canned Goods with a Vertical Shelf Solution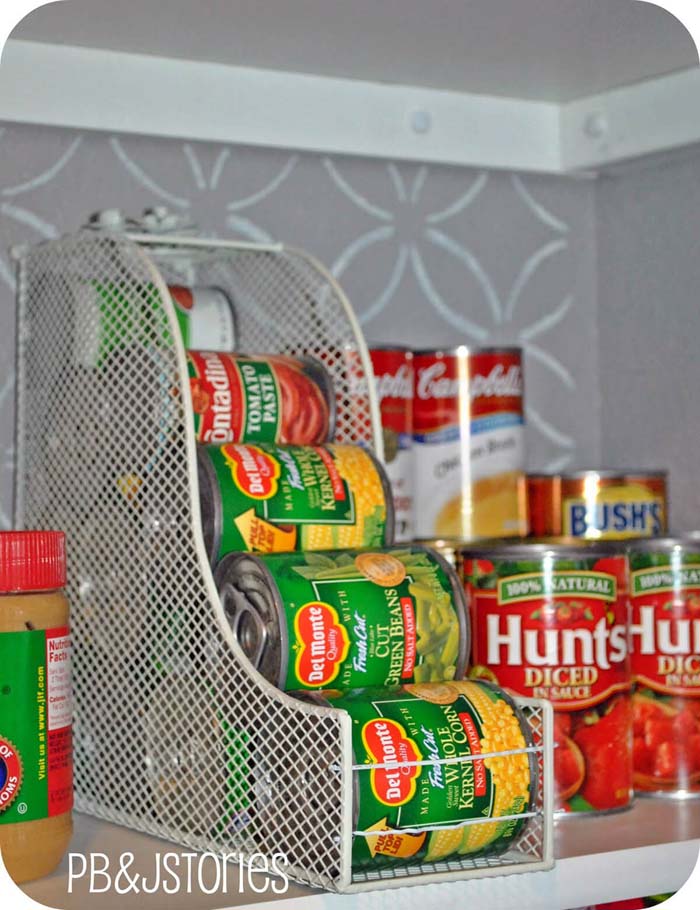 Bring order to stacks of cans with an ingenious vertical shelf.
Designed specifically to fit cans and sloped to allow easy access, this organization system can help you bid farewell to precarious stacks.
Find an organizer like this: HERE
via PBJ Stories
15. Increase Kitchen Efficiency with Adjustable Plate Racks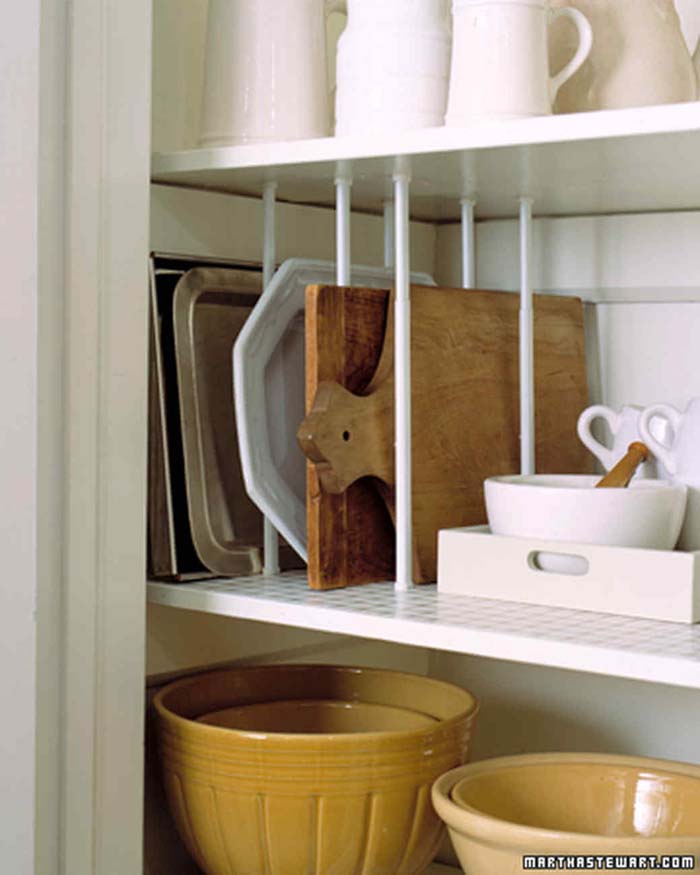 Cutting boards are the workhorses of any kitchen.
Get them out of your drawers and into the pantry using a set of adjustable plate racks.
These spring-loaded bars run between one shelf and the underside of the shelf above, enabling you to store the boards vertically. Need more?
They can also store cookie sheets, serving dishes, and more.
via Martha Stewart
16. Transform Your Pantry with a Stylish Adhesive Vinyl System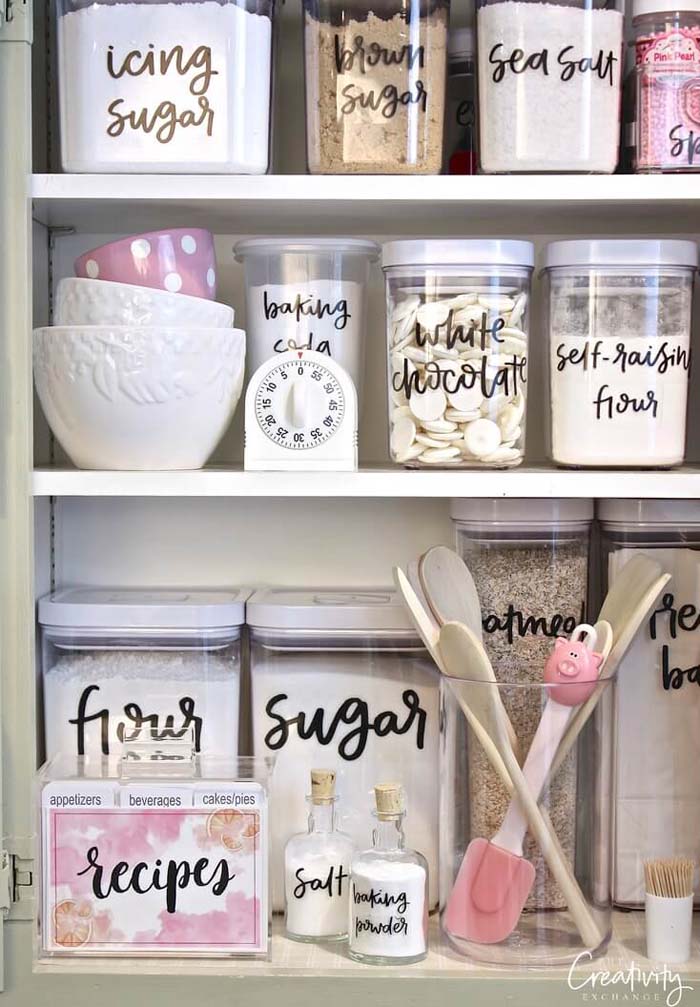 This pantry system proves that organization can be fun — and beautiful.
All you need is a cutting machine and a few sheets of adhesive vinyl.
Apply them to any container, and you instantly have a stylish storage solution for dry ingredients.
17. Add Rustic Charm to a Pantry with Reclaimed Wooden Boxes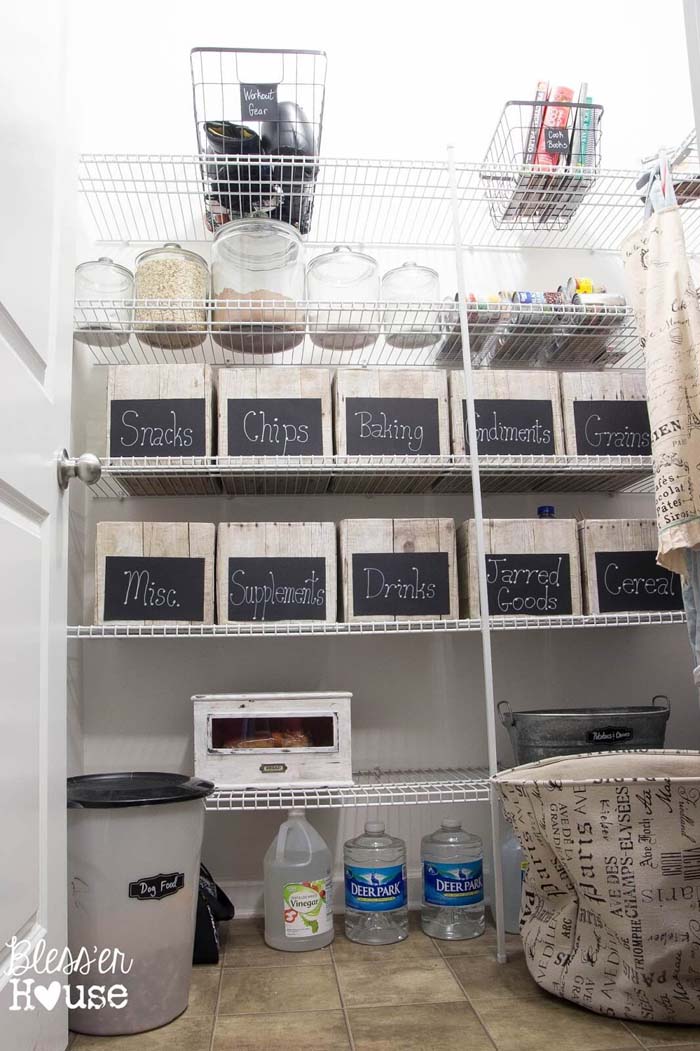 Bring a bit of rustic charm to your pantry with a set of reclaimed boxes.
Large and sturdy, they hold everything from cans of soda to bags of chips.
Chalkboard labels give you plenty of space to identify the contents of each box.
via Blesser House
18. Upgrade Your Pantry with Labeled Seagrass Baskets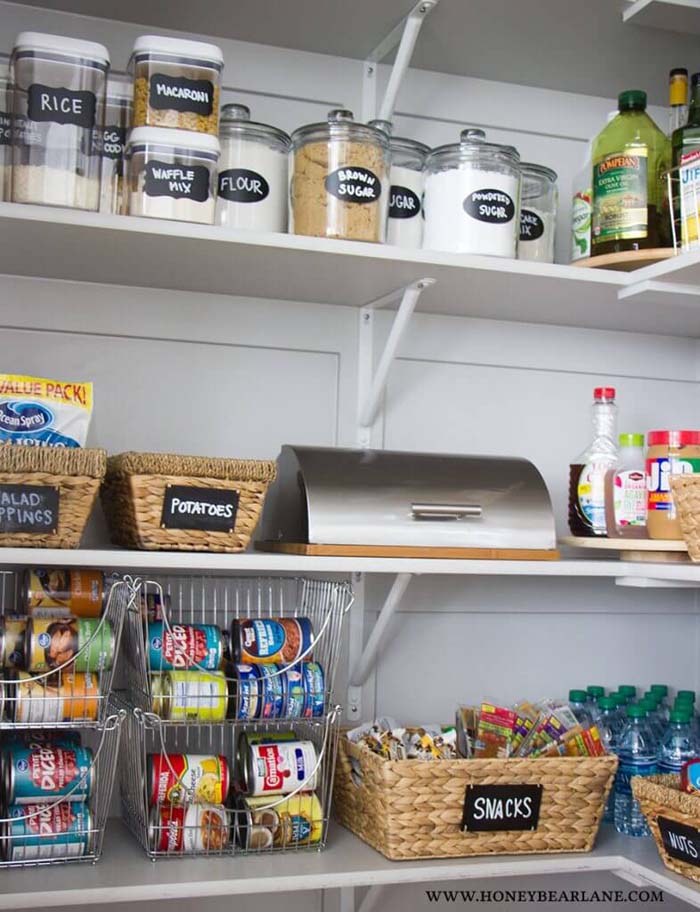 Every pantry has a few items that aren't pretty — with a set of gorgeous seagrass baskets, you can conceal unsightly packaging while enhancing the look of the space.
Small chalkboard labels add just the right contrast of color and texture.
via Honeybear Lane
19. Airtight Jars for Secure Food Storage with a Classic Look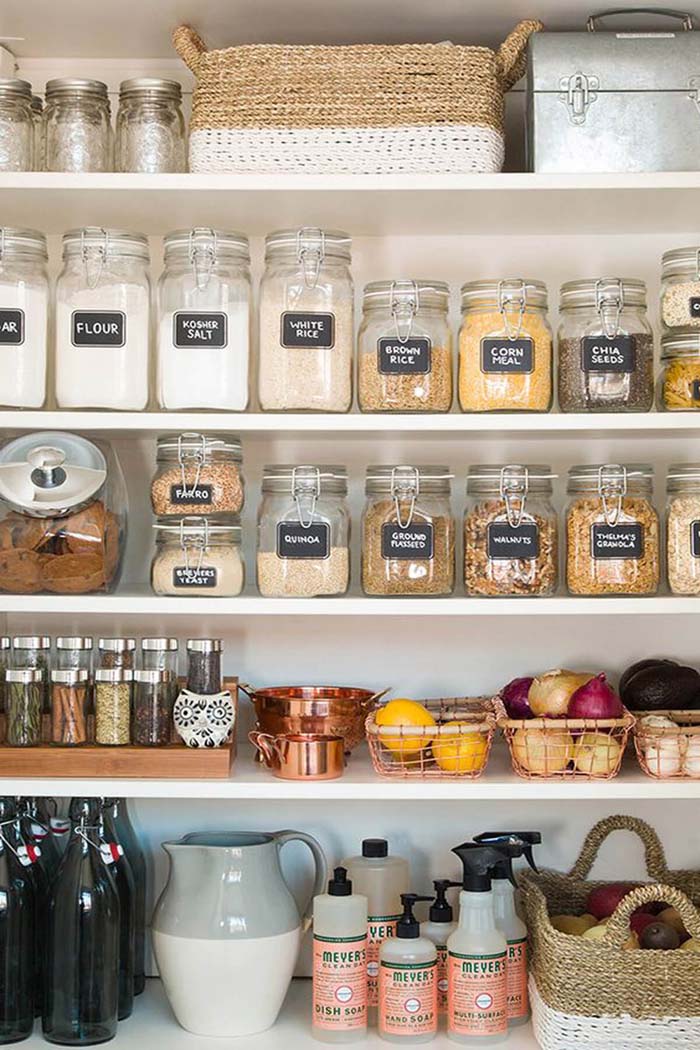 Airtight containers are a must for food storage, which is why we love these jars.
The rubber gasket creates a tight seal, and the metal closure adds a classic look. Use a full set of matching jars to bring unity to a diverse set of ingredients.
via The Kitchn
20. Maximize Storage with an Over-the-Door Shoe Organizer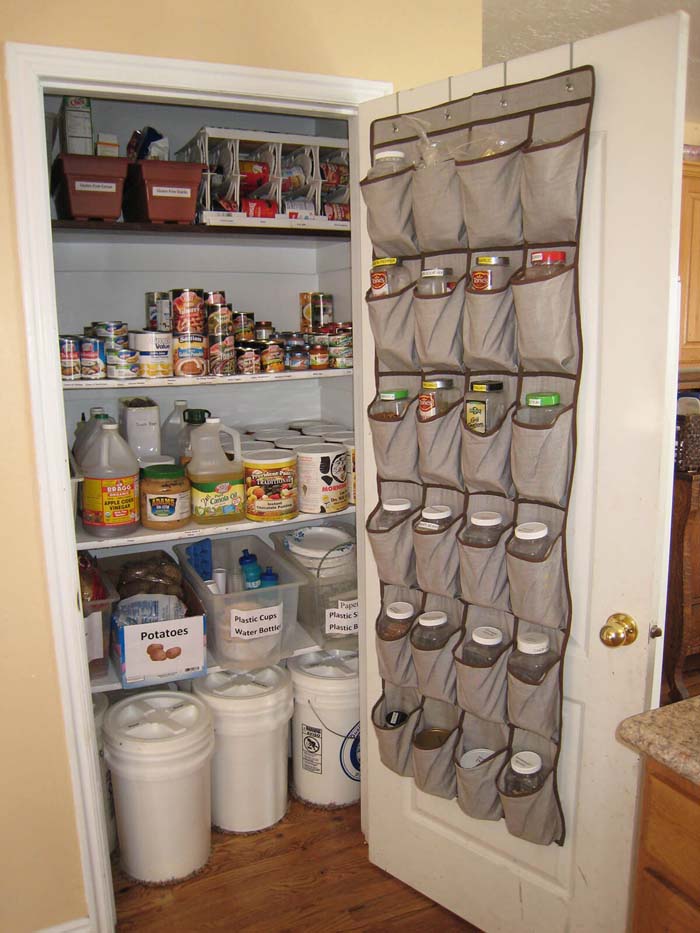 Do you have a shallow pantry with limited shelf space?
This creative storage system might be the perfect fit.
It uses an over-the-door shoe organizer to hold large spice jars, all without altering the shelf space or the way the door closes.
Find a shoe organizer like this: HERE
21. Utilize Cabinet Space with Slide-Out Shelves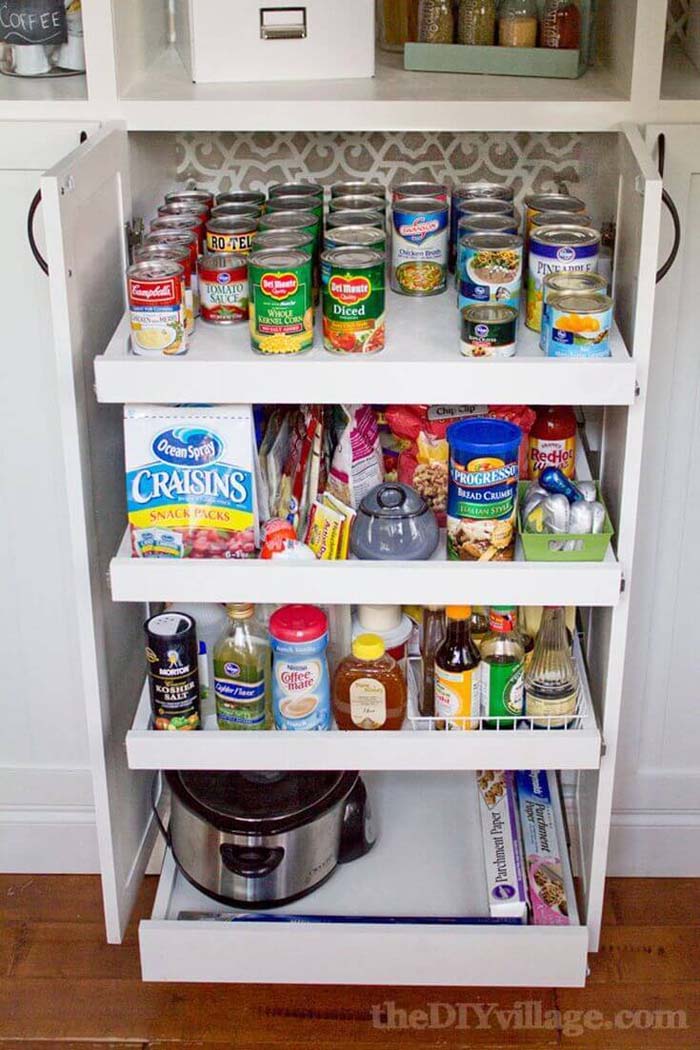 Vintage pantries often have large cabinets; since most food containers are small, much of the shelf area goes unused.
Simple slide-out shelves add extra storage and keep you organized. You can even stack two or three for the most efficient use of space.
via The DIY Village
22. Expand Your Pantry Storage with Sliding Wire Basket Drawers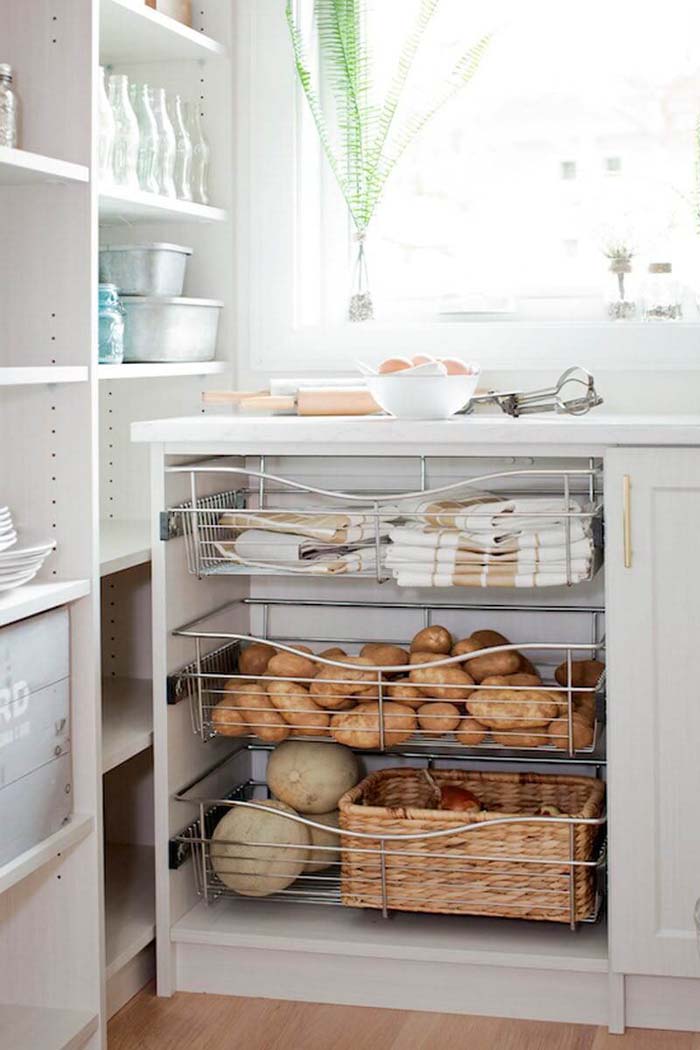 Do you have an island with an open base in your pantry?
Reclaim the empty space with a stack of sliding wire basket drawers.
The open-frame construction reduces bulk and helps the room feel more open — and, since it allows ample airflow, your fresh veggies stay fresh for longer.
via Jillian Harris
23. Organize Your Home with Stylish Woven Baskets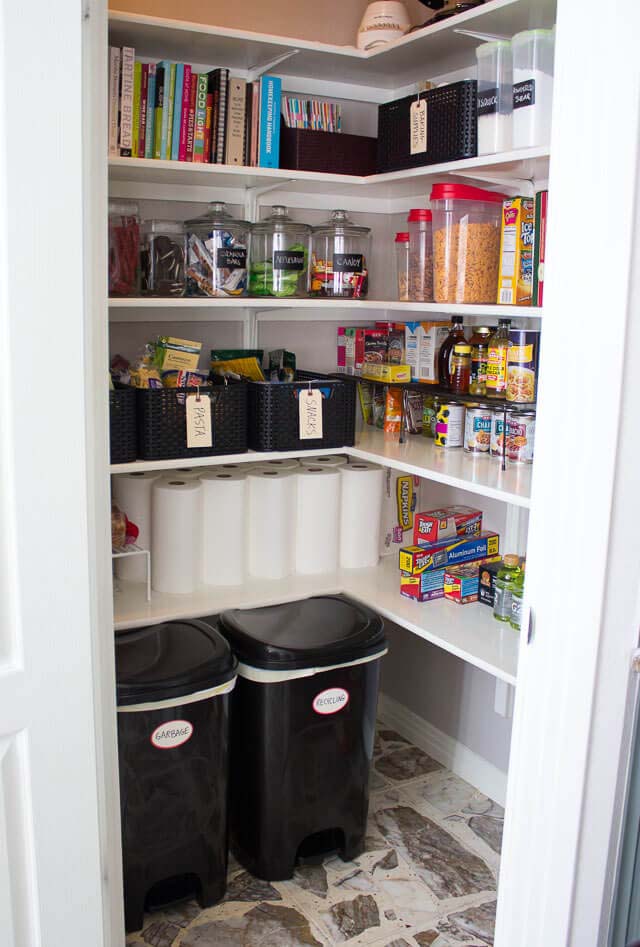 Everyone has a few small items floating around in a drawer or pantry. Woven baskets are a solution that's both smart and stylish.
The durable sides are tough enough to handle a full load, and the soft texture enhances the aesthetic of the space.
24. Illuminate Your Pantry Shelves with Under-Shelf Lights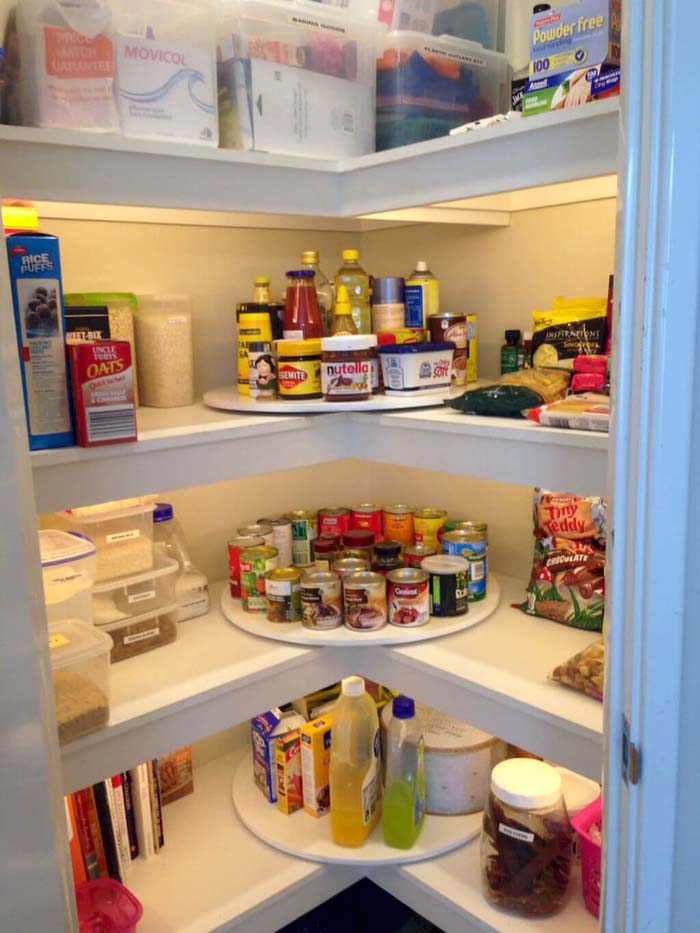 Illuminate your pantry shelves by equipping them with handy under-shelf lights.
They brighten every corner, ensuring that each of your food items is easy to find. A strip of molding hides the light strip and directs the brightness downward.
Find Lazy Susan like this one: HERE
via The Whoot
25. Highly Organized Pantry with Labels and Dividers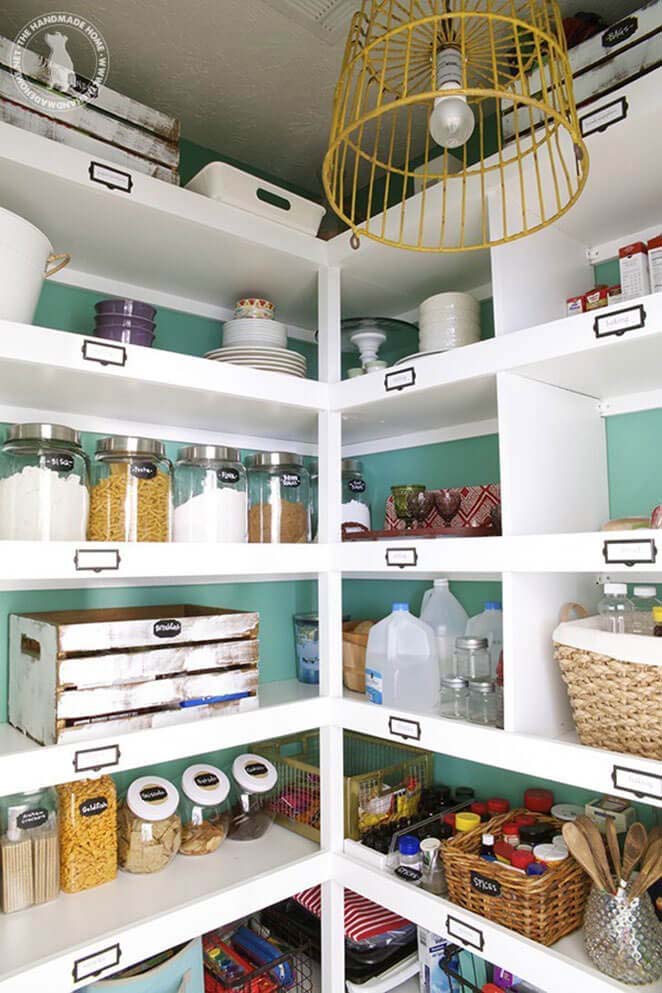 Order and organization meet in this stunning pantry, which uses vertical dividers and shelf-mounted labels.
Each label frame allows you to switch out the inner paper, so you can reorganize the pantry any time you like.
A coat of bright white paint keeps everything light and pleasant.
26. Organize Your Canned Ingredients with Wire Bins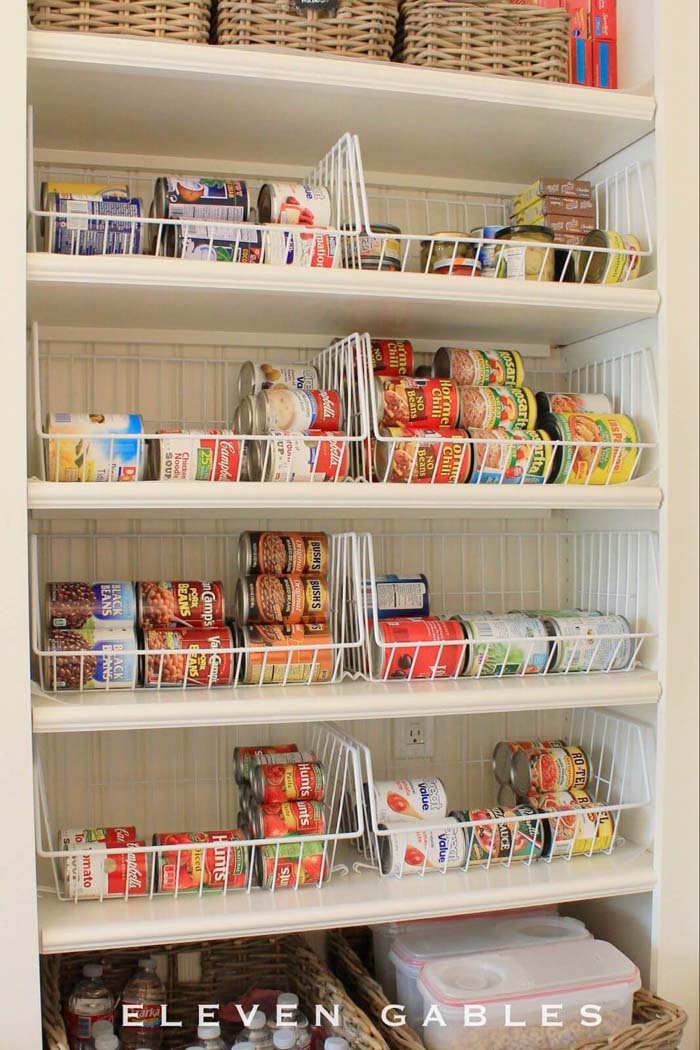 Are you a cook who loves the long lifetime of canned ingredients?
Wire bins are the perfect way to keep your cans under control.
Just lay each can on its side; the front lip prevents rolling, and the wire-frame sides maintain the line of sight.
Find shelves like these: HERE
via Eleven Gables
27. Utilize Magazine Racks for Optimal Vegetable Storage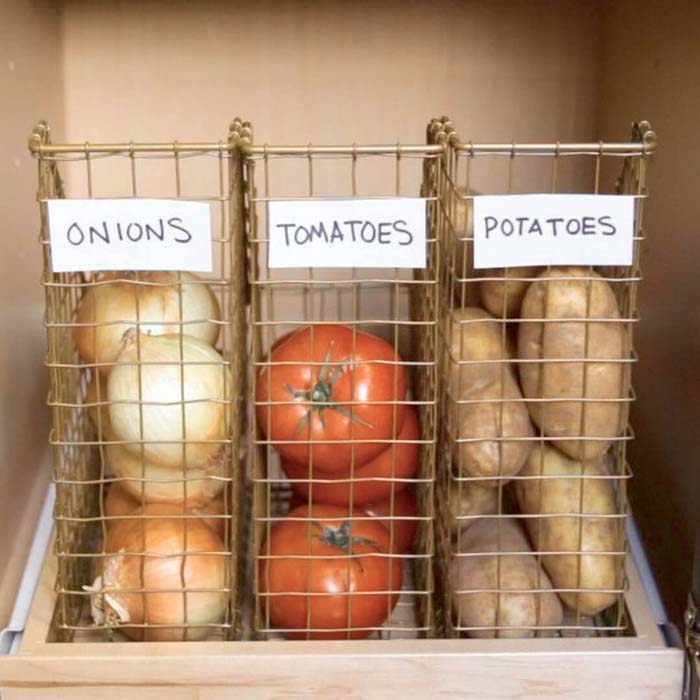 If you have a few magazine racks lying around the house, tuck them into a pantry shelf for instant vegetable storage.
Big items, including potatoes and onions, fit neatly into the bins; the wire sides provide all of the air flow you need for lasting freshness.
Find an organizer like this: HERE
via Buzzfeed