Storage is a crucial part of every home — it enables you to keep crucial supplies and extra items close at hand.
When you need to place your storage units in highly visible places, however, aesthetics matter.
With these fun farmhouse-inspired ideas, you can bring a stylish twist to a practical solution.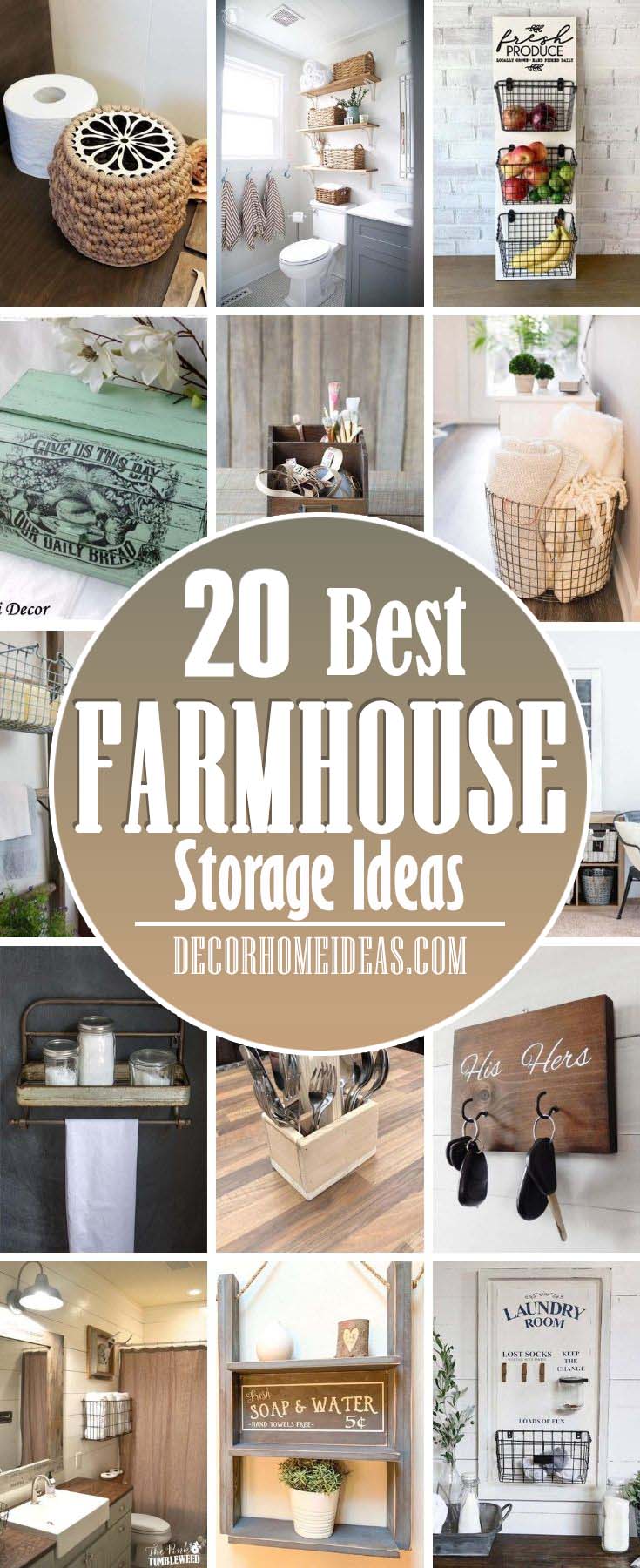 List of Farmhouse Storage and Organization Essentials:
1. Refresh Your Bathroom with a Crocheted Toilet Paper Cover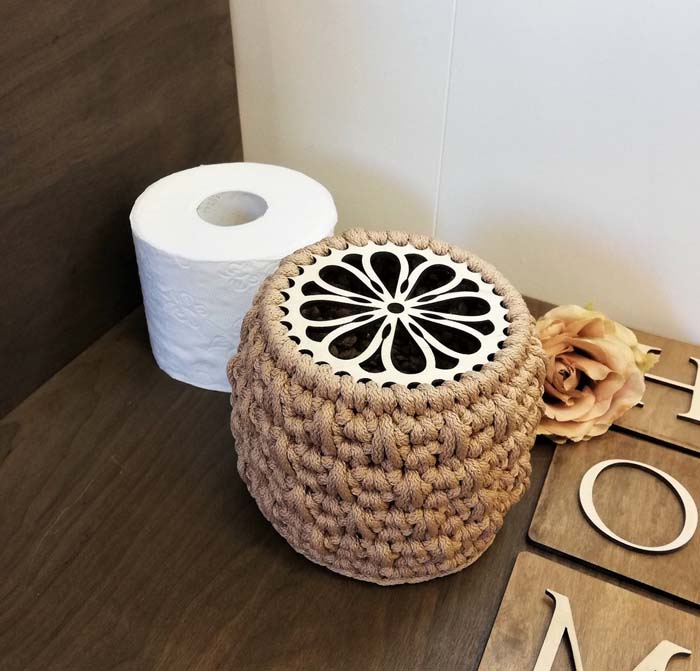 There's nothing pretty about extra rolls of toilet paper — until you add this stunning crocheted cover, that is.
Crafted from textured material in a soft, natural shade, it brings a relaxed feeling to your bathroom.
We love the vented top, which enhances the visual aspect and keeps your toilet paper fresh and dry.

2. Transform a Wooden Crate with Wheels and Whitewash Paint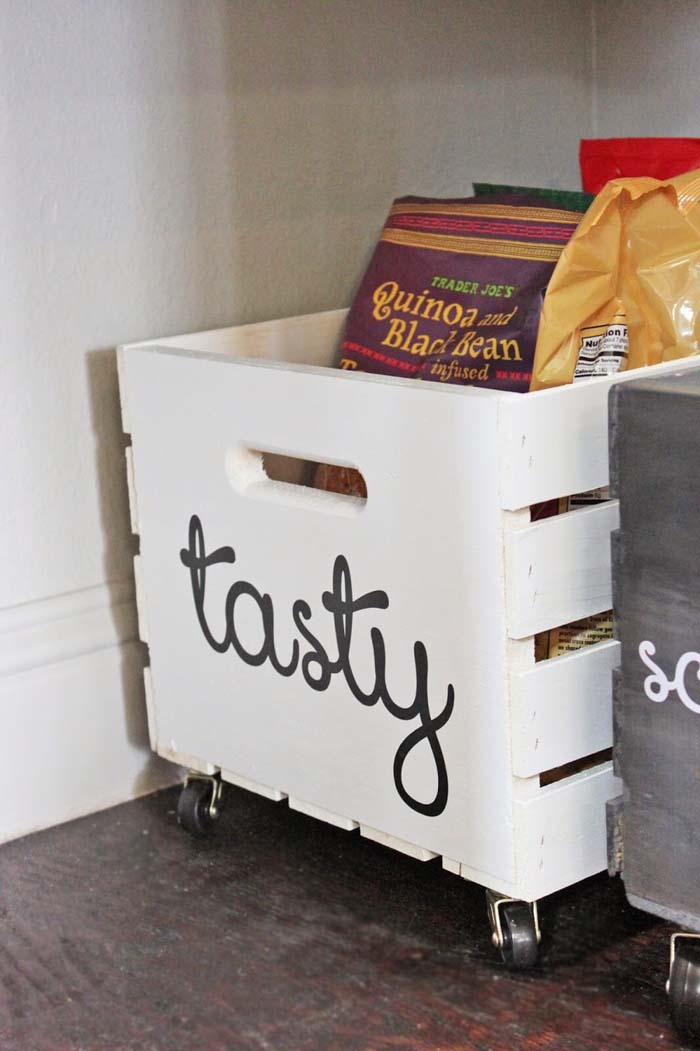 Crates are a handy way to store everything from toys to snacks; they're roomy and open, giving you plenty of flexibility.
This project upgrades an everyday wooden crate with a set of wheels and a coat of whitewash-style paint for a rustic flair.
Add a hand-painted label for a personalized touch.
via A Little of This A Little of That
3. Add Rustic Charm to a Bathroom with Over-the-Toilet Storage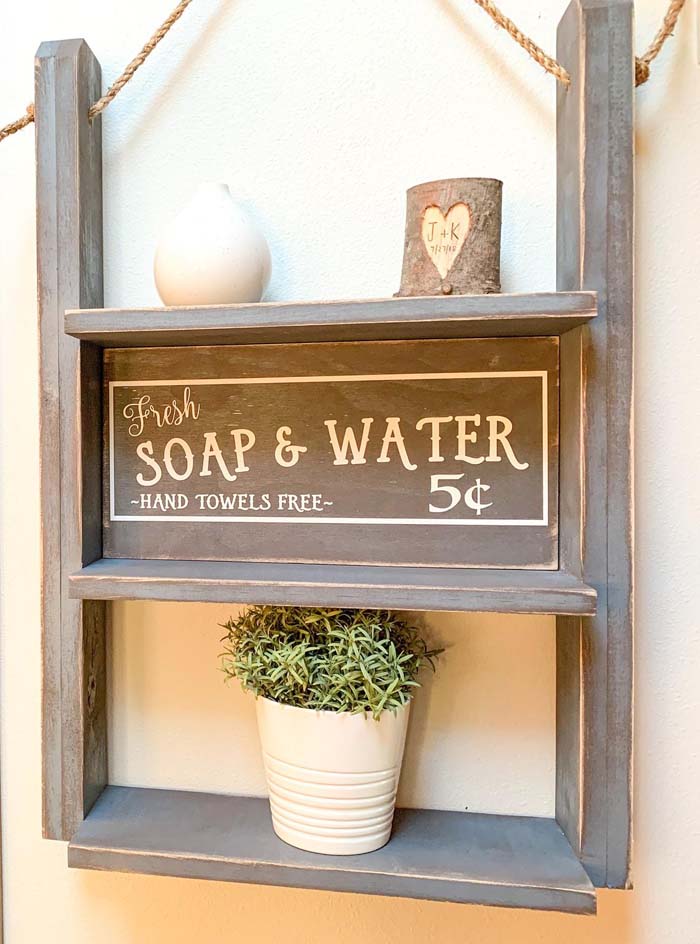 Over-the-toilet storage is a convenient way to add storage to a tiny bathroom.
Here, a rustic ladder takes the place of a traditional standing unit.
Replace the rungs with shelves, and add a charming vintage sign for an adorable old-world twist. Want to take it a step further?
Use sandpaper to distress the edges.

4. Add Farmhouse Charm to an Office with Labeled Wire Baskets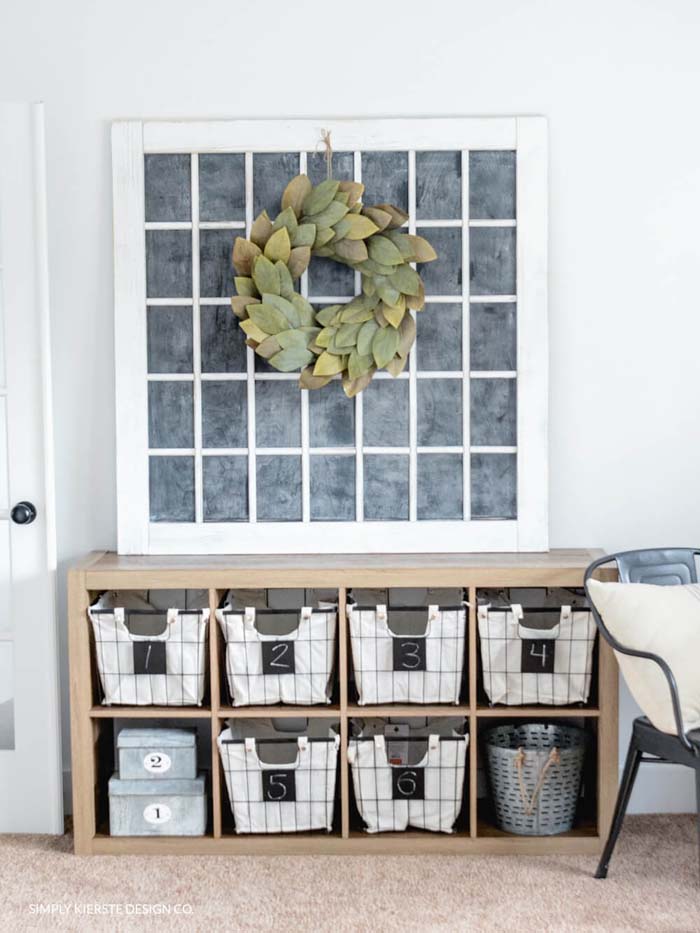 Who says office storage needs to be boring?
Give your workspace a gorgeous farmhouse update by adding wire baskets fitted with canvas linings to a standard bookcase.
The combination of metal, fabric, and wood makes the perfect blend of textures.
Galvanized metal baskets and chalkboard labels take this piece to the next level of style.
via Old Salt Farm
5. Organize Your Pantry with a Freestanding Storage Cabinet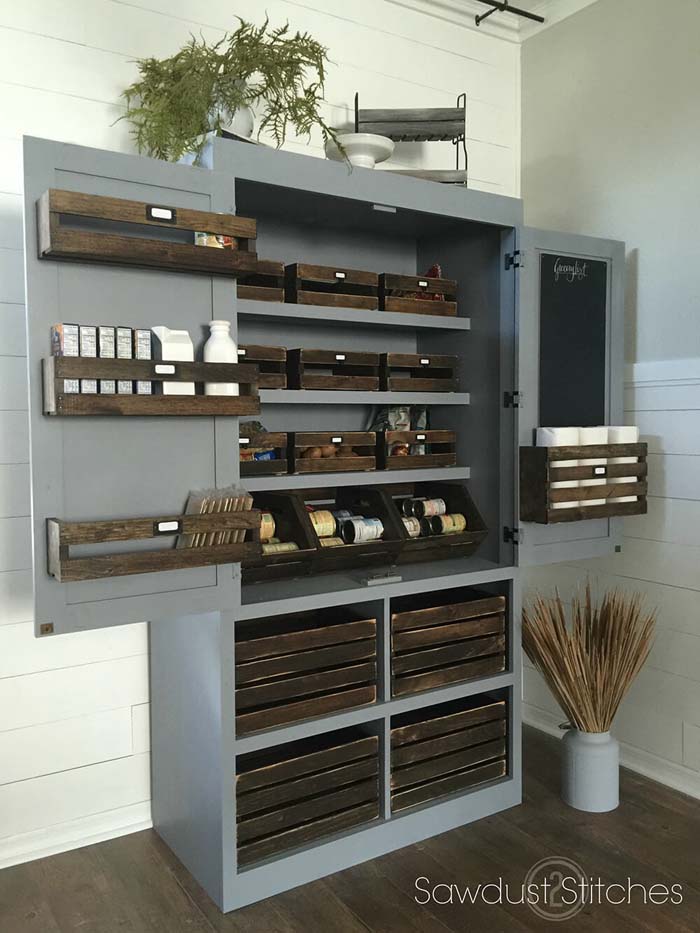 Create the functionality of a pantry without the need for construction with a freestanding storage cabinet.
This model replaces traditional organizers with wooden crates for a rustic twist. Leave the doors open or closed — it's beautiful both ways.
A layer of chalkboard paint turns the inside of one door into a spot for your grocery list.
6. Give Keys a Homely Touch with a DIY Wooden Key Holder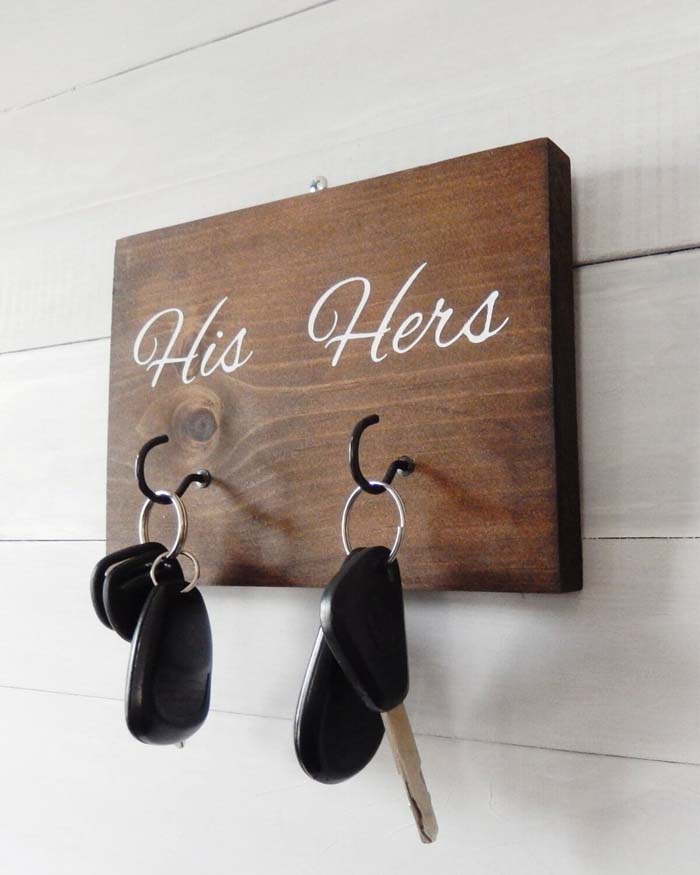 Extend your farmhouse style to the tiniest of storage spaces with a wooden key holder.
All you need for this DIY project is a spare piece of wood and two metal hooks.
Stain the wood to match your trim or leave it bare for a natural look.
Here, the homeowner has painted "His" and "Hers" for easy key identification.

7. Make a Functional Knife Block with Cloth-Bound Books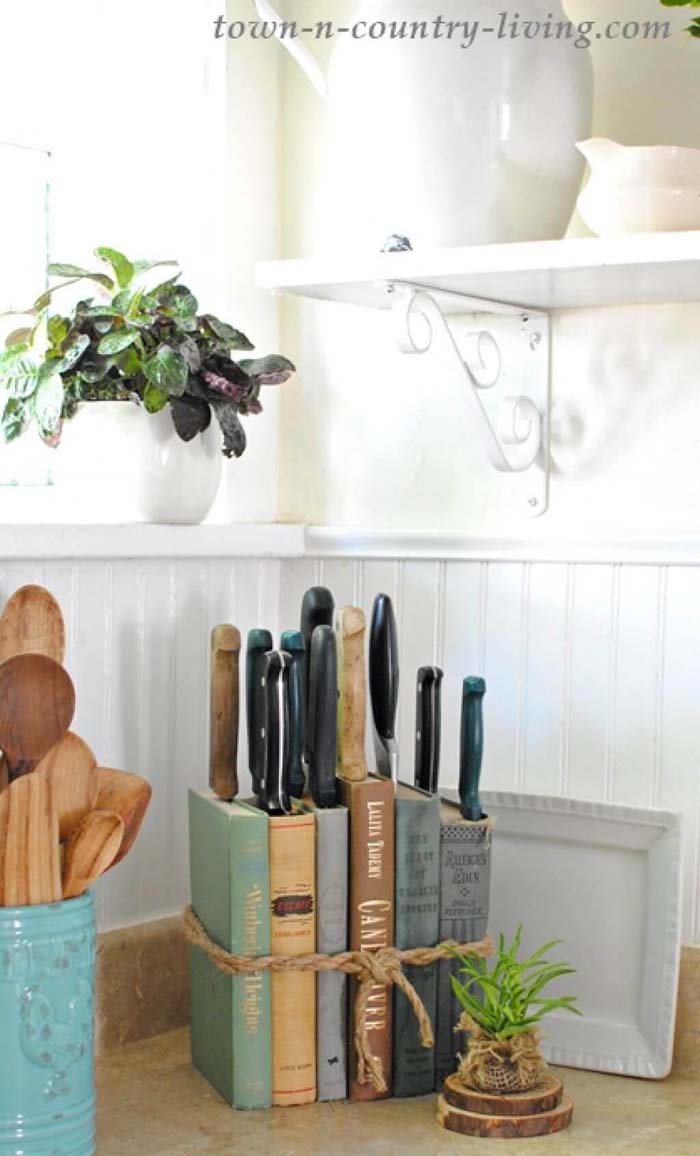 Are you a home chef who believes in caring for your knife collection?
This DIY knife block is stunning and functional.
Just tie together a few cloth-bound books with thick rope or twine; the result is a lovely combination of texture and color that enhances any kitchen. As a bonus, the paper pages are easy on your knife blades.
8. Modern Laundry Room Organizer with DIY Storage Solutions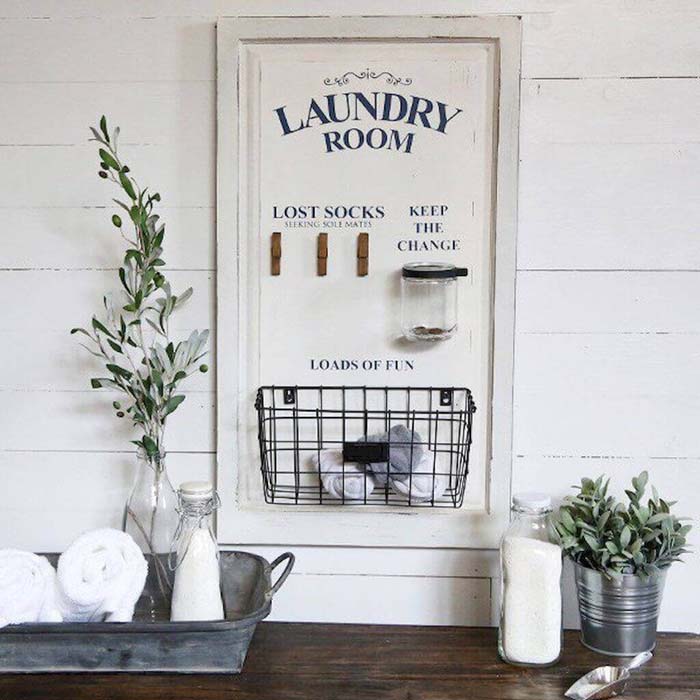 If you've ever spent time hunting for a loose sock, this laundry room organizer can help.
Using an old cabinet door, a wire basket, and a few wooden clothespins, it creates a piece that's part storage, part work of art.
A glass jar for loose change is the perfect reminder to empty your pockets before tossing clothing in the wash.
via Decor Steals
9. Rustic Towel Rack for Farmhouse Storage Ideas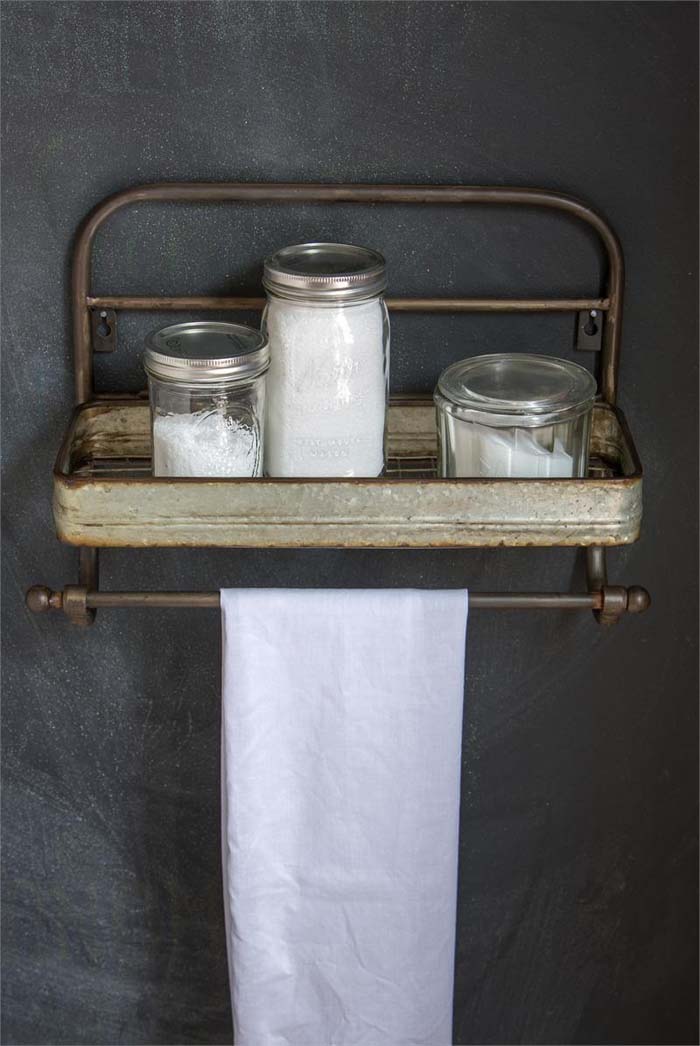 The epitome of rustic-chic design, this towel holder has everything you want in a farmhouse bathroom.
The distressed metal surfaces lend a beautiful antique feeling to the piece, and the integrated towel rod adds an industrial twist.
Toss your bath salts into a few Mason jars and set them in the shallow tray to complete the look.
via Farmhouse Wares
10. Declutter Your Home with Flexible Wire-Frame Baskets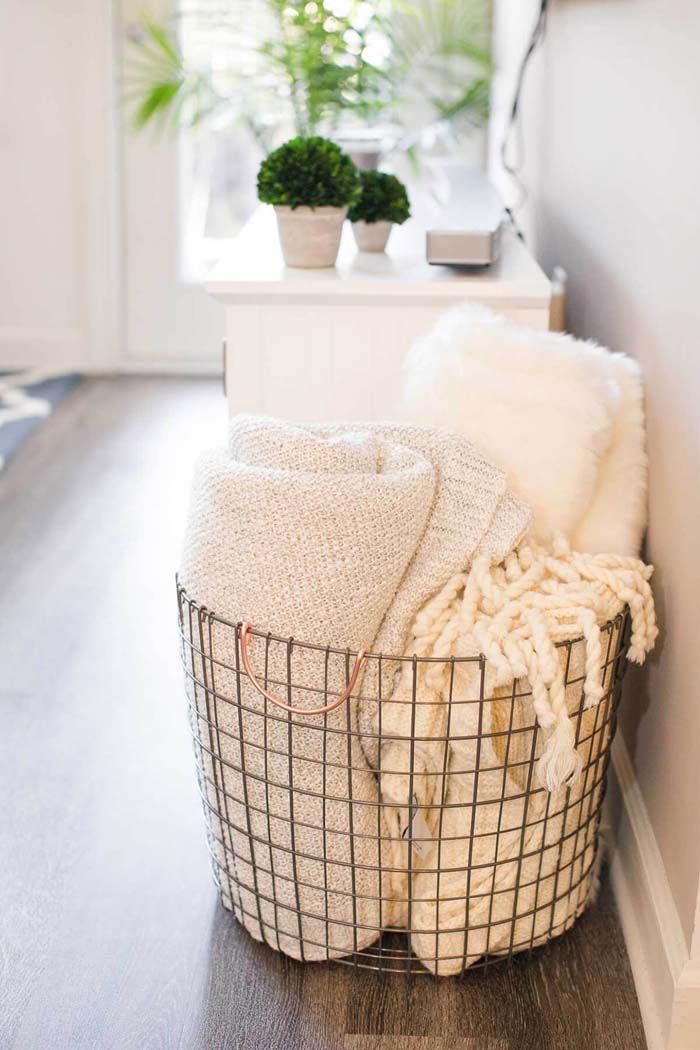 Every home has a few spare blankets lying around.
Corral your extra pieces in a simple wire-frame basket. The sides flex gently to accommodate bulky throws and blankets, and the cute copper handles allow easy carrying.
Use a basket to hold any soft items, including towels, stuffed animals, or throw pillows.
via Poor Little Girl
11. Bring Rustic Charm to Your Bathroom with Farmhouse Shelves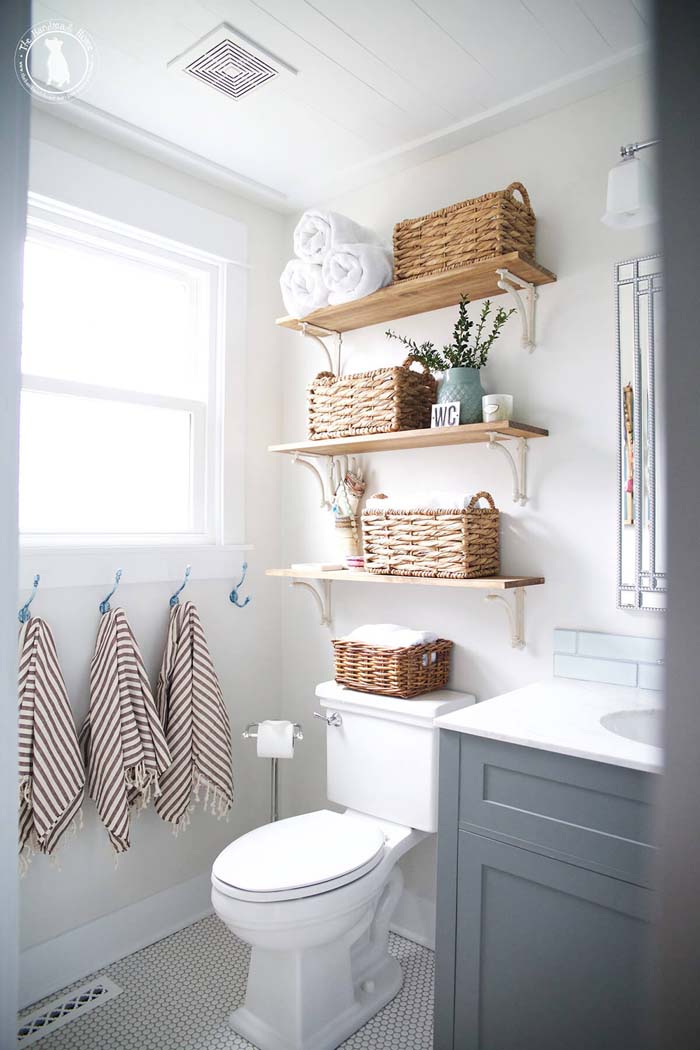 Tiers of shelves add a farmhouse vibe to a bathroom in this simple project.
The trick is to choose ornate metal brackets and wooden shelf planks with a visible grain — the combination is charming and elegant at the same time.
Use multi-level shelves anywhere you have an open wall.
12. Mount Wire Baskets for Fresher Food and a Pleasant Look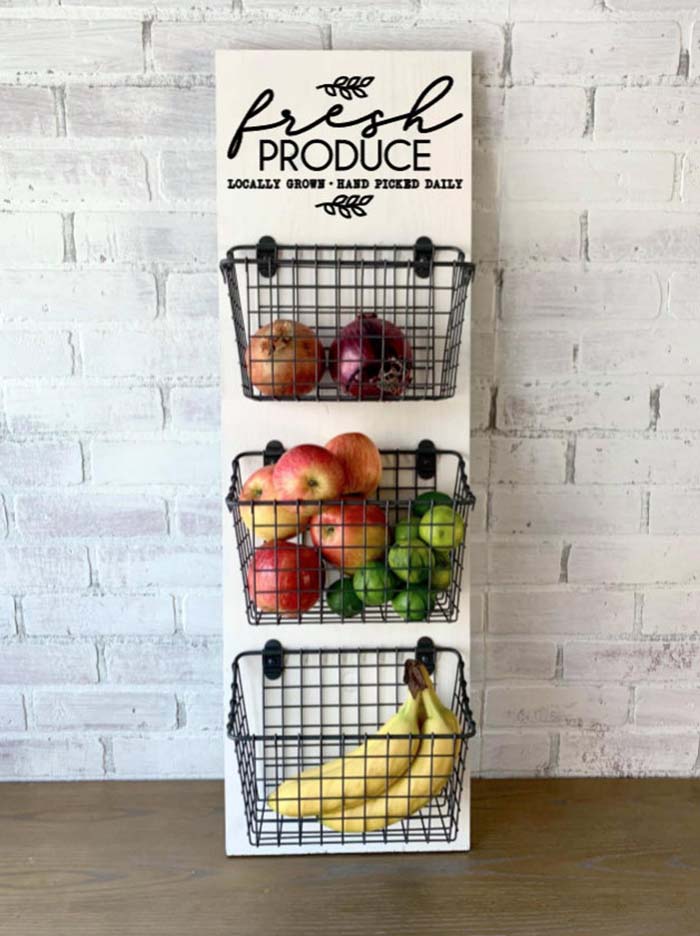 Have you ever struggled to fit your produce into a standard basket?
Keep it organized and easy to find by mounting wire baskets onto a wooden plank.
The open-frame sides ensure lasting freshness, and the dark finish looks gorgeous against the natural colors of the food.

13. Transform Your Bathroom with a Rustic Ladder Storage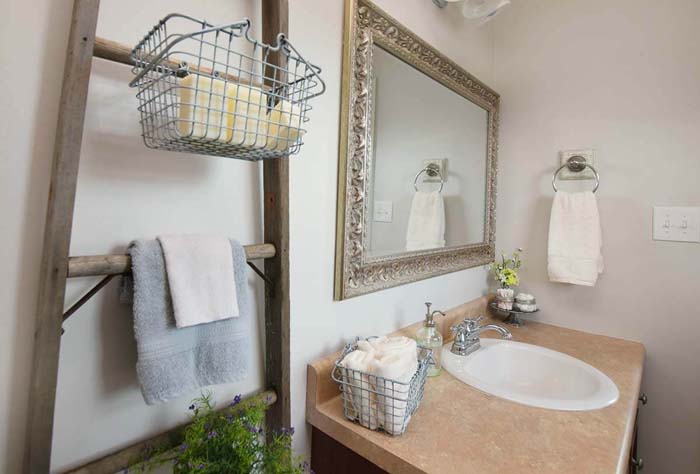 A rustic ladder gets a new life as a storage unit in this DIY bathroom project.
All you need is a shallow vintage ladder — then, you can attach storage baskets or use the rungs as towel hangers.
We love the ladder in its unfinished state, but a bright coat of paint can help invigorate a small space.
14. Charming Cutlery Holder to Enhance Your Kitchen Decor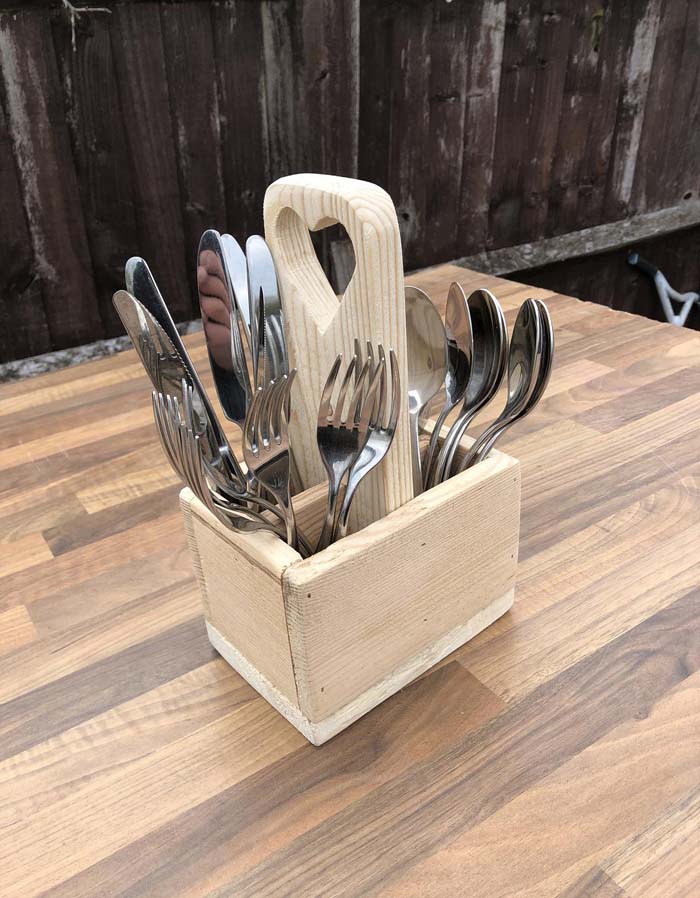 Are you looking for reasons to use your wood shop?
Keep your everyday cutlery in a convenient spot by building a simple cutlery holder.
The unfinished wood highlights the grain pattern, and the cutout heart creates a welcoming feeling in the kitchen.

15. Turn Family Recipes into a Rustic Decor Element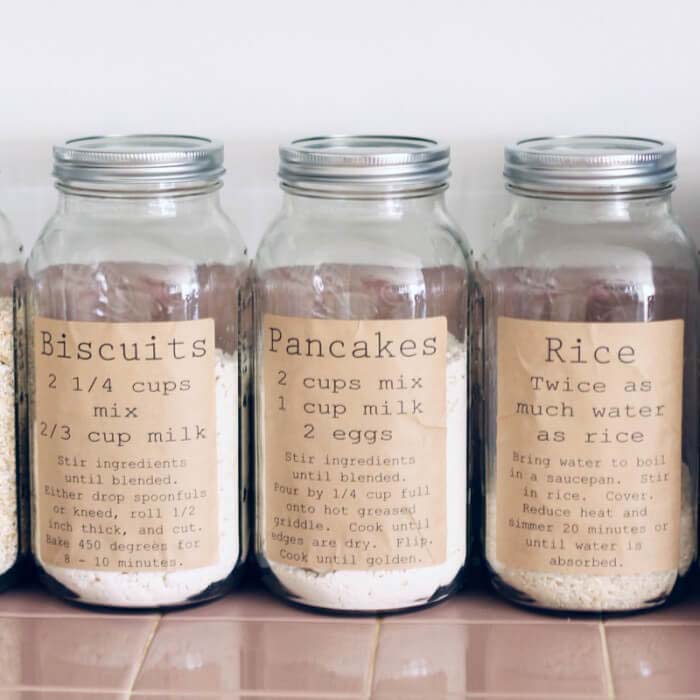 If your family has recipes that you use over and over, why not turn them into a decor element?
Here, simple recipes are printed onto brown paper and affixed to clear glass jars.
Place the pre-mixed dry ingredients inside to streamline meal prep.
16. Give Bread Box a Distressed Makeover with Paint and Stencils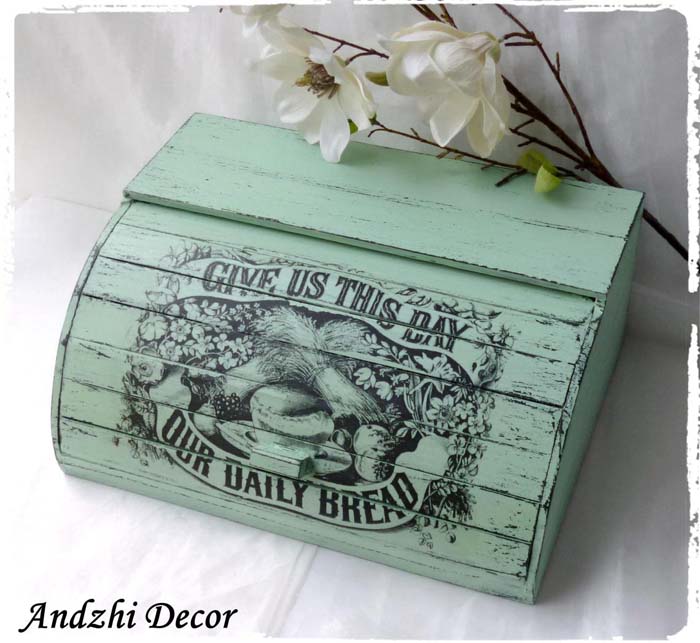 Turn an everyday bread box into a focal point of your kitchen with a new paint job and a vintage stencil.
The trick to this project is to use a darker shade of paint to add a distressed look to the edges of each board; it gives a new piece a well-loved look.

17. Classic Farmhouse Look with Freestanding Shelving Units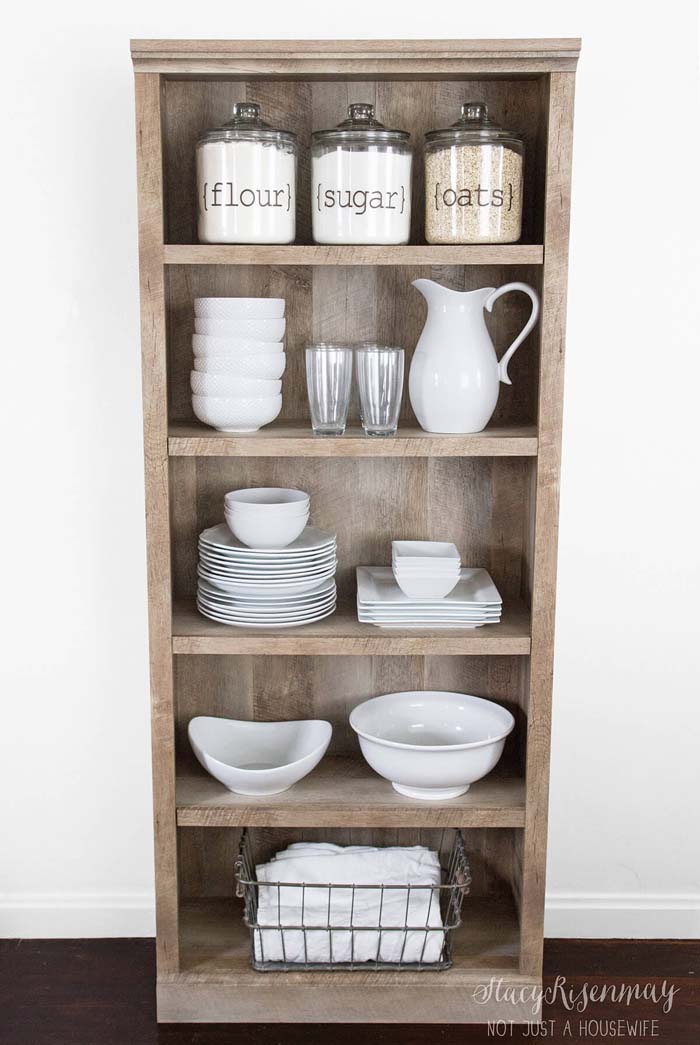 There's nothing more versatile than a freestanding shelving unit.
Choose a bookcase with a reclaimed wood look and add classic white dishes for a timeless farmhouse vibe.
We love how stenciled glass containers transform dry-food storage.
18. Create Space Under Your Kitchen Sink With a Metal Basket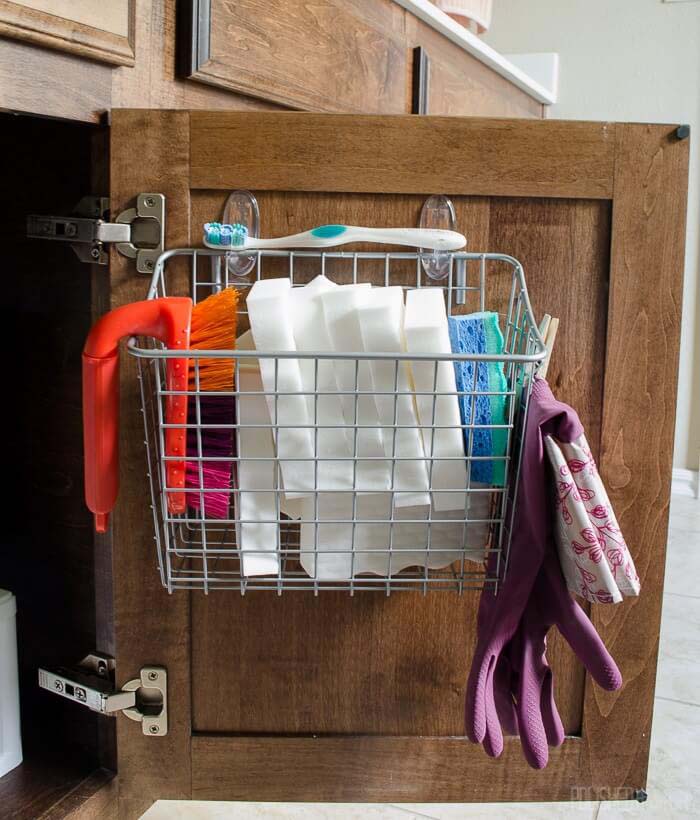 Peek under your kitchen sink — is it organized?
If not, this handy metal basket is a fun solution. It fastens to the back of the cabinet door, creating space for small cleaning supplies or products.
via Polished Habitat
19. Organize Office Essentials with Vintage Card Holders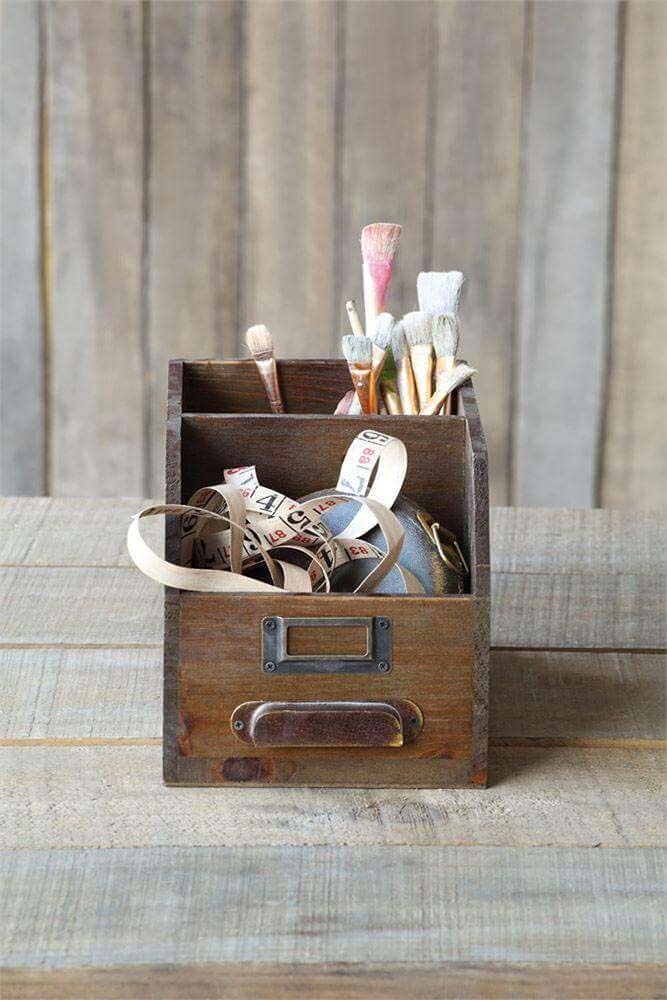 If you're lucky enough to get your hands on vintage cards and paper holders, this project is for you.
Take advantage of the large compartments to store everything from pens and pencils to arts and crafts supplies.
The distressed wood and existing hardware add to the effect.
20. Wall-Mounted Basket Storage for Towels in Small Bathrooms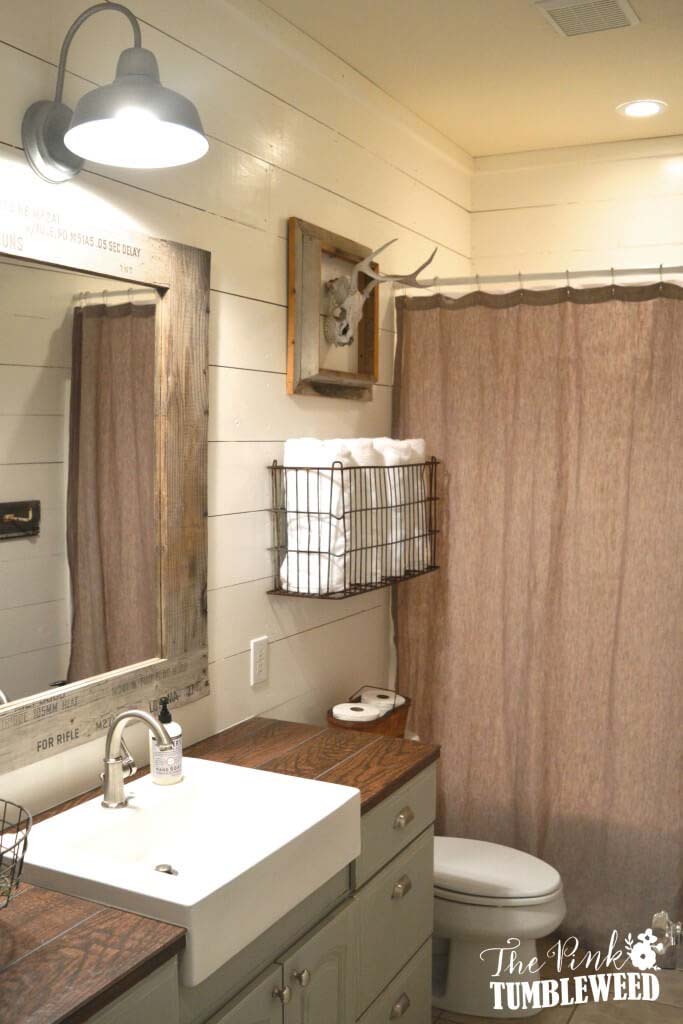 Are you looking for a lovely way to store your bath towels in a small bathroom?
A black metal basket is a beautiful solution.
It mounts easily to the wall, offering plenty of easy-access storage for rolled towels.