The irregular corners in our homes most often form dead areas that are spacious enough but practically cannot be utilized because the access is limited.
Regardless of how big our home is we always need more storage places so we can't afford to lose an inch.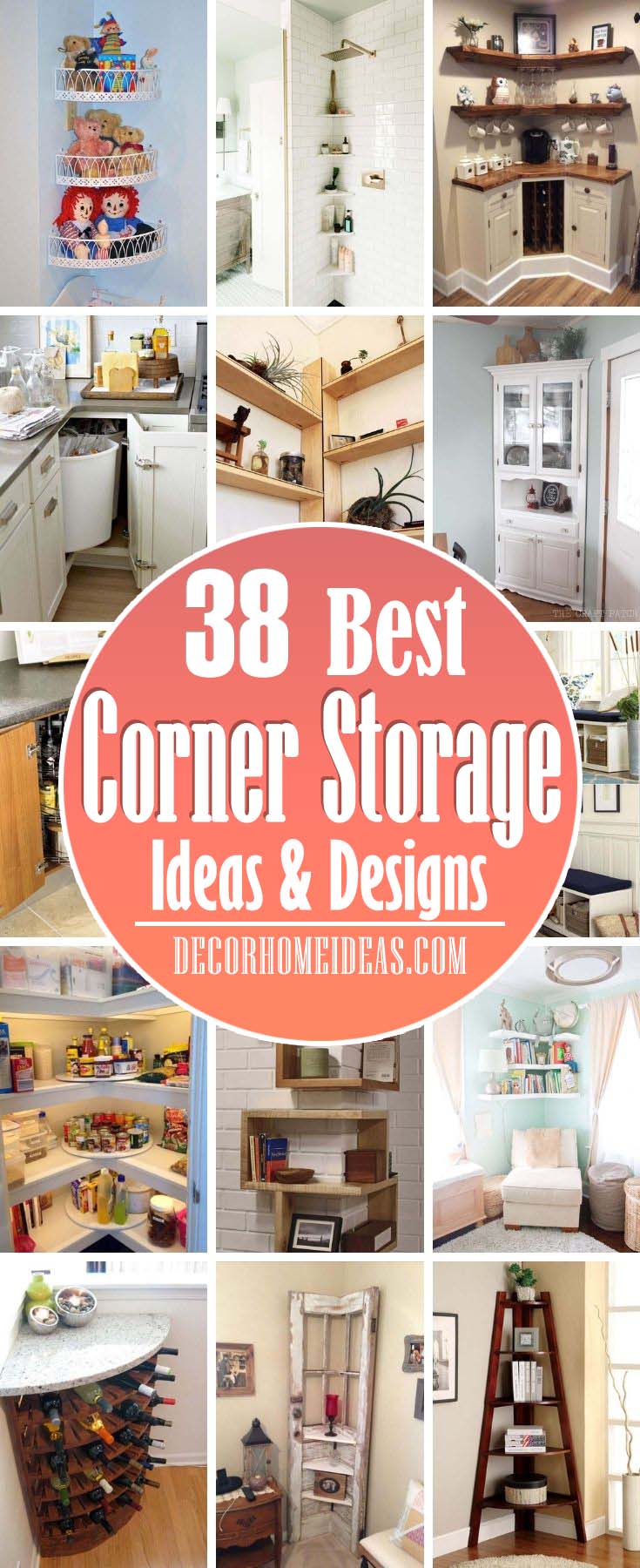 We are going to show you how to creatively use the corner spaces in every room so that they blend with the rest of the interior or exterior, provide extra storage space and let us make our home more functional.
1. Optimize Kitchen Storage with an Angled Cabinet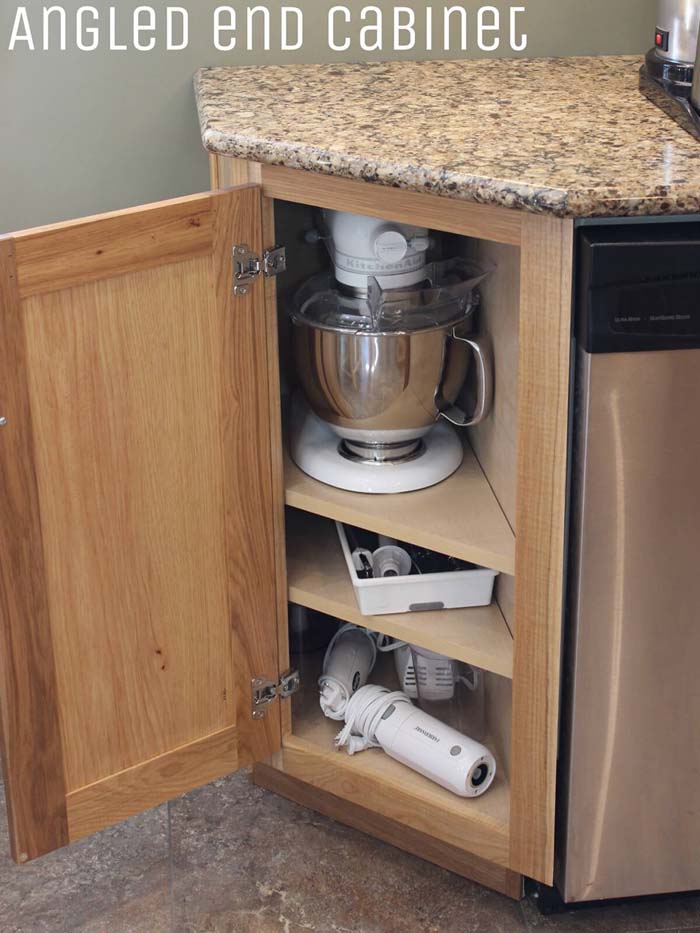 The kitchen countertop usually ends in a straight shape. Instead, finish it with an angled cabinet where different items can be stored- from seasonings to appliances.
2. Get Creative with Bathroom Storage with a Corner Table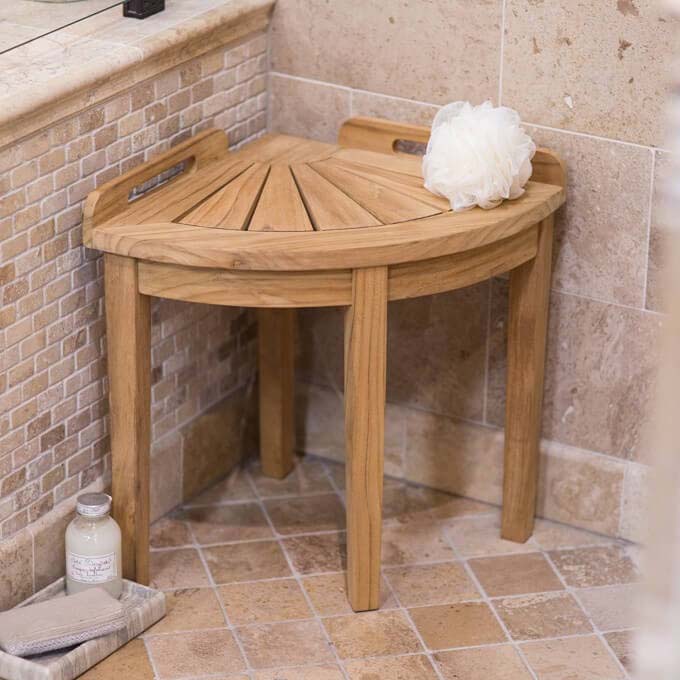 We are used to seeing cabinets and metal racks hung in the bathroom. Another way to provide a comfortable storage place for the bath accessories is a corner table.
It can accommodate the accessories and cosmetics you use in a way that everything is at a one-hand distance.
3. Modular Corner Seating Solution for Your Kitchen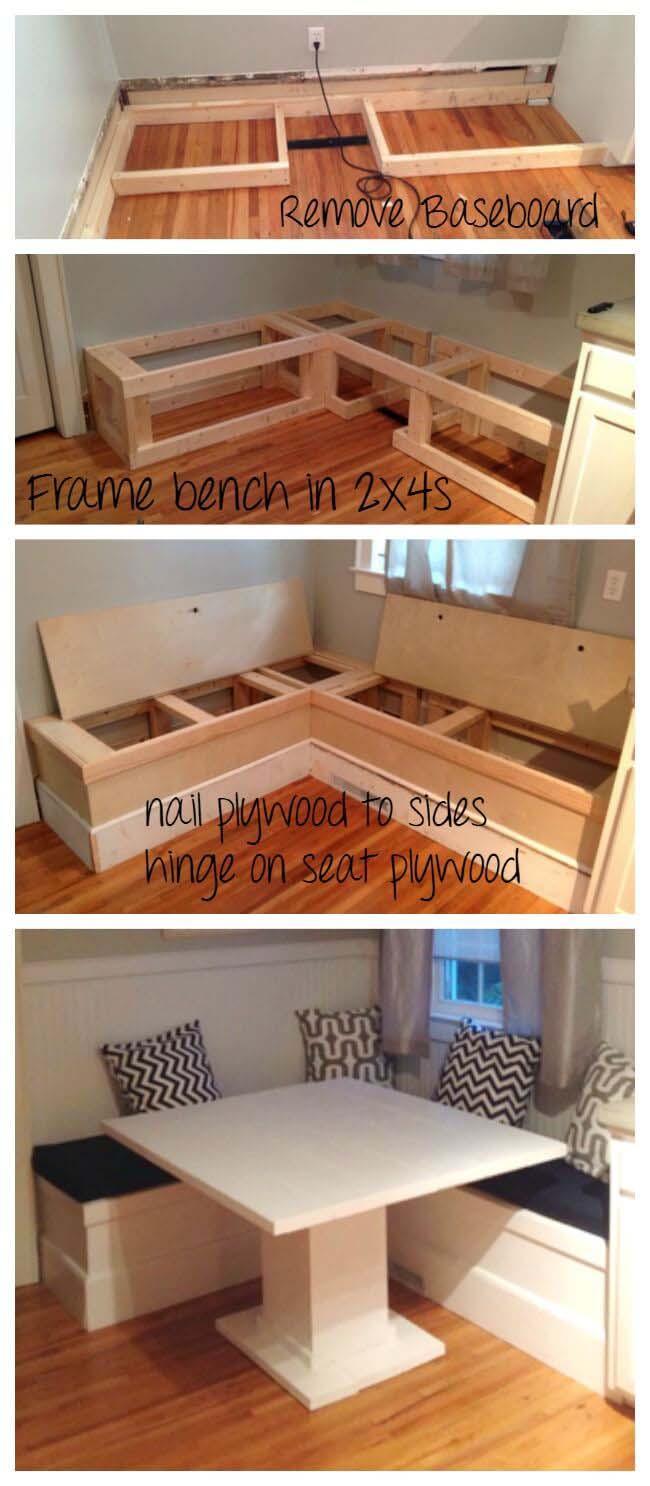 A modular sitting area consisting of two benches will utilize tightly a corner from your kitchen.
Together with the comfort, they ensure due to the soft cushions, the benches provide wide storage beneath the seats.
via Ana White
4. Unlock Kitchen Storage with a Vertical Cabinet Door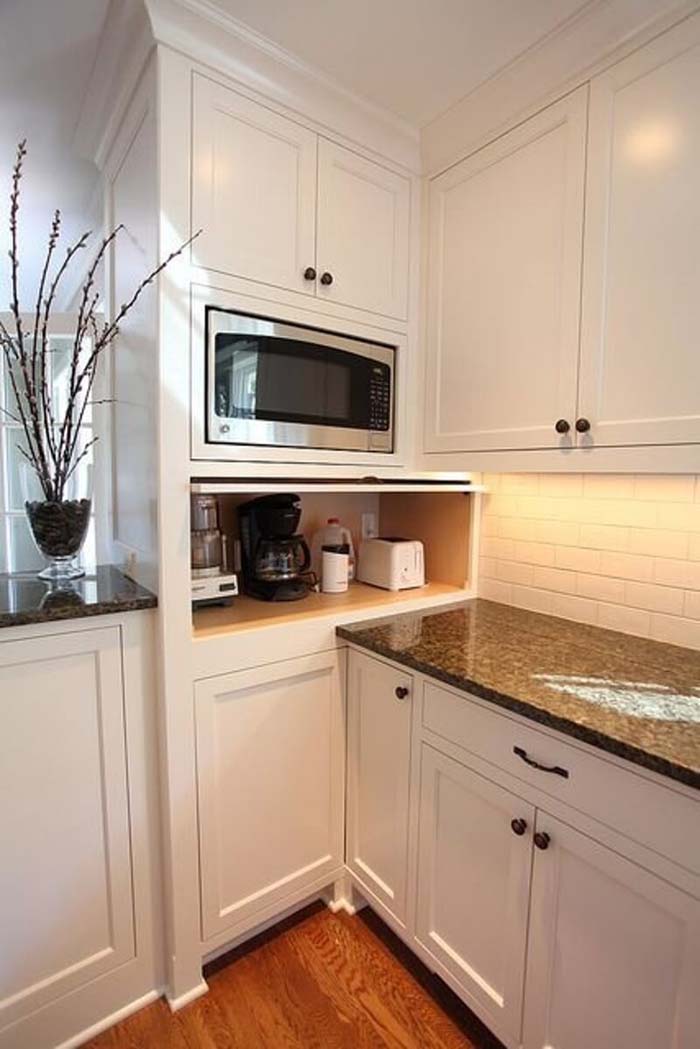 Use a niche in the kitchen for neat storage of the coffee machine and other appliances.
This otherwise inaccessible corner can become a functional part of the kitchen with the help of a door opening vertically.
via Kuhl Design
5. Spruce Up Your Living Room with a Rustic Wooden Bookshelf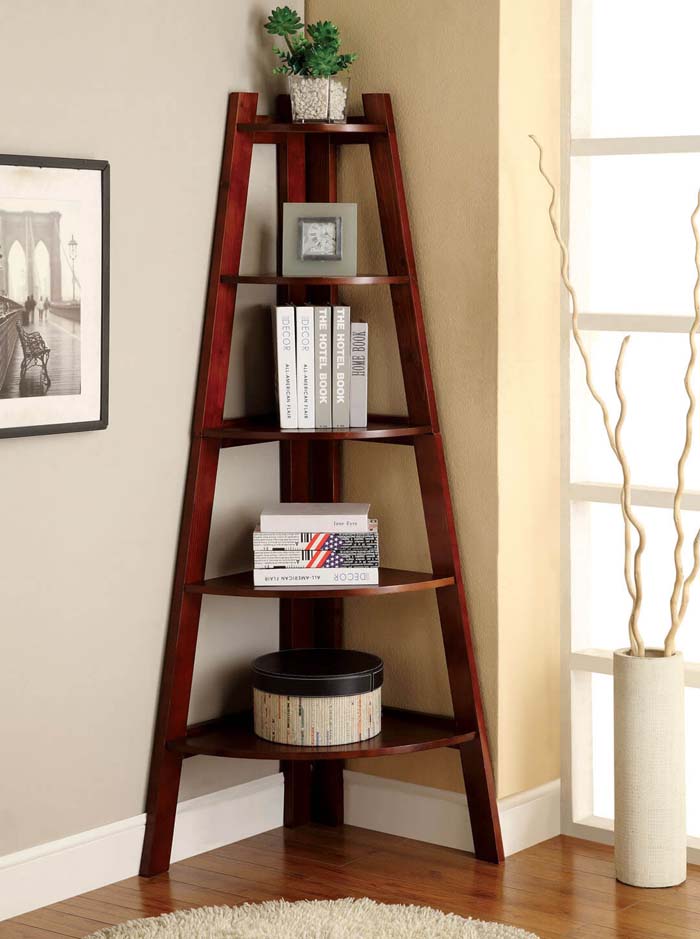 The corners in the living room can become a focal point with such a rustic bookcase.
Made of solid wood, it can display your favorite books or decorations on 5 tiers.
via Wayfair
6. Transform a Kitchen Corner into a Stylish Coffee Station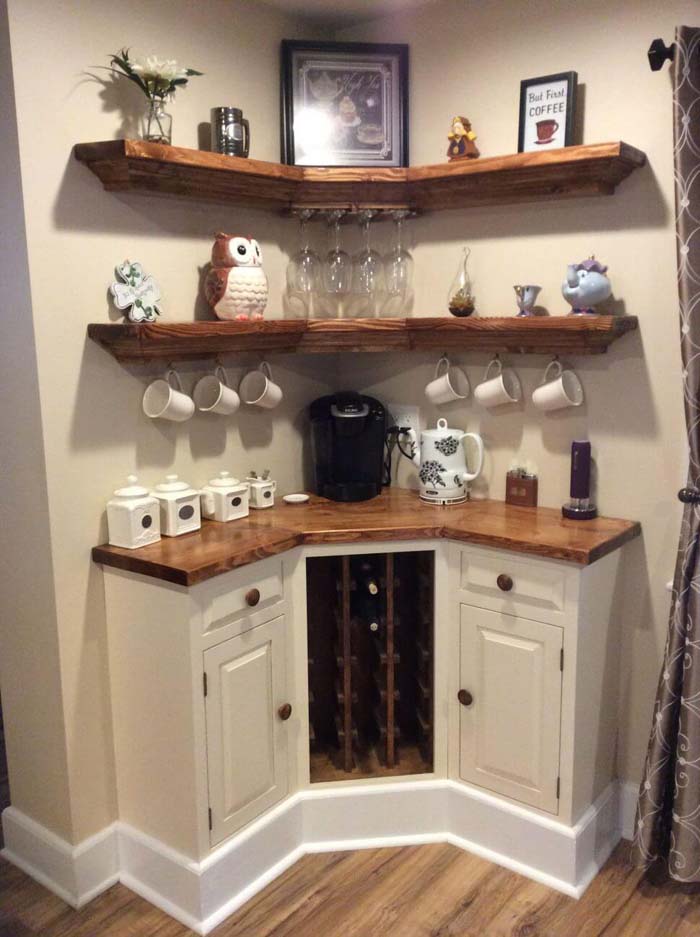 That corner from the kitchen that serves as a transition between the rooms and looks totally odd can easily be turned into a modern and organized coffee station.
7. Upgrade Your Vintage Sideboard for an Elegant New Look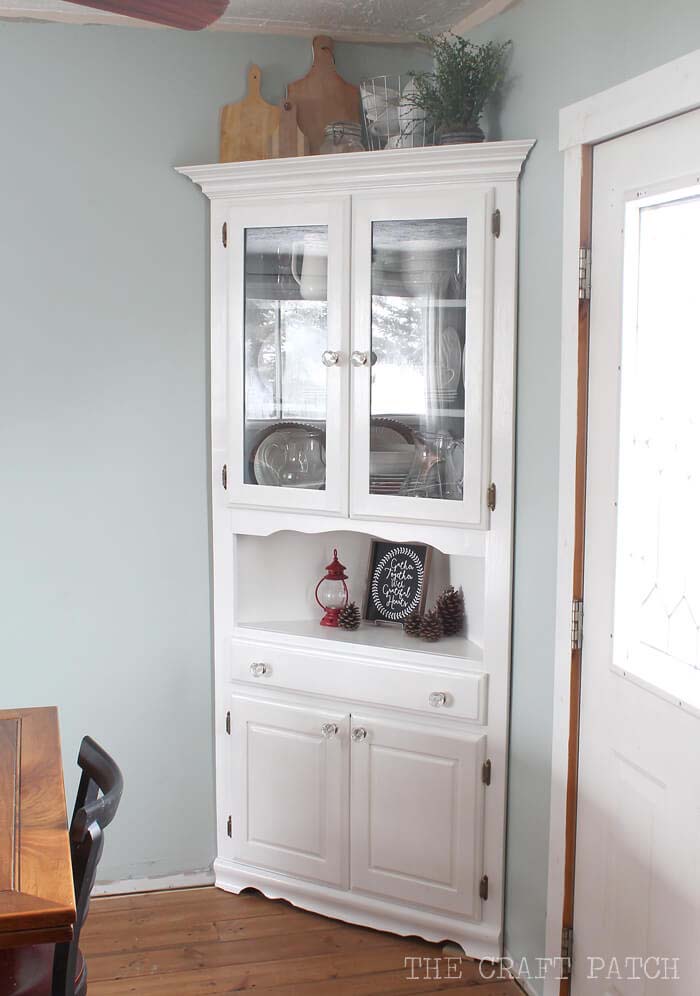 If you already have your beautiful vintage sideboard which is an irreplaceable part of your kitchen or living room, you can easily upgrade it to look more sophisticated.
Some sanding and suitable paint color will transform the aged piece into a fabulous corner cabinet.
via The Craft Patch
8. Create a Corner Shelf from a Reclaimed Wooden Door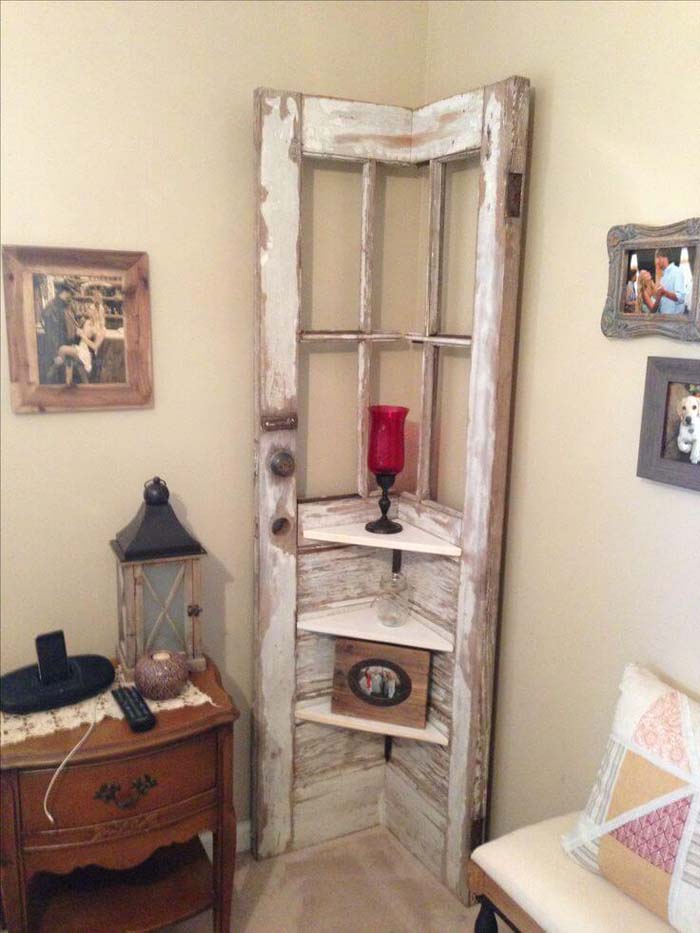 An affordable way to have a corner shelving unit is to make it yourself from a reclaimed wooden door.
By cutting it in halves you would be able to assemble it at an angle. Add triangle shelves at the desired positions.
9. Showcase Your Books with an Adjustable Shelving System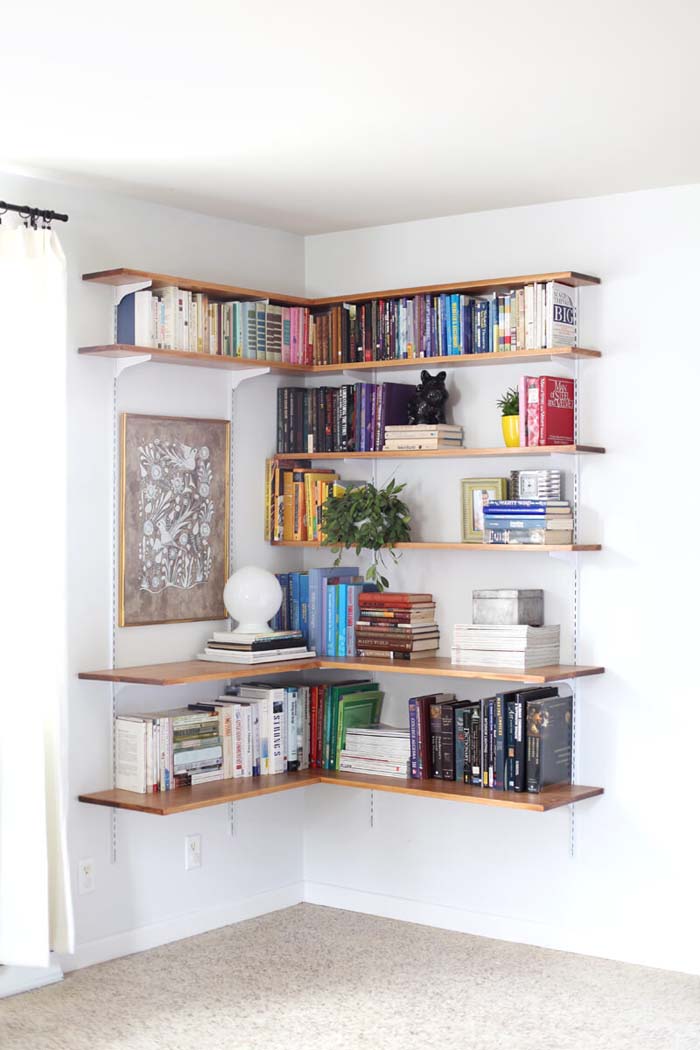 Build an adjustable shelving system for the empty corner in the living room and show off with your book collection.
This idea is affordable and customizable as the standard materials are preliminarily bought from the stores.
via A Beautiful Mess
10. Organize Your Kitchen with a Corner Cabinet Configuration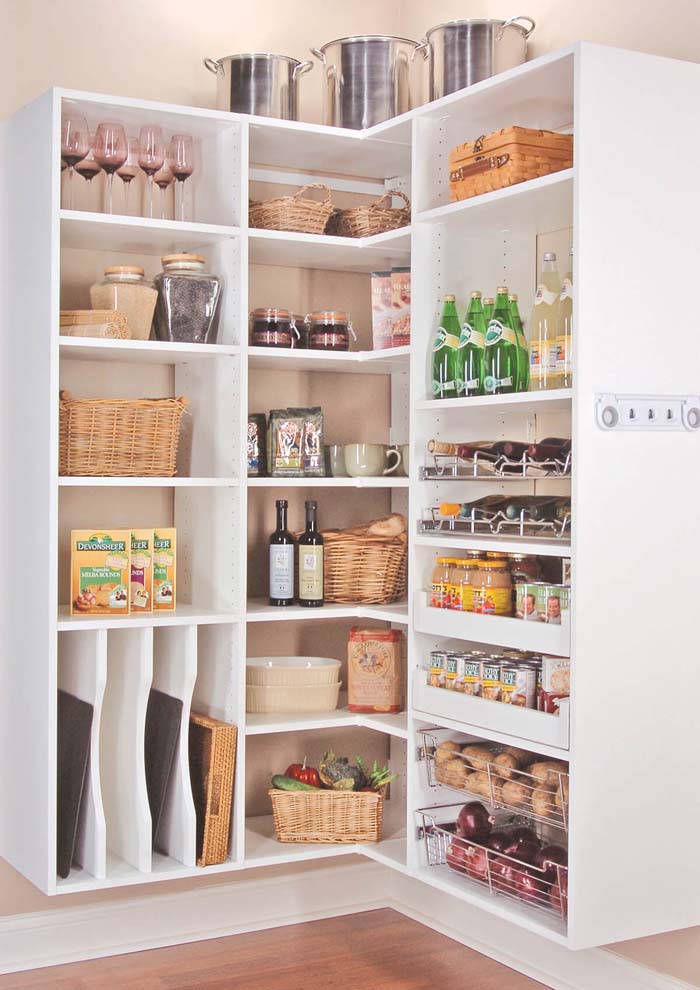 Such a corner cabinet configuration will ensure neat and organized storage of various kitchen stuff.
The height and width variety of the sections and the sliding metal baskets make this cabinet a dream come true for every housewife.
11. Store Your Finest Wine in a Corner Rack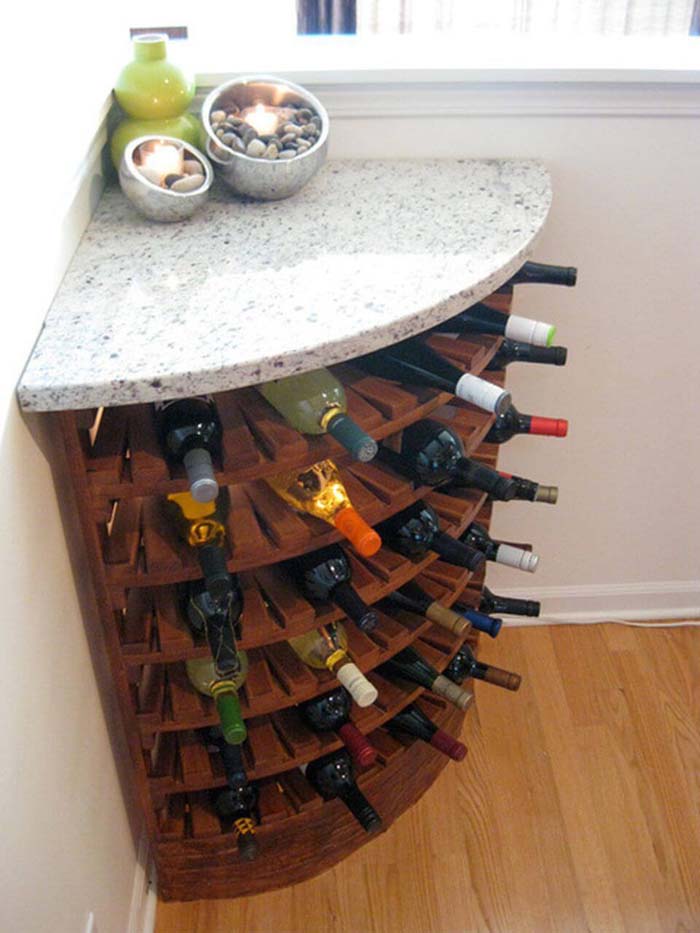 Wine lovers will appreciate a rack for their finest collection.
Although cellars are considered the most appropriate place for the storage of wines, people living in the cities cannot take advantage of such. In those cases, the corner rack will satisfy their hobby.
12. Utilize Kitchen Corners Efficiently with Custom Cabinetry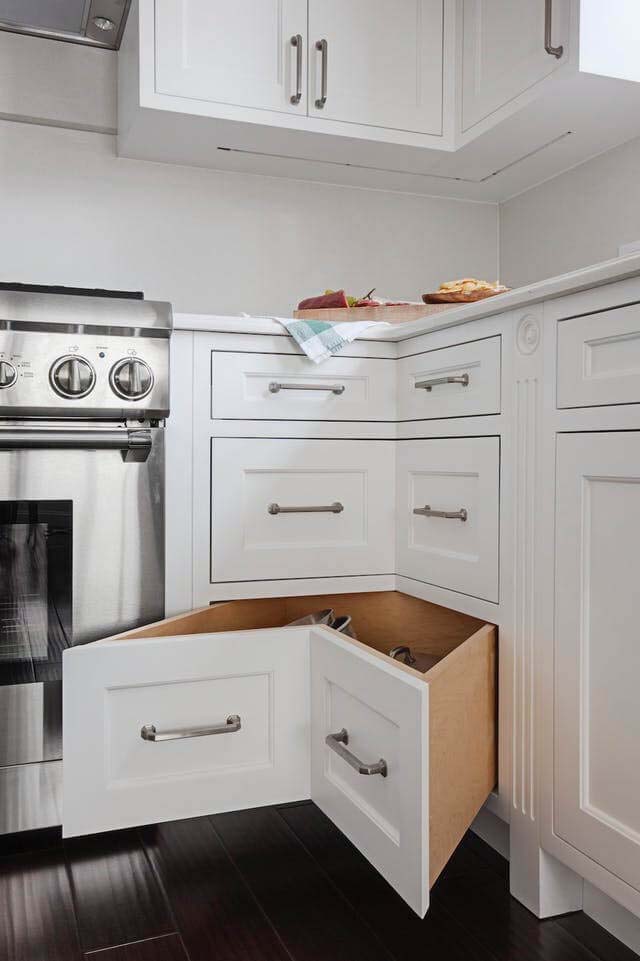 The best place for corner cabinets is the kitchen as we aim to make it as more organized as possible.
If you want a stylish and one-type design, you can get customized cabinetry that utilizes the corner spaces entirely.
via Sweeten Stories
13. Add Storage to Your Foyer with Corner Storage Ideas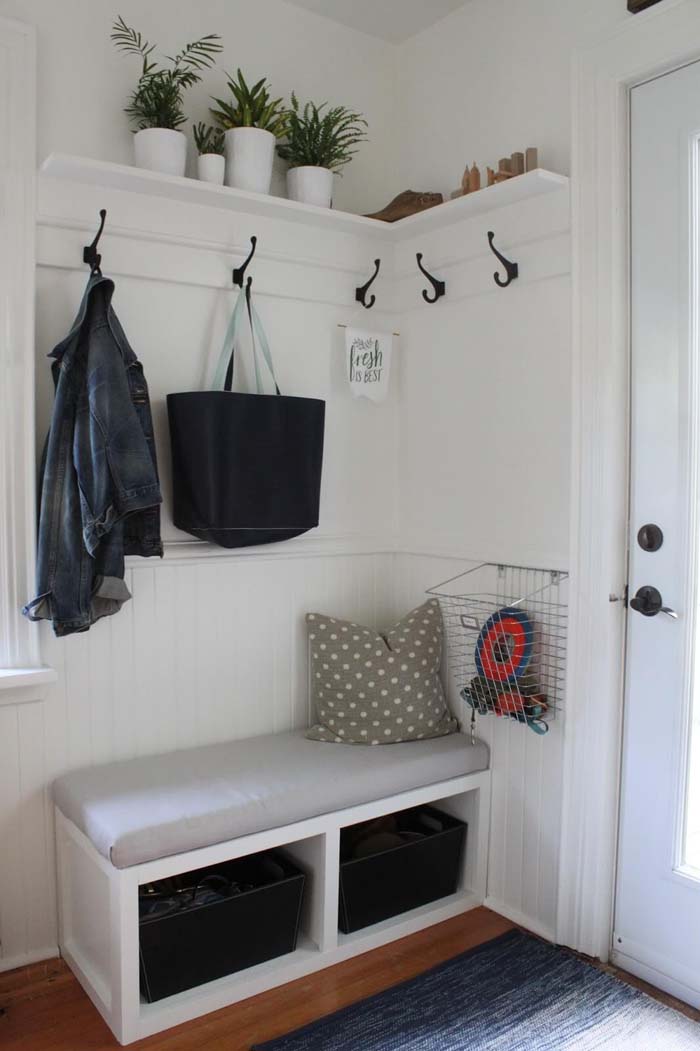 Whether small or big, the entryway has to be welcoming and comfortable.
A bench placed next to the corner will be functional enough to ensure sitting and storage places.
via Modern Jane
14. Corner Storage Unit Perfect for Smaller Entryways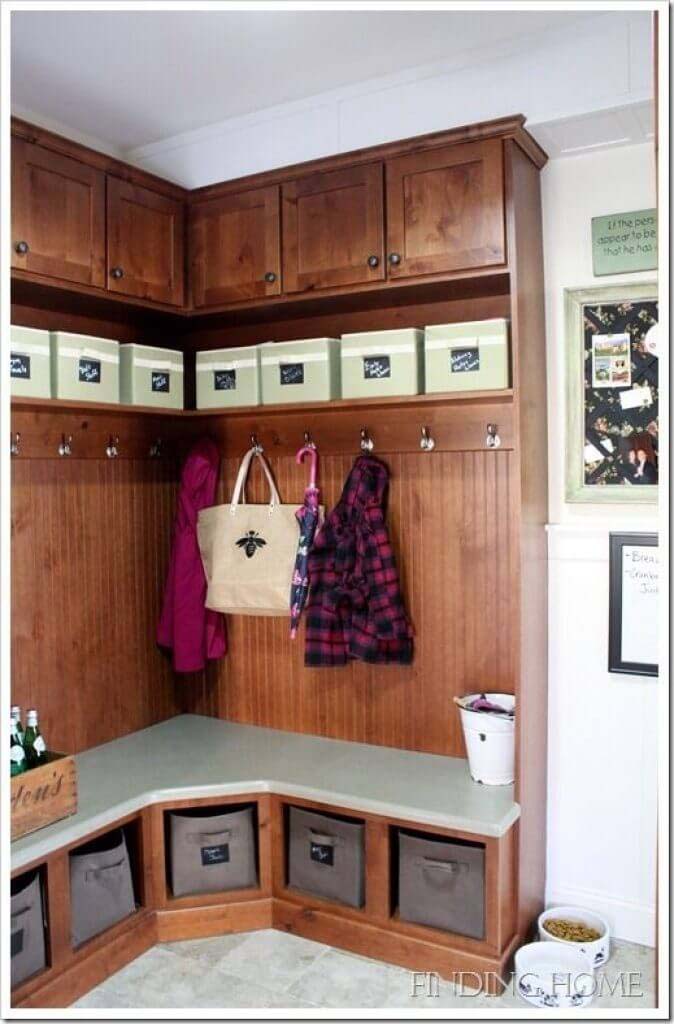 If the entryway is of small size, the standard straight line cabinets are not appropriate furniture as they will cover too much from the floor space and will rather be an obstacle than a convenience.
In such cases consider a corner storage unit consisting of a coat rack and cabinetry.
15. Build an Efficient Workspace with a Corner Hanging Desk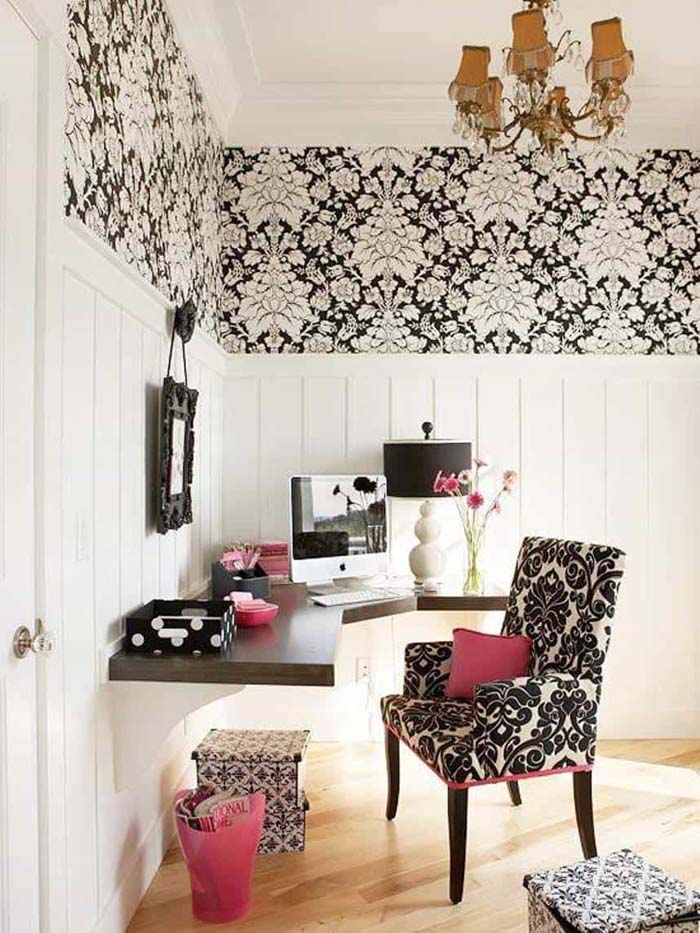 Even the tiniest spaces can have differentiated areas if every inch is cleverly used.
Take advantage of a corner in the living room to make a work desk that doesn't cover any of the floor space. Suspend on decorative brackets that will keep it fixed.
16. Make an Affordable Corner Cabinet for Toilet Paper Storage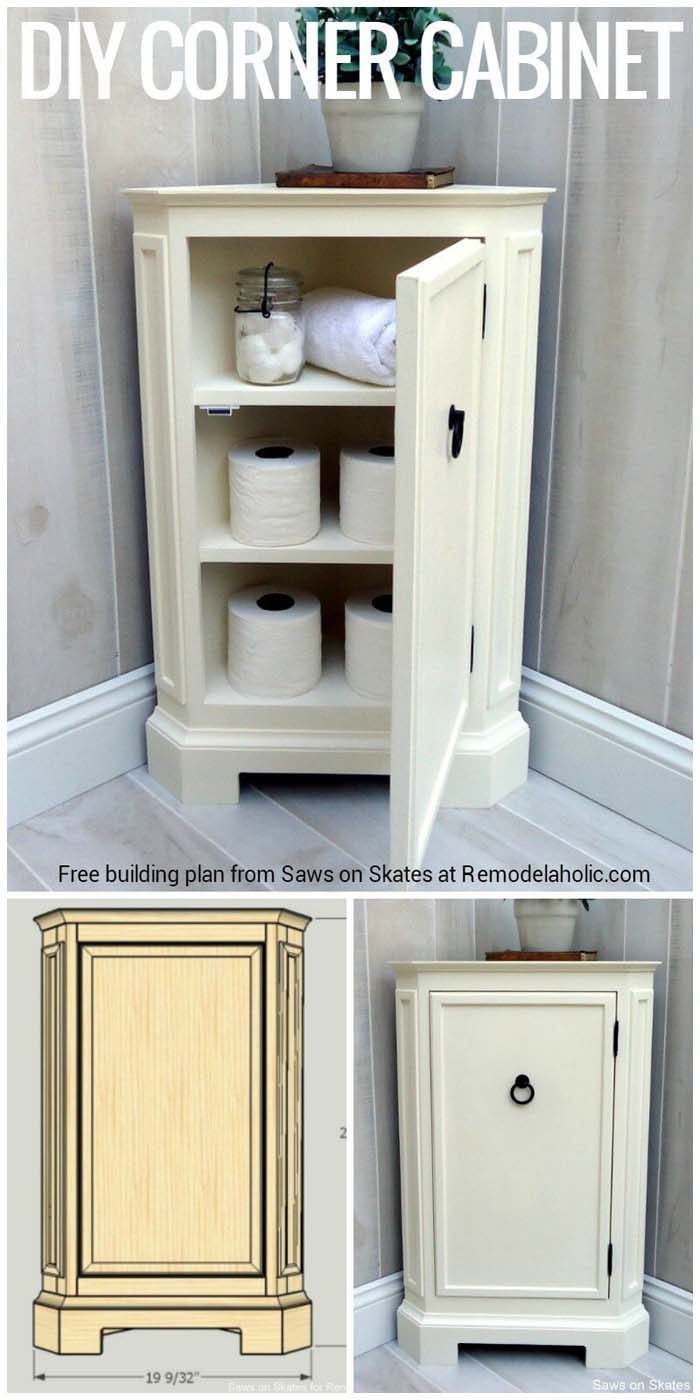 If you are pedantic to neat storage, you will appreciate this great idea for a corner cabinet that stores toilet paper and other accessories.
It could be made of any scrapped wood left from previous projects or you can take boards specifically for this project. In all cases, making it will cost you far less than a piece sold at the furniture stores.
via Remodelaholic
17. Organize Toys with IKEA Corner Shelving Units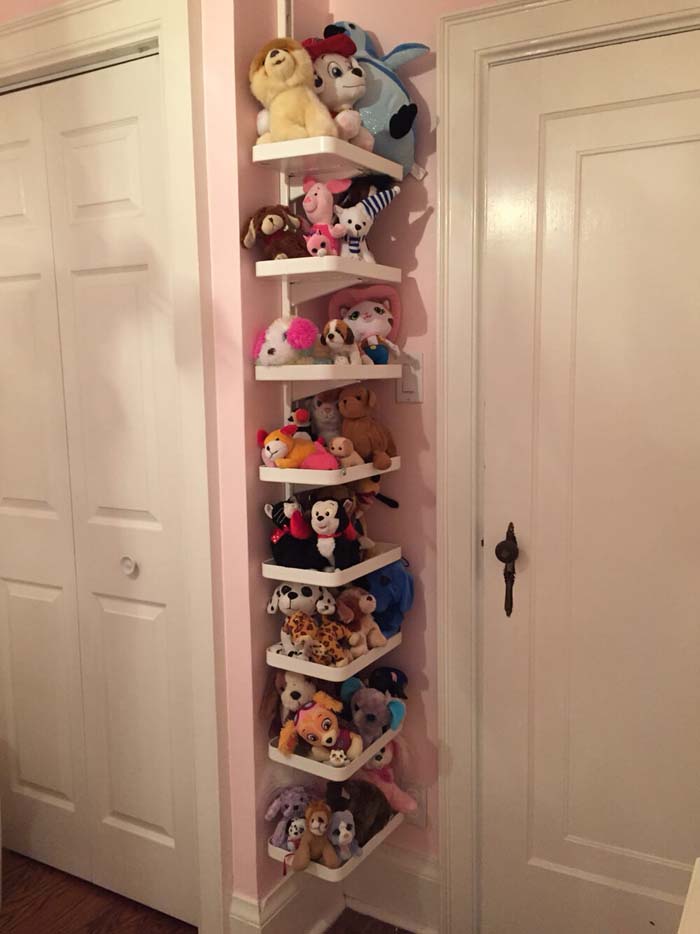 Every mom knows how difficult it is to find space and to organize neatly the kids' toys.
An open shelving unit from IKEA provides various mounting possibilities, including corners.
18. Furnish Your Entryway with a Corner Rack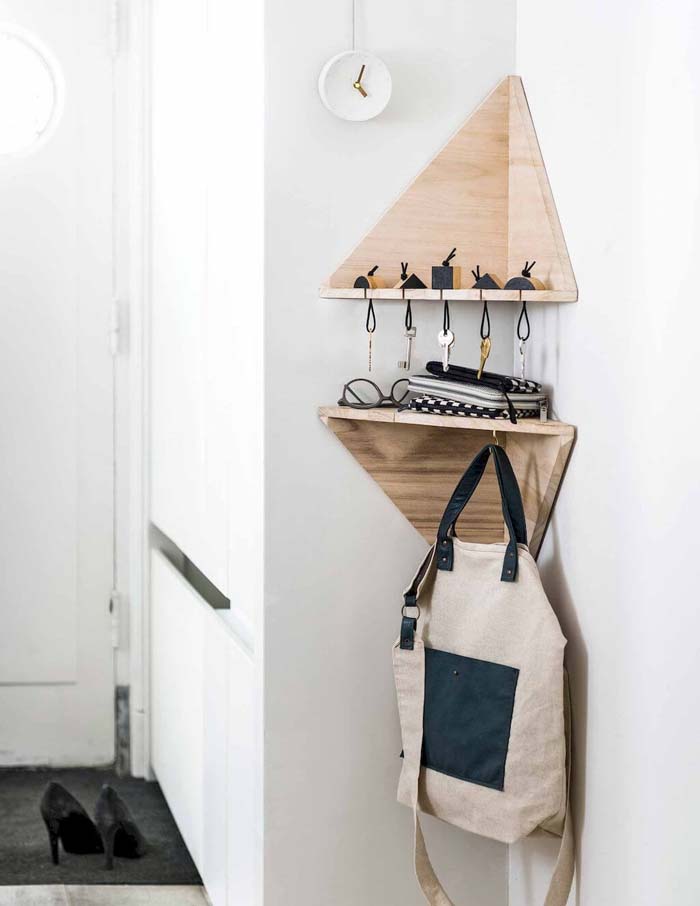 Furnishing the entryway is clearly a masterclass adventure as it requires the same amount of attention as if a larger room is being decorated.
A corner rack with two shelves will grab your attention and will let you organize the keys.
via VT Wonen
19. Make a Lazy Susan for Your Corner Shelves at Home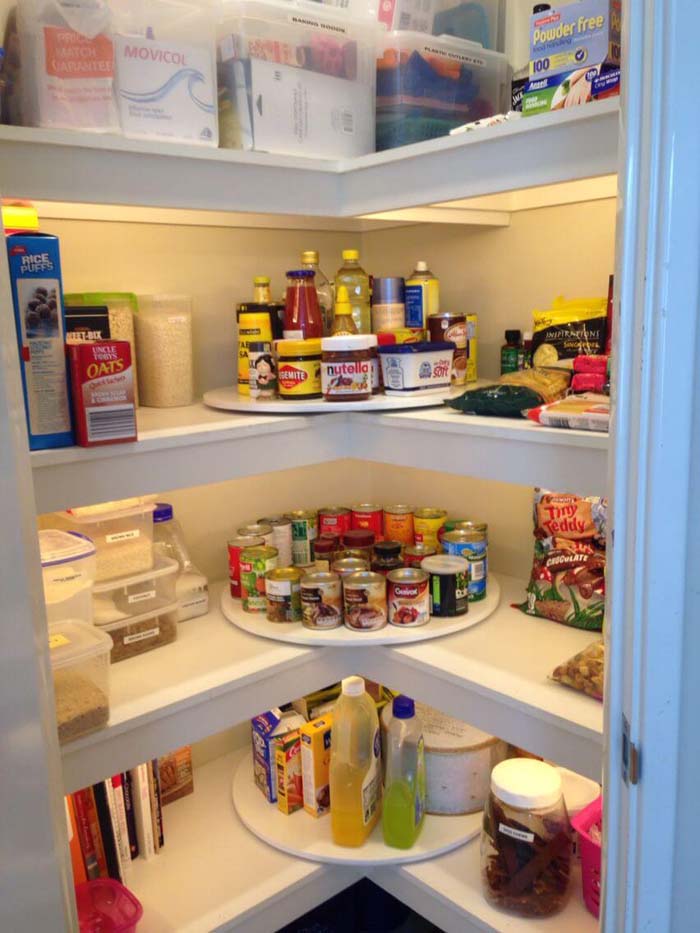 The Lazy Susan comes in help in limited spaces closed with doors. It will help the organization and will aid the access to the corner shelves.
Usually, they cost quite a lot but here is an idea of how to make it for $3.
via The Whoot
20. Make a Rotating Tray with Metal Baskets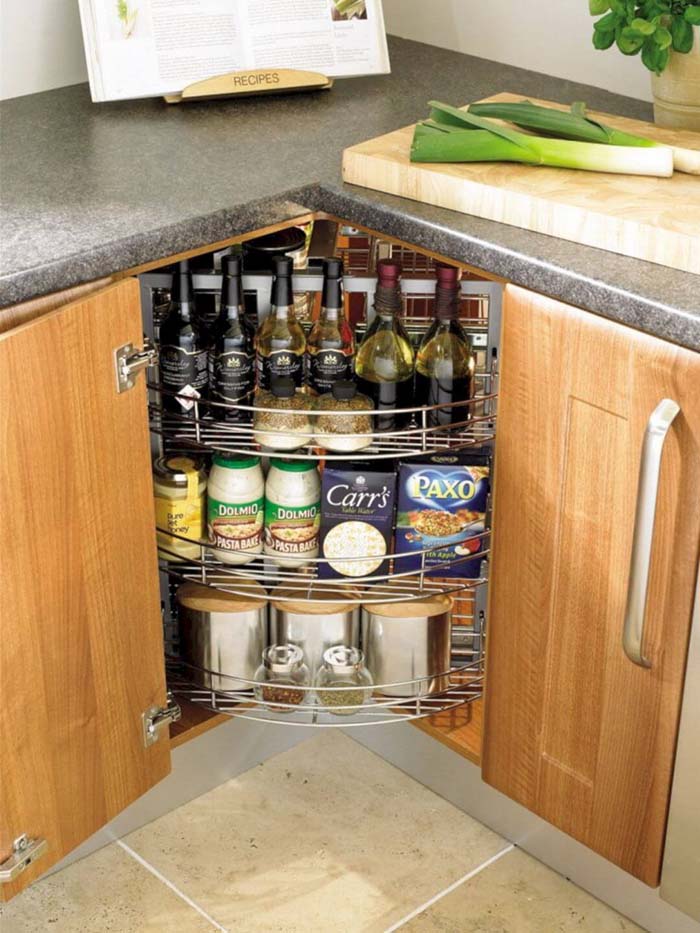 If you prefer another design for the Lazy Susan, metal baskets like those of the metal racks can become a rotating tray if the proper hardware is used.
21. Install Floating Shelves in a Corner for Home Storage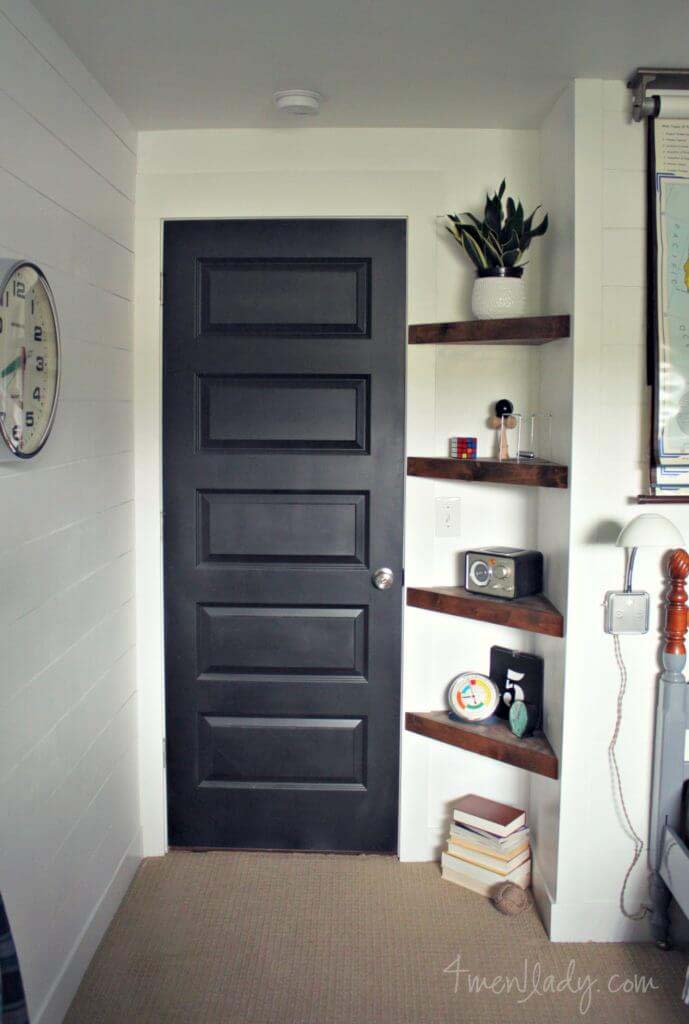 The floating shelves are trendy and very elegant storage furniture.
However, sometimes choosing them is prompted by the bad architecture of the space and the desperate need for more storage spaces.
via 4 Men 1 Lady
22. Sleek Sliding Door Corner Cabinet for a Modern Kitchen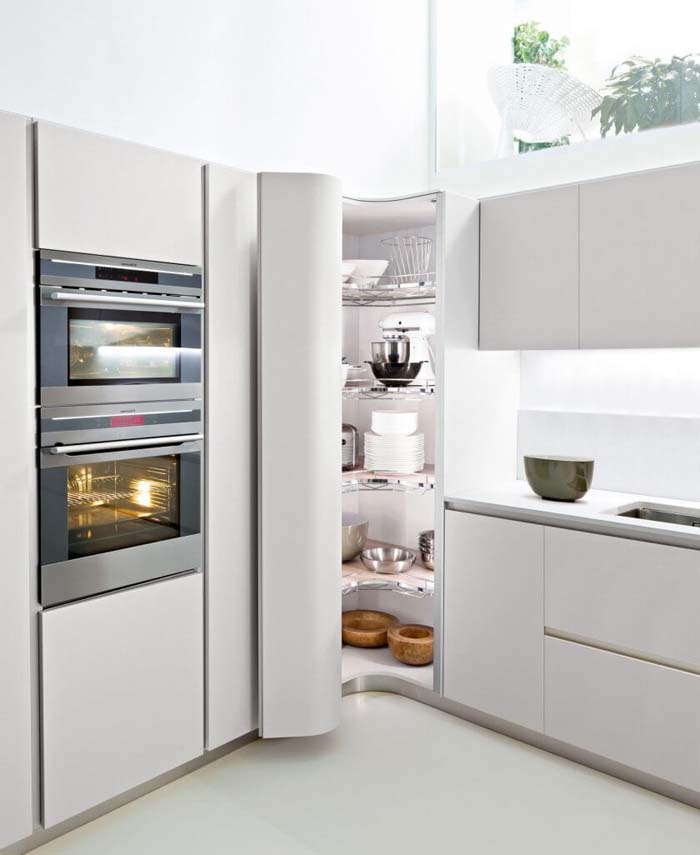 This corner cabinet is part of a customized modern kitchen where all storage cabinets are of the closed version to ensure protection from dust storage and clean and neat design.
Because of its place, the door is sliding instead of opening.
23. Turn a White Interior into a Focal Point with  Corner Shelves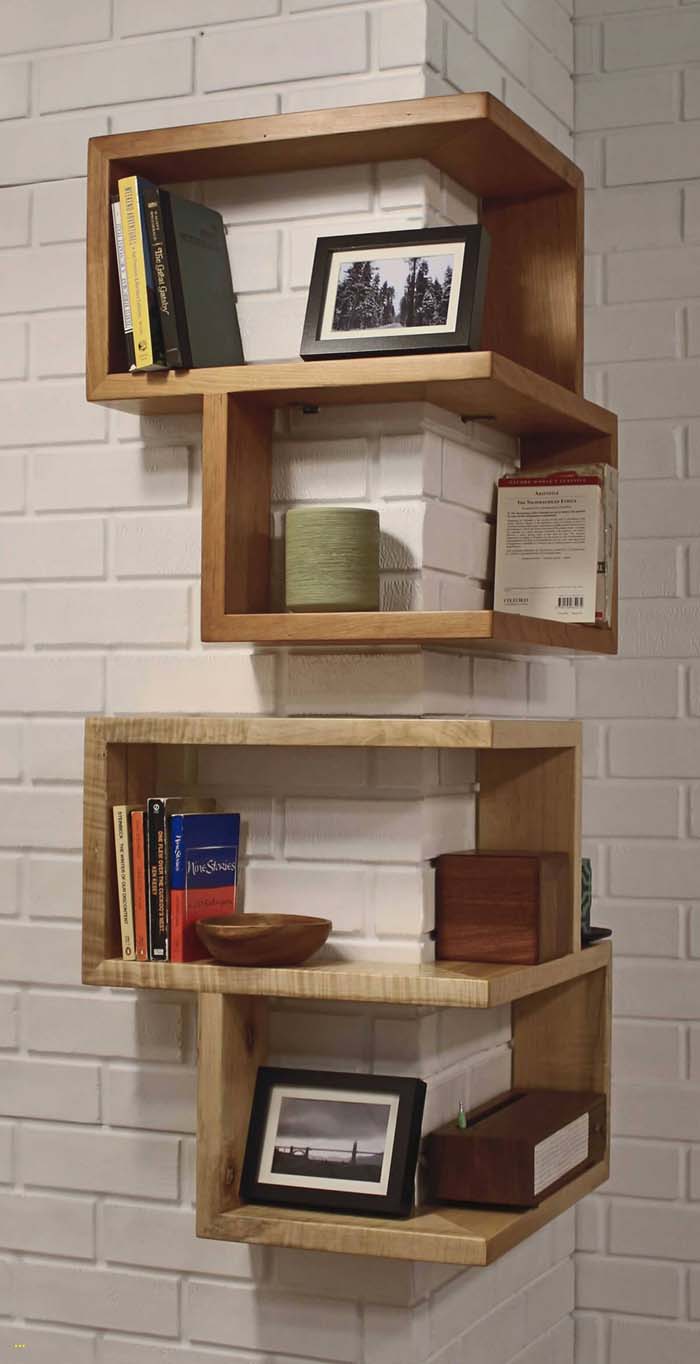 The corner shelves are not only useful, they also have a decorative value. In this case, they help define and give character to the white and simpler interior.
Furthermore, they can become a display of the most valued memories and belongings.
24. Make an Easy and Comfortable Corner Bench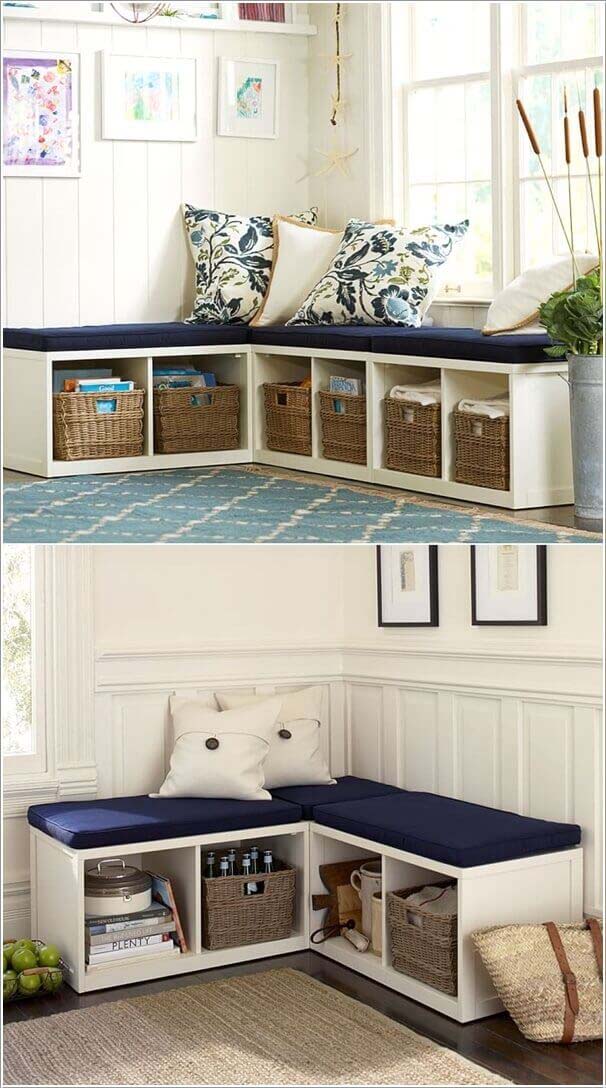 If you are already convinced of the advantages of the corner furniture, then you must have already chosen a project.
In case you are going to make yourself a corner bench, then you need to think about how to make the seats comfortable. Check the tutorial below for inspiration and instructions.
via Pottery Barn
25. Utilize Narrow Corners in Kitchen with Drawers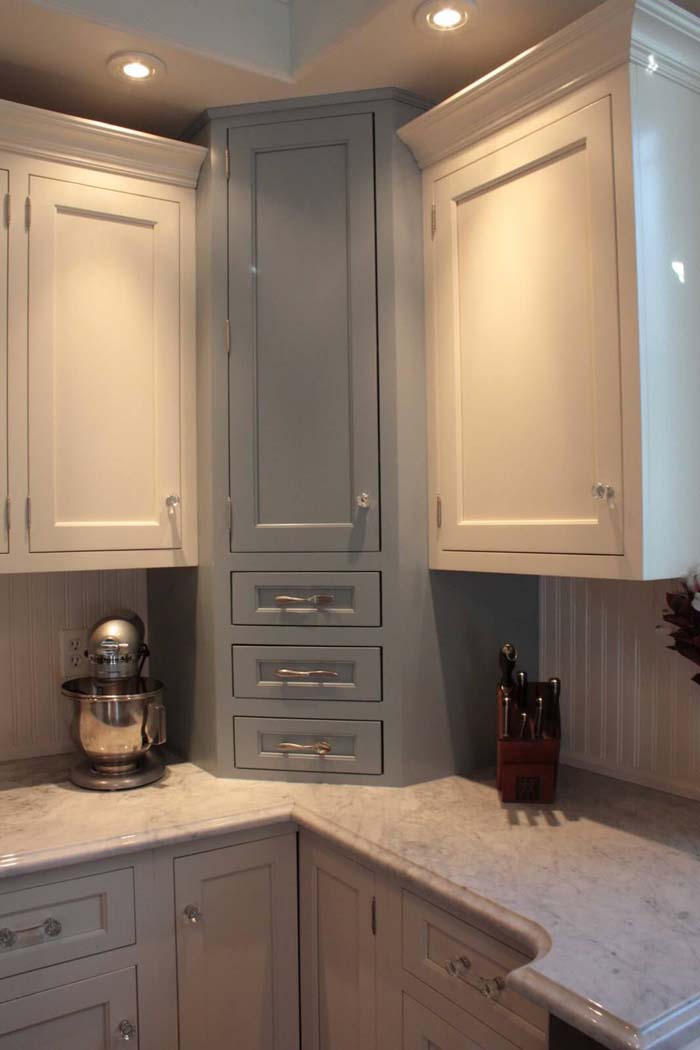 When utilizing a corner in the kitchen, go for drawers rather than cabinets with doors.
Thus you would be able to utilize the depth of the dead space entirely.
via Shelterness
26. Creative Corner Storage Solutions for Kids' Rooms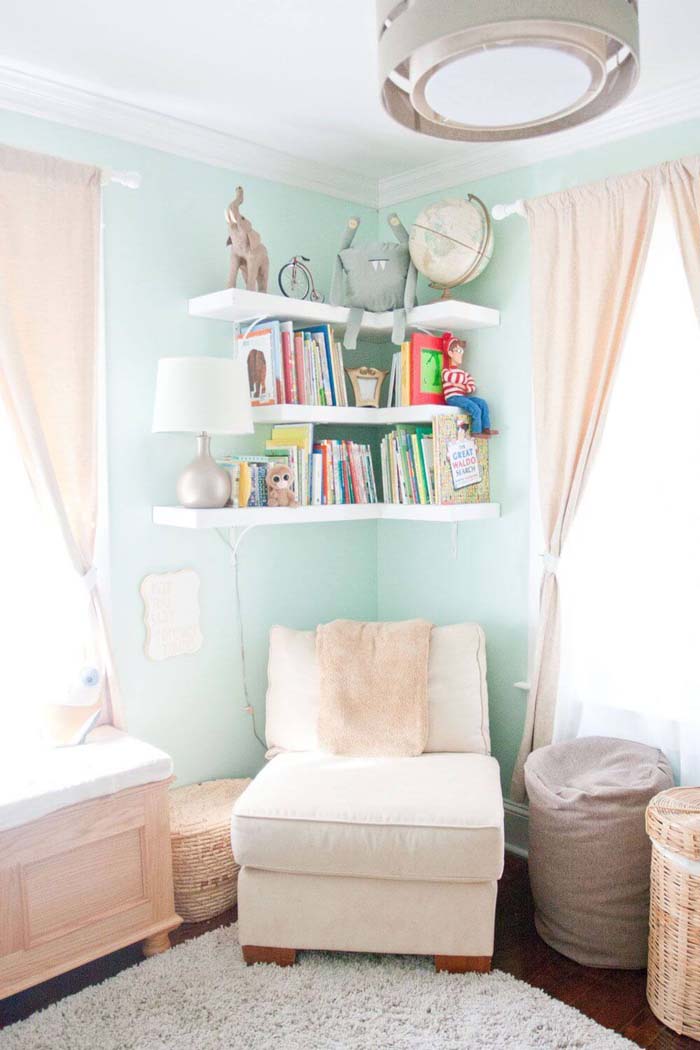 Here is an inspiration for how to solve the drama about how to decorate the corners of a nursery or kids' room.
The open design suits the room's use and can increase the storage space for favorite toys.
27. Utilize Awkward Corners with Decorative Floating Shelves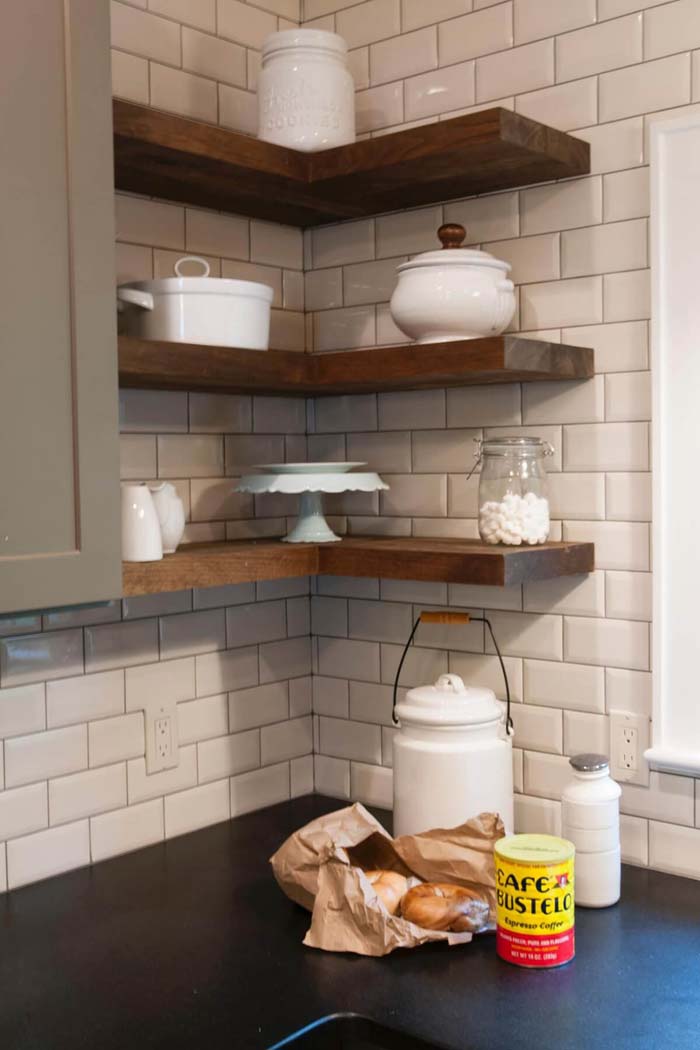 If you choose the floating type of selves for your kitchen, then they rather have a decorative than functional intend.
In all cases, they will utilize the otherwise awkward corner in an affordable way.
28. Upcycle Pallet Slats for Your Corner Shelving Units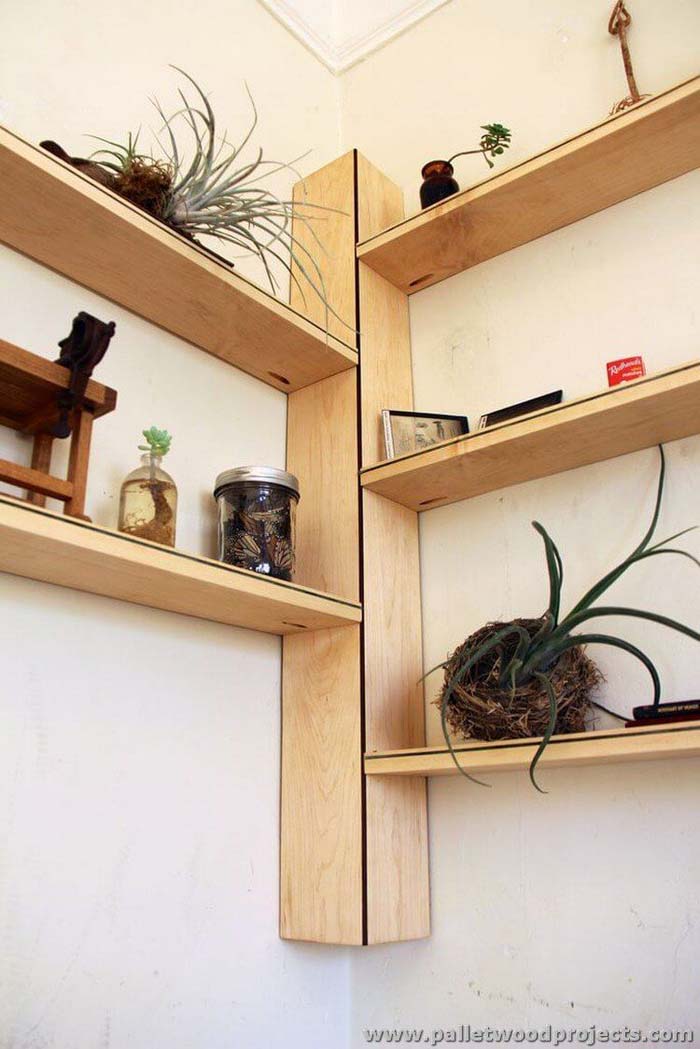 The corner can become the spot for decorative support of open long shelves in the living room.
This interesting storage idea can be easily made from pallet slats or other scrapped wood.
29. Maximize Kitchen Corner Space with Built-In Oven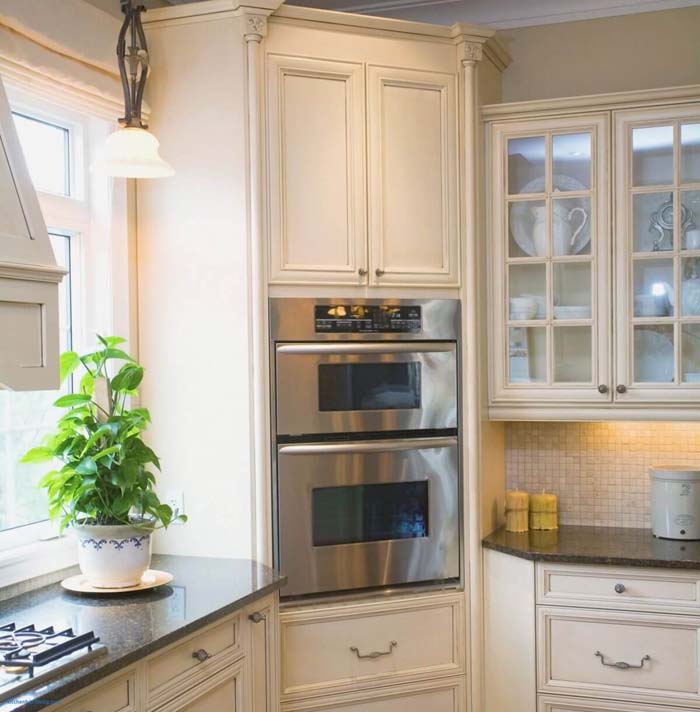 Use the depth of a corner in the kitchen to build in the cooking appliances.
Considering the accessibility on the vertical plane, the tare above the oven can become a cabinet, the bottom can be utilized with drawers.
30. Repurpose Wooden Crates for Customized Corner Furniture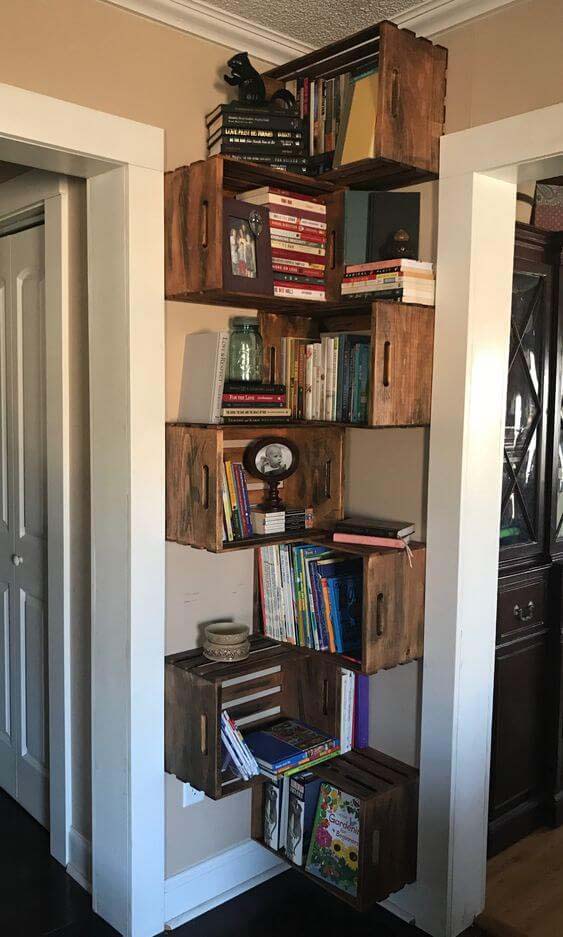 Customizing the furniture for the corner doesn't always mean purchasing it from a carpenter.
Get creative and look around for other suitable supplies that can be repurposed and used as shelves.
31. Create Rustic Bathroom Corner Shelves with Reclaimed Wood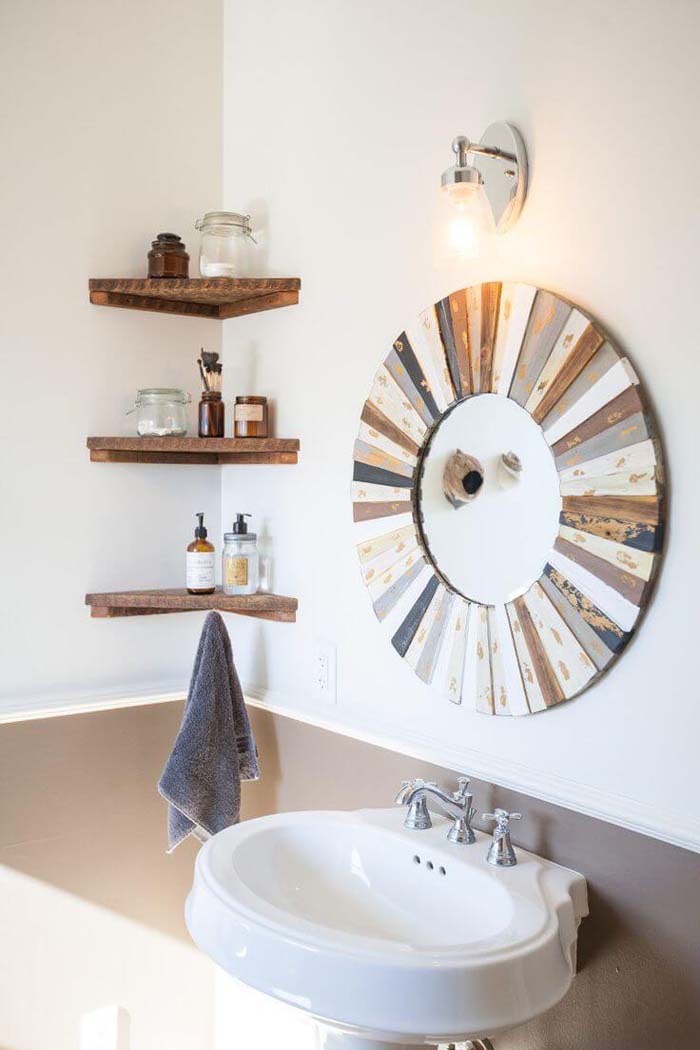 If you don't like the mass-used bathroom racks, make yourself shelves from reclaimed wood.
Although these are not floating shelves, they still have a very open design and fit tightly into the corner.
via Design Sponge
32. Paintable Corner Shelves to Enhance Bathroom Decor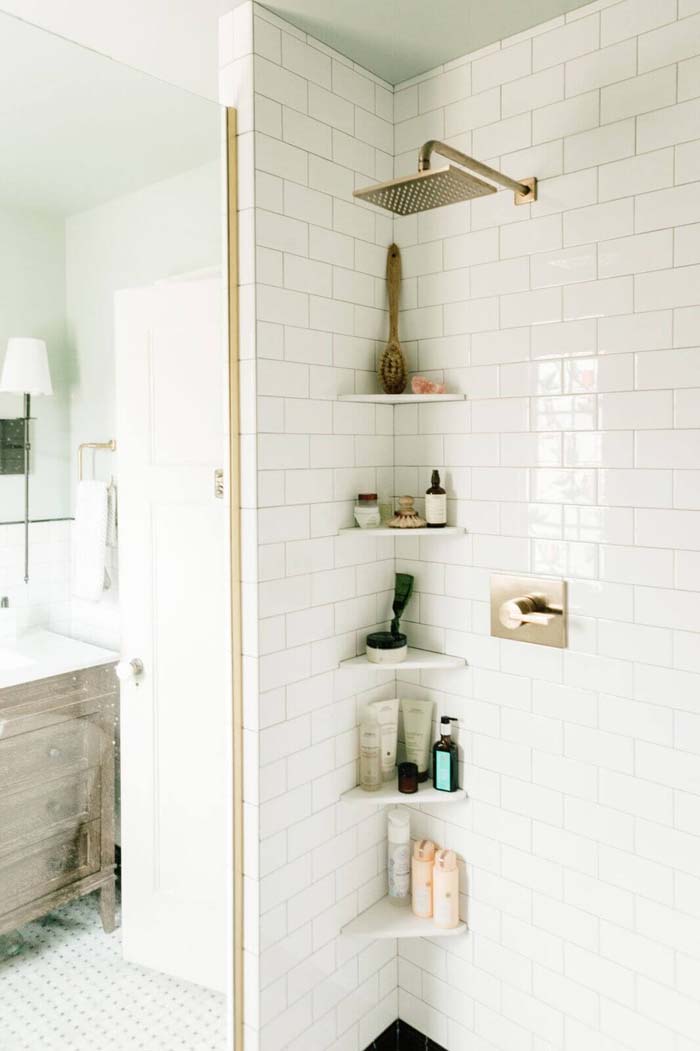 The same type of corner shelves can be painted in a color that matches the bathroom decor.
As long as you feel okay and you can freely reach, the shelves can be spread at the full height of the corner.
via Wit and Delight
33. Space-Saving Corner Shelves for Tiny Bedroom Nightstands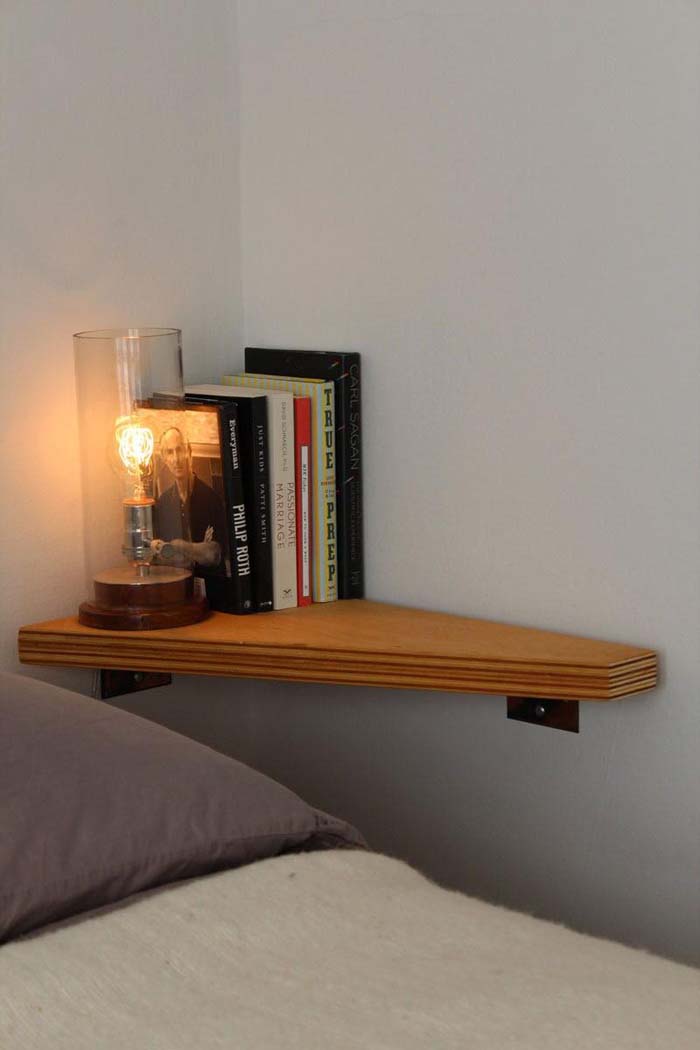 Corner shelves can be the only suitable night-stand design when it comes to tiny bedrooms.
The maximum depth of each shelf should measure the distance between the wall and the bed.
34. Stylish and Functional Solid Wood Cube Corner Shelf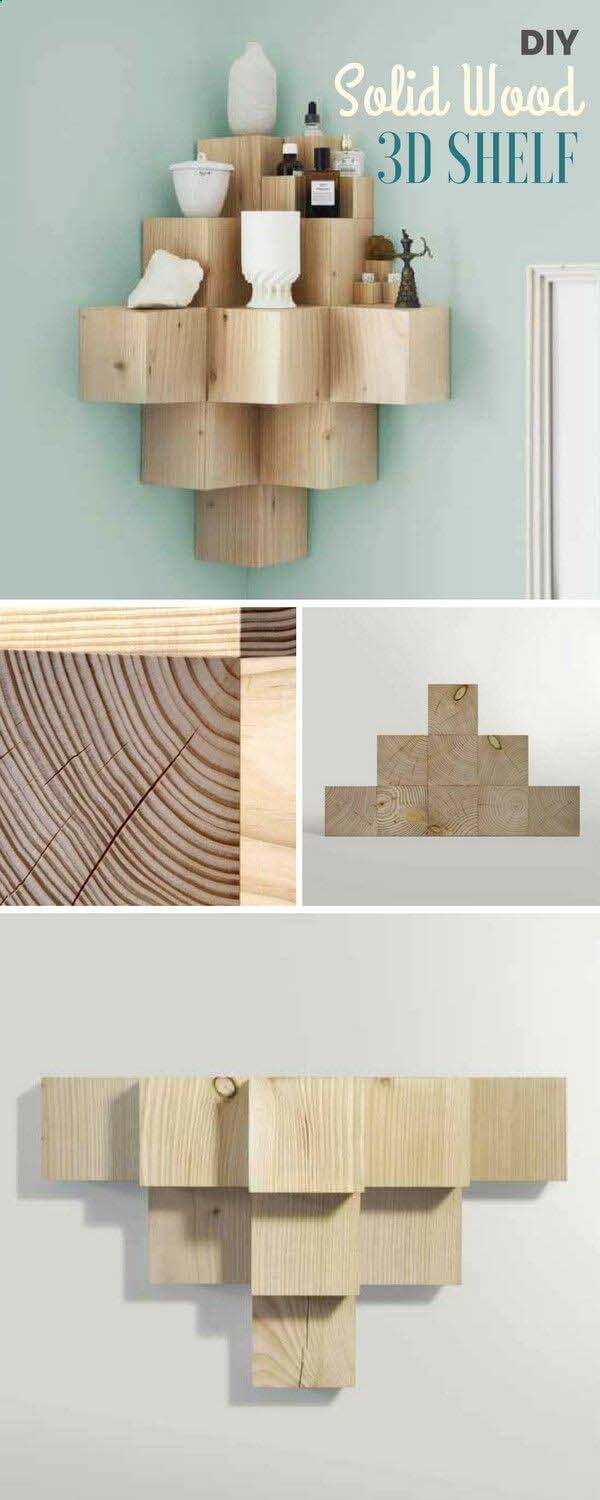 Add layers to the space with a corner shelf made of solid wood cubes. You can play with the size and arrangement of the cubes, as well as with the color.
It is certain that they will not only become a storage rack, they will also become the focal point of the room.
35. Store Stuffed Toys Effectively with Corner Metal Racks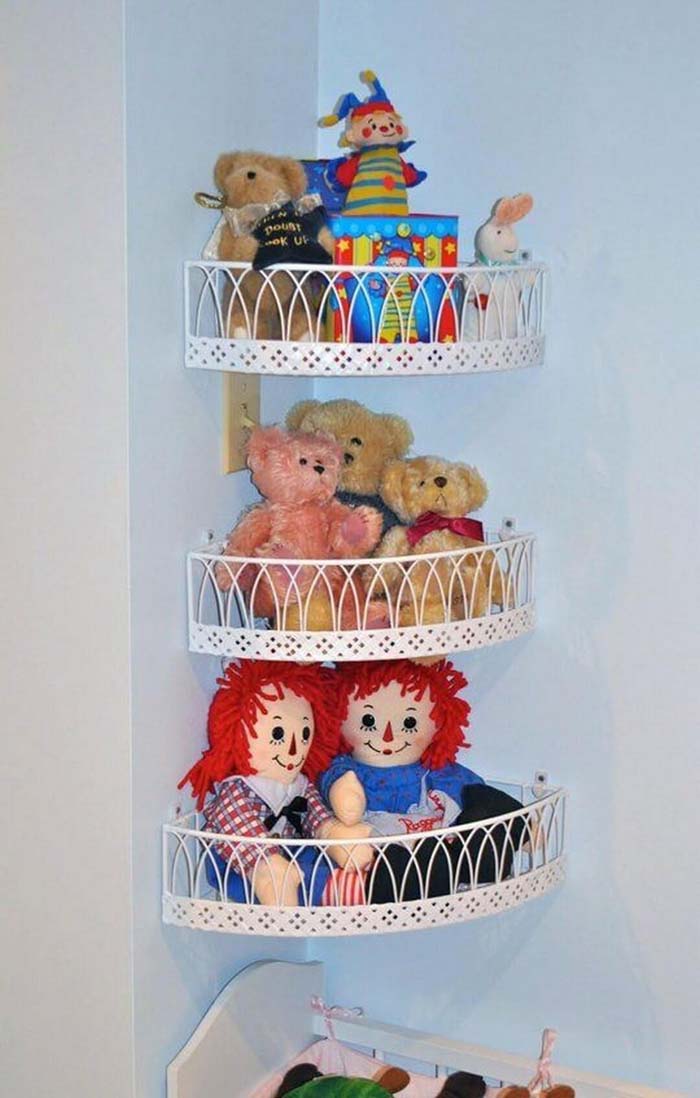 Stuffed toys are volumetric and require good storage as to keep their shape.
If you don't have a large surface to place and display them, the metal racks that are usually intended for kitchen or bathroom organization could solve the issue.
36. Perfectly Organize Stuffed Toy Collection with a Corner Cage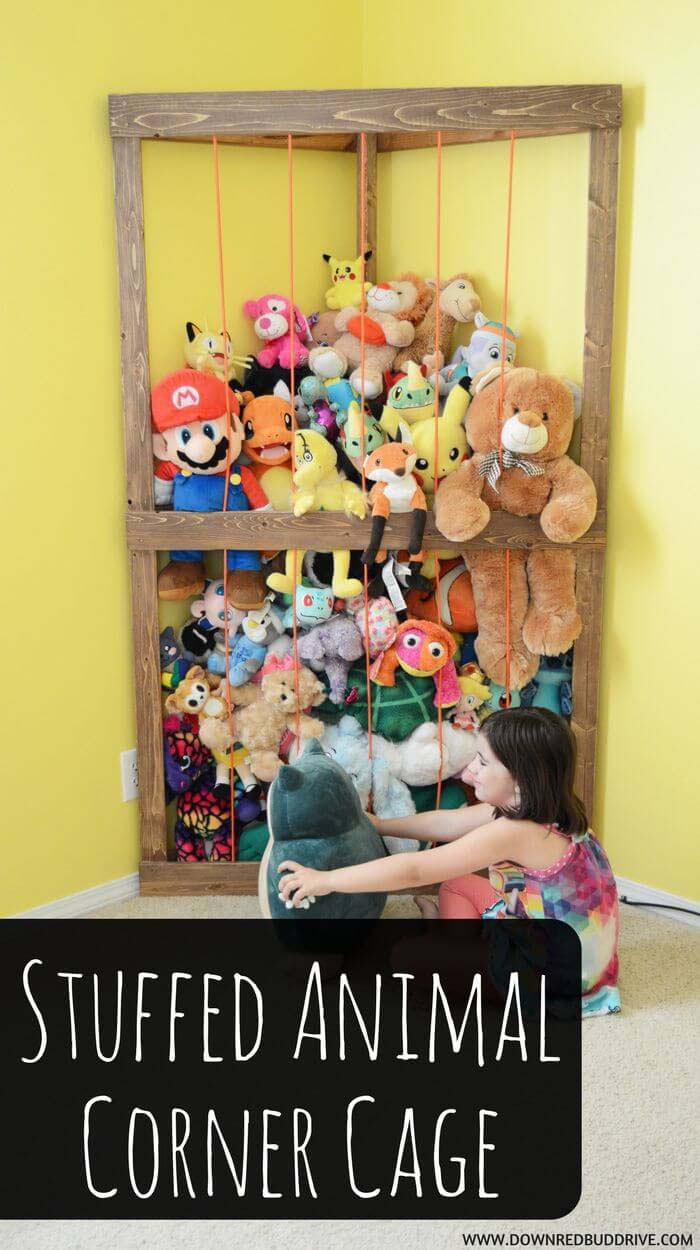 Some moms take the stuffed toys storage to another level.
This corner cage will let you display and store the toys in a fun and appropriate manner.
37. Pale Corner Shelves Define a Reading Nook in a Living Room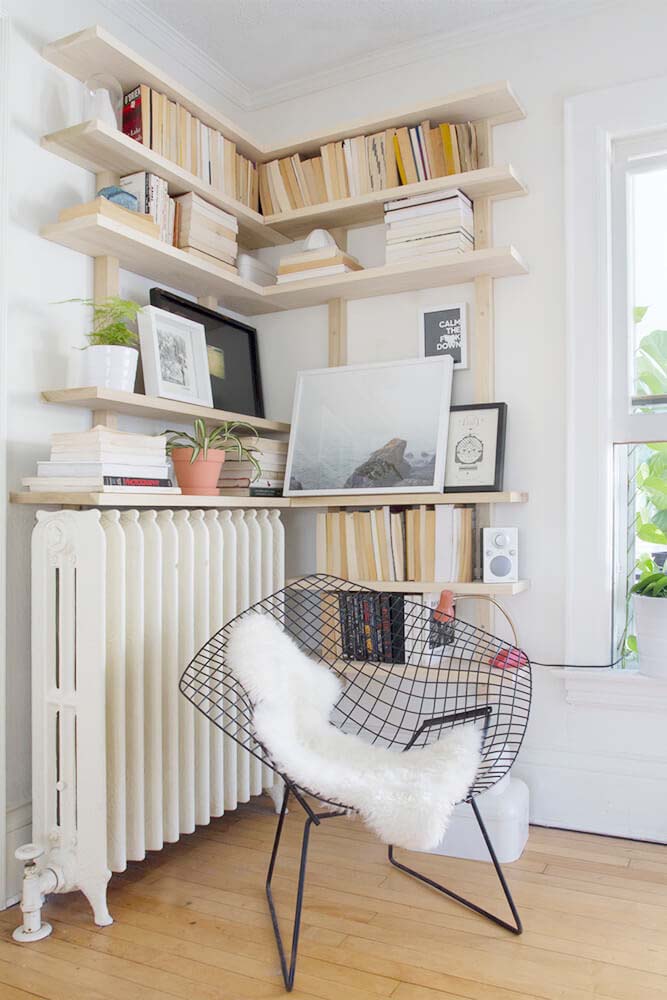 These corner shelves define the reading corner in a living room.
Left in a pale color, they provide six levels for storage of the most moderate book collection.
38. Place Your Trash Bin in a Corner Below kitchen Countertop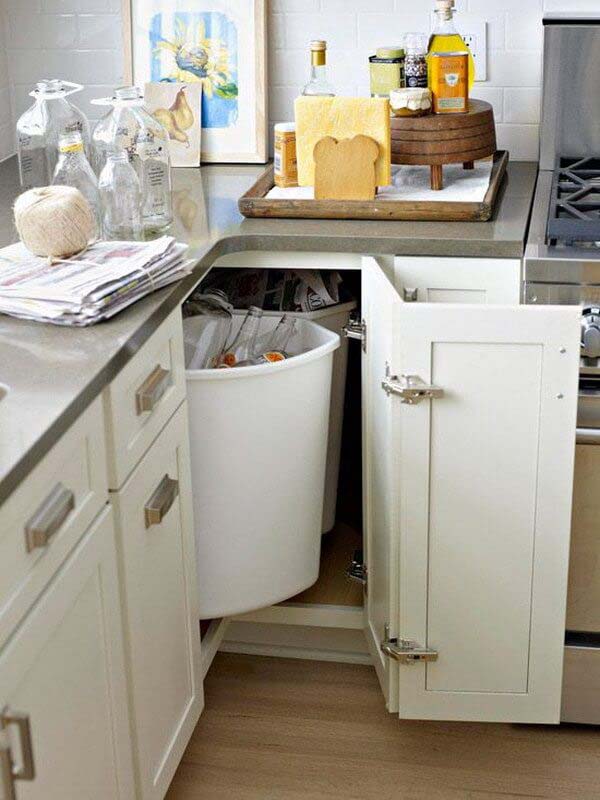 The bottom corner beneath the kitchen countertop is just wide enough to accommodate the trash bin.
Close it with a door consisting of two hinged parts so that opening is possible and doesn't damage the next surfaces.
via BHG