Benches are the ultimate flexible kitchen seating solution.
Tuck your legs under you when you're dining alone, or pack in multiple kids during family dinners or birthday parties.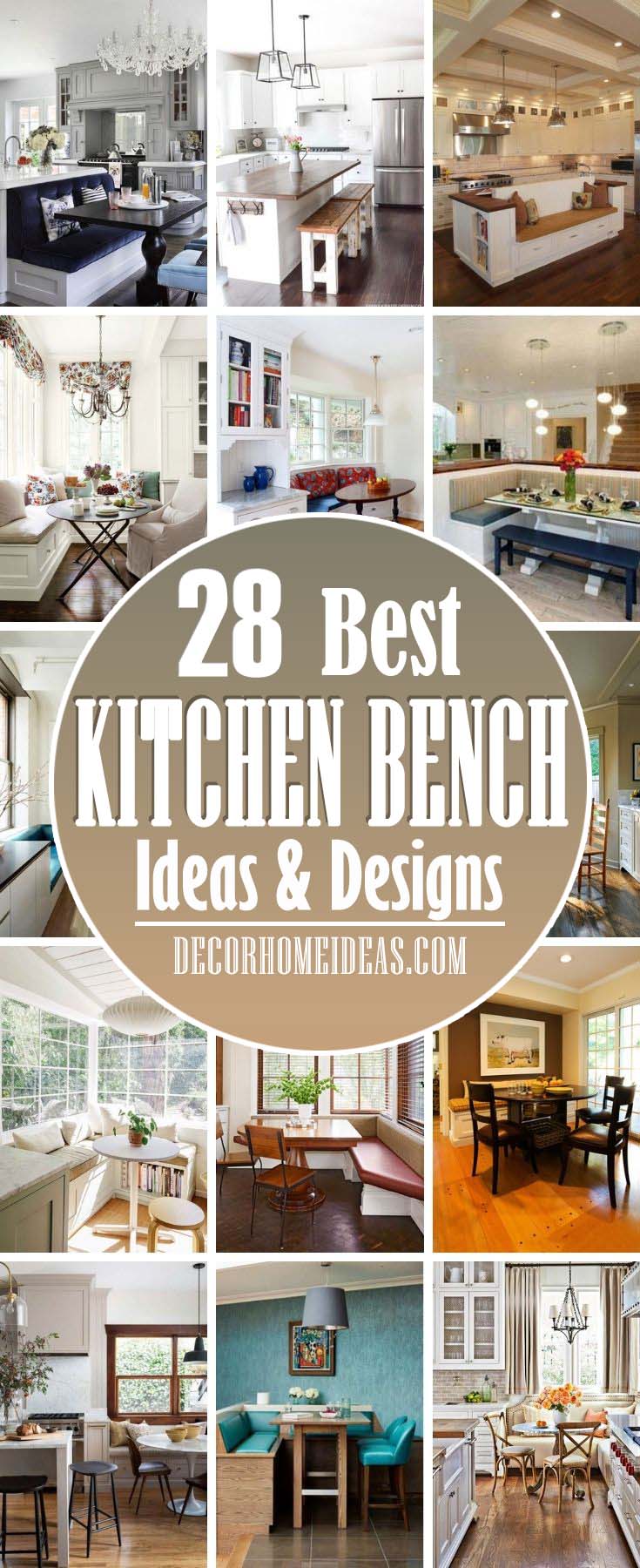 Done well, benches can be as beautiful as they are functional — if you need inspiration for your own creative bench system, check out these stunning ideas.
1. Airy Nook with Ladder-Back Chairs and Open-Frame Café Table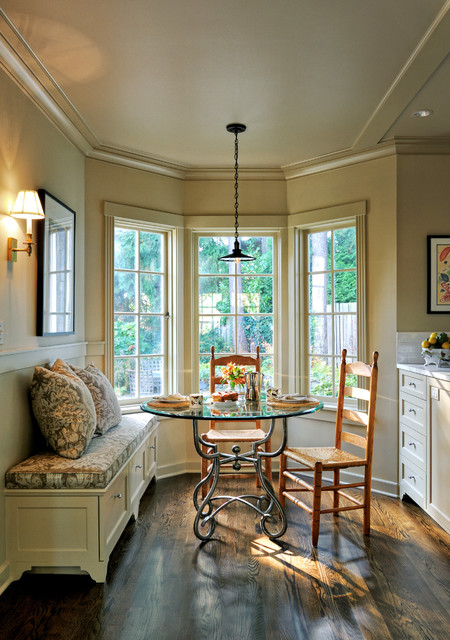 This nook is all about the windows — to keep things light and bright, the homeowner uses an open-frame cafe table paired with a cozy bench.
Ladder-back chairs add just a hint of rustic charm.
via Thomas Jacobson
2. Add Vibrant Color to Your Kitchen with an Upholstered Bench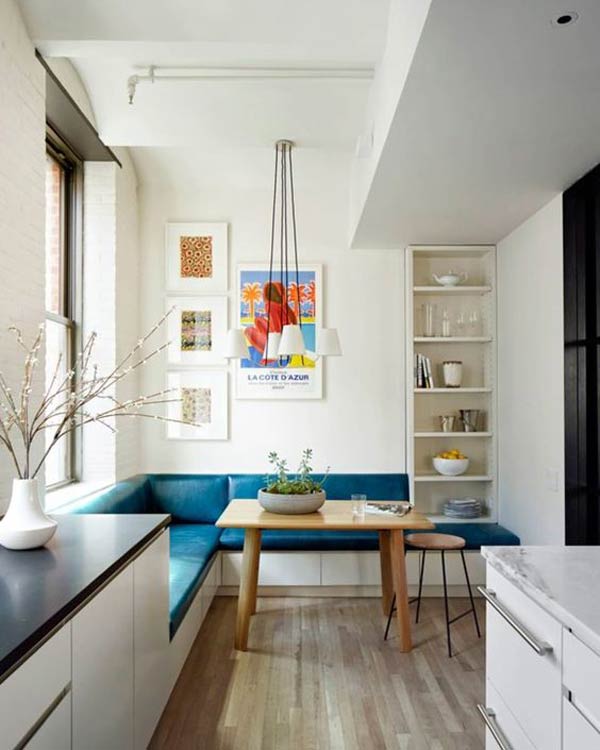 An upholstered bench is an ingenious way to add color to an all-white kitchen.
Here, a vibrant teal brings the space to life. For a unified look, make sure to include a variation on your accent color in another element.
3. A Hearty Home Kitchen with a Slender Bench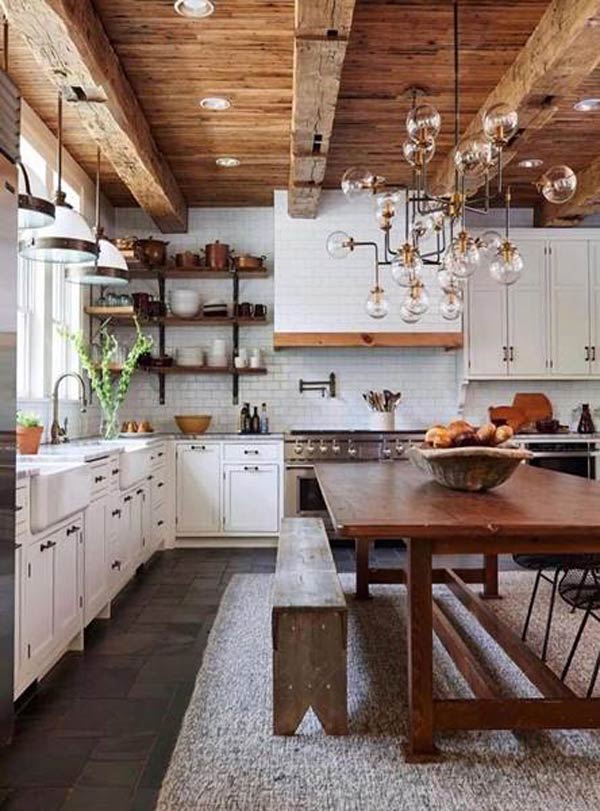 The kitchen is truly the heart of the home in this massive room, which features a large dining table.
A slender bench creates a convenient seat; when you need extra food-prep space, just slip it under the table.
via Gus Frerotte
4. Cozy Dining Nook with Round Table and L-Shaped Bench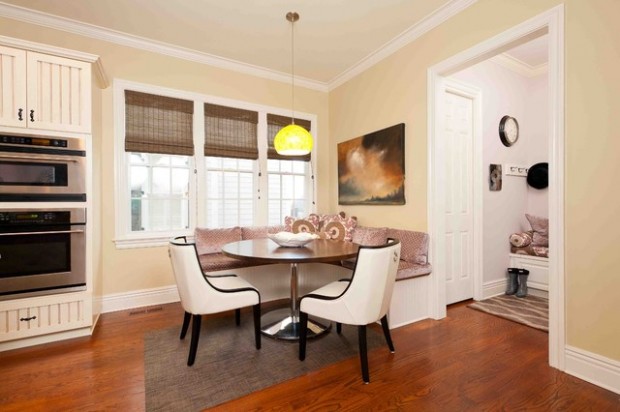 If you tend to grab meals on the go, this cozy dining nook is the perfect spot to eat.
We love how the round table sets off the L-shaped bench, which features luxe cushions for maximum comfort.
via Carpentry Miami
5. Transform Unused Corners into Dining Nooks with a Bench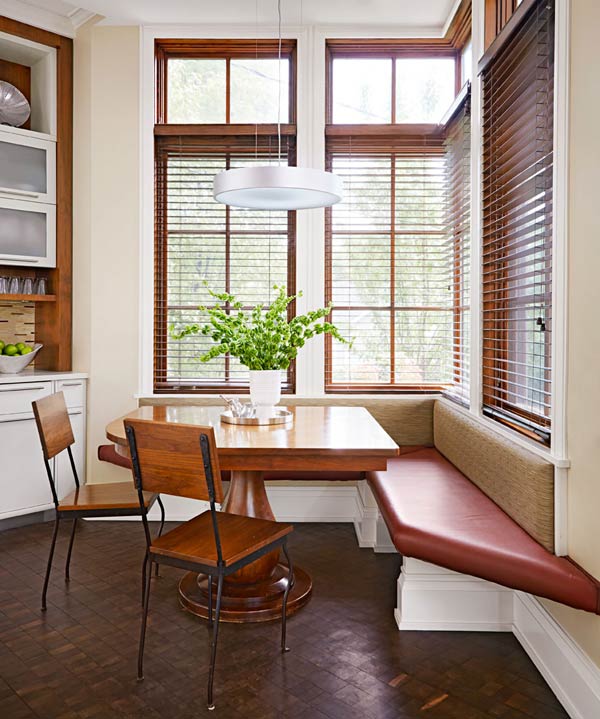 Turn an unused corner into an adorable dining nook with a bench.
The long, slim seat maximizes your space, and the unique shape makes the perfect opening for a square table.
Complete the setup with a couple of chairs and add a vase of fresh greenery for a designer finish.
via Midwest Living
6. Brighten up Your Space with a White Sunlit Nook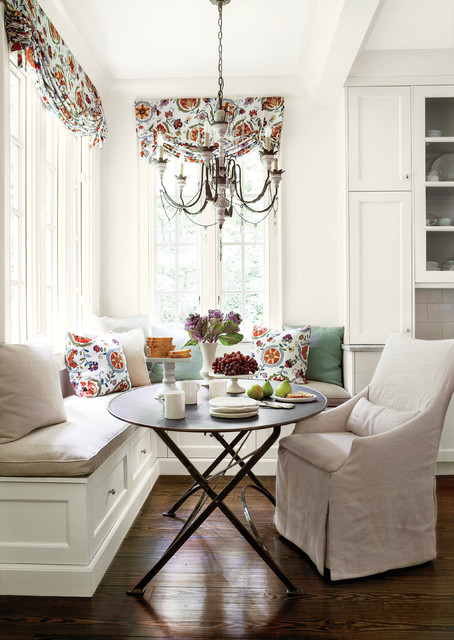 The all-white design of this adorable nook maximizes the sunlight and sets the stage for a few colorful accents.
Hidden in the seat of the bench, spacious drawers keep your extra supplies out of sight.
via Southern Living
7. Counter-Height Bench: A Clever Space-Saving Seating Solution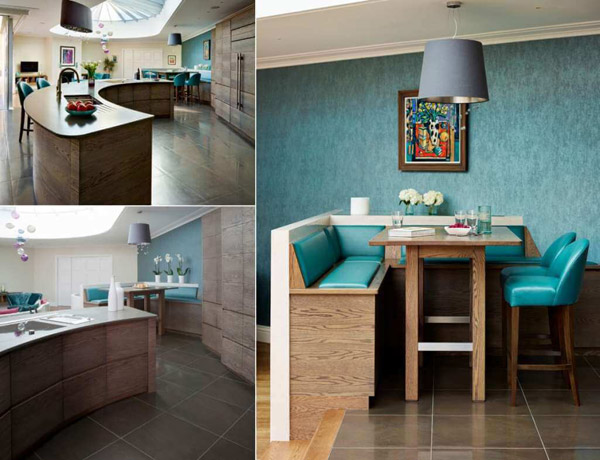 Who says benches have to be low in height? Here, a dividing wall serves as the base for a clever counter-height bench.
Two sides and two stools accommodate a group for cocktails.
via Houzz
8. Create Additional Counter Space with a U-Shaped Island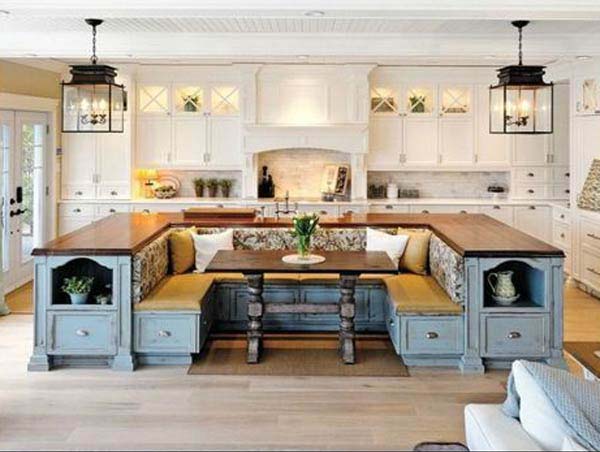 Are you longing for more counter space in your kitchen?
This ingenious U-shaped island solves that problem and creates an adorable seating opportunity.
Line the inside of the U with a bench, slip in a table, and the result is a cozy booth for family and friends.
9. Contemporary Kitchen with Retro Upholstered Dining Bench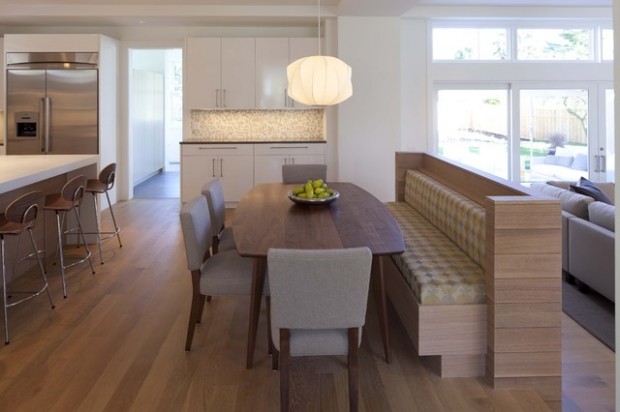 Retro diner upholstery softens the clean, crisp lines of a contemporary kitchen in this bench.
The sharp frame ties the design together, and a mid-century table gives you plenty of room for family dinners.
10. Unlock Sunny Bliss with Small Kitchen Bench Ideas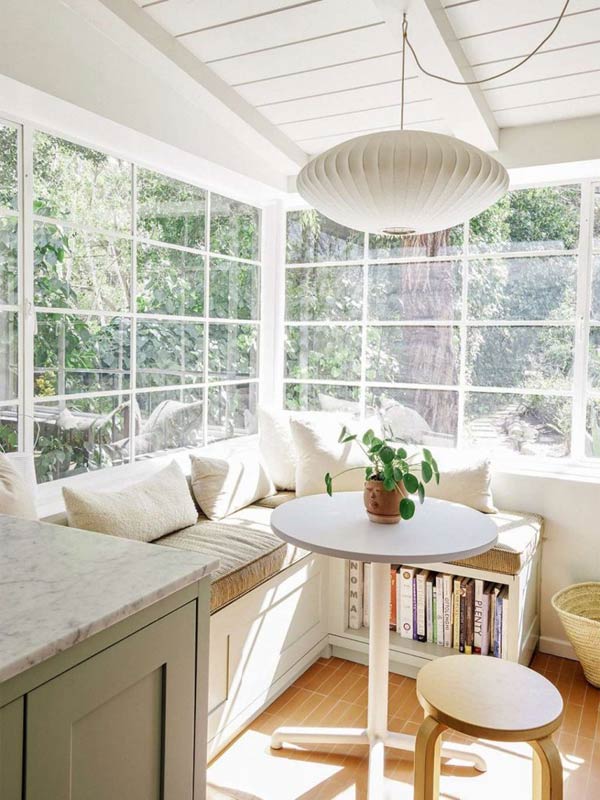 Bask in the sunlight from your biggest windows when you tuck a small bench under the sill.
Here, an all-white color scheme and an adorable green plant maximize the sunny feeling.
via Domino
11. Sophisticated Nook with High Ceilings and Intricate Woodwork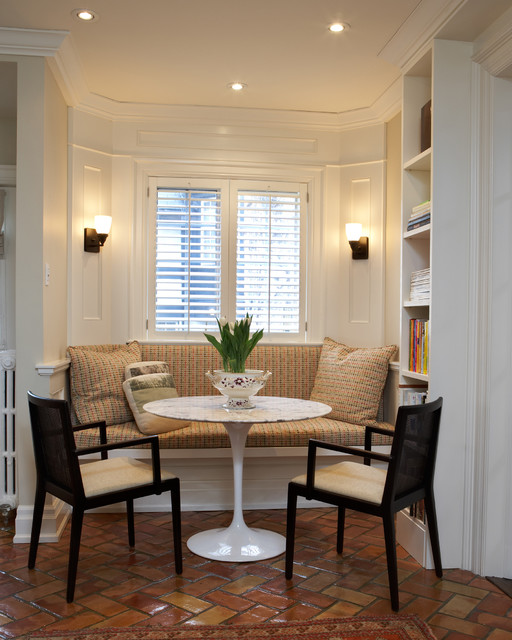 High ceilings and stunning woodwork are the stars of the show in this elegant nook.
The large bench gives you room to spread out.
The fascinating part about this layout is the unexpected table and chair combination, which creates an edgy twist.
12. Add Nostalgic Charm to Kitchens with Upholstered Benches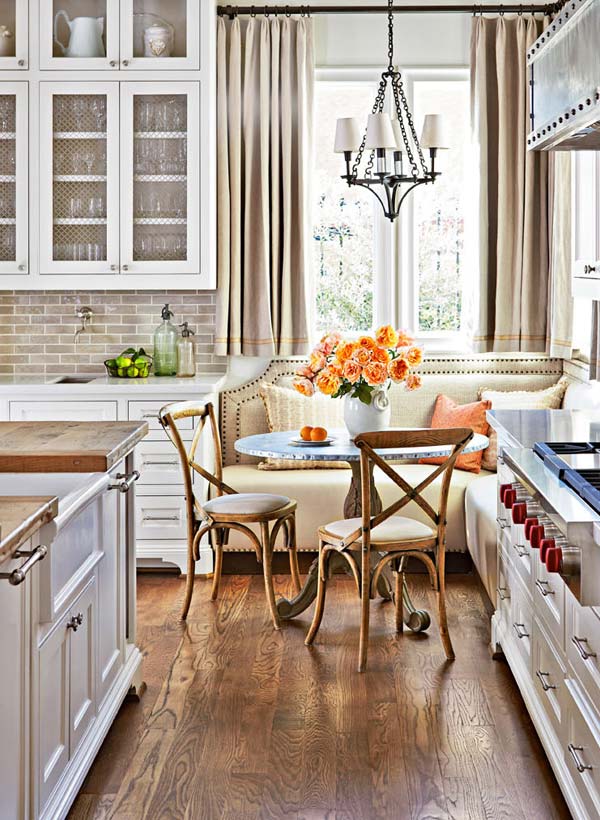 An upholstered bench is a must for comfortable seating — here, the homeowner integrates the bench into the elegant kitchen with the addition of nailhead trim.
Two lines of trim highlight the backrest shape and bring a heavy dose of vintage charm.
via Midwest Living
13. Fixed Wall Bench Anchors Round Dining Table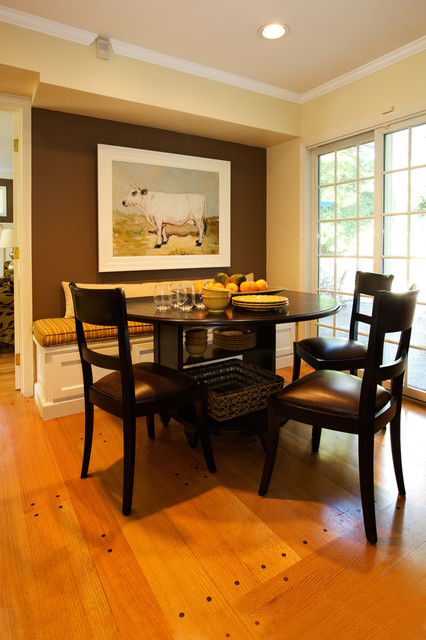 We love a homeowner that breaks design rules — in this home, a fixed wall bench anchors a round dining table in a completely unexpected layout.
Build cabinets into the base for extra functionality, or use a model with a flip-up lid.
14. Charming Farmhouse with Cozy Reading Nook in the Kitchen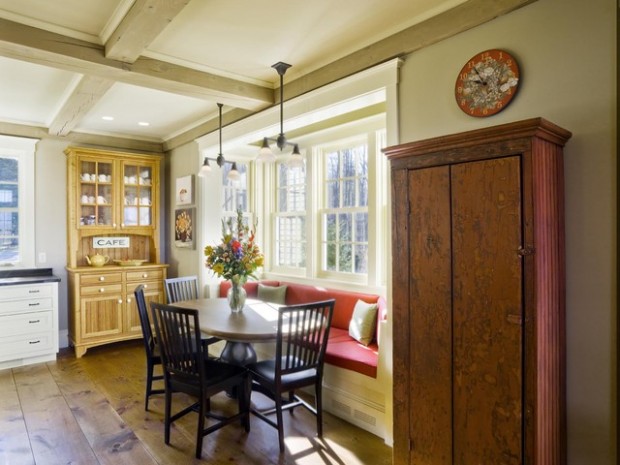 If you love farmhouse-styled homes, this one might be of interest to you. Reading nook complimented with a round table for dining in the kitchen.
15. Increase a Kitchen's Practicality with an Island Cut Out Bench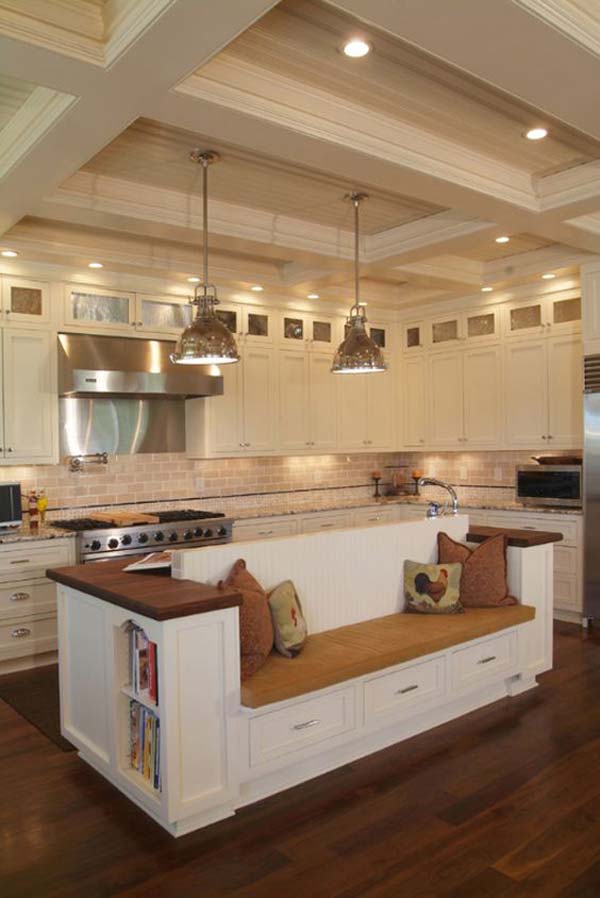 A large island is gorgeous, but it can be difficult to reach across the full unit.
This ingenious design preserves the most-used parts of the countertop, replacing the rest with a cutout bench.
The cozy upholstered seat guarantees that your friends will flock to the kitchen to chat while you cook. Built-in bookshelves and drawers add lots of storage.
16. Add a Banquette-Style Bench in Your Island Kitchen Space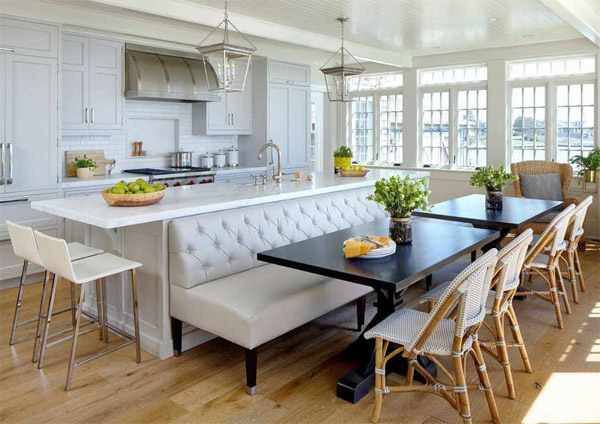 If you have an island without an overhanging counter, a bench is an efficient way to use the flat edge.
A plush banquette-style bench creates a luxurious seat — add one or two tables, and you have a spot for family breakfasts and afternoon coffee.
via Deane Inc
17. Maximize Open Kitchen-Dining Layout with an L-Shaped Island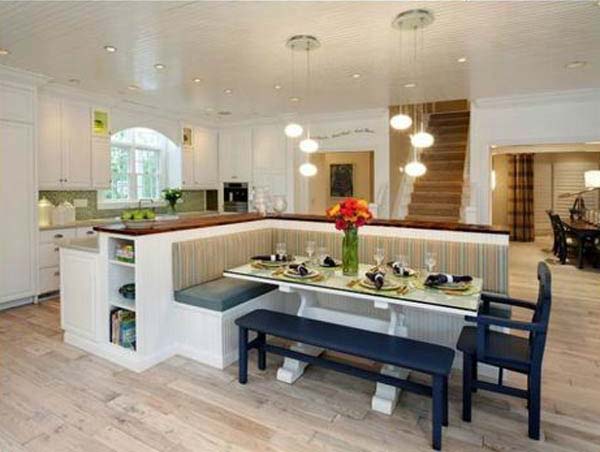 Make the most of an open kitchen-dining layout with an L-shaped island that doubles as a seating area.
Leave the table on its own, or add side chairs to turn it into a full-service dining table.
The best part? You can upholster the bench to bring color and pattern to your home.
18. Enjoy Natural Light Year-Round with a Long Bench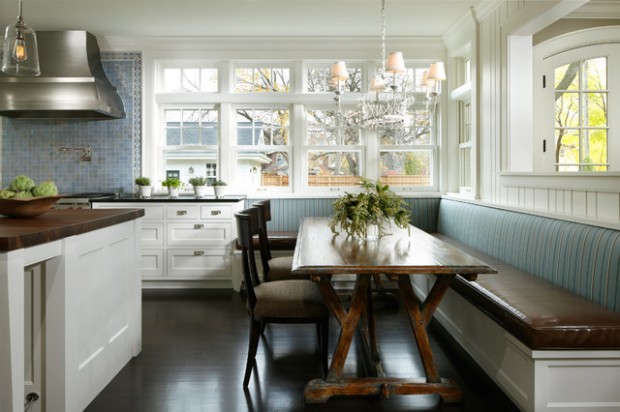 When you have a long wall of windows, why observe them from afar?
Add a long bench, and you can bathe in natural light any time of year.
We love how the upholstery colors echo the backsplash and wood tones for a natural look.
via Streeter Homes
19. Elevate Your Kitchen with Luxurious Blue Velvet Bench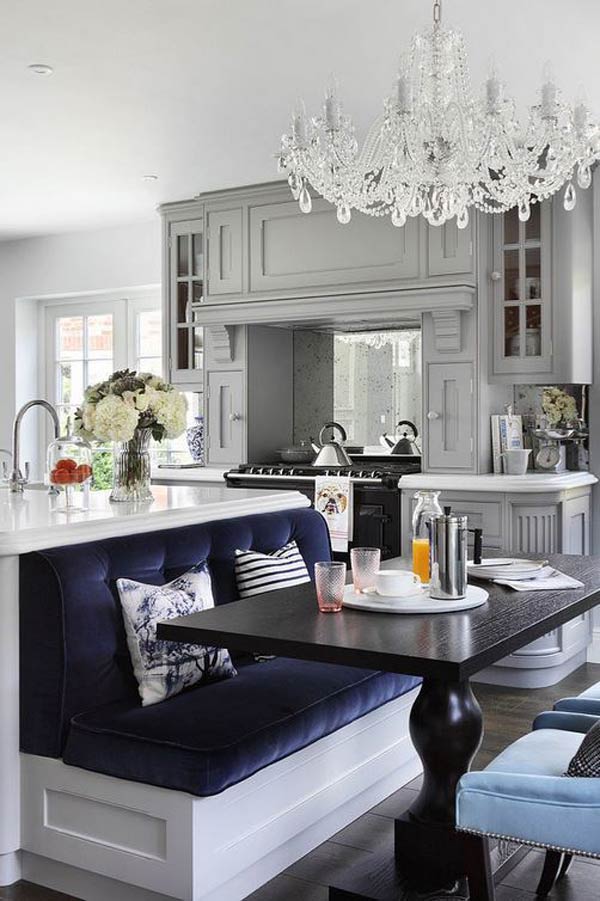 Bring serious luxury to your kitchen with gorgeous blue velvet upholstery and a button-tufted backrest.
A stunning dark wood table completes the rich, glamorous vibe, and the high-contrast pillows tie the whole room together.
via Oliver Burns
20. Enjoy Your Morning Coffee in Style on a Window Bench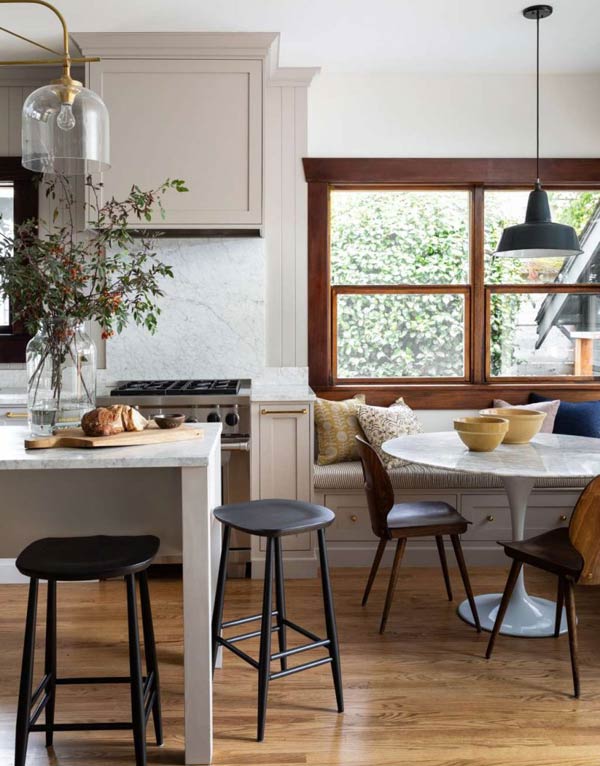 A padded seat and plush pillows make this window bench the perfect spot for your morning coffee.
We love the unexpected round table and mid-century chairs, which balance the sweetness of the seating.
21. Transform an Empty Corner with a Custom-Built Round Bench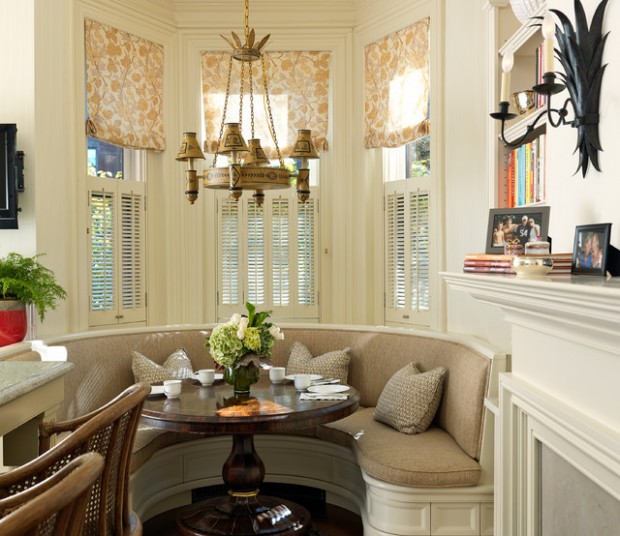 A custom-built round bench turns an empty corner into a stunning dining area in this French Country home.
Beige linen upholstery adds a fresh, contemporary touch.
22. Create Perfect Seating Space with Distressed White Benches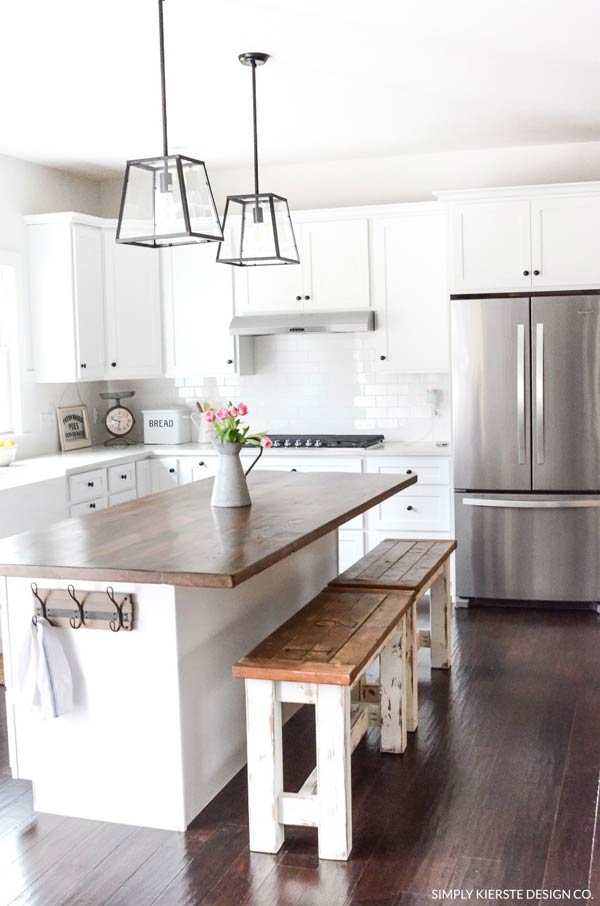 Does your kitchen island attract friends and family members? Create more seating with a pair of tall benches.
Distressed white bases and warm wooden tops fit right into your modern farmhouse.
via Old Salt Farm
23. Upholster Your Home's Interior with Faux Leather Benches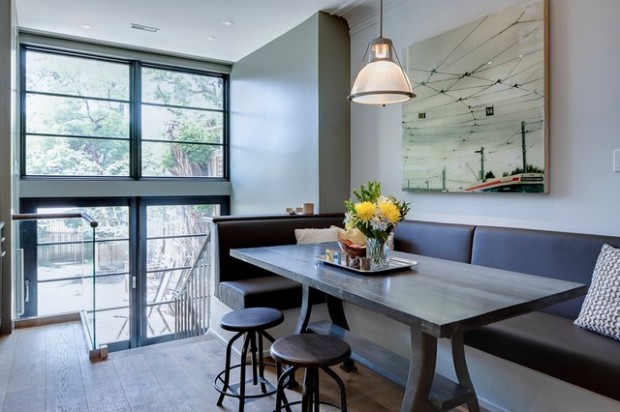 When your home is all glass, metal, and clean lines, faux leather bench upholstery is the perfect fit.
As a bonus, it's a breeze to wipe clean.
via Beauparlant
24. U-Shaped Shelving Unit with Bench for Maximum Functionality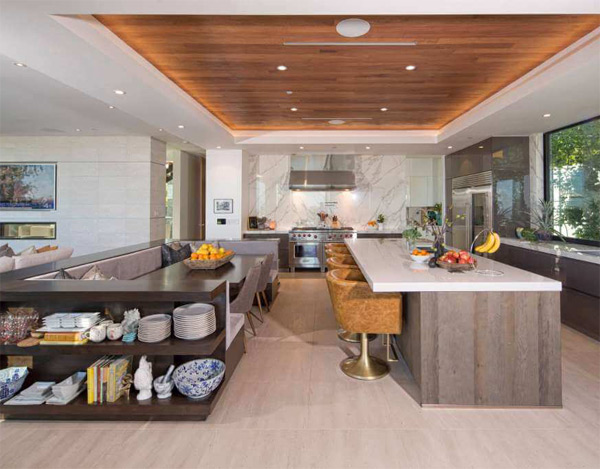 Does it get more functional than this creative setup?
A U-shaped shelving unit serves as the frame for a bench and a long, rectangular dining table — all while providing high-visibility storage for dishes, knick-knacks, and other beautiful items.
via Houzz
25. Spruce Up Your Home with a Bright Sunshine Bench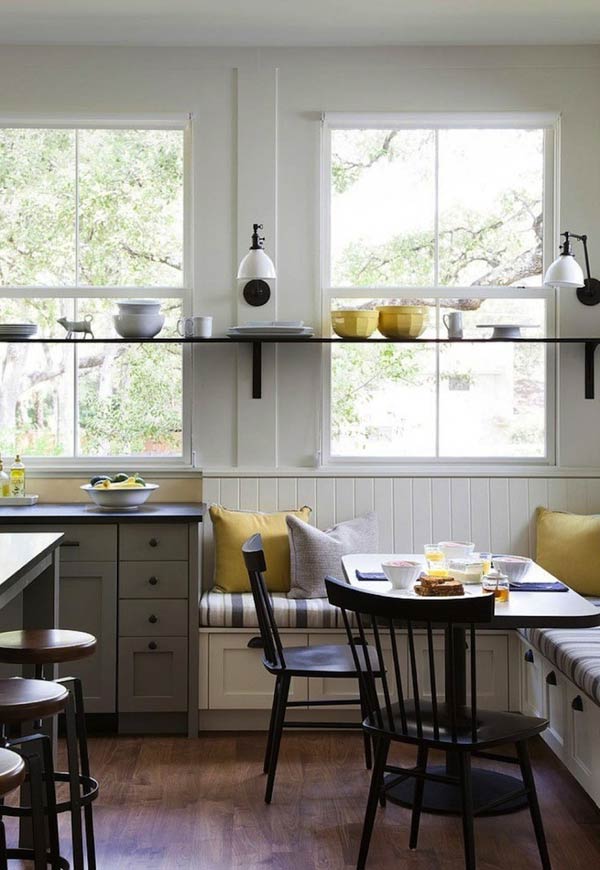 This bench is all about sunshine — the bright yellow pillows jazz up the striped fabric.
If you peek under the cushion, you'll see a row of concealed drawers that provide clutter-free storage.
via Tim Cuppet
26. Maximize Color on White Backgrounds with a Bench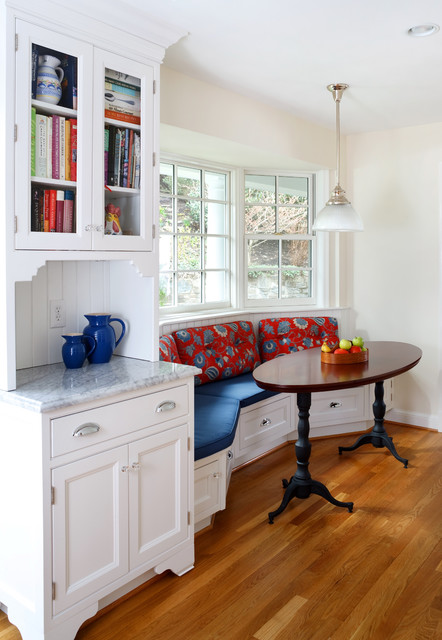 The best way to maximize color is to start with a white background.
Here, a creative white storage bench makes rich blue and red cushions stand out.
via Ahmann LLC
27. Make the Most of Natural Light with a Window Bench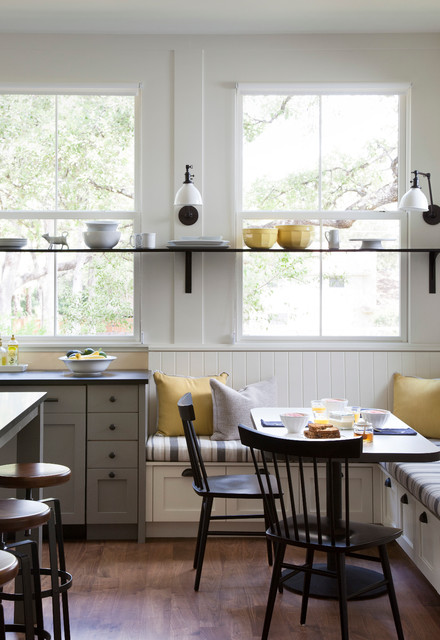 Do you love the sunlight in your kitchen?
Enjoy it all day long with a bench built right under the windows.
Stretch out on the soft cushions in the afternoon, or gather around the adorable table for fun family breakfasts.
via Tim Cuppet
28. Create A Cozy Breakfast Nook With Bench Seating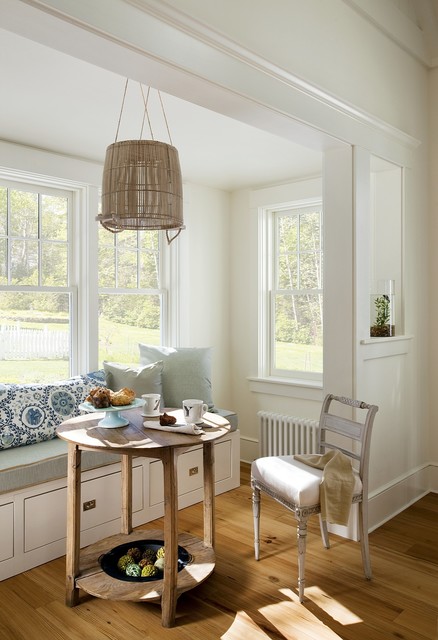 A few feet of empty space is all you need for a bench seating area.
A delicate table is just the right size to hold breakfast for two.
via Zero Energy
29. Maximize Kitchen Storage with a Window Seat Bench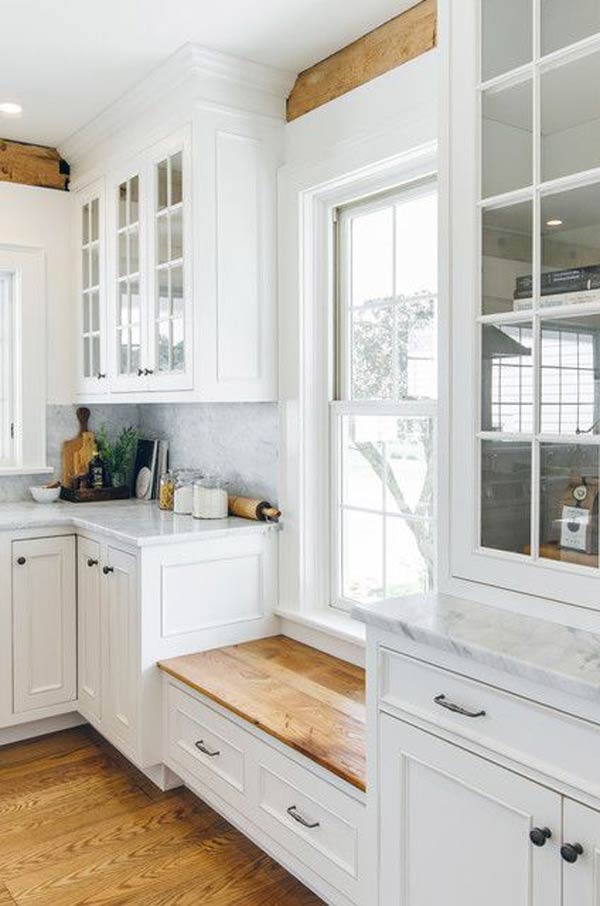 We all know that storage is invaluable, especially in small kitchens.
Here, an adorable window seat bench uses built-in drawers in a super-functional design.
A gorgeous wooden top warms the kitchen and sets the bench apart from the surrounding counters.