Sofa tables might be small, but they serve a big purpose in your home.
Depending on how you position the table, it can serve as a room divider, a display space, and even a home office.
Whether your home decor trends toward rustic farmhouse or ultra-modern, these gorgeous ideas can help you select and style the perfect sofa table.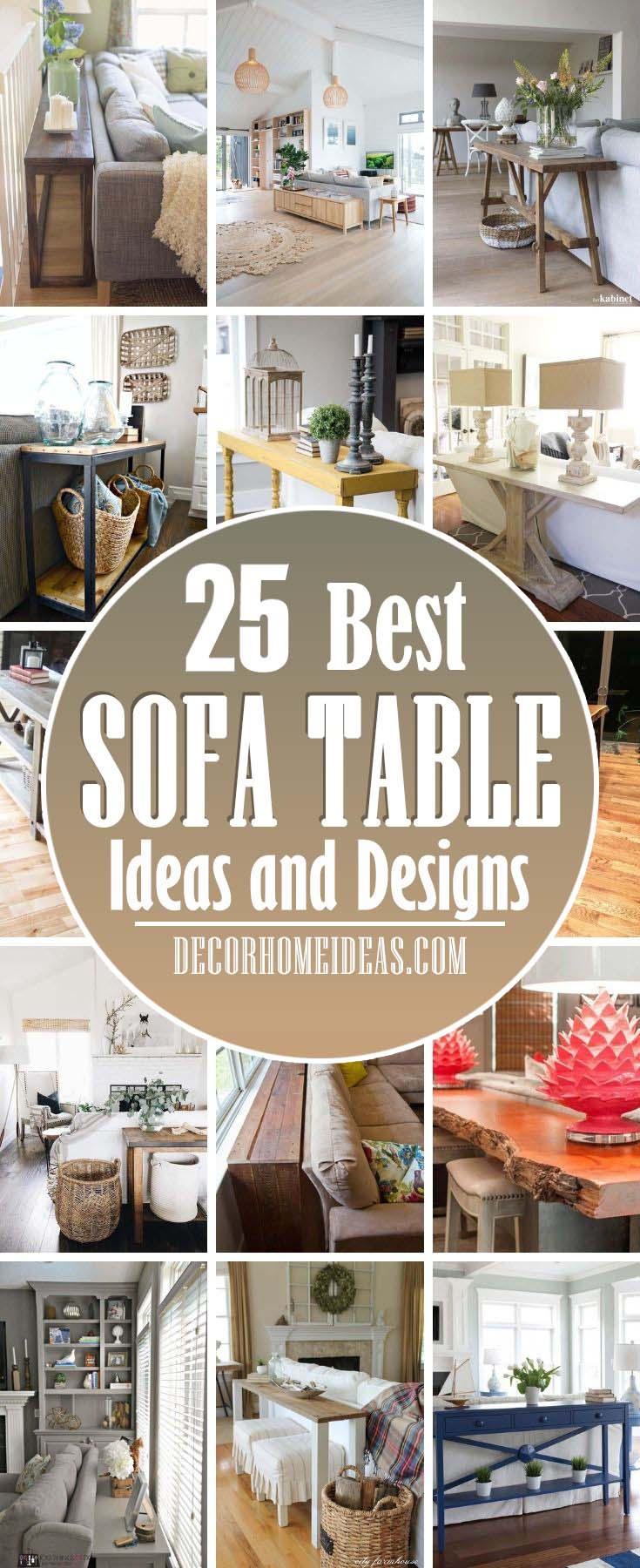 1. Upgrade Your Living Room with a Unique Live-Edge Sofa Table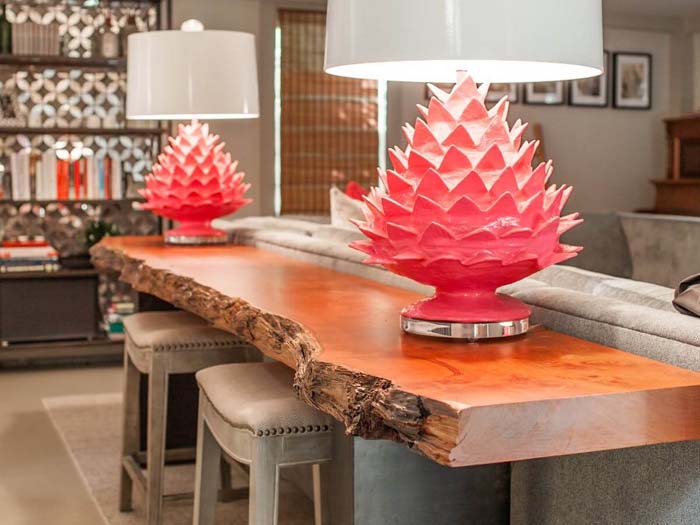 Part rustic, part modern artisan, live-edge sofa tables make a beautiful addition to your living room.
The live edge is different on every table, filling your space with organic textures and shapes.
Two statement lamps brighten your room without drawing focus from the beauty of the wood.
via Kate Maloney
2. Add a Coastal Touch with a Blue Smoked Sofa Table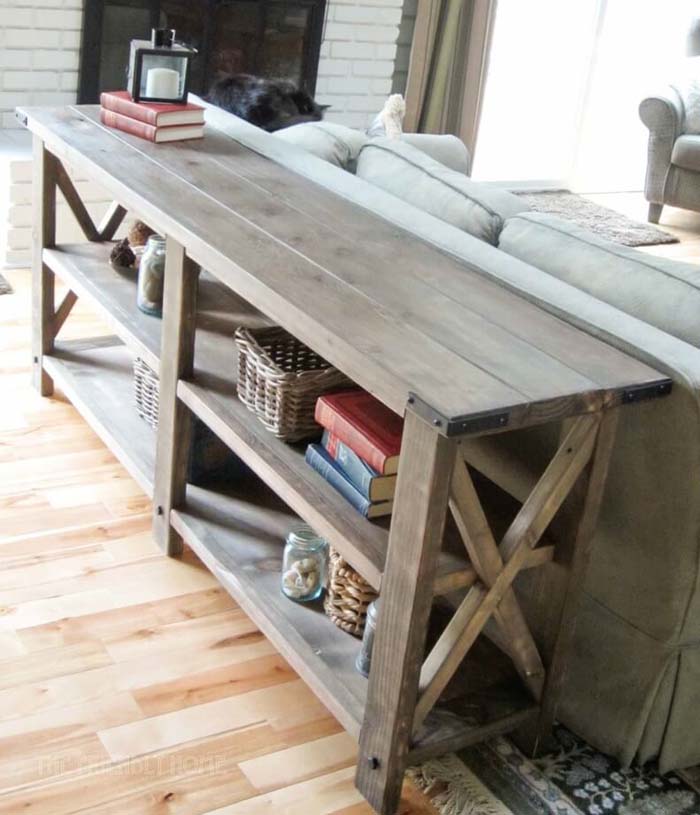 Are you going for a beachy, coastal vibe?
A weathered sofa table fits right in. Using a blue smoked finish, this table takes on the look of wood that's been bleached in the sun and tossed by the waves.
Visible metal brackets on each corner enhance the laid-back effect.
via Ana White
3. Brighten Your Room with a Colorful Sofa Table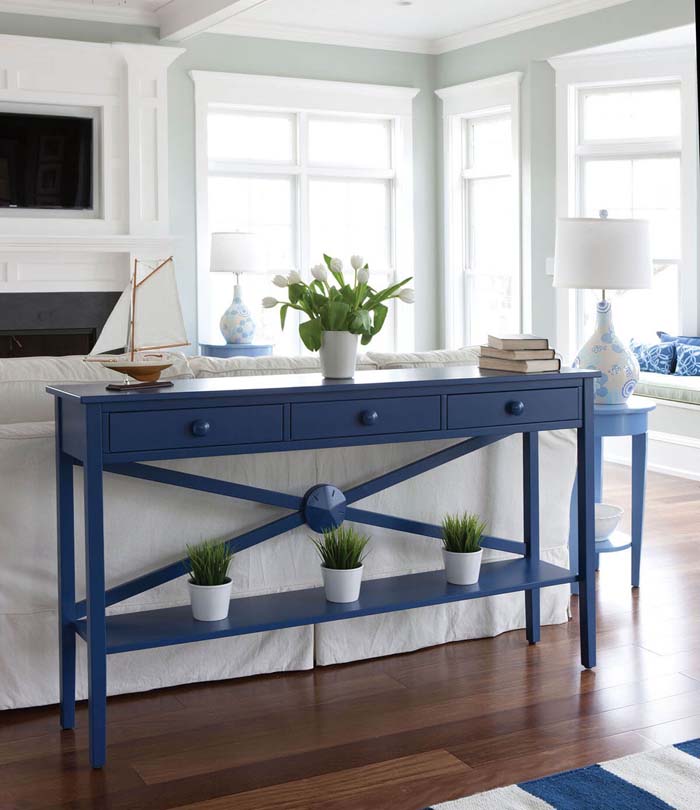 Since it's relatively small, a sofa table is an ideal way to experiment with color.
Here, the brilliant blue paint brings out the other blue accents in the room, creating a fresh, vibrant feeling.
We love how the color pops against the light sofa and the warm-toned wood floors.
via Maine Cottage
4. Cathedral-Style Sofa Table for Traditional and Rustic Homes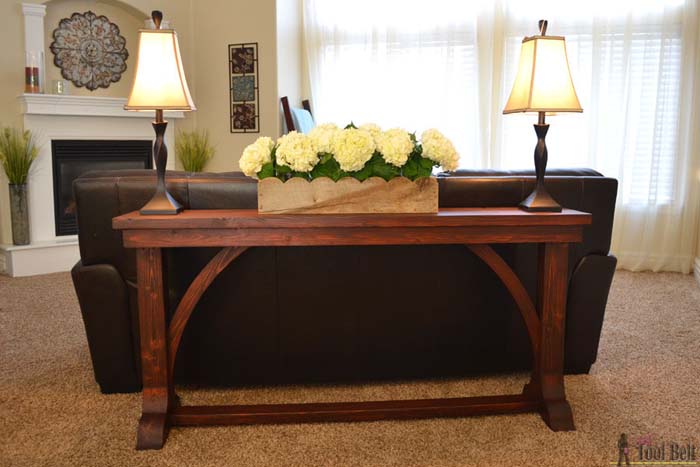 With its striking cathedral-style arch supports, this sofa table becomes the star of your space.
The hefty wood frame is unfussy and beautiful, so it fits into traditional homes and rustic farmhouses with ease.
Matching lamps and a planter box enhance the table without pulling focus.
via Her Tool Belt
5. Industrial-Inspired Look with an Iron and Reclaimed Wood Table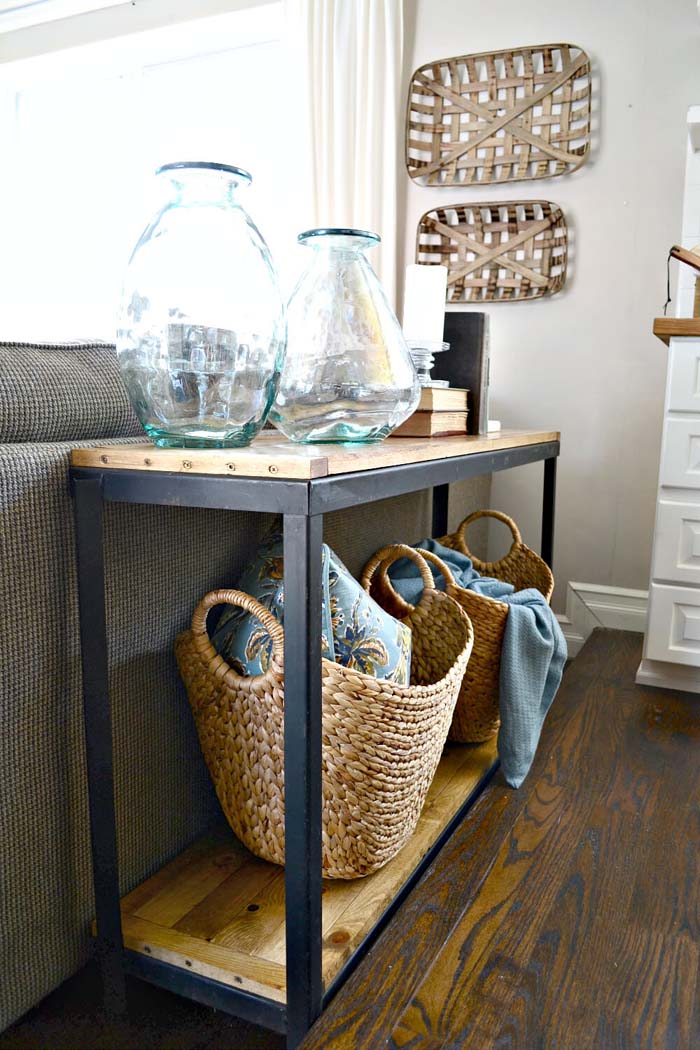 Is your home rich in textures and materials?
An industrial-inspired table introduces its own textures into the mix. This gorgeous table takes utilitarian materials — angle iron and reclaimed wood — and elevates them into something stunning.
Natural-fiber baskets and colorful glass vases soften the aesthetic.
6. Distressed Accent Table: Simple Construction, Rustic Elegance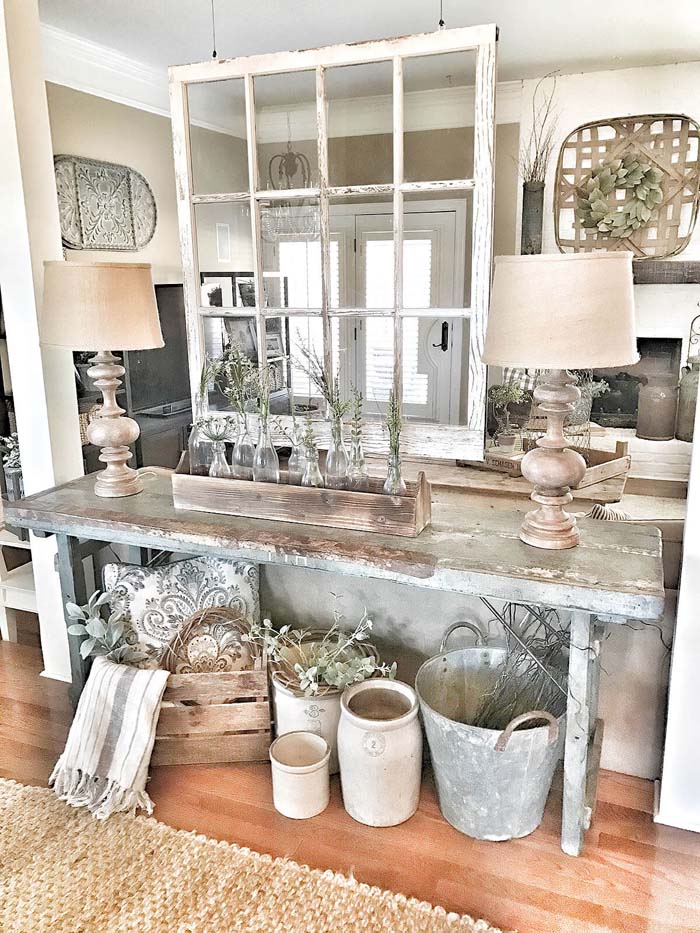 This table might feature simple construction, but its style is anything but ordinary.
The multicolored paints and purposeful distressing create the look of a well-worn piece that's been in your family for years.
The result is casual and surprisingly elegant, particularly when paired with other distressed accent pieces.
via Stacy Sawyer
7. Add Old-World Elegance with a Cabriole Leg Table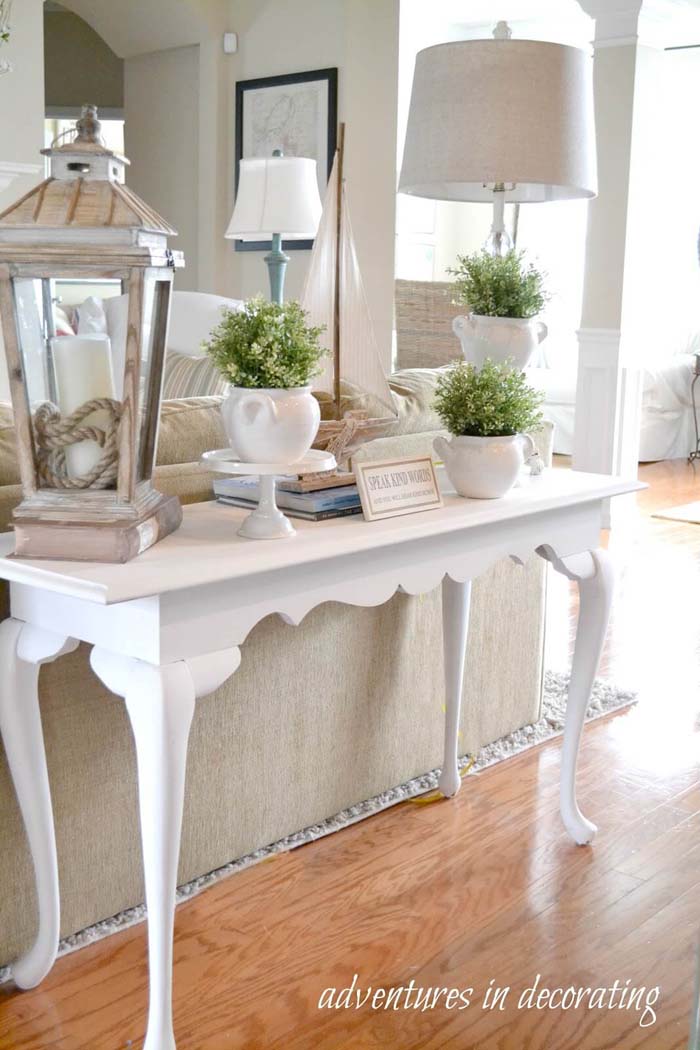 When you have a smaller sofa or a loveseat, it's important to choose a table with matching proportions.
With its cabriole legs and delicate, sculpted apron, this table brings an Old-World elegance to your space.
Note how the white finish keeps the space feeling bright and sunny.
8. Traditional Italian-Inspired Whitewashed Sofa Table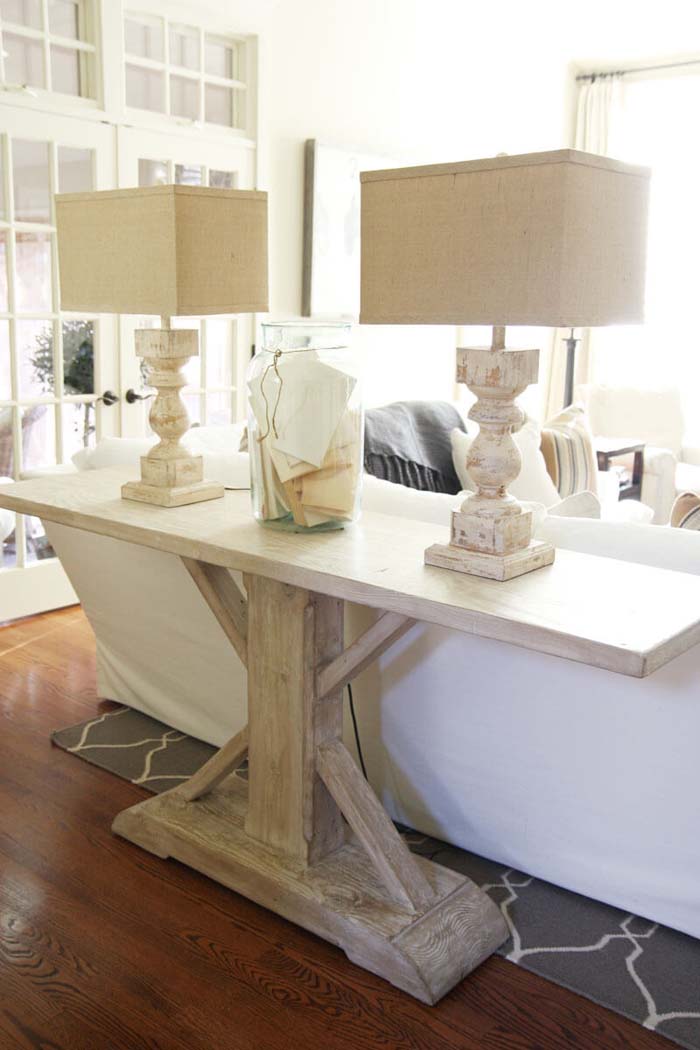 A grand, substantial pedestal base sets this sofa table apart from the crowd, giving it the feeling of an old Italian estate.
To help it fit in with your down-to-earth home, the designers have added a whitewashed finish.
This table is a focal point; keep it simple with lamps in a similar color palette.
9.  Declutter Your Home with a Stylish Cubby-Style Sofa Table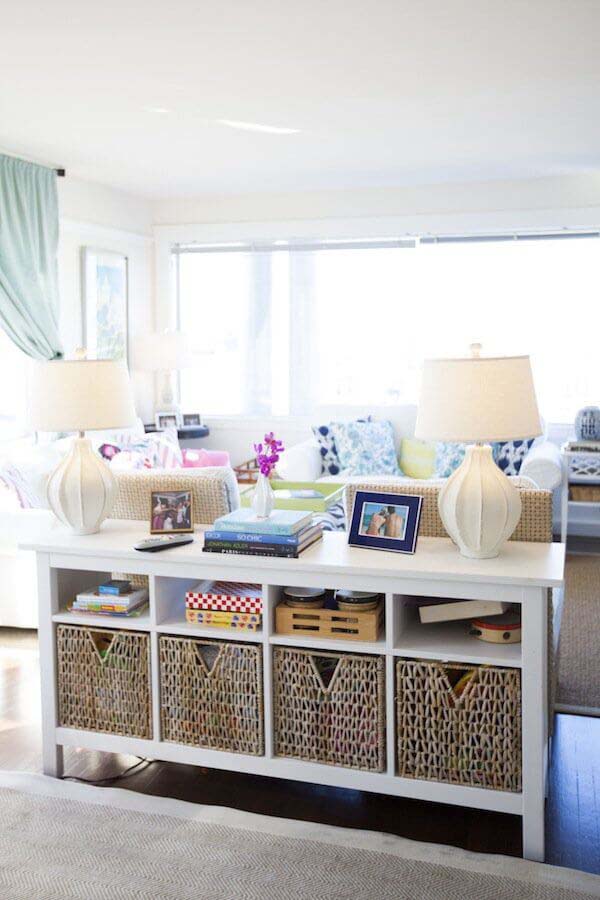 Do you find yourself drowning in a sea of clutter?
A cubby-style sofa table is a handy solution.
This model comes with open compartments and a row of natural baskets, giving you plenty of room to organize decor elements and store smaller items out of sight.
10. Complete Your Living Room with a Sleek Table and Stools Set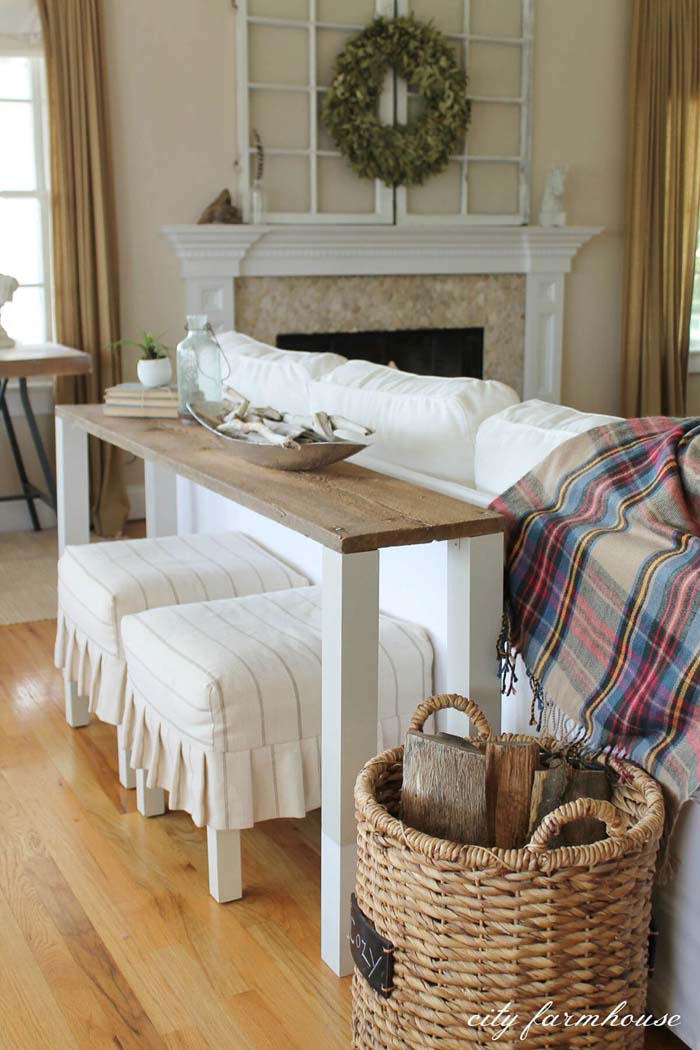 When you need to fill the space behind a sofa, you can never go wrong with a simple table.
This streamlined model features block legs and a natural wood top for an understated look. Two handy stools create a place to sit with a snack or a laptop.
via City Farmhouse
11. Create a Cozy Living Room Vibe with a Slim Sofa Table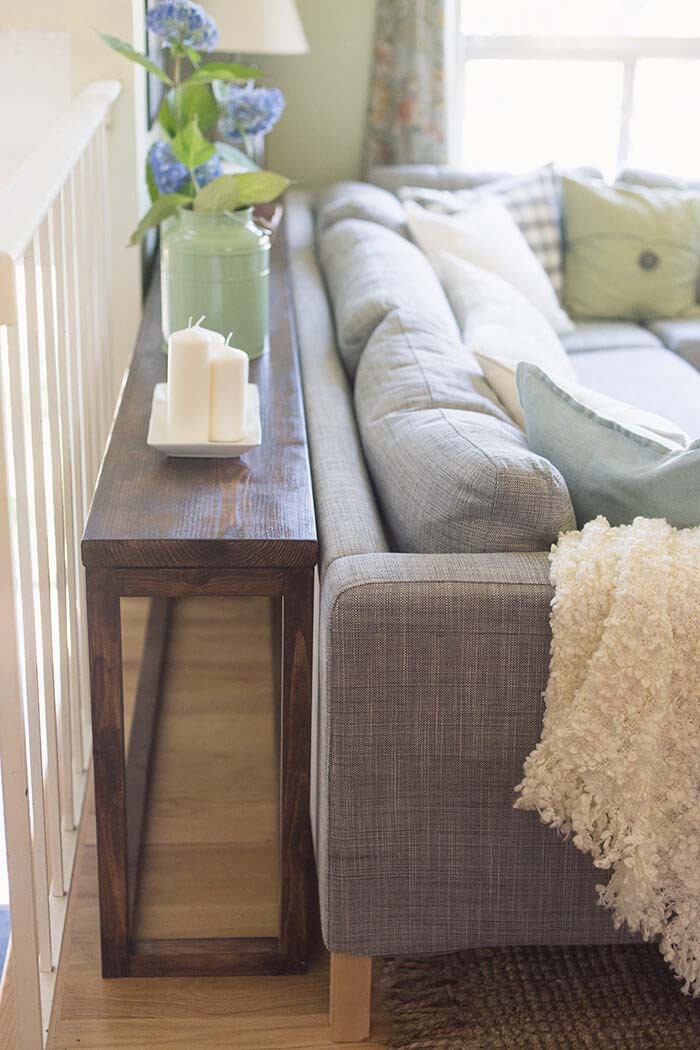 Does the furniture in your living room feel a little too spread out?
Try tucking a slim sofa table between the back of the couch and the wall.
It'll tighten up the seating arrangement and create a handy spot for flowers, candles, or even lamps.
via Jenna Sue Design
12. Enhance Your Coastal Space with this Sofa Table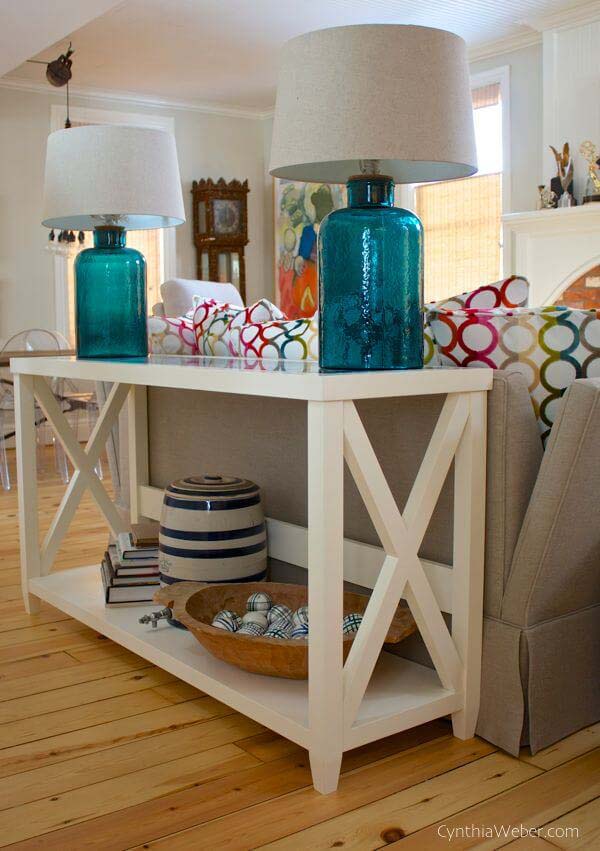 Fresh and nautical, this sofa table is the perfect complement to a beachy cottage or a sea-themed home.
The secret is the white finish and the X-shaped braces on either side; together, these elements create a look that enhances your coastal space without overpowering the room.
via Cynthia Weber
13. Stop Guests in their Tracks with an Antique-Style Table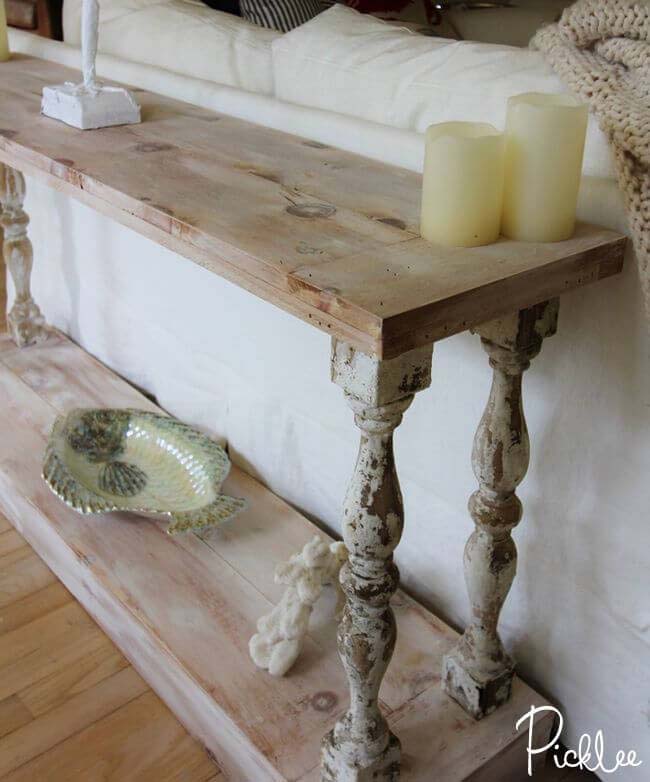 This table is one of those pieces of furniture that's so beautiful and striking that it stops guests in their tracks.
From the spectacular turned legs to the unexpected visible knots and mismatched grain pattern, this table is the perfect combination of natural and antique styles.
via Picklee
14. Add a Relaxed Country Charm with a Stylish Sofa Table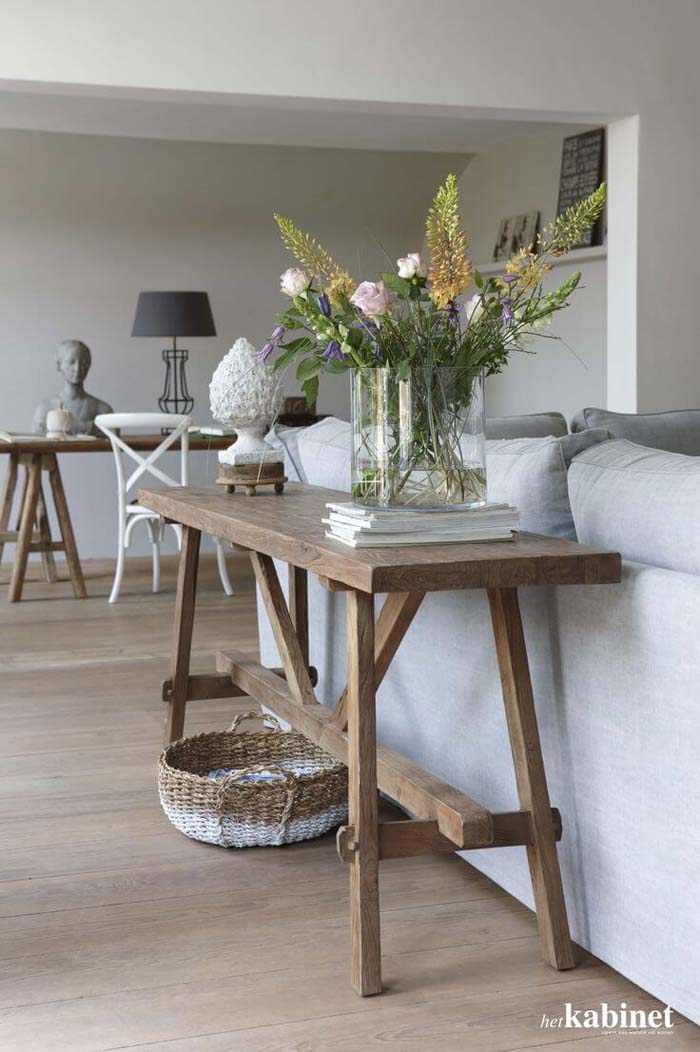 Tone down the formality of your French Country home with this relaxed sofa table.
The rustic wood creates a casual vibe, and the intricate construction evokes a sense of history and tradition.
It's simple yet chic; decorate it with fresh flowers for a lovely country vibe.
15. Bring Balance to Your Room with Reclaimed Wood Sofa Table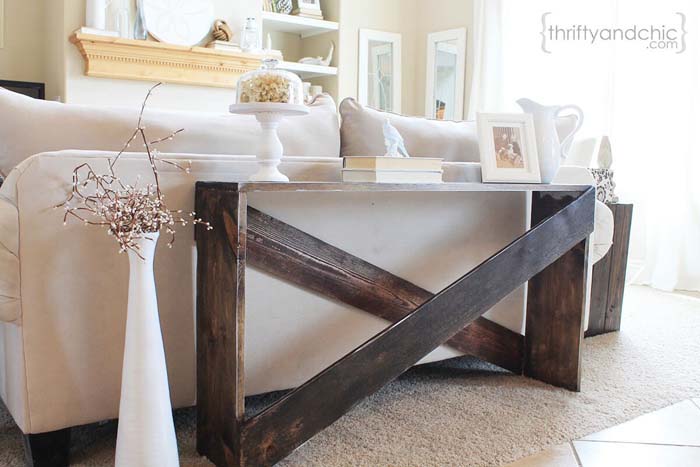 When your living room is filled with soft fabrics and sumptuous textures, a wooden sofa table can bring a beautiful balance to the space.
Here, reclaimed wood and a clever crosshatch design make a stunning contrast to an all-white space.
We love how the rustic wood grain pops next to the gorgeous sofa upholstery.
via Remodelaholic
16. Unique Live-Edge Trapezoidal Table for Refined Aesthetic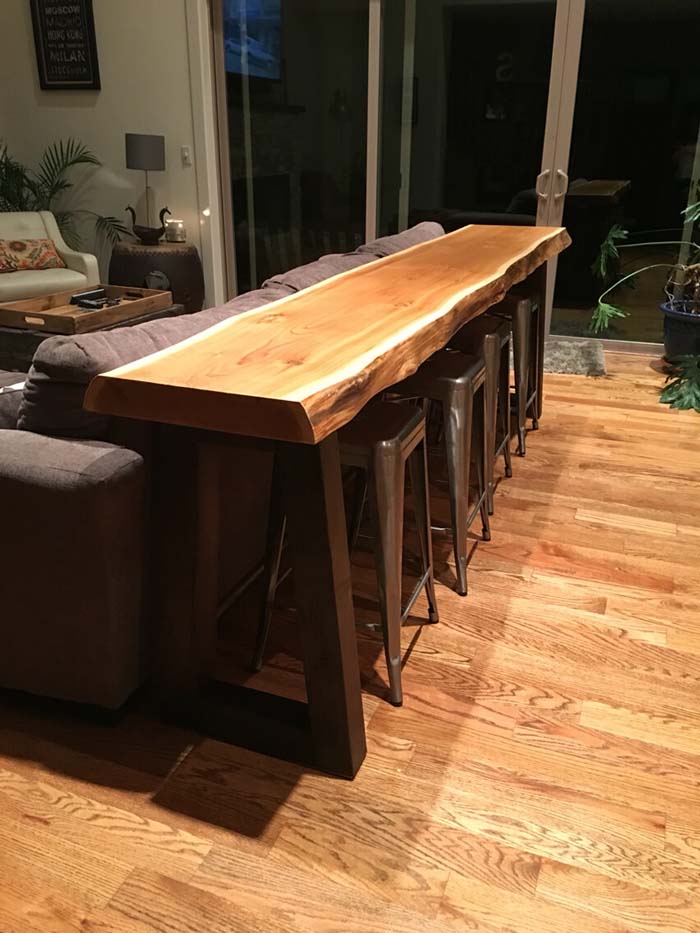 Here's another stunning example of a live-edge wood table — this time, both sides feature the organic knotted texture.
A trapezoidal base creates plenty of stability, creating the ideal spot for dining, homework, or internet browsing.
17. Reclaimed Wood Sofa Table with Extra Seating Solutions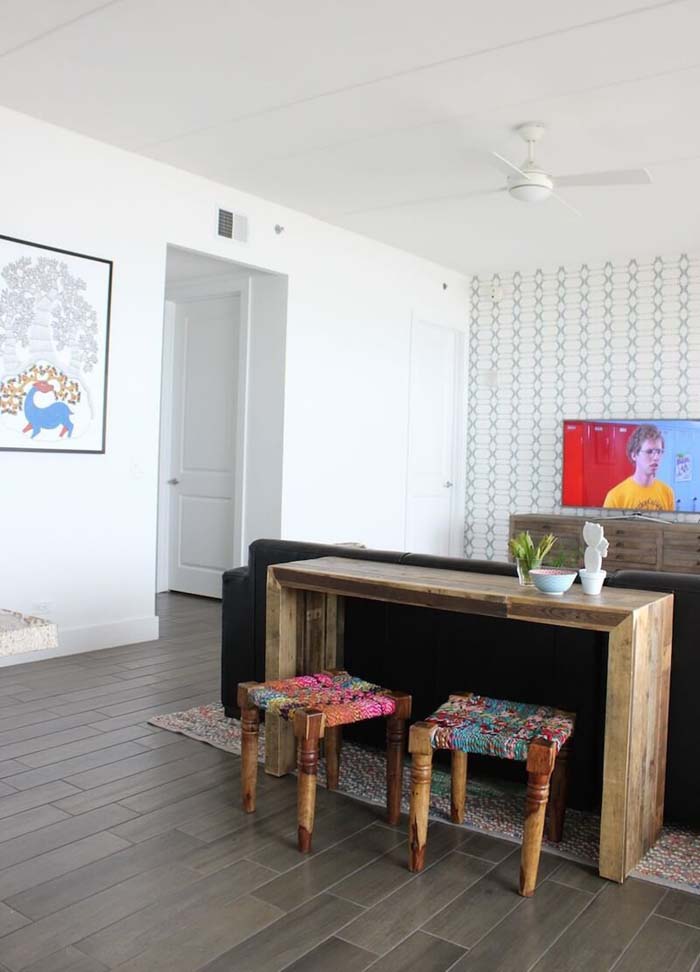 When you have a small home, a little bit of extra seating goes a long way.
This simple sofa table features a minimalist design and reclaimed wood — together, these two elements create a work of art that adds just the right touch of detail.
Small stools fit underneath, staying out of the way until you need them.
18. Artisan Wood-Block Table: A Timeless Piece for Your Home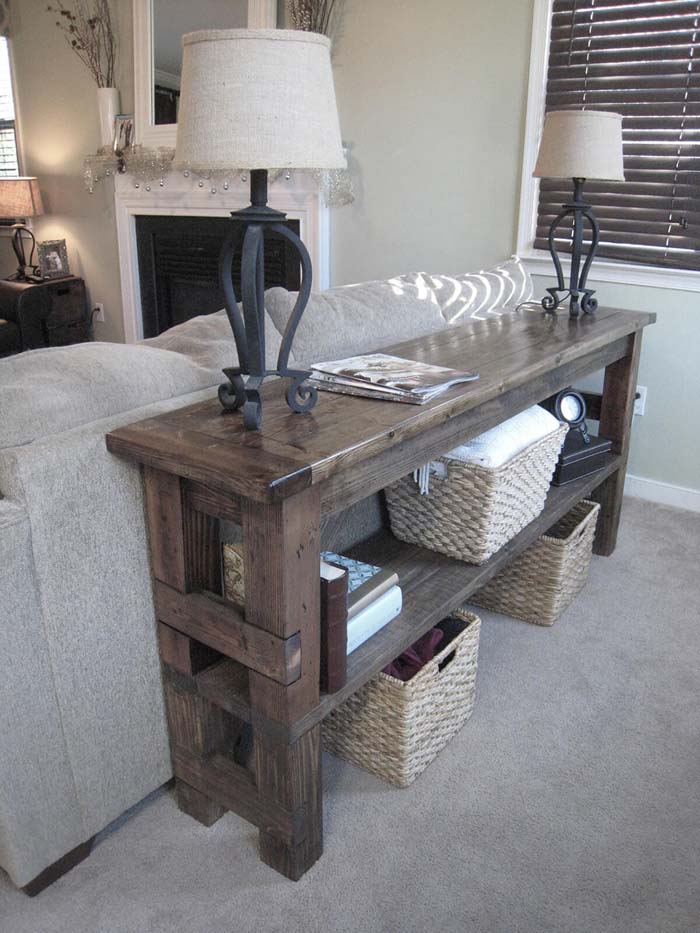 Bring a hint of artisan woodworking style into your living area with a wood-block table.
The beauty in this table lies in the visible joints, which showcase the quality of the construction.
The visible grain pattern adds a natural texture, and the grey-toned stain helps the table blend into a neutral palette.
via Tommy and Dellie
19. Build a DIY Sofa Table with Vintage Wooden Crates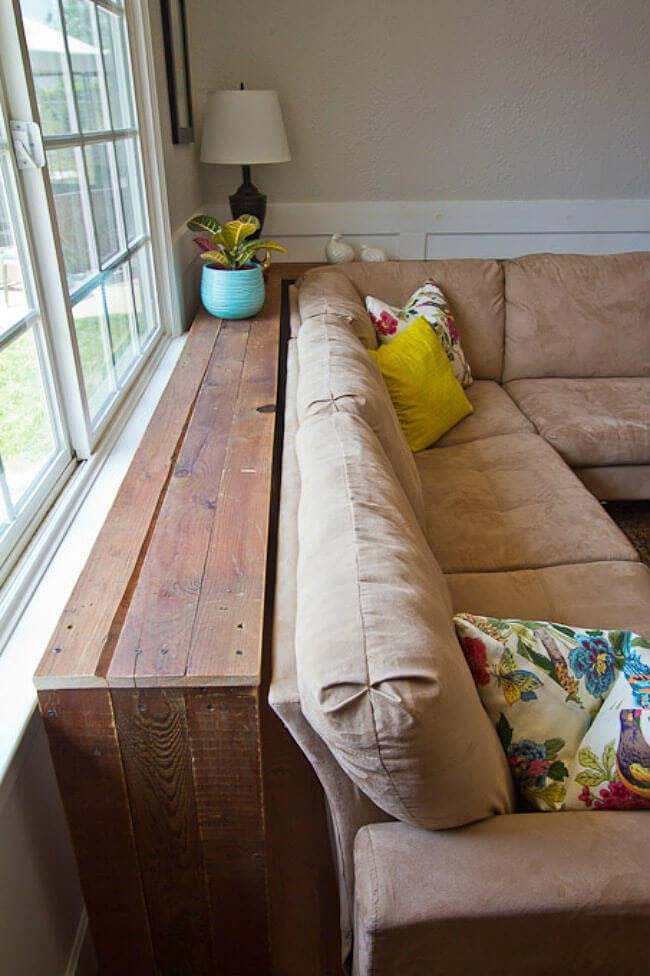 Do you love the look of vintage wooden crates?
Bring the signature texture and construction style into your living room with a DIY sofa table.
Use any boards you have on hand — if they're distressed or mismatched, it'll add to the charm.
20. An Ideal Addition to Your Vintage Decor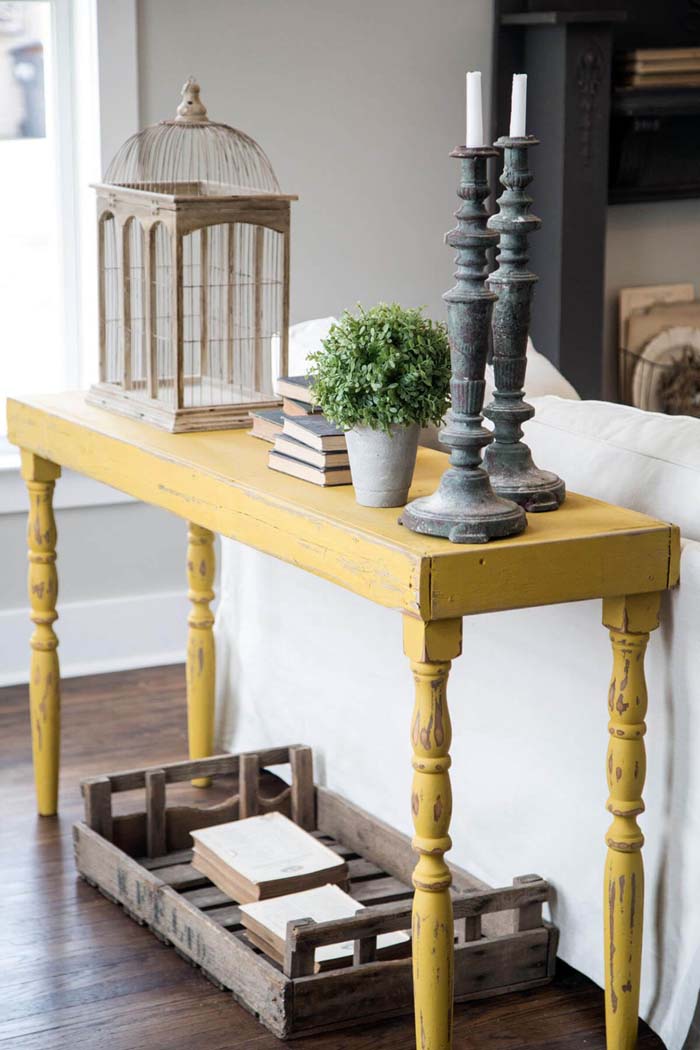 If you're looking for a way to add color to your vintage space, this rustic lemon table is a great option.
The bright color is toned down by the stripped paint on the high-wear surfaces, creating a lived-in look that blends in immediately with the rest of your furniture.
via HGTV
21. Effortlessly Add a Touch of Elegance to Any Room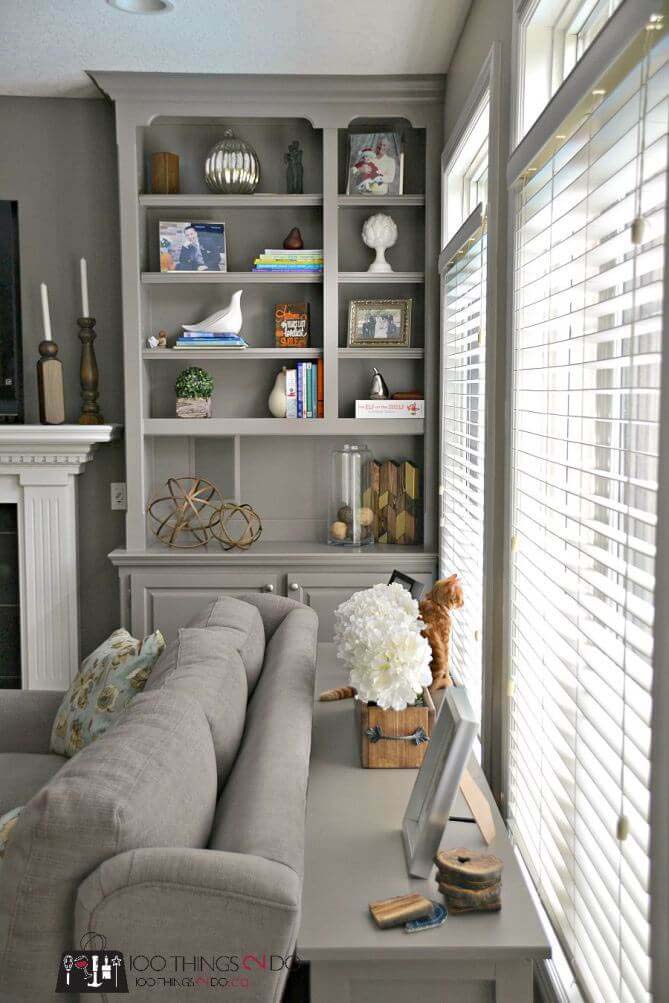 The monochromatic decor is easy and impossibly chic.
Here, a grey table creates a seamless look with grey walls and a grey sofa.
The effect is calming and subtle — plus, it makes all of your decorative items stand out even more.
via 100 Things 2 Do
22. Maximize Small Living Room Space With a Slim Sofa Table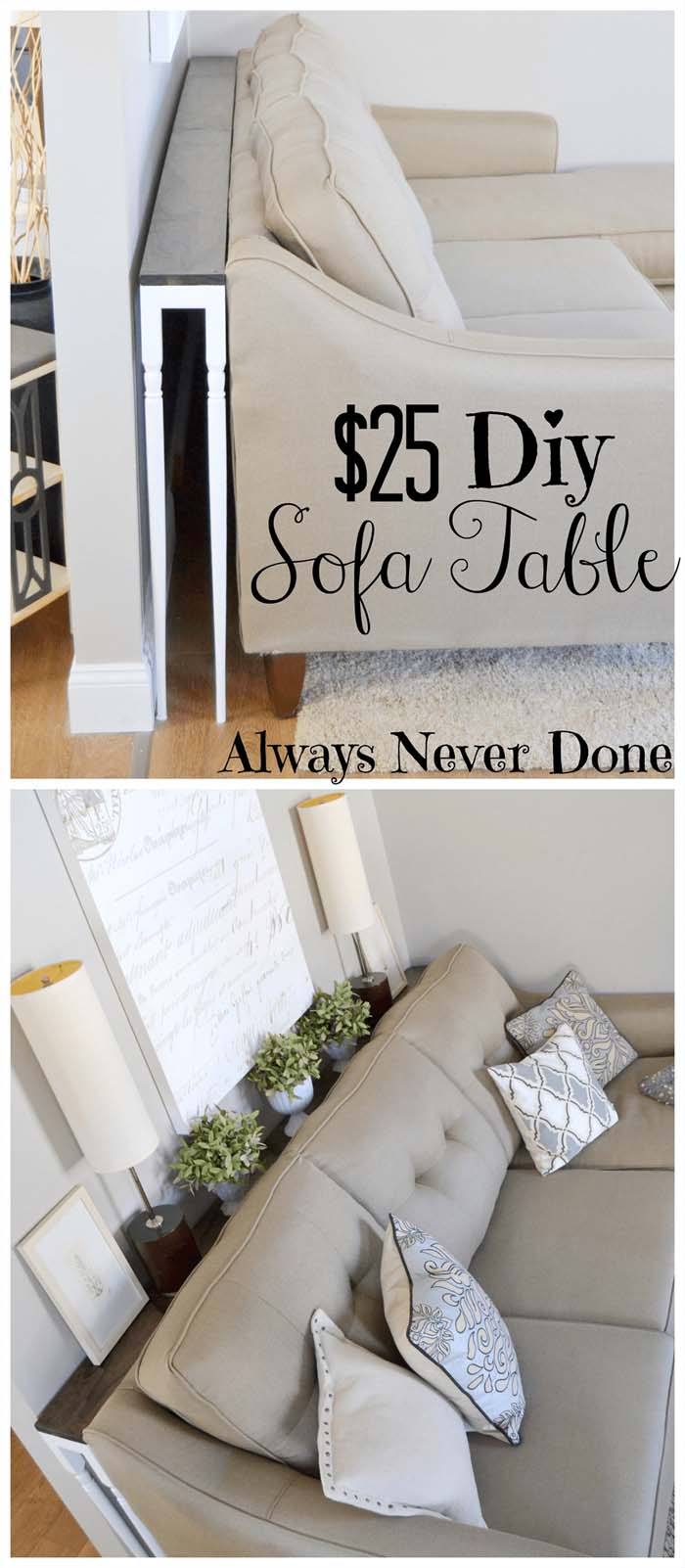 If you're working with a tiny living room, why not get a tiny sofa table to fit?
This ultra-slim table is perfect for the space; it takes up minimal room on the floor but adds a long display area for photos and flowers.
If you don't have room for end tables, you can even use the sofa table to hold a lamp.
23. White Living Rooms Need a Little Warmth, Too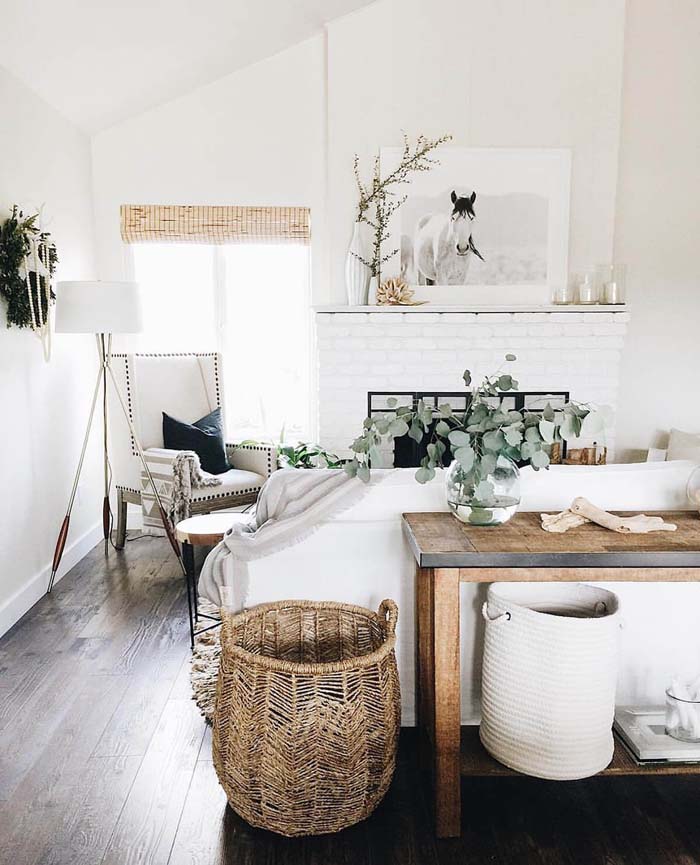 An all-white color palette is a simple way to make your living room feel more spacious.
To warm up a bright, white space, try a wood sofa table in natural colors.
The open frame keeps the piece feeling light and airy, and the metal edging adds just a hint of industrial style.
via Michelle Janeen
24. Stylish Storage Solutions for Modern Living Rooms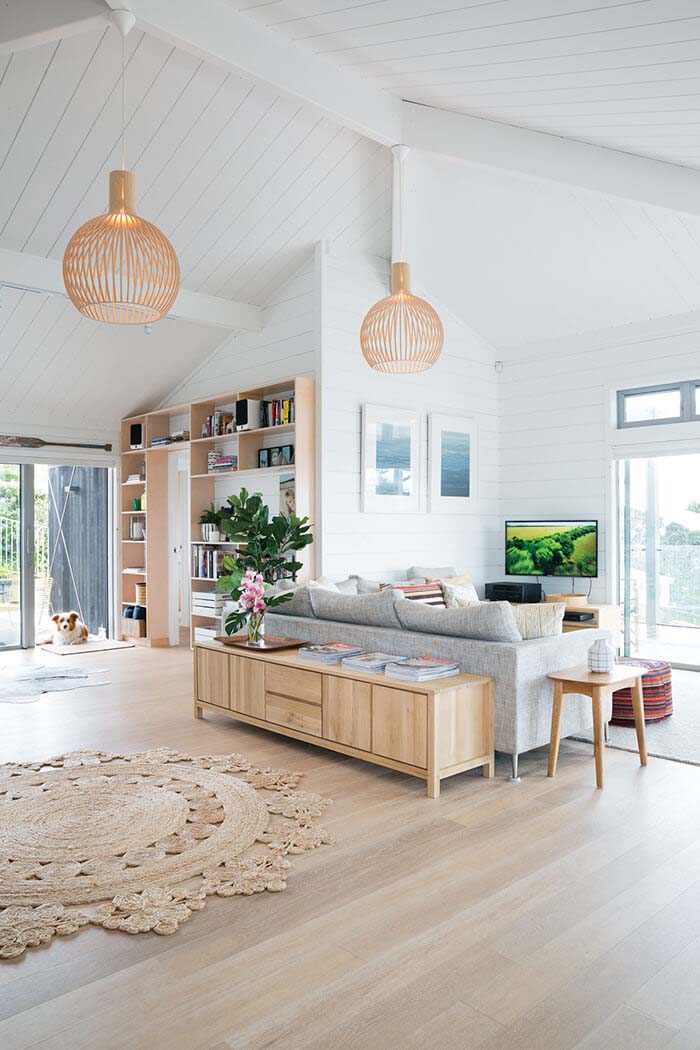 Modern sofas often feature low-slung frames that are too short for a traditional sofa table.
That's where a console table comes in.
Long and low, these gorgeous cabinets are an ideal alternative — plus, they add convenient storage to your living area.