When you need an inexpensive and beautiful decoration for your home, the solution might be right in your backyard — branches.
With their natural colors and organic shapes, branches add gorgeous texture and movement to any room in the house.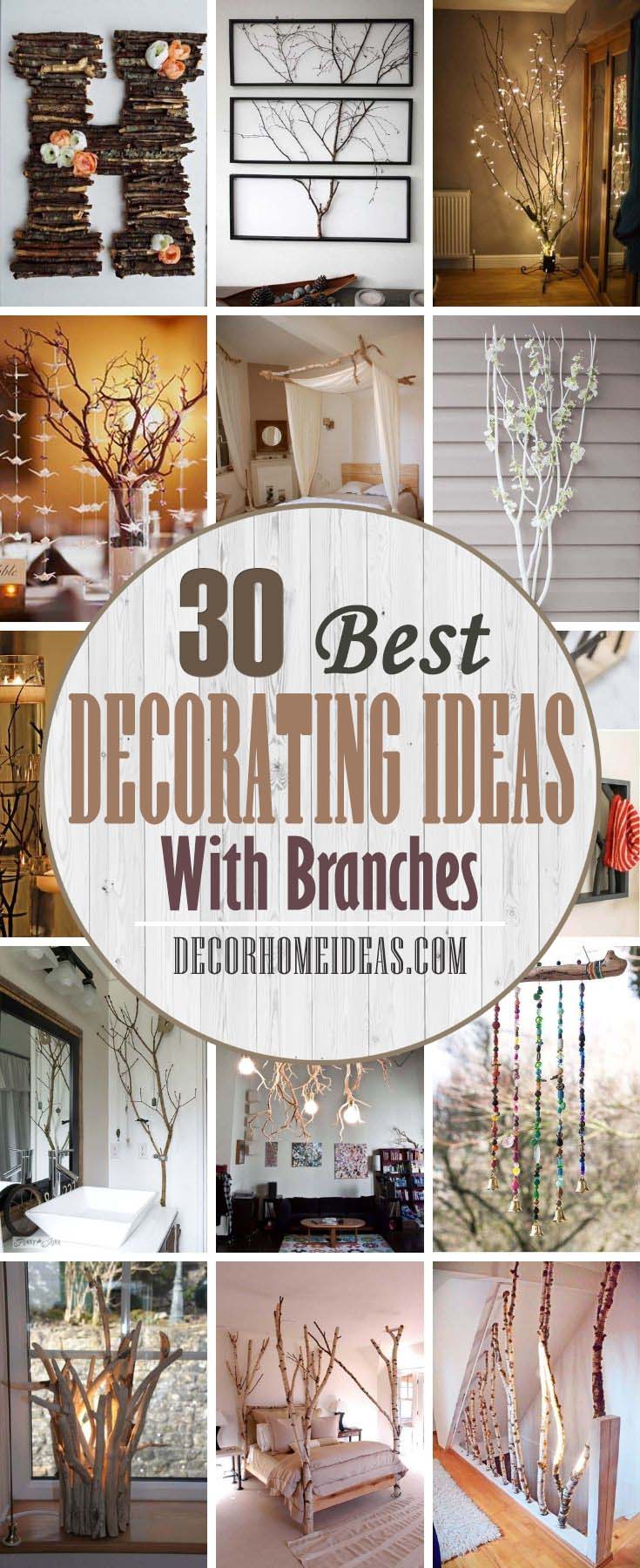 Whether you're searching for a quick way to display driftwood or a high-impact DIY project, these stunning designs are sure to spark your imagination.
1. Bathroom-Beautiful Ways To Decorate With Branches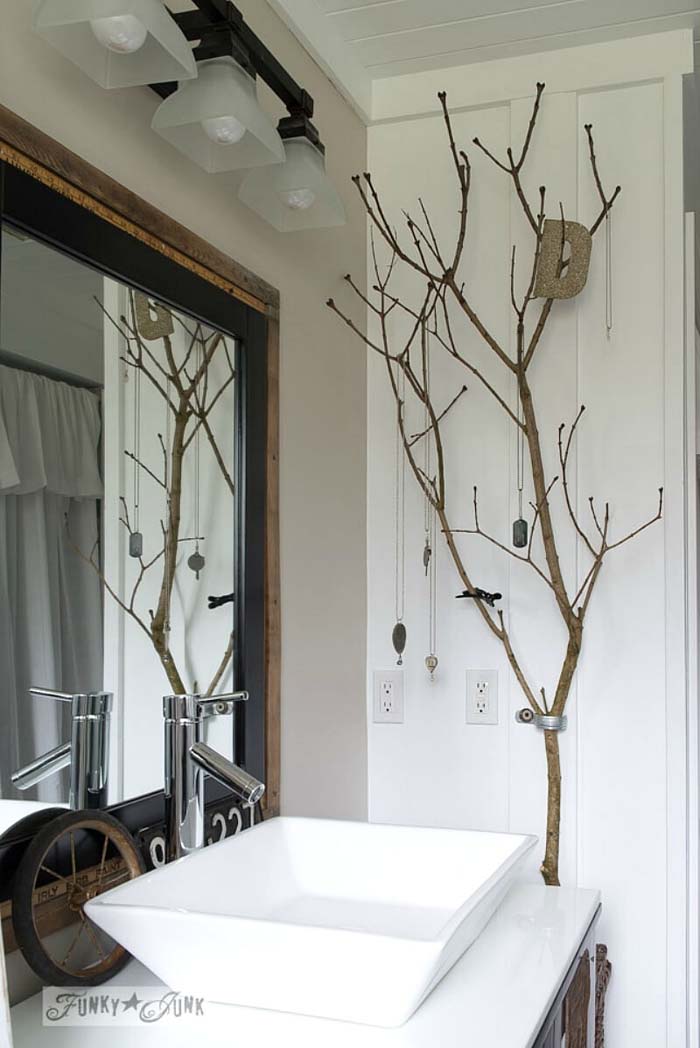 If you have a beautiful collection of necklaces, switch out your current storage selection for a simple branch.
Fasten it securely to the wall with a simple metal bracket and hang your jewelry from the branches for a piece that's both storage and display.
2. Beaded Bough Wind Chime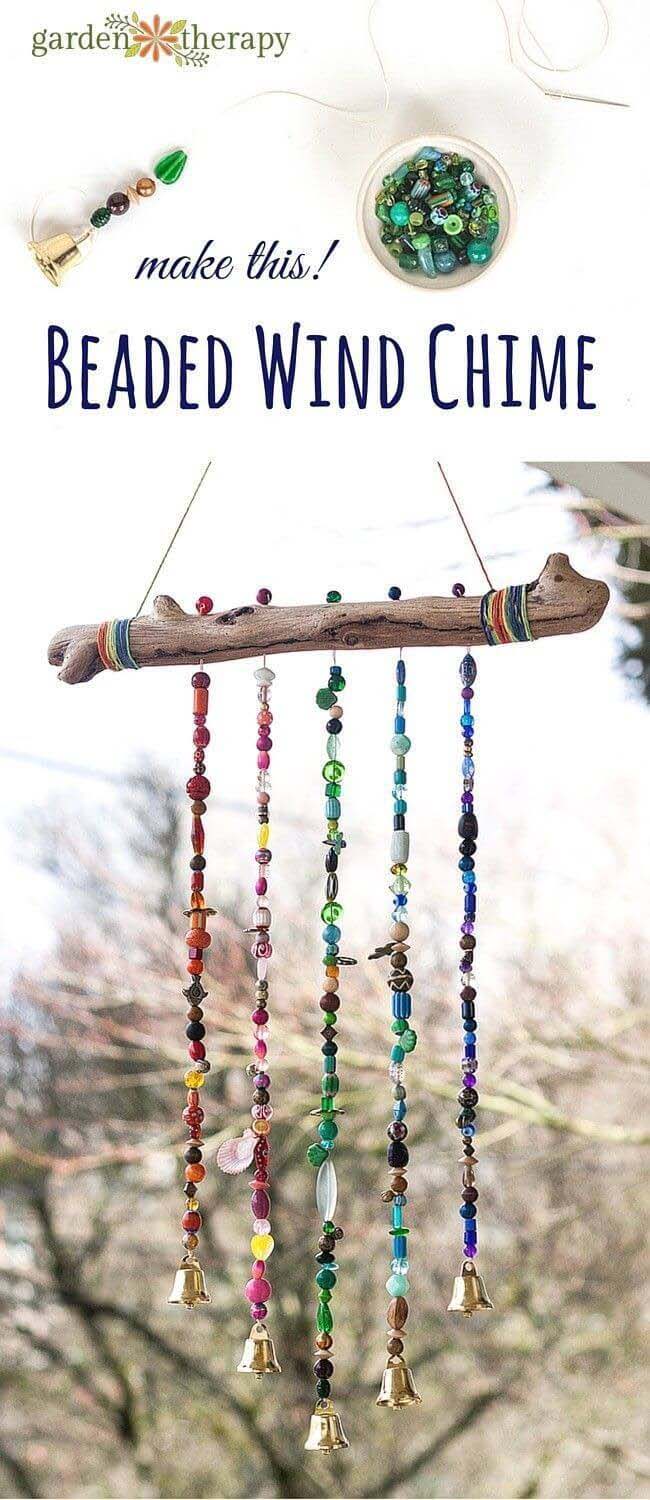 Dreamy and bohemian, this adorable wind chime makes a fun DIY project for kids.
All you need is a branch, a drill, and a collection of colorful beads.
Hang the piece outside, or use it as a cheerful wall hanging in a bedroom or playroom.
via Garden Therapy
3. Big Sur Ballroom Chandelier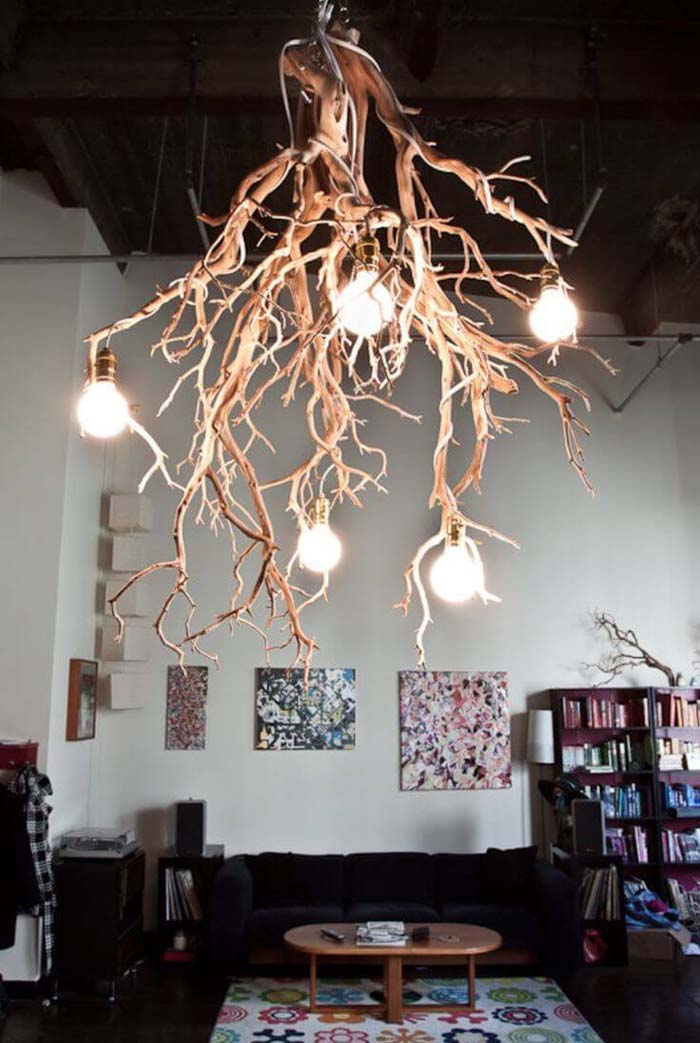 If your motto is "go big or go home", this stunning chandelier is the perfect project.
A large dried tree is flipped upside down and decorated with lights to make a statement fixture that will thrill all of your visitors.
via Avso
4. Birch Wood Stair Banister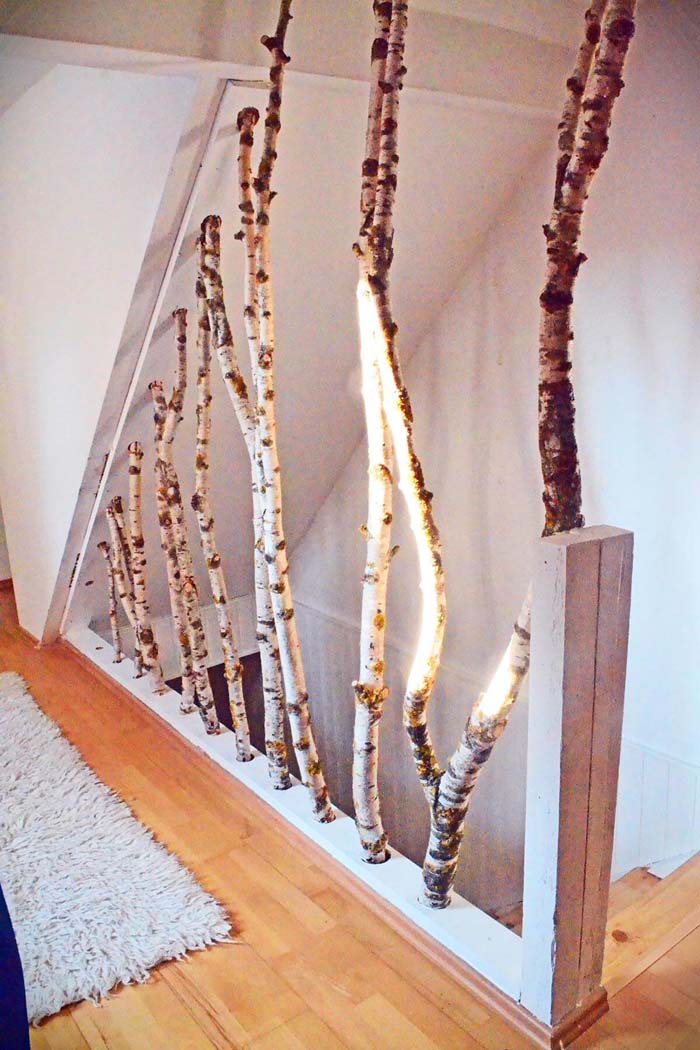 Dress up a boring staircase by replacing your spindles with birch branches.
This project requires a bit of work, but the result is spectacular — the natural color and texture of the birch bark add a distinct Scandi-chic vibe to a small space.
5. Black Forest Repurposed Wall Rack

Are you bored with your current coat and hat rack?
Switch it out for this stunning DIY piece. The branches extend out from the wall, creating a handy spot to hang coats, bags, and accessories.
It also makes a lovely piece of art that you can decorate for every season.
via Homedepot
6. Crown Of Branches Window Lamp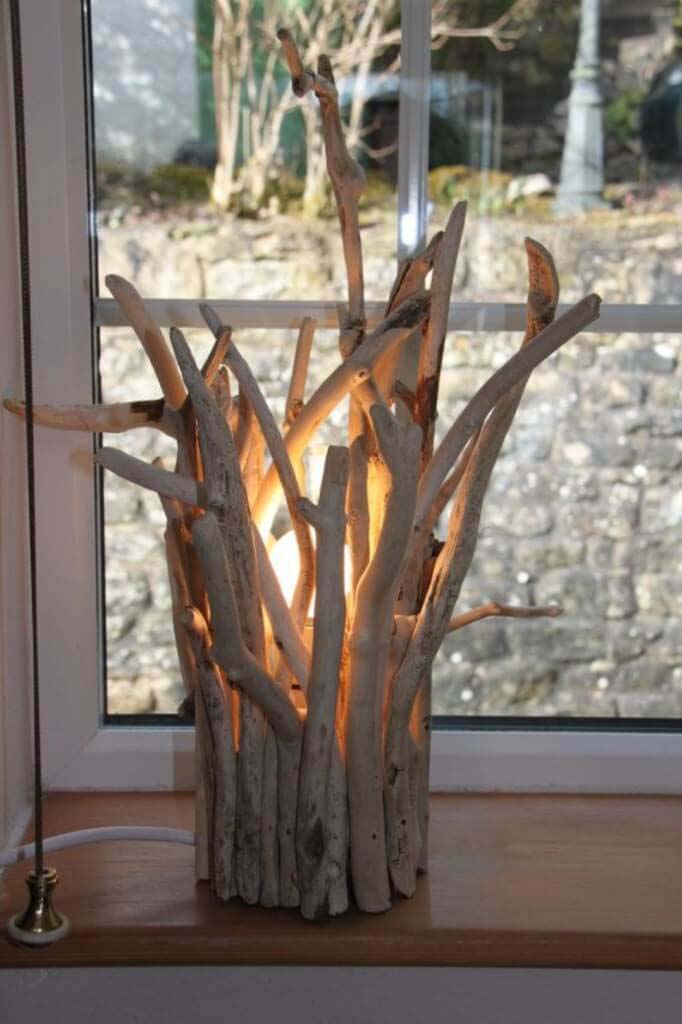 Turn a cheap lamp into a thing of beauty with a collection of branches.
When they're fastened to the exterior of the frame, the wood creates a crown effect.
Plus, when you turn on the light, it shines out from the center of the arrangement for a charming glow.
via Deavita
7. DIY Decorate With Branches Table Setting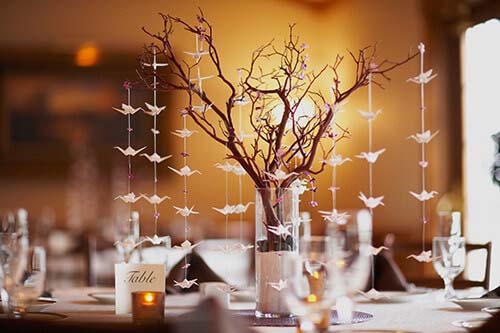 In search of a stunning centerpiece for a family meal or a special event?
Place a bouquet of branches in a vase and anchor it with sand or rocks.
The tiny branches make the perfect way to hang ornaments, garlands, or tiny lights. You can even spray paint them to match your color scheme.
8. DIY Freestanding Front Hall Tree

This creative project puts a literal spin on a traditional hall tree.
Don't be deterred by the use of concrete — you can mix it yourself to create a heavy-duty base.
The combination of natural wood and sturdy concrete complements contemporary homes, modern farmhouses, and Scandinavian spaces.
via Tomfo
9. DIY Rustic Twig Frame

Jazz up a cheap dollar tree picture frame with a collection of twigs.
The layers of twigs add a lovely depth and texture to the simple frame.
Leave the wood bare for a natural look, or add a few faux flowers, leaves, or bunches of moss to complete the forest-inspired design.
via eHow
10. DIY Tree Branches Flower Pot

Are you looking for a way to make over a flower pot without spending much — or any — money?
Head outside and cut a bundle of sticks in a similar size and length. Using twine, you can arrange the sticks into a surprisingly chic pot cover.
via Bloglovin
11. DIY Tree Branches Light

Elegant and unexpected, this creative tree-branch light is the perfect way to make a designer-style piece without spending any money.
This design is all about shadows and light — turn on the bulb and watch your room come to life.
via Useful DIY
12. Floating By Candlelight Table Display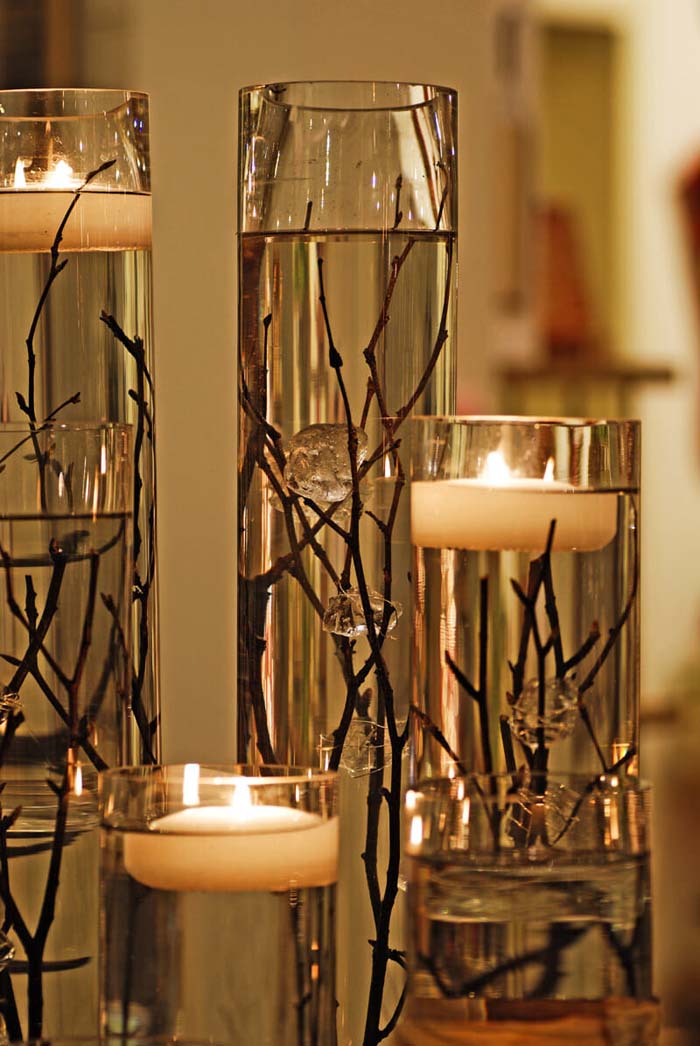 Floating candles are a common part of wedding decor, bringing a stunning weightless feeling to a container of water.
Here, tree branches submerged in water add just the right contrast to a tiny floating flame.
Crystals tied to the branches add a subtle sparkle.
via B Lovely Events
13. Floor-To-Ceiling Forested Hook Stand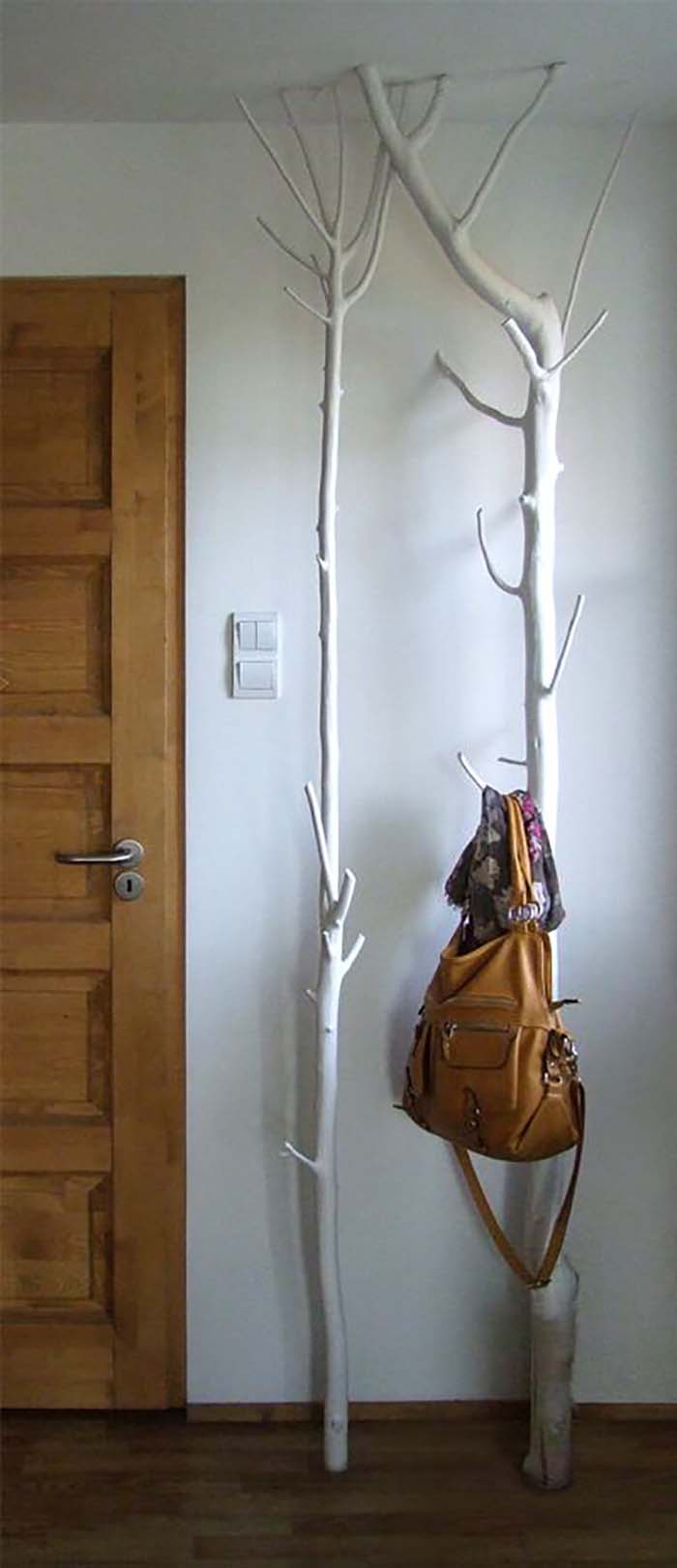 Have you ever wished for a high-end art installation?
Make your own with a dead tree. The creative mounting process makes it look like the tree grows out of your floor and up into the ceiling.
Choose a tree with sturdy, short branches, and the piece can double as a coat rack.
via Design Intuition
14. Gallerist's Walk Sectioned Wall Mount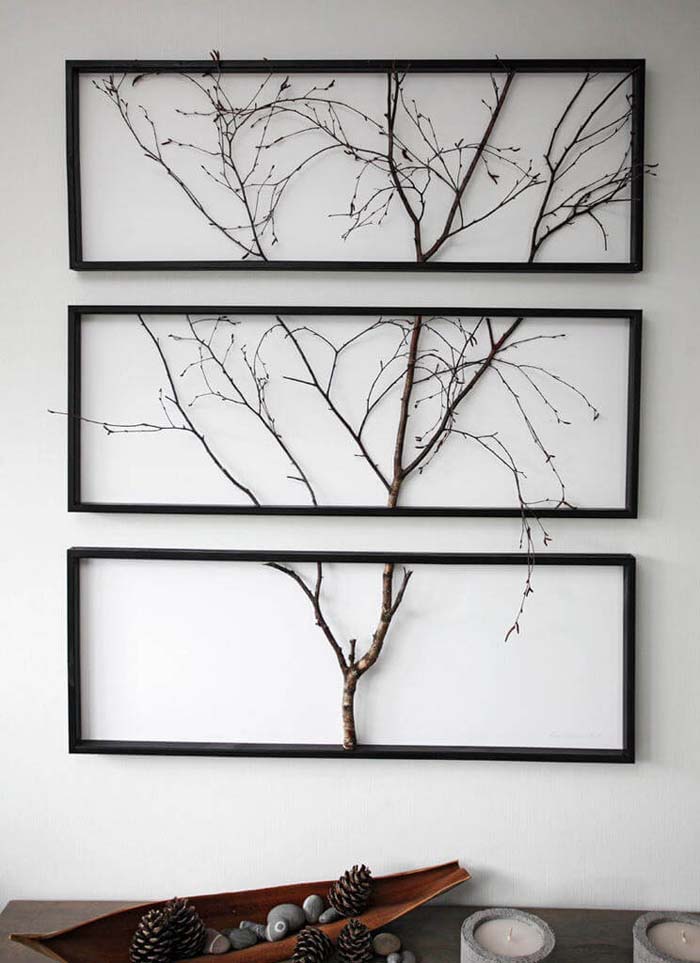 If you love the look of multi-panel wall art, create your own with a single branch from a tree. The trick?
Cut the branch into three equally-sized sections to create a delightful optical illusion. The result is elegant and affordable.
via Iltalehti
15. How To Make Twig Curtain Rod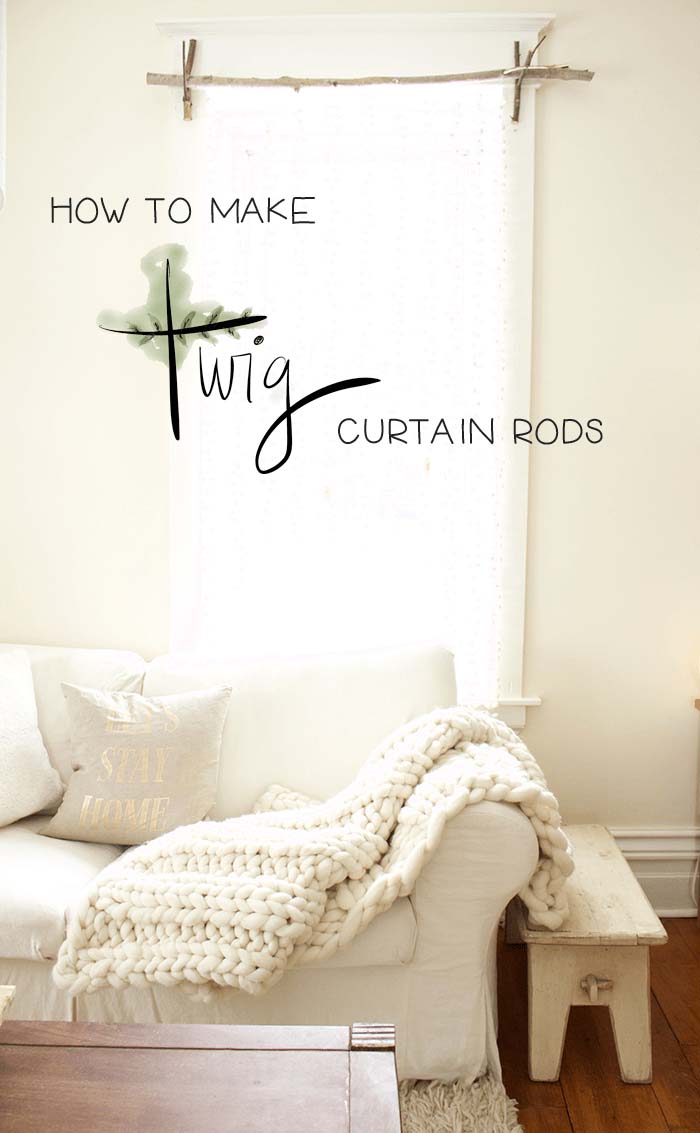 Bring a natural twist to your window treatments by swapping out your curtain rod for a branch.
The organic shape draws the eye to the top of the window and instantly elevates a simple curtain panel.
This is a great way to add texture to a plain wall or a window without trim.
via Lynne Knowlton
16. Indoor Forest Framed Branch Lights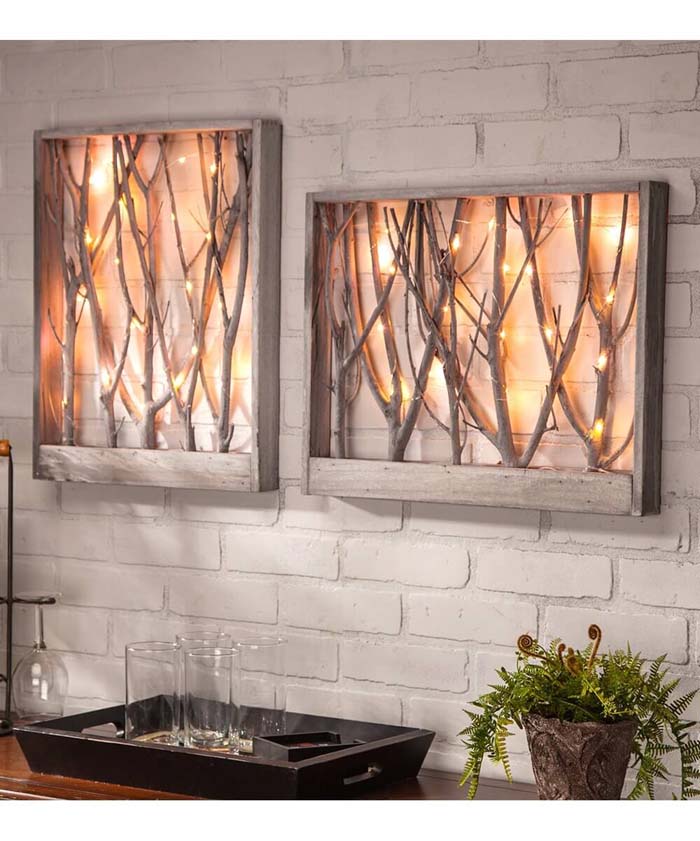 Framed branches are a surprisingly sophisticated work of art — take yours to the next level with lights.
A single strand of battery-operated LEDs on a transparent wire transforms your tree branches into a magical, glowing forest that looks lovely at the holidays or any time of year.
via Zulily
17. La Mer Handmade Driftwood Mirror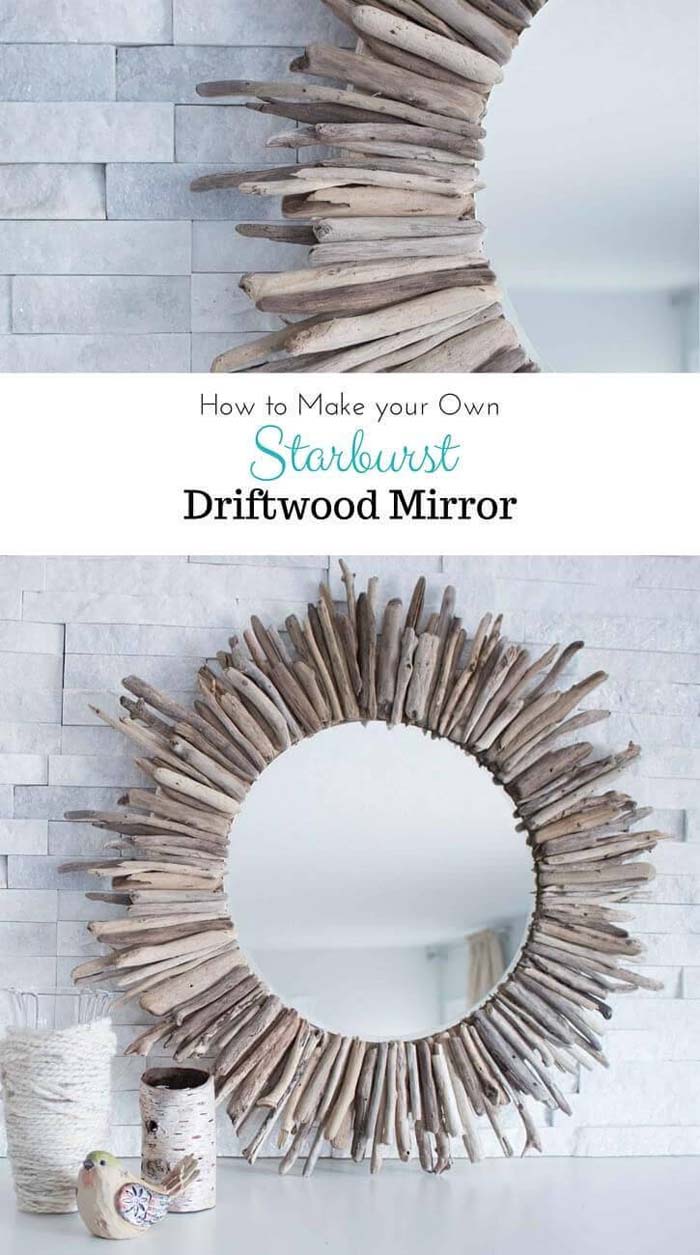 Starburst mirrors are a stunning way to accent an empty wall.
Don't spend a fortune on a model that's available in the store — grab a cheap dollar-store mirror and create your own with small pieces of driftwood.
The knots and shape variations lend a wild, natural feeling to the classic design.
18. Logger's Lounge Bough-And-Bulb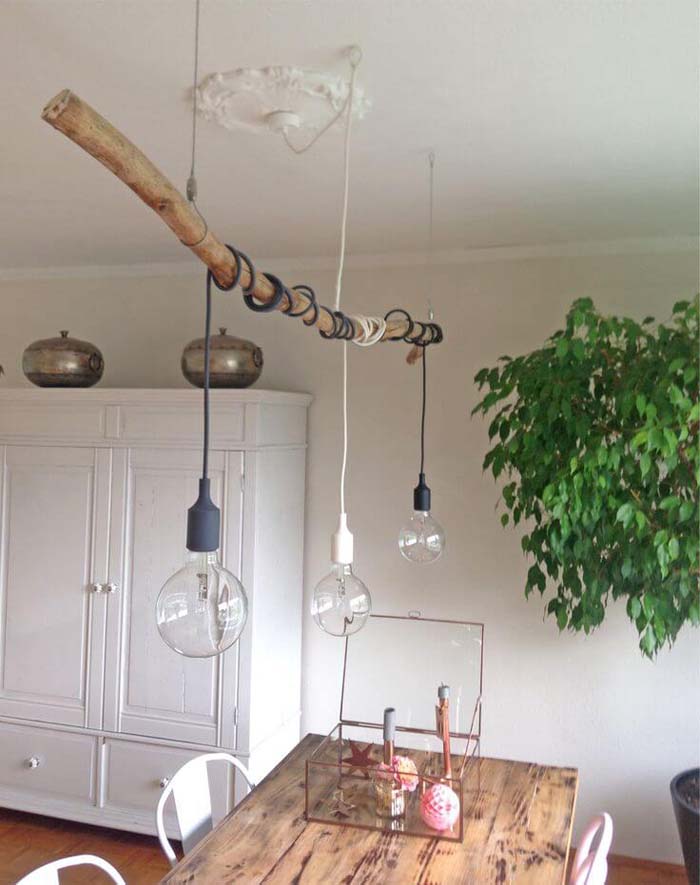 Island and dining table lights are notoriously expensive; save money by making your own.
Here, a substantial branch serves as an elegant chandelier base.
Wrap a few cord lights around the branch for a look that's straight out of an art museum or a high-end shop.
via Roomilicious
19. Metropolitan Orchard DIY Wall Art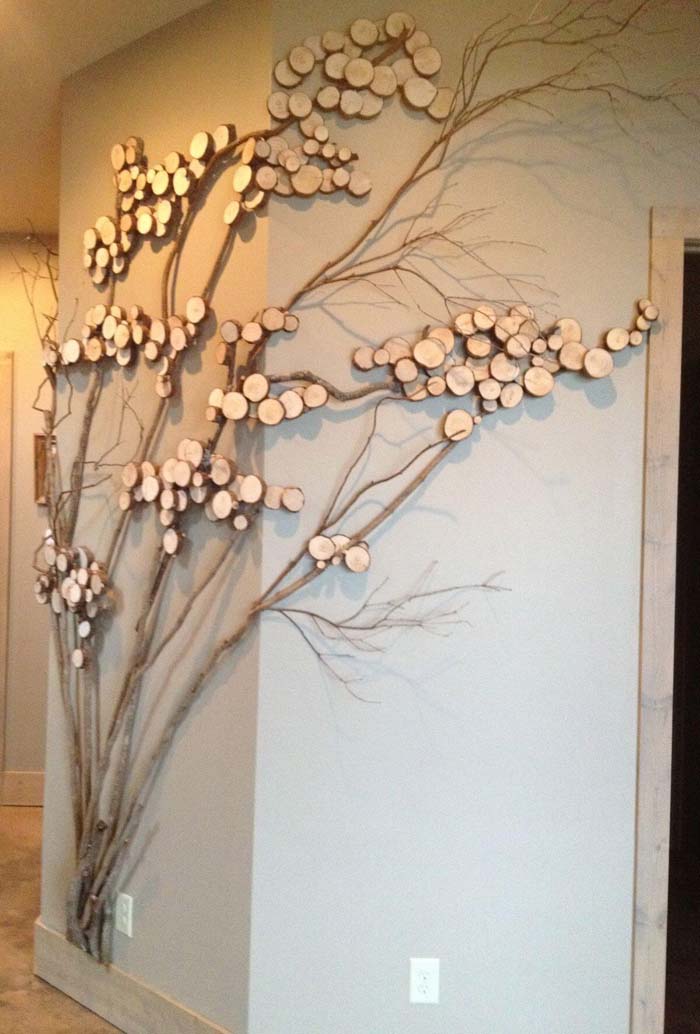 Do you have an eye for art and design?
This ambitious wall installation is a fun DIY project to test your skills.
A selection of tall branches forms the base of the piece, and tiny round wood slices bring a whimsical, fairytale-inspired feeling to a hallway or front entry.
20. Midsummer Fairy Light Forest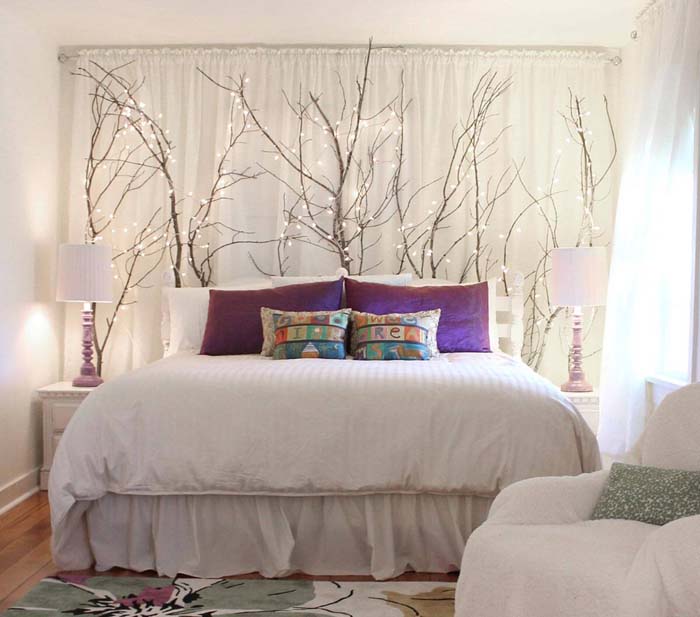 Turn the space behind your bed into an accent wall with a lighted forest.
This arrangement looks expensive and elegant, but it's extremely easy to make.
The trick is to choose branches that are completely dry; they won't bend when you wrap tiny white fairy lights around each one.
via Hawk Hill
21. Natural Love Handmade Branch Chimes

Put a beachy spin on trendy wall hangings with this easy DIY piece.
By arranging the hanging driftwood into a heart shape, you can soften the wood.
Pink-dipped ends look sweet and romantic; choose any color that matches your home.
via eHow
22. Pacific Canopy Beach Bedroom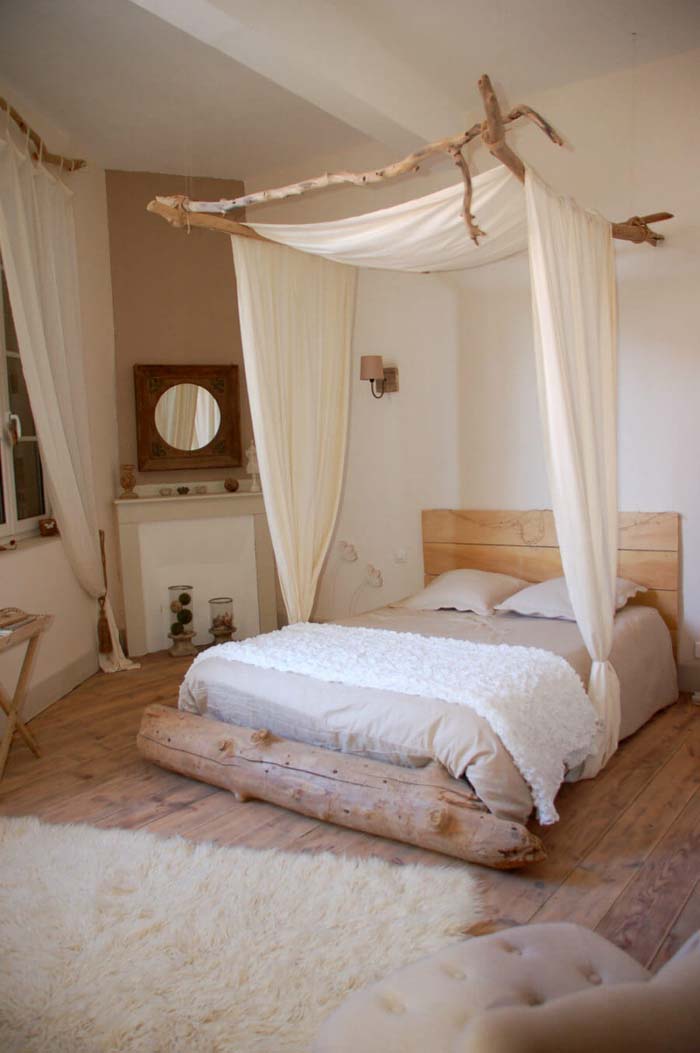 There's something inherently regal about a canopy bed.
This version adds grandeur and romance to your bedroom without the high cost of a canopy frame.
If you look closely, you'll see the sturdy clear lines that suspend the branches from the ceiling for a look that's ethereal and secure.
via Solebich
23. Poet's Garden Floral Branch Wall Hanging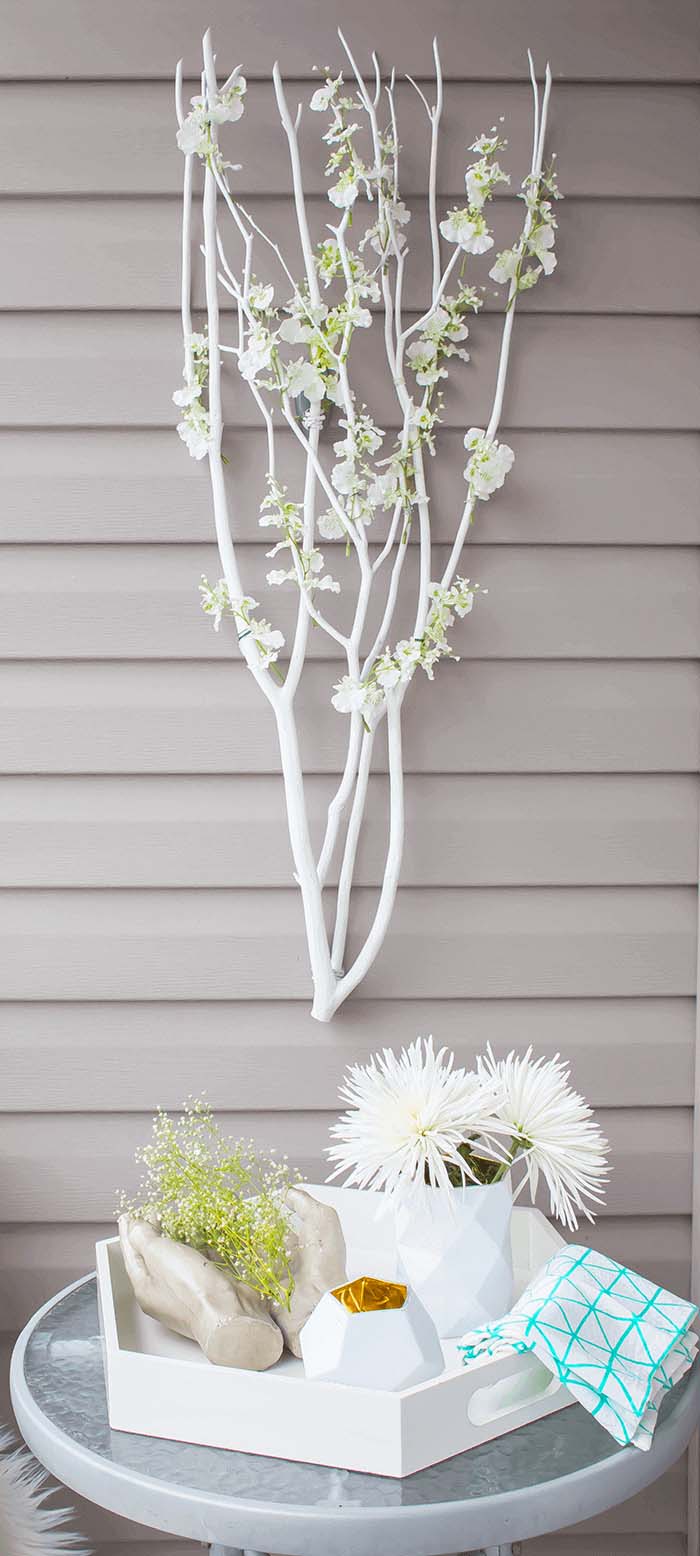 Break out a can of white spray paint to create this lovely wall hanging, which works beautifully indoors or outdoors.
Tiny white flowers add a soft, dreamy touch, and tiny green leaves bring just a hint of color.
via A Pretty Fix
24. Scandinavian Forest Four-Poster Bed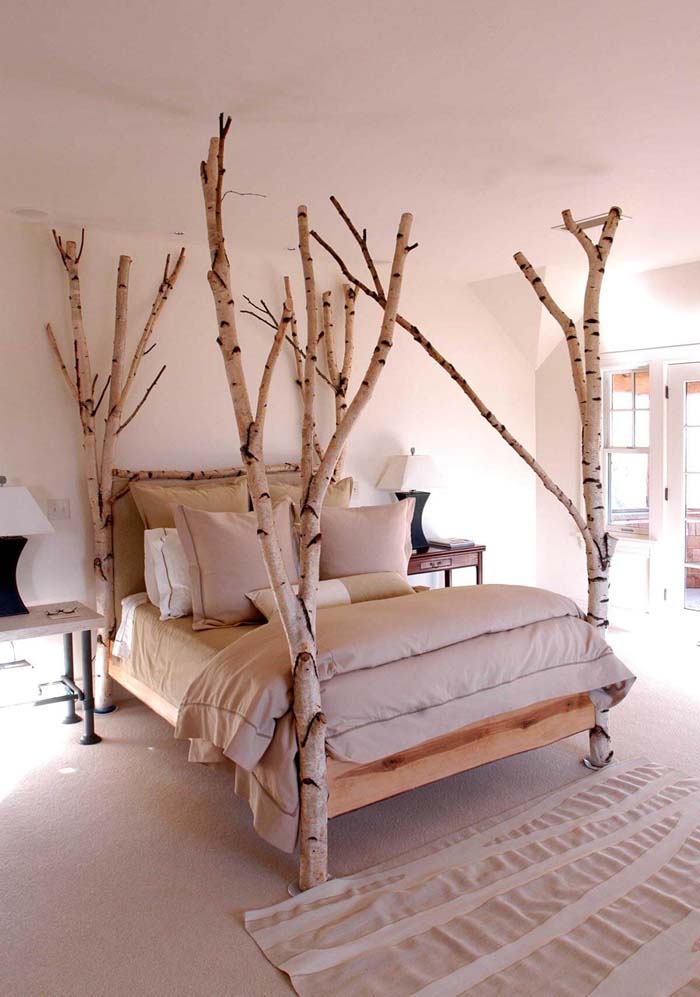 Does your bed feel lost in your large bedroom?
Turn it into a stunning statement piece by adding birch trees to the four corners.
The white bark and dark accents complement a modern Scandi-chic space.
via Cool Kadin
25. Tree Of Light Illuminated Lamp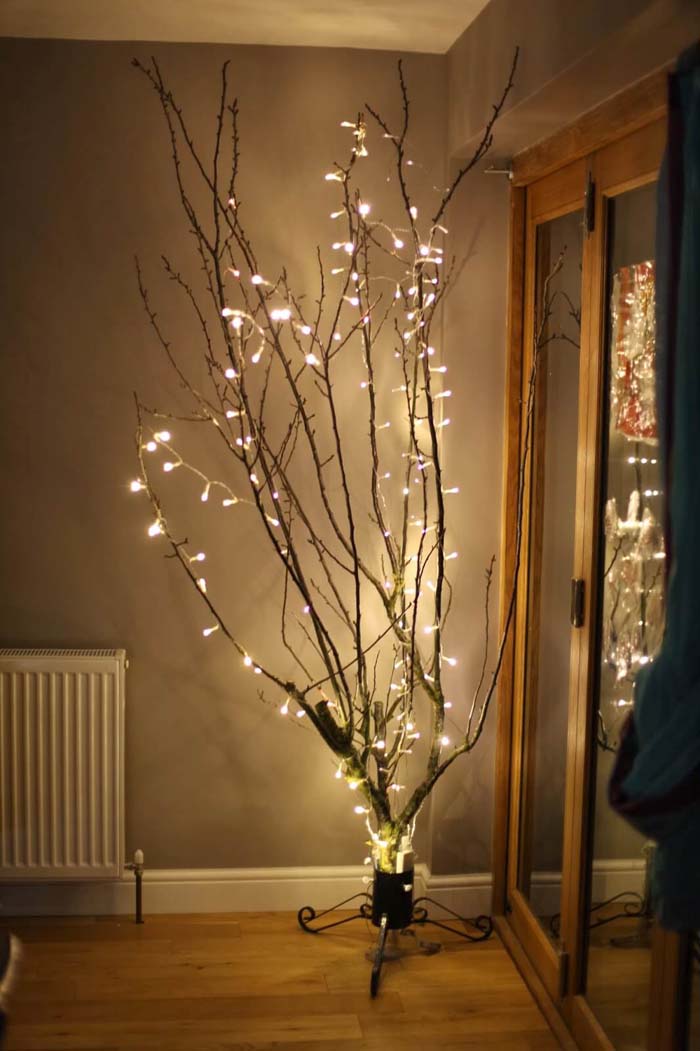 Recreate the cozy glow of the Christmas tree any time of year with a tall bundle of branches.
White lights illuminate a corner of your home for a welcoming atmosphere. As a bonus, this is a fun way to get more use out of your tree stand.
26. Winter Palace Sculpted Twig Chandelier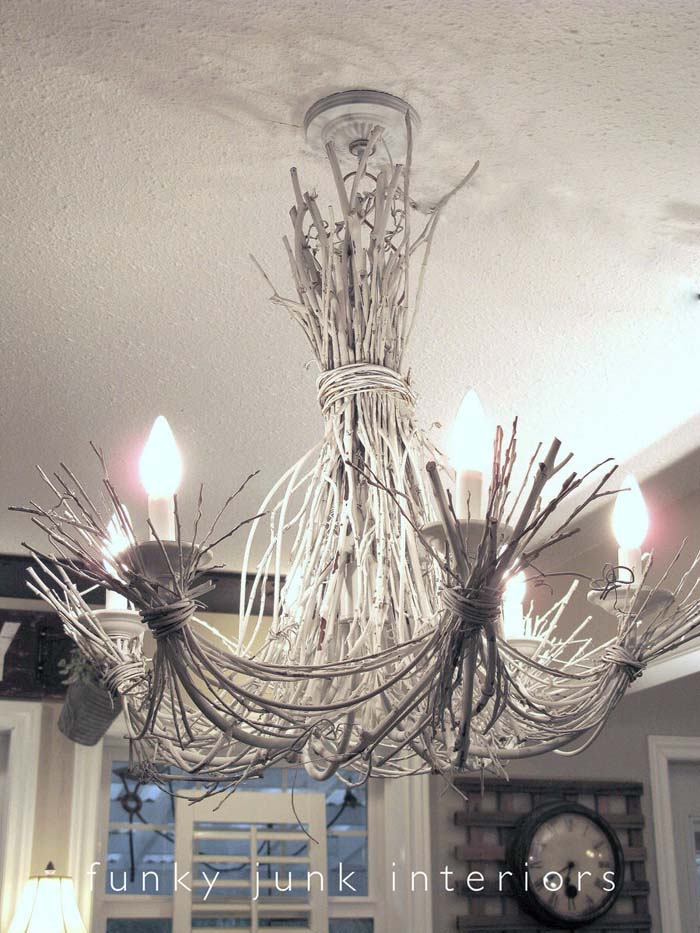 Make over an old or outdated chandelier with twigs and twine.
White spray paint covers the entire arrangement, giving it a chic, elegant look that's worthy of a winter palace.
27. Woodland Lettering Wall Art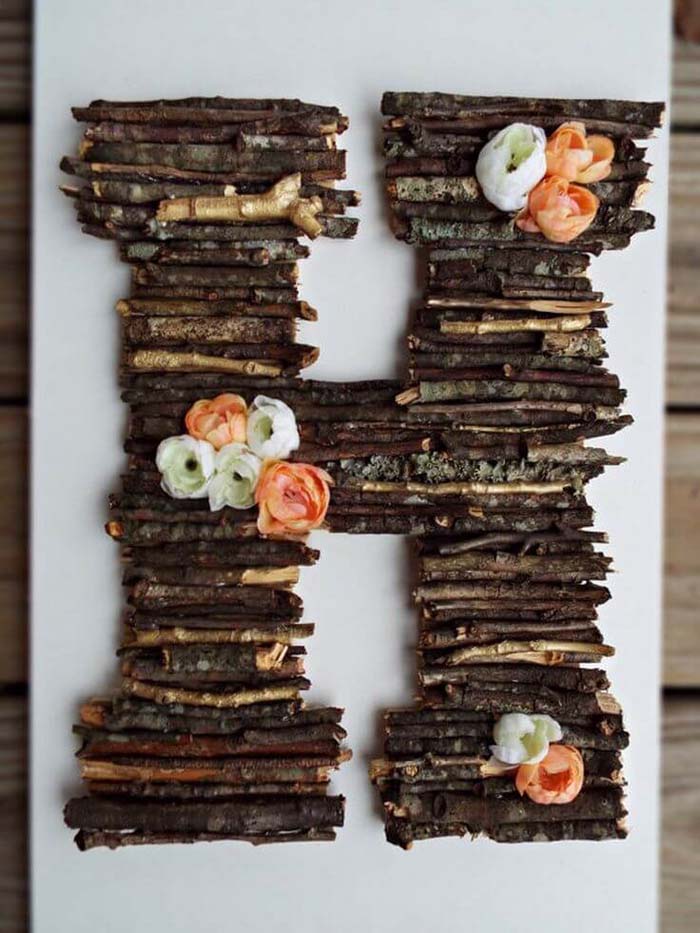 Monogrammed wall art is making a comeback in home decor.
This project puts a woodsy spin on the trend; the tiny twigs give the letter a slightly uneven look that complements an eclectic home.