The latest tendencies in interior design show that indoor vertical landscaping becomes more and more popular. The advantages of vertical gardens can be divided into two groups- aesthetic and practical.
The main advantage of having an indoor garden is the connection it makes with nature. The vertical gardens allow us to grow more plants indoors and create a feeling of being part of the living nature.
The practical aspect of vertical gardening is tightly related to the space. Being built vertically, these gardens are suitable for small spaces.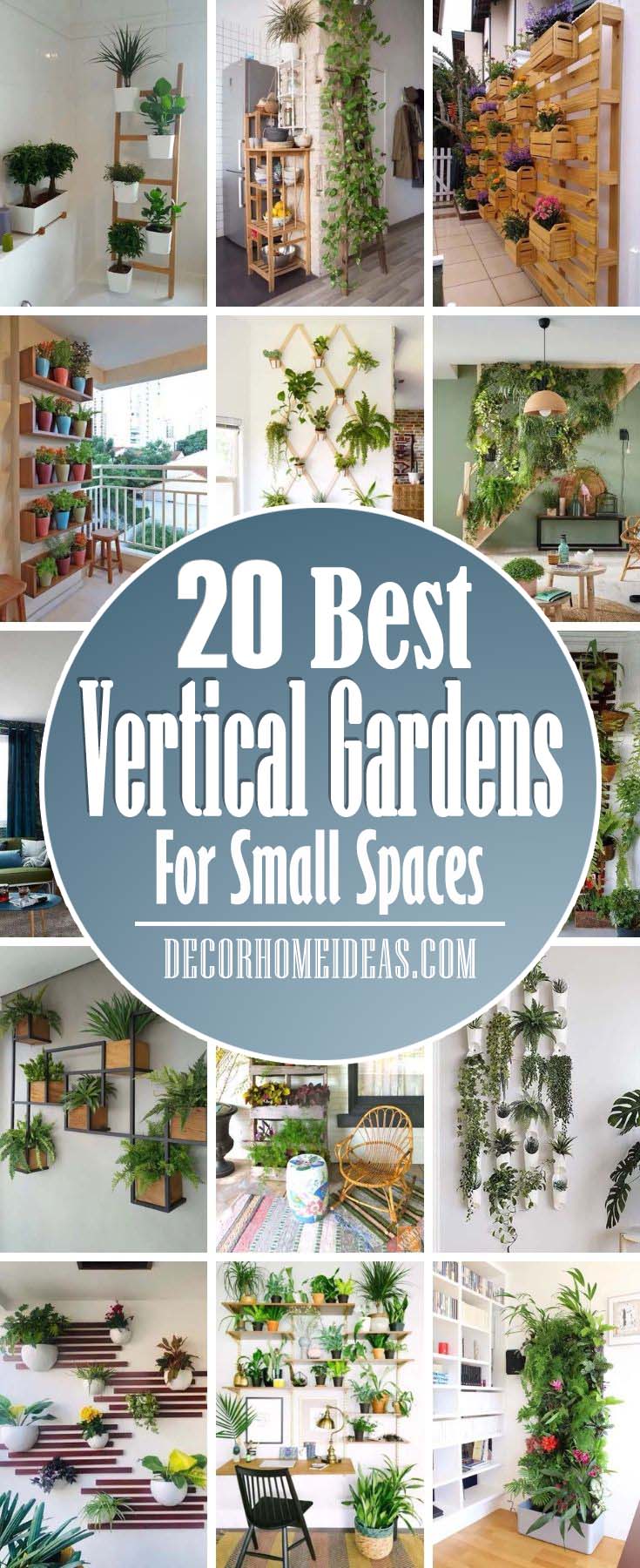 We are going to show you a collection of fresh indoor vertical gardens that can be easily recreated at home and at the office. The variety of designs will let you choose the type of garden that is most suitable for your space and the ambient conditions for growing the plants well.
Tip: Check the Garden Tower Project for an amazing vertical garden you can have today!
1. Let Your Houseplants Thrive With a Metal Frame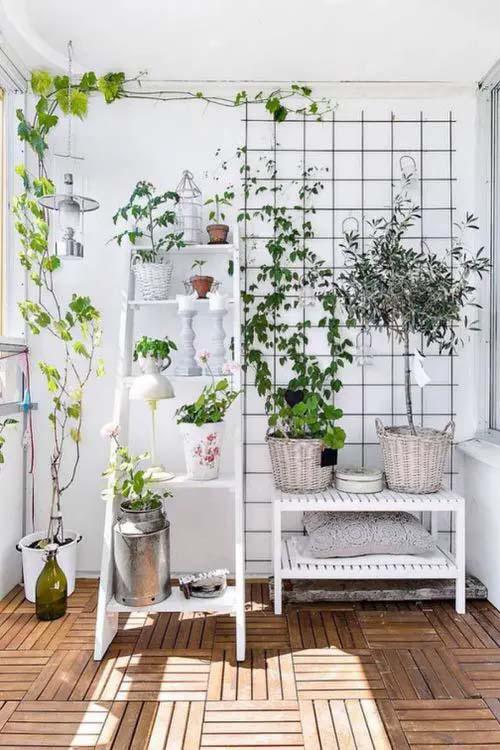 Repurposing a building fixture like this net metal frame could create an industrial-style trellis for indoor vines.
Additional decorative accents like candle jars, fairy lights, small bucket pots can be hung onto it with hooks.
2. Maximize Your Gardening Space with Floating Shelves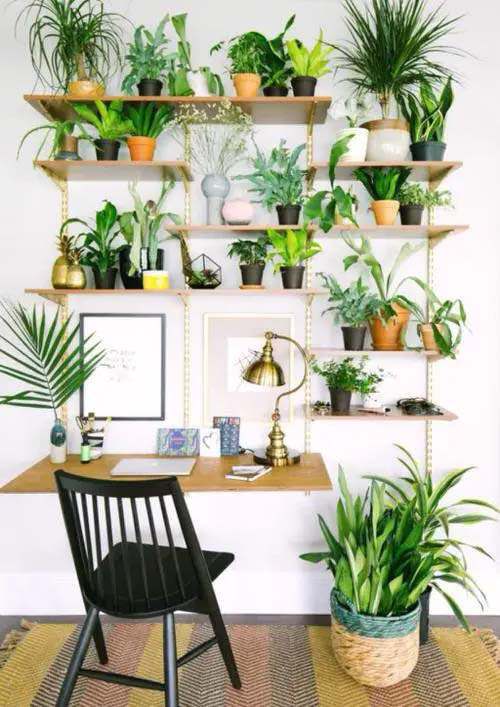 Decorate the wall above the home desk with floating shelves and decorate with various plants to create a small jungle.
The design focuses on the interesting design and simple materials and textures which allows usage of different pots in size, shape and color.
via Domino
3. Enhance Your Staircase's Beauty with a Tiered Garden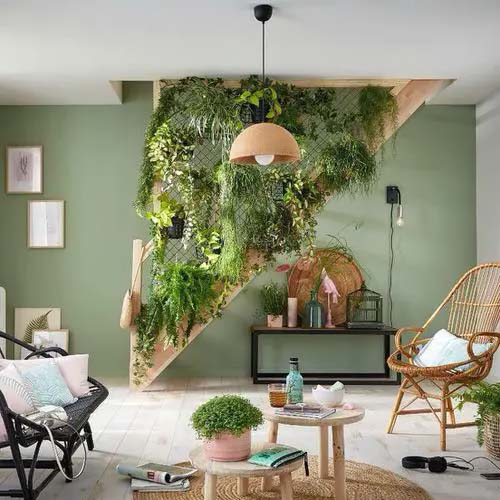 A vertical garden of attractive frame shape and size will surely become the focal point of the space.
This one is built on the side of a staircase. A piece of building mesh is attached to a wooden frame to function as a protective screen of the staircase and as a support for the plants.
To achieve the tiered garden, hang pots with cascading plants in a pattern that covers the entire net surface.
4. A Vertical Garden that Grows in Any Space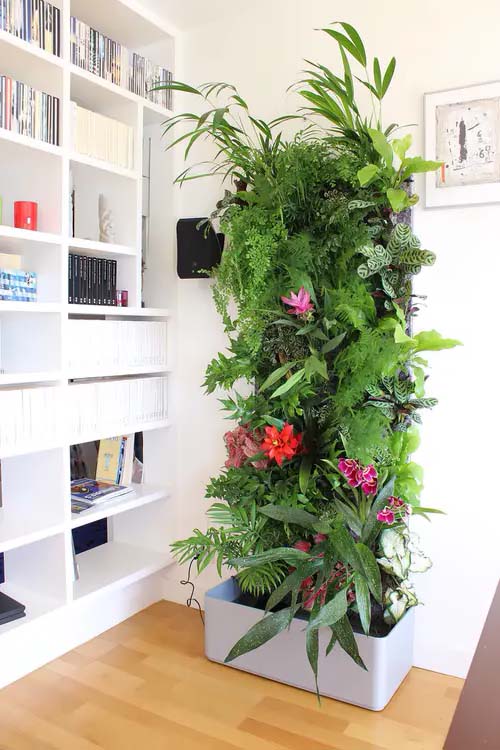 This vertical garden is of a very small footprint which makes it suitable for any space, especially corners that would otherwise look odd.
Its design features a tower with coconut lining and soil where various plants grow to add a pop of color to the space. The lining and the soil can be replaced with flower foam. In this case, flower and plant stems can be used for decoration.
5. Floral Display of Nature's Splendor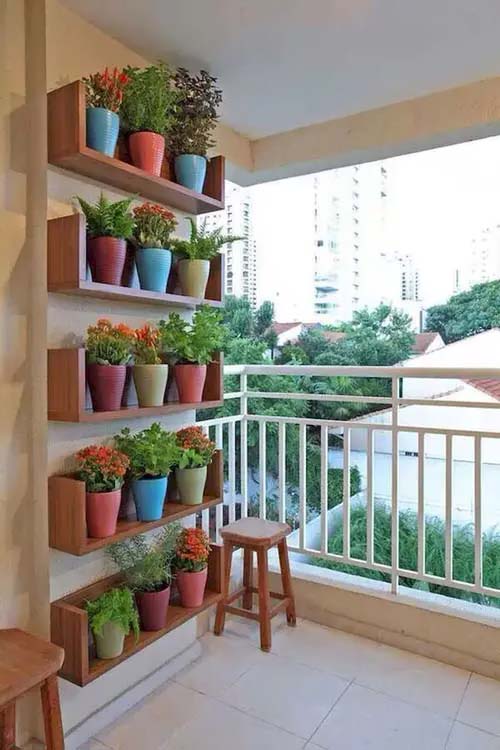 A vertical garden made of plain materials can also have a great interior impact.
Any shelves positioned along the height of a wall will give support to the plants you would like to grow.
6. Show Off Your Plants with a Stylish Pot Hanger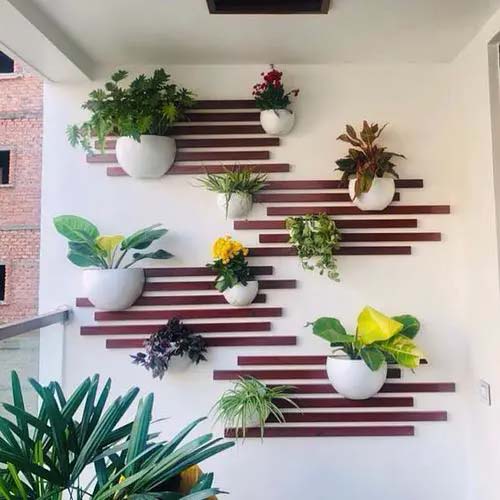 Although the designer's made this vertical garden isn't something every DIY addict couldn't do. Start with the preparation of the wooden slats.
Then align them on the wall following an attractive pattern. The pots have holes at their back which facilitate the hanging to the wooden background.
7. Bring Nature Indoors With a Breathtaking Vertical Garden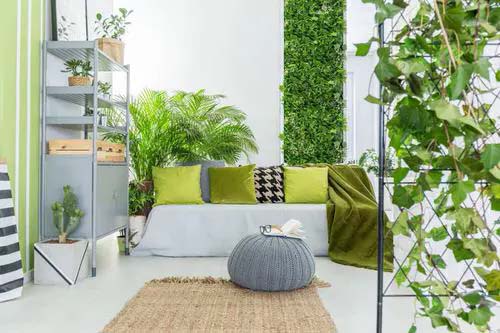 Hanging planters and modular planting systems requiring minimal assembly allow you to add lush green foliage instantly.
The different sizes and styles of these vertical gardens bring subtle elegance and an eye-catching display, transforming a living space into a more vibrant environment without dedicating much effort or resources.
8. Bring Life To Your Living Room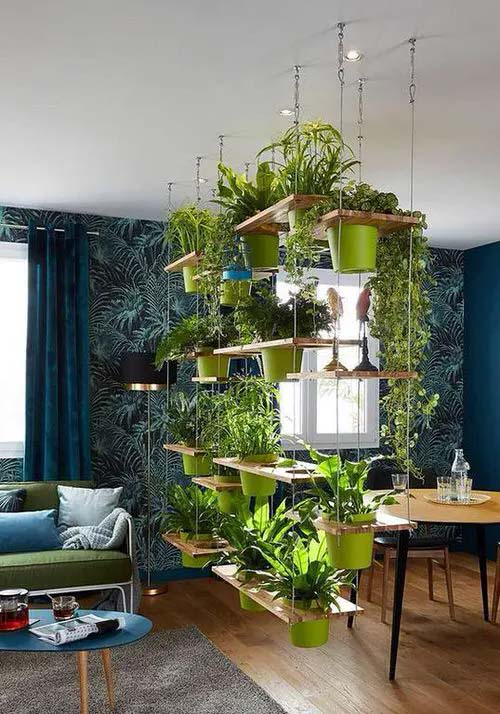 Do you have an open space in your home that needs to be differentiated into zones? Instead of a screen, make a living wall with flower pots.
The planter includes wooden shelves on tiered levels, suspended on a rope. Each shelf has a hole in which a pot is inserted into its rim. All pots and plants are identical to give the natural screen a continuous look.
9. The Easiest Way To Start Your Garden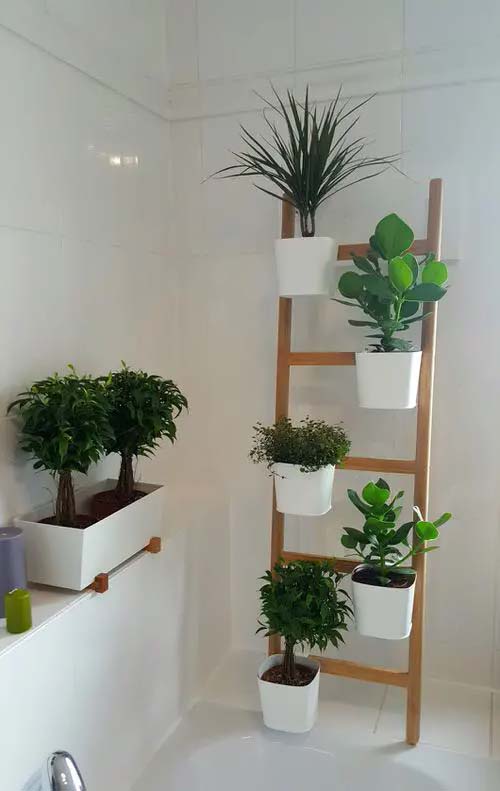 Ladders are the easiest vertical stand where you can build your vertical garden on. All you need to do is to secure the ladder to the wall or lean it against it.
The pots should be with hooks to attach them to the ladder steps.
via IKEA
10. Add a Contemporary Touch To Your Garden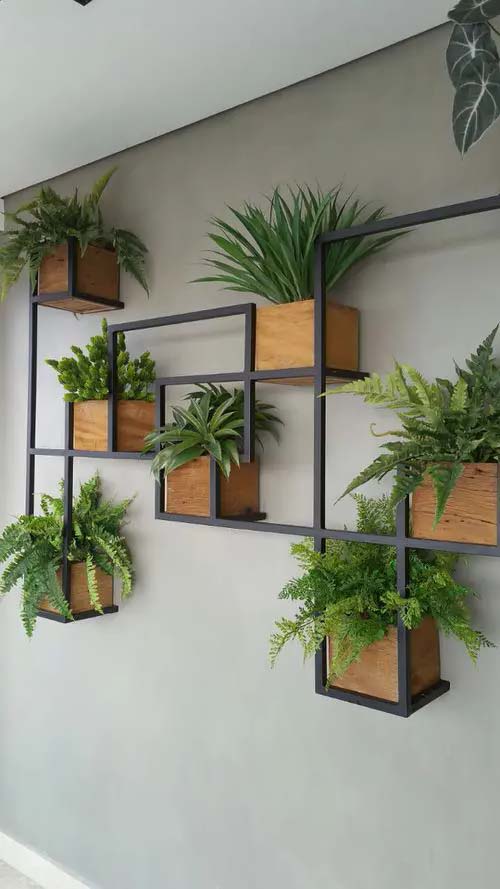 The vertical garden can be of a design that suits the existing interior and furniture.
If you have chosen the industrial look for your home, a geometrical vertical stand with supports for pots will enhance the contemporary look of the space.
11. Perfect For Any Plant Lover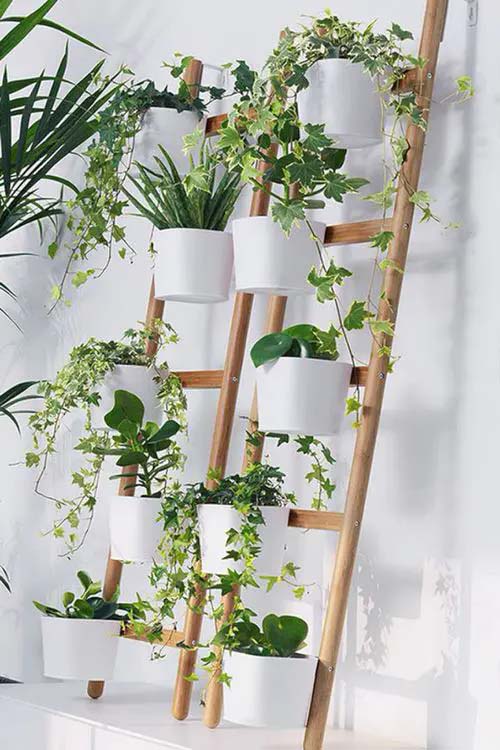 If you wonder how to decorate the empty wall above a drawer or a cabinet, choose a vertical garden, why not two?
A pair of small ladders will suit the free space and give 7 elevated levels for plants exposure.
12.  Transform Your Space With a Pallet Planter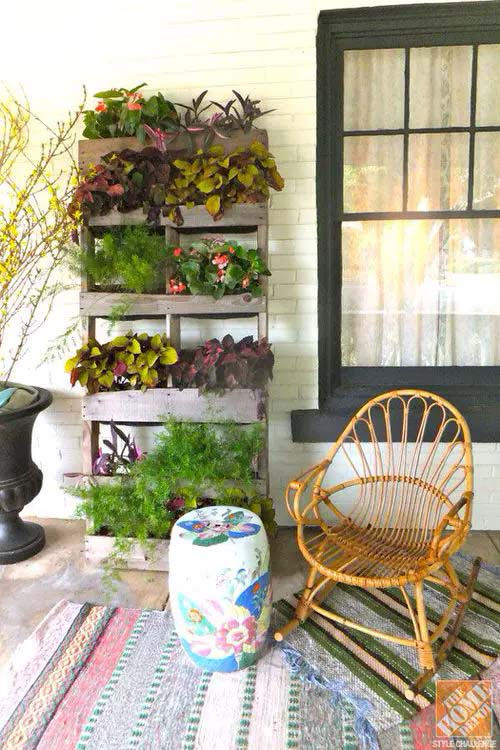 The most affordable vertical planter you can use both outdoors and indoors is the pallet planter.
Its advantages are numerous- it can be built to fit the space specifics, it is eco-friendly, it is very stable, it won't cost you any money, it will add a rustic vibe to the interior.
13. A Green Waterfall To Impress Your Guests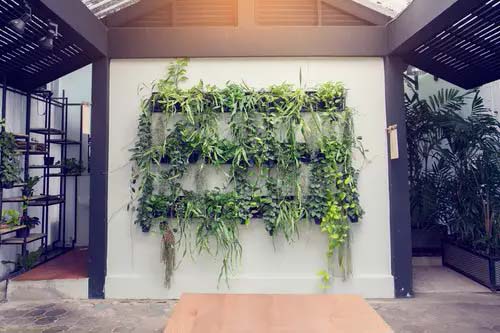 Long plant containers mounted to the wall are another way to create a magical jungle. Planted with cascading greenery, the garden looks like a green waterfall.
The best background for such an attractive garden is a blank wall where nothing could distract from the focus.
14. Hang Your Plants In Style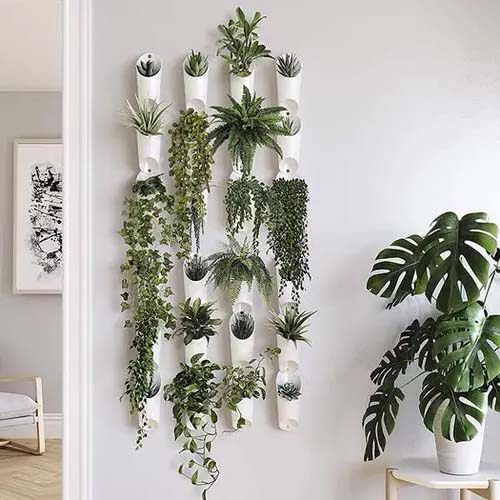 This plastic planter can fit any interior because of its modern design and glossy white color.
The pockets for the growing of plants may look small but they can easily accommodate a rooted plant. This planter could be also used as a tiered vertical organizer.
15. Add a Touch Of Greenery To Any Space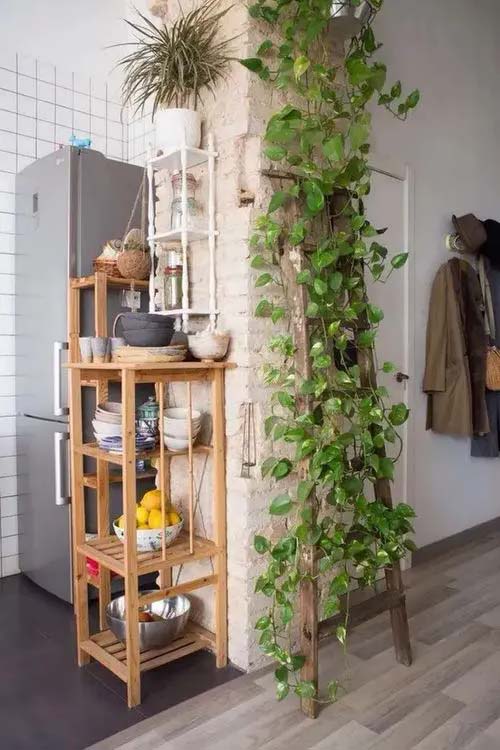 The way this vertical garden is set reminds me of a beautiful outdoor scene.
Bringing nature in such a casual way is very easy- lean an old wooden ladder against a wall and hang a flower pot with cascading plants like the Pothos over it.
In the time the plant will cover the entire ladder creating a beautiful living waterfall.
16. Wall-Mounted Plant Paradise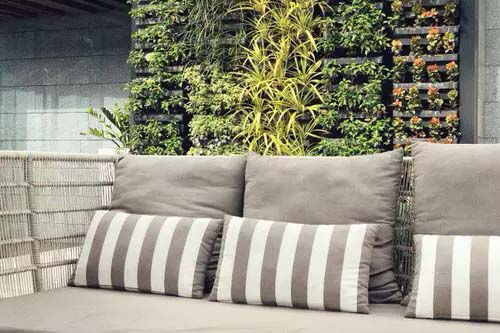 An interior with the predominance of one color can be stylish but sometimes can give an impression of a too sterile and boring ambiance.
Building a vertical wall garden will change that giving the space a pop of deep natural color, freshness and organic sleek look.
17. Get Creative With Your Pallets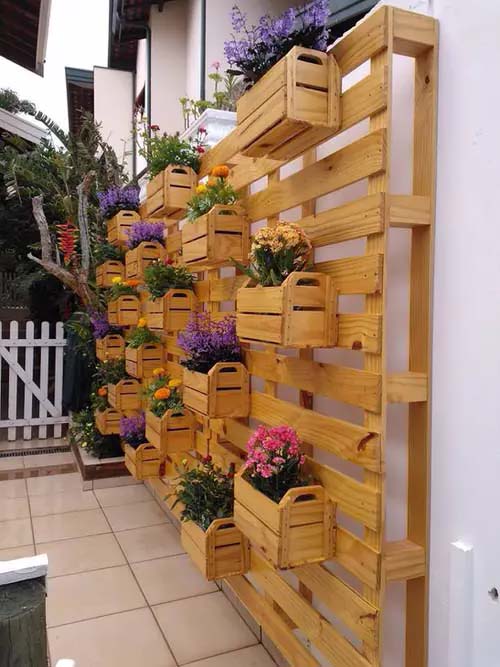 Because of the affordable pallet price and the possibility to find pieces for free, pallets are the most preferred source for DIY projects.
Building a vertical garden indoors from pallets gives the opportunity to build an entire wall and use the feature as a focal point or even a privacy screen.
Include boxes made of the same material to insert the flower pots into and give the structure a point of interest.
18. Make Your Garden Stand Out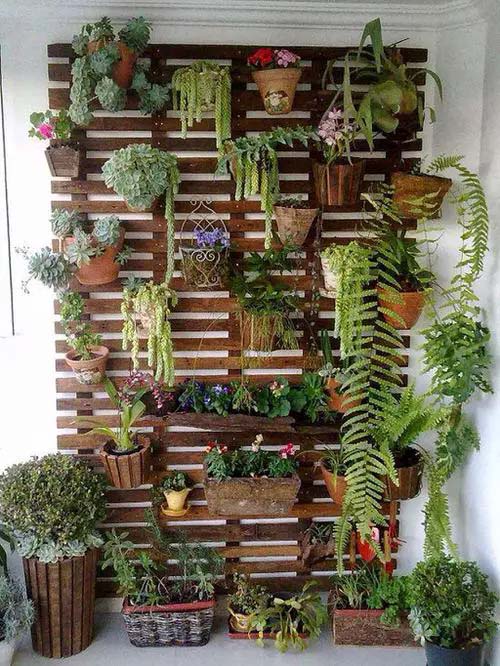 The plain wooden pallet can become a fascinating wall garden with an eclectic nuance with the help of different in size, texture and material flower pots and containers.
The pallet backdrop is well secured to a wide wall to ensure sufficient bearing capacity for the tiered plants.
19. Gardening Solution for a Small Space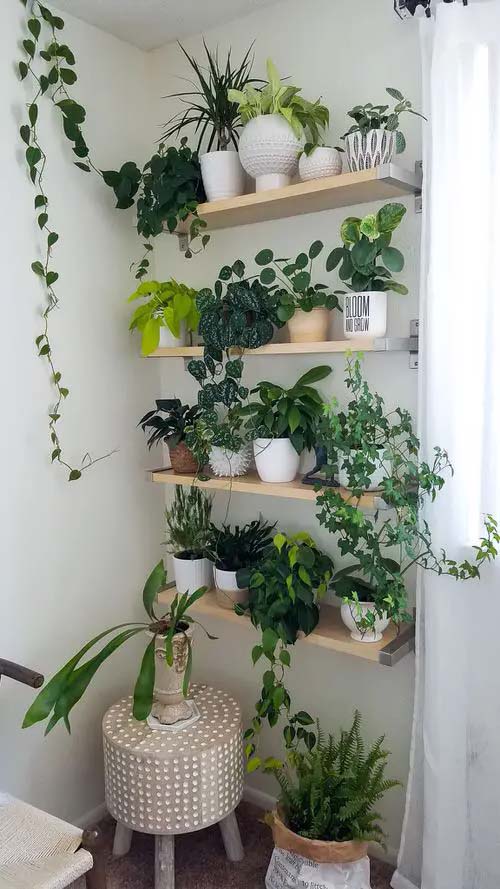 Floating shelves are an effective vertical gardening solution because they are easy to be found, they are offered in a variety of sizes, colors and materials and will accommodate safely a large amount of plants without taking any of the floor space.
20. A New Way to Garden Indoors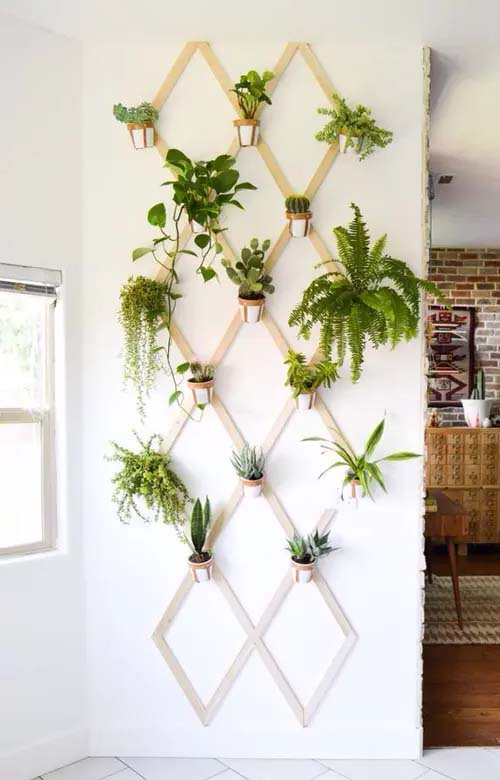 Indoor vertical gardens can be of a unique design that will become the most attractive point from your home. This one is an example of such a design that will bring nature indoors in a breathtaking way.
Are you inspired to make your own indoor vertical wall trellis? Follow the tutorial below.
via Vintage Revivals