Wind chimes are adorable outdoor decorations! They create a relaxing sound and can really brighten up the outdoor space when created in a whimsy design.
If you don't have one (or two at least) wind chimes on the porch or in the garden, then it is time to make your special wind chime inspired by the collection of 25 DIY Wind Chimes here!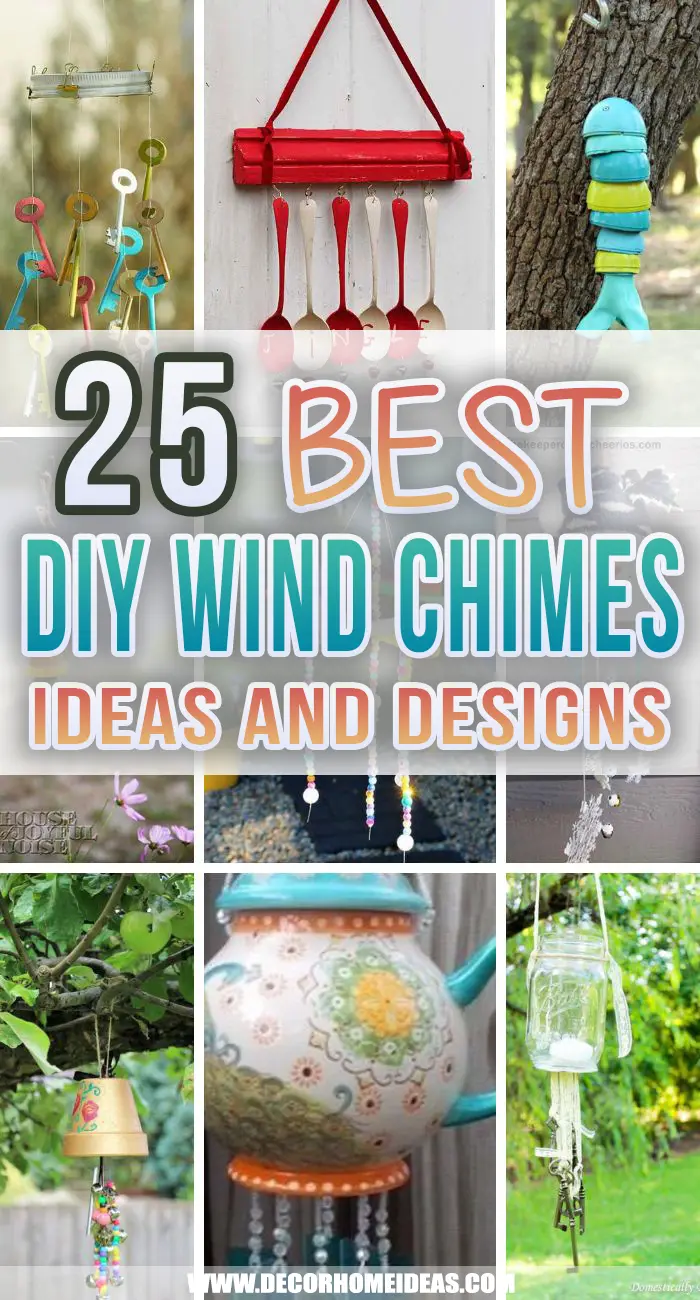 1. Wind Chime With Metal Gears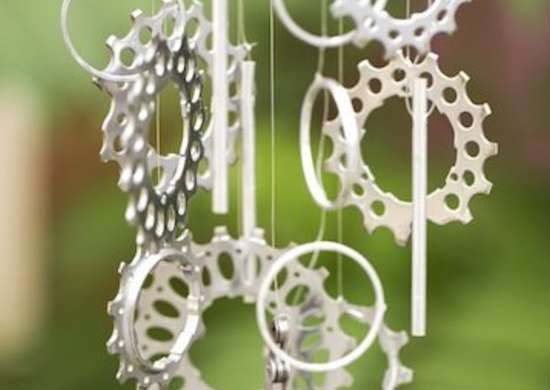 For this wind chime idea, you need metal trinkets in the shape of rings and gears. For an eye-catching look, choose items in one metal color. You can choose from a silver coating, a golden finish or a copper one.
Hang each trinket on a clear cord length aiming to achieve a staggered pattern. A larger gear could be used as a base or another vintage ornament that will match the vintage shape of the gears.
2. Teapot Wind Chime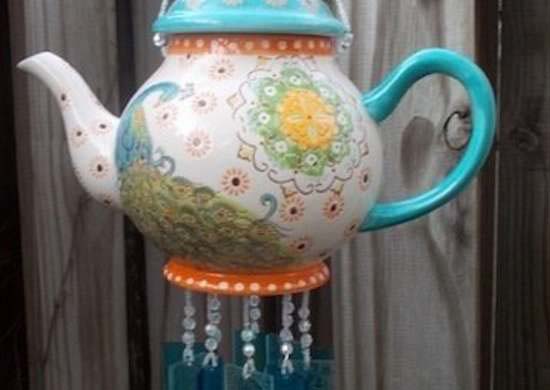 This is a great upcycling idea that will turn a special teapot into a functional outdoor décor feature.
For the dangling ornaments, you can use pearls or glass beads that will match the shabby chic decoration of the pot. String them on the fishing line and then add flat glass pieces to the bottom of each length.
3. Snowman Wind Chime From A Clay Pot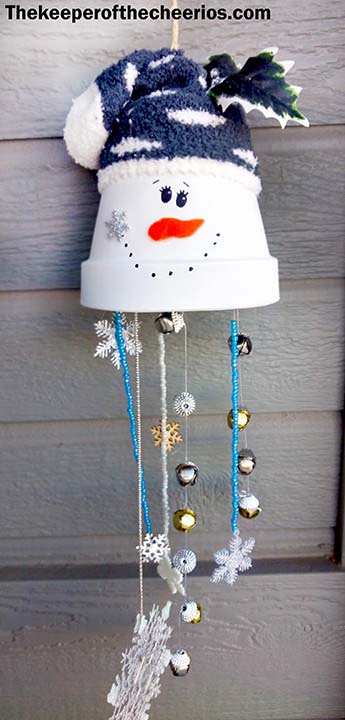 Wind chimes are all-season-friendly decorations! In the summer you can make a feature from seashells, in spring, you can see colorful wooden beads. The autumn outdoor décor can be varied with a wind chime with dangling wooden or metal leaves.
This idea focuses on an idea perfect for the winter holidays. A clay pot is transformed into a smiley snowman face with paints and a felt nose.
The tinkling sounds are produced by jingle bells strung onto a fishing line decorated with tiny glass beads in white and blue.
4. Key Wind Chime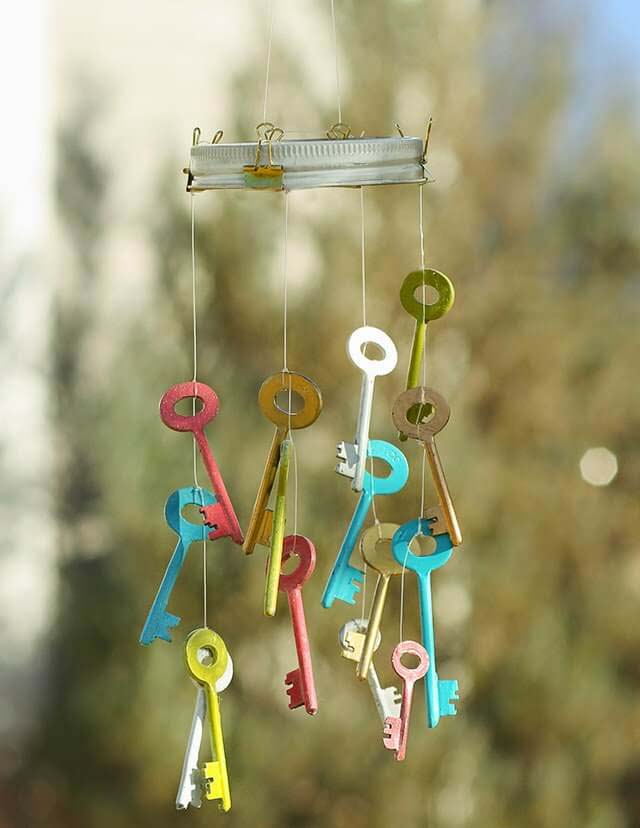 In case you have a collection of old keys, you can repurpose them into a wind chime decoration. When metal parts make a contact, they create a relaxing sound that can be used for a DIY wind chime project.
Choose the color palette for your wind chime- one identical and bright color for all keys or a rainbow from keys?
Use a Mason jar lid as a base or any other round piece that is stable enough to support the corded keys.
via Oh So Lovely
5. Bright Bottle Metal Caps Wind Chime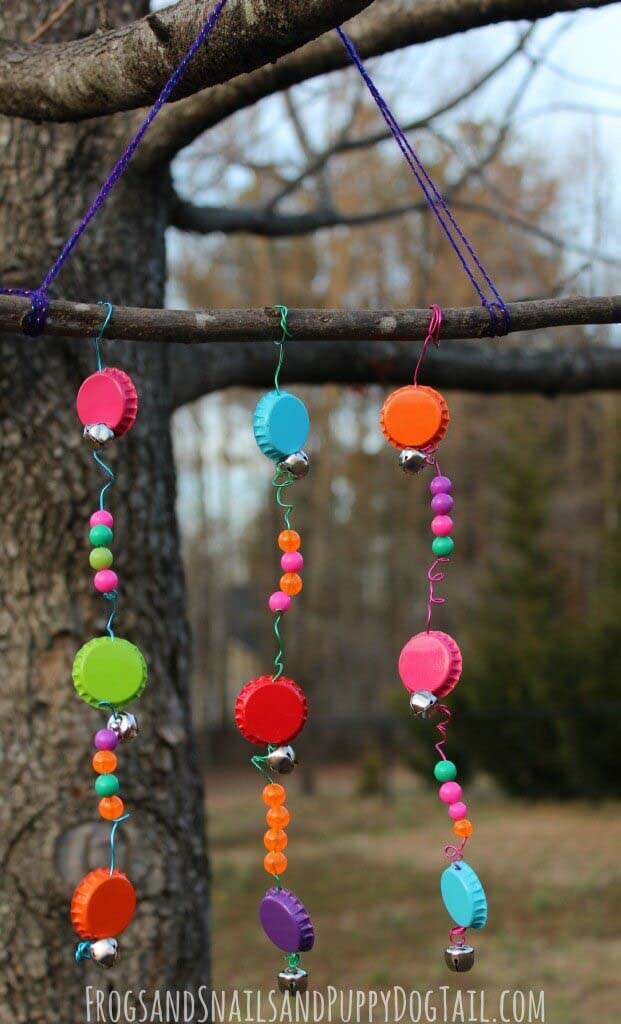 This trash-to-treasure wind chime idea is a great family project for the weekends! Prepare metal bottle caps, paints, glass beads, jingle bells and a cord to string them.
The colorful dangling pieces can be tied to a branch or to another reclaimed piece.
via Frogs Snails and Puppy Dog Tails
6. Vintage Romance Wind Chime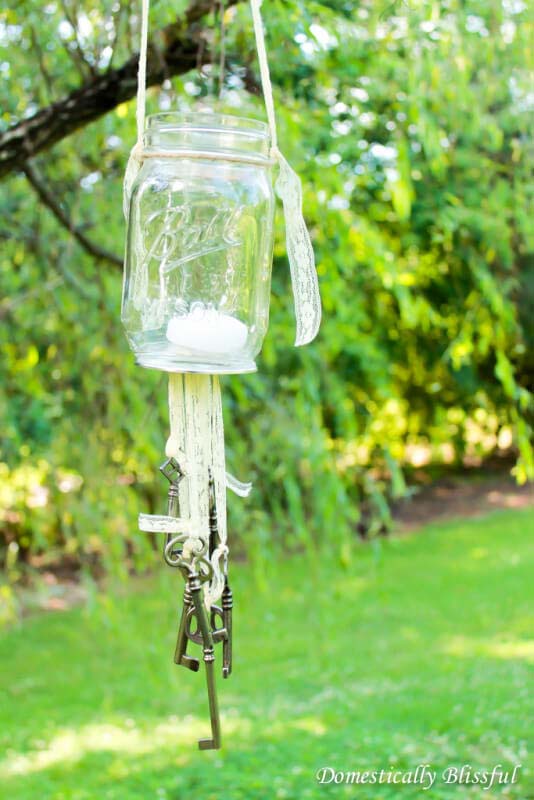 This wind chime idea looks gorgeous and it can be part not only of the normal outdoor décor but also turned into part of the decoration for an outdoor party.
It features a combination of a glass jar, lace lengths and vintage metal keys. You can add a votive in the jar to use the chime to set a whimsy atmosphere at night.
7. Macrame Wind Chimes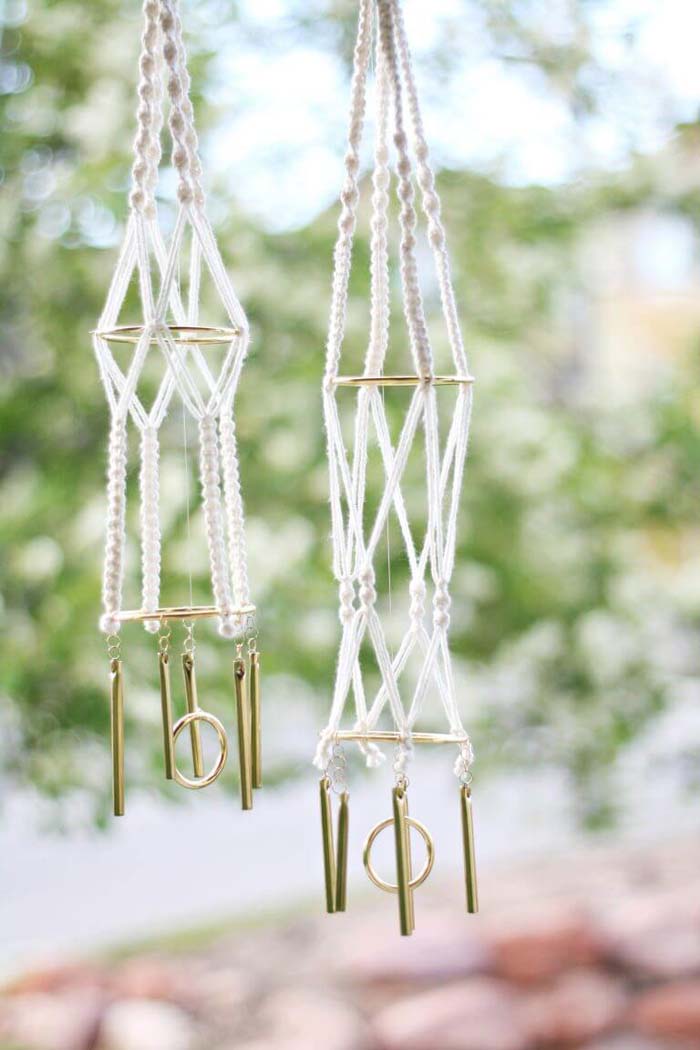 If you have already tried a macrame project, then you are ready for this wind chime idea!
Metal hollow bars and rings are attached to yarn support and woven in a beautiful pattern.
The combination of golden metal parts and white yarn gives the wind chime a unique rustic look that matches the natural landscape of the garden.
8. Coastal-Inspired Wind Chime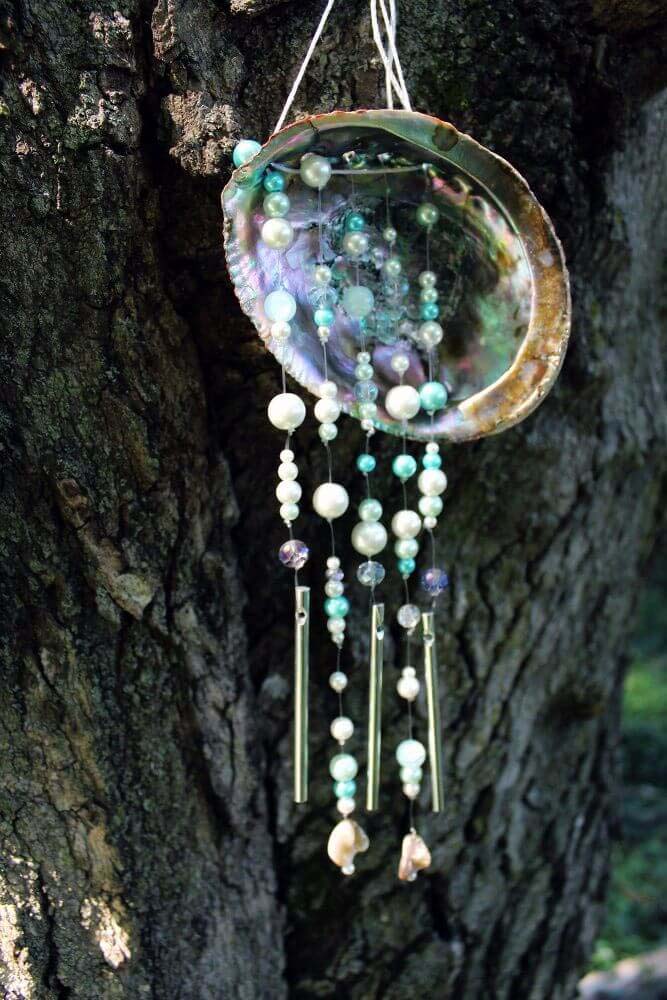 This wind chime idea is perfect for giving the outdoors a cute coastal touch in the summer season. Getting the supplies can be turned into a family fun adventure! Go to the coast and gather tiny sea snail shells and the biggest shell you can find.
Visit the Dollar store where you can get faux pearls and glass beads and take a package of each. A clear fishing line works best for this DIY wind chime idea because it lets the ornaments stand out.
The number of beaded strands depends on the width of the shell base. Add wind chime tubes to a few of the strings, adding a musical function to the beach-inspired decoration.
9. Flower Pot And Beads Idea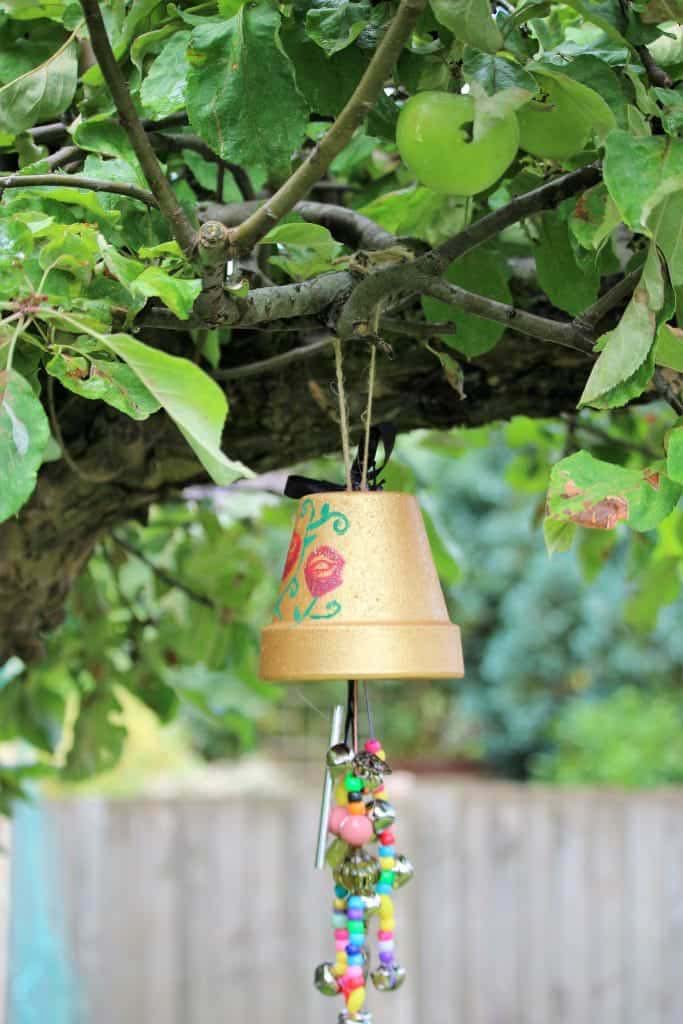 This is one of the most cheerful and easy wind chime ideas! All of the supplies are easy to find. You need one terra cotta pot, a package of jingle bells and beads.
The final look of the pot is up to you. You can paint it or seal a floral decal on it to give it an enhanced garden look.
via Thimble and Twig
10. Sea Glass And Drift Wood Wind Chime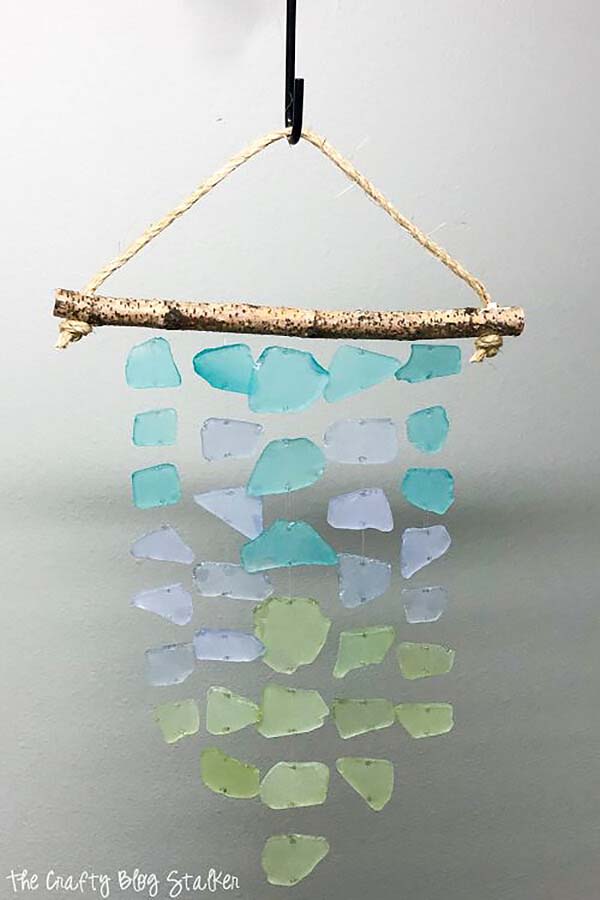 Another way to welcome the coast to your garden is featured in this amazing sea glass wind chime idea.
The pieces can be collected from the beach. If you don't live near the coast, you can buy a package of sea glass from a craft store.
Decide the pattern of alignment and the color sequence and create an art piece that will collect the sun's rays and will produce lovely tinkle sounds.
The best base for this beach-inspired piece is a piece of driftwood. Nevertheless, you can replace it with another interesting stick that can complete the look.
11. A Garden Closed In A Jar Wind Chime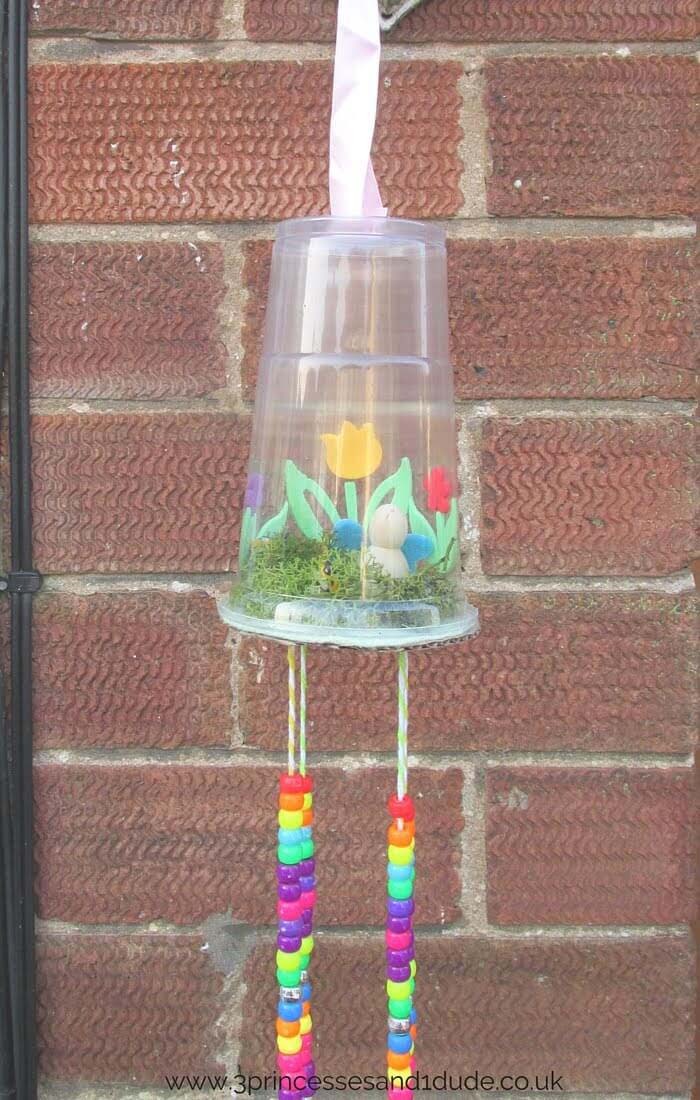 This wind chime idea is perfect for a DIY project for kids. The piece is created to complete the Easter décor outdoors but it can be modified to look more universal.
Ask your kids to draw and cut from felt flowers. Provide them with a plastic cup with a lid and let them create their own fairy garden on the inside of the lid. Some moss, eggs and tiny figures are welcomed in the whimsy small world.
The strands can be created with wood, plastic or glass beads strung on yarn or rope.
12. Chain Of Hearts Garden Mobile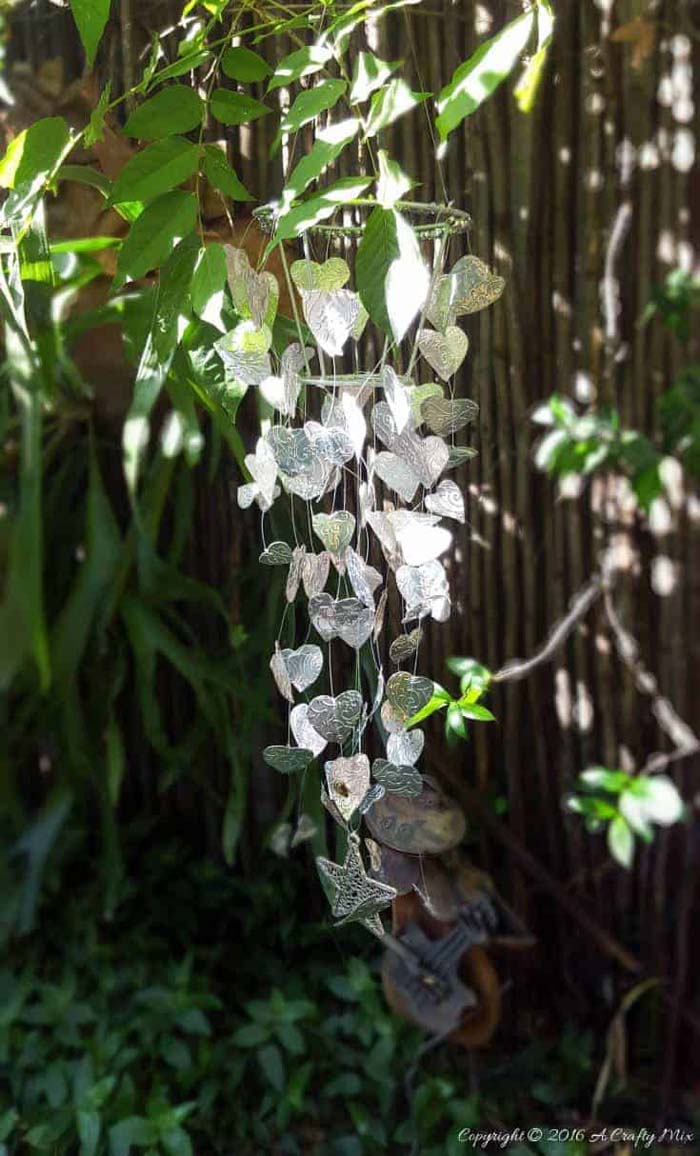 This wind chime idea is fantastic because it acts also as a sun catcher. The foil surface of the hearts reflects every ray and transforms it into a playful shade.
As the wind whips through the strands, you will hear a gentle tinkling sound produced by the metal surfaces.
via A Crafty Mix
13. Tiered Terra Cotta Pots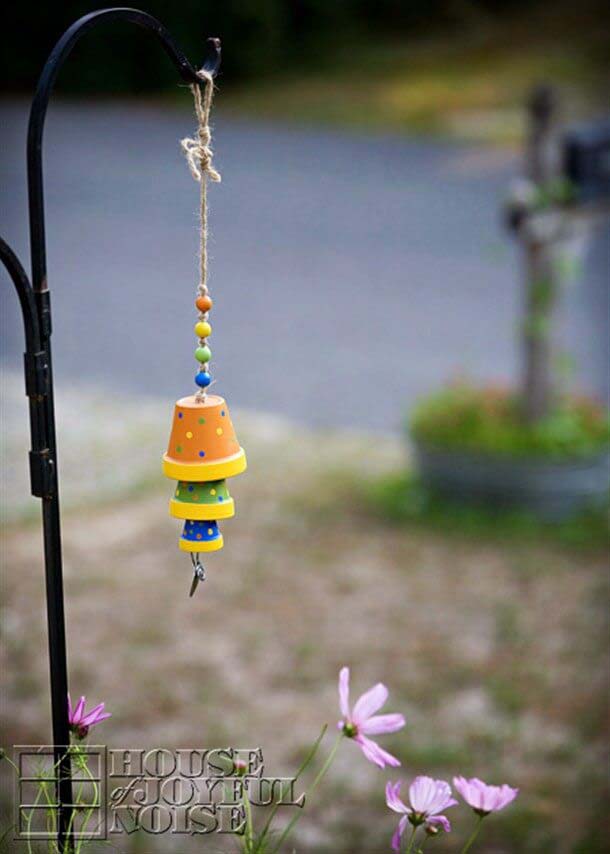 This cheerful wind chime idea will produce lovely sounds when the wind blows and will create a catching interest in your garden.
It consists of three terra cotta pots in descending sizes. Together they are strung on a piece of rope leaving a small distance between each pot. This space will ensure that the pots get in contact when there is air movement.
Each pot is painted a different bright color but all together they are united by the sunny yellow color of the rims and the playful polka dots.
14. Upcycled CDs Turned Into A Wind Chime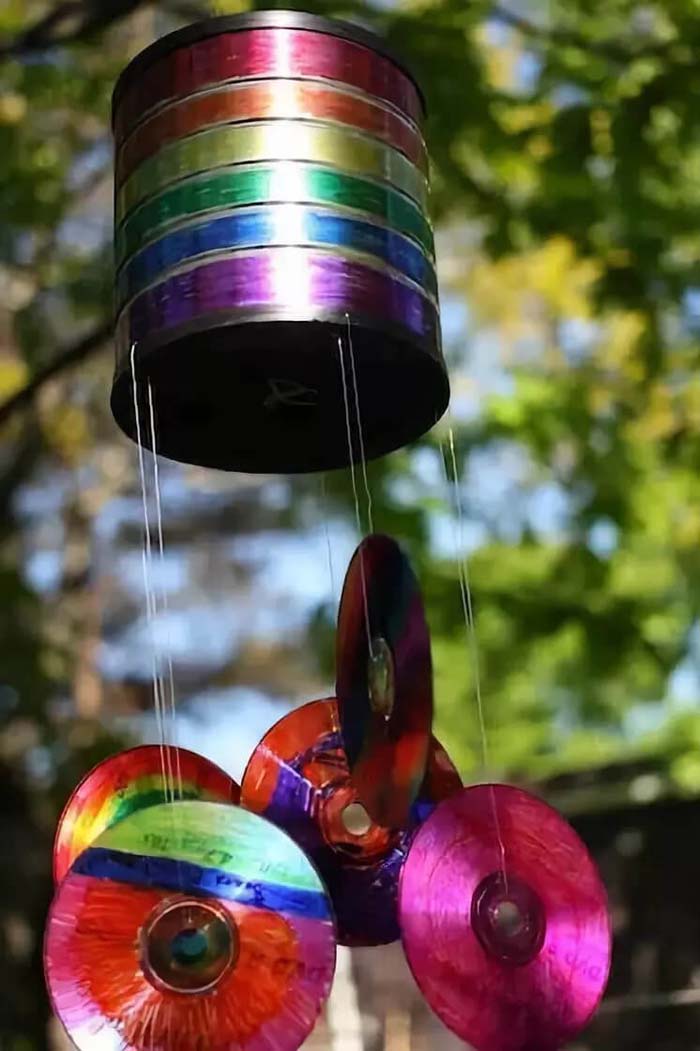 This is an interesting DIY idea that includes unused CDs and their holder in a unique outdoor wind chime.
You can leave the pieces in their original look and watch their surfaces change their colors as they reflect the sun's rays or paint them with markers.
The round shape of the CDs makes the wind chime very intriguing because of their spinning movement when the wind blows.
via Happy Hooligans
15. Colorful Popsicle Star And Beads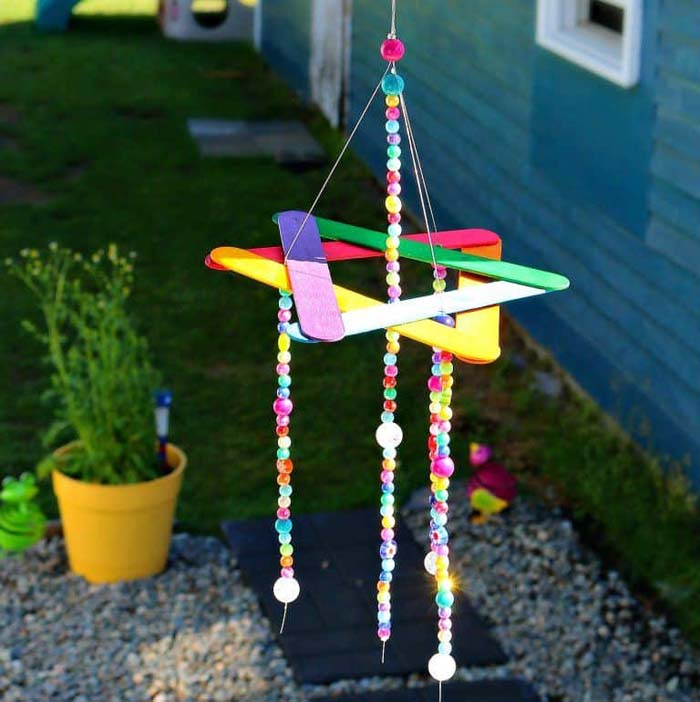 Looking for a way to keep your kids busy with a meaningful activity? This wind chime idea is perfect for that purpose!
On the one hand, the supplies are kids-friendly, on the other- the final result will be enjoyed by the entire family.
16. Metal Washers Turn Into Colorful Wind Chime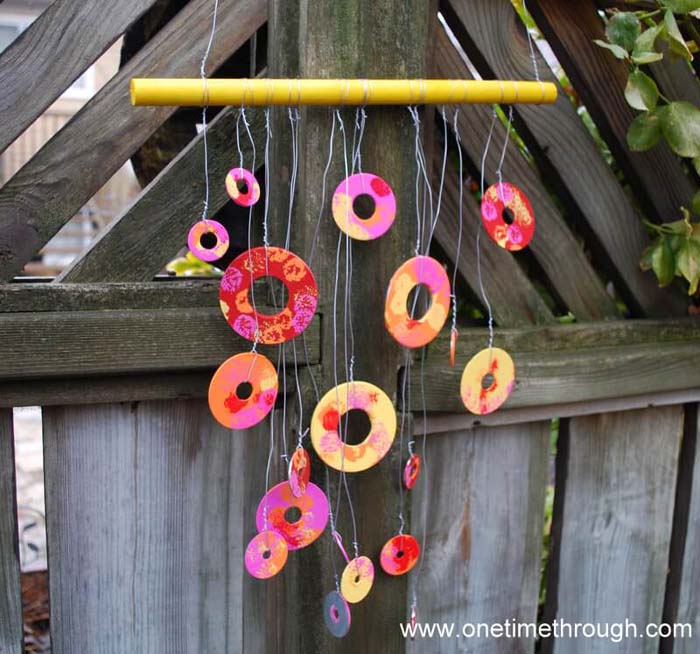 Wind chimes can be made literally from every metal piece that you have on hand and this DIY idea proves it!
Washers that you have saved once become colorful ornaments of a handmade wind chime.
The more they vary in size, the greater the visual interest will be. Align them in descending order or alternate bigger with smaller washers.
To make the metal finish garden friendly, you can even paint the washer surfaces in vibrant colors that will enhance the cheerful outdoor atmosphere.
via One Time Through
17. Fun Recycled Water Bottles Wind Chime Idea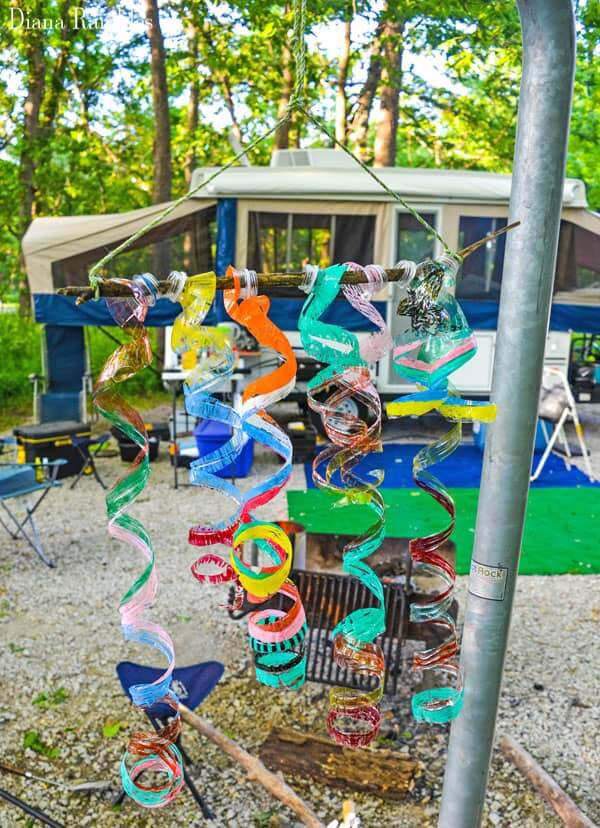 If you want to teach your kids about recycling and its benefits, you can show them this wind chime idea.
The DIY project can be turned into a game. Each strand is made from one plastic bottle.
Cutting the bottles into spirals should be done by an adult but the rest can be left for the kids. Each plastic spiral should be painted with the favorite colors and patterns of the kids.
They can make polka dots, stripes, a rainbow pattern. The neck openings are used to string the pieces onto a branch.
via Diana Rambles
18. Traditional Wind Chime Idea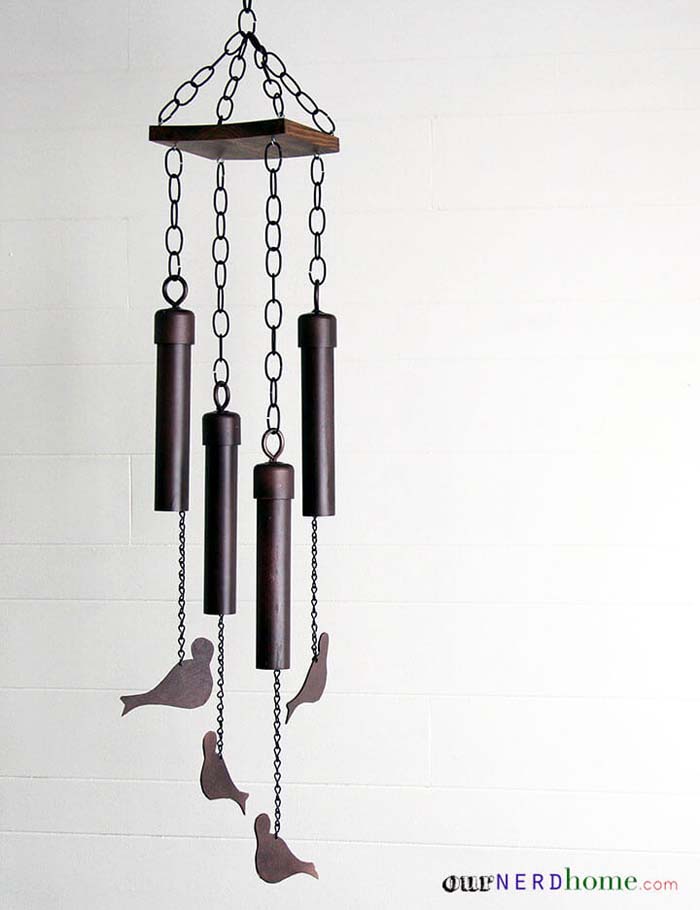 This appealing wind chime idea requires a wind chime kit with bamboo tubes. The rest of the parts can be supplied from regular stores. The chain from a hardware store, the birds from a craft store. The base can be any piece of reclaimed wood you already have on hand.
To give the parts an identical look which will ensure an appealing final result, spray paint all of them in one color.
The final result is an elegant outdoor feature with an industrial look that will spread relaxing sounds in the air.
via Our Nerd Home
19. Christmas-Inspired Wind Chime Idea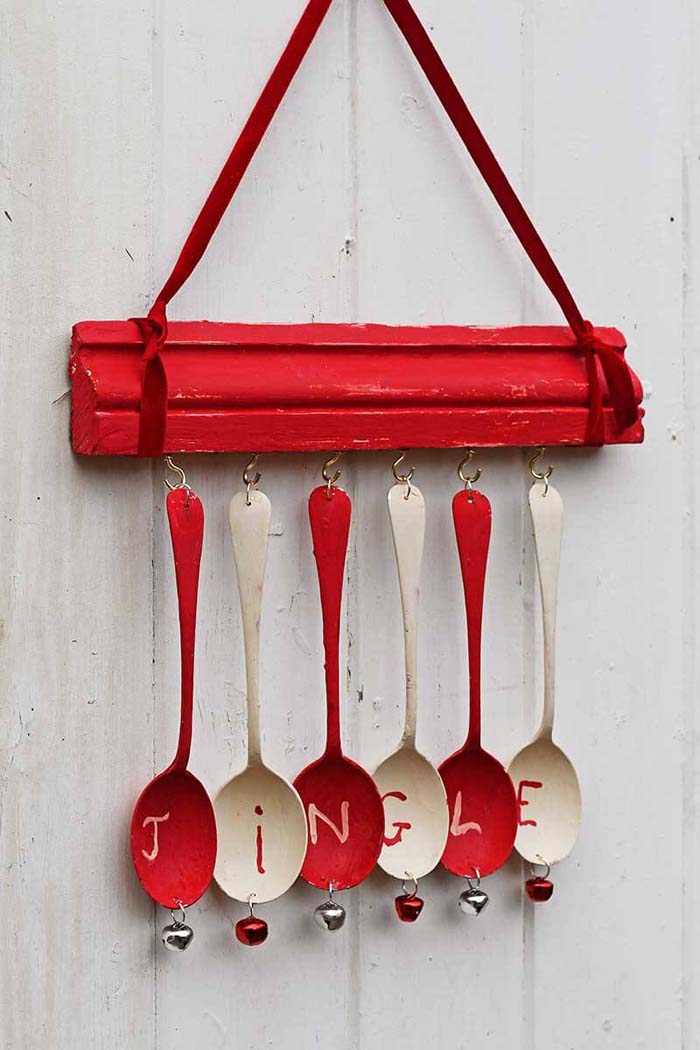 Looking for a cheerful outdoor décor for winter? This wind chime idea welcomes winter wind and the Christmas spirit!
Making it is fun and easy as long as you have extra metal spoons! Paint half of them red, the other half white. Drill holes on both ends of it to ensure attaching to the wooden base and the addition of a jingle bell.
To make the piece more festive, write a letter on each spoon, forming the word "jingle".
via Pillar Box Blue
20. Fun Dollar Store Supplies Wind Chime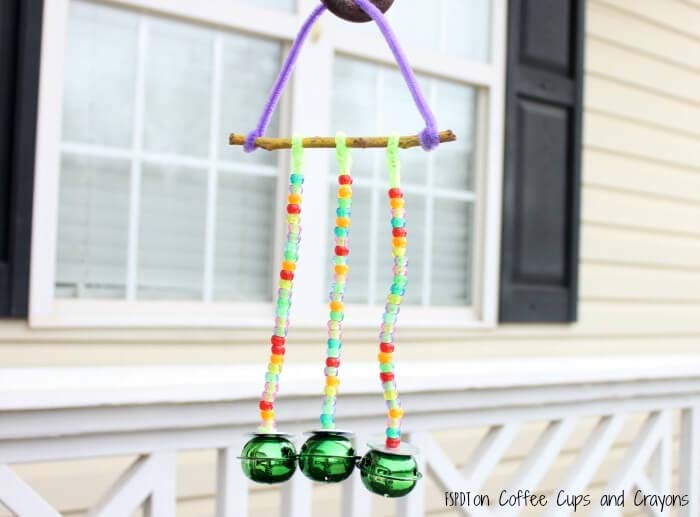 This is another easy DIY wind chime idea and it is also kids-friendly! If they enjoy home projects, this is something they can do with their own hands and only for an hour.
The strands are made from beaded pipe cleaners. One of the ends is woven into a short stick, the other one into a jingle bell.
One last pipe cleaner should be shaped into a triangle to ensure the hanging of the chime to the porch or to a tree.
21. Ocean Treasures Repurposed Into Wind Chime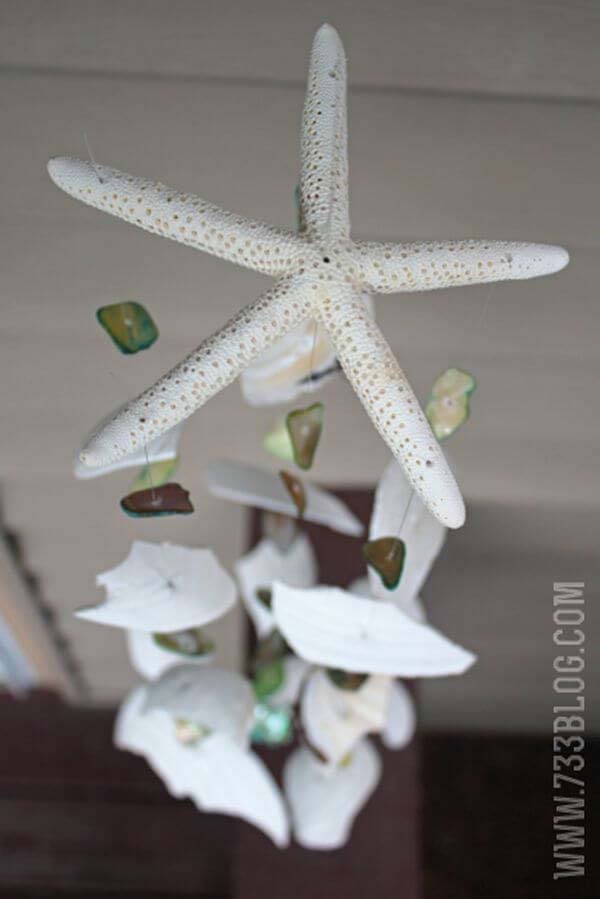 In case you have a big collection of seashells gathered during your vacations at the coast, here is an interesting idea of how to utilize them in an appealing outdoor décor.
The chime consists of a large starfish base from which strands from a fishing line with shells dangle down.
You can add glass beads, sea snail shells, and tiny driftwood pieces to complete the beach vibe of the art piece.
22. Upcycled Easter Eggs Wind Chime Idea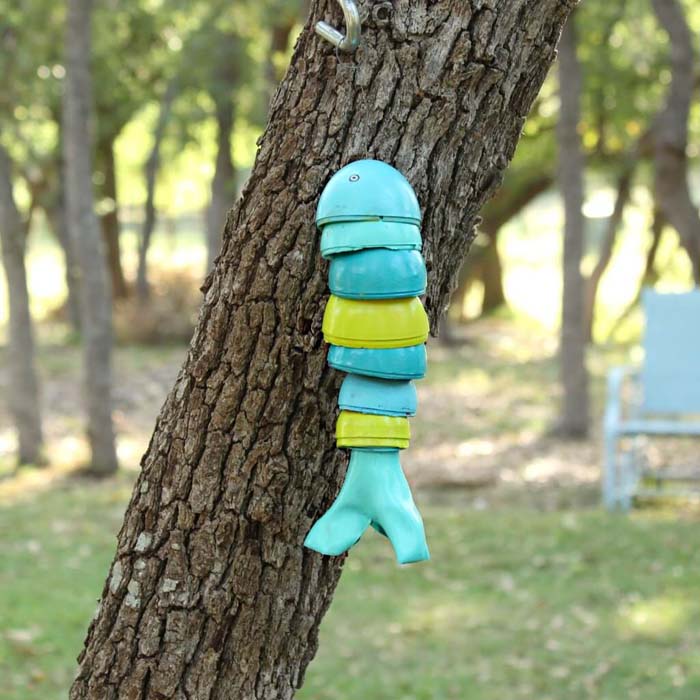 The plastic eggs from the Easter décor can be easily upcycled into a universal outdoor wind chime. To make it, split the halves of the eggs first and then drill tiny holes into the center of each piece.
Arrange the pieces in descending size to mimic a fish shape.
Using eggs of different colors will be great because this will enhance the visual interest of the wind chime.
via Morena's Corner
23. Mother-Of-Pearls On Fishing Line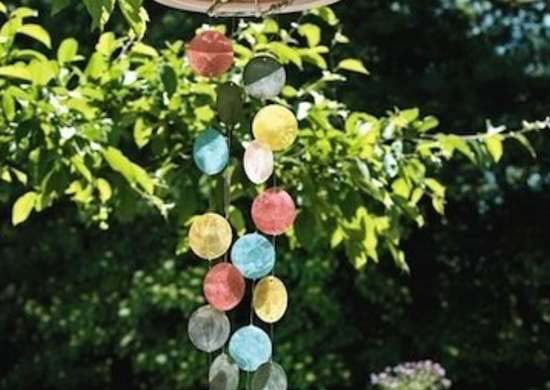 Another beach-inspired project uses a craft package with mother-of-pearls, a fishing line and a terra cotta pot. The thin rounds are tied to preliminarily cut clear lines in an eye-catching color pattern.
The formed strands are then tied to the holes on the rim of the pot. When the wind blows, they will create a playful tinkling sound.
via My Home Style
24. Colorful Pencils Turned Into Wind Chime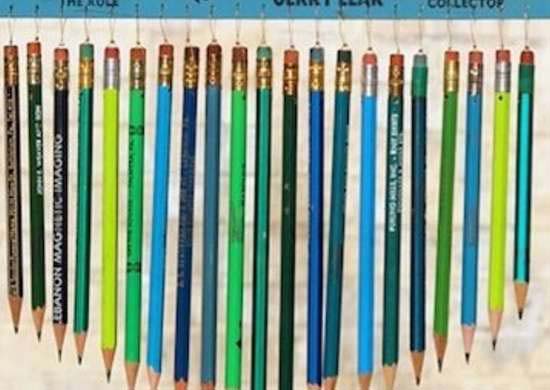 This wind chime idea is very interesting because it pulls together pieces that are very rarely used nowadays.
An old metal ruler acts as a base for plain pencils arranged in a symmetrical pattern with metal hooks.
via Design Sponge
25. DIY Upcycled Wind Chime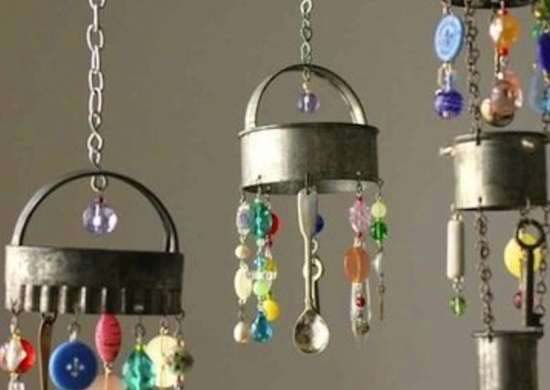 This wind chime idea is the perfect decoration for a farmhouse porch! It features the whimsy transformation of metal cookers, vintage spoons and various buttons into wind chimes.
It is fun to make it and enjoyable to watch and hear its tinkling sounds when the wind blows.