When you own a hot tub, you want to be able to enjoy it without worrying about who can see you.
When it comes to increasing your privacy, there are more options available than you might think. The best hot tub privacy solution will be different for everyone.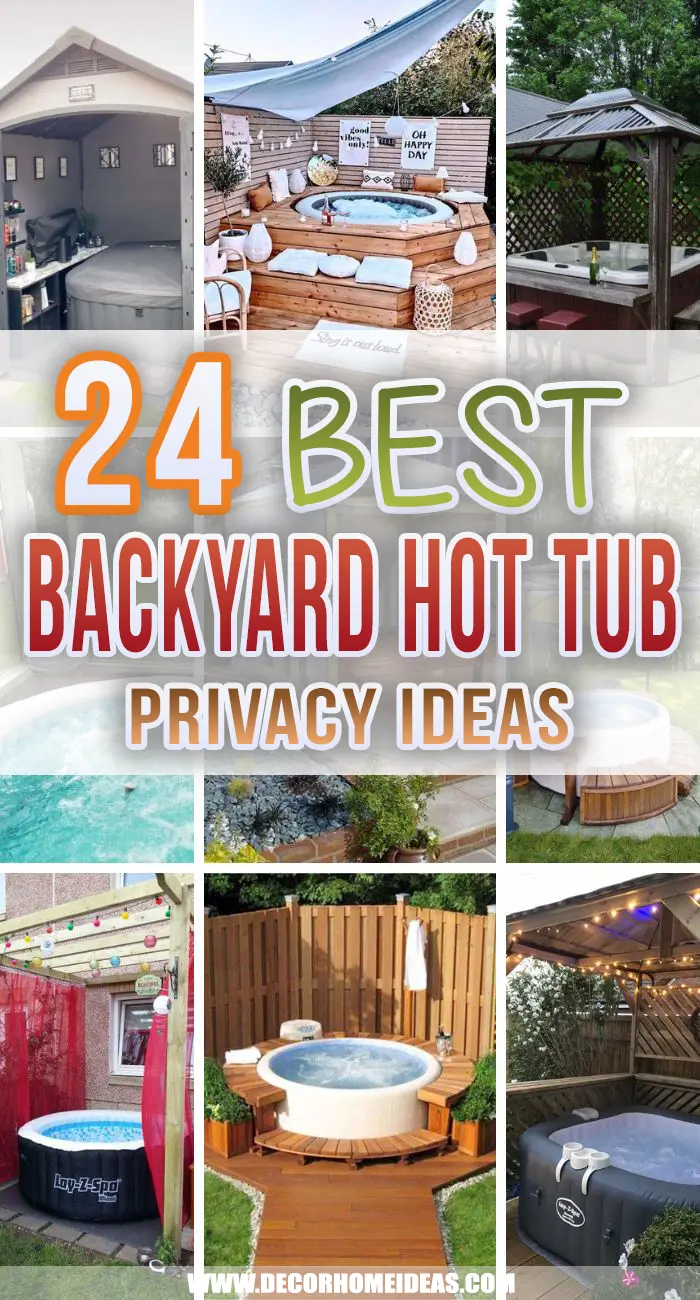 Here are some backyard hot tub privacy ideas to help you keep your hot tub private.
1. Garden Shed Variety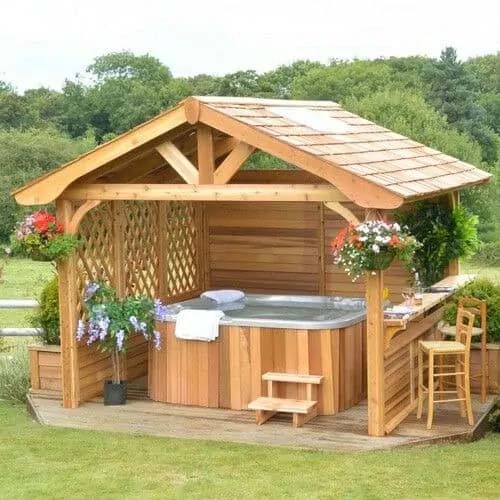 This free standing gazebo is typically found at a large hardware store like Home Depot as a garage for a riding lawn mower. To open up the space, remove the horizontal planks as needed.
A bar is set up on one side, and the opposite side has a trellis and planter boxes. This allows cool breezes to flow through.
2. A Round Surround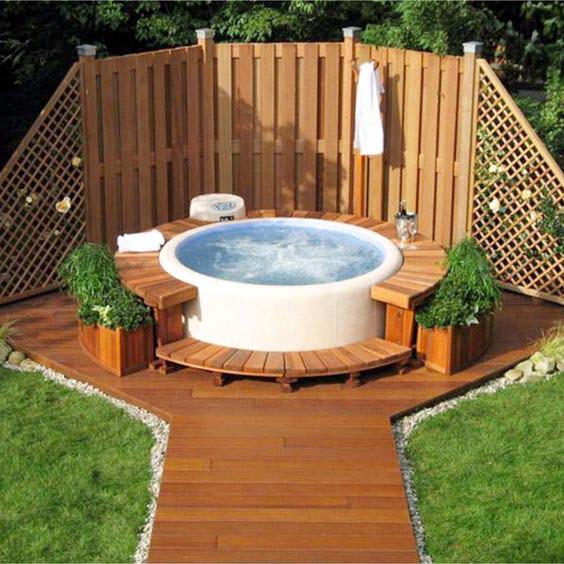 Here is a great hot tub enclosure idea for an open backyard. A privacy screen is built using three sections of standard fencing. It's finished with lattice screens.
A walkway was from deck lumber. The same deck material was used for the bench surround and planters.
The look is typically found in landscaping design that divides a yard into separate entertainment sections such as a grill area, dining area, and a fire pit area.
3. Go Gray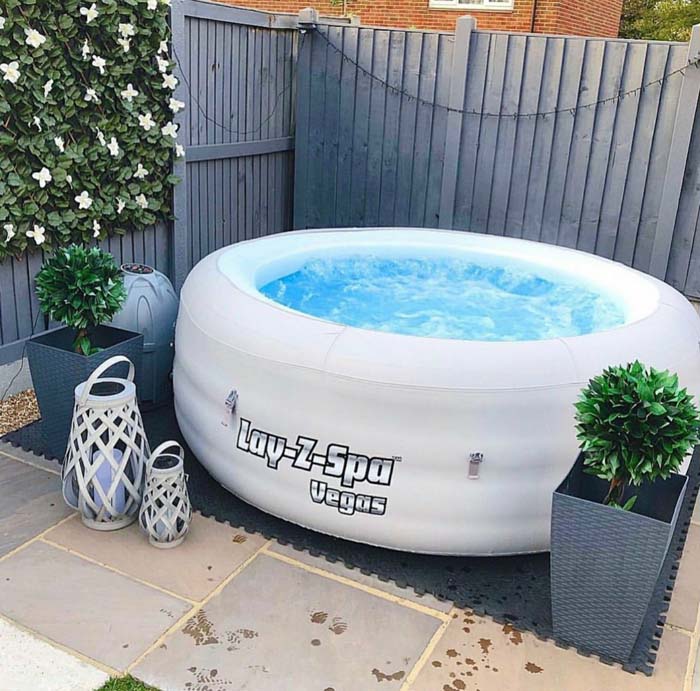 An easy way to keep a clean looking hot tub area is by going monochromatic.
The privacy screen and planters are painted charcoal gray. We like the idea of protecting the inflatable hot tub by placing it on interlocking rubber tiles like those found in a gym.
4. Glamping Inspired Hot Tub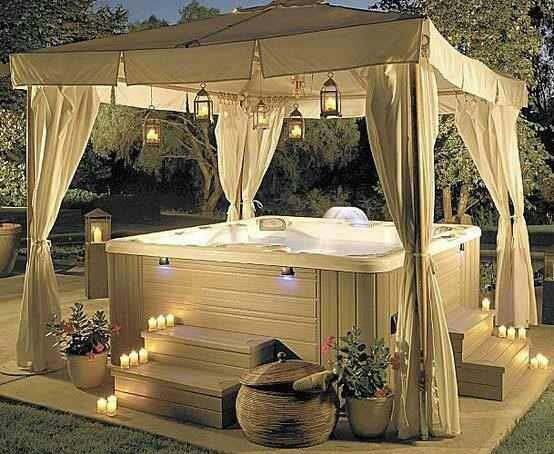 This hot tub looks like a glamping oasis. It's set under a canopy with curtains that can be untied for privacy.
All the lights can be introduced to the space safely with the use of battery-operated LED lamps. The patio heater on the side is a nice touch for added warmth.
5. Metal and Wood Gazebo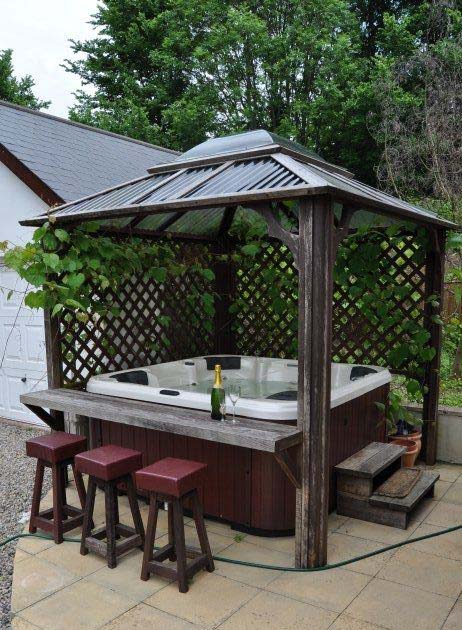 It's easy to add lattice screens onto a free-standing pergola. This setup is made easier by positioning it on a level surface.
Trailing Botanicals softens the look while increasing privacy. Old stools and lumber can be repurposed to create a rustic bar.
6. Iron Gazebo and Canvas Canopy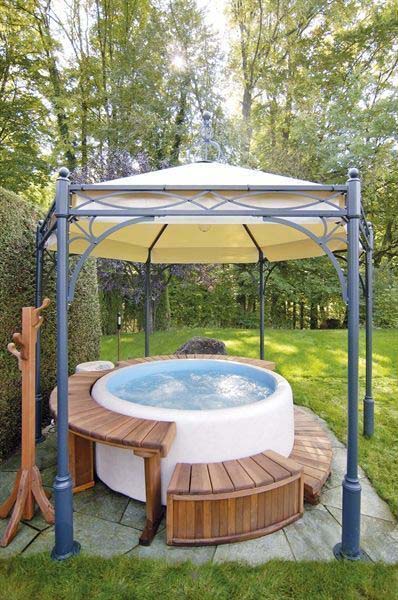 An iron gazebo holds up a canvas canopy, bringing an antique English garden look to the yard. A tall hedge is a natural privacy screen.
Check out our tutorial on how to make the hot tub deck and surround.  Perhaps you'll be inspired to share your own backyard ideas.
7. Outdoor Bathing Beauty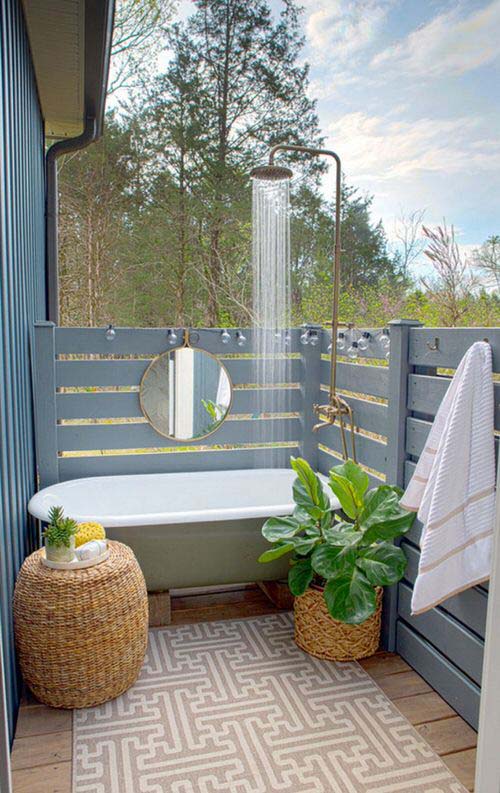 If you're fortunate enough to live in an area where the neighbors are out of sight, you can build a bathing area on your deck.
Full plumbing allows the homeowners to enjoy nature with a soak in a standard tub or a shower with a rainfall shower head. Hanging a string of lights from them creates a heavenly hot tub experience under starlight.
8. Modern Concrete Outdoor Tub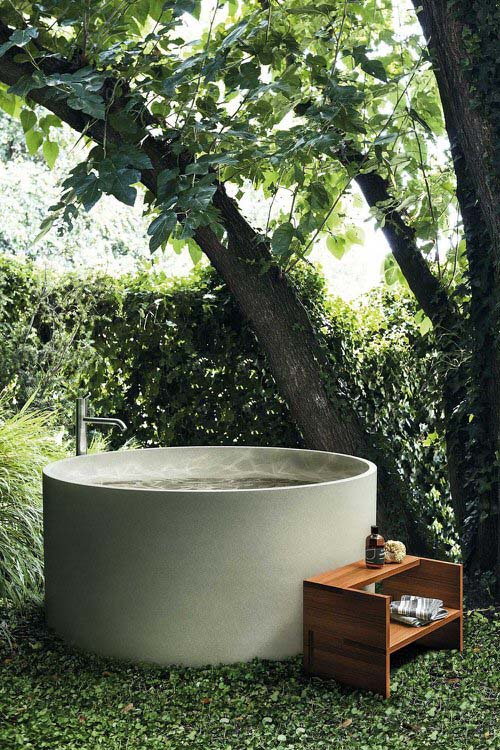 Hot tub landscaping doesn't have to be complicated. A beautiful concrete bathtub with modern flair lets you enjoy nature in style.
This tub was specifically designed for outdoor use. You can have it made in a variety of cement dye colors.
9. Hot Tub Cover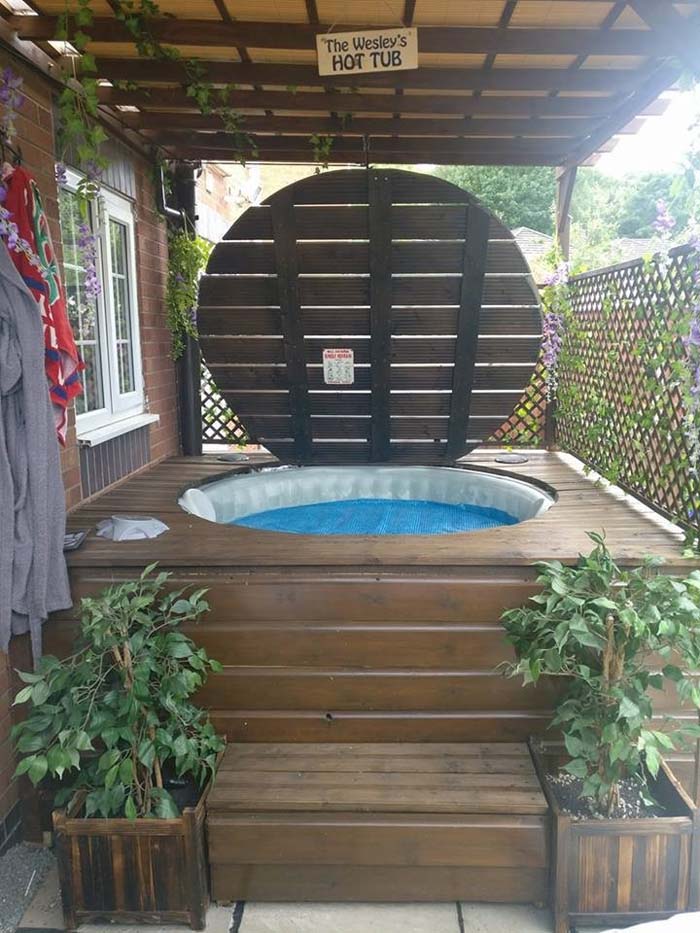 A covered spa acts like a deck when not in use. It makes water care easy. Lattice screens and a pergola with a canopy add privacy.
via Lay Z Spa UK
10. Build High and Low Fences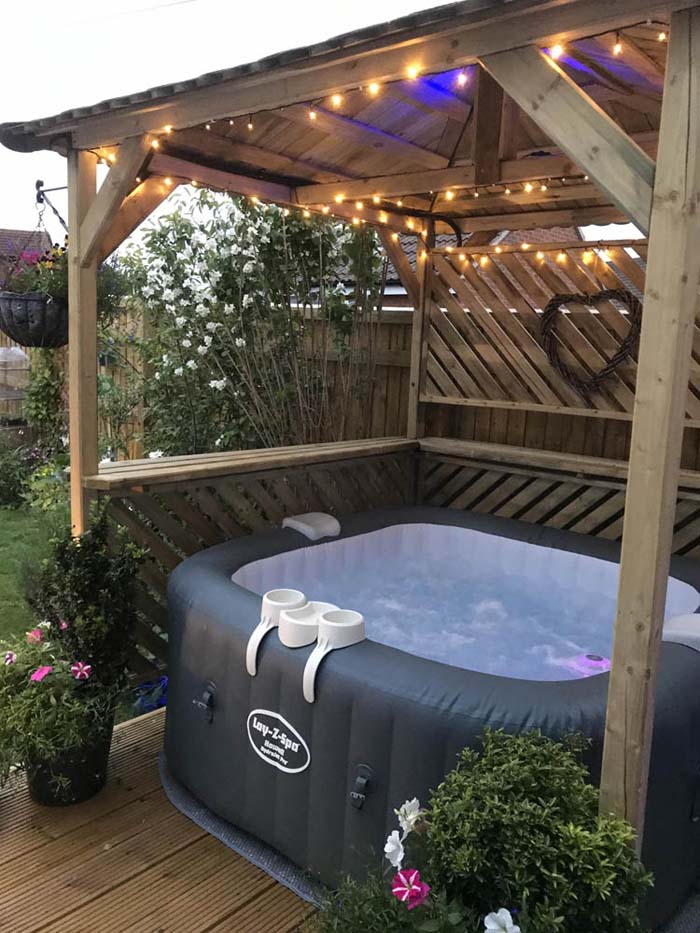 A tall fence around the perimeter of the yard brings privacy and safety.
Angled privacy screens were added to the lower half and upper back of a small gazebo. A string of lights adds warmth to the rustic look.
11. Take it Indoors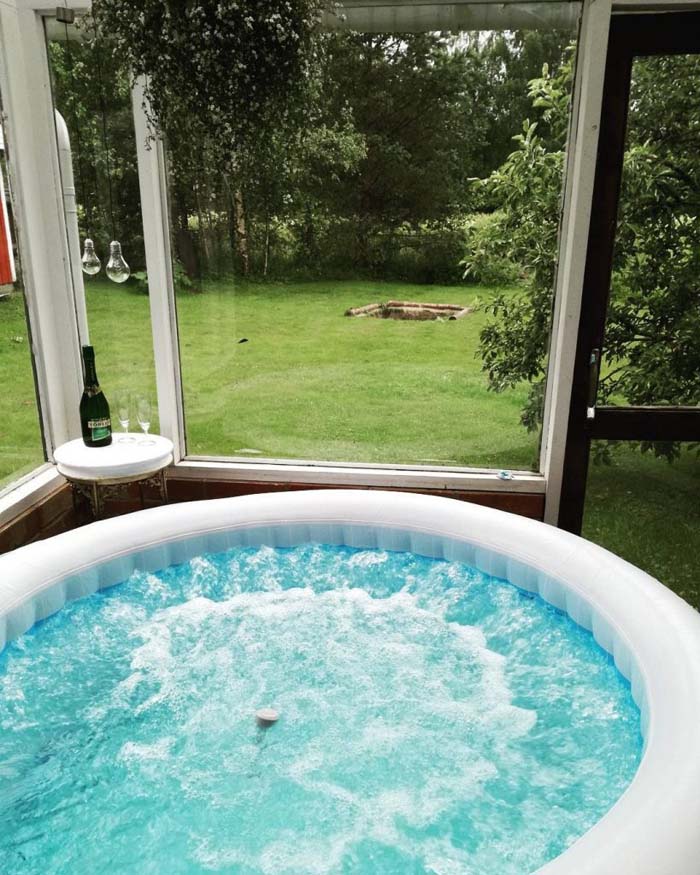 Sometimes the best way to enjoy the outdoors is through a screen.
This hot tub installation is sequestered in an enclosed porch. It allows you to enjoy nature while keeping mosquitoes at bay.
12. Urban Outdoor Living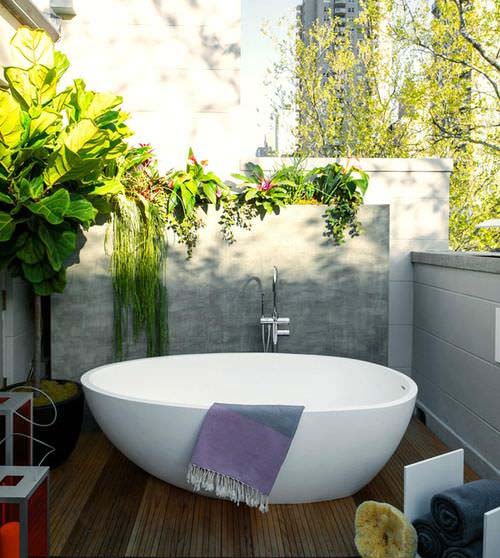 Sometimes you don't need a hot tub, just a warm bath. This tub fills the bill by being outdoors in an enclosed deck.
The egg shaped tub design looks right at home next to a gray privacy wall that's topped with trailing botanicals.
A potted fiddle leaf fig plant fills out the corner.
13. Corrugated Metal Magic Fencing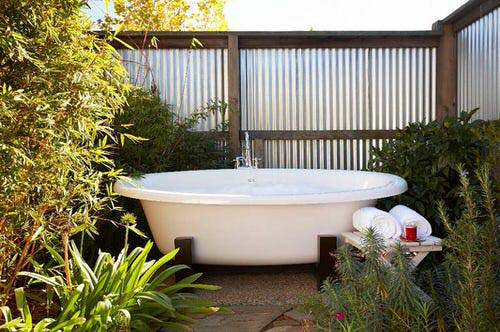 Here's another idea for bringing a real bathtub to the great outdoors. Corrugated sheet metal is installed between wooden posts for a no nonsense privacy fence. 
 Fill the area around the tub by setting potted plants on the patio.
14. Amazing Outdoor Bathtub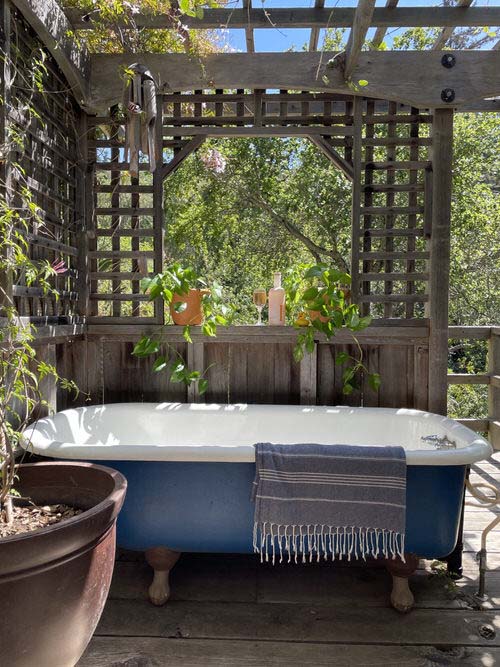 A pergola and lattice fence enclose the secret tub. In order to run any kind of plumbing to an outdoor tub, the tub must be raised off the ground. The easiest way to accomplish this is by scoring a claw-foot tub.
The enclosure takes a nod from an old garden pavilion, proving you don't need top grade lumber to create a top tier backyard oasis.
via Sunset
15. Add Tall Plants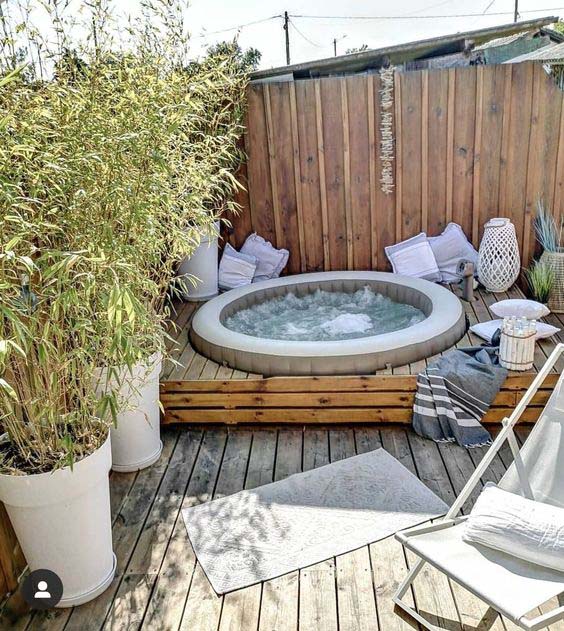 A raised deck and tall fence surround the inflatable hot tub, creating a lounging area. A row of tall, potted ornamental grasses create a natural fence line.
Placing throw pillows against the fence makes it easy to sit back and soak your feet.
When planning your outdoor space, choose a hot tub like a Bullfrog spa that can be customized to fit your hot tub space.
16. Add Low Hedges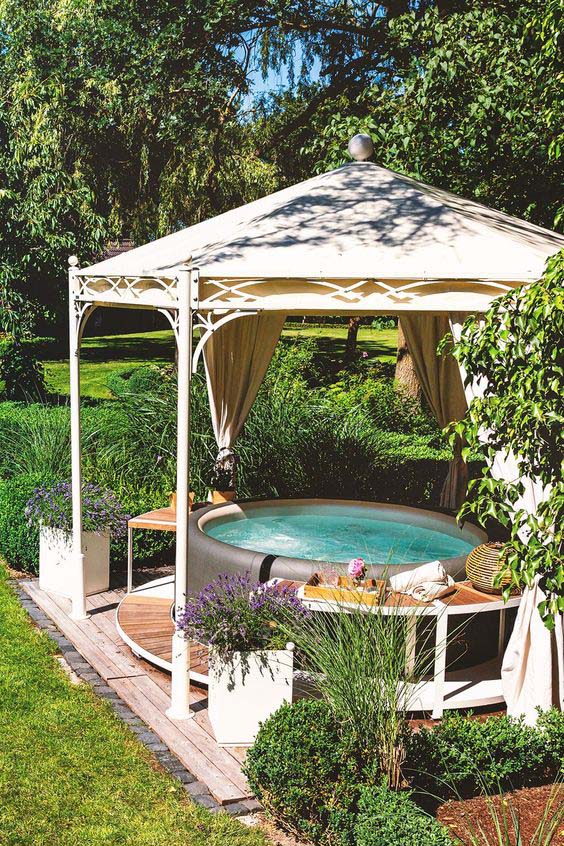 An oasis was created in an open backyard. This spa uses several backyard hot tub ideas.
The inflatable hot tub rests on a wood deck that sits on top of a brick base. Canvas curtains hang from an iron gazebo. Low hedges add another layer of separation.
17. Easy and Cheap Privacy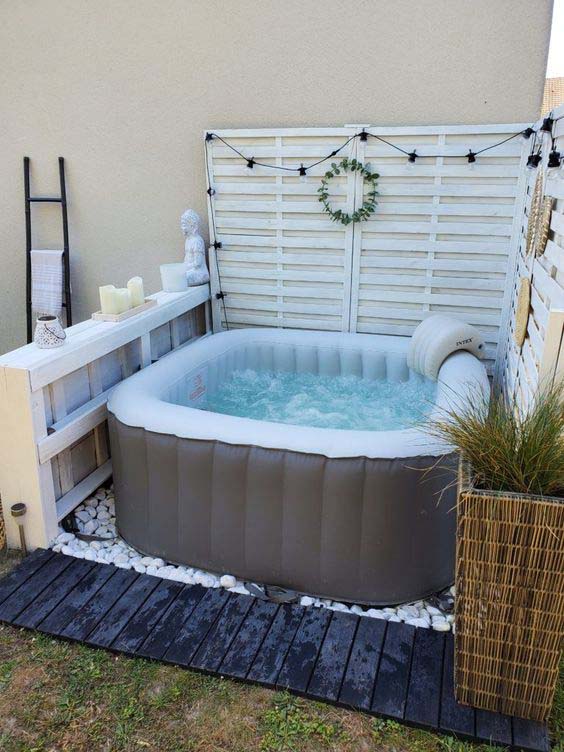 If building an entirely new structure isn't within your budget, you can build a privacy screen using reclaimed pallet wood.
While these are fence partitions painted white, it gives you an idea of how a reinforced stack of pallets could look.
A low partition was framed out to add a shelf for holding drinks and displaying LED candles. Reclaimed wood is used as a transitional area between the grass and protection from the white gravel onto the tub.
18. Convert a Toolshed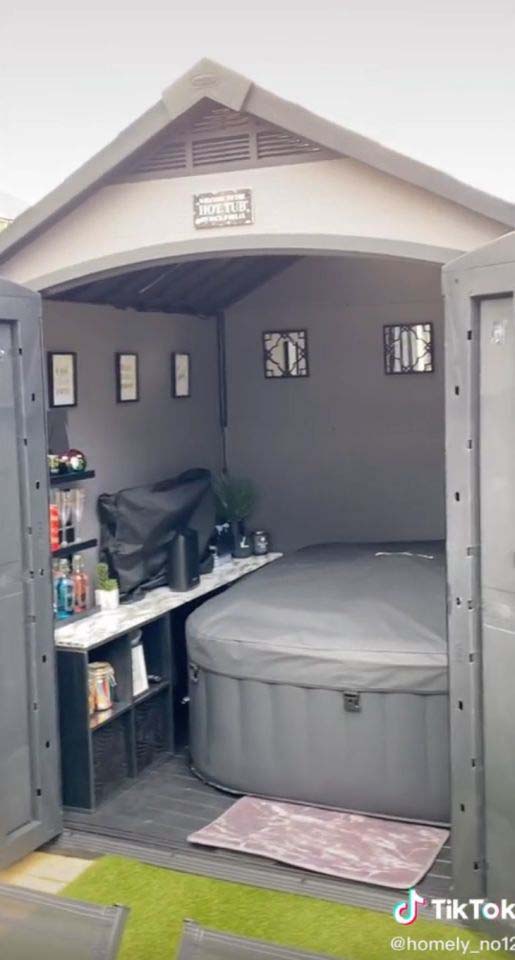 If you're in need of extra privacy, put your hot tub right inside a pre-made toolshed. Cubbies are connected with a marble top to hold accessories and drinks.
The hot tub cover won't get lost or damaged. This tub will stay cleaner and will last longer than if it were last left outside in the elements, making hot tub maintenance a breeze.
via The Sun
19. Hot Tub in the Woods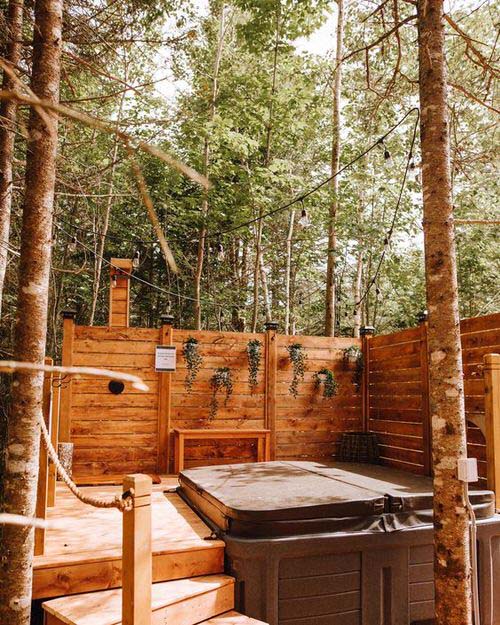 A cedar deck and fencing create a comfortable, nature-filled setting for an outdoor hot tub. The rope handrail adds to the illusion of the deck being higher than it is.
The setting gives the illusion of resting in a hot tub set high among the trees.
This type of setup, with its rectangular opening, can accommodate Freeflow spas, Sundance spas, or Hot Spring spas. It can also be used for an above ground pool like an Endless pool.
20. Hang Curtain Panels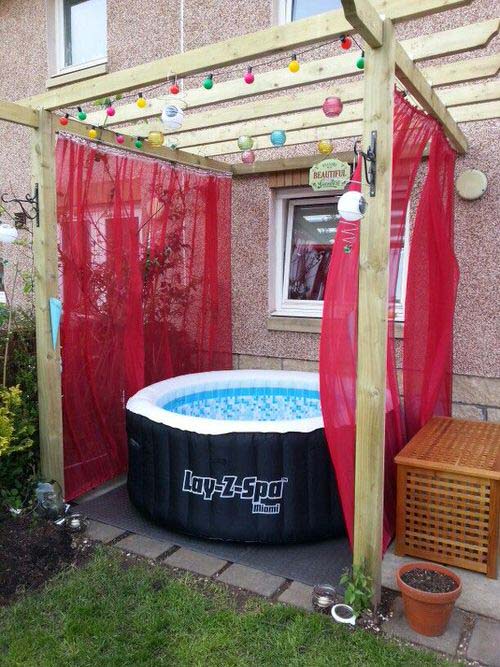 A pergola with a natural finish gets a colorful boost with red sheer curtain panels. Outdoor curtain panels can be made from most any type of material.
More cheer was added by hanging up two types of colorful lights. You can find these at party stores or your favorite dollar store.
via Lay Z Spa UK
21. Asian Inspired Hot Tub Enclosure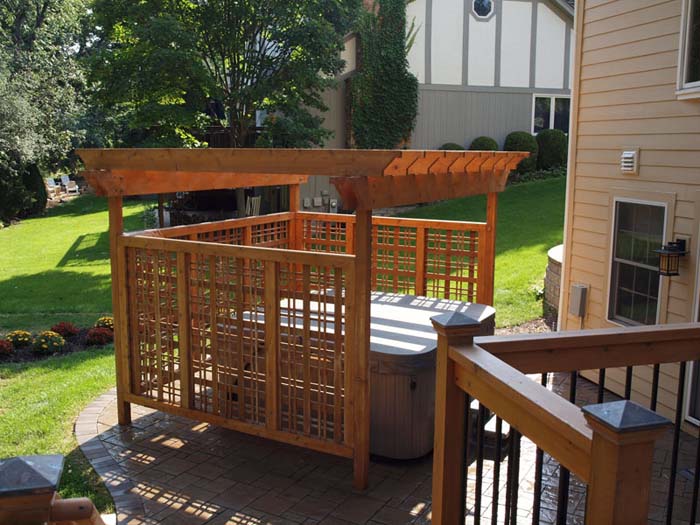 Simple solutions can be very sophisticated. A simple pergola on the corner of a brick patio. Asian-inspired privacy screens bring high style.
You can change this up by changing the lumber to something like bamboo.
22. Tall Fence and Canvas Coverings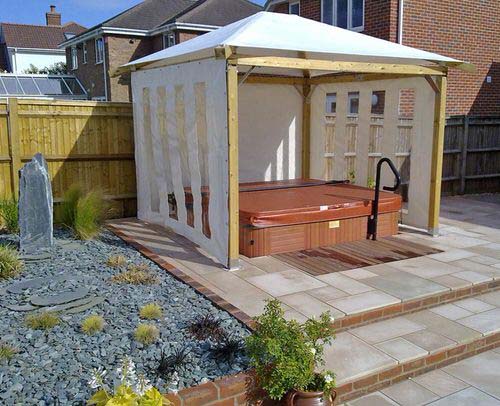 A Tuscan style gazebo is made with pressure treated lumber and topped with a canvas canopy. Sides of the canopy are cut out and replaced with clear plastic to allow light to shine through.
The tall fence in the back provides plenty of privacy, but the extra canvas backdrop provides added privacy, ensuring your nosey neighbor isn't tempted to shoot photos.
23. Trailing Vines on Trellises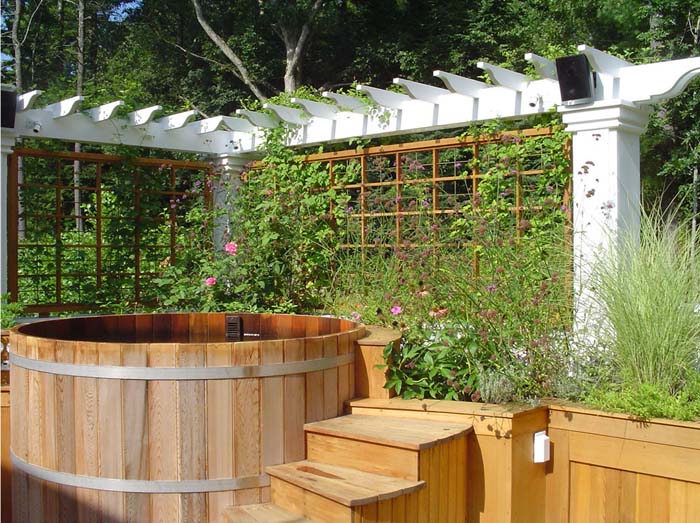 Trellises look like they're floating in their frames. The side supports are covered with flowering vines.
They provide plenty of privacy for this bath barrel hot tub.
24. Suspend a Canopy Sail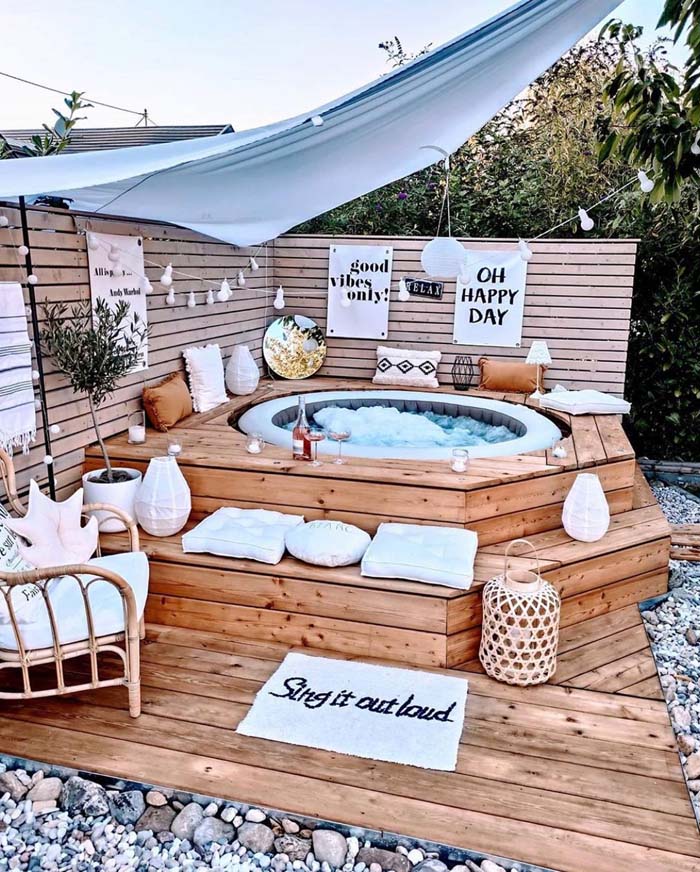 A tiered wooden deck gets extra privacy from the corner fence and an adjustable canopy that's suspended using a wiring system. This can be built around any swim spa. 
The space is personalized with happy quotes into the walls, string lights, throw pillows, and a little greenery.
via H2O Tankavenue