Above ground pool design has come a long way in the past few years. The waiting list for building concrete pools and any type of lap pool is incredible.
Many people who wanted to upgrade their fiberglass pool had to come up with creative pool ideas in order to get a place to cool off after work. Here are some above ground pool ideas on a budget.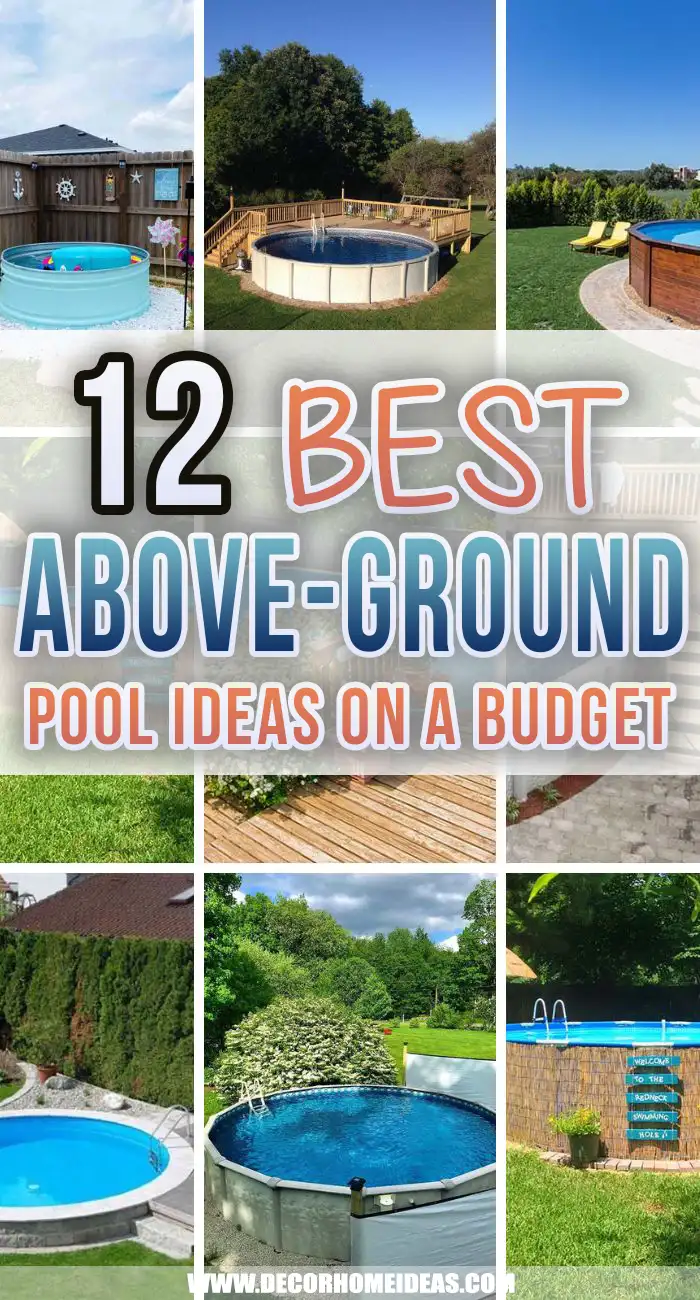 How can I make my above ground pool look better on a budget?
Change the siding. You can do this with paint, decor items, or fencing.
What is the most cost effective above ground pool?
Above ground pools are the most affordable pool you can install. The difference between building an in-ground pool and an above ground pool can be tens of thousands of dollars and months of waiting.
What is the cheapest shape of pool to build?
A rectangular shape is the cheapest. Adding a liner is a straightforward process.
If you just want a place to soak, think about putting together a stock pond pool. Kits are available to convert a galvanized tank and the cost of materials and installation is usually under $1500, which is far and away cheaper than anything else you can get.
Other options include inflatable pools and Endless pools. You can install an Endless pool in a small yard., They take up much less space than a standard fiberglass pool, but they're perfect if you want to do some real swimming.
If you already have a pool, check out the ideas below for ways to turn it into the pool of your dreams.
1. Create a Stock Tank Pool Paradise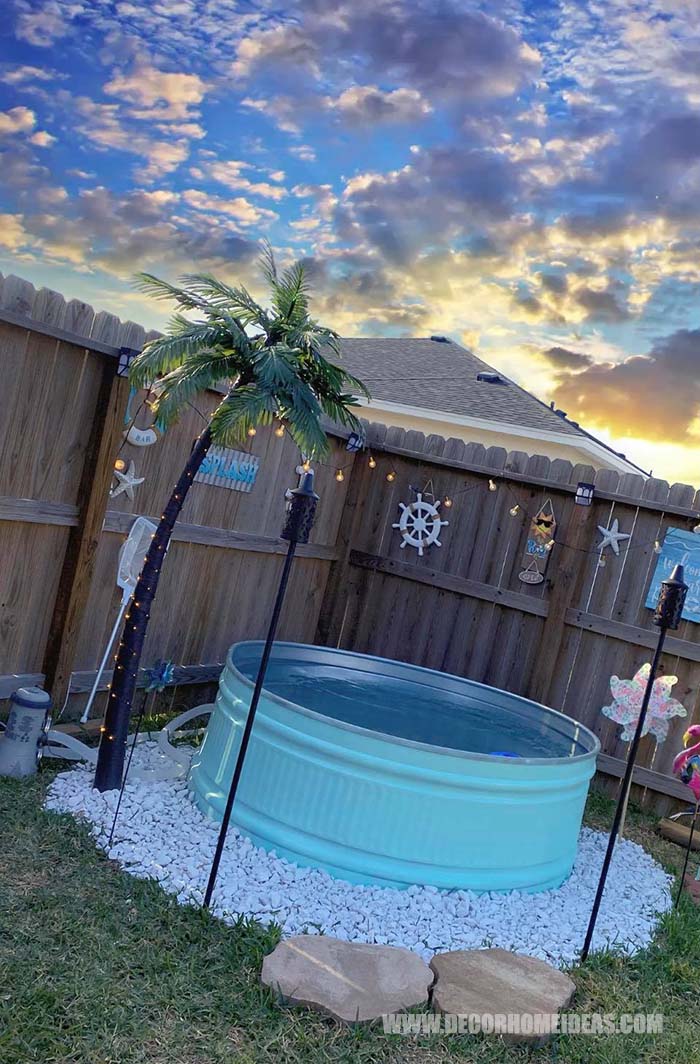 Stock tank pools are one of the easiest and most affordable ways to get a backyard pool. They're ideal if you do more lounging than swimming. You can find out how to make this pool right here on our website.
Just add some lights and fun tropical decor and you're ready to soak away the summer heat in style.
via Decor Home Ideas
2. Reed Siding Over a DIY Pool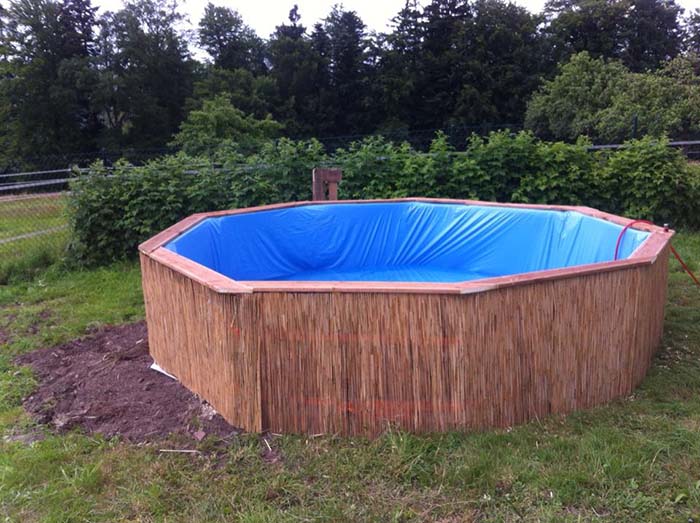 Here's another do-it-yourself pool for a small backyard. This one is made from wood pallets. Yes, the same material that everyone loves to upcycle. They added a pump, filter, and liner. 
It looks especially nice with the reed panels wrapped around the sides. You can get those in the fence department at the home improvement stores.
Be sure and check out the article on making this pool yourself.
via Decor Home Ideas
3. Surround Your Pool With a Deck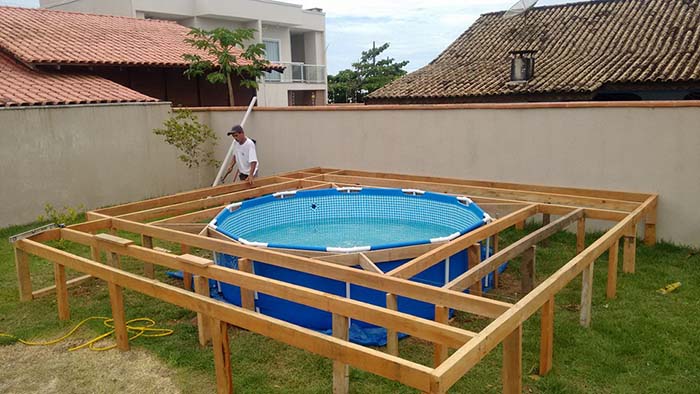 You can completely surround your raised pool with an above ground pool deck. It's an easy project for someone who has some experience with building projects. 
Check out our article, which outlines the steps and includes pictures of the impressive finished project.
via Decor Home Ideas
4. Build a Tiki Bar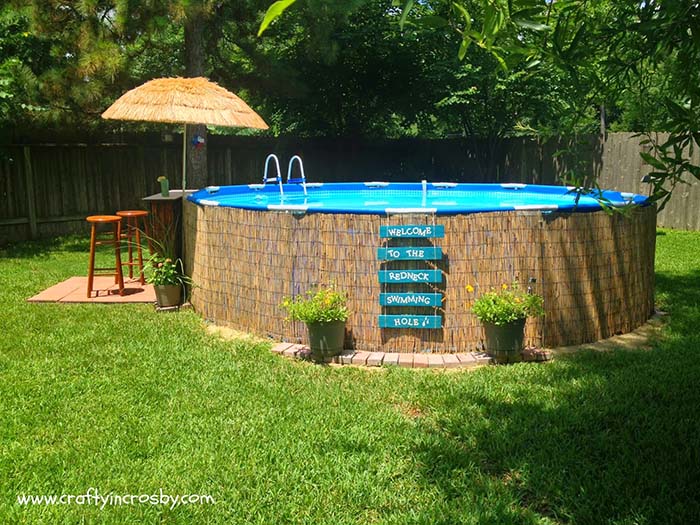 If you're wondering what to do next after wrapping your pool in reed fencing, why not add a bar? The base is made from pavers. The bar was made by joining together two pallets and adding more reed fencing to the sides. Ceramic tiles were added onto the top.
You can get the umbrella on Amazon. Some nice plants in containers and a cute sign add to the fun decor.
via Crafty In Crosby
5. Build an Entertainment Area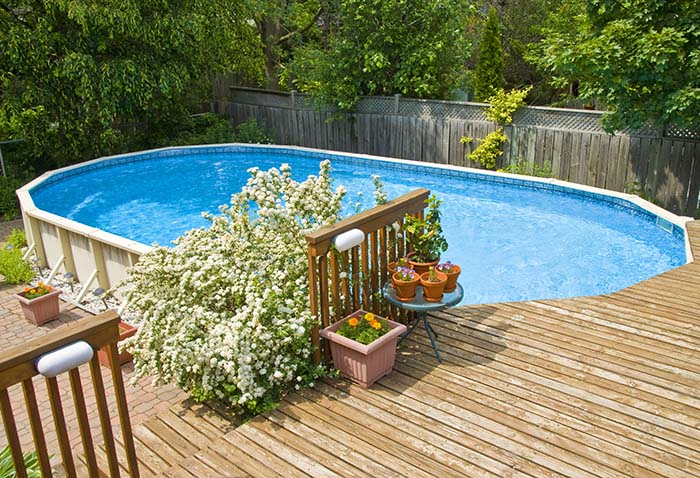 A large pool designed for swimming calls for a large above ground pool deck.
The addition of a railing not only adds safety around the deck, it's also a great place to add lighting.
6. Add Easy Access With a Set of Stairs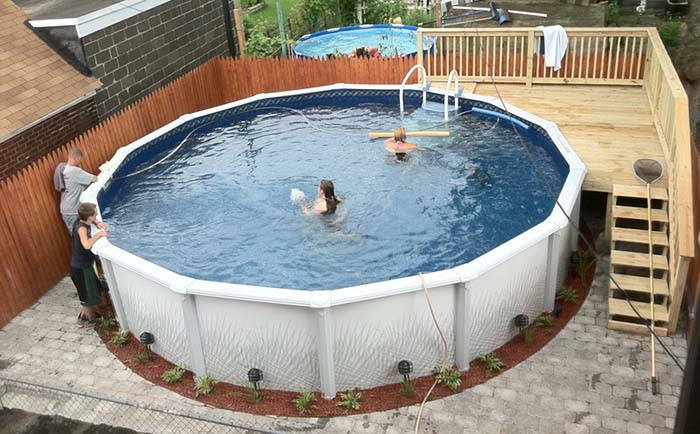 The stairs and railing leading to the deck. The deck joins up with a set of stairs inside the pool, making it easy for youngsters and the elderly to get in and out.
We also like the pavers in the transition area that allow drainage while keeping the lawn from getting soaked and muddy.
7. Add a Lounge Area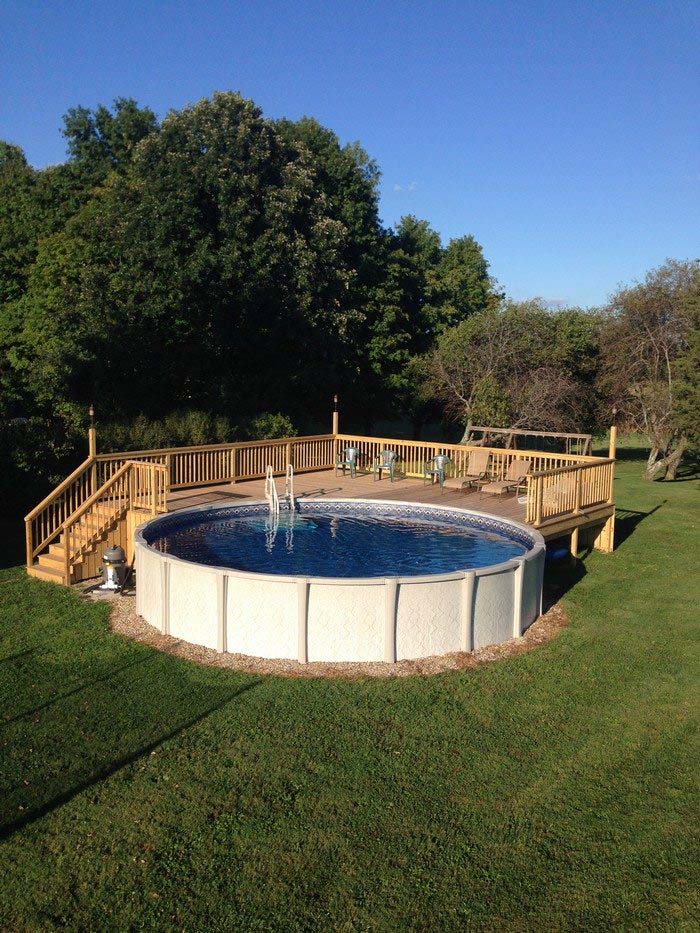 This deck was designed to catch all the afternoon sun. While it looks like a big project, you can get the deck and railings as a kit. It just takes some accurate measurements to customize the curve around the pool.
This above ground pool deck has nice railings for the ladder. Stairs can be added later on if they're needed.
8. Rustic Oasis From Oval Stock Tank Pool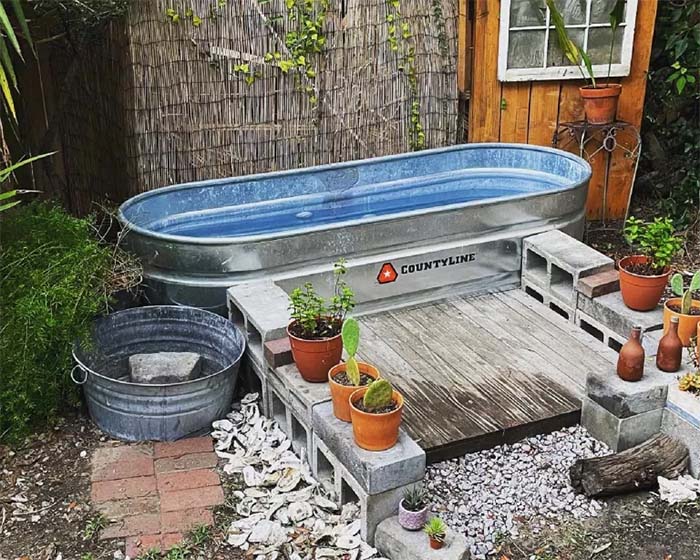 When your outdoor space is limited, check out oval stock tank pools. Oval stock tank pools are generally smaller than round stock tanks. This one has a nice deck from reclaimed lumber and cinder blocks. A bucket is positioned next to it to clean your feet before stepping in. The reed fencing on the back adds intimacy.
You can turn this into a hot tub by insulating it and adding an electric or propane heater.
via Kristian Stojek
9. Surround Pool With Wood Panels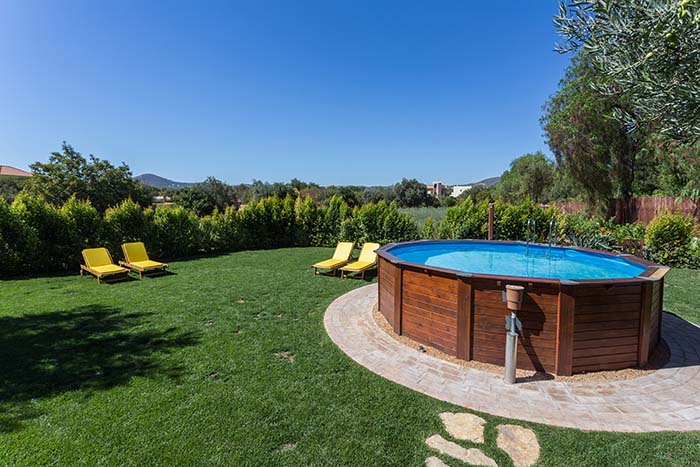 Securing the outside of the pool with deep stained lumber turns this pool into a piece of furniture. Pea gravel is added around the outside. The transition area can be made from pavers, but you can make this an easy project by building out the area using stamped concrete.
10. Install a Semi in-Ground Pool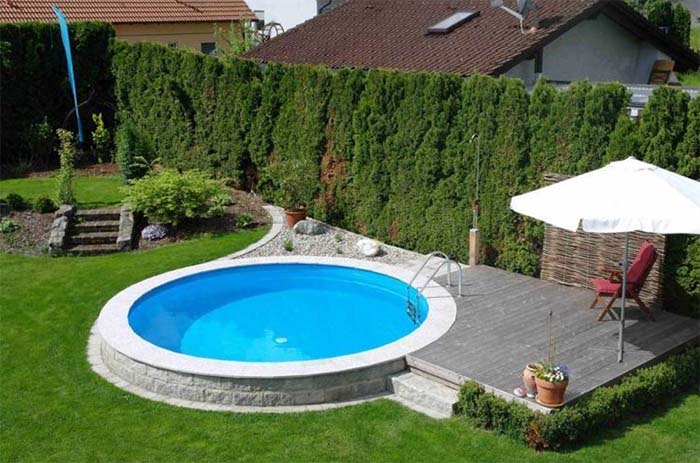 This pool area proves an above ground pool doesn't have to be an eyesore in the center of your yard. You can have it installed partially below ground level. The biggest advantage of this is if your yard has a slope. It's easy to install the pool so that it's level and then add decking around it.
The cost of building a pool that is partially in the ground is about halfway between the installation of an above-ground pool and installing the entire pool in the ground. The side facing the yard is set up to look like a retaining wall.
A composite deck is set in one corner. Hedges along the outside of the deck help the area blend in as part of the garden.
11. Add a Privacy Screen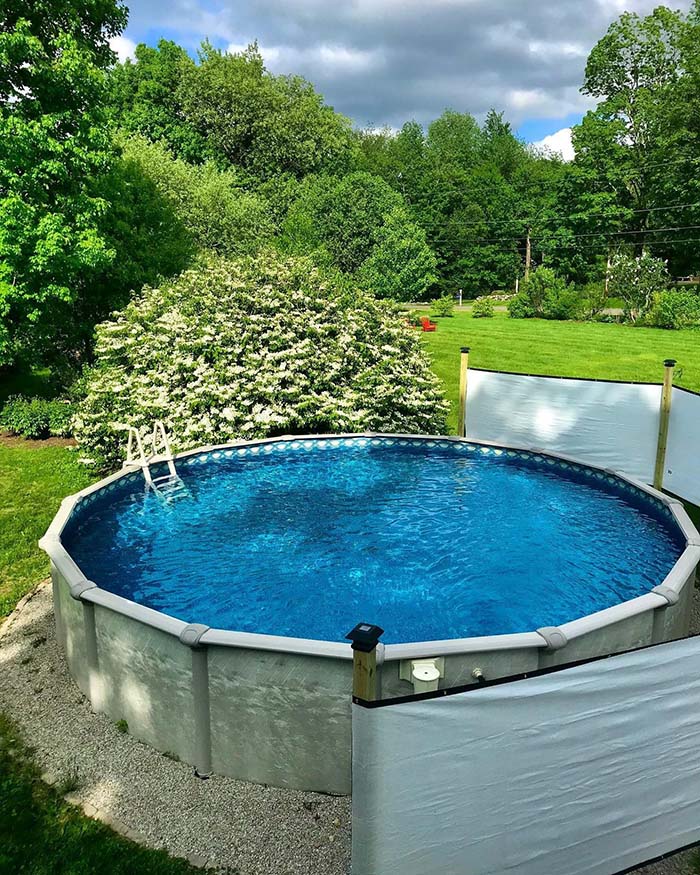 A privacy screen doesn't have to be an intricate detail or be a permanent structure. You can pick up one of these screens at your local home improvement store. They're often used in convention centers. These types of screens can be found at businesses that cater to convention centers.
12. Build an Above Ground Plunge Pool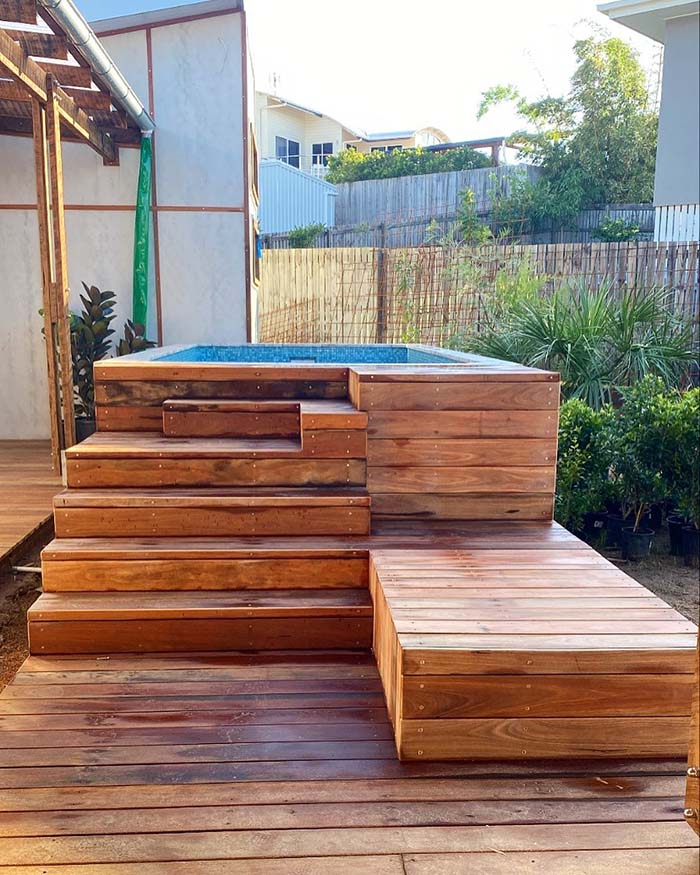 A variation on building a pool with pallet wood would be to build a plunge pool above ground. You would take the same plans as a regular pool, but make it rectangular and build a deck with steps leading up to it.
The craftsmanship really shows in this renovated pool. Most plunge pools start at a depth of five feet, but you can customize this to suit your needs.