A pool is the main attraction of any backyard — it makes a big, splashy statement all on its own.
If your pool is looking a little plain, a few pieces of furniture and some decorative items can do wonders.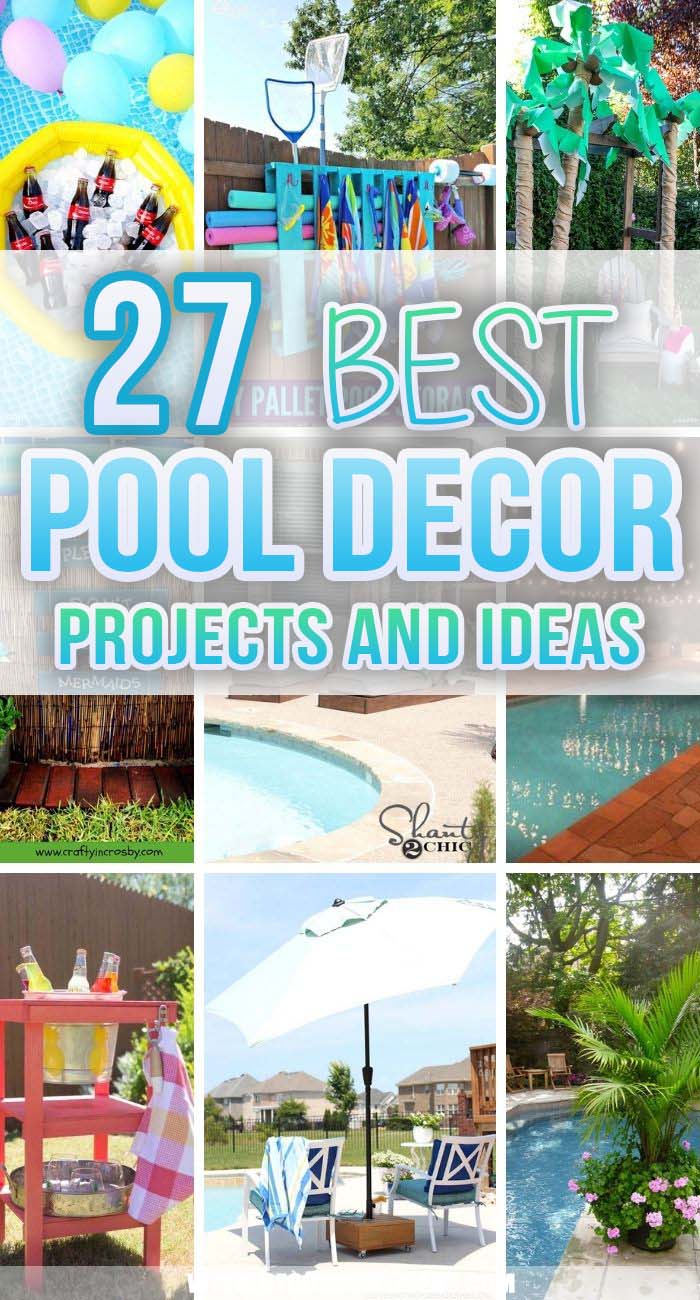 Whether you have an above-ground or in-ground model, these DIY pool decor ideas can help transform your yard into a fun and functional outdoor living space.
1. Above-Ground Pool Signs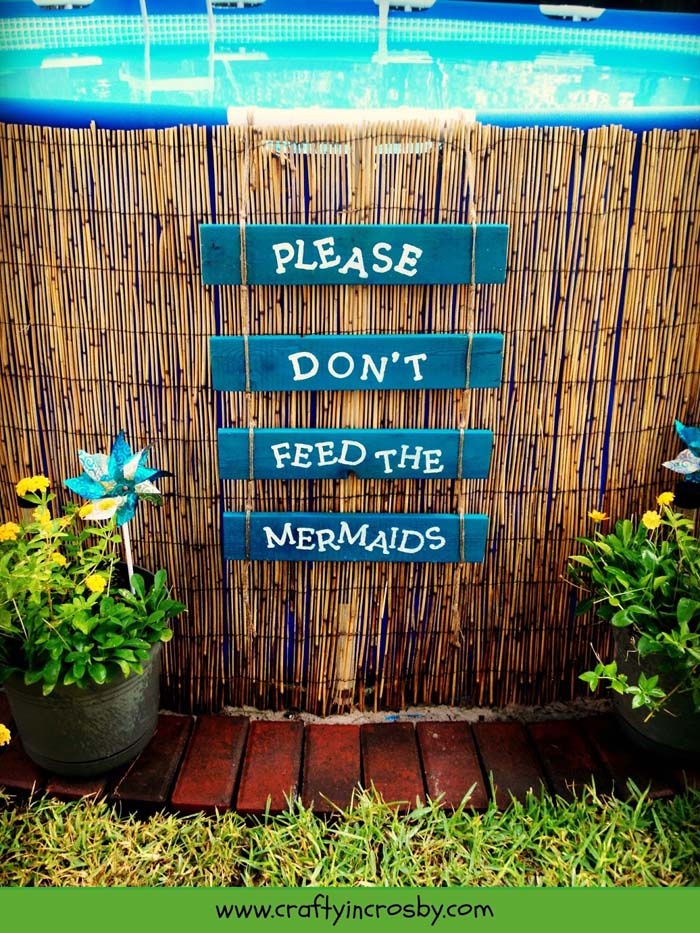 The sides of an above-ground pool aren't always pretty. Dress them up a bit with a few cute hanging pool signs.
We love how this one resembles a pool ladder, so it fits the overall vibe. As a bonus, add a cute bamboo pool wrap for extra texture.
via Crafty In Crosby
2. Backyard Towel Rack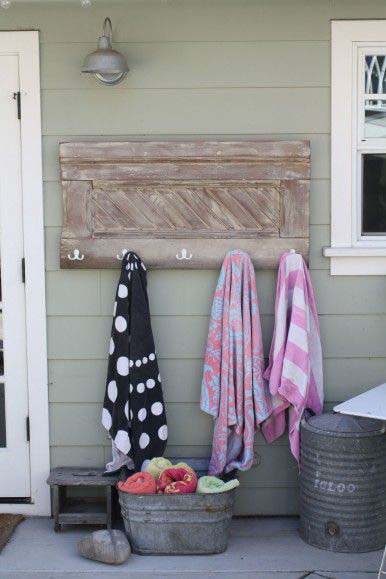 Do your family members leave towels lying around the pool deck? Keep your space looking clean by creating a handy towel rack. Mount it anywhere that's convenient — an exterior wall, a fence, or even a freestanding post.
Your kids will always know where to look, and your beach towels will last longer.
3. Beverage Container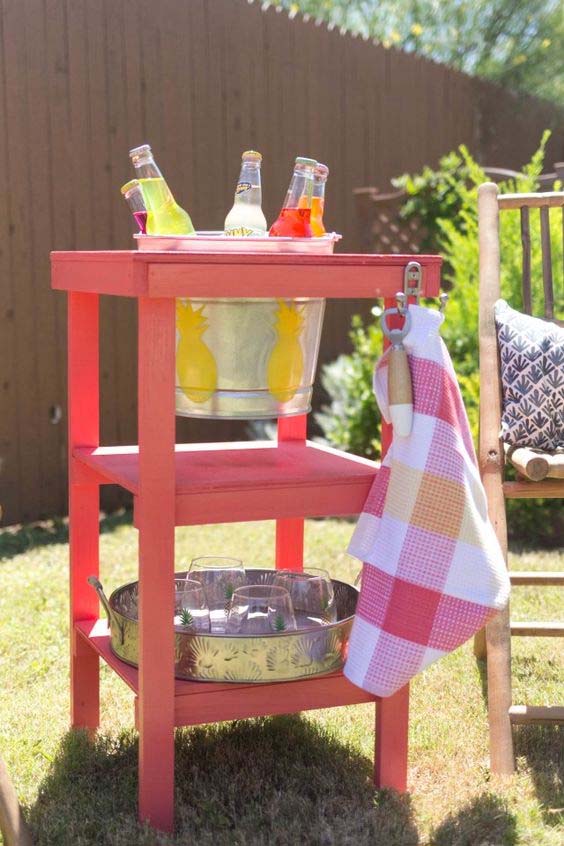 A pool is perfect for entertaining; a handy beverage holder makes it easy for your guests to grab a drink without going inside the house.
This DIY model is the perfect solution; cut a hole in the top shelf of a side table that's slightly smaller than the top rim of a metal bucket. Fill the bucket with ice and drinks in the kitchen, and drop it in the hole when guests arrive.
Hooks for a bottle opener and a towel are a thoughtful touch.
via Iris Nacole
4. Bottle Cap Crab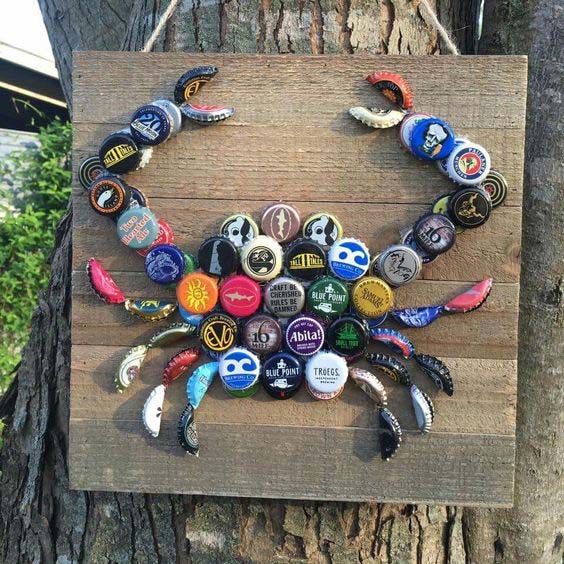 Every time you drink a soda or beer in a glass bottle, save the cap. After a few weeks, you'll have a collection of colorful caps for this creative project.
Use them to form a crab or any beach-themed shape of your choice.
5. Coke Float, Anyone?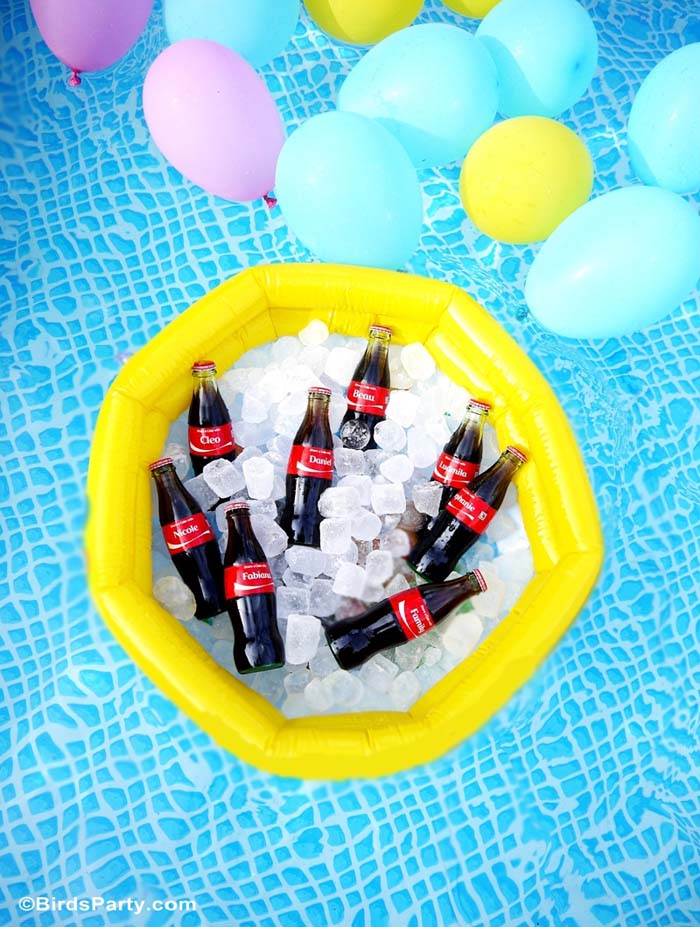 Is there anything more luxurious than a floating beverage container? Here, a small round pool float becomes a clever cooler.
It's the perfect way to deliver drinks during birthday parties, pool parties, or family gatherings.
via Birds Party
6. DIY Rolling Umbrella Base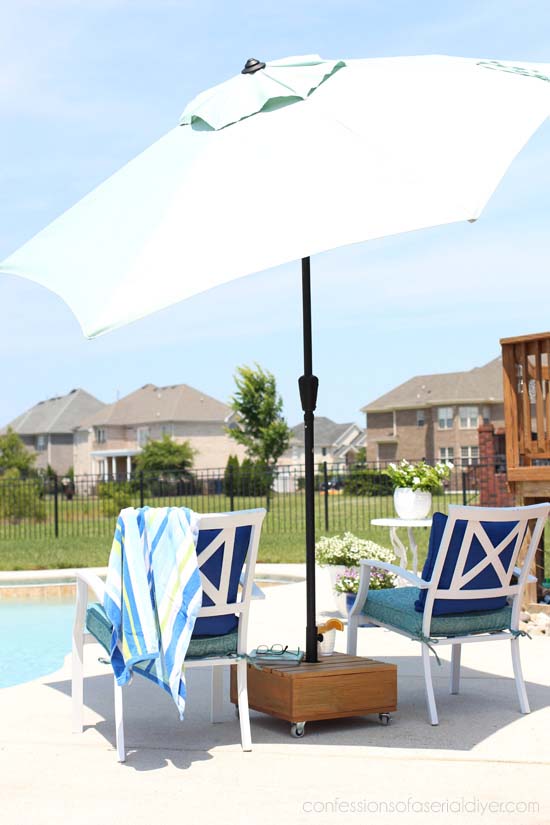 If your pool deck is exposed, an umbrella is a must. Don't struggle to lift and move your heavy patio umbrella — build a rolling stand, instead.
It's a breeze to move, and the cute wooden base doubles as a handy side table for drinks and reading material.
via Confession of a Serial DIY-er
7. DIY Umbrella Stand with Side Table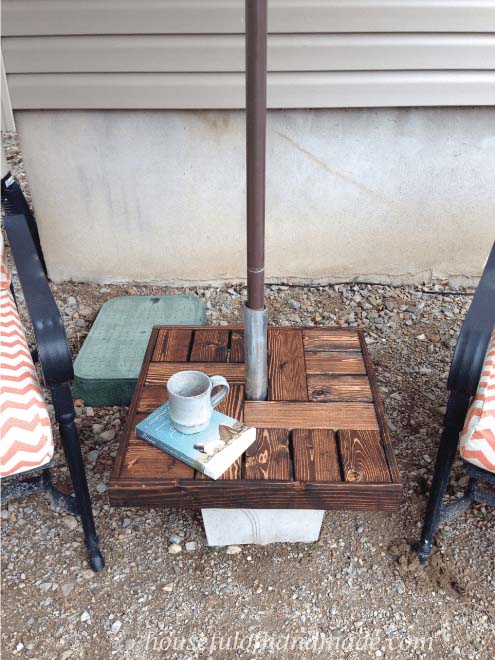 Here's another smart and affordable DIY umbrella stand. It's essentially a wood tabletop that rests on top of your existing stand.
That way, the wooden top is a breeze to reach from your sun lounger or patio chair. Load it up with a beverage and a snack, and you're ready for a relaxing afternoon by the pool.
8. Easy Floating Lights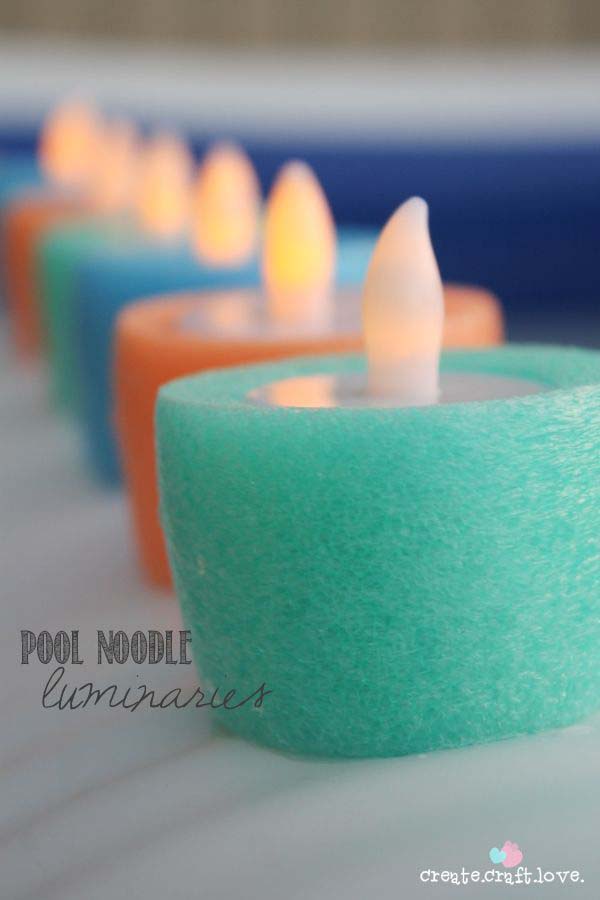 When you're hosting an evening barbecue or outdoor party, the pool often sits unused. Turn it into a magical, glowing focal point with floating lights.
These DIY pool lights are easy and cheap to make — just cut up a pool noodle and insert waterproof, battery-operated tea lights. The foam helps the candles float; at the end of the night, just fish them out with a pool net.
9. Flip-Flop Signs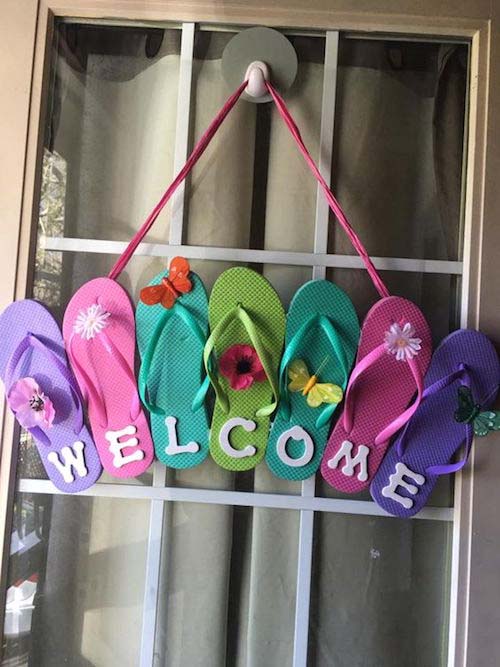 Jazz up your pool area on a budget with this cute DIY welcome sign. It's made from five pairs of cheap flip-flops, which you can pick up at any dollar store.
Glue on foam letters to spell out "Welcome" or another pool-themed message; for extra color, decorate your sign with faux flowers, butterfly embellishments, or rhinestones.
10. Flower Power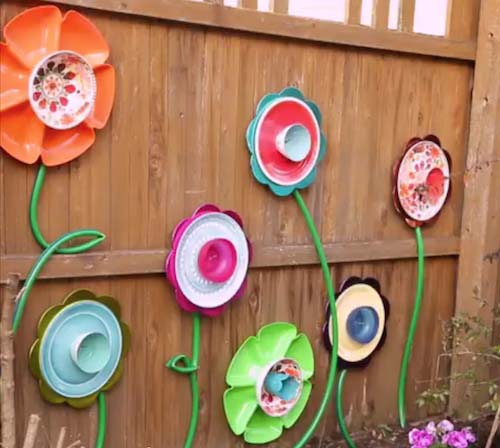 Do you have old plates and dishes cluttering up the cupboards? Turn them into adorable flower decorations.
These cheerful blooms are made with scalloped plates and veggie servers, with teacups and bowls acting as the centers. Look closely, and you'll see that the stems are made from garden hoses.
11. Lights Above the Pool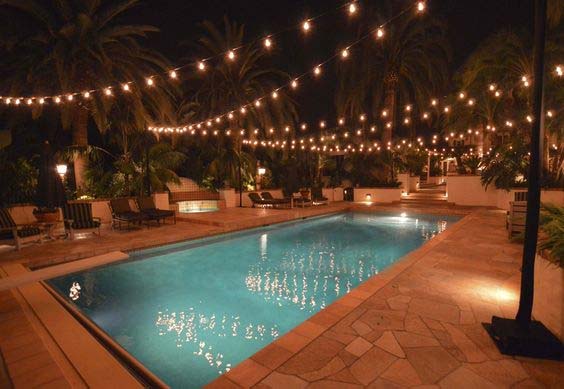 After dark, the right type of lighting can turn your pool deck into a magical destination. The easiest way to dress up your yard is to string white café lights across the pool.
The glow reflects in the water, creating extra sparkle and charm for parties or midnight swims.
via Yard Envy
12. DIY Umbrella Plant Stand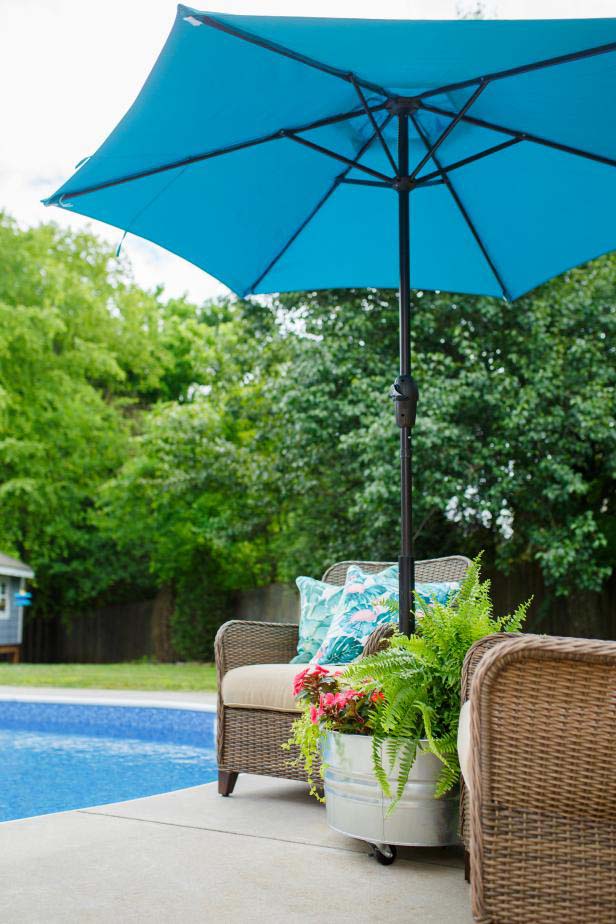 Add a bit of fresh greenery to a small pool deck by creating a combination planter/umbrella stand. The lush plants instantly elevate your outdoor style, all while hiding the unsightly umbrella base.
This model has wheels, so you can move it without assistance.
via HGTV
13. Multipurpose Planters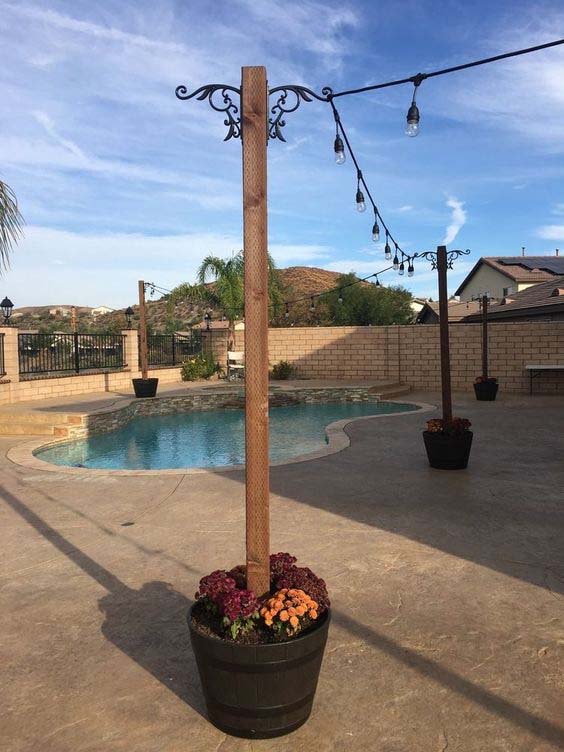 If you live in a dry climate, an all-cement pool deck is a great way to conserve water and reduce yard work.
Make the space feel more welcoming with large planters. Insert a 4×4 post into each planter, and you have the perfect framework for pretty string lighting — no complex electrical work required!
14. Outdoor Lounge Chairs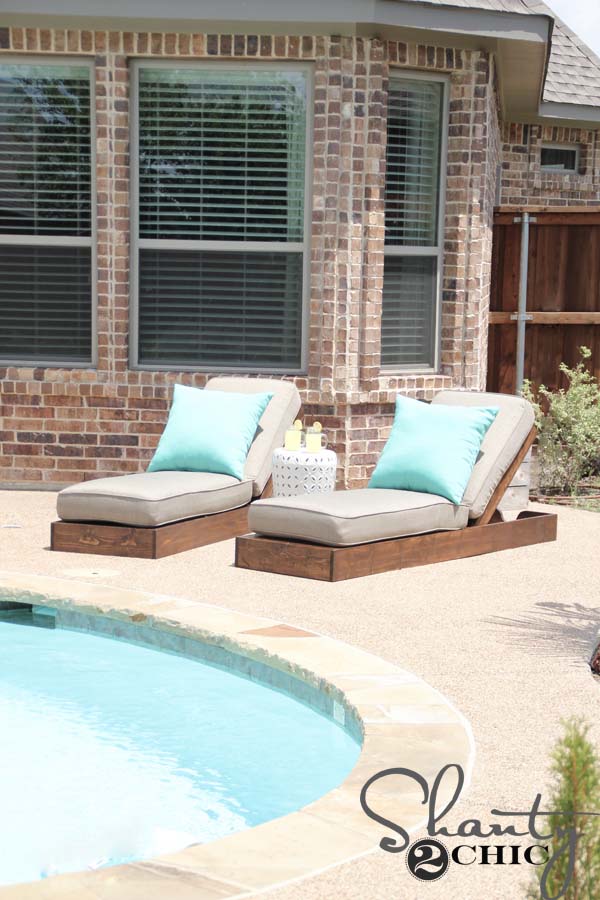 Lounge chairs are an instant upgrade for your pool — comfortable and attractive, they make a plain pool deck feel welcoming and homey. The trick?
Choose chairs with plenty of cushioning, and add accent pillows for a pop of color. A small center table provides just enough space for a cool drink or a great book.
via Shanty 2 Chic
15. Outdoor Shower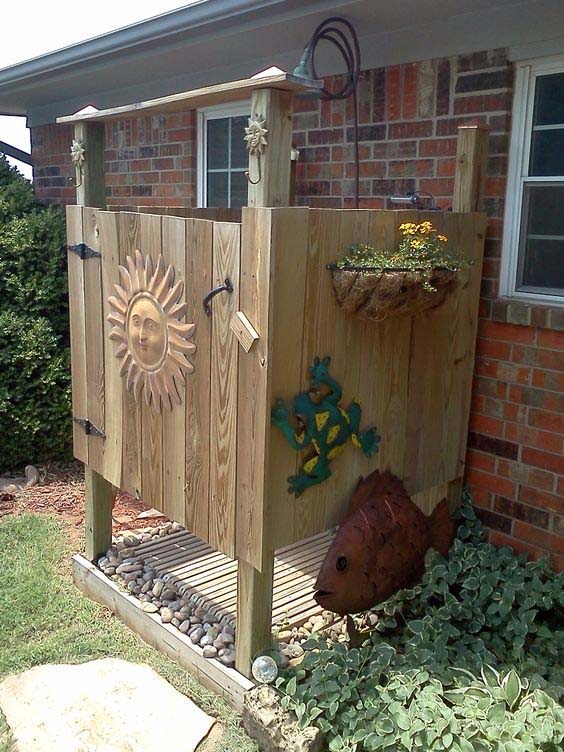 When you have little ones, you know that they tend to track in all sorts of mud and grime after a swim.
Solve that problem by installing an outdoor shower; your kids and guests can rinse away the pool chemicals and dirt before heading inside. Make sure to install an easy-draining floor to prevent puddles.
16. Palm Tree Party Decor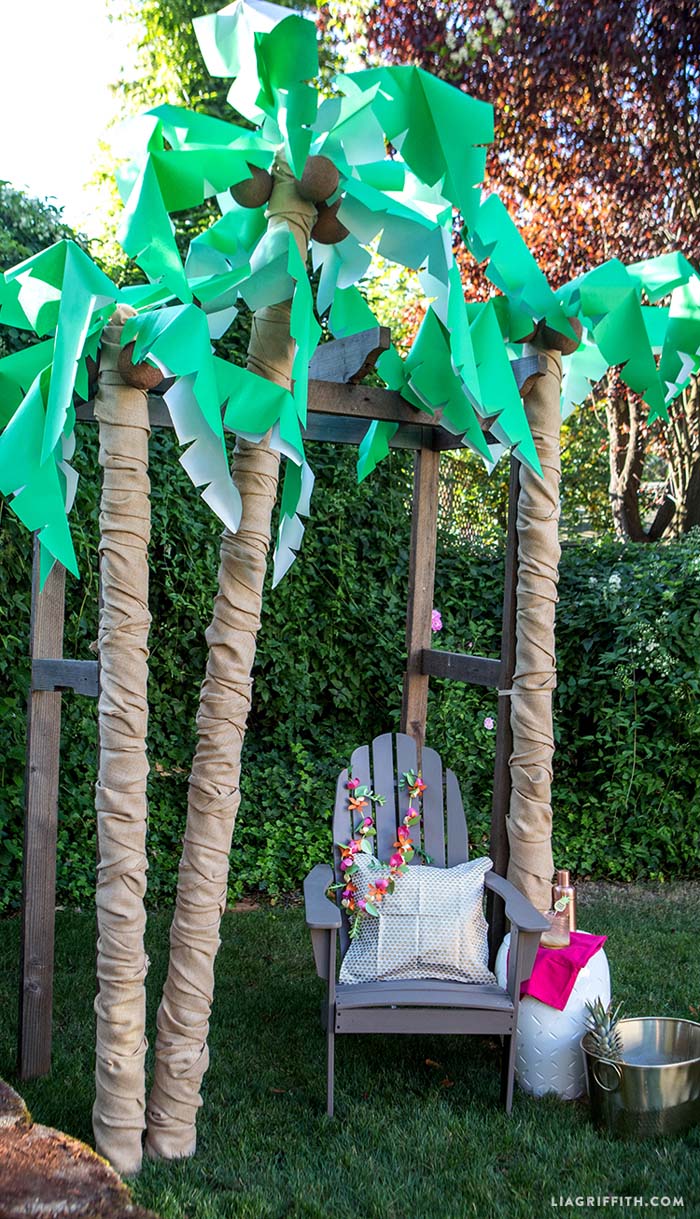 Get ready for a pool party with these clever DIY palm tree decorations. Wrap a few carpet tubes with burlap, add plastic leaves, and you have some seriously impressive trees.
When the party's over, they're easy to break down for space-efficient storage.
via Lie Griffith
17. Perfect Poolside Plants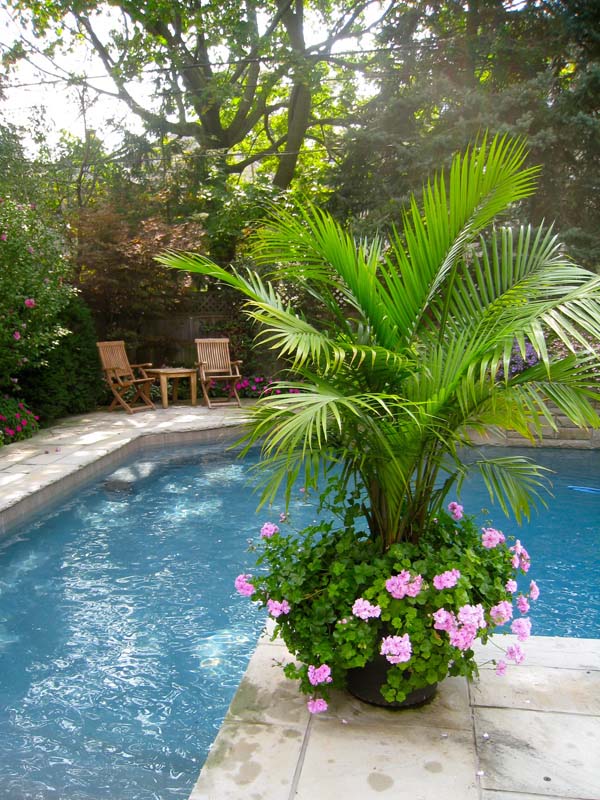 Lush, tropical plants turn a run-of-the-mill pool into a jungle oasis. Since most pool decks are stone or wood, planters are a great solution.
For a natural look, conceal the planter by filling the base with flowers or greenery that cascade over the sides.
18. Pool Noodle Boats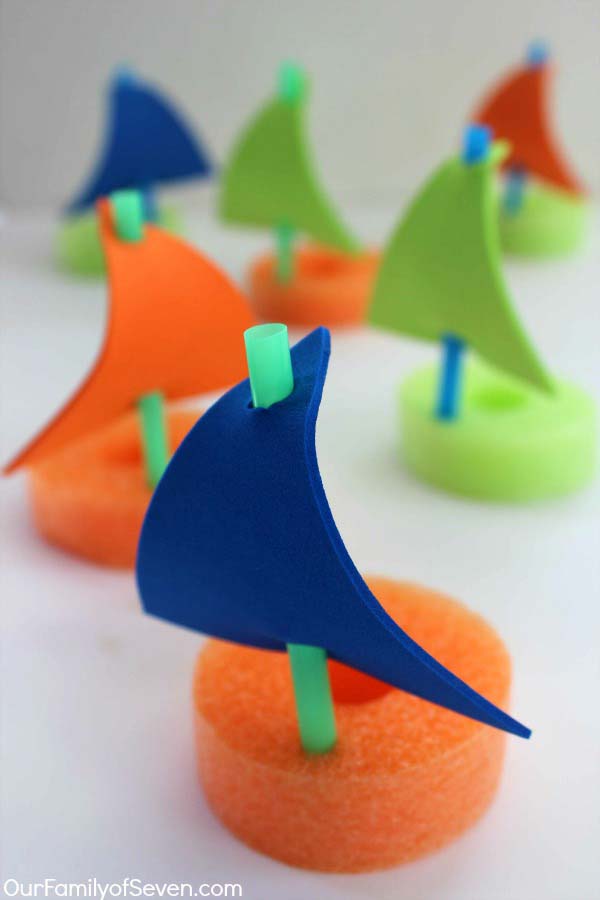 Pool noodles are a cheap, easy material for backyard crafts. Get your little ones involved in the fun with this project, which uses straws, foam sheets, and noodles to create colorful boats.
They make great kids' pool toys and party decorations — just drop them in the water and watch them sail across the waves.
19. Pool Time Pallet Organizer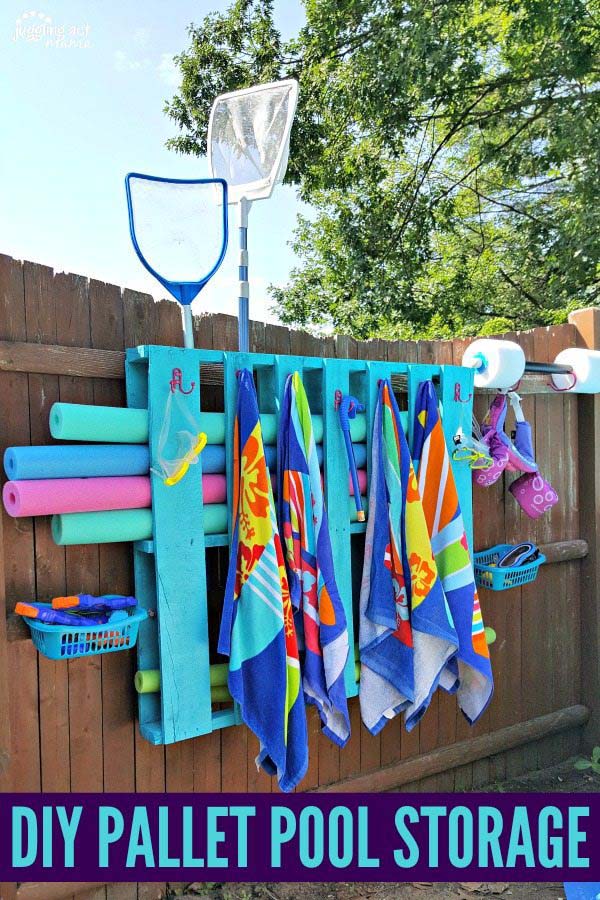 If you're a parent, you know that pool toys can clutter up the yard in no time.
Keep everything organized with this gorgeous DIY pool organizer. Paint a pallet, add a few hooks, and you have an all-in-one storage solution for toys, towels, and tools.
20. Pool Towel Hanger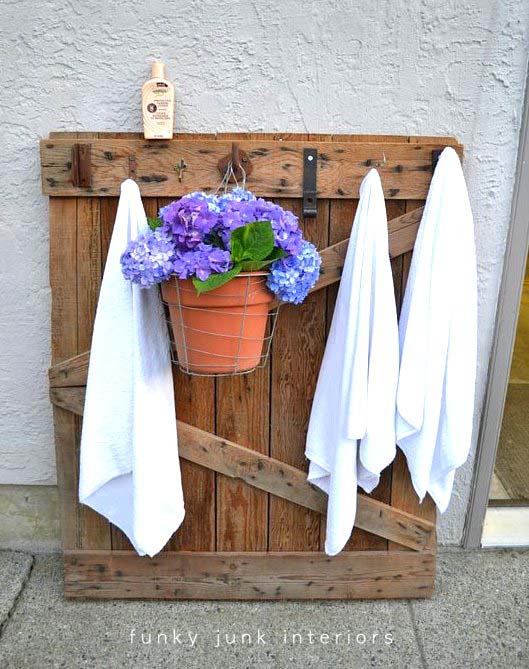 Keep beach towels off of the ground with this DIY towel hanger. It's made from a reclaimed barn door; you can also make your own with a few wooden planks.
A row of hooks holds towels and a hanging planter, and the top lip is the perfect spot for a bottle of sunscreen or a snorkel.
21. Poolside Crate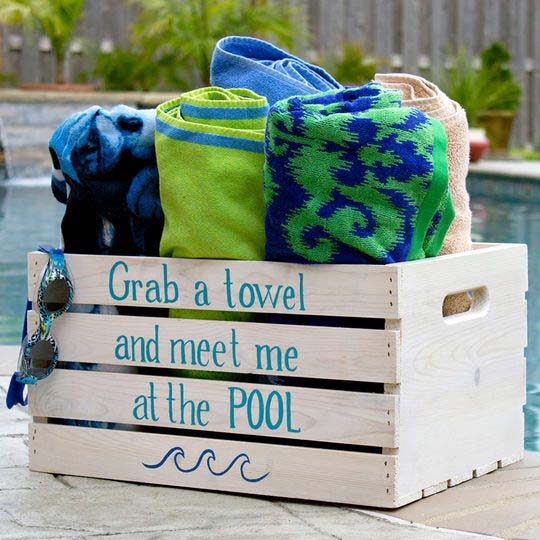 Have your guests ever gotten out of the pool to realize that they don't have a towel?
Make sure that a clean, dry towel is always within reach with a simple wooden crate. Paint a sweet message on the side for a personalized touch.
via Michaels
22. Poolside Theater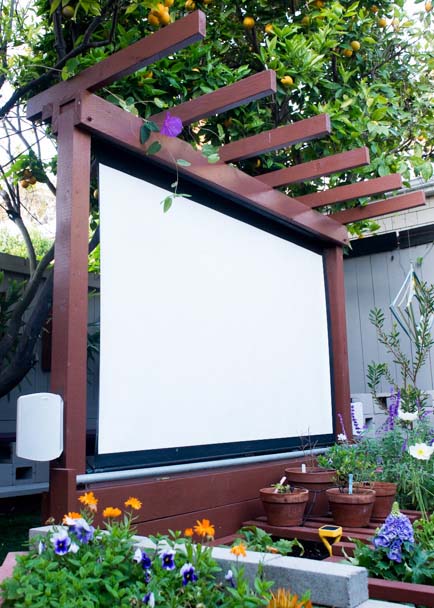 If your family spends a great deal of time in the pool, a DIY backyard theater is a fun treat.
This model is made from a pergola, but you can also build a frame. The simple retractable screen is easy to roll up between uses.
via The Horticult
23. Poolside Towel Cabinet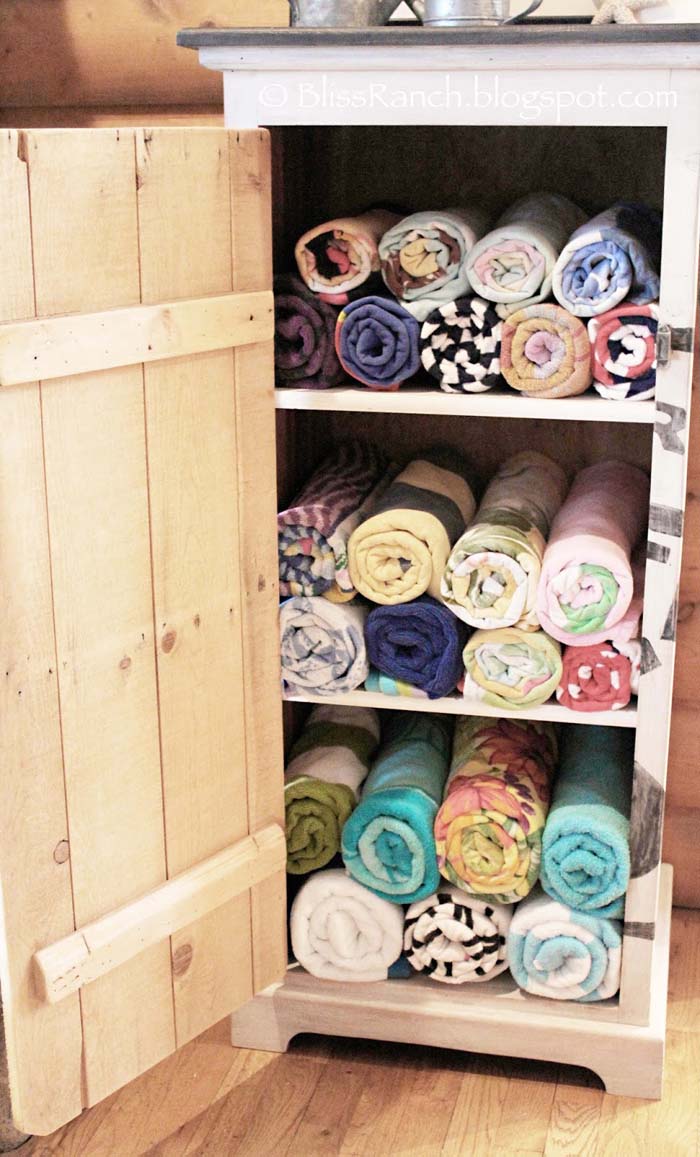 Take your beach towels out of the linen cabinet and store them outside in a handy poolside cabinet. Kids and guests will love that the towels are always close by, and you'll love the extra space in the house.
This is also a great way to get more use of old or worn bathroom towels.
via Bliss Ranch
24. Pull Up a Poolside Chair!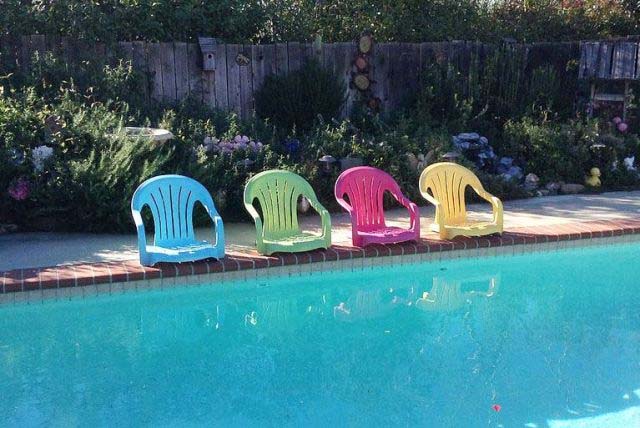 Pool chairs can be expensive — save money with this adorable project, which uses cheap plastic dining chairs.
Cut off the legs, and you have the perfect place to sit and dangle your feet in the water.
via Hometalk
25. PVC Towel Rack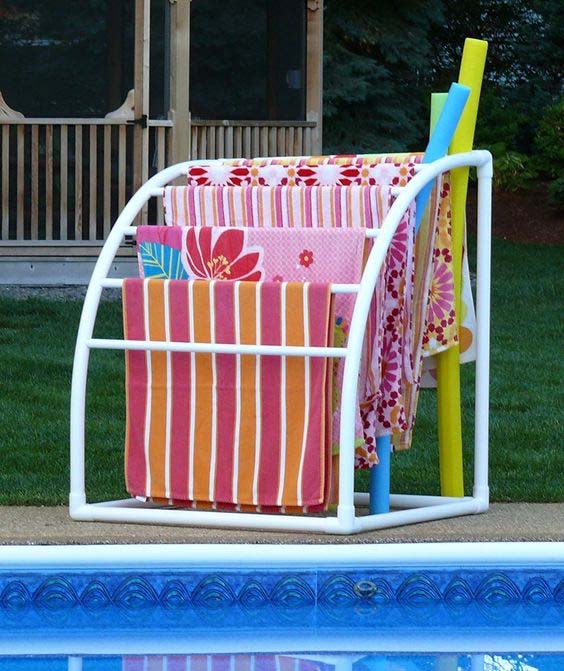 Dry pool towels between swims by building a PVC towel rack.
The pipes are easy to find at any hardware store; all you need is a saw and a few connectors. You can even slip pool noodles between the racks for easy-access storage.
26. Terracotta Pot Accent Table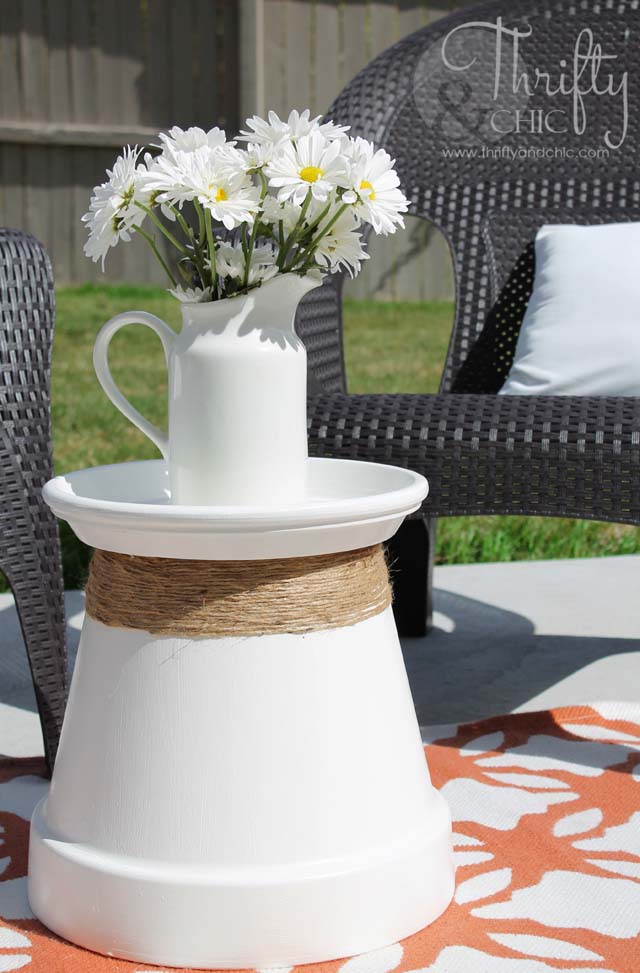 Turn an old planter into a gorgeous table with this DIY outdoor accent table.
Flip the pot upside down, place the base tray on top, and secure with glue. The lip of the tray is a great way to prevent beverages and snacks from slipping off onto the pool deck.
via Thrifty and Chic
27. Terracotta Table-Containers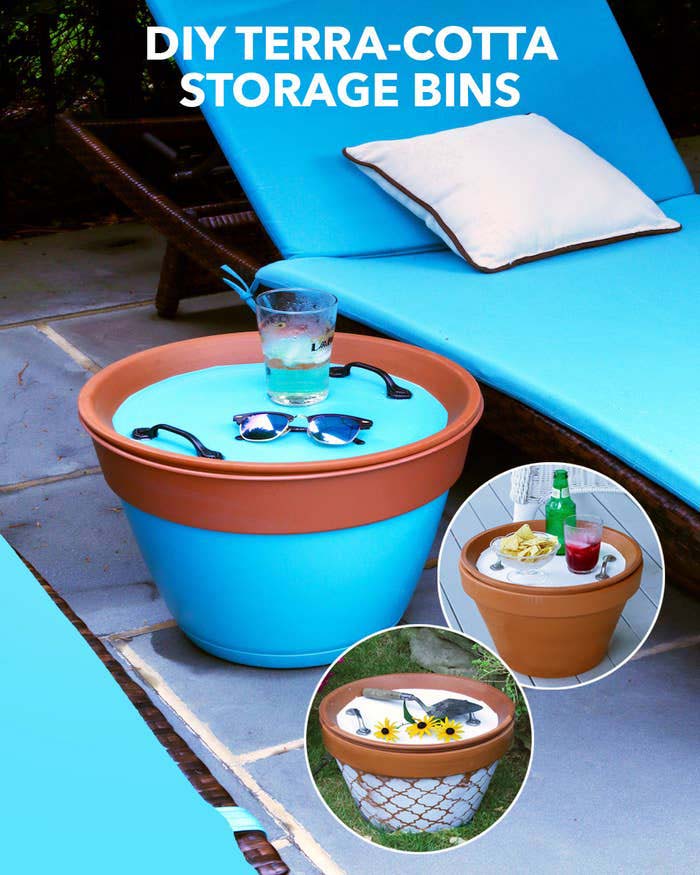 Do you have limited space around the pool? Make side tables with hidden storage using large planters. The construction process is simple — place the drainage tray inside the top of the pot for an instant table.
The hollow interior holds everything from extra drinks to pool towels.
via Nifty