Extend your summer vacation moments in your own backyard. Having a pool is a dream come true for every homeowner, however, most of the time, maintaining, organizing and supplying it with everything necessary is connected to spending a lot of money.
Thank God, there are people that have already passed through the misfortunes of having their own pool and have found a way to own and maintain it on the budget-friendly side – yes, these pool hacks are amazing.
And we, on the other hand, have compiled the best ones in one place to help you find a hack that will ensure that the time at the backyard pool is pleasantly and comfortably spent.
1. Galvanized Stock Tank Makes An Easy Pool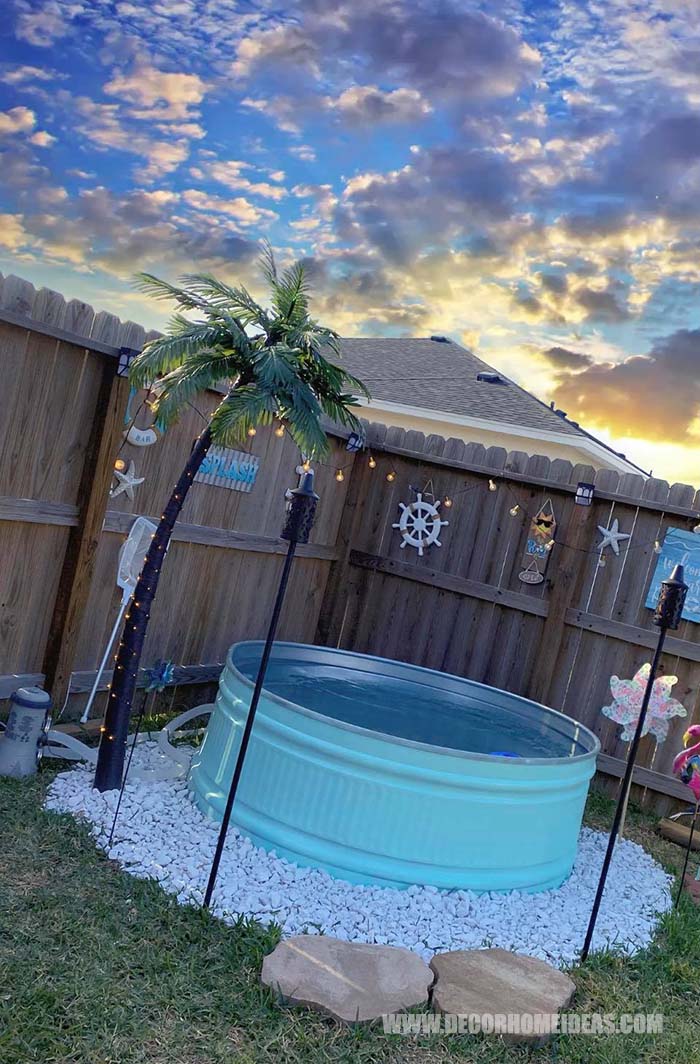 Looking for a cost-effective backyard pool? Have you ever considered an alternative to the store-sold swimming pools then?
You can make an attractive backyard pool that is of a convenient size for the whole family to chill down from a stock tank. The full tutorial for this unique turquoise oasis is described on the link below.
via Decor Home Ideas
2. Easy Lighting Hack With Pool Noodles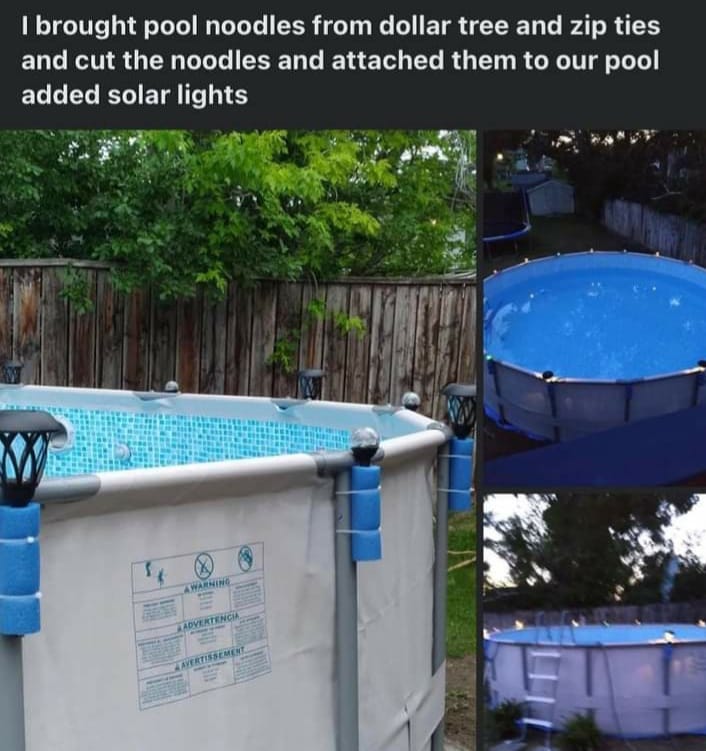 One of the best pool hack ideas I've come across lately:
Adding solar lights to the pool will make staying around or in the pool at night possible. Get some noodles and zip ties from the Dollar store. Measure the length of each solar light and cut a length from the pool noodle.
Use the existing poll supports to attach the light to the pool.
via Fay Seeley
3. Make Your Own Towel Rack With PVC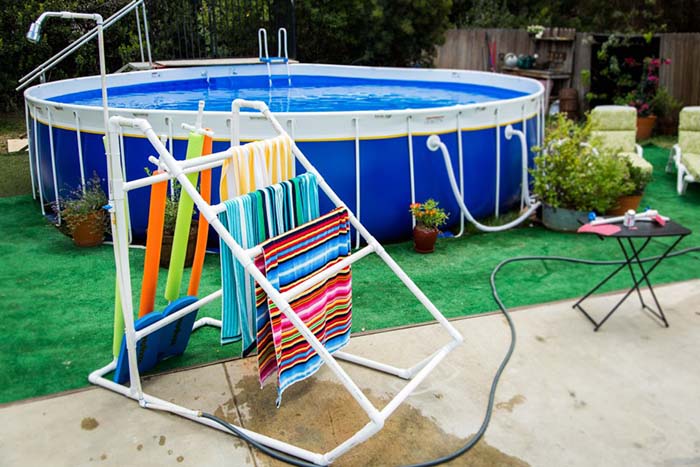 Making a dedicated place to dry out the pool towels is possible with this easy DIY pipe pool caddy.
Make it as big as you want, adding pipe levels for the safe and comfortable hanging of the wet towels. This towel rack could be left outside so no need to move it around each time you need it.
via Hallmark Channel
4. Repurpose A Pallet For Pool Organization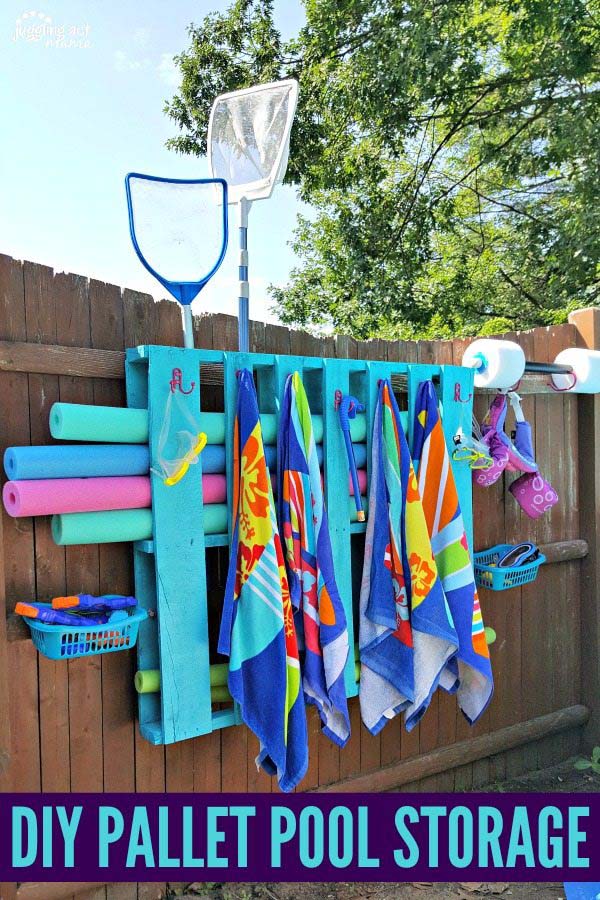 If you prefer a towel dryer that doesn't take up any of the backyard space, go for a vertical rack. Made of a pallet, it has a few hooks to hang the wet towels and two shelves where the toys can be stored.
Related: 25 Amazing Outdoor Pallet Furniture Ideas For The Best Summer Days
This is a very compact solution for organization and storage that can be customized in color for a more cheerful pool nook.
5. Stock Tank Water Feature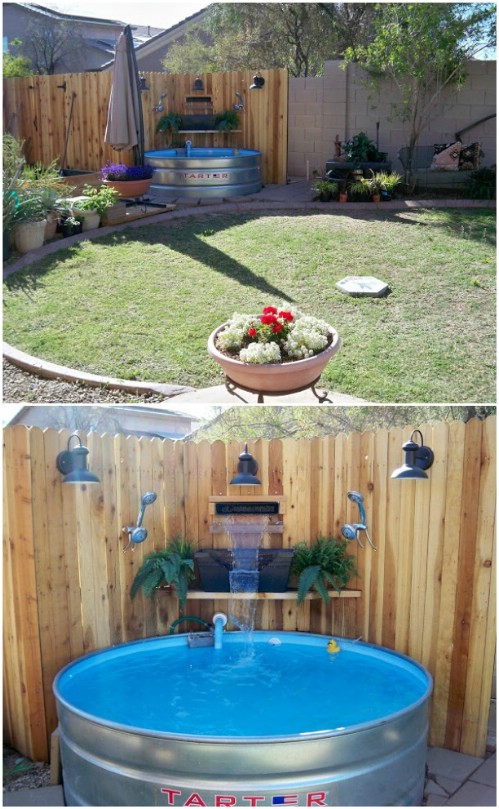 Set your mood to a vacation mode by decorating the area around the pool. Use shelves to display exotic flowers, add a water feature near the pool to hear the murmur of flowing water.
If there is a garden close to the pool, there are many options to separate the two nooks and make the outdoors more enchanting. Edging with rocks, creating a walkway, flower garden beds are among the options that will lift the curb appeal.
6. Ambient Fireplace Spa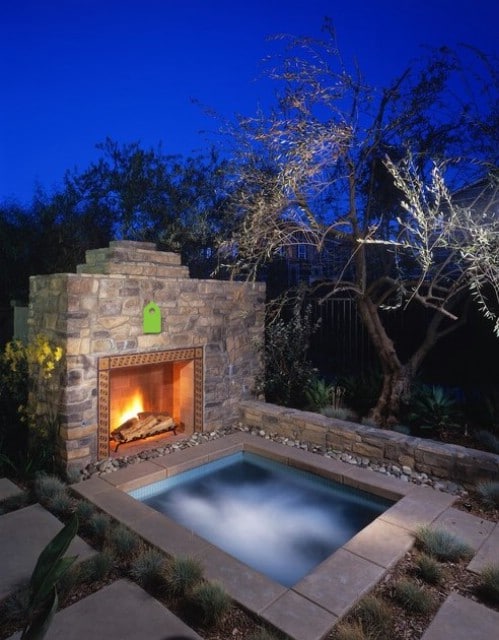 Make the pool or the hot tub cozier, especially at night, by adding a fireplace next to it.
This is a backyard improvement that will have a great visual effect that will lead to relaxing emotions.
via Eldorado Stone
7. Repurposed Pallet Pool Steps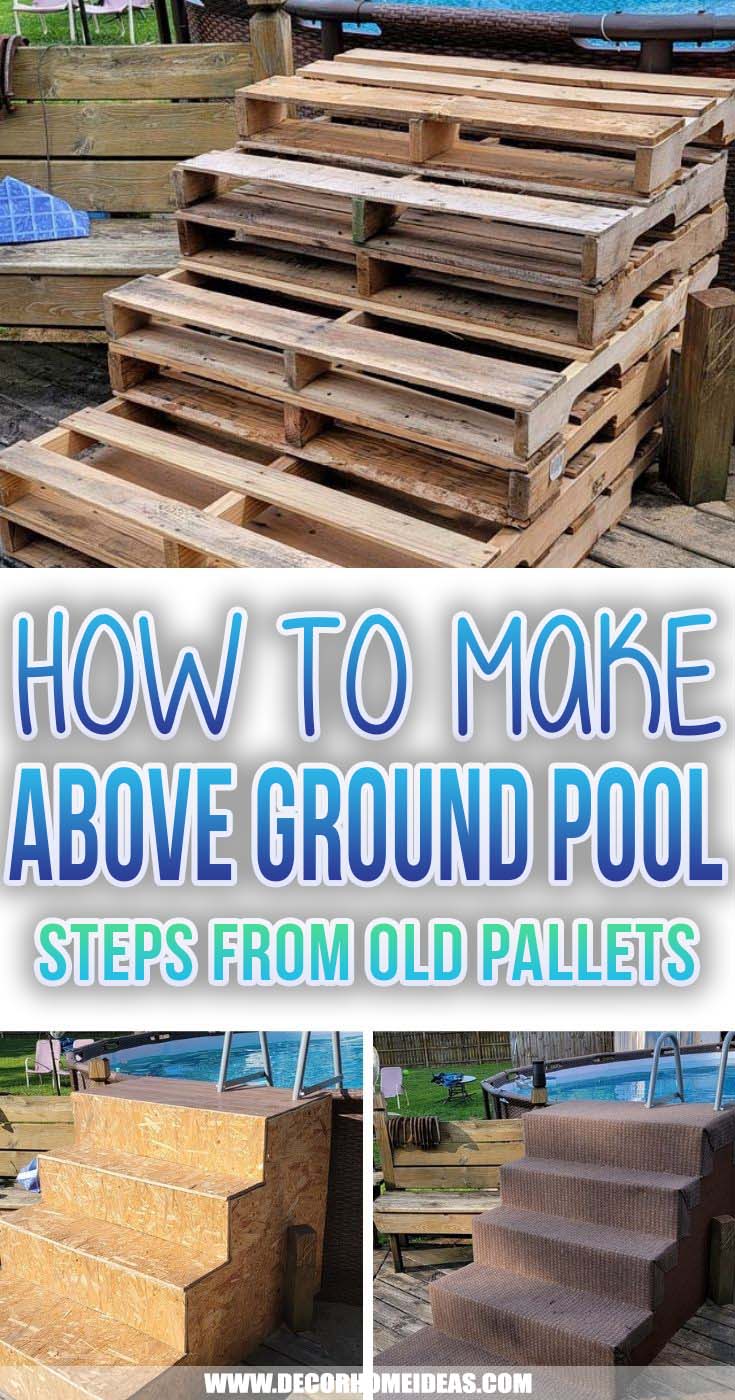 That's where this DIY project comes in handy — with less than $100, you can learn how to make above ground pool steps that are wider and easier to climb. The best part?
You don't need to be an expert woodworker.
via Decor Home Ideas
8. Build Your Own Slide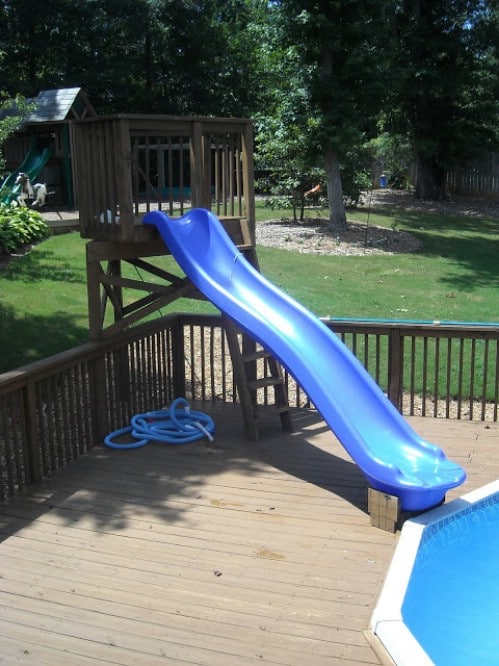 Do you want to combine fun with pleasure? Think about adding a slide next to the pool to let your kids enjoy the outdoor time at home.
via Dad U
9. Stunning Wood Decking Hot Tub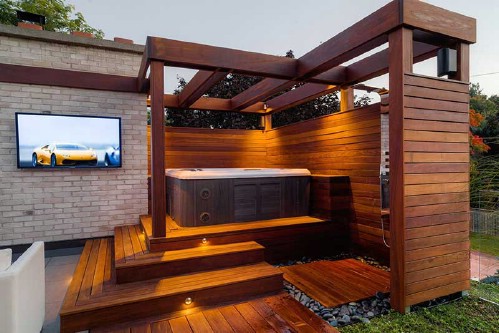 Make a special spa nook in your backyard by dedicating an area for it. Build a hot tub in a deck platform covered by a pergola and hidden from the outside world with a wall.
These features will ensure the privacy of the spa zone and the whole nook will add a luxurious vibe to your property.
via The Hot Tub and Swim Spa Company
10. Hot Tub Pool Bar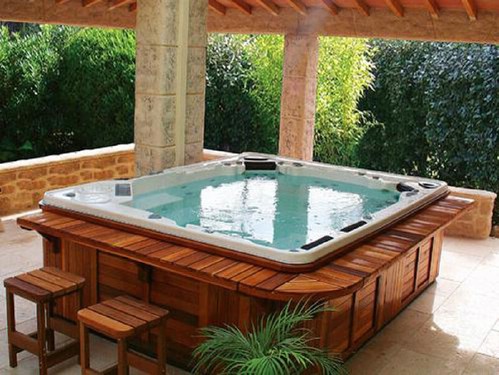 This built-in patio hydromassage tub is self-cleaning. The extras continue with the surrounding wooden bar that makes it possible to have a drink while in the tub and also outside of it on comfortable stools.
If you already have a tub or even a pool, this design can be an inspiration for making the pool area more functional and welcoming for family and friends gatherings.
via The Hot Tub and Swim Spa Company
11. Underground Cave Pool Design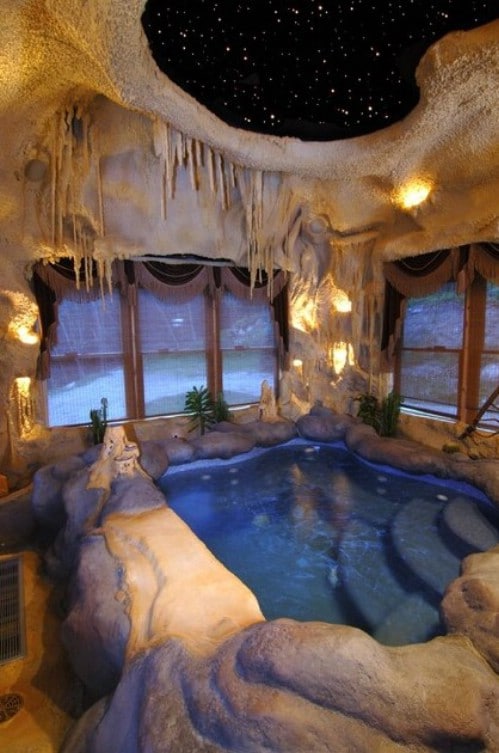 At first sight, this pool design may seem ridiculous but we should appreciate how people thinking out of the box create unique things! This cave-like pool design has elevated access to the water imitating the spa pools.
Although of a smaller size, the pool is entirely protected from the outer climate conditions which makes it a universal relaxing zone. The wide windows next to it allow access to natural light during the day and natural heating of the zone.
via Notion Design
12. See Through Swimming Pool Feature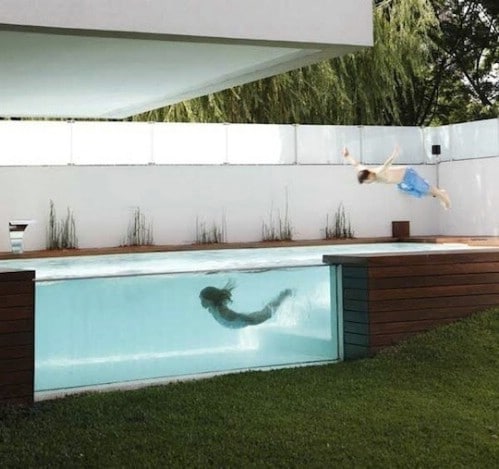 Making this pool with a glass window may not seem like a project on a budget but if you involve mainly your own skills and efforts, it is totally doable.
The see-through feature is available only at one small part of the pool. You need a specially reinforced glass that can withstand the water weight and pressure. The rest of the over-the-ground pool can be a standard structure lined up with decking.
13. Above Ground Pool House And Deck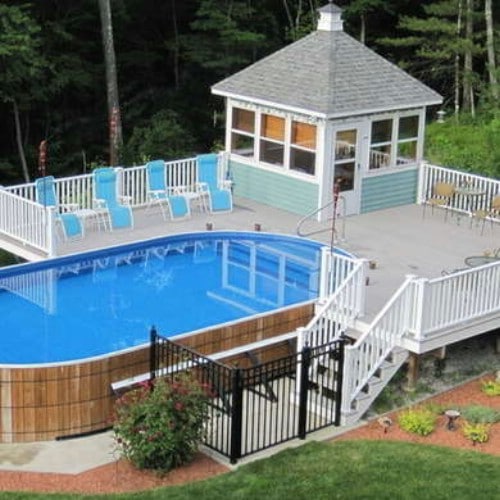 The pool idea has been upgraded to a pool house. It has all you may need to spend all day long at the pool- wide decking for resting and sunbathing, a covered house to prepare drinks or meals.
This is an amazing way to feel like on a holiday but in your own yard!
via Crestwood Pools
14. Permanent Steps Make Above Ground Easy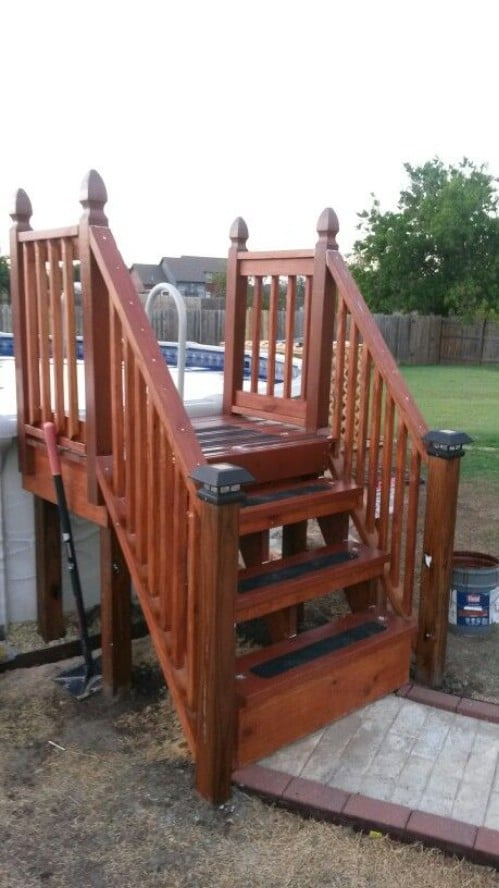 In case your pool is over the ground, it is best if it is supplied with a ladder to make sure that access is safe and no dirt is transferred from the ground.
A plain ladder will do the job, however, if you are looking for a more elegant finished look, make a staircase. By the way, you can even use parts from an old staircase and customize them to suit the height of the pool.
15. Rock Steps Add A Natural Look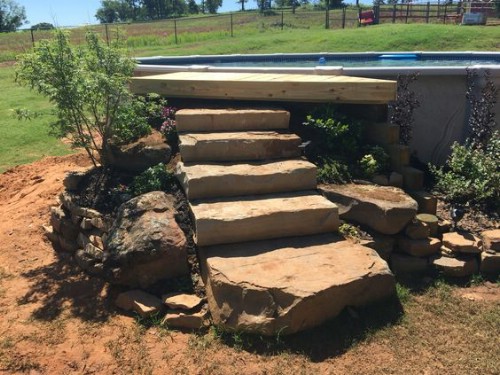 An alternative to the wooden staircase, is a step entry made of stones. It coordinates well with the outdoor ambiance and is a very affordable solution when money is limited.
Related: 15 Garden Decorating Ideas With Rocks And Stones
To create the elevated design, you need to prepare a solid basis where the stones can lay flat rigidly.
16. Add Sun Protection With A Dome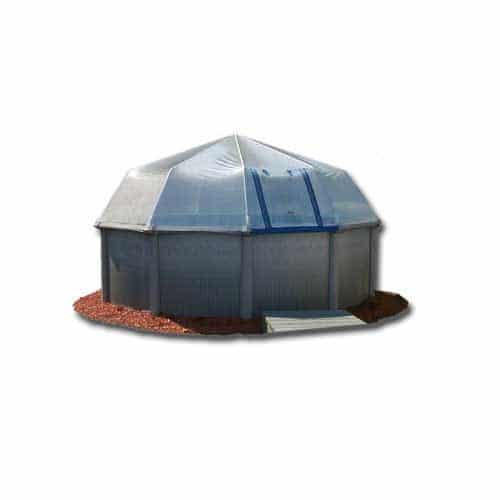 Have you ever seen a sun dome? This is a solution to extending the pool time when the weather outside is not suitable for outdoor activities anymore.
The sun dome will attract the sunlight and will heat the water regardless of the strength of the solar radiation. In addition to that, it will keep the water clean from insects and dirt like a pool cover.

17. DIY Repurposed Pallet Pool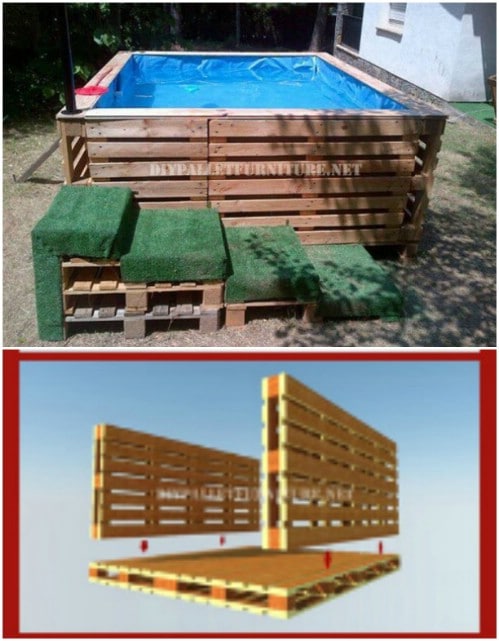 A great DIY idea features a tutorial about how to make your own pool with pallets. Being of the size of a jacuzzi, the walls and the bottom are built from pallets that are very rigidly fixed to each other.
The internal part of this structure is then covered with a large single plastic layer to avoid any leakage of water.
This pallet idea can also inspire you to make your store-bought pool more customized and attractive.
18. DIY Decking For Above Ground Pool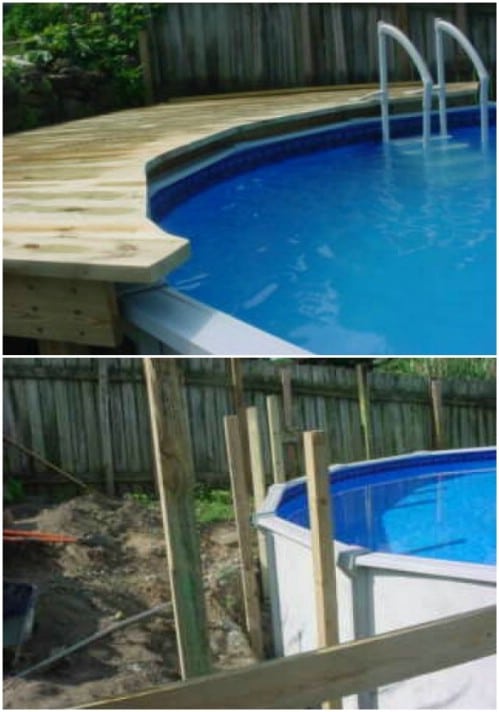 Another way to improve the pool area is to build decking around it with lumber. The over-the-ground pool will be completely hidden and eventually it will look like a built-in water feature.
Depending on the free space you have, you can customize the idea by extending the platform to position deck chairs and side tables.
The edge of the platform can also be utilized by turning it into a bar simply by adding stools on the ground.
via Hub Pages
19. Hay Bale Pool Border

This is an eco- and budget-friendly project for making your own swimming pool. The number of hay bales you need depends on the size of the pool.
When you are ready with the bio-structure, get a plastic layer with a size that covers the bottom and sides to avoid water leakage.
20. DIY Above Ground Concrete Pool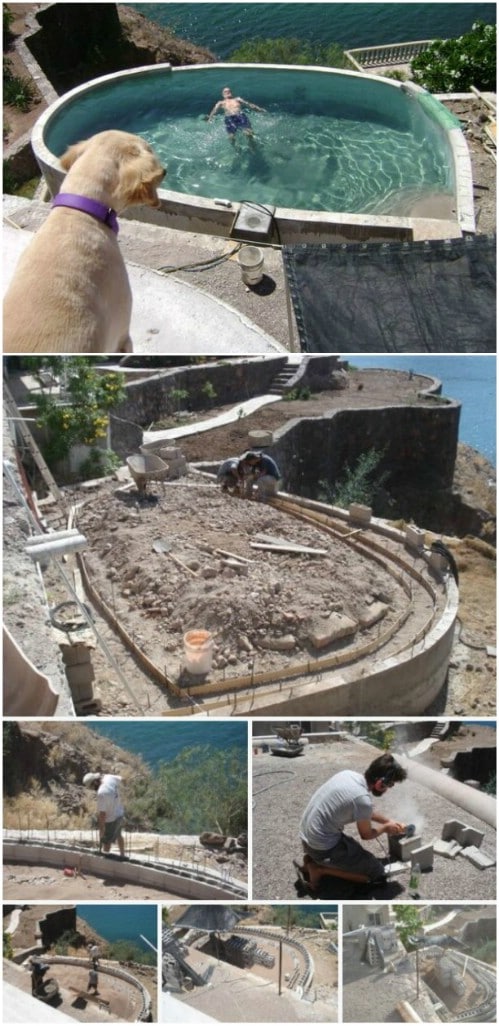 If you are looking for a permanent water feature for your backyard, the DIY concrete pool is just for you. Making it will take some time as there are building steps like steel reinforcing and concrete drying that need attention and time to fix.
The best part of making your own concrete pool is that it will cost you far less than if designed and built by specialists and it will be of your own unique design that perfectly fits your backyard.
via Instructables
21. Tropical Tiki Pool Paradise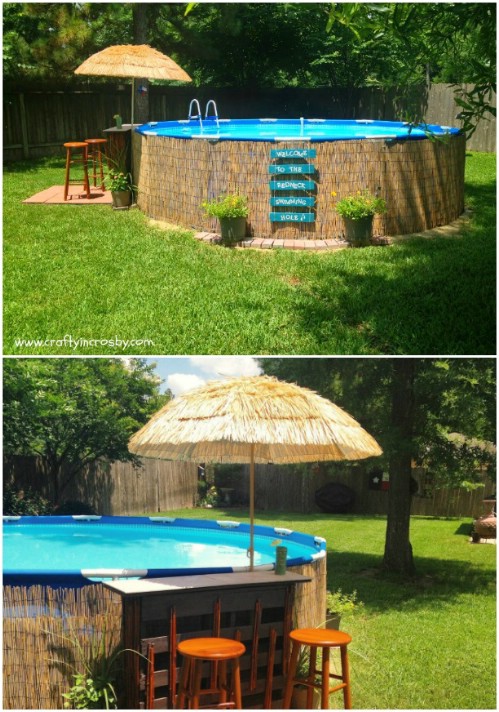 This is another genius idea of how to hide the outer plain look of a store-bought pool. Use thatched rolls to cover the outside of the metal structure.
To make the nook more comfortable, add a table and two stools next to the pool and a straw umbrella to make shade when having a drink outside the pool.
With a simple upgrade, the pool area will remind of the ambiance of an exotic vacation destination.
via Crafty In Crosby
22. DIY Natural In-Ground Pool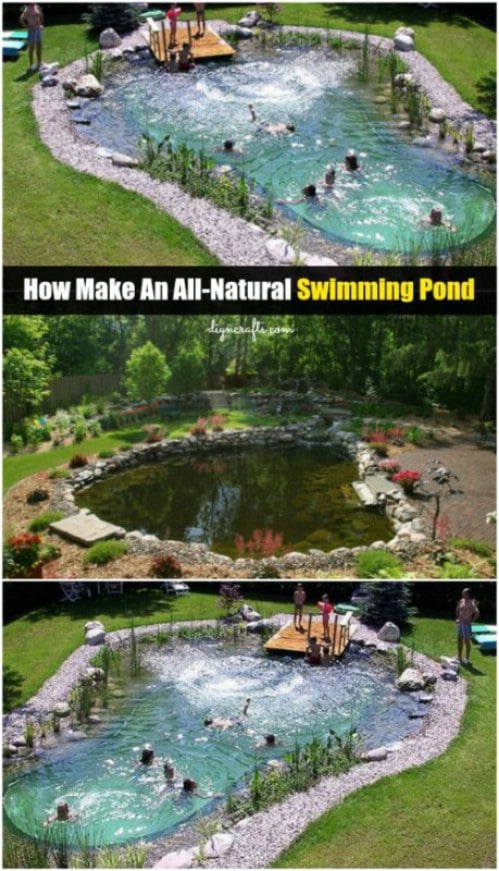 The all-natural swimming pools are preferred by some people because of the connection they make with wild nature and because of the self-cleaning feature of the plants growing in the water.
Well, pool maintenance for this particular inground pool must be a headache, but on the positive side pool water could be as natural as possible if this doesn't bother you.

23. Integrate Into Your Deck With Stone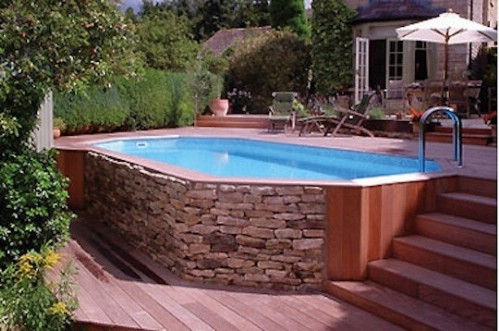 The outer side of the pool structure can be lined also with stonework. The stone surface combined with the wood of the decking creates a warm welcoming nook with a unique nature-inspired design.
24. Make Your Own Heaters With Solar Floats
The more you make of these DIY pool heaters, the quicker the pool will be heated. This is a cheap DIY solution to keep the water in your pool warm even when the sun is not that hot.
Thanks to the black color of the materials incorporated in the heaters, the sun radiation is easily attracted and transformed into heat.
via DIY Easy Crafts
25. Blend With Your Surroundings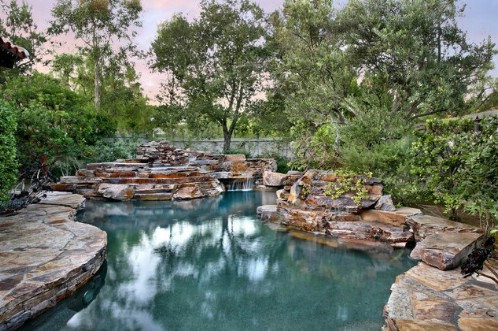 This pool has been built in the backyard of a property in the woods. So the most natural thing has been to look for a pool design that blends it with the landscape.
The shape of the pool has curved lines outlined with stones. The stacked piles at the end imitate a natural phenomenon that finishes with a waterfall pouring directly into the pool.
via Houzz
26. Add An Art Feature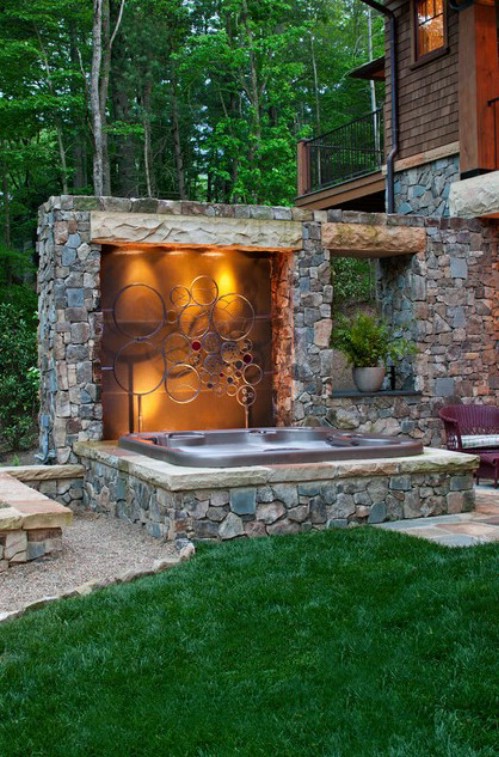 This hot tub nook is also used for exposure of unique artworks. To highlight them, there is smooth light over them. The stone framing also facilitates turning them into the focal point of this outdoor relaxing area.
27. Narrow Lap Pool Makes Use Of Small Space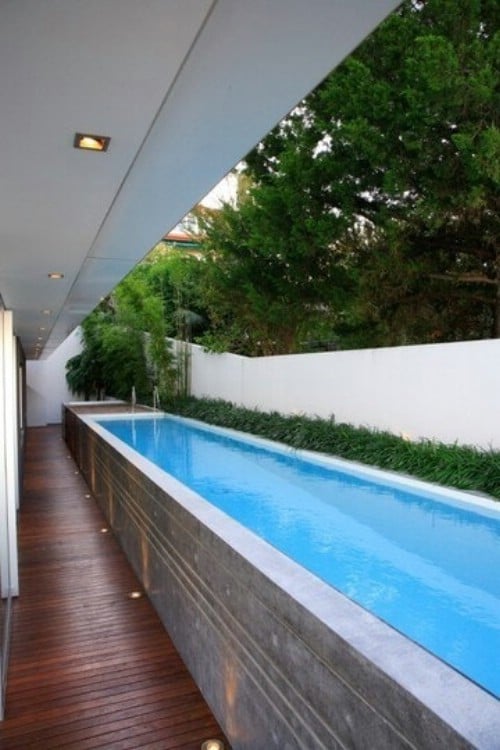 This is proof that a pool can be built even when the backyard is narrow. Its design complies with the outdoor space limits and eventually provides comfort and even the possibility to swim.
28. Add A Fun Themed Sign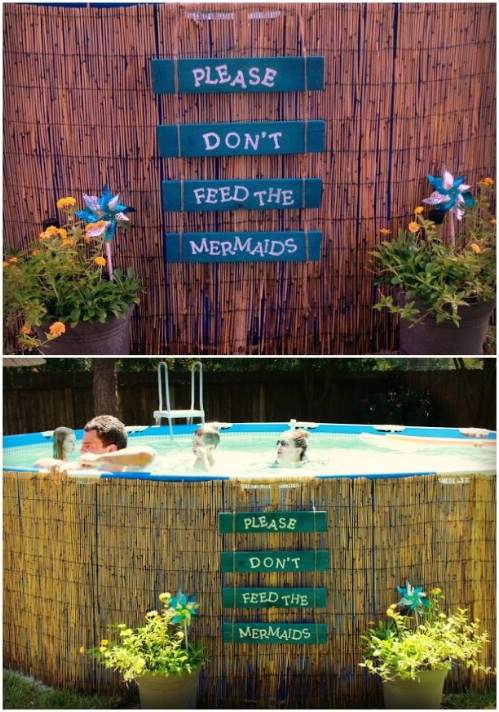 Make the pool welcoming by adding a summer-themed sign with a cute message. Such a sign can be easily hand-crafted from pallet slats, some paint and rope.
via Crafty In Crosby
29. Pallet Pool With Tarp Lining Easy DIY

This is another idea for making your own pool from pallets. The great tutorial below shows you how to build the structure step by step, line the inside with a plastic layer, and close all gaps to give the pool a finished look.
via Decor Home Ideas
30. Build A Creative Themed Pool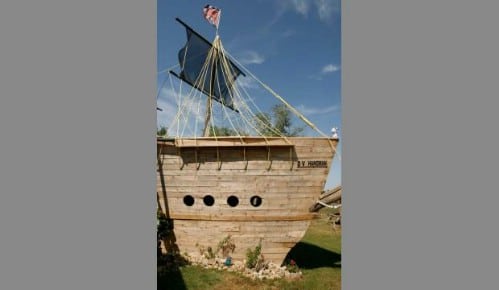 Two artists have decided to make their pool nook more exciting. Their over-the-ground pool has been transformed into the front deck of a pirate ship with lumber.
This creation has ensured a way to chill down in their own yard and has turned their property into an attraction.
31. Build Your Own In Ground Wading Pool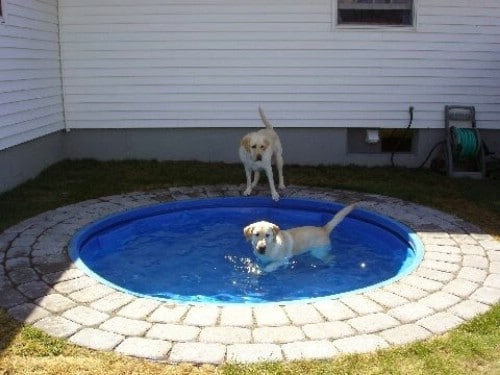 Another option for a built-in pool is to make one in the ground, literally. Dig a hole of the size you like, cover with concrete and then outline it with suitable edging.
Pavers are good for that purpose because their surface is smooth and at the same time anti-slipping.
32. Add Shade With A Pergola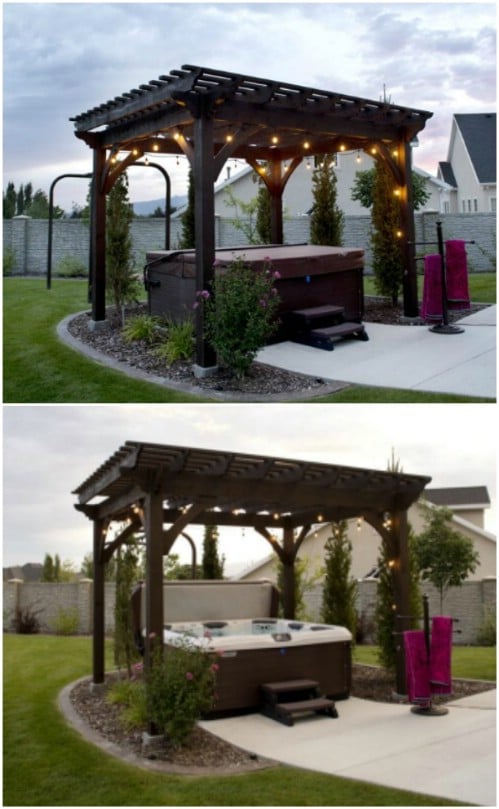 Building your pool or hot tub under a pergola is a smart move not only because of the shading feature. You can use it to attach outdoor lights and use the area for relaxing also in the night.
The pergola structure has another function that can increase the curb appeal of this special zone and your property in general. Use it as a support for flower planters to create a living wall.
33. Repurpose A Shipping Container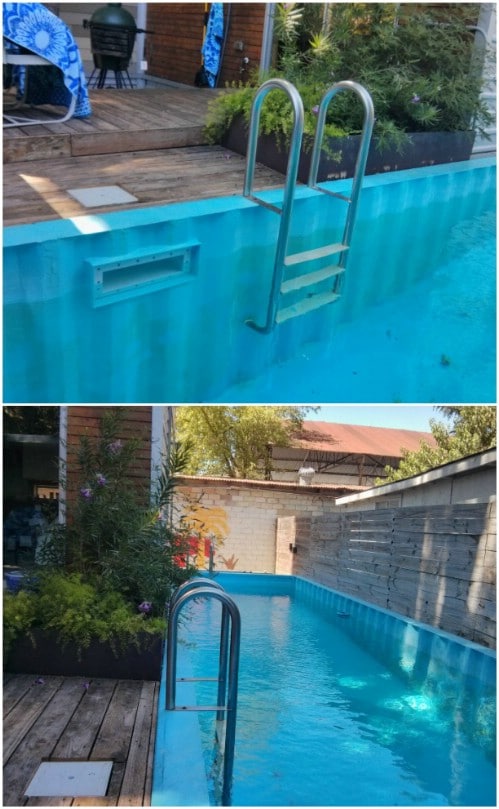 The shipping containers are another possibility to build your own pool with. As the image proves, they are of a size that answers the expectations for a standard pool, even better.
With some additional care like regular painting on the inside to protect from rust, this pool can last for a decade.
via The Epic
34. Clean Lines With Deck Seating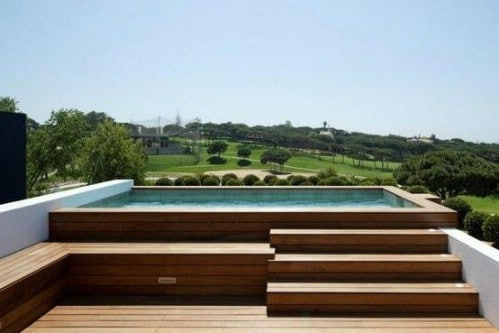 Make the pool a continuous extension of your patio by using the same materials to build it and the adjacent deck. This idea inspires also with the design of the pool nook- elevated steps separate the wet part from the dry part.
The sitting area follows the same concept but it is only at one level and following the curves of the nook.
35. Add Garden Accents To Your Above Ground Pool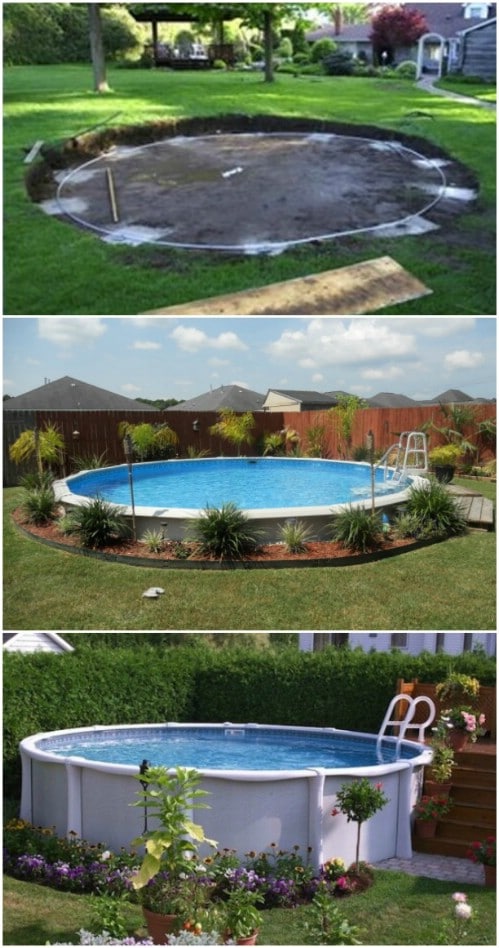 If you don't have the time and money to invest in covering the pool with new lining, you can try other hacks. Draw the attention away with flowers.
Place flower pots along the bottom pool periphery or create a new garden bed around its bottom. Quickly and affordable, the pool area becomes very cheerful and updated with almost no effort and investment.
via Handyman Tips
36. Stunning Wooden Clad Container Pool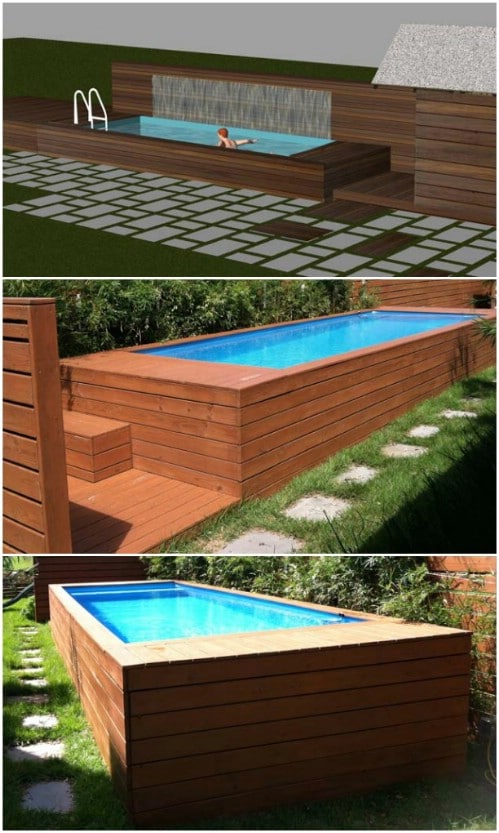 This amazing pool has once been a shipping container. If you like the idea of making your own large pool with a shipping container, make sure that you choose a second-hand one that doesn't have any signs of damage or rust.
After cleaning the container thoroughly, a lining can be added. There are people whose advice is to add some insulation prior to the lining to make the sides even.
After choosing its best place, the structure around the container has to be built. Depending on the free space, it can include a platform for sunbathing and additional extras like a waterfall falling from a dividing wall, a summer bar, etc.
37. A Long Pool Fits A Narrow Space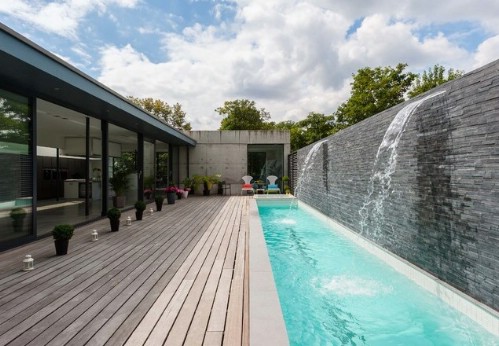 This pool example can give you inspiration about the place it can be built. If your backyard is rather narrow than big, the pool can be customized to follow these specifics.
The long narrow pool is a great outdoor addition that creates visual interest. It is also as comfortable as any other pool and even more because it allows swimming at long distances.
via Houzz
38. Exquisite Pool Playground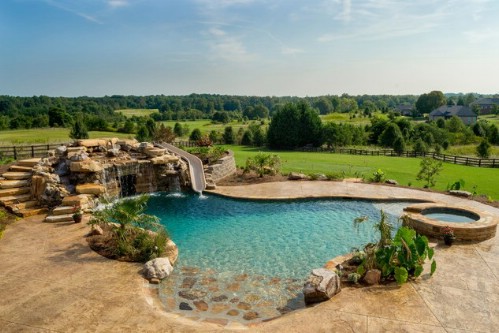 If your backyard allows it, you can build a breath-taking pool like the one shown here. The decking is replaced with concrete. Elevated and curved staircase from stones leads to the highest point of this outdoor feature where people can enjoy the murmur of a waterfall.
A slide has been added to the peak to make pool time fun for adults and children. There is a small round zone where a hot tub is installed. Thanks to the material surrounding it, it blends with the design of the pool and looks like part of it.
39. Beautiful DIY Deck Addition

Fed up with your plain above-ground pool? Don't worry about that anymore as we have got a fantastic idea that will totally change its look with an affordable investment.
By building a deck around it, you will create a free and clean area for sunbathing and will also transform the standard look into a customized model.
via Decor Home Ideas
40. Proper Plumbing For A Stock Tank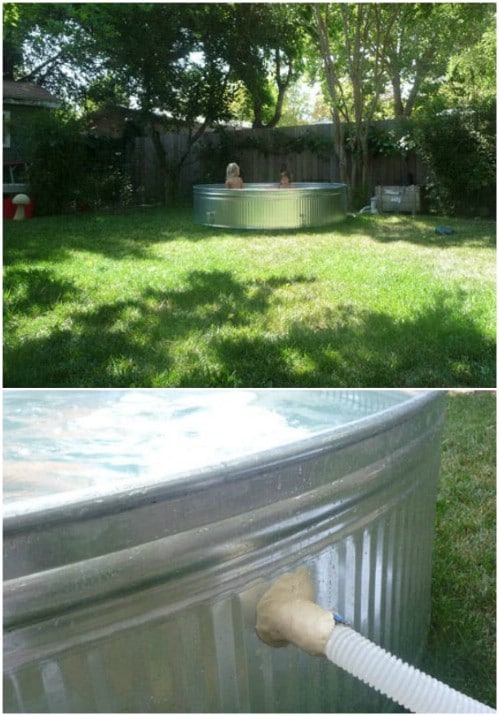 Have you ever wonder how people turn the stock tanks into pools? There are important tips related to plumbing that ensure good water supply and cleaning. Also you can find ideas on how to turn the pool into a hot tub when summer is over.
41. An Infinity Pool Considers The Scenery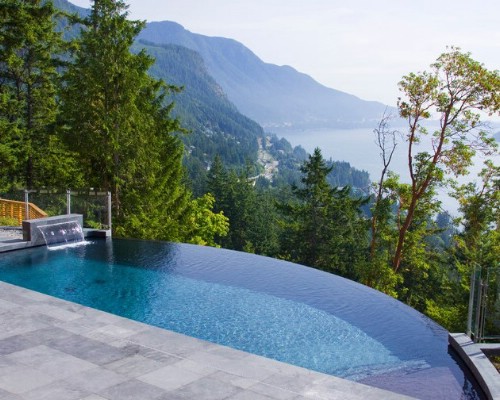 In case your property has a fantastic landscape to wild nature, make sure that you build your pool at a place where this magic can be admired.
The view will naturally relax all senses and will create a deep connection with nature.
via Houzz
42. Add Interest With Plants And Lattice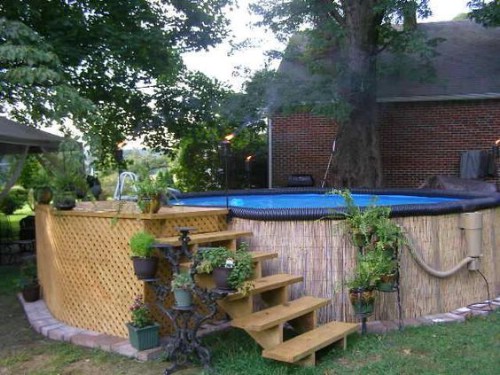 The exotic destinations can be an inspiration for the decor around the pool. Some thatched rolls to cover the metal structure of the pool and a few plants quickly differentiate the nook from the rest of the backyard.
Plant stands and trellis can help with the upgrade of the outer look of the pool area. In addition to them, you can use the deck around the pool for a display of plants.
43. Integrate A Lighting Concept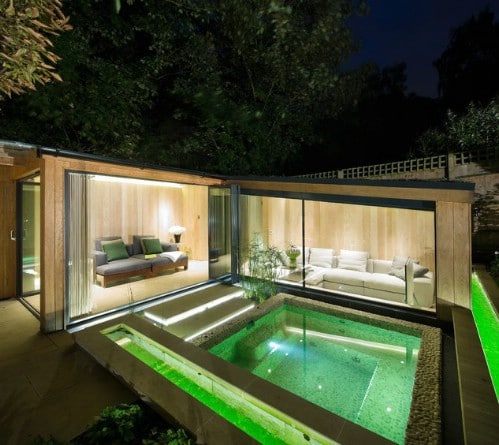 For a greater visual interest during the night, add light fixtures on the inside of the pool. The light protruding through the water will create an amazing visual effect.
This hack is also to be considered for safety reasons for pools that are positioned very close to the living area. Because of the cool club effect, the pool area may become the perfect spot for outdoor gatherings during summer.
via Houzz